GOL Airlines Boeing 737-800 Economy Class Review [GIG to GRU]
Airline: GOL Linhas Aereas (GOL)
Aircraft: Boeing 737-800
Flight #: G3 1095
Route: Rio de Janeiro Galeão International Airport (GIG) > São Paulo Guarulhos International Airport (GRU)
Date: January 21, 2020
Duration: 1hr 15mins
Cabin and Layout: GOL Economy with 186 seats, 3-3 configuration
Seat: 25A, window
Miles Used: 21,500 GOL Smiles
Taxes and Fees Paid: $0, used 2,900 GOL Smiles
Typical Economy Cost: $150
Last Minute Trip Home
Unfortunately, this trip wasn't for pleasure. I had received a call that my grandfather was not doing well and I made the decision to get home as soon as possible to spend some final moments with him and help my grandmother with what was about to come.
However, booking last minute flights from Rio to Boston during school vacation turned out to be more of a challenge than I had expected.
Prices for economy tickets were around $1,000 and much more for the routing that I wanted. Fortunately, with a little playing around, I found some mileage redemptions that worked out.
I still had 100,000 TAP Miles&Go miles that I needed to use before they expired in May (no extension as they were purchased during a promotion) and one of the best uses of them is flying United Airlines from Brazil to the United States.
After a lot of searching (and hours on the phone with TAP), I was able to secure a United Polaris business class seat from São Paulo (GRU) to Chicago O'Hare (ORD) before connecting on to Boston Logan International (BOS) for 100,000 round-trip for the dates I needed. Perfect.
Now I just needed to get to São Paulo from my home in Rio.
Booking My Flight
Since my flight was originating out of GRU on a separate ticket, I knew I needed to leave early in order to give myself enough time in case something went wrong with my flight leaving Rio. I certainly didn't want to miss my Polaris seat!
Normally you can find some really cheap flights between Rio and São Paulo. They each have 2 airports and are serviced by low-cost airlines, so there are plenty of options.
Unfortunately, I couldn't snag any $30 flights because my airports and hours were not flexible at all. The flight that I wanted was pricing out around $150 on either GOL or LATAM, without luggage.
Fortunately, I had a stash of about 30,000 GOL Smiles that were expiring. I swear I don't always have random stashes of expiring miles. I could redeem them for the exact flight I wanted, with a checked bag.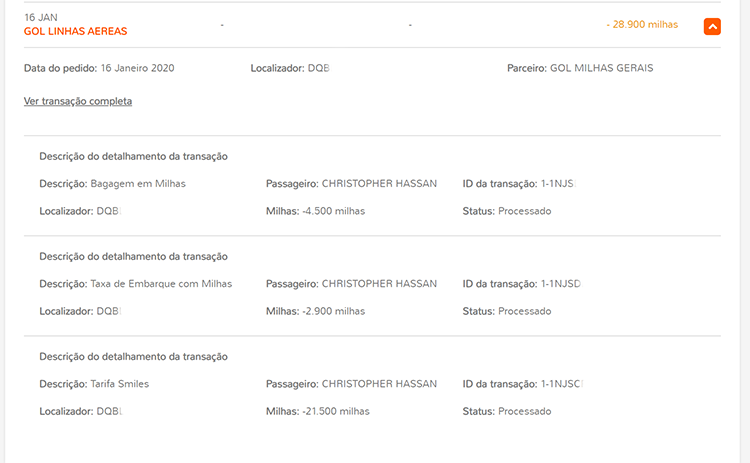 While there were still plenty of last-minute options where GOL was only charging 7,000 Smiles each way, in order to get the flight I wanted I ended up spending 21,500.
Since that was going to leave a minuscule amount of miles left in my account, I decided to just burn them all on baggage fees and taxes.
I am fully aware this was an awful use of Smiles but I had been holding on to these for a while at this point with no better use on the horizon, besides exchanging them for Uber credits.
The total breakdown was:
Flight: 21,500 miles
Taxes: 2,900 miles
Luggage: 4,500 miles
For a total cost of 28,900 Smiles and $0. 
This was all done online, for the exact date and time I wanted, with $0 out of pocket. I was happy.
Alternative Points Options
If you don't have GOL Smiles to burn and have a little bit more time and flexibility, you can fly this route for a lot fewer points. Here are some examples of better redemptions:
2,000 Azul TudoAzul points
Checking in at GIG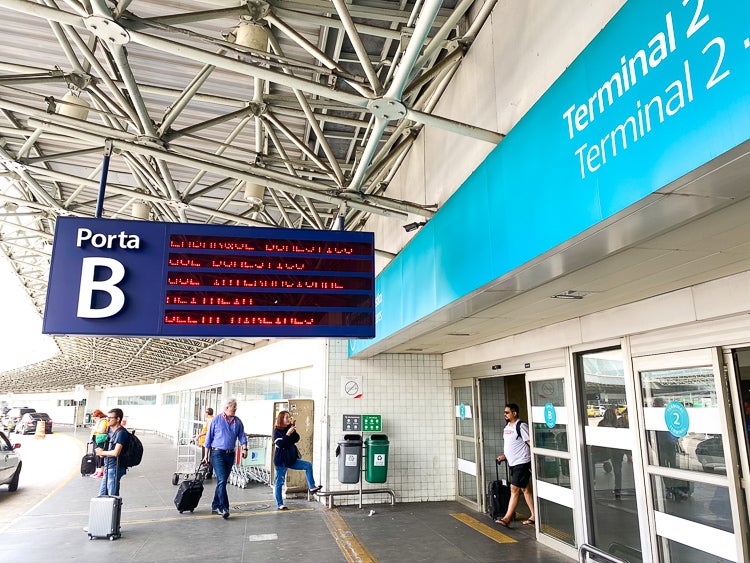 The GOL check-in counter is located just inside door B in the newly renovated Terminal 2 of Rio de Janeiro Galeão International Airport (GIG).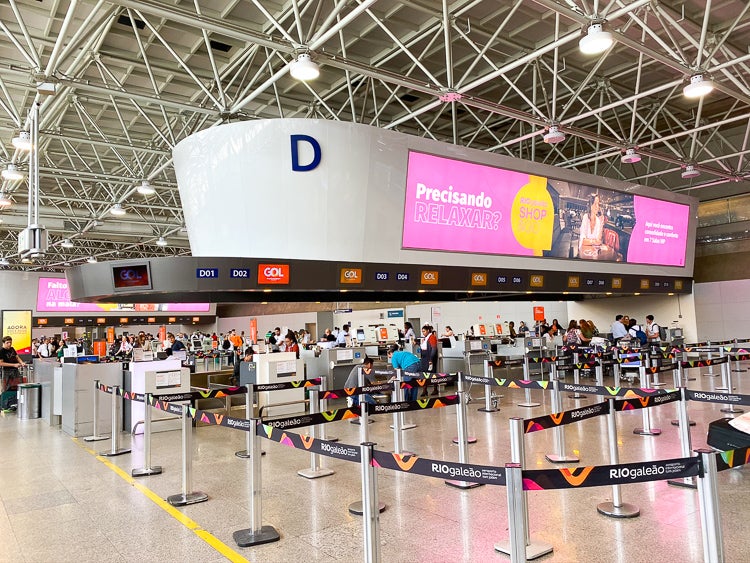 Once inside you will find the GOL counters in section D.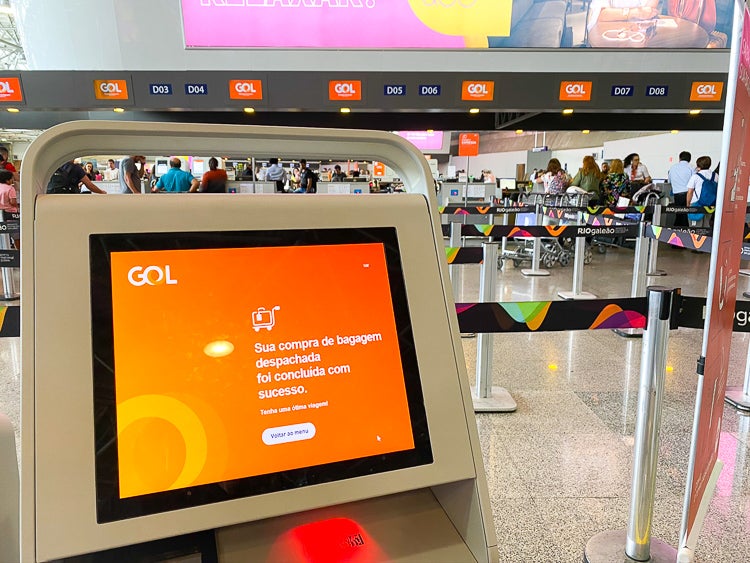 All check-ins are done online or at the kiosk, and you will only need to visit the desk if you have an issue or need to check a bag, as I did.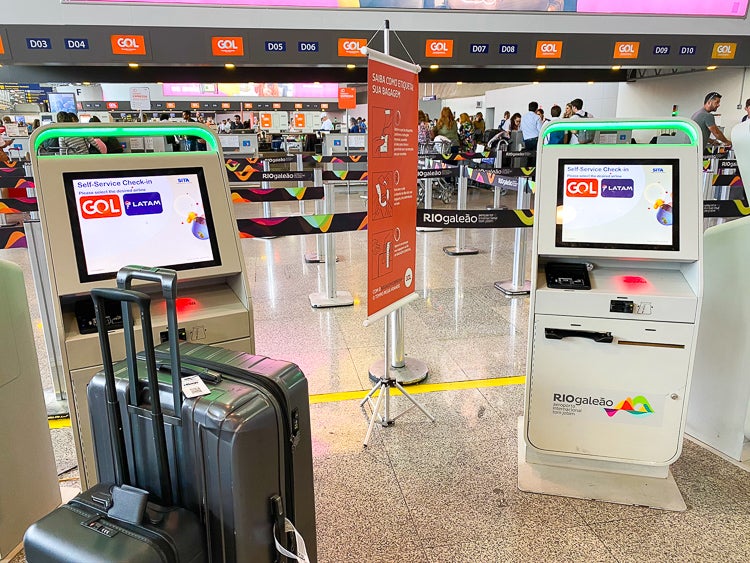 The check-in process was quick and I was provided a tag for my bag. However, the process of handing off the bag took some time due to systems being down.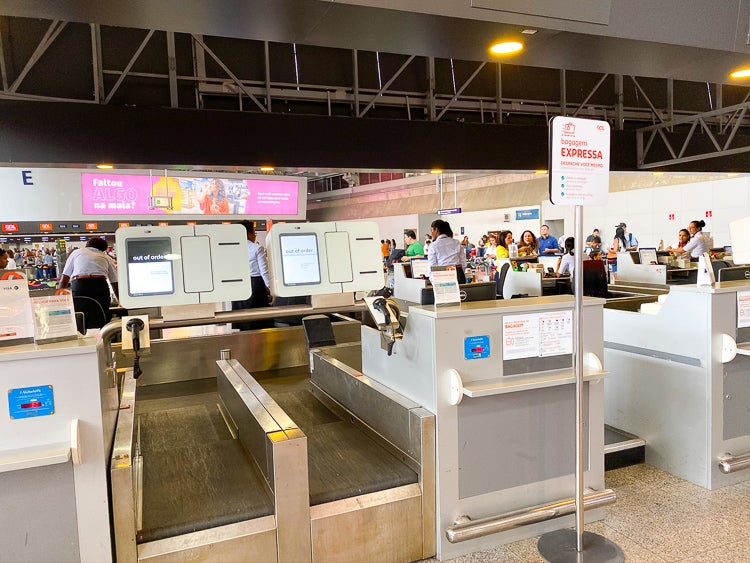 After I checked my bag, I headed towards security and started mapping out where the lounges were located.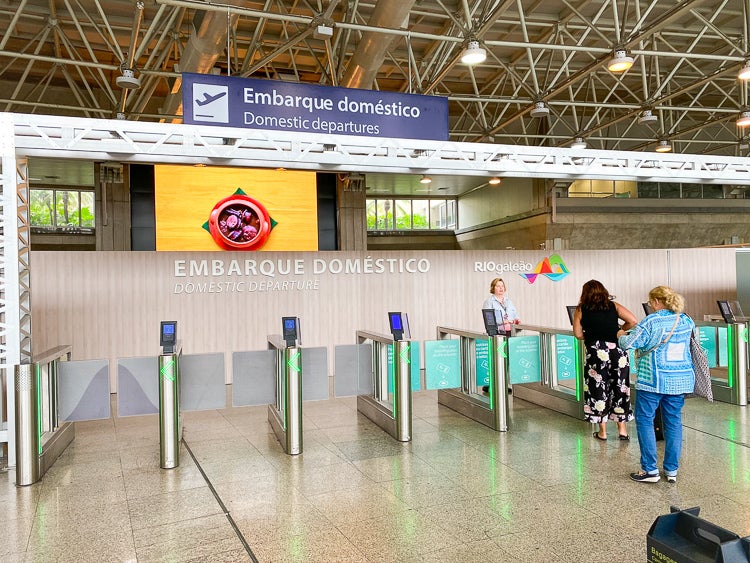 Lounge Options
In the domestic wing of Terminal 2, there are 2 lounge options: the GOL Premium Lounge and the Plaza Premium Lounge. Both of these grant access to Priority Pass members, so I visited both!
Plaza Premium Lounge
My first stop was at the Plaza Premium Lounge since it was the first lounge that I passed by.
After security, you will walk past duty free and follow signs towards the departures floor. Right before you go up the escalator to the gates, you will come face to face with the Plaza Premium Lounge.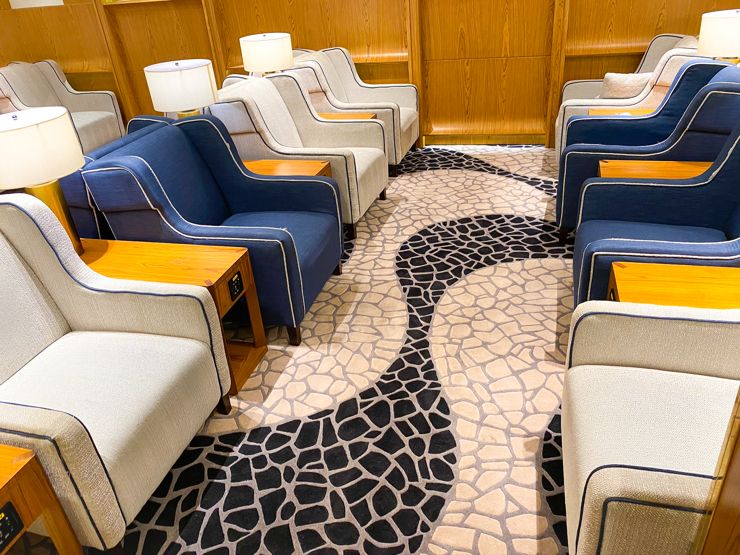 After scanning my Priority Pass app I was let into the lounge where I was 1 of only 10 other guests in the 10,000 square foot space.
What I really enjoy about Plaza Premium Lounges, at least here in Brazil, is the amount of comfortable and functional seating options.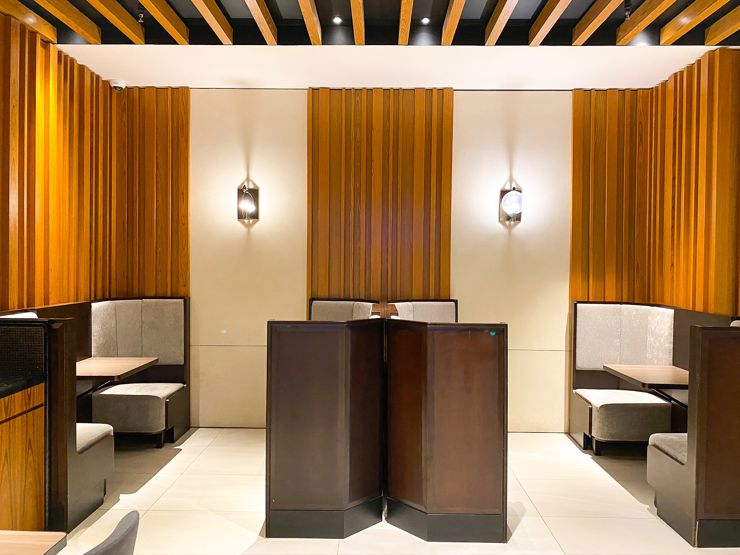 Whether you are visiting alone and need to get some work done or passing through with friends and you want to sit and chat, there are plenty of options for you.
However, one of the things that disappointed me on this visit was the lack of fresh food.
I visited the lounge around 2 p.m., so it was between lunch and dinner and the lounge was empty, but all of the hot food options were unappealing.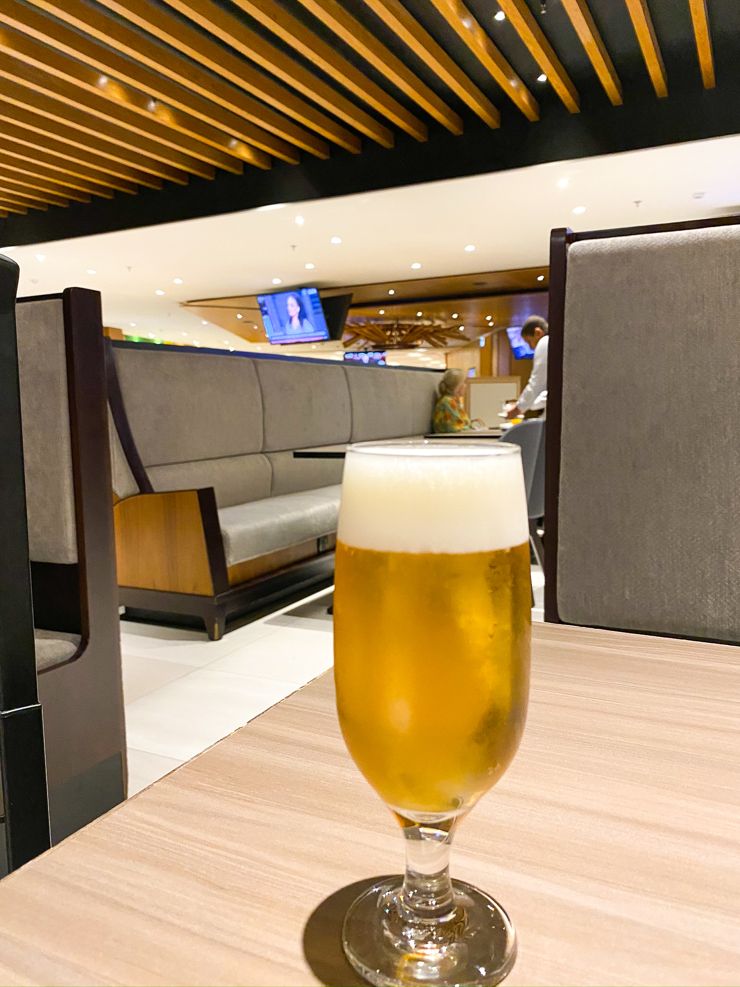 So, after having a quick beer (Heineken on tap), I headed up to the GOL Premium Lounge for a snack.
GOL Premium Lounge
After you exit the Plaza Premium Lounge, you will be directly in front of the escalators up to the departures level.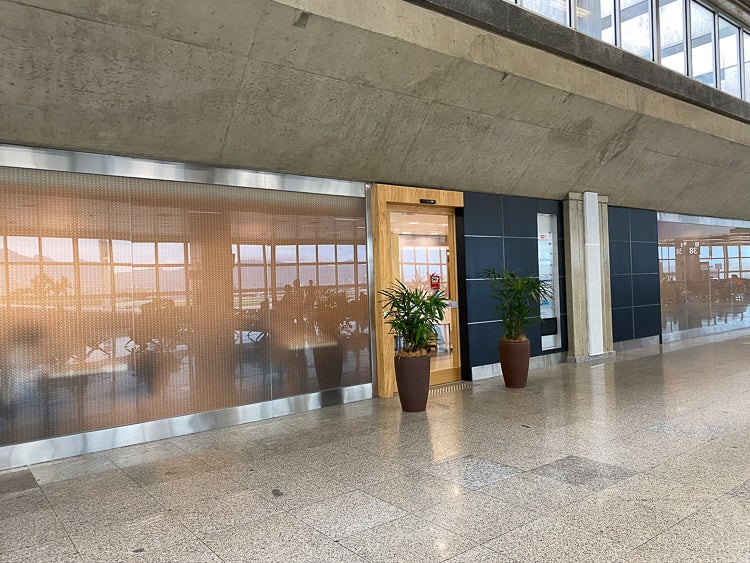 Once you head up the escalators you will be near gate 31. Take a left and head towards gate 36 where you will see the entrance to the GOL Premium Lounge.
Just like at the previous lounge, I just had to show my Priority Pass app, sign, and I was in.
The GOL Premium Lounge is also a very large space and they offer access to a whole variety of airline partners, so it can get crowded at times.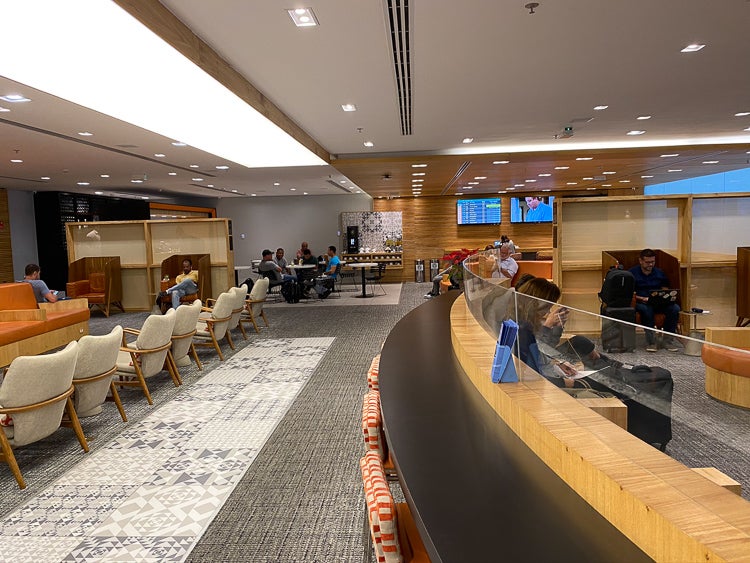 The lounge has a very open concept with lots of couches and stools for travelers to get comfortable in… just not as comfortable as the Plaza Premium Lounge, in my opinion.
The food options, were, however, better. There was nothing special, but there were options for pasta, sandwiches, snacks, and fruit.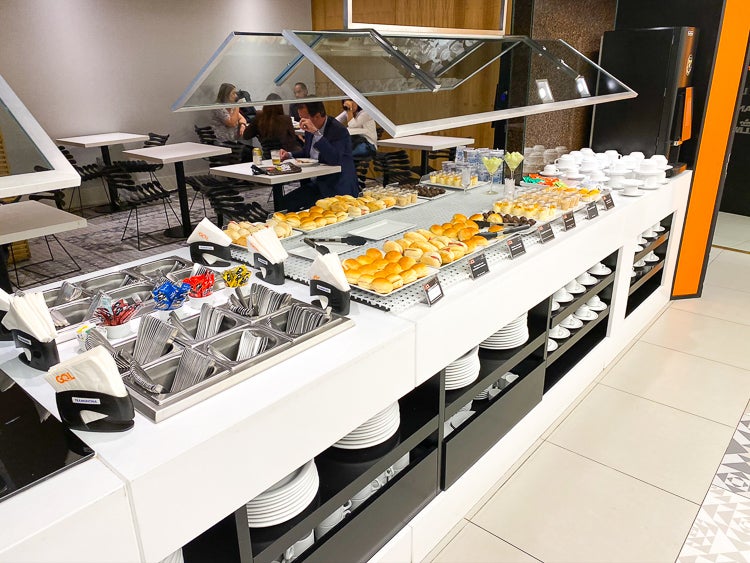 The drink selection wasn't that bad either for a lounge that felt like it was open to half the terminal. There was a self-service fridge with soda and beer, espresso machines, juice stations, and a cocktail bar!
After having a few snacks and a beer, I decided to head out towards my gate.
Boarding
I have been quite enjoying the boarding processes when flying out of Brazil lately.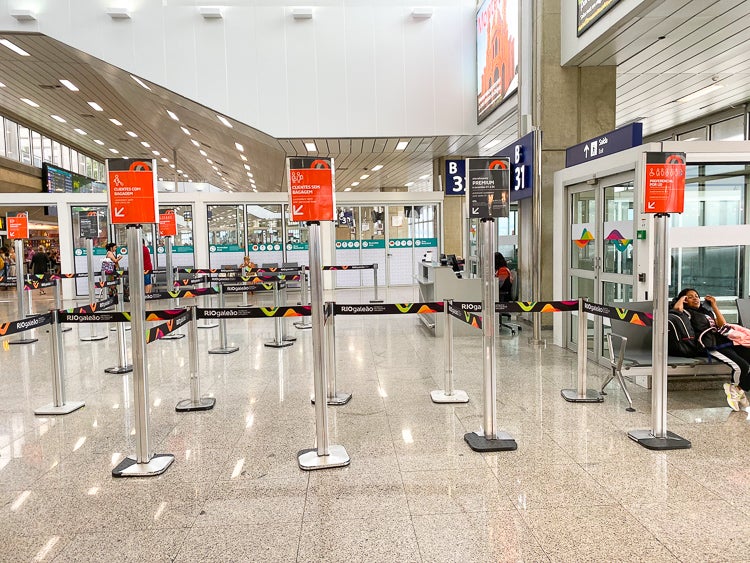 Even American Airlines has adopted the process of lining up by group numbers instead of calling out groups and inevitably having a group of people gathering by the gate before their number is called.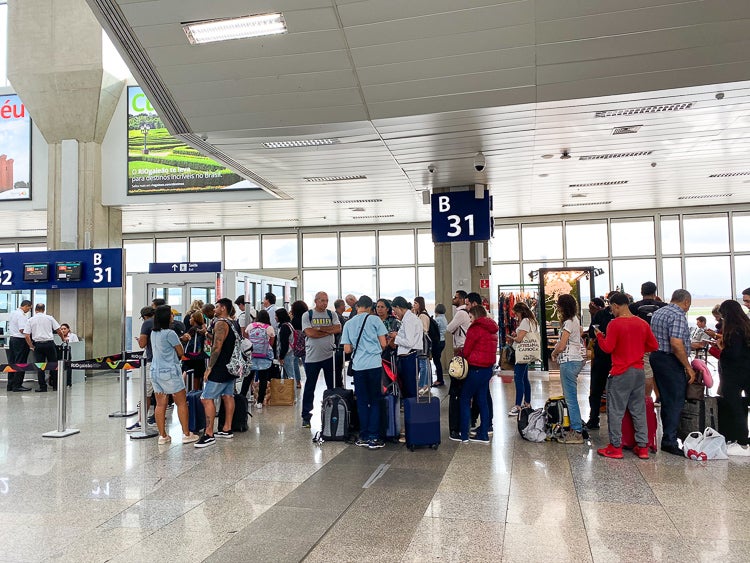 Since GOL did not have boarding groups on this flight, passengers lined up in advance in a line that fit their traveling status:
Preferential (seniors, people in wheelchairs, people with babies, etc.)
Premium (rows 1-5 or if you have airline status)
Passengers with no carry-ons
Passengers with carry-ons

GIG Domestic Terminal 2 — GOL Jetbridge

GOL Boeing 737-800
Since I was traveling with a carry-on, I was in the last group to board, and I boarded at 4:42 p.m. for our 4:40 p.m. scheduled departure.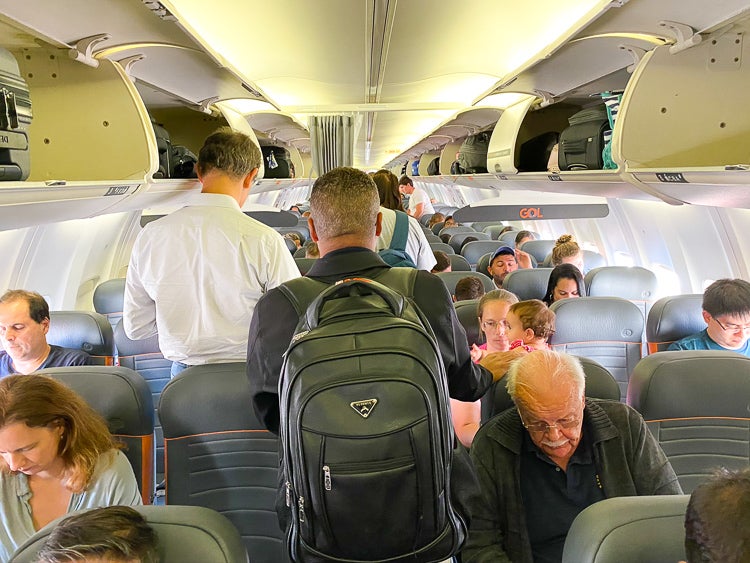 Boarding was quick as we pushed back at 4:48 p.m. and were airborne at 5:09 p.m., about 30 minutes late, but still scheduled to arrive on time. I think they have done this a few times!
Seats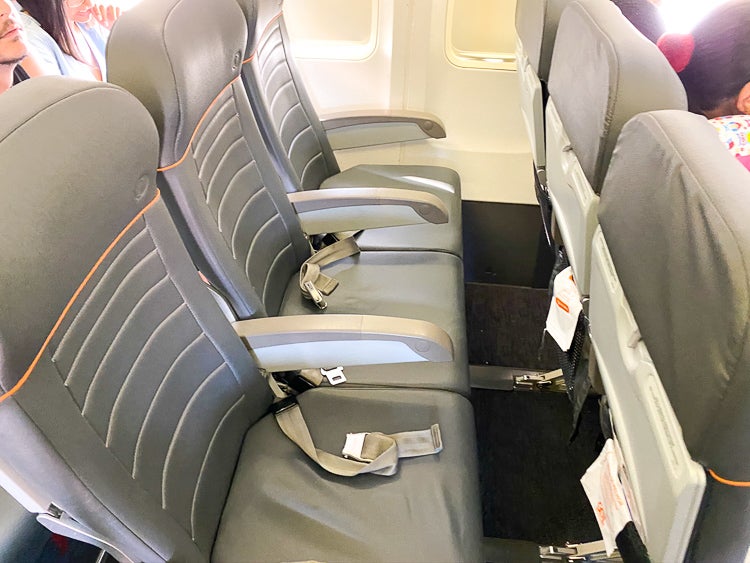 I had selected seat 25A which was a window seat, hoping to catch some nice views leaving Rio, but it was a bit overcast.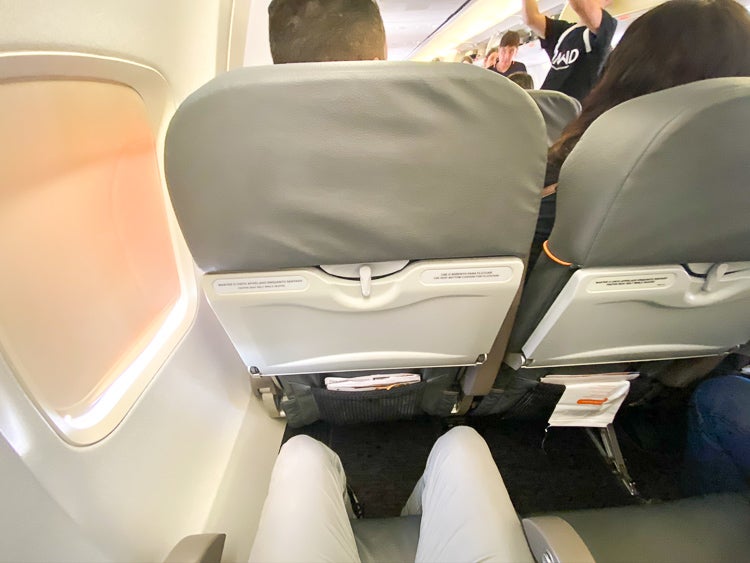 This 737-800 is set up in a standard 3-3 configuration with the first 5 rows being GOL+ Conforto Seats, which is basically just economy extra. The seats are listed at 17 inches wide and had decent legroom.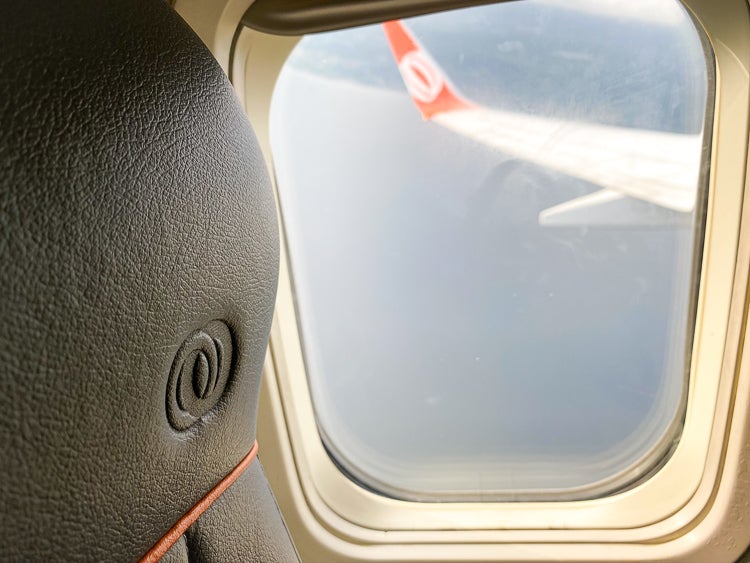 For what turned out to be only a 45-minute flight, my seat was very comfortable and it was a bonus that nobody sat in the middle seat next to me.
Amenities
There are not many amenities to speak of, but what was offered was good.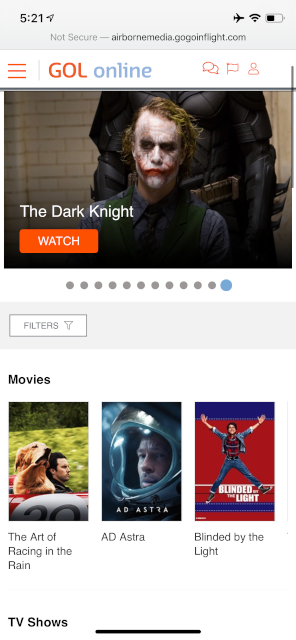 First of all, there are no IFE units on the seatbacks, but there is content that you can stream on your personal devices.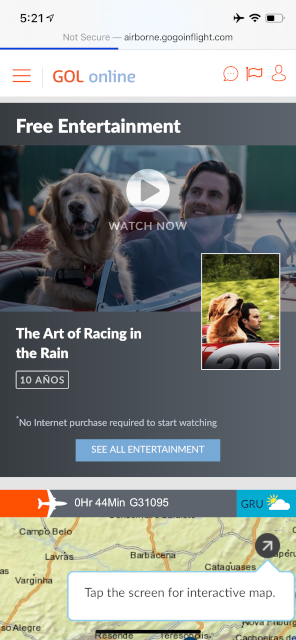 There was a lot of content available from popular TV shows (from the U.S. and Brazil) to new movies to live TV.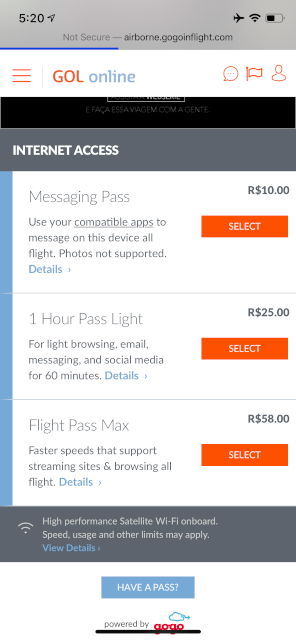 Wi-Fi and messaging packages were available as well, but the prices seemed steep for a 45-minute flight:
Messaging Pass R$10 (~$2)
1 Hour Pass Light R$25 (~$6)
Flight Pass Max R$58 (~$13)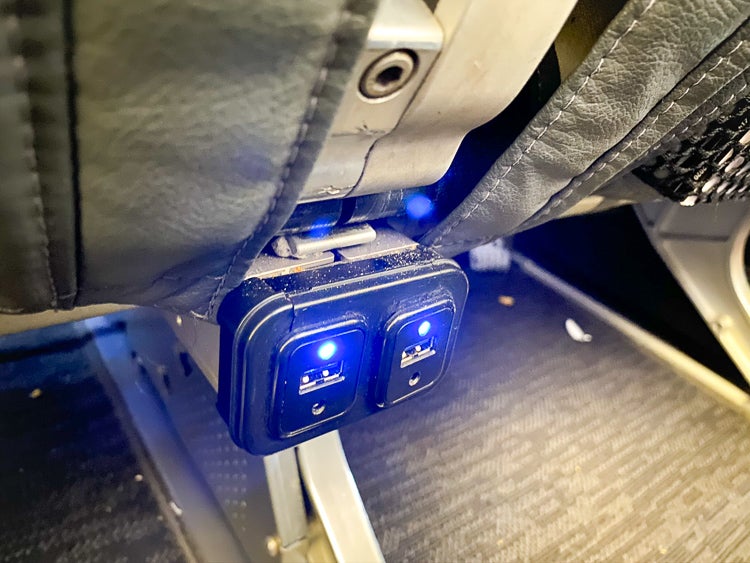 Each seat also had access to a USB charger.
Snacks
For a 45-minute flight on a low-cost carrier, you might not expect much, but the snack service was quite nice.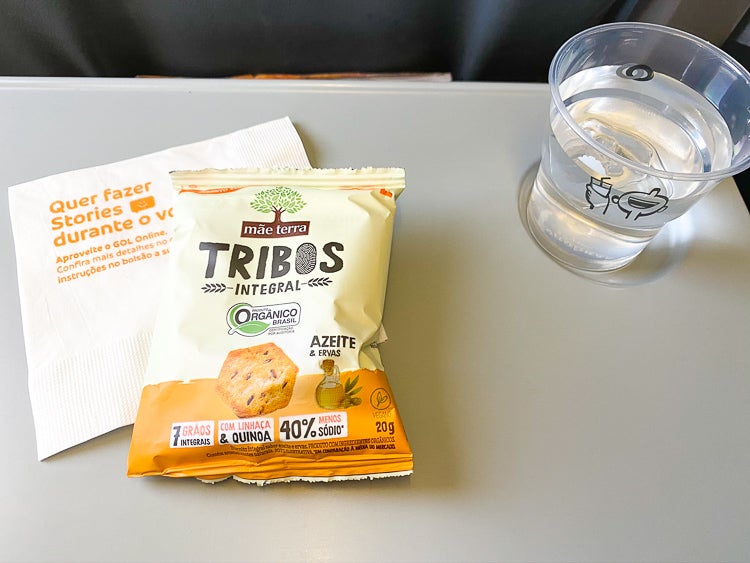 The crew came by offering complimentary non-alcoholic drink service and passed out some whole-grain snacks by Mãe Terra, which happen to be one of my favorites.
Service
Throughout the entire boarding process, refreshments, and deplaning, the crew was fantastic.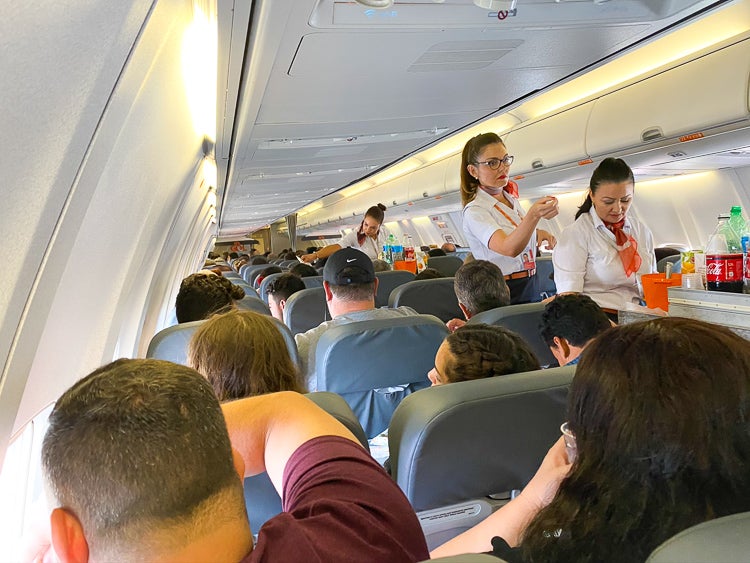 They were cheerful, helpful, and genuinely seemed like they enjoyed doing their jobs.
I have flown GOL a handful of times before and have had very similar experiences, which is always a good sign.
Arrival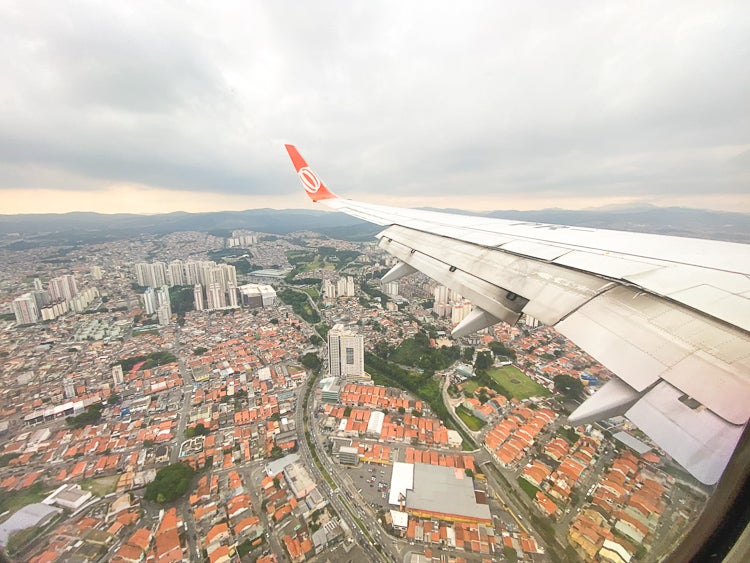 After about 30 minutes in the air, we began our descent into the sprawling city of São Paulo and landed at 5:56 p.m., just 1 minute later than scheduled.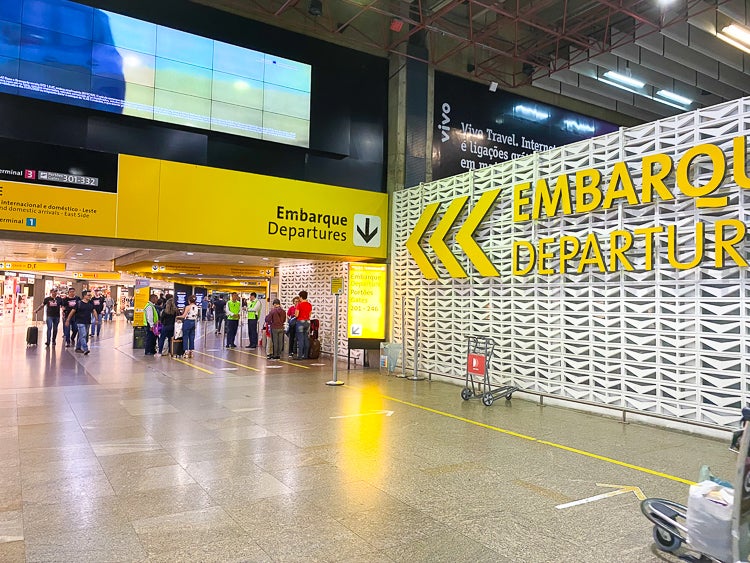 São Paulo Guarulhos is a massive international airport, so when I grabbed my checked bag I had a solid 25-minute walk before I could check-in for my international flight.
Final Thoughts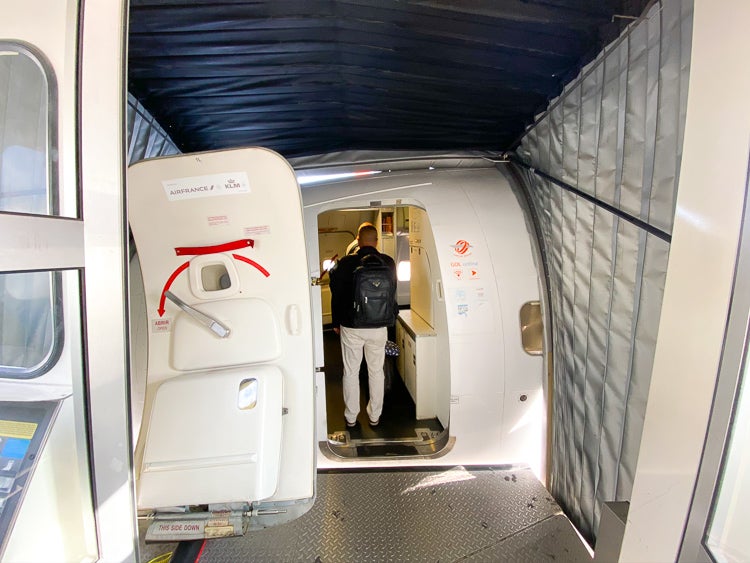 GOL does an excellent job at what they do — offering convenient flights, at fair prices, with a smile.
Despite paying more miles than I would have liked for this flight, I am still happy that I was able to get where I needed to be for $0 cash.
Add in the fact that I got to use my preferred airports for the exact times that I wanted and the flight was very pleasant and I am a happy camper.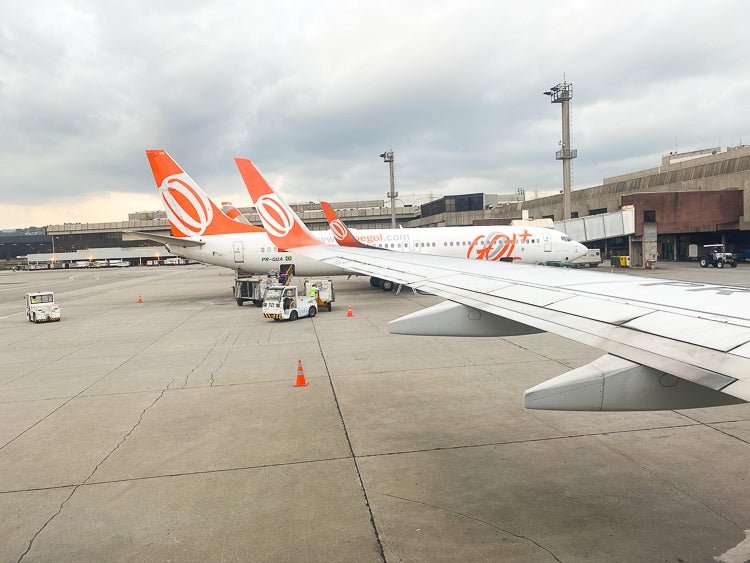 My options were to either fly Azul, LATAM, or GOL. I chose GOL for the price and based on the experience, I would do it again in a heartbeat.