Hawaiian Airlines Interisland B717 First Class Review [OGG to HNL]
When you're traveling between the Hawaiian Islands, there are really only 2 major carriers you can fly — Southwest Airlines and Hawaiian Airlines. Only 1 of these airlines, Hawaiian, offers a premium class product, catering to the business traveler and those who want some extra space on board, allowing you to fly the short hop between the islands in the forward part of the cabin.
The experience is much different than flying first class on the mainland, and the benefits are certainly unique. We'll take a look at the booking process, the experience at the airport, what's on board, and whether purchasing a first class ticket on this short flight is worth it.
Airline: Hawaiian Airlines (HA)
Aircraft: Boeing 717
Flight #: HA315
Route: Kahului Airport (OGG) to Daniel K. Inouye International Airport (HNL) 
Date: December 17, 2020
Duration: 40 minutes
Cabin & Layout: Business Class, 8 seats, 2-2 config
Seat(s): 2D
Typical Retail Cost: $120.51 per person one-way
Introduction
I decided to take a week-long trip to Hawaii, first starting in Maui, and then heading to Oahu for the last few days, flying out from Honolulu back to the mainland.
I flew American Airlines from Washington, D.C. (DCA) to Phoenix (PHX) to Maui (OGG) for the outbound flight and American Airlines from Honolulu (HNL) to Dallas (DFW) to Washington, D.C. (DCA) on the return. To get between the Maui and Honolulu, I had a choice between Southwest and Hawaiian. 
I actually chose the Hawaiian flight because one of my traveling companions had a credit for their flight on Hawaiian, and not wanting to travel on a separate itinerary, I booked the same Hawaiian flight as well.
Booking
When you're booking an interisland trip on Hawaiian, the process is extraordinarily easy, and the simplest way is to head to the Hawaiian Airlines app or its official website.
Hawaiian typically offers 3 categories of fares you can book — Main Cabin, Preferred Seat, and First Class. Main Cabin is the cheapest fare, allowing you to book non-desired seats in the cabin, while Preferred Seat allows you to select premium seats such as in the exit row or bulkhead. First Class allows you to choose one of the wider premium cabin seats in the front and comes with an onboard service, free checked bags, and lounge access, among several benefits.
On a typical Hawaiian flight, the Main Cabin fares are around $30 one-way between Maui and Honolulu, with an extra $10 or so for a preferred seat. First Class is usually around $100 or so more, though it comes with the most amount of benefits.
At the Airport
Check-in was a very easy process on Hawaiian — it has a relatively small check-in area considering the size of the airline within the islands, and there are both economy class and first class queues.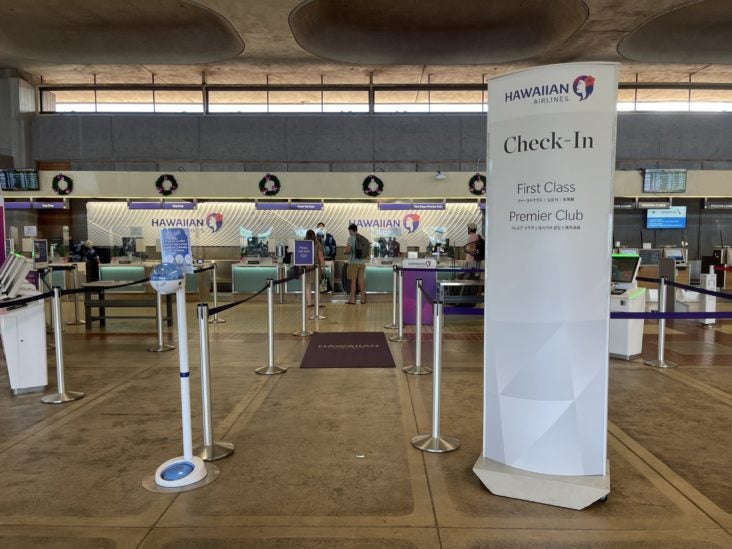 I entered the first class queue and checked a bag so that I wouldn't have to carry it with me in the terminal. The process took just a matter of moments, and I was on my way through security in no time.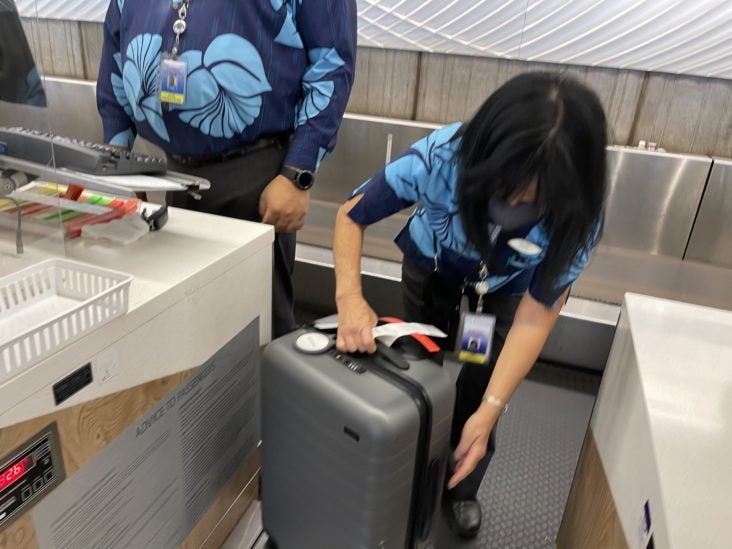 The Lounge
One of the interesting things about flying Hawaiian Airlines first class is that you get access to its Premier Clubs — the domestic version of its airport lounge experience. The Plumeria Lounge is its international business class lounge and is only accessible on long haul international itineraries. 
Hot Tip: Priority Pass members also have access to the Premier Club lounge in Maui, regardless of ticketed class. Check out our guide to the best credit cards that get you Priority Pass lounge access.
The Hawaiian Airlines Premier Club is located just past security, and to enter, you simply hand your boarding pass to the attendant for verification.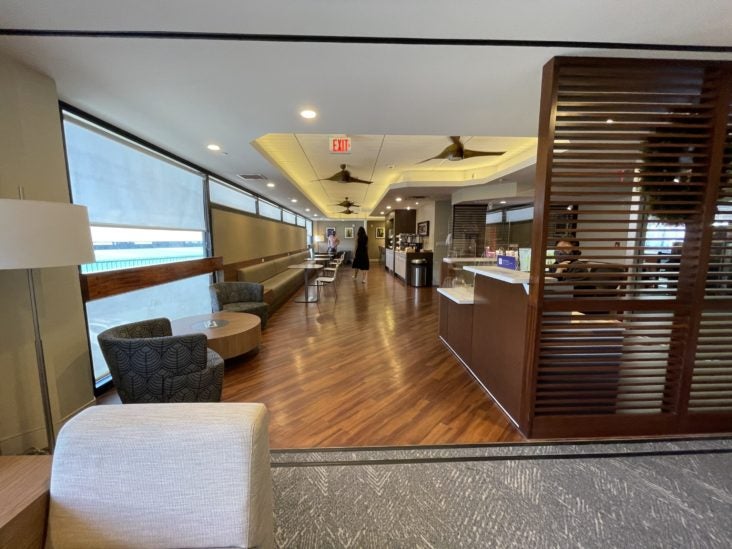 Inside, it is a very simple space with some couches, chairs, tables, and a few televisions. It's is a very basic lounge, only offering a soft drink machine and small packaged pretzels, similar to what you'd receive onboard. There are no substantial food offerings, no alcoholic beverages, and to access the bathrooms, you actually need to leave the lounge to use the ones in the terminal.
Bottom Line: It's certainly not worth arriving at the airport early to visit the Premier Club, though it's a quiet space to be able to get away from the chaos of the gate area, so if you have access, and time to kill, you might as well head inside.
This lounge is normally like this, even in non-pandemic times, so don't expect the experience to improve any in the coming months.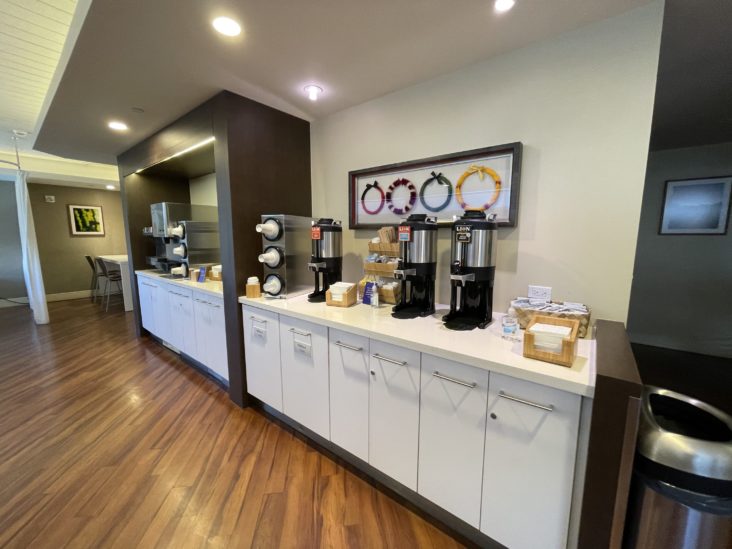 Flight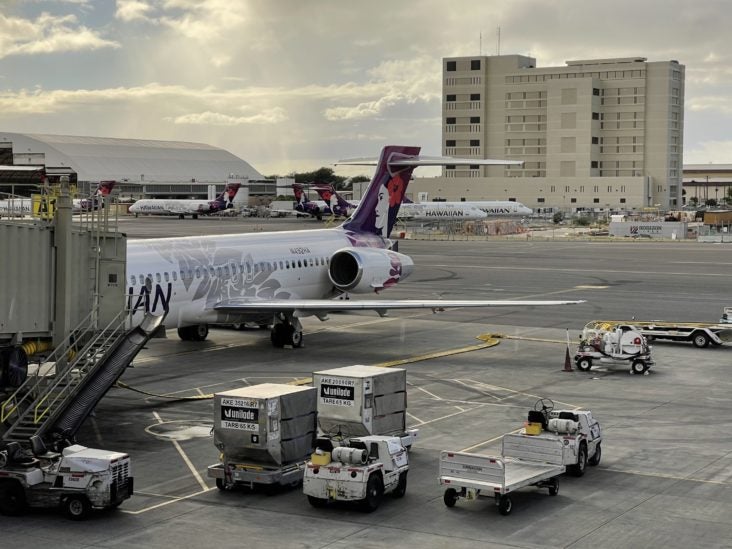 Aircraft
This flight was operated by a Boeing 717, with 8 first class seats in a 2-2 configuration and 120 economy class seats. The economy class seats are in a 2 by 3 format, with 2 seats on the left and 3 seats on the right.
Boarding
Boarding began by pre-boarding those with disabilities and those with small children, followed by first class. There were 2 lines, 1 for those with elite status and in the premium cabin, and another line for passengers in the main cabin.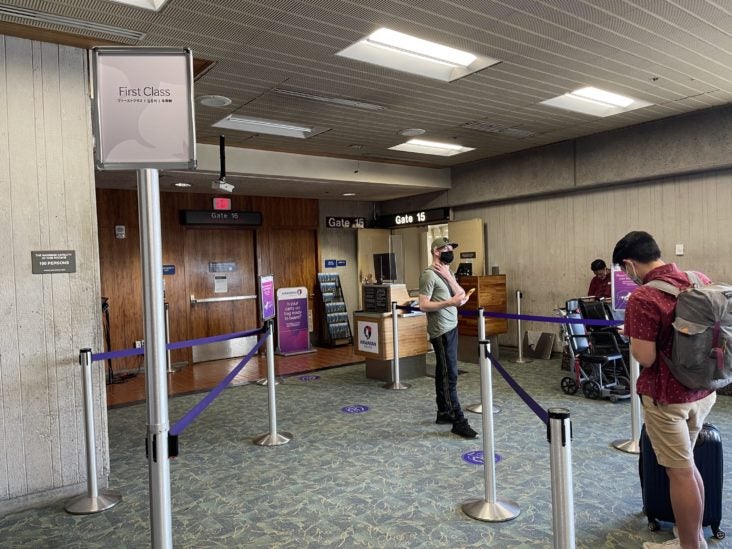 There was a single jet bridge down to the aircraft, and everyone boarded through the forward door. I placed my bags in the overhead bin and sat in my seat, 2C.
There were social distancing markers on the floor to encourage people to stand apart from one another, though there wasn't too much enforcement otherwise.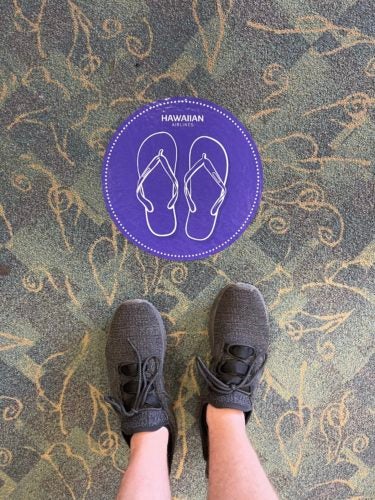 First Class
The seats in the first class cabin are typical domestic first class seats — similar to what you'd find on American Airlines, United, or Delta. The legroom felt a tad tight — the pitch of these seats is 37 inches and the width is 18.5 inches.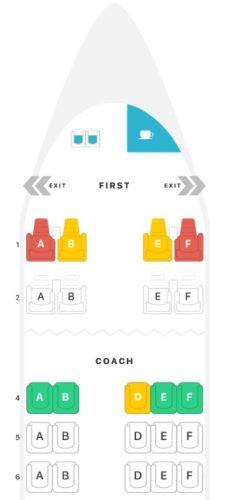 Hot Tip: In fact, if you sit in the bulkhead seats on this aircraft in the economy cabin, you'll have much more legroom than in the first class area. Seats 4A, 4B, 4D, 4E, and 4F have a large space in front of them, separating the economy cabin from the first class cabin.
In the center of each first class seat is a console where you can put your drink, though oddly there is a small slide-out drink tray that slides into where you are sitting that really doesn't serve any practical purpose.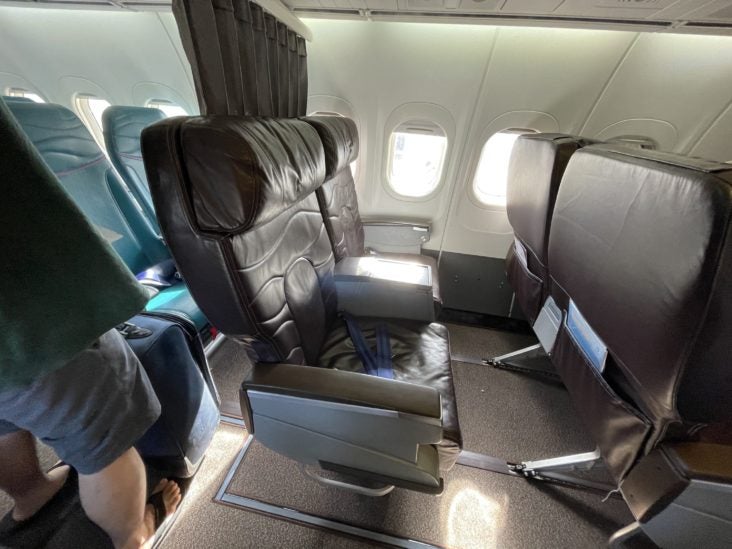 Service
On these short hops between islands, the service is extremely limited. In first class, you have a choice of several nonalcoholic beverages, beers, wine, and premade cocktails to choose from. These are offered almost immediately after takeoff and served shortly after. In addition to the drink, a small packaged snack mix is served (though, I wasn't a fan of it).
Hot Tip: You only have a few short minutes to eat and drink before the aircraft prepares for landing, so you'll want to keep this in mind when ordering. Especially for alcoholic beverages, you'll only have about 10 to 15 minutes in the air to drink.
The service on this flight was great — the flight attendant came around several times to check to see if I needed anything and offer refills (if you were able to drink that fast). There is no meal service or anything substantial, and what's offered is certainly acceptable considering the short time in the air.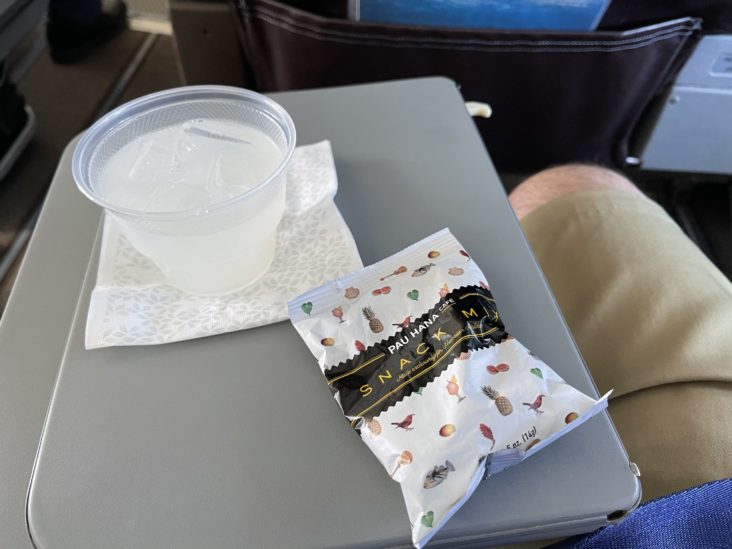 In the main cabin, there is a choice between a passion, orange, and guava juice mix or water, with no snack mix offered.
It's worth noting that mask usage is required throughout the entire experience — from check-in to leaving the airport when you land, and the mask compliance was very good. Hawaiian is very proactive in ensuring all passengers are wearing masks, and much of this is fueled by the island culture of trying to prevent exposure within the island chain.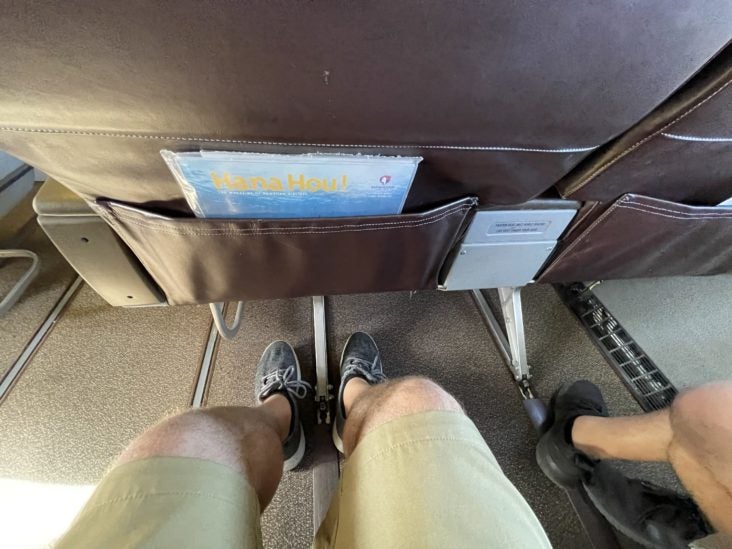 The onboard beverage and snack service has not changed due to COVID-19, and you are allowed to remove your mask briefly to sip your drink, so long as you replace it immediately afterward.
Arrival
As you arrive in Honolulu, you can't help but take a look at the stunning views outside of the aircraft — between Waikiki Beach and Pearl Harbor, there are lots to see out of your window.
Interisland flights arrive in a special terminal at Honolulu airport, and within minutes of pulling into the gate, I was off into the terminal to collect my bag. Upon arrival at the luggage carousel, my bag was one of the first out, which I greatly appreciated, thanks to the priority luggage tag that was placed on my handle back in Maui.
During the ongoing COVID-19 pandemic, if you're flying from Maui to Honolulu, you do not need to quarantine once you land in Oahu. If you were to do the reverse flight — from Honolulu to Maui — you do need to quarantine. This is because there are currently more cases on the island of Oahu than Maui, so you're allowed to fly from a location with less cases to an island with more cases without an issue, but not in reverse.
Hot Tip: Visit Hawaii's COVID-19 travel website for details on pre-travel test requirements.
Final Thoughts
The price difference into first class really isn't worth paying if you're flying interisland in Hawaii, due to the short flight time and limited services. That said, if you're checking a bag, you may find it worth it to purchase up since first class comes with a free checked bag — and in these cases, the buy-up offer might not be too much more than you'd otherwise pay for the bag.
The Hawaiian hospitality was certainly well-noticed throughout the flight, and I appreciated the beverage offering once in the air. If you're looking for a little more room onboard, a buy-up to first class may be worth it, but for most passengers, you're probably best off sitting in the main cabin for this short flight.