Admirals Club Lounge at Orlando International Airport [Review]
After a quick trip to Orlando, I found myself stuck at Orlando International Airport (MCO) for about 5 hours thanks to some rolling delays by American Airlines.
When I travel with my kids, even a 1-hour delay can throw all of our well-thought-out plans out the window. But, "fortunately" I was flying solo, so my only concern was which lounge I was going to get comfortable at until my flight was ready.
My first instinct was to open my Priority Pass app and find the list of lounges at MCO, but as I was doing that, I stumbled across an Admirals Club! I have been to Orlando many times and I have access to Admirals Clubs, so there was no excuse for me to not even know that this lounge existed. I was ashamed of myself!
So, I had no other option (and it was a perfect one, to be honest) than to check out the Admirals Club at MCO. Let's take a look.
What Are Admirals Club Lounges?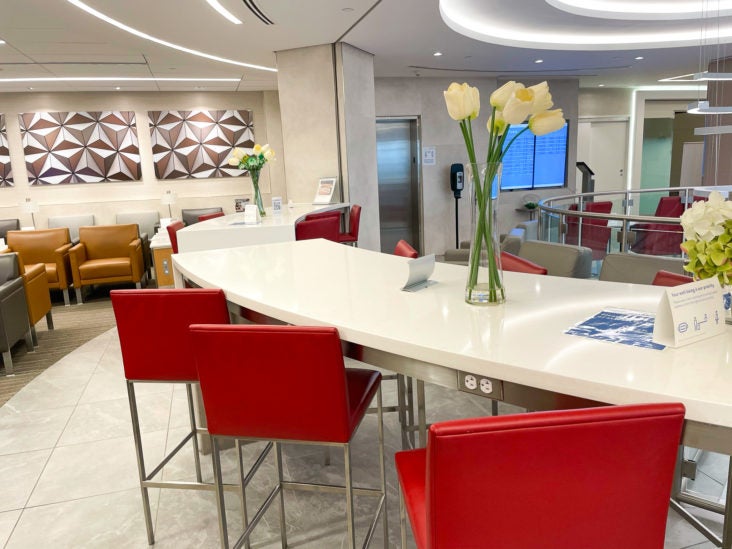 Admirals Clubs are American Airlines-branded lounges that are available to certain passengers, credit card holders, and paid members.
There are currently almost 50 Admirals Clubs across the world, mostly at popular American Airlines destinations.
Guests can enjoy complimentary Wi-Fi as well as free snacks and drinks. There are often additional food and beverage options available for purchase as well.
Hot Tip: Flying American Airlines soon? Here is a full list of U.S. Admirals Club lounge locations, hours, and amenities.
Admirals Club — Concourse 3 at MCO
Location
The Admirals Club at Orlando International Airport (MCO) is located in Concourse 3 of Terminal B, directly across from gate 55.
Since most American Airlines flights leave from this area, it should be pretty easy to find. My plane was scheduled to leave from gate 55, so it was convenient… until we had to deplane and then move to another gate to get a new plane.
Gaining Entry
Since I was flying American Airlines Flagship business class back to Rio de Janeiro (GIG) via Miami (MIA), I had complimentary access to the lounge. After a quick scan of my boarding pass, I was on my way to explore the lounge.
I am also an authorized user on my dad's Citi®/AAdvantage® Executive World Elite™ Mastercard® that would have provided me with access had I not been flying internationally in business class.
If you don't have one of those options, getting access is still possible. Here are the other options:
Purchase a day pass for $59
Purchase an Admirals Club membership that ranges between $550 and $650
Have AAdvantage Executive Platinum, Platinum Pro, or Platinum status while flying any cabin internationally on AA or a Oneworld partner
Have Oneworld Emerald or Sapphire status while flying any cabin internationally on AA or a Oneworld partner (not including North America)
Uniformed military personnel flying on American Airlines
First Impressions
My first impression of the lounge was that it was bright and had incredible views of the tarmac and approaching American Airlines aircraft.
After I stopped staring at the planes I started to notice how awkward the layout of the lounge was. There are 2 floors with a spiral staircase in the middle that brings your downstairs to the bar area.
If you have more than a light carry-on, you will likely need to take the elevator up and down to get between the levels.
Aside from that, I really like the design of the current Admirals Clubs. They are modern, vibrant, comfortable, and instantly recognizable.
Seating
With such a unique layout, there were plenty of seating options.
If you were sitting on the top floor, you could have your pick of chairs and stools with great views of the tarmac.
Downstairs offered additional seating, tables, and a big high-top bar.
Food & Beverage
The food and beverage offerings were the standard options you would find any Admirals Club in the U.S. If you are curious, you can take a look at the Admirals Club online menu.
Food
While the menu above listed all of the items for sale, like appetizers, entrée salads, and sandwiches, there are other items including soups and small salads that are complimentary.
I didn't feel like ordering anything off the menu, so I just snacked on what was available on the counters.
There were some decent healthy snacks like bananas and tangerines.
As well as some premade salads and mixed vegetable sticks.
I was strong and avoided the bite-sized apple caramel crumb cake… but they looked good!
There were also a couple of soup options behind the bar, but I didn't end up trying them.
Beverages
The bar is certainly a popular option at most Admirals Clubs. While the complimentary alcoholic beverages are limited to 1 brand of beer, red wine, and white wine, if there is something specific that you want to drink, there is a pretty good chance it is available for an extra cost.
For beer drinkers, there were 4 beers on tap including:
Miller Lite (complimentary)
Sierra Nevada Pale Ale
Stella Artois
Toboggan Blonde Ale by Ivanhoe Park Brewing Company
For wine drinkers, there was a variety of reds and whites available.
And if you prefer a cocktail, the bar was completely stocked and the bartender appeared to know what he was doing.
For non-alcoholic drinks, there was complimentary coffee, juice, water, and soda available. Most of it was self-service.
Bottom Line: If you are looking for some light snacks and adult beverages before your flight out of Orlando, you will find them at the Admirals Club. 
Amenities
The Admirals Club at MCO is a pretty small lounge, so besides the bar and snacks, there really wasn't much else to do.
Wi-Fi
The wireless internet was fast and easy to connect to using the same password from the Admirals Club I had recently visited in Miami. That meant that my phone connected automatically — a nice detail that AA introduced when they rebranded the lounges.
Workspace Options
The only real dedicated workspace option was this section of countertop along the window on the top floor. Unfortunately, the public computers were not available due to coronavirus (COVID-19) concerns.
If you wanted to spread out a bit more, you would probably be more comfortable at one of the tables near the bar on the bottom floor.
Quiet Room
In the back left corner of the top floor, you will find a quiet room.
Showers
Showers are not available at Admirals Club at MCO.
Staff & Service
While I was in the lounge for a few hours due to my delayed flight, I didn't have too much interaction with the staff as I was mostly catching up on work down by the bar.
When I arrived, I was greeted with a smile and asked if I had been here before. Once I told the agent no, he gave me a nice little overview of the lounge.
However, since I spent most of my time by the bar, I had a nice rapport going with the bar and cleaning crew. When the bartender stepped away, one of the cleaners noticed my empty glass and offered to refill it for me — I was impressed!
COVID-19 Protocols
Overall, coronavirus (COVID-19) protocols were pretty standard.
The agents at the door had plexiglass dividers and I was asked to scan my own boarding pass to limit unnecessary interactions.
Face masks were worn appropriately throughout by both staff and passengers.
And, of course, there was plenty of hand sanitizer available.
Final Thoughts
Overall, the Admirals Club at Orlando International Airport (MCO) is a solid little lounge, despite its awkward layout.
With great views of the planes coming in and out of the nearby gates, fast Wi-Fi, and free snacks and drinks, it's hard to complain. Although there is no kids' room or shower available, this is still a pretty good option to escape the chaos that is often Orlando International Airport.
If you have complimentary access to this lounge, it is certainly worth popping in to check out. If you were to pay $59 for a day pass, I would probably skip it and just use that money at the food court.