The 13 Best Leather Travel Backpacks [2021]
With luxurious looks and a soft, supple feel, leather backpacks offer a high-end, waterproof, and extremely durable alternative to fabric bags. Lovely to look at and incredibly practical, faux and genuine leather backpacks are built to last.
Things To Consider With Leather Travel Backpacks
Leather backpacks ooze style and quality, but before you buy, consider the following:
Size and Capacity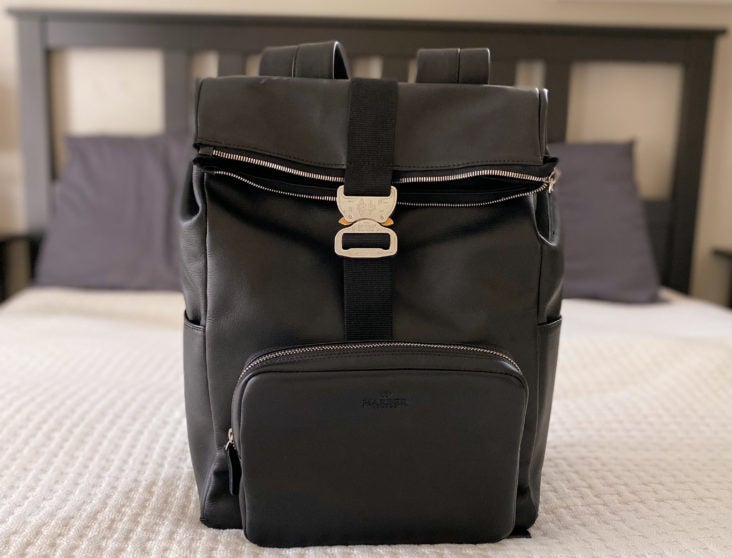 Deciding on the right size leather backpack for your needs will be entirely dependent on how you choose to use it. For the most part, everyday backpacks should be spacious enough to carry your laptop and files or folders while still offering enough room to hold your cell phone, wallet, cosmetics, and other travel essentials.
When it comes to finding the perfect travel backpack for you, leather or otherwise, you will need to consider the best size to suit your needs. Too long and too wide and it will be tempting to overfill it, wreaking havoc on your shoulders; too small and it won't offer the space you need.
Some backpacks have options that are designed to better suit the contours of the male or female frame, and while larger capacities are available, anywhere between 20 to 35 liters is about the right size to hold everything you need for school, work, or college.
Weight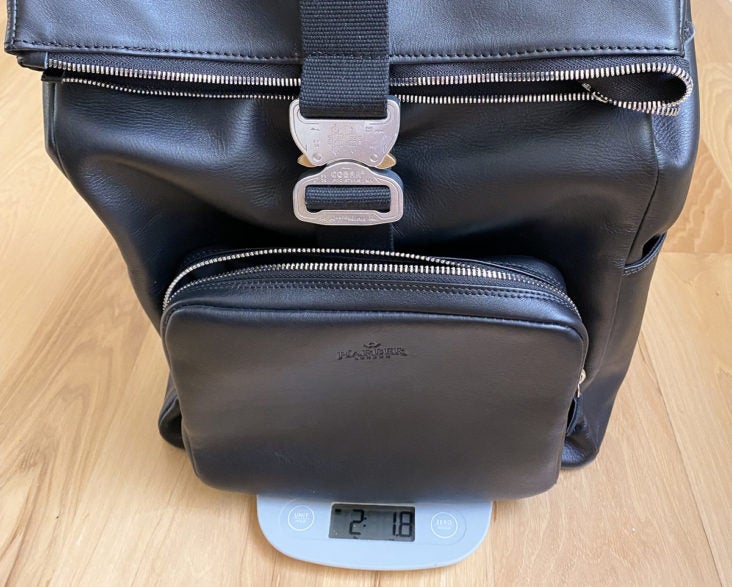 By virtue of their design, backpacks help to evenly distribute the weight of your belongings across both shoulders, helping them to remain more comfortable even when full. However, with leather backpacks, there is a common misconception that they have a heavier construction, adding extra pounds to their weight before you have even started packing your gear.
In reality, this is not necessarily true. Genuine leather backpacks go through a tanning process that makes the leather feel soft and supple it also ensures that it is virtually as lightweight as its synthetic counterparts. While faux leather doesn't offer such benefits, it should still feel fairly lightweight when empty.
Bottom Line: Most of the backpacks we have chosen weigh around 2 pounds when empty, and while this is directly comparable with canvas and other fabric backpacks, there are plenty of reasons why a leather backpack is a much more secure, protective, and desirable choice.
Carry Options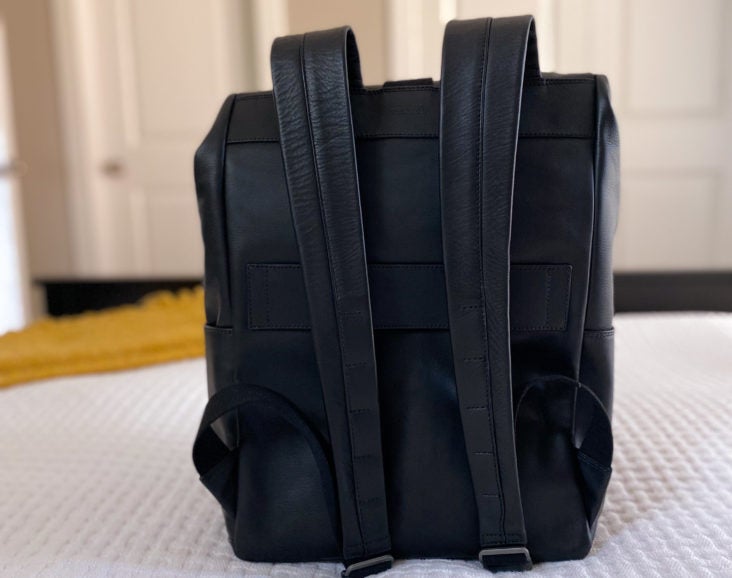 Backpacks are carried on your back, right? Well, yes, but they aren't just for throwing over your shoulders. Adjustable shoulder straps are a must to ensure the right fit against your body, and wide straps with extra padding will prevent the straps from digging into your skin.
Most backpacks also come with a top carry handle that can be used when you need to pick your backpack up or set it down, or even as a way of carrying it down low when personal space is in short supply. Some backpacks also come with a sleeve on the back of the bag that is designed to slide over the handle of your suitcase to ensure genuinely hands-free carrying.
Material and Durability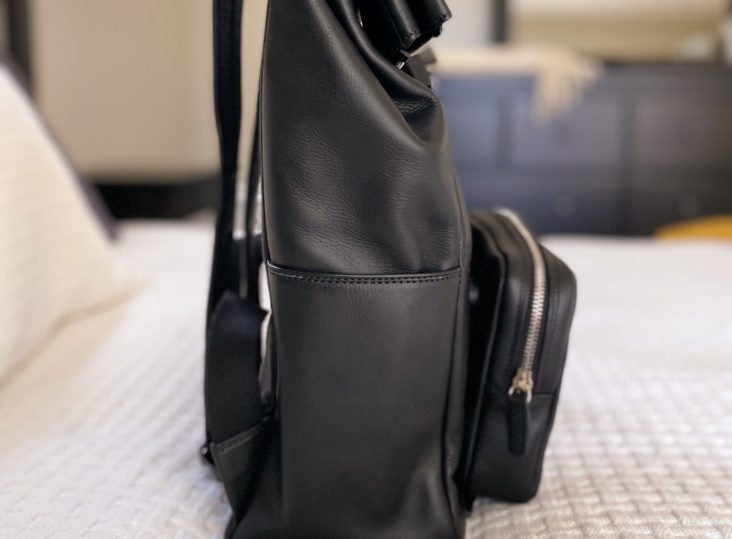 Leather is an incredibly durable material and one that is resistant to water and damage, making it suitable for use in all kinds of settings. Strong and sturdy, the right leather backpack can last you for many years to come, and when combined with tough seams, metal hardware, and closely woven stitching, your leather backpack will be able to handle anything life throws at it.
Faux leather is an excellent alternative to real leather as it can also repel water and is less prone to scratches and scrapes than real leather is. Genuine leather can also warp and crack if it gets too wet, whereas faux leather won't be affected in the same way. Highly durable faux leather also offers excellent protection for your belongings.
Comfort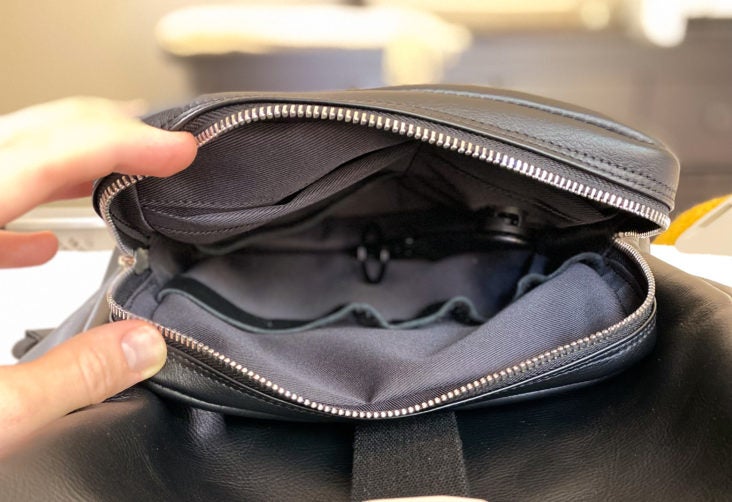 No matter how handsome your backpack is to look at it, if it's uncomfortable to carry, you won't want to use it. While padded straps are a must-have, there are other features that make for a comfortable carry along the way.
Breathable back panels offer increased airflow and reduce the build-up of sweat on your back. Multiple pockets also help to increase your comfort levels, as they allow you to more evenly distribute your belongings to help the backpack sit flat against your back.
Bottom Line: How you pack your backpack will also affect how comfortable it is to carry, so look for backpacks that allow you to pack heavier items close to your back and lighter items towards the outside.
The Best Faux Leather Travel Backpacks
There are lots of affordable faux leather backpacks to choose from, but here are some of our favorites.
The Best Designer Backpack
Herschel Little America Laptop Backpack
This beautiful 17-liter backpack offers stylish unisex good looks and lots of useful interior space. With a timeless silhouette, this model is perfect for school, work, or college, and it also comes in a larger 21-liter version for those who like to travel with a little more.
It is available in a selection of beautiful colorways and featuring the classic Herschel Supply Co. woven label, this is an excellent choice for style-conscious commuters.
Made from sturdy polyester and nylon fabric, this backpack has a large main compartment that comes complete with a padded and fleece-lined laptop pocket that is large enough to house devices measuring up to 15 inches. With a wipe-clean striped liner and a spacious front pocket with a key clip and hidden zipper, this backpack is effortlessly stylish both inside and out.
With enough space to carry your school books or folders, this backpack features padded and adjustable shoulder straps that are strong and supportive, even when your backpack is full, and the internal media pocket and headphone port make this perfect for listening to your playlist on the go.
What We Like
Has comfortable padded straps and a breathable back panel
What We Don't Like
Laptop pocket is quite tight, only fitting thin laptops
The Most Versatile Leather Backpack
Kah&Kee Leather Backpack
This beautiful backpack has a wide mouth opening and expensive-looking gold hardware available in a range of stunning colors. With a back mesh design for a more comfortable and breathable carry, this stylish backpack would be perfect for your daily commute.
On the inside, the padded laptop compartment is spacious enough to fit devices measuring up to 13 inches to keep your electronics safe. With a further front zipper pocket, a back zipper pocket with a vertical opening, and 2 side pockets, it offers plenty of ways to stay well-organized.
With well-padded and adjustable shoulder straps, you can find the perfect fit for the size and shape of your body, and the top carry handle lets you pick it up and set it down with ease. The large main zipper opening makes it easy to access your belongings, and the versatile design would also be well-suited to use as a diaper bag.
What We Like
Available in a range of beautiful colors
What We Don't Like
Straps can fail with heavy use
Hot Tip: Our guide to the best laptop backpacks offers plenty of options that keep your tech safe while also being comfortable to carry.
The Most Stylish Women's Leather Backpack
CLUCI Leather Backpack
Made from high-quality PU leather, this attractive women's backpack features super-strong reinforced stitching, gunmetal-tone hardware, and a soft fabric lining. Stylish and practical, this backpack is perfect for everyday use.
With a large main compartment that offers enough room to hold your 14-inch laptop, files, books, and other essentials, this is a spacious and versatile alternative to a briefcase or tote bag.
With 2 inner zipper pockets and 2 inner slot pockets, you can easily organize your belongings on the go, and the additional front zipper pockets and side pockets are perfect for keeping your most-used essentials close at hand. There is also a hidden zipper pocket on the back of the bag that lays flat against your back as you carry for additional security.
With adjustable shoulder straps and a sturdy grab handle, you can choose to wear this bag as a backpack or carry it over your shoulder, and the supersoft and supple synthetic construction gives it a high-end look and feel that will effortlessly coordinate with any outfit.
What We Like
Can be worn as a shoulder bag or backpack
What We Don't Like
Shoulder straps need retightening regularly
Gorgeous Vegan Backpack
LXY Vegan Leather Backpack
Made from the finest vegan leather and suede, this stunning backpack is available in a choice of beautiful black or brown colorways, and the timeless design and retro metal hardware give it upscale looks and sophisticated styling.
With a large main compartment that offers enough room to house a 14-inch laptop, you can keep your tech close at hand. Designed to offer more space when you need it the most, this backpack has side buttons that expand the storage space, and the 2 hidden anti-theft back and front pockets are perfect for keeping your most valuable essentials safe from pickpockets while you travel.
With quick-access smart pockets on the front of the backpack and magnetic closure to keep your belongings safe, this is an excellent choice for everyday use, even on busy commutes and in crowded spaces.
The adjustable shoulder strap has superstrong seams for increased durability, and the wide strap design will ensure that it stays comfortable on your shoulders, even when full.
Stylish, practical, and perfect for those looking for a more sustainable option to real leather, this beautiful backpack is large enough to accommodate everything you need for work, school, or college.
What We Like
Hidden anti-theft pocket at the back of the bag
What We Don't Like
Magnetic buckle for the straps can break easily
Hot Tip: For more options, check out these anti-theft backpacks.
The Best Big Backpack
CLUCI Large Leather-Look Backpack
Available in a wide choice of beautiful colors, this gorgeous faux leather backpack is large enough to carry everything you need for work, school, or college. Made from premium materials, the stylish design and gold-effect hardware give it an upscale look and feel.
On the inside, the large main compartment has multiple pockets in which you can fit your folders, notepads, project books, and so much more, and the interior slot pockets will keep your cell phone and other essentials well-organized. With an interior zipper pocket, your wallet, keys, and travel cards will always be within easy reach, and the anti-theft design will help to keep your belongings safe from would-be pickpockets along the way.
With the ability to carry it in 2 different ways, this highly versatile leather-look bag can be carried using the 2 adjustable shoulder straps or over your shoulder like a tote bag.
What We Like
Anti-theft design, with the main compartment only accessible from the inside
What We Don't Like
The main compartment zipper doesn't provide the easiest access
Compact Leather Backpack for Professionals
B&E LIFE Leather Backpack Travel bag
With an easy-to-clean polyester lining, this stunning leather-look backpack offers lots of useful storage space. Made from high-quality materials and featuring soft-touch gold metal hardware, this casual backpack is perfect for everyday use.
With its compact dimensions of 31 x 26 x 16 centimeters, this backpack isn't large enough to hold a laptop or folders, but the main open compartment is plenty big enough to carry all of your other day-to-day essentials. With a zippered back pocket and 5 useful interior pockets, you can easily organize your cell phone, wallet, cosmetics, keys, and other essentials. There are also 2 further side zippers that can be opened to expand the space inside.
With rivets on the bottom of the bag to protect it when placed on the floor and adjustable shoulder straps, this is a practical and fashionable backpack that is perfect for occasions where you want to travel light.
What We Like
Lots of internal pockets to keep organized
What We Don't Like
The Best Genuine Leather Travel Backpacks
An Adaptable Leather Backpack For All Your Needs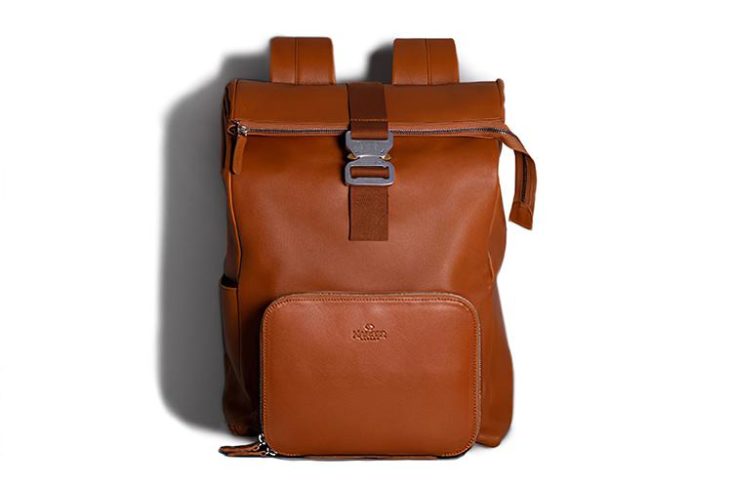 Hot Tip: Use special promo code UP10 for 10% off!
The Harber London Leather Roll Top Backpack is an incredibly versatile bag, perfect for your commute, business trip, or vacation. Made from full-grain cowhide leather, this premium backpack comes in a choice of tan, black, or deep brown and expands to allow up to 18 liters of storage.
The interchangeable modular front inserts allow the backpack to be adapted to your needs, whether that's the Nomad Insert to keep your cables, tablet, and even SD cards neatly organized, the spacious Tech Dopp Kit, or the Straps Insert that enables you to easily carry a lightweight tripod.
Whatever your adventure, you'll be traveling in comfort and style with the soft shoulder straps and magnetic sternum strap for comfortable weight distribution.
This bag makes a real statement with the military-grade front buckle that is built to last, as are the rest of the buckles that are made from aviation-grade aluminum. With a built-in tablet compartment, side water bottle holder, and other handy storage pockets, you'll never be stuck for somewhere to stash your gear.
What We Like
Interchangeable front inserts to suit your needs
What We Don't Like
Internal laptop pocket isn't padded
The Best-Aged Leather-Look Backpack
WUDON Leather Backpack for Men
Made from soft and supple genuine crazy horse leather, this handsome backpack has a spacious interior and is perfect for heavy-duty use. Boasting a solid construction, this backpack has tensile stitching and rust-resistant, zinc-alloy rivets and hardware to ensure long-lasting enjoyment on the go.
On the inside, the padded sleeve is large enough to accommodate laptops measuring up to 17 inches, and the open wall pockets are perfect for keeping your mouse, charger, and other accessories neatly stored away. With an external front and a side pocket that is perfect for keeping your most used items close at hand, as well as a genuine leather flap with drawstring closure at the top for added security, this is a brilliant backpack for tech-loving travelers.
With genuine leather and canvas padded shoulder straps, you can easily adjust the backpack to suit your body's size and shape, and the strong top grab handle makes light work of heavy lifting, even when full.
What We Like
Large enough to carry a 17-inch laptop
What We Don't Like
Inside pockets and lining could be more durable
The Best Designer Leather Backpack
Kenneth Cole Reaction Back-Stage Access Slim Colombian Leather Backpack
With a slim and streamlined silhouette, this soft full-grain Colombian leather backpack offers upscale looks and practical features. With a tear-resistant and fully-lined interior, the superior quality can be seen throughout, and the additional security features make this an excellent choice for use when traveling by air.
With enough space to comfortably carry your 16-inch laptop, the additional checkpoint-friendly EZ scan feature complies with TSA guidelines and allows your laptop to remain in the backpack, even as it passes through security. With a full-length zipper and 2 smaller tech or accessory pockets included in the laptop compartment, this backpack offers incredible flexibility for those that need to work on the go.
With a roomy front compartment that includes a mesh zipper pocket to hold smaller accessories, a separate tablet pocket, and an RFID business organizer, all of your gear will stay safe and well-organized in transit.
Padded and adjustable shoulder straps and a rear airflow system ensure that this bag always feels comfortable carrying. The trolley tunnel fits over most upright trolley handles for hands-free carrying.
What We Like
Stands up on its own without needing support
What We Don't Like
No side pockets to hold a water bottle
Beautiful Women's Leather Backpack
BOSTANTEN Genuine Leather Backpack
This gorgeous women's leather backpack is made from soft genuine cowhide leather and comes complete with a sleek gloss finish for a premium look and feel. With a sleek, slimline design, this backpack will coordinate well with any outfit, and the spacious and versatile interior will keep all of your belongings well-organized.
The U-shaped zipper closure allows you to enjoy quick and easy access to your gear, and the main pocket includes 2 separate compartments and a padded iPad pocket. There are also 8 card pockets, 7 slip pockets, 2 pen pockets, and an inner zipper pocket that is perfect for storing your valuables.
The theft-proof zipper pocket on the back is ideal for keeping your passport, ID, and cards safely stashed away from would-be pickpockets, and the expandable design offers plenty of space without it ever looking bulky or overfilled.
The full zipper openings on both the main compartment and the front pocket feature gold-colored hardware that looks sophisticated and offers a smooth, full-size easy opening. With padded and adjustable shoulder straps, you can keep this backpack flat against your body, and the top carry handle makes light work of lifting.
What We Like
Lots of separate compartments and pockets internally
What We Don't Like
Backpack straps are too long for shorter people
Stylish Vintage Leather Backpack
Brown Leather Vintage Backpack
With a stunning artisanal look and feel, this brown leather vintage backpack has a patina that just gets better with age. Tanned with natural vegetable oils and lovingly hand-stitched, the attention to detail featured in this backpack makes it an incredibly attractive and unique piece that is perfect for everyday use.
With a dedicated laptop compartment, this backpack can comfortably house devices measuring up to 17.3 inches, and the waterproof and sturdy construction will keep your tech safe and well-protected. With a large front pocket and 2 padded partitions on the inside, you can carry folders and work files, and the full-size inner pockets are perfect for keeping your essentials well-organized.
Designed with comfort in mind, this backpack has a unique strap design that forms a suspension system to protect your back from feeling uncomfortable, no matter how full it gets.
With padded adjustable straps that make light work of a heavy load, this premium leather laptop backpack is an excellent choice for travelers looking for a backpack that is able to stand out from the rest.
What We Like
Padded bottom for extra protection when setting it down
What We Don't Like
Material can be quite stiff to roll down
Leather Backpack for Men on the Move
TIDING Men's Vintage Leather Backpack
This spacious leather backpack has an impressive 13 different pockets and compartments, and even comes with its very own USB charging port, making it an excellent choice for tech-loving travelers. Made from high-quality cowhide crazy horse leather, the backpack is sturdy and reliable, and the built-in trolley handle allows it to slip easily over the handles of your carry-on bag for hands-free commuting.
With a padded compartment that is spacious enough to house a 15.6-inch laptop, as well as a built-in charging cable and easy-access pocket to hold your own choice of power bank, this backpack will help you to stay well-connected on the go.
With a further 7 main zipper pockets, a padded iPad compartment pocket, an organizer compartment pocket with multiple pockets and key fob, 2 pen pockets, and 3 further useful smaller pockets, this backpack offers versatile and incredibly practical storage space for pretty much everything you own.
To ensure a more comfortable carry, this backpack comes complete with a 3D breathable sponge pad on the back to ensure excellent airflow, and the padded and adjustable shoulder straps allow you to find the perfect fit to suit your size and shape.
What We Like
Superstrong zippers that won't fail
What We Don't Like
Quite heavy for a backpack at 4.4 pounds
Best for Business Users
BOPAI 40L Genuine Leather Backpack
With sharp good looks and a practical interior, this larger-size backpack is smart enough to be used as an alternative to a traditional briefcase and spacious enough to fit your laptop, tablet, wallet, cell phone, and even a change of clothing.
Made from soft and supple calfskin leather, this backpack features a padded laptop compartment that will keep your device well-protected, and the unique double zipper design offers additional security for your most valuable items.
With a built-in USB port on the outside of the bag and a charging cable, you can conceal a power bank of your choice in the dedicated pocket. The hidden zipper pocket on the back of the bag, combined with lots of further internal pockets and compartments, ensures that this backpack offers lots of practical storage space.
Designed to fit close against the body, this backpack comes with adjustable and padded shoulder straps, and the top carry handle is strong enough to support the weight of the backpack even when it is full.
What We Like
Can be attached to a suitcase with the backstrap
What We Don't Like
No RFID-blocking compartments
Final Thoughts
Stylish and elegant, a leather backpack exudes an air of quality and sophistication. Designed to offer all the space you need and built to last, both faux and real leather backpacks are a practical and upscale alternative to their fabric counterparts.
Offering excellent protection against the elements, sturdy construction, and acres of internal storage space, all of our favorite leather backpacks are a cut above the rest.