The 26 Best Things To Do in Philadelphia With Kids [2021]
Philadelphia is the largest city in Pennsylvania and the second-largest city in the Northeastern U.S., only behind New York City. Philly (as it is colloquially known) is home to many of the world's top universities and businesses, making it a destination for students, professionals, and tourists alike.
Famous for many major moments of U.S. history, including the signing of the Declaration of Independence, preservation of the Liberty Bell, and the Battle of Germantown, Philadelphia is a must-visit for history buffs. Being one of the oldest municipalities in the U.S., "The Birthplace of America" is also known for having the country's first library, stock exchange, zoo, and business school. Philadelphia was even at one point the nation's capital.
Getting to Philadelphia is easy as it's located in the middle of the Northeast Corridor just 100 miles south of New York City and 133 miles north of Washington, D.C. If you're in the area and don't want to drive, you can catch a ride on a bus or the Amtrak Northeast Regional train.
For anyone flying into Philly, Philadelphia International Airport (PHL) is located close to downtown and there are plenty of transportation options including bus, train, Uber, and fixed-priced taxis.
No matter if you are in town for a history lesson or a cheesesteak, walking the charming cobblestone streets while looking up and massive skyscrapers will be a fun experience for everyone in the family. A city with multiple nicknames including The City of Brotherly Love, The Birthplace of America, The City of Neighborhoods, The Cradle of Liberty, and The City That Loves You Back, it will be hard not to fall in love with this American treasure.
With so many great things to do in Philly, it was hard to narrow down recommendations for this article. However, we think this is a great list of things to do in Philadelphia with your kids. Let's take a look!
The Best Activities in Philadelphia With Kids
1. Visit Smith Memorial Playground & Playhouse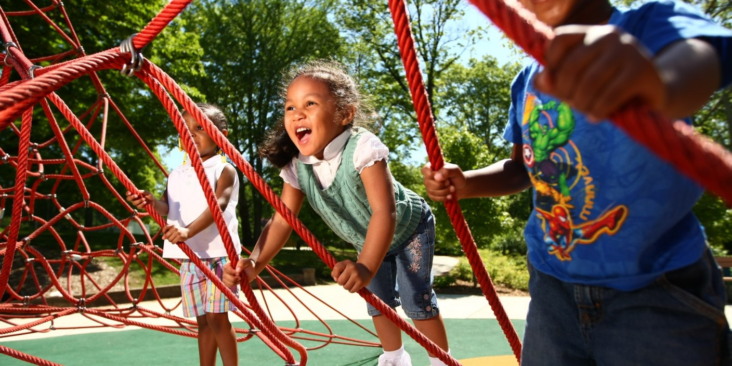 If your kids like playgrounds, they will love the Smith Memorial Playground & Playhouse in East Fairmount Park. This treasure of a park for kids has been around since 1899 and covers over 6 acres for kids to run, jump, climb, and have opportunities for unstructured play in Philadelphia.
This famous landmark is also home to an awesome 4-story "play mansion" that is over 16,000-square-feet large and has a massive 44-foot long wooden slide! Between that and the giant see-saw, your little ones will be in playground heaven.
Inside, the playhouse is packed with toys, games, books, and even an indoor tricycle room where kids can explore Smithville — a mini-town made just for your little ones. This free and fun spot is a great option to bring the kids and let them burn some energy. Oh, and it's free!
2. Head up to the City Hall Observation Deck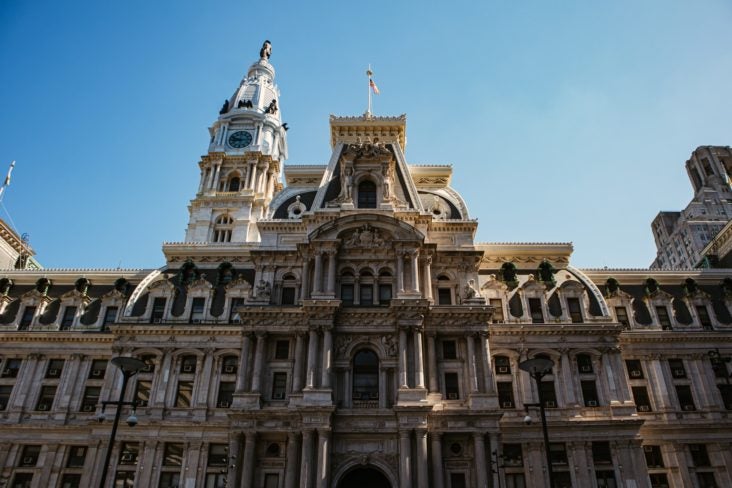 There is a lot to see and learn about during a visit to Philadelphia City Hall. Not only is it the largest municipal building in the U.S., but it is also the tallest masonry structure in the world without a steel frame and measures 548 feet tall. For any masonry buffs, the load-bearing walls are a massive 22 feet thick!
Inside City Hall, you will find lavish and ornate rooms, while the building itself is topped with a 37-foot tall bronze statue of William Penn, the founder of Philadelphia. No matter which perspective you are looking at the building, it is impressive.
Most visitors will be interested in the observation deck on the top of the building that provides stunning views of Philadelphia and the surrounding areas. The guided tours are full of information about the history of the building, city, and more. While this may not be the most exciting stop for little ones, many kids will love the thrill of being on top of the city.
3. One Liberty Observation Deck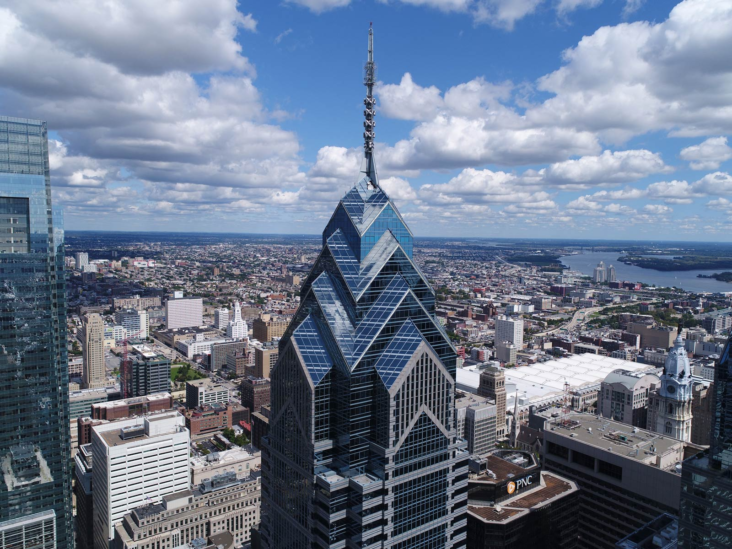 If you are looking for a birds-eye view of Chicago (without getting on a plane or a helicopter), take an elevator ride up to the One Liberty Observation Deck on the 57th floor of One Liberty Place in downtown Philadelphia.
Also known as "Philly From The Top," this observatory is the tallest attraction in Philadelphia and offers 360-degree views of the city while also providing visitors with interactive technology and local art exhibits.
Assuming the weather is clear, any time you head up, you are guaranteed a great view. During the day you will get sweeping views of the city, while sunset and night visits provide some stunning shots for your Instagram account.
4. Count Coins at the U.S. Mint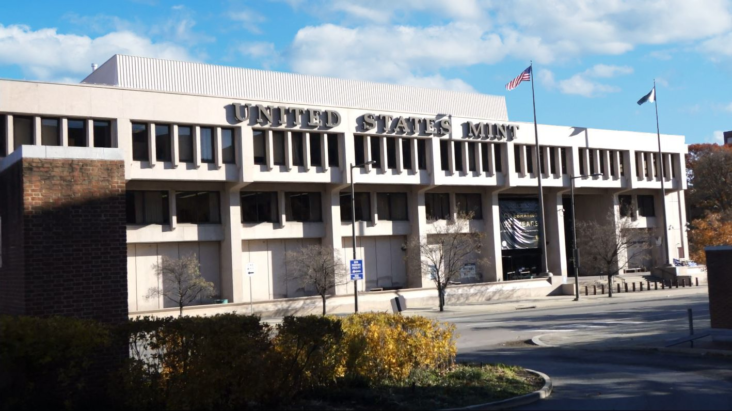 History, government, and finance buffs will be sure to have the U.S. Mint Philadelphia Facility on their to-do lists when visiting Philly.
Just 2 blocks from the site of the original U.S. Mint, which was built in 1792, stands the country's most efficient mint. The Philadelphia Mint produces 32 million coins per day including common circulating coins, numismatic uncirculated coin sets, commemorative coins, and metals.
Visitors can take tours to see the 24-hour production facilities, learn about the history behind the nation's coins, and even seen the original coin press used back in 1792!
5. Take a Selfie With the Liberty Bell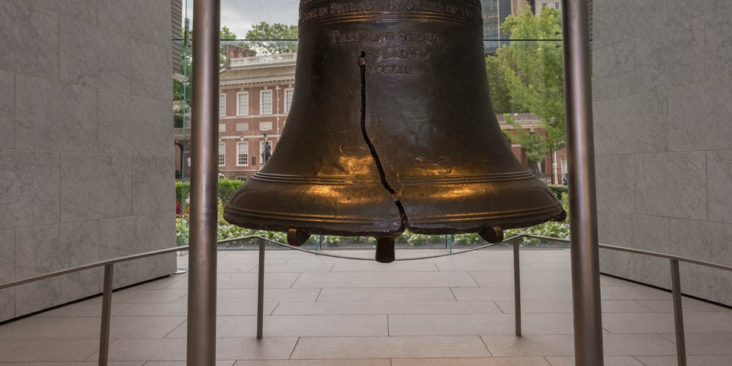 One of the most iconic and historic pieces in Philadelphia (and the country) is the Liberty Bell in Independence Hall, located at the Independence National Historical Park. With the inscription "Proclaim Liberty Throughout All the Land Unto All the Inhabitants thereof," the bell was a symbol for abolitionists who wanted to end slavery, Women's Suffrage, and Civil Rights.
The bell was originally commissioned in 1752 and was used to summon lawmakers and inform citizens about public meetings and proclamations. It is believed that the bell was rung on July 8, 1776, to mark the reading of the U.S. Declaration of Independence.
The iconic crack in the "Justice Bell" first occurred when it was rung upon its arrival in Philadelphia and only got worse as the bell toured patriotic gatherings where it was rung even more and even chipped away by souvenir hunters.
Although the bell is owned by the city of Philadelphia, the National Park Service has custody of the Liberty Bell, and it is a UNESCO World Heritage site as well. To top it all off, visits are free!
6. Enjoy an Authentic Cheesesteak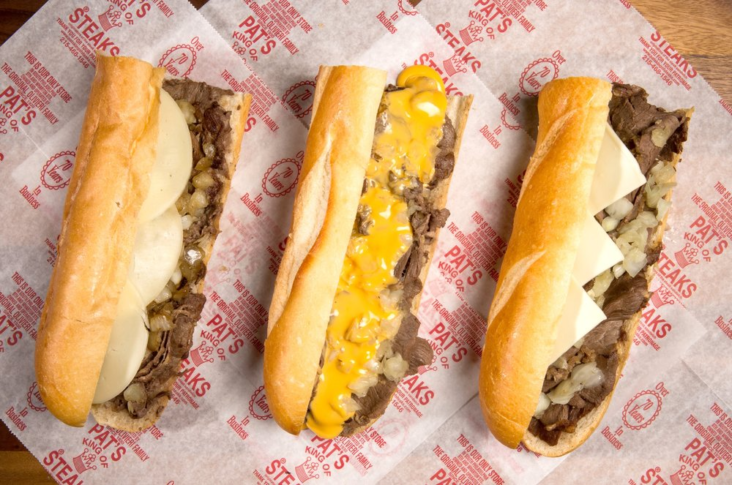 For many people, when you start to say "Philly" they think the next word out of your mouth is going to be "cheesesteak" because of the über-famous sandwich that was born in Philadelphia.
While the origins and best place to get one are hotly debated, one thing that is certain is that a Philly cheesesteak is a cultural obsession and a must-try when you are in town.
While you may find some variations, a cheesesteak is generally composed of sauteed beef ribeye slices and melted cheese on a long crusty bread roll. The cheese is often either Cheez Whiz, American, or provolone, and additional toppings often include onions, mushrooms, and peppers — served with a side of Herr's chips.
If you are looking for a hearty and authentic meal while in Philly, don't skip the cheesesteak!
7. Pose With the LOVE Sculpture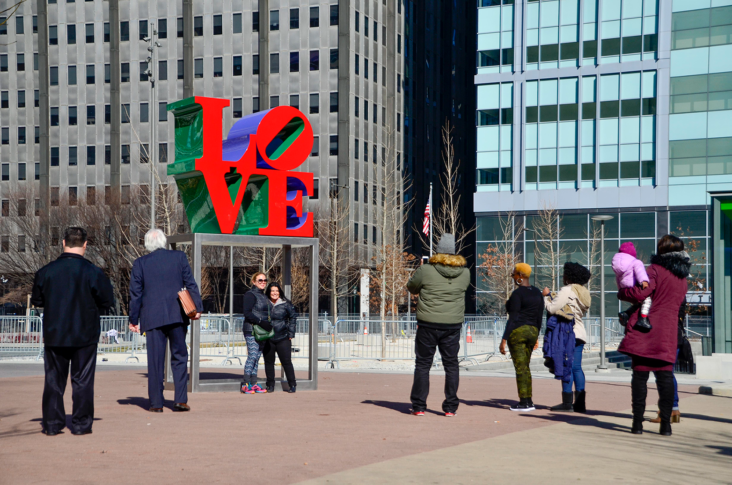 Fun and iconic are 2 words that easily describe the "LOVE" sculpture located in John F. Kennedy Plaza — also known as LOVE Park.
Designed by American artist Robert Indiana for the U.S. Bicentennial in 1976, this 6-foot by 6-foot piece of pop art has been a Philadelphia attraction ever since… except for a brief time when it relocated to New York City.
A stroll through the park and snapping a picture with this famous piece of art will be a fun and cute item on the itinerary for the whole family.
8. Meet Your Friends at Sesame Place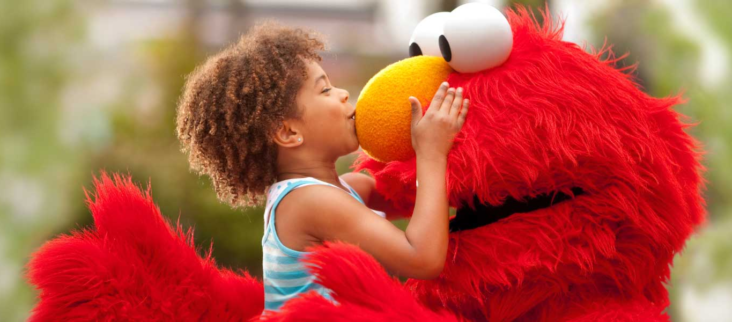 For parents who have kids that are fans of Sesame Street, a trip to Sesame Place is definitely worth considering during your trip to Philly. Located just outside the city in Langhorne, this kid-friendly theme park is full of fun with rides, shows, and water attractions for children of all ages.
Sesame Place is the only theme park in the country entirely based on the hit TV show and is a Certified Autism Center to top it off.
With attractions like Cookie's Monster Land, Neighborhood Street Party Parades, and character meet and greets, everyone in the family is sure to leave with a big smile on their face.
9. Sit and Listen on the Once Upon a Nation Storytelling Benches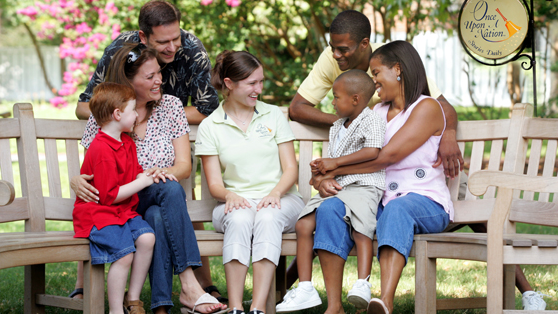 Learning about the history of the U.S. can be fun and interactive thanks to the Once Upon a Nation Storytelling Benches. These 13 benches are located throughout Philadelphia's Historic District where visitors can sit and hear tales and stories told by professional storytellers.
Each story is between 3 and 5 minutes long, so the perfect amount of time for kids with short attention spans. But with fun (and often secret) stories being told, the whole family will be excited to move on to the next bench.
Visitors can find these unique benches in the following locations:
Arch Street Meeting House
Betsy Ross House
Carpenters' Hall
Christ Church
Elfreth's Alley
Franklin Court
Franklin Square
Independence Visitor Center
Independence Square, behind Independence Hall
The Lincoln Financial Storytelling Bench at the National Constitution Center
Museum of the American Revolution
The Powel House
Signer's Garden
Hot Tip: Kids can get a free Story Flag at any bench and then an additional sticker after each story. Story Flags with all of the stickers can be exchanged for a History Hero Certificate and a free carousel ride on the Parx Liberty Carousel at Franklin Square.
10. Tour the Betsy Ross House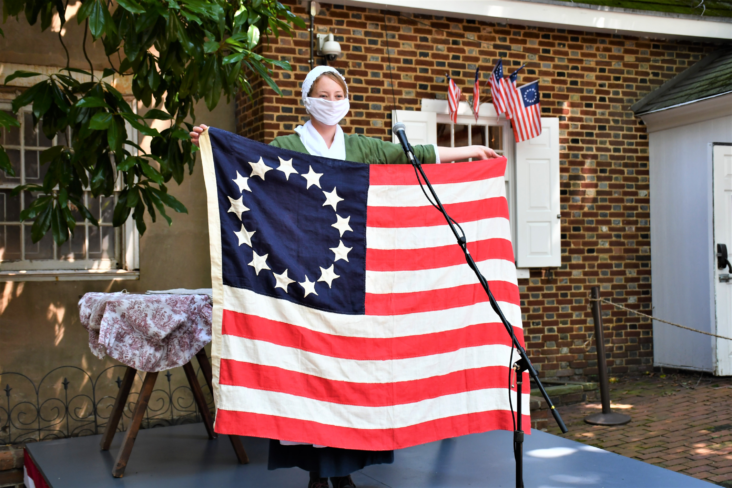 One of the most visited sites in Philadelphia is the Betsy Ross House, where the famous seamstress and flag maker sewed the first American Flag.
Visitors can go on a self-guided tour through her house in Philadelphia's Historic District, squeeze through the tiny rooms, and even talk to Betsy herself about her interesting life.
With a special audio guide for kids, this will be a unique and educational historical visit for the little ones.
11. Go on a Foodie Tour at Reading Terminal Market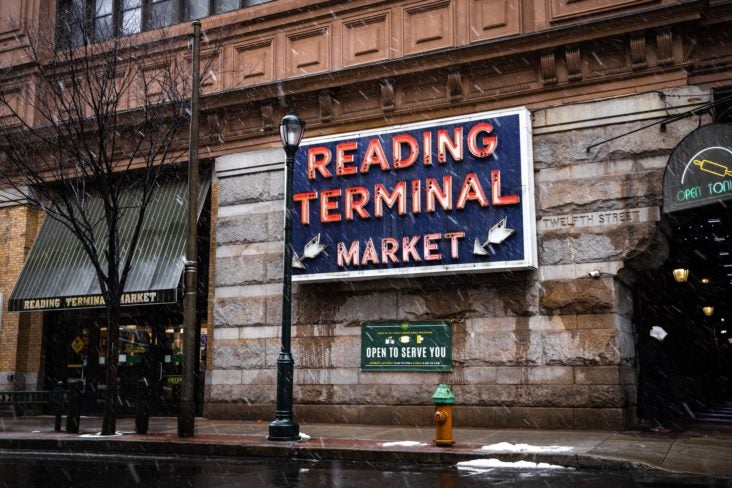 Located in Center City Philadelphia, right next to the Pennsylvania Convention Center, you will find the famous Reading Terminal Market. Widely known as one of the best public markets in the country, it is also one of the oldest and biggest.
Originally opened in 1893, the market is now home to over 80 unique merchants offering items like artisan cheeses, gourmet sandwiches, fresh produce, exotic meats and produce, flowers, crafts, and more.
Whether you want some fresh sushi or want to try some soft pretzels from the local Amish bakers, a trip to Reading Terminal Market will leave you and the kids full and wanting to go back for more.
Hot Tip: If you are visiting Philadelphia by train, here is a list of Amtrak station lounges for those with Amtrak Guest Rewards elite status.
The Best Museums in Philadelphia With Kids
12. Philadelphia Magic Garden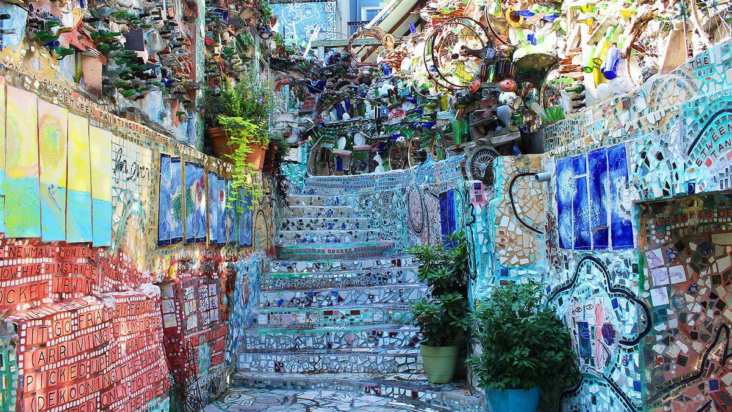 Parents who want to see their kids say, "Wow! Cool!" should take a stroll through the Philadelphia Magic Garden. This indoor/outdoor art gallery on South Street in Philly is the work of local mosaic artist Isaiah Zagar and covers almost half a city block.
Since the 1960s, the gardens have been and continue to be covered in items like bicycle wheels, ceramic pieces, Latin American artwork, and more.
As you make your way through this one-of-a-kind neighborhood, everyone in the family will be both impressed and puzzled by work. If you happen to be visiting on a Sunday, you may be lucky enough to catch a family-oriented music program that is free but requires tickets.
13. Please Touch Museum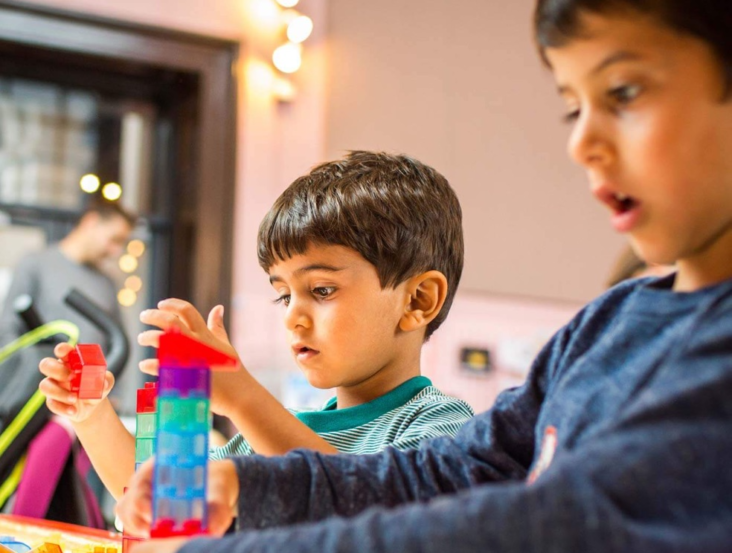 There is nothing like a good children's museum, and in Philadelphia, that is the famous Please Touch Museum. Since 1976 the museum has been teaching and inspiring kids… and growing along the way. Today the museum is over 157,000 square feet and has 6 interactive exhibit zones, including 4 that are designed for kids under 3.
With hands-on exhibits throughout and experiences for kids of all ages, a visit to the Please Touch Museum will not only be educational but fun for the whole family.
Bringing the past to the present and mixing history with play, this museum will be a fan favorite in no time.
14. Philadelphia Zoo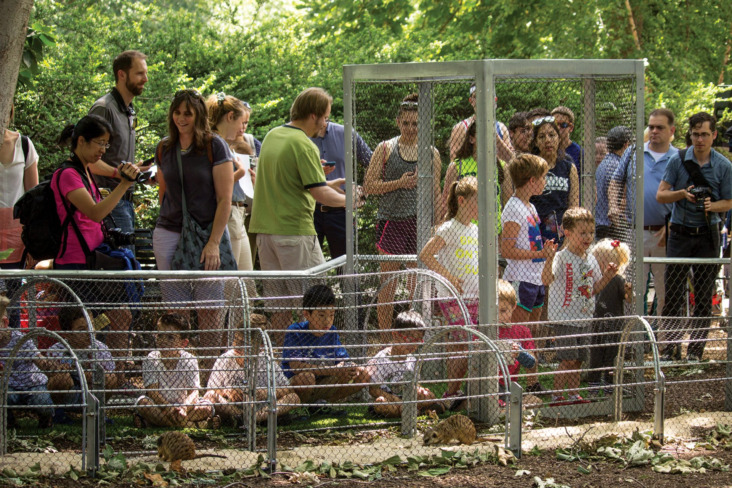 Consistently ranked among the best zoos in the country, the Philadelphia Zoo is worth a visit if your kids are animal lovers. Recognized as the first true zoo in the U.S., dating back to 1859 (although the Civil War delayed the opening until 1874), this zoo is famous for many things, including its breeding of animals that are typically difficult to reproduce in captivity.
Set on 42 acres in the Centennial District of Philadelphia, the Philadelphia Zoo is home to almost 1,300 animals, a botanical collection of over 500 plant species, and a groundbreaking research and veterinary facility.
The zoo is always improving the habitats, and a great example of that is the Zoo360 initiative — a trail system that the animals can use to travel through and explore the rest of the park, safely. The see-through mesh trails allow safe passage while allowing visitors and animals unique views of the exhibits.
With a ropes course, aviation center, and a L.E.E.D.-certified children's zoo called KidZooU, the little ones are sure to have a blast. And getting to the zoo is easy by car or even public transportation.
15. Franklin Institute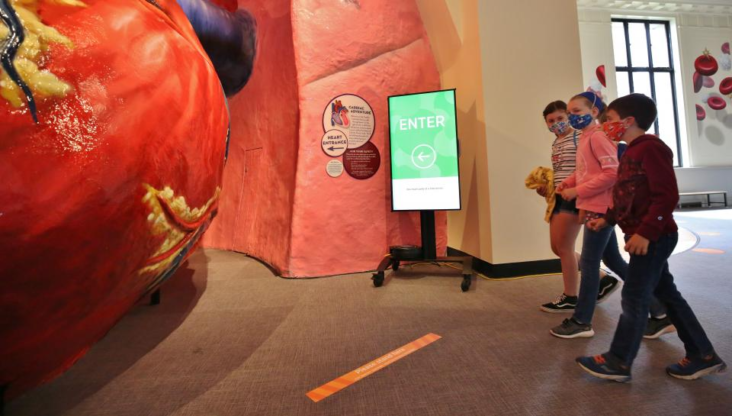 Families looking for a good science museum don't need to look any further than the Franklin Institute in Philadelphia. Founded in 1824 and named after the one and only Benjamin Franklin, the Franklin Institute is now one of the oldest and most popular science museums in the country.
This hands-on museum has everything from electricity exhibits to sports and even aviation. If science is involved, this museum will find a way to explain how to both kids and adults.
With so many events and exhibits, it is no surprise that this is Philadelphia's most-visited museum. Admission is around $20 and purchasing your tickets in advance is recommended if you want to guarantee the time you want to visit.
16. Adventure Aquarium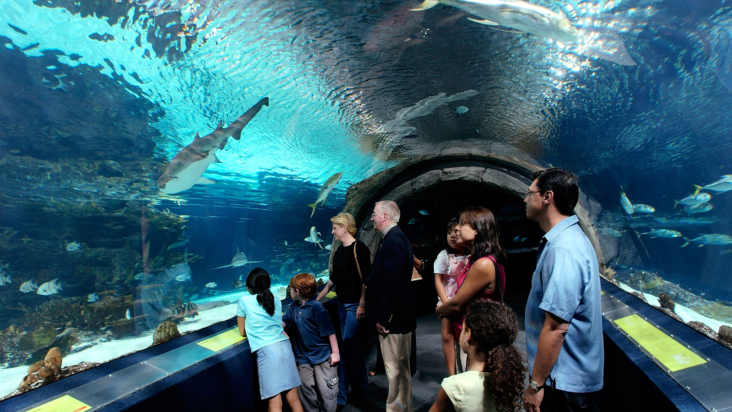 Just across the Delaware River in Camden, New Jersey you will find the family-friendly Adventure Aquarium.
With 2 million gallons of water and over 8,500 species, including the largest collection of sharks in the area, spending an afternoon at the aquarium will be fascinating for the whole family.
Engaging and educational, your kids will be able to get up close with some incredible animals like penguins, turtles, and stingrays. There is even a crew of hippos that live there!
If that's not enough, go for a walk through the Shark Tunnel to get a unique view of the magnificent creatures!
17. The Academy of Natural Sciences of Drexel University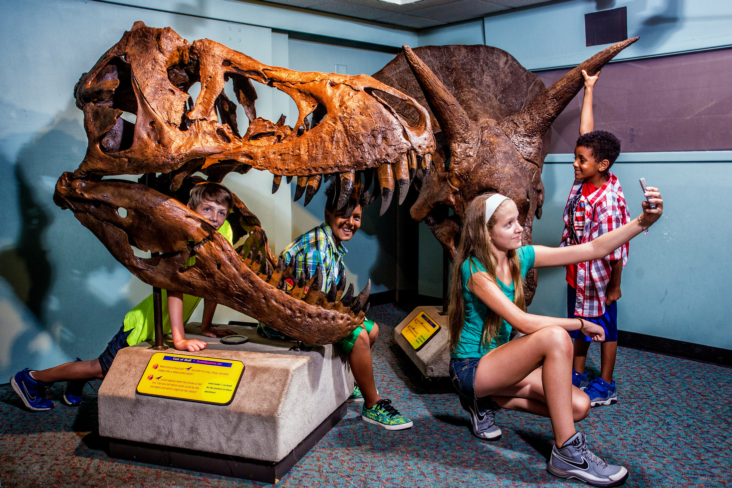 Both a museum and a research and education institution, The Academy of Natural Sciences of Drexel University in Philadelphia is world-renowned and is the oldest natural science museum in the western hemisphere.
Founded in 1812, the institution has a long history of educational exhibits for the public as well as schools. Kids will love digging for fossils, running through the garden full of live butterflies, meeting animals, and hearing from actual scientists.
The dinosaur fan in your family will love Dinosaur Hall where there is a fully constructed tyrannosaurus rex and can even climb inside a replica of its skull! With constantly rotating exhibits, whenever you plan to visit, there will be something interesting for kids and adults of all ages.
18. National Constitution Center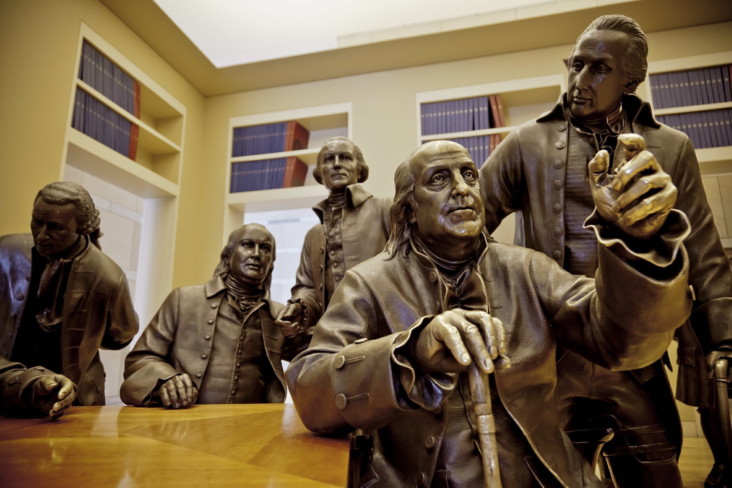 You can't visit Philadelphia without getting a bit of a history lesson, and if you want to learn about the Founding Fathers, there is no better place than the National Constitution Center.
Opened on July 4, 2003, this 160,000-square-foot museum is entirely dedicated to the U.S. Constitution. With everything from high-tech exhibits and interactive displays to an original copy of Abraham Lincoln's Emancipation Proclamation and one of only a dozen surviving copies of the original Bill of Rights, this museum is as impressive as it is significant.
With life-size bronze statues of the revolutionaries and a star-shaped 350-seat theatre for live and filmed shows, there is plenty here to spark your kid's interest in American history.
19. The African American Museum in Philadelphia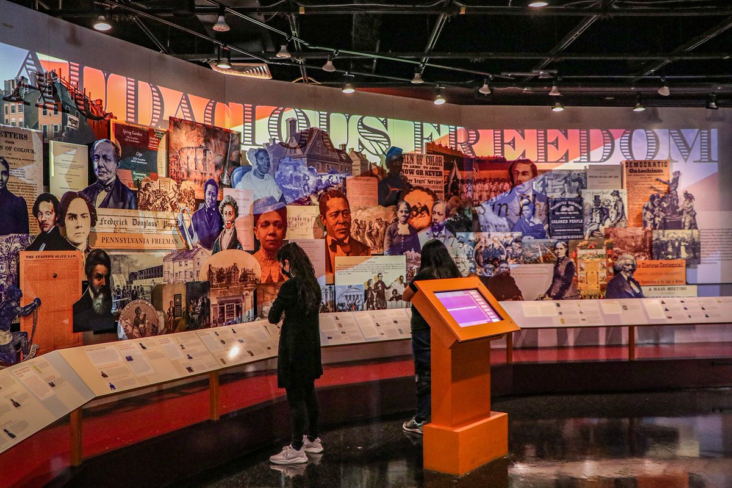 Located just a few blocks from the Liberty Bell, The African American Museum in Philadelphia has 4 exhibition galleries full of history and influential art.
The museum is an affiliate of the Smithsonian Institution and the first of its kind that was built by a major U.S. city to preserve and display the culture and heritage of the African-American community.
With permanent exhibitions looking at the stories of African-Americans and their role in founding the nation as well as rotating special exhibitions highlighting art, social issues, and more, a visit to this museum will be moving, enlightening, and educational for the whole family.
The Best Sports in Philadelphia With Kids
20. The Yard at Citizens Bank Park (Philadelphia Phillies, MLB)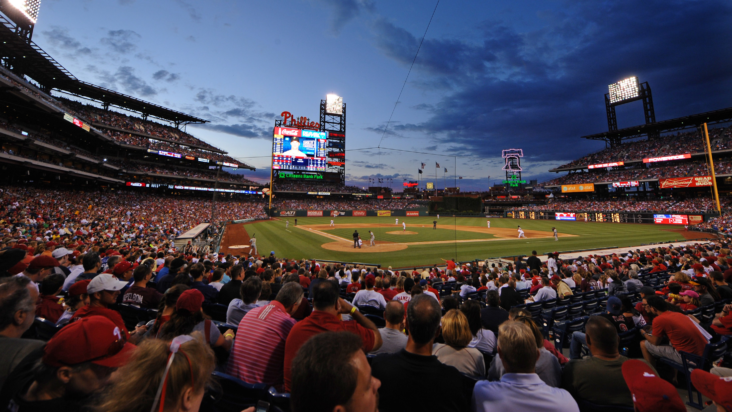 There is nothing like watching a baseball game with your kids on a warm summer evening, and there are few ballparks in the country as kid-friendly as Citizens Bank Park.
With great views of the Philadelphia skyline, catching a Phillies game here is fun for the whole family, especially if you visit The Yard. The Yard is a 79-foot-deep Wiffle ball field where kids can play around, climb a giant climbing wall, practice launching hot dogs, and even see how fast they can throw a baseball.
With plenty of great food and beverage options as well, everyone in the family is sure to have a great time.
21. Rocky Steps and Statue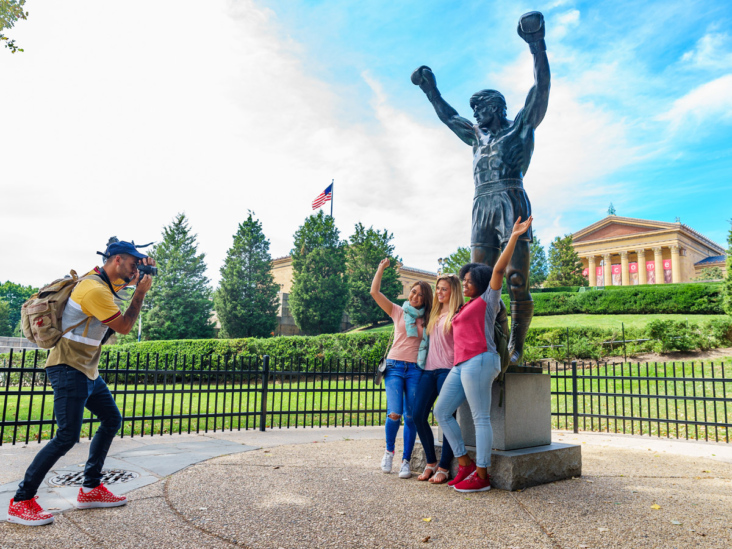 For fans of the "Rocky" movies, posing for a picture with the Rocky statue and then running up the 72 steps to the top of the Philadelphia Museum of Art is a must-do.
The statue is one of Philadelphia's most-visited tourist attractions after it was donated by Sylvester Stallone after it was used in filming for "Rocky III."
Grab the kids and race to the top of the stairs to see who looks best doing the famous 2-arms-raised salute!
Hot Tip: Flying into Philly? Don't miss the Philadelphia American Express Centurion Lounge at PHL. 
The Best Walks in Philadelphia With Kids
22. Franklin Square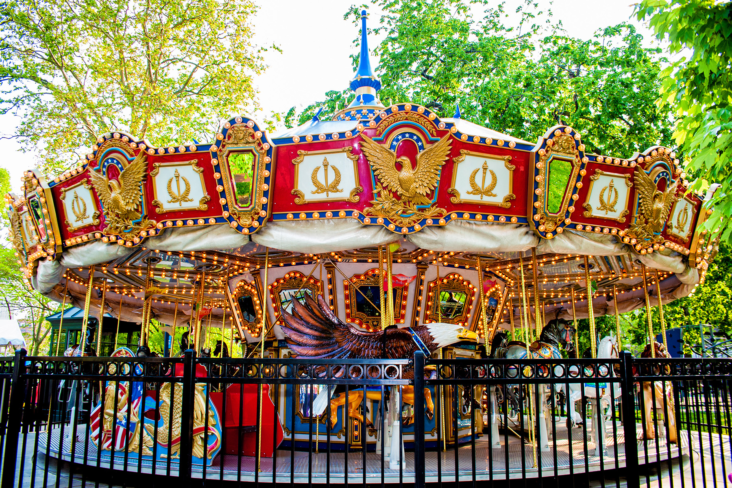 Parents looking for a fun outdoor space with entertainment and food that is easy to get to should check out Franklin Square.
This 8-acre park was 1 of 5 of the public squares that was planned by William Penn during his original plan for Philadelphia. With plenty of green space, a mini-golf course, a carousel, and one of the Once Upon a Nation storytelling benches, this family-friendly park has enough to keep everyone entertained.
Cap off your day with some good food and a water show in the centerpiece Franklin Square fountain where water sprays in sync with colorful lights and music in the evenings.
23. Spruce Street Harbor Park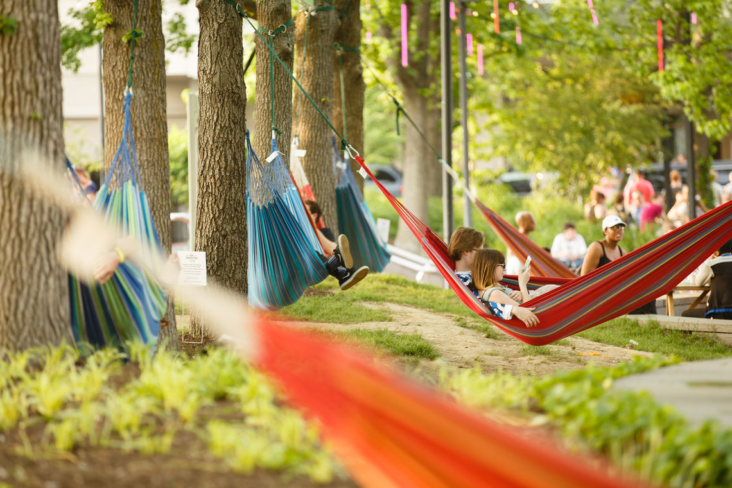 Known as one of the best urban beaches in America, if you're in Philly during the summer months you should definitely check out Spruce Street Harbor Park along the Delaware River.
The popular boardwalk hangout is full of hammocks to lounge on, games for the kids to play, and beer gardens for the parents to relax at. With floating restaurants and LED lights keeping the atmosphere fun, this is a great spot to relax and fuel up for the rest of your stay in Philadelphia.
Hot Tip: Spruce Street Harbor Park is a great spot to watch fireworks around the 4th of July.
24. Camden Children's Garden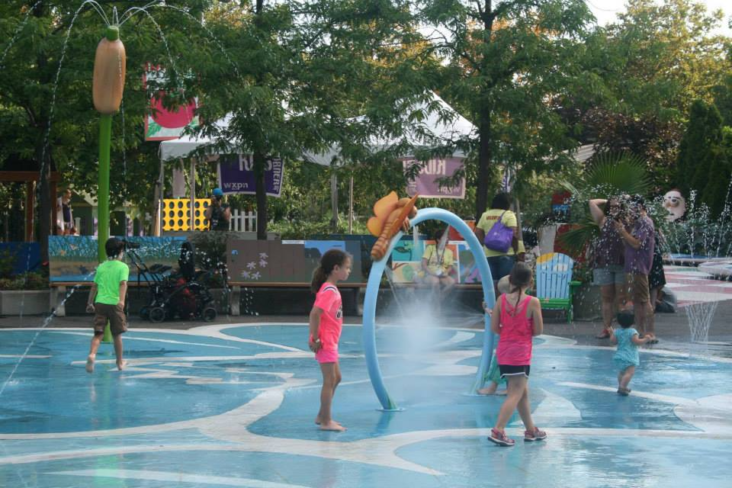 Located just across the Delaware River, in Camden, New Jersey, the Camden Children's Garden is 4.5 acres of creative and imaginative play for your kids.
With plenty of indoor and outdoor attractions like a treehouse, picnic garden, and even a dinosaur garden, the little ones will have a blast running around and exploring. In the warmer months, bring a bathing suit or a change of clothes and jump around in the Main Plaza's Water Spray Ground.
Add in a carousel, a train, and the popular Storybook Gardens, and this will quickly become one of the more popular stops on your trip.
25. Independence National Historical Park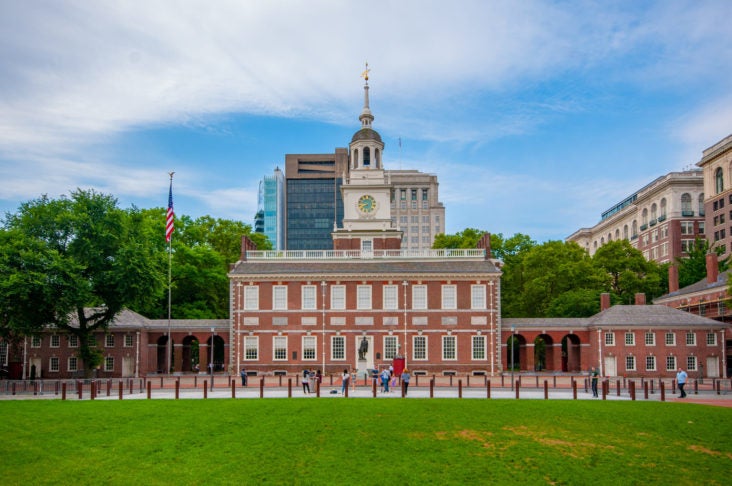 Independence National Historical Park is a 55-acre park in the middle of Philadelphia and is a federally protected area that preserves many historical sites surrounding the American Revolution.
Run by the National Park Service, here is where you will find Independence Hall, Congress Hall, the National Constitution Center, and the Liberty Bell. This free UNESCO World Heritage Site welcomes over 4 million visitors each year and is a must-visit for anyone interested in U.S. history.
Hot Tip: If you're looking for a points-friendly hotel in the area, check out our review of the Kimpton Hotel Monaco Philadelphia, located just across from Independence Hall!
26. Sister Cities Park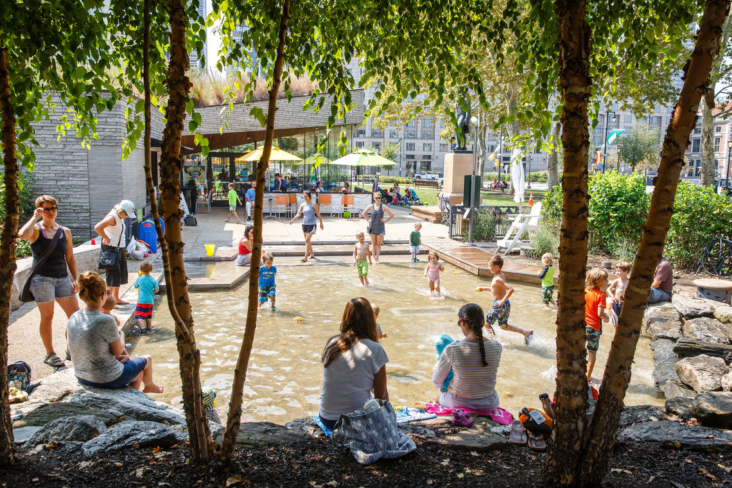 Along the Benjamin Franklin Parkway, you will find the urban oasis that is Sister Cities Park.
This park in the center of Philly is calm and charming with its boat pond, fountain, garden, and café. Kids can run around the pathways, climb rocks, and splash around in the pond.
As the name suggests, the park honors the sister cities of Philadelphia, including Florence, Tel Aviv, and Frankfurt, and is a great place to let the kids run free while walking between tourist attractions.
Hot Tip: Just a short walk from LOVE Park, Sister Cities Park has a translated version of the famous art installation. Be sure to take a picture with the "AMOR" sculpture, too!
Final Thoughts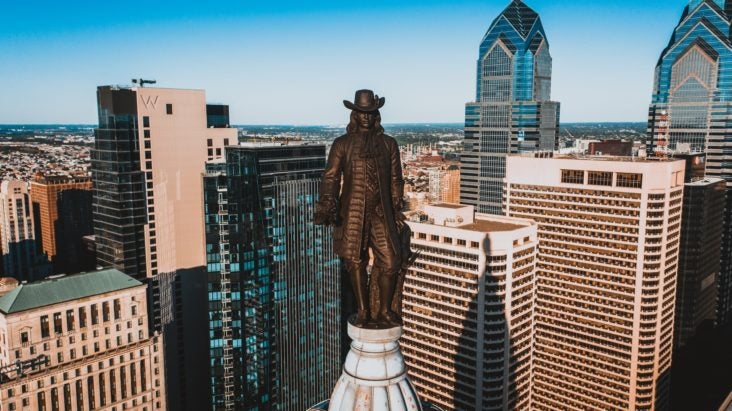 Philadelphia is a great city to explore as a kid or as an adult. With so much history and culture to see and learn about, not only will a visit be fun, it will be extremely educational.
Families have plenty of options for parks, tours, good food, and more — you should certainly consider a trip to the "City of Brotherly Love" for your next vacation.
Thanks to its easy-to-get-to location on the East Coast, if you're coming from New York or Washington, D.C., you are just a quick train ride away. And once you get into town, there are plenty of hotels to stay at using your hard-earned points so that you can stay for free!
If you think we left something off the list or if you have a question about your family trip to Philadelphia, let us know in the comments or join our Facebook Group, Level UP Travel, and plan your vacation with the help of fellow travelers!