The Best Ways to Fly from Atlanta (ATL) to Orlando (MCO)
Orlando's theme parks may be expensive, but you don't have to empty your wallet to get there. Currently, 5 domestic airlines operate nonstop flights between these cities, giving travelers a number of ways to redeem miles to the theme park capital of the world.
However, you won't find all of the usual suspects flying this route — namely United and American. Instead, the route is mostly operated by budget carriers, with a few main-line carriers thrown in the mix. But don't worry — it's still relatively easy to redeem points to fly from the Coca-Cola Museum to Walt Disney World if you know where to look.
Here are all the best ways to use credit card and airline miles to fly from Atlanta (ATL) to Orlando (MCO). This article focuses on finding the highest value and most direct redemptions, so you can get into vacation mode as soon as possible.
Let's get started!
Score a Delta Promo Award & Fly on the Cheap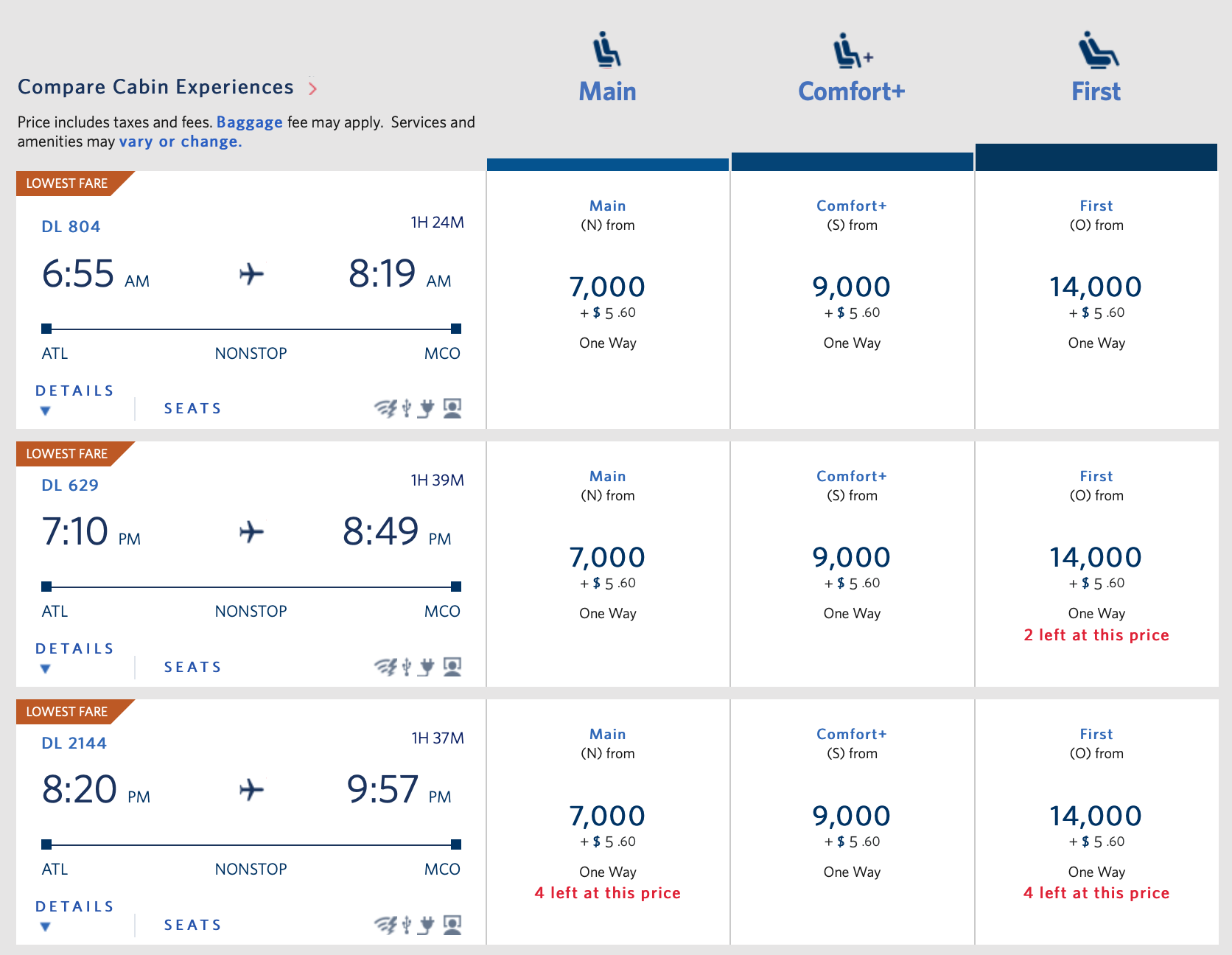 Delta operates near-hourly service between ATL (its largest hub) and MCO. Because delta employs a variable award chart with no set award prices, prices fluctuate based on demand and other factors. However, promo awards can often be found for just 7,000 SkyMiles one-way when booking a few weeks in advance.
As seen in the example above, 7,000-point redemptions are bookable less than a month out. Generally though, we recommend searching as early as possible to find the best deals when they're first released.
Hot Tip: Note that Delta also operates flights from Atlanta into Orlando-Melbourne (MLB) airport. Routes to this Orlando area airport also see low points fares from Atlanta, so be sure to search for flights to MLB if MCO is expensive.
Currently, American Express Membership Rewards and Marriott Bonvoy points transfer to Delta SkyMiles at varying rates. Additionally, SkyMiles can be earned by flying on Delta with one of Delta's cobranded credit cards or through one of these other methods.
Book Low-Cost JetBlue and Southwest Tickets on Points
As discussed in past articles, JetBlue and Southwest have very similar loyalty programs. Both price their award tickets based on the cash cost of the ticket, meaning that higher priced tickets cost more points (and vice-versa).
Both airlines operate nonstop service between ATL and MCO, so here's a look at using each program to fly the route.
Flying Between Atlanta and Orlando With JetBlue TrueBlue Points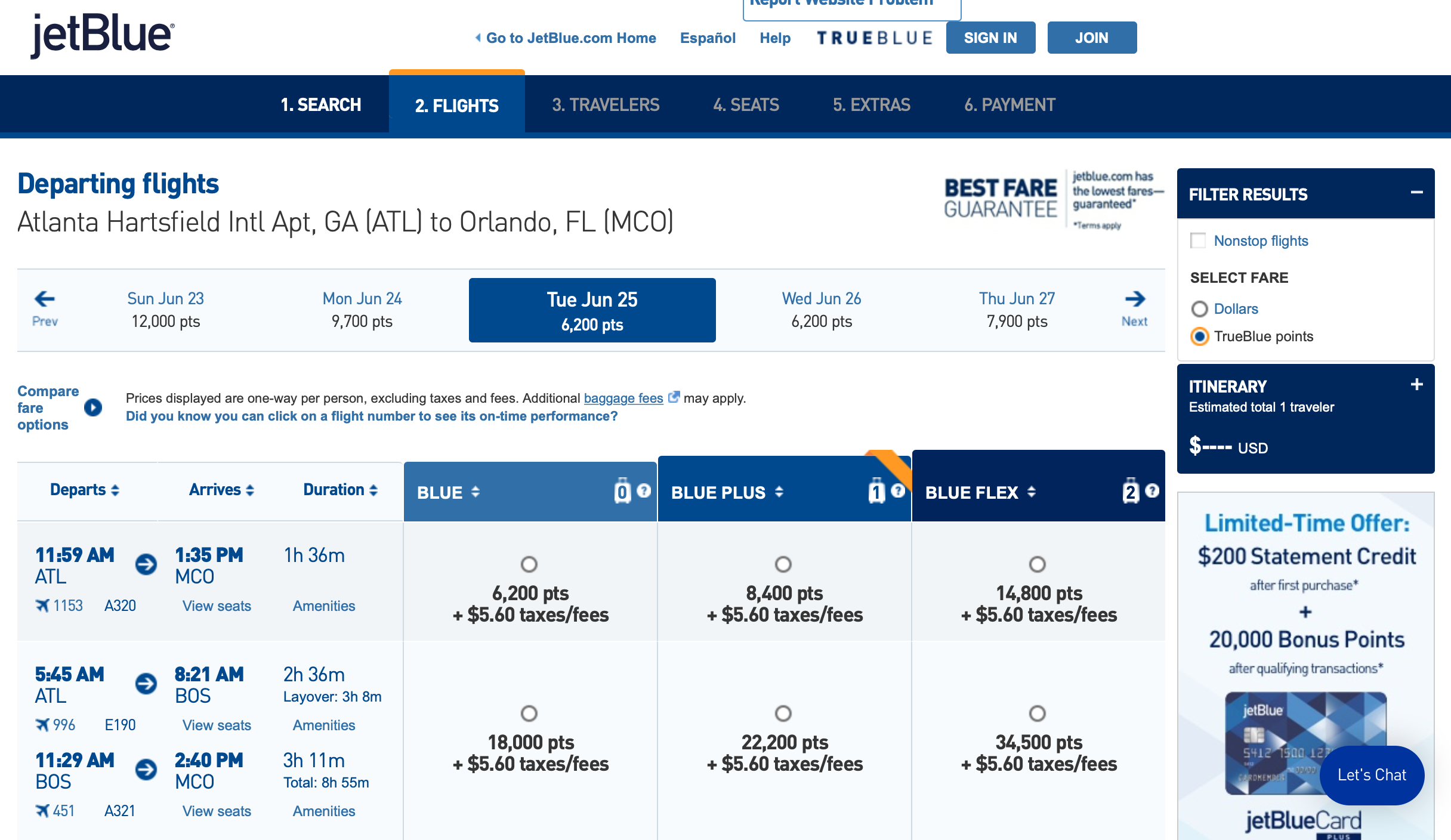 JetBlue recently started operations at Atlanta, launching an Atlanta to Orlando route in the process. When booking just over a month out, flights are priced around $94, or 6,200 TrueBlue points plus $5.60.
This yields a point value of 1.42 cents each, which is actually less value than Chase Sapphire Reserve® cardholders get when booking the same ticket through the Chase travel portal. (Don't worry, we'll dive deeper into the Chase travel portal later in this article!)
JetBlue TrueBlue points can be earned by using a JetBlue co-branded credit card or by transferring in points from American Express Membership Rewards, Chase Ultimate Rewards, Citi ThankYou, or Marriott Bonvoy points. Note that each of these programs transfer to JetBlue at various rates.
Flying Between Atlanta and Orlando With Southwest Rapid Rewards Points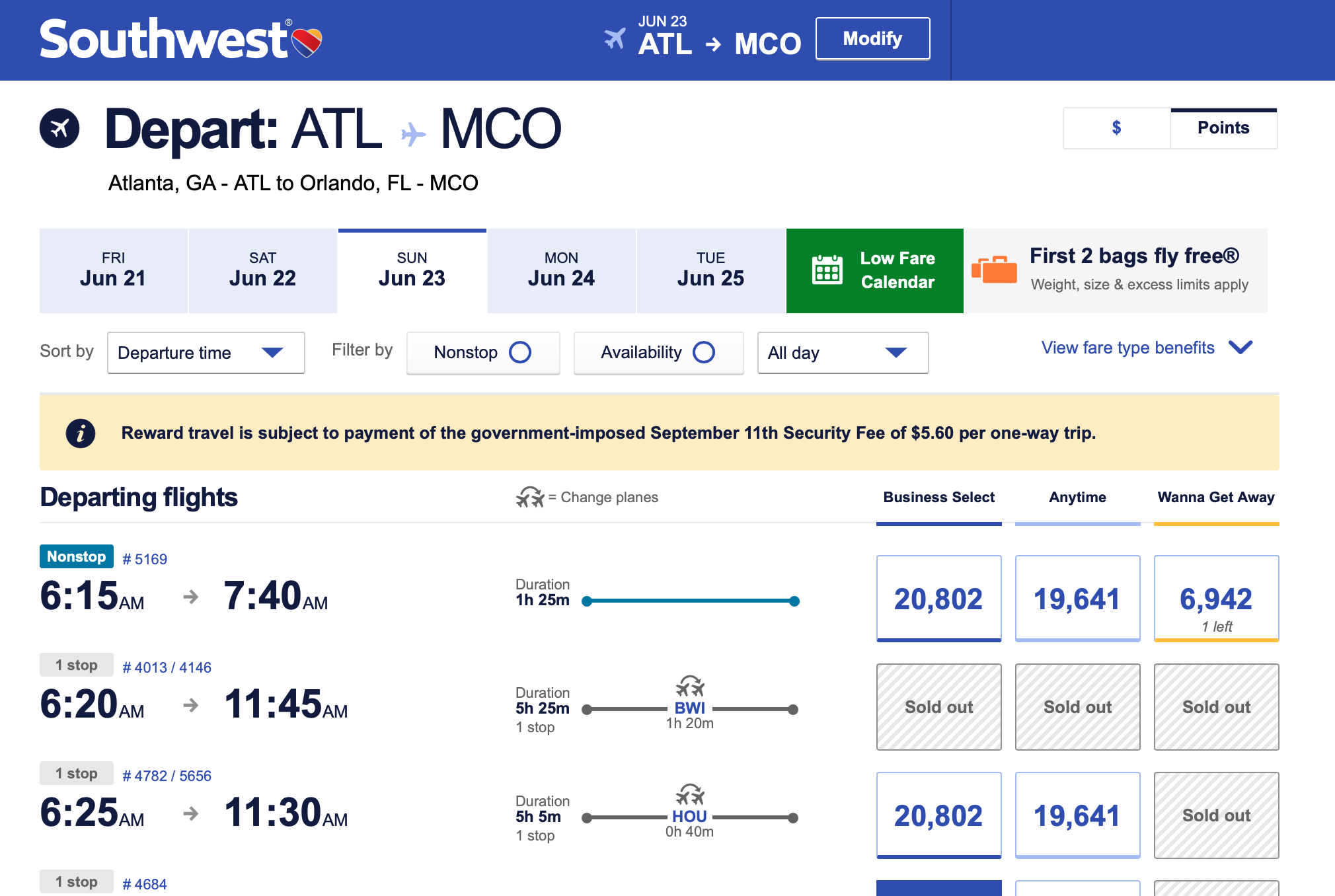 Southwest operates a ton of flights out of both ATL and MCO, and currently offers service 4 times daily between the 2 cities. Upgraded Points found that flights between ATL and MCO cost roughly $110 one-way when booking a month in advance. This same flight cost roughly 6,942 Southwest Rapid Rewards points, giving you a valuation of 1.5 cents per point.
Hot Tip: Southwest Airlines includes 2 checked bags with all tickets, even if they're booked with points.
Southwest points can only be transferred in from Marriott Bonvoy or Chase Ultimate Rewards. Additionally, you can earn points with Southwest's suite of co-branded Chase credit cards.
Use the Chase Ultimate Rewards Travel Portal to Cover Paid Flights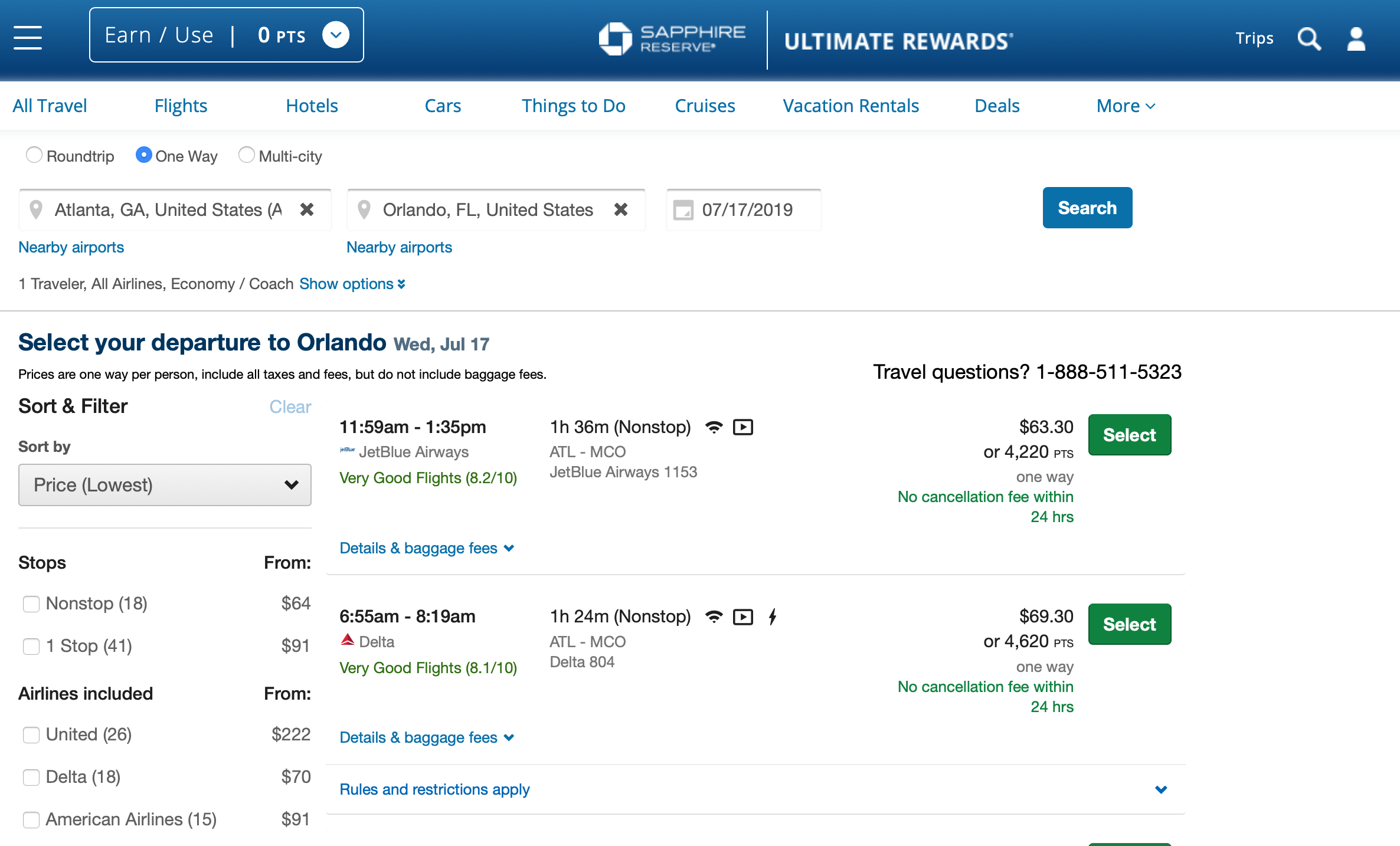 Using credit cards that earn Chase Ultimate Rewards lets you redeem points for paid flights through the Chase Travel Portal. The portal is powered by Expedia, and it lets travelers book flights on any airline and any route — just search for it on the portal.
Each Ultimate Rewards-earning card has a different set point value when redeeming for paid flights: a Chase Sapphire Reserve® cardholder can redeem at 1.5 cents per point, while Chase Sapphire Preferred® Card members can redeem at 1.25 cents per point, and Chase Freedom® cardholders redeem at 1 cent per point.
Given these ratios, a Chase Sapphire Reserve® cardholder could redeem 4,22o Ultimate Rewards points for a $63.30 ticket on JetBlue, for example. This is a far better deal than transferring your points to JetBlue for the same ticket, so we highly recommend taking advantage of thee Chase Travel Portal in this case.
Do keep in mind that tickets booked through the Chase Travel Portal still earn points like any other paid ticket. So Chase Sapphire Reserve® cardholders should consider booking JetBlue and Southwest tickets through the portal to save time and points.
Hot Tip: Just note that Southwest Airlines tickets do need to be called in to book. However, Southwest tickets booked with Ultimate Rewards points will still earn miles and have the same redemption ratio as any other ticket booked through the travel portal.
Final Thoughts
In this article, we discussed the best ways to fly between ATL and MCO using points and miles. Despite a limited number of airlines flying this route, there is some serious value to be had if points are transferred to the right place.
Stick with low-cost Delta Promo Awards if possible. Their price of 7,000 points is super cheap for any domestic route — especially one that can get expensive during peak summer and holiday seasons.