Viking Ocean Cruises Review — Ships, Destinations, Accommodations, and More
Viking Cruise Line is probably more well known for river cruising, but did you know that they offer ocean cruises, as well?
Since 2015, Viking Ocean Cruises has been a leader in "small ship" cruising. You'll notice lots of differences between Viking Ocean Cruises and other popular cruise lines like Royal Caribbean and Princess from the moment you step onboard.
First, you'll notice that the ships are smaller than other cruise lines, carrying only 930 passengers each. Compare that to Royal Caribbean's Oasis Class ships which can each carry over 5,000 passengers! There won't be any children onboard either — all guests must be at least 18 years old. You'll also notice the absence of many traditional cruise line features like art auctions, casinos, waterslides, and photography setups.
Another huge difference is that Viking includes a shore excursion complimentary at each port of call and there are no specialty restaurants that charge additional fees!
Basic Information
Name: Viking Ocean Cruises
Parent Company: Viking Cruises
Number of Ships: 6 (1 more will be introduced in 2021)
Destinations: 200+
Loyalty Program: Viking Explorer Society
Credit Card: None
Ships
Viking Ocean Cruises currently operates 6 ships. These are all identical sister ships that are classified as "small ships," carrying only 930 passengers. A seventh ship, Viking Venus, will debut in 2021.
Viking Jupiter
Viking Orion
Viking Sea
Viking Sky
Viking Star
Viking Sun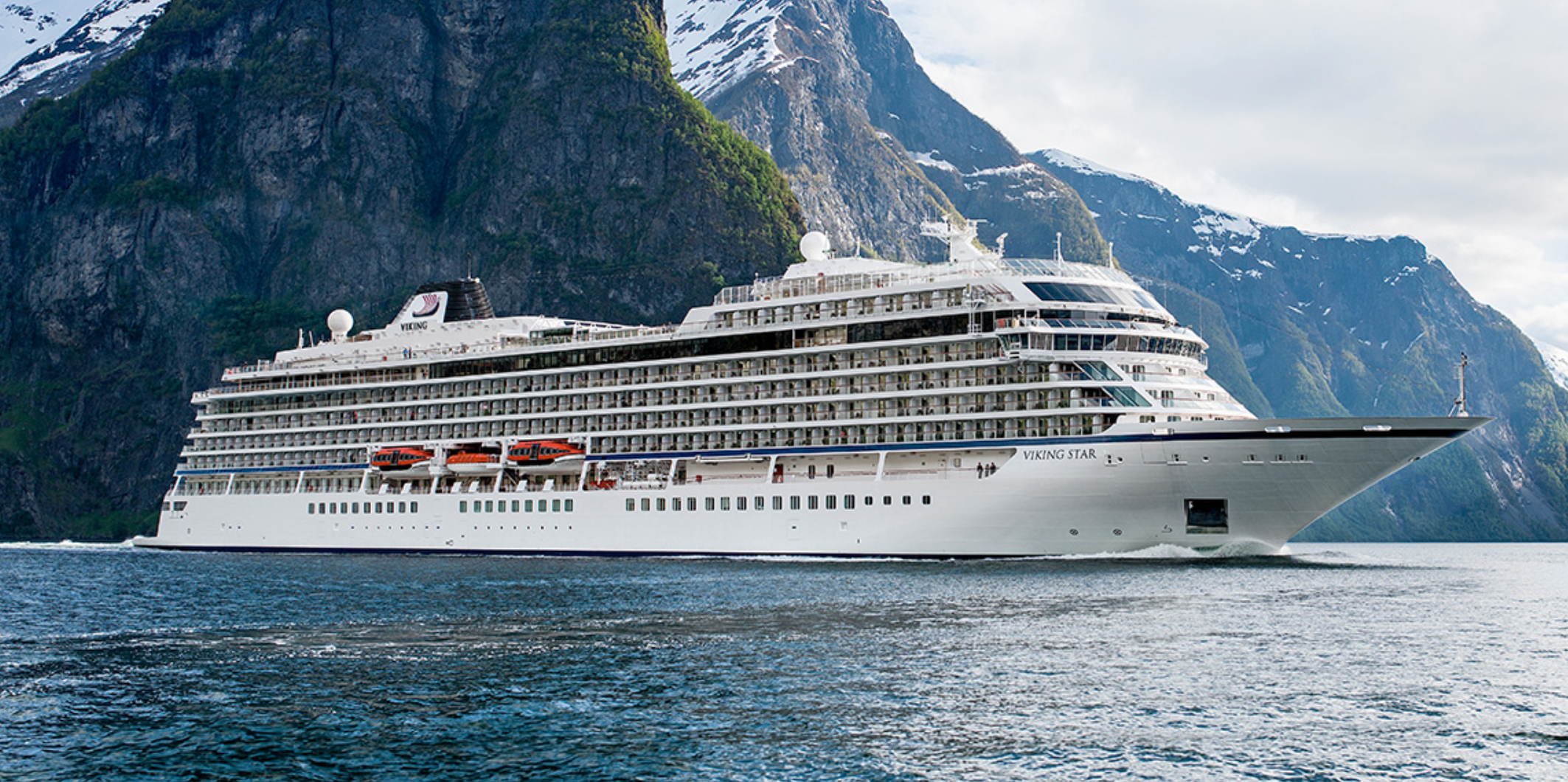 Hot Tip: Viking has one of the newest fleets around. The oldest Viking Ocean cruise ship is Viking Star, which debuted in 2015.
Departure Ports
Viking Ocean Cruises travels to over 200 destinations on 6 continents from 30 departure ports.
Departure Ports
North America and the Caribbean
Los Angeles, CA
Miami, FL
Montreal, Quebec, Canada
New York, NY
San Juan, Puerto Rico
Seward, Alaska
Vancouver, British Columbia, Canada
Europe
Amsterdam, Netherlands
Athens (Piraeus), Greece
Barcelona, Spain
Bergen, Norway
Copenhagen, Denmark
Greenwich, England
Istanbul, Turkey
Lisbon, Portugal
London (Tilbury), England
Reykjavik, Iceland
Rome (Civitavecchia), Italy
Stockholm, Sweden
Venice, Italy
Asia and the Pacific
Auckland, New Zealand
Bali (Benoa), Indonesia
Bangkok (Laem Chabang), Thailand
Hong Kong, China
Mumbai (Bombay), India
Singapore, Singapore
Sydney, Australia
Tokyo, Japan
South America
Buenos Aires, Argentina
Santiago (Valparaiso), Chile
Private Ports/Islands
Viking Ocean Cruises does not have a private port or island.
Hot Tip: Not sure where to go to book your cruise to get the most bang for your buck? Check out our guide to the best websites to book your cruise at the lowest prices.
Onboard Activities
The onboard activities on a Viking cruise are a little different than what you'll find elsewhere. You won't find casinos, bingo or art auctions. You won't find multiple pools with waterslides or splash pads. You won't find a rock climbing wall or ice skating rink.
What you will find is programming designed to support your onshore activities. Dubbed "The Thinking Person's Cruise," Viking aims to educate, enlighten, and inspire you.
Here are some of the activities you may find on a Viking Ocean cruise:
Guest lectures
Library
Live classical music
Multimedia presentations about each port
Munch Moments featuring artwork by Edvard Munch
Nordic art collection
Outdoor movies
Performances based on your destination
Pool with a retractable roof
Spa
TED Talks
The Kitchen Table cooking school
The Met: Live in HD
Viking Resident Historians
Dress Code
During the day, casual attire including shorts and jeans is acceptable. Swimsuits, cover-ups, and exercise clothes should only be worn around the pool, sports deck, and fitness center.
There are no formal nights on a Viking Ocean Cruise. However, after 6 p.m., "elegant casual" attire is required in dining facilities (with the exception of World Cafe), special events, and evening performances. For women, elegant casual includes dresses or skirts/pants with a blouse or sweater. Men should wear trousers and a collared shirt.
Bottom Line: Cruising with Viking Ocean Cruises is a bit different. There aren't any casinos, art auctions, photography sales, or children. You won't pay extra for Wi-Fi or to use the launderettes. There are no formal nights and smoking isn't allowed anywhere onboard.
Dining and Beverages
One of the big differences between Viking Ocean Cruises and other cruise lines is dining. You won't find any restaurants on a Viking Ocean ship that come with an additional charge. Plus, house wine, beer, and soft drinks are included with your lunch and dinner.
Complimentary Dining
Aquavit Terrace
Mamsen's
Manfredi's Italian Restaurant*
Pool Grill
The Chef's Table*
The Restaurant
World Cafe
*Denotes an "alternative restaurant" that requires reservations
Bars and Beverages
There are beautiful spaces on a Viking ship to relax with friends and have a drink. You'll enjoy the 2 story panoramic windows in the Explorer's Lounge or you can listen to live music in Torshavn.
If afternoon tea is what you'd prefer, stop by Wintergarden for tea, finger sandwiches, scones, and desserts.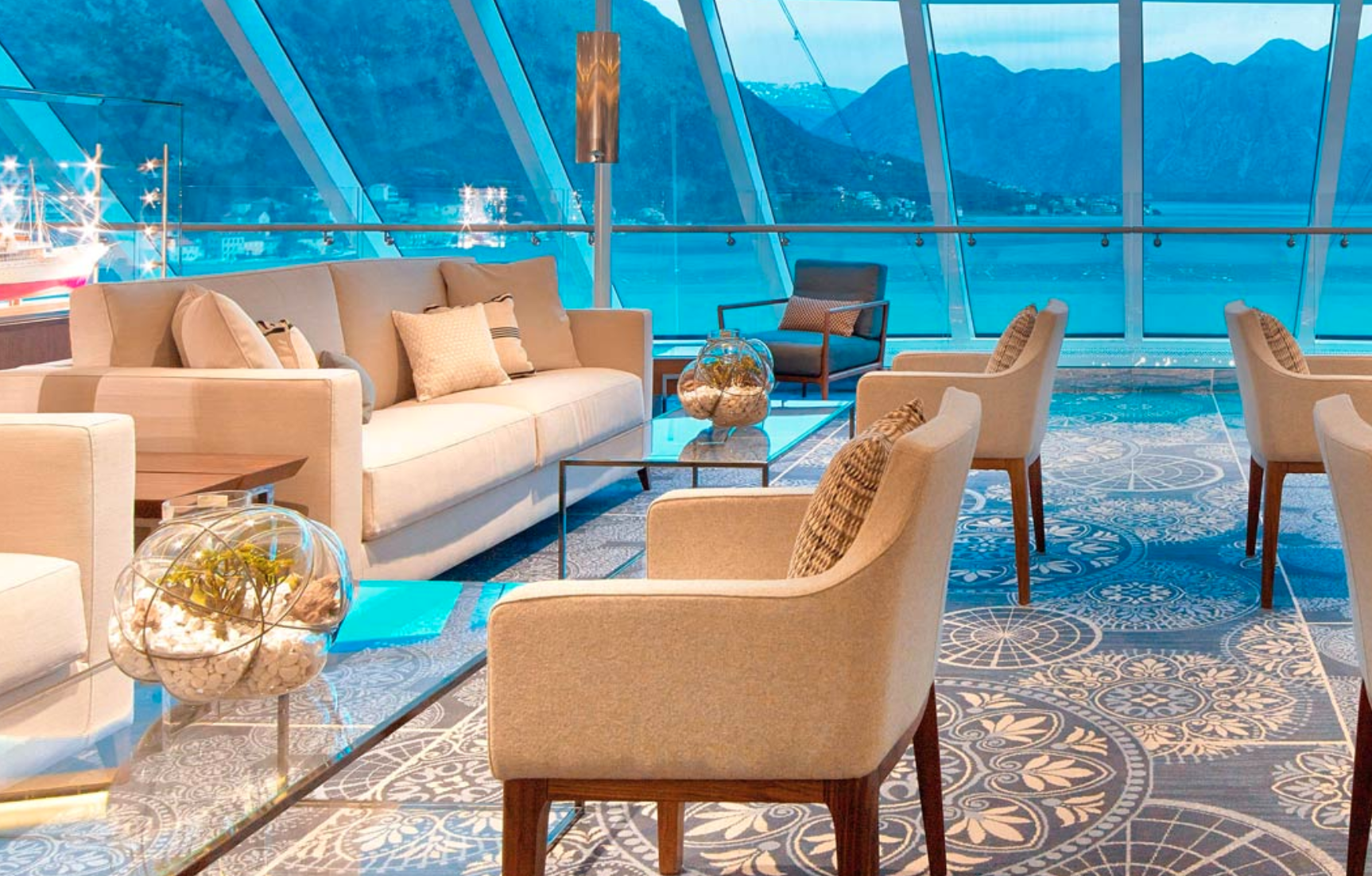 Unlike most other cruise lines, Viking Ocean Cruises offers house wines and beers along with soft drinks complimentary with lunch and dinner. Specialty coffees and teas plus bottled water are also available for free at any time.
While many drinks are included in your cruise fare, you can also purchase a beverage package to include even more.
The Silver Spirits Beverage Package is available for $19.95 per person per day and includes any drinks (except Champagne) up to $15 per glass. This includes beers, wines, cocktails, liquors, and soft drinks.
You must be at least 21 years old to purchase a Silver Spirits Beverage Package, and both adults in the stateroom must purchase the package.
If you'd prefer to bring alcohol onboard, you can do so for free. There is no limit to what you can bring onboard and there is no corkage fee charged regardless of where the alcohol is consumed.
Hot Tip: Curious about award travel on cruises? Check out our complete guide to using miles and points to book a cruise.
Accommodations
The base-level accommodation on a Viking Ocean ship isn't the interior room you might expect. That's because there are no interior rooms on Viking! All staterooms have a private veranda.
The Veranda Stateroom comes with a king-size Viking Explorer bed, free Wi-Fi, flat-screen TV with on-demand movies, and a mini-bar stocked with soft drinks, water, and snacks.
A Penthouse Veranda Stateroom includes a mini-bar with alcoholic beverages, a large bathroom with a glass-enclosed shower and a heated floor, a welcome bottle of Champagne, and 2 guaranteed priority reservations at each alternative restaurant.
Hot Tip: While embarkation is at 11 a.m., the time you'll be able to access your stateroom is based on the type of room you select. All suites come with the earliest access time of 11 a.m.
A Penthouse Junior Suite is a step up in luxury. This type of room comes with 3 priority reservations at each alternative restaurant, priority shore excursion reservations, and priority spa reservations.
The bathroom comes with dual sinks, a heated floor, and an anti-fog mirror. Plus, you'll enjoy extras like a welcome bottle of Champagne, in-suite binoculars, in-suite coffee maker, and twice-daily housekeeping.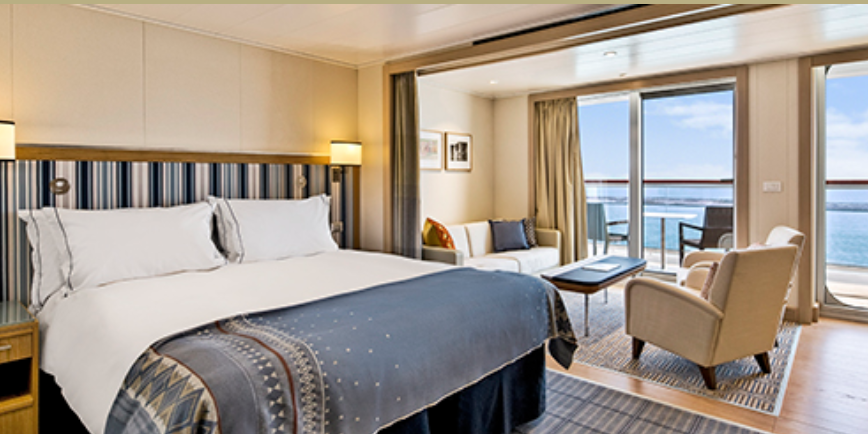 The largest stateroom onboard a Viking Ocean ship is the Owner's Suite. This luxurious multi-room suite has over 1,400 square feet of indoor and outdoor living space plus tons of perks. There is a master bath with a glass-enclosed shower and all the bells and whistles, plus 2 guest bathrooms. There's a separate dining room that seats 6 people plus a private library, oceanview dry sauna, a boardroom for business meetings, wine and music collections, and more. Plus you'll have the earliest access to reserve shore excursions and spa treatments and 4 guaranteed reservations in each of the alternative restaurants.
Bottom Line: Every stateroom on a Viking Ocean Cruises ship has a private veranda — there are no inside staterooms!
Viking Explorer Society
As soon as you've sailed with Viking once, you are a member of the Viking Explorer Society.
Unlike other cruise ship loyalty programs, there are no tiers of membership in the Viking Explorer Society. Unfortunately, the benefits are minimal.
As a Viking Explorer Society member, you'll receive an onboard credit when you book your next Viking cruise within 2 years of your last one.
Book your next Viking cruise within 1 year and you'll receive $200 per person in shipboard credit.
Book your next Viking cruise within 2 years and you'll receive $100 per person in shipboard credit
When you cruise as a Viking Explorer Society member, you'll also be able to attend a members-only cocktail party with the ship's staff.
Hot Tip: Get the most bang for your buck by using the right credit card to book your cruise.
Final Thoughts
Sailing on a Viking Ocean cruise is not like a cruise on any other cruise line. These cruises are for the sophisticated traveler looking for more of a cultural experience.
All of Viking's ships are considered "small ships," carrying only 930 passengers each. You won't find casinos or kids on a Viking cruise. However, you will find luxury accommodations, serene community spaces, live classical music, and lectures to educate and inspire.
If you're looking for a party ship or traveling with kids, Viking Ocean cruises won't fit the bill (check out Carnival, Disney Cruise Line, or Norwegian instead). But, if you're looking for a more intimate experience that focuses on luxury and cultural experiences, Viking Ocean Cruises could be a great fit for your next vacation.