Tips and Tricks for Traveling Over a Holiday [To Keep You Sane]
Traveling during the holiday season can be stressful — it's one of the peak travel times of the year and is incredibly popular for all sorts of people to want to fly to visit family, go somewhere warm, or celebrate New Year's Eve in a new location.
The risk of flights getting delayed or canceled due to inclement weather is greater than other times of the year, and with the number of people traveling, it's important to know the tricks and tips to keep you sane.
In this article, we'll offer tips and tricks on how to fly and stay in hotels stress-free as well as how to maximize your time over the holiday season.
Tips and Tricks for Holiday Travel
When Flights Cancel or Delay, Go to the Club
You've probably noticed that as soon as a flight cancels, everyone rushes to the customer service desk in the terminal, or they open their cell phones to call the airline's 1-800 number. These can be plagued by long lines, as every other traveler is thinking of doing the same thing.
When your flight gets canceled or delayed, use the customer service agents in an airline's club/lounge to help rebook you. There's often little to no line in the airline's club, and you'll be able to snag seats on alternate flights much faster than those trying to wait in line to speak with someone at the generic customer service desk.
You can pay for access to the lounges, have a membership, use an eligible credit card, or be flying in a premium class in some cases, so it pays to see which way of access makes the most sense for you.
Upgrades Can Be Easier
During the holiday season, upgrades become significantly easier as fewer and fewer business travelers are flying. Because larger corporations aren't paying for premium cabins, you'll find that there's more space for passengers to upgrade into. These could be extra legroom seats, business or first class seats, or other products onboard.
Hot Tip: If you're an elite flyer, expect your percentage of upgrades to go up during the holiday season. In fact, many buy-up offers are very reasonable to be able to sit in first class, so you may want to take advantage of these offers.
Don't Check a Bag
This tip is valid all year long, but as many once-a-year flyers trek home or to friends and family, it's a busy season to check bags. You don't want your bags getting lost, and you don't want to have to wait to pick up your bag from baggage claim, so don't check it.
When you fly, leave all of your liquids and gel-like foods at home, that way you can breeze through the airport and also be able to switch flights easily, should you need to, since you won't have to worry about checked bags.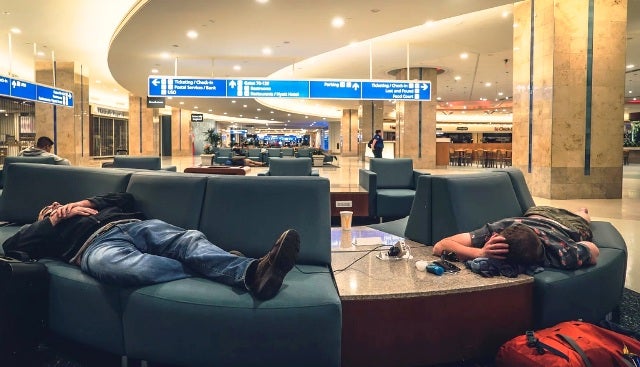 Pack Right
Keeping in mind that by not checking a bag, you'll also want to make sure you're packing smartly with what you take onboard. Keep those items that you'll want handy during the flight in an accessible pocket.
Ensure your carry-on bag meets the size requirements and that it will fit in the overhead bin. If your flight is busy, you may be asked to place your personal item under your seat, so you'll want to ensure you have a sturdy backpack or another bag that you can easily take things from during the flight. 
Speed Through Security With TSA PreCheck or CLEAR
The holiday season is full of travelers clogging up the security line queues. Consider using TSA PreCheck that allows an expedited screening experience where you won't have to remove your shoes or electronics devices.
CLEAR can also speed you through the identification check process before walking through the metal detector. In combination, CLEAR and TSA PreCheck will help you get to your gate faster.
Hot Tip: Many credit cards offer complimentary TSA PreCheck or Global Entry simply for being a cardmember.
Fly to Smaller Airports
Even though it may be a bit more expensive, flying into a smaller airport closer to your final destination may be worth it — smaller airports usually have smaller security waits, quicker check-in processes, and fewer gates to navigate.
For example, if you're flying to Santa Barbara, don't fly into Los Angeles and make the 2-hour drive up — fly into Santa Barbara directly. The same goes for Palm Springs — the 2-hour drive in traffic from Los Angeles is a nightmare. Fly to the closest airport to where you need to go for a far more efficient experience.
We've even done a study on the best and worst U.S. airports so you can try to avoid delays.
Relax in the Club
Even if there isn't a delay or cancellation, relaxing in an airline or third-party club is a great way to start your travels. Airline clubs often provide free snacks, drinks, shower facilities, bathrooms, Wi-Fi, business services, and much more — perfect for road warriors and leisure travelers, alike.
Some clubs you can access on account of your airline status, or a particular credit card, while others will allow admittance with a paid admission fee. If you've got a long layover, it's particularly valuable to have club access, if nothing else for the free refreshments so you can save on purchasing things in the terminal.
Hot Tip: Priority Pass Lounges offers a network of lounges that you can visit, regardless of which airline you fly; this is great if you don't have a dedicated airline. Even better, you may get a complimentary Priority Pass membership with a credit card that's already in your wallet.
Fly on the Right Days
Contrary to what you might think, flying on the holiday itself is actually a relatively good day to travel. So, in the case of Christmas, you can fly on Christmas Eve and Christmas Day and enjoy cheaper ticket prices and plenty of seats onboard.
Keep in mind, though, that if January 1 falls in the middle of the week, you may see lots of travelers flying on that day specifically to try to be able to get back to work on January 2.
Utilize Oversold Flight Opportunities
It's the holiday season, which could mean packed planes depending on the cities. If your flight is oversold, the amount which the airline is offering to get you to give up your seat could be pretty hefty.
In fact, it could be so worth it that it nearly pays for a vacation for you to take at a later date. Keep an eye on your flight and the number of people booked — jump if you see an opportunity to be bought off of the flight if you want a little extra free cash.
Keep Fueled
Before you board your flight, bring snacks from home — they're way cheaper than purchasing things at the airport. The only exception to this is liquids, which you'll need to purchase in the airport since you're not allowed to take liquids through security.
Get to Your Gate Early
If your flight is busy, so the gate area will be as well. Remember, all the people boarding your flight will be competing for the same, limited overhead bin space. The earlier you get the gate area, the sooner you may be able to board the plane and have your bag stowed.
Avoid Buying Basic Economy Fares
Basic Economy fares are the cheapest fares offered by legacy airlines — they're often no-frills and don't come with seat assignments and upgrades. Basic Economy passengers usually board the plane last and may not have the ability to bring on a carry-on bag.
While these fares may be cheaper, because they don't come with any privileges they may add a huge amount of stress to your experience, not to mention possible further expenditures, too.
You may have to pay extra to select your seat or check a bag, and you won't have the luxury of sitting together with friends or family. When things go wrong, you'll also be among the last people to be re-accommodated on other flights. In general, avoid Basic Economy airfares as much as you can.
Know Your Backup Plan
When you travel over the holidays, it's always best to know all of the flight options to get you where you need to go. Look at which flights depart before and after yours, and always have a backup plan should your flight get delayed or canceled.
During the holiday season, there are lots of time-sensitive events, including parties and gatherings, and you don't want to miss out on time with family. Knowing what alternative options exist will help you react if things go wrong.
Don't Fly on the Last Flight of the Night
It's pretty common sense, but avoid flying on the last flight of the day to wherever you're going. If weather moves in, you could be stuck, and even the slightest thing going wrong could cause you to need to stay overnight at the airport. Try to fly out as early as possible so that if things go wrong, you've got most of the day to figure it out.
Check-In Online
Before your departure, check-in online to avoid waiting in any queues at the airport. If you're checking bags, you may be able to use a kiosk to print your baggage tags so that you don't have to speak with a human.
Also, most airlines allow you to pull up your boarding pass either on your phone or to print at home, so this will save you time once you arrive at the airport.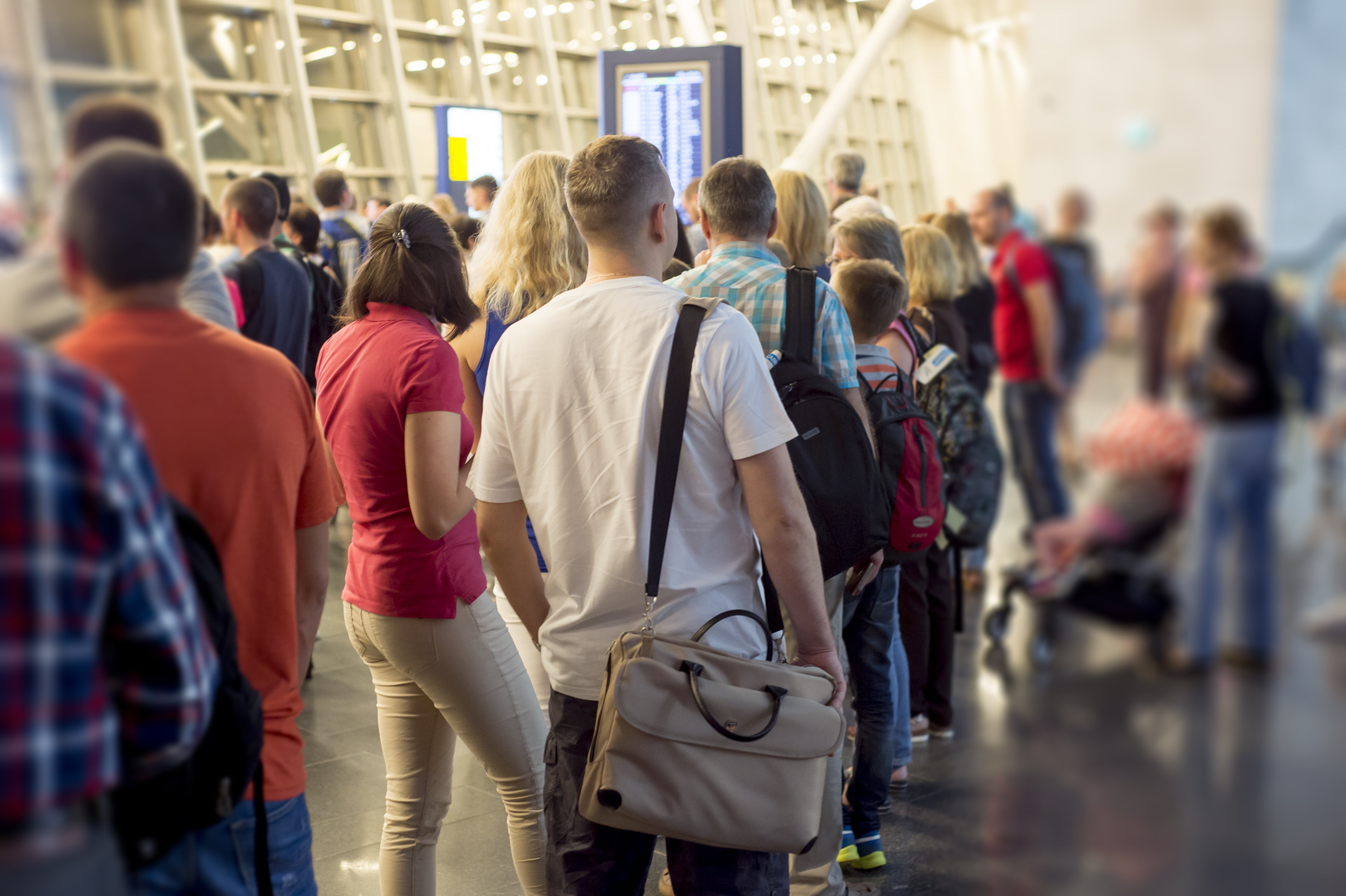 Have Backups of Your Stuff
The worst thing that can happen is that your luggage gets lost and your passport, credit cards, and other valuables go with it. When you travel, divvy up your expensive and valuable personal belongings. Don't bring 1  wallet with all your money and cards — keep some of these items in separate bags. If things go wrong or get lost, you won't be stranded without identification or cash.
Know Your Fees
Some airlines charge extra fees for seating assignments, food onboard, or checked baggage, just to name a few. When you travel, know in advance what fees your airline or hotel charges to avoid any surprises.
Hot Tip: Some credit cards can help cover these incidental fees. The Platinum Card® by American Express offers an up to $200 credit for incidentals.
To Save on Hotel Stays, Look for Hotels Farther Away
The best savings on hotels can be those hotels that aren't right in the center of activity. For example, if you want to visit Times Square, hotels in that area will be astronomically expensive, but a hotel near Herald Square or Wall Street, for example, might be considerably cheaper and only a short walk or subway ride away
Also, utilize resources to ensure your finding a great hotel for less.
Don't Expect to Check-In Early or Check-Out Late
Unless you are an elite member with the hotel, checking in early or checking out late can be difficult, especially during peak times. You'll want to make sure to plan to check-in or out at the posted times from the hotel.
Save by Accessing a Hotel's Lounge
It might only be a few dollars more than the normal hotel room rate, but paying more to access a hotel lounge can save you lots of money — these often include breakfast and heavy appetizers at night, not to mention complimentary coffee, tea, and bottled drinks.
Hot Tip: When you add up what you consume, it's often far great than what you may have paid for lounge access, and it's a great way to save money while lots of folks are dining out.
Bring Entertainment
While many planes have built-in entertainment options, there are plenty (if not, more) that don't, so you should make sure to load up your tablet or laptop before you board, that way you've got shows and movies to keep you (and your kids) occupied for hours.
Avoid disappointment and don't rely on a plane's Wi-Fi for streaming options — it can be out of service or too slow to stream.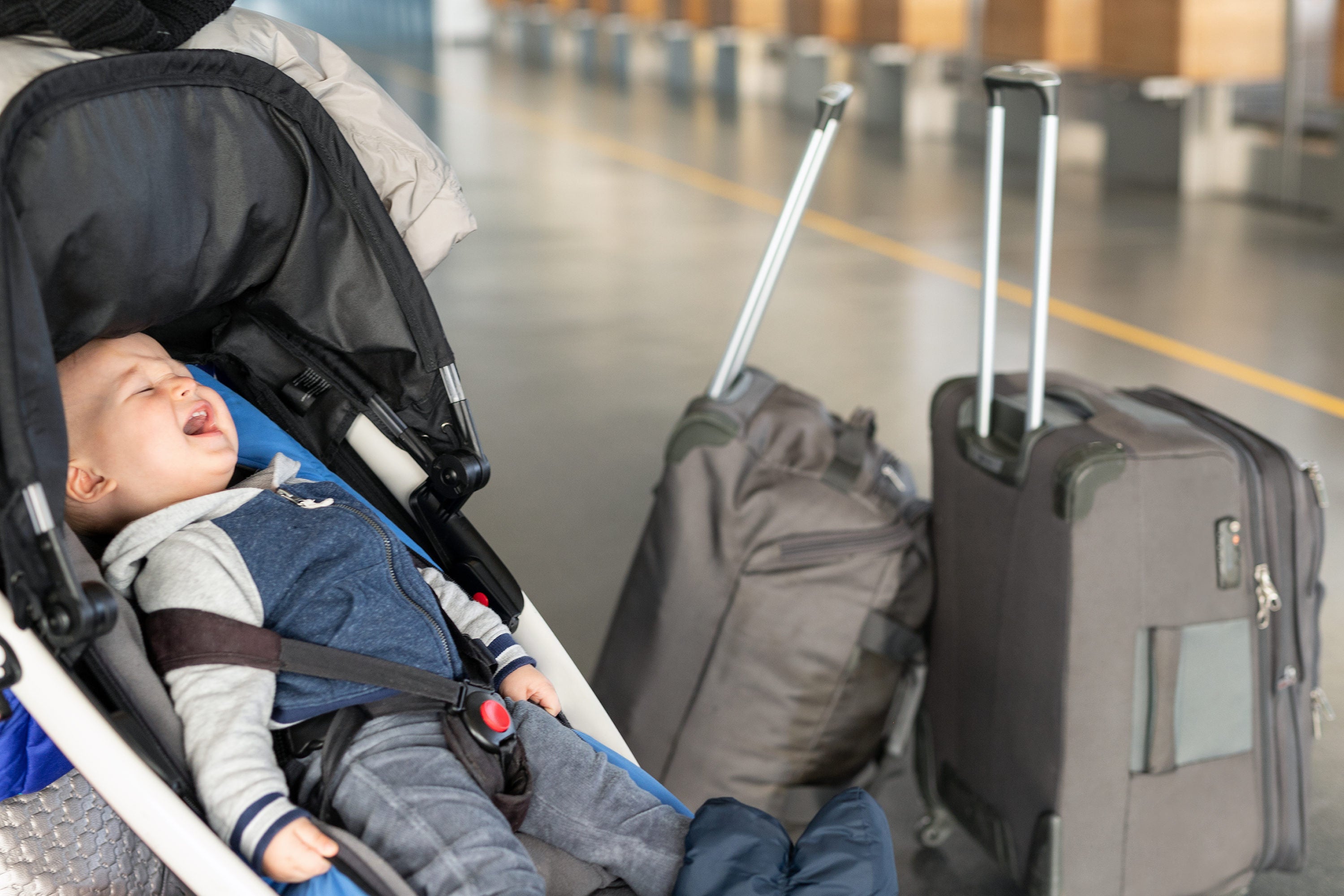 Download the Airline or Hotel App
It's important to download your airline or hotel's app before traveling. These apps have great features that can make your trip smoother. An airline app, for example, can show when a plane has started boarding, if it's oversold, or if it's been delayed.
A hotel app can show potential upgrades, what room you've been assigned, and offer mobile check-in options that allow you to skip visiting the front desk completely when first arriving.
Avoid Third-Party Bookings
Third-party bookings can be messy for travelers. Sometimes they come with hidden restrictions or fees, and other times, they're just plain confusing. Booking through a third-party site can also make it difficult to figure out if you're booking a Basic Economy plane ticket, even though federal requirements state that there need to be plenty of warnings.
Final Thoughts
The holiday season can be one that's filled with lots of joy — people fly home to visit family, travel to warmer parts of the world to get away from the cold, or get a head start on the new year with an occasional business trip. Whatever your itinerary is this holiday season, by following the tips outlined in this article you'll be sure to experience stress-free travel!