Points.com: A Complete Guide to Buying Points & Miles
Once you realize the amazing trips you can take by redeeming miles and points for award flights and hotel stays, you inevitably are more aware of ways to acquire more.
This often leads to wondering whether buying miles or points for these trips is a good deal. Airlines and hotels often send out emails to their loyalty program members promoting sales on miles and points that offer 40%, 50%, and even 100% bonus miles on top of the usual amount.
Many loyalty programs have contracted Points.com to run these miles- and points-selling programs for them. Let's dig into what Points.com has to offer and whether you should buy miles from them.
What is Points.com?
Points.com is a company that allows consumers to buy, exchange, and redeem miles and points, though the exchange and redemption rates are generally pretty terrible.
Points.com also partners with airlines and hotel loyalty programs to run their miles and points selling promotions; if you've heard of Points.com before, it's likely it was due to one of these promotions.
In fact, if you buy miles or points from an airline or hotel, you most likely will be making a purchase from Points.com rather than directly with the airline.
This is an important distinction as a purchase with Points.com will not code as a travel purchase, nor will it code as a purchase with whichever airline or hotel program you're buying points for, making the purchase ineligible for a bonus multiplier on your travel rewards cards.
The prices you're charged for buying miles and points can be high relative to the value you can get from them, so you want to be sure you have all the necessary info before making a purchase with one of the Points.com partners.
Points.com also provides a loyalty program tracking service called Loyalty Wallet that allows you to keep track of your miles and points in 1 place. This is a similar service to AwardWallet, which also helps miles and points users keep track of their point balances and expiration dates.
Hot Tip: New to points and miles? Read our Beginner's Guide to Points to get started. 
Points.com Partners
Points.com partners with several airline and hotel loyalty programs to track, sell, and exchange miles and points to consumers.
If you're looking to buy points, you can purchase them from the following partners via Points.com:
Points.com Purchase Partners
Air Canada Aeroplan
Frontier Airlines FrontierMiles
Marriott Bonvoy
Virgin Australia Velocity Frequent Flyer
Alaska Airlines Mileage Plan
IHG Rewards
Spirit Airlines Free Spirit
World of Hyatt
Points.com Loyalty Tracking Partners
Aer Lingus AerClub
Coast Rewards
Jumeriah Sirius
South African Airways Voyager
Air France/KLM Flying Blue
Czech Airlines OK Plus
Korean Air SKYPASS
Southwest Rapid Rewards
Air India Flying Returns
Delta SkyMiles
Le Club Accorhotels
Shangri-La Golden Circle
Alitalia Mille Miglia
EL AL Matmid Frequent Flyer Club
Lufthansa Miles & More
Sun Country Airlines Sun Country Rewards
American Airlines AAdvantage
Etihad Airways Etihad Guest
Malaysia Airlines Enrich
TAP Portugal TAP Miles&Go
ANA Mileage Club
Eurowings Boomerang Club
MeliáRewards
Taj InnerCircle
Asiana Club
EVA Air Infinity MileageLands
Oasis Club
THAI Airways Royal Orchid Plus
Best Western Rewards
Finnair Plus
Philippine Airlines Mabuhay Miles
Trident Privilege
British Airways Executive Club
HawaiianMiles
Porter Airlines VIPorter
Turkish Airlines Miles&Smiles
China Airlines Dynasty Flyer Program
Hilton Honors
Qantas Frequent Flyer
United Airlines MileagePlus
China Eastern Airlines Eastern Miles
JAL Mileage Bank
Qatar Airways Privilege Club
Virgin Atlantic Flying Club
China Southern Sky Pearl Club
Jet Airways JetPrivilege
Red Roof Inn
Vueling Club
Choice Privileges
JetBlue TrueBlue
Singapore Airlines KrisFlyer
WestJet Rewards
Best Credit Cards to Use on Points.com
If you're going to buy miles or points from one of these airline or hotel partners, make sure you use a credit card that will get you the best return for your purchase.
Purchases through Points.com will not code as travel purchases, so you will not receive any bonus multiplier for using a card that rewards travel purchases, like the Chase Sapphire Reserve® card. Be careful not to mix up where you're buying your points, or you'll miss out on utilizing your credit card's bonus categories.
If you want to earn Chase Ultimate Rewards when buying miles or points through Points.com, check out the Chase Freedom Unlimited® card that earns 1.5x points per dollar on all purchases.
If you want to earn American Express Membership Rewards, there isn't a better option than The Blue Business® Plus Credit Card from American Express that earns 2x points on all purchases up to $50,000 in spending every calendar year. When buying miles or points through Points.com, this card will earn more points than any other card on the market.
If you're buying miles directly from an airline, like American Airlines, the purchase will code as an airline purchase. You will be able to really maximize your returns by earning 3x points per $1 with the Chase Sapphire Reserve card, 4x points per $1 with the American Express® Gold Card, or 5x points per $1 with The Platinum Card® from American Express.
By using a card that earns you the most points possible, you'll earn a bunch of points that can be redeemed for future travel.
Hot Tip: If you need some inspiration for future award flights, check out the best ways to redeem Ultimate Rewards and Amex Membership Rewards.
When Should You Buy Miles or Points?
Now that you know what to expect when buying miles or points, the question comes down to whether you should buy them at all.
The simple answer is that it depends on your personal situation. Let's take a look at a few examples of when buying miles or points might be a good move for you.
Prevent Miles or Points From Expiring
Many loyalty programs require activity on an account every 12 to 24 months for the miles or points to remain active. This isn't usually a problem, but sometimes life events drastically cut down our ability to travel for an extended period of time. It would be a shame to lose your hard-earned points because of these situations.
Often an account can be kept active by something as simple as earning or redeeming miles or points. With that in mind, buying miles or points can get you the account activity you need very quickly to ensure your miles or points don't expire.
There are better ways to prevent expiration if you plan ahead just a little bit. By using a service like AwardWallet, you'll know your miles and points expiration dates, and it will send alerts so you're never caught off guard.
With that information, you can then transfer points from a transferable program such as Ultimate Rewards or Membership Rewards, or use a co-branded credit card to make a purchase. Keep in mind that the points won't post until your statement closes, so this might not be quick enough.
You could also use an airline or hotel shopping portal to make an upcoming purchase. You might even go eat at a restaurant that participates in an airline or hotel dining program.
If for some reason these other options don't work out for you, buying miles or points can be a solid backup plan for keeping your account active.
Top off an Account for a Specific Award Redemption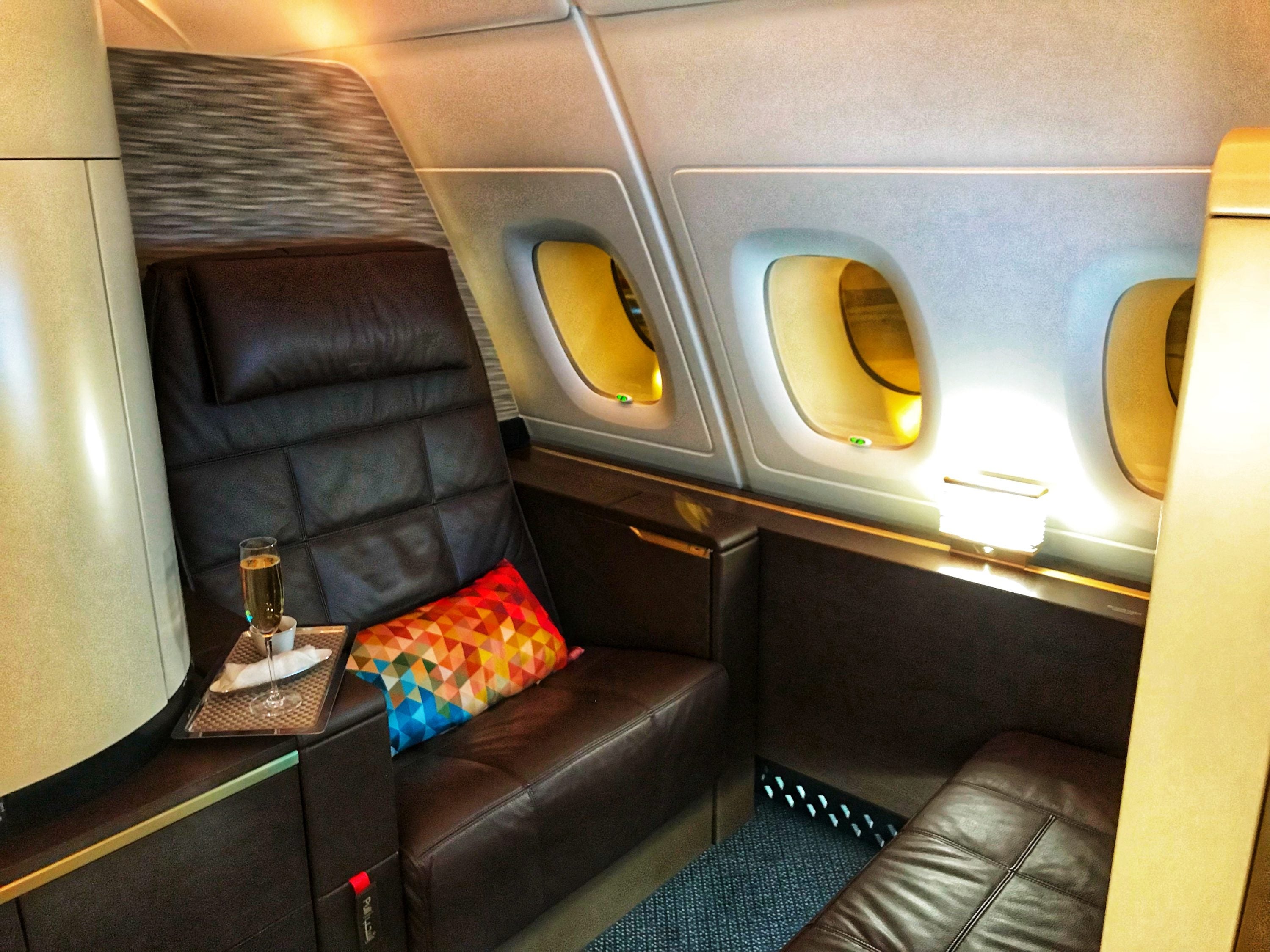 Sometimes you can do everything right… but the timing of released award space may not quite fit your schedule, and you're still a few thousand miles short of an amazing redemption. This is when topping off your account by buying miles can make a lot of sense.
For example, let's say you want to book the famous Etihad Apartments from John F. Kennedy International-New York City (JFK) to Abu Dhabi International (AUH). You have nearly enough American AAdvantage miles, but you're just a bit short. You know that award availability can be tough to find on this flight from JFK, and buying the last few thousand miles could solve your problem.
American Airlines allows you to place 5-day holds on award flights, which means you can place the award you want on hold before buying the miles you need. This ensures that the award availability doesn't disappear while you wait for the miles you just bought to deposit in your account!
Bottom Line: Definitely take advantage of a hold on your award ticket, if offered, before buying miles! Not all airlines allow holds on award tickets, but some airlines with great business and first-class products do, like Cathay Pacific, Lufthansa, and Singapore Airlines.
Limited Access to Credit Cards That Earn Points
In the U.S., many people have access to credit cards that earn miles and points. These credit cards often come with sign-up bonuses that go a long way toward helping you book award flights. However, in other parts of the world, there often aren't as many credit card options.
If this is the case for you, buying miles can be a creative way to cut down on the cost of a fun flight. While the out of pocket cost could still be a couple of thousand dollars for a business or first-class flight, this can be a fraction of the cost of a cash ticket.
Time your purchases wisely during big sales so you can get the most miles possible.
Do Not Buy Miles or Points Speculatively
We've discussed when it might make sense to buy miles, but we need to be clear that buying miles speculatively is a very risky decision. If you don't know exactly when you'll be using the miles you buy, don't buy the miles!
In fact, the ideal time to buy miles (if absolutely necessary) is right before you redeem them. Miles and points are not an investment that increases in value over time, so buying and holding them is extremely risky. When you consider the no-notice devaluations of award programs that we've seen by airlines such as Delta, this should be very clear.
Bottom Line: Don't buy miles unless you know exactly what you are going to do with them!
Final Thoughts
Buying miles isn't for everyone. Purchasing a few miles here and there might not cost too much, but buying a significant chunk of miles can easily cost you over $1,000. With that in mind, it's vital that you be strategic when purchasing miles.
If there is a sale on miles and you have an award you would like to book, it may be the right move for you. Otherwise, utilize your credit card spending and sign-up bonuses to plan ahead.
Remember, if you buy miles, you want to make sure you are going to get a ton of value out of them! After all, the point of your miles and points is not to spend more than necessary for a redemption!
---
The information regarding the Chase Freedom Unlimited® card was independently collected by Upgraded Points and not provided nor reviewed by the issuer.