The Laguna, a Luxury Collection Resort & Spa in Nusa Dua, Bali – Review
Hotel: The Laguna, a Luxury Collection Resort & Spa in Nusa Dua, Bali
Booked Room: Deluxe Garden View
Upgraded Room: 1 Bedroom Executive Suite
Loyalty Program: Marriott Bonvoy
Date: October 31, 2019
Nights: 4
Points: 130,000 Marriott points
Paid Value: $748 (IDR 10,230,550) for booked room; $1,548 (IDR 21,172,314) for upgraded room
Overview
Tucked away in a secure beach-front compound and surrounded by lush tropical gardens, The Laguna, a Luxury Collection Resort & Spa in Nusa Dua, Bali offers guests a variety of different room types spread out over its expansive property.
With a combination of 7 lagoon pools, direct beach access, several restaurants on the property, and easy access to adjoining properties, you could easily stay here and not venture to some of the more populous areas on the island of Bali.
This was the driving factor in my partner and I selecting to reunite at this hotel (following a whirlwind 2-week trip to the U.S.) for a few days of rest and relaxation before returning to Australia.
Whilst I flew in from Europe on Turkish Airways' shinny new Boeing 787-9, Lukas arrived from Sydney in the less glamorous Jetstar Boeing 787-8.
Hotel Location
The resort is located on the Nusa Dua peninsula, approximately 25 minutes from Ngurah Rai International Airport (DPS) and 40 minutes from Seminyak.
Booking
The Laguna, a Luxury Collection Resort & Spa in Nusa Dua is a Marriott Bonvoy Category 5 hotel. This means you can secure a base room for 35,000 points per night during standard periods (or 30,000 points for off-peak nights and 40,000 points during peak).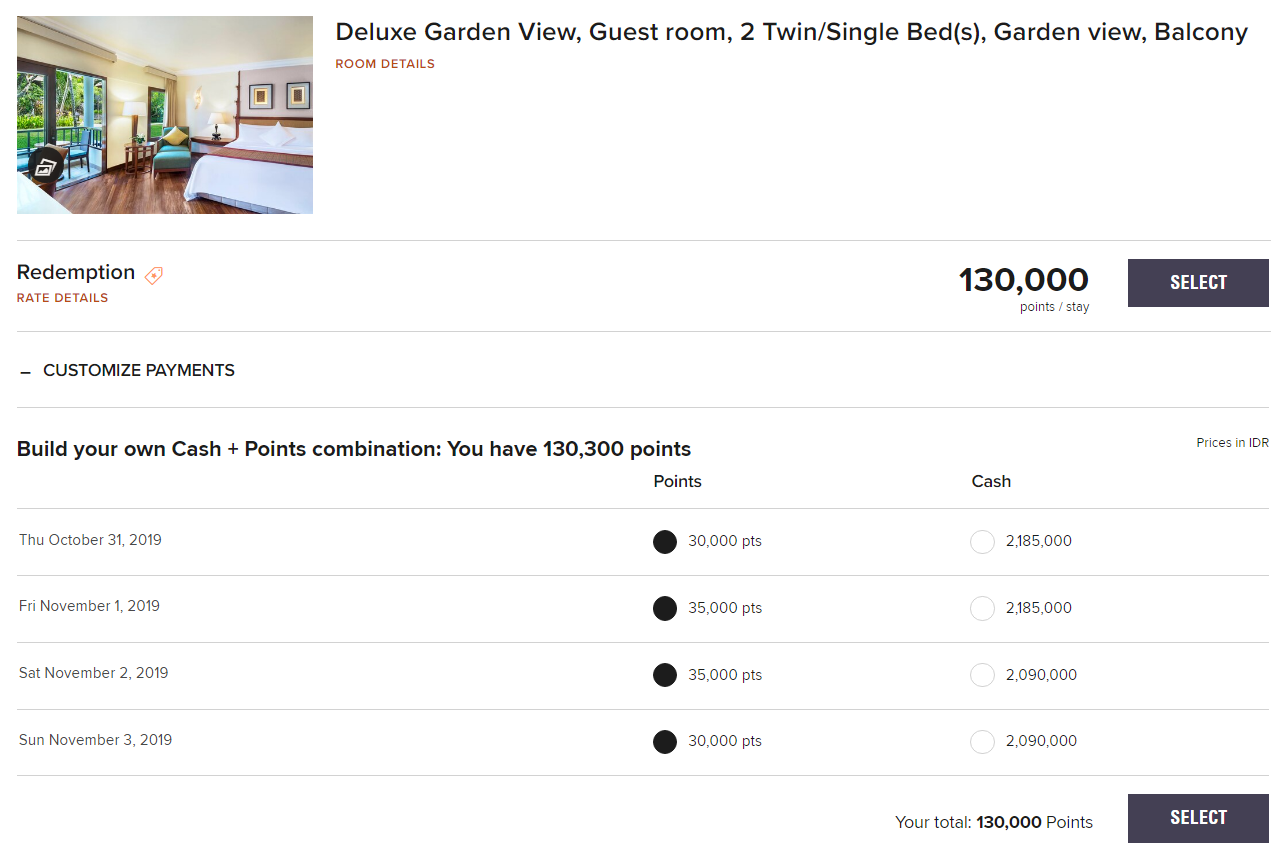 As it was low season, we decided to book a paid rate that cost $748 (including the local taxes) for the 4 nights for the base room. We applied our Suite Night Award certificates against the stay, one of my Platinum Elite benefits.

Just be mindful of selecting a "Suite" to upgrade to as Marriott usually list rooms which are not technically a "Suite."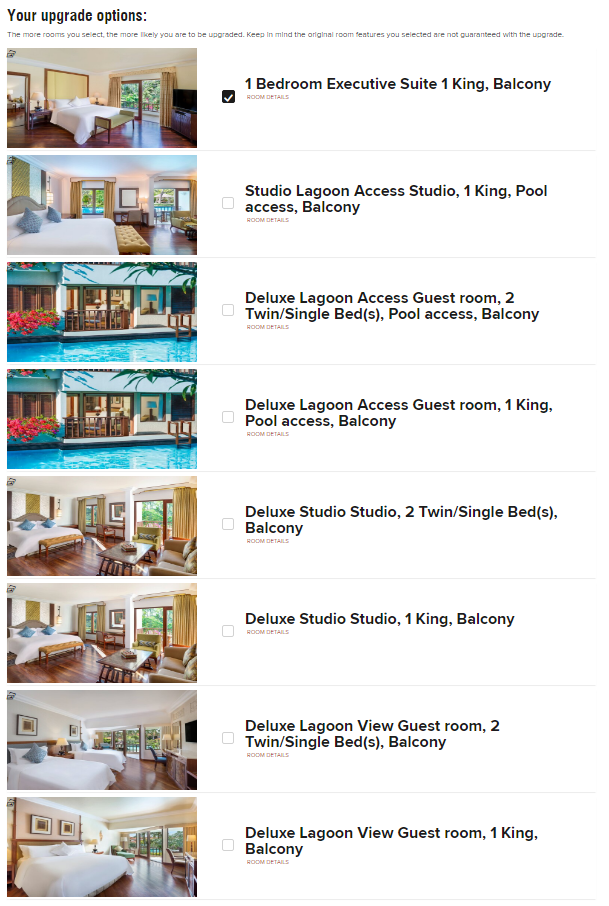 A couple of days before check-in, we received an email to confirm our upgrade to a 1 Bedroom Executive Suite (which was worth $1,548) for the duration of our stay.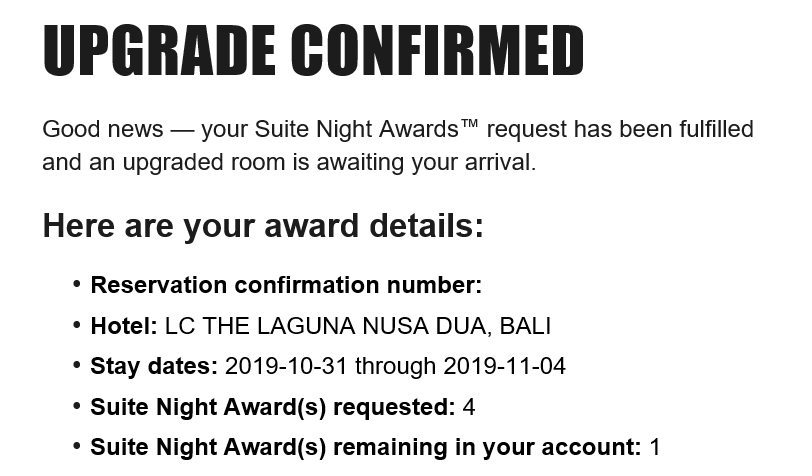 Checking In
Arriving at Nusa Dua via car/taxi, you'll pass via a security checkpoint at which point your driver will advise security which hotel they are dropping you off at.
Continuing through into Nusa Dua you'll shortly arrive at the entrance to the hotel where you'll be greeted by more security personnel and several metal detectors.
Whilst the security measures might seem excessive, they seem to only be in place to elicit an extra sense of safety for guests. The security guard on duty when I arrived unzipped 1 (of many) sections of my hand luggage then zipped it back up again without looking.
When my luggage was scanned, and the metal detector activated, the security guard simply told me to keep walking through to the check-in desk.
The lobby itself is an expansive, open space with a variety of comfortable seating if there happens to be a queue when checking in/out or if you're waiting for friends to leave the property and explore Bali.
The high, vaulted timber ceilings naturally draw your eyes upward and several chandeliers provide ambient lighting throughout the space.
The lack of closed walls gives you that feeling that you've arrived in a tropical paradise as the warm ocean breeze dances its way through the space, bringing with it the smell of fire and citronella burning somewhere in the distance.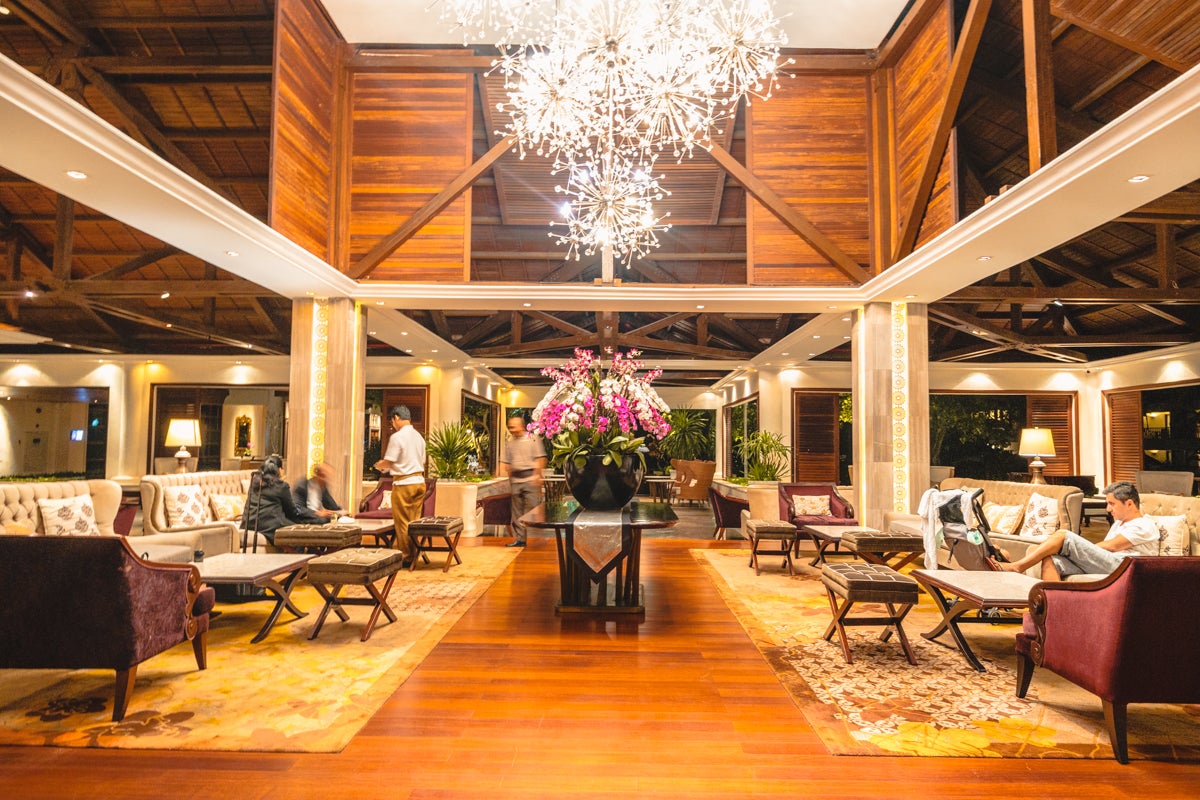 After taking in the lobby, I presented myself to the staff member at the check-in counter and was thanked for my loyalty as a Marriott Bonvoy member and offered a welcome drink and cool towel.
I was also informed that I have been upgraded to a suite as I had previously applied my Marriott Bonvoy Suite Night Awards to this booking.
Hot Tip: Interested in learning how to qualify for elite status? Here's our step-by-step guide on how to qualify for Marriott status. 
As I was arriving at the hotel in the evening, the overall check-in process was swift and efficient.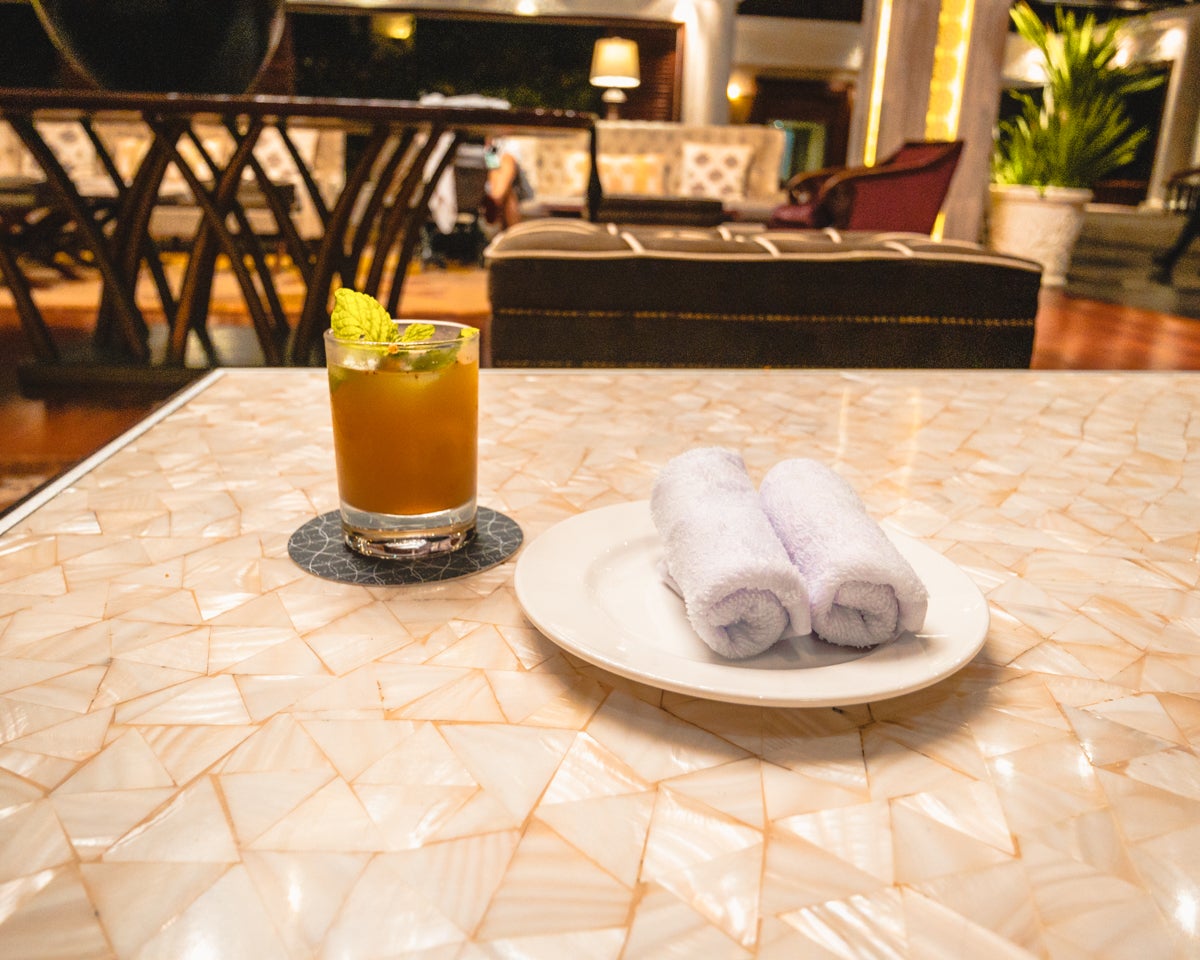 Elite Benefits
As a Marriott Bonvoy Platinum Elite member, I was entitled to the following benefits: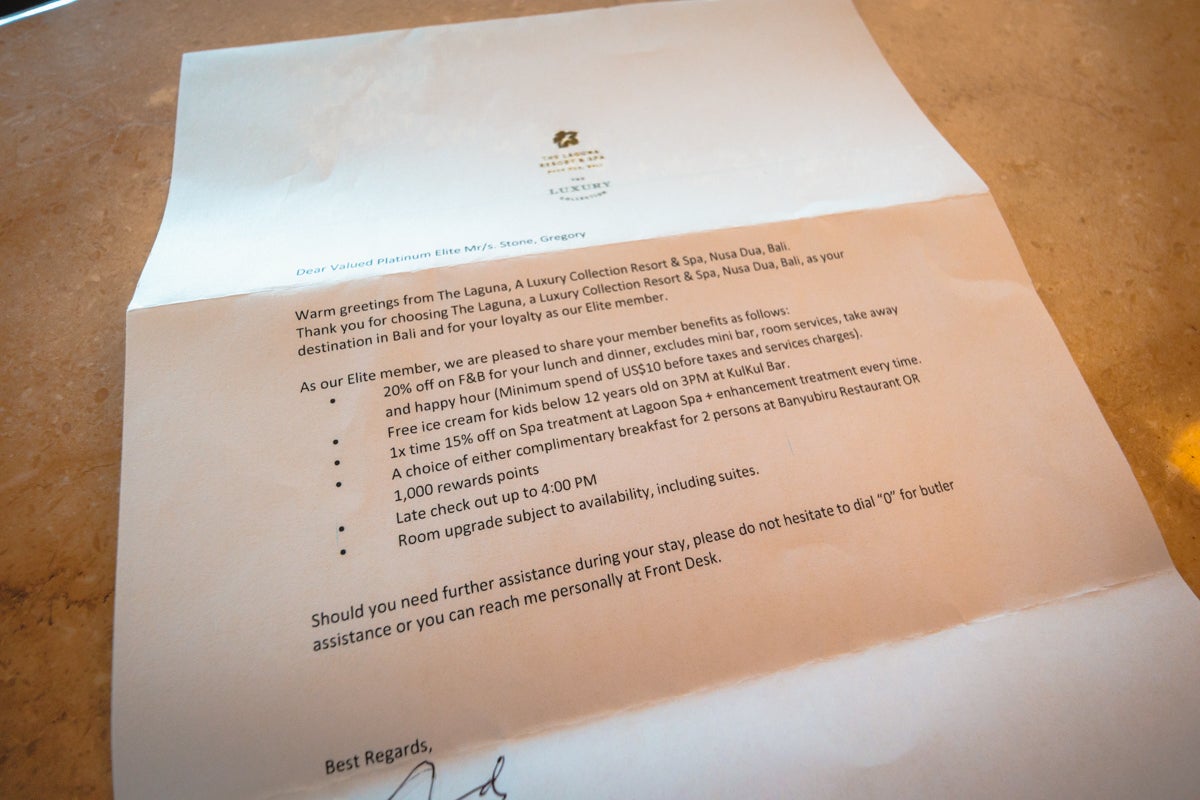 I opted for the complimentary breakfast for 2 instead of the 1,000 reward points as it was a much better value.
The only other benefit we gained value from was the 20% food and beverage discount along with a late check-out.
Once the check-in formalities were completed, I was escorted to my room.
The Room
You enter the suite onto a tiled, elevated area. Immediately to the right is a recessed buffet with bottled water and a Nespresso machine.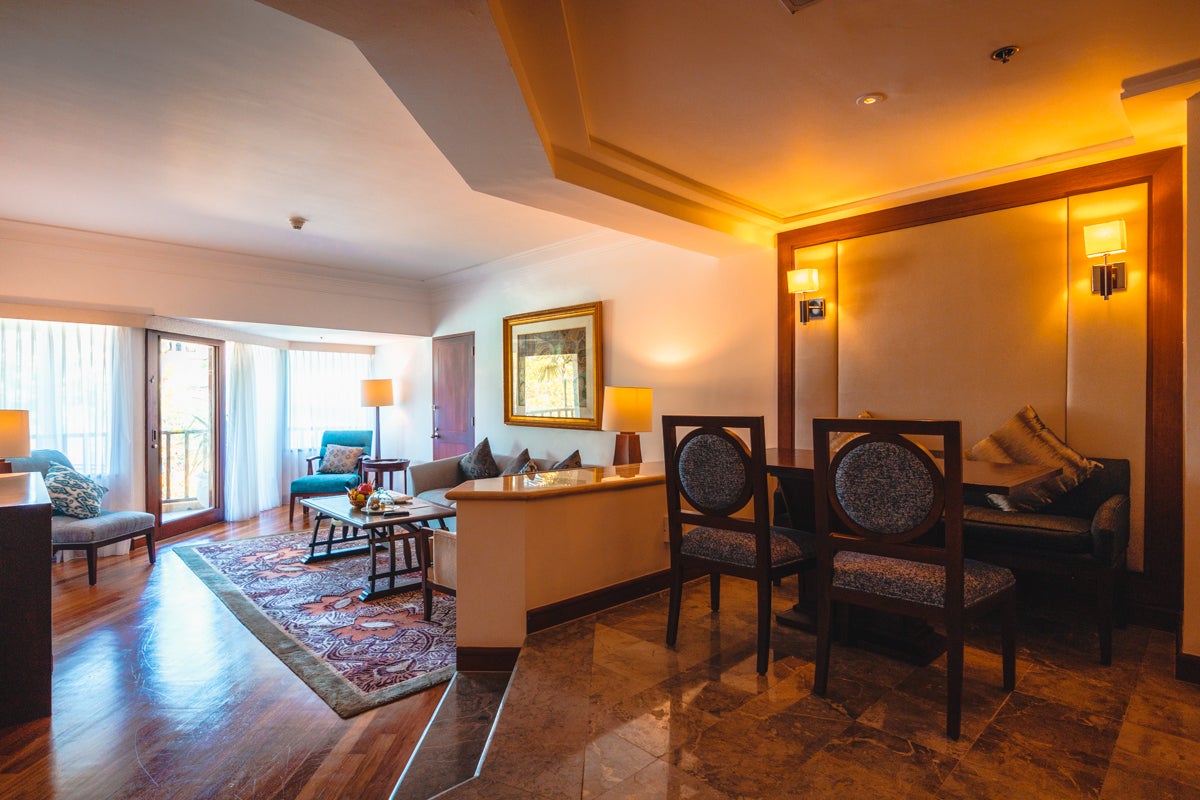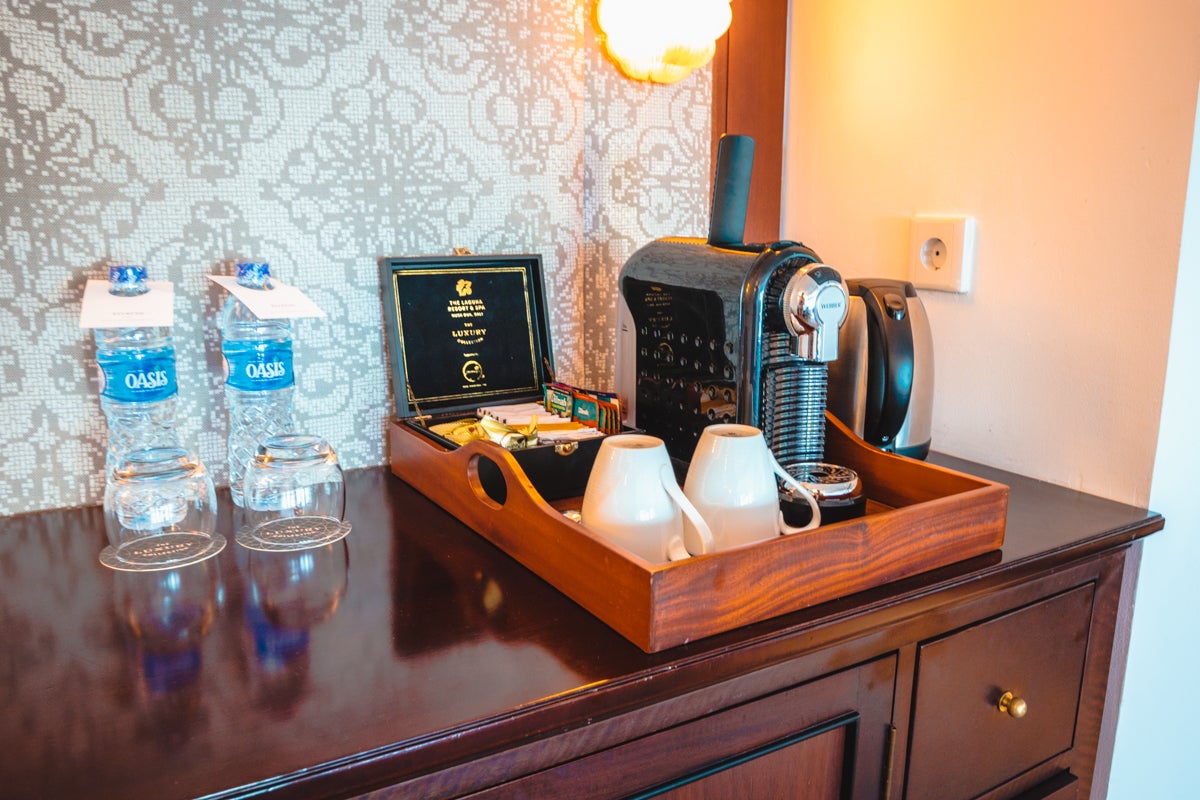 Hidden away in the cupboards you'll also find the mini bar, cups and glasses, and basic bar items. The mini bar will equip you with basics such as sparkling water, tonic water, soda water, orange juice, sparkling wine, and of course… some local Bintang beer!
The bottles of water were replenished daily and were also located in the bathrooms. We made sure to brush our teeth with the water just to play things safe.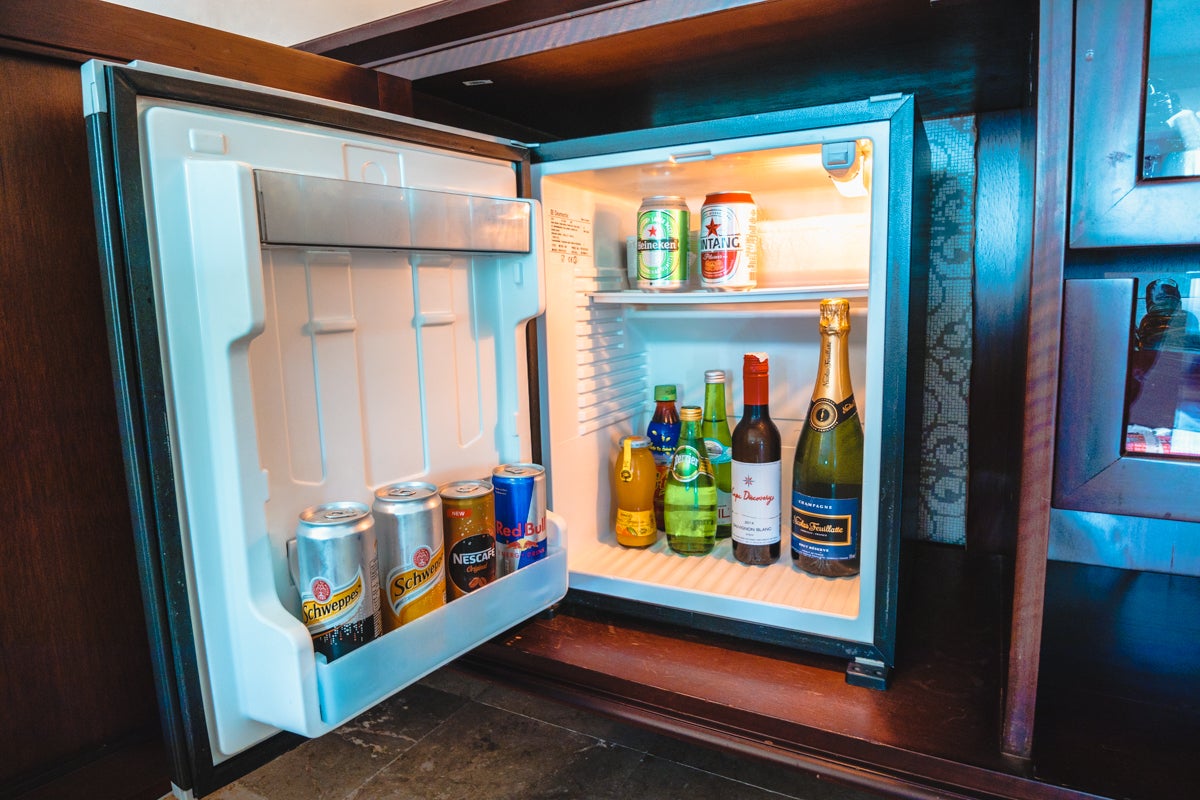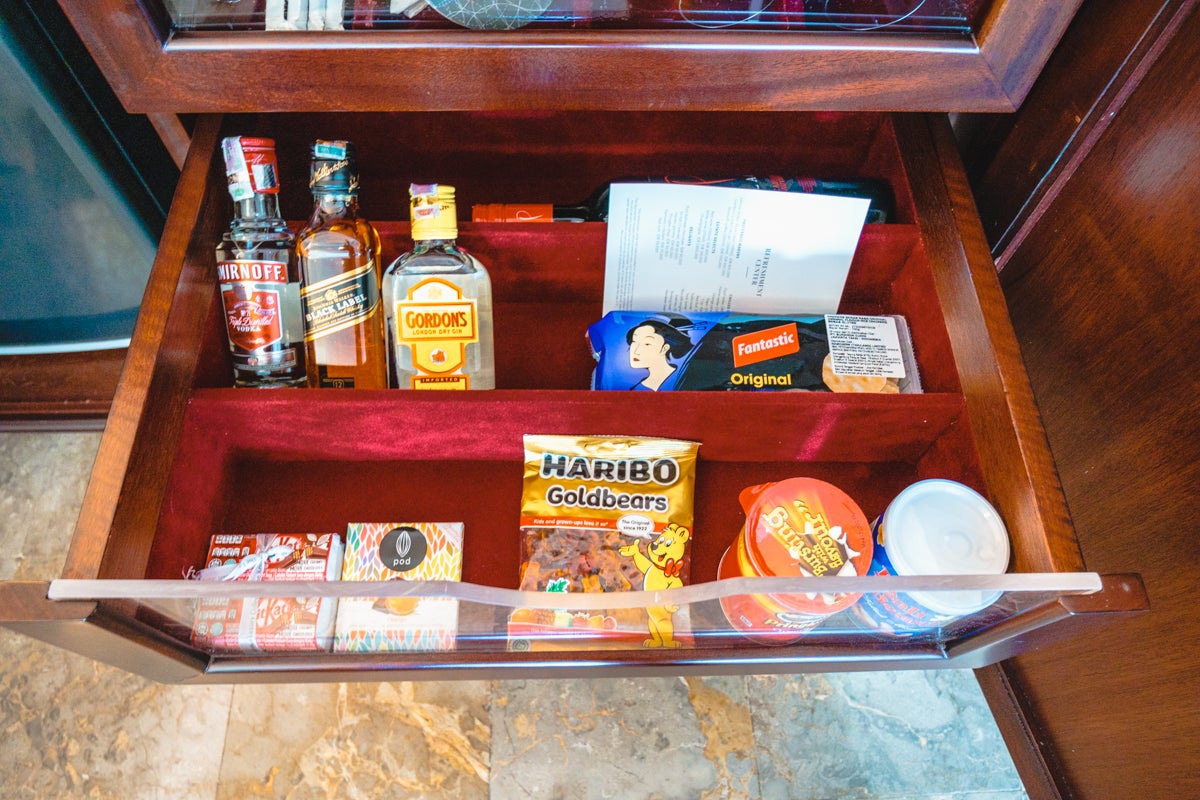 On this elevated level, there is also a dining table with bench seating and dining chairs, located in front of a padded wall.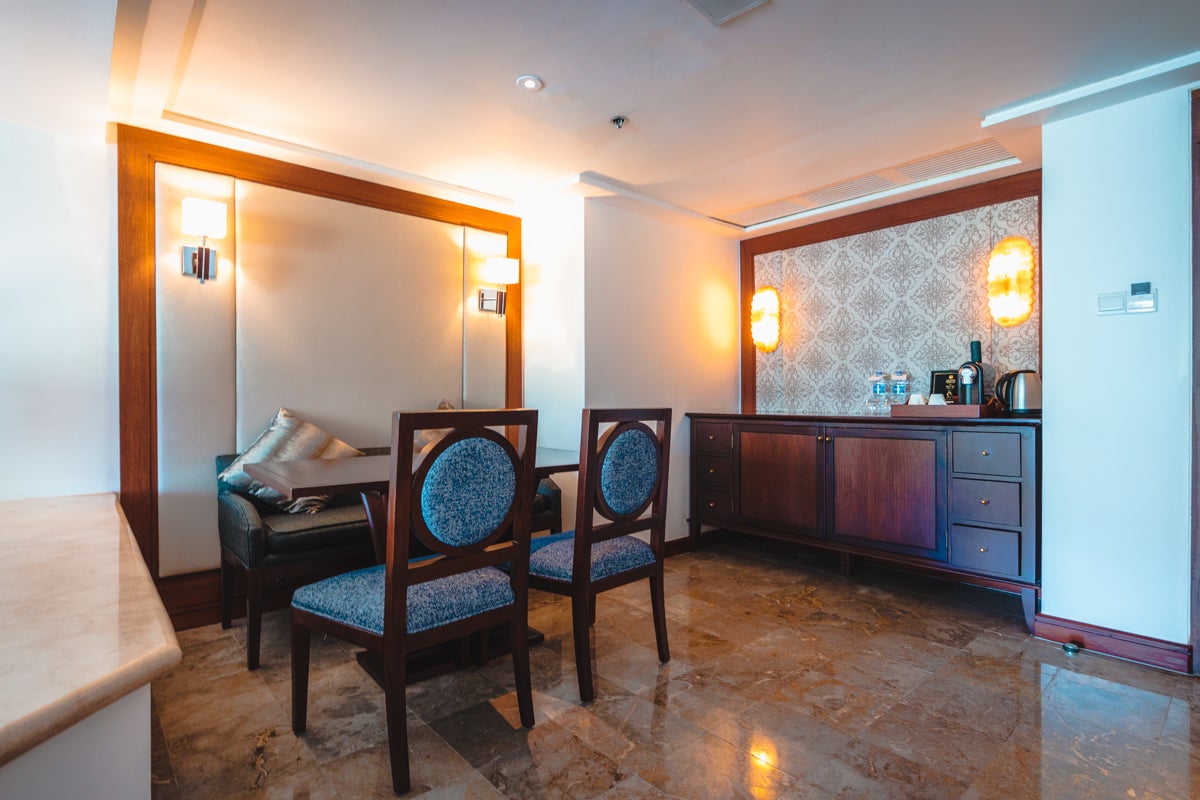 Small steps lead you down into the sunken lounge area, with polished timber floors, a sofa, 2 occasional chairs, and a wooden coffee table. The lounge and all of the occasional chairs face a large LCD TV located on the opposite wall.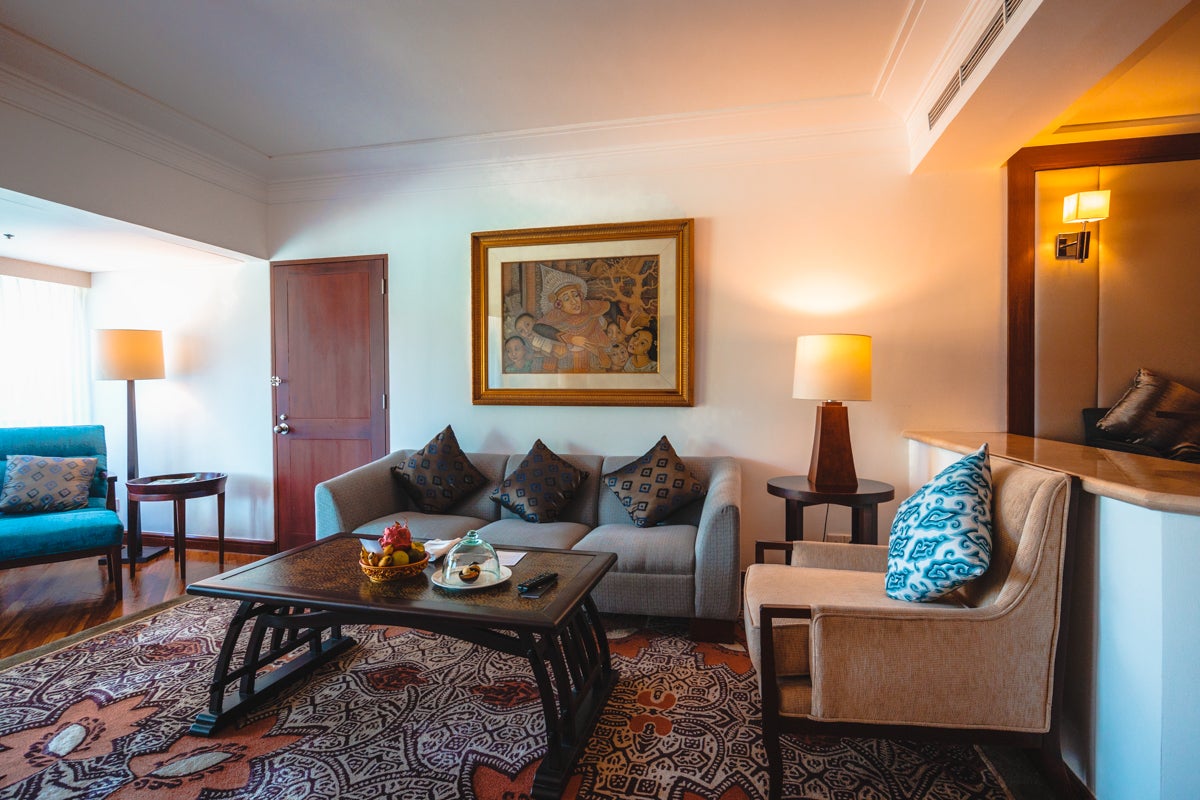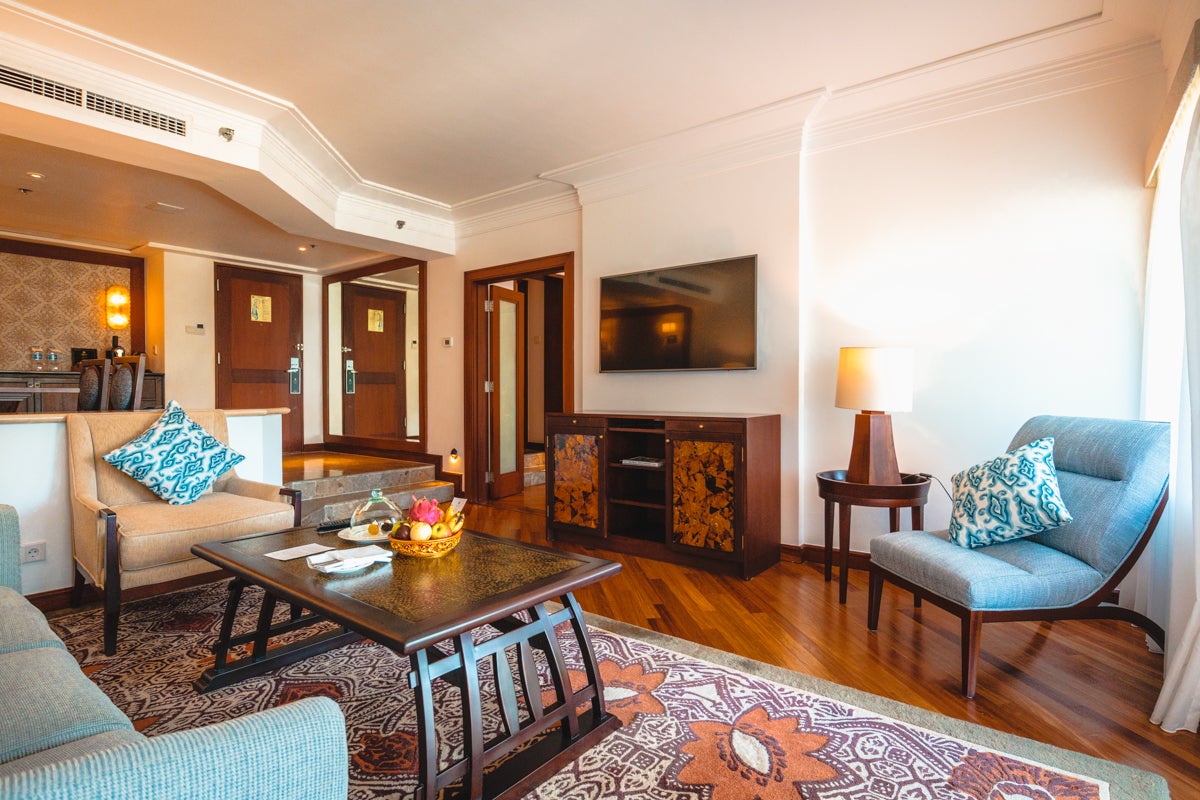 The hotel describes the decor of the rooms as "modern Balinese" and, much like the island of Bali itself, you'll immediately notice this fusion when you step into the rooms. The hotel was refurbished in 2006.
Upon arrival, a hand-written welcome note was accompanied by some fresh fruits and macarons, which were in recognition of my Platinum Elite status.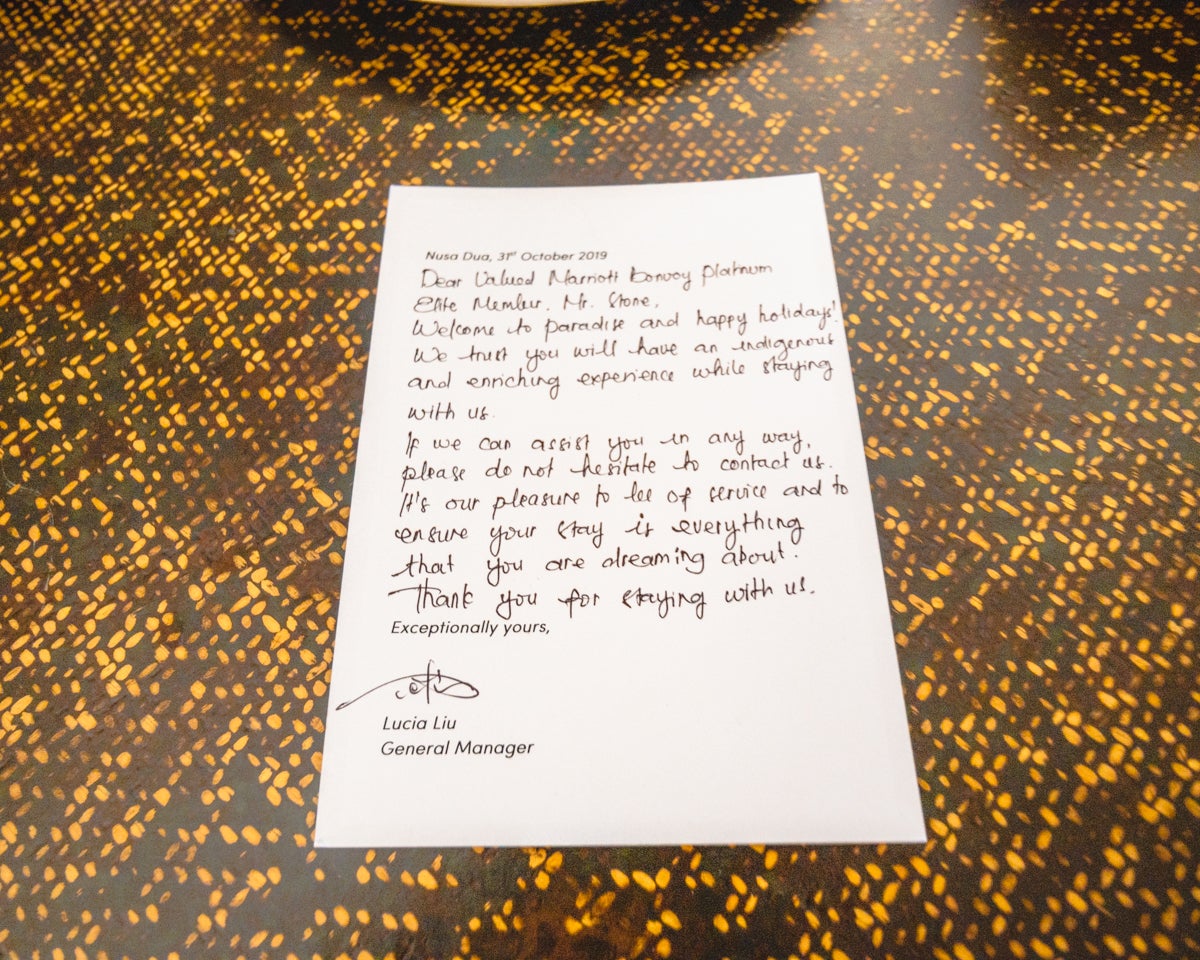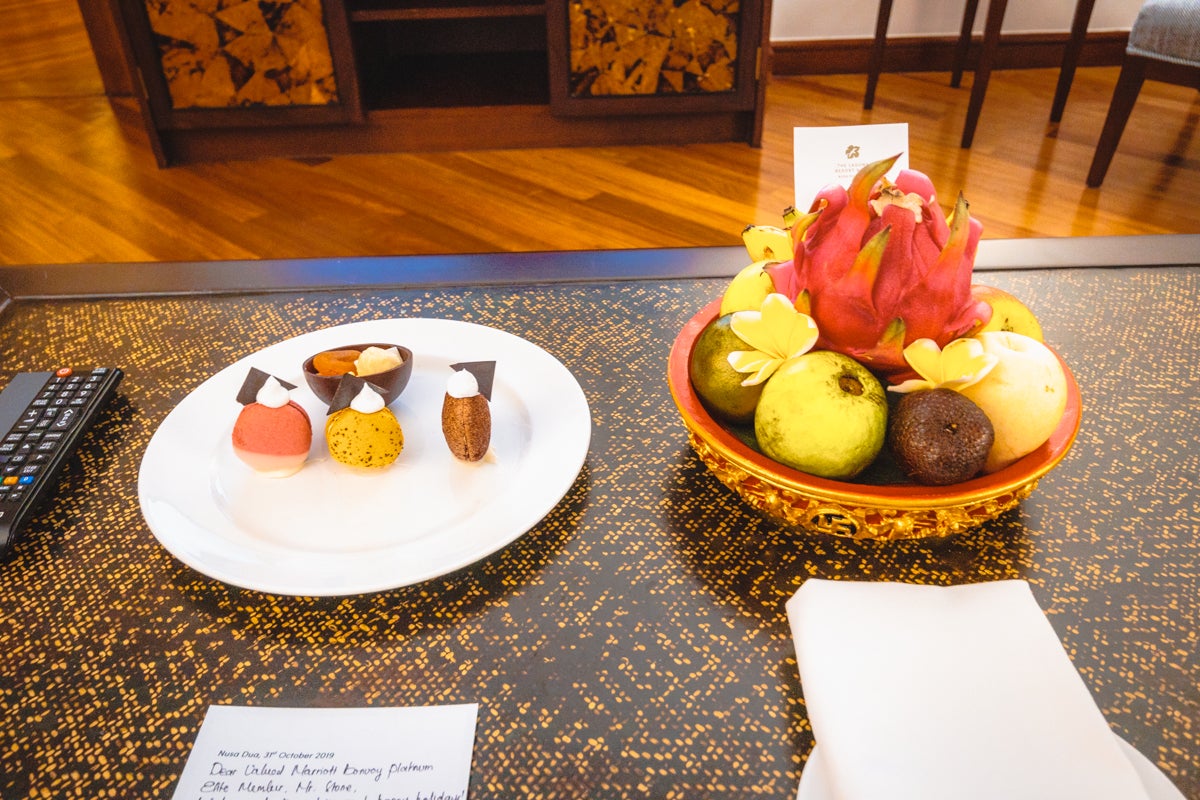 Opening up off the lounge is the balcony, with a small outdoor setting and views to 1 of the 7 lagoon pools. Looking out you'll notice that the resort buildings seem to "float" on the lagoon pools, imbuing an intrinsic connection to the landscape with some of the rooms providing guests with direct access to the pool.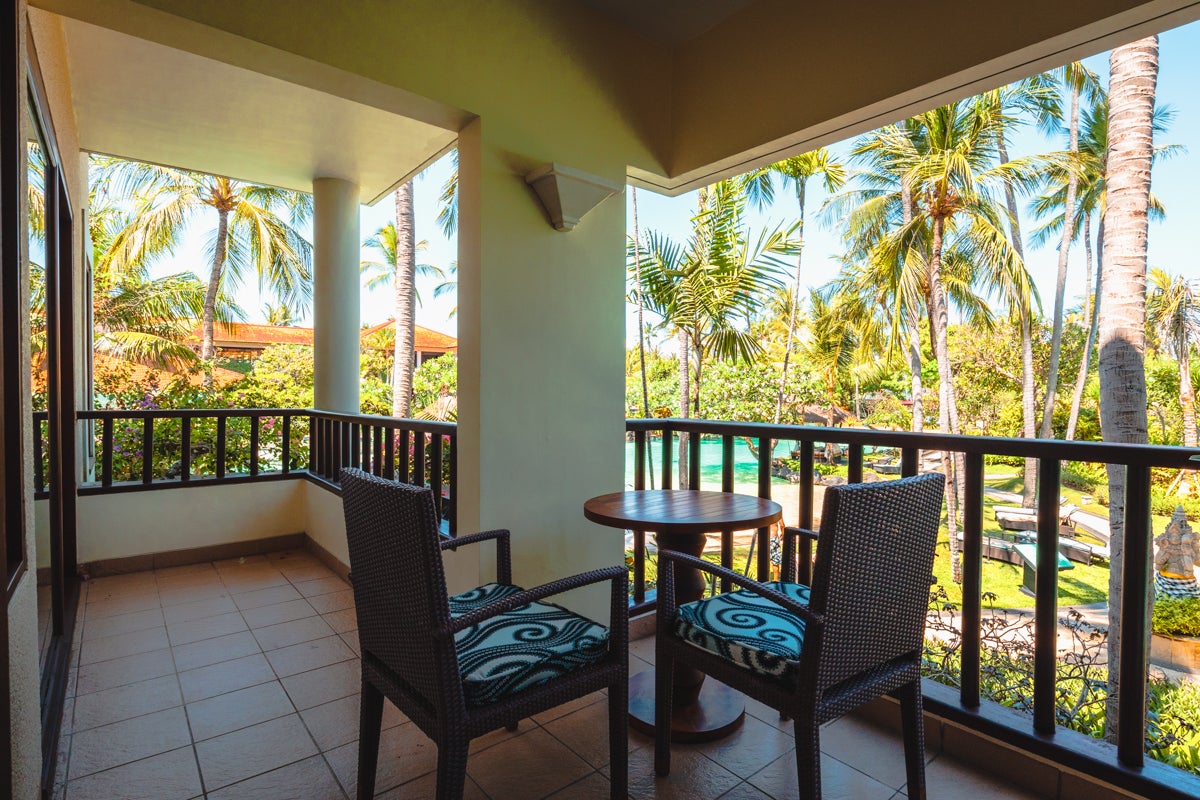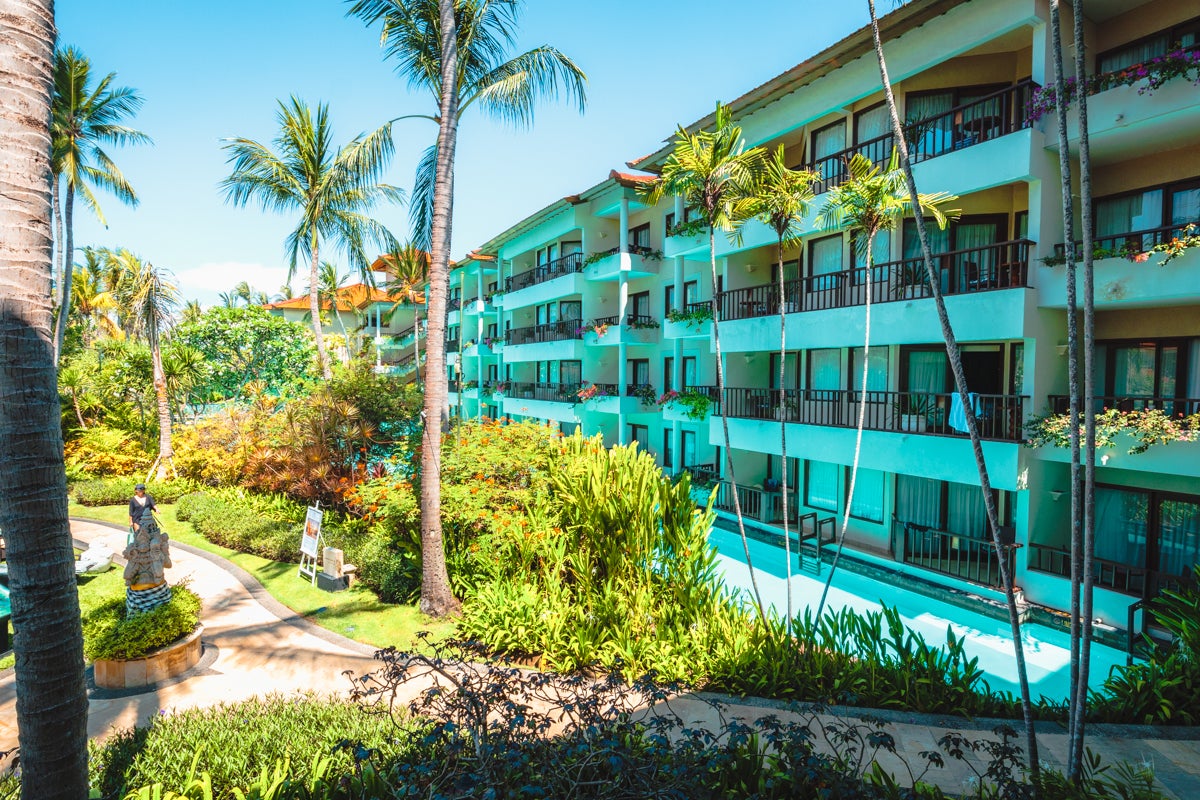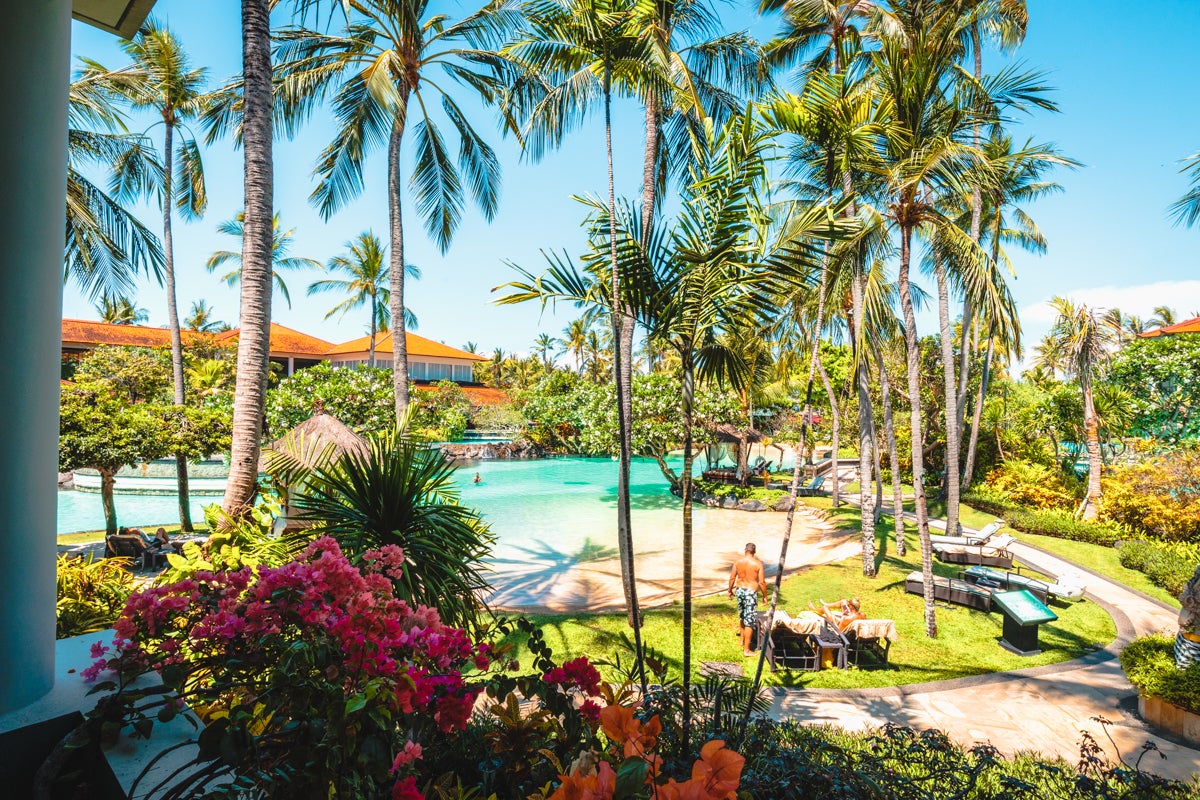 Back inside the suite, you'll step through a doorway into the bedroom. The polished timber floors continue into this room with 2 small rugs placed on either side of the bed.
Large tables, more like office desks, have also been placed on either side of the bed, each with its own chair, lamp, and power sockets. We were grateful for these power sockets as there were none located in the bathroom.
The bed itself was large and comfortable, more on the firm side, which is our preference. If you are out of your room in the early evening, a turn-down service is provided.
The 2 windows in the bedroom look out over your balcony and towards the lagoon pools. The sheer and blackout curtains enable you to keep the room nice and dark so that you can get a perfect night's sleep.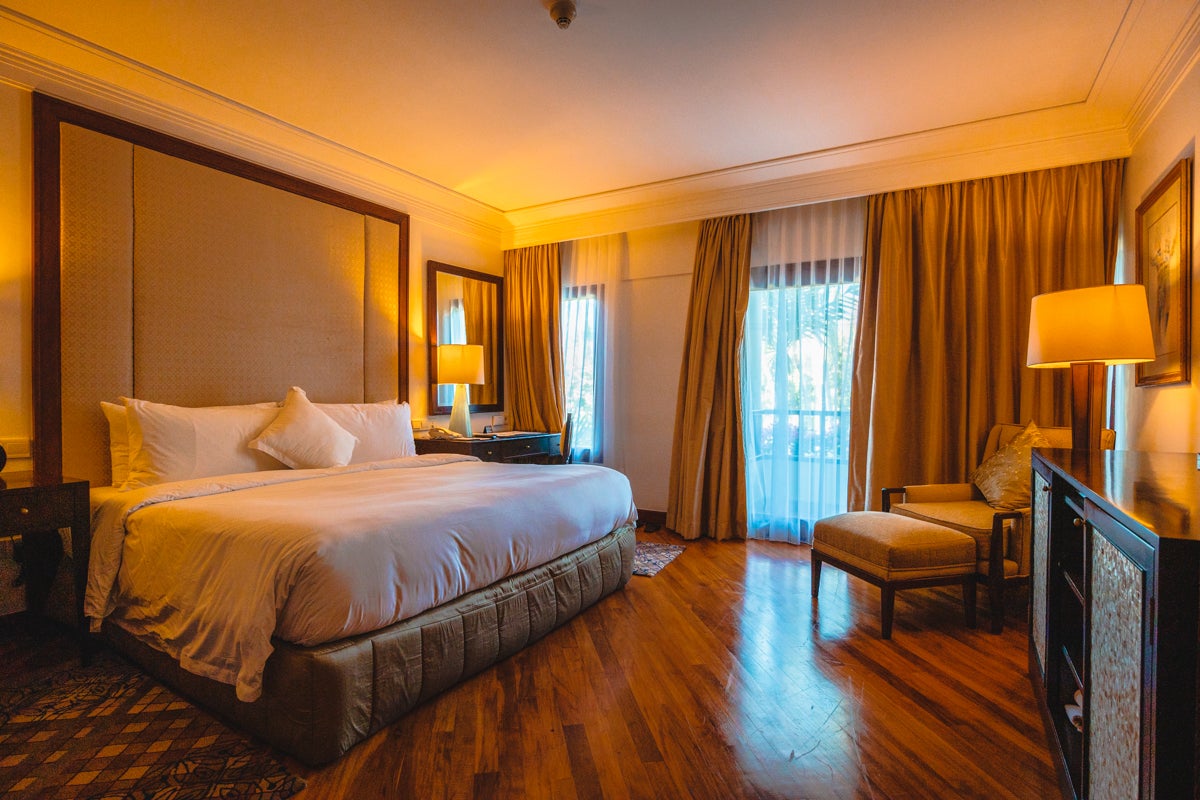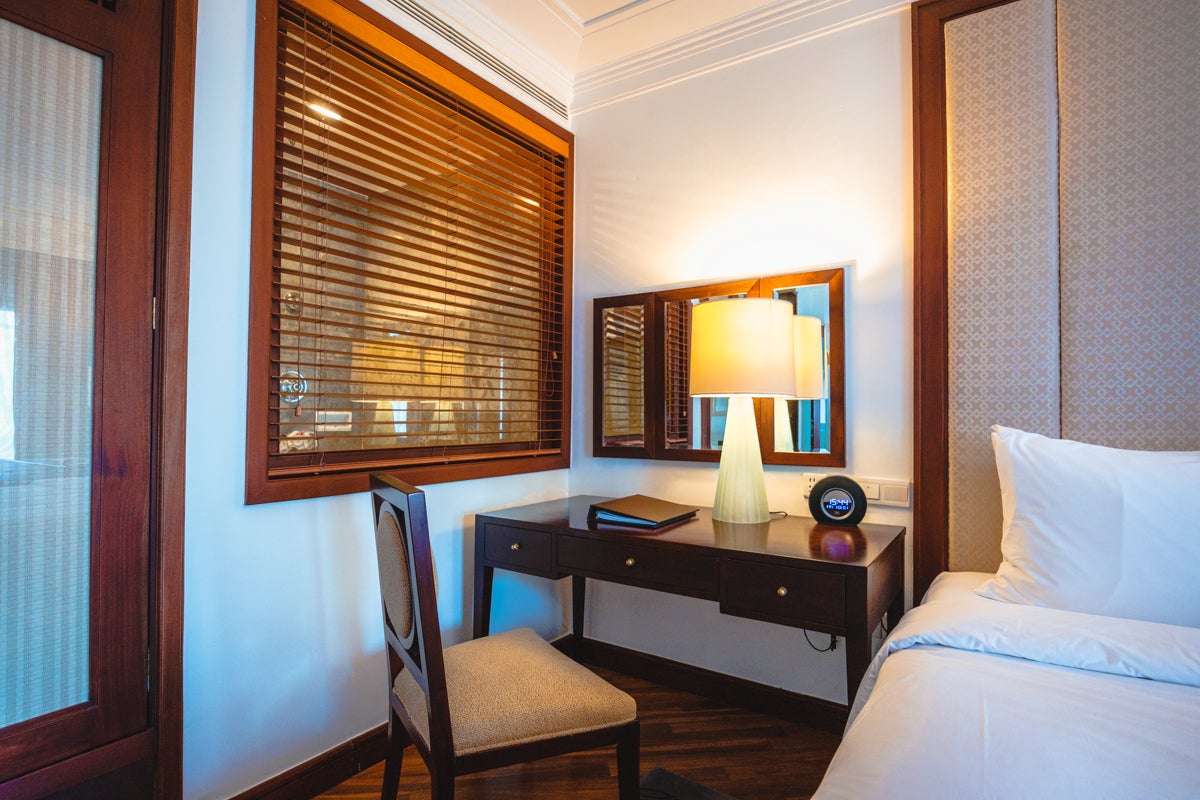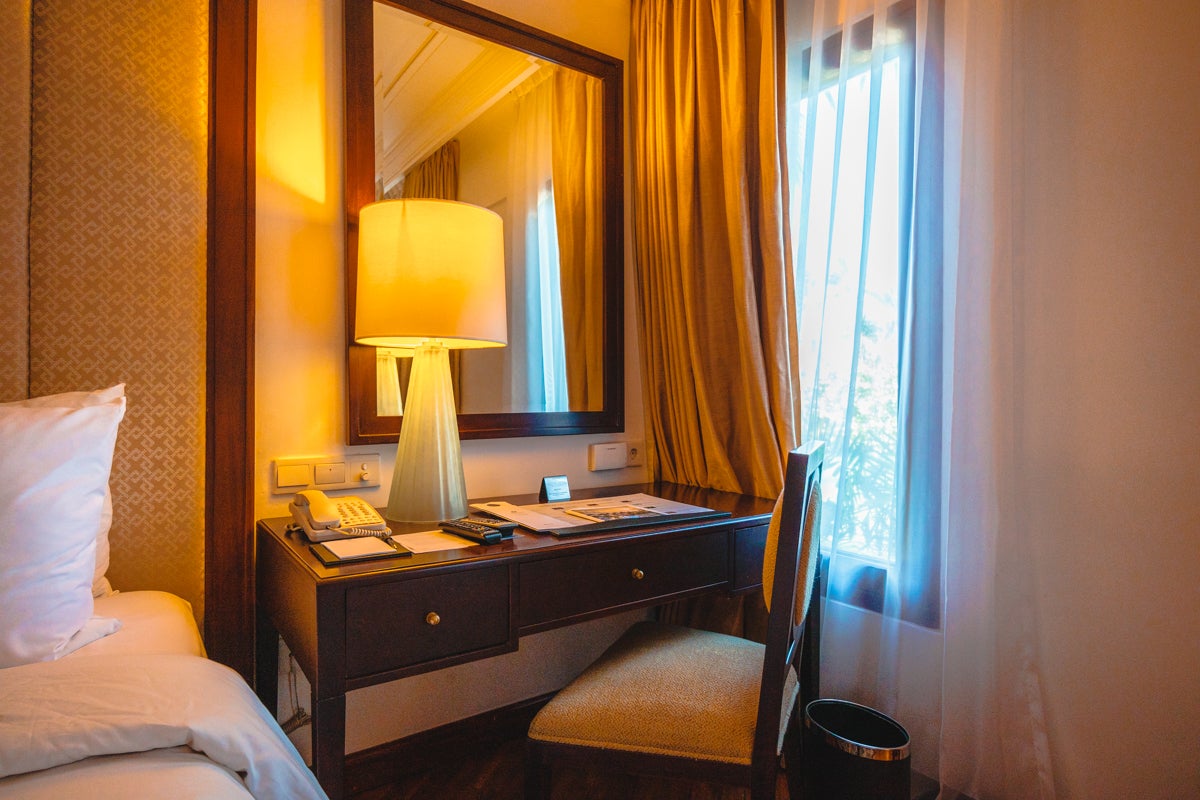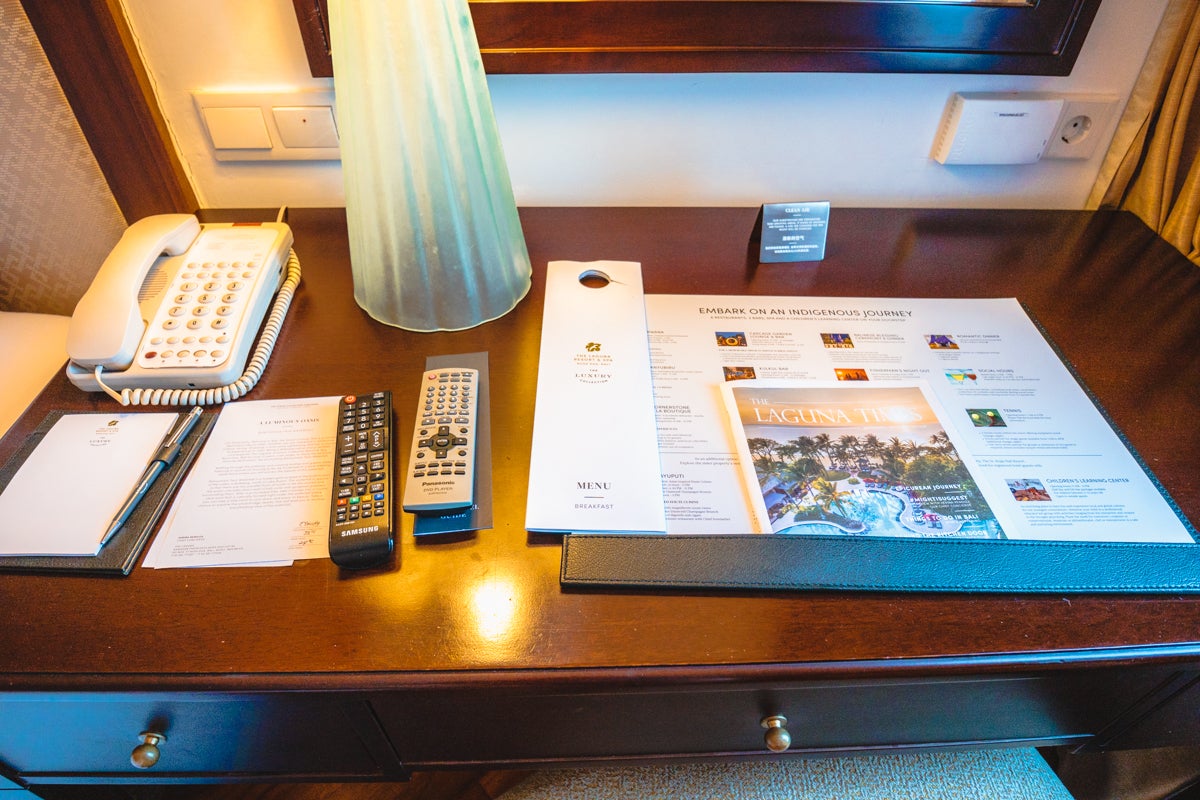 If you'd like to watch TV in bed, there is also a large LCD TV in the bedroom.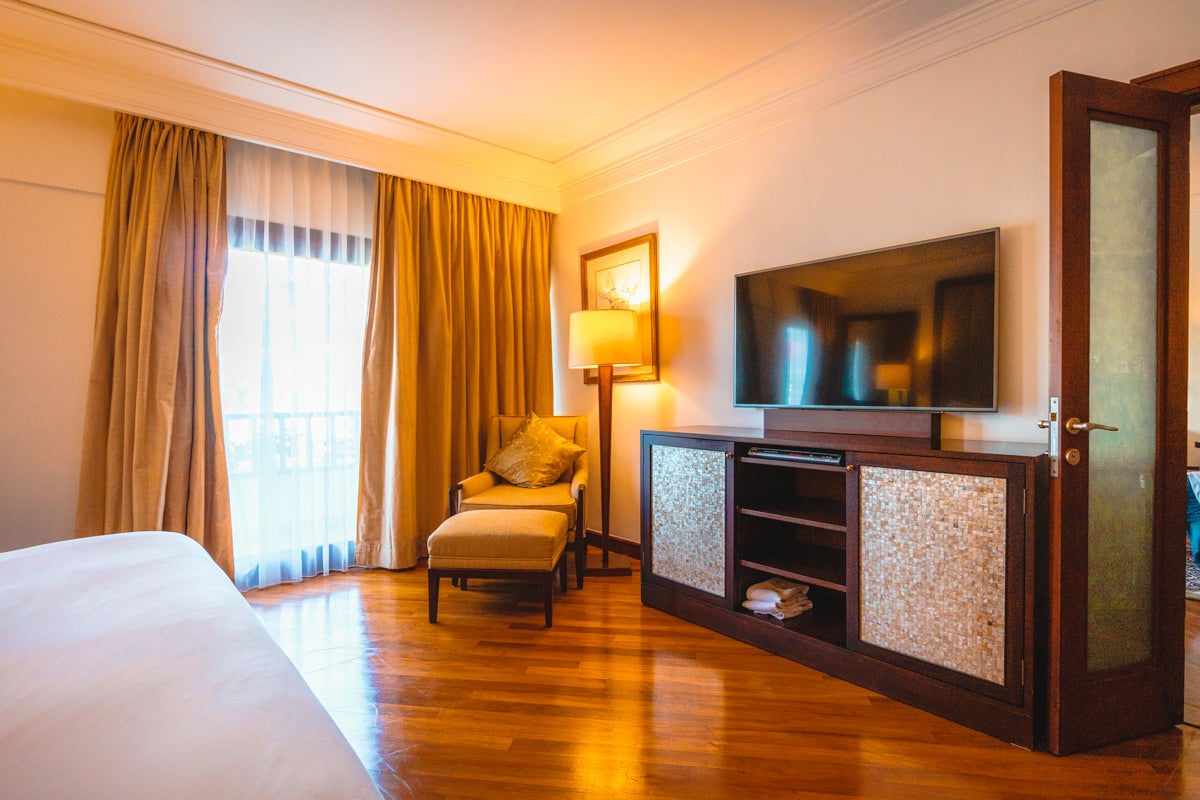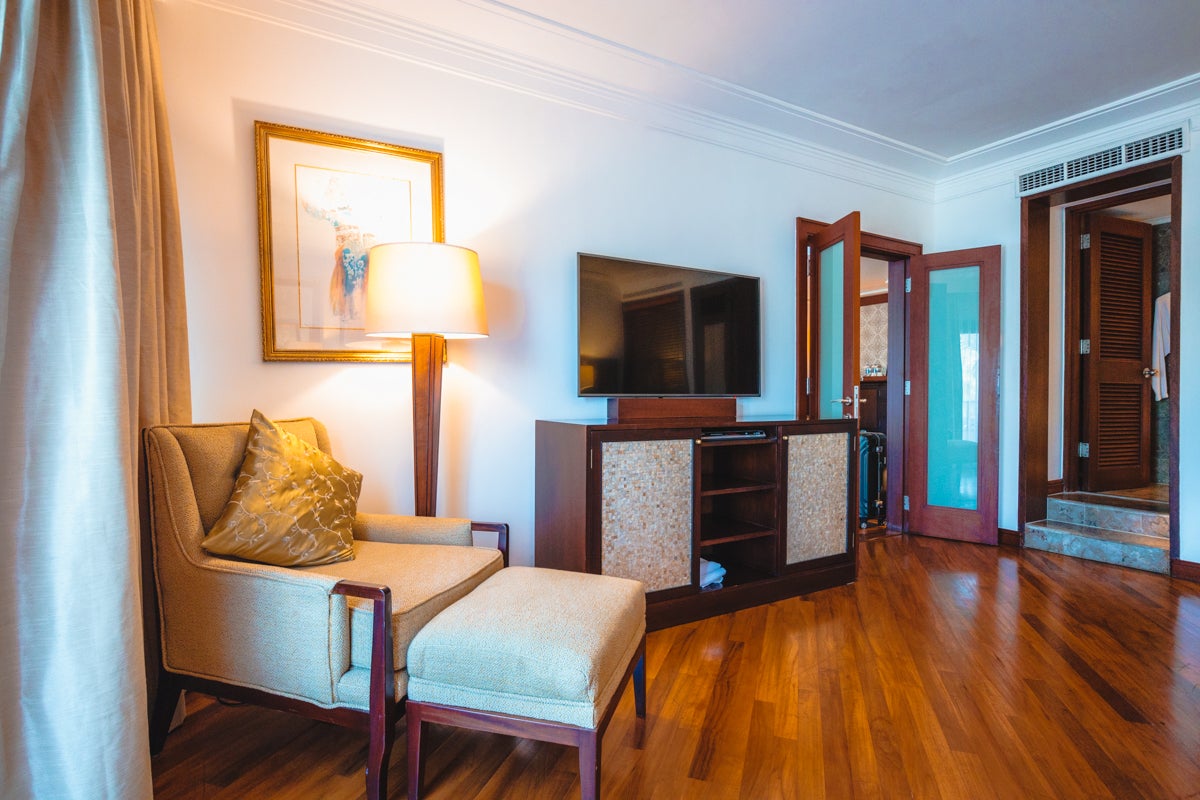 Bathroom
The suite's bathroom is located up 2 stairs immediately off of the bedroom. The first thing that you'll notice when you enter the bathroom is the mirrors.
Not only is there a large mirror located above the hand basin, but there is also a floor to ceiling mirror on the wall directly opposite… the toilet. So, if you've ever wondered what you look like when you're going to the toilet, you'll find out in this suite!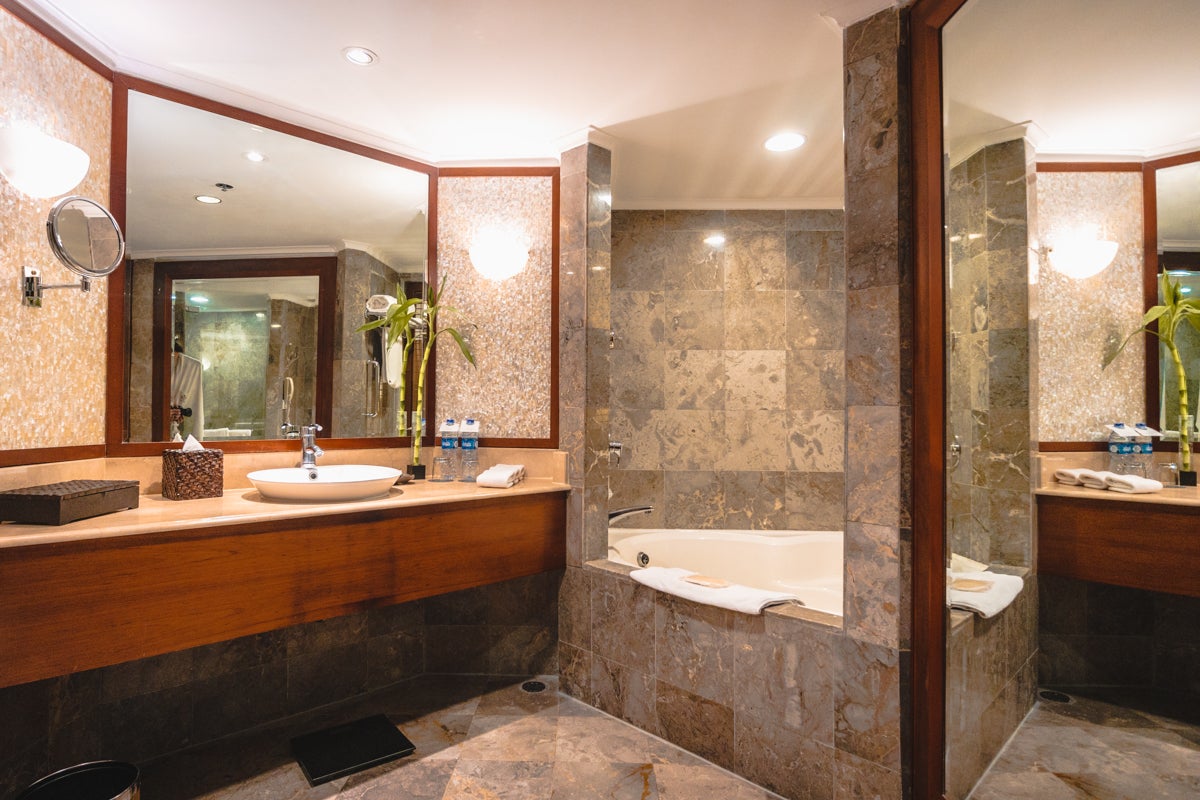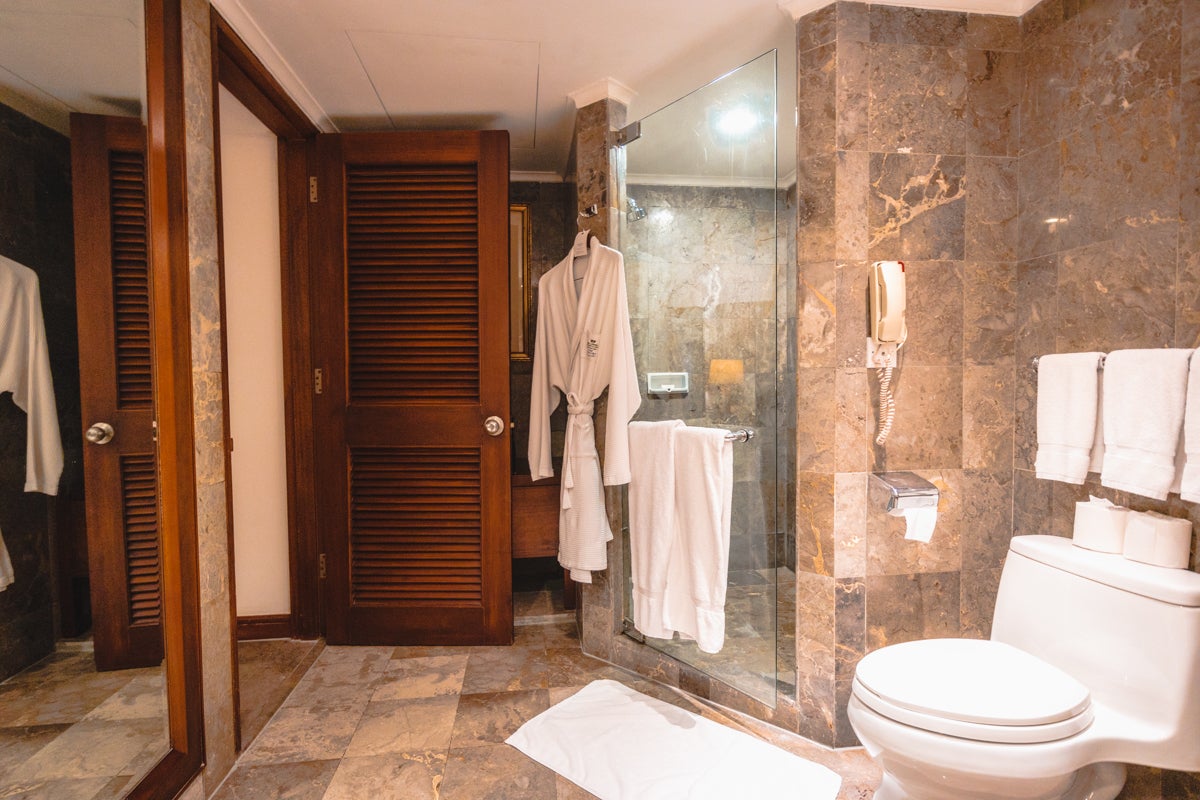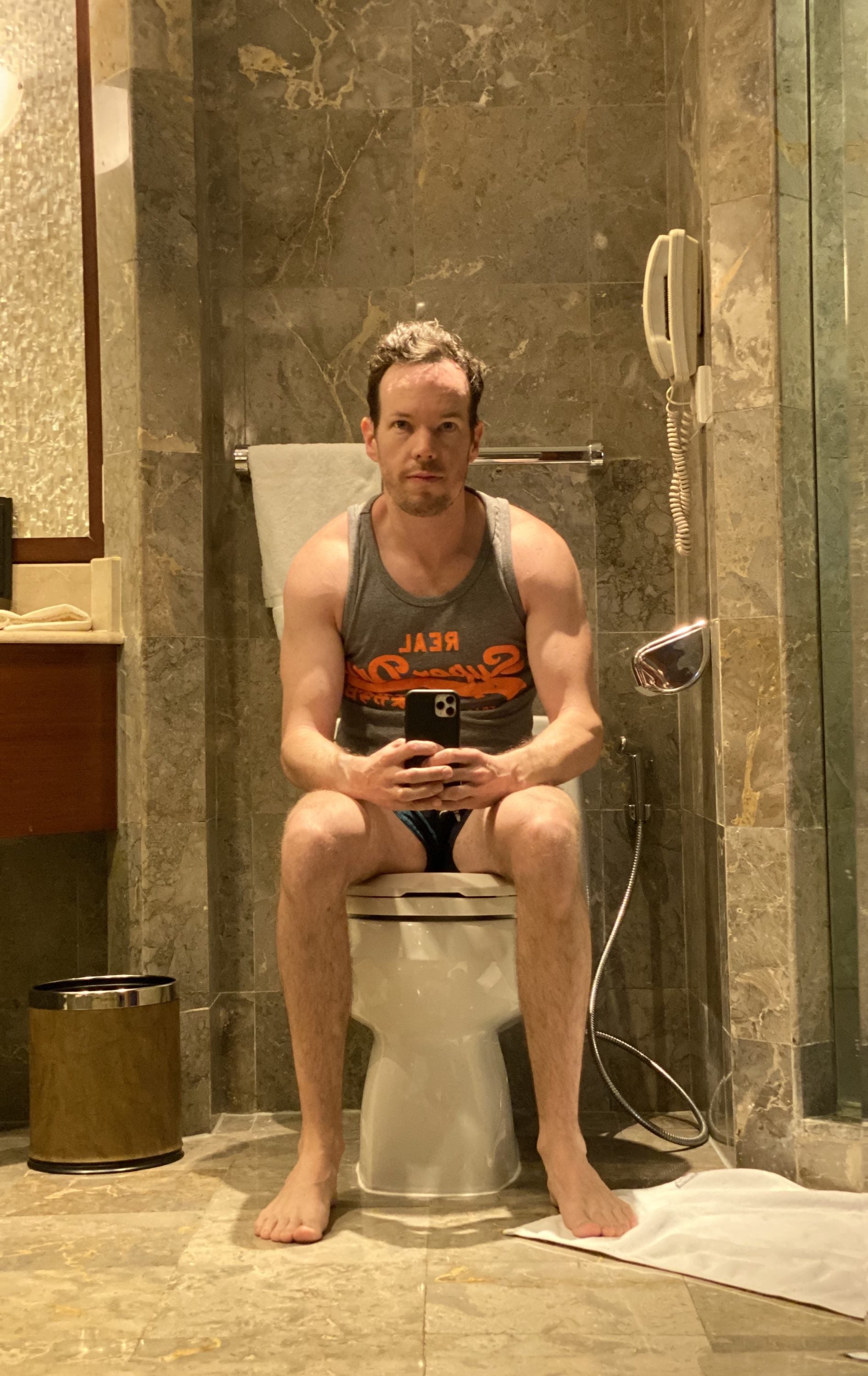 Ignoring the badly placed and oversized mirrors, the rest of the bathroom is well appointed with a sizable shower, a separate spa bath with a window into the bedroom, and a large vanity with plenty of space for toiletries.
Le Chemin products by Byredo are provided.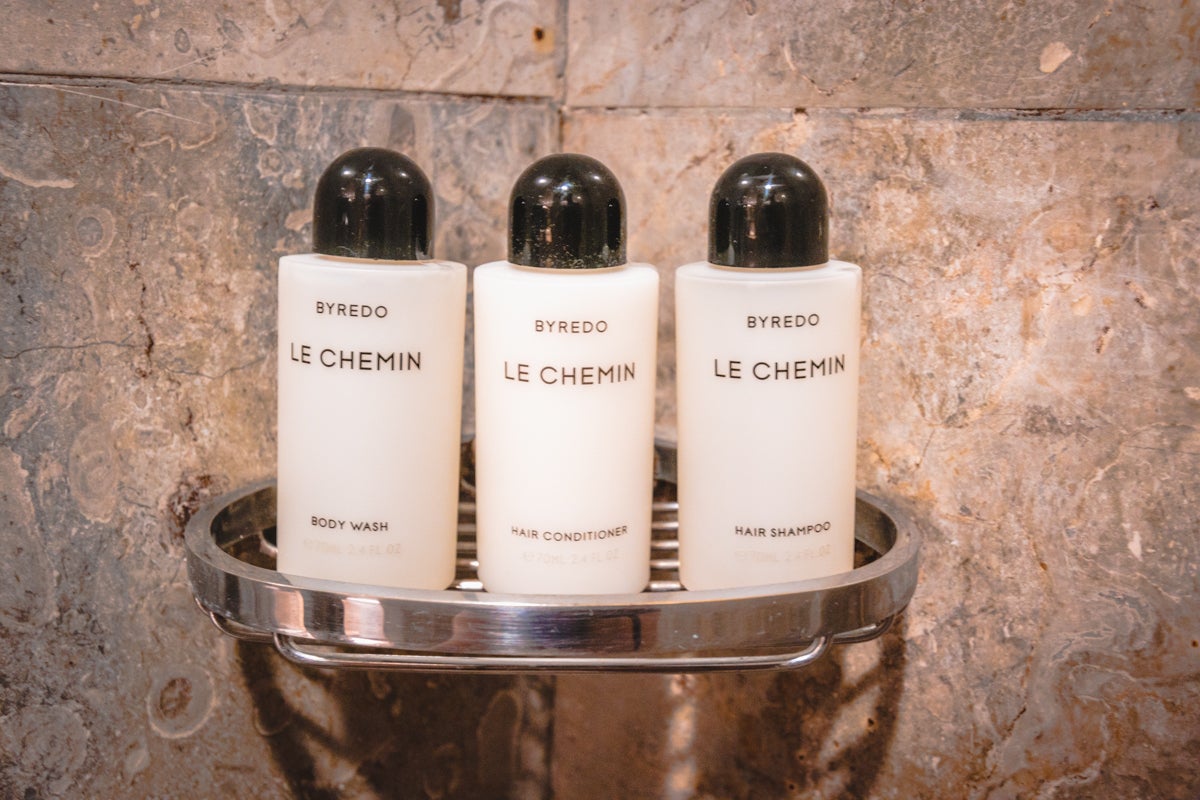 I've never understood the need to place scales in hotel bathrooms. I personally want to go on holiday and not worry about my weight until I return home, however the placement of scales in hotel bathrooms serves as a constant reminder that you're eating badly and you should probably visit the gym!
Amenities
Fast and free Wi-Fi is available across the resort, including all common areas. I was too relaxed to take a speed test… sorry!
Restaurants
The Laguna, a Luxury Collection Resort & Spa in Nusa Dua has 5 restaurants on its property.
Banyubiru
Banyubiru is where you'll find the buffet breakfast served each morning and where you can also choose to dine for dinner. It has extensive indoor and outdoor seating over one of the lagoon pools and was very popular during our entire stay.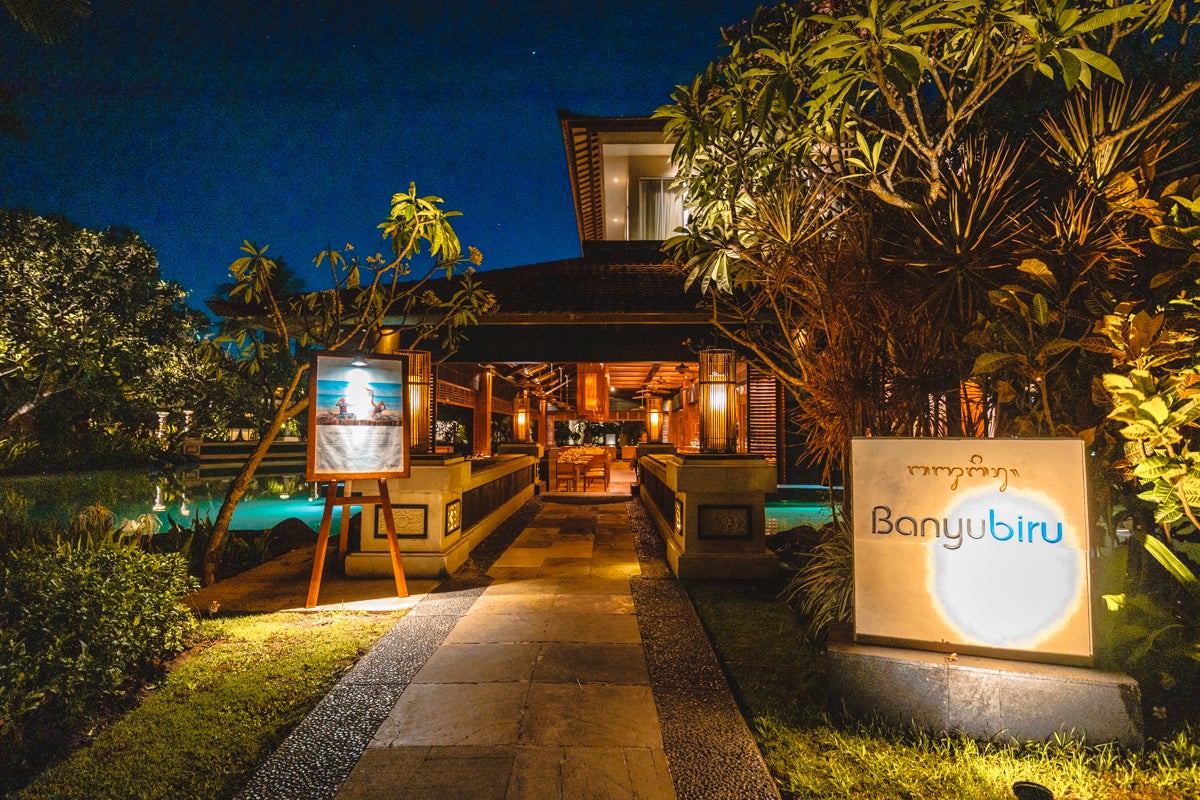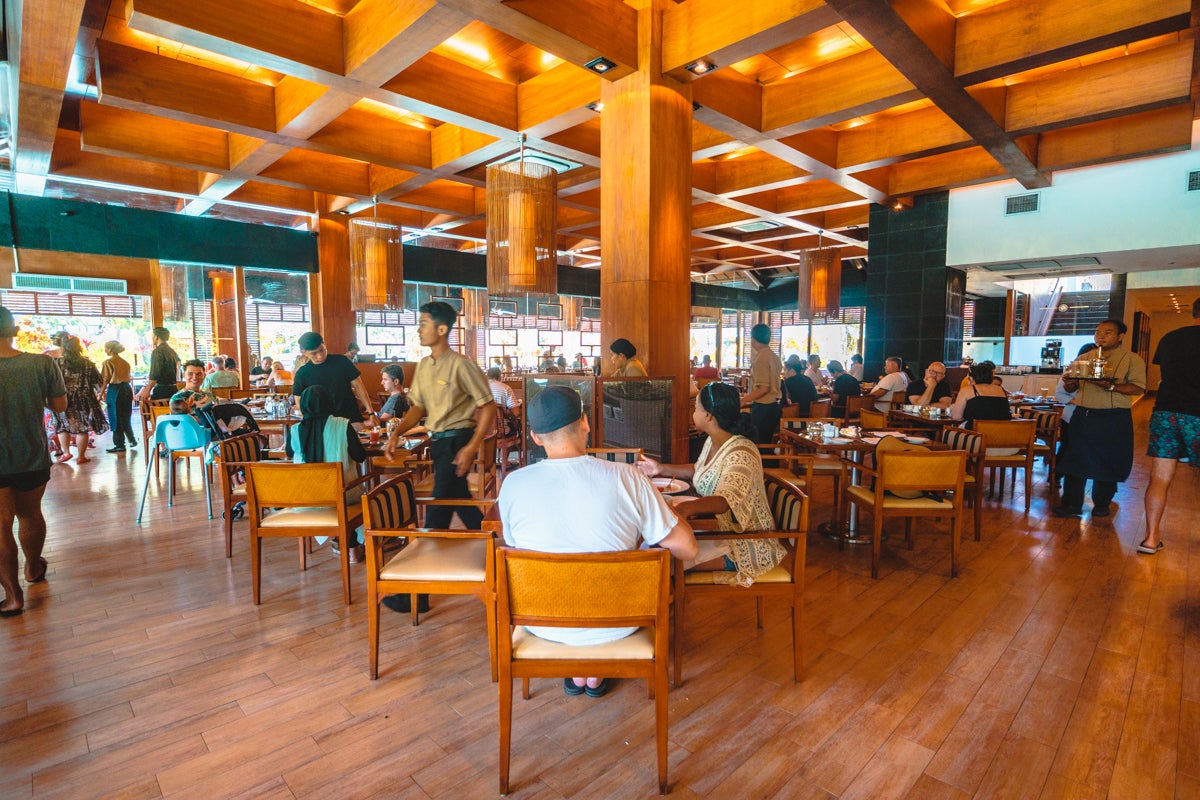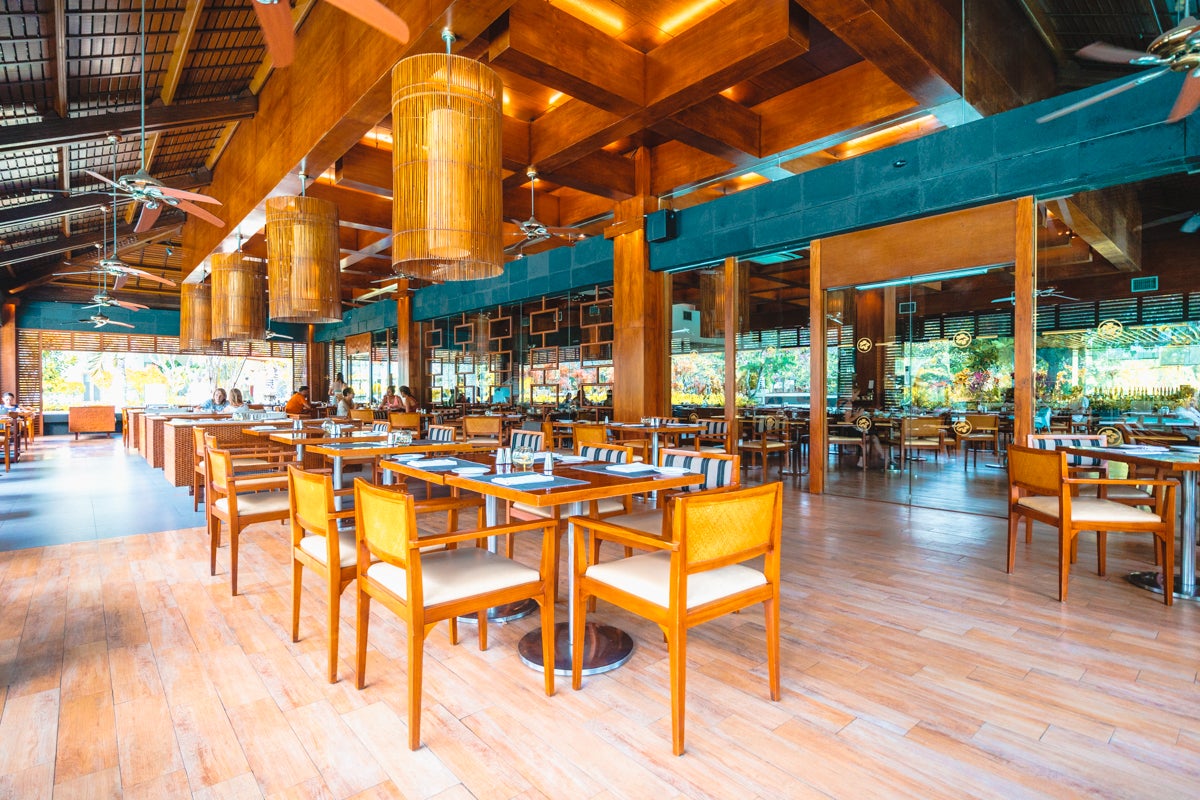 Each morning we tried to obtain a table near the pool but they were always taken. The staff noticed this and on one of the mornings came and informed us when one of the poolside tables was available so that we could relocate.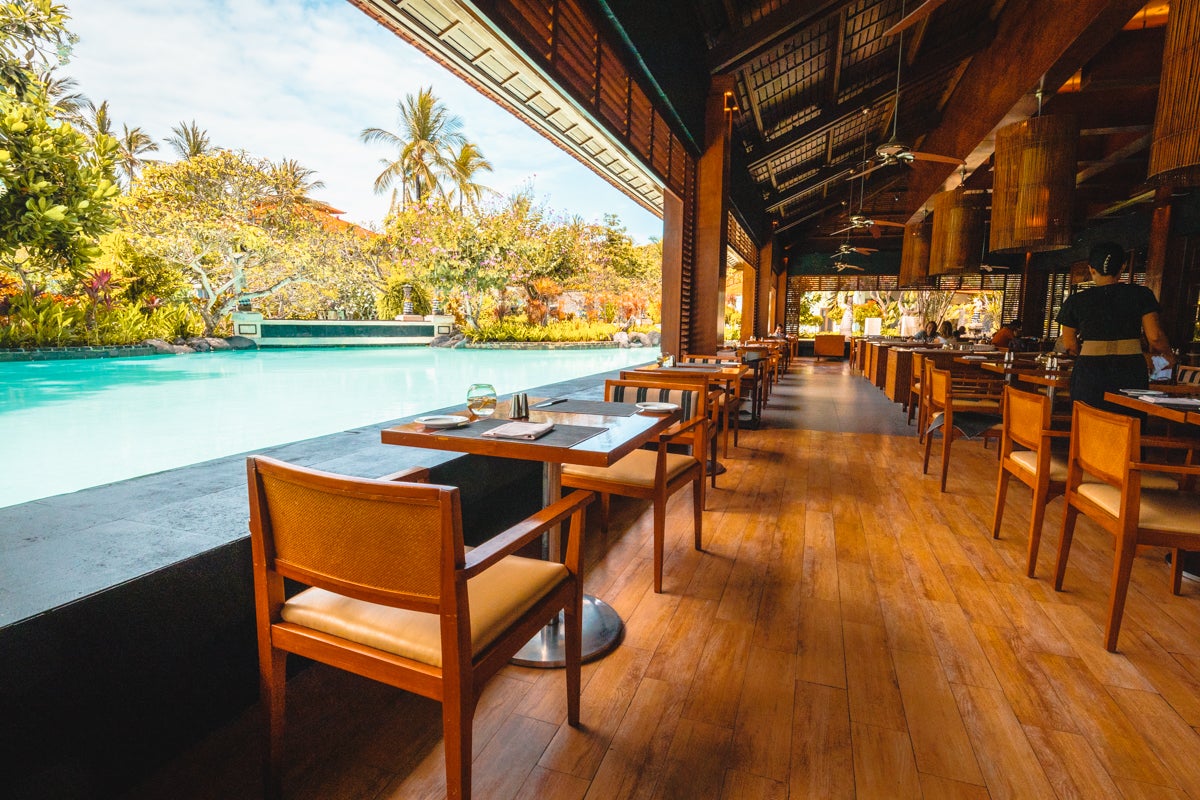 The breakfast buffet at Banyubiru serves up a mixture of local pan-Asian and Western cuisines. The egg station was particularly popular each morning and instead of making you wait for your selection to be prepared, the staff was more than happy to serve you at your table.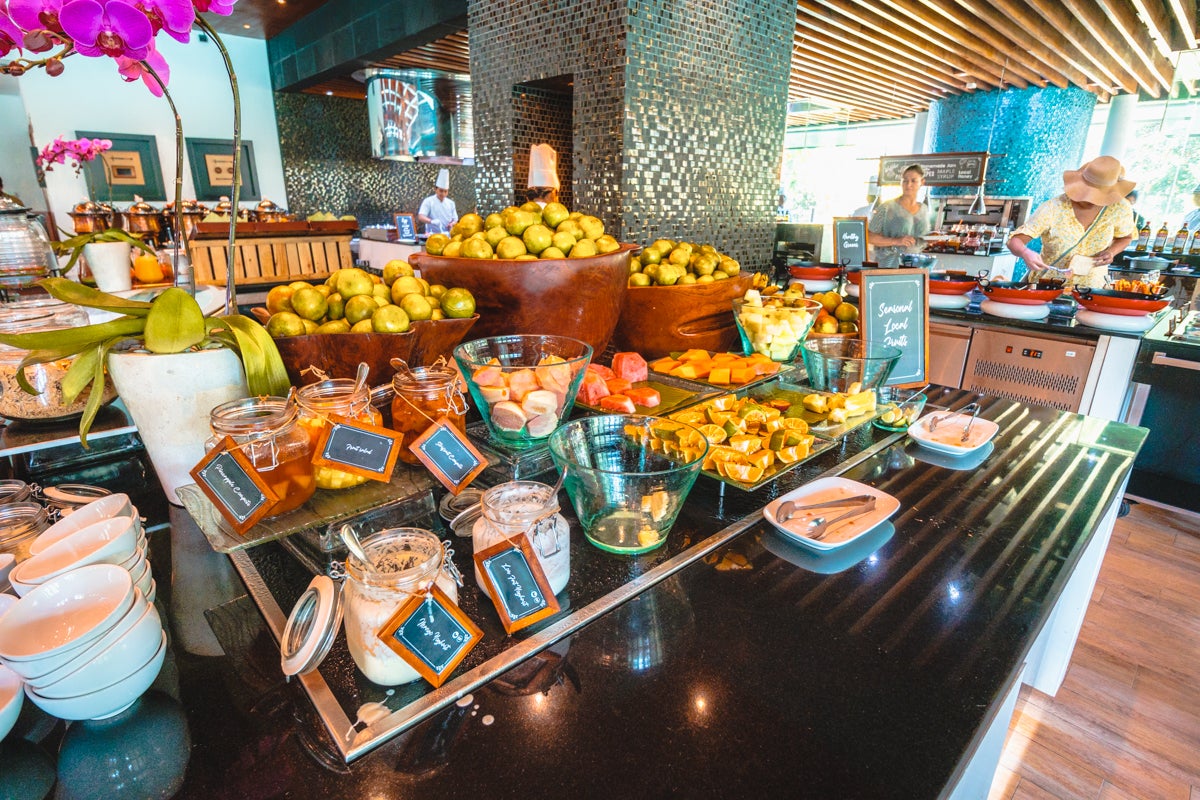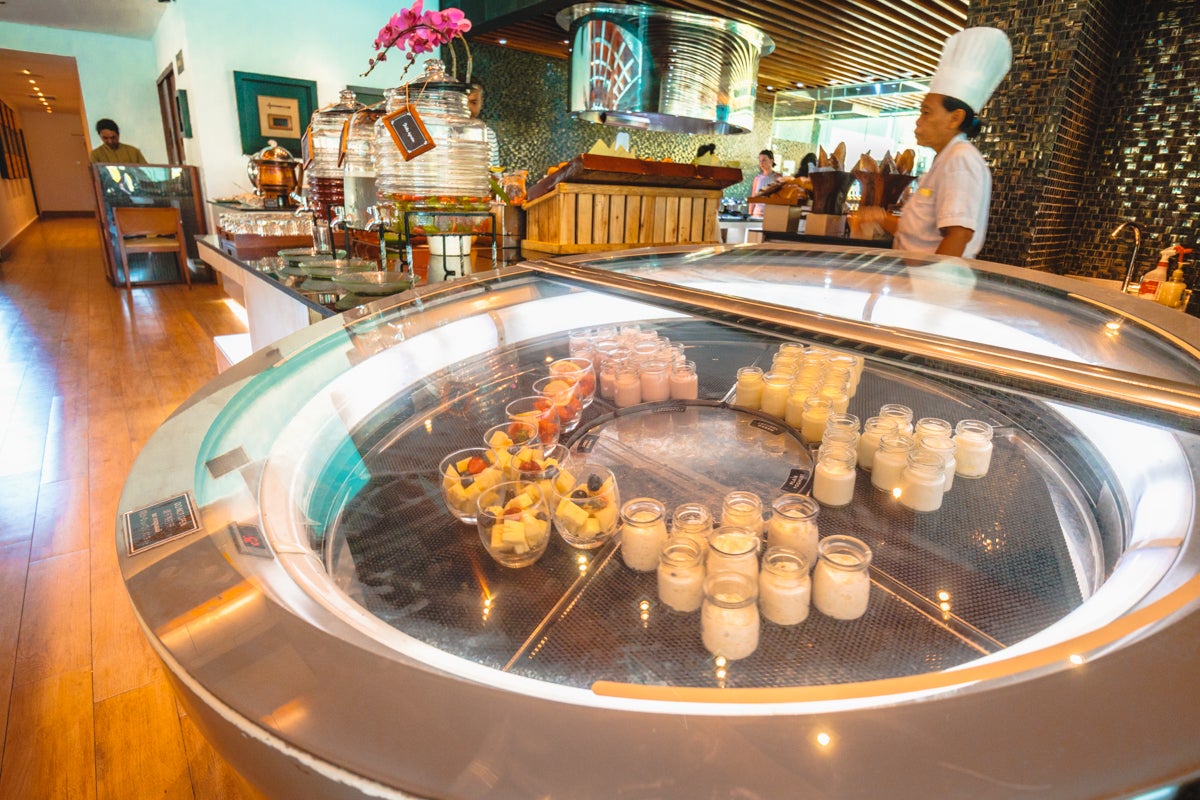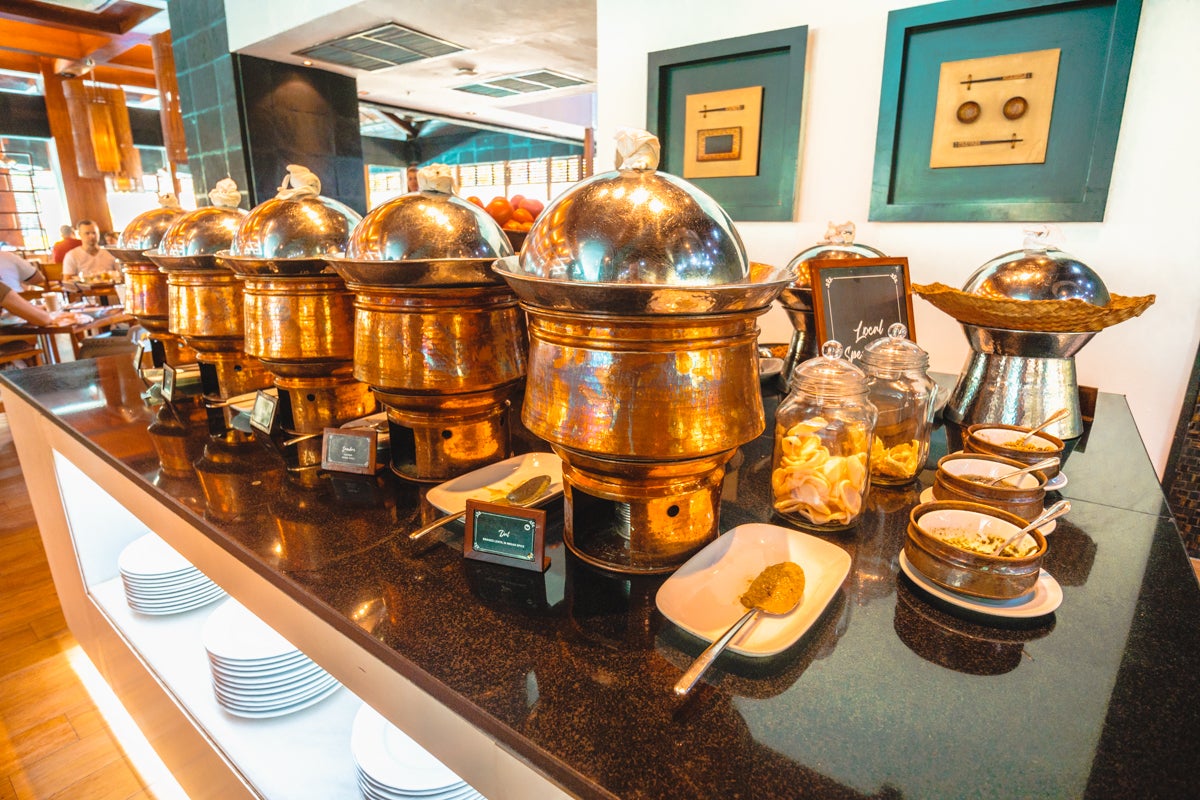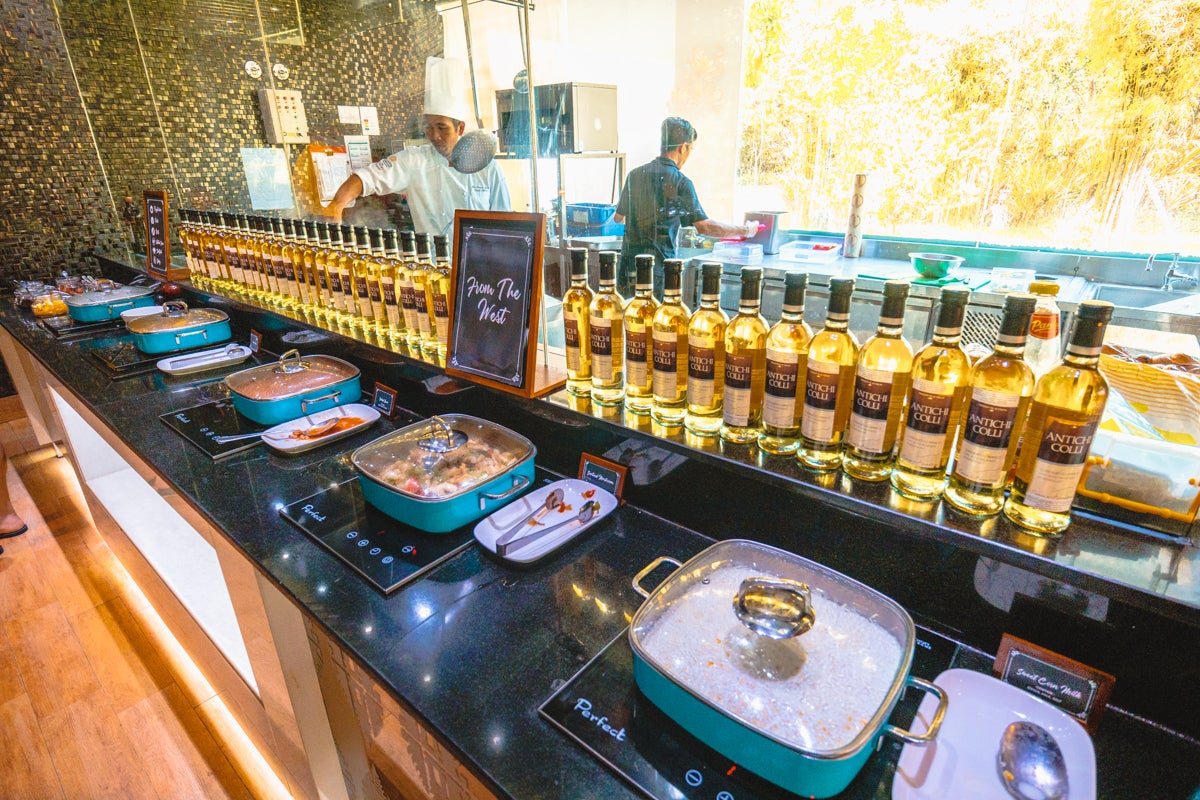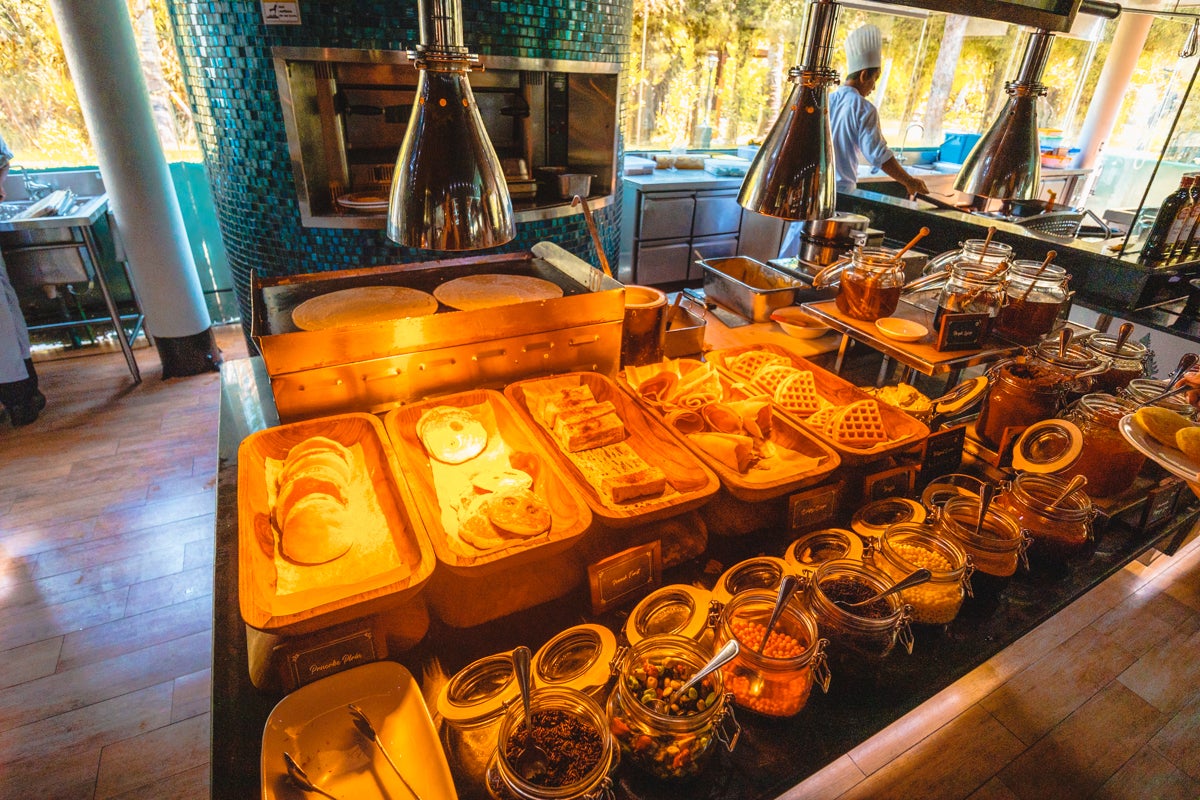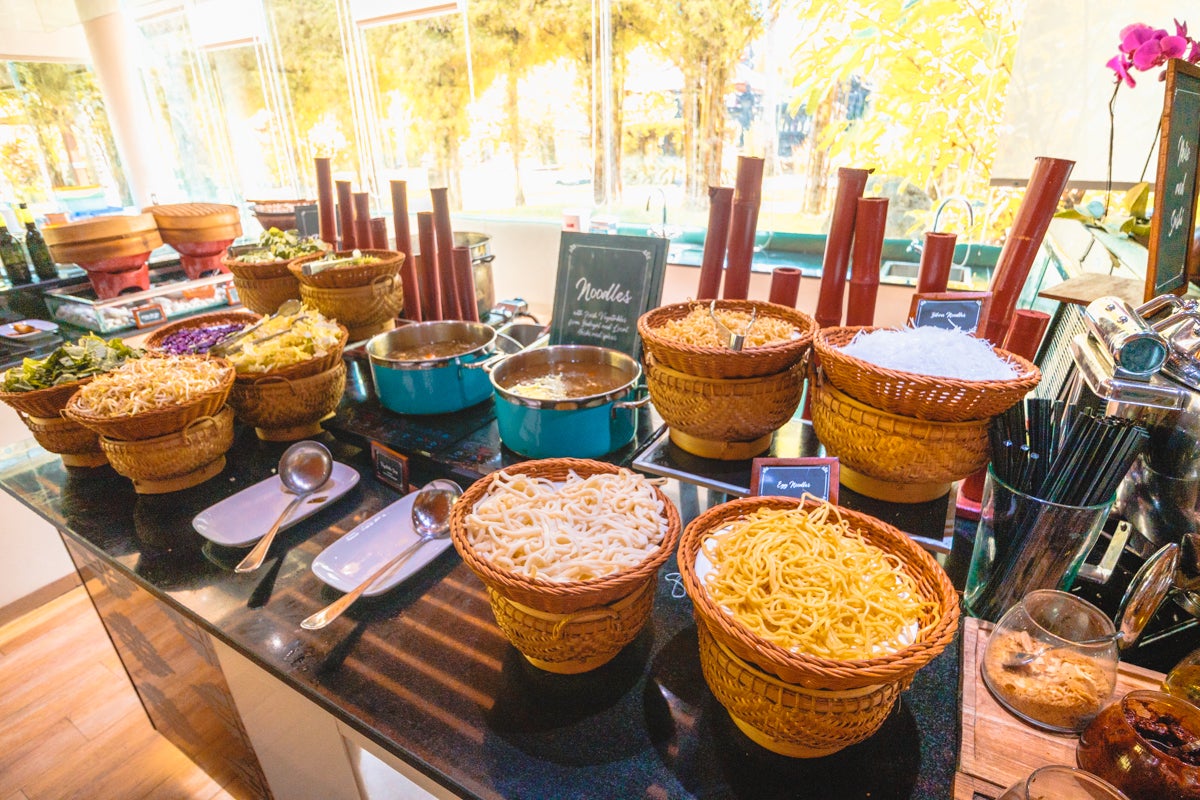 The made-to-order Eggs Benedict was a highlight.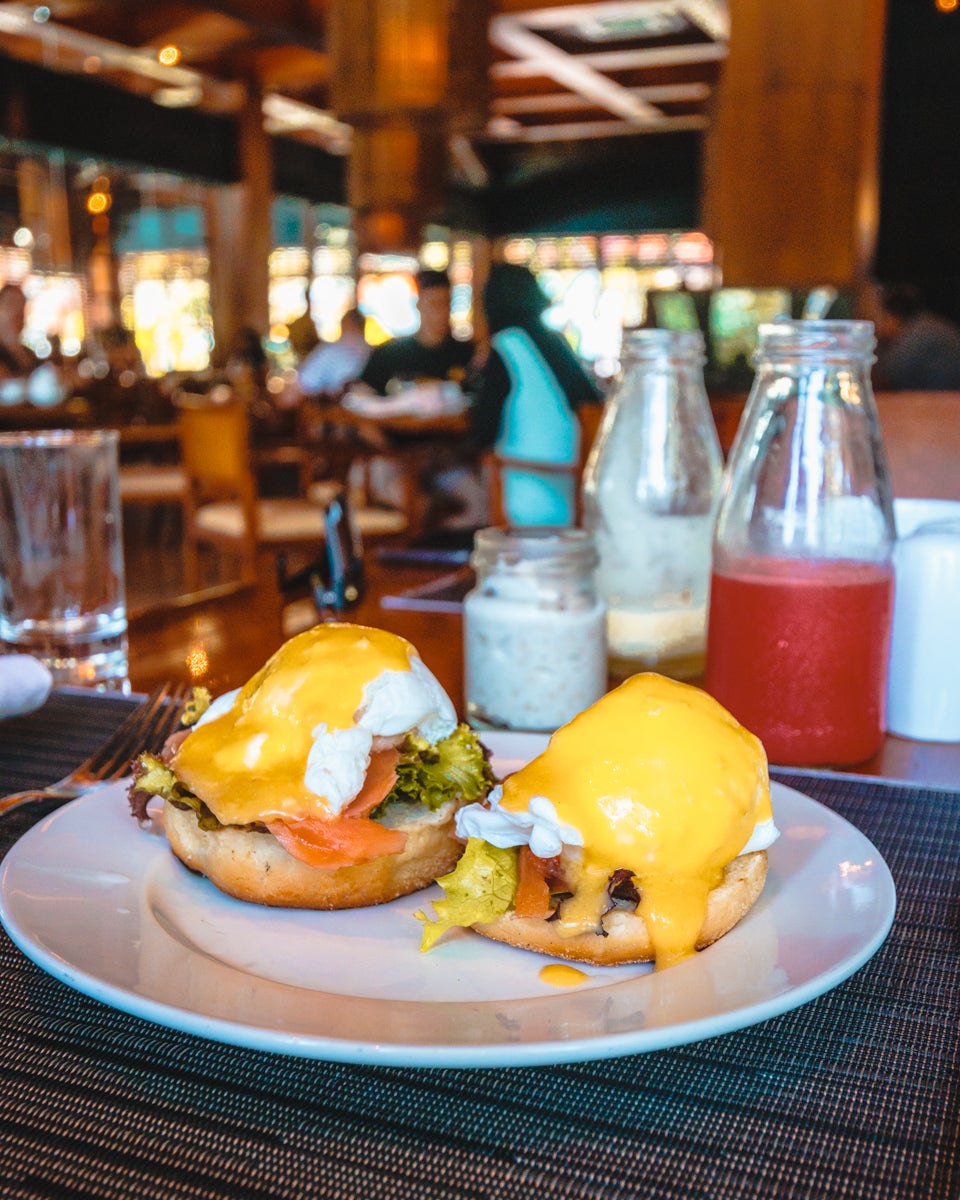 Arwana
Open daily for lunch, afternoon tea, and dinner, Arwana affords guests more à la carte dining options with a focus on expertly prepared fish and seafood dishes, all of which are sourced from local markets each morning.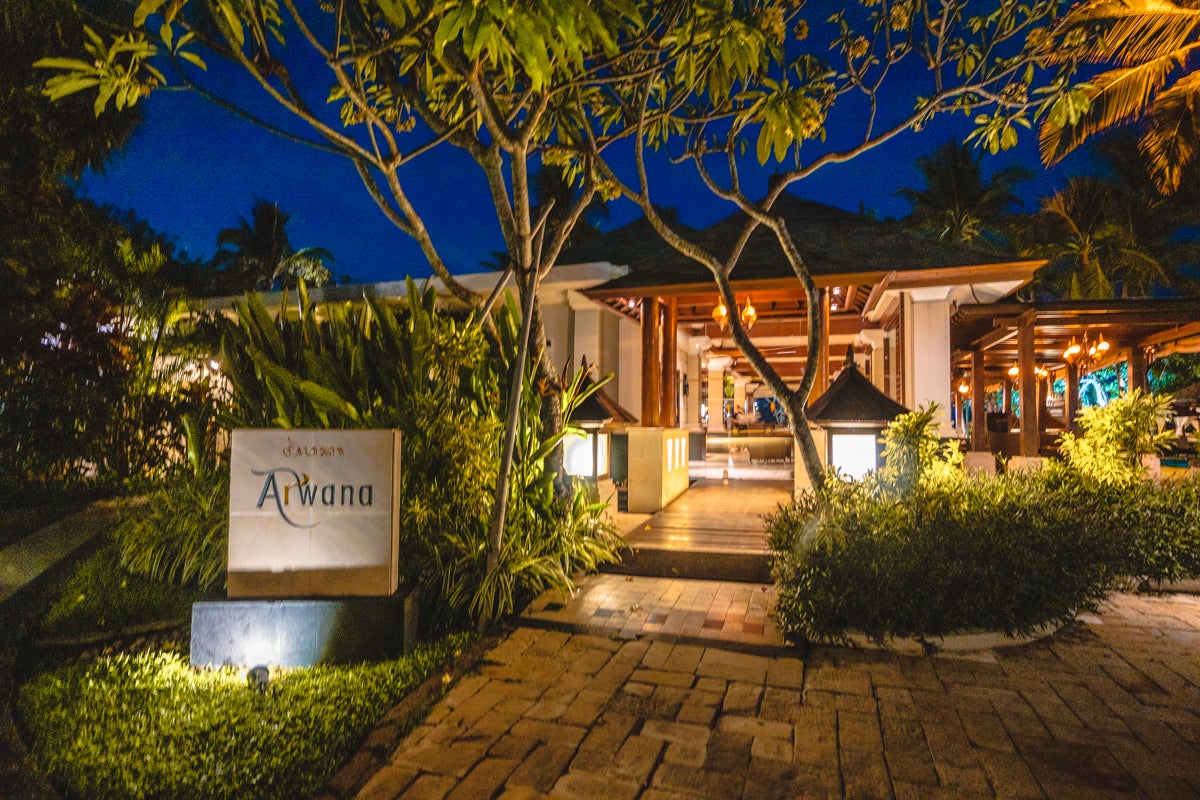 I chose to eat here on my first evening and ordered the steak sandwich, which was a good size and quite delicious. The fries that accompanied it were beautifully seasoned and I was very happy to see that they also accompanied several other meals that we enjoyed during our stay.
Unfortunately, the wine that I ordered with my meal arrived warm, but the staff quickly replaced it with a colder glass when I brought this to their attention.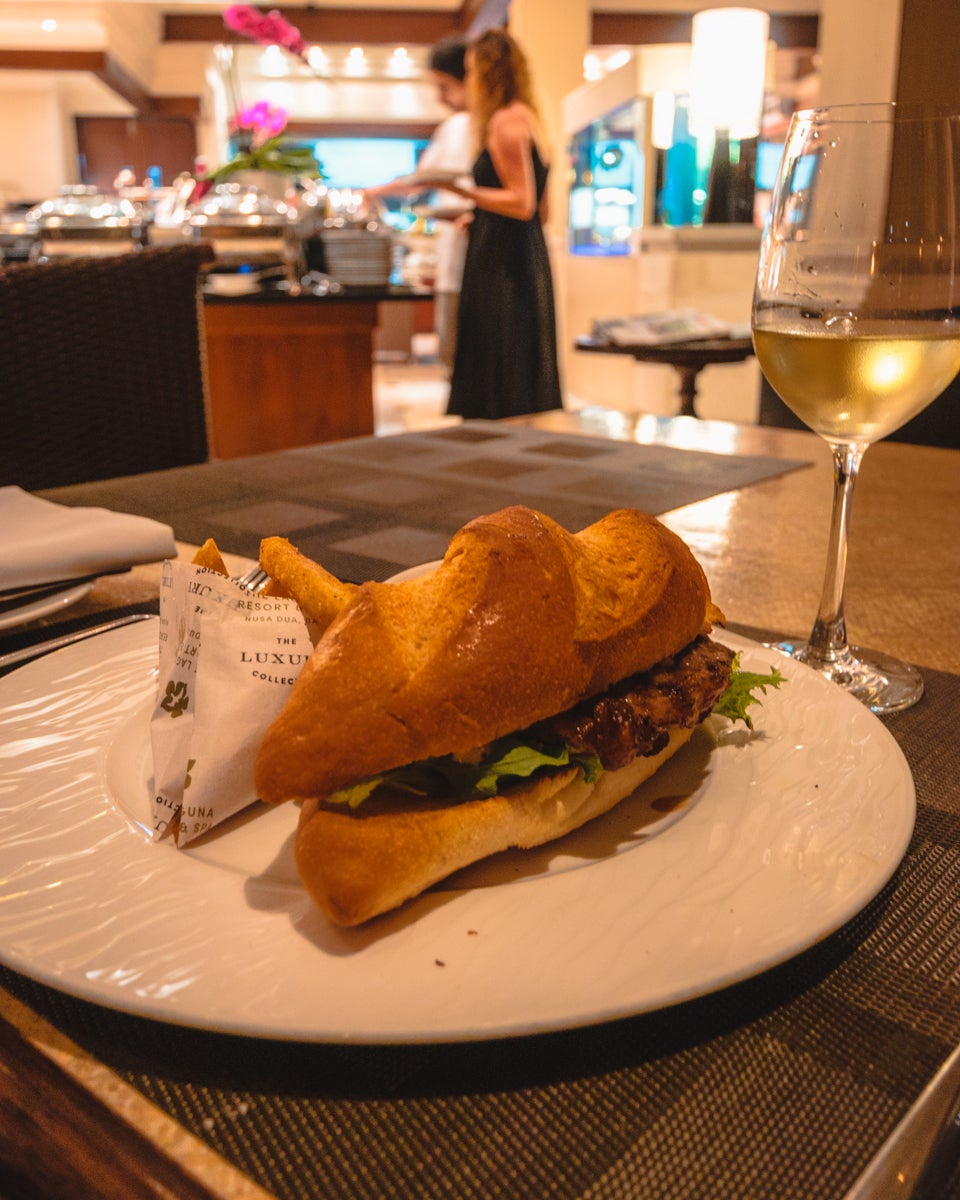 Kulkul Bar
The third dining option on the property is Kulkul Bar. Located right on the beach, it serves up a variety of light meals, drinks, cocktails, and mocktails.
We found that the food here was perfectly sized for daytime, poolside snacks and was also well-priced for resort/hotel fare. Food and drinks did take a long time to arrive, but more on that later.
I slept past breakfast during my first morning so I had brunch at Kulkul Bar.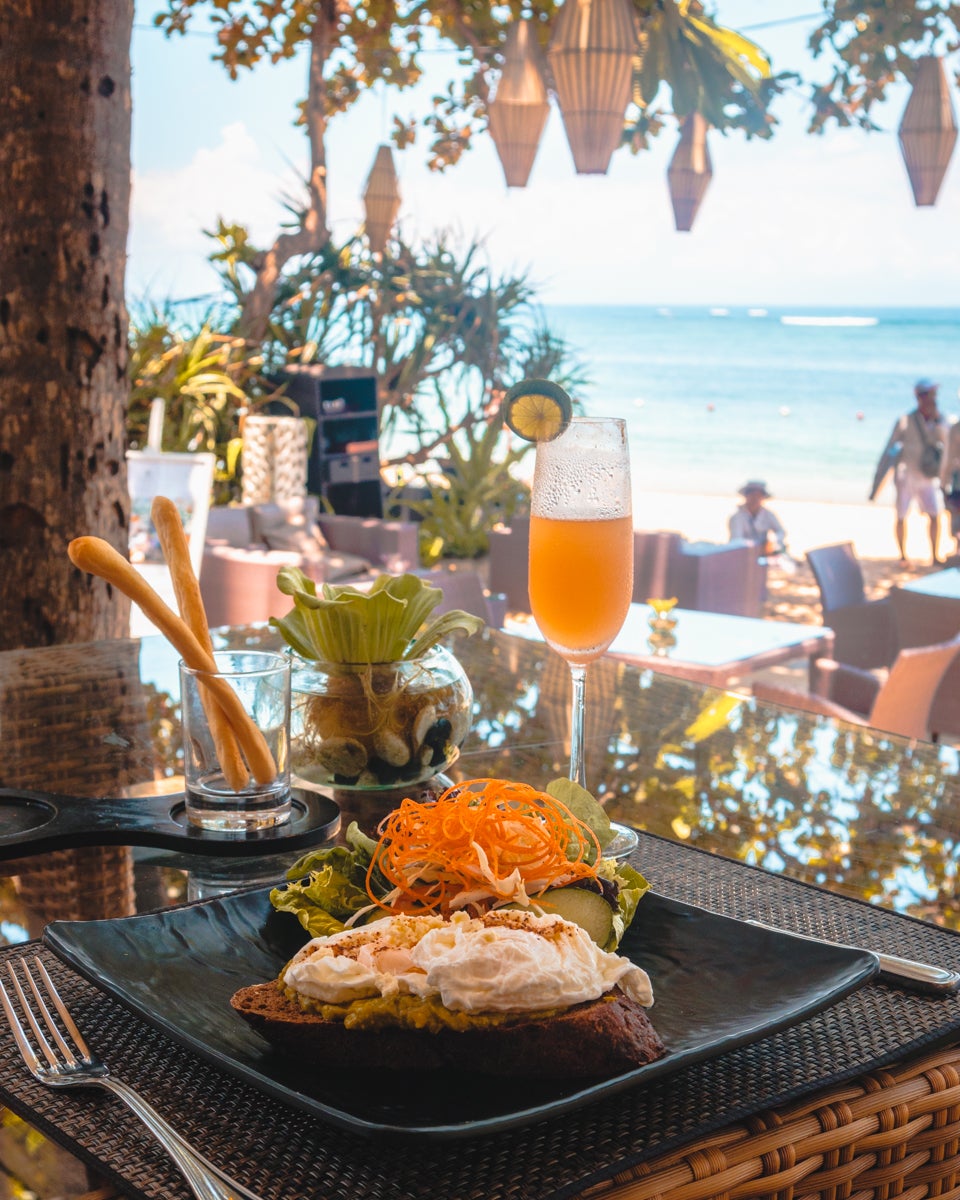 It was also our go-to lunch spot each day due to its beachside location, selection of healthy options (to balance out the cocktails), and fresh produce.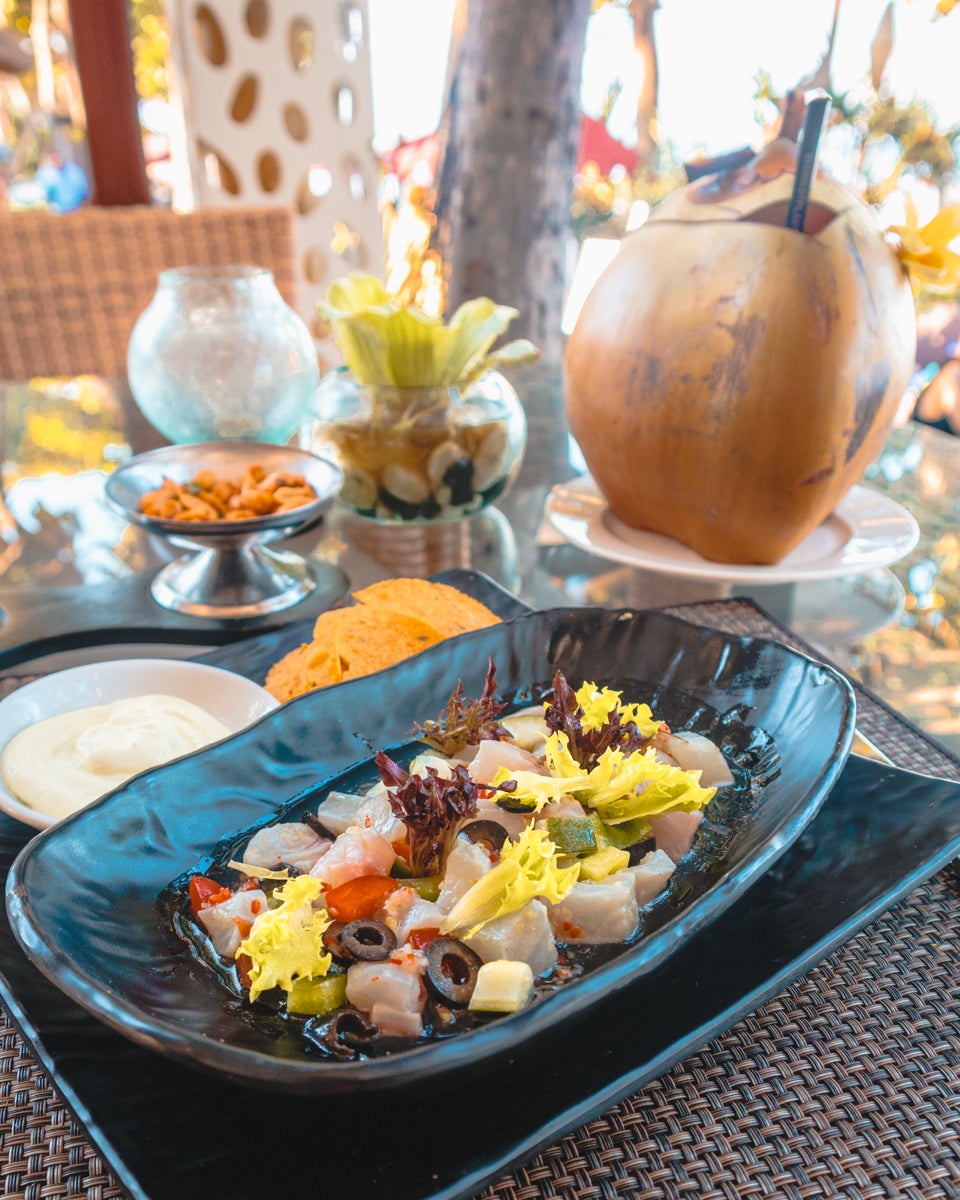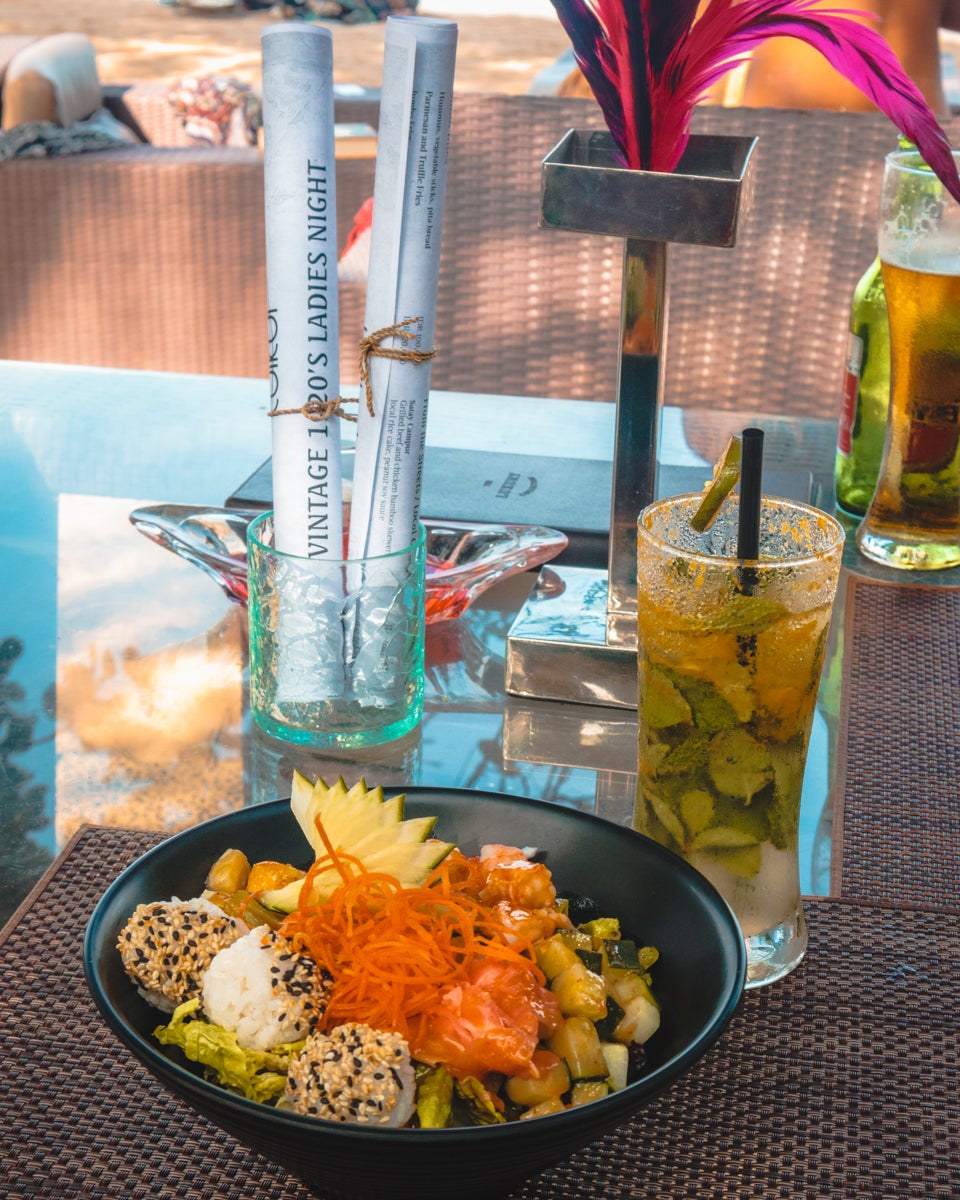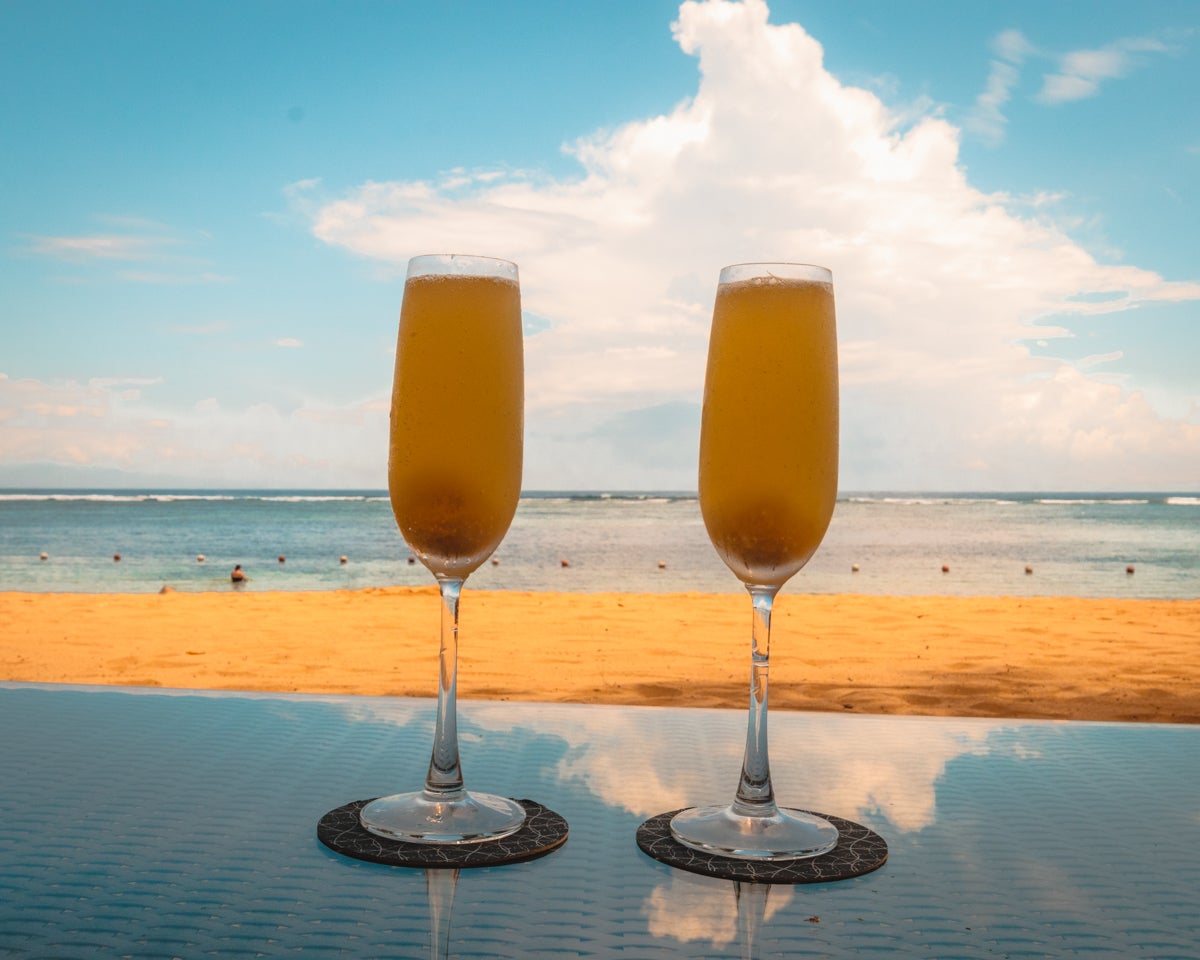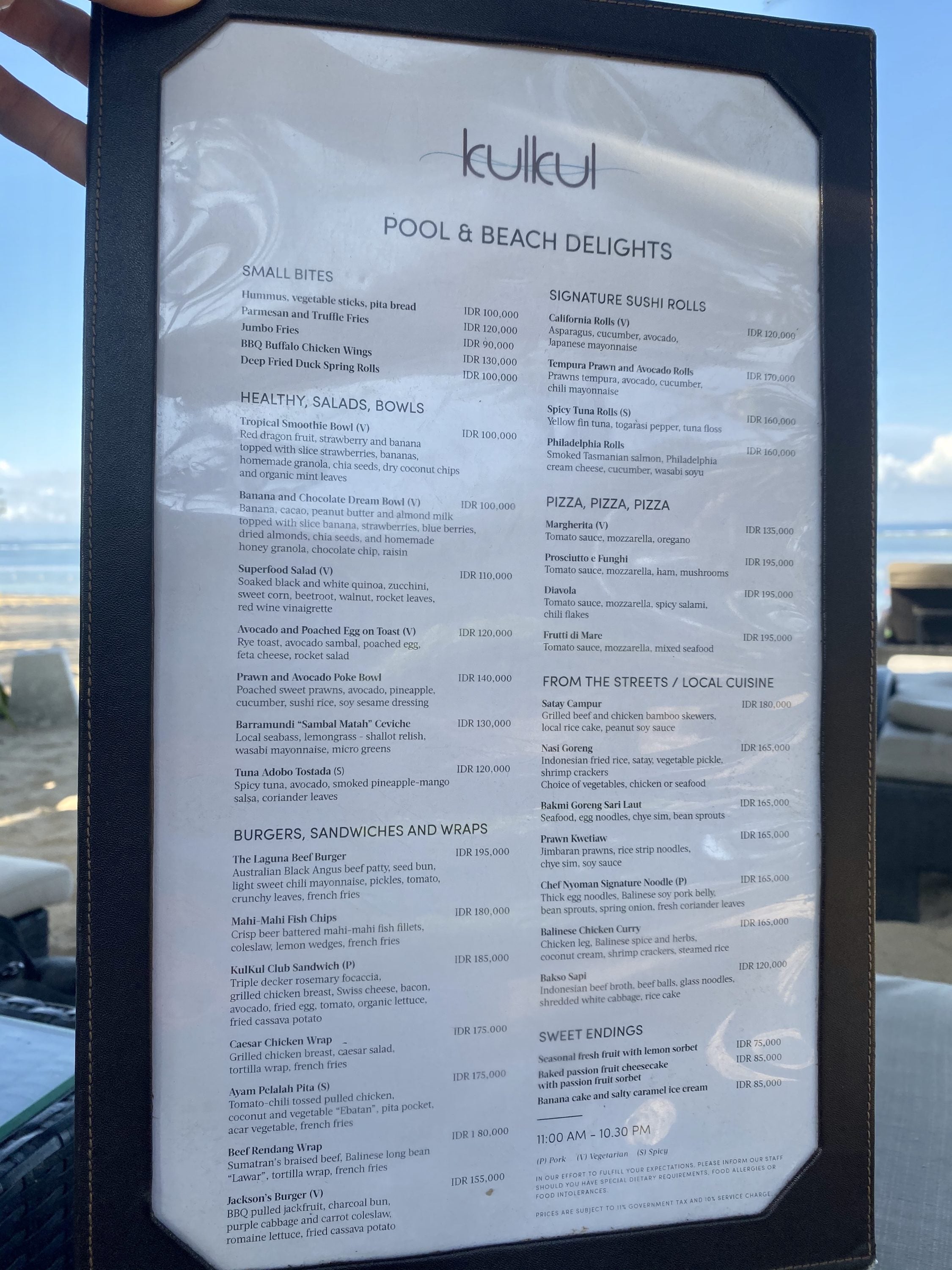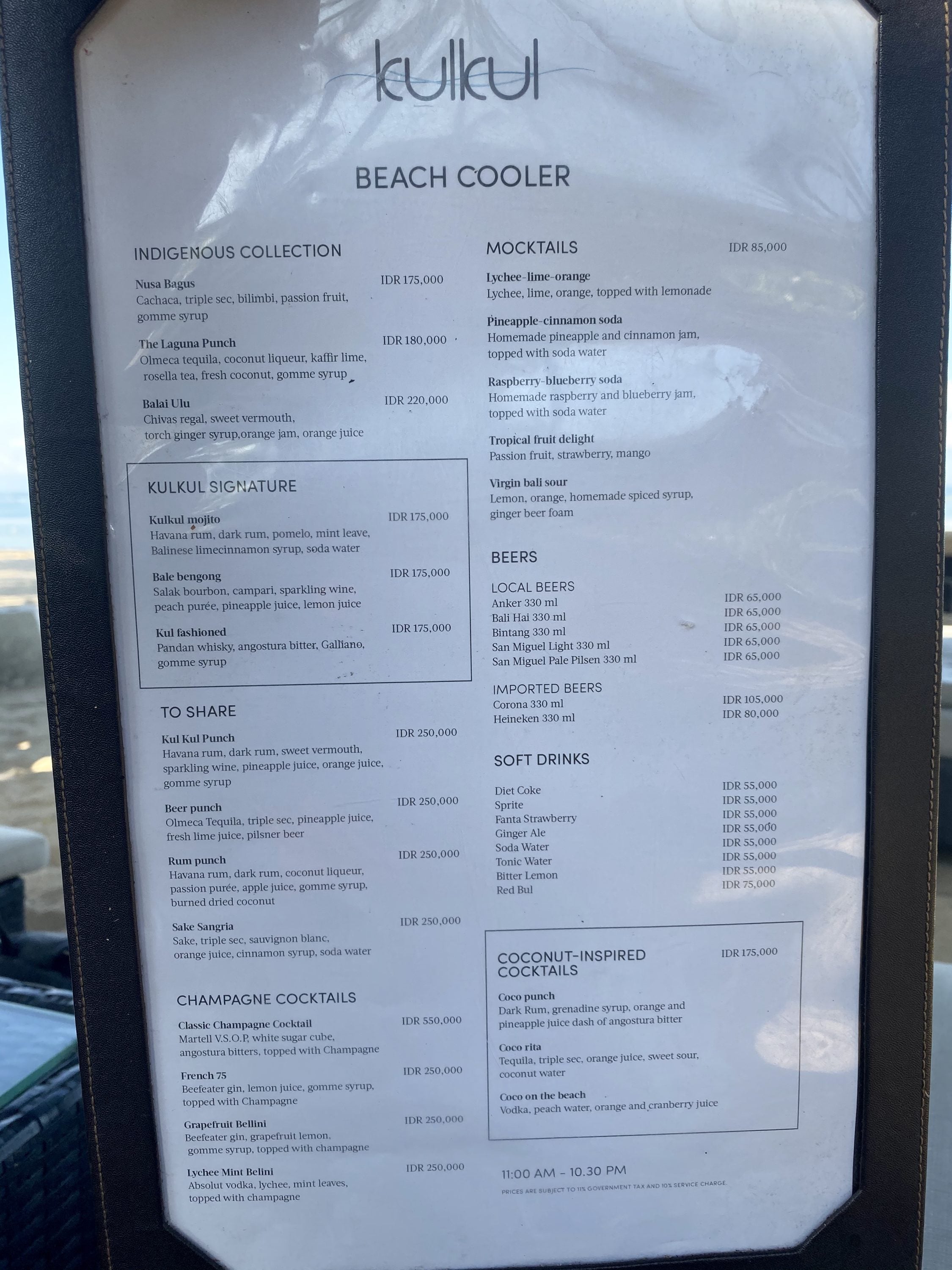 Just watch out for the squirrels who will want to share your food.
If you are a Marriott Bonvoy Platinum Elite member you can also enjoy a 20% discount at the resort's bars and restaurants, which also includes the Cornerstone deli and Cascade Garden Lounge and Bar.
Hotel reception told me at check-in that I had to mention this every time, however, the discount automatically appeared on every bill without needing to ask – the way it should be.
Facilities
As the name suggests, the Laguna, a Luxury Collection Resort & Spa is also a luxury spa and wellness center, as well as an event and wedding venue.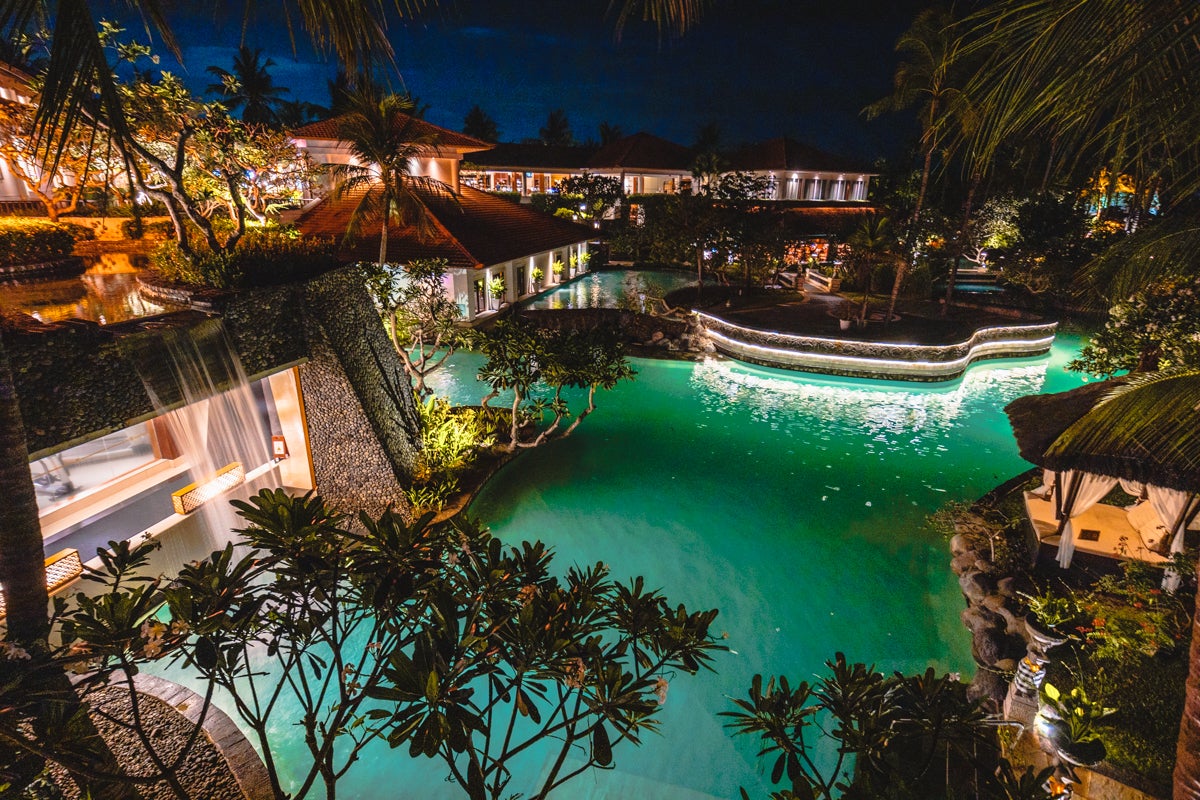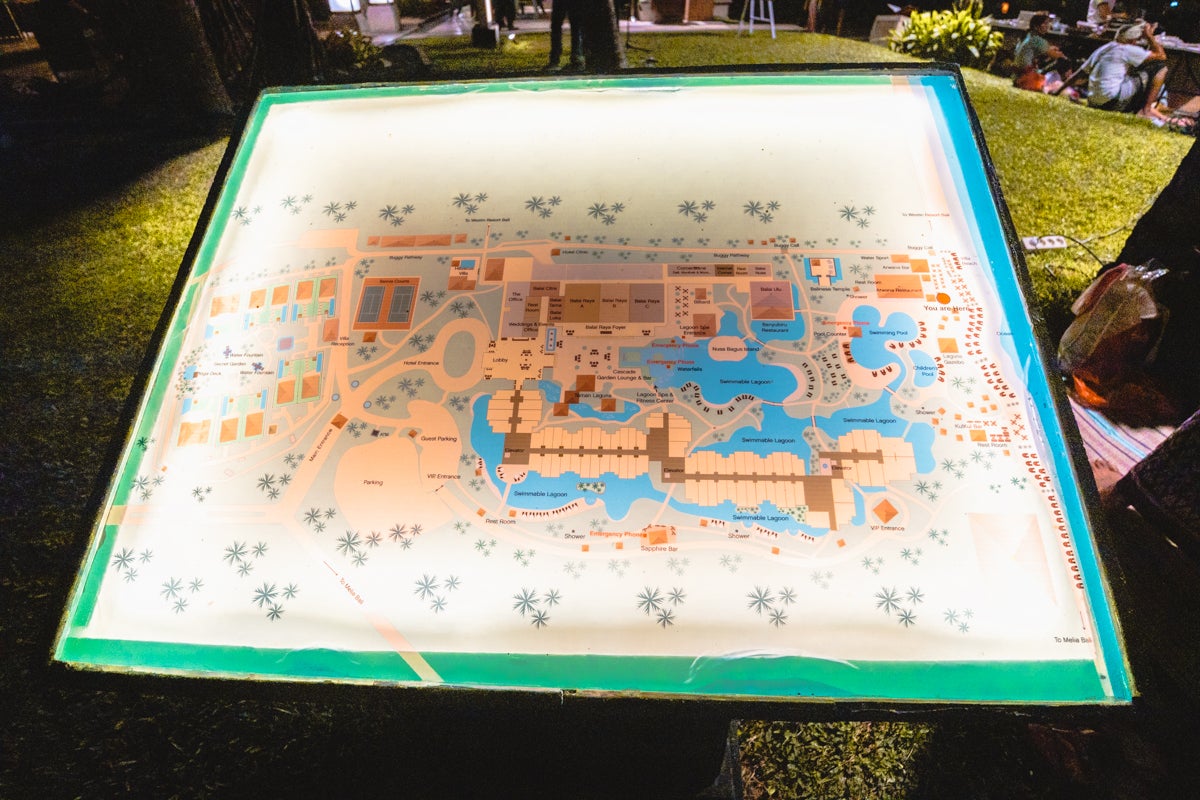 The Lagoon Spa offers guests a variety of pampering options that guests can choose to enjoy either at the spa's indoor facilities or at one of the many outdoor oceanfront gazebos (so you can enjoy the relaxing sound of the waves, or screaming kids by the pool, during your treatment).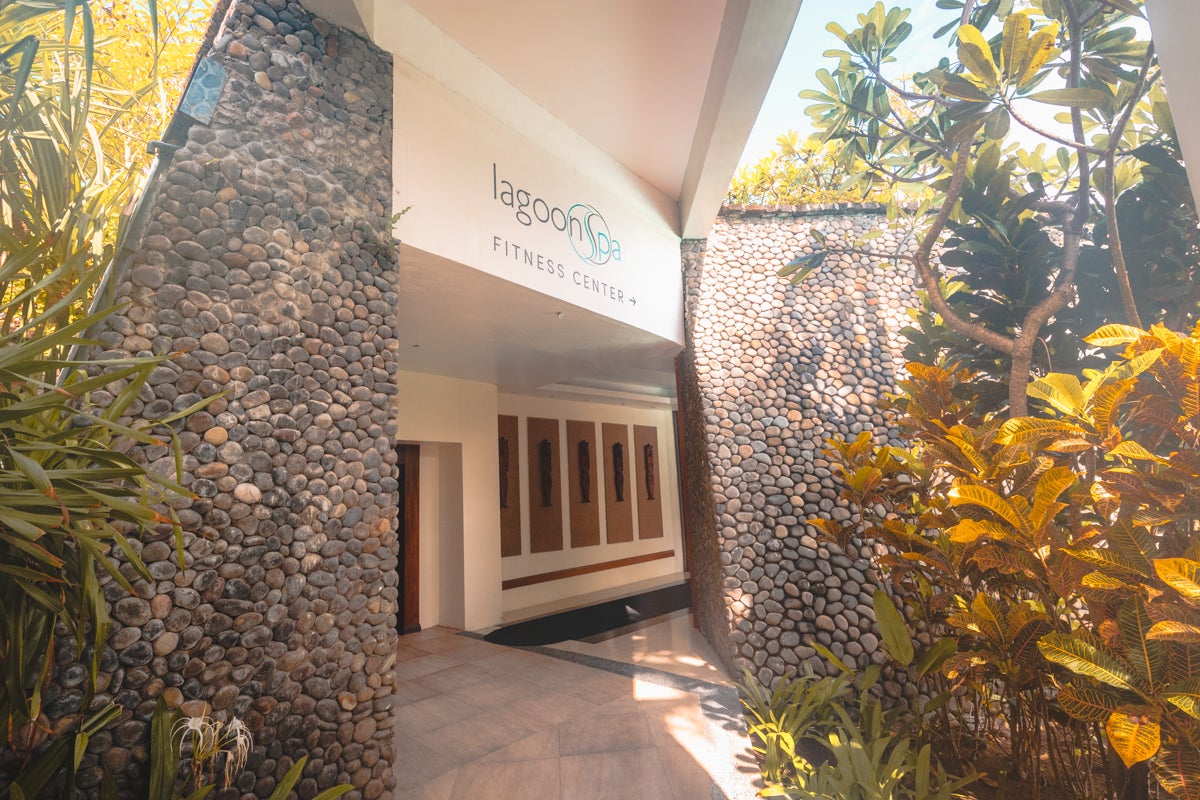 There is also a 24-hour gym, located behind a waterfall, that features a standard selection of hotel gym equipment as well as free-weights.
During our visits to the gym, there was always a member of staff on hand to ensure that the space was kept tidy and items like towels and water were available.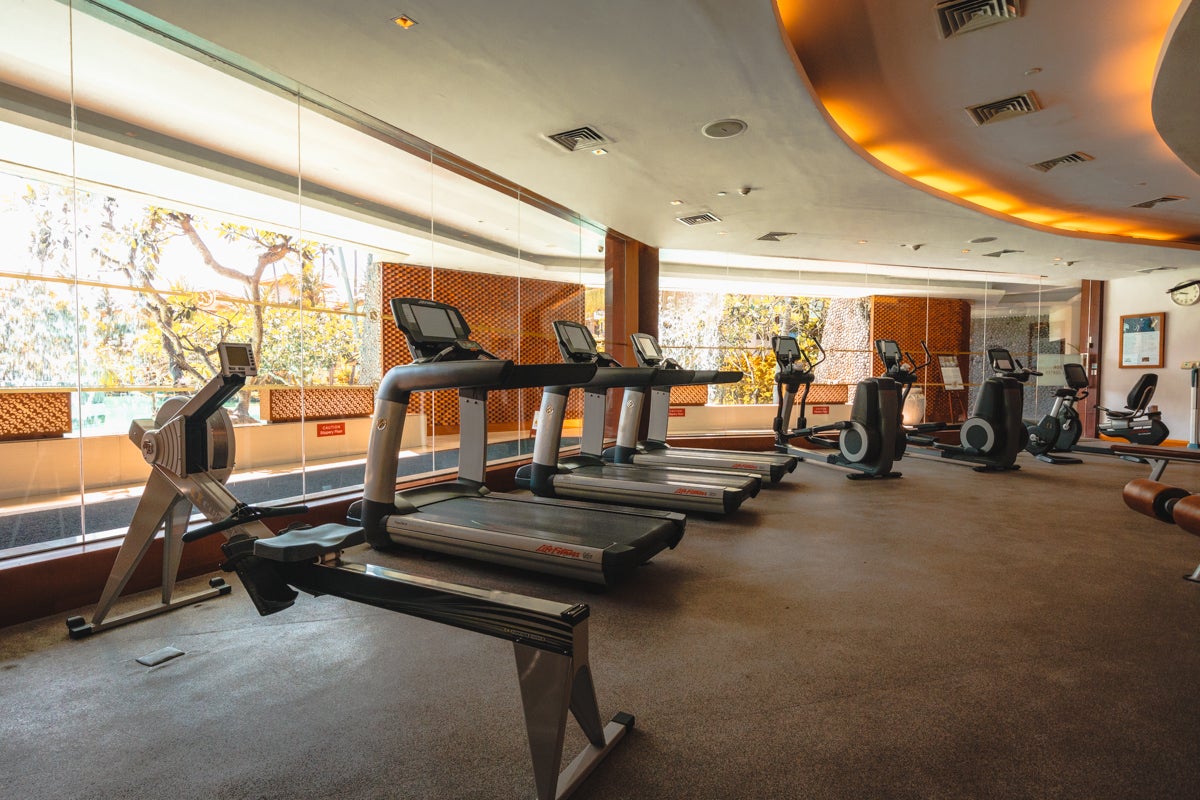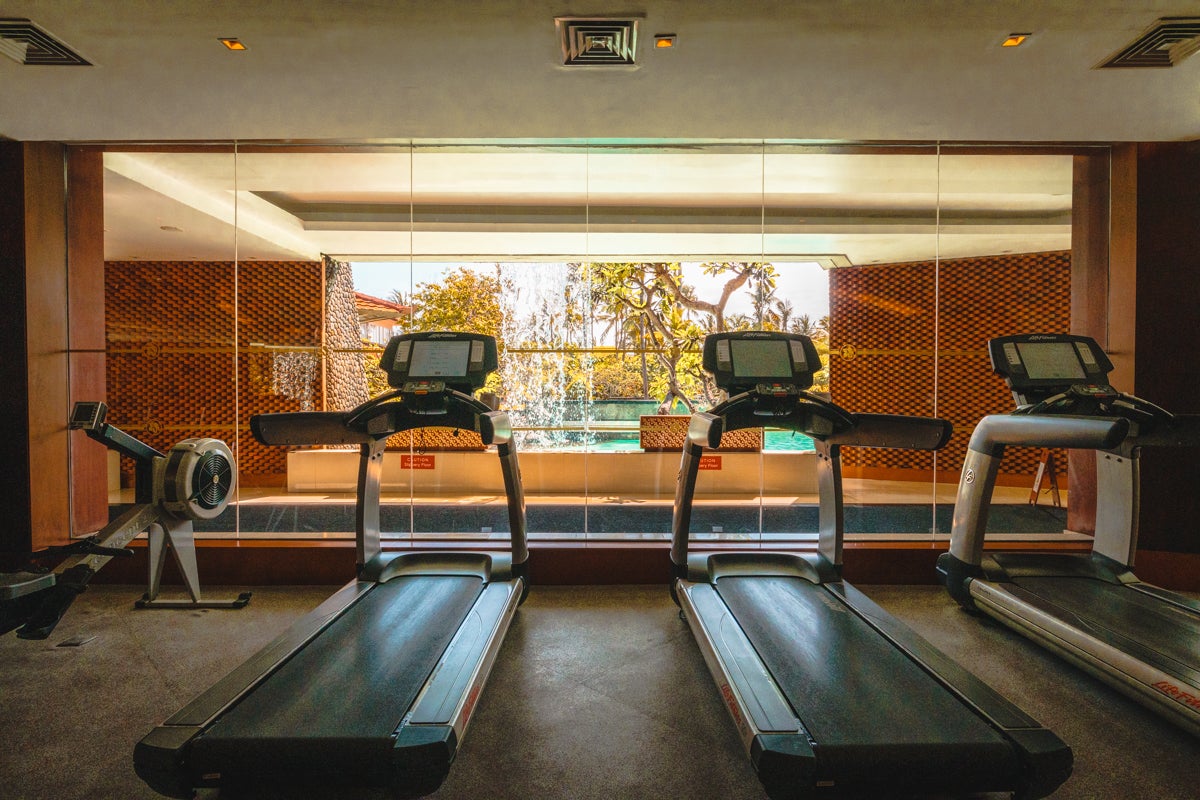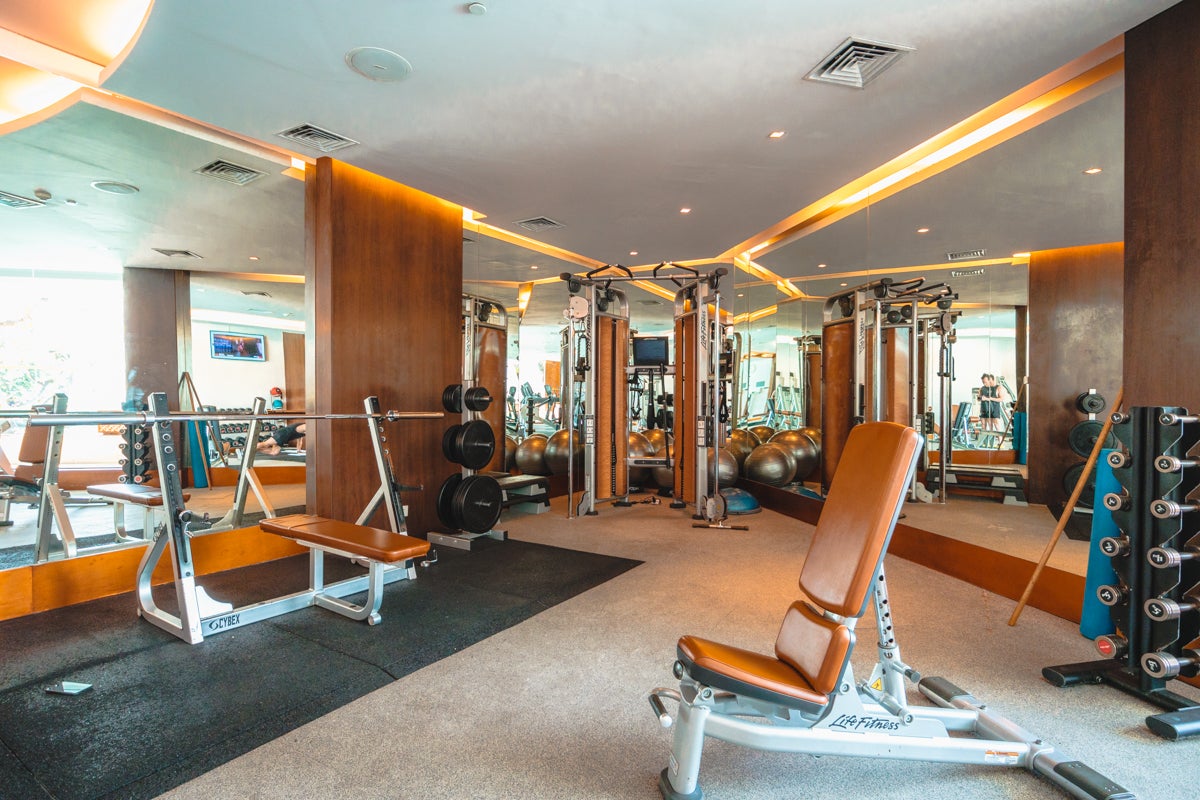 If you are unfortunate enough to be in Bali for work, or if you need meeting space, the hotel has 9 event rooms ranging from a grand ballroom/auditorium to smaller boardrooms and break-out rooms.
The hotel also prides itself on being a destination wedding option for international visitors and locals alike. Offering couples a variety of party, dinner, and celebratory options, access to an on-site wedding specialist, and the choice of multiple locations on the property to tie the knot, there's an option for everyone's tastes.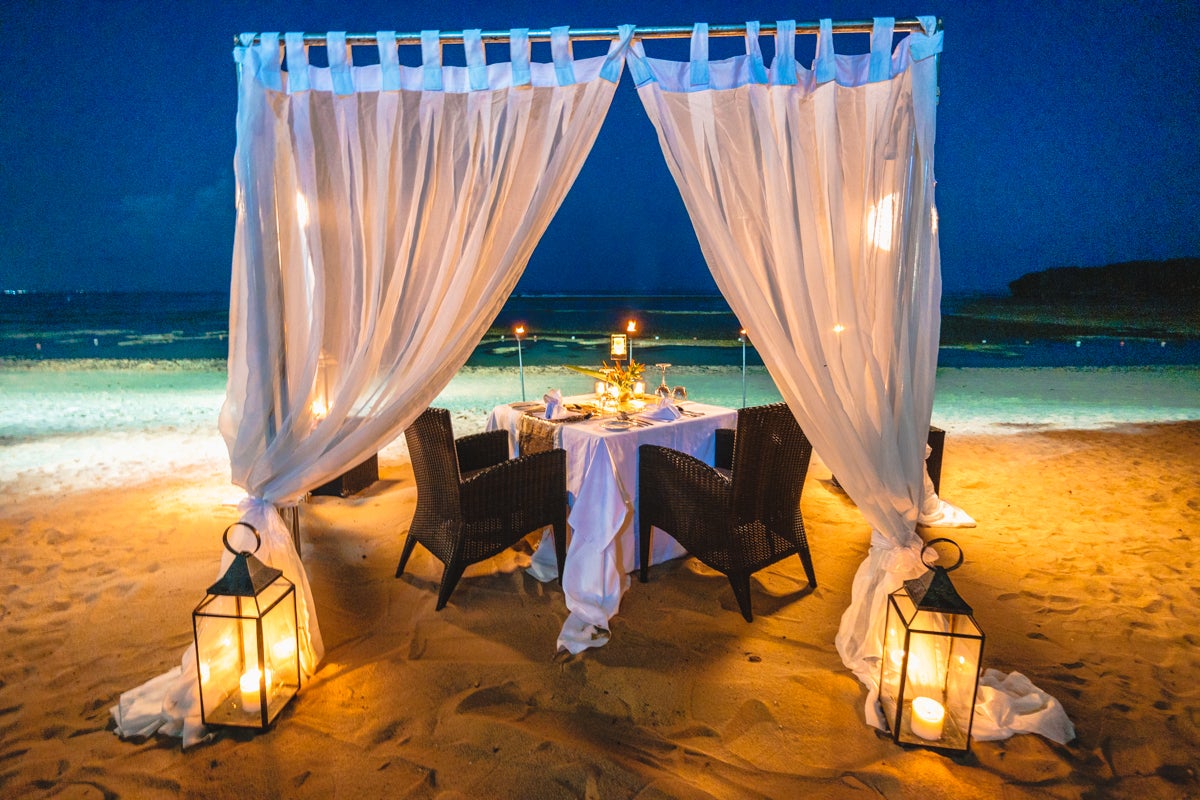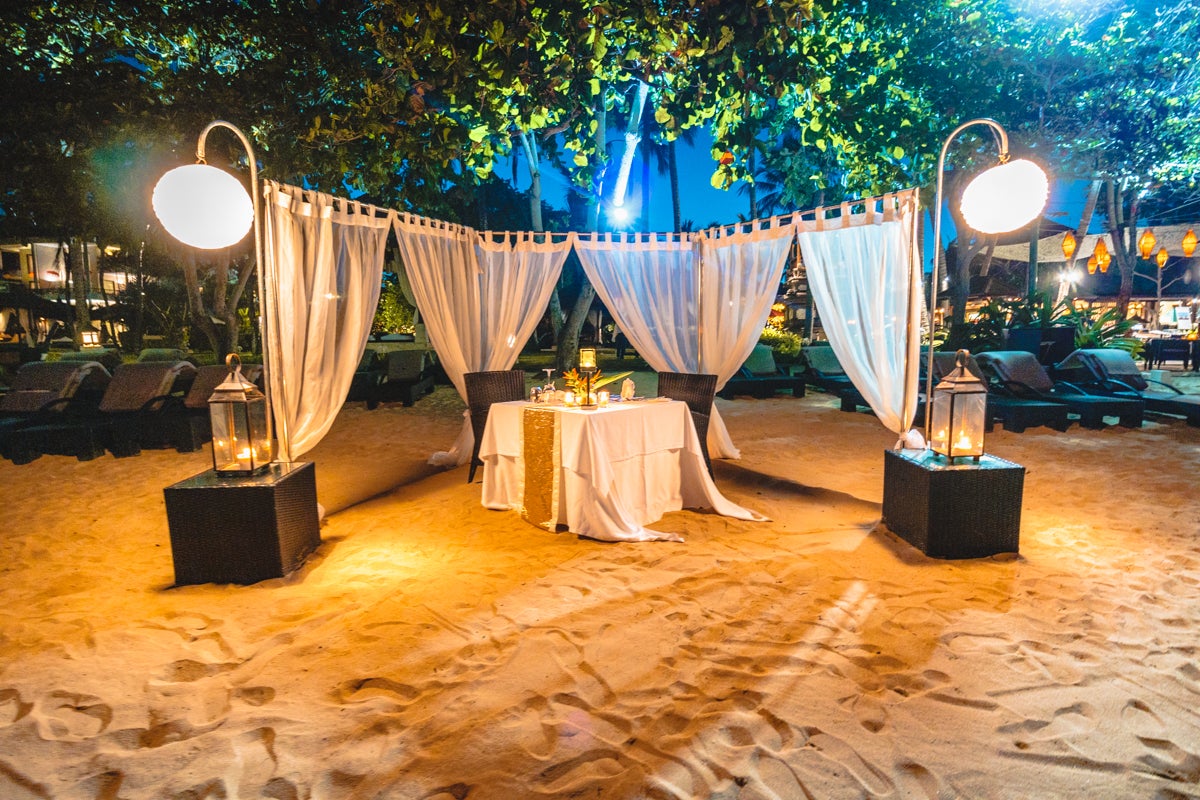 With 7 lagoon pools on the property, you would think that you'd have no trouble finding a place to relax next to the water.
However, guests at the resort behaved like they were at a 3-star budget motel, rushing poolside in the morning to place their towels and belongings on a deckchair before either heading back to their rooms or going to breakfast.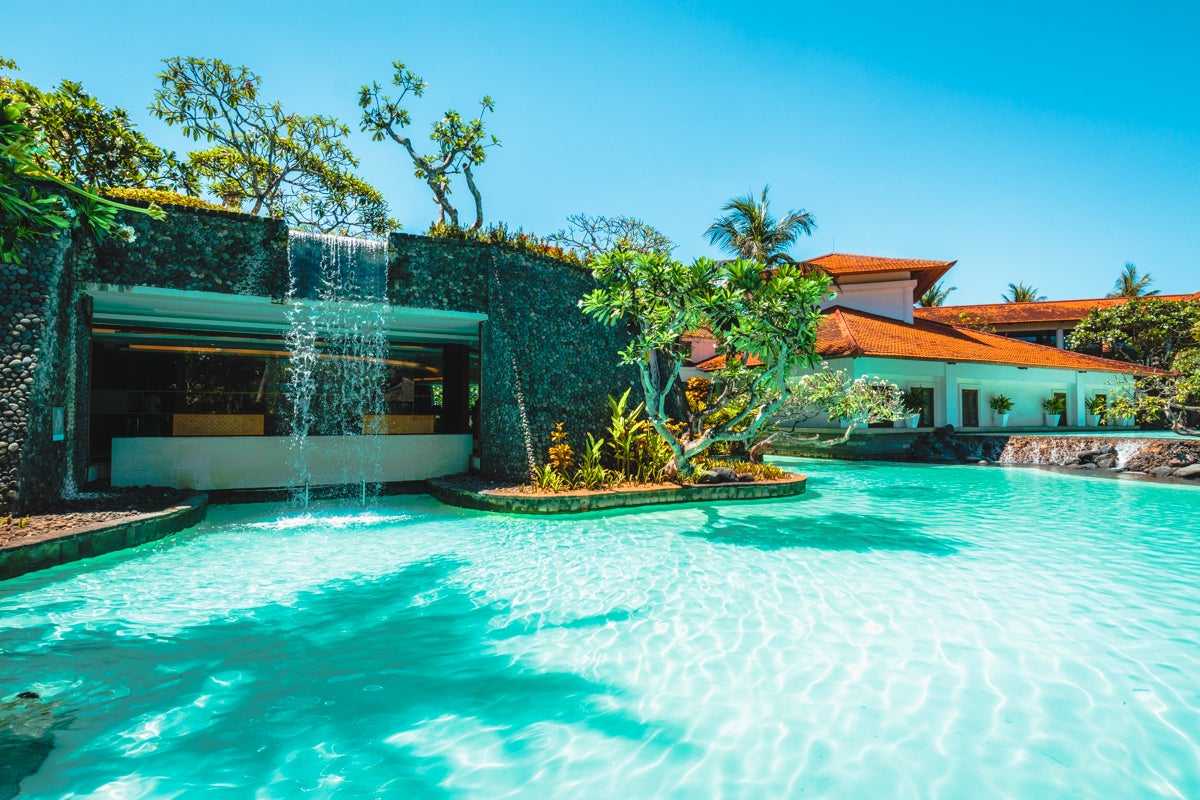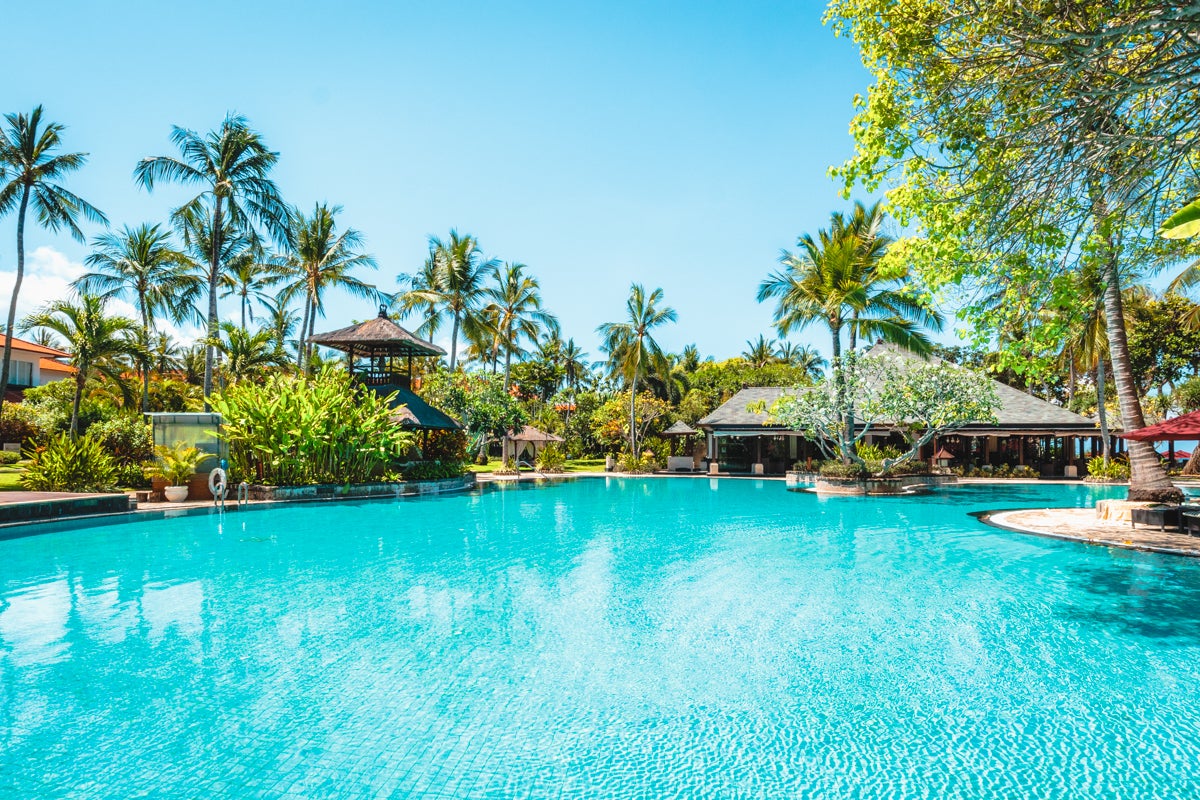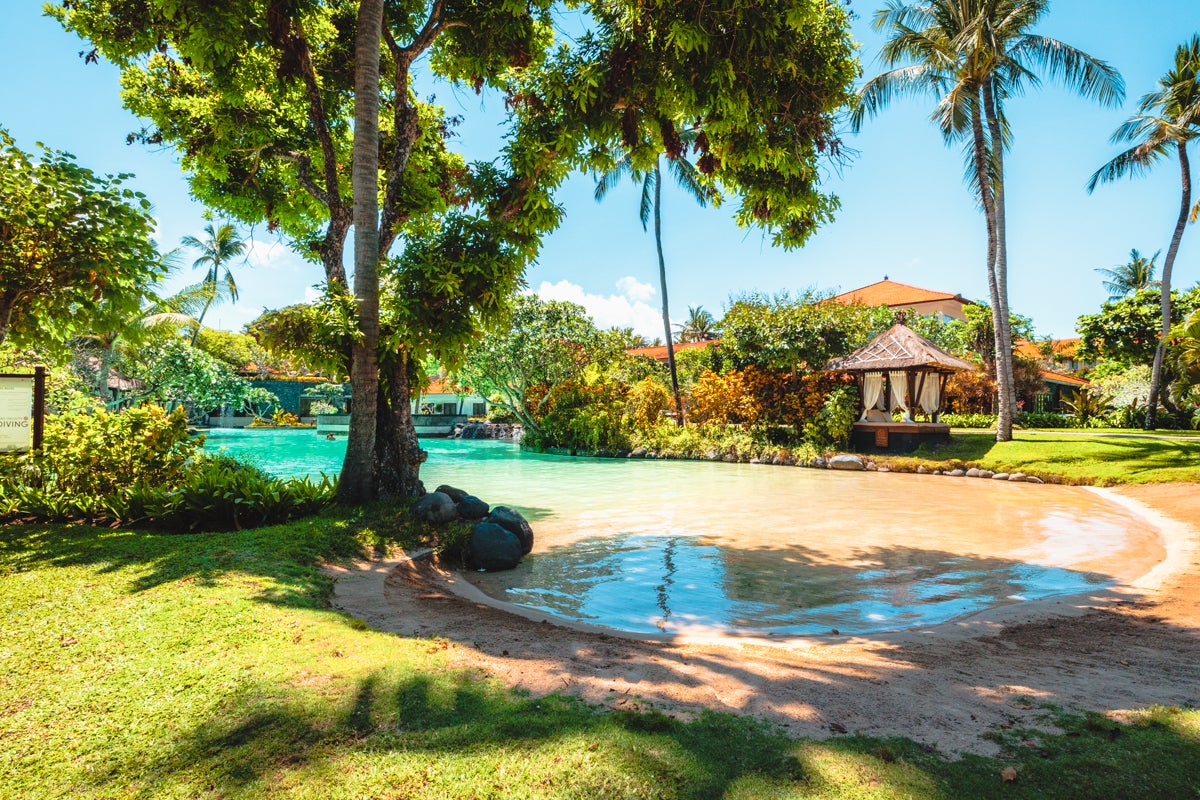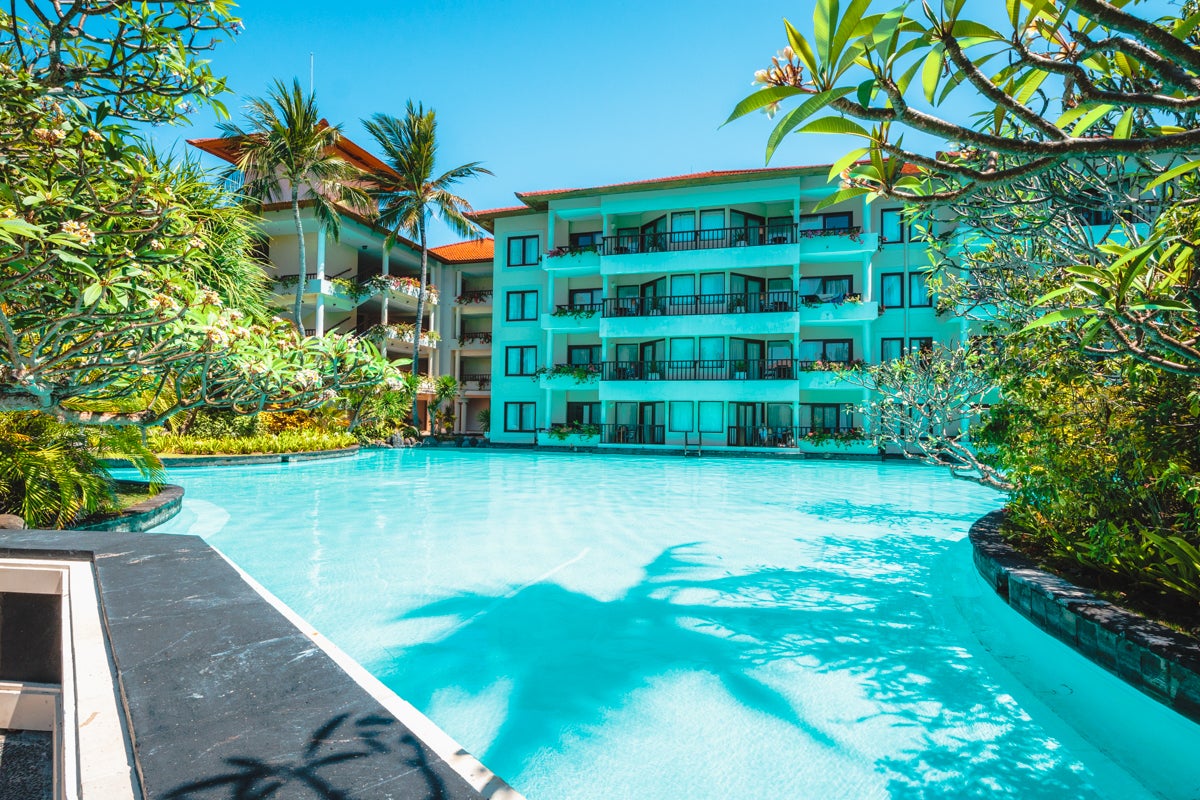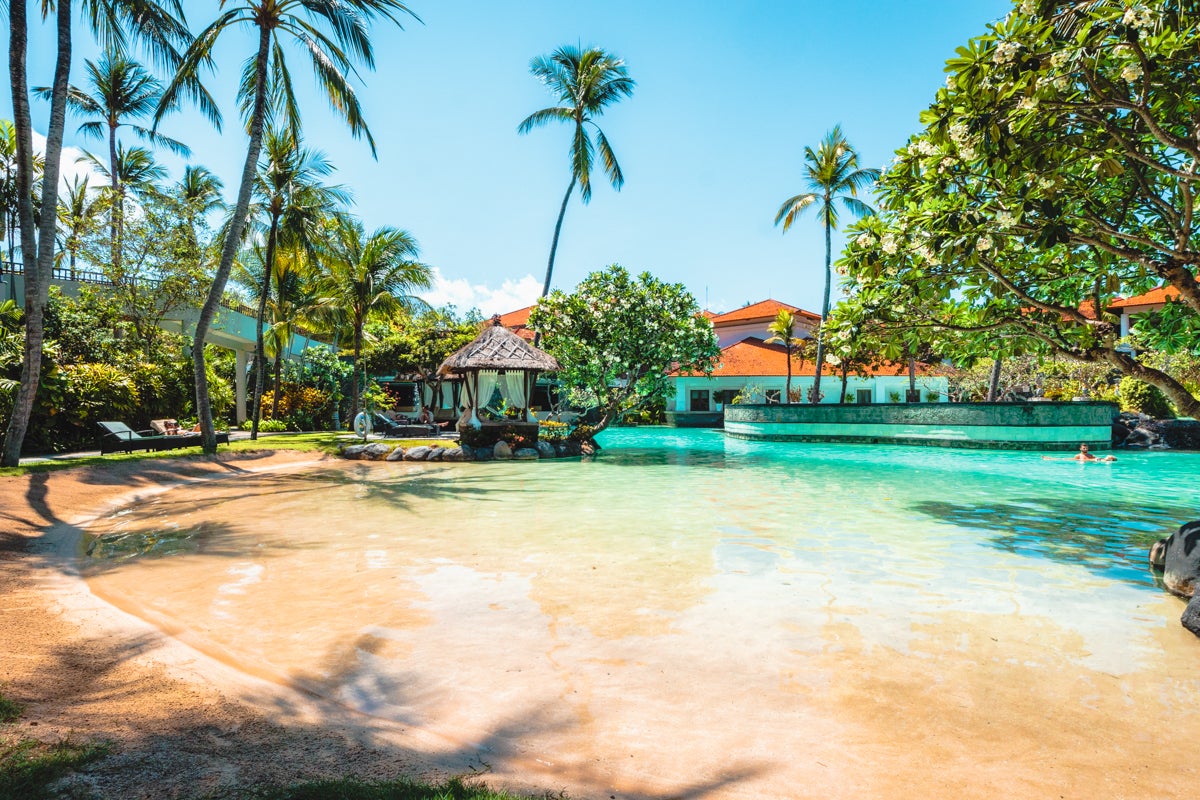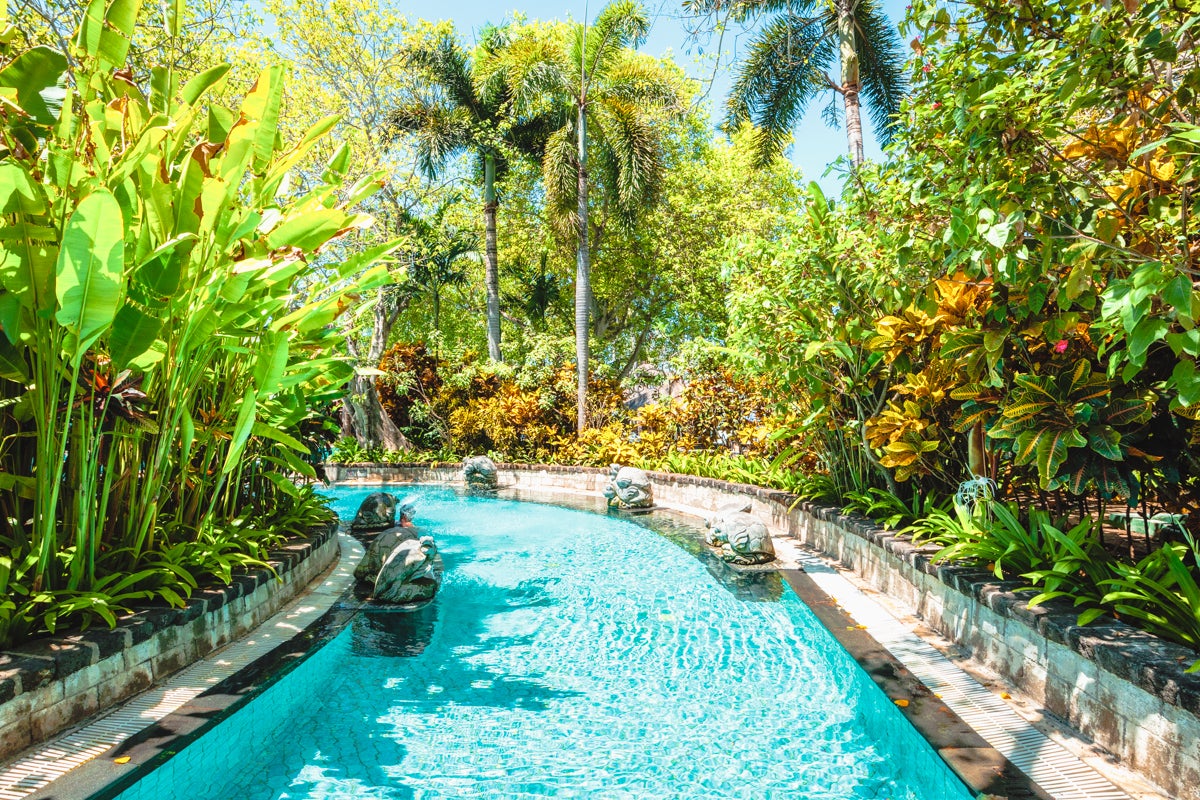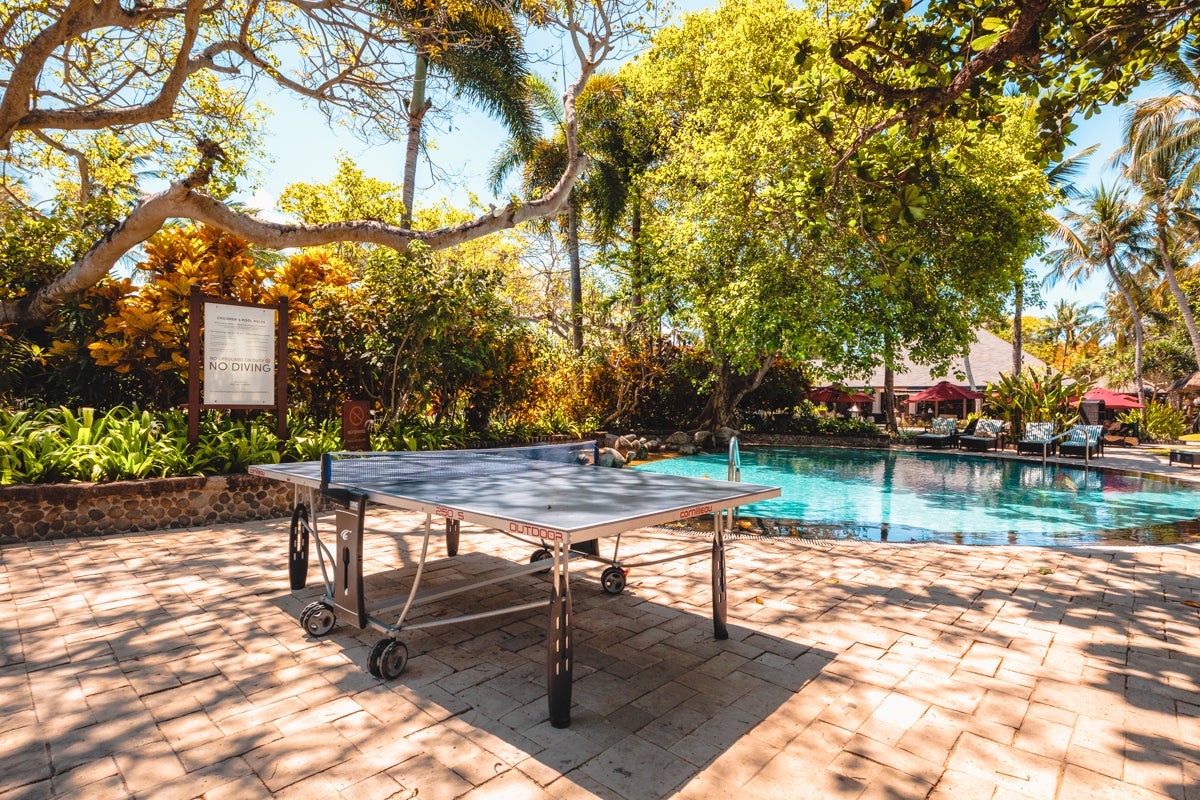 This practice has been mentioned on several of the TripAdvisor reviews of this hotel, but I was stunned to see how bad it was in person.
There are even signs around the property advising that if staff sees towels and belongings unsupervised for an hour that they will store the items securely to make the deckchairs available for other resort guests.
On one particular day during our stay, we wandered around for 20 minutes and couldn't find a single deckchair to sit on, only scrunched up towels or people's "belongings" such as a single paperback novel. So, we approached one of the staff and had them remove some of the towels.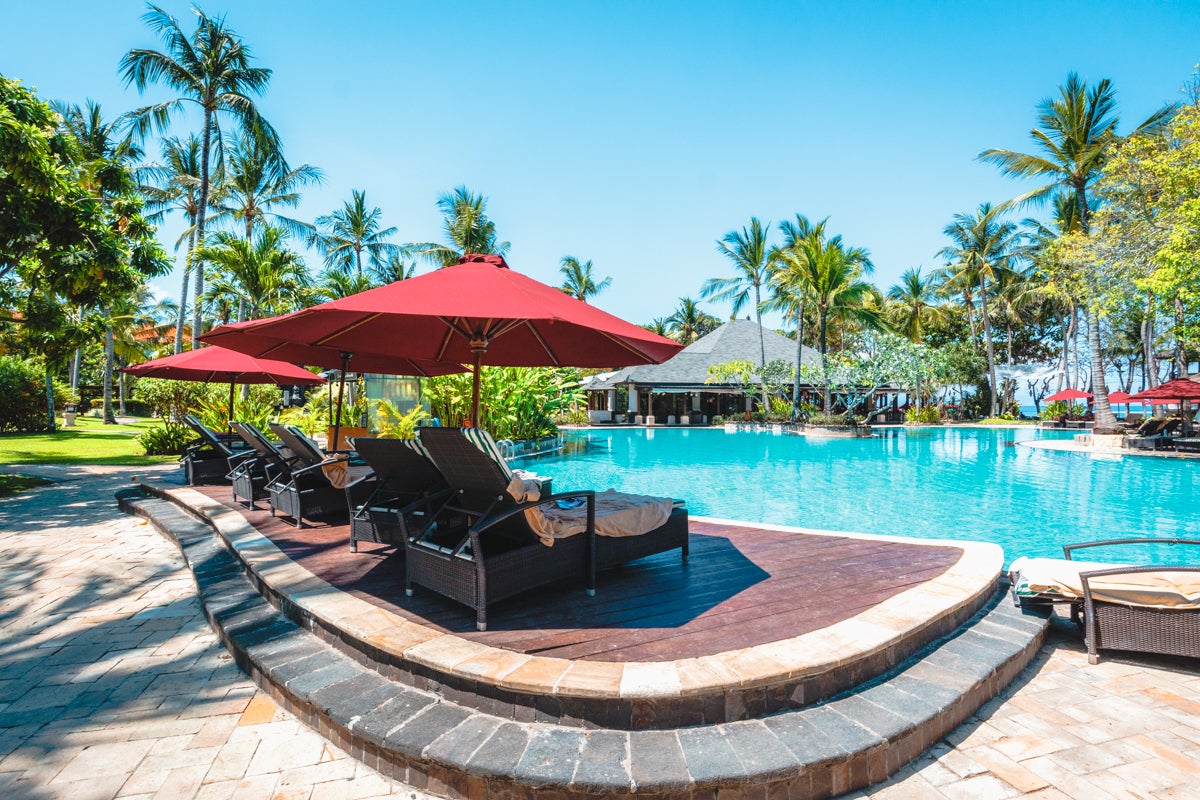 Service
Everything about the Laguna, a Luxury Collection Resort & Spa is designed to imbue a sense of peace, serenity, relaxation, and slowness. Unfortunately, the latter has somewhat seeped into several areas of service throughout the property.
Whilst the concept of "island time" is without a doubt real, there are times when you want the service to be prompt and punctual, like when your drink is empty, or when you'd like to order some food. Service was particularly slow by the pool.
On our first day, we had to wave down a waiter to get a menu. He said that we would be right back with one but never returned. After 30 minutes of waiting, we moved from the pool to the bar, but even here the food was slow to be delivered.
From ordering a simple snack to receiving the food took approximately 1 hour.
In-room dining was also slow with simple requests such as buckets of ice taking more than half an hour to arrive.
On our last day in the resort, we organized a late checkout (as part of my Platinum Elite benefit) and decided to spend a few more hours by the pool. Yet whilst the program rules provide a 4 p.m. checkout at latest, the hotel was kind enough to extend this to 6 p.m. as we had a 10 p.m. flight back to Sydney.
After finding a spot and sitting down it was 1.5 hours before a staff member approached us and asked us if we wanted something to eat or drink.
Despite all the staff operating on island time, all interactions were pleasant and friendly and we appreciated them moving us to a poolside table at breakfast and organizing a late checkout so that we could enjoy a few more hours by the pool before flying home.
Local Area
Within walking distance of the resort is the Bali Collection of shops, restaurants, and a huge convenience store which we used to stock up on drinks and nibbles to enjoy in our suite to save on room service charges.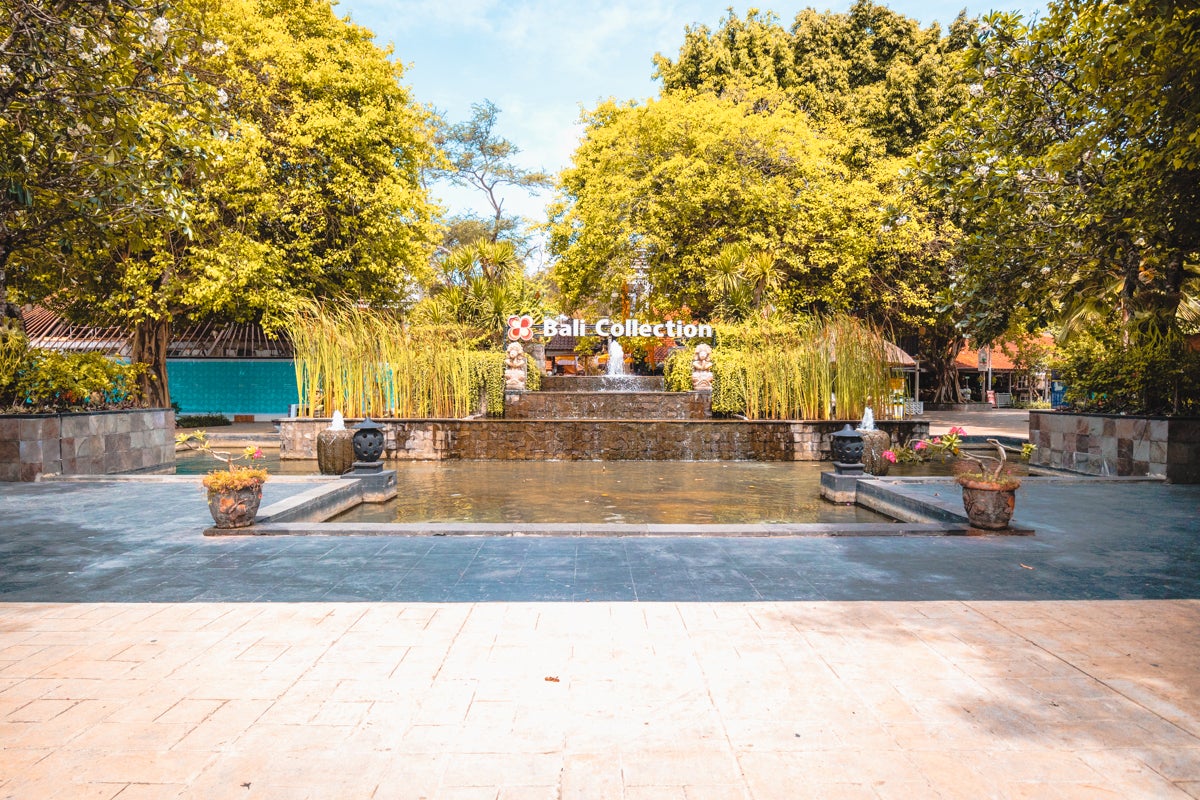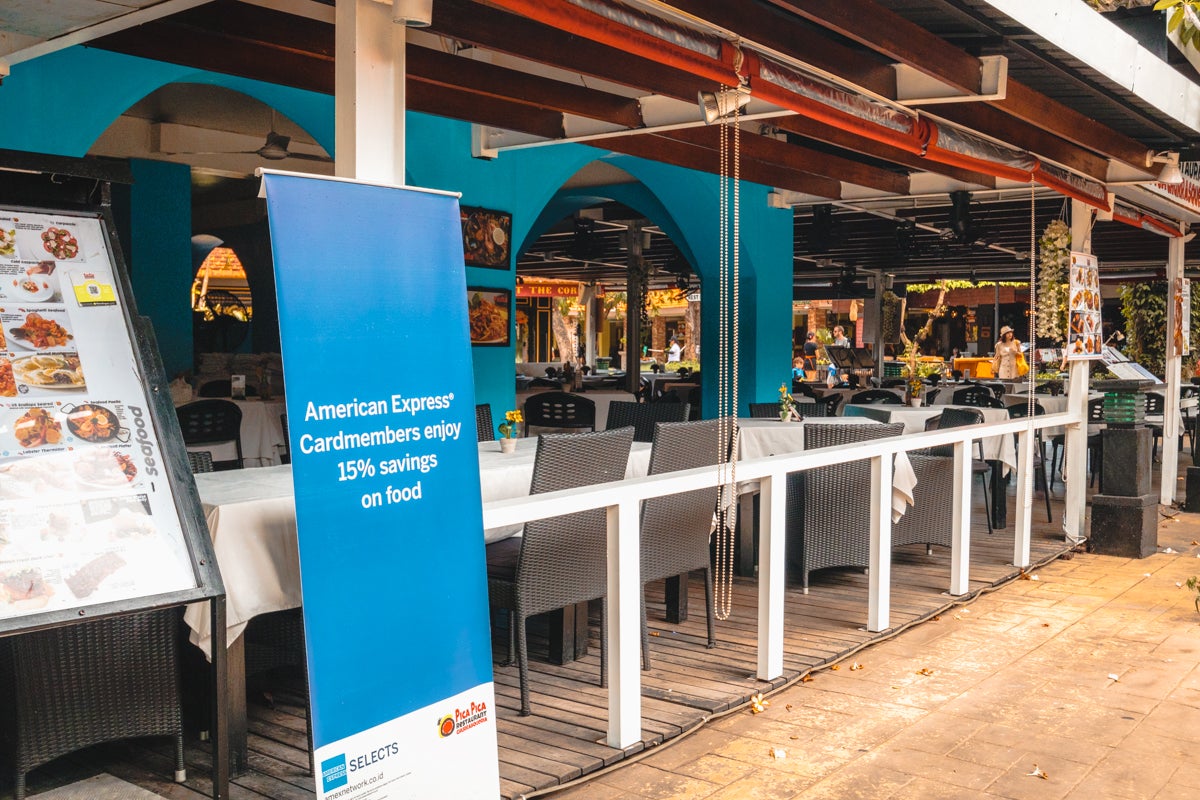 Final Thoughts
Overall, the Laguna, a Luxury Collection Resort & Spa is a beautiful property, located in a great, family-friendly area of Bali.
Whilst it is a little bit out of the way, it's not too far should you wish to trek to Kuta or one of the more populous areas of the island.
The suite we stayed in was spacious and comfortable and whist dining options on the property are limited, the location means that you can easily walk to the many other restaurants and hotels that are dotted along the beachfront.
Yes, the service at the property could be quicker, but all the staff was helpful and friendly, in true Balinese style.
Depending on when you book, the property itself provides great value for the use of your Marriott Bonvoy points, and a great opportunity to use some of those valuable Suite Night Award certificates to upgrade yourself to a larger room or suite to make the most of longer stays.