Jetstar Airways Boeing 787 Business Class Review [SYD to DPS]
Airline: Jetstar (JQ)
Aircraft: Boeing 787-8 (VH-VKE)
Flight #: JQ37
Route: Sydney Airport (SYD) > Ngurah Rai International Airport – Denpasar (DPS)
Date: November 1, 2019
Duration: 6hr 15min
Cabin & Layout: Business, 21-seats, 2-3-2 config
Seat(s): 3F
Miles Used: None
Cash Used: AU$721.14 ($498.18) per-person, one-way
Introduction
Booking Jetstar Business Class
A grueling few weeks at work, combined with some home-life dramas, had me feeling like I needed a break from Sydney for some R&R.
Fortunately, my partner was traveling back from a conference and when availability unlocked for my return flight with points, I decided to book a one-way paid fare with Jetstar to Denpasar and rendezvous with him for a long weekend in Bali.
I had previously traveled to Bali with Jetstar in its economy cabin but was keen to see how its business class product on the new Boeing 787-8 compared to its competitors that I have also flown.
I used Skyscanner to find the cheapest business class ticket available for this flight and paid AU$721.14 ($489.18) for my one-way ticket with Expedia.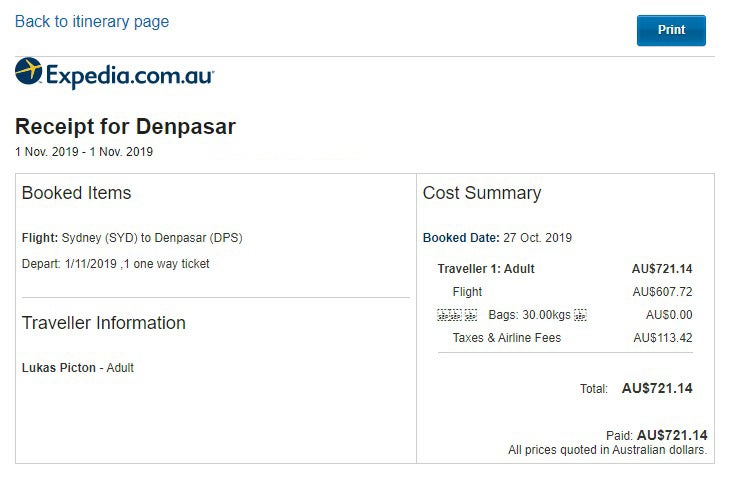 It is also possible to book this Jetstar flight using points. The cost of this ticket in business class was 42,000 Qantas Points; just keep in mind, however, that you will not earn any Qantas Points or status credits on this fare.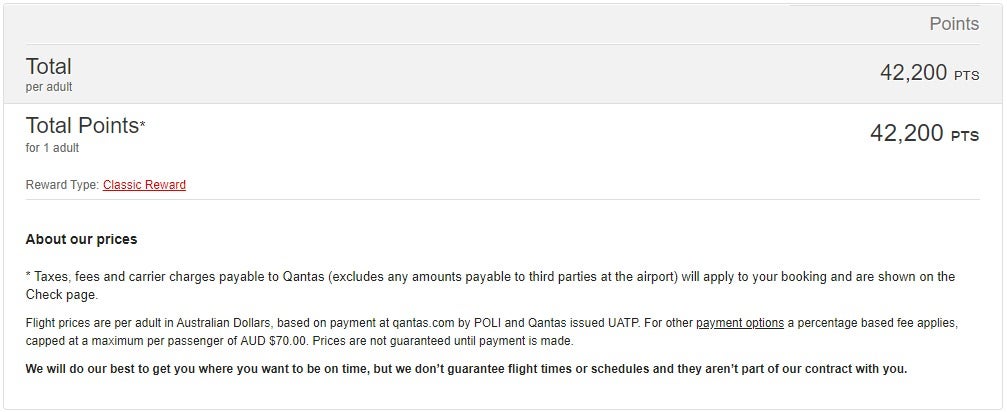 At Sydney International Airport – American Express Lounge
I arrived at Sydney International Airport (SYD) at 2:50 p.m. for my 5:45 p.m. flight. There was a small queue for business class check-in, but it moved quickly.
I was checked in by 3 p.m. and through passport control and security by 3:10 p.m. thanks to the Express Path pass that I received as a business class passenger.
Prior to arrival at the airport, I had been monitoring the availability of seats in the business class cabin and was delighted to be informed at check-in that the 2 seats next to me had remained free. This, however, wouldn't be the case for long.
Jetstar business class passengers traveling to Bali can access the Qantas Business Lounge, which is located up the escalators immediately after you pass through security screening.
As this lounge has been reviewed several times by this site, I made a beeline for the new American Express Lounge that opened a week earlier in a completely renovated space of the international terminal that was previously occupied by Malaysia Airlines.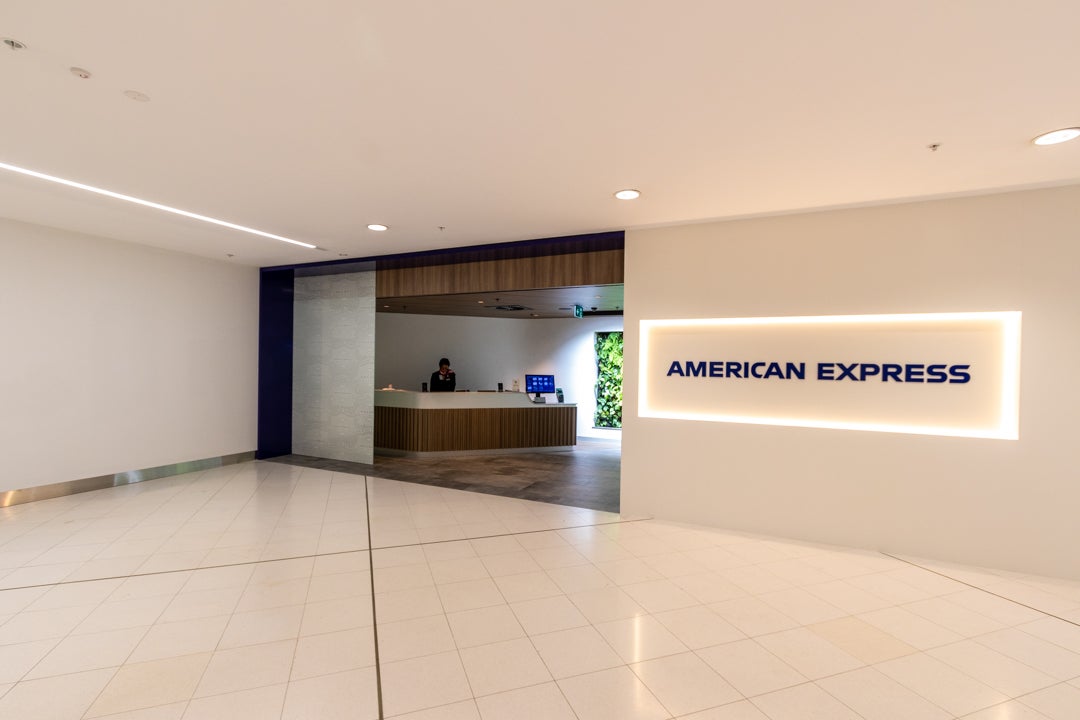 There was a short queue when entering the lounge, but I was quickly admitted and found a seat by 3:30 p.m.
Entering the lounge, you're greeted by a large green wall. This will be familiar for those who have visited an American Express Lounge previously.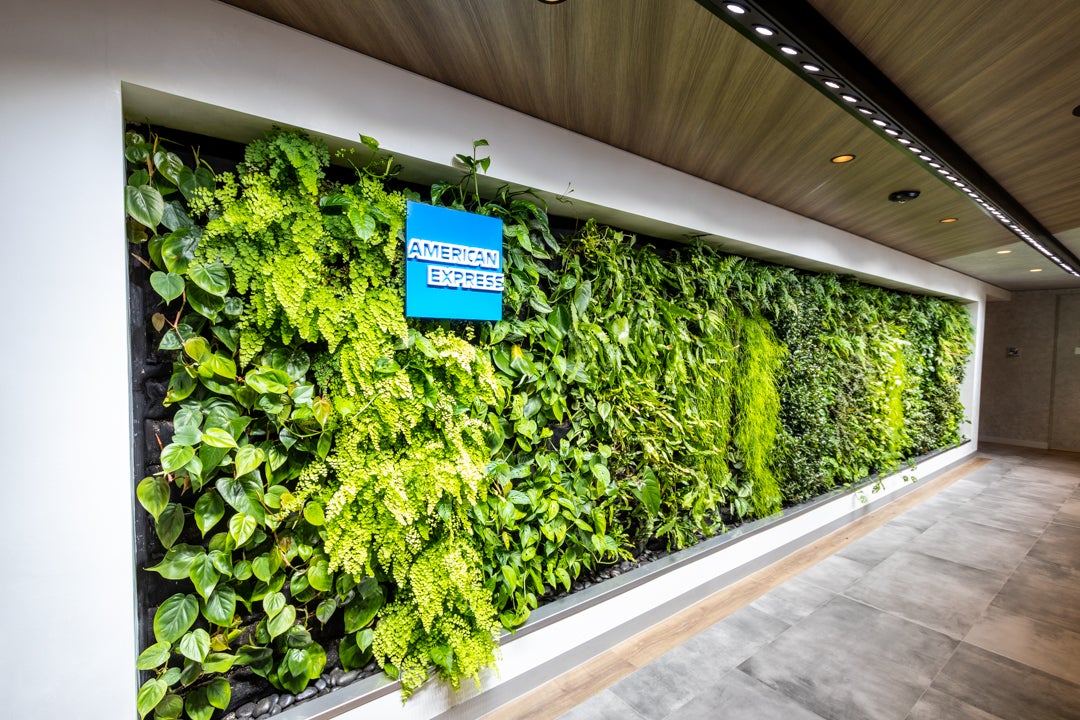 Once you pass via the green wall you'll happen upon the large tendered bar.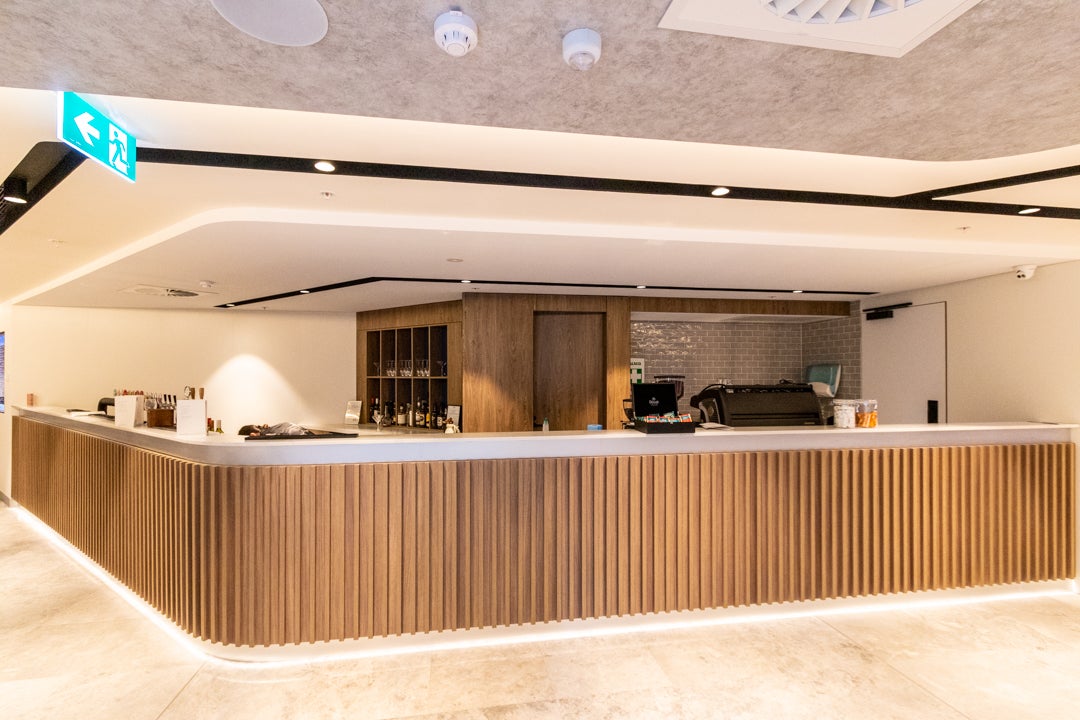 Seeing as it was technically coffee time, but I was also on holiday, I opted for one of the lounge's signature beverages, an espresso martini.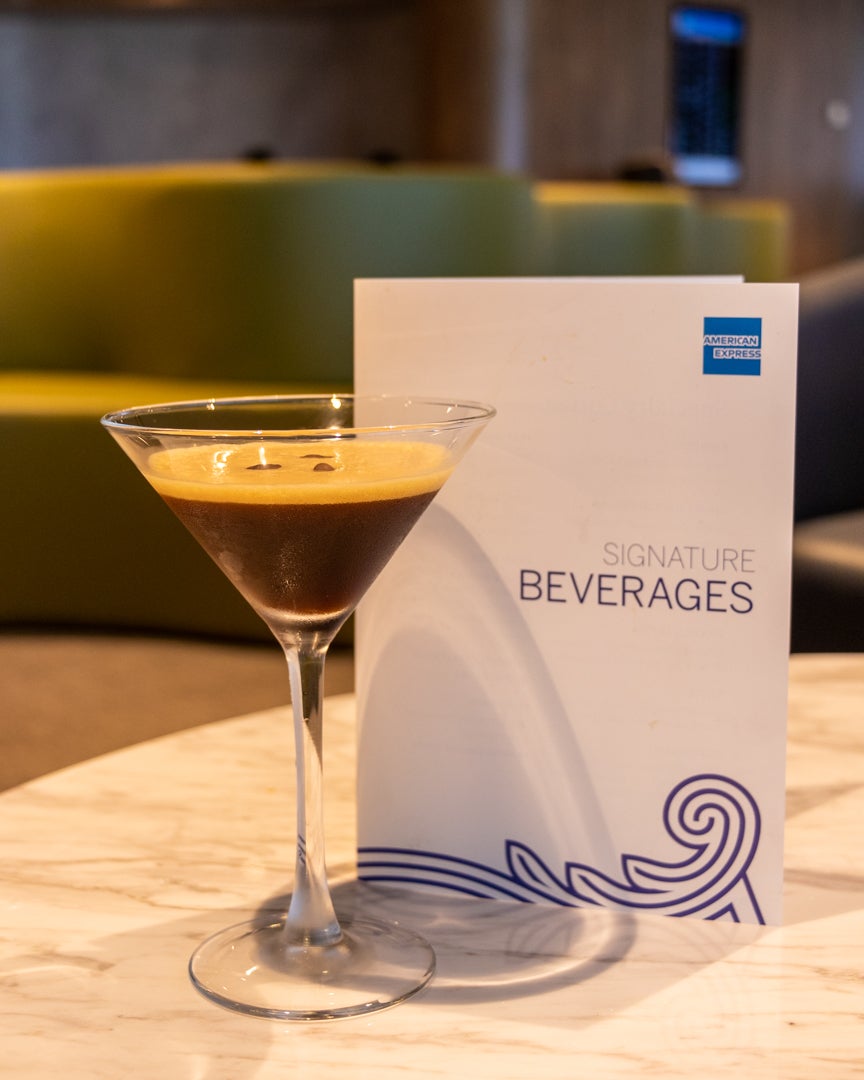 There was also a selection of beers and wine on tap.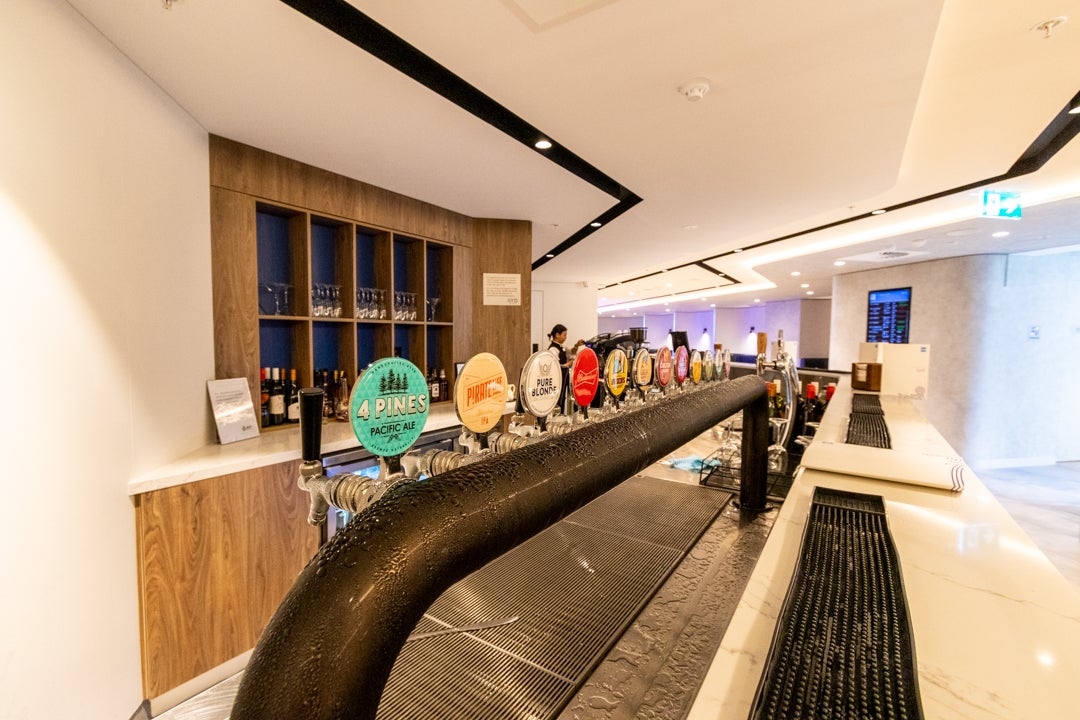 To the left of the bar, there is ample seating for those wishing to enjoy some of the cuisines that the chefs create.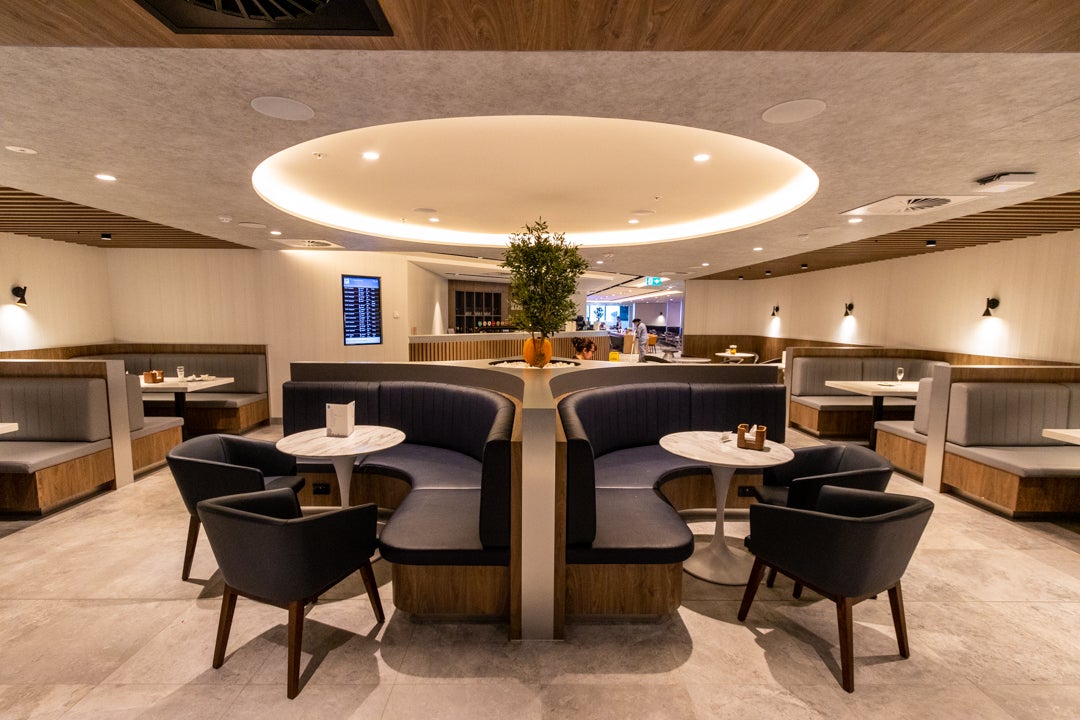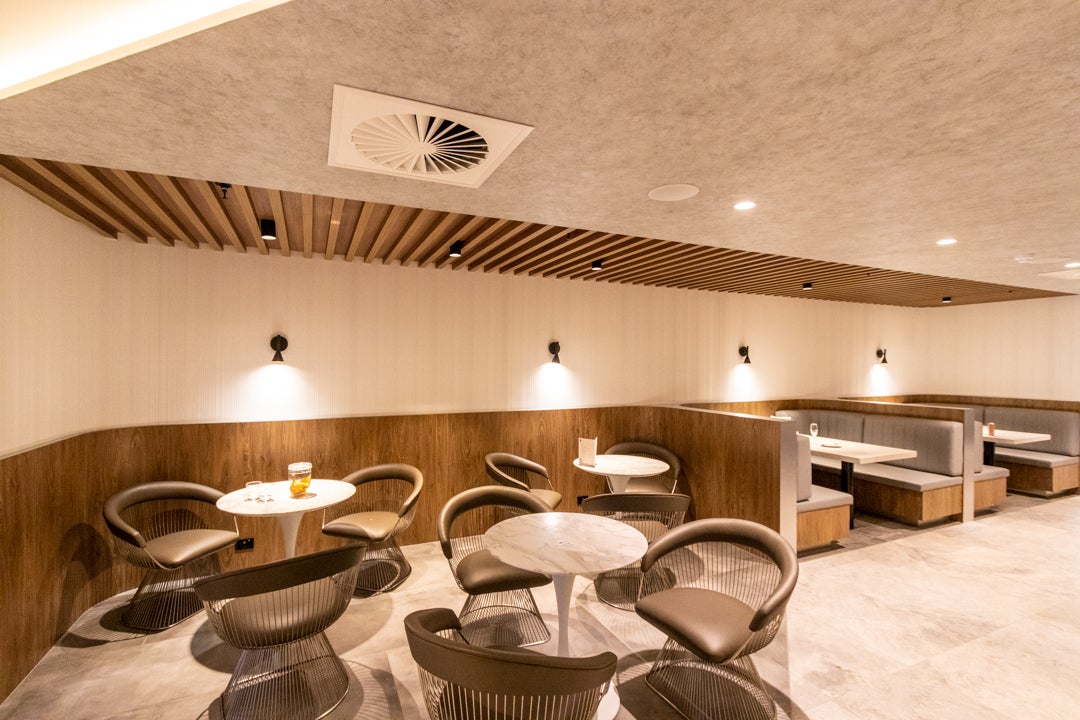 A new feature trumpeted by American Express for this lounge is the "live cooking" stations where chefs will prepare your food while you wait and in full view.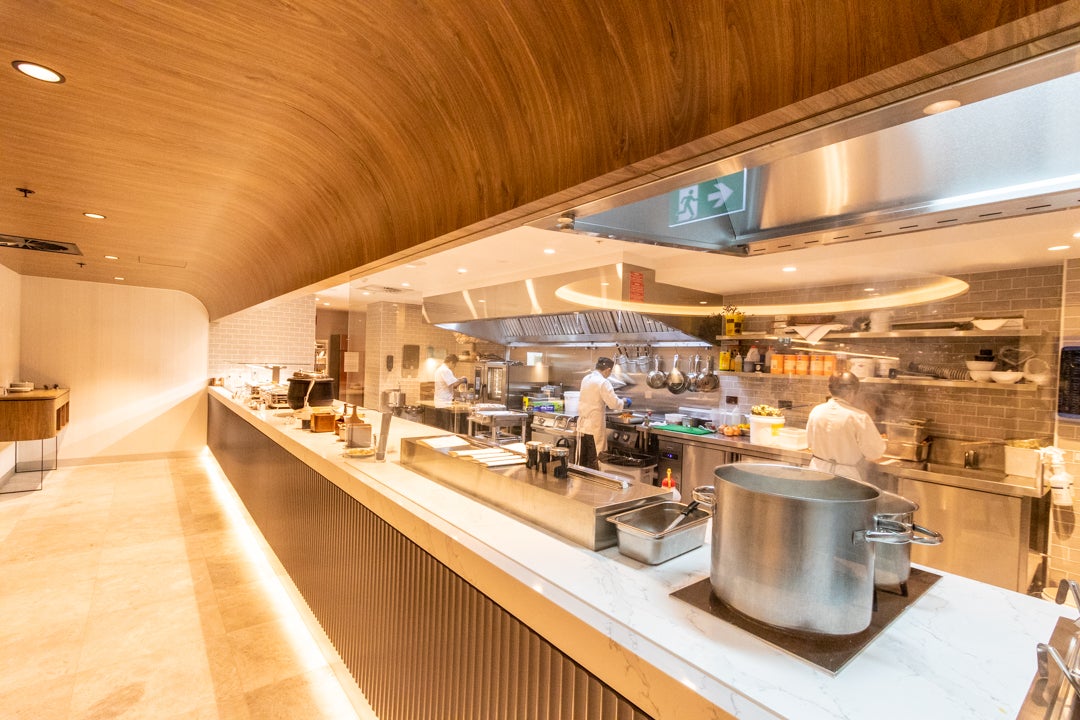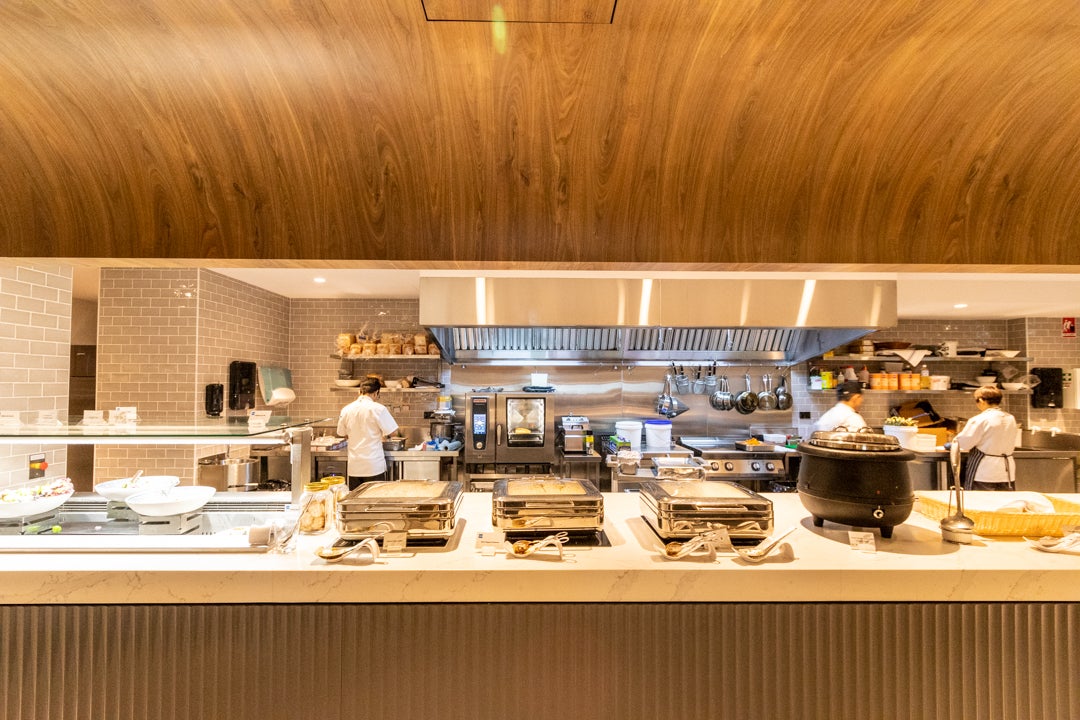 To the right of the bar is what American Express terms the lounge's "social" area. 2 long tables run down the center of the space with large LCD screens on the wall behind.
These can be configured to display a single image or broadcast multiple channels.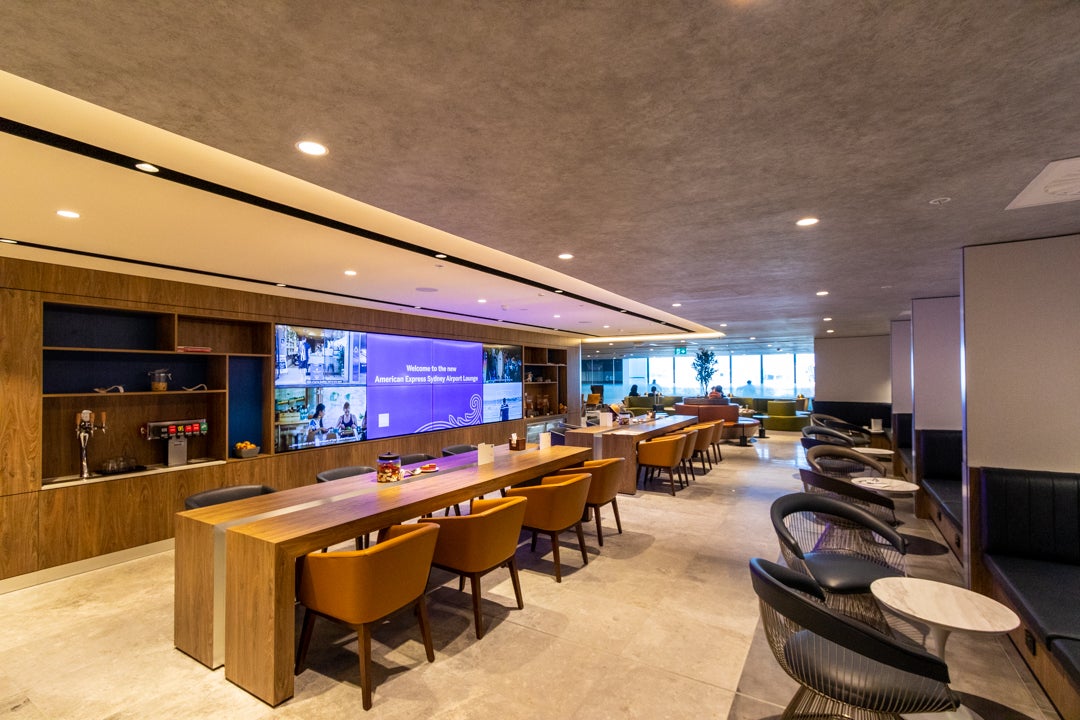 This area also includes a self-service refreshment and snack station.
Behind the long tables are several booths where you can sit and still watch the televisions, albeit with more privacy.
During my visit, a woman had decided that it was appropriate to remove her shoes and place her dirty feet on the new leather lounges.
As a stickler for manners and appropriate behavior in public, and after a quiet word to the lounge manager, she was instructed to replace her shoes and remove her feet from the lounge.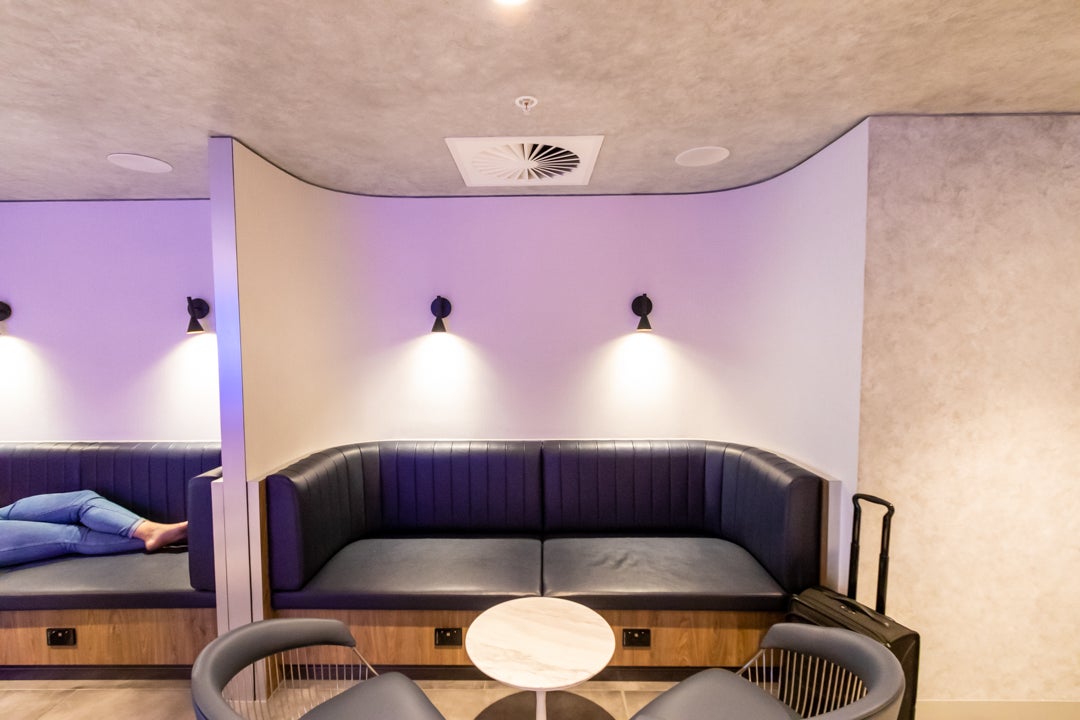 At the end of the lounge is a private resting space with a variety of different chairs.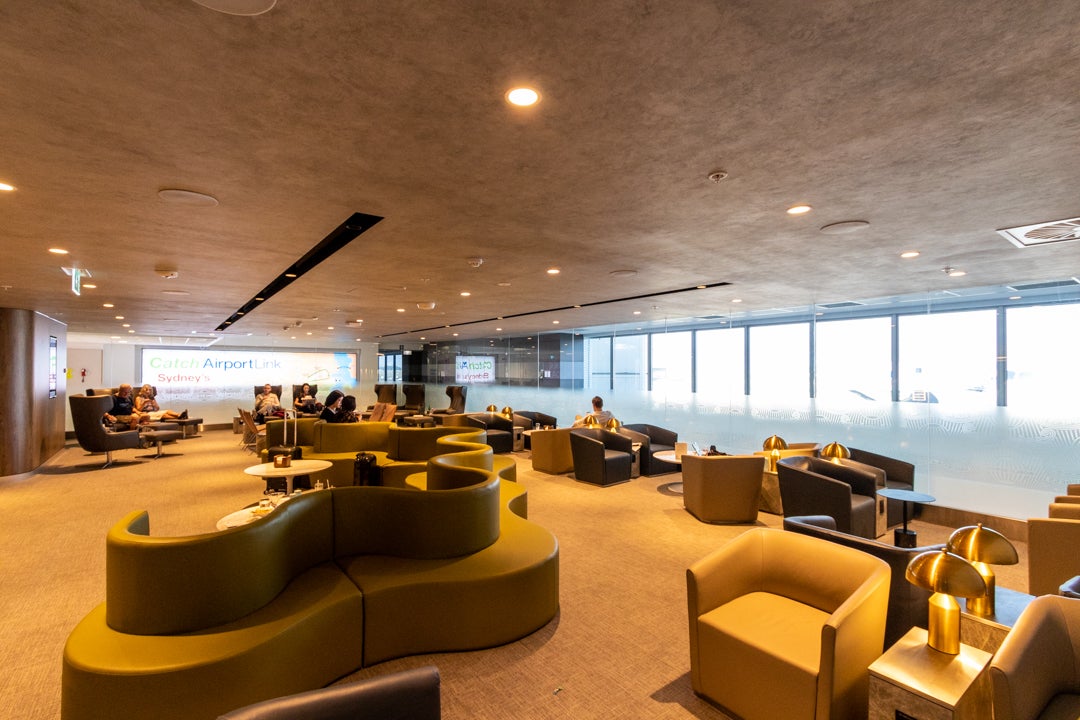 This space affords guests a view of the tarmac and runway.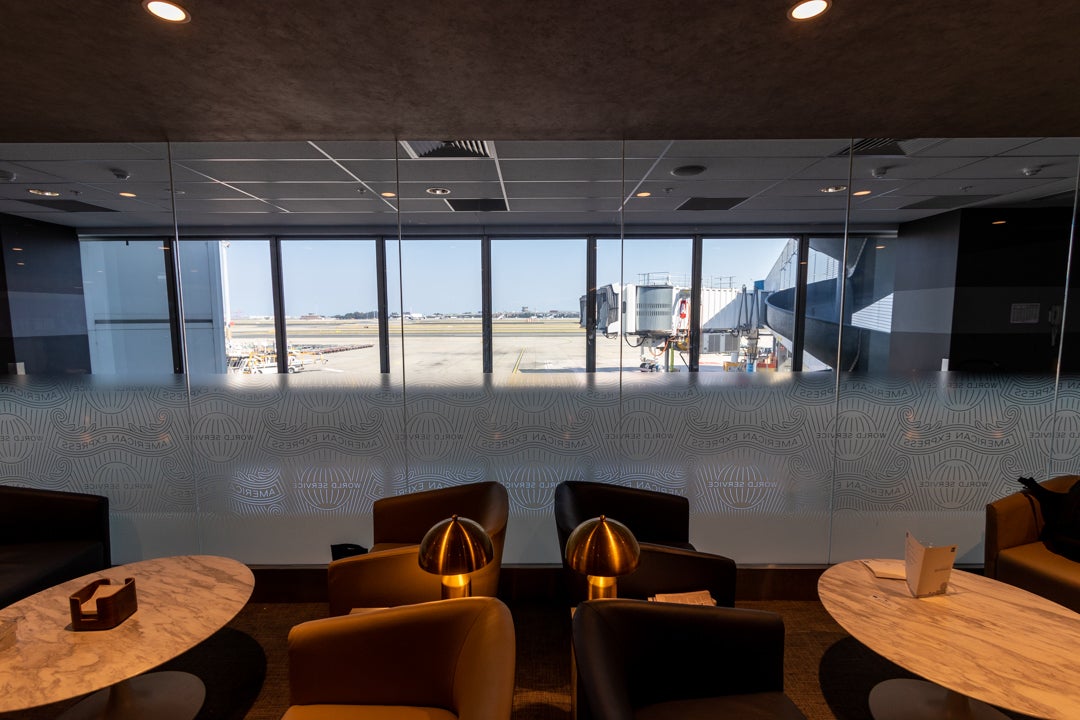 When this space was occupied by Malaysian Airlines, there were no windows, so American Express worked closely with its partners, Plaza Premium Group and Sydney Airport, to build out the space to include a view.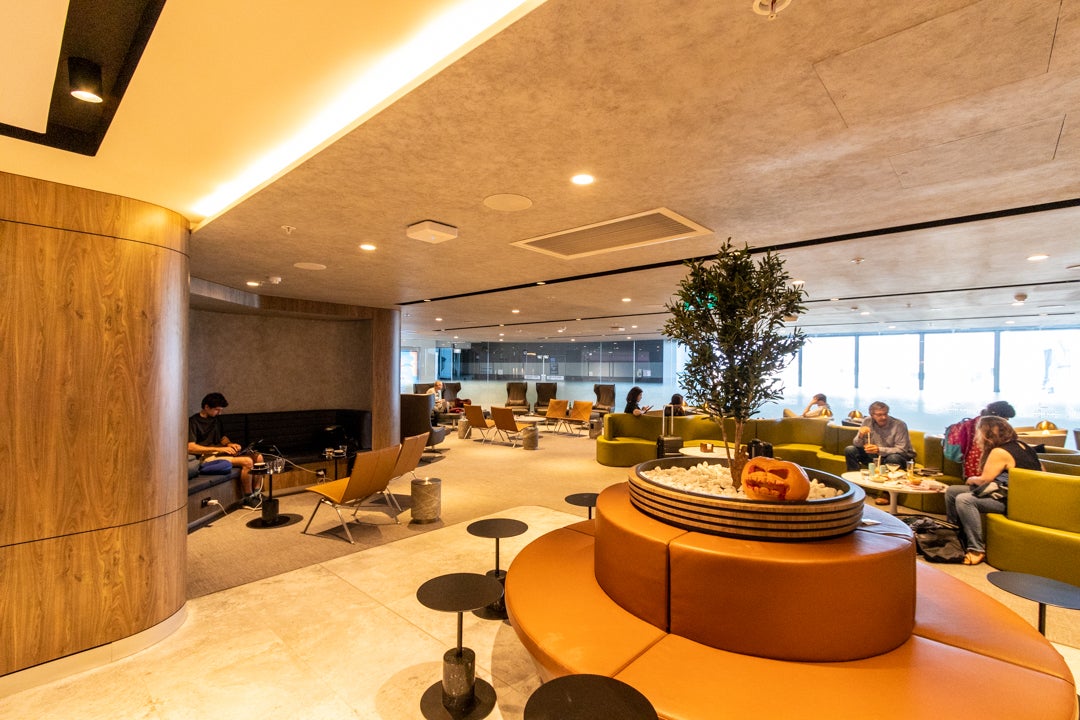 After catching up on emails, making a few calls, and a glass of the lovely Squealing Pig rosé, I headed to the gate at 4:30 p.m. for the scheduled boarding of 5:50 p.m.
Hot Tip: For more information on the American Express Lounges, explore our full guide including a full list of locations. 
Flight
I had assumed that my gate would be a 10- to 15-minute walk from the American Express Lounge but was pleasantly surprised to discover that it was a leisurely 5-minute stroll.
Approaching the gate, I noticed some commotion at the counter and overheard the staff discussing the passengers from an inbound flight that needed to connect to this flight to Denpasar.
The gate staff made several announcements for passengers from the connecting flight and gradually they started to arrive at the gate area for boarding.
Boarding commenced on time at 5:05 p.m. via a dedicated business class channel and I was lucky enough to be the first passenger on the aircraft.
Flights from Australia to Bali are incredibly popular with many Australians choosing Bali as an overseas holiday destination due to the cost and the proximity of the 2 countries.
At just over 6 hours from Sydney, it is relatively easy to take a long weekend in Bali and be back in time for work on Monday morning.
As a result of this flight being so popular with holiday-makers and those traveling to Bali to party, a pre-flight responsible service of alcohol announcement was made advising passengers that it was against the law to consume their own duty-free alcohol on board and that the crew reserves the right to limit the supply of alcohol to those that they feel are intoxicated.
Aircraft
Jetstar currently has 11 Boeing 787-8s in its fleet. My aircraft this afternoon, VH-VKE, took its first flight in April 2014 and was the fourth 787-8 that Jetstar took delivery of.
The aircraft operates primarily between Sydney, Denpasar, Honolulu, Melbourne, Cairns, Phuket, and Tokyo and has 21 business class seats and 314 economy class seats.
Business Class
Entering the aircraft, you immediately turn to your left and pass through the forward section of the economy cabin before moving past the central partition that denotes the beginning of the business class cabin.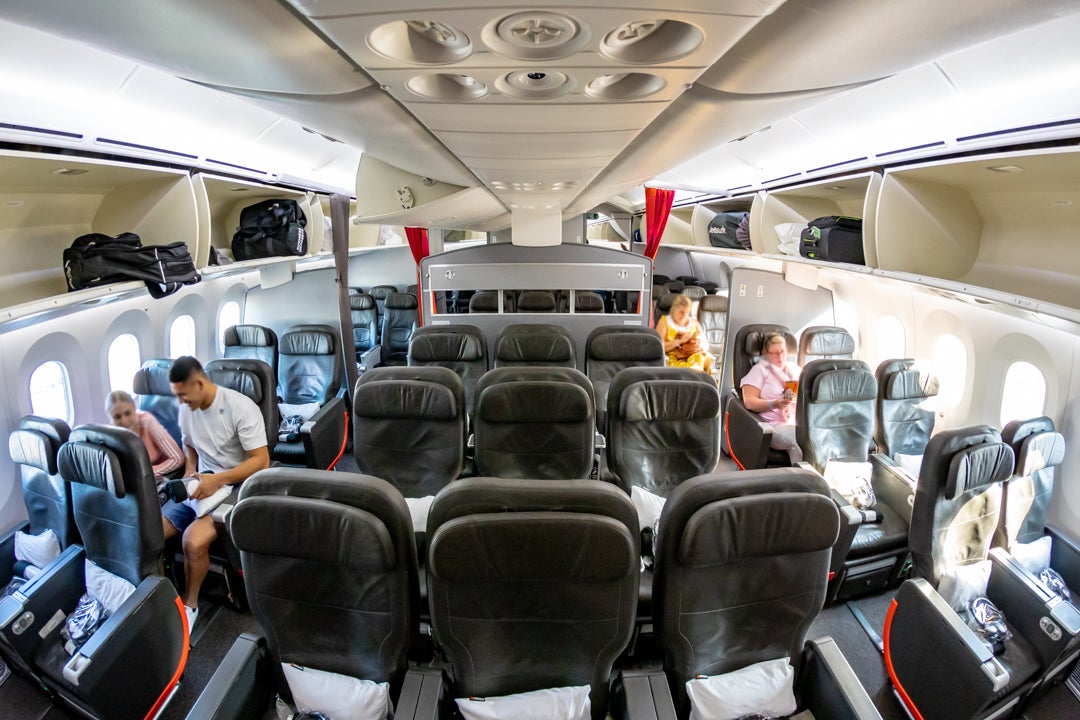 The cabin is fresh and features neutral charcoal tones throughout, including the leather seats and the carpet. Small bursts of "Jetstar orange" are used to highlight the sides of the business class seats.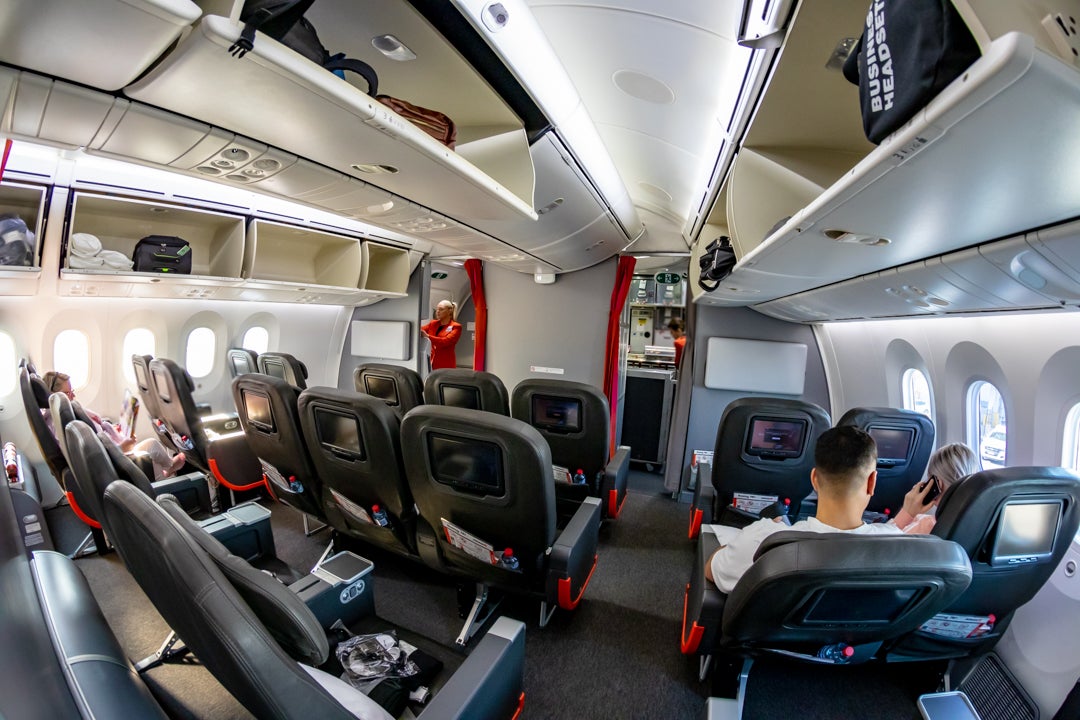 Overhead bins provide ample storage space for your carry-on luggage and the space between the seat rows allows for easy under-seat storage for any items that you'd like to have at hand with you during the flight.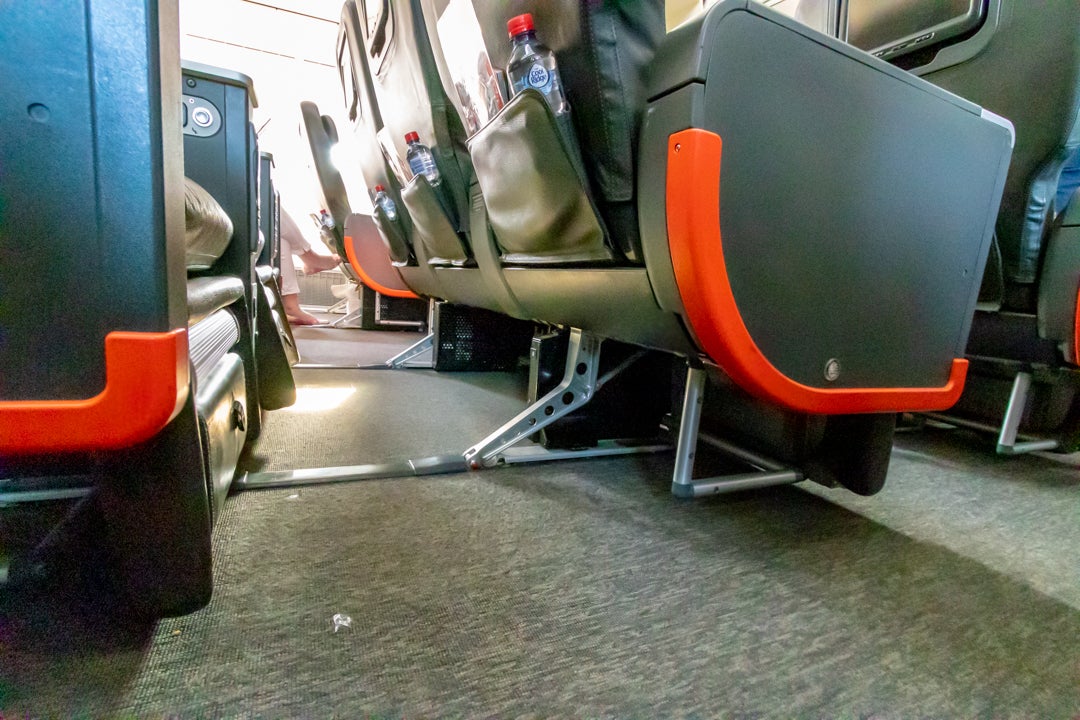 There is 1 lavatory that is located at the front of the business class cabin.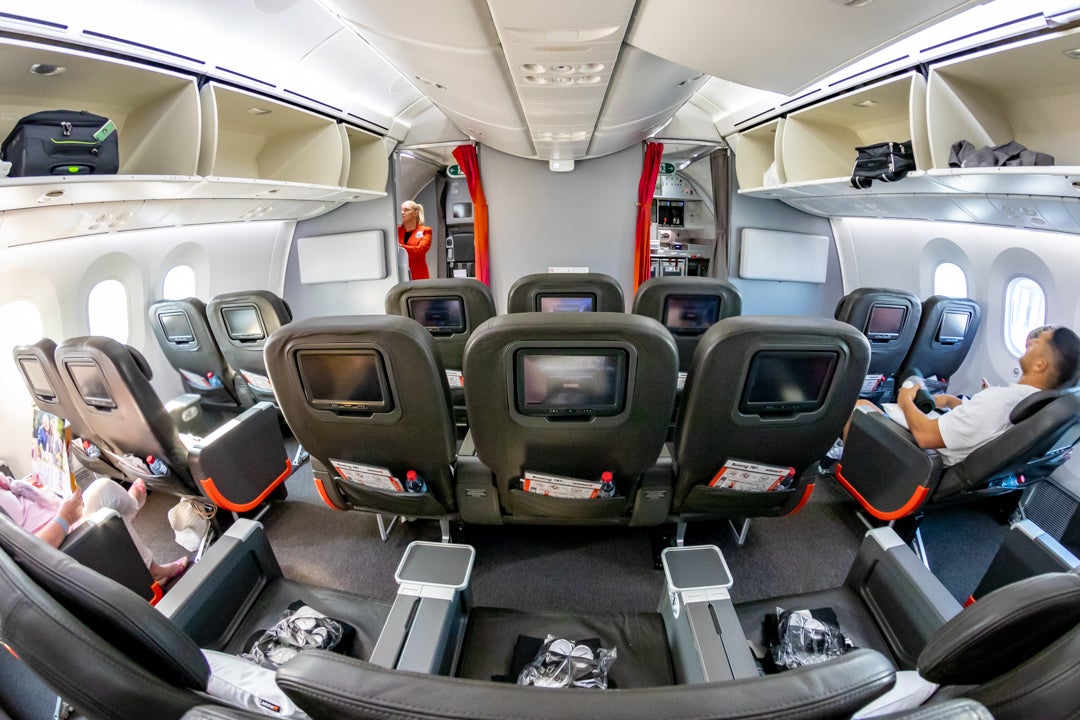 Seat
Each leather recliner seat in the Jetstar business class cabin is 19 inches (48.2 cm) wide and has a pitch of 38 inches (96.5 cm).
Waiting for you on your seat when you board will be your amenity kit, a pillow, blanket, and your noise-canceling headphones.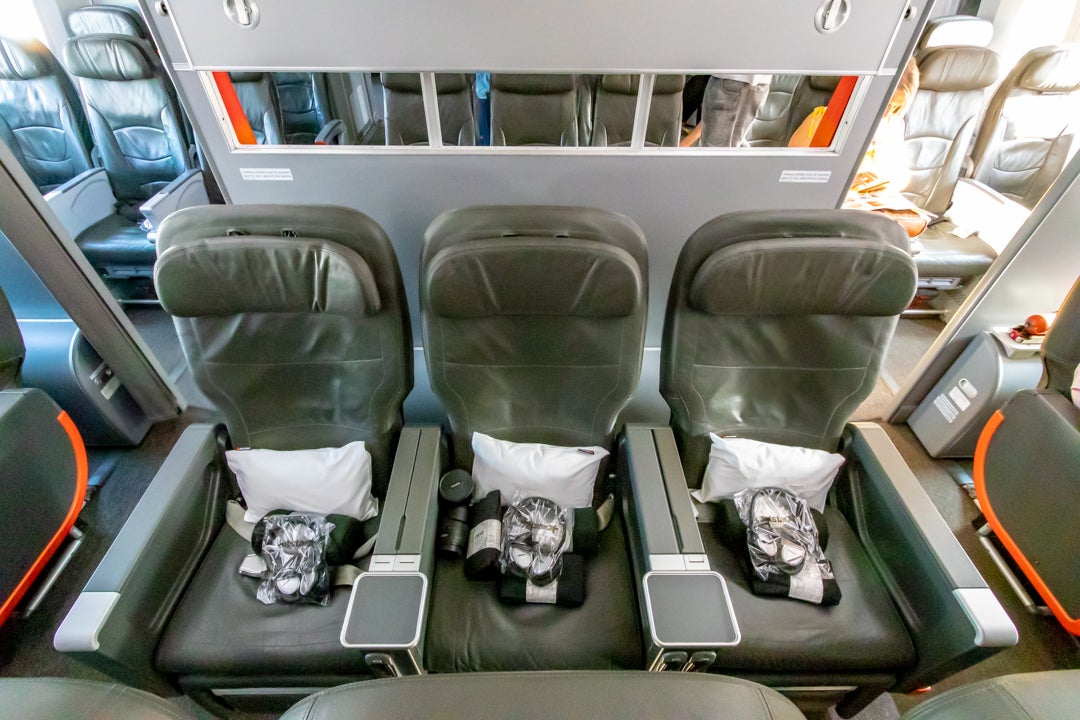 There is a small, fixed tray-table in between all the seats and the main tray-table can be accessed via a flap in the armrest.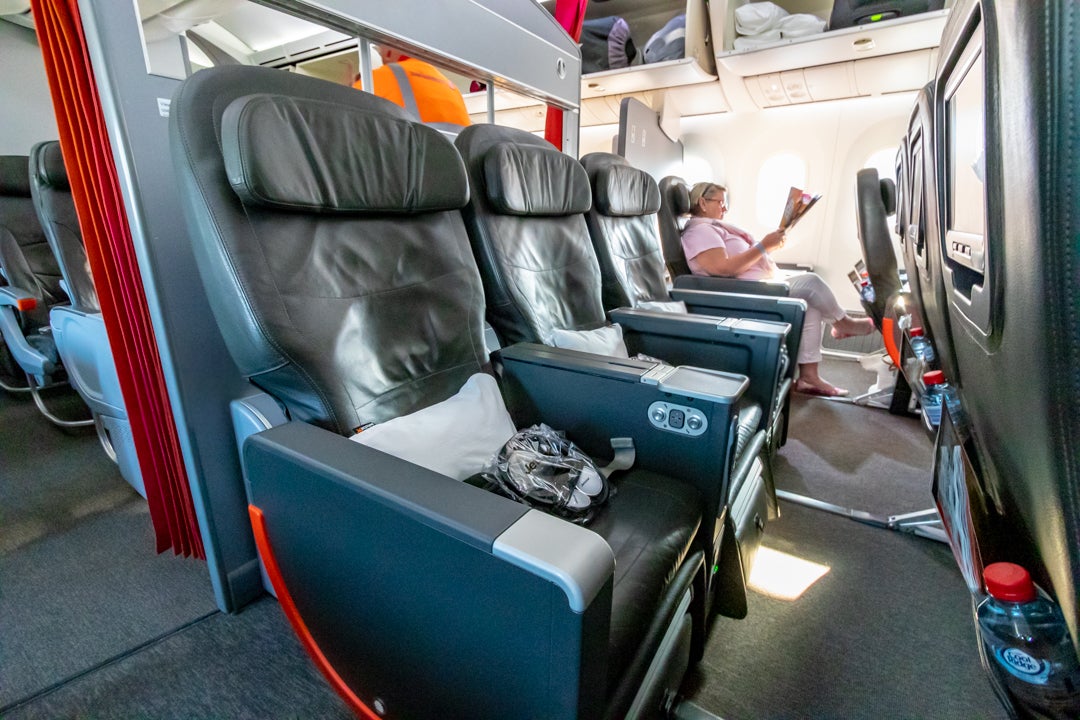 As an average-sized person at 5 feet 10 inches I found the legroom to be plentiful.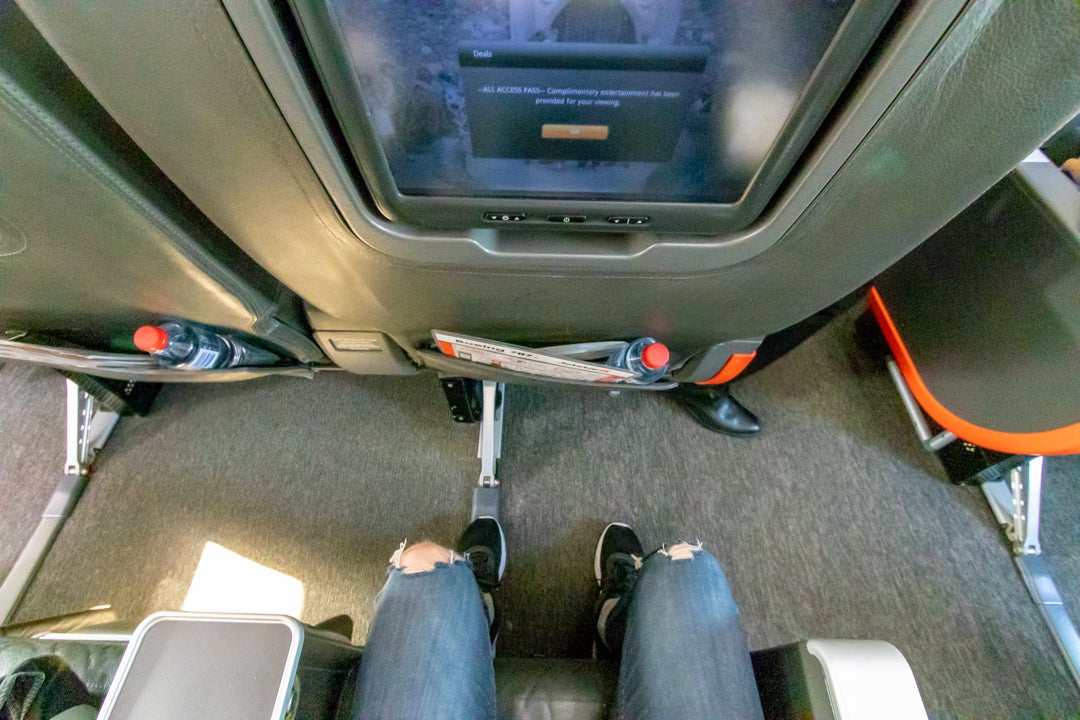 The only items in the literature pouch were the safety card, menu, motion sickness bag, and a bottle of spring water.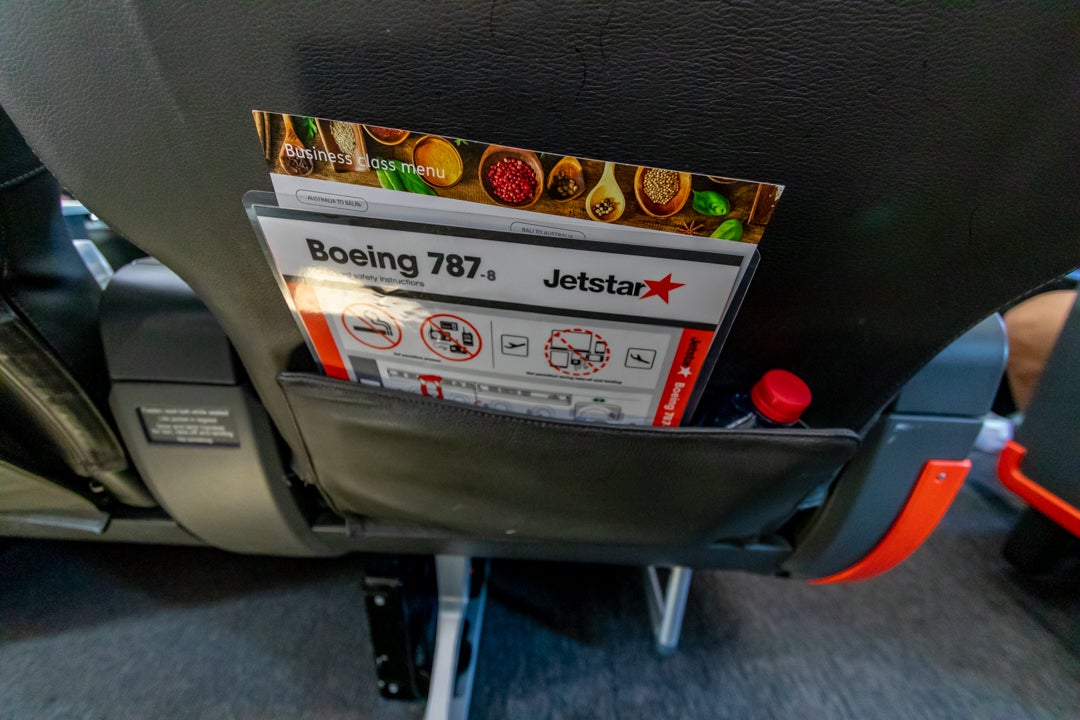 Seat controls and headphone ports can be found just under the fixed tray-table between the seats.
The Inflight Entertainment (IFE) remote and power can also be found on the front of the armrests between the fixed tray-table and the floor.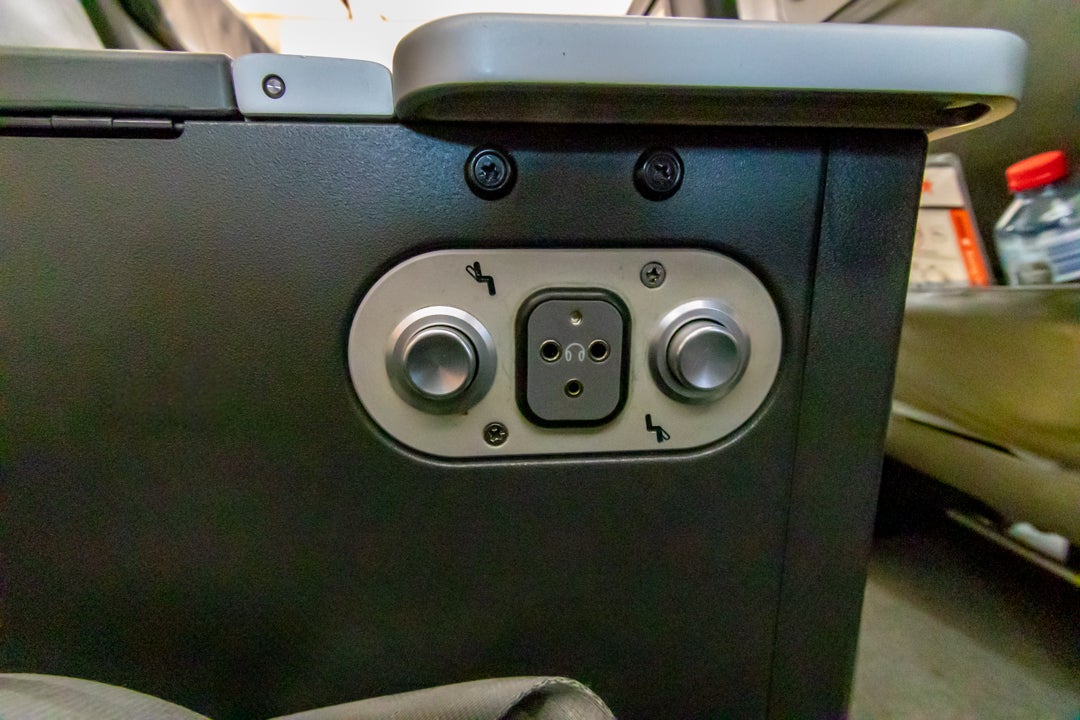 As this was an afternoon flight, I intended to stay awake for the duration of the flight, however, I did take the opportunity to recline the seat to its maximum position and would have no trouble falling asleep in it should I have wished to catch some Zs.
Entertainment
A 10.6-inch touchscreen is fitted to the seatback of each chair in the cabin and featured more than 60 hours of entertainment in the form of movies, television shows, and music — more than ample content for this 6-hour flight.
You can control the IFE system via touchscreen or remote control.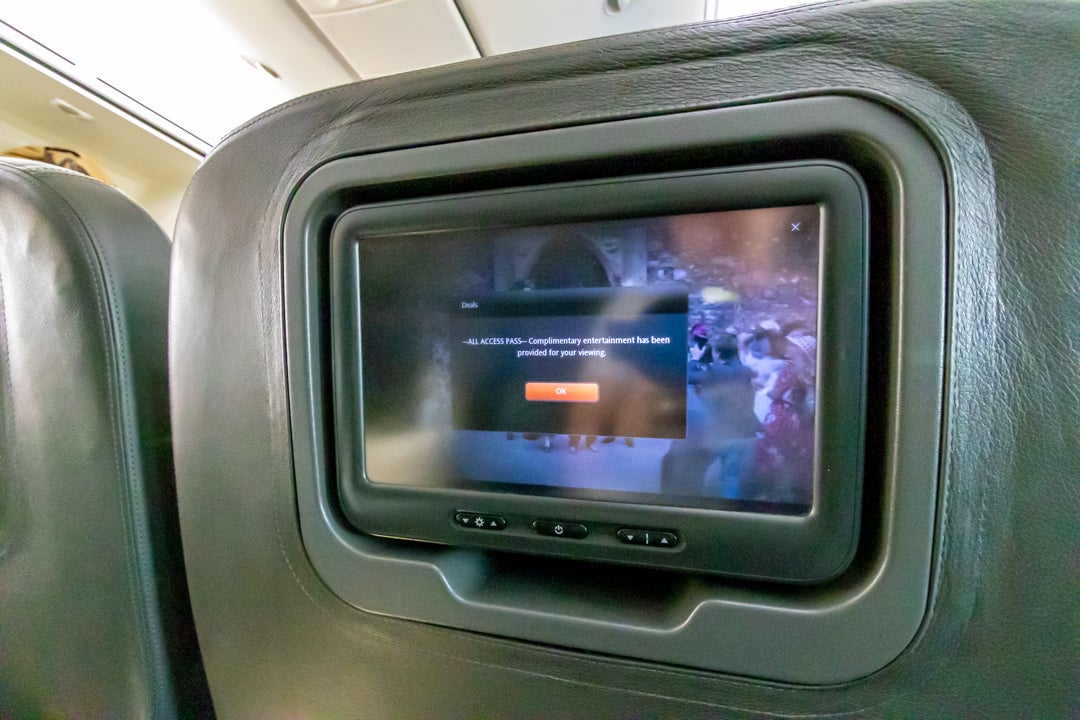 Noise-canceling headphones were supplied, but I chose to use my own Bose headphones instead.
Wi-Fi was not available on this aircraft.
Hot Tip: Looking for a pair of noise-canceling headphones? Dive into our list of best noise-canceling headphones and be ready for your next flight. 
Amenities
The amenity kit, or "Chill Kit" as it is labeled by Jetstar, follows the current trend of moving away from single-use plastics to more sustainable and environmentally friendly inclusions.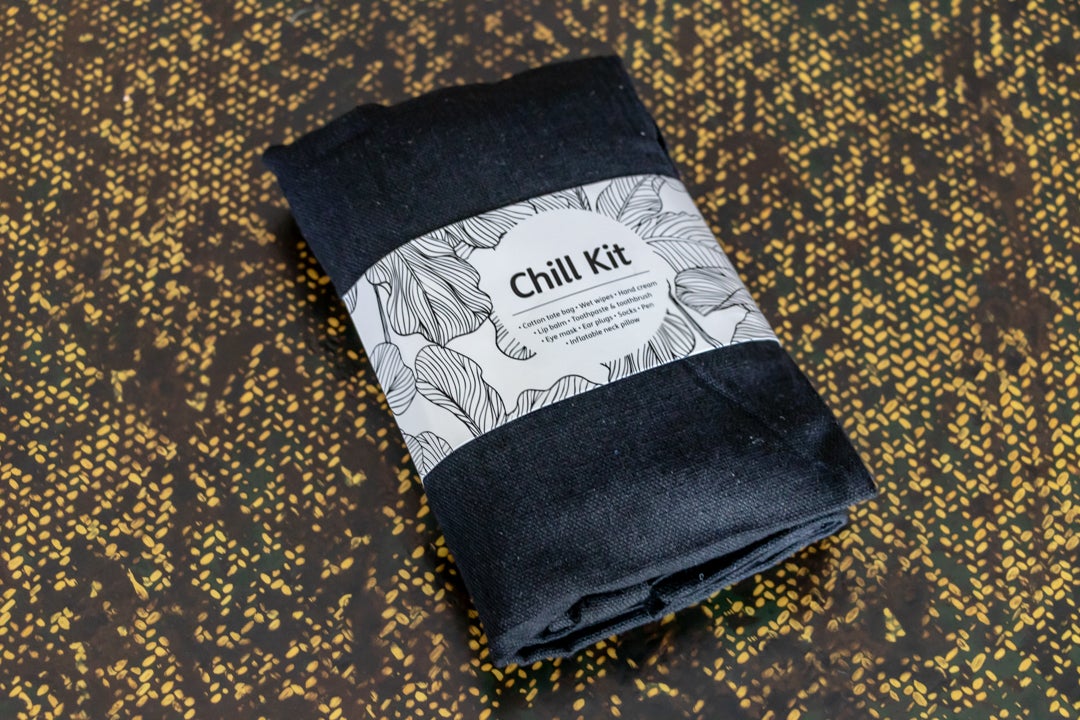 The amenity kit itself is a cotton tote bag that, when unwrapped, reveals its bounty of similarly useful items including:
"Snooze" eye mask
"Scribble" pen
"Cleanse" cleaning wipe
"Soothe" lip balm
"Revive" hand cream
Socks
Earplugs
Toothbrush and toothpaste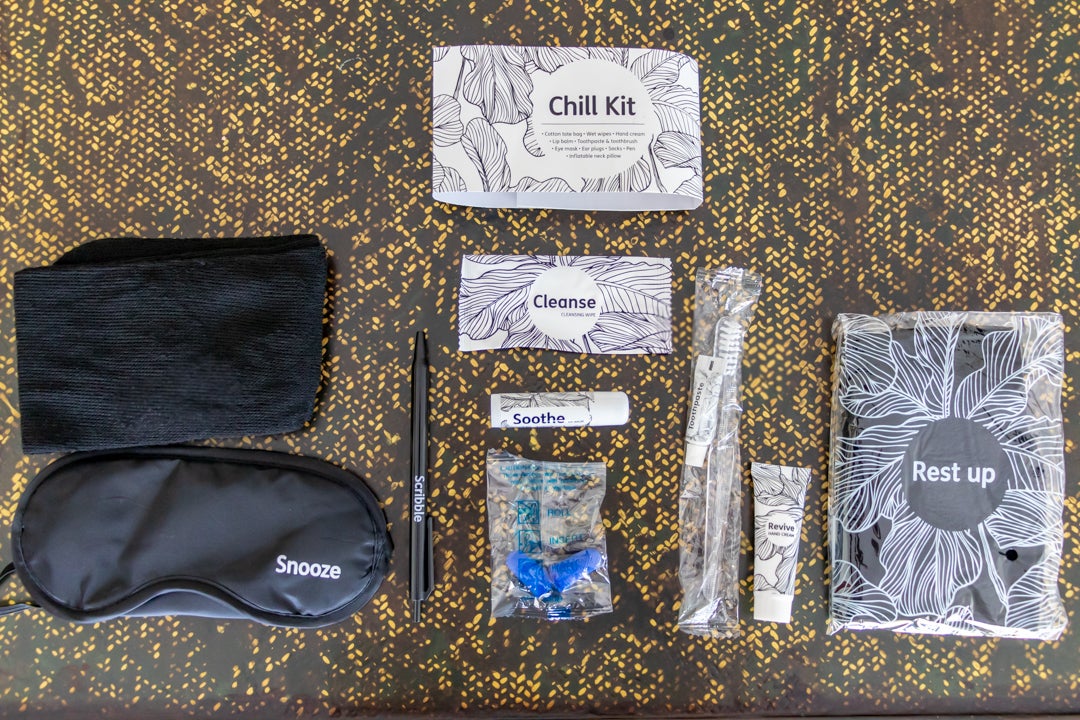 A genius inclusion in the Chill Kit is an inflatable neck pillow.
While I didn't sleep on this flight to Denpasar, I did inflate and try out the neck pillow on my night flight back to Australia and can vouch for its effectiveness in stopping your neck from lolling about when you're not in a flat bed.
When you're finished with your pillow, simply deflate it and fold it up and put it in your carry-on so you're not of "those" travelers you see with their neck pillows strapped to the outside of their backpacks or carry-on.
Meal
Shortly after boarding at 5:25 p.m. I was offered a choice of water, orange juice, or sparkling wine.
I opted for the sparkling wine. The menu said to refer to the wine guide that was located in the seat pocket, however, it was nowhere to be found.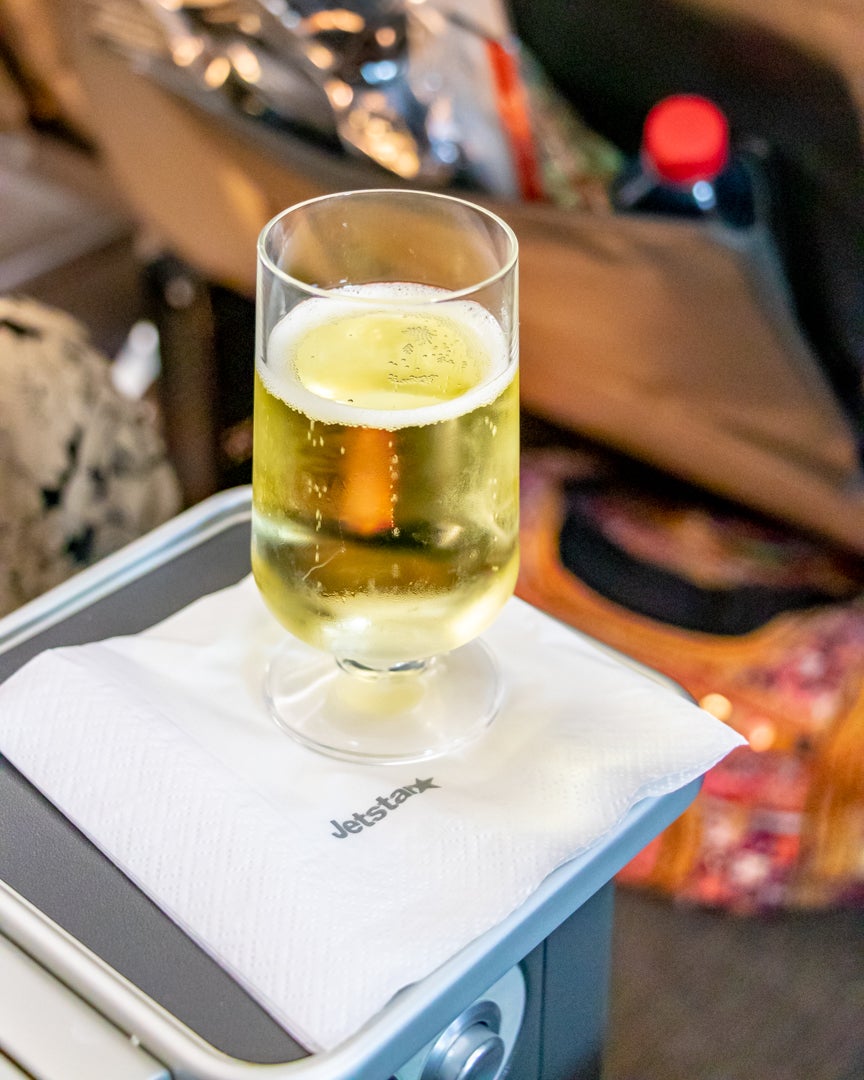 Before take-off, the crew came through to cabin to collect our dinner selections.
A crew member stood next to my seat rummaging through paperwork container passenger details and then knelt down and addressed me as "Mr. White," which I thought puzzling as I was the only passenger in my row. However, the reason for this would be revealed shortly.
The crew member also asked if I would like a drink after take-off so I asked which white wines were available and was told they had "sauvignon blanc and chardonnay."
I mentioned that I did not have a wine guide in my seat pocket but would select the sauvignon blanc. I also requested a copy of the wine guide.
Neither my post-take-off drink nor the wine guide was brought to me once we are airborne.
Shortly after my meal selections were taken, several new passengers arrived in the business class cabin and took all the remaining available seats, including the 2 that were previously free next to me.
These passengers had been upgraded to business class as the flight had been oversold.
When the crew member came around to take the new passengers' meals, he once again addressed the gentleman next to me as "Mr. White," which was indeed his name and explained the mistake prior.
Despite the initial mix-up, the crew addressed me by my correct name for the rest of the flight.
For the appetizer, I selected the chicken larb that was lightly infused with chili and lime, set on a lettuce leaf cup, and garnished with carrot and cucumber julienne.
The other appetizer option was:
Heirloom tomatoes served with torn bocconcini and micro cress, enhanced with basil pesto dressing
For my main meal, I selected the Wushi pork belly braised in a sweet vinegar sauce, stir-fried with chili and spring onion, served with fragrant rice and stir-fried kalian.
Jetstar does not use trolleys in the business class cabin, but there's no table setting as you might find on other business class products.
The entire meal, including a glass of the mysterious, but delicious, sauvignon blanc, was delivered to me on a tray.
The pork belly would have to be one of the nicest pork dishes I've had either in the air or on the ground and the chicken larb wrapped in the lettuce leaf was a great pallet cleanser.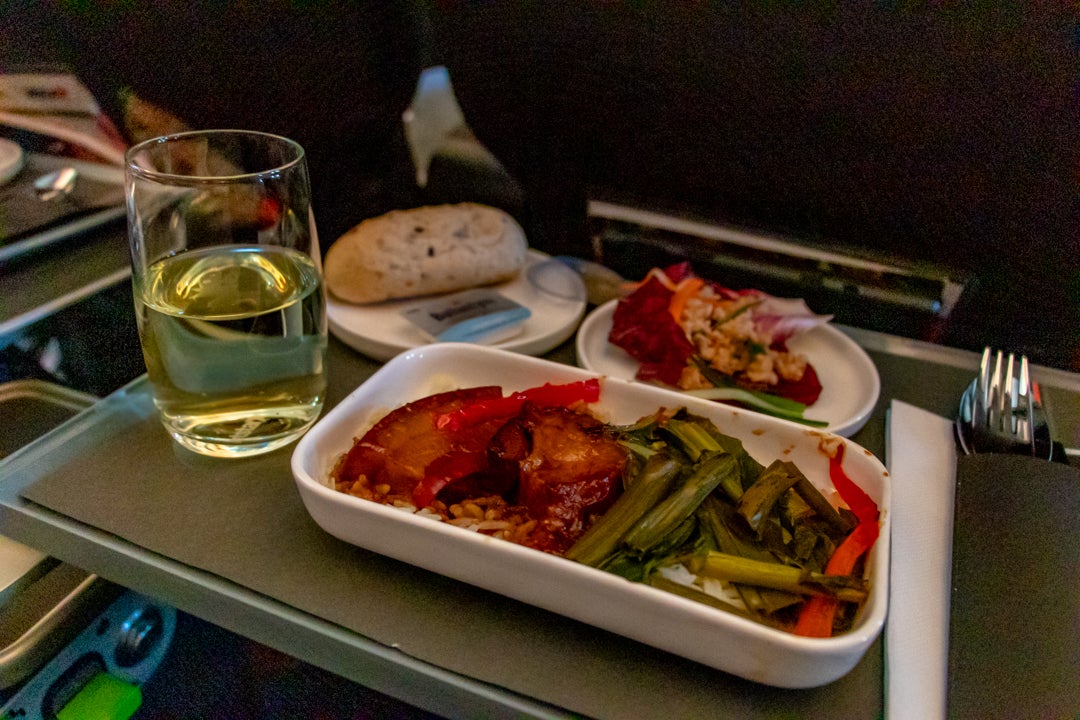 There other main options were:
Japanese Seven Spice Crusted Salmon Fillet
Pan Fried Spinach and Ricotta Gnocchi
All mains are also served with an oven-warmed mixed grain roll.
I'm not usually a big dessert eater, and will often skip this course while traveling. However for the purposes of this review I selected the Australian Cheese Plate that featured cheese from local farms across Australia served with dried apricots, grapes, and Falwasser crispbreads.
The other dessert option was:
White chocolate and caramel cheesecake
After the meal service concluded, the cabin was plunged into darkness. While there was a relatively even split of people who decided to get some shut-eye versus those staying awake, there were no further proactive drink refills and I had to buzz for service each time my glass needed topping up.
While visiting the bathroom, I asked 2 of the crew members in the galley if there was going to be another service before we landed in Denpasar and was told that there wasn't, so I requested a coffee that arrived at my seat promptly.
When the cabin lights came back on, I spoke with Kym, the Customer Service Manager on this flight, and mentioned how much I had enjoyed the sauvignon blanc and asked her if I could get a photo of it.
She didn't hesitate in bringing me the bottle so I could photograph it.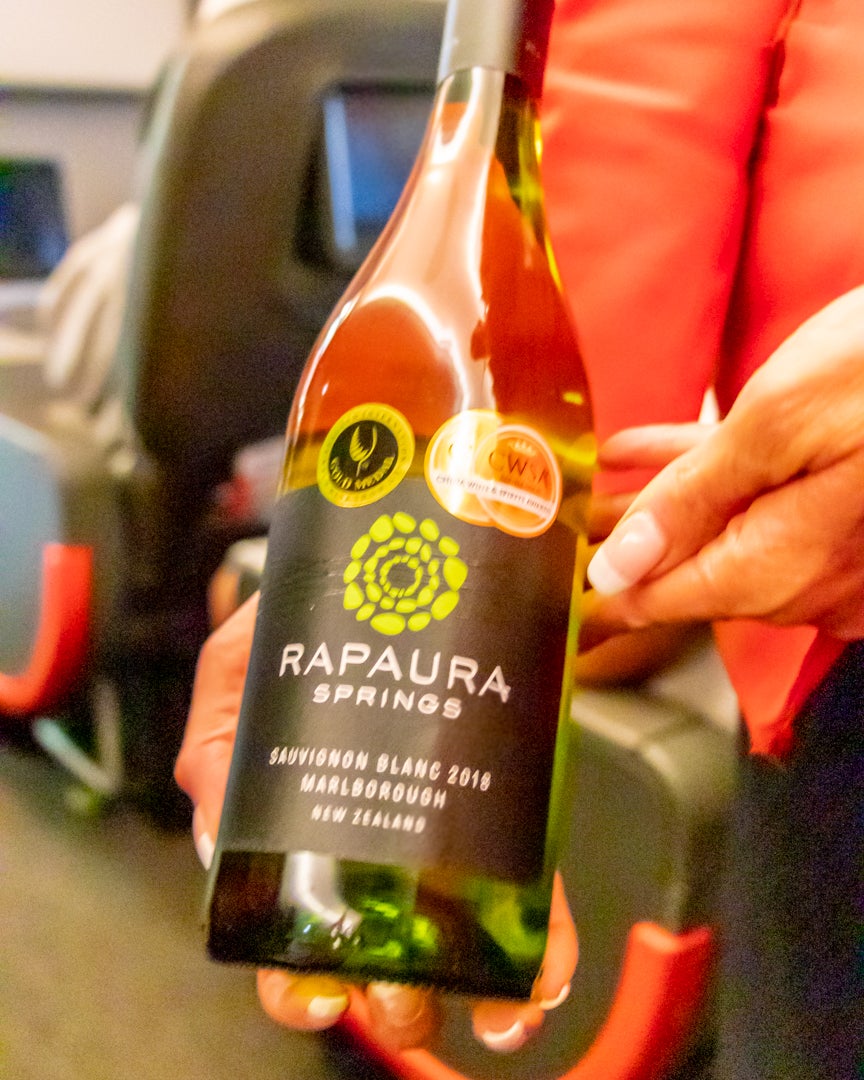 Turns out it was the award-winning 2016 Rapaura Spring sauvignon blanc from the Malborough region of New Zealand which retails between $10-20 on the ground.
Service
Whilst Jetstar has been operating business class on this aircraft for several years, the service on this flight felt like it was a new product for this particular crew.
It was the little things, like not receiving my post-take-off drink and a copy of the wine guide that I requested, getting my name wrong, and the lack of proactive service after dinner that all added up to detract from the overall experience.
Despite some of these small things not being perfect, the service was prompt and efficient. Each time I asked for a drink refill, it came quickly.
When I asked for a coffee towards the end of the flight, it was made promptly. The CSM on this flight, Kym, was incredibly personable and spent time speaking to each and every passenger in the business class cabin.
She was also accommodating and jovial when I asked her to pose with the bottle of wine.
Final Thoughts
With a flight time of just over 6 hours to Denpasar, and the cost quite reasonable, I would definitely recommend choosing Jetstar's business class product on the 787-8.
What you have to keep in mind at the end of the day is that Jetstar is a budget airline and while its business class product may never be as polished as some of the other premium carriers, it's definitely a welcome step up from economy and a great way to start your holiday in Bali.