Traveling with Kids During the Coronavirus (COVID-19) Crisis
The Coronavirus (COVID-19) pandemic has shaken the world, and especially the travel industry, to its core.
Things you may take for granted, like hopping on a plane to see family or even going to the local park with your children, are now activities that you need to think twice about doing — or are even prohibited from doing if you are or were in a state of quarantine, self-isolation, or social distancing.
For the time being, it certainly feels like COVID-19 will be a part of our lives for the foreseeable future. While (at the time of this writing) it is not recommended to travel if you don't need to, it is very likely that your travel habits will be forever changed when you are allowed to fly again.
For those of us with kids who had to cancel vacations and are anxiously waiting to board a plane again, here are some precautions to take for future travels.
Preparing for Travel
Once you have decided that it is safe for you and your family to travel, you can start preparing yourselves to be as healthy and sanitized as possible.
Since air travel involves a lot of potential close quarters with other travelers in terminals, security lines, lounges, and on airplanes, being prepared will be very important.
Talk to Your Kids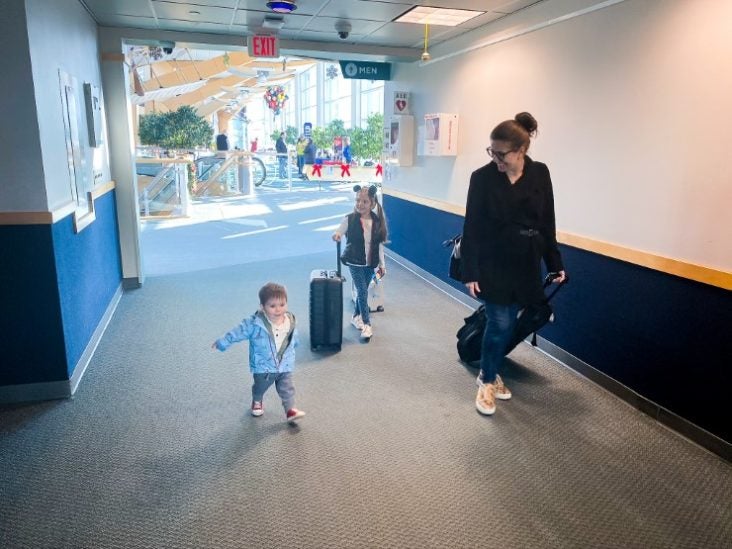 Many children probably have already heard of Coronavirus. It is the reason that they are all home from school but can't play with their friends, after all!
While they may be used to washing their hands more frequently and using hand sanitizer every time they leave the house, getting through an airport will present a new challenge for them.
Having them be extra vigilant about what they touch, how close they are standing to someone in line, and how often they need to be sanitizing, can be difficult to remember.
After all, if they are anything like us, they are probably pretty excited to be traveling again!
Hot Tip: The CDC has a guide for parents on how to talk to your kids about Coronavirus with facts for discussion.
Select Your Airline Seat Strategically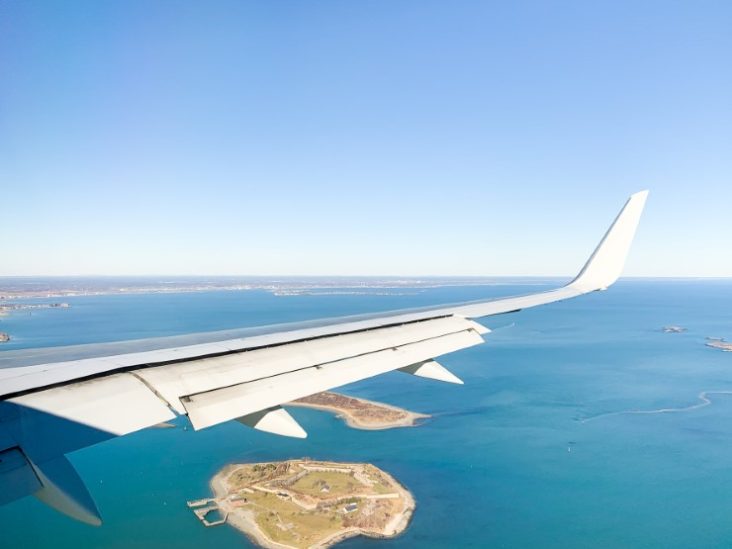 This should come at no surprise, but we take seat selection very seriously. Whether you are flying Southwest or ANA, you want to get the best seat for you and your family.
Depending on how large your family is, or if you want to split up, your seat options might be more limited than others.
But for the purpose of avoiding unnecessary exposure to other people, like passengers walking down the aisle or crews working, selecting a window seat will be your best option.
It is also worth noting that some airlines have been blocking out the middle seat so that passengers won't be sitting too close to each other. This is great for families as you will have more space to spread out and less chance to rub elbows with a stranger.
Hot Tip: Using SeatGuru to help you identify the best seats on your upcoming flights!
Pack a Thermometer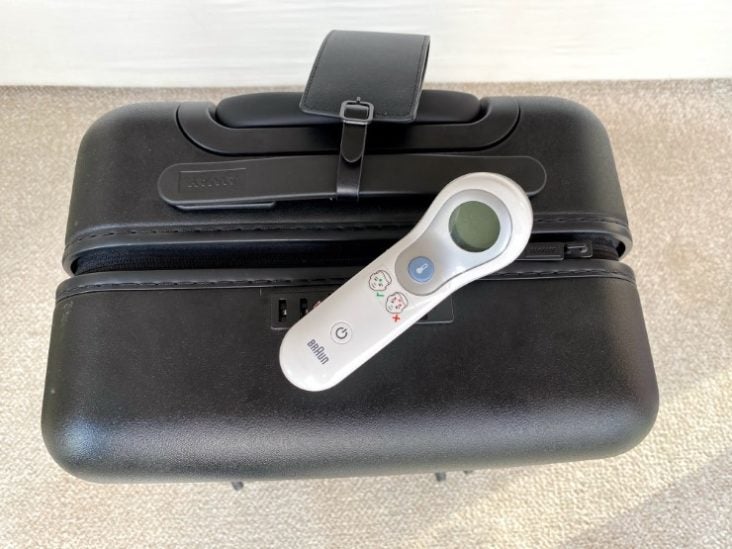 Many parents of young children already have this tool in their travel bag, but having a thermometer with you is probably a good idea nowadays.
Being able to quickly identify a fever could be the first step in reducing the exposure of a sick traveler to others.
Pack Reusable Water Bottles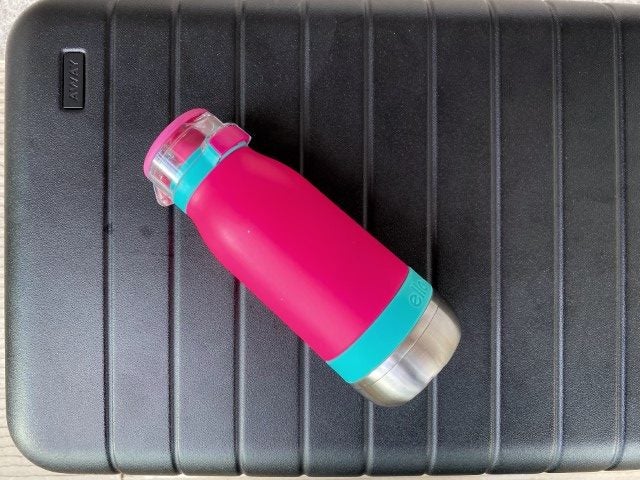 By bringing a reusable water bottle, not only are you saving money compared to buying water at the airport, but you are also reducing the amount of contact and exposure you have with other people by avoiding convenience stores in the airport.
Hot Tip: If you will be staying at a hotel with a gym, you can save even more money by refilling your water bottle there and avoid the expensive mini-bar in your room. 
Rinse With Saline Spray
If you have young kids that are prone to ear infections, you are no stranger to the magic of saline spray.
A couple of squirts up the nose can help keep your little ones stay free of mucus, which will keep them less susceptible to getting sick.
It is best to spray regularly for a week or 2 before your flight and then continue to do so during the trip in order to keep their little noses and throats clear.
Of course, if you have questions about ear infections and traveling, it is best to speak with your doctor.
Eat Healthily
One of the best ways to avoid getting sick when traveling is to keep your immune system in tip-top shape! And one of the best ways to do that is to make sure that you and your family are eating healthy.
Having regular, nutritious meals full of fruits, vegetables, lean protein, and whole grains can go a long way towards keeping you healthy meals on a regular basis.
Nobody wants to get sick right before they travel!
Check-In Online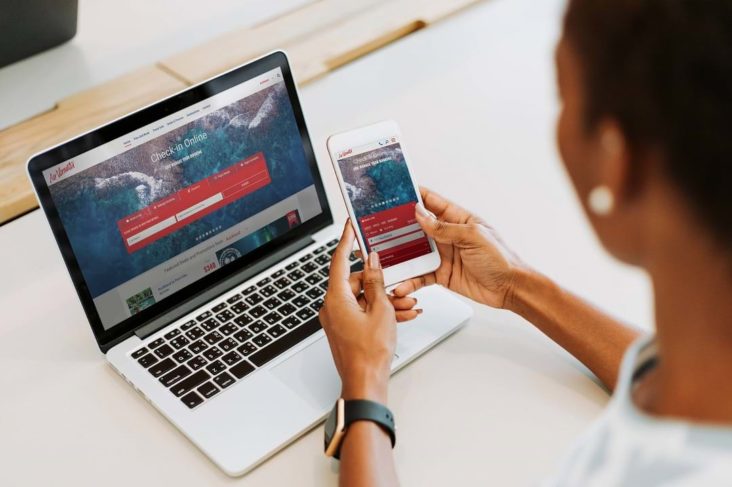 Reducing contact with other people will be a big part of avoiding Coronavirus (and most other germs and viruses).
By checking in online, you can reduce your contact with at least the check-in agent and also save time at the airport.
If you are checking a bag, you will likely be able to use an automated kiosk to print out a bag tag and then drop it off at the counter.
Just be sure to sanitize your hands after using the touchscreen.
Eat Before You Get to the Airport and Pack Snacks
Making sure that your family is well-fed before you get to the airport will not only save you money, but you will also be avoiding extra interaction with airport workers who are often more exposed to germs than we are.
If you are going to bring your own snacks, just be sure to pack sanitizing wipes and clean the surface you will be eating on at the airport.
Bottom Line: The CDC has the most reputable and up-to-date information about traveling within, to, and from the United States. You can visit CDC.gov for frequently asked questions about identifying symptoms of the coronavirus, caring for someone with the coronavirus, finding out if you or a loved one are at high risk of getting the disease, and much more.
During Travel
Fit as Much Stuff Into the TSA Bins as Possible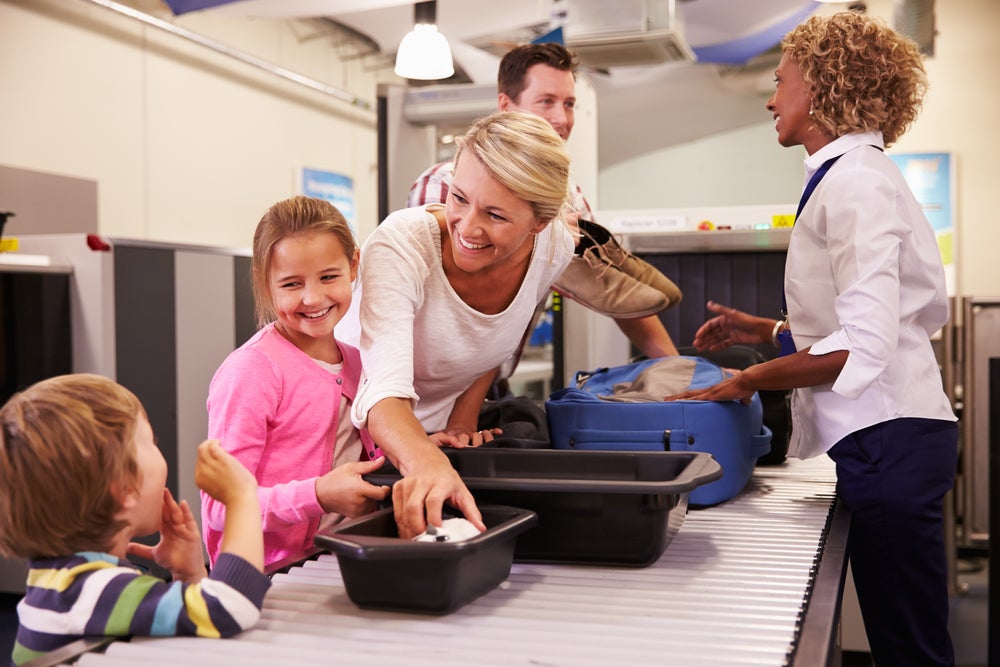 As you are going through the security and X-Ray line, do your best to try and keep all of your items in as few bins as possible.
These bins are touched by thousands of hands per day and are stuffed with dirty shoes, phones, and anything else people shove in their pockets.
By using fewer bins, you are avoiding more germs — which is good practice regardless of if there is a pandemic or not!
This is also a good opportunity for parents with small children to stuff as much junk and toys as possible into their diaper bags.
Fill Your Reusable Water Bottle
Once you are in the airport and through security, you should find a water bottle filling station and fill up your family's water bottles.
Many airports nowadays offer stations made for this purpose (as opposed to a normal water fountain for drinking) that will allow you to fill up your bottle without touching any spouts, which is much more sanitary.
By making sure that you and your family have their own water, you can all reduce extra exposure by avoiding drink service onboard your flight.
Use the Airport Restroom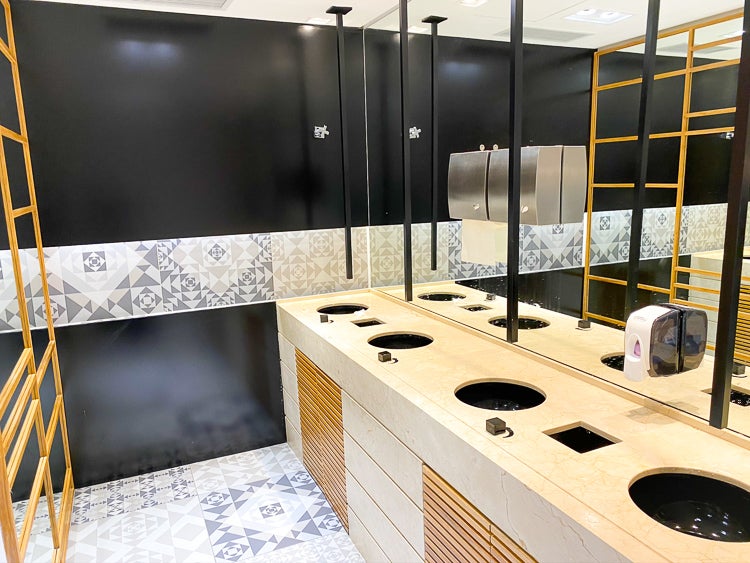 Many parents already use this technique, but it is always a good idea to use the restroom at the airport before boarding the plane.
It only takes the seatbelt sign to go on, followed by a long taxi, for kids to realize that they need to use the bathroom!
Airport bathrooms are also much larger (and often cleaner), which means you have less chance of rubbing up against things that may be covered in germs.
Try to Stay 6 Feet Away From People
This is one of the most common tips we are hearing throughout this pandemic, and it all comes back to social distancing. By staying away from people, you will have less chance of giving or getting a virus. Simple, right?
Well, when traveling through an airport and then sitting on a plane with 200 other people, it may not be so easy.
If possible, give some space to those around you, especially when in line for security or boarding.
If you have lounge access, you may find it less crowded than the main terminal.
Avoid Stores
We touched on this when talking about bringing your own water and snacks, but if you can avoid extra, unnecessary contact with people, why not do so?
By avoiding stores, you can avoid more confined areas and reduce your interaction and money exchange with other people.
Simple, small things like this may end up making a big difference.
Wear a Mask If You Are Sick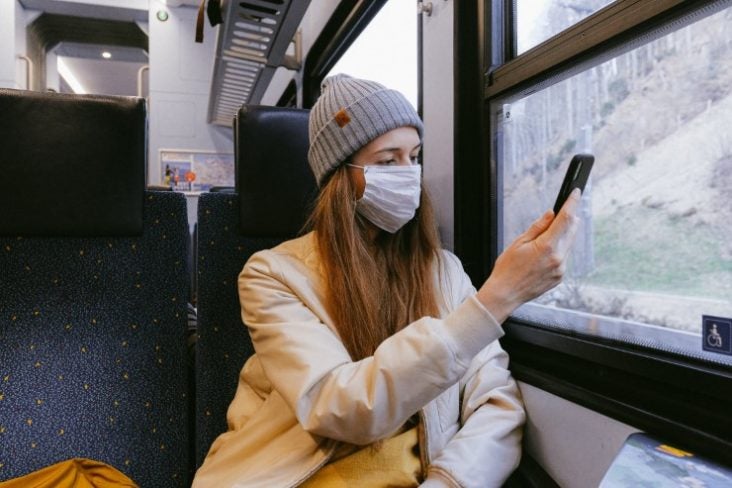 This is a big one — if you are sick and you must travel, please wear a mask.
If you can't self-isolate, wearing a mask is your best option at preventing the spread of germs and viruses to other people.
Wash Your Hands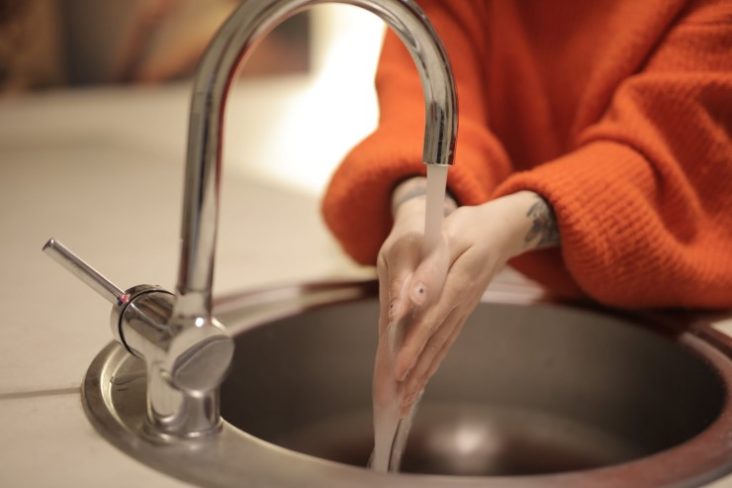 A basic tip that is already ingrained in all of us by now — wash your hands with soap and water for at least 20 seconds.
Using hand sanitizer is a good, quick option if you aren't near a sink, but washing your hands thoroughly with soap and warm water is the best way to truly clean your hands from germs.
Have Your Boarding Pass on Your Phone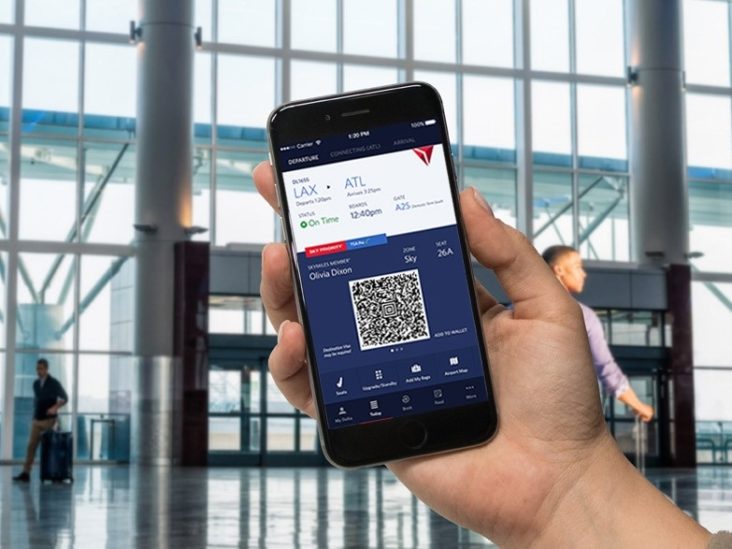 By having your boarding pass on your phone, you can avoid exchanging the paper ticket back and forth with the gate agent. For a family of 4, that is a lot of back-and-forth germs.
If you have your family's boarding all on a single phone, that is only 1 surface to worry about.
Just be sure to disinfect your screen regularly.
Wipe Everything Down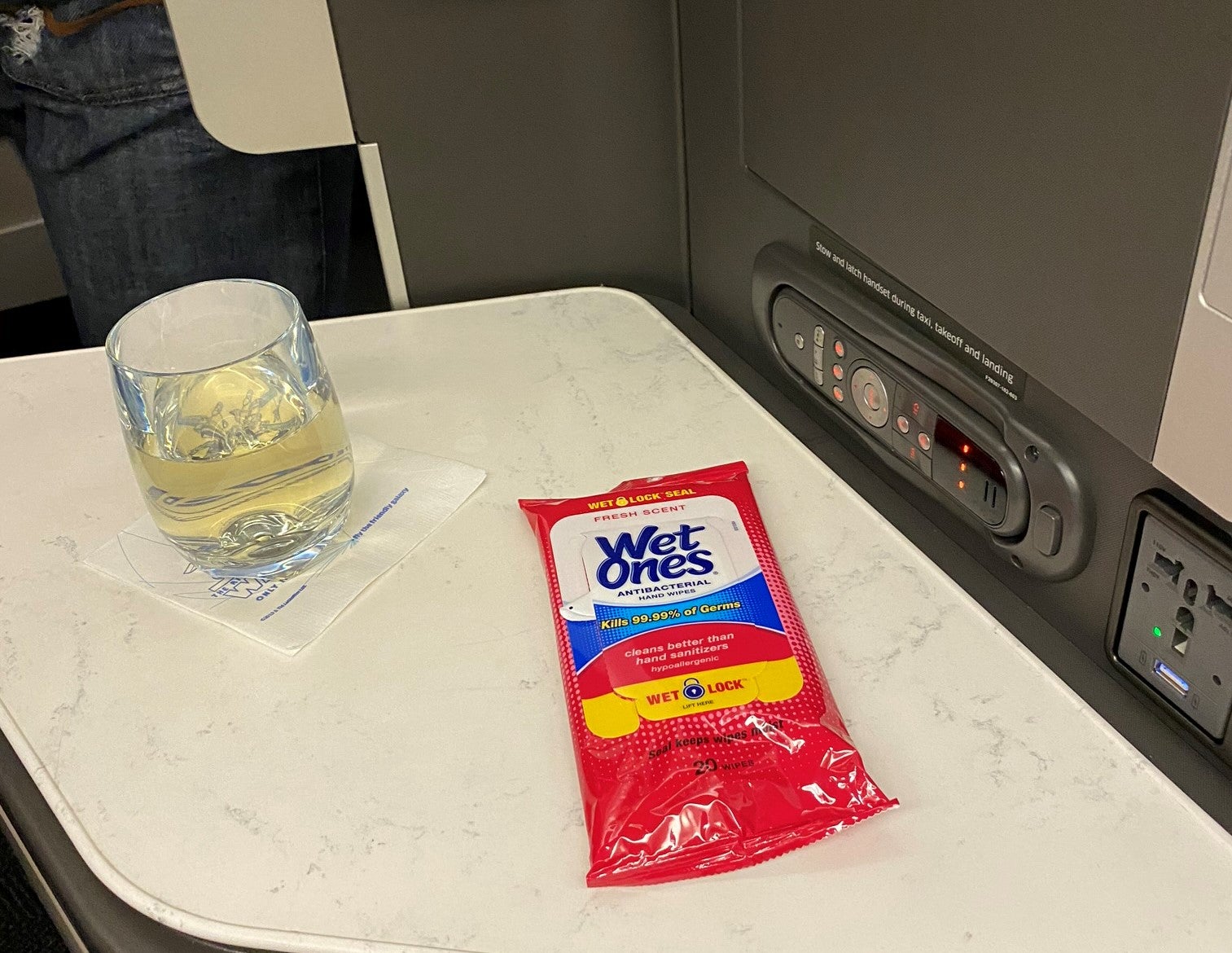 Once you have boarded, it is time to get to work. Bust out your disinfecting wipes and start scrubbing every surface you can reach from your seat.
That includes:
IFE buttons
IFE screens
Seats (cushions, backs, headrests, etc.)
Armrests
Windows
Walls
Seatback pockets
Tray tables
Air vents
Call buttons
If you can see and reach it, wipe it!
This is also a great activity for kids and will keep them from touching everything before you get to their seats.
Cover Your Seat
If you want to be extra cautious, consider investing in a reusable or disposable seat cover.
There are plenty of options available on Amazon, but basically, these will cover the big parts of the seat and sometimes the tray table as well so that you can be sure that your surface is clean.
Returning From Travel
Okay, you traveled with your family, everyone had a great time, you feel good, but you are still concerned.
Perhaps you traveled to a country on the CDC's warning list or maybe someone coughed near you at the airport. Here is what you should consider doing.
Prepare to Self-Isolate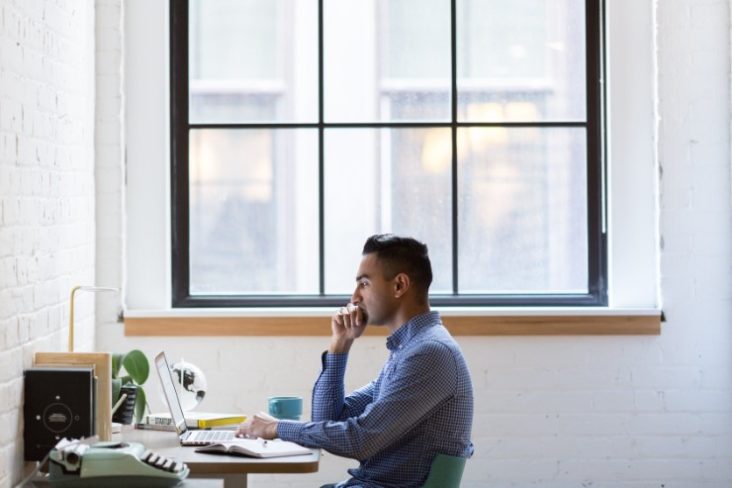 If you are returning home from a location with ongoing transmission of COVID-19, expect to be screened at the airport and then prepare to stay at home for 14 days.
Even if you don't have symptoms of Coronavirus, but it is possible that you were exposed to someone who was sick with it, you should self-isolate until it is clear that you have not picked up the virus.
You should monitor your health and maintain distance with others at home.
Monitor Your Health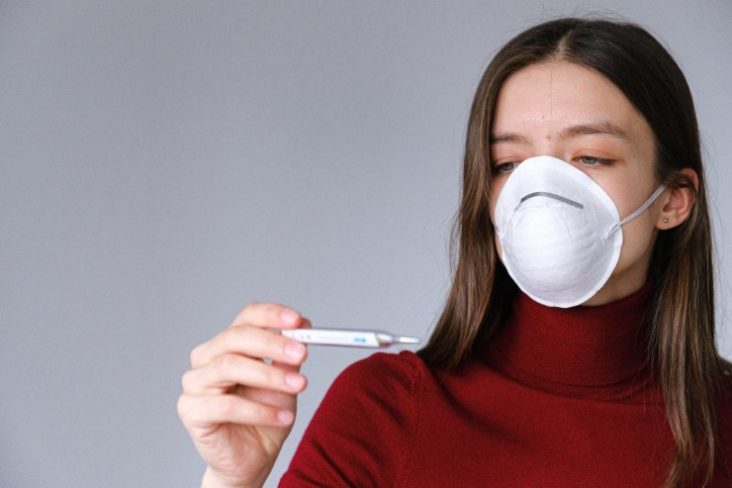 Whether you are self-isolating or not, you should be monitoring your health.
Common symptoms of COVID-19 are cough, fever, and difficulty breathing. If you are experiencing any of these symptoms, you should see a doctor immediately.
Wash Hands Thoroughly
This tip will not be going away any time soon — washing your hand thoroughly with soap and water is one of the best ways to prevent yourself from getting sick from any virus.
Again, alcohol gel is a great option in-between hand washing opportunities, but there is nothing better than soap and water.
Practice Proper Cough and Sneeze Etiquette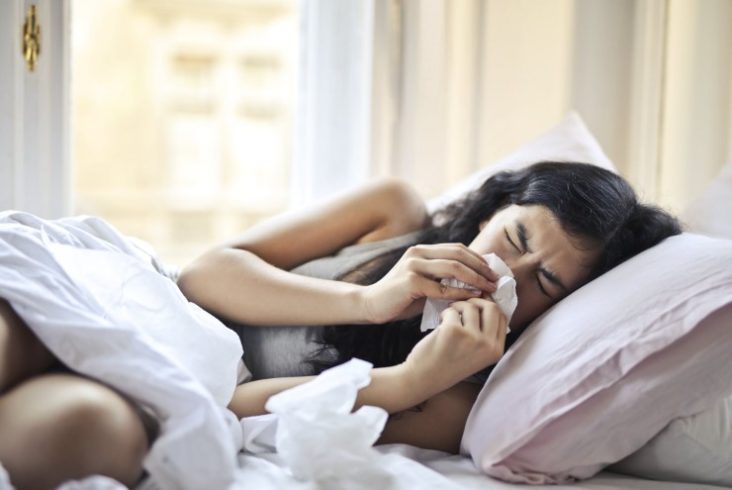 Even though you may be feeling completely fine, you may still be a carrier of the virus, and in turn, may be able to spread it to others as well.
By practicing proper cough and sneeze etiquette, you can reduce the chances of spreading the virus to others.
To do this, cover your mouth and nose with the inside of your arm as opposed to your hand. If you use a tissue, dispose of it as soon as possible and wash your hands afterward.
Final Thoughts
Coronavirus has likely forever changed the way we travel.
Many of you will now always be traveling with what may feel like a professional sterilizing kit, compared to how you were traveling last year.
Once it is again safe for you to travel, taking these extra precautions can go a long way to avoiding the spread of the coronavirus or other viruses in general.
The thing that is most important is the safety and health of your loved ones and those around you. Once you get the green light to start traveling again, you will be doing so with these extra precautions in mind.
Safe travels!
---
All information and content provided by Upgraded Points is intended as general information and for educational purposes only, and should not be interpreted as medical advice or legal advice. For more information, see our Medical & Legal Disclaimers.