How to Use American AAdvantage Dining to Earn More Miles
There are some cheap and easy ways to earn additional frequent flyer miles that you probably don't know about. One of the best ones is through airline and hotel dining programs!
This article walks you through American Airlines' AAdvantage Dining program by explaining how it works and what types of bonuses you can earn.
How to Join/Log in & Basics of Using Program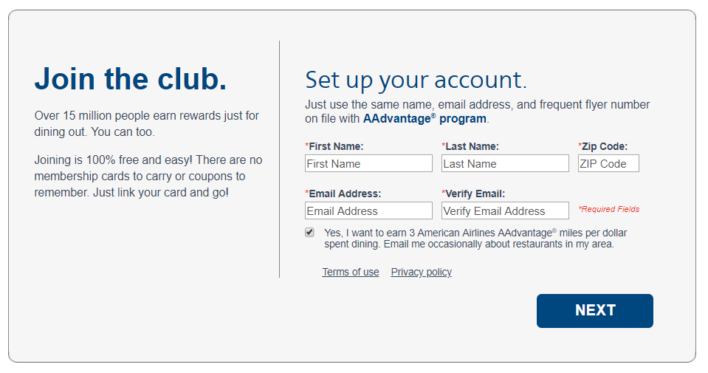 AAdvantage Dining requires that you enter some basic information about yourself in order to join the program (name, email, and zip code). On the next page, you'll set up a username, choose a password, and enter your AAdvantage number and address.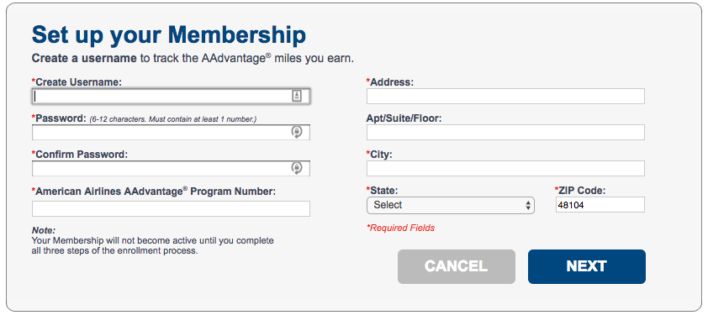 You will also need to link a credit card to your profile when you join, but don't worry…this card won't be charged for anything! Using the linked card at participating restaurants is how you earn bonus points.
Whenever you shop at an applicable restaurant with your linked credit card, you'll earn bonus points based on the cost of your meal, including tax and tip! You don't have to do anything after eating to earn the bonus.
Different membership tiers earn different amounts of bonus miles. You'll earn 5 AAdvantage miles per dollar spent as a VIP member, 3 AAdvantage miles per dollar spent as an online member, and 1 AAdvantage mile per dollar spent as a member.
In order to be promoted from a member to an online member, you only need to opt in to receive emails. To be upgraded to a VIP member, you need to have at least 12 transactions in the program within a calendar year.
Intro Bonuses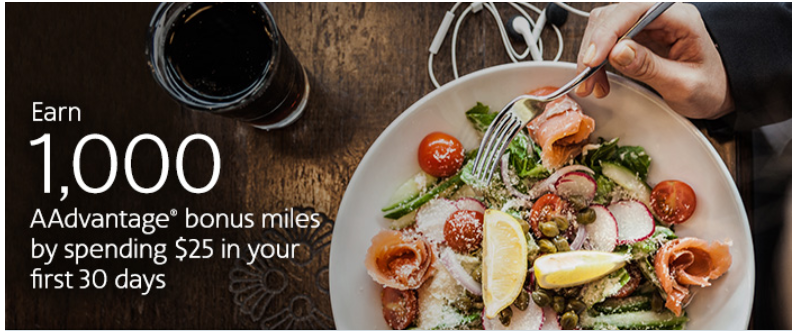 Sometimes it's possible to earn an introductory sign-up bonus when you join AAdvantage Dining. These vary from time to time, but will usually require completing certain tasks.
The bonus available at the time of writing is 1,000 extra AAdvantage miles after visiting a participating restaurant and spending at least $25 within 30 days of joining the program. You would also need to review your experience within 30 days to earn the bonus miles.
This is the typical introductory bonus for AA Dining, but it may go higher on rare occasions.
Example Restaurants
As mentioned above, you'll earn the same ratio of bonus miles to dollars spent wherever you dine, as long as the restaurant you choose participates in the program. The number of miles earned only depends on your membership level.
We're only mentioning a few example restaurants here because available restaurants are different depending on which city you're dining in… they can very widely and may have hundreds of different options.
When I searched for restaurants near Miami, FL, the dining portal listed 305 participating restaurants within 30 miles. Most restaurants were smaller local establishments rather than chains.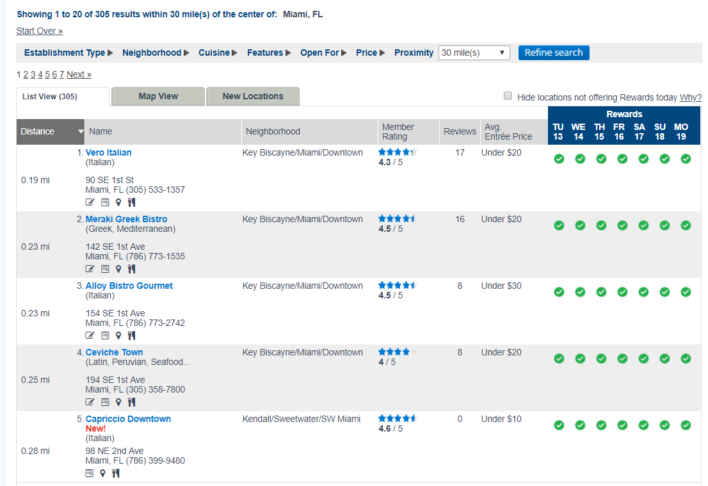 In addition to local restaurants, there were a few chain options. It's important to note each restaurant's address since not all locations of a chain will be participating!
Using Credit Cards To Earn Extra Points
The miles you earn through AA Dining are in addition to any credit card points you will earn by paying for your meal.
If you are mainly interested in American Airlines miles, you should consider getting an AAdvantage credit card to earn American Airlines miles directly.
Below I have listed the credit cards that earn American Airlines miles. Note that most of these typically come with a sign-up bonus, but they do have an annual fee. However, the benefits usually outweigh the costs if you use them smartly!
You could also look at other credit cards that offer dining as a bonus category if you'd like to earn points/miles outside of the AAdvantage program.
Need more? We've covered AA credit cards extensively, uncovering the major differences between all the cards.
Marriott Credit Cards
You can earn Marriott points and transfer those to American Airlines at a transfer rate of 3:1. Plus, for every 60,000 Marriott points that you transfer, you'll receive an extra 5,000 Aadvantage miles bonus.
Recommended Marriott Cards
Marriott Bonvoy Boundless™ Credit Card - Earn 75,000 bonus points after spending $3,000 on purchases in the first 3 months from account opening. Get automatic silver elite status each account anniversary year; and a free night award (valued up to 35,000 points) every year after account anniversary.
Marriott Bonvoy Bold™ Credit Card - Earn 30,000 bonus points when you spend $1,000 on purchases in the first 3 months of account opening. Earn 3X points per $1 at participating Marriott Bonvoy hotels. A solid card for Marriott loyalists looking for a no-annual-fee card offering Marriott Bonvoy Silver Elite status.
Marriott Bonvoy Business™ American Express® Card - earn 75,000 bonus points when you spend $3,000 on purchases in the first 3 months of account opening. A solid card for business owners who will get complimentary Marriott Bonvoy silver elite status. Annual fee is $125. Terms Apply. For rates and fees of the Bonvoy Business Card, click here.
Marriott Bonvoy Brilliant™ American Express® Card - earn 75,000 bonus points when you spend $3,000 on purchases in the first 3 months of account opening. Earn 6x per $1 at participating Marriott Bonvoy hotels plus 3x at U.S. restaurants and flights booked directly with airlines. Annual fee is $450. Terms Apply. For rates and fees of the Bonvoy Brilliant card, click here.
Final Thoughts
By joining American Airlines' AAdvantage Dining program and linking a credit card or 2, you can easily increase the number of miles you are earning in a fast, easy, and convenient way. It's possible to earn 100k miles in just a few months if you're disciplined!
Once you've got the 100K AAdvantage miles, you should definitely read up on the best ways to use them! 
Even more, you could use the AAdvantage shopping program to really maximize rewards.
Try to use the dining portal with a credit card that earns a category bonus on restaurants or a card that earns American Airlines miles so you can book your next award reservation using AA miles even sooner!