Chase Credit Journey – How to Check Your Credit Score for Free
One of the most important things to know before opening a credit card or applying for a loan is your credit score.
You can check your credit score for free each year from all 3 credit bureaus (Experian, TransUnion, and Equifax), but it's good to know your number outside of those times.
If your score is good, then you're all set. If it's lower than you would like, then you can work to improve your credit score before you take out a new line of credit.
In this article, here is another way to keep tabs on your score: Chase Credit Journey.
What Is Chase Credit Journey?
Chase Credit Journey is a free tool offered by Chase that allows you to keep track of your credit score and credit report activity.
The score you see on Chase Credit Journey is the VantageScore 3.0 by TransUnion. This is different than a FICO score, but it's just as valid. There are different providers, so your score can sometimes vary between the 3 different credit bureaus — that's totally normal and nothing to worry about.
Hot Tip: To view your full detailed credit report, go to annualcreditreport.com. You can view your report for free once a year from all 3 credit bureaus. It's a good idea to check your full report each year even if you are using Chase Credit Journey.
How Do I Use Chase Credit Journey?
To access Chase Credit Journey, you'll need to log in to your Chase online account. Then scroll down until you see Your credit score on the left side. Click on Free score, updated weekly to access Chase Credit Journey.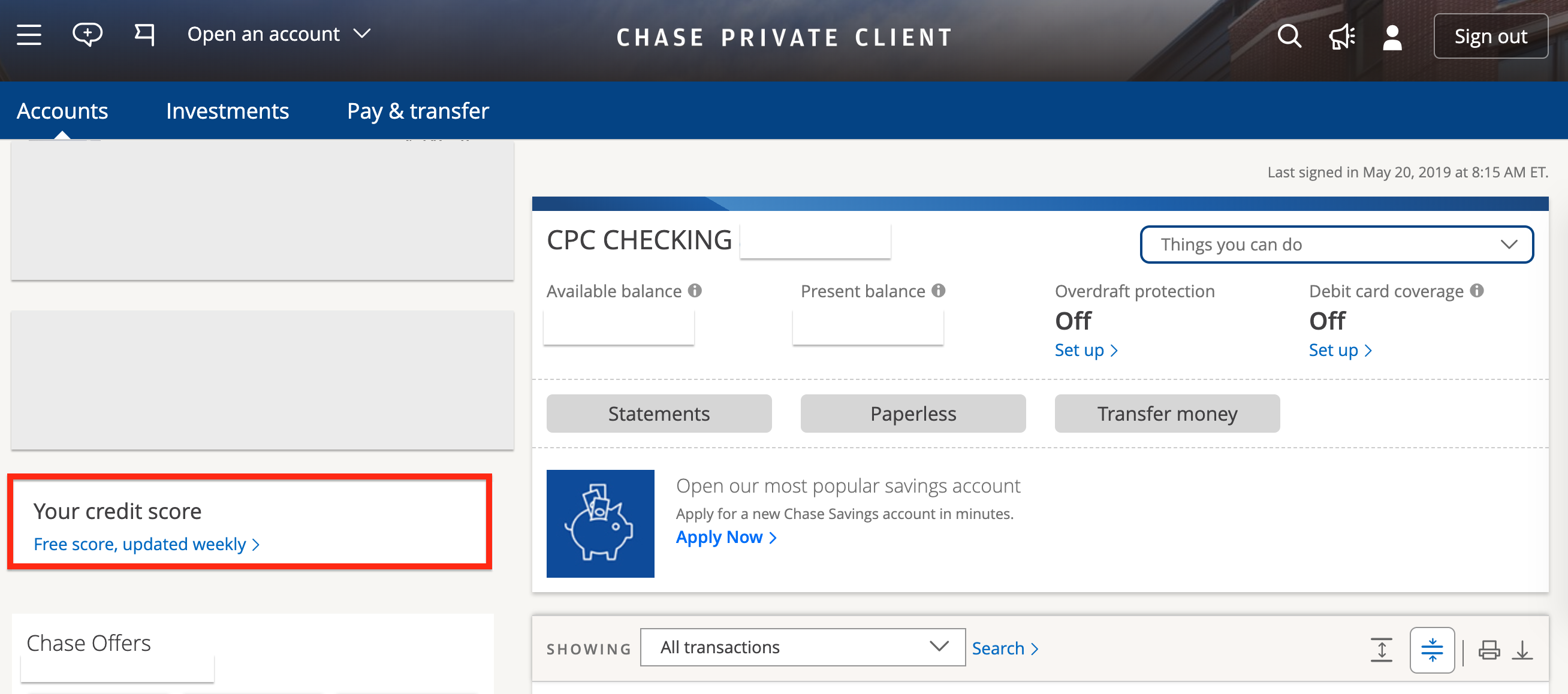 Your Chase Credit Journey home page will prominently display your credit score; the page view defaults to your current credit score. However, if you would like to see the history of your score, click on Over Time to see a graph of the previous 6 months' activity.

Hot Tip: Using Chase Credit Journey will not affect your credit score.
How Your Credit Score Works
Your Chase Credit Journey credit score is based on 6 main criteria:
Late payments (or payment history): Late payments are usually reported if they are more than 30 days past due, and will be visible on your credit report for 7-10 years.
Age of oldest account: It's good to show that you have been responsible with credit for a long time, so your oldest account's age is important. If you close your oldest account, your score could be negatively impacted.
Credit usage (or credit utilization ratio): This is the percent of your current credit limit that you are using. You want a low number here — it shows creditors that you don't max out your available credit. Generally, a ratio under 30% is considered good.
Hard inquiries: This is the number of requests that have been made to see your credit history in the previous 2 years. These are often called "hard pulls," and they happen when you open a new credit card or apply for a loan. An inquiry number of 6 or more is considered poor, but this factor doesn't have a huge impact on your score.
Total balance: This is the current amount owed over all lines of credit. While it's good to keep this number low, keep in mind this includes things like mortgages, so it can be high without having a negative effect on your credit score.
Available credit: This is the current amount of unused credit you have over all of your accounts. The number itself isn't as important as the utilization ratio. You may have a lot of available credit, but as long as you aren't using it all, it's OK for this number to be big.
These 6 factors all combine to determine your credit score, which will range between 300-850.
If you look under your credit score, you will see these 6 factors listed for your account. If you want to see anything in more detail, click on Explore factor details.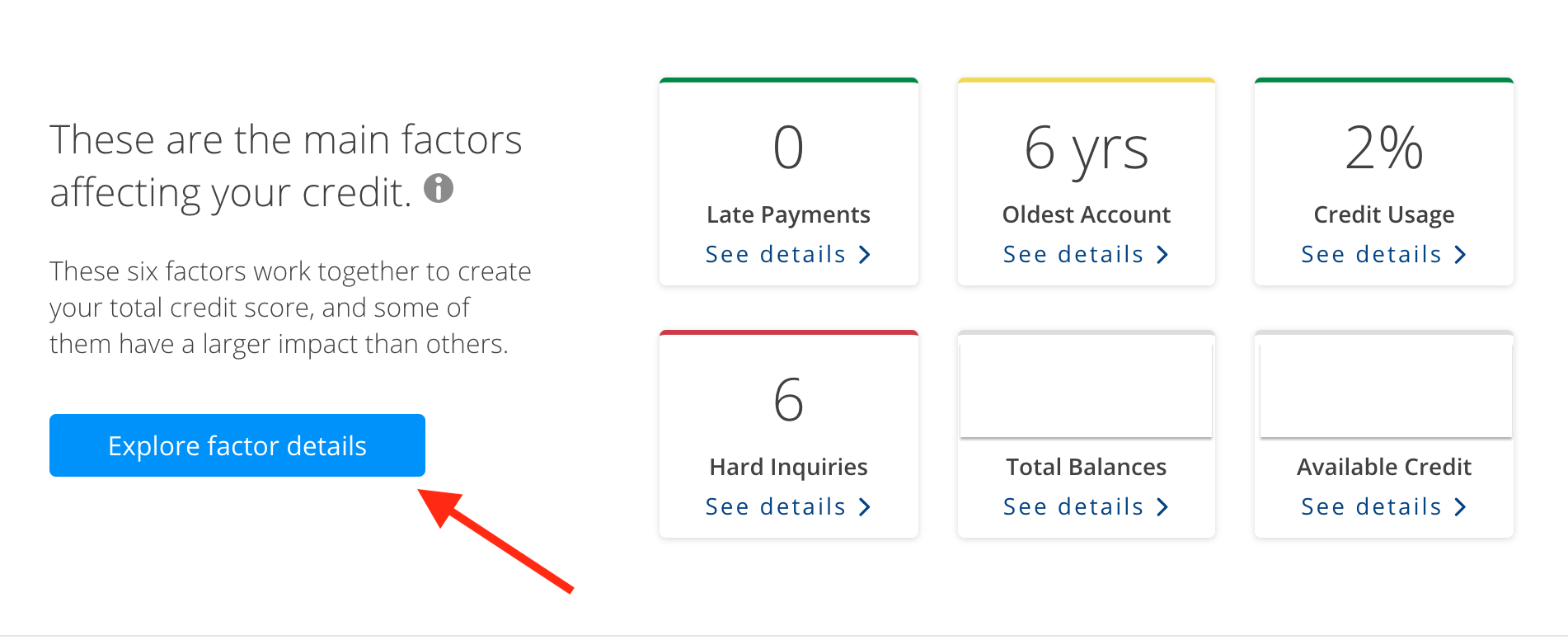 From here you will be able to see the details relating to your credit score. Choose a different aspect of your score to view by using the menu at the left.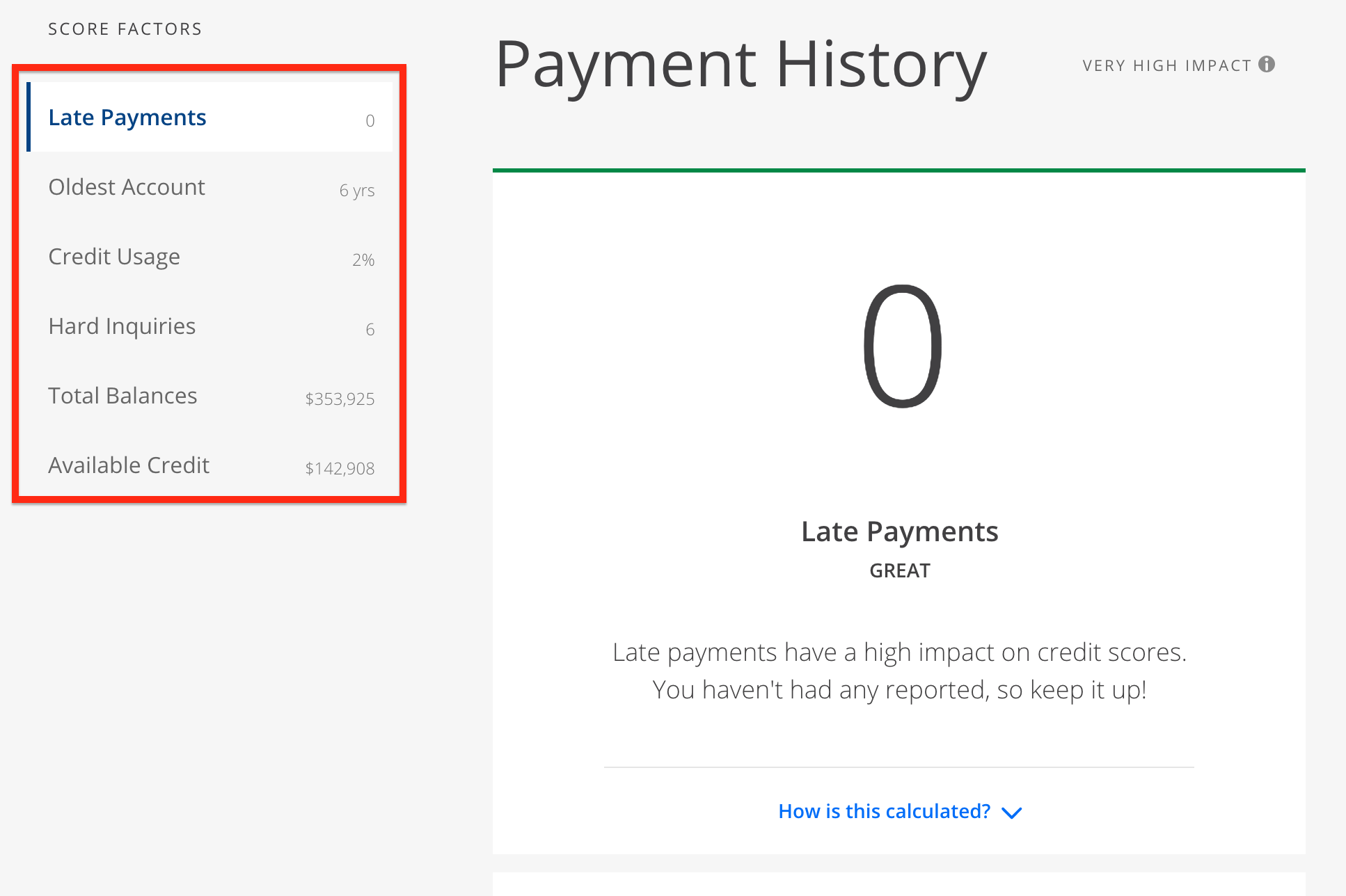 Score Simulator
The Chase Credit Journey score simulator is a fun tool to help you understand how different factors affect your credit score. To use this tool, just scroll down the main page and click on Try our Score Simulator.
You will see your current score along with your simulated score. To adjust the simulated score, use the factors listed below the scores. Adjust the factors to see how your credit will be affected by things like opening a new credit card, making a late payment, or taking out a mortgage.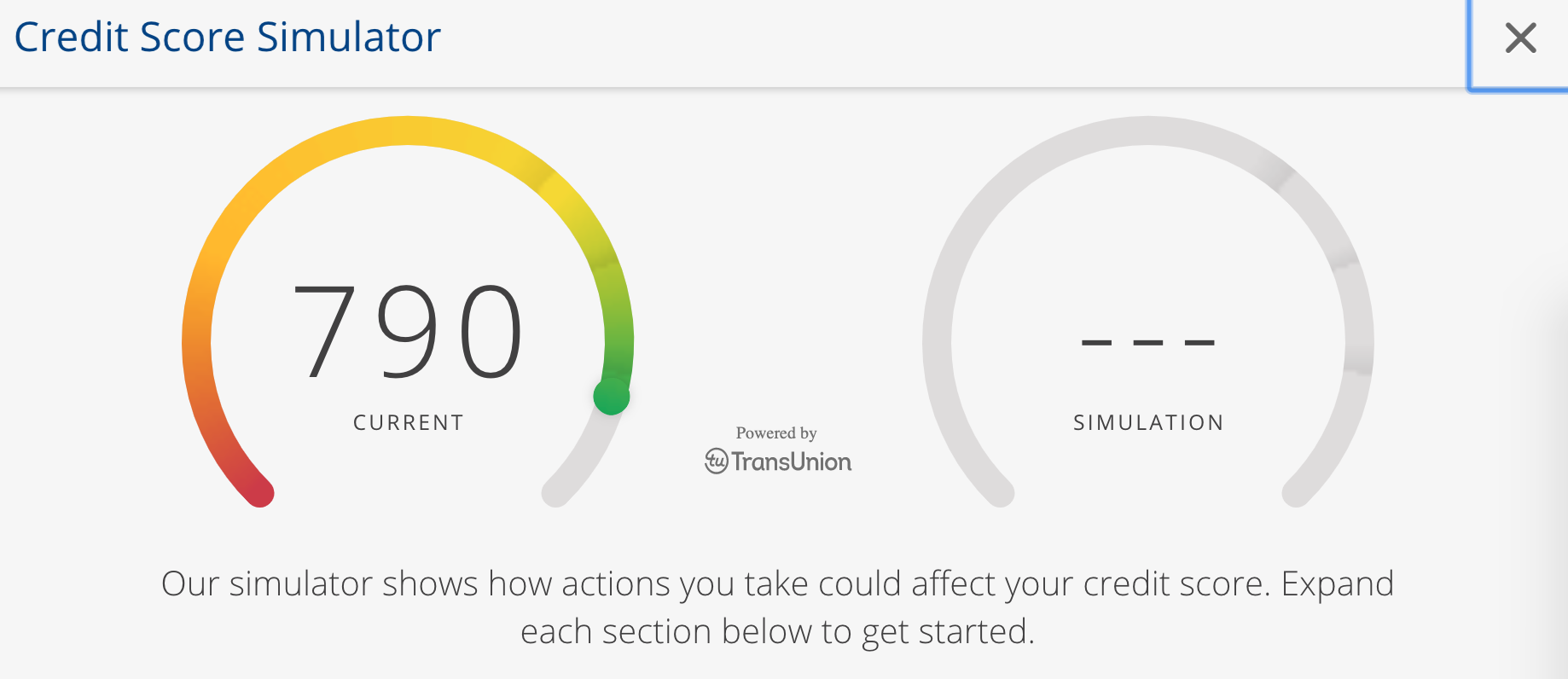 How to Access Chase Credit Journey Through the Mobile App
You can sign on to Chase Credit Journey through the Chase mobile app if you have a personal account. Those who only have business accounts won't be able to access Credit Journey through the Chase mobile app.
First, log on to your Chase account through the mobile app. Then scroll down and click on Credit score. From here you will be able to see your credit score and all of the other features of Chase Credit Journey.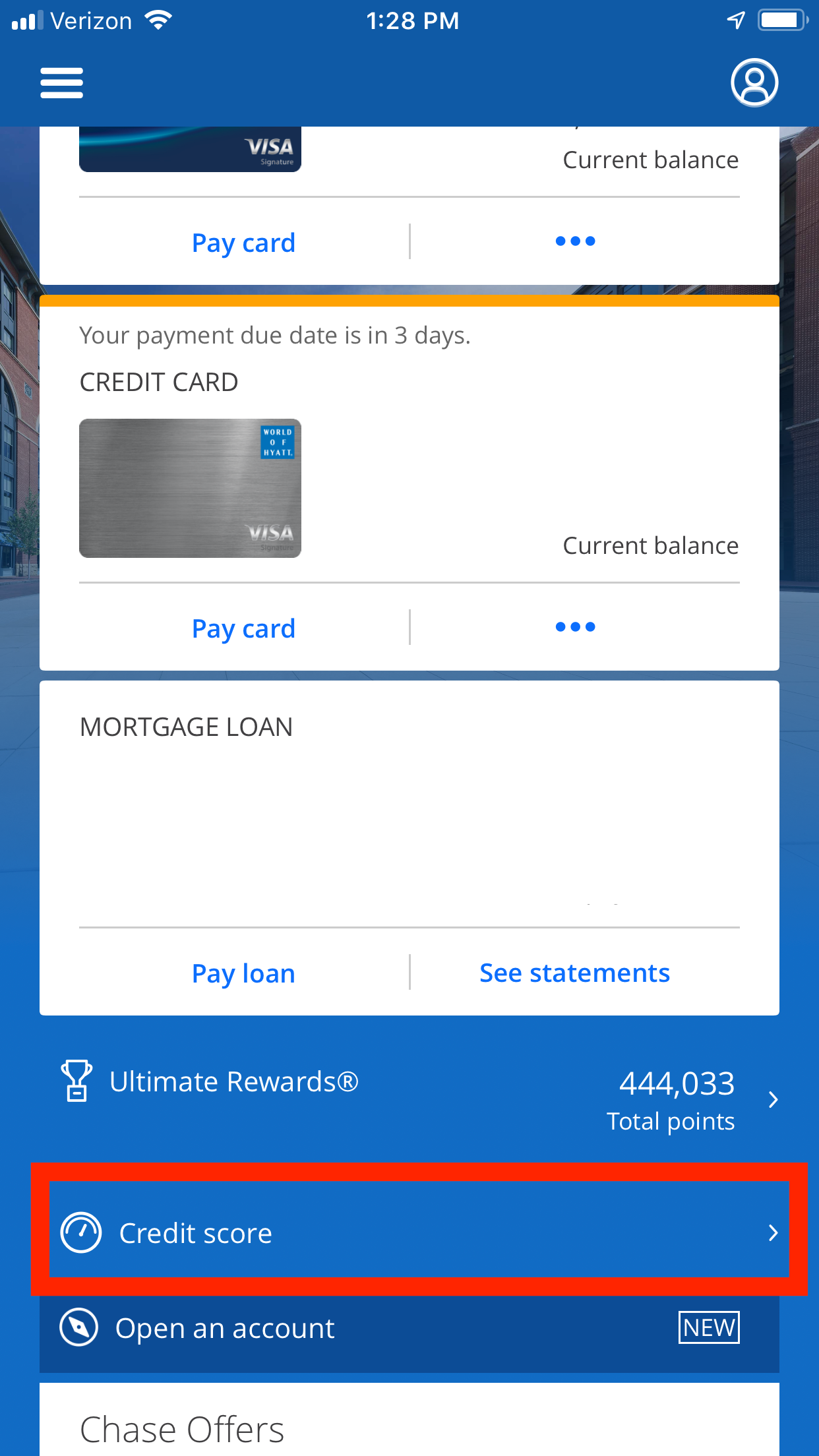 Hot Tip: You can use Chase Credit Journey even if you aren't a current Chase customer. If you don't have a Chase account, use this link to access and sign up for Chase Credit Journey.
The Benefits of a Good Credit Score
Having a good credit score comes with lots of benefits. A good or excellent score is generally considered to be 700 or above.
750 or higher – Excellent
700 to 749 – Good
650 to 699 – Fair
600 to 649 – Poor
Below 600 – Extremely Poor
A good or excellent credit score will help you get the best terms and lowest interest rates on loans, plus it allows you to apply for premium credit cards with outstanding benefits.
Hot Tip: If your credit score isn't great, you might want to look at credit card options for people with bad credit. Using one of these cards wisely is a great way to help build your credit history and raise your score.
The Best Credit Cards for Good or Excellent Credit Scores
Having great credit allows you to apply for some awesome credit cards with premium benefits. Here are some of our favorites:
Credit Card
Benefits & Info
The Platinum Card® from American Express

Earn 60,000 Membership Rewards® points after spending $5,000 in your first 3 months, worth at least $600.
5X Membership Rewards® points on flights booked directly with airlines or with American Express Travel.
Access 1,200+ airport lounges across 130 countries, including the amazing Centurion lounges. (This is our favorite lounge access card.)
Up to $200 Uber Savings Annually.
Up to $200 Airline Fee Credit.
Up to $100 fee credit for Global Entry or TSA PreCheck.
Up to $100 annual Saks Fifth Avenue credit
See how the experts get $3,000+ in value from the card, every year.
Annual Fee: $550
Terms Apply
For rates and fees of the Amex Platinum Card, click here.

➡️ Did you know that you may qualify for a higher offer? See which personalized offers you're eligible for by checking the CardMatch tool. There's no hard pull on your credit to check your offers.
Credit Card
Benefits & Info
Chase Sapphire Reserve®



Earn 50,000 bonus points after you spend $4,000 on purchases in the first 3 months from account opening.
That's $750 toward travel when you redeem through Chase Ultimate Rewards®
$300 Annual Travel Credit as reimbursement for travel purchases charged to your card each account anniversary year
3X points on travel immediately after earning your $300 travel credit. 3X points on dining at restaurants.
Access to 1,000+ airport lounges worldwide after an easy, one-time enrollment in Priority Pass™ Select
Annual Fee: $550 annual fee
Bottom Line: Having a great credit score opens the door to premium credit cards with excellent benefits. Check out our guide to credit cards for good to excellent credit scores for more options.
Final Thoughts
Good credit is important to have if you are going to open a credit card or apply for a loan. The first step in having good credit is knowing what your credit score is.
Chase Credit Journey is a free tool you can access through your Chase account that allows you to check your credit score at any time. You'll be able to get a quick overview of your credit health and see ways to make improvements.
The great thing about Chase Credit Journey is that it doesn't make a hard pull on your credit, so you can check it often without affecting your score.
---
Featured Image Credit: Shutterstock.com