The Costco Anywhere Visa® Card Review – Everything You Need To Know
Wholesale clubs like Costco are a go-to for many when it comes to groceries, household items, prescriptions, electronics, and even car tires.
If you're a Costco shopper, you've probably heard about their store-branded credit card. You might be wondering: Is it worth it? Can it really save me more money?
We aim to answer that question with this review as we cover the Costco Anywhere Visa® Card by Citi in depth. We'll outline its benefits, cash rewards program, fees, drawbacks, and more.
By the end of the article, you should have a good idea if this is a smart card for your wallet.
The Costco Anywhere Visa Card at a Glance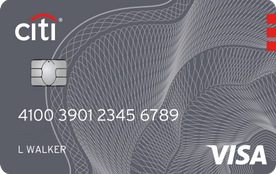 Costco Anywhere Visa
Main benefits
⛽ 4% cash-back on gas (limits apply)
🍽 3% cash-back on dining
✈ 3% cash-back on travel
🛒 2% cash-back at Costco and Costco.com


🛍 1% cash-back on all other purchases

Annual fee
$0 (Costco membership required)
APR
15.24% (variable)
The Costco Anywhere Visa card is a cash-back credit card issued by Citibank. In addition, there is the Costco Anywhere Visa® Business Card by Citi for those interested in a business version of the card.
While the annual fee is technically $0, cardholders must have a valid Costco membership to apply. A basic annual Costco membership is $60. Cardholders must keep their Costco membership open and in good standing to earn benefits and redeem rewards.
Once you receive your Costco Anywhere Visa, it can be used in place of your membership card, so you don't have to carry around 2 different cards when you shop.
Costco Cash Rewards (Benefits In Depth)

The benefits of the Costco Anywhere Visa card are great for a cash-back card. The tiered bonus categories highlight everyday purchases where some cardholders may allocate a majority of their yearly spend, including gas, restaurant, travel, and Costco purchases.
The primary cardholder may add authorized users to the card. Authorized users are eligible to earn Costco Cash Rewards, which are added to the rewards total of the primary cardholder.
Gas
Cardholders receive 4% cash-back on up to $7,000 in gas purchases for the year. After you reach the $7k threshold, cardholders earn 1% cash-back on all additional gas purchases for that year.
Hot Tip: The 4% cash-back on gas does not apply to fuel purchased at superstores, supermarkets, convenience stores and warehouse clubs other than Costco. Additionally, it does not apply to fuel used for non-automobile purposes. (You'll only receive 1% for these purchases)
Dining and Travel 
Cardholders will receive 3% cash-back on dining and travel purchases.
Dining rewards include purchases made at restaurants, cafes, lounges, fast food restaurants, and bars. Similar to the fuel exception, the 3% cash-back does not apply to dining at locations within grocery stores, department stores, supercenters, or other wholesale clubs. You'll only get 1% at those establishments.
Travel rewards apply to all eligible travel purchases worldwide (without any foreign transaction fees!), which includes airfare, hotels, car rentals, cruise lines, travel agencies, and Costco Travel.
Costco and Costco.com Purchases
For frequent Costco shoppers, a big perk of this card is the 2% cash-back on all Costco and Costco.com purchases. This is a nice benefit compared to the Sam's Club credit card, which doesn't reward its cardholders with any type of bonus for spending at Sam's Club or Walmart.
All Additional Purchases
Costco Anywhere Visa cardholders will receive 1% cash-back on all additional purchases where Visa is accepted.
Bonuses
At times, the rewards program may offer bonuses and special offers, such as an increased cash-back rate when you make specific purchases.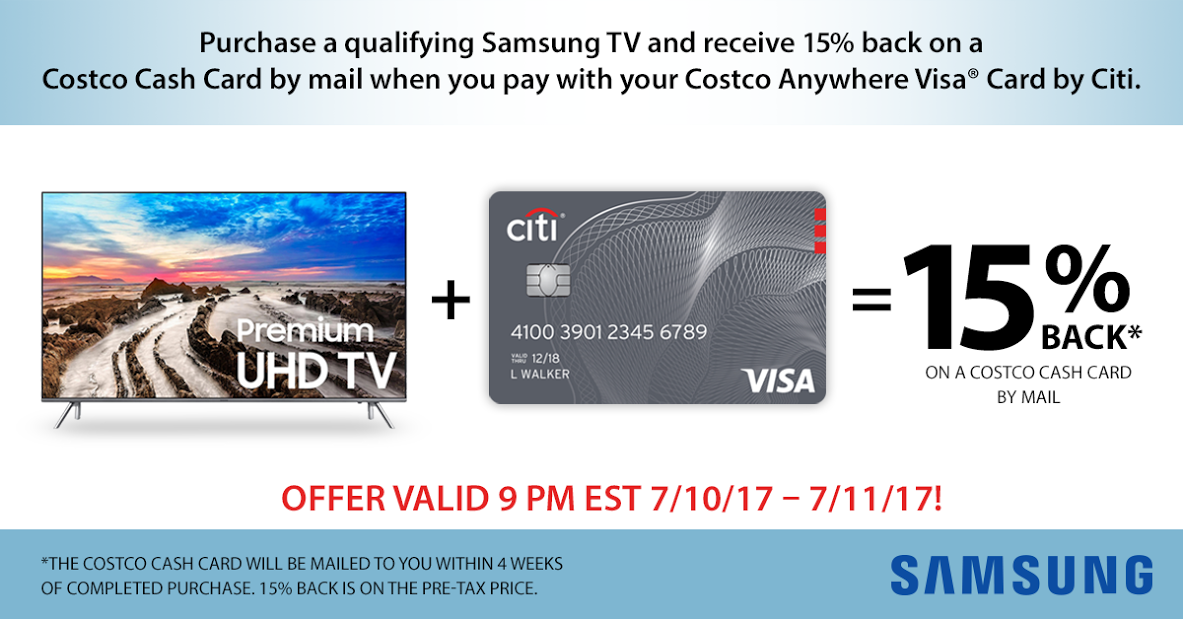 In the past, special bonuses have included offers such as the above on Samsung TVs and an offer for $100 off a set of 4 Michelin tires.
Redeeming Your Cash Rewards
Costco Cash Rewards are paid out annually, not monthly like most other credit cards.
Cardholders earn rewards from January through December each calendar year (regardless of the month in which they open the card). Rewards are then distributed in the form of a single reward certificate the following February once the billing statement closes. Rewards certificates are available for redemption through December 31 of that same year. 
If you're enrolled in paperless statements, you will receive the certificate via email separately. It will not be attached to your online statement. If you are not enrolled in paperless statements, you can find the certificate on the last page of your February billing statement when you receive it in the mail.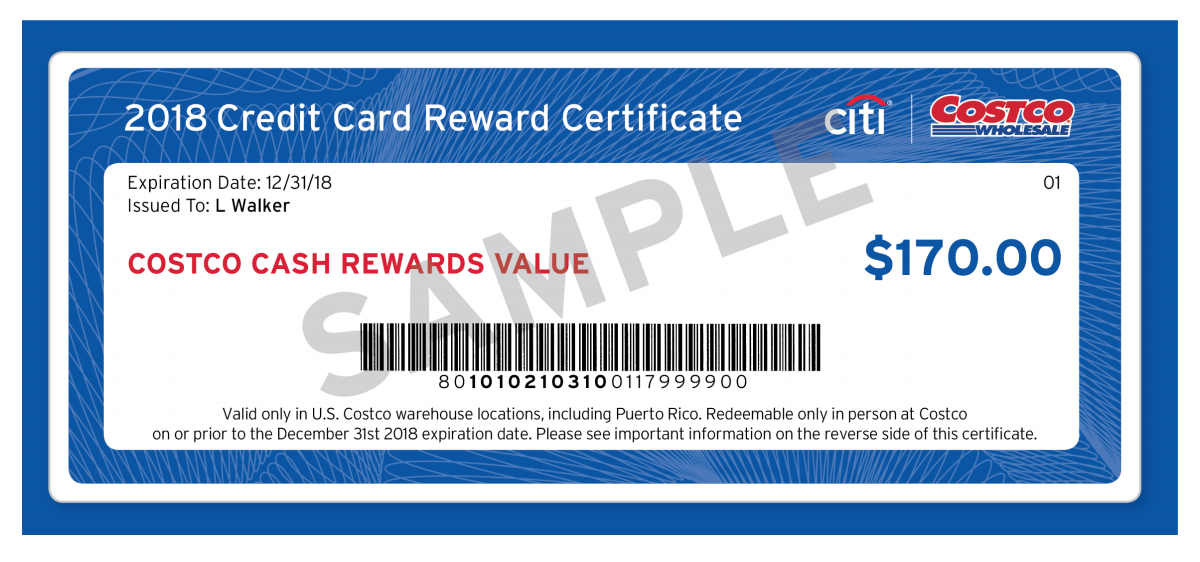 Cardholders may utilize the certificate for cash-back or Costco merchandise. Cardholders have the option of redeeming a portion for merchandise and receiving the remaining balance in cash at the register upon check-out.
You must redeem the certificate in person at a Costco store. It is not available in the form of a statement credit, available to redeem online, or open to redeem with Costco Travel.
The certificate will be issued to the primary cardholder, but you may authorize someone else to redeem the certificate if necessary.
Hot Tip: Cardholders must maintain an open Costco membership to redeem cash-back rewards. If your Costco membership closes before you redeem your certificate, you forfeit your hard earned rewards. 
See our Online Account Management section below for information on how to view your rewards online throughout the year.
Additional Costco Credit Card Features
There are several benefits of the Costco Anywhere Visa Card, most of which apply due to its connection with Citi Bank.
💱 No foreign transaction fees
🗓 Extended warranty
🕵️‍♂️ Damage and theft purchase protection
🚗 Worldwide car rental insurance
🆘 Travel and emergency assistance
🚧 Roadside assistance dispatch service
🎤 Citi Entertainment℠
💸 $0 liability on unauthorized charges
🔐 Citi® Quick Lock
📱 Citi® Mobile App
You can read more about the specific details of these benefits here.
Fees and Drawbacks of the Card
Fees
As with any card, the Costco Anywhere Visa by Citi Bank comes with fees.
| | |
| --- | --- |
| | Costco Anywhere Visa Card |
| Annual fee |  $0 (Costco membership required) |
| Purchase APR | 15.24% variable |
| Balance transfer APR | 15.24% variable |
| Balance transfer fee | $5 or 3% of the amount of each transfer (whichever is greater) |
| Cash advance APR | 25.24% variable |
| Cash advance fee |  $10 or 5% of the amount of each transfer (whichever is greater) |
| Penalty APR | Up to 29.99% (variable), based on credit­worthiness |
| Minimum interest charge | $0.50 |
| Foreign transaction fee | None |
The best way to avoid unnecessary fees is to always be a responsible cardholder. 
Pay off your balance in full, each month. If you can't pay off your balance completely, pay at least the minimum, and pay as much as you can to carry as small a balance as possible.
The purchase APR for this card is about average, likely because the card is generally issued to individuals with good-to-excellent overall credit. You'll see much higher APR fees on other store-branded credit cards, especially those issued by Synchrony Bank. If a low-APR card is important to you, there are many 0% APR credit cards with up to 18-month introductory periods.
Hot Tip: The penalty APR for this card is extremely high: a whopping 29.99%. The penalty APR can be applied to your account if you make a late payment, or make a returned payment. The penalty APR applies on top late or returned payment fees.
Additional Drawbacks
While this card is generally a great cash-back card, there are other potential drawbacks to consider:
You must be a Costco member
Rewards can only be redeemed once per year
Generally requires good-to-excellent credit for approval
Alternative Rewards Credit Cards (Recommended)
As this is a cash-back card, we recommend considering these other cards either instead of or in combination with the Costco Anywhere® Visa card.
CREDIT CARD
CARD INFO
Blue Cash Everyday® from American Express


Earn a $150 statement credit after you spend $1,000 in purchases on your new Card within the first 3 months.
3% cash-back at U.S. supermarkets (on up to $6,000 per year in purchases, then 1%).
Earn 2% cash-back at U.S. gas stations and select U.S. department stores. Earn 1% back on all other purchases.
Annual fee: $0
Low intro APR: 0% for 15 months on purchases from the date of account opening, then a variable rate, 13.99% to 23.99%.
For rates and fees of the Blue Cash Everyday® Card from American Express, please click here.


➡️ Did you know that you may qualify for a higher offer? See which personalized offers you're eligible for by checking the CardMatch tool. There's no pull on your credit to check your offers.
Applying for the Costco Anywhere Visa
There are a few different ways to apply for the Costco credit card:
In person at a Costco Wholesale store
Online
By phone: 1-800-970-3019
In general, most credit card review sites recommend a good-to-excellent credit score for card approval.
While your credit score is important, it's not the only factor in consideration for approval. If you have an average- to above-average score and you want this card, it may be worth applying.
Some applicants may be approved instantly for the card. However, some submissions may require further review, resulting in a 7-10 day waiting period.
Login and Online Account Management
Citi has a great PDF with instructions for activating and registering your Costco credit card. Once you've registered, you can use Citi's portal to log in and manage your account online.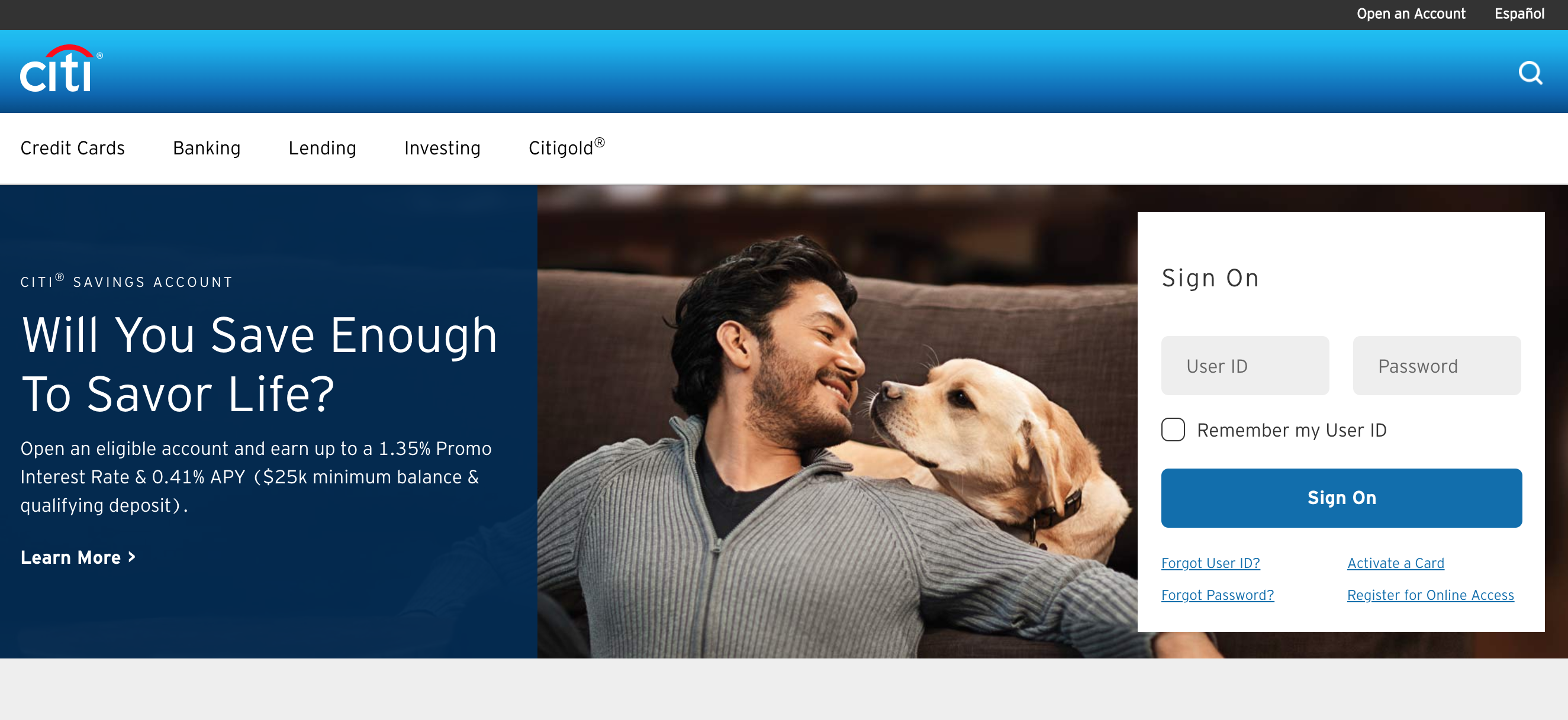 Online, cardholders can perform the following tasks:
View account activity
View billing statements
Set up paperless statements and e-communications
Make a payment
Final Thoughts
If you're a regular Costco shopper and enjoy earning cash-back on a variety of your everyday purchases, the Costco Anywhere Visa card could be a great card to add to your wallet. This is especially true if you're a responsible cardholder and don't have to worry about late fees and other charges.
Remember, with this card, cash-back rewards are only available to be redeemed once per calendar year. Plus, you must keep your Costco membership open and in good standing, or your ability to earn and redeem rewards is forfeited.
Bottom Line: The Costco Anywhere Visa is a good cash-back card when compared to others on the market.
However, if you're looking for a credit card that's more geared towards travel and maximizing your points and miles, this isn't the card for you.