Gemini Credit Card – Full Review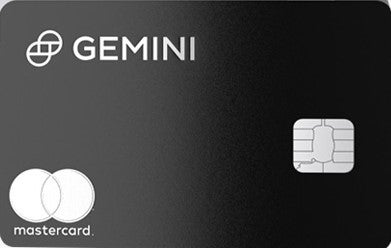 "Great choice for crypto investors!"
The Gemini card is a great option for crypto enthusiasts looking to add to their stack!
The information regarding the Gemini Credit Card was independently collected by Upgraded Points and not provided nor reviewed by the issuer. 
---
Fans of cryptocurrency trading platform Gemini can now add a branded credit card to their wallets that allows them to earn crypto rewards in 1 of 40+ supported assets — in real-time — each time they swipe their card.
The ability to earn instant rewards on a card with no annual fee not only separates the Gemini Credit Card™ from other crypto rewards cards, but from all other rewards cards as well.
Pros
3% back on dining purchases (on up to $6,000 in spend)
2% back on grocery purchases
1% back on all other purchases
Rewards are earned and deposited into your Gemini account in real-time
You can choose to earn your rewards in 1 of over 40+ supported assets on the Gemini platform
Cons
Your 3% back earnings on dining has a $6,000 limit
No welcome bonus
Gemini Credit Card
Welcome Bonus & Info

(Partner Content)

Up to 3% back on dining (u

p to $6,000 in annual spend, then 1% back)

, 2% back on groceries, 1% back on all other purchases
Rewards available in bitcoin, ether, or 40+ other cryptocurrencies
Change your crypto reward type at any time, as much as you like
Receive rewards when the transaction occurs
No annual fee
No foreign transaction fees
No exchange fees to acquire your rewards; fees may be incurred for selling or converting your crypto rewards
Your choice of a black, silver, or rose gold stainless-steel card, made from 75% recycled material

Card Categories:

Related Articles
The Ideal Cardholder
If you're someone who has invested in cryptocurrencies and already uses the Gemini platform, then its branded credit card is probably a perfect fit for you.
Similarly, if you want to earn crypto rewards passively without putting up any of your own funds, adding a crypto rewards card like the Gemini card to your wallet may be a great idea.
Choose Your Asset for Rewards
As you may know, there are many cryptocurrencies available on the market today. One great feature about the Gemini card is you can choose to receive rewards in any of the platform's 40+ assets. This means you aren't locked in to just earning Bitcoin — the most popular cryptocurrency — but can also choose to earn other top coins like Ethereum, Chain Link, Uniswap, Polygon, and much more. And, once you've selected an asset to earn for your rewards, you can always change to another whenever you'd like.
Earn Rewards in Real-Time
One standout feature of the Gemini card is that your crypto rewards are automatically and instantly deposited into your Gemini account as soon as you complete a purchase with your card.
Why is this beneficial? Well, virtually all other rewards cards require you to wait until the end of the month to receive your rewards. But even more importantly, having your rewards deposited into your account immediately allows you to benefit from any price appreciation that might take place over the coming days or weeks.
It also allows you to instantly trade with the rewards if you choose, or even deposit into your Gemini Earn account so you can immediately start earning interest on those rewards.
Great Card If
You already invest in crypto or want to passively invest in crypto
You spend a lot on dining and groceries
You already use the Gemini platform
Don't Get If
You have no interest in investing in or earning crypto
Card Fees
Annual Fee

Foreign Transaction Fees

$0

Interest Rates

12.99% to 23.99% Variable
How To Earn More Crypto
Dining Purchases
The most lucrative bonus category on the Gemini card is dining purchases, allowing you to earn 3% back in crypto, up to $6,000 in purchases each year. You'll want to make the Gemini card your go-to for dining purchases — especially if you can meet the spending threshold — so you can earn $180 worth of crypto every year!
Grocery Purchases
You'll also earn an uncapped 2% back on all grocery store purchases with the Gemini card. Given that groceries tend to represent a relatively large portion of one's budget, this presents a great opportunity for you to earn additional crypto on each grocery run.
All Other Purchases
Finally, you'll earn 1% back on all purchases outside of the above 2 categories. There are other cards out there that offer a better return than this on purchases in non-bonus categories, but if you're trying to earn as much crypto as possible, this is a great way to do so.
How To Use Your Crypto for Max Value
Gemini Earn
If you're planning to hold your rewards over the longer term as an investment, then a great option would be to move those rewards into your Gemini Earn account where you can receive up to 8.05% APY on your cryptocurrency, including stablecoins.
Since you earn rewards in real time, this allows them to go to work for you immediately by earning interest. Plus, your interest will be paid every single day, and you can redeem your assets at any time with no fees.
Trade
Gemini at its core is a trading platform, so you'll naturally have the ability to instantly trade your rewards for one of the many other supported assets on the Gemini platform if you so choose.
Sell
Lastly, you can always sell your rewards for cash anytime you need a little extra dough, or if the USD value of your rewards has appreciated considerably and you want to lock in some profits.
Alternative Cards to the Gemini Card
BlockFi Rewards Visa® Signature Credit Card
If you're fine with a crypto rewards card that only pays rewards in bitcoin, but also earns an unlimited 1.5% back on all purchases (instead of offering bonus categories), then the BlockFi Rewards card might a great option for you.
The no-annual-fee BlockFi Rewards card also offers perks like 0.25% back in bitcoin on all eligible trades on the BlockFi platform, and a 2% APY boost on stablecoin holdings, making it a great option for those who already have a BlockFi Interest Account.
If you aren't interested in crypto and are looking for a no-annual-fee card that earns flexible rewards, then perhaps the Freedom Unlimited card would suit you better. It earns 5% back on travel purchases through the Chase travel portal, 3% back on dining and drugstore purchases, and 1.5% back on all other purchases. Plus, your rewards can be redeemed as cash-back, travel, gift cards, and much more.
---
The information regarding the BlockFi Rewards Visa® Signature Credit Card and Chase Freedom Unlimited® was independently collected by Upgraded Points and not provided nor reviewed by the issuer. 
---
Featured Image Credit: Gemini
Frequently asked questions
Which cryptocurrencies can you earn with the Gemini card?
You can choose any of the 40+ supported assets on the Gemini platform in which to earn rewards, with the exception of GUSD (Gemini Dollars).
Once you choose an asset to earn your rewards in, can you change it?
Yes, you can change which asset you earn your rewards in whenever you want. There is no limit on the number of times you can change, or any sort of fees to do so.
Are crypto rewards taxable?
In most circumstances, the IRS considers credit card rewards, no matter how they are received, to be a rebate and not income. In which case, your crypto rewards should not be taxable. But if you were to sell your crypto rewards for a profit, then you would own any applicable capital gains taxes on that transaction. Be sure to contact your tax advisor for further information or details.
Do you need a Gemini account in order to get the Gemini card?
Yes, having a Gemini account is required as that is where your rewards will be deposited when you earn them.
Which is better, the Gemini card or the BlockFi Rewards card?
It depends what you're looking for! For starters, the rewards on the BlockFi Rewards card can only be paid in bitcoin, whereas with the Gemini card you can earn rewards in any of the platform's 40+ supported assets.
Further, the Gemini card offers 2 bonus categories for dining and grocery store purchases, while the BlockFi Rewards card offers a flat 1.5% back on all purchases.
So consider what types of rewards you want to earn, and which cards earn rates better fit your spending habits before making your final decision.
Travel prices are about to surge from pent-up demand.
Use this points strategy to lock in pennies-on-the-dollar pricing in 2021, all without being a frequent flyer...
How do I only pay $30 to go to Hawaii, $200 for business class to Asia or just $150 to Europe?
Discover the real-life strategies that anyone can use to enjoy limitless travel (even on a limited budget!)
Just sign up below and I'll send you the Limitless Travel Playbook instantly:
We respect your privacy. Please view our privacy policy here.