How to Find the 80k (Or Even 90k) Welcome Bonus Offer for the Delta Platinum Card [2021]
The Delta SkyMiles® Platinum American Express Card is tailor-made for Delta loyalists who fly frequently with the airline.
The welcome bonus for the Delta Platinum card can fluctuate. So if you're a frequent Delta flyer and are interested in the Delta Platinum card, here are a few ways to get the biggest bonus possible.
Benefits of the Amex Delta Platinum Card
First, it's best for you to determine if the Delta Platinum card is even a good fit for you and your travel needs. Here are some of the key benefits of the card to help you make that decision.
Credit Card
Benefits & Info

Delta SkyMiles® Platinum American Express Card


Learn More

(at Amex's secure site)

Limited Time Offer: Earn 90,000 Bonus Miles and 10,000 Medallion® Qualification Miles (MQMs) after you spend $3,000 in purchases on your new Card in your first 3 months. Offer expires 11/10/2021.
Earn up to 20,000 Medallion® Qualification Miles (MQMs) with Status Boost® per year. After you spend $25,000 in purchases on your Card in a calendar year, you can earn 10,000 MQMs two times per year, getting you closer to Medallion® Status. MQMs are used to determine Medallion® Status and are different than miles you earn toward flights.
Earn 3x Miles on Delta purchases and purchases made directly with hotels.
Earn 2x Miles at restaurants worldwide, including takeout and delivery and at U.S. supermarkets.
Earn 1x Miles on all other eligible purchases.
Receive a Domestic Main Cabin round-trip companion certificate each year upon renewal of your Card. *Payment of the government imposed taxes and fees of no more than $75 for roundtrip domestic flights (for itineraries with up to four flight segments) is required. Baggage charges and other restrictions apply. See terms and conditions for details.
Enjoy your first checked bag free on Delta flights.
Fee Credit for Global Entry or TSA Pre✓®.
Enjoy an exclusive rate of $39 per person per visit to enter the Delta Sky Club® for you and up to two guests when traveling on a Delta flight.
No Foreign Transaction Fees.
Good to Excellent Credit Recommended (670-840)
Annual Fee: $250
Terms Apply. For rates and fees of the Delta Platinum Card, click here.


$900

Must Reads: For more info on the Delta Platinum Card, see our thoughts on its benefits and our full review.
Other Key Benefits
Get your first checked bag free on all Delta-marketed and Delta-operated flights for you and up to 8 others on the same reservation (saving up to $60 per passenger, per trip).
Priority boarding in the Main Cabin 1 boarding group on flights operated by Delta and Delta Connection. This benefit also applies to up to 8 traveling companions on the same reservation.
Annual Companion Certificate: Receive a round-trip domestic companion ticket each year on your account anniversary.
20% back on inflight purchases when you use your card on items like food and beverages
$39 Delta Sky Club access, per person, for you and up to 2 other traveling guests.
How to Find the 80,000 or 90,000 Delta Platinum Card Bonus Offer
If the public offer isn't catching your eye, fortunately, there are ways you can increase your odds of finding a much higher bonus!
Increased Public Welcome Offer 
By far the easiest way to get a better welcome offer actually requires no work from you at all, and that is when American Express increases the public welcome offer — but it's usually only for a limited time and you have to obviously wait for them to launch this.
Utilizing CardMatch (easiest/fastest option)
CardMatch is offered through CreditCards.com, and allows you to see offers from CreditCards.com partners. Most of the larger U.S. banks publish their targeted offers to CardMatch, including American Express and Chase.
With CardMatch, depending on your eligibility, you could see offers up to 100,000 SkyMiles for the Delta Platinum card. Note that CardMatch offers are subject to change at any time.
CardMatch also shows you pre-qualified offers. These are cards that you'll likely be approved for. While this approval isn't guaranteed, a bank is more likely to approve you for the card than a standard person applying for the card through its website.
You will need to provide CardMatch with some personal information when using the tool:
Full Name
Address
Last 4 digits of your Social Security number
However, your credit will not get a hard pull when using CardMatch. This information is simply used to match you to an eligible offer.
For a step-by-step guide on how to get personalized offers through CardMatch, explore our detailed guide on CardMatch.
Targeted Offers at the Delta/American Express Website
If you're not familiar, Delta and American Express have a dedicated website where members can check for targeted offers on the co-branded Delta cards. Here's how to see if you have any targeted offers on your account.
Step 1: Sign Up for a Delta SkyMiles account
First, you'll need to set up a Delta SkyMiles account (if you don't already have 1), as you cannot check for targeted offers without an account.
To sign-up, visit the Delta SkyMiles enrollment website.
Step 2: Visit the Delta/Amex Website to See If You're Targeted for Any Increased Offers
Then, you'll want to head to the dedicated Delta/Amex website, which is very straightforward and easy to use. All you have to do is enter your Delta SkyMiles number and your last name to see if your account is targeted for any increased offers.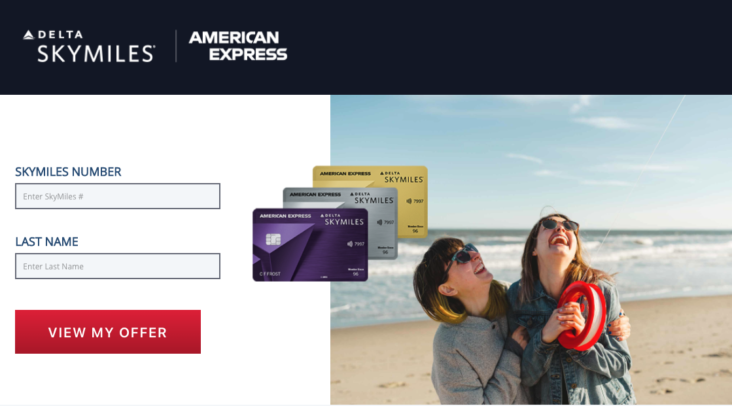 Step 3: Review Your Offers 
After you enter your SkyMiles number and last name, simply click View My Offer and the page will load any targeted offers that are linked to your account.
If, instead of loading offers, the page says Please Verify The Information You Entered Is Correct And Try Again, that means your account has not currently been targeted for any increased welcome offers.
Bottom Line: If you didn't receive any targeted offers this time, that doesn't mean you never will. Targeted offers come and go, so feel free to refer back to this page periodically to check for new offers.
Targeted Mailings From American Express
A great option for finding an increased welcome offer on, not just the Delta cards, but all American Express cards, is by opting in to receive targeted mailers from American Express. But keep in mind that you will not receive these offers unless you first opt-in, giving permission to American Express to send them.
If you want to opt-in, or aren't sure if you have already, visit the communications preferences in your American Express account and make sure you've enabled communication via mail and email (if you'd like to receive email offers as well).
Check for Pre-Qualified Offers With American Express
If you weren't aware, American Express actually allows you to check for pre-qualified offers on their website, and sometimes, if you are pre-qualified, you can receive an increased welcome bonus as well!
Here is how you can check for pre-qualified offers:
First, go to americanexpress.com, click Cards, then click Check for Pre-Qualified Credit Card Offers. This will allow you to see all the cards you have pre-qualified offers for, across the entire suite of American Express personal cards. This even includes cards like The Platinum Card® from American Express or the American Express® Gold Card.

Reasons You May Not Be Able to Get a Higher Welcome Offer
The Current Public Offer Is Not an Increased Offer
Naturally, if American Express is not currently running a public increased welcome offer, then that obviously makes it more difficult to find 1 — but not impossible.
If you're not interested in the standard offer, you could check CardMatch, wait until you receive a targeted offer, or wait for American Express to bring back a higher welcome offer.
Low Credit
This probably comes at no surprise, but if you don't have a good credit score, you likely will have a very difficult time getting approved for the card — even if you are able to track down an increased welcome offer.
If you think this might be you, or you were recently denied for a travel rewards card due to your credit score, then you should focus on improving your credit score before worrying about tracking down increased welcome offers.
Remember to always use credit responsibly, don't overspend, and make sure to pay your bills in full and on time each month.
You've Opted out of Marketing Offers
As mentioned before, if you don't opt-in to receive marketing offers from American Express, then they cannot send them to you. If you want American Express to contact you directly any time you're eligible for an increased welcome offer, then you need to opt-in!
Final Thoughts
If you're a Delta loyalist or frequent Delta flyer, there is plenty to love about the Delta Platinum card. So, if you're going to add the card to your wallet, naturally you're going to want to get the best offer possible. Be sure to take some time to do some research, as it could mean the difference of getting a welcome offer that is twice the size!
Not sure what you'd do with those Delta SkyMiles? Here are some ways you can redeem your Delta SkyMiles for huge value!
---
For rates and fees of the Delta SkyMiles® Platinum American Express Card, click here.