How Businesses Can Save Money and Maximize Points on Apple Purchases
Over the past 10 years, Apple has made huge strides when it comes to business. Now more than ever we're seeing iPhones, iPads, and Macs be used for all types of business tasks, from the enterprise to small business.
But there's no doubt that Apple products are expensive. So if you're investing in new Apple technology for you or your employees, you should at least be getting the most travel rewards or cash-back as possible on your purchases.
In turn, the points or cash-back earned can be used to subsidize the Apple products or simply help fund your next family vacation. Whatever the case may be, it's surprisingly easy to maximize your returns on Apple products if you know where to look.
In this article, we'll walk you through how you can maximize points-earning on Apple products purchases. We'll start out by discussing how to find the best deal on Apple products and then move onto earning points with credit cards, shopping portals, and more.
Let's get started!
First, Find the Best Price on Apple Products
Before we move into points earning, it's important that we discuss how to find the best deal on Apple products.
Oftentimes third-party Apple-authorized resellers will sell products at a discount in order to drive traffic to their stores. These discounts can often be in the hundreds of dollars, especially if you're buying an older generation product.
Plus, unless otherwise noted, these products come with the same 1-year warranty that you'd get from Apple and are eligible for service and support at Apple Stores, so there's really no downside in buying from them.
But we get it: searching through every Apple reseller can be a painful task, so we recommend checking out Apple Insider's prices page.
This website tracks the price of Apple products across a number of resellers and compares them to the Apple Store's price, clearly showing you the discount (and which store will give you the best deal).
Using the website is simple: just head to the website, select which product you'd like to purchase, and look through the list of available models. You'll be able to see what price each reseller is selling the product for underneath its respective column, with the best total discount towards the right-hand side of the table.
However, don't click through the table to actually purchase your Apple product just yet. Instead, just take note of who has the best price and hold onto the name — you'll need this for when we look for the best shopping portal to use.
Hot Tip: The Apple Insider pricing tool doesn't show Apple's refurbished pricing. Apple's refurbished products are like-new and have the same warranty as any other Apple product — make sure to check them out before you make a purchase.
Use the Best Business Credit Card to Pay
Before you make a purchase, consider opening a new business credit card before you buy the Apple product in question. In doing so, you may be able to earn valuable points in the form of a welcome bonus for making a purchase with your new credit card.
A welcome bonus is a lump sum of points that are awarded after you make a set amount of purchases on a new credit card within a certain amount of time of opening your card. For example, a card may earn 50,000 bonus points after spending $3,000 in purchases in the first 3 months of opening an account.
You'll also want to look for a card that offers solid points earning for other business purchases you make. We've outlined a few of our favorite business credit cards in the paragraphs below.
The Best Chase Business Credit Cards
Chase's Ink line of business cards truly has something for every business. The family currently consists of 3 different types of credit cards: the Ink Business Cash® Credit Card, Ink Business Unlimited® Credit Card, and Ink Business Preferred® Credit Card.
Each of these cards has a different set of points earning categories, with the Ink Business Cash card offering up to 5% cash-back at office supply stores (like Staples), up to $25,000 in purchases per year. This can be especially helpful if you find deals on Apple products at your local office supply store.
Note that the Ink Business Cash card and Ink Business Unlimited card earn cash-back, while the Ink Business Preferred card earns Chase Ultimate Rewards points that can be transferred to airlines and hotel partners like United Airlines, Hyatt, and others.
However, cash-back earned by the Ink Business Cash card or Ink Business Unlimited card can be transferred to Ultimate Rewards points through the Ultimate Rewards portal if you also have an Ink Business Preferred card, Chase Sapphire Preferred® Card, or Chase Sapphire Reserve® Card.
Finally, all Ink cards have complimentary purchase protection and extended warranty.
Purchase protection covers you from theft or damage within 120 days of purchase and the extended warranty coverage adds a year of warranty coverage to your standard warranty so long as your card is open and in good standing. Learn more about these benefits in our full benefits roundup.
Here's a look at our preferred cards in the Ink family:
Ink Business Preferred® Credit Card - this is our #1 recommended business card and right now comes with a 100,000 sign up bonus after you spend $15,000 on purchases in the first 3 months after account opening. This bonus is worth $1,250 when you redeem through Chase Ultimate Rewards for travel purchases (flights, hotels etc). Pay your cell phone bill with this card to receive up to $600 in cell phone insurance coverage per year; as well as a number of other benefits.

Earn 3x on the first $150,000 spent on travel and select business categories each account anniversary year, plus 1x on all other purchases — with no limit to the amount you can earn. All for an annual fee of $95.
Ink Business Cash® Credit Card - Earn $750 bonus cash back after you spend $7,500 on purchases in the first 3 months from account opening

This no annual fee business card earns up to 5% cash-back on the first $25,000 spent in combined purchases at office supply stores and on internet, cable and phone services each account anniversary year, plus 2% cash-back on the first $25,000 spent in combined purchases at gas stations and restaurants each account anniversary.
Ink Business Unlimited® Credit Card - earn unlimited 1.5% cash back rewards on every purchase made for your business.

Earn $750 bonus cash back after you spend $7,500 on purchases in the first 3 months from account opening. There's no annual fee.
The Best American Express Business Cards
We have 2 favorite American Express cards for Apple purchases: The Blue Business℠ Plus Credit Card from American Express and The Business Platinum Card® from American Express.
The Amex Blue Business Plus card is a no annual fee business credit card that earns 2 Membership Rewards points per dollar spent on all purchases, up to $50,000 in purchases per year. This means that you'd earn 4,600 points on a $2,300 MacBook Pro purchase.
On the other hand, the Amex Business Platinum card earns 1 Membership Reward point on all purchases and 1.5 points per dollar spent on charges over $5,000, up to 1 million additional points per year.
Like the Ink Business Preferred card, the Amex Business Platinum card has great purchase protection benefits. If your new Apple product (purchased with the Amex Business Platinum card) is damaged or stolen within 90 days of purchase, you'll be reimbursed for the cost of fixing or replacing it. Plus, the Amex Business Platinum card will add 1 year of warranty to your purchase so long as your account is open and in good standing.
The Business Platinum has a slew of travel benefits, too, like airport lounge access, an airline incidental fee credit, and more. This card is great for businesses that make lots of big-ticket purchases and have employees who travel often.
Both of these cards earn Membership Rewards points which can be transferred to a number of different travel partners, like British Airways, Delta Air Lines, Singapore Airlines, and more. This means that you can book award travel across all major airline alliances, getting you just about anywhere in the world. Check out our article on the best Membership Rewards redemptions for more info.
Check for Amex Offers
American Express cards have a special feature called Amex Offers.  These offers give American Express cardholders cash-back or extra points on purchases made from specific merchants.
We've seen Best Buy and Amazon run Amex Offers in the past — for example, the author of this article received an offer for 3,000 bonus Membership Rewards points after spending $300+ at Best Buy.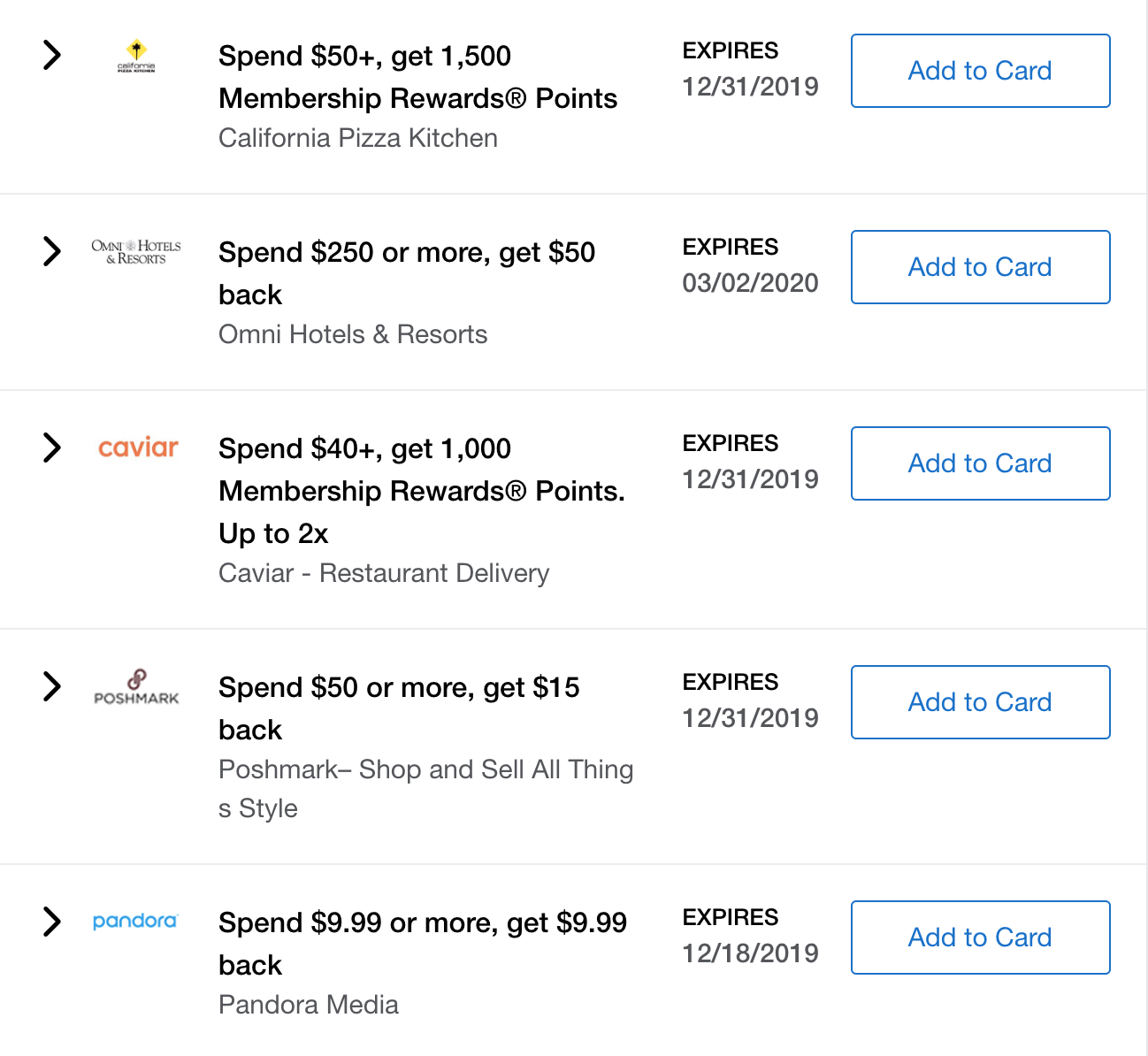 You can find these offers on the bottom of your card page on the American Express website. If you find an offer you'd like to use, click the Add to Card button. Note that you must add the offer to your card before you make your purchase.
In most cases, you'll receive your bonus points or cash-back within a few days of making your purchase.
We recommend keeping an eye out for Amex Offers you can use when buying an Apple product. If you find an Amex Offer for a merchant that sells Apple products, consider making your purchase at said merchant if the price makes sense.
Find the Best Shopping Portal
Once you've selected the merchant you'd like to buy your new Apple product from and picked out a credit card to charge it to, it's time for the final step: picking a shopping portal to shop through.
Shopping portals award bonus airline miles, transferable points, or cash-back when you click through the portal before making a purchase online. Most major airlines and transferable points currencies have their own shopping portal.
Further, the Apple Store and most major resellers are on these portals, meaning that you can earn bonus points and miles on nearly all of your Apple product purchases. However, each of these portals may earn at slightly different rates.
One word of caution though: the Apple Store usually doesn't offer cash-back or points through portals on just-released products. If you're looking for a product released within the past month or 2, you'll have to purchase through a reseller to earn points. This will be clearly noted in the Apple Store's terms and conditions of whatever portal you choose to use.
You'll earn points through these portals based on how much you spend. For example, the American Airlines AAdvantage shopping portal may award 2 points per $1 spent at MacMall or another retailer. So if you buy a $500 iPad, you'll earn a cool 1,000 AAdvantage miles.
You can compare all shopping portal earning rates using Cash Back Monitor. Just head over to its website, enter the name of your merchant, and you'll see how many points per dollar spent each portal is offering.
Hot Tip: Shopping through Rakuten? You can choose to earn Amex Membership Rewards instead of cash-back if you have a personal American Express card that earns Membership Rewards points. Just switch to earning points in your account settings page.
We generally recommend going with a shipping portal that has the highest earning rate for points you can actually use. So, don't shop through a portal just because it's offering 1 more point per dollar if you can't actually use said points.
Bottom Line: You'll earn maximum points on Apple purchases by combining a shopping portal with a points-earning credit card.
Examples of Rewards Earning on Apple Products
To illustrate how beneficial stacking credit card points with discounts and shopping portals is, here's an example of using all 3 to get a nice discount on a 2019 16-inch MacBook Pro.
First, it's important to pick which credit card you'd like to use for your purchase. For this example, we'll use the Amex Business Blue Plus card to earn 2 points per dollar spent on this purchase.
Now, we'll start on the Apple Insider prices tool and search for the best price from the included authorized resellers. In this case, the best price is offered by Adorama — a camera and electronics store in New York City that ships around the U.S.
Take note of this price and head over to Cash Back Monitor and search for the best rates for earning points or cash-back on Adorama purchases. In this case, the best rate is 1 point per dollar spent across all airline portals (or Rakuten, if you want Membership Rewards points).
We value Membership Rewards points at 2.2 cents per point, so we'll use the Rakuten portal to earn 1 extra Membership Reward point per dollar on our computer purchase. We've navigated to Rakuten's Adorama page and clicked the Shop Now button to go to the Adorama store to make our purchase.
We spent $2,347.91 on our computer after sales tax (8.75% in New York City). In the end, we'd earn the following number of points and save the following amount of money on our purchase by following the steps outlined in this article:
Credit card points: 4,696 Membership Rewards points (worth $103.31)
Portal points: 2,347 Membership Rewards points (worth $51.65)
Money saved: $240
So if you agree with our points valuation, you'll see that we saved $394.96 by using the right credit card and shopping portal and purchasing our MacBook Pro from the right reseller. Not too bad for just a few minutes of work!
Final Thoughts
In this article, we showed you how to find the best deals on Apple products and earn the most points and miles possible in the process. Follow the steps in this article and you'll undoubtedly get the best deal on your next Apple purchase.
Remember, you can follow the steps we've outlined for non-business purchases, too! Keep this in mind when buying a computer for personal use or as a gift.