How to Cancel a JetBlue Airlines Flight [Points or Cash Ticket Purchases]
Who doesn't love the thrill of planning a new trip and finally purchasing your flight tickets? Unfortunately,  sometimes life happens and you are forced to change your plans or cancel your ticket.
Anyone who has gone through this before knows that the process of changing or canceling an airline ticket can be both inconvenient and expensive.
If you've purchased your flight with JetBlue there a few things you need to know to help make this process as easy as possible. Read on to find out all of the details of JetBlue's flight cancellation policy!
Cancellation Policies Due to COVID-19
In response to the COVID-19 pandemic, if you have a JetBlue flight scheduled anytime through May 31, 2020, you'll be able to change or cancel it without a fee.
View the full policy here. If you booked via a third party, refer to your booking provider for its policies.
With cancellation policies due to COVID-19 being ever-changing, for the most up-to-date policies across all airlines, please refer to our COVID-19 Airline Cancellations article.
JetBlue's Cancellation Policy: Flights Paid With Cash or Points
All customers will have 24 hours from the time of their original booking to cancel their reservation without being charged a cancellation fee, regardless of the fare selected.
When booking a JetBlue flight you have multiple fare options to choose from: Blue, Blue Plus, Blue Flex, and Mint. The largest difference between the 4 is Mint, which is their premium cabin experience that is only flown on select routes. The various "Blue fares" differ mostly in point-earning, baggage allowance, and associated fees. 
Blue, Blue Plus, and Mint Tickets
JetBlue categorizes its cancellation fee schedule based on the price of the original fare purchased:
| | |
| --- | --- |
| Fare Price | Cancellation Fee |
| $200 or more (applies to all Mint fares) | $200 |
| $150 – $199.99 | $150 |
| $100 – $149.99 | $100 |
| Less than $100 | $75 |
So, if you purchase a $125 Blue Plus ticket and need to change your flight, you will be required to pay a $100 change fee plus the difference in fare should the new flight happen to be more expensive. Similarly, if you need to outright cancel that same flight you will still need to pay the $100 fee to do so.
After canceling your flight any paying the cancellation fee, any remaining balance will be placed in a JetBlue air-only credit and may be applied toward future travel for 1 year from the date it is issued. If you no-show for your flight and do not change or cancel prior to the scheduled departure, all money associated with the segment is forfeited.
If you purchased your flight with TrueBlue points, you'll need to pay the change or cancellation fee associated with the cash value of your ticket. For example, if you used 10,000 points to offset a $130 fare but then needed to cancel, you would pay a $100 cancellation fee as the cash value of the fare would fall between the $100-$149.99 tier. After doing so, the points that you used to purchase the fare will be deposited back into your TrueBlue account.
Blue Flex Tickets
There is no charge to change or cancel a Blue Flex reservation prior to departure, only the difference in fare. While JetBlue Blue Flex fares are often quite a bit more expensive than Blue, Blue Plus, and sometimes even Mint fares, the added flexibility you receive can be very worthwhile to some.
While there is no additional cost to cancel your flight on a Blue Flex ticket, it is worth keeping in mind that your refund will be issued as a JetBlue air-only credit and may be applied toward future travel for 1 year from the date it is issued.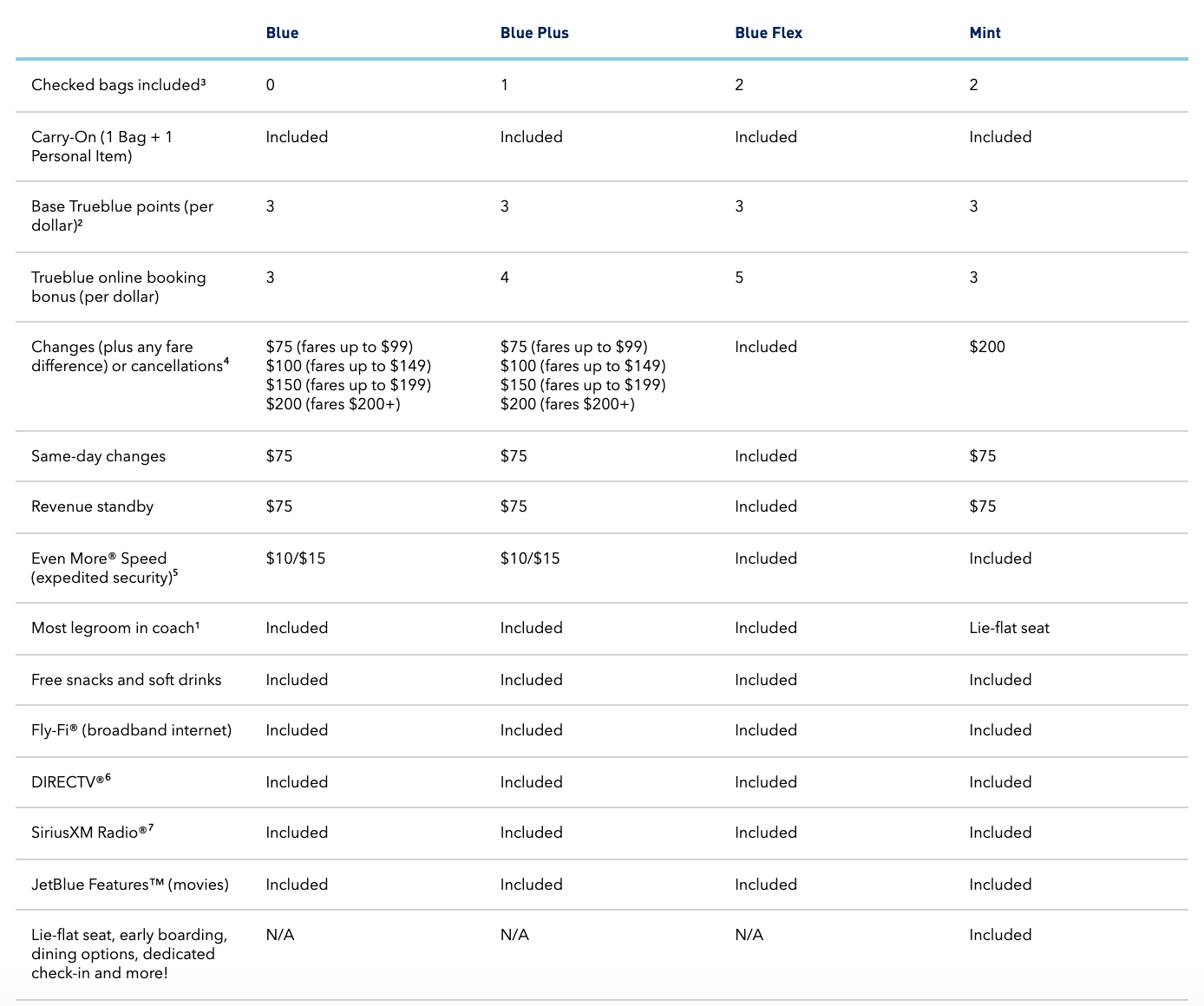 Refundable Tickets
Another option is to purchase a refundable ticket in any of the 4 fare options. While this option can be significantly more expensive, it comes with the added flexibility that if you do need to cancel your flight, your refund will be processed in full to the original form of payment, as opposed to receiving future flight credit.
Mosaic Members
JetBlue has just 1 tier of elite status — Mosaic. You can qualify for Mosaic status by earning 15,000 base flight points within a calendar year or by flying 30 segments plus 12,000 base flight points within a calendar year. Base flight points are the 3x points per dollar spent that you earn on JetBlue flights. In addition to a handful of other benefits, all change and cancellation fees are waived for Mosaic members and all others on their itinerary.
Hot Tip: Business owners with the JetBlue Business Card can spend their way to JetBlue Mosaic status after spending $50,000 or more in the calendar year. 
How to Cancel a Flight on JetBlue
Luckily, JetBlue makes the process to change or cancel your flight pretty easy. Simply visit their website and log on to your TrueBlue account. Once you've logged in click "Manage Flights" and select which flight you want to cancel. If you need additional assistance you can call their helpline 800-JET-BLUE (538-2583).

How to Use JetBlue Travel Bank Credit
When booking online at the JetBlue website, you'll have the option to use your JetBlue travel credit on the payment screen. You can view the balance of your account and indicate the number of funds you want to apply to your current booking. You don't have to use the entire balance, but you'll need your TrueBlue or Travel Bank login details to access the funds.
To use both a travel credit and a credit card, choose Travel Bank as your first form of payment. Once those funds have been applied, enter the credit card information to cover any remaining balance.
Final Thoughts
While JetBlue's cancellation policy isn't as generous as an airline like Southwest, it is certainly a lot less complicated than other programs.
The fee structure is clearly laid out and tied almost entirely to the cost of your ticket. You also have multiple types of fares you can purchase, which allows you to either receive a full refund to your original payment method or travel credit for use on a future JetBlue flight.