Lahaina Shores Beach Resort in Maui – Review
The Lahaina Shores Beach Resort, a Destination by Hyatt property, is located on the island of Maui in the town of Lahaina. It's a very well-located hotel, with usually reasonable rates, and is a great use of World of Hyatt points or certificates.
Destination by Hyatt hotels are boutique-like properties that have a lot of charm, and are usually in popular, touristy areas — and the Lahaina Shores Beach Resort is no exception. In fact, it's the only beachfront hotel in Lahaina, allowing you to step outside immediately onto the nearby sand.
If you're a World of Hyatt member, you'll especially enjoy how cheap this hotel is to use points at, making it a great option if you're visiting Maui on a budget. We'll take a look at the hotel's location, rooms, and what you can expect when staying here.
Hotel Location
The town of Lahaina is located about 35 minutes away from Kahului Airport (OGG), the main airport on Maui. The drive is very easy — while it's local roads, there's hardly any traffic, and most of the way will be along the coast, making for a picturesque view.
The hotel itself is situated on the southern end of the town, and as you drive from the airport to Lahaina, it will be one of the first things you see as you enter the local area. The hotel is one of the tallest buildings in the town, but at only 8 stories, it's certainly not a skyscraper or anything that will obstruct your view elsewhere.
The walk from the hotel into Lahaina town is about 5 minutes, so it's perfect for guests who want to experience the shops, dining, and cultural attractions without having to move their car.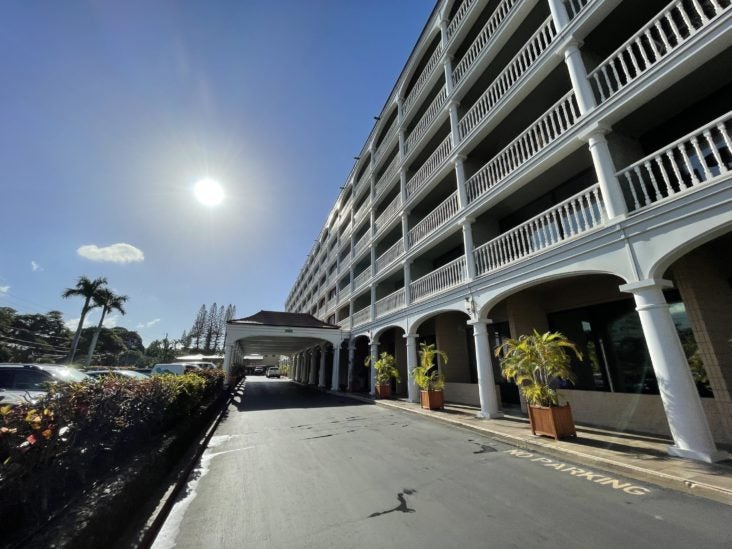 Booking
The Lahaina Shores Beach resort is one of the most affordable hotels in Lahaina. The hotel is mostly used by those with timeshares but it is also rented out as a traditional hotel, so as long as a standard room is available, you can book it under the World of Hyatt program.
I stayed in mid-December, which is a peak time in Hawaii as those from the mainland try to escape the cold. The cash rate was around $250 a night.
The hotel is a Category 4 property and requires 15,000 points a night — you can also use a complimentary Category 1-4 certificate that's issued with the World of Hyatt Credit Card. Because this hotel can be busy with tourists, it's a great way to use your annual free night certificate to save on costs in Hawaii, which otherwise can be a very expensive state.
Thanks to an offer Hyatt was extending to get 25% of your redeemed points back, I opted to book with points for the entirety of my stay.
Bottom Line: This hotel is a great value for those looking to book with points or a Hyatt Credit Card free night certificate.
Checking In
As you pull under the front portico, the front desk is immediately to your left inside. The lobby is relatively small, and there's a seating area overlooking the pool and ocean, with a concierge desk off to the far right.
As I checked-in, the front desk agent wasn't too much in the "island spirit" — he seemed to be going through the motions more than anything. After explaining a bit about where things were located, and going through some COVID-19 formalities, he printed off the keys and I was directed to my room on the fourth floor.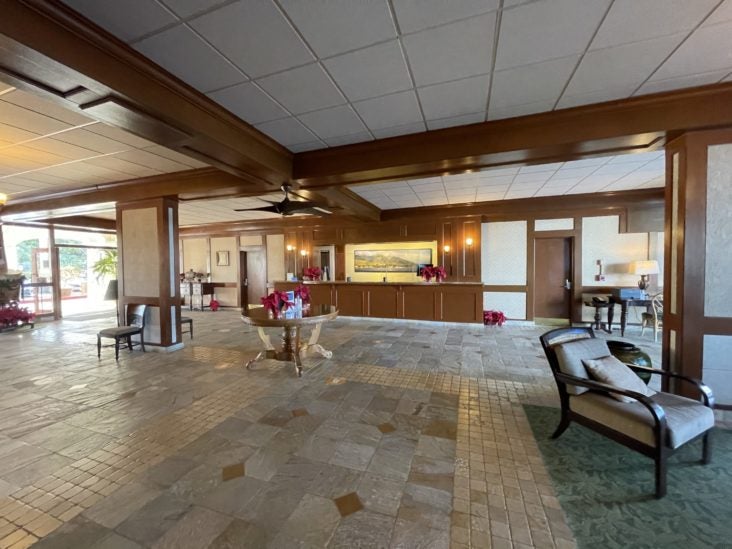 When you check-in, you'll be asked to present your quarantine exemption paperwork from the state of Hawaii. If you're flying in from the mainland, or another island, you'll be asked to present a valid COVID test at the airport and you'll either be exempt from quarantine requirements or be forced to quarantine at specific locations on the island. Make sure you review the state of Hawaii's entry requirements before visiting.
If you're traveling to Hawaii and visiting multiple islands, start your journey in Maui or another island, and then finish your trip in Oahu — this way you can reduce the number of tests or quarantine exemption formalities you'll need to go through.
There were plenty of hand sanitizer pumps around the hotel, and like all locations in Hawaii, masks were required indoors, but there weren't any notable restrictions that would tamper on your fun at the hotel.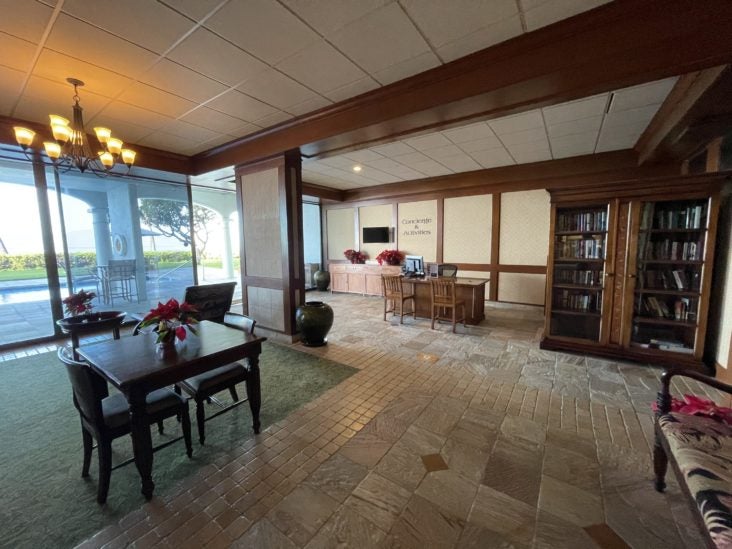 Elite Benefits
It's very worth noting that this property offers extremely limited World of Hyatt benefits, so if you're coming in as an elite status member, your usual perks don't apply here.
I knew this going into my booking, though I really didn't understand the reality of what these limited benefits meant until I arrived on-site. You are not eligible for any upgrades, complimentary bottles of water, breakfast, or late checkout — among the more popular usual perks at staying at a Hyatt hotel.
Hot Tip: When booking with points, you receive a Mountain View studio room, so you aren't eligible for an oceanfront view room unless you pay an upcharge. Trying to keep the stay as cheap as possible, I declined this buy-up offer, though you may want to consider the rate when you arrive.
Amenities
Parking
One of the nice things about this hotel is that parking is free for all guests, and the lot is immediately in front of the property. As you check-in, the front desk person will give you a key to open up the gate so you can park inside, and you simply return this key at the end of your stay.
Wi-Fi
The hotel offers a basic internet package for all guests, and this is free of charge. They'll let you know the Wi-Fi password when you check-in, and it worked reasonably well throughout my entire stay.
Pool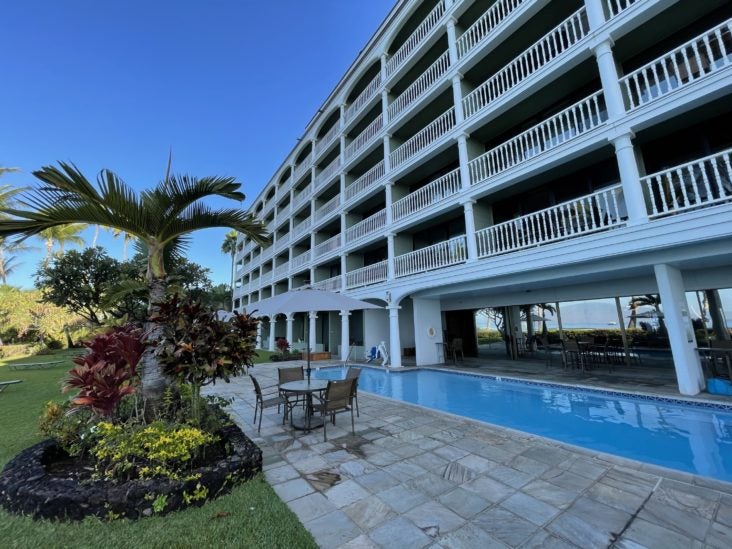 Other than that, the hotel has fairly limited benefits. One of the highlighted amenities is the pool out front. It's situated just between the hotel and the ocean, and the views at sunset are simply stunning. It's a great place to relax after a long day and simply watch the sun melt away.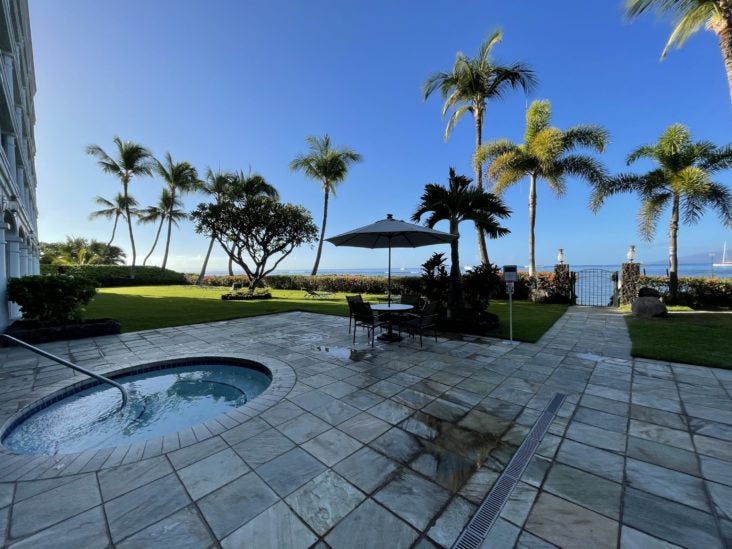 Room
One thing you should note is that this hotel isn't the most modern of hotels you'll find on Maui. When you arrive on the floors with the rooms, the property does seem quite dated, so if you're looking for something with modern charm, this probably isn't the hotel for you.
The entry-level room is a Studio Mountain View Premier room, which is actually nicely-equipped for a long stay in Lahaina.
Kitchen
The room features a full kitchen, with a stove, refrigerator, microwave, and basic cooking supplies. This is perfect for bringing leftovers back to the hotel, or so you can store beverages and other snacks in the fridge.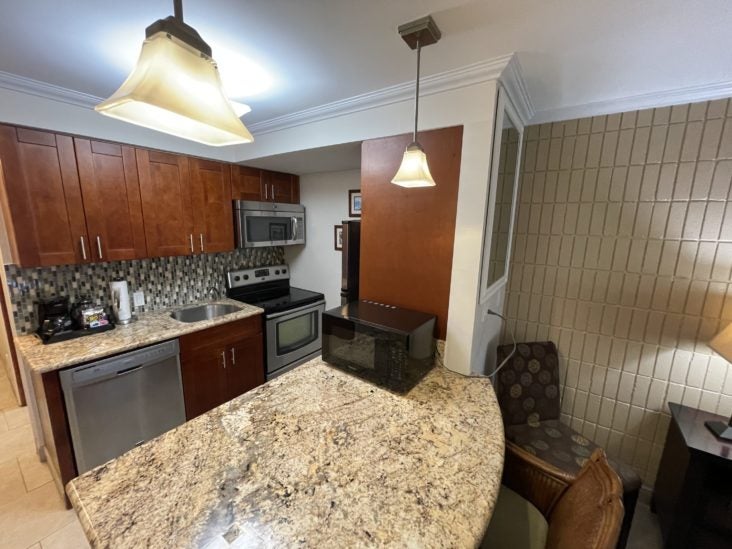 Bedroom
Just after the kitchen is the sleeping area, featuring a queen bed, and several seating options — including 2 comfortable sitting chairs, a dining table flanked by 2 dining chairs, and an oddly-placed single upright chair by the bed. There's certainly no shortage of places to sit!
The television in the room, while flat-screen, is still older, and at 1 point I did have trouble operating it and had to call maintenance to fix it. It certainly wasn't the most up-to-date for technology.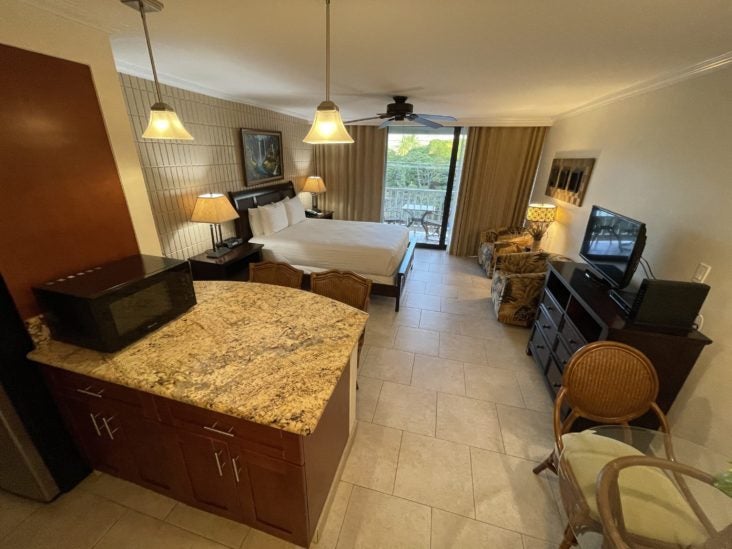 Even further in the room, you'll find your own private lanai (balcony) that overlooks the nearby mountain. There is a small table and 2 chairs here as well, and it's a perfect place to grab a morning cup of coffee and watch the island come alive.
Bathroom
The bathroom is located by the front entrance, and it was nicely sized for this type of room. It featured a sink, toilet, and a large walk-in shower, which was greatly appreciated.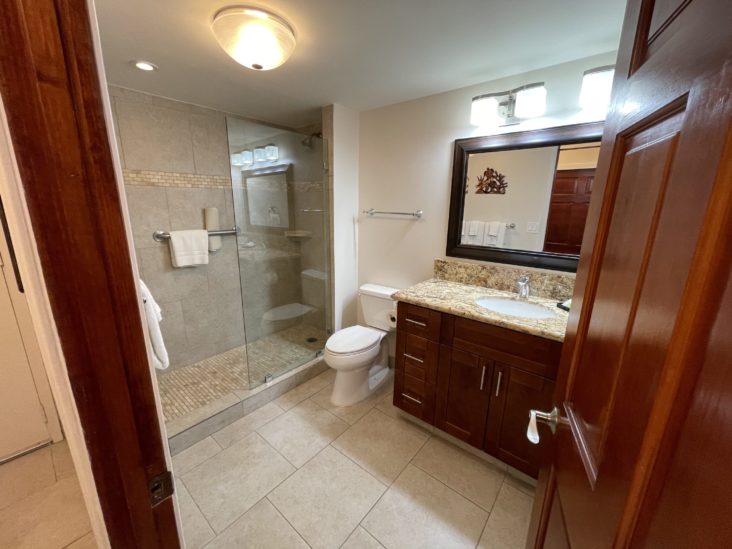 Food and Beverage
This hotel does not have any food and beverage outlets on-site, which is one of the big downsides of staying at this property. If you're looking for a morning cup of coffee in the lobby or lunch by the pool, you won't find it here.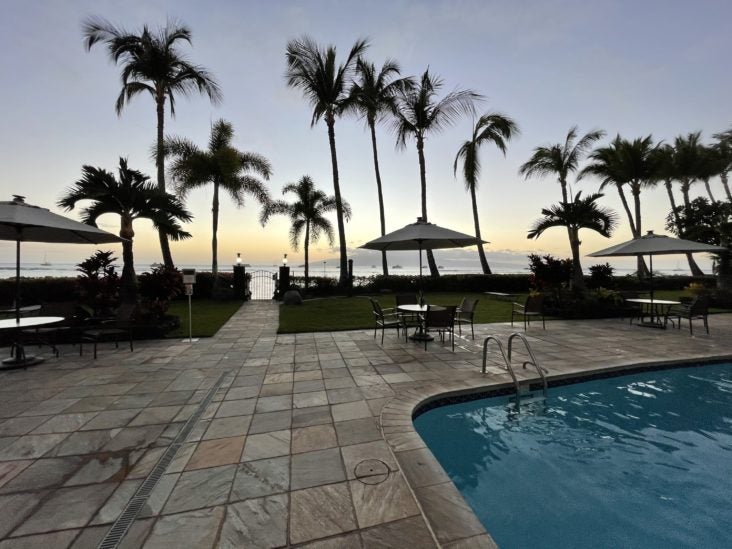 Even though the hotel doesn't have an on-site food and beverage outlet, each of the rooms comes with a fully equipped kitchen, so you're able to stock up on necessities for your stay. The town of Lahaina is a short 5-minute walk away, and you'll find plenty of coffee shops, cafes, restaurants, and eateries lining the village. If these local options don't suit your taste buds, within a 5-minute drive are plenty of mainstream options, such as chain restaurants, fast food joints, and strip mall retailers.
Bottom Line: Your nearest food service will be in the town of Lahaina. To get there, leave the lobby and make a left on the main road. You'll see it just up ahead.
Service
The service at this hotel was sparse, but it wasn't entirely the hotel's fault. While the check-in agent we had while arriving wasn't in the most Hawaiian of moods, the housekeepers were incredibly friendly. Due to COVID-19, the hotel paused cleaning of the room until every fourth day, so I only got to experience a full service once.
There really wasn't much interaction with staff other than this. There is no restaurant within the hotel, the concierge desk wasn't staffed (due to the low demand), and the hotel wasn't packed, so there wasn't a ton of opportunity to experience the full-service levels of the hotel.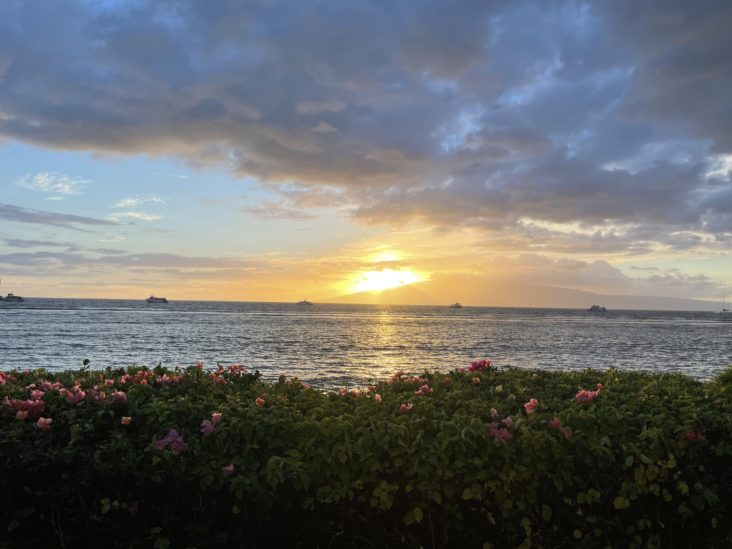 Final Thoughts
The Lahaina Shores Beach Resort is definitely going to be a hotel I will return to on Maui. While the more expensive, and more full-service Hyatt Regency is only a few miles away, I really enjoyed the convenience of the Lahaina Shores' proximity to the town of Lahaina. Nothing beats a walkable property where you can go out to eat without having to drive.
Because this hotel is a great value on World of Hyatt points, it should be easily accessible to most travelers, and the rooms allow guests to stay in for several nights in a fully-serviced apartment, which is great, especially when traveling with family.
I enjoyed my stay at the Lahaina Shores, and wouldn't hesitate to return the next time I'm on Maui.