Airalo eSIM Overview and Review — The Perfect Mobile Data Solution for Travelers?
Having access to the internet when you travel can be an absolute godsend. You can use it to navigate around new cities, find new places to hang out, and keep in touch with friends and family. Plus, remote workers can use a mobile hotspot abroad to work without being tethered to free Wi-Fi.
But there's no doubt that international data can be frustrating. Buying a local SIM card can be a tedious process, and carriers like AT&T and Verizon charge a huge fee to use data plans abroad.
On the other hand, T-Mobile and Sprint offer free international mobile data, but you're restricted to slow 2G speeds.
Thankfully, though, we've found a cheaper and more convenient solution for international mobile data: Airalo.
Airalo is an eSIM marketplace that smartphone users can use to buy temporary mobile data plans when traveling abroad. eSIM cards are like normal SIM cards that live digitally on your phone, letting you use another cell phone network when you travel.
This means that Airalo mobile data plans are completely separate from your standard mobile data plan and run on a different network.
Sounds complicated, right?
It can be difficult to wrap your head around. So in this article, we'll take a look at what eSIM cards are, discuss how the Airalo service works, and give our full review of the service.
What's An eSIM?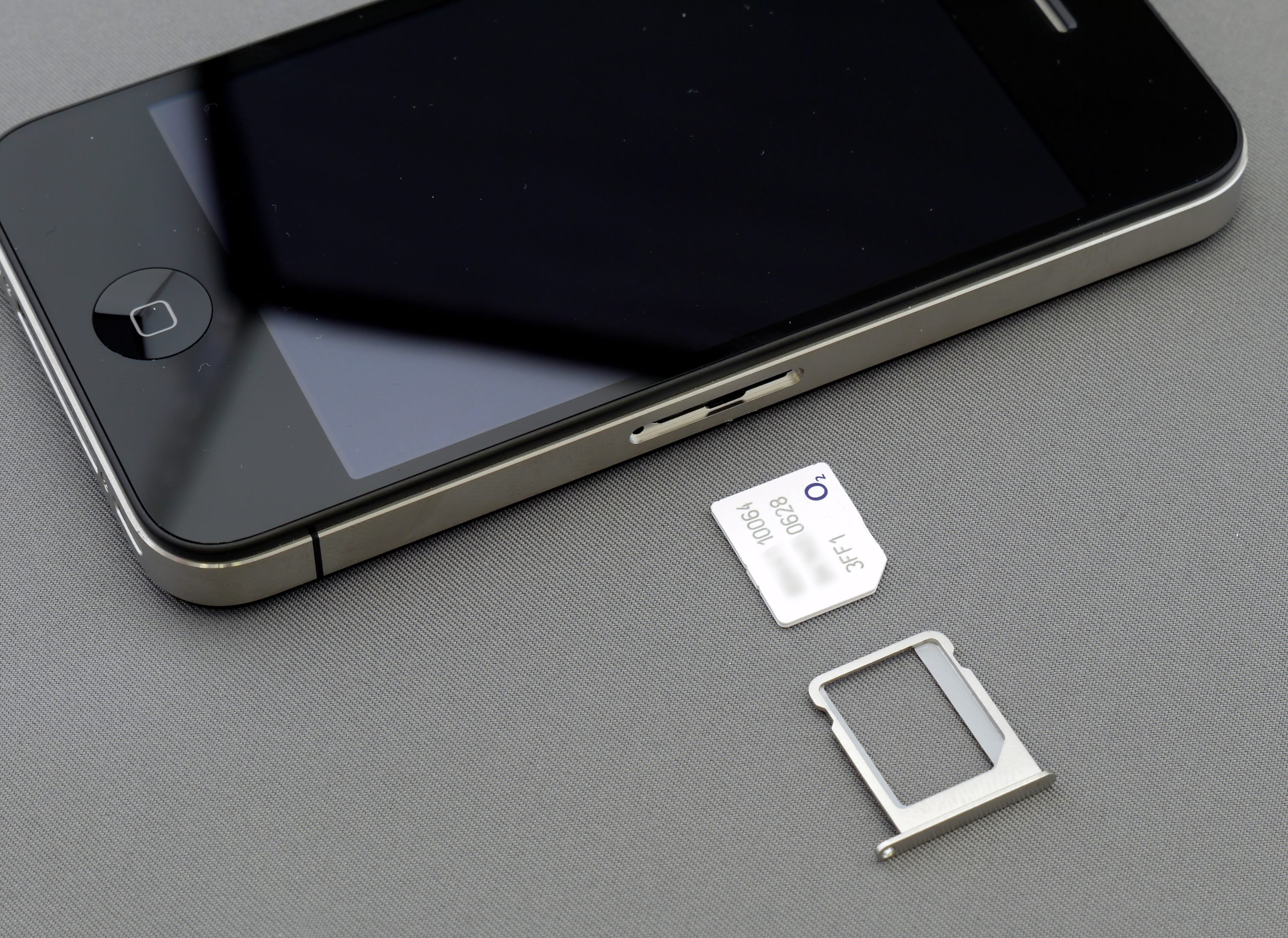 eSIM stands for "electronic Subscriber Identity Module."
These act like any other SIM card and contain your phone number and data plan, letting your smartphone connect to a cellular network for data, calls, and texts.
Unlike standard SIMs, though, eSIMS are embedded in your phone or tablet. You generally add these eSIMs to your mobile device by scanning a QR code or entering a code on your device — think of it as a software SIM card.
Many major U.S. cell phone carriers have already started offering eSIM cards to their customers — something helpful for switching carriers on the fly since you don't need to go to a phone shop to buy new phone service.
But eSIMs really come in handy when traveling. This is because you can buy local eSIMs remotely through select eSIM marketplaces like Airalo.
Essentially, these marketplaces sell temporary phone service that can be used abroad. The benefit of this is that you can buy mobile data plans at near-local prices without having to physically buy a SIM card at a cell phone shop.
This saves you a ton of time, especially if you're traveling to a country like France where your passport is scanned and logged when you buy a SIM card.
You can buy these eSIM cards at-will, too, and they generally work for a set amount of time. When this period ends (or you run out of data) you can simply top-up the eSIM or purchase a new one from another carrier.
What Smartphones Support eSIMs?
eSIM is a relatively new technology, so only newer phones support it.
On the iPhone side of things, the iPhone XS, XS Max, XR, 11, 11 Pro, and 11 Pro Max support eSIMs. We assume that all future iPhones will support the technology, too, but all previous iPhones don't.
A few flagship Android phones support eSIM, too, like the Pixel 3, Pixel 4, and various other devices. However, not all Android phones are supported by Airalo, so make sure to check out the service's full list of supported phones, tablets, and computers for more info.
Don't Worry, You Can Use 2 SIM Cards at Once, Too
Both iOS and Android support the use of eSIMs and standard SIM cards in-tandem.
This means that you can set your physical SIM card to handle voice and text messages, while your eSIM card handles all of your mobile data.
This is especially useful for iOS users as you can keep your U.S. phone number active for iMessage when traveling abroad and use an eSIM for data.
Likewise, if you have a cell phone plan with free international roaming for text messages — think T-Mobile and Sprint — you can still send and receive texts and calls to your U.S. number when traveling.
Bottom Line: eSIM marketplaces are an absolute godsend for travelers that want to stay connected. They make it easy to buy cheap data from local carriers, saving you valuable time and money.
Now, let's a look at Airalo, a premier eSIM marketplaces.
An Introduction to Airalo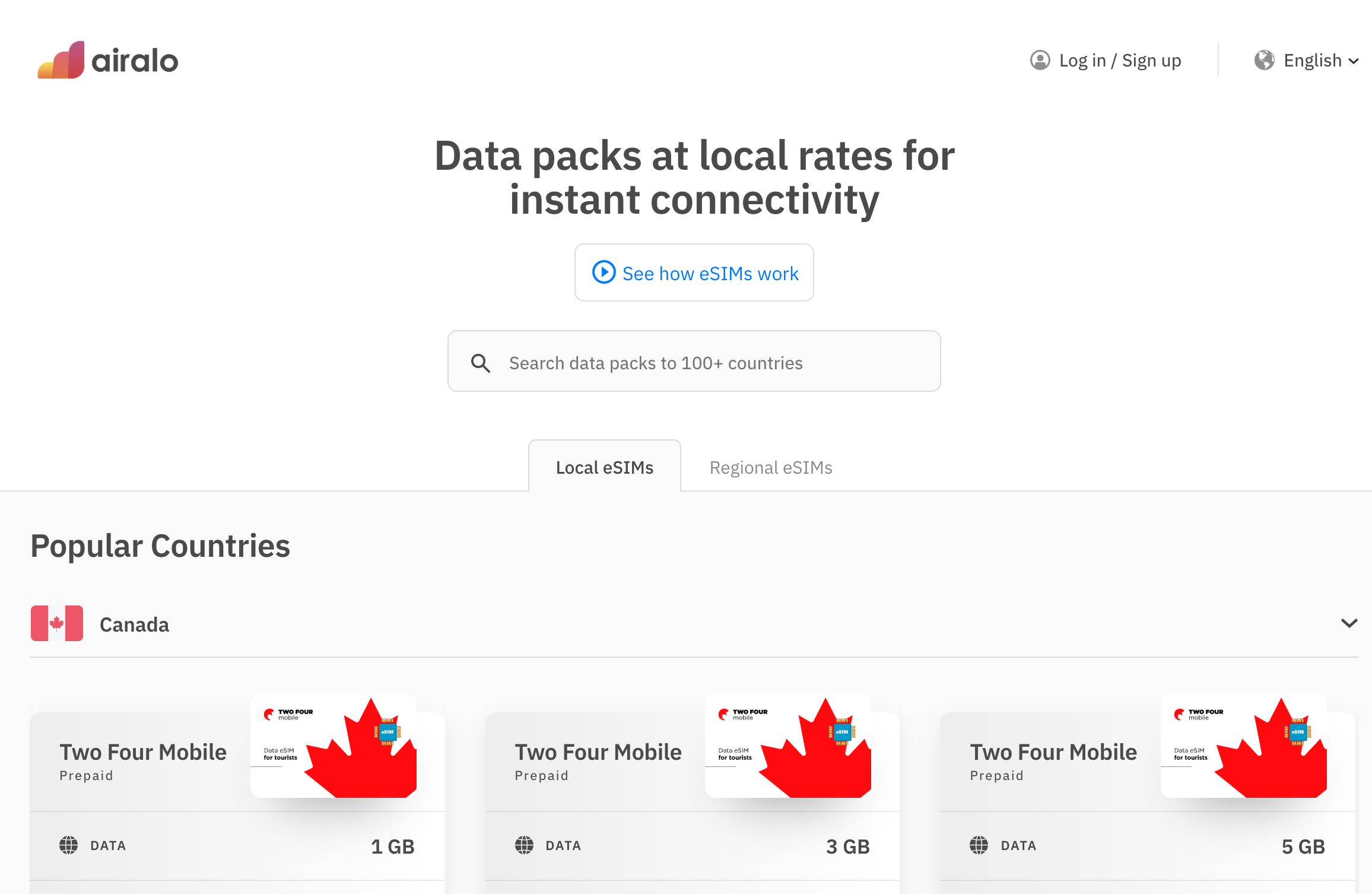 Airalo is one of the first eSIM marketplaces for iOS and Android.
All of the eSIMs available on Airalo are data-only, meaning that they're not assigned a phone number and cannot make or receive calls or text messages. They do, however, give you ultra-fast mobile data at nearly local prices.
Hot Tip: Make calls and send text messages using popular services like FaceTime, iMessage, WhatsApp, Skype, Viber, and Facebook Messenger. These apps all run over mobile data.
You can purchase Airalo eSIMs through the Airalo mobile app or on the Airalo website. Once purchased, you'll receive a QR code that you can scan with your phone to install on your eSIM-capable iPhone or Android device.
Airalo offers eSIMs for 100+ countries worldwide, so you'll be hard-pressed to find a country that it doesn't support. Just keep the app installed on your device, and you can connect to mobile data just about anywhere in the world.
Airalo Offers Tons of Different eSIM Plans
Airalo sells 2 types of eSIMs: local and regional.
As you might expect, local eSIMs are cheaper but only work in 1 specific country, while regional eSIMs are more expensive but let you connect in multiple countries with 1 plan.
The 1 thing that's similar across all of these plans, though, is that they're all pre-paid and do not automatically renew, meaning that there are no strings attached. Plus, you don't have to worry about canceling a data plan or dealing with a carrier directly when you leave a country.
Plans, pricing, and data allotments vary depending on where you're traveling. For example, you can purchase a 1 GB Greek SIM that's valid for 7 days for just $3. On the other hand, the same plan in Singapore costs $4.
Here are are a few pricing examples from the Airalo website:
Airalo Local eSIMs
| | | | |
| --- | --- | --- | --- |
| Location | Data Allotment | Validity | Price |
| Czech Republic | 4 GB | 30 days | $13 |
| Hong Kong | 1 GB | 7 days | $3 |
| Japan | Unlimited (throttled to 128 kbps speeds after 3 GB) | 5 days | $13 |
| United Kingdom | 3 GB | 30 days | $5 |
Airalo Regional eSIMs
| | | | |
| --- | --- | --- | --- |
| Region | Data Allotment | Validity | Price |
| Africa (15 countries) | 1 GB | 30 days | $27 |
| Asia | Unlimited (throttled to 128 kbps speeds after 3 GB) | 8 days | $18 |
| Caribbean Islands | 1 GB | 30 days | $25 |
| Europe | 5 GB | 30 days | $20 |
| World | 20 GB | 90 days | $40 |
While it may seem like a good idea to always buy the World plan, it doesn't support all countries.
There are some notable exclusions, like the U.S., Canada, most African countries, and all of the Caribbean, amongst others. The World eSIM is more of an Asia and Europe package, with some other countries (like South Africa) thrown into the mix.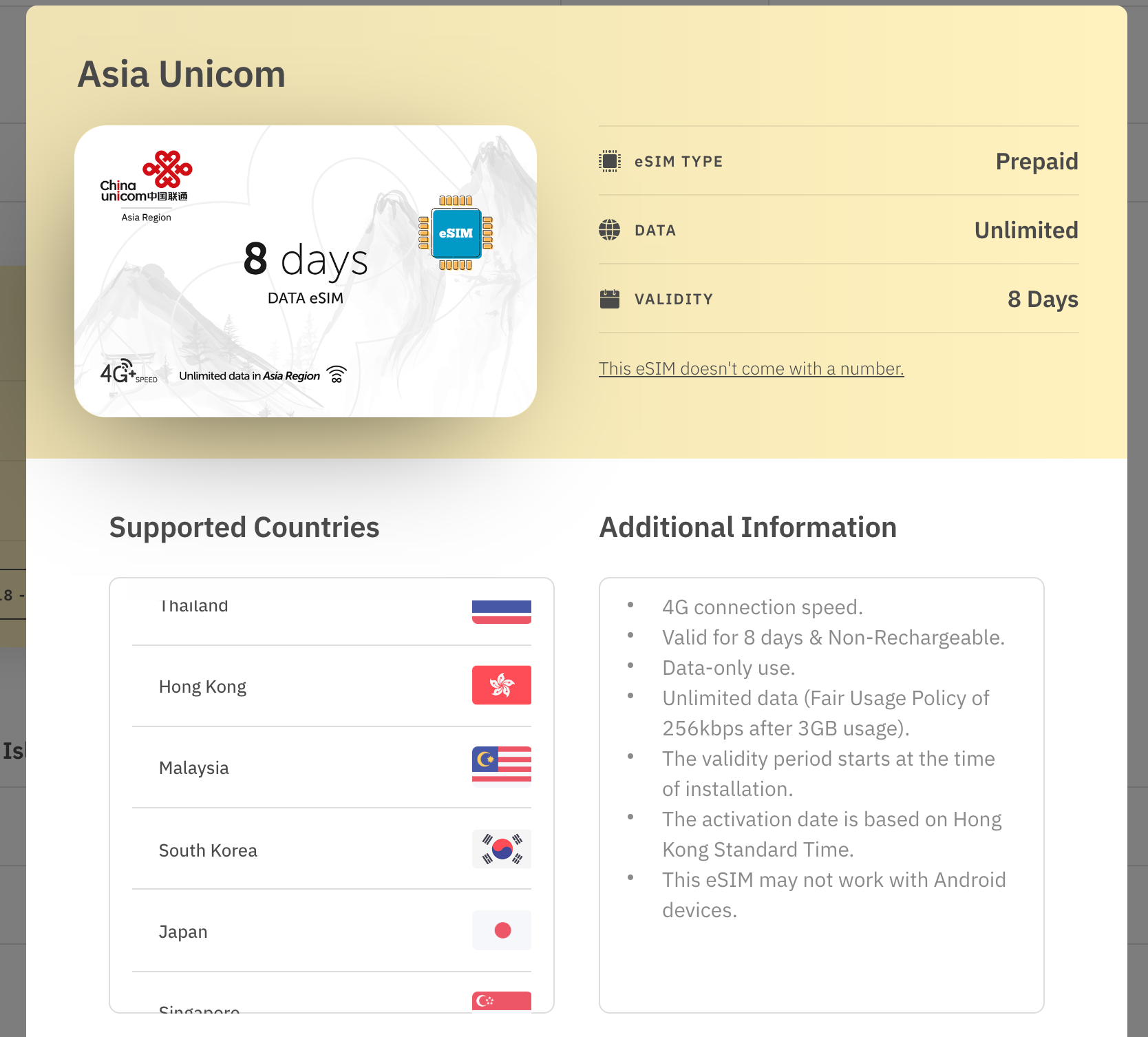 Make sure you always check which countries are supported before you purchase an Airalo regional eSIM. You can see this by tapping on the regional eSIM's name in the Airalo mobile app or by clicking on it on the Airalo website.
My Experience Using Airalo Abroad
Now that you know what Airalo is, I want to walk you through my experience using the service on a 10-day trip in Europe.
While I have a T-Mobile Magenta plan that includes free international data, it's restricted to 2G speeds. I knew that I needed to work during the trip so being able to use my iPhone's Personal Hotspot feature was hugely important. This isn't possible with T-Mobile 2G roaming.
I'd also be traveling to 4 different countries during my trip: the Czech Republic, Germany, Ireland, and the U.K.
All of these countries are in the EU, so I could've purchased a local SIM in the first country and used it without roaming fees. However, with such limited time in each country, I didn't want to waste valuable vacation time in a Vodafone shop in Prague.
With that in mind, I looked through both the World and Europe plans for this trip. Both would've suited my needs, but I ended purchasing the World plan as I travel frequently and may be able to use the SIM in other countries.
Bottom Line: Af 10 GB Europe plan was $37 for 30 days while the 20 GB World plan was $40 for a whopping 90 days!
Buying and Configuring an Airalo Global ESIM
Once I found the type of eSIM I wanted to purchase, I downloaded the free Airalo app to my iPhone 11 Pro and created an account. This account lets you purchase eSIM cards and earn Airmoney. As you might expect, Airmoney is Airalo's loyalty program that gives you 5% back on all Airalo purchases in the form of store credit.
Then, I found the World eSIM on the Regional eSIMs tab of the app's homepage and tapped on it.
Here, you can view the details of the eSIM. In this case, the eSIM's carrier is Sim4crew, which actually roams off of a combination of different carriers around the world.
After doing a bit of research, the intended audience for this eSIM is sailors who need to stay connected when docked in different countries. Of course, your everyday points traveler can purchase this eSIM, too.
I tapped the "Buy Now" button at the bottom of the screen and was given the option to pay with credit card (American Express, Mastercard, Visa), by PayPal, or with my Airmoney balance.
I didn't have enough Airmoney in my account, so I opted to pay with The Blue Business® Plus Credit Card from American Express for 2x points.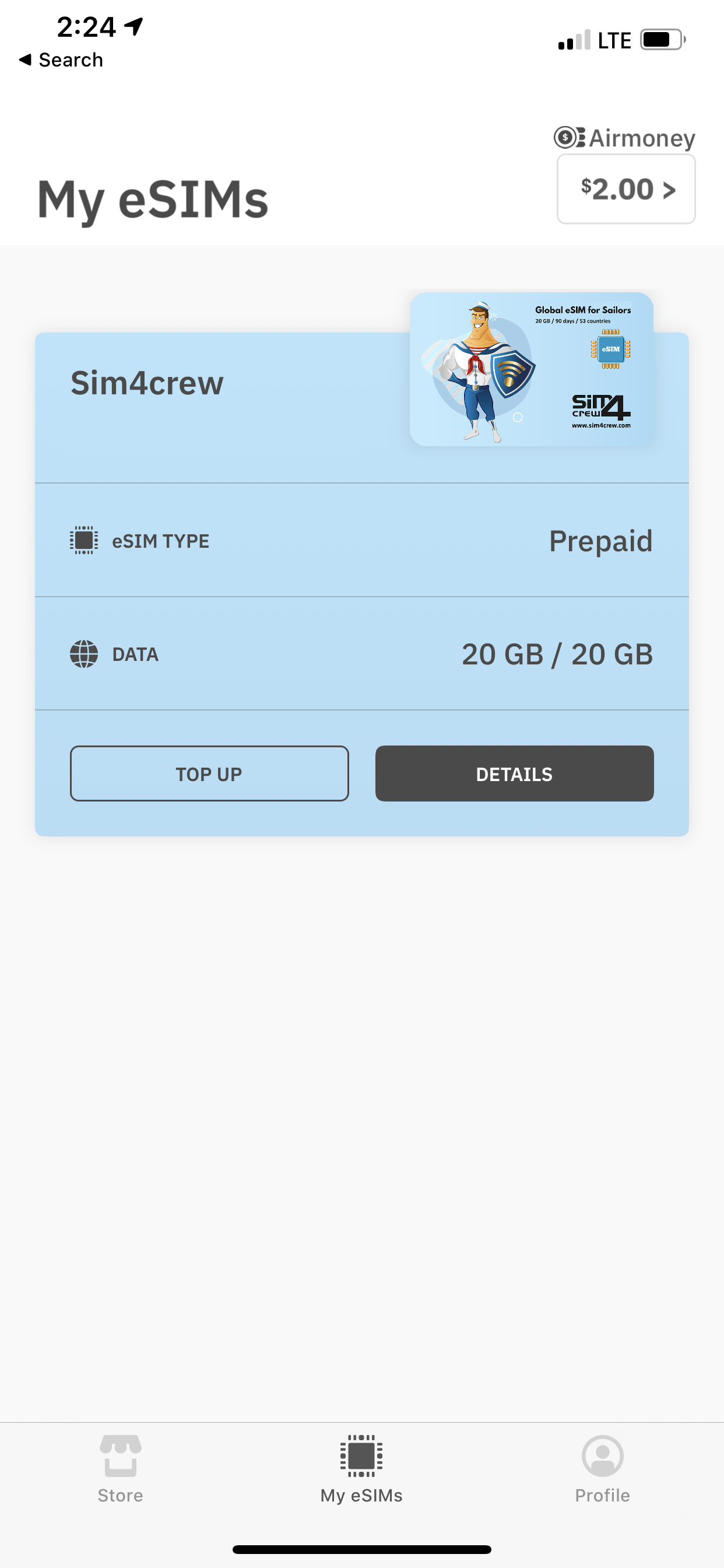 The eSIM showed up in my Airalo account immediately after purchase in the My eSIMs tab. This screen is where you can view and install all of your purchased eSIMs. Simply tap on the Details button underneath your purchased eSIM to view it.
My Experience Connecting to the Airalo Network
In the eSIM's screen, you'll see a variety of information and buttons. The first 2 buttons are the installation buttons: 1 for manual installation and 1 for QR code installation.
You'll have to opt for the manual installation if you're installing your eSIM on the device you purchased it from. This is because QR code installation requires you to scan the code with your phone's camera, something that's not possible if it's shown, well, on your phone screen.
But don't worry — manual installation isn't hard. This is actually how I installed my World eSIM from Airalo.
Here's how the process went on my iPhone: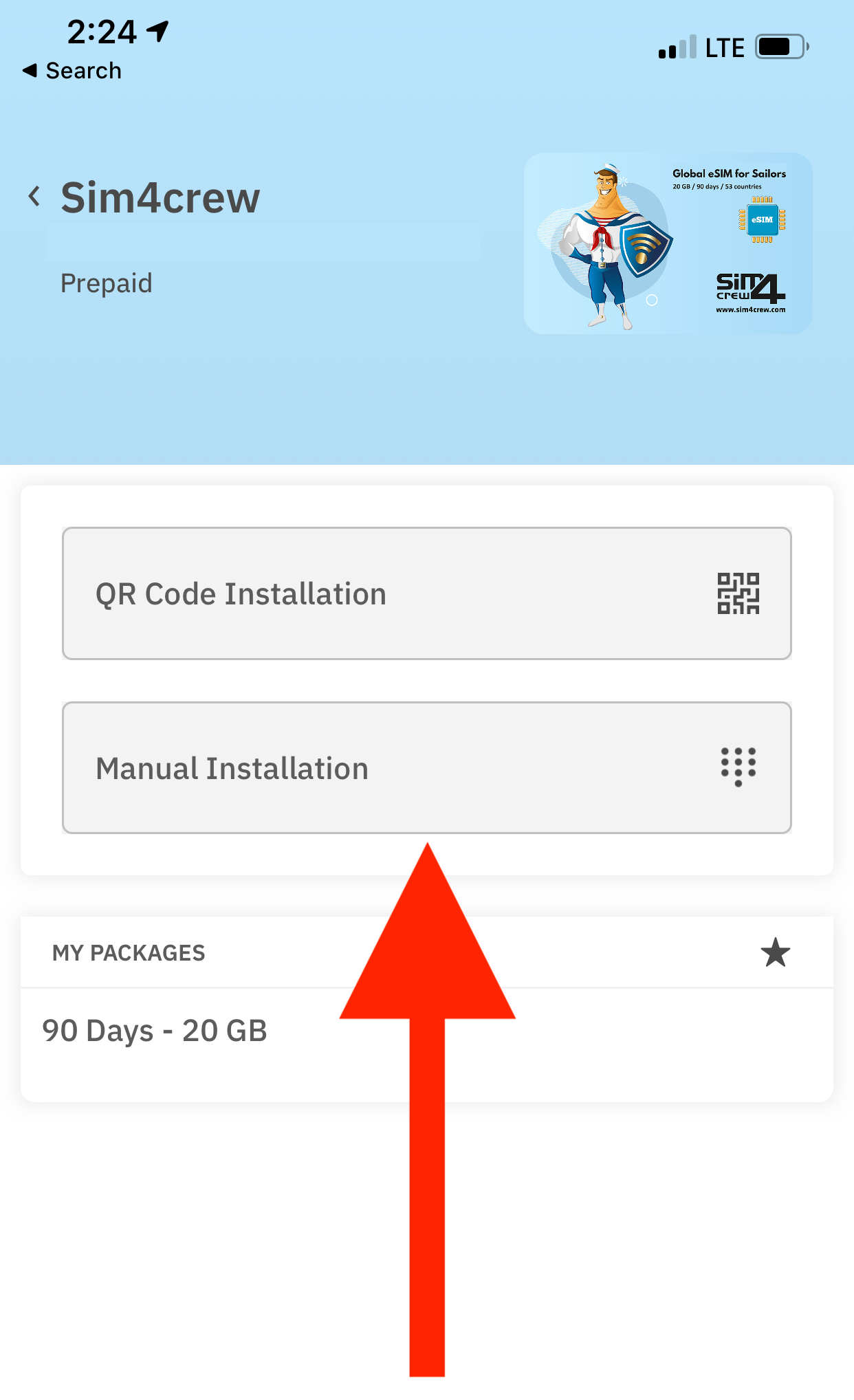 Click the Manual Installation button and you'll see your SM-DP+Address and Activation Code. These are the 2 things you'll need to install your new eSIM on your phone. Copy the SM-DP+Address first.
Open the Settings app and tap on the Cellular option at the top of the screen. Look towards the center of the screen and tap the Add Cellular Plan button.

Tap Enter Details Manually to enter your eSIM's unique codes that are required for activation. Image Credit: Airalo

Tap the Enter Details Manually button at the bottom of the screen.

Enter activation details found in the Airalo app here. Image Credit: Airalo

Paste the SM-DP+Address in the top line of the screen, then, switch back to the Airalo app and copy the Activation Code and paste it into the second line.
Leave the Confirmation Code blank and tap the Next button at the upper right-hand corner of the screen.
Now, iOS will now walk you through the eSIM setup process. It'll ask which of your SIMs you'd like to use for talk and text and which you'd like to use for data. You can change this at any time in the Cellular screen of the Settings app.
You're done!
Now here's where things get weird.
My World eSIM installed without a hitch, but it wouldn't actually connect to the network. I was in Amsterdam Airport Schiphol (AMS) at this point, so I knew that I had cell service, but it just wasn't connecting.
Even stranger, my T-Mobile physical SIM card — which has free 2G international roaming — did have service, and I could surf the internet slowly but without issue.
So I rebooted my phone a couple of times, went in and out of airplane mode a bunch, and tried everything else that used to fix iPhones at my college IT support job.
But no matter what I did, my Airalo eSIM would not connect to a cellular network. My phone's status indicator simply read: "No service."
So as a last resort, I reached out to Airalo's customer support team via Twitter — and they were awesome.
Dealing With Airalo's Customer Support Was a Breeze
I got a response from Airalo just a few minutes after my initial contact and was walked through a handful of troubleshooting steps.
Much to my surprise, most of the initial troubleshooting was done publicly on Twitter. This was nice because I didn't have to send an email and disrupt my workflow.
Most of the troubleshooting was pretty standard in the beginning, and none of it worked. I was told publicly that a customer service representative would get back to me via email. Oddly, I was never asked for an email address, so I waited for a DM requesting it.
I never got that DM, but I did get an email with instructions within the hour. Airalo must have matched the name on my Twitter account to my email address in its system.
The issue, they said? My phone was trying to connect to multiple networks at once, hence giving me no service.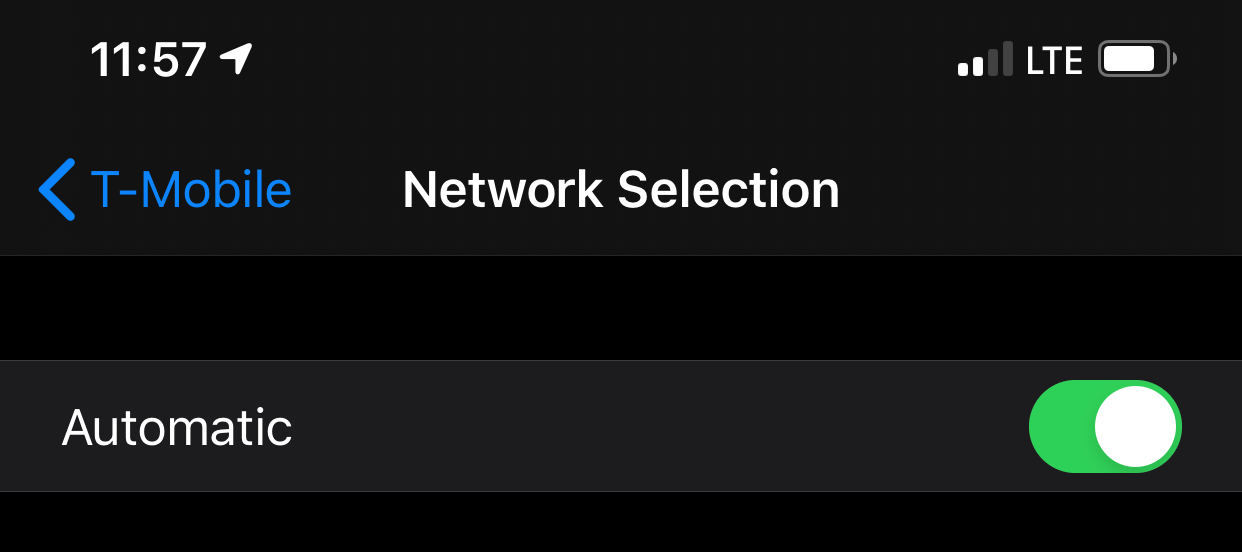 To remedy this, I had to go into the Cellular pane in the Settings app and turn off Automatic network selection. Then, I had to manually select one of the networks supported by the World eSIM which displayed automatically — since I was still at AMS, I selected Vodafone NL and waited.
Within a minute or so, my phone displayed "Vodafone NL" as the carrier and connected to data. All was working well, and I enjoyed high-speed data during my 5-hour layover at AMS.
So long story short: Airalo's customer support is awesome. And if you have issues with your World eSIM, make sure to manually select your network.
Using an Airalo eSIM in Europe
After I landed in Prague — the first actual destination of my mini-European tour — I noticed my phone was displaying "No service" after turning off airplane mode.
Thinking back to the service email, I manually selected a network and voila! Within a few minutes, I had Airalo cell service again, this time on Vodafone CZ.
I had to do this every time I moved to a new country in Europe. While not convenient, it sure saved time over going to a cell phone store. My phone wouldn't connect in Germany even after switching the carrier, but I was eventually connected after rebooting my phone.
Because of these issues, Airalo can seem a bit jerry-rigged together at times. It'd be nice if new carriers just connected when I landed in a new country. In Airalo's defense, though, this is likely an issue with phone modems instead of a fault of its service.
Actually using the Airalo eSIM was a breeze, though.
I experienced full 4G LTE speeds and was able to stream video, upload pictures, and even tether to my laptop with Personal Hotspot. There were no hiccups, and the service was the same as if I purchased a physical SIM from a local phone shop.
It was nice having access to multiple carriers with the World eSIM, too. In some countries, I had access to 2 to 3 different carriers at once, meaning that I could switch carriers if I found myself without cell service from the previously selected carrier.
Final Thoughts
All in all, Airalo is an incredible service for frequent travelers, digital nomads, and anyone else that needs to stay connected when traveling abroad.
The service is also miles cheaper than purchasing an international roaming plan from a U.S. carrier, and it's much more convenient than purchasing a physical SIM from a phone shop. And since you can keep your U.S. number active, too, you'll never miss an important call or text when traveling abroad.
But the service isn't without its issues.
It isn't exactly seamless to use, with some troubleshooting required in the beginning. But once you get it working, it provides a stable high-speed connection. If something does go wrong, you can count on Airalo's customer support to get you up-and-running without an issue.
Long story short: I can't recommend Airalo highly enough. Give it a shot on your next trip abroad and try for yourself — with eSIM plans starting at $3, there isn't much to lose.