American Airlines Boeing 777-200ER First Class/Flagship Business Review [MIA to BOS]
Airline: American Airlines
Aircraft: Boeing 777-200ER
Flight #: AA1074
Route: Miami International Airport (MIA) > Boston Logan International Airport (BOS)
Date: July 23, 2021
Duration: 3hrs 13mins
Cabin and Layout: American Flagship Business (sold as domestic first class), 37-seat capacity across 10 rows in a 1-2-1 configuration
Seats: 4A, 5A, 5D, 2D
Miles Used: 25,000 AAdvantage miles per ticket
Total With Taxes and Fees Paid: $5.60 per ticket
Typical First Class Cost: $500 (one-way)
Flying the Big Seats to Boston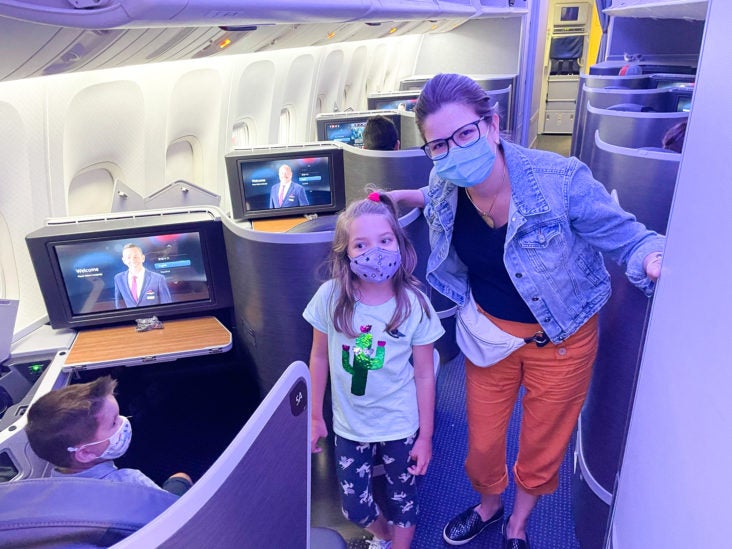 Throughout the pandemic, American Airlines (and other carriers) have been flying wide-body planes, which are normally reserved for international flights, on domestic routes.
Since international travel has been scaled back, many domestic passengers have been lucky enough to fly the big planes on routes that used to be serviced by narrow-body planes.
Generally, you can expect to find the Miami to Boston route serviced exclusively by American's Boeing 737s, however, when we traveled in July 2021, there were 2 daily flights using American's internationally configured Boeing 777s.
That meant we had the choice of first class seats on the 737 or the 777. The 737 seats were just standard domestic first class seats in a 2-2 configuration. However, the 777-200ER was in a 1-2-1 configuration which was designed as Flagship Business for international flights, which meant they were lie-flat seats. A big upgrade.
With prices and schedule being pretty similar, I made the (obvious) choice to book my wife, 2 kids, and myself in first class on the 777-200ER for the 3-hour flight up to Boston.
Continue reading to find out how the trip went, and why we were so glad we booked the big seats!
Booking My Flight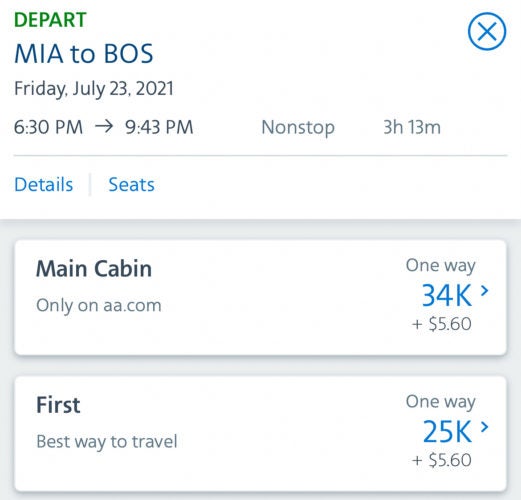 I had originally booked this flight about a month in advance. Prices had consistently been hovering around $200 for economy or $500 first class.
Since my family and I were traveling with a lot of luggage, I knew we'd have to pay extra baggage fees which could easily be a couple of hundred dollars. With that in mind, I started considering booking a first class flight for the extra luggage allowance.
I really didn't want to spend $2,000 for all of us to fly for just 3 hours, so I started looking at options to book with miles.
At the time of booking, American Airlines was selling economy seats for 22,000 AAdvantage miles and first class seats for (only) 25,000 miles. Again, I didn't love the idea of dropping 100,000 miles for a 3-hour flight, but getting 2 cents per mile and keeping $2k in my pocket ended up making the most sense.
However, after a last-minute change to our plans, I had to rebook and get us on a flight 2 days earlier than planned. Fortunately making changes to award flights is easy with American Airlines. I just canceled the original flight online and the miles were deposited back into my account instantly.
When I went to rebook, economy seats had jumped up to 34k per person, but first class remained at 25k. Obviously, again, I booked the first class seats. But you have to wonder, do people actually pay more to fly in economy?
Total Paid
When all was said and done I paid 25,000 American Airlines AAdvantage miles (that I transferred from Citi) plus $5.60 per person for a first class flight from Miami to Boston for a total of 100,000 miles + $22.40.
Before the Flight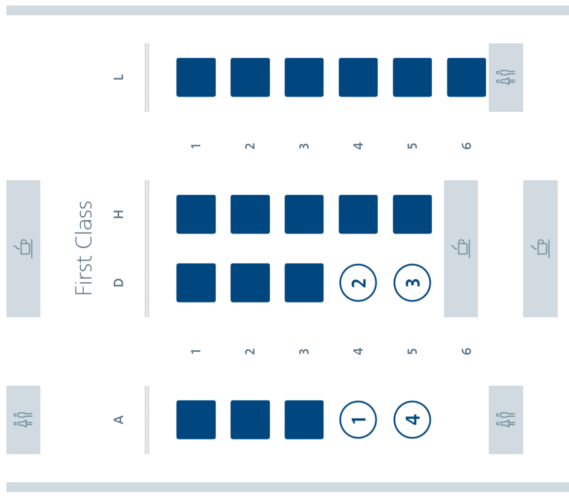 When flying with young kids, my wife and I (understandably) like to keep an eye on them — which can be tough when flying in the very private business class/first class seats.
We've tried flying in the middle seats (in the 1-2-1 setup), which do allow you to be closer to the person on your side.  However, if we need to get out of our seats to help with the TV or meal, we need to actually get up and walk to the other aisle which turns out to be less convenient.
Lately, what's been working better for us is booking a cluster of seats together sharing the same aisle. That way we can easily get up to help. Although vision can be obstructed, poking our heads out into the aisle still allows us to see the kids.
For this flight, we booked a cluster of 4 seats in the back of the cabin: 4A, 5A, 4D, and 5D.
Miami International Airport (MIA)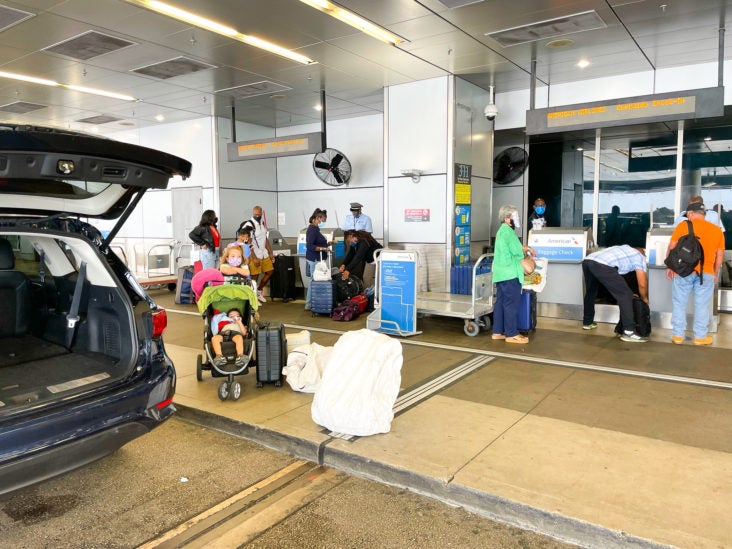 We arrived at Miami International Airport with our rental car full of luggage. As we didn't have a ton of time, we opted for curbside check-in, a free service from American Airlines. Workers rely on tips, so plan to have cash on you if you use this service.
The curbside check-in experience was great. The agent helped me unload the car and then took the bags and our IDs to get the process started while we got the kids organized.
Within 5 minutes the bags were checked and we had our boarding passes in hand. My wife and kids went inside to wait while I went and returned the rental car.
Although we would have been able to use the priority line for check-in, for anyone without elite status or a ticket for a premium cabin, utilizing curbside check-in is a great way to expedite your airport experience.
Lounge Options at MIA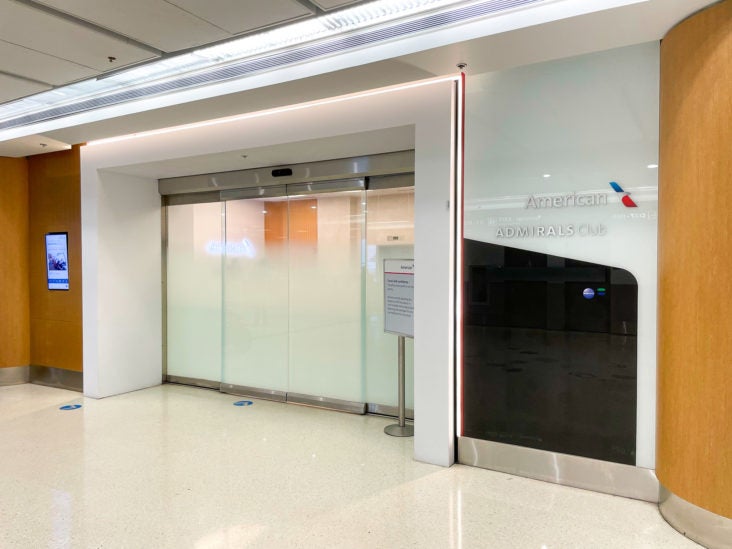 Miami has a pretty good selection of lounges, and for many readers of Upgraded Points, getting into them should be easy.
There's an American Express Centurion Lounge, 2 American Airlines Admirals Clubs, a handful of Priority Pass lounges, and plenty more that are a welcome sight when trying to escape the chaos of MIA.
We opted to stop by the Corona Beach House which gives Priority Pass members up to 2 $30 credits which can be used for anything on the menu. This was great because the kids got to eat some tacos while mom and dad had some drinks — which is always welcome after getting through security with 2 little ones. The $60 credit almost took care of the entire bill.
After we paid, we headed towards our next stop, the Admirals Club at D30. This location also has the Flagship Lounge inside of it, as well; though it was closed due to COVID-19, it is expected to fully reopen by October 2021.
We didn't have much time to lounge around, but it was a good spot to sit down and spread out without waiting by the gate.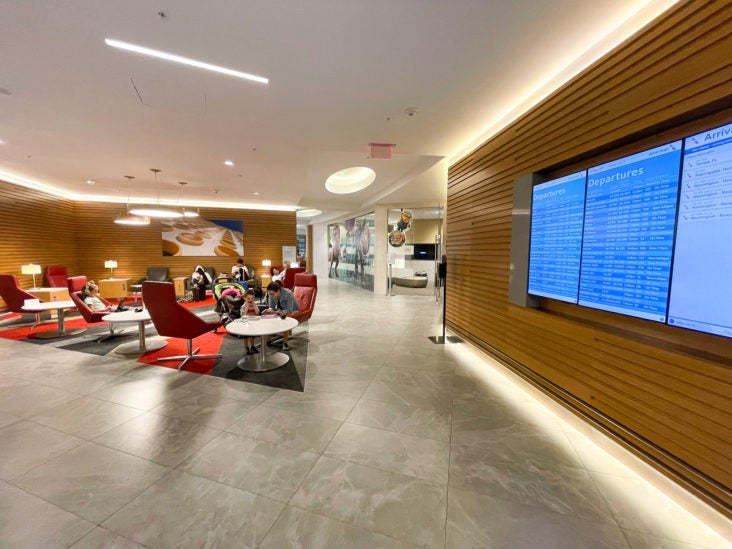 There were some healthy snack options like vegetables, hummus, and salad…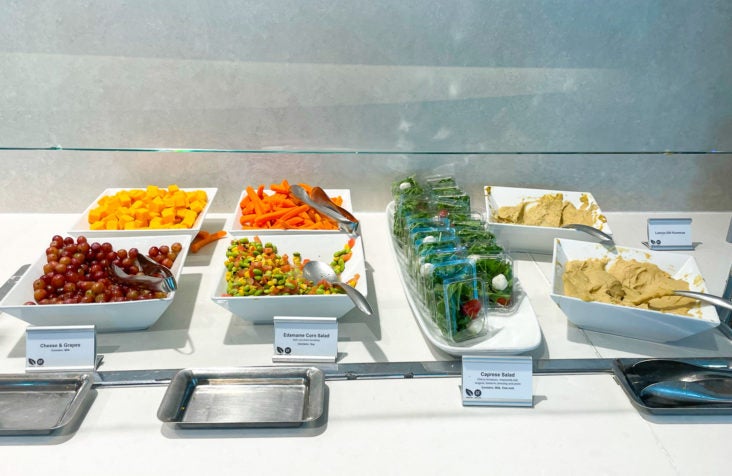 …with nuts, candy, cookies, and other treats on offer.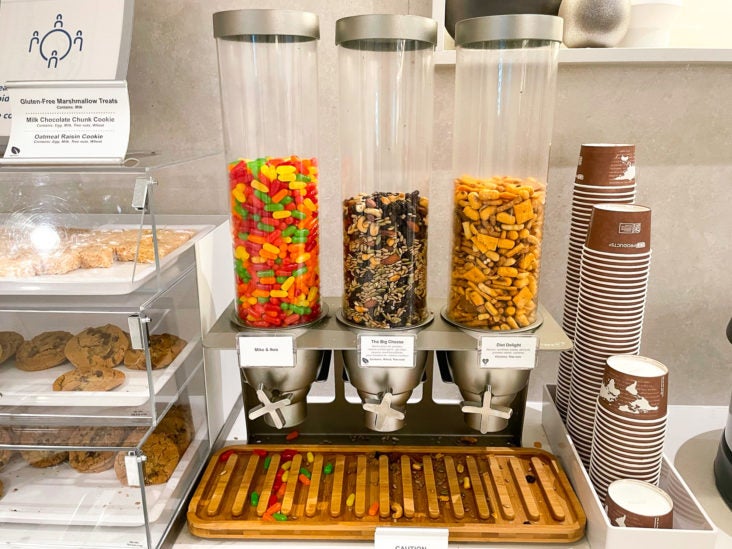 There was even a fresh, made-to-order guacamole station.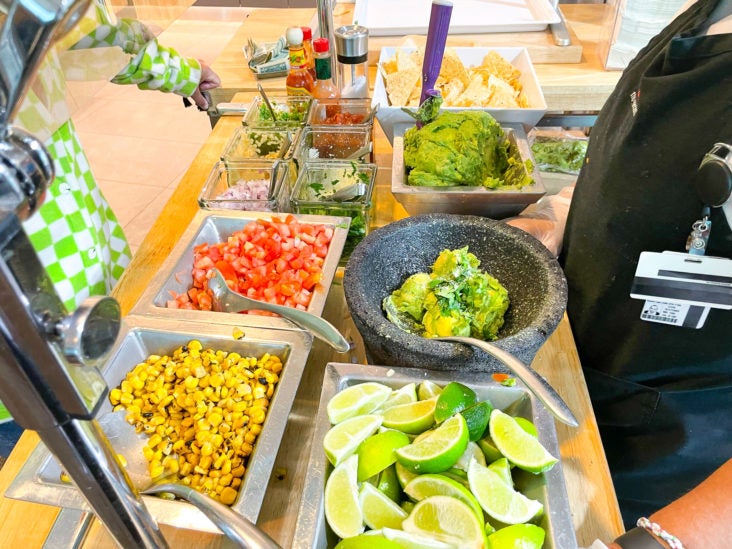 After getting some desserts for the kids, we headed toward our gate.
Hot Tip: For a more in-depth review of the seating options, food and beverage offerings, amenities, staff, and service (as well as how to gain entrance), check out my full review of the Admirals Club at Miami International Airport.
Boarding Miami to Boston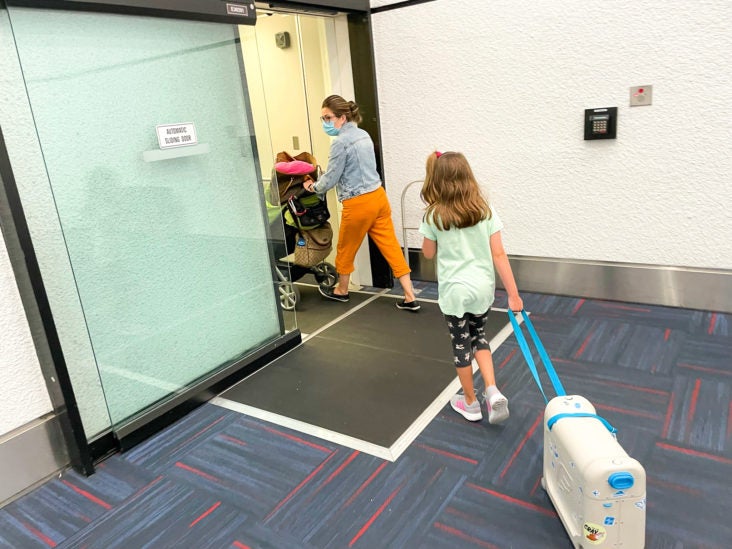 Our flight was leaving from gate E30, but since we were at the Admirals Club at D30, that meant we had a decent walk ahead of us.
With the kids in tow, it took us a little over 10 minutes to get to the gate. Admittedly, I didn't realize how far away we were, otherwise I wouldn't have waited until I received the "now boarding" alert on my phone to leave the lounge.
Since we were one of the first boarding groups, when we got to the gate our group had already been called, so we just walked right on and found our seats.
American Airlines First Class/Flagship Business [MIA to BOS]
The boarding doors divided the first class cabin into 2 sections. As we were booked in the back of the forward cabin, we turned left and immediately found our seats.
We first got the kids settled into their seats, which they were very excited about.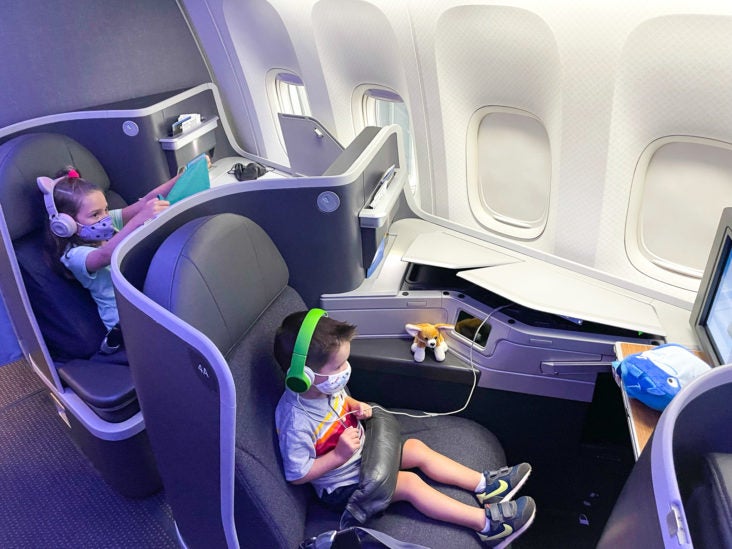 I then went to find my seat, which was covered in a very welcoming "Do Not Occupy" sign. I called over the flight attendant, who apparently had no idea about the broken seat. She asked me to wait in the aisle until she could figure it out.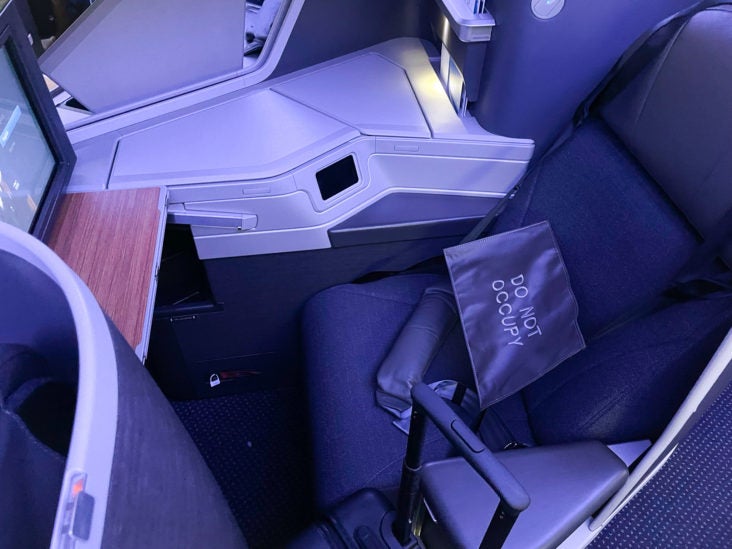 Eventually, a deadheading pilot who was on our flight had to go back to the gate agent and get a new seat assigned for me. After 15 minutes of waiting in the aisle, I was assigned a seat 2 rows ahead.
First Class/Flagship Business Seat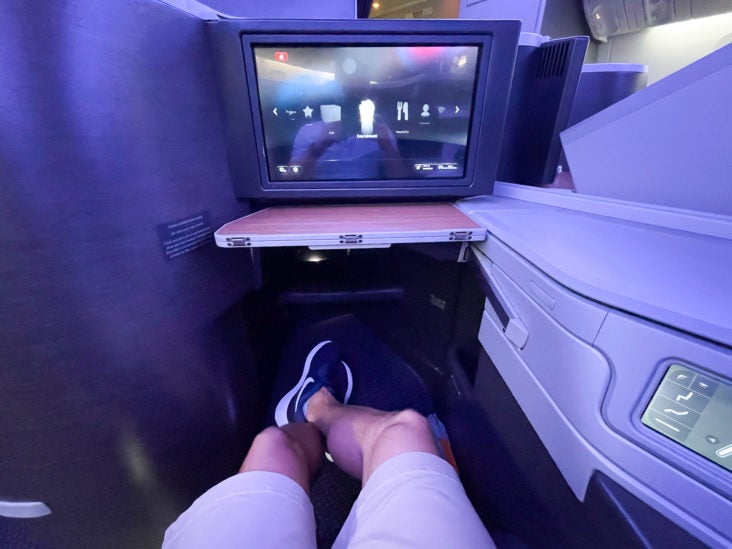 The first class seats we flew were actually Flagship Business seats meant primarily for international flights.
These seats were the Rockwell Collins Aerospace Super Diamond reverse herringbone. They lie completely flat and provided a good amount of privacy.
If you're flying alone and looking for more privacy, try to get a window seat. The middle seats are good if you're flying with someone you know because even though it looks like there's a divider, it's actually just the cover to the storage.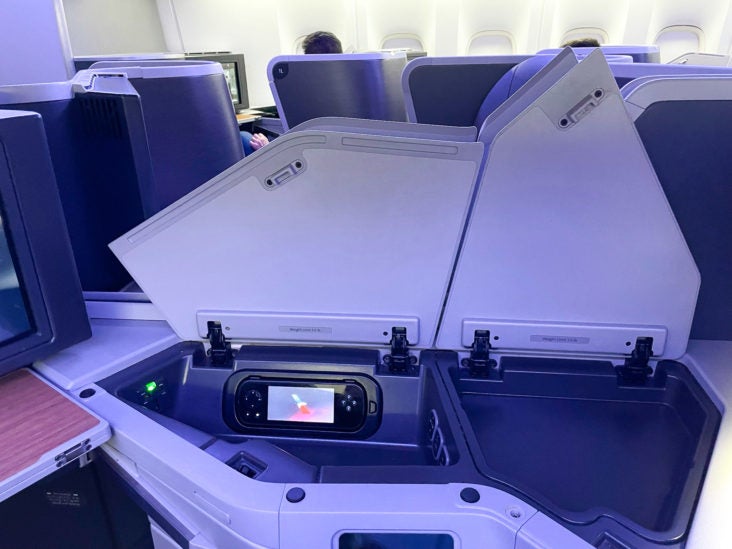 If you put something in these storage bins (or just want a flat surface) and close the cover, your side of the divider is gone. If the passenger on the other side does the same, then there's no divider and much less privacy.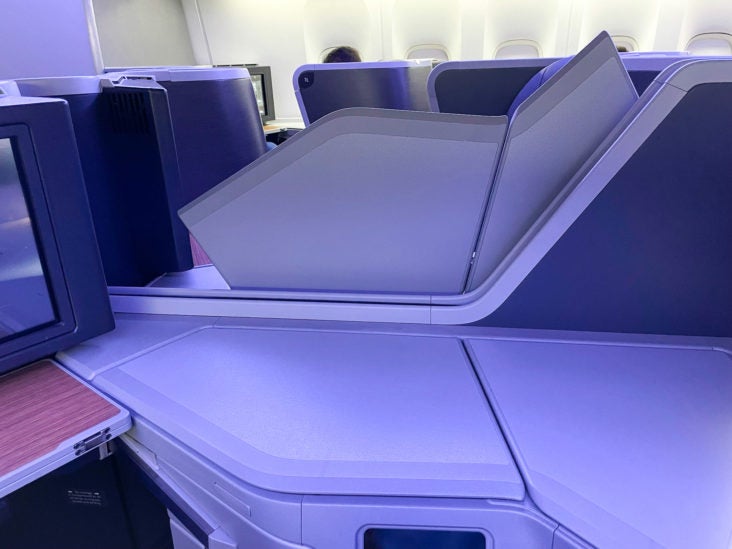 In my opinion, this is a very strange design/and or budget choice. On some of the other reverse herringbone seats that American Airlines flies, there is a divider that pops up and down which gives passengers better options and privacy.
The rest of the seat was nice. It had a sleek design and some decent storage options (but nothing big enough for a laptop).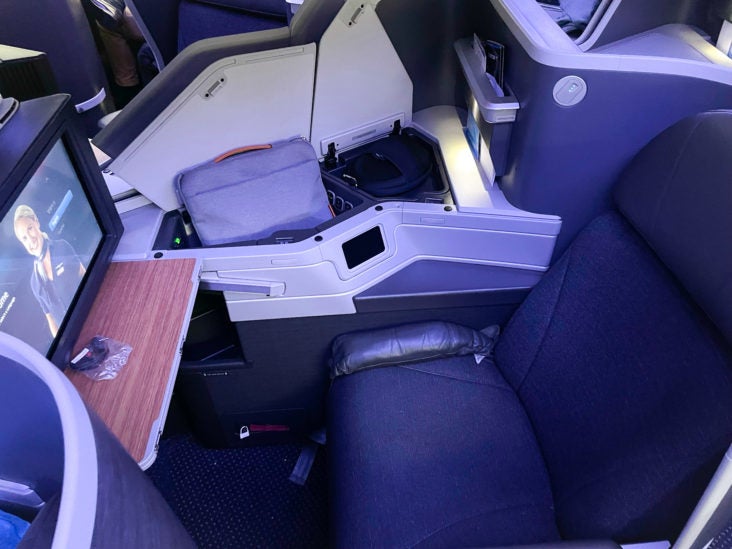 There's also sharp TV that doesn't need to be angled or put away during take-off and landing.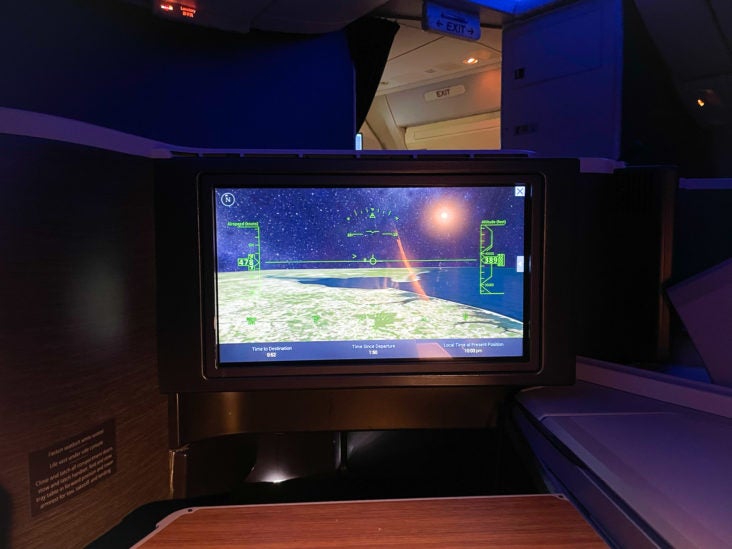 Elsewhere, you'd find plenty of charging options, including an AC outlet.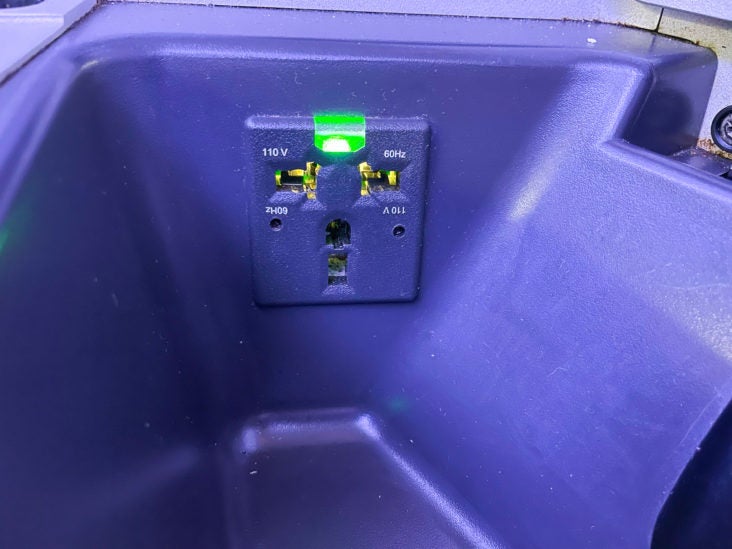 There were 2 USB ports and a headphone jack for a dual or single plug.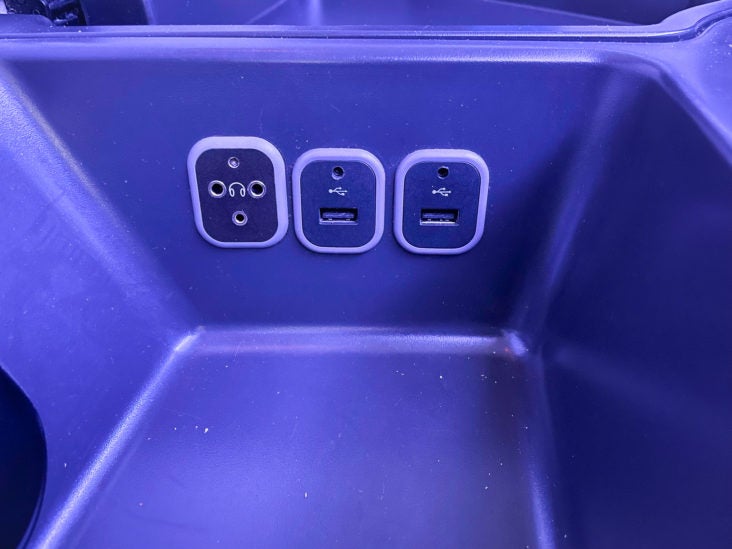 An adjustable reading light was located near the headrest.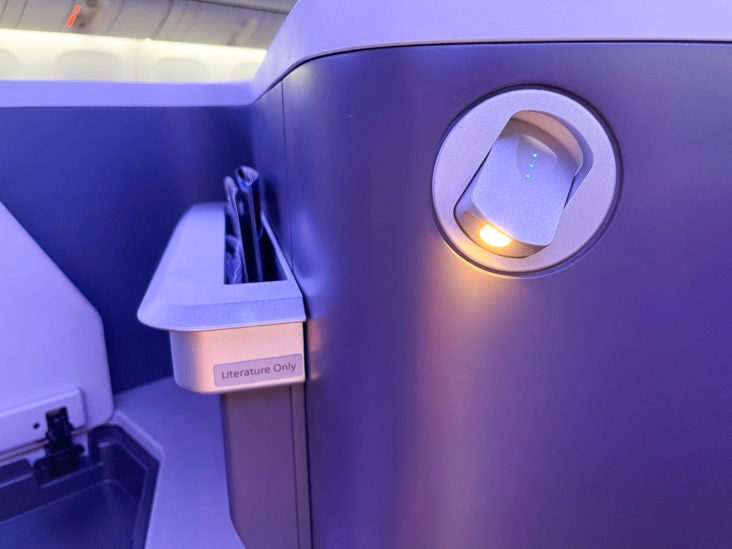 Individual air nozzles were located above the seat.
And an easy-to-use, digital seat controller was located at the end of the armrest, just below storage.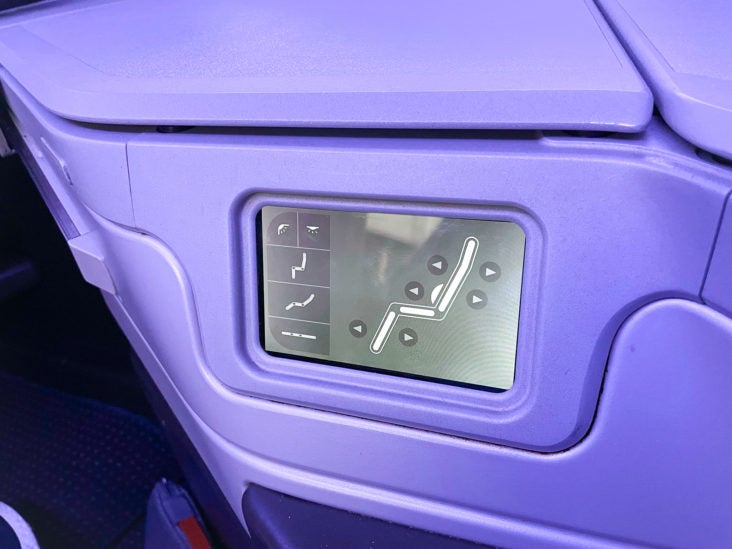 Delay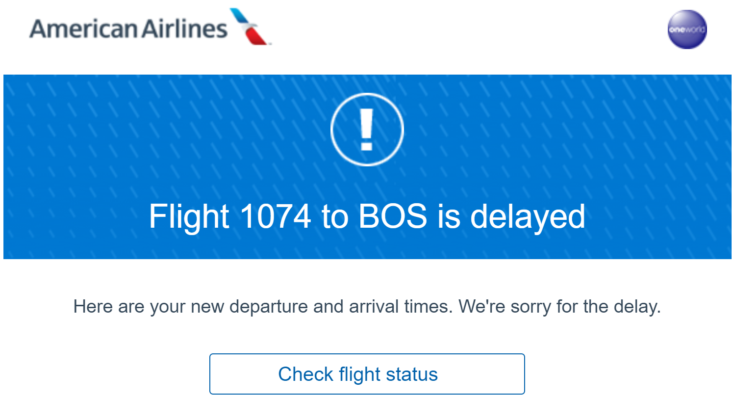 Even before we boarded, the flight was delayed due to the incoming flight arriving late. Once we boarded, I received an email from American that our flight would be delayed further — but no announcement from the crew.
For about an hour after we boarded I continued to receive these emails, but no mention or explanation from the crew, which was frustrating. If we are going to be late, at least tell us why.
Any delay with small kids instantly adds stress for parents. Fortunately, the kids were content in their big seats watching TV. Had we been flying in coach, it certainly would not have been as comfortable.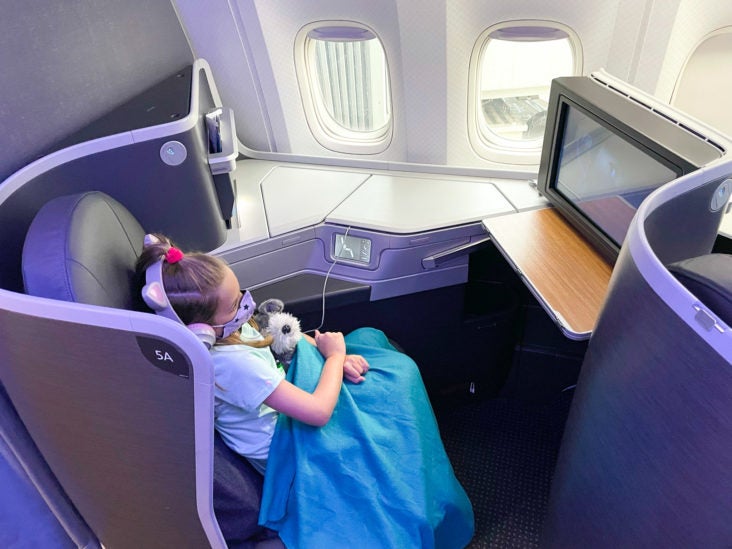 After about 1.5 hours we finally pushed back from the gate and started making our way towards Boston.
Amenities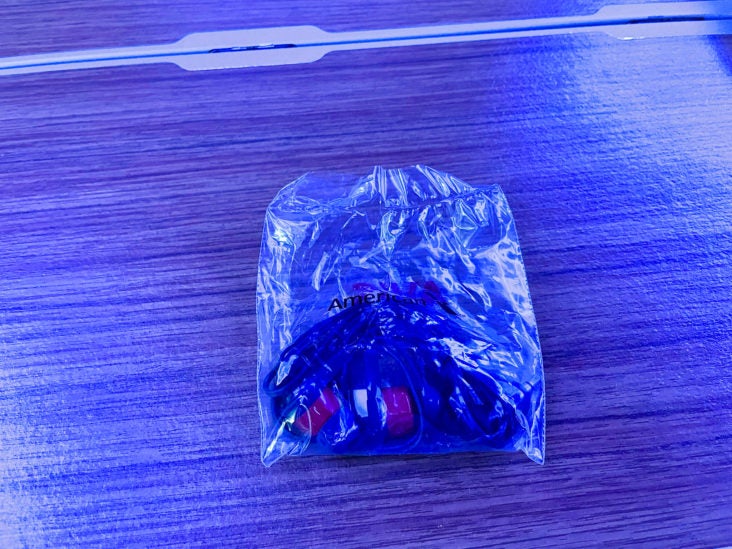 Despite the international Flagship Business class seats, this was still a 3-hour domestic (albeit first class) flight on American Airlines.
There was no amenity kit, no pre-departure beverage, and the headphones were disposable earbuds.
Wi-Fi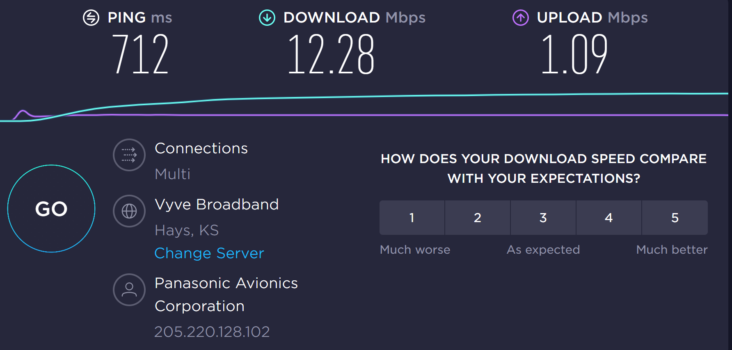 As much as I wanted to sit back and watch a movie, after a week of theme parks and hanging by hotel pools, I needed to squeeze in as much work as I could.
Fortunately, the wireless internet was decent, consistently above 10 Mbps throughout the flight, which was fine for what I needed to do.
The cost of the Wi-Fi was $19 for 1 hour or $25 for the entire flight. I paid the $25.
Food and Beverage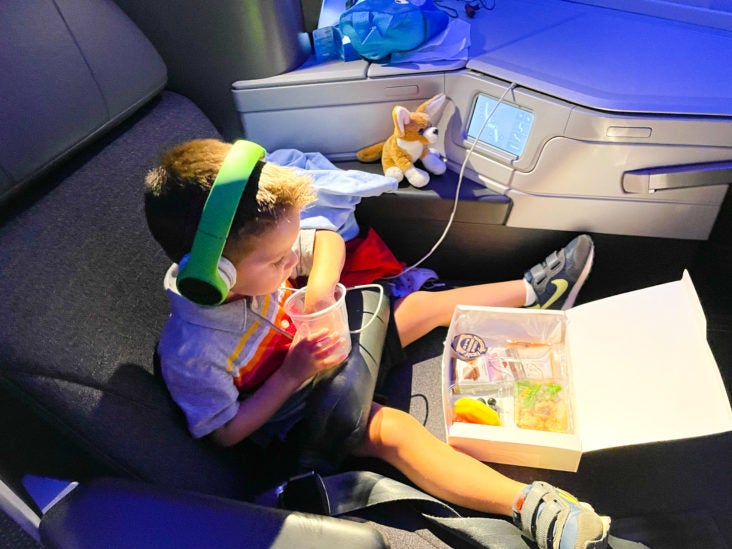 Although there was no pre-departure beverage during our long delay, food and drinks were served during our flight.
The flight attendant that was working our aisle was excellent and made sure that the kids had all the snacks they needed, and she was sure to ask me or my wife before offering them any juice — she was obviously a mom.
She even opened up the package of nuts and put them in a cup for our 2-year-old to make it easier for him to eat, which (in my opinion) was above and beyond. I made sure to send in a compliment to American Airlines.
Drinks
Our wonderful flight attendant made the rounds with the drink cart and everything was available — it was as if we were flying "pre-COVID" or on an international flight.
Similar to our drinks choices in the lounge, I stuck with an IPA from Goose Island and my wife had some red wine. Throughout the 3-hour flight, refills were consistently offered and delivered.
Snack Box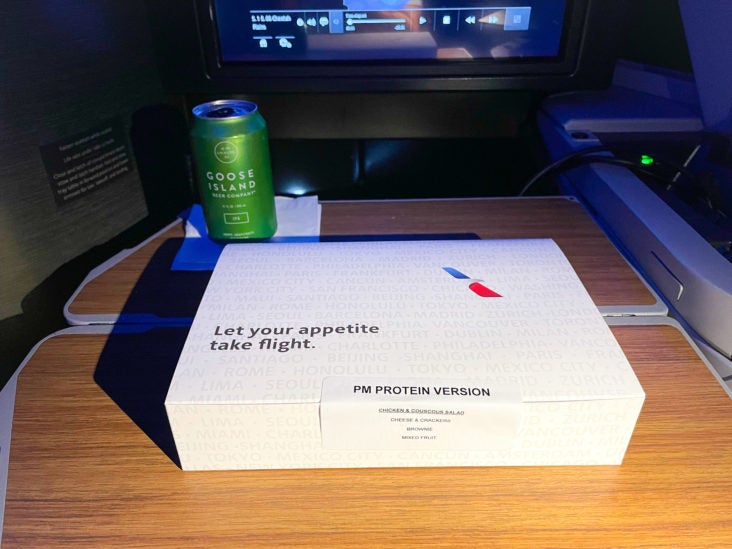 Shortly after drinks were served, and about 40 minutes after takeoff, meals were served.
I chose the protein version of the Fresh Bites snack box, which was a prepackaged meal box.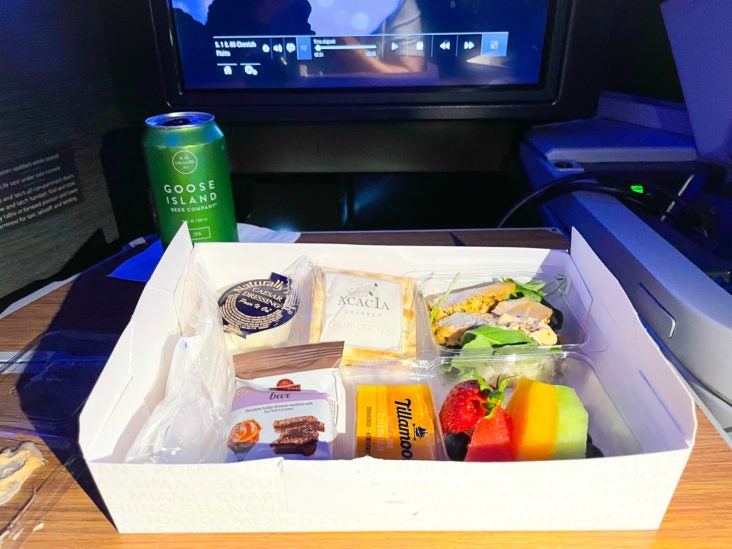 Inside the box was:
Chicken and couscous salad
Cheese and crackers
Brownie
Mixed fruit
Overall, the snack box was simple but pretty good. We all really liked the chicken and couscous and the kids were big fans of the fruit and brownies — big surprise!
Snack Station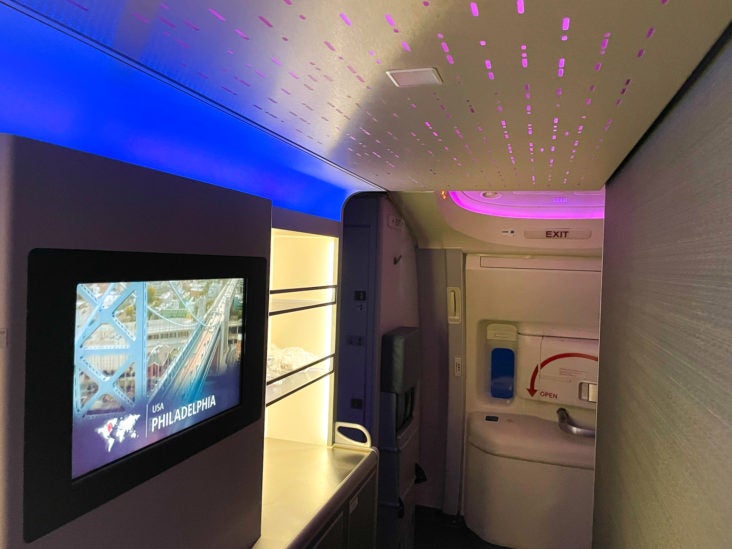 Normally on overnight or long-haul international flights, there will be a snack station set up in the galleys. Since this was a quick domestic flight there was no snack basket, but there were extra headphones had anyone needed a pair.
Entertainment and Service
Entertainment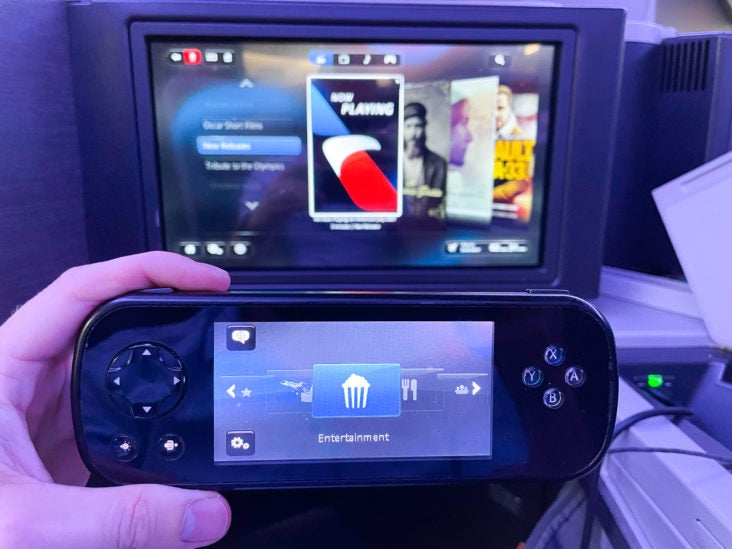 American's inflight entertainment (IFE) options are always solid. With a decent variety of new releases, classic movies, TV shows, and music, there's something for everyone.
Passengers can even now stream Apple TV+ and Apple Music, or learn a bit with Rosetta Stone or Skillshare on the 15.4-inch screen!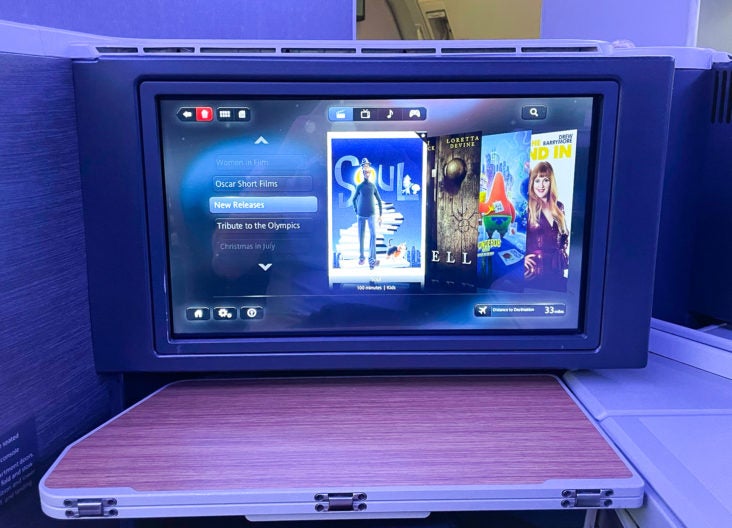 My kids were happy campers watching as many Disney movies or TV shows as they could fit into the flight.
Meanwhile, I did a little bit of work and watched the flight map.
Service
As I mentioned, our flight attendant was absolutely fantastic.
Sure, I went in with relatively low expectations, but she really made sure that our little family was comfortable and taken care of — it was much appreciated.
COVID-19 Protocols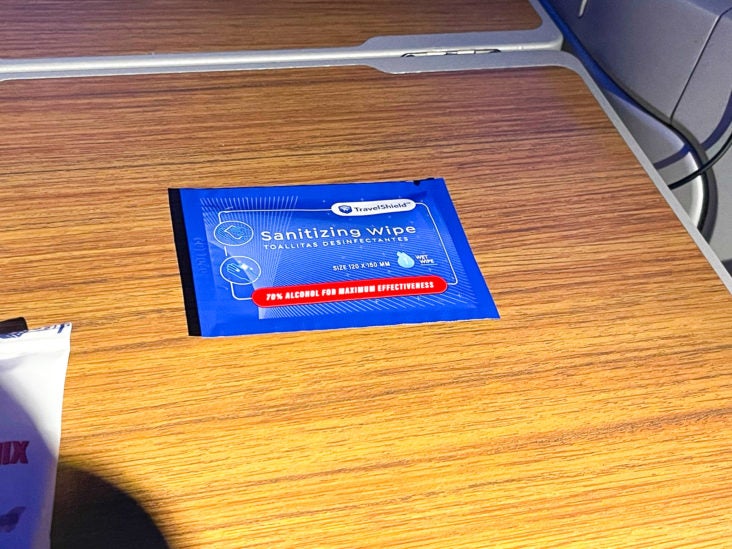 Per federal regulations, face masks were required for all passengers over the age of 2, except while eating or drinking. Our kids were (thankfully) very cooperative throughout the flight — which isn't always the case with a 2-year-old!
I had mentioned there was no pre-departure beverage, which was a casualty of the pandemic, but seems to be sticking around as a budget cut.
Besides that, the only noticeable difference from standard service was the delivery of some sanitizing wipes before meal service.
Bathroom
One of the most overlooked perks of flying in business or first class with kids is access to a larger lavatory.
Whether accompanying a small child to the bathroom or actually changing a diaper in an airplane bathroom, every inch counts!
The bathroom that was in the galley between the 2 first class cabins had a sliding door and was probably almost twice the size of some of the economy bathrooms we have used.
Arrival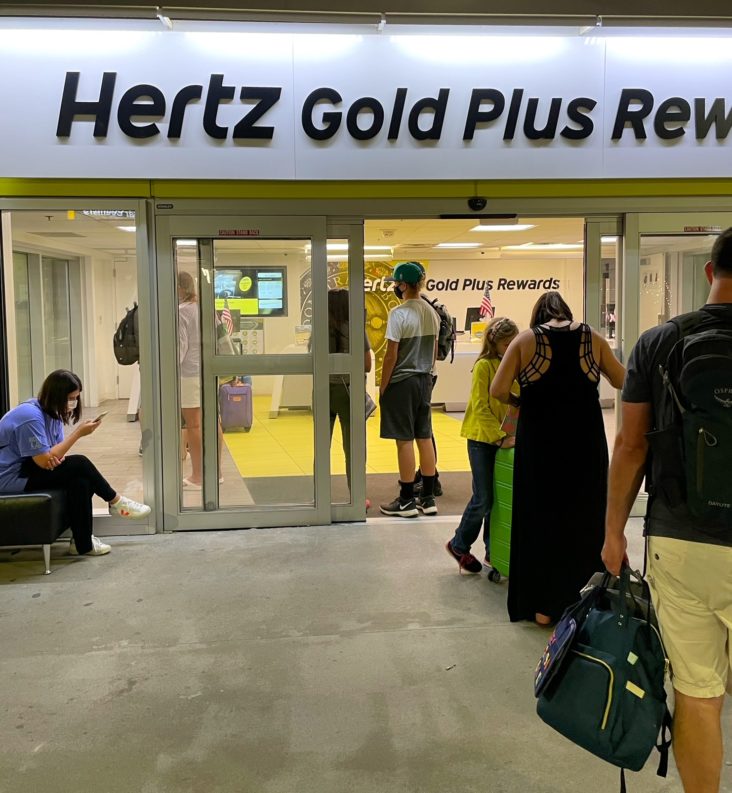 Deplaning in Boston was quick and easy, however, the airport was extremely busy. I had never seen anything like it.
I knew that Florida had been busy with revenge travel, but in all my years flying back home to Boston I had never seen so many passengers arriving at once and the chaos that came along with it.
And to top it off, there was something wrong with my Hertz account, so I was forced to stand in one of those infamous rental car lines to pick up my rental car. Not an ideal finish to the trip, but it was fine in the end.
Final Thoughts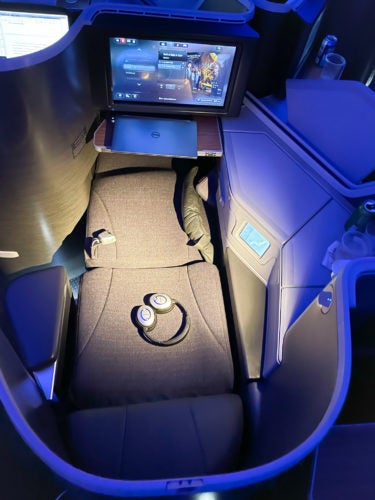 My family and I really enjoyed our American Airlines flight up from Miami to Boston, despite the 1.5-hour delay that the crew pretended didn't happen.
Paying 25,000 miles to fly first class (instead of 34,000 in economy) on a wide-body 777-200ER was a prime example of points and miles well spent. The extra space made a big difference for the kids during the delay, and the service was top-notch.
The food and drink offerings were OK. I like beer, so nothing to complain about there, and the snack box was satisfying, but I still don't understand why there is no pre-departure beverage or why everything is served in plastic cups. I know… it's cheaper, but still, this is supposed to be "first class."
Bottom line, there was no better seat flying between Miami and Boston, and booking it made for a more comfortable trip for my family. And, of course, we didn't get hit with extra baggage fees.
I would easily book that flight again if it was available, but who knows for how much longer American will be flying these wide-body jets on domestic flights. Enjoy them while you can!