Admirals Club Lounge at Miami International Airport Gate D30 [Review]
After spending several days in Florida with my wife and kids where we enjoyed a bit of Walt Disney World and relaxed at the luxurious Ritz-Carlton Orlando, Grande Lakes, it was time to continue our trip up north to New England to spend some quality time with family.
Although we were in Orlando, flying out of Miami made more sense to us for multiple reasons (flight prices, car rental, MCO is a mess, etc.).
Once we made our way through security at Miami International Airport (MIA), we did a headcount, made sure we didn't lose any toys in the x-ray machine, and then made a game plan for our 2-hour wait before our flight to Boston Logan International Airport (BOS).
A Quick Pit Stop Before the Admirals Club
Although I knew spending some time at the Admirals Club would be a good option for a family of 4, I also knew that the food options wouldn't be very satisfying. So to make sure we didn't have any cranky kids with us, we stopped at the Corona Beach House in Terminal D (between gates D23 and D24) for something to eat.
We chose Corona Beach House because it's a Priority Pass restaurant and members can get up to 2 $30 credits per visit, so we got a $60 discount on our meal, which pretty much covered the entire cost.
After a few tacos, everyone was in a good mood and we started making our way towards the Admirals Club near gate D30.
What Are Admirals Club Lounges?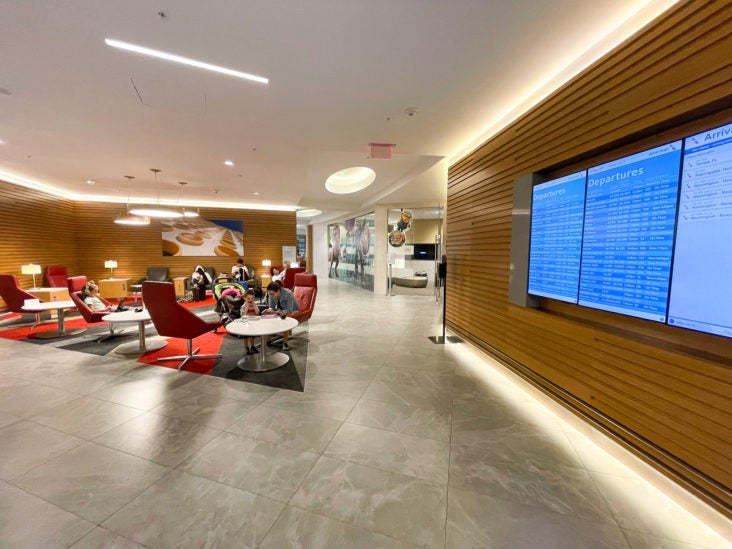 For those not familiar, Admirals Clubs are lounges owned and operated by American Airlines. They are available to certain passengers and credit cardholders, as well as paid members.
Guests can enjoy free snacks, drinks, and Wi-Fi, and there are usually additional slightly higher-end food and beverage options available for a charge.
With almost 50 Admirals Clubs across the world, there's a good chance you'll encounter one of these lounges on your travels if you're flying with American.
Hot Tip: Flying American Airlines soon? Here's where you can find every Admirals Club location in the U.S.
Admirals Club — Concourse D at Miami International Airport (MIA)
Location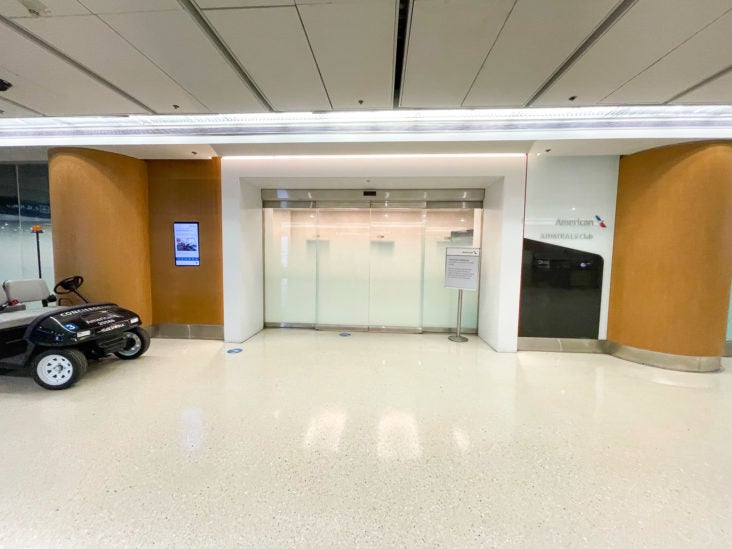 This Admirals Club is located in the North Terminal, Concourse D, across from gate D30 at Miami International Airport (MIA). There's another Admirals Club near gate D15, but it's smaller and doesn't have a Flagship Lounge attached to it.
American Airlines uses Concourse D and E at MIA. If you're flying from Concourse D you'll have 2 Admirals Clubs to choose from. Unfortunately for us, our flight was at the end of Concourse E, which was a bit of a hike from the lounge.
The Admirals Club at D30 is easy to find on the left side as you're walking towards the gates. Look for the sleek frosted doors underneath a backlit frame.
Gaining Entry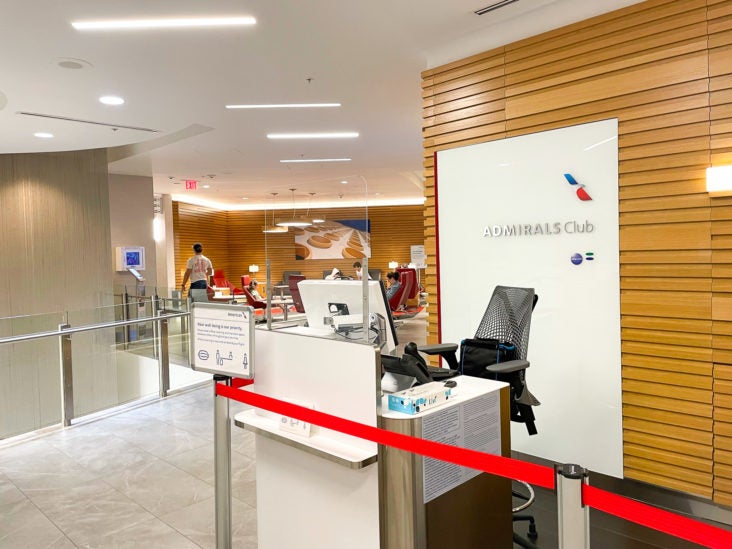 Despite having a first class ticket for our flight to Boston (BOS), lounge access was not included.
However, since I'm an authorized user on my dad's Citi®/AAdvantage® Executive World Elite Mastercard®, we were able to access the Admirals Club for free.
One of the best perks of the AAdvantage Executive World Elite card is that you can add up to 10 authorized users for no additional cost, and each of those users will then be able to access Admirals Clubs on their own.
If your ticket doesn't include lounge access, and you don't have the right credit card in your wallet, there are other ways to get into the Admirals Club:
Buy a day pass for $59
Buy an annual Admirals Club membership that ranges between $550 and $650
Have AAdvantage Executive Platinum, Platinum Pro, or Platinum status while flying any cabin internationally on American Airlines or a Oneworld partner
Have either Oneworld Emerald or Sapphire status while flying any cabin internationally on AA or a Oneworld partner (not including North America)
Uniformed military personnel flying on American Airlines
Both Admirals Clubs at Miami International Airport are open daily from 5:30 a.m. until 10:30 p.m.
First Impressions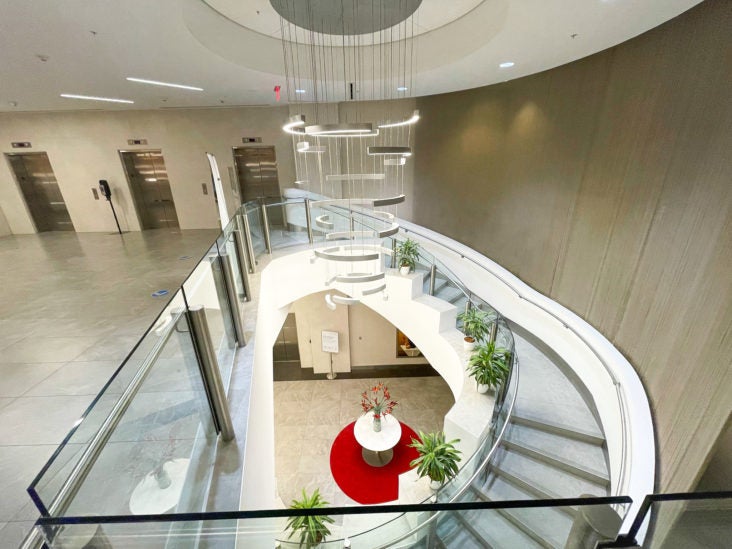 I've passed through the entrance many times when visiting the attached Flagship Lounge (currently closed but reopening in late September 2021), however, I haven't spent much time in the Admirals Club side.
The main entrance was nice and bright and was instantly recognizable to anyone who has visited an Admirals Club anywhere else.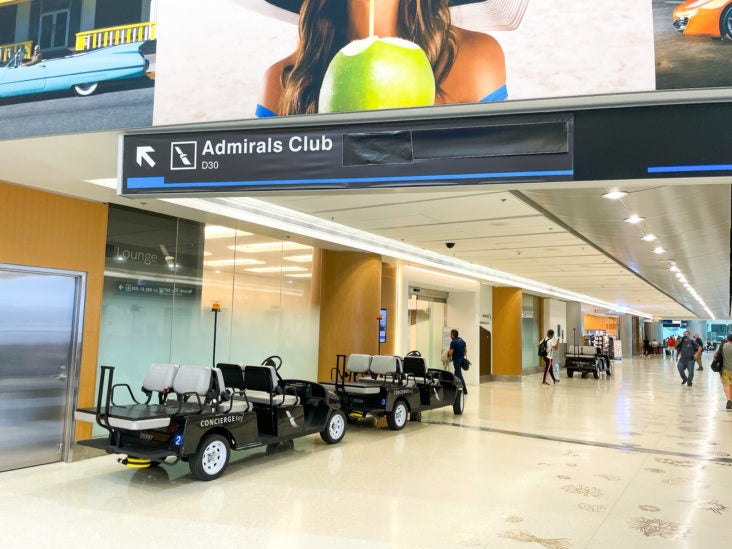 After checking in, we took an elevator up 1 floor to where the lounge is located. Once we got out of the elevator, we were greeted by 2 other desk agents who told us we could get settled either to the left (Admirals Club) or to the right (Flagship Lounge).
Since the Flagship Lounge wasn't up and running, some of the seating was used as overflow for the Admirals Club.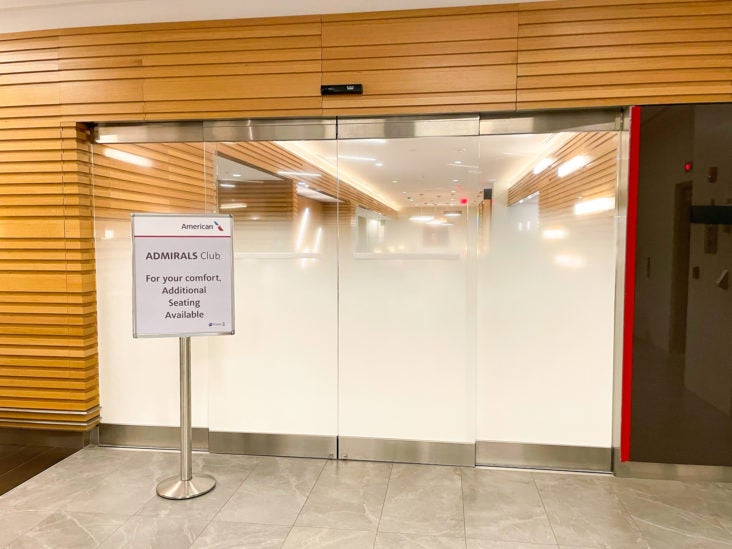 Entering to the left towards the Admirals Club, we passed a stairwell and sitting area.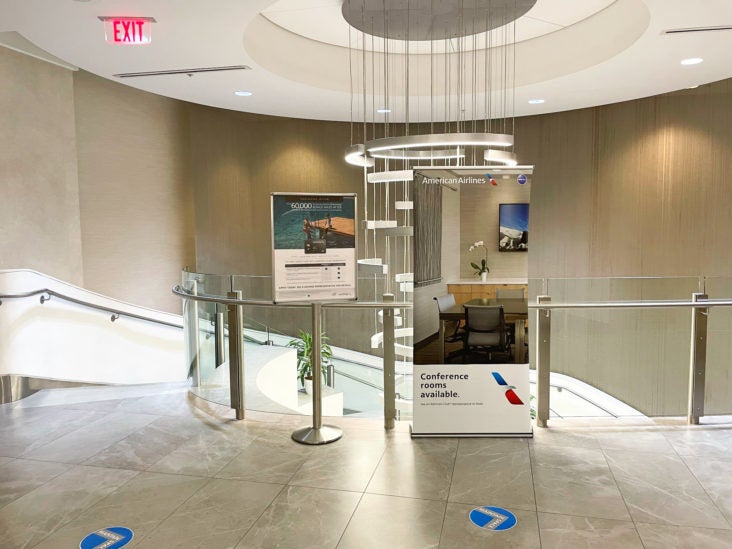 We also passed the kids' room on the right which was occupied…with non-kids.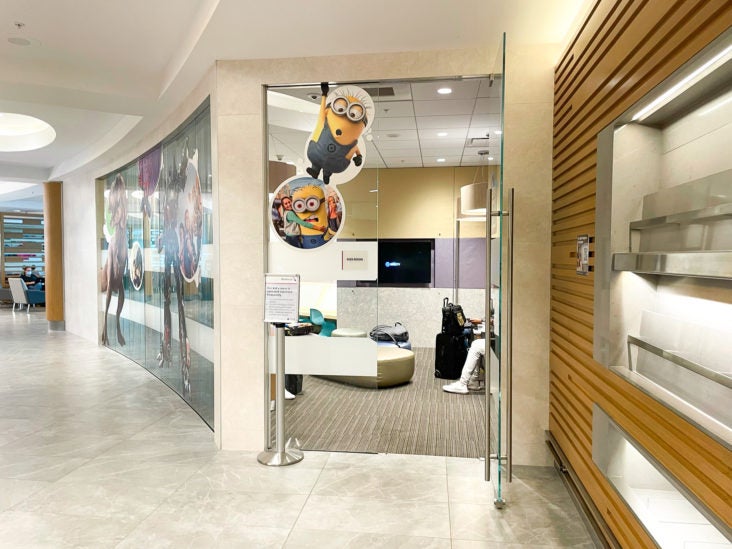 Continuing on was the main dining area on the left with a bar in the middle and snacks on each side of the wall.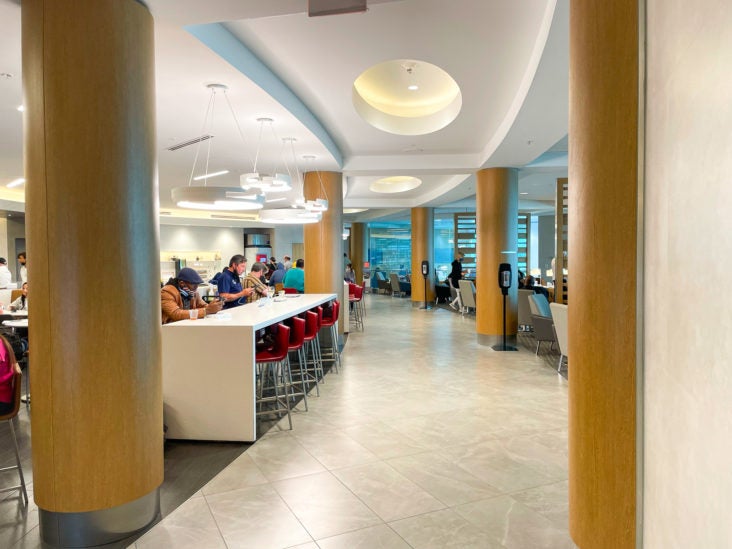 Across from the bar area was the main seating area which had massive windows and great views of the tarmac.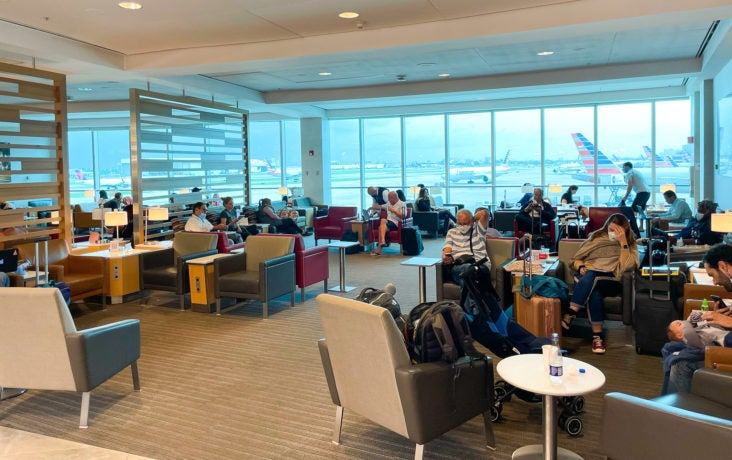 Further past this area we found another area for snacks as well as the famous guacamole station.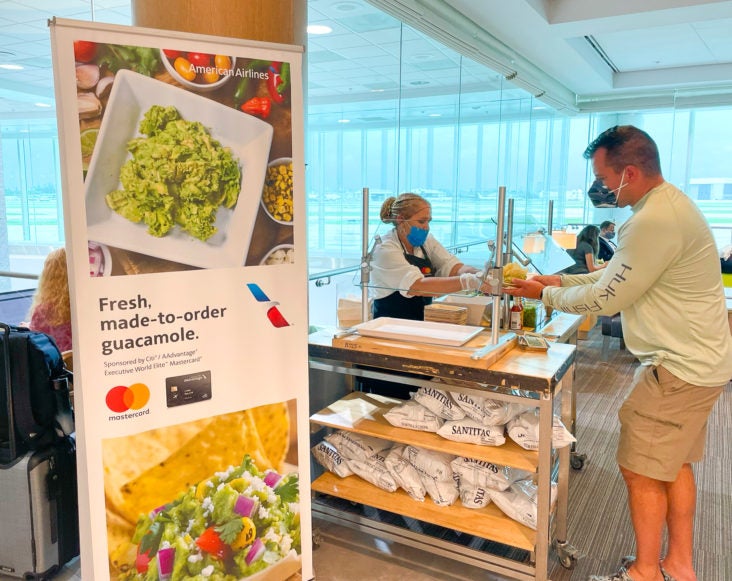 At the back of the Admirals Club were some more private seats that wrapped around the glass overlooking the terminal below.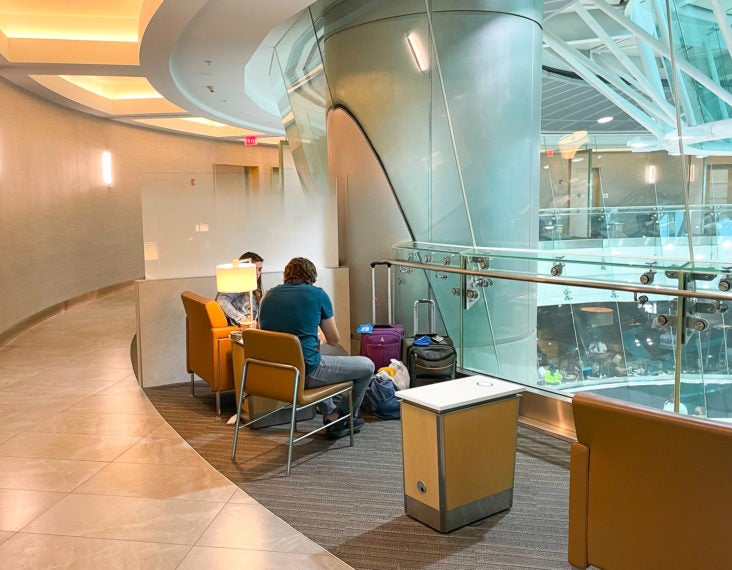 Seating
When we visited, it was a Friday afternoon and the lounge was quite busy. There were not many open seats available, which was likely why the Flagship Lounge was used as overflow seating.
There were some stools available in the dining area.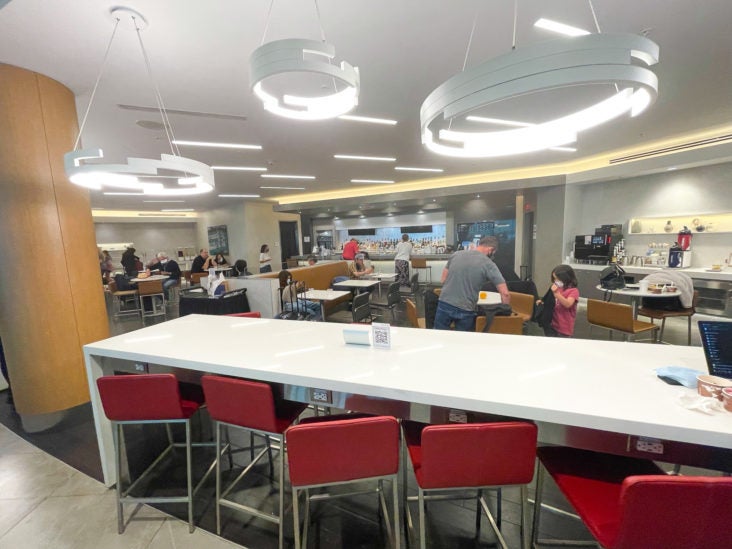 However, we decided to grab some chairs in the sitting area near the entrance.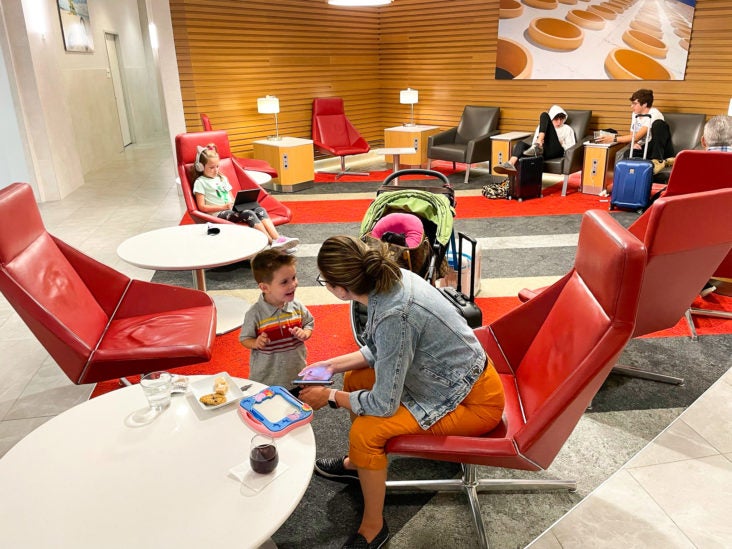 Inside the Flagship Lounge section, there were more options for sitting.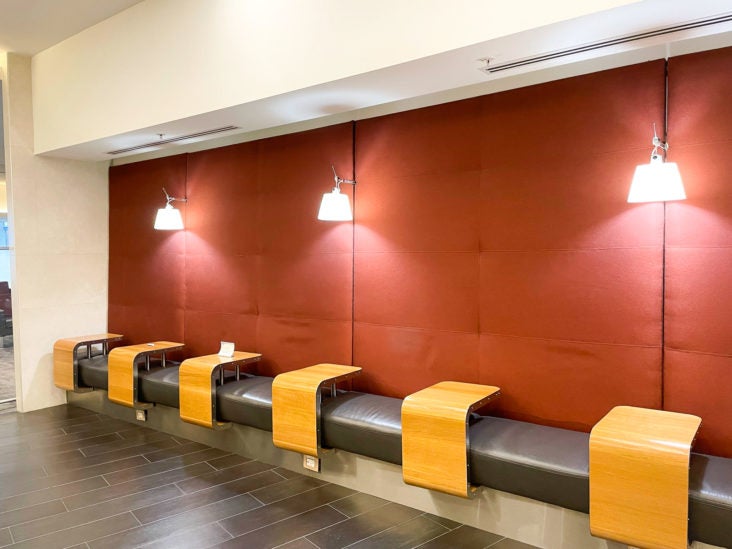 There was plenty of room to stretch out in this area, but it was further from the food and drinks.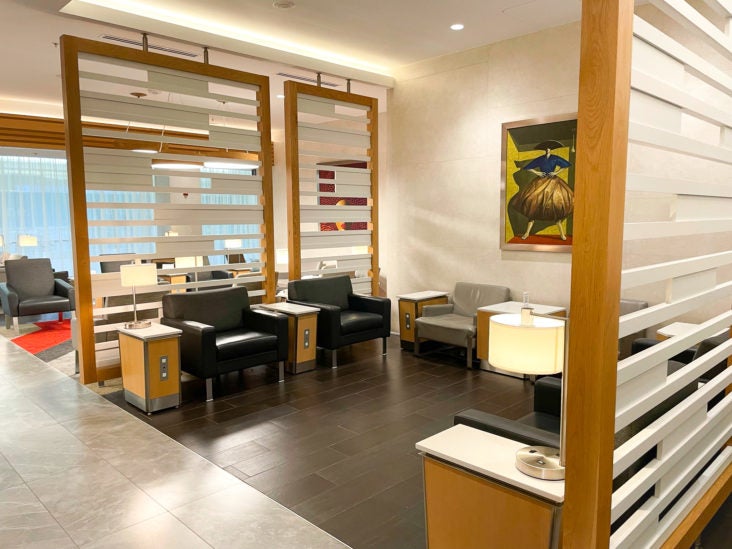 Food and Beverage
You won't find fine dining at the Admirals Club, but there are some basic options to enjoy during a quick stay. If you've been to an Admirals Club located anywhere else, the spread is pretty standard for the network.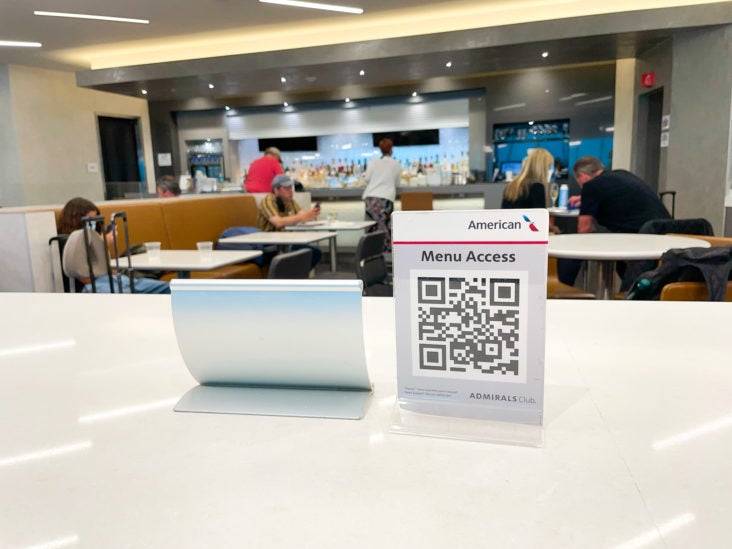 If you want to take a look at the upsell options at the Miami Admirals Club, the menu is available online.
Food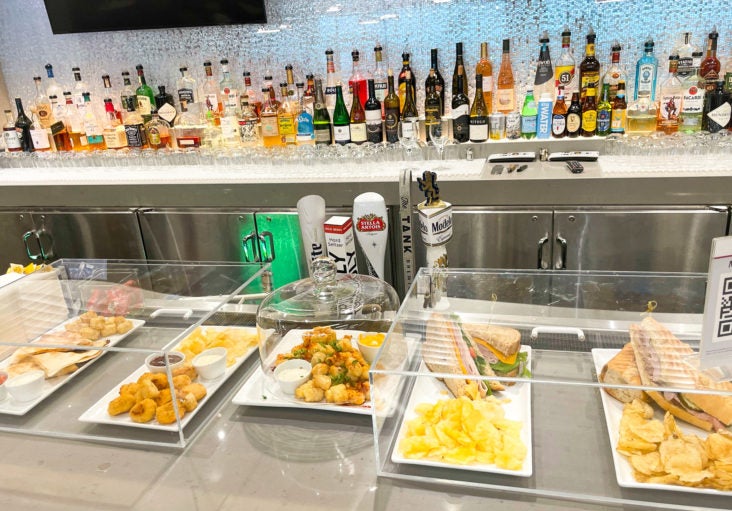 The menu actually sounded pretty good, but after seeing the options on display, we were glad we ate elsewhere. The complimentary items were relatively basic.
As basic as it was, it did appear to be fresh, and relatively healthy. Hummus and carrots are a favorite with my kids, there were a couple of salad options, and the standard cheese and grapes.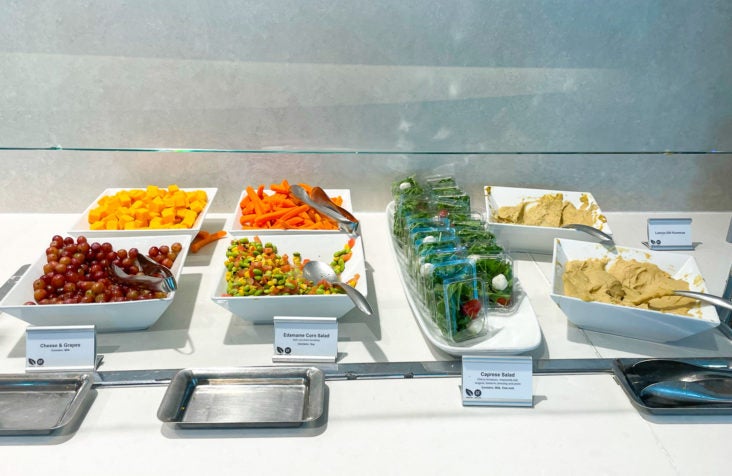 There was 1 soup and 1 pasta option available…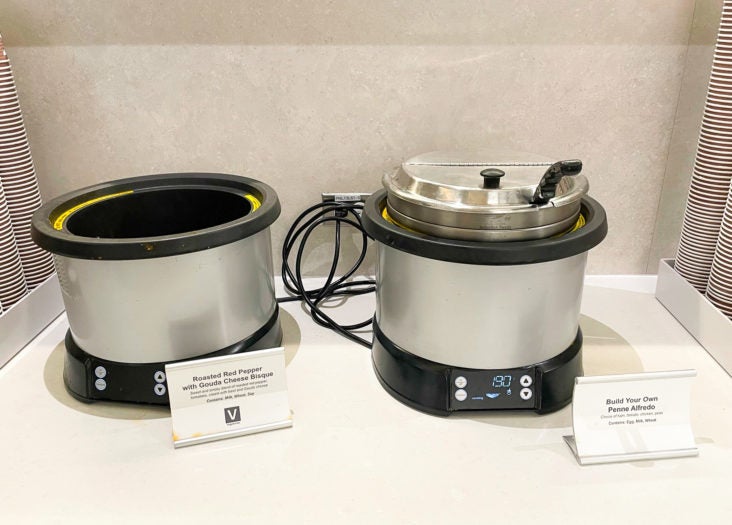 …and my go-to: the candy and salty snack dispenser.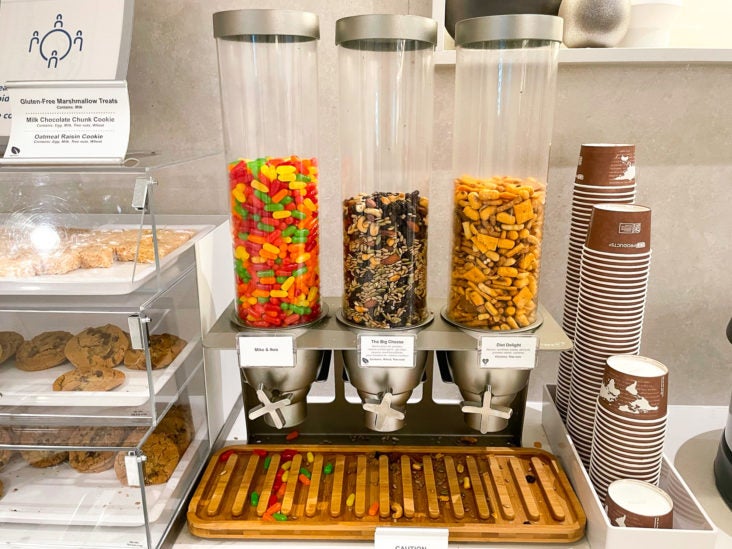 Of course, once my kids saw the cookies and marshmallow treats, the salads were a tough sell.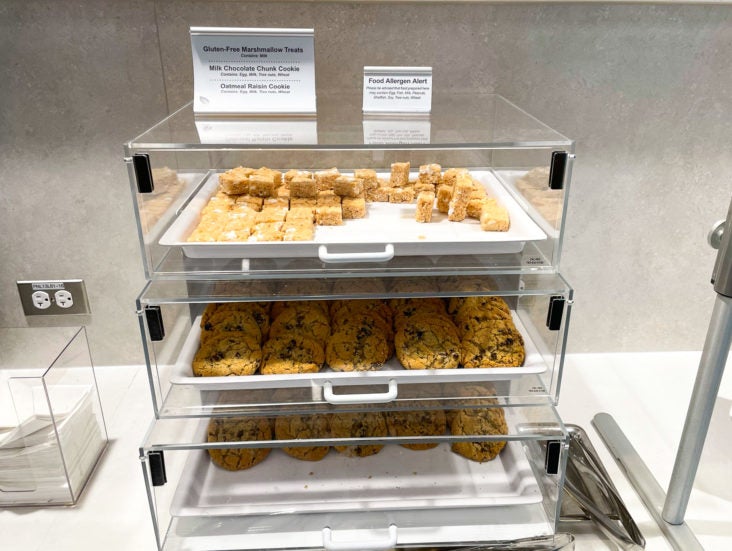 Fortunately, we were visiting when the guacamole station was open.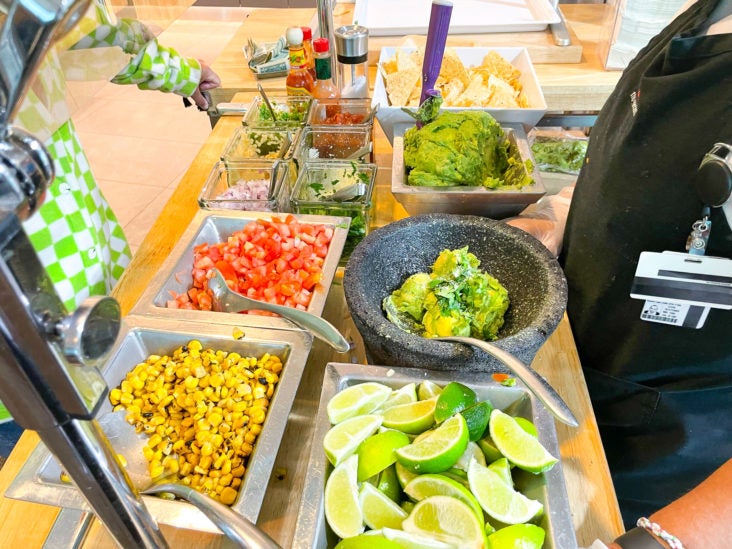 If you've visited the Admirals Club during the morning, you may have seen an avocado toast station (which is good), but I prefer the guac.
Finally, there was an On The Fly smart fridge with premade sandwiches and snack packs available. Just swipe your credit card, grab whatever you want, and your card will be charged accordingly.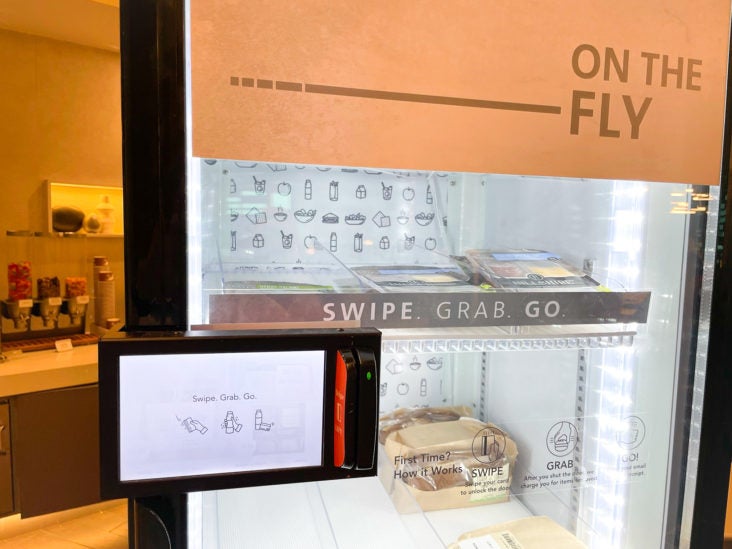 Beverages
If you enjoy hanging at the bar, there were a few seats available. However, the TVs were blocked. I'm not sure if they were broken or if that was a tactic to keep people from sitting for too long because of COVID-19.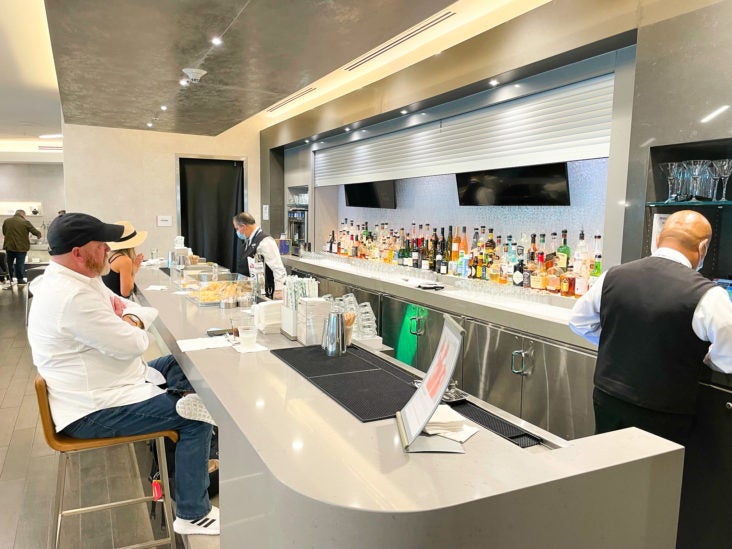 The bar itself had a pretty impressive lineup of alcoholic beverages available, most for an additional charge. However, there was essentially 1 free option for each type of drink.
The complimentary beverages included:
Cruzan (rum)
Evan Williams (whiskey)
Heineken 0.0 (non-alcoholic bottled or canned beer)
Miller Lite (draft beer)
New Amsterdam (gin)
Svedka (vodka)
Veloce Bianco (white wine)
Veloce Rosso (red wine)
I kept it simple with a beer and my wife had a glass of red wine.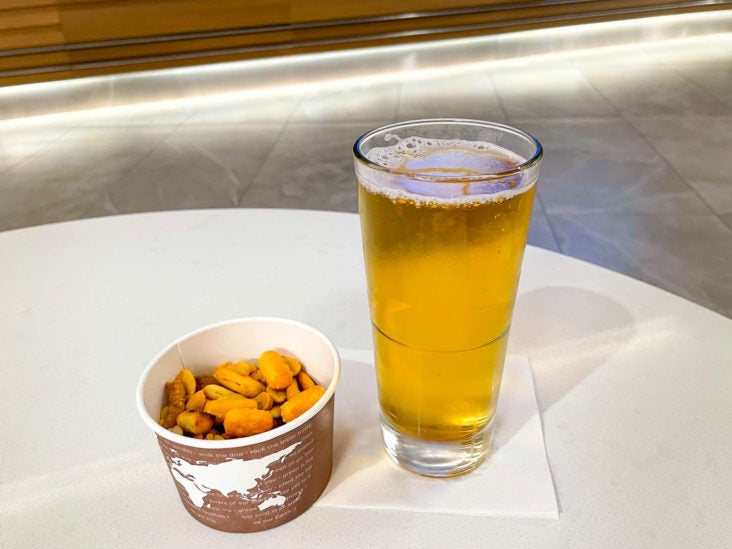 For non-alcoholic beverages, there were plenty of self-serve options throughout the lounge.
Near the snacks were some water options as well as some iced tea.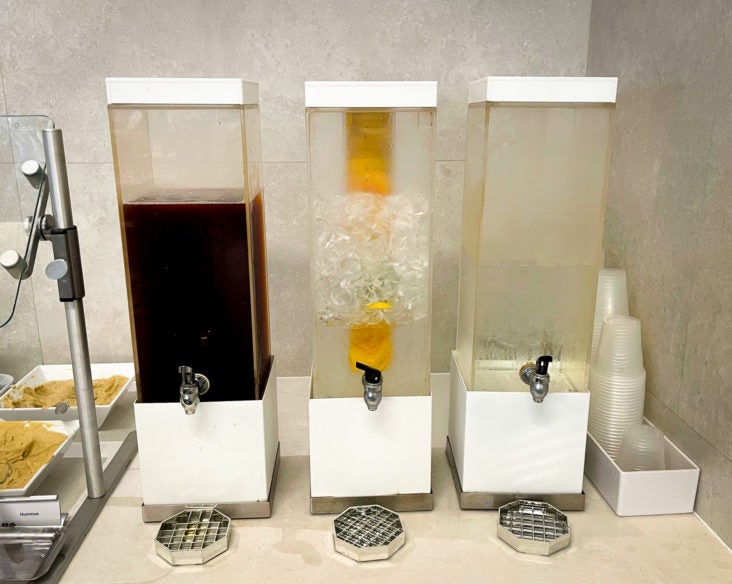 And towards the back of the lounge was a nice coffee maker that could whip up anything from an espresso to a latte macchiato.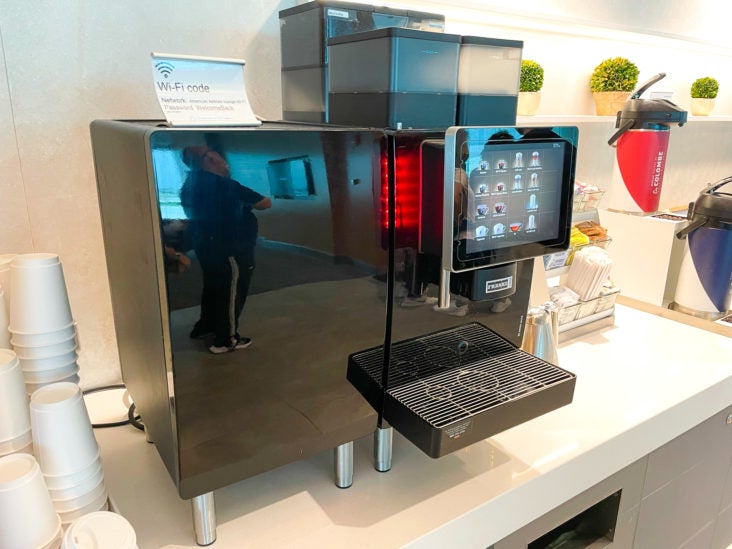 Bottom Line: If you're looking for some quick snacks and a couple of drinks before your flight out of Miami, the Admirals Club has decent options. 
Amenities
The Admirals Club at Miami International Airport is relatively large and had some amenities that not all Admirals Clubs offer.
Kids' Room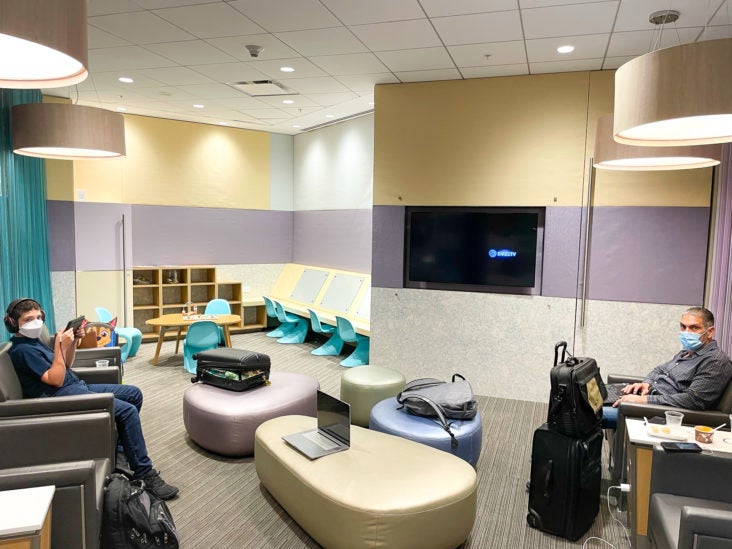 Traveling with kids can be stressful, but having a dedicated area for them to run around and be loud can be so valuable.
Fortunately, the kids' room at the Admirals Club has reopened after being closed due to coronavirus precautions.
Unfortunately, it was mainly occupied by adults doing work. Since we were only in the lounge for a short amount of time, I didn't feel like barging in and disturbing them.
Wi-Fi
The Wi-Fi was strong and easy to connect to; my wife and I had no problem checking and posting on social media — which is what most people use the internet for in a lounge anyways.
Workspace Options
Pretty much all of the seating options throughout the lounge could be used to get some work done.
Most had a table or were near a table, and outlets were plentiful.
There was a conference room available, as well, that could accommodate 8 people if you needed to have a meeting during your layover. We didn't need the conference room as allowance negotiations with the kids are still ongoing.
Quiet Room
I could not identify a dedicated quiet room at the Admirals Club at D30.
There were seats at the back of the lounge that were more private, and the Flagship Lounge section was much quieter, but I didn't see anything with a dedicated "Quiet Room" sign.
Showers
The Admirals Club does have shower facilities for travelers, though they were closed during our visit due to COVID-19.
Hot Tip: If you're flying through Miami, you should check out the list of airport lounges at Miami International Airport (MIA).
Staff and Service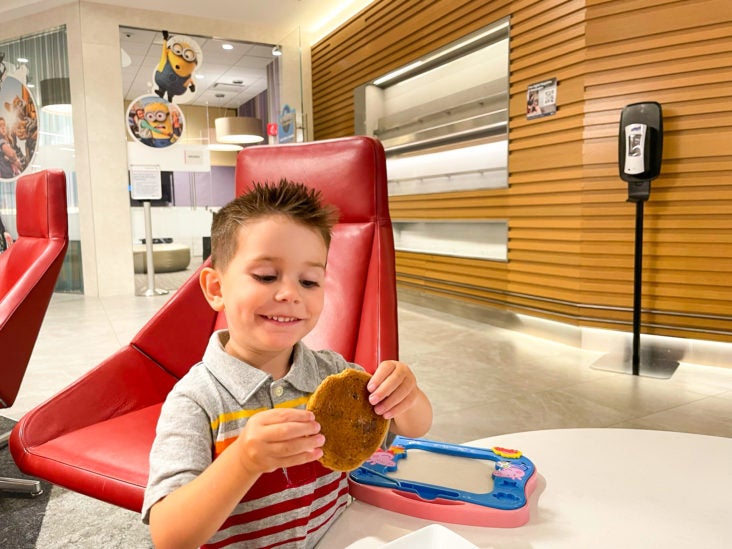 American Airlines generally isn't known for excellent service, but every once in a while it's possible to come across some rockstar staff members.
One of those rockstars was working the desk on the second level and made my kids feel like VIPs. After chatting them up for a few minutes, asking about their travels, and grabbing them cookies, she went and found pairs of the coveted wings for each kid, which they loved.
Besides the bartender and the nice lady making guacamole, we didn't have much interaction with the staff. But overall, we had an excellent experience.
COVID-19 Protocols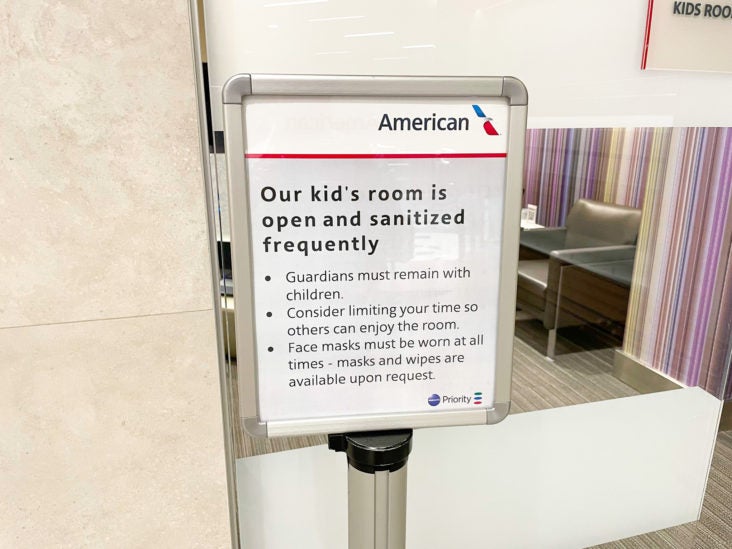 There were still come COVID-19 protocols in place, but many previously closed amenities were available once again as we learn to live with the coronavirus.
The kids' room had a sign that let us know it was sanitized frequently and that masks were required when we weren't eating or drinking. But, besides the showers being closed, it was business as usual.
Final Thoughts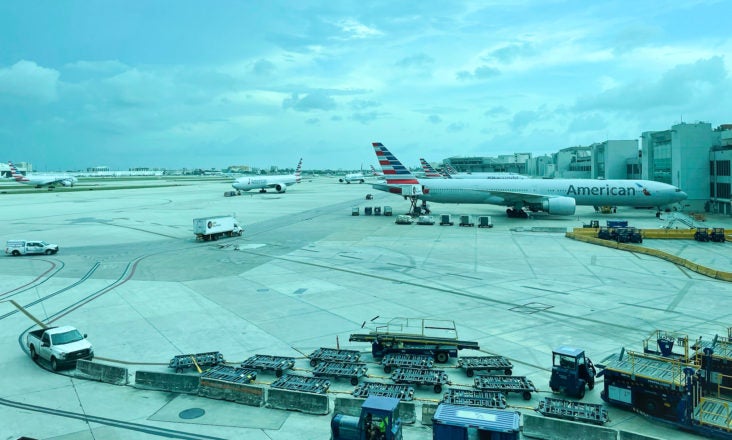 Overall, the Admirals Club at Miami International Airport is a solid lounge.
Sure, the (free) food and drinks aren't anything to get too excited over, but if you're looking to relax a bit before your flight (and escape the madness that is sometimes MIA), the Admirals Club at D30 is a pretty good choice.
With plenty of seating, a kids' room, great views of the tarmac, and some decent snacks and adult beverages, there's not much to complain about — as long as you can get in for free.
If I had to pay the $59 day pass, it would only be because I had a really long layover and hanging at a bar or restaurant would end up being more expensive.
But as long as I have complimentary access via the AAdvantage Executive World Elite card, or when flying on an eligible ticket, stopping by the Admirals Club will be part of my itinerary when flying through Miami.