Oman Air Boeing 787-9 Business Class Review (Muscat to Bangkok)
Airline: Oman Air (WY)
Aircraft: Boeing 787-9 (A4O-SD)
Flight #: WY 815
Route: Muscat International Airport (MCT) to Bangkok Suvarnabhumi International Airport (BKK)
Date: June 22, 2019
Duration: 6hrs 5min
Cabin and Layout: Business Class, 30 Apex Suites in a 2-2-2 configuration
Seat: 12A
Miles Used: 34,000 Etihad Guest miles + AED 580 (~$158) per person one-way including taxes and fees
Fare Paid: N/A
Typical Retail Fare: AED 4,907.50 (~$1,336) per person one-way including taxes and fees
Introduction
Oman Air, the national airline of the Sultanate of Oman and the perennial underdog to the ME3 (Emirates (EK), Etihad (EY), and Qatar Airways (QR), operates a mix of narrow and wide-body Airbus, Boeing, and Embraer aircraft out of its hub in Muscat.
Having heard and read good things about its world-class Apex Suite on the Boeing 787, which is now complimented with a world class airport and lounge, I was keen to give them a go for my travel to Bangkok.
Booking
Oman Air's business class can be booked with points using the carrier's frequent flyer program, Sindbad, and the Etihad Guest program.
Out of the 2, booking with Etihad Guest miles is a convenient option, considering points can be easily transferred from various credit cards and hotel partners such as American Express Membership Rewards, Capital One, Citi ThankYou, and Marriott Bonvoy.
Hot Tip: Even though Etihad's award chart displays Oman Air first class redemption, it's not possible to redeem these seats. This was confirmed by the Etihad staff when I tried to redeem Etihad Guest miles for a first class ticket to London.
A one-way business class ticket from Muscat to Bangkok will set you back just 34,000 Etihad Guest miles, which I redeemed from the 50,000 Etihad Guest miles I earned as a sign-up bonus on my ADCB Etihad Guest Above Infinite Card.

Unfortunately, there is no provision to search and book Oman Air award space online through Etihad's website. Hence, you need to call in and keep your fingers crossed that award space might be available on the day you intend to travel. Being based in Abu Dhabi, I called Etihad Guest's Abu Dhabi call center, and after a few minutes, the agent on the line was able to confirm that award space was available on the date I had planned to travel, and proceeded to book and confirm the ticket.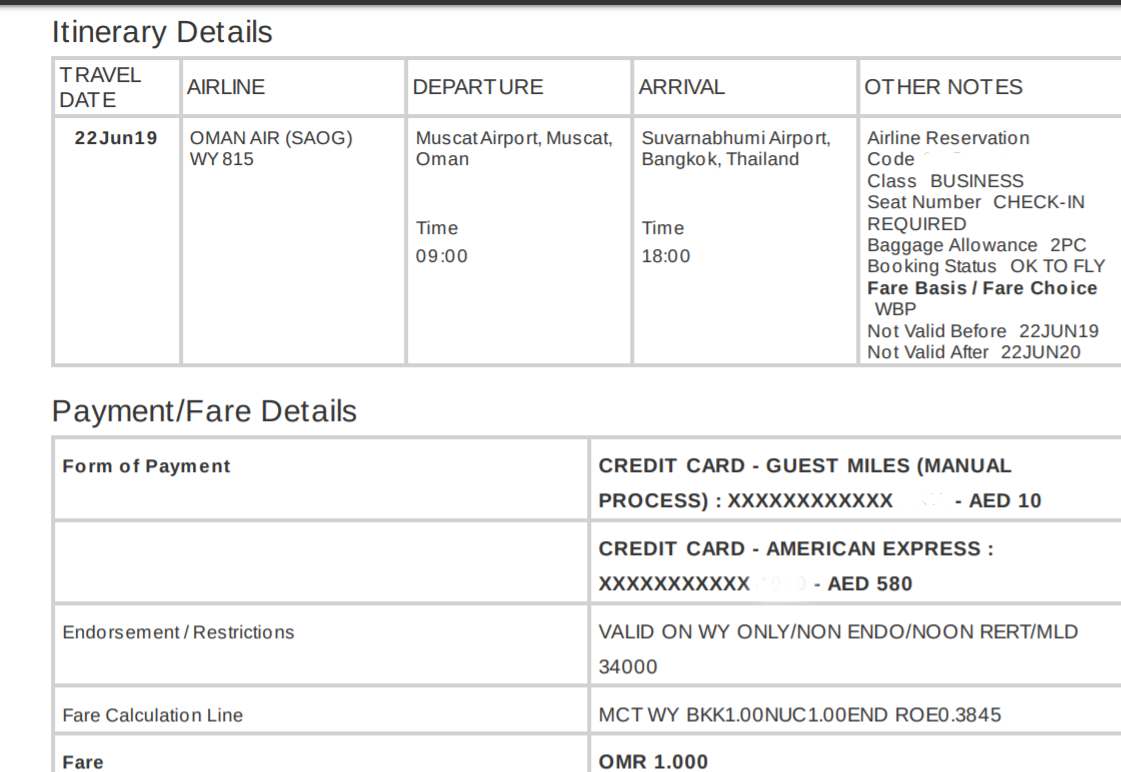 At Muscat International Airport
I arrived at the airport a bit early, around 5:00 a.m., 4 hours before scheduled departure, as I was looking forward to exploring the new state of the art terminal at Muscat International Airport (MCT) which opened May 20, 2018. The new terminal is a huge step up from its predecessor with 86 check-in counters, 45 gates, upgraded duty-free shops, and a brand new Air Traffic Control (ATC) tower.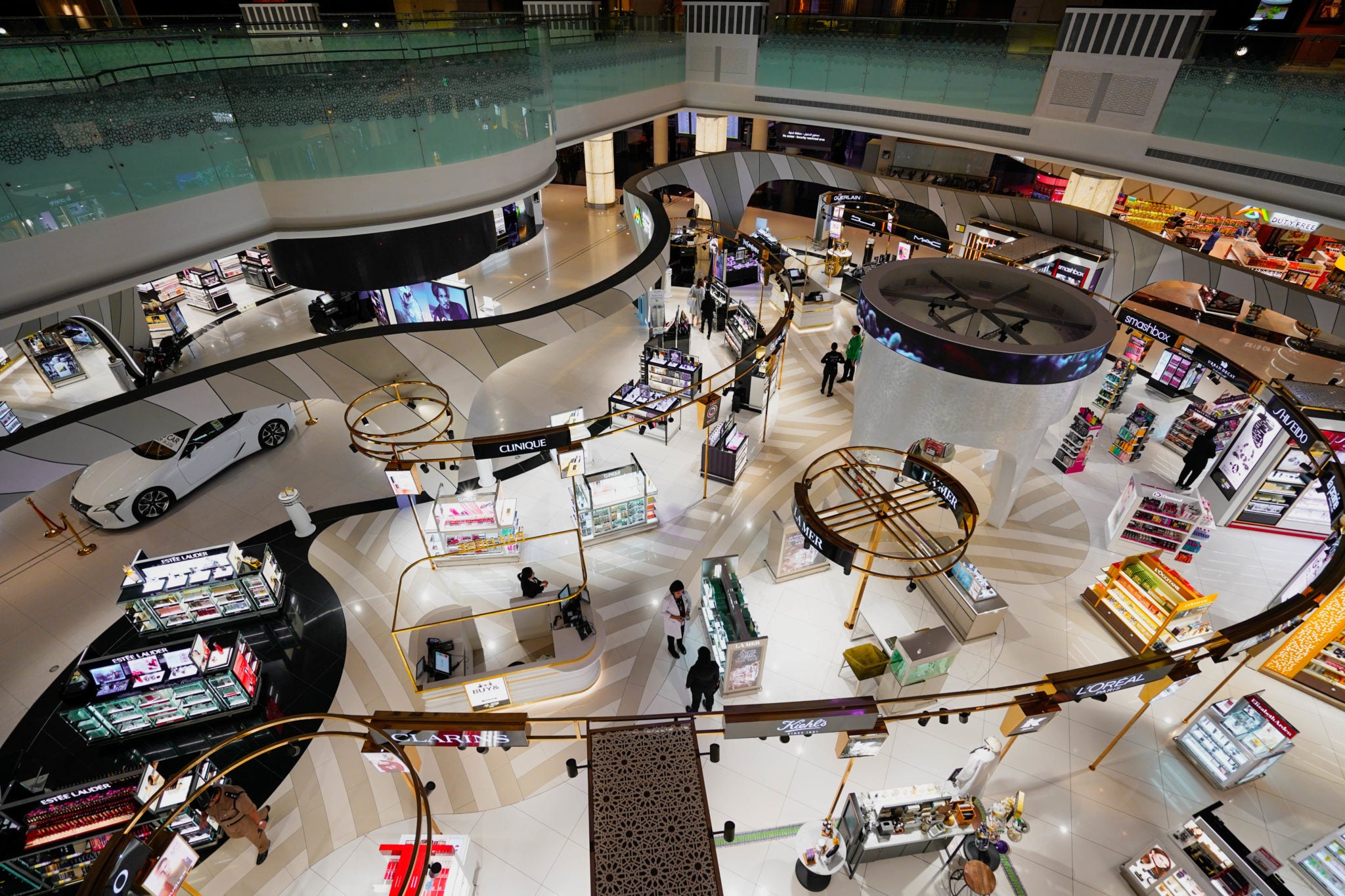 On arriving at the terminal, I proceeded to Oman Air's dedicated first and business class check-in area for premium passengers. The premium check-in area has 12 counters and a seating area to the side which is similar to but not as opulent as Qatar Airways' first and business class check-in area at Doha's Hamad International Airport.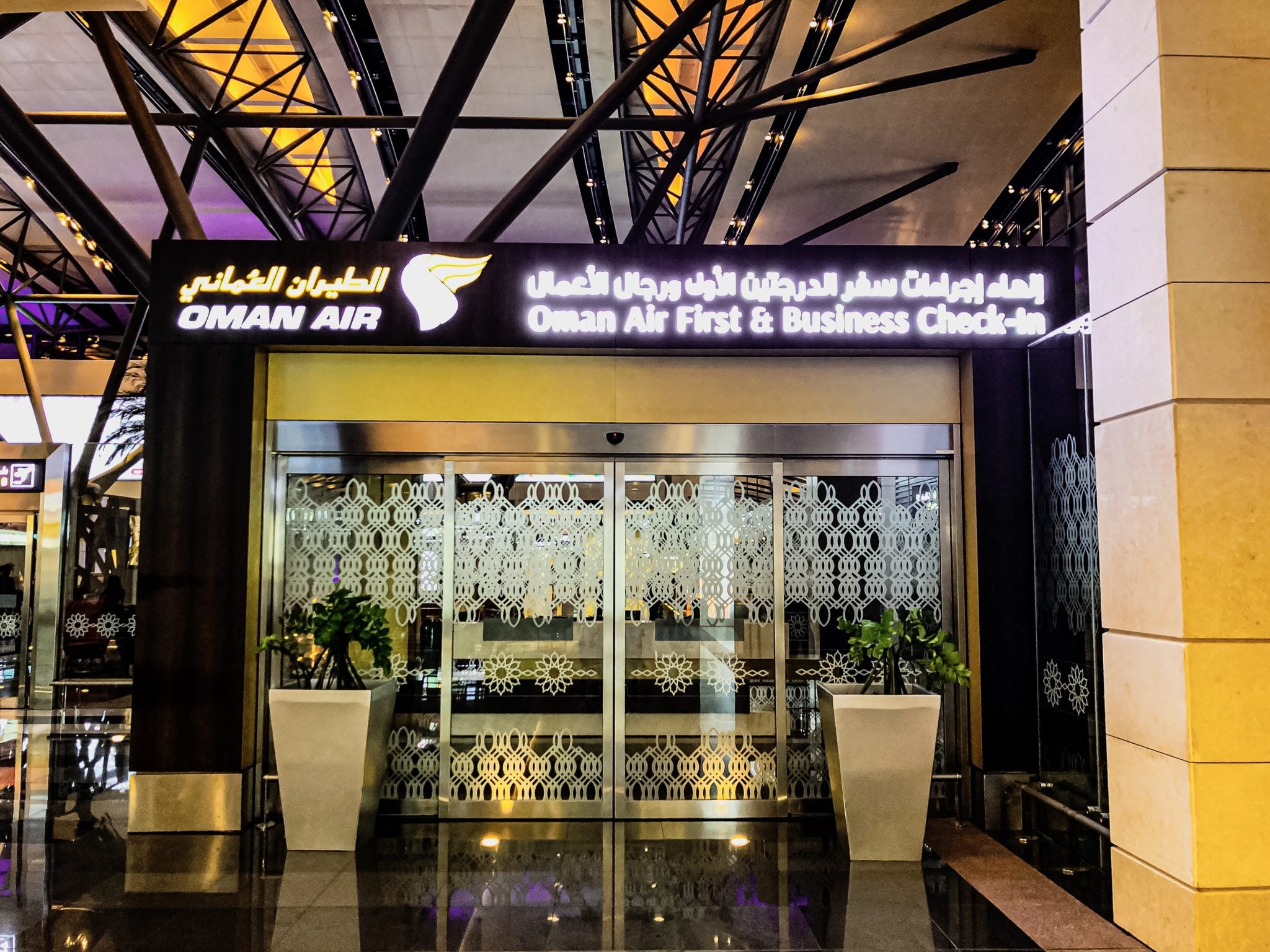 The check-in area was relatively quiet, bar a handful of passengers.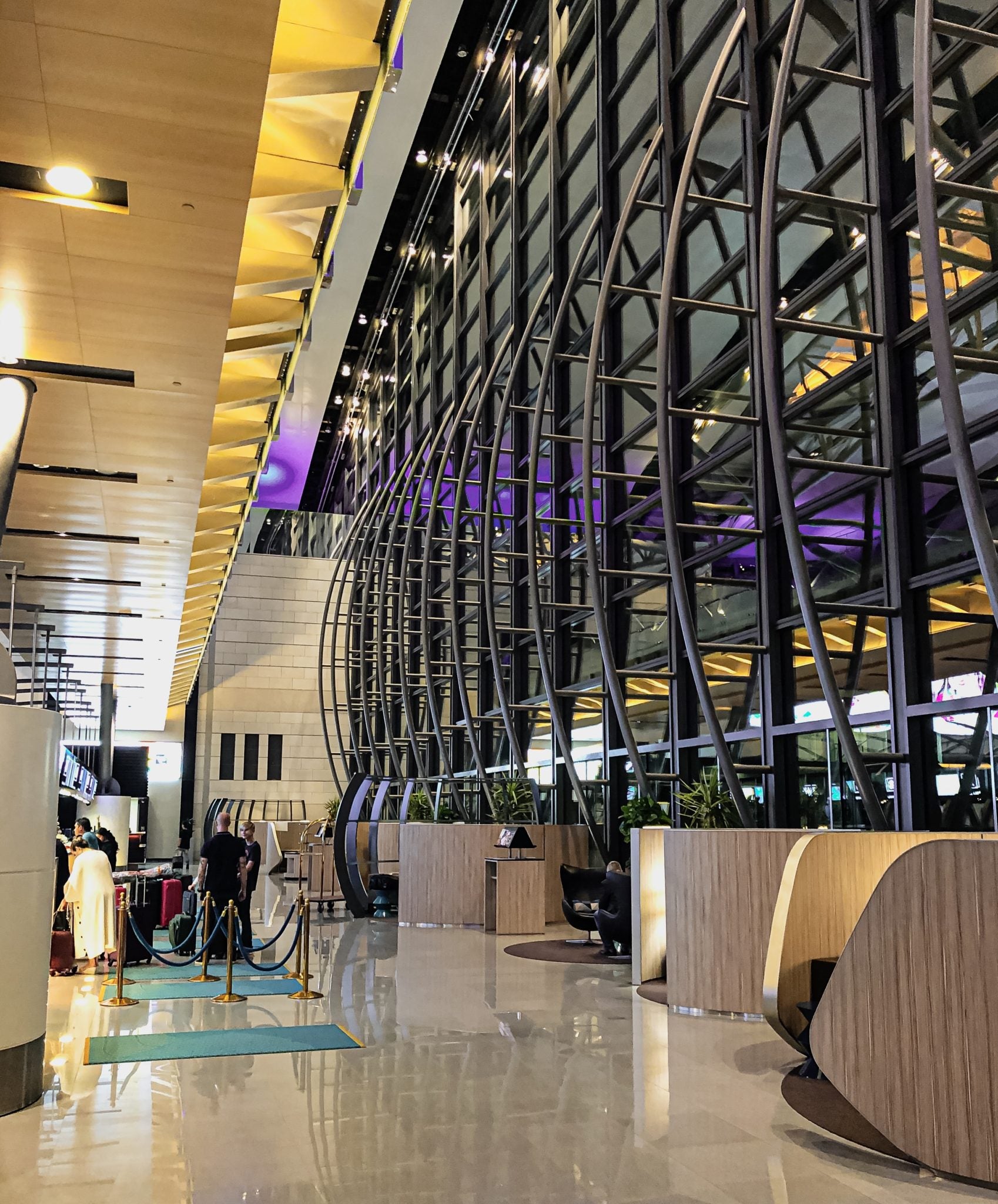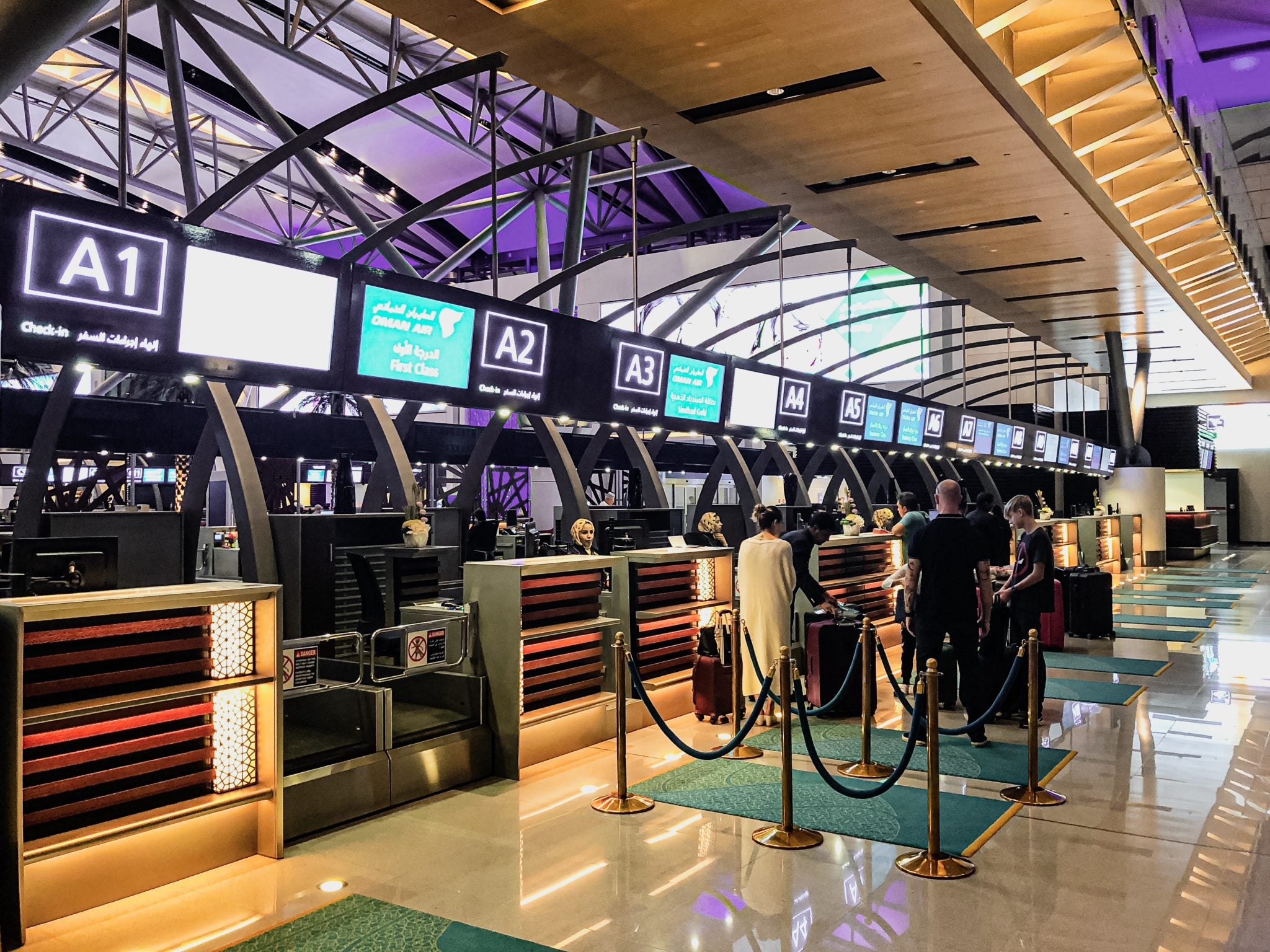 Bags checked in and with my boarding card in hand, I headed to the far end of the premium check-in area which leads to a priority immigration and security section. After completing the requisite formalities, I took the escalator to level 5 (a level above the duty-free shops) where the Oman Air First and Business Class Lounge is located, along with the Prime Class Muscat Lounge and the Aerotel Muscat Transit Hotel.
Oman Air First and Business Class Lounge
Having lived in the Middle East for the past 6 years, I have grown accustomed to being surrounded by bling and it was no different here. The entrance doors, ornately decorated with gold latticework, give you the feeling of stepping into a royal palace.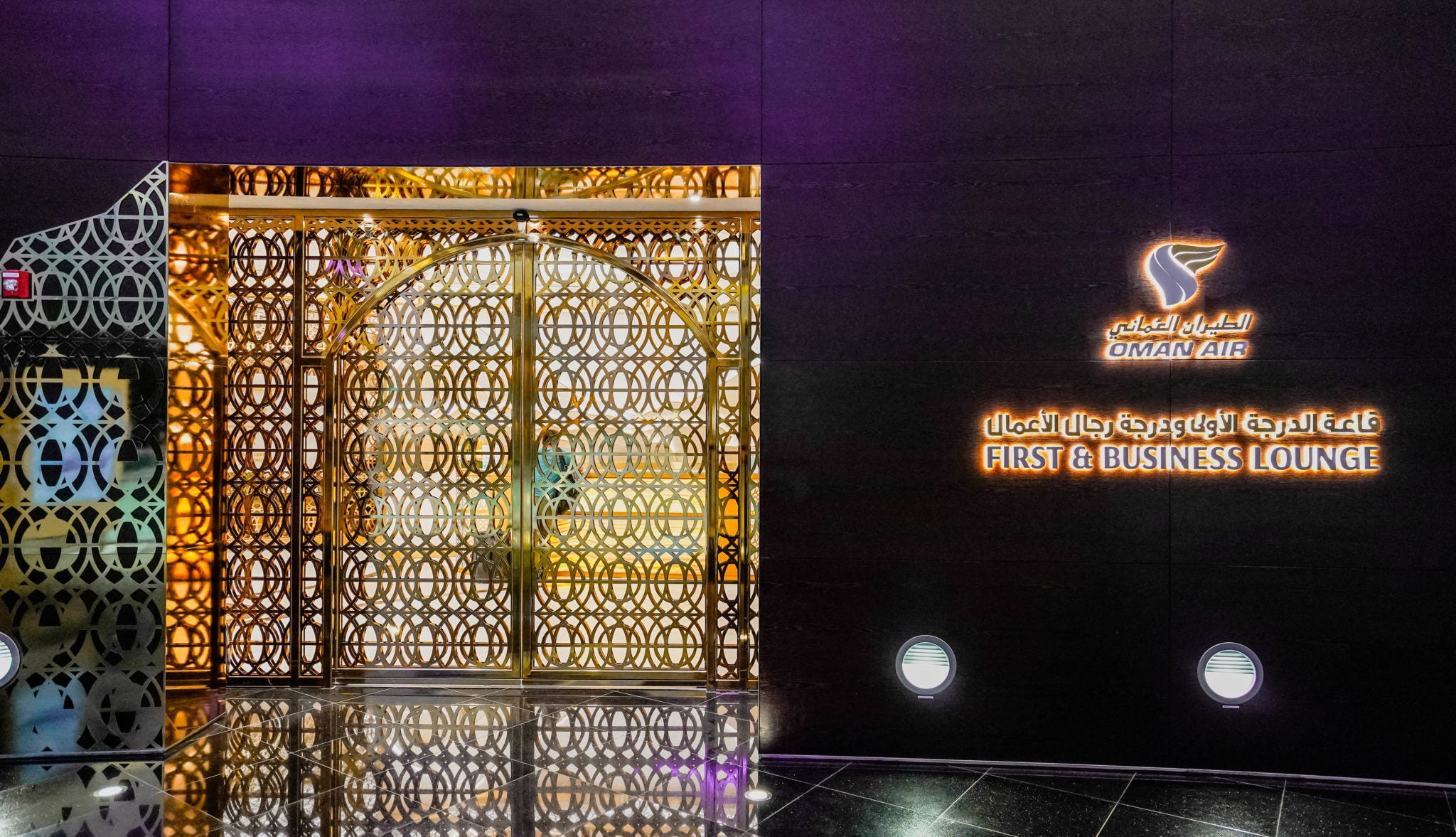 Once past the lattice gold entrance doors, I was greeted at the reception area by the ground staff, who, after verifying my boarding pass, directed me to the Business Class section.
The reception area is impressive with the gold design and decor accentuating the culture and terrain of Oman.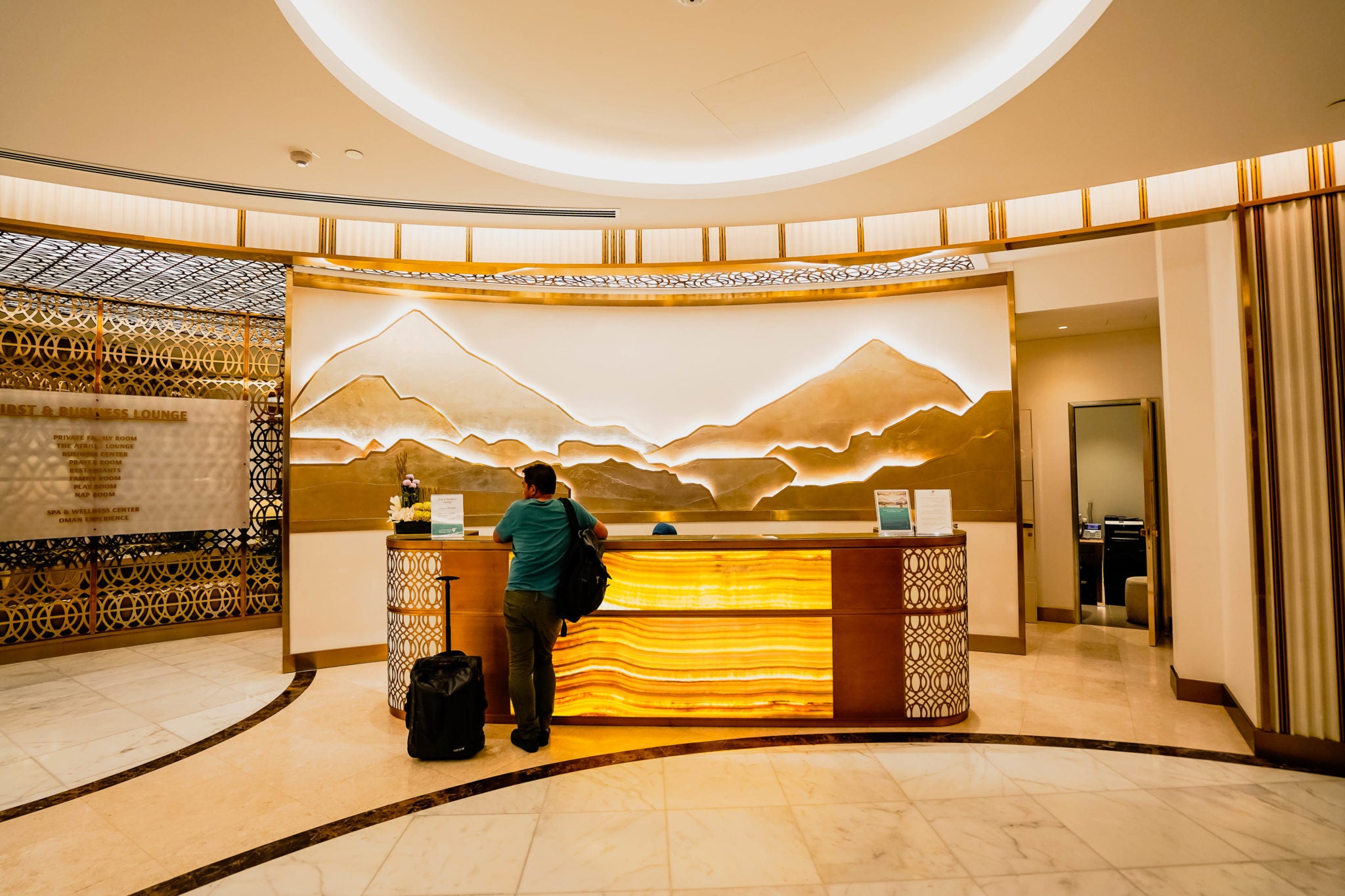 On the left-hand side of the reception area is a portrait of Sultan Qaboos bin Said al Said, the ruler of Oman along with a model of an Oman Air Boeing 787 Dreamliner.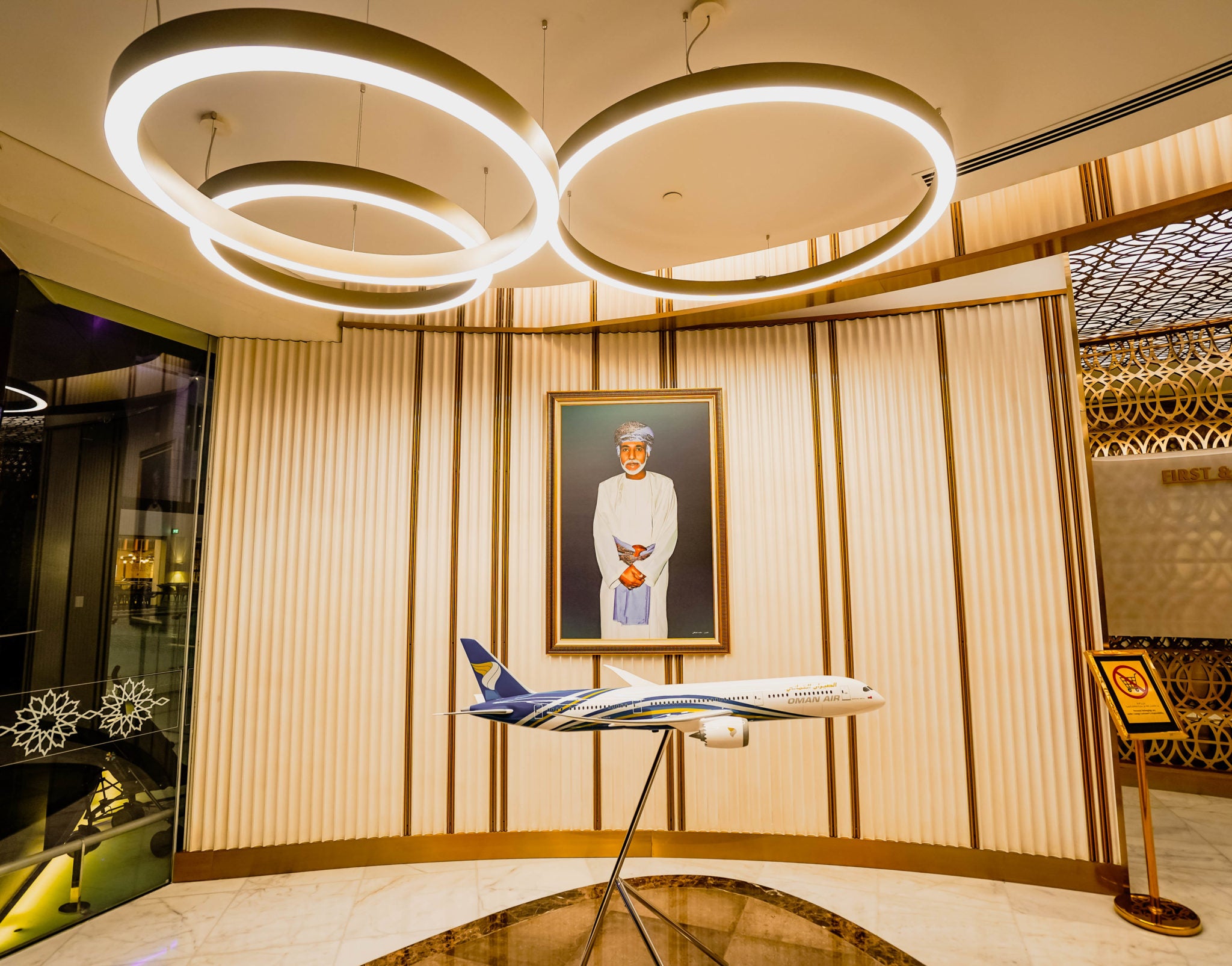 The First and Business Class Lounge is spread over 2 stories and divided into multiple zones with 2 expansive dining areas, private family rooms, a business center, prayer room, children's playroom, showers, and a spa and wellness center (which was not open to guests during my visit).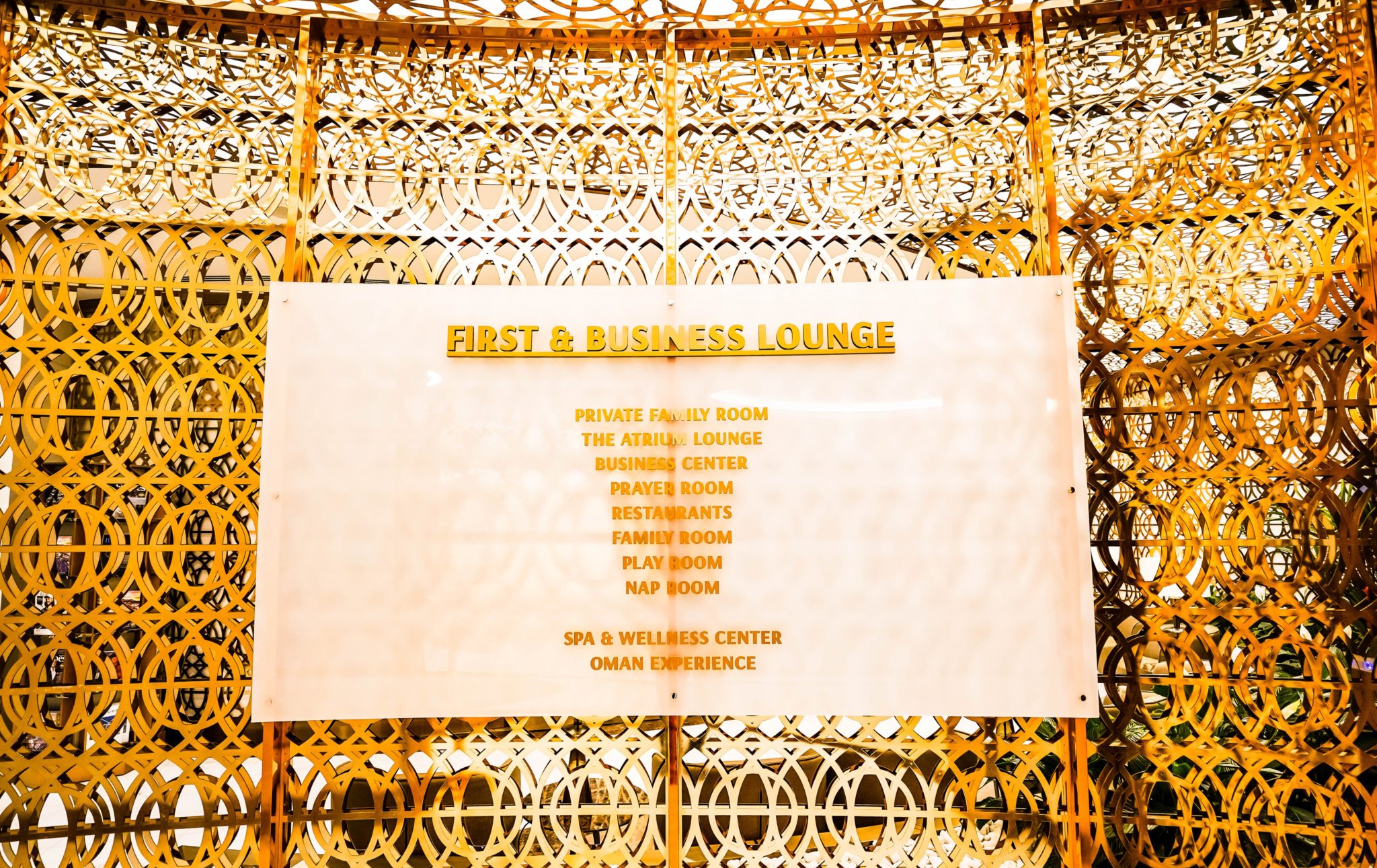 A small passageway leads you from the reception to the main lounge area.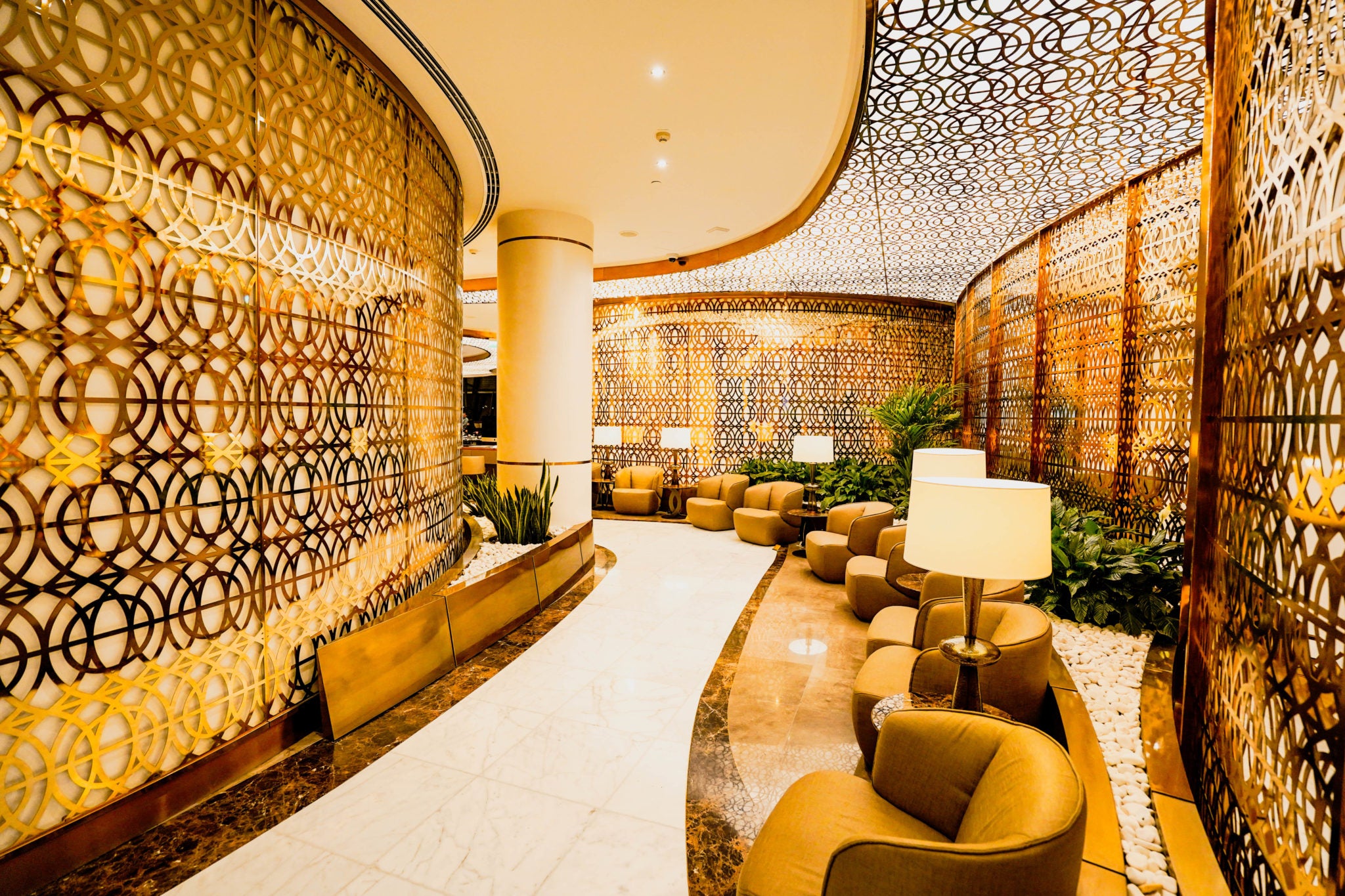 Throughout the lounge, there are various seating arrangements — regular chairs, lounge chairs arranged in a circle for families to gather around, and high top chairs near the First Class Lounge entrance.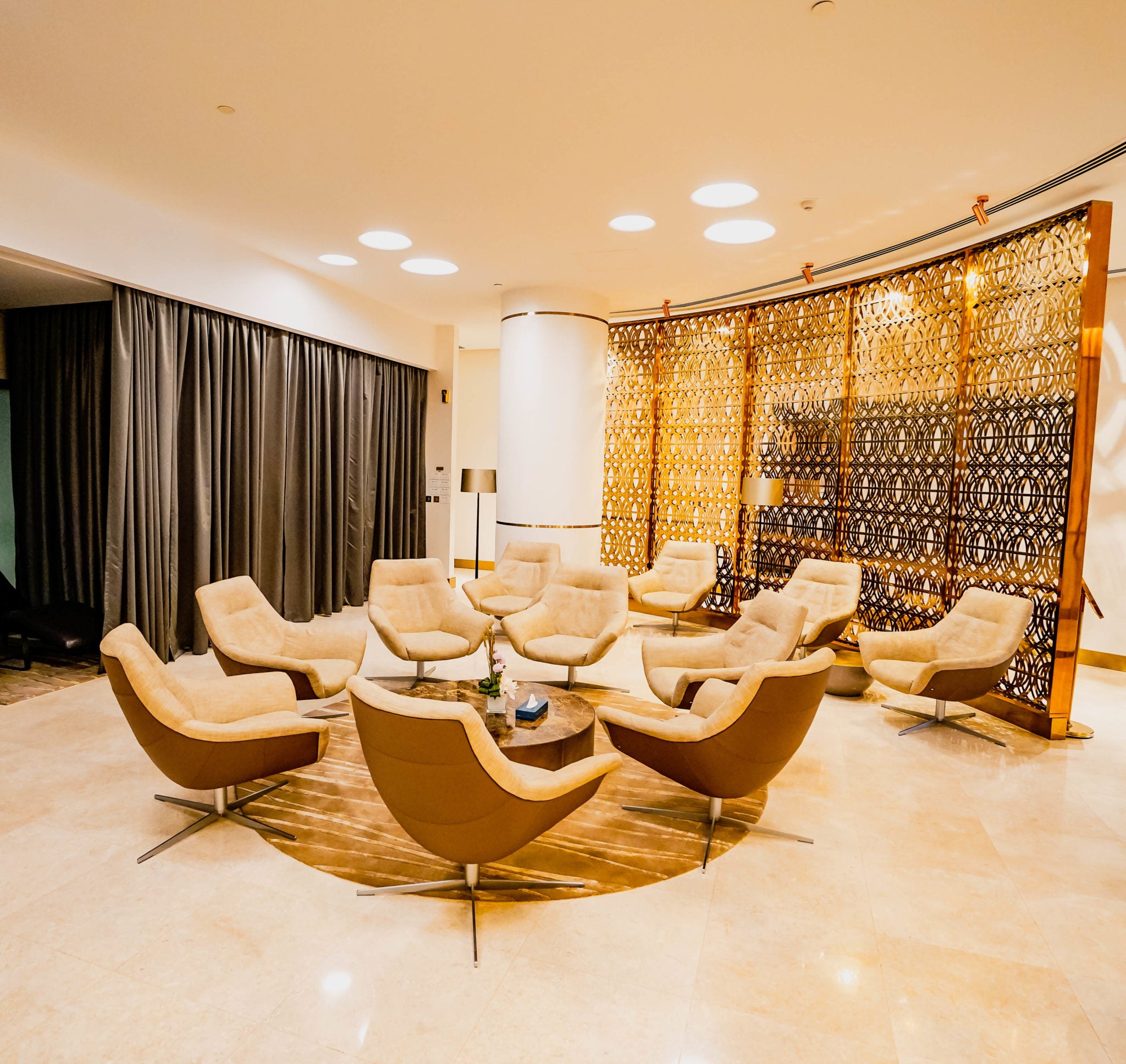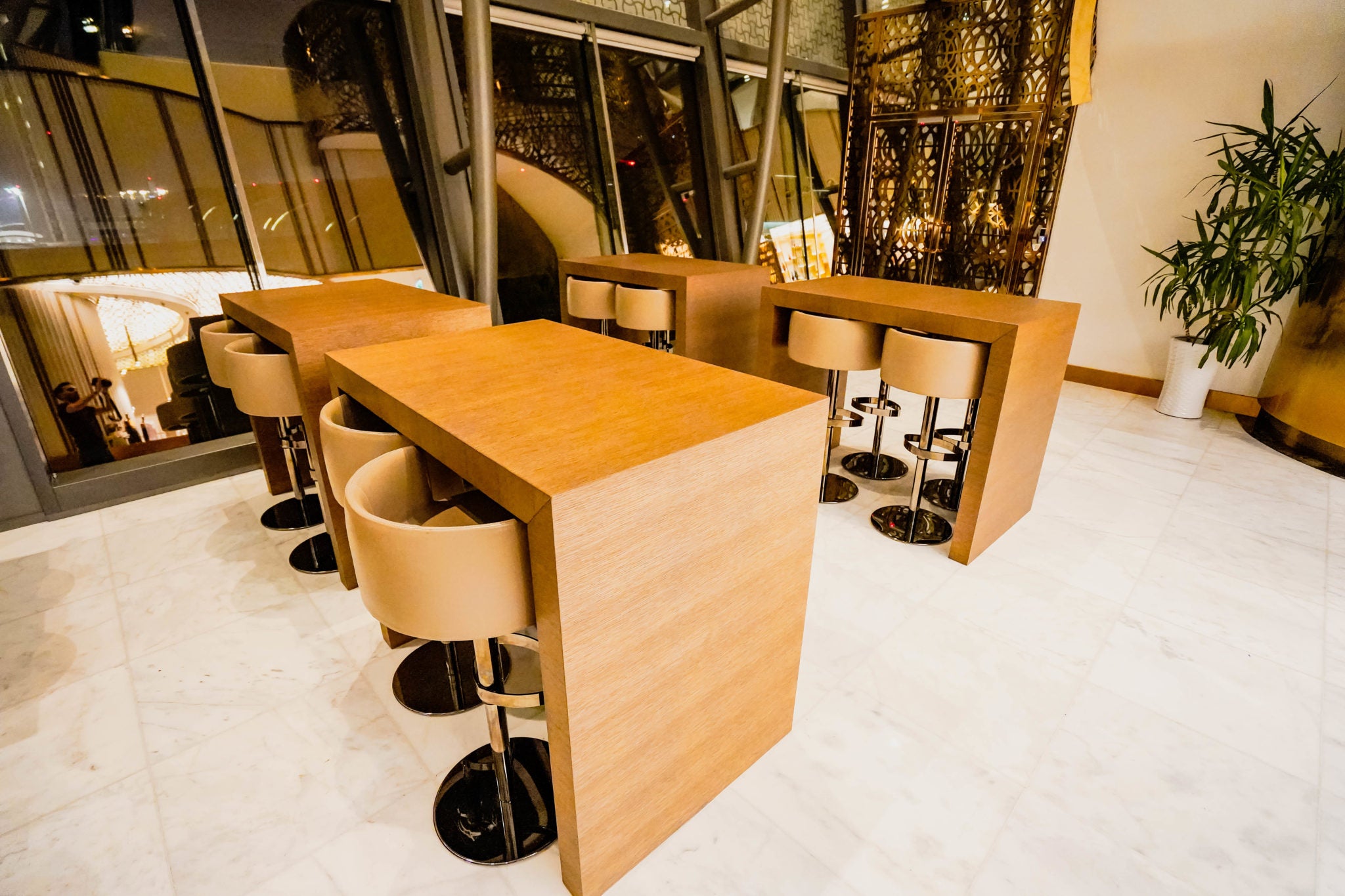 There are 2 dining areas in the Business Class section of the lounge — 1 near the entrance and the other a bit further ahead after the bar area. Both offer identical food selections and only differ in size and orientation.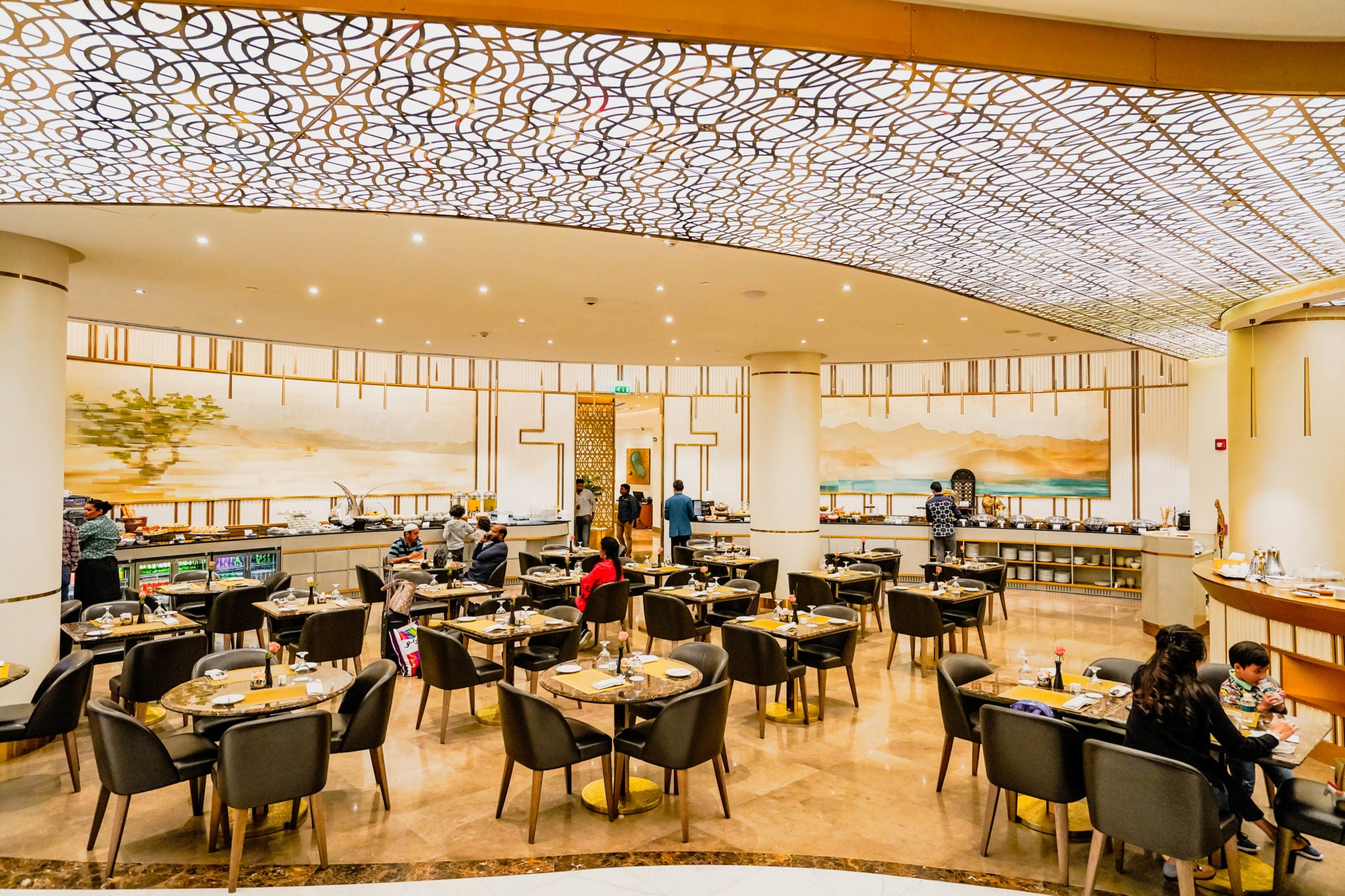 The food selection was decent with a variety of cold and hot dishes, salads, desserts and fresh fruits on offer. Around 6:00 a.m. they started changing out the dishes for breakfast.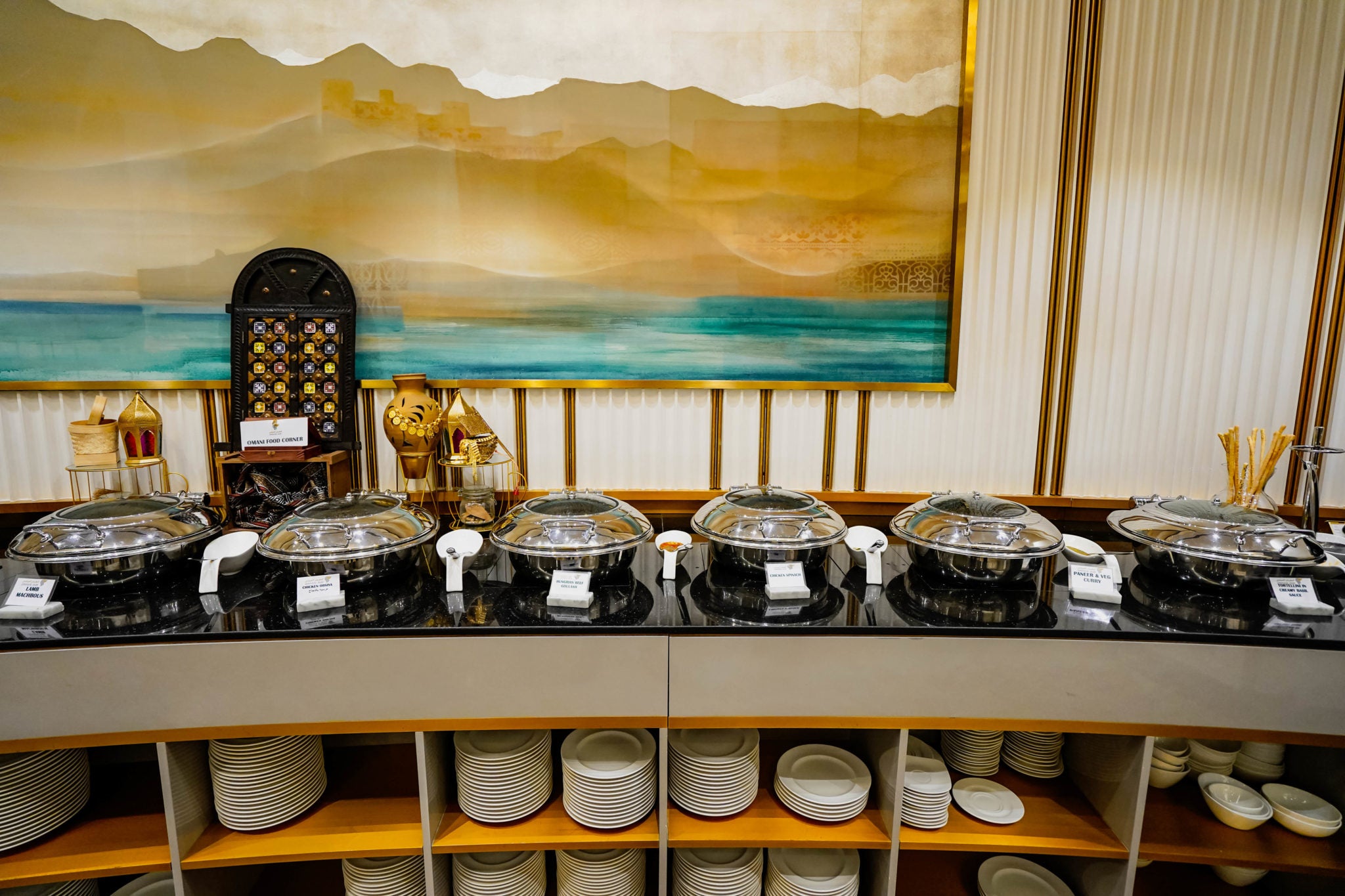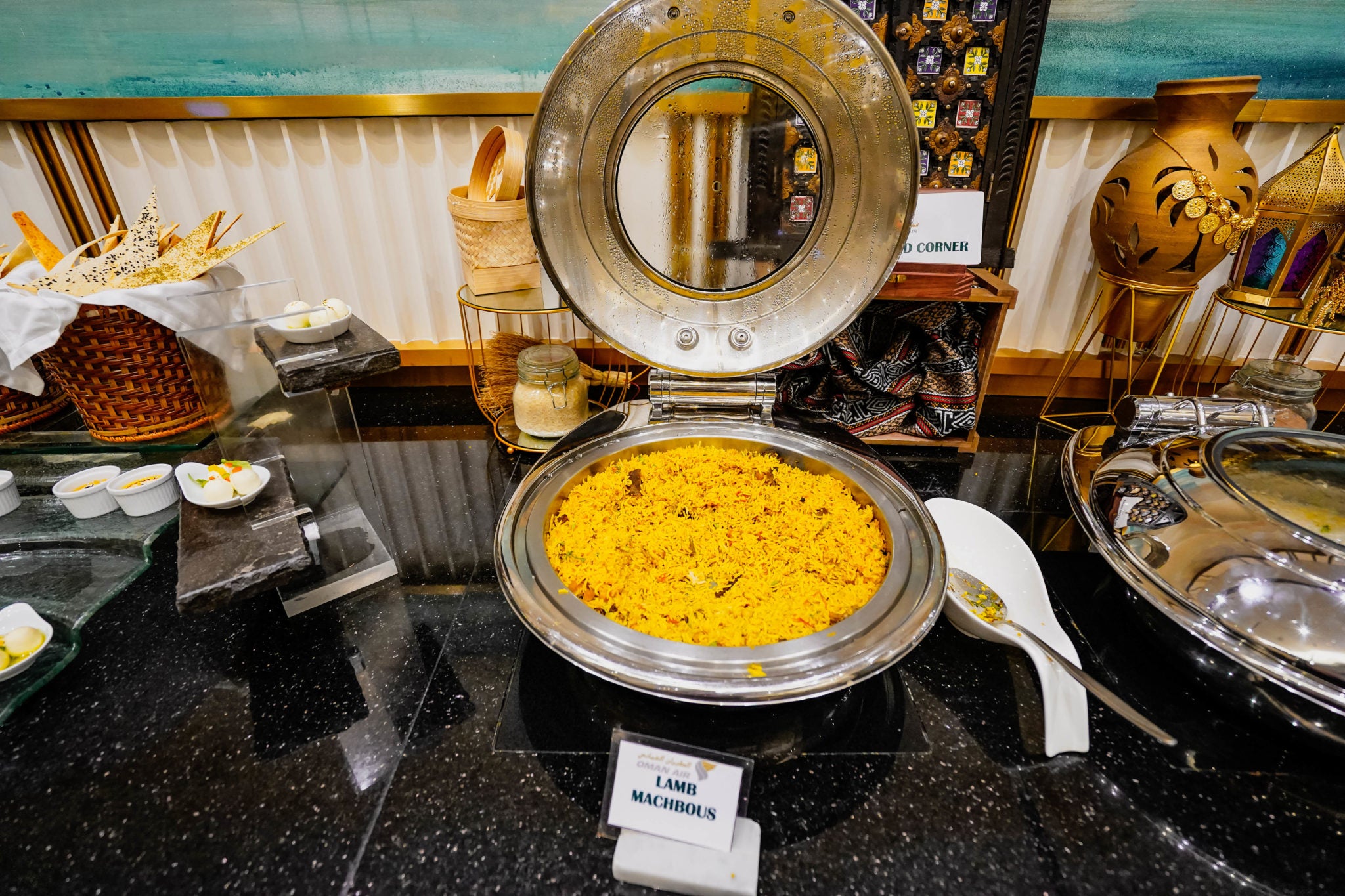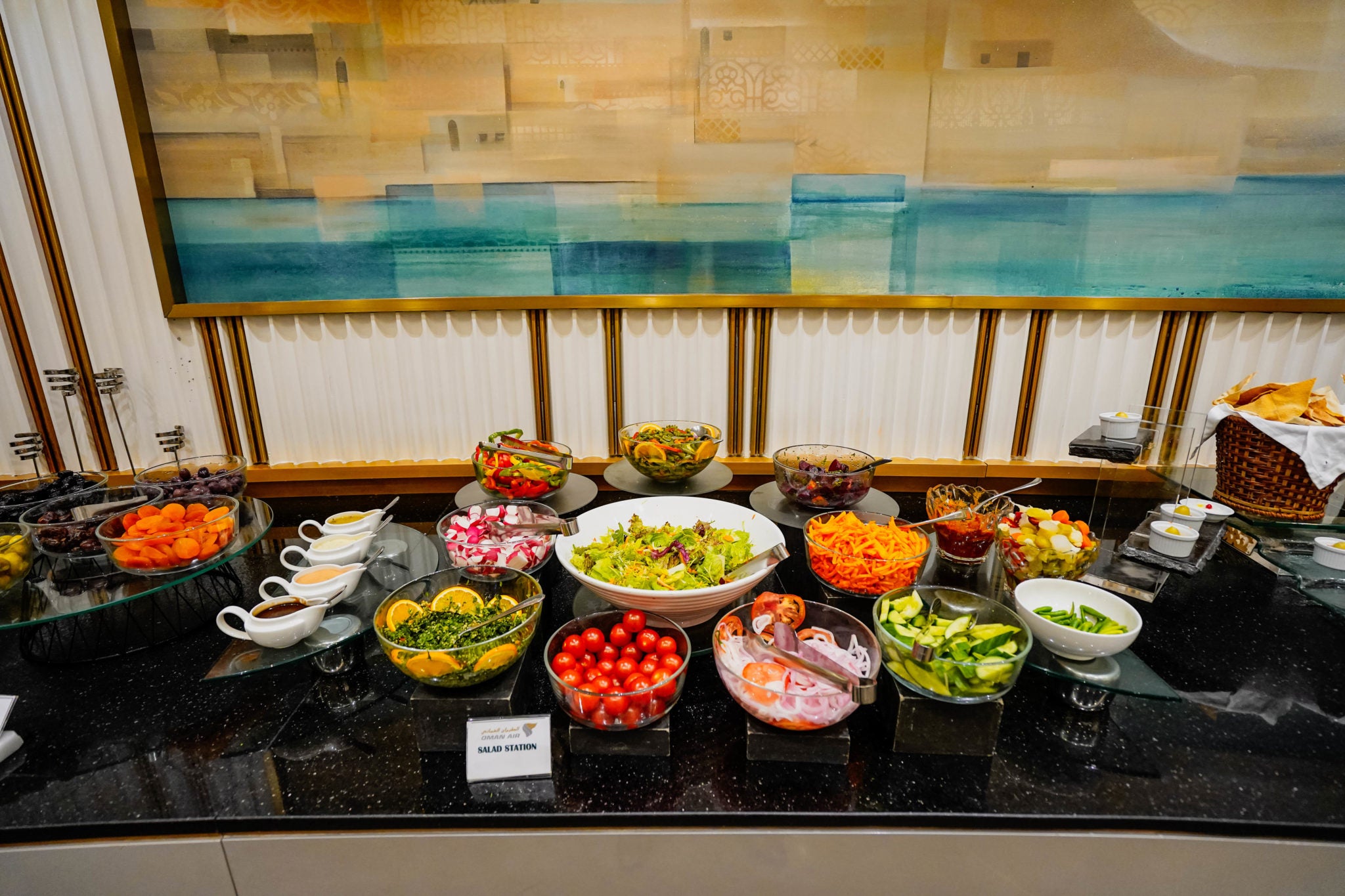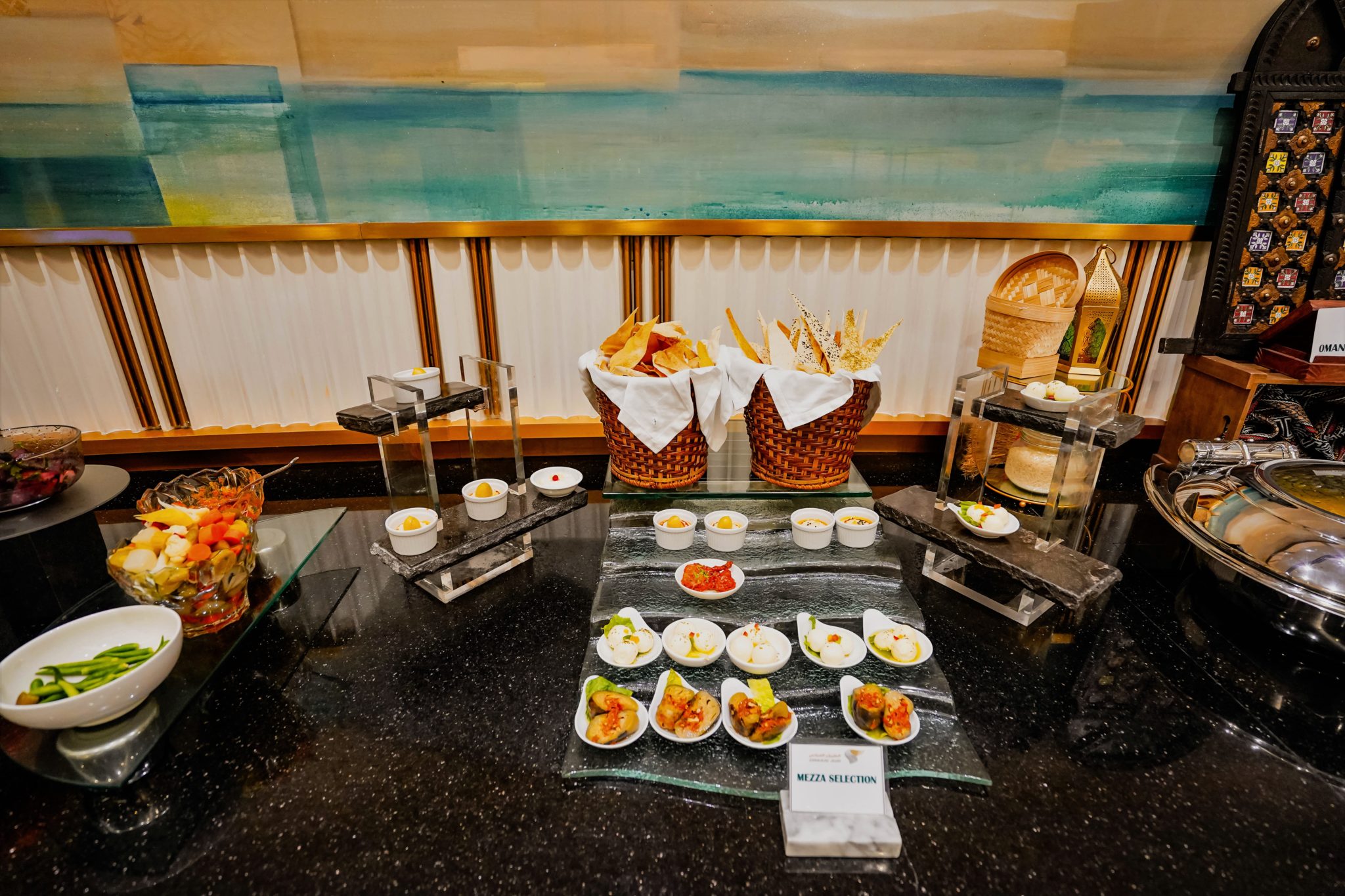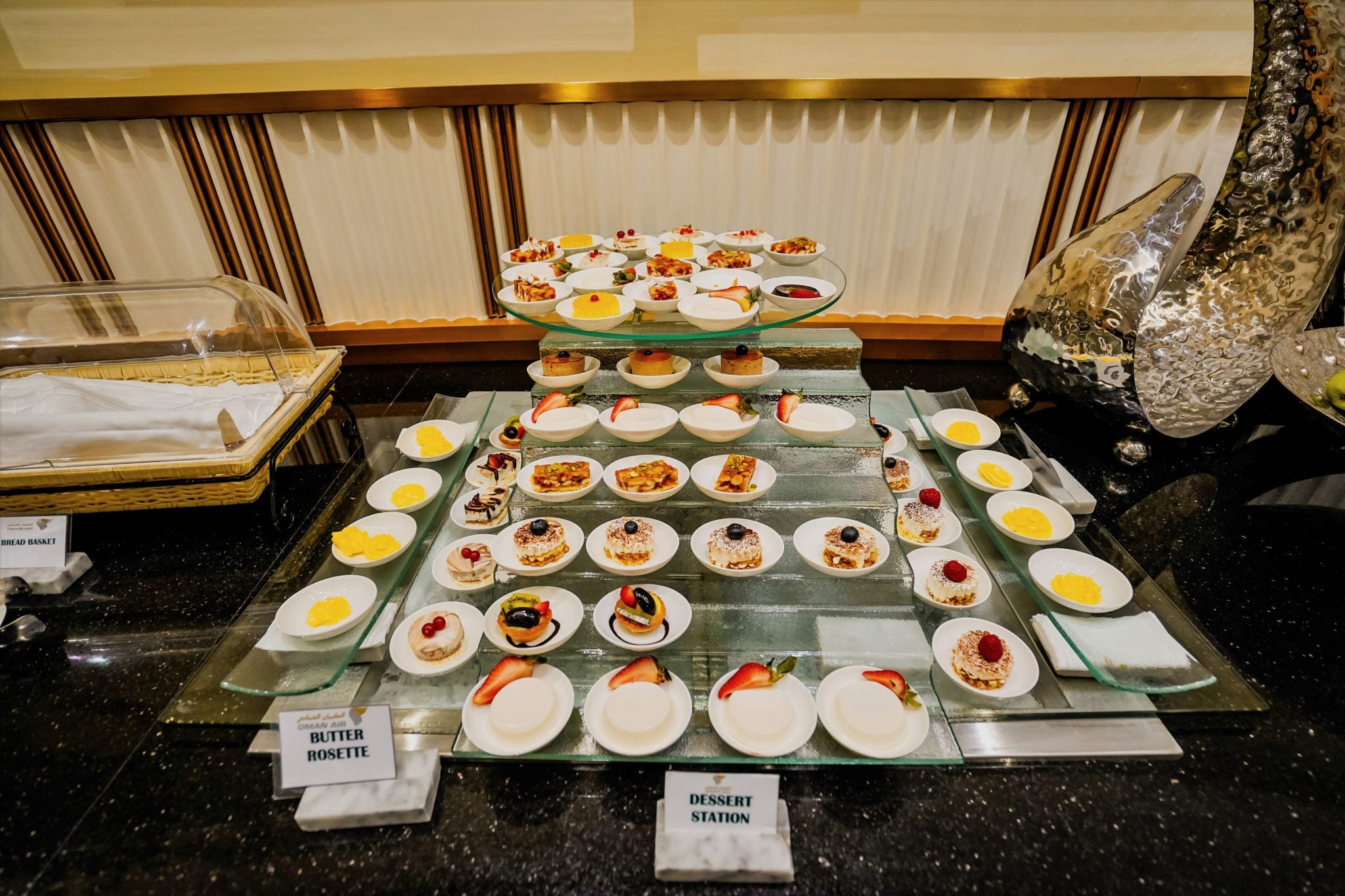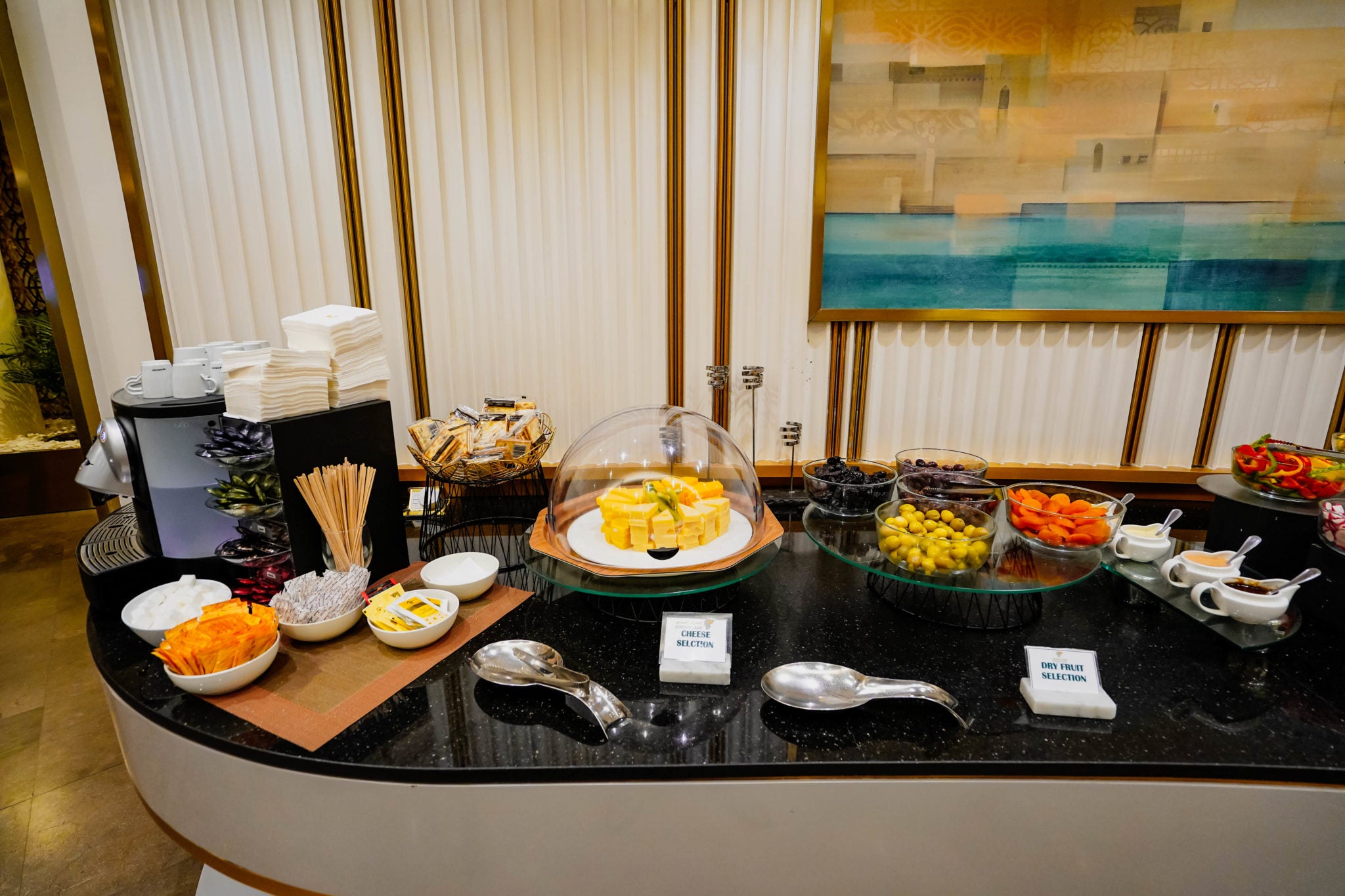 At the far end exit of the first dining area, there is a smaller standalone bar serving dates and non-alcoholic beverages such as "Suleimani Tea," Arabic coffee, and LeMillion, a Halal-compliant non-alcoholic sparkling grape drink of which they had 3 varieties — Blanc, Royal, and Rosé. I tried a glass of LeMillion Rosé and it was surprisingly tasty and refreshing.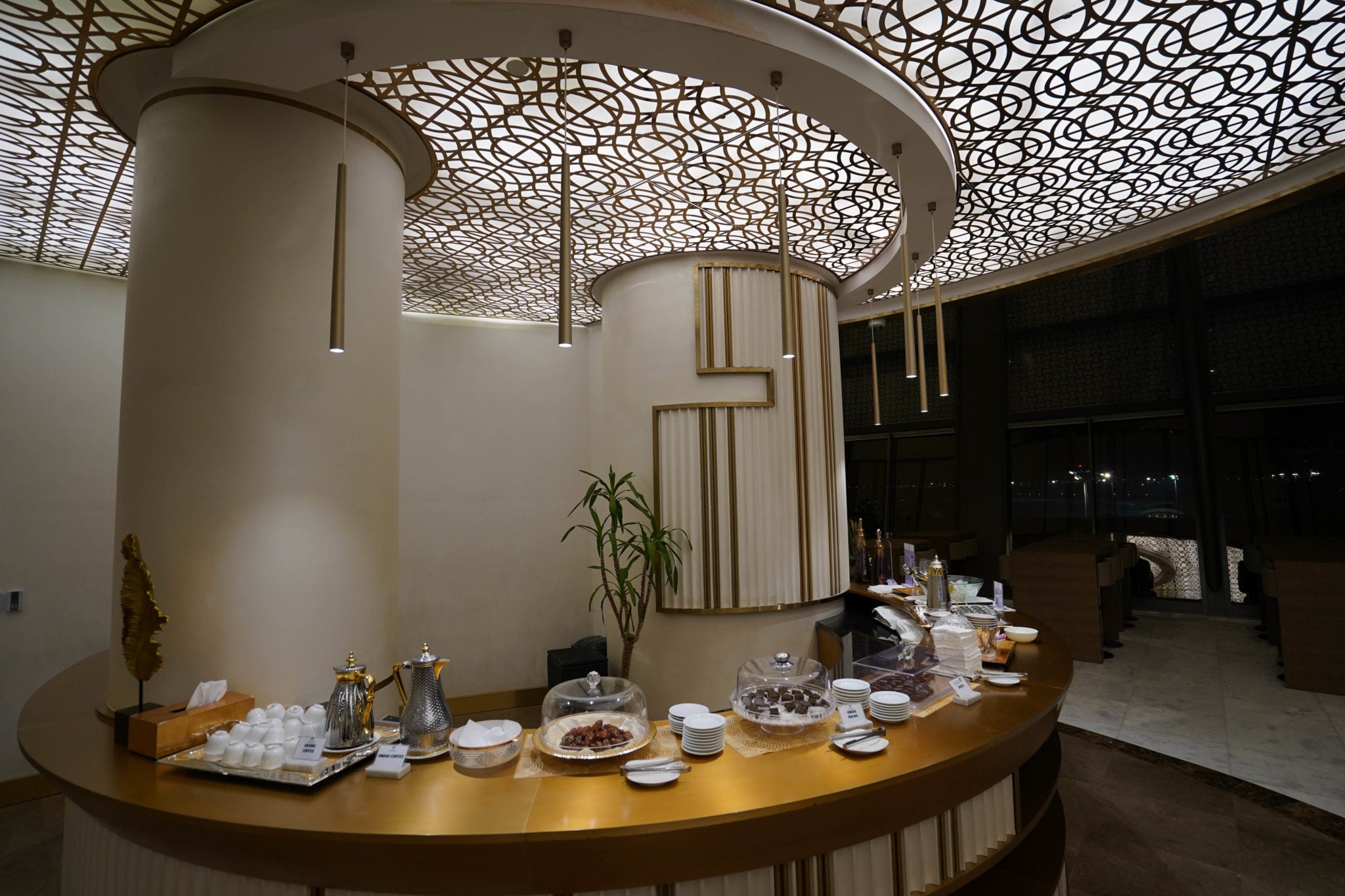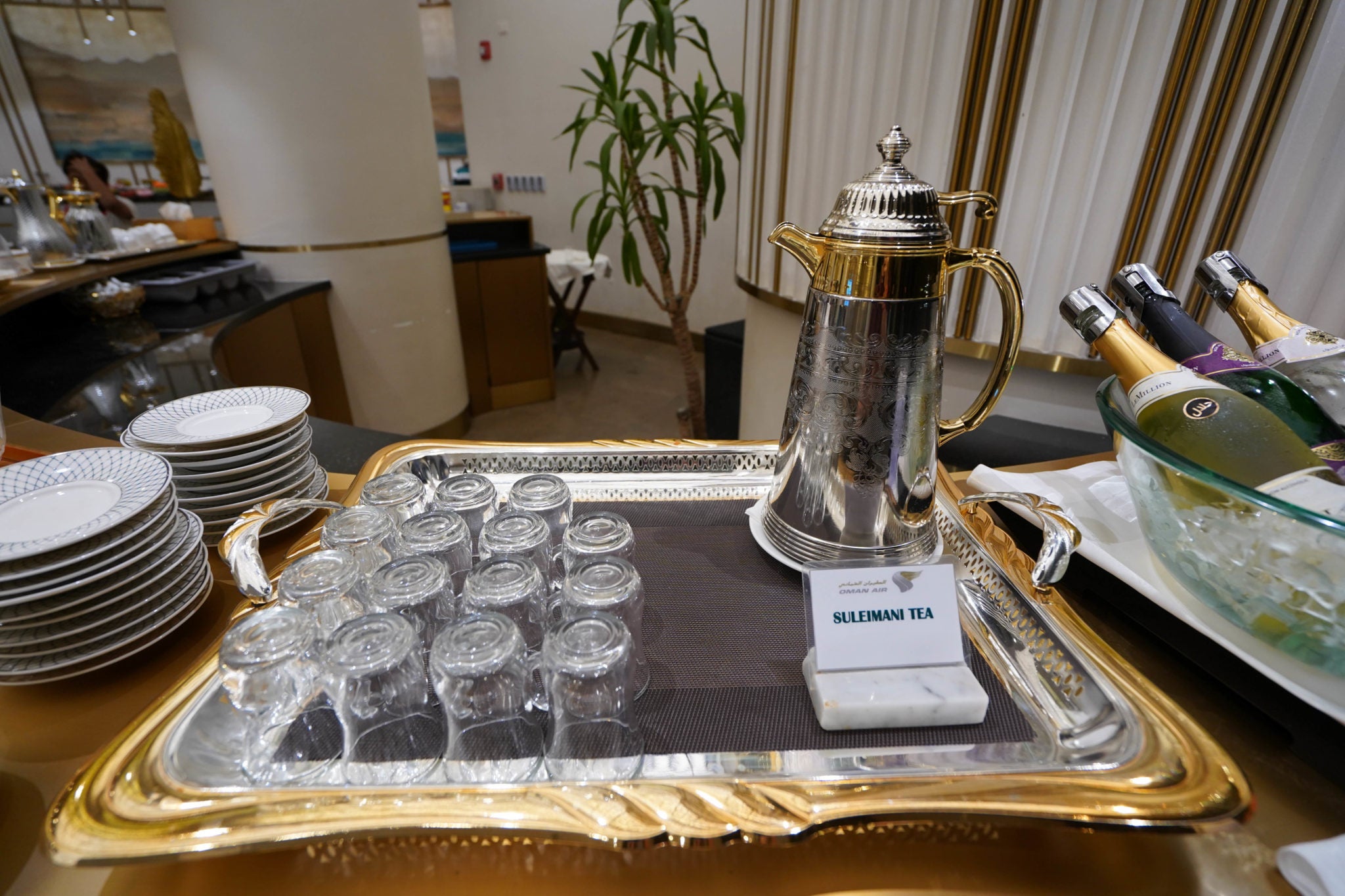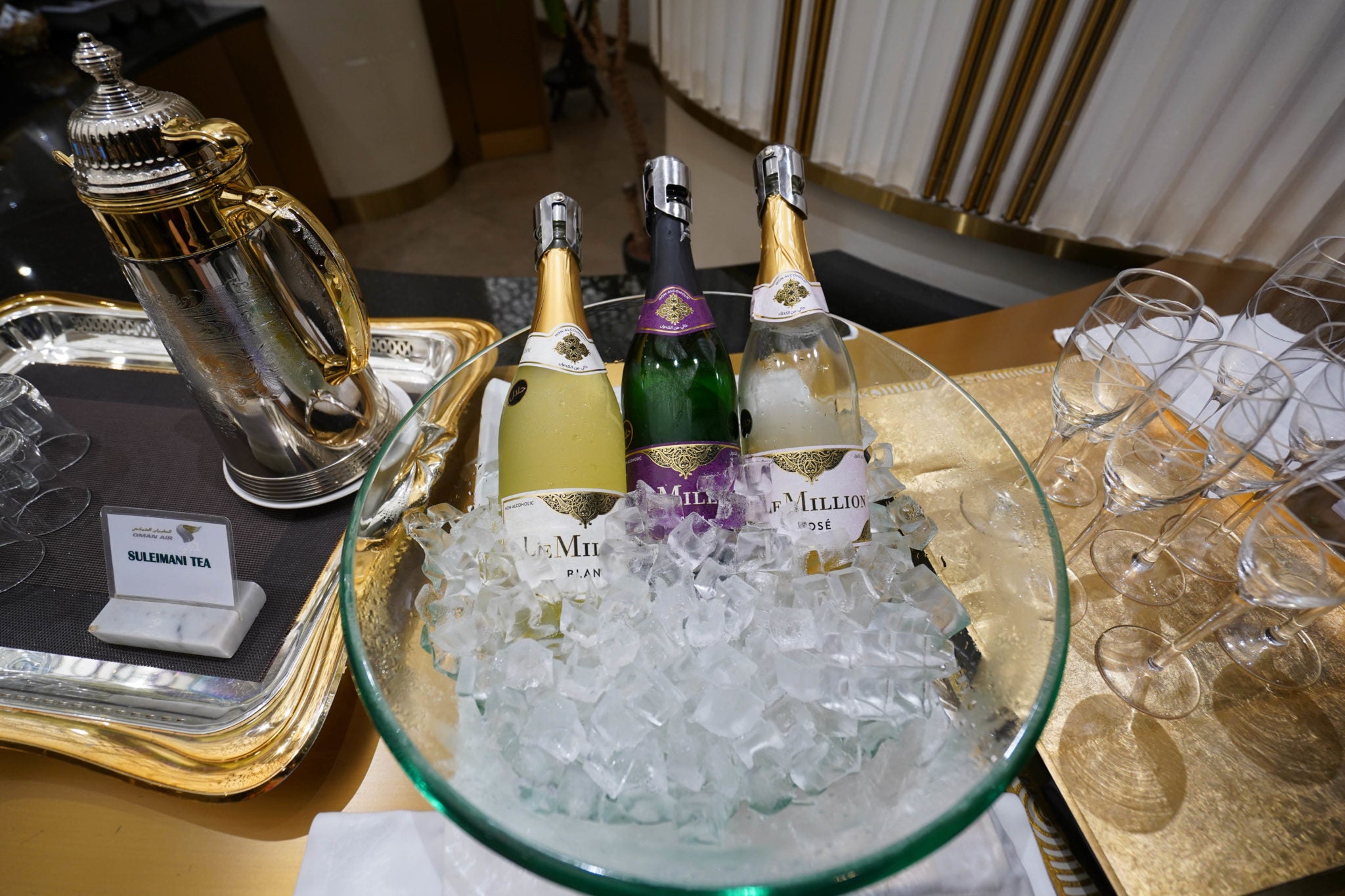 As you venture further in, you come across the main bar which is located near the First Class Lounge entrance. The bar houses a decent collection of liquor. I knocked back a glass of Lanson Brut Champagne at the bar, which was good enough to fuel me up for the remainder of my lounge excursion.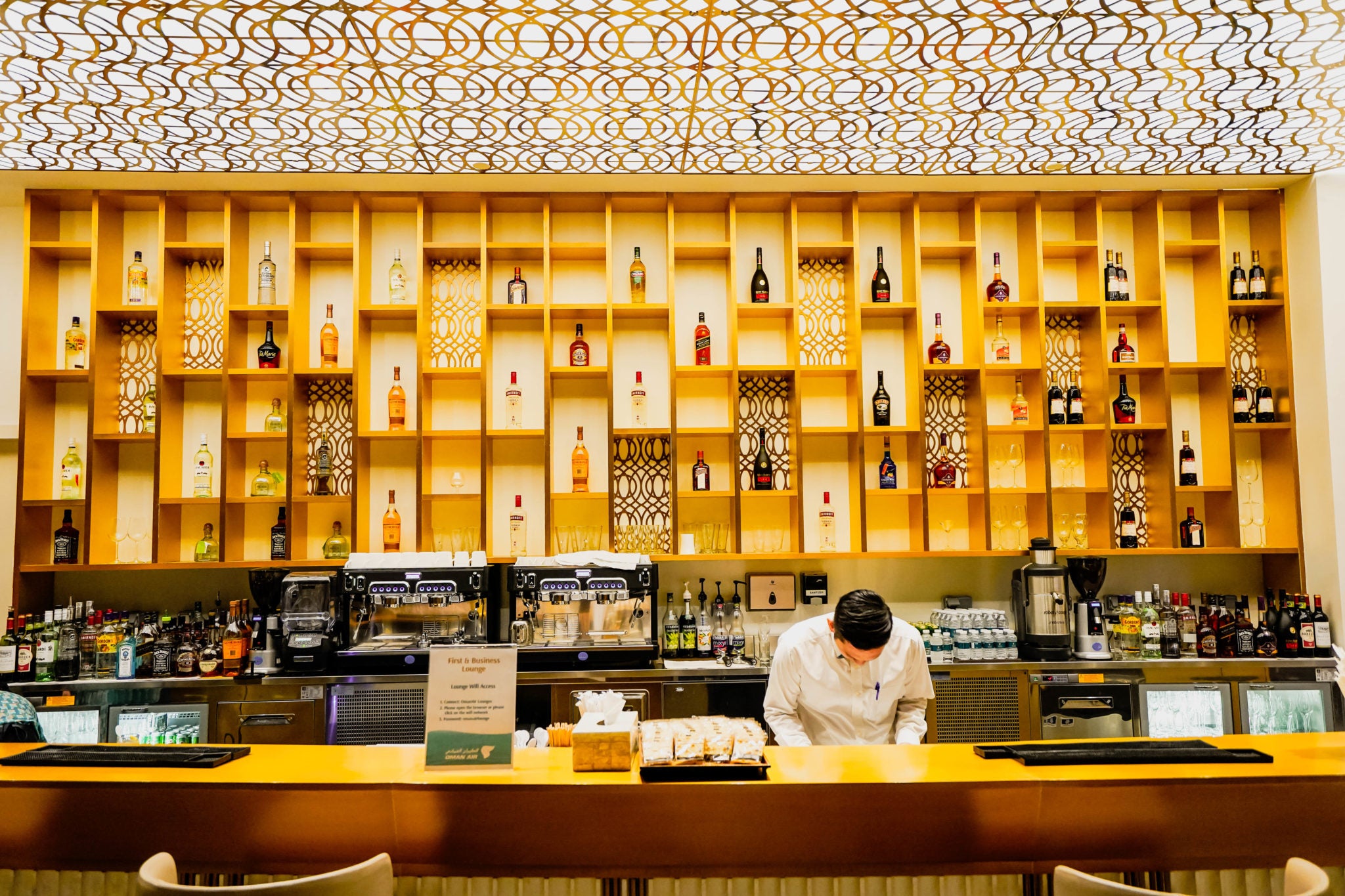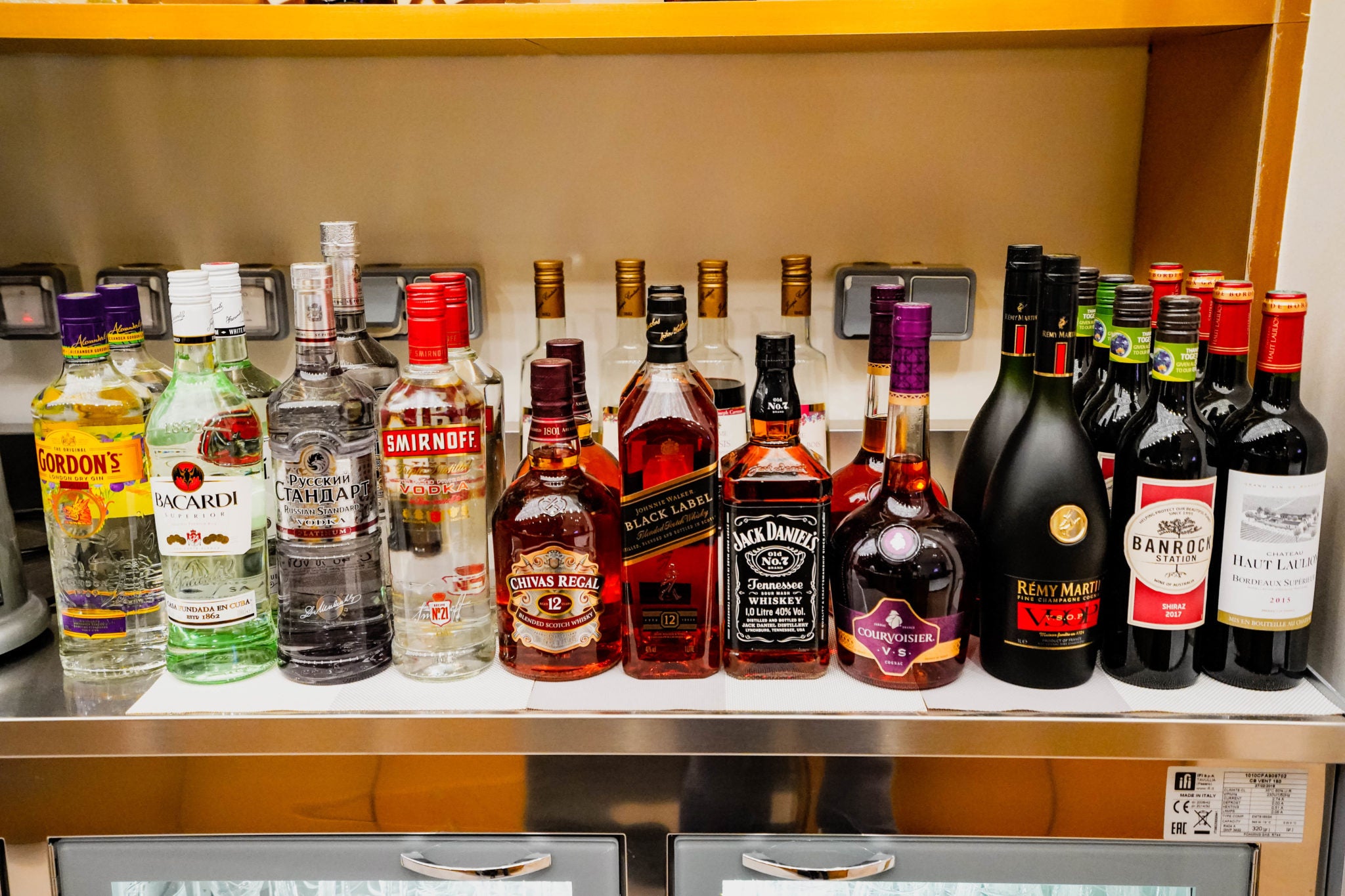 Next up is the second dining area, which as I mentioned earlier offers the same food selection but only differs in set up.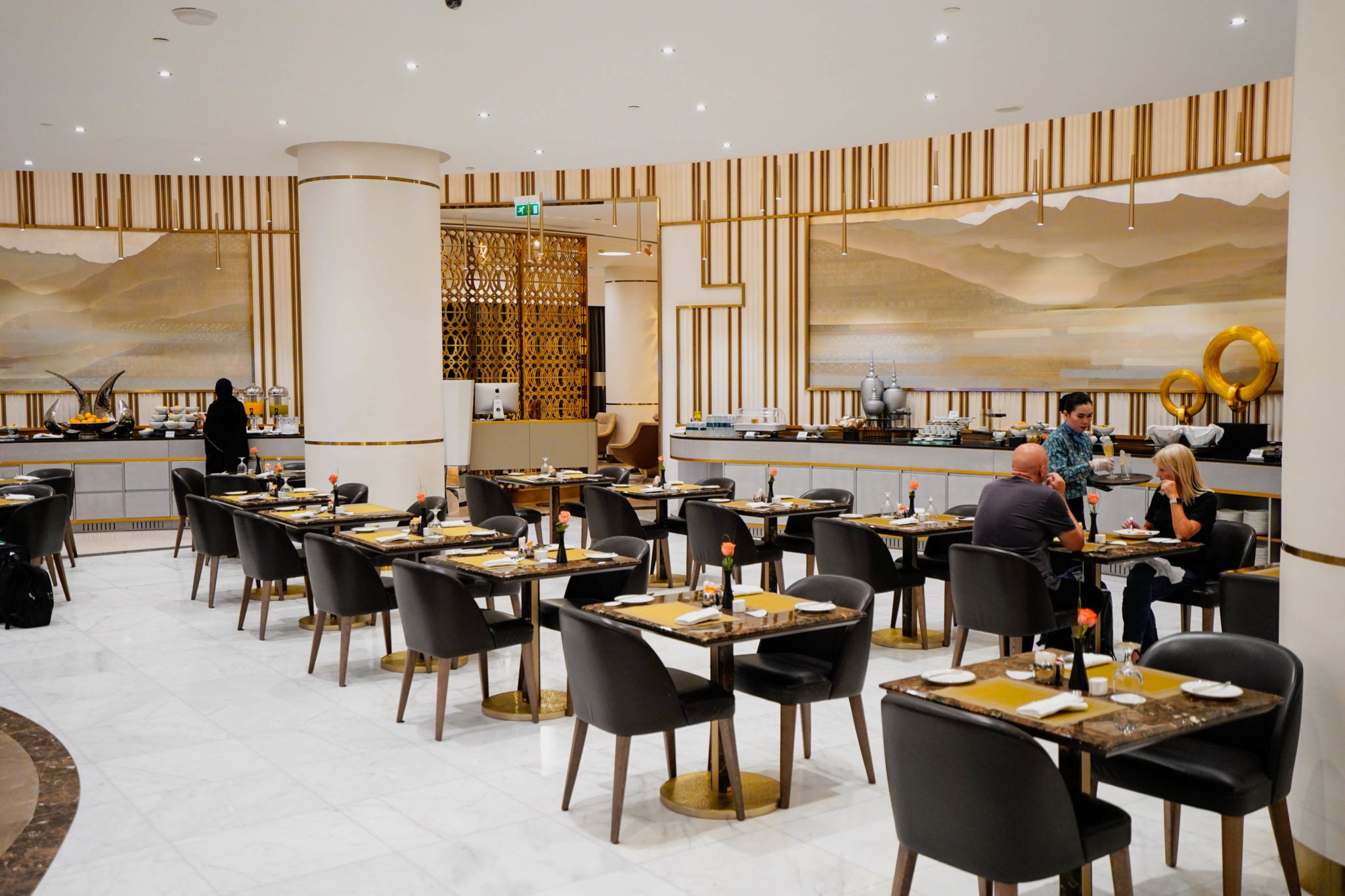 If you are connecting and have a long transit, you can relax in one of the day rooms with curtains for privacy or in one of the 4 fully private nap rooms. The nap rooms can be booked on the spot at the reception, subject to availability.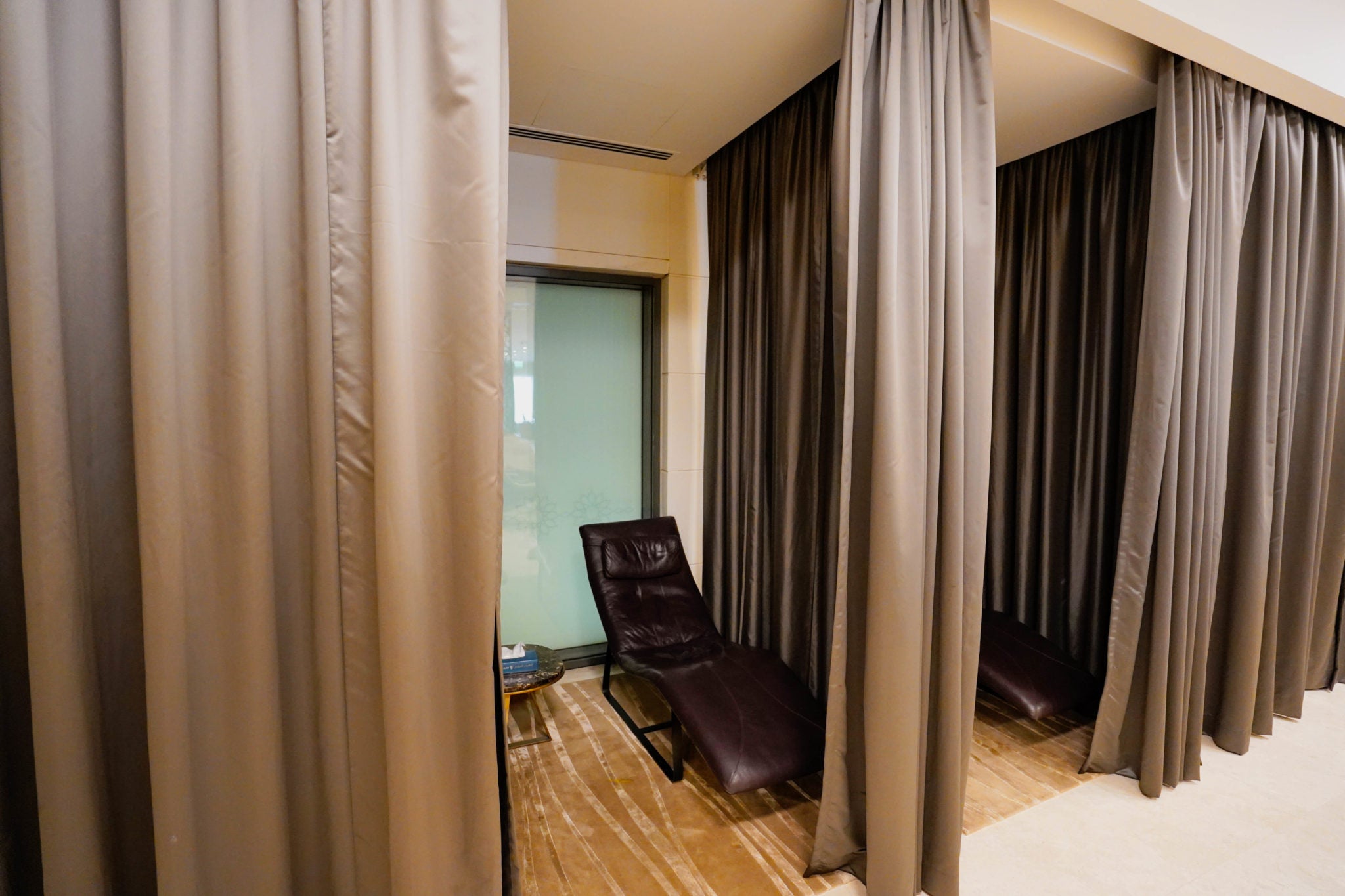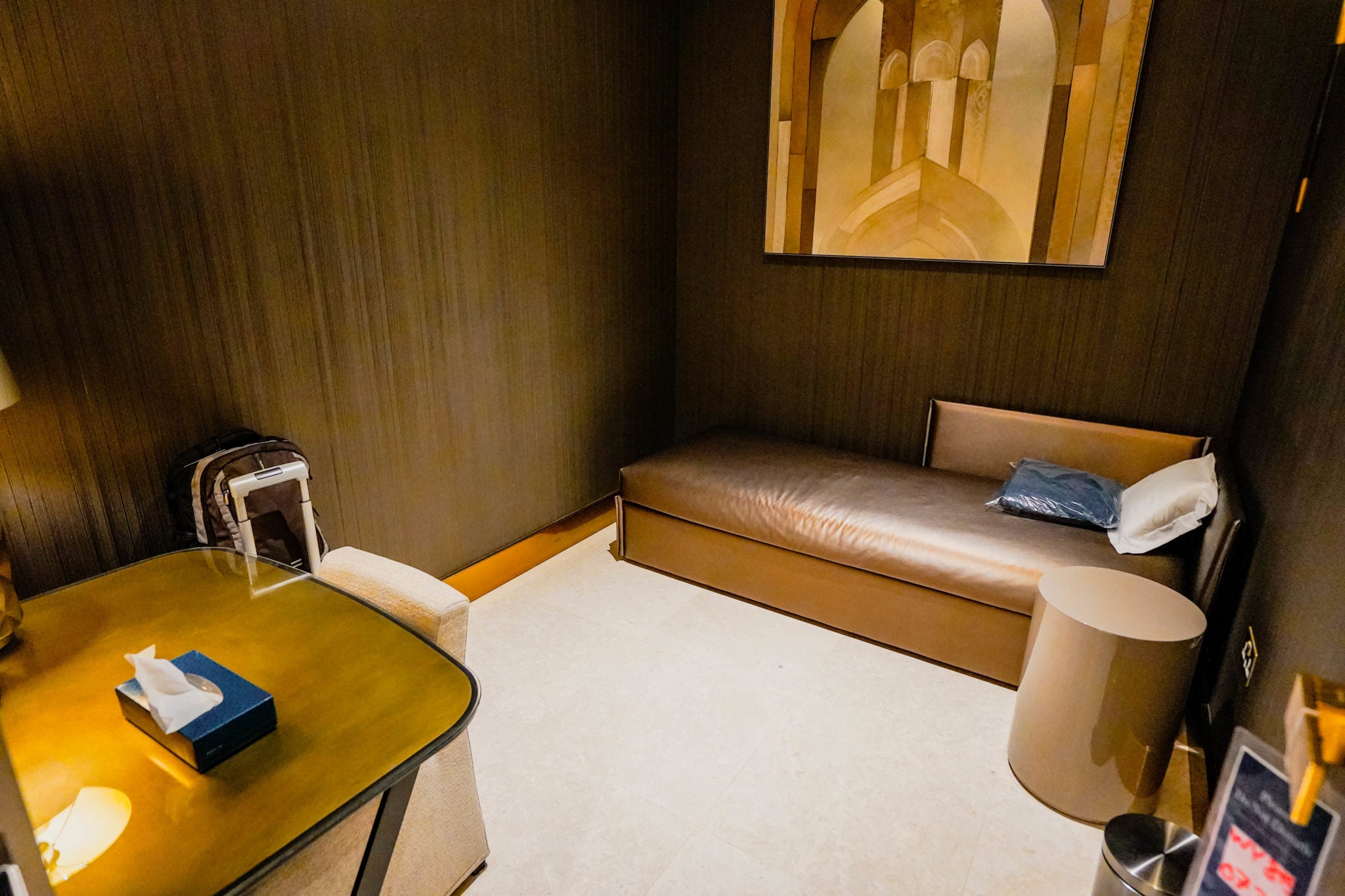 By the time I completed a full tour of the lounge it was 7:30 a.m. I decided to have a light breakfast and then head to the gate at 8:00 a.m., an hour before the scheduled departure.
Boarding
When I arrived at the gate, it looked more like a melee than a boarding process. There was no separate line for premium passengers, more like a first-come, first-served basis, and surprisingly boarding was only via 1 jet bridge through the L2 door. This meant we all just begrudgingly trudged along and I missed my opportunity to click some clean cabin shots.
Flight
Aircraft
Oman Air operates a thrice daily frequency on their Boeing 787-9 Dreamliners from their Muscat hub to Bangkok's Suvarnabhumi International Airport.
The airline currently has 9 Boeing 787 series aircraft in its fleet, 2 of which are of the 787-8 variant and the remaining 7 are the 787-9 variant. Only 2 aircraft (A4O-SF and A4O-SG) in the 787-9 fleet have a 3-zone configuration (i.e. first class, business class, and economy class) and are exclusively operated on the Muscat (MCT) – London Heathrow (LHR) sector. The rest are configured to 2 zones (business class and economy class).
Flight WY 815 was operated by a 2-class Boeing 787-9 Dreamliner registered A40-SD, which was the second 787-9 delivered to the carrier in April 2017.
Hot Tip: Want more? Read another of our writer's reviews of an Oman Air Boeing 787-9 flight from Muscat (MCT) to Bangkok (BKK).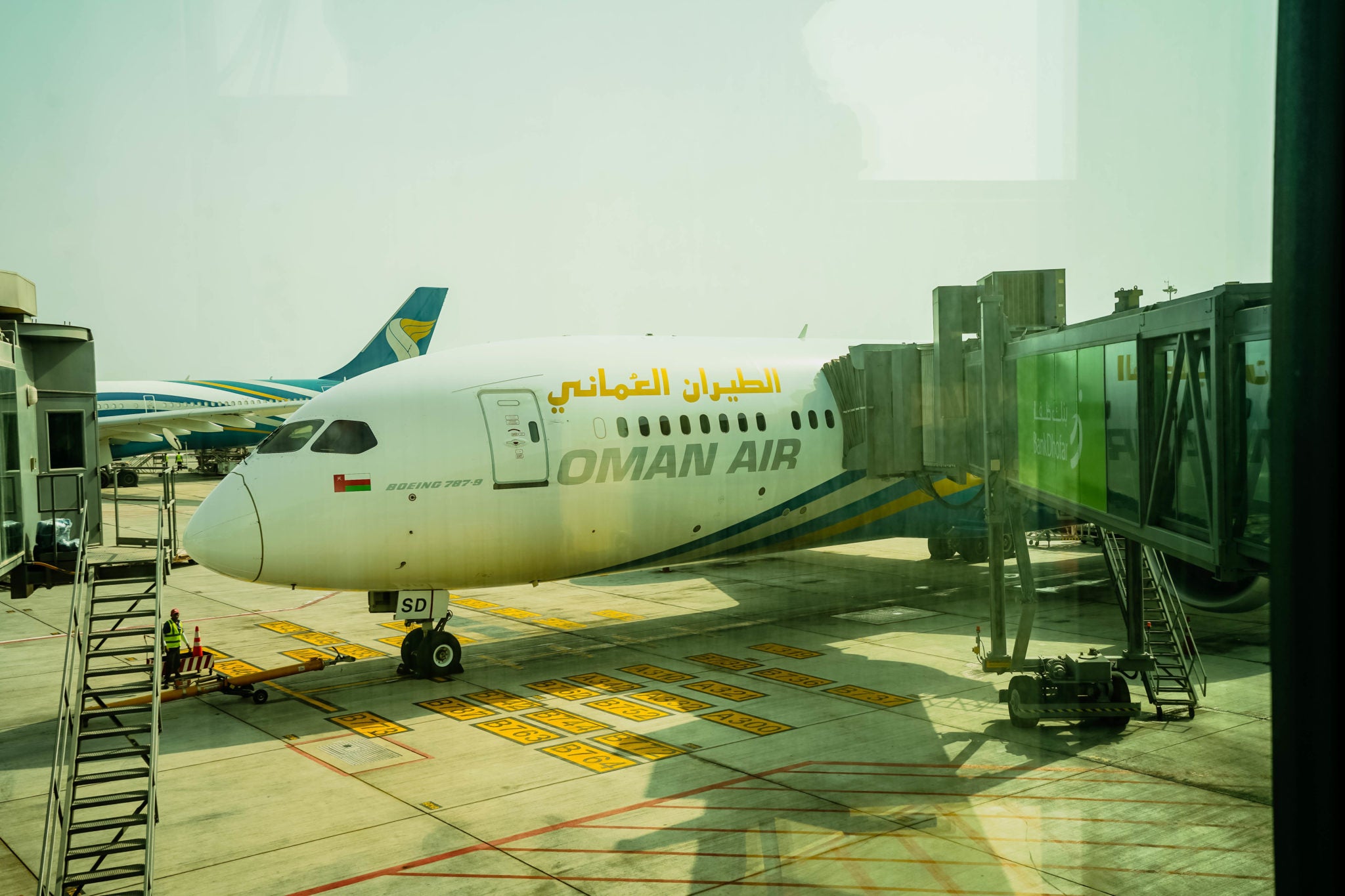 The aircraft had a total seating capacity of 288 seats configured as follows:
Business Class Apex Suites: 30 seats in a staggered 2-2-2 configuration with 24 seats in the forward cabin and the 6 seats in the mini business class cabin behind the forward galley.
Economy Class: 259 seats in a 3-3-3 configuration spread across the remainder of the 2 cabins.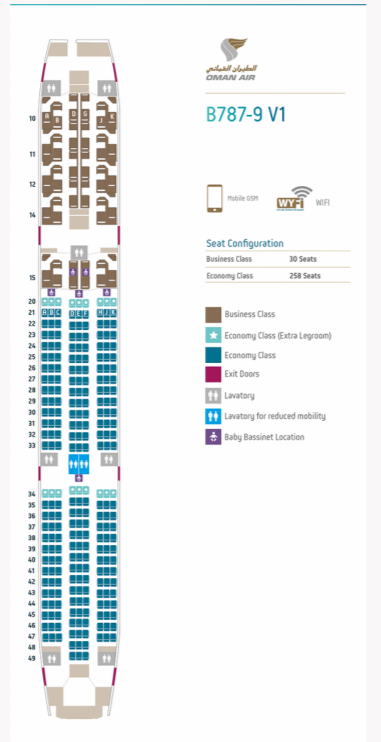 Cabin
After finally making it through the chaotic boarding process, I turned left towards the forward business class cabin and made my way to my assigned seat 12A.
The cabin was beautiful with a simple finish, and with no overhead bins above the middle rows, it had an open and airy feel. The orange, dark brown, and light brown seat upholstery complemented the white bulkheads well.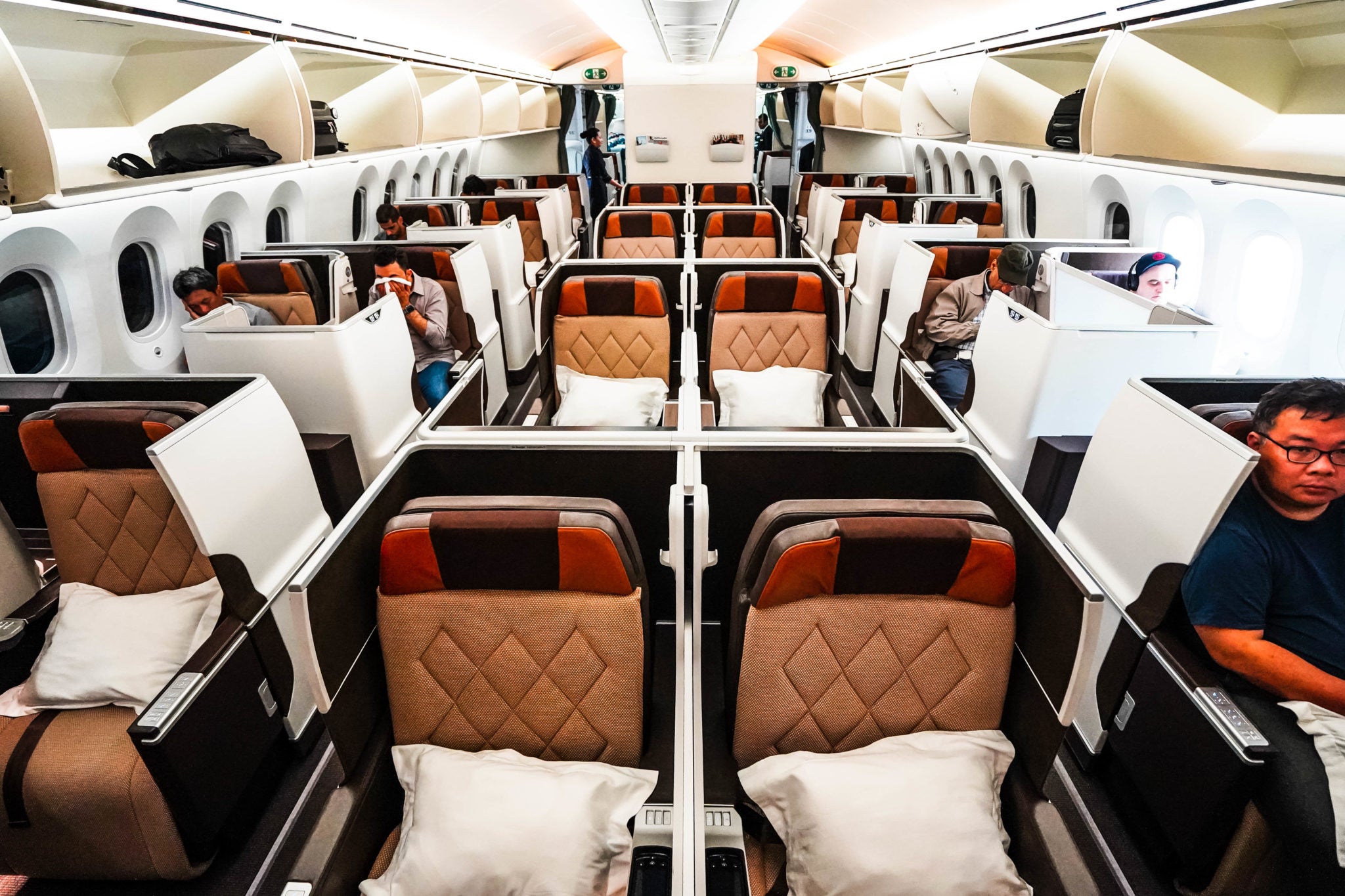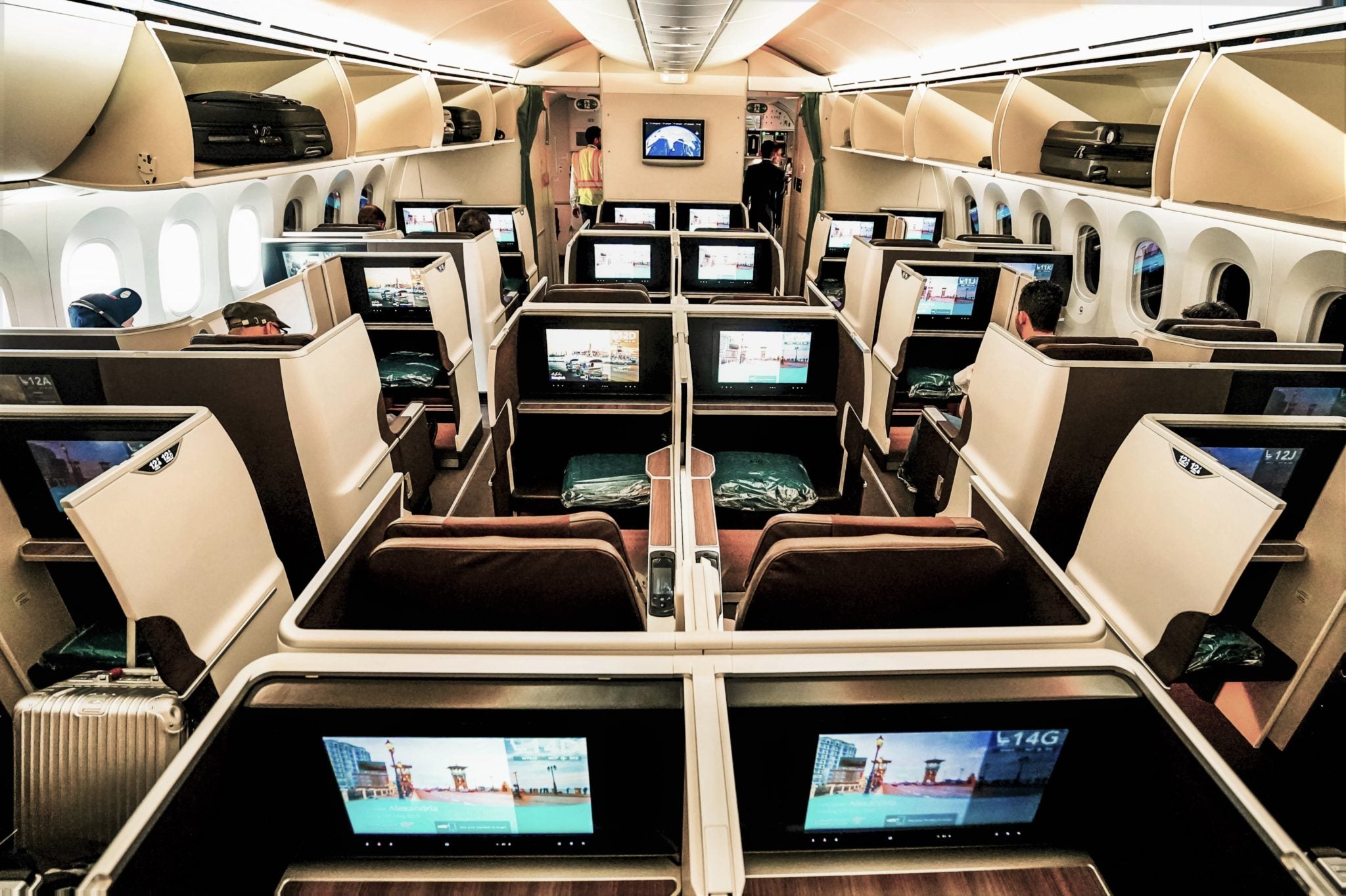 In total there are 3 standard-sized lavatories for business class passengers — 2 lavatories on either side at the forward end of the main business class cabin and 1 between the main business class cabin and the mini business class cabin. The toilets are also equipped with bidets and the lavatories are stocked with Amouage toiletries, including hand cream and fragrances for both sexes.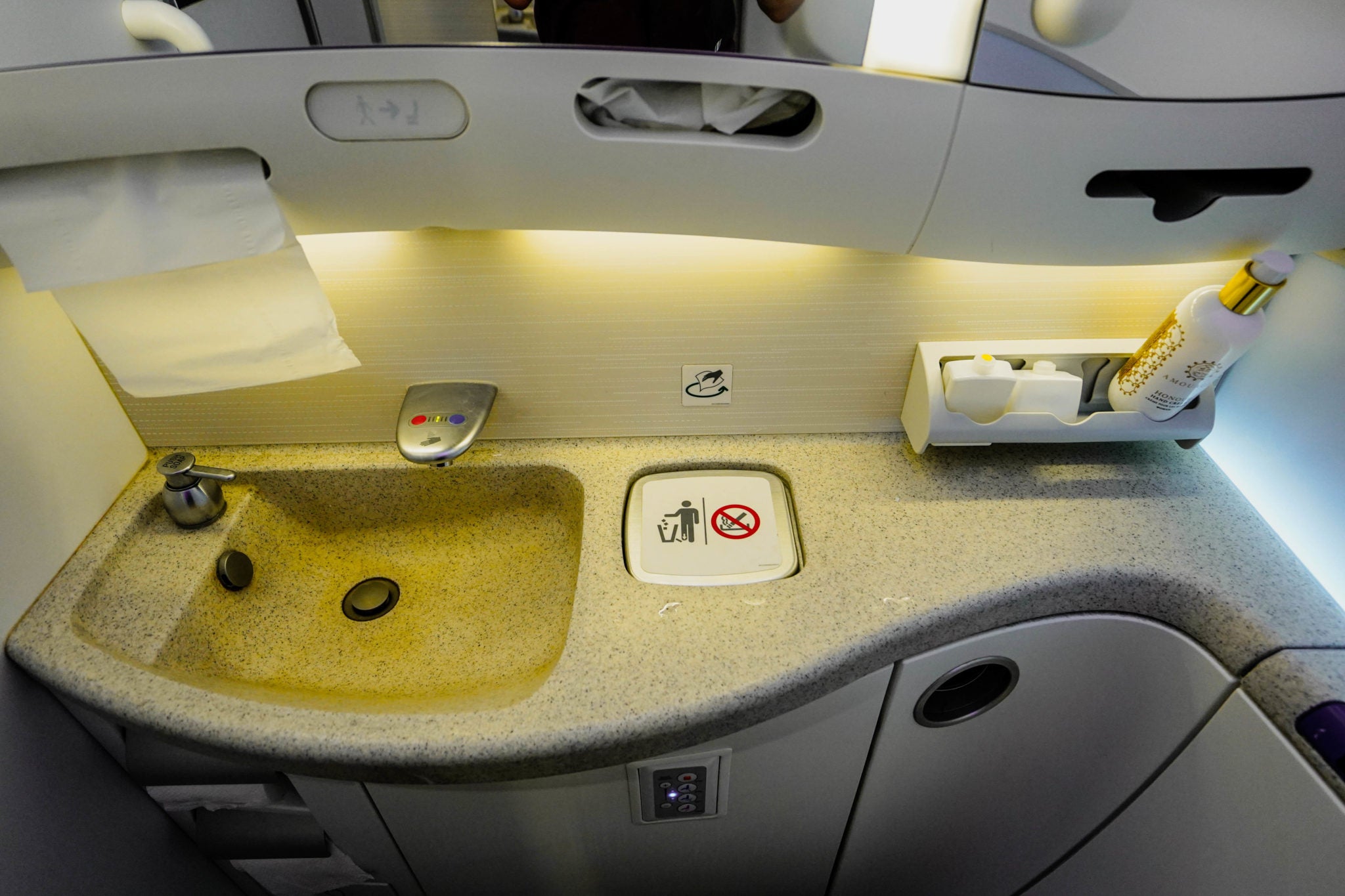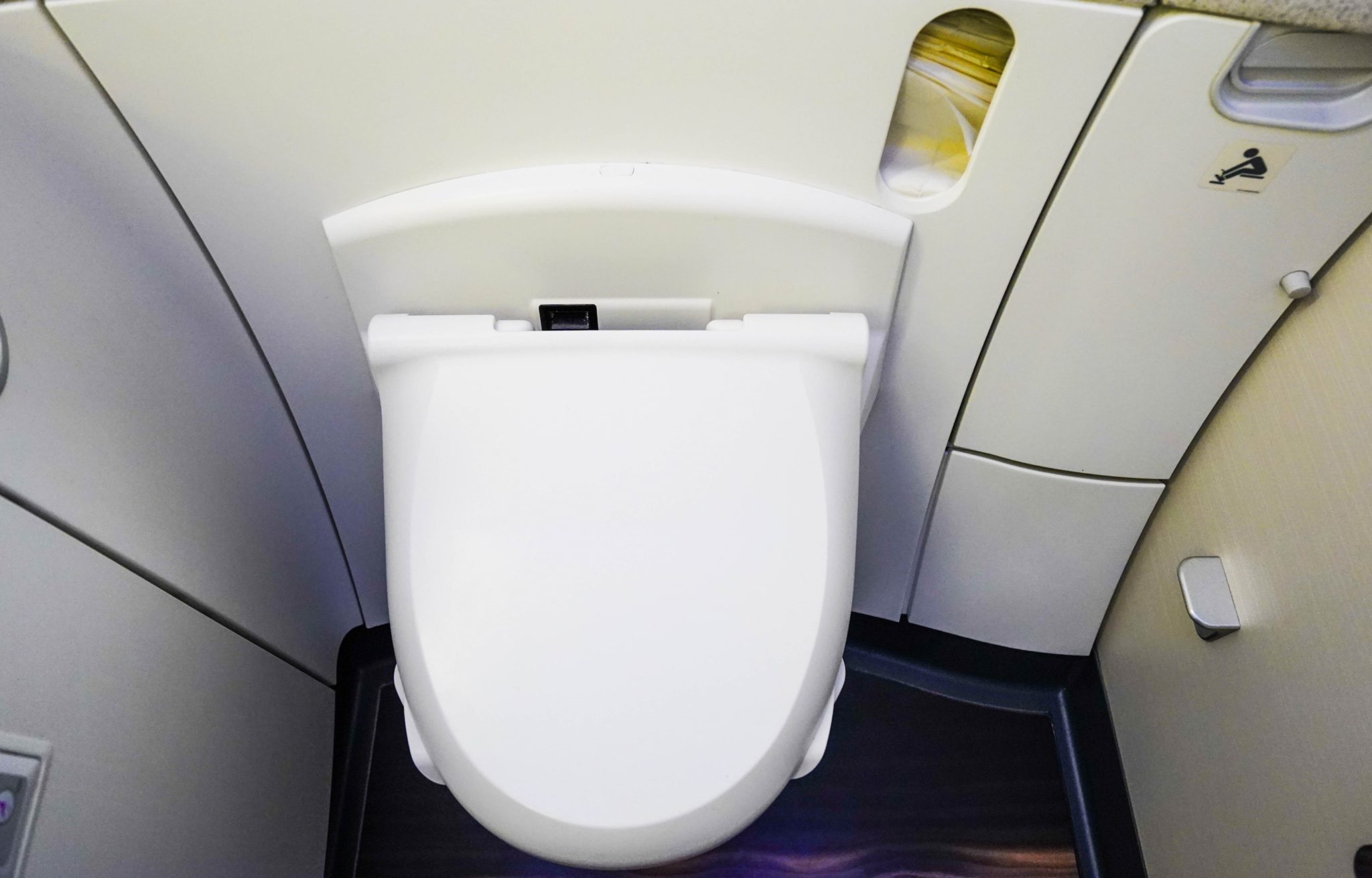 The Apex Suite
And now to the star of the show — The Apex Suite.
This fantastic product was originally designed by B/E Aerospace as a high-density first class product. However, with the growing demand for privacy and lie-flat beds among business travelers, it has evolved into a business class product and is currently in use by Oman Air (WY), Gulf Air (GF), Japan Airlines (JL), and Korean Air (KE) on their Boeing 787 Dreamliner fleets and other select aircraft.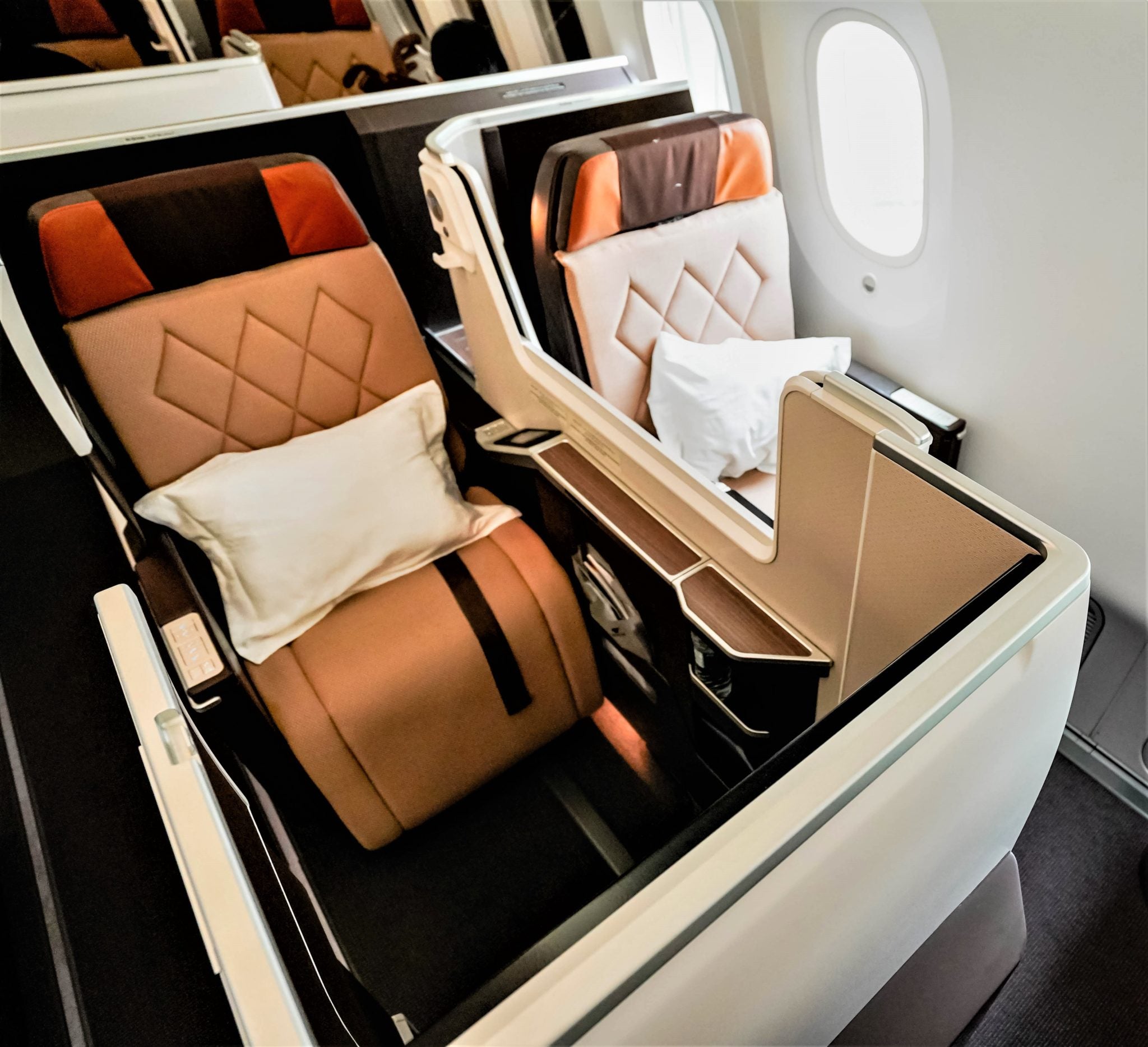 Even with a 2-2-2 configuration, the cabin is quite spacious and the all-forward-facing staggered configuration offers some of the best privacy in the absence of a privacy door with direct aisle access for every passenger.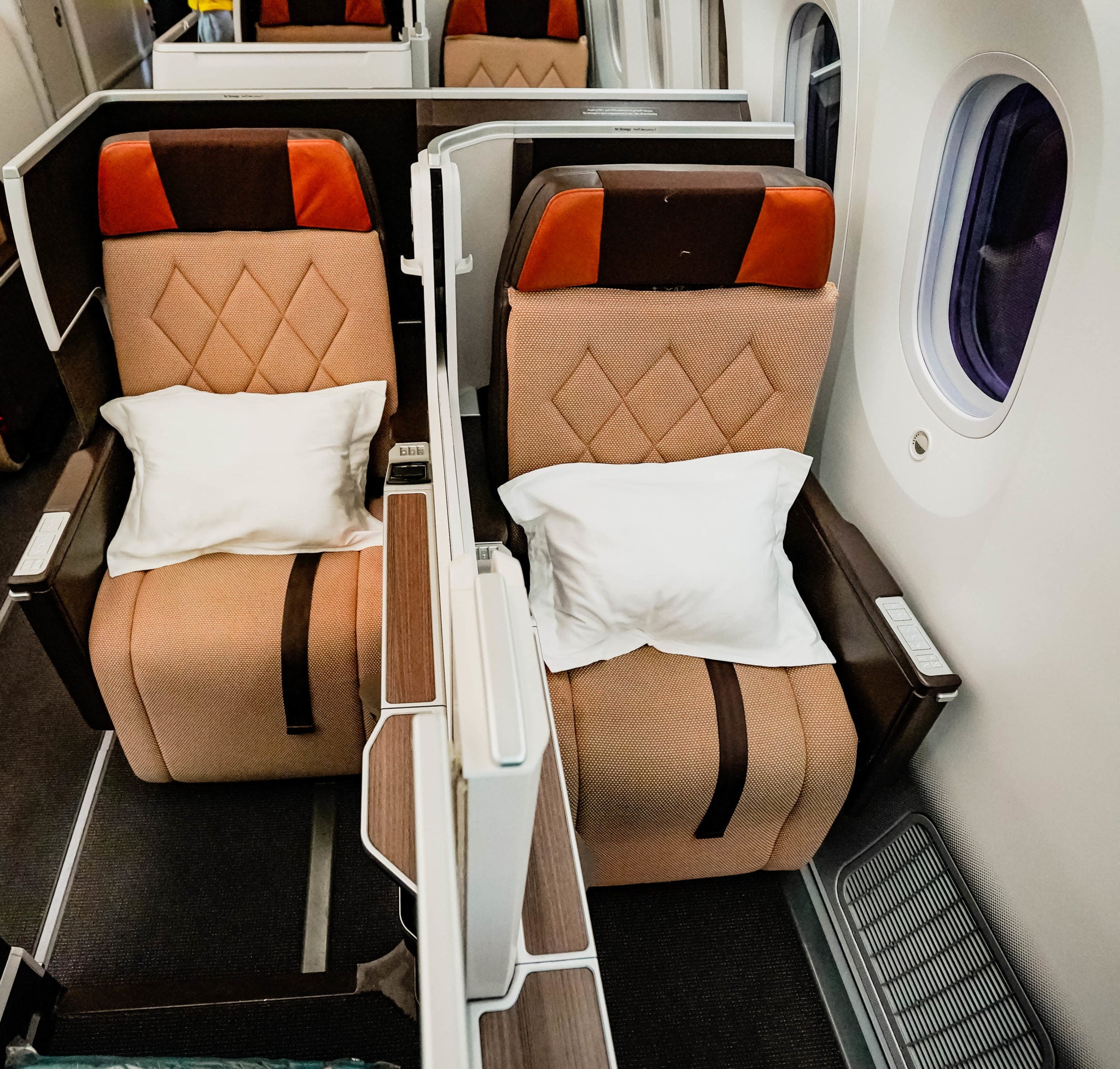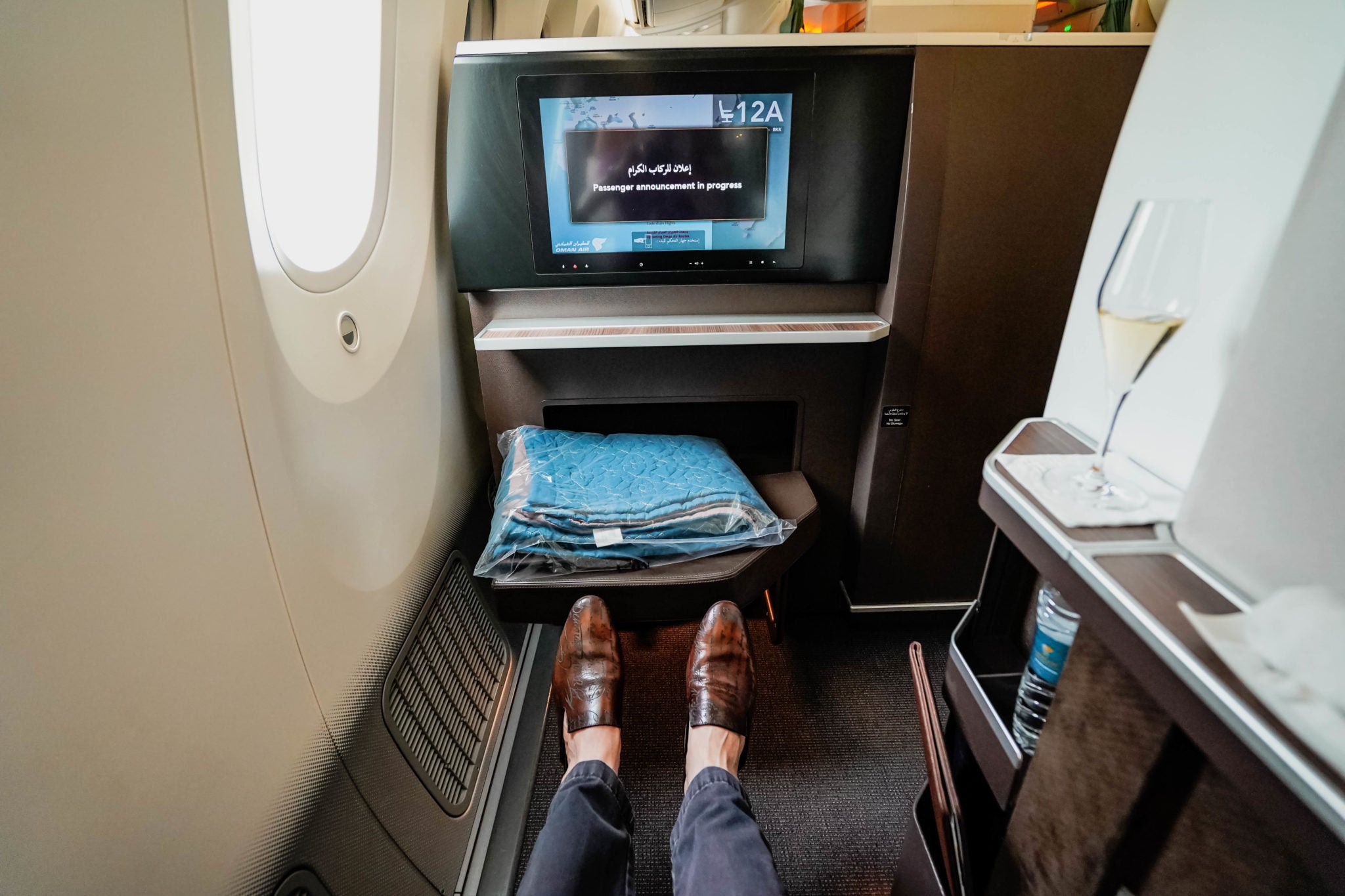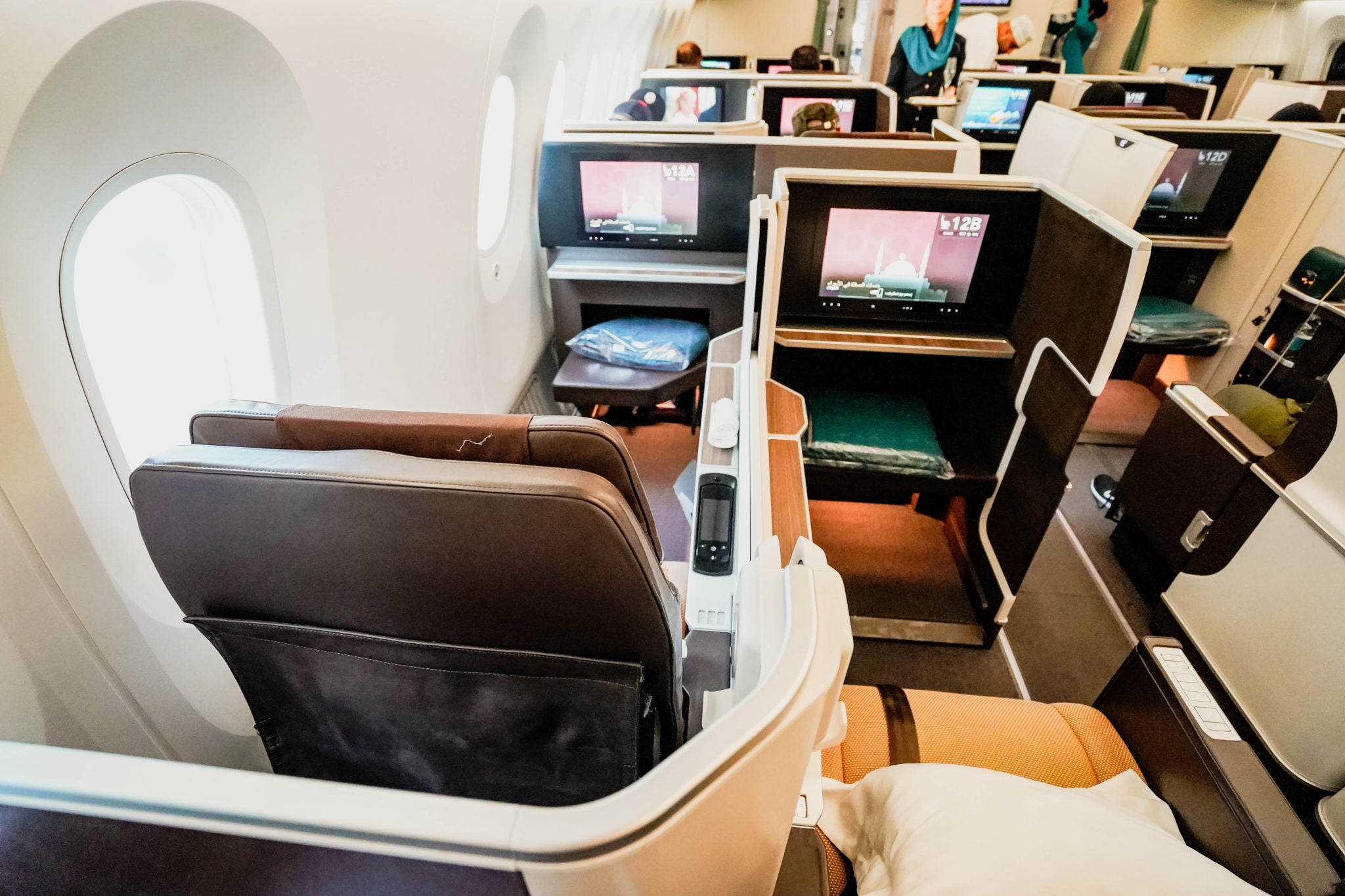 Opposite the seat is an ottoman which provides additional leg support when the seat is in bed mode.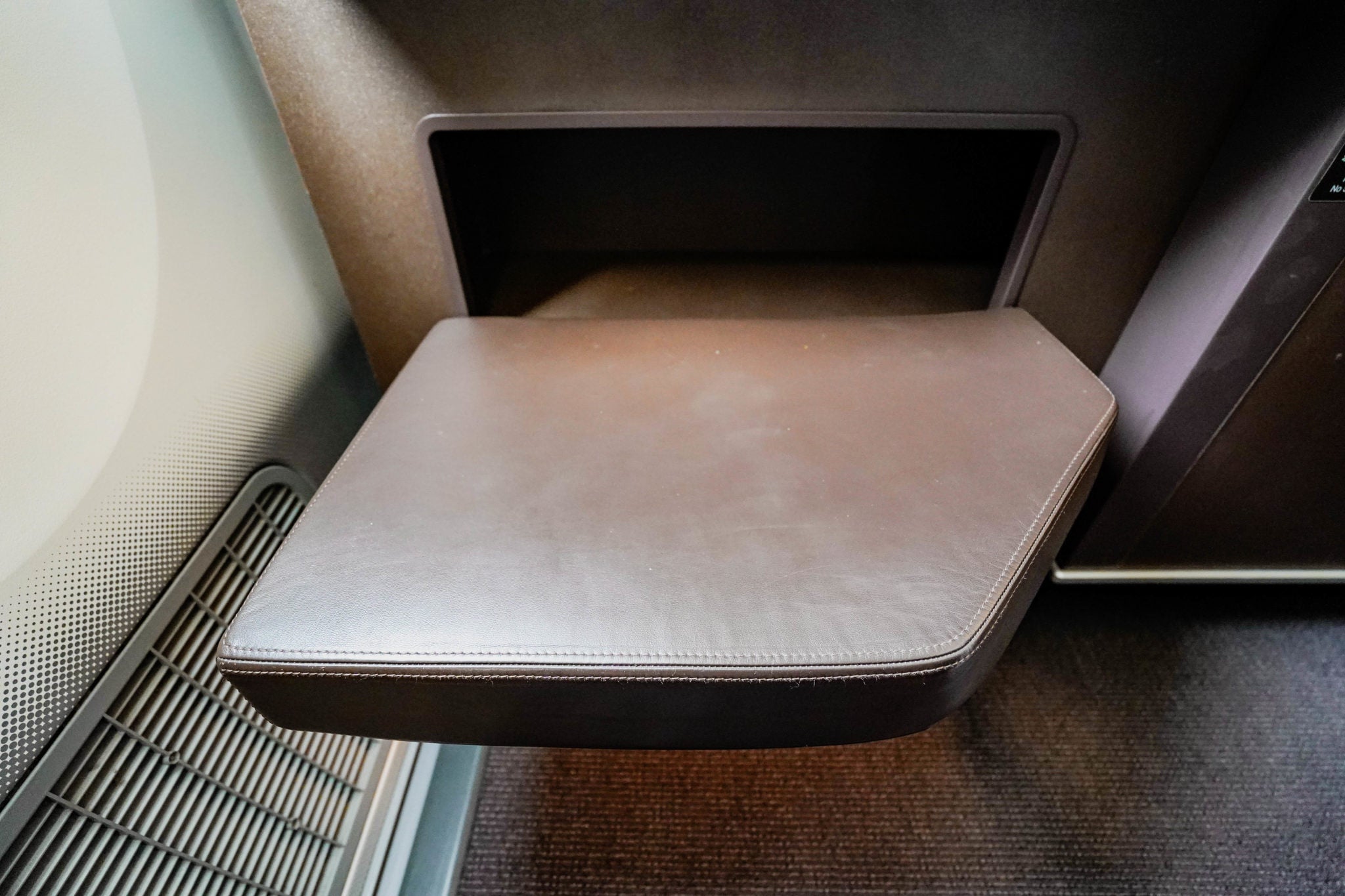 There is a large tray table that is housed under the right-hand armrest and it turns 90 degrees, enabling you to leave your seat without any inconvenience.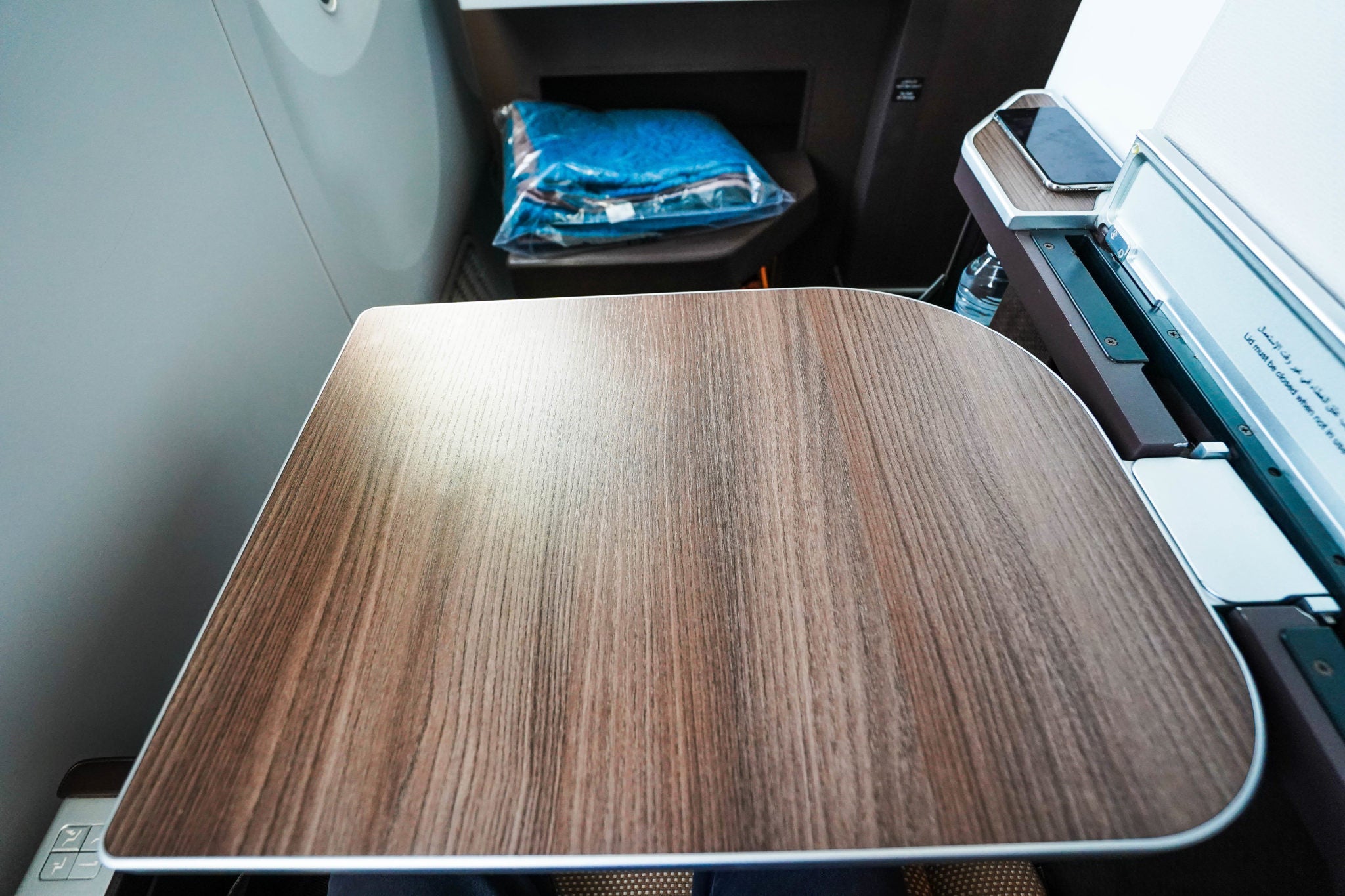 If you are traveling solo, seats in rows A and K are the ones are to go for. They offer the best privacy and a view out of 3 windows, except for row 12, where a window is missing. Unfortunately, I had the unfortunate privilege of sitting in 12A.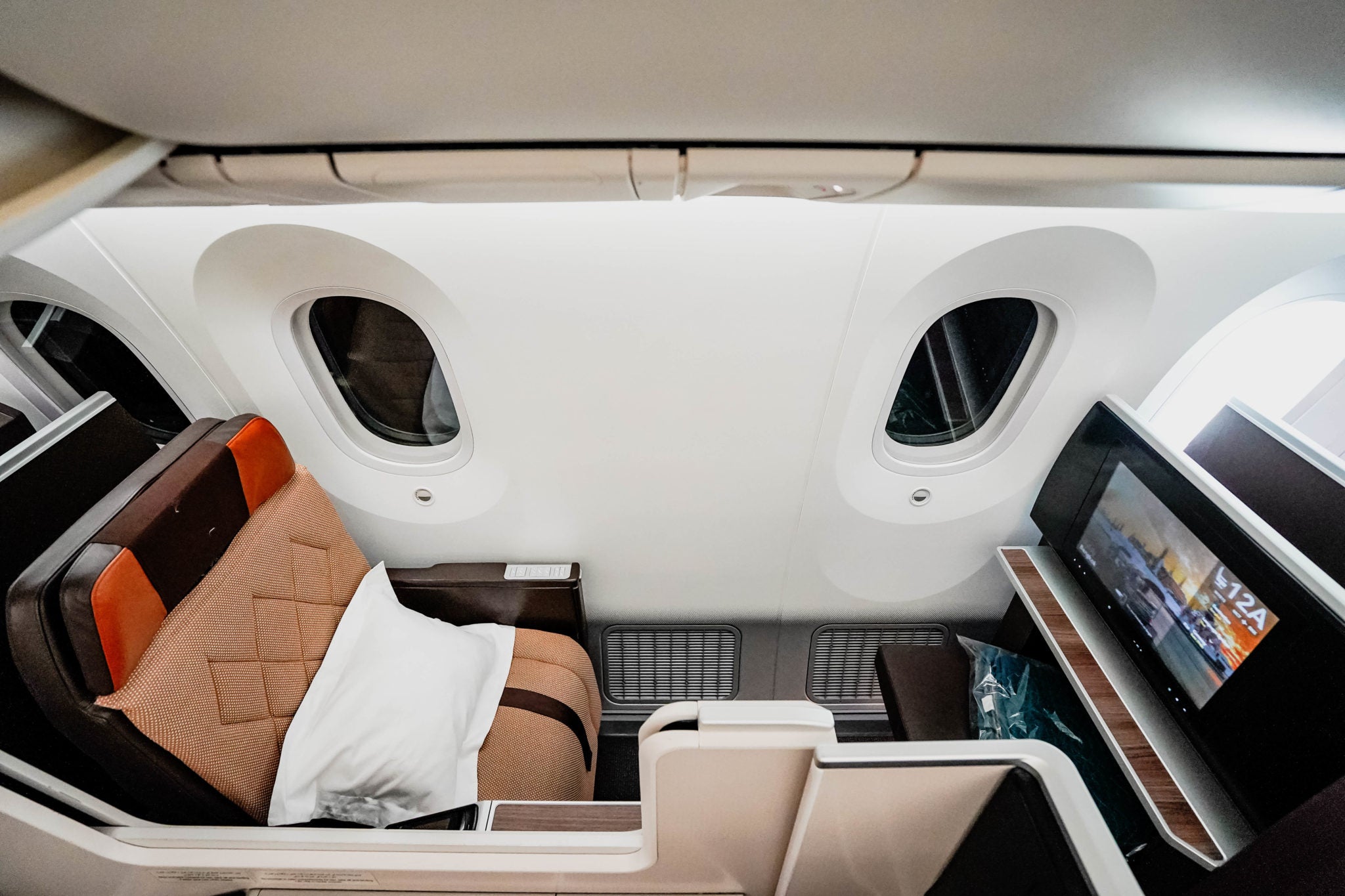 For couples, the middle seats ending in D and G would be the best choice.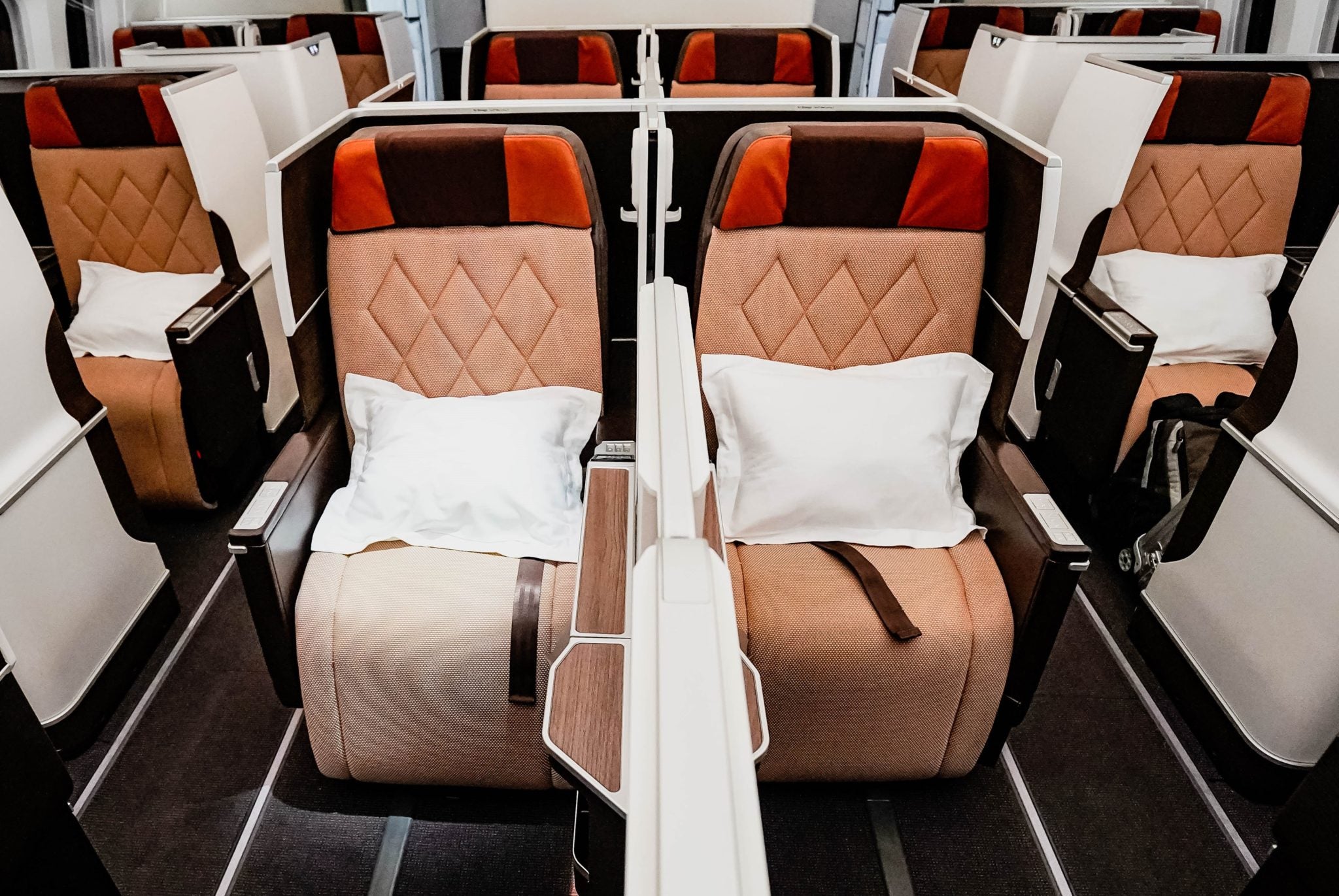 Seat and Seat Controls
With a pitch of 80 inches and a width of 22.8 inches, the seats are ergonomically designed, well-padded, comfortable, and convert into a 180-degree lie-flat bed.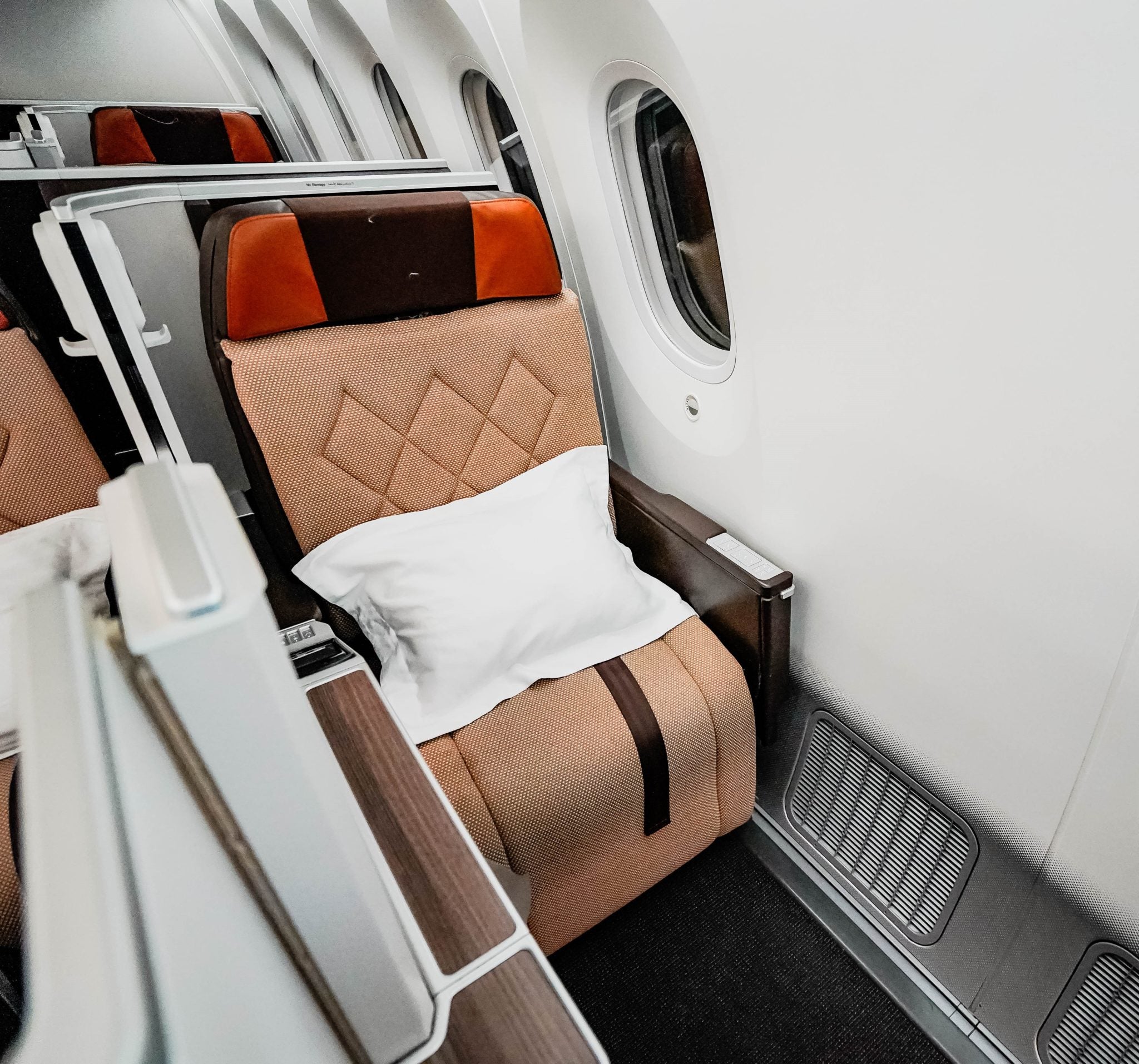 There are 3 sets of seat controls located on a panel which is built into the left-hand armrest:
The first set has 4 pre-set positions for takeoff and landing, recline, dining, and flatbed.
The second set is to independently control the backrest, leg rest, and adjust the seat back and forth to your individual preference.
The third set activates the massage function and adjusts lumbar support.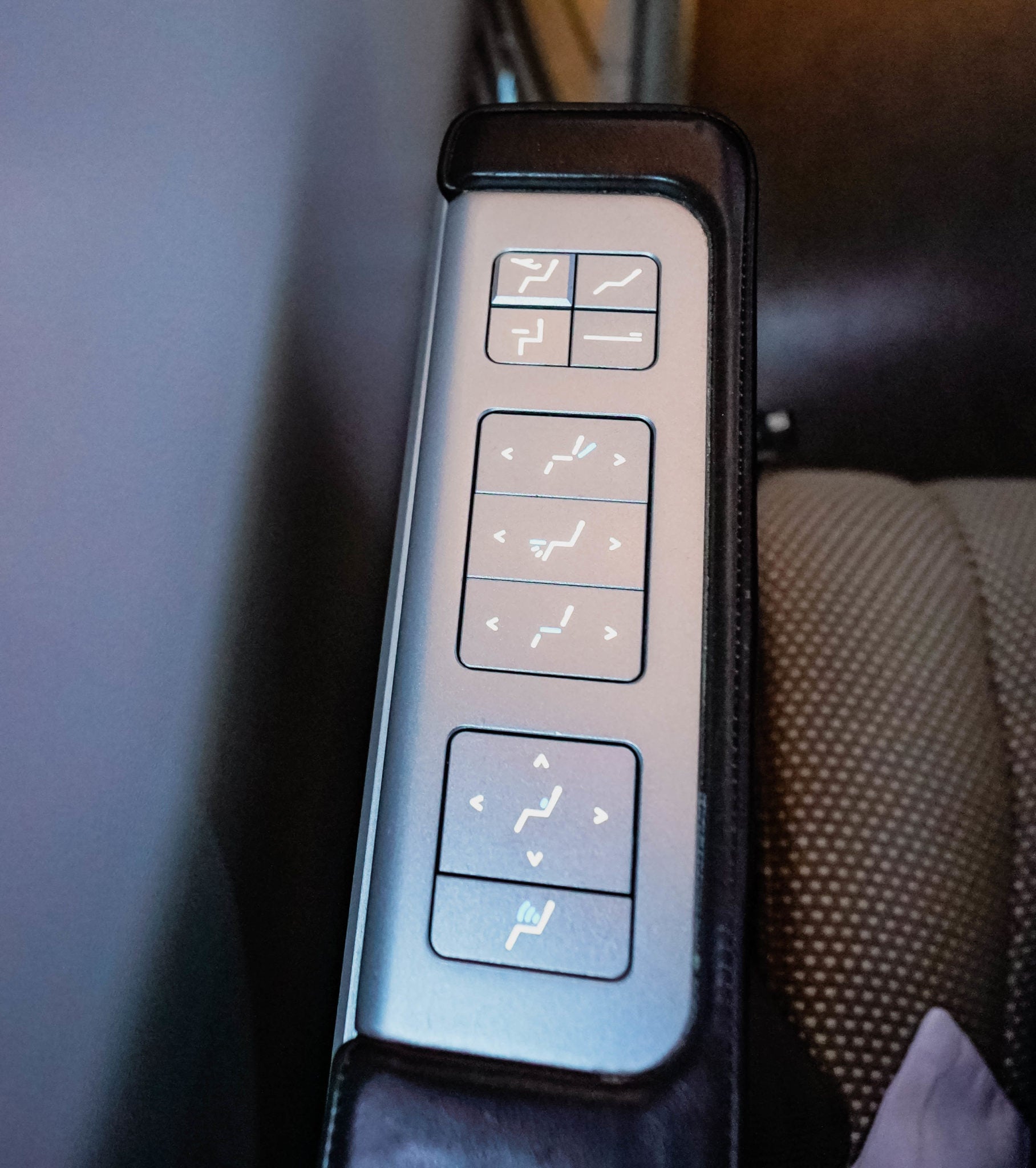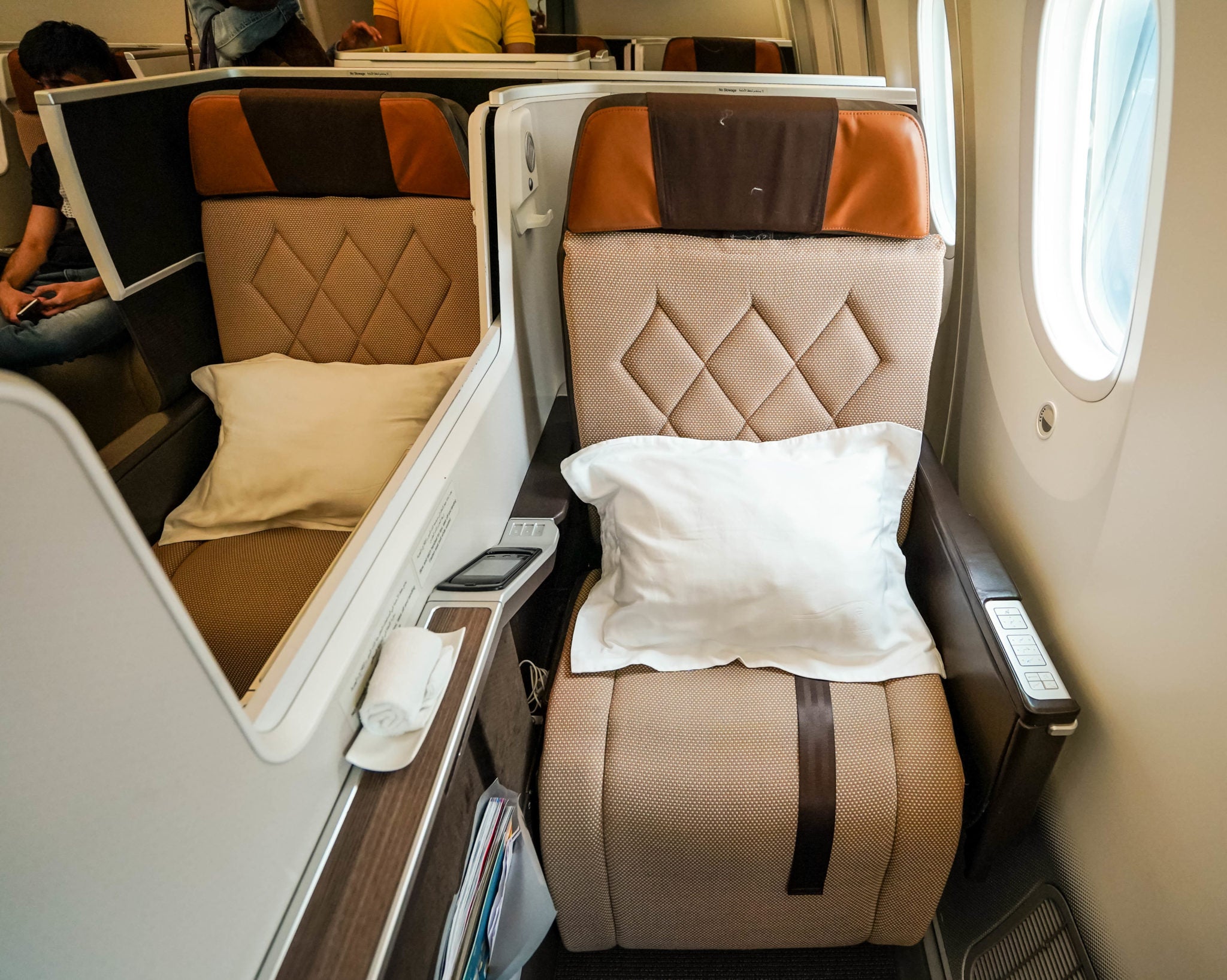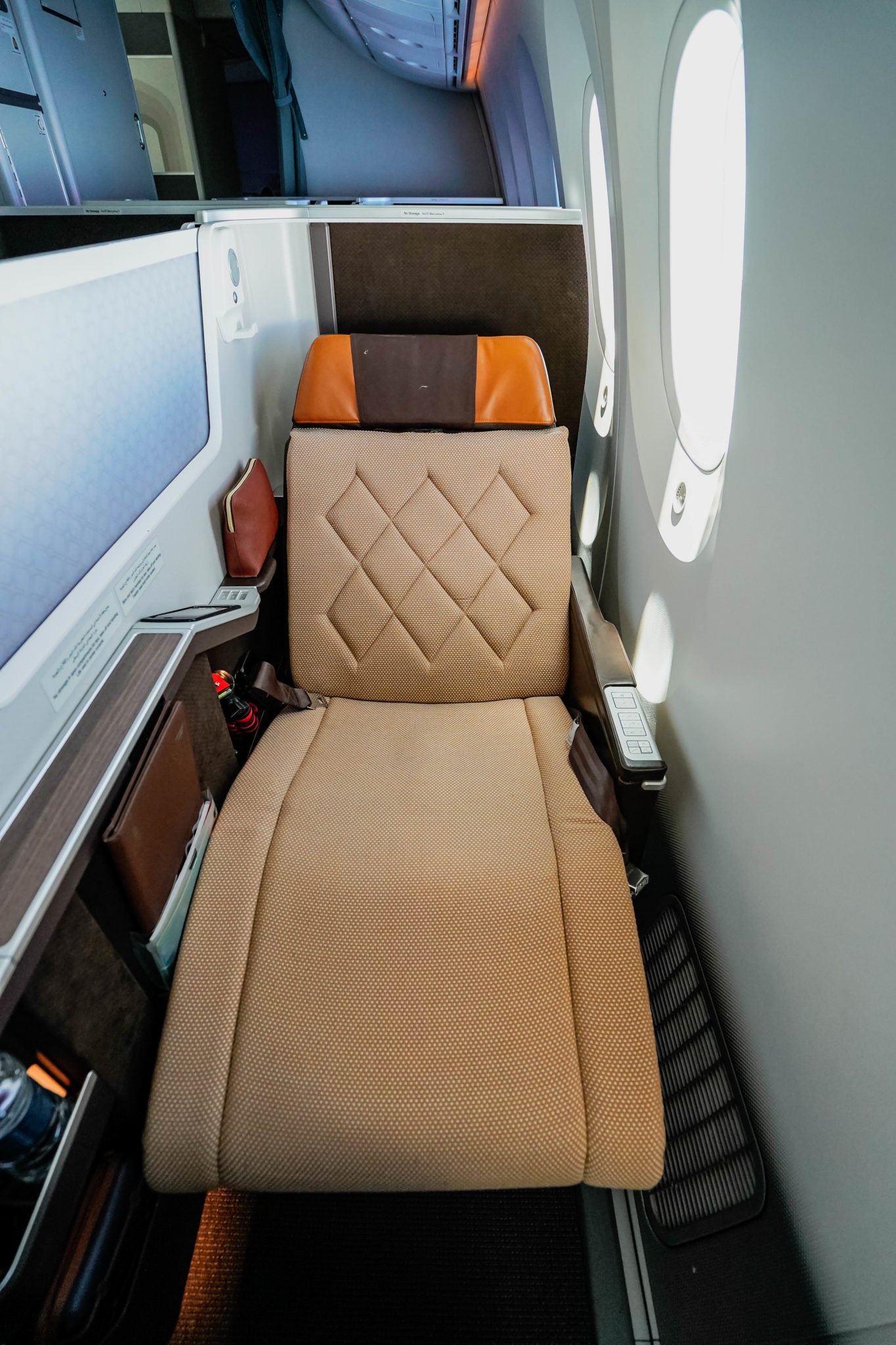 In bed mode, the armrest is lowered to allow for additional width.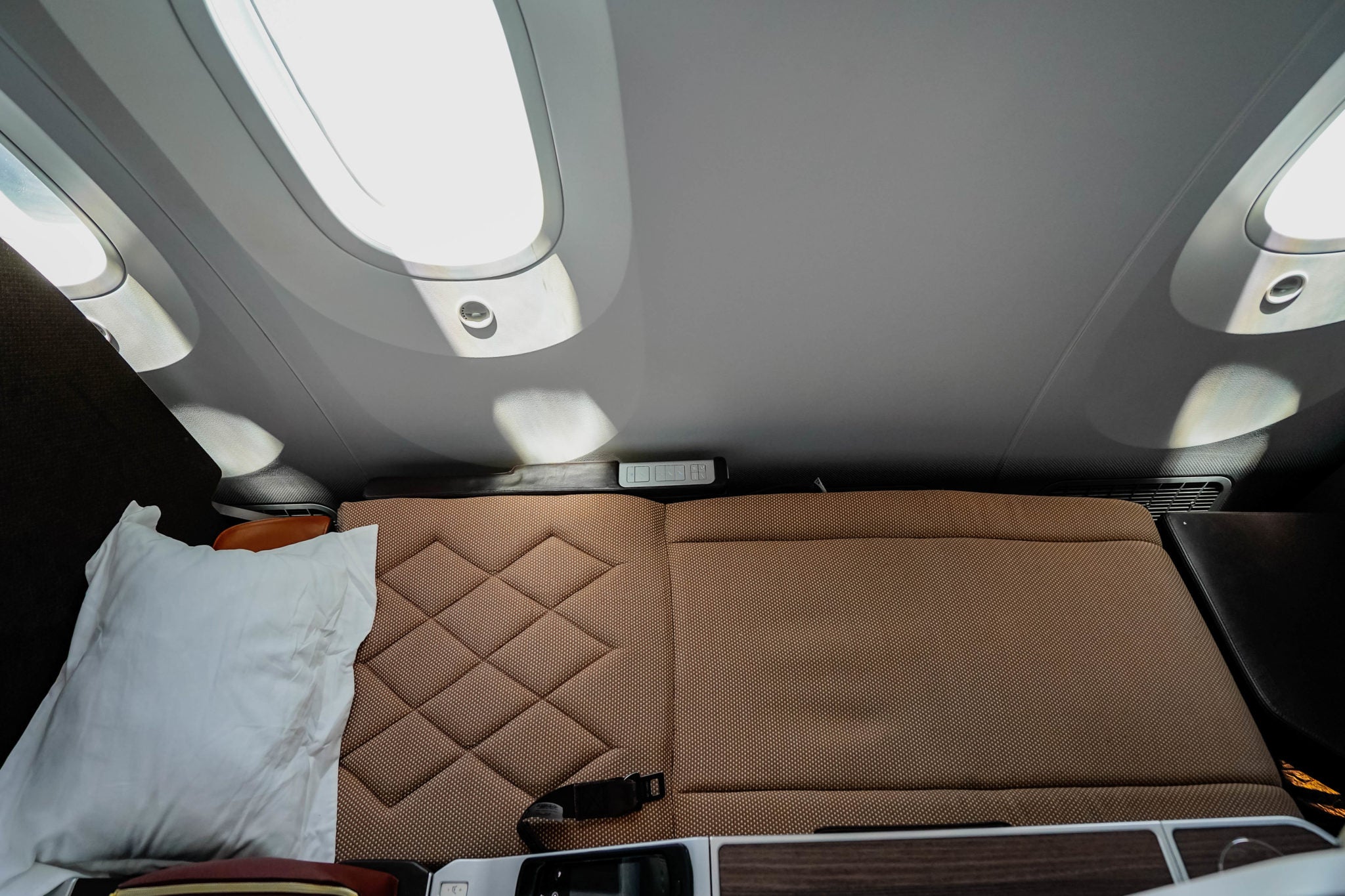 On the right-hand side, below the IFE controller, there are 3 additional controls — to raise or lower the privacy divider, switch on/off the overhead reading light, and the Do Not Disturb light on the outside of the suite shell.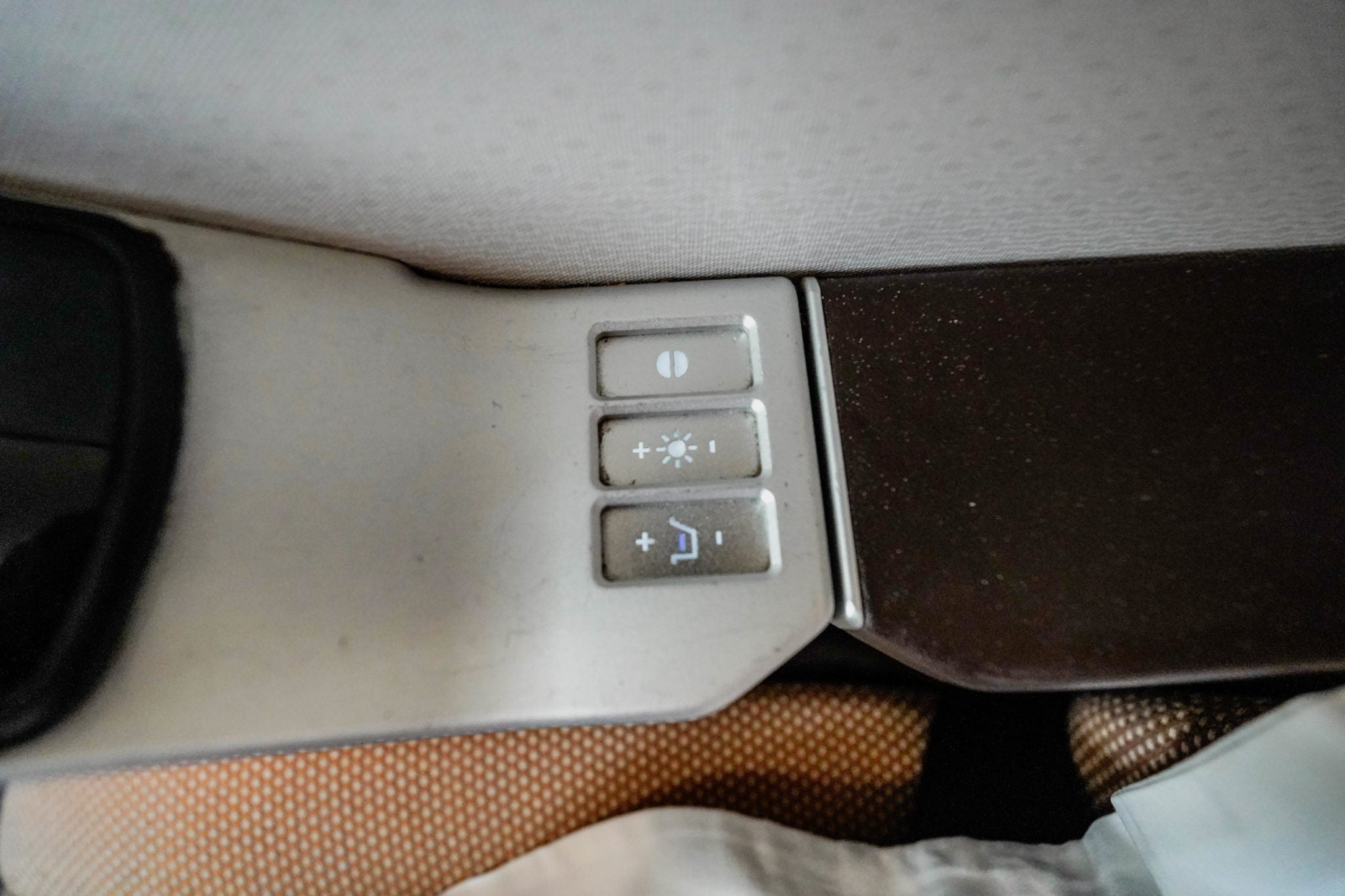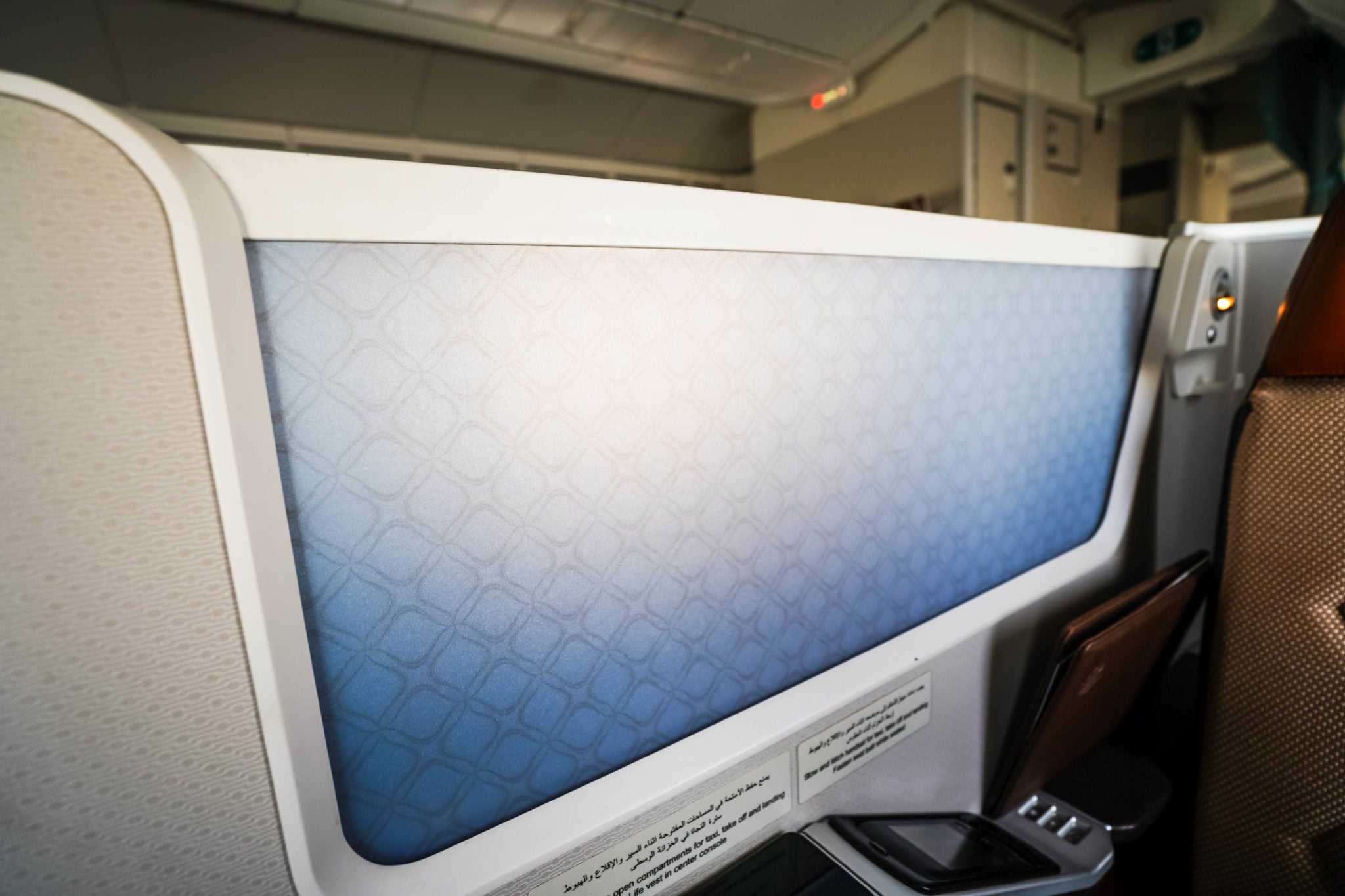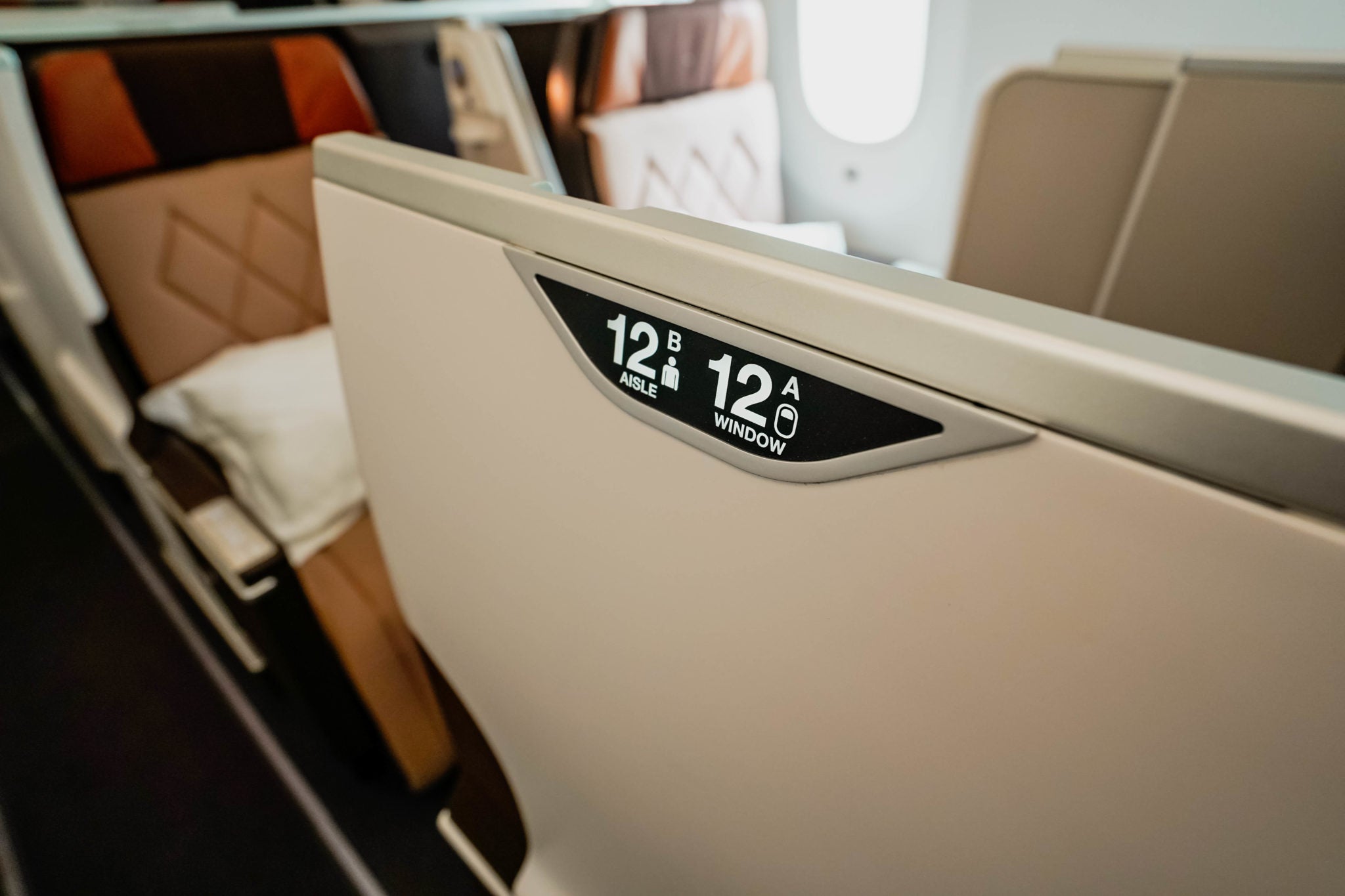 Storage Space
The only minor drawback of the Apex Suite is the lack of storage space. There is some storage space below the footrest that can accommodate a regular-sized backpack, however, it can be difficult to access once the seat is in bed mode.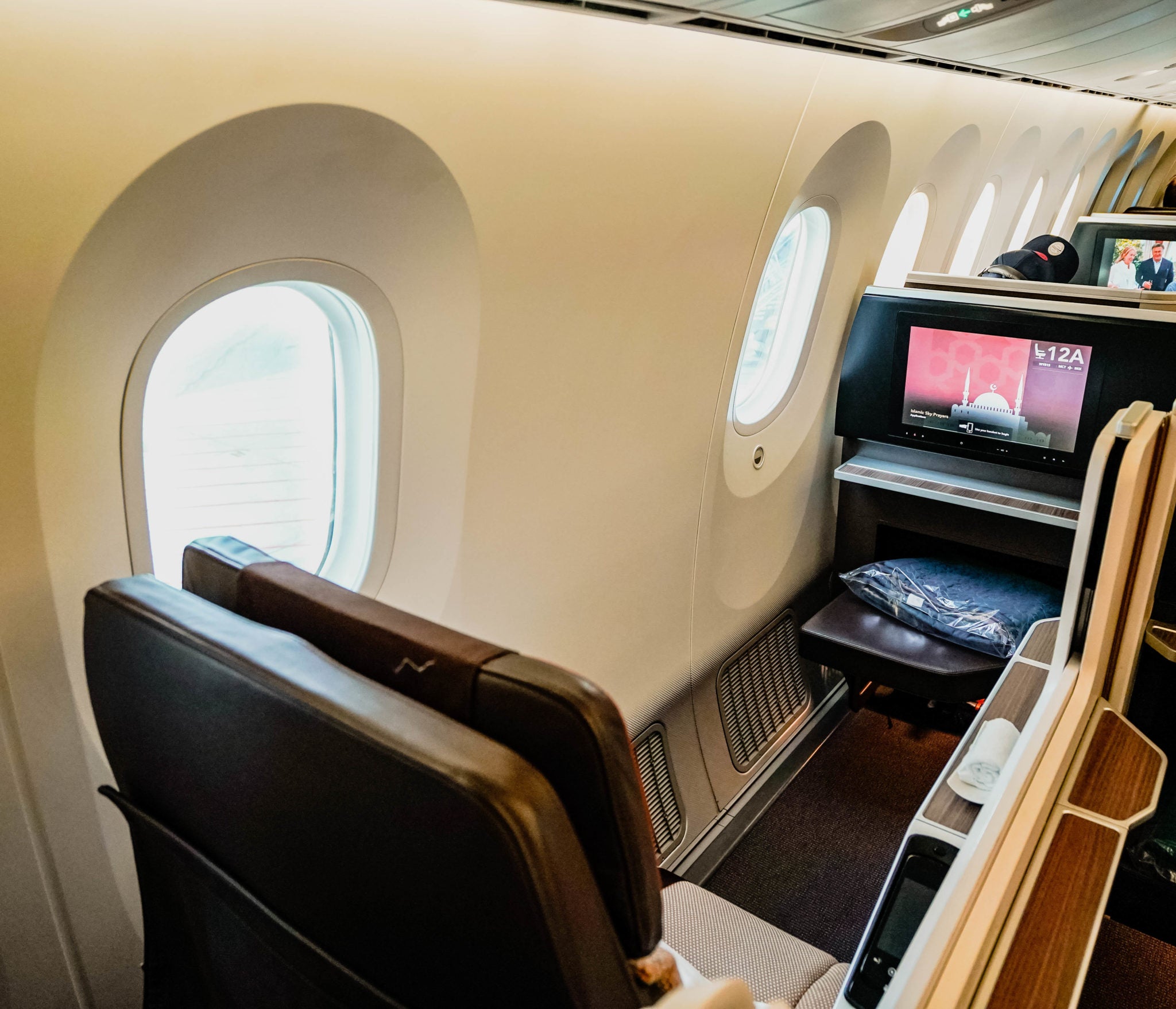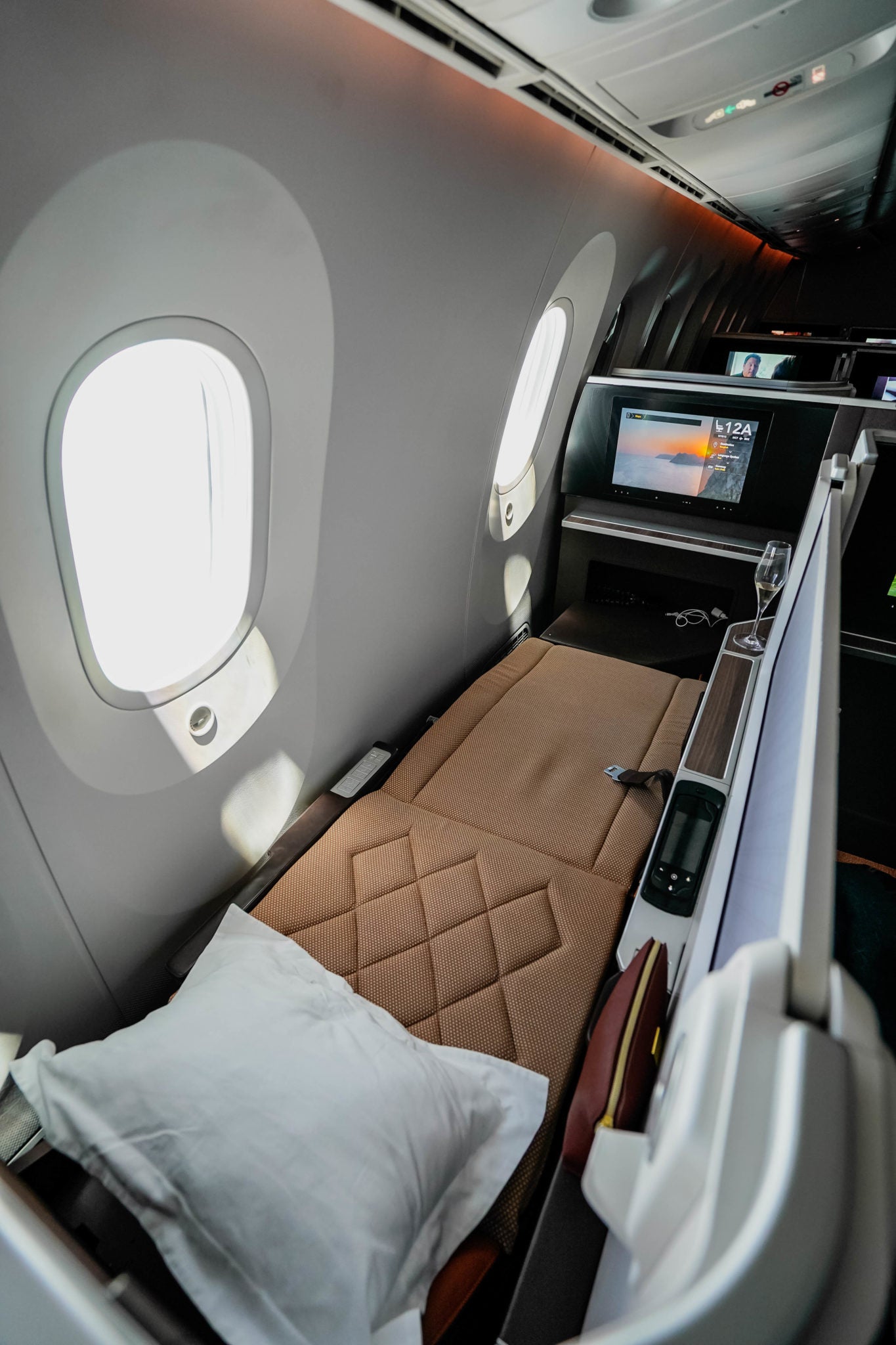 Smaller items can be stored in the space provided between the IFE screen and the ottoman.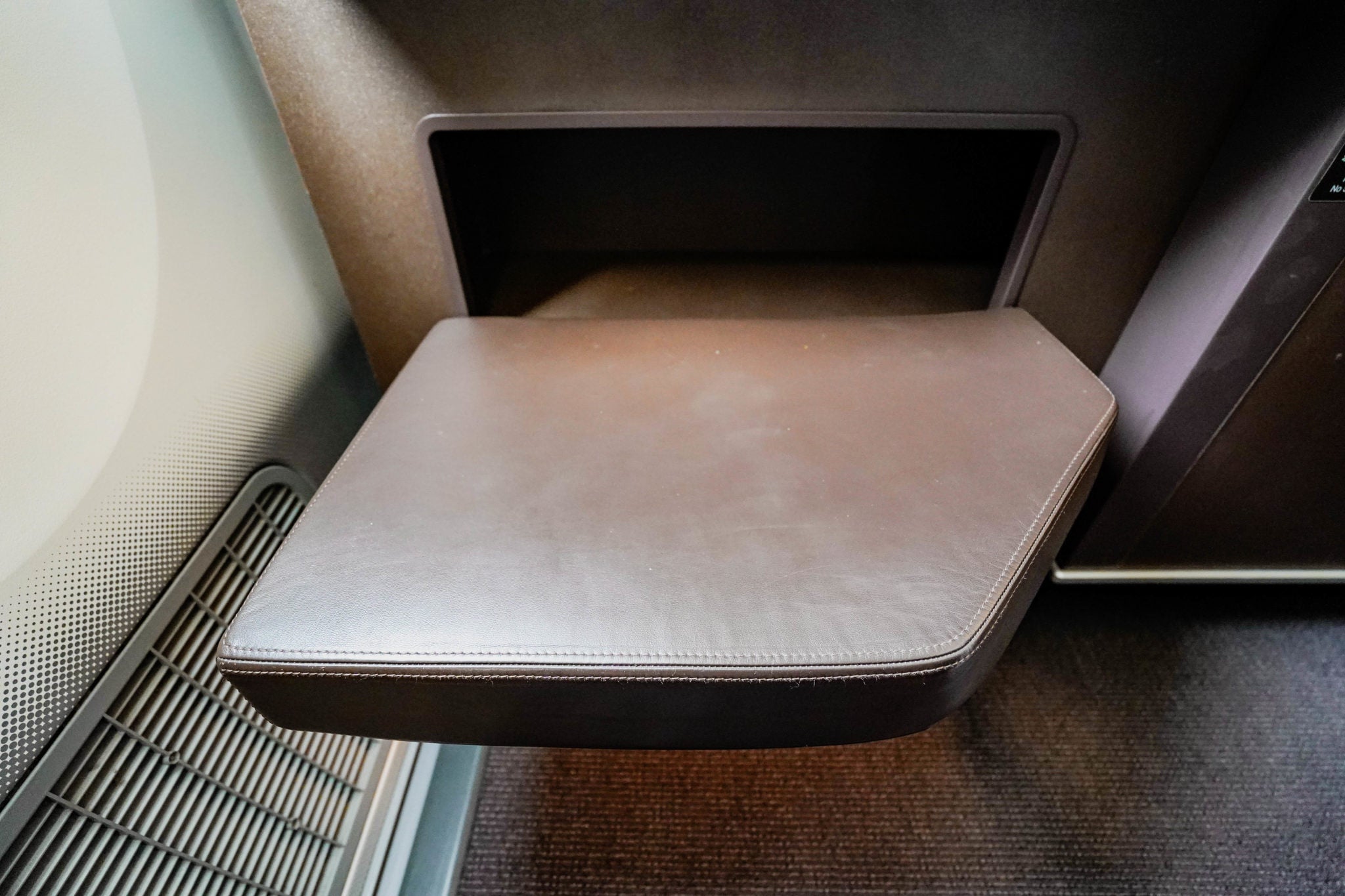 On the right-hand side of the seat, there are small storage pouches where the headphones and water bottle are stored. These can be used to store phones, charging cables, etc.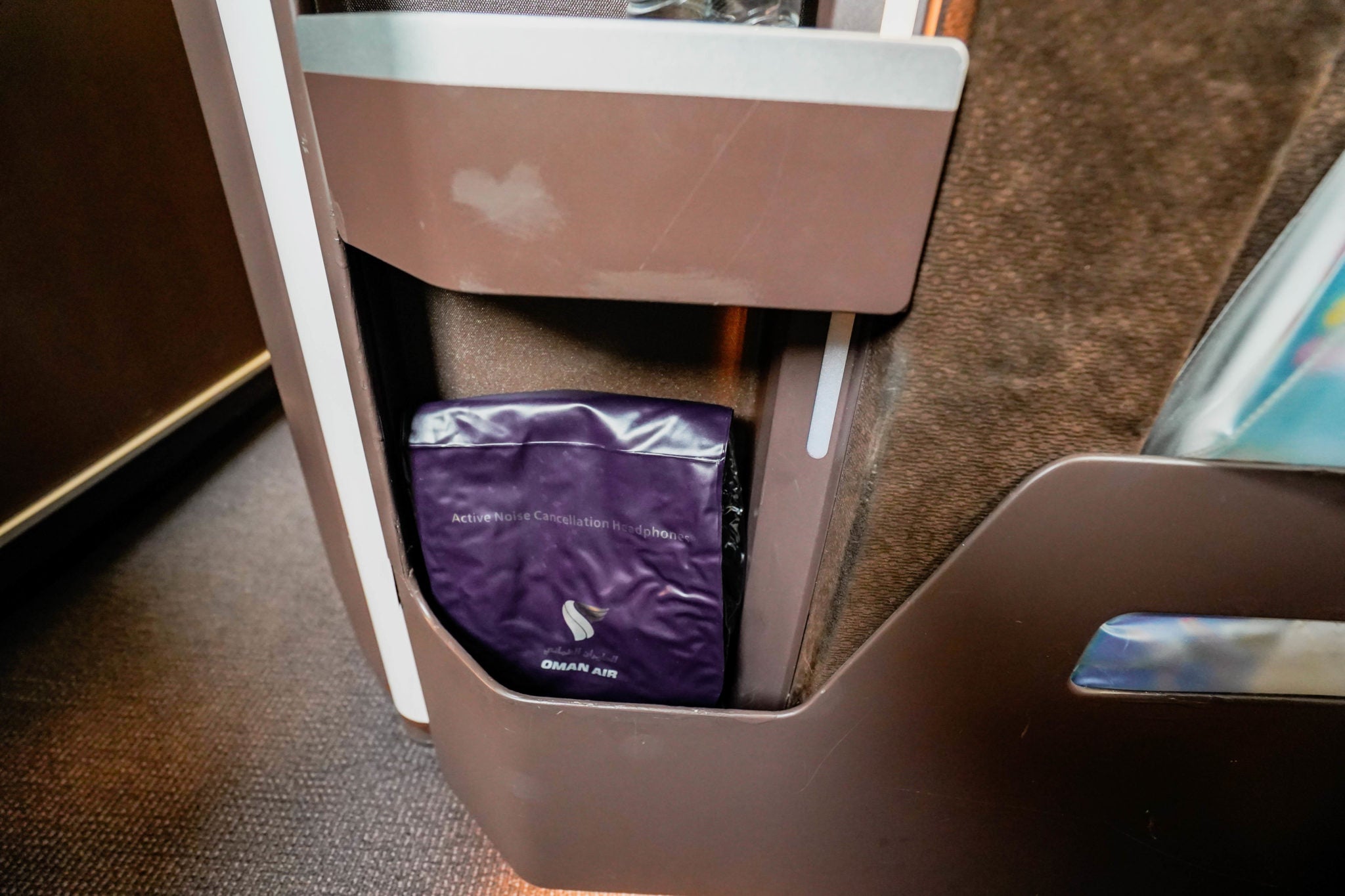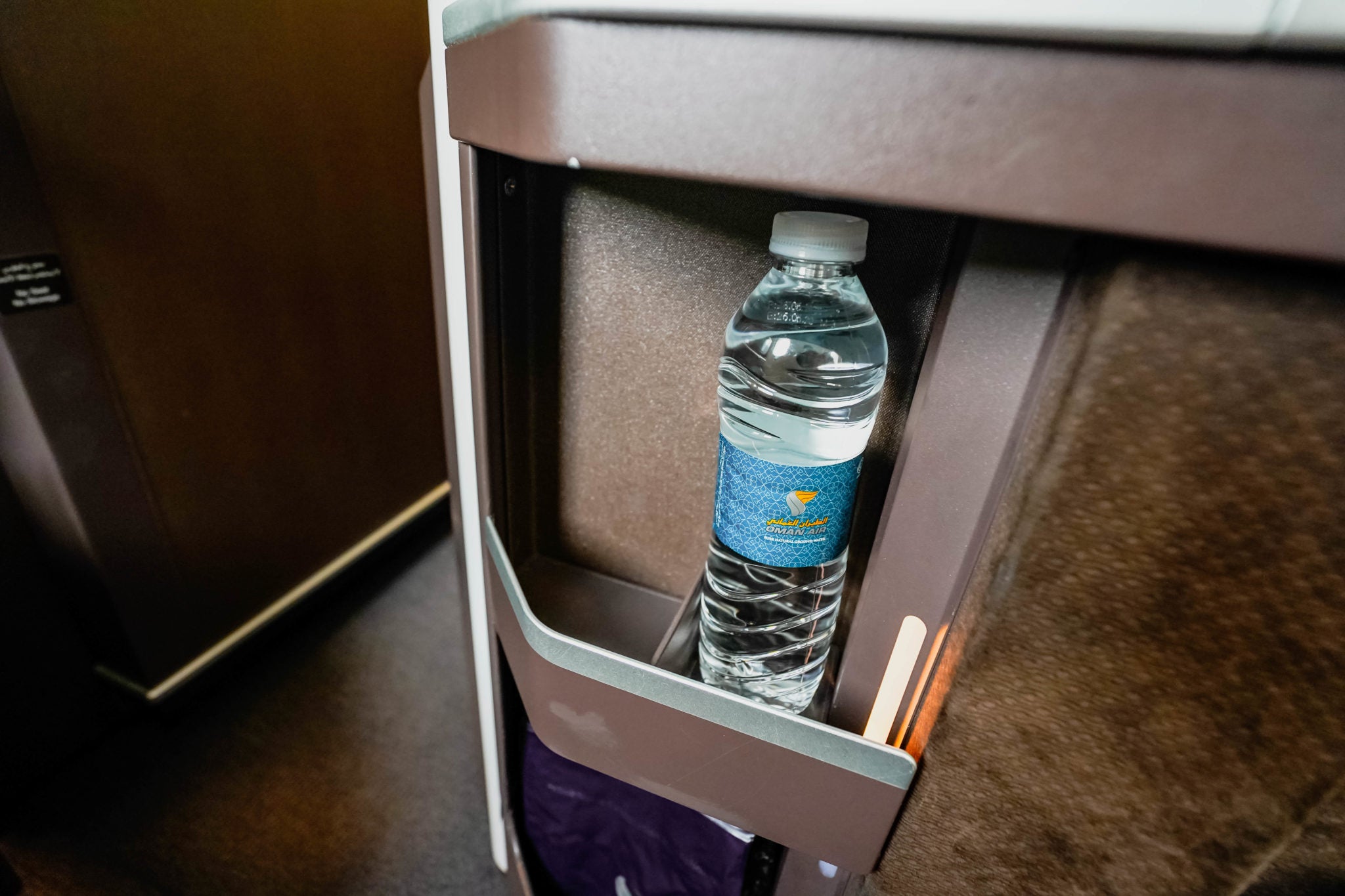 Once unpacked, the headphones can be placed on a hook provided on the divider panel just below the reading light.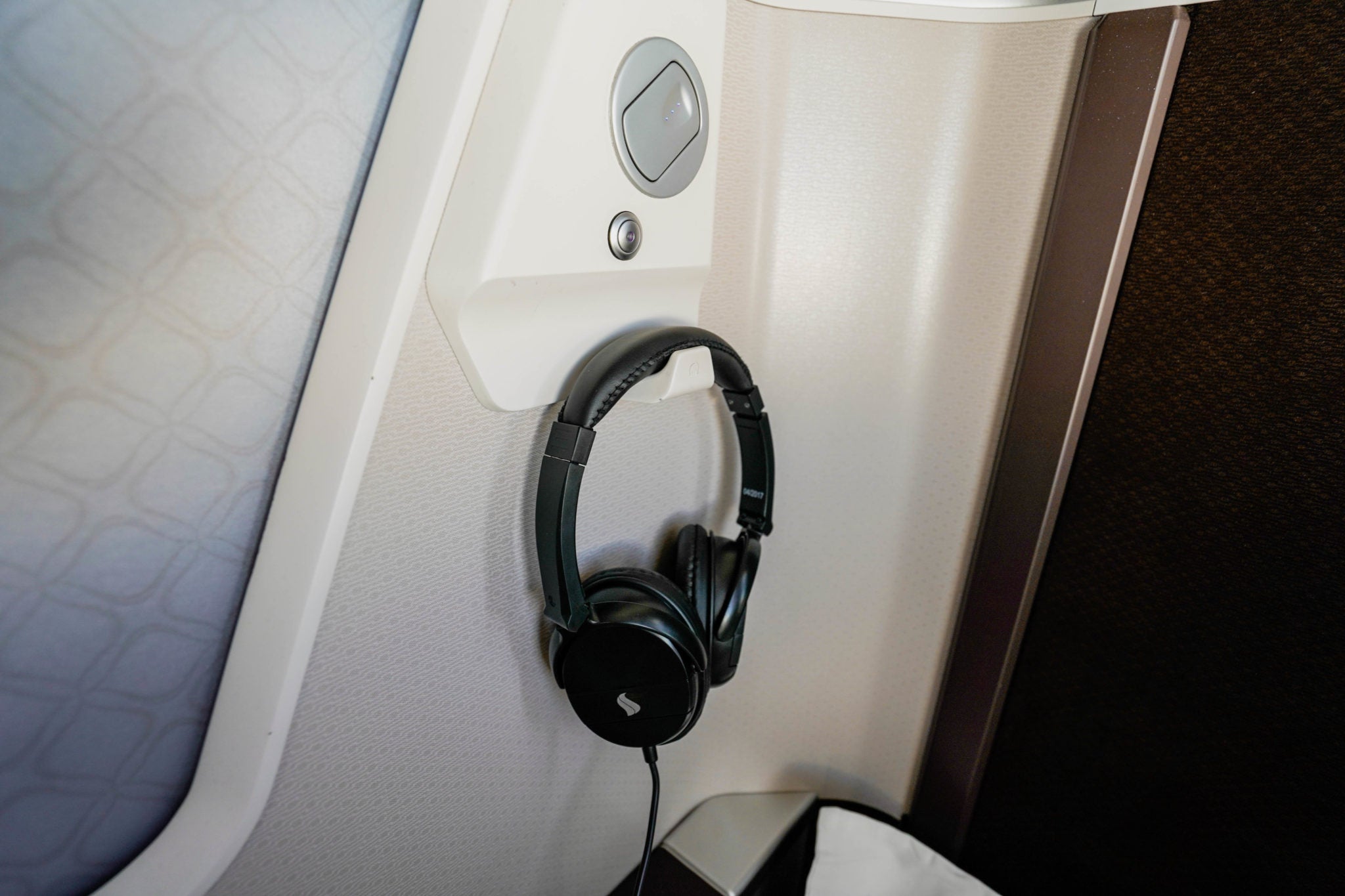 There is a literature pocket that can be used to store tablets and slim laptops.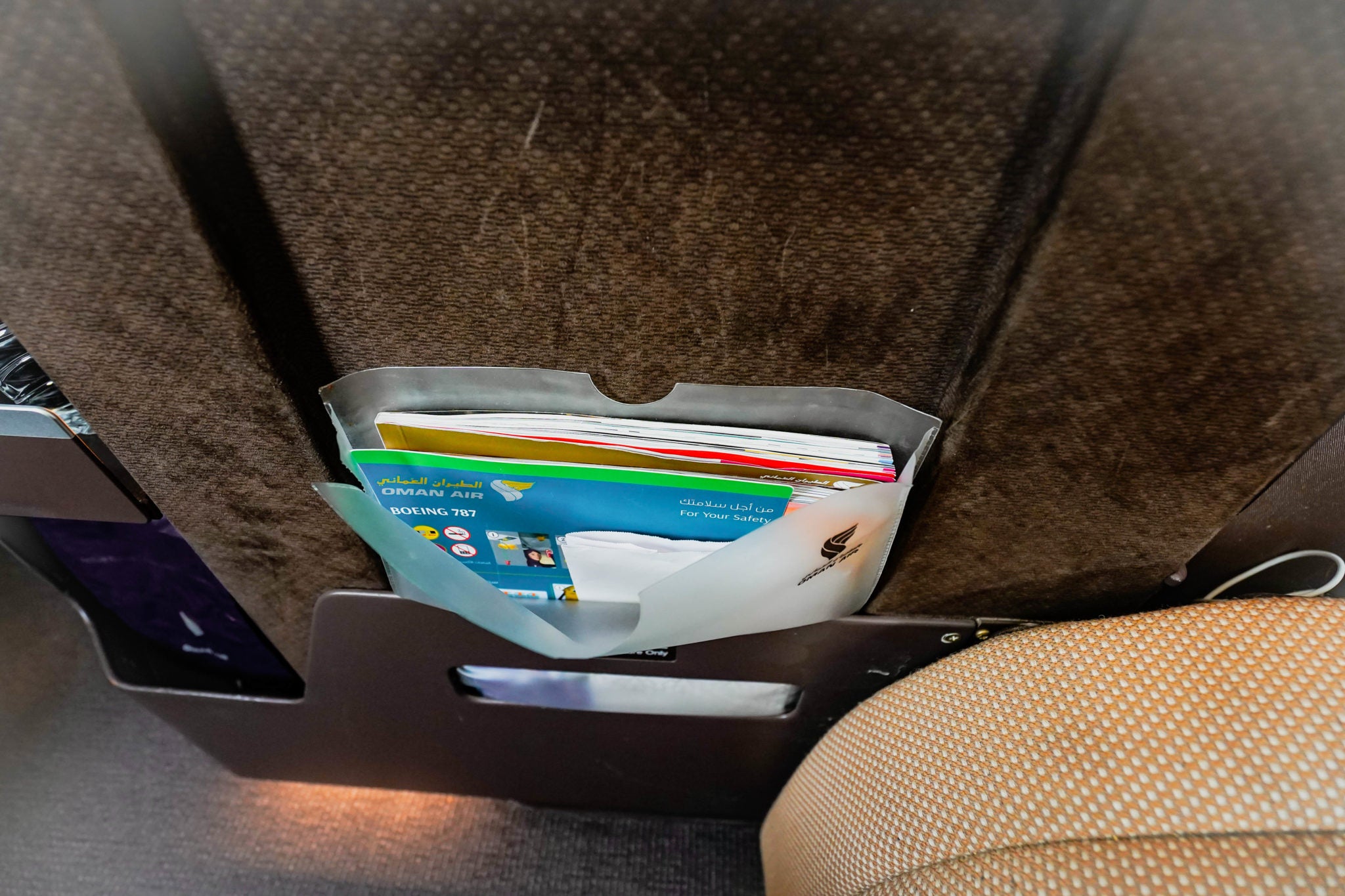 Plugs and Power Supply
There is a universal power socket provided in an inconvenient position in the narrow storage nook between the seat and the privacy divider, above which there are 2 USB ports and the headphone jack.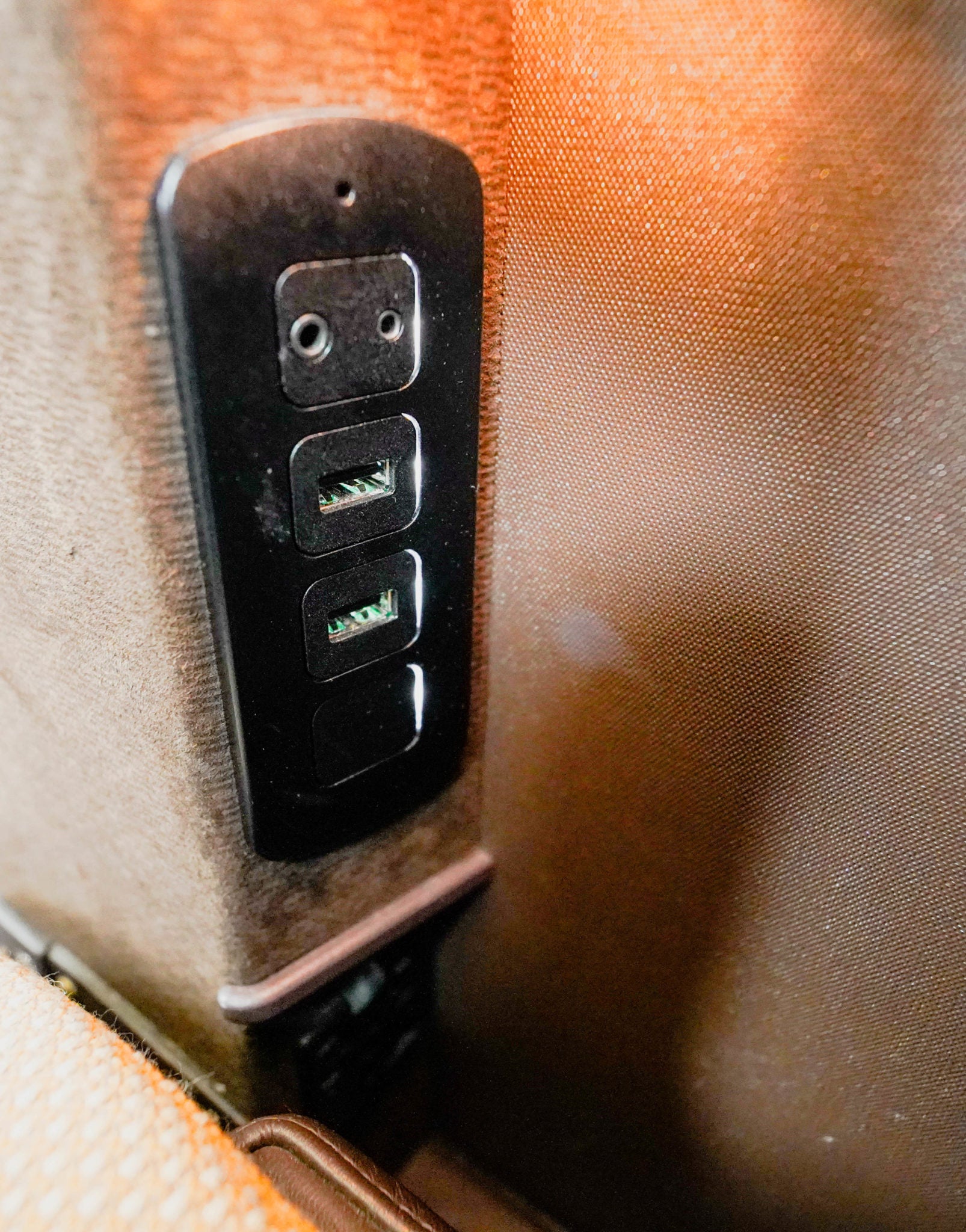 In-Flight Entertainment and Wi-Fi
The IFE selection of movies and TV shows, though not extensive, is decent and can be viewed on the 17-inch touch screen HD monitor. It also has an interactive 3D map display powered by Thales for those with an inner AvGeek.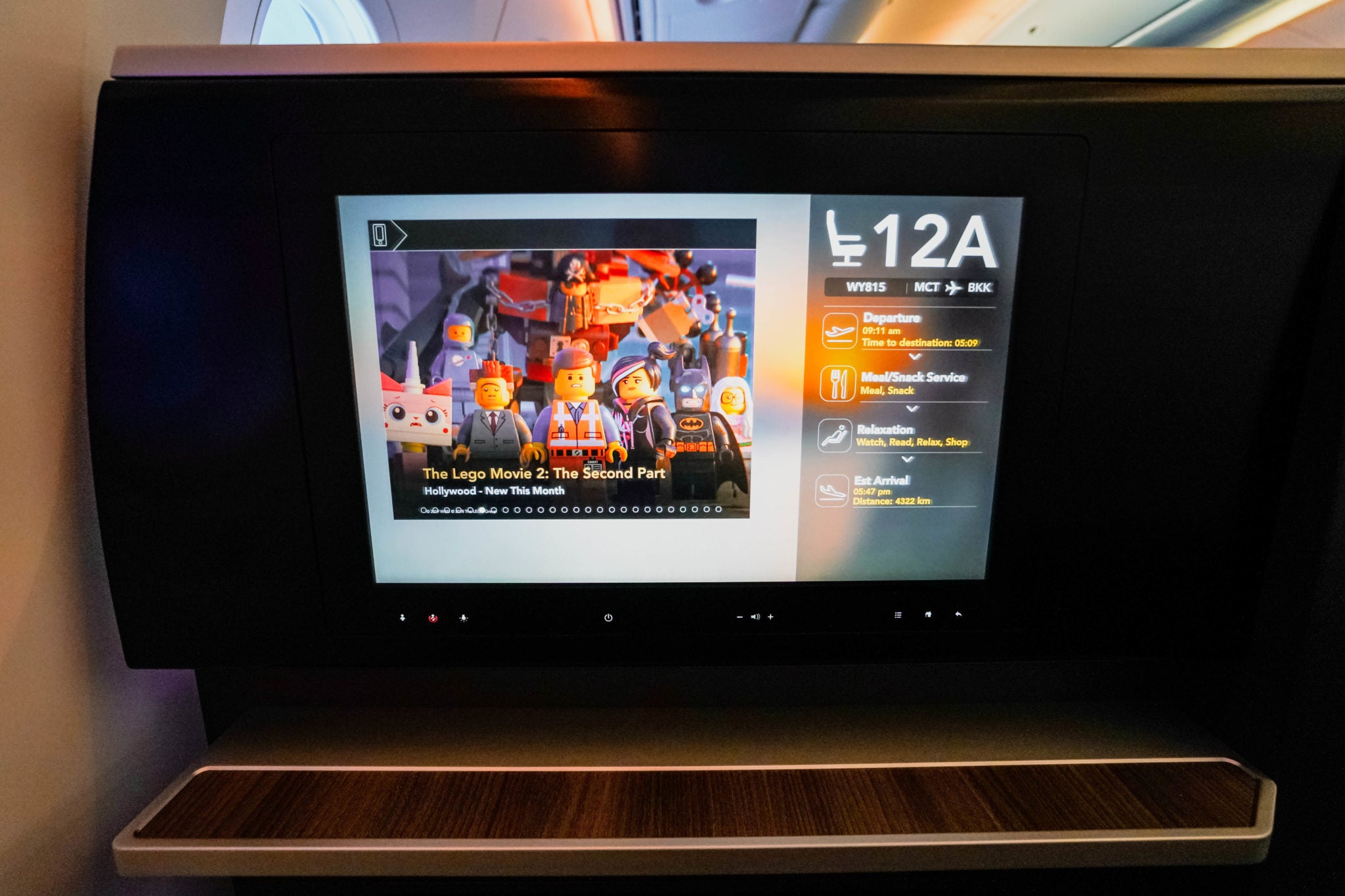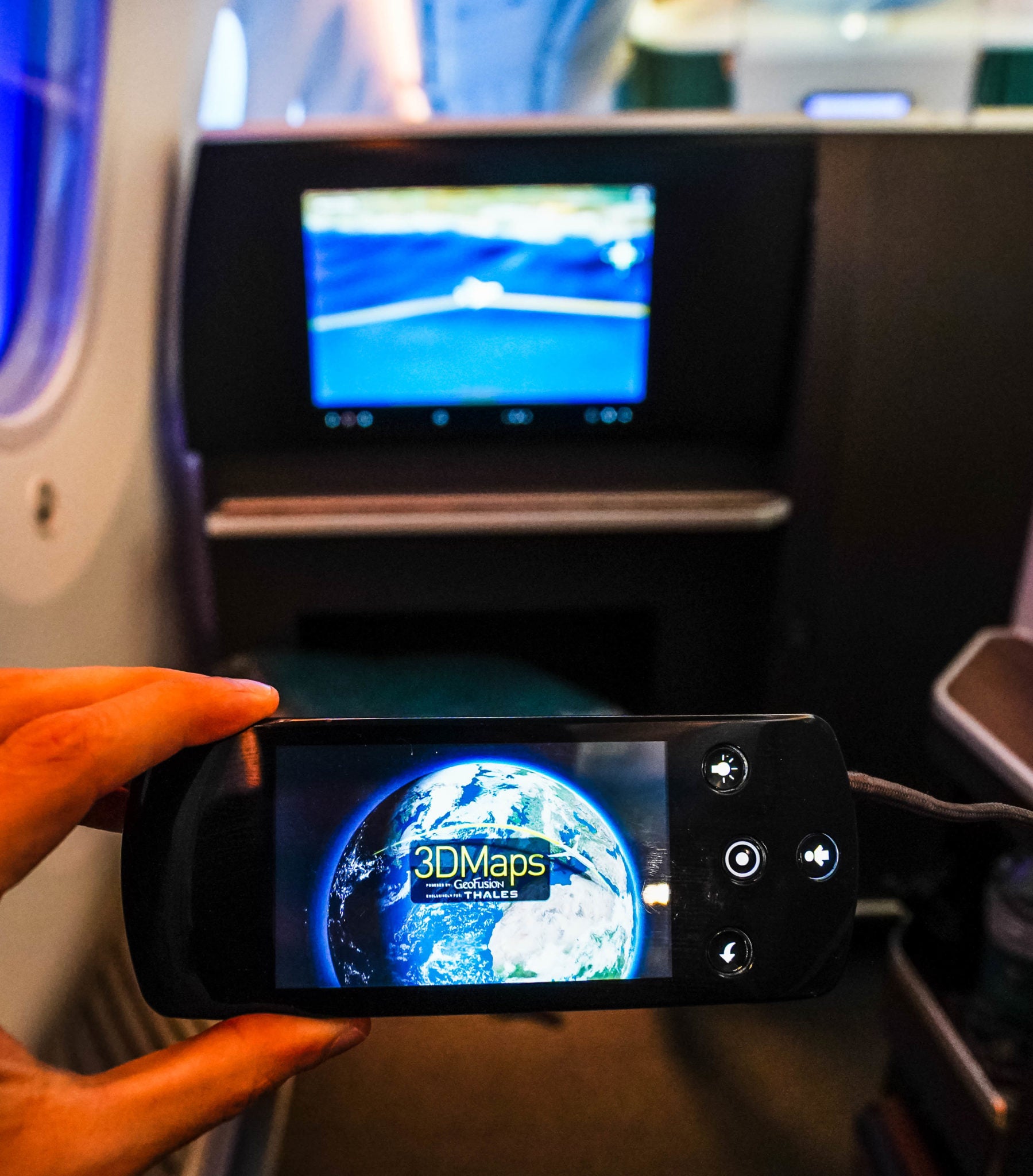 Though the monitor is a touchscreen and a standard-sized 17-inches as offered in most business classes, due to the distance between the seat and the monitor, the screen appears small and using the touch screen on the monitor becomes a moot point. However, there is a wired IFE remote housed in the right armrest which can be used to browse through the entertainment options.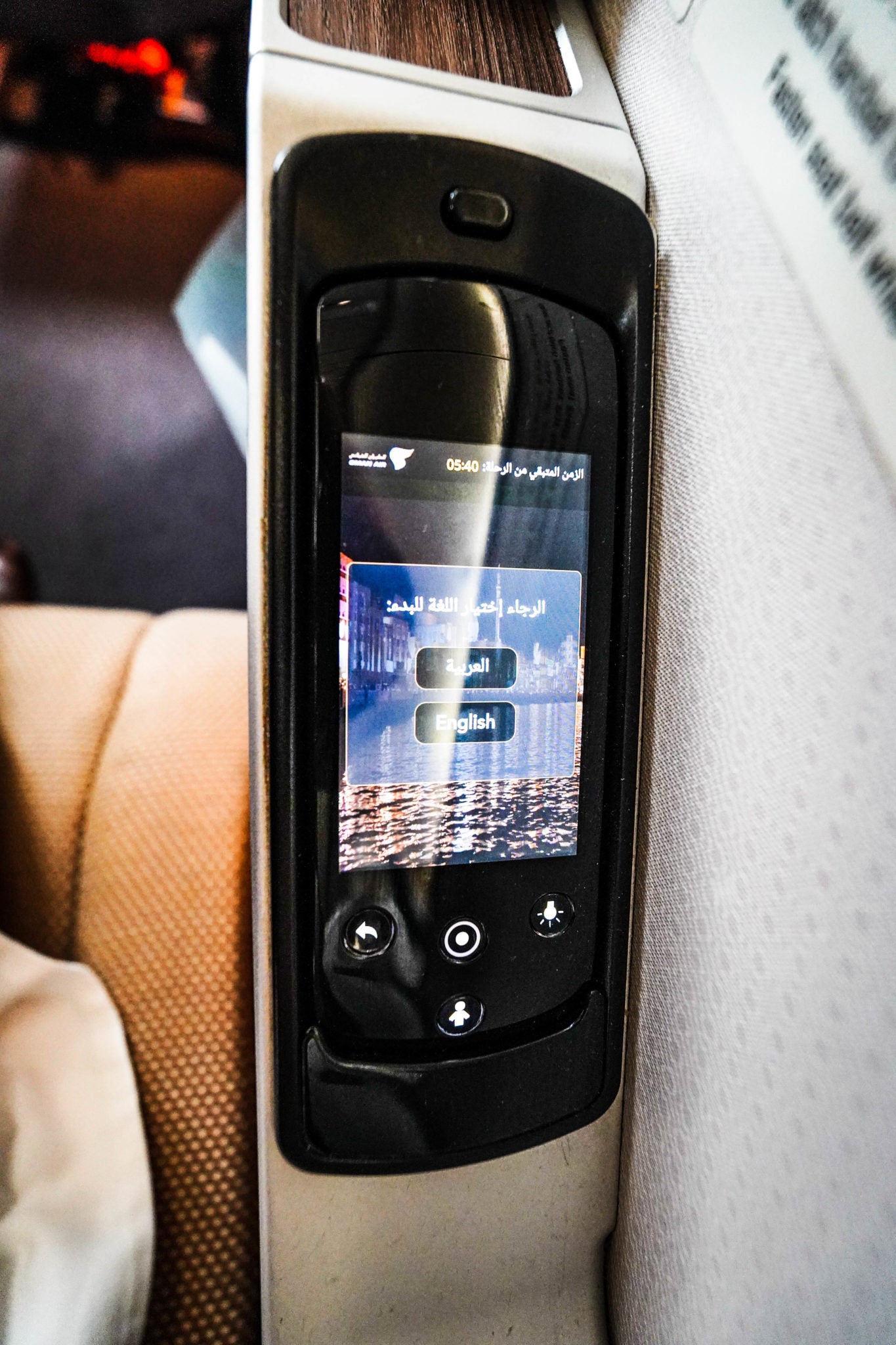 Unbranded noise-canceling headphones of decent quality are provided, which do the job.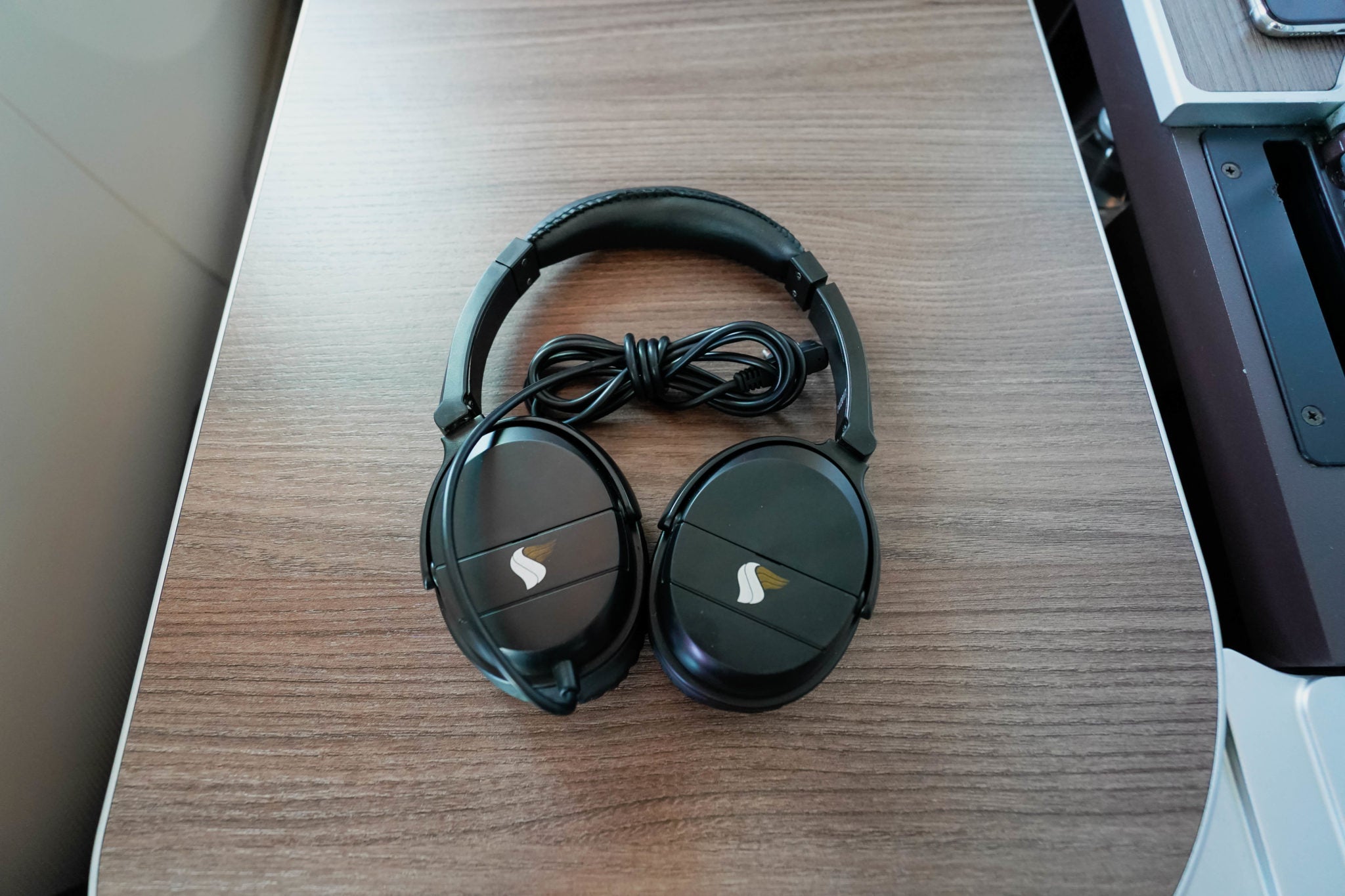 Oman Air does not offer complimentary Wi-Fi to Business Class passengers and the paid options are pricey. Considering I did not have any pressing need to be connected with the world, I gave it a pass. However, should you be interested, below is the tariff:

Food and Service
After boarding, the purser came and introduced herself and offered a selection of pre-takeoff beverages — a glass of either Champagne, orange juice, or water. I opted for a glass of Laurent Perrier Brut Champagne that Oman Air serves in business class and Asiana Airlines formerly served in their first class before discontinuing the service in September 2019.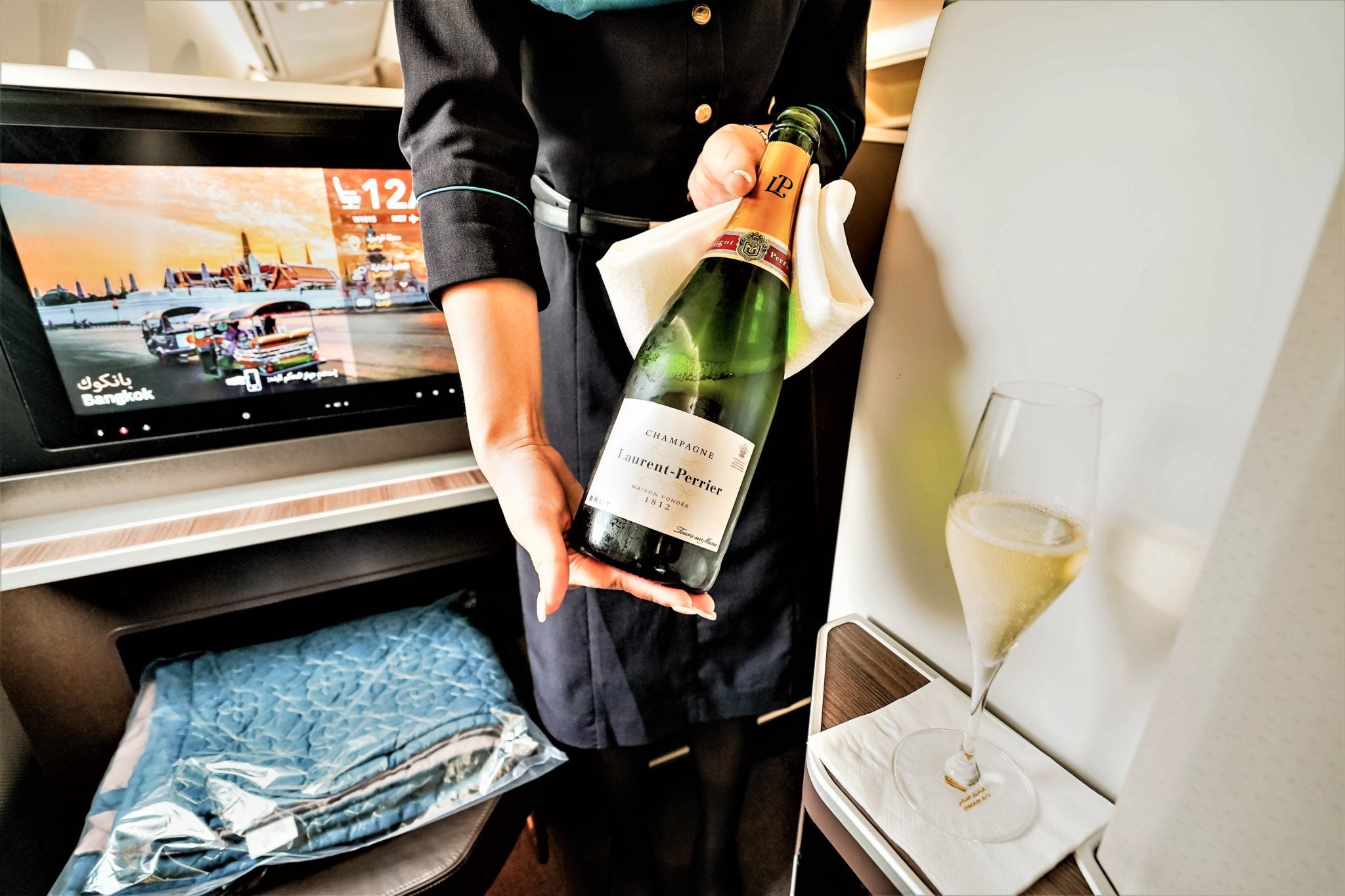 A few minutes later, 2 attendants — Khaled and Julie — started making the cabin rounds offering Arabic coffee and dates. This was a pleasant surprise, as this service is only offered in first class by both Emirates and Etihad. Oman Air certainly scores above its erstwhile cousins on this one.
By 8:45 a.m., boarding was complete, and I noticed that every seat in business class was taken.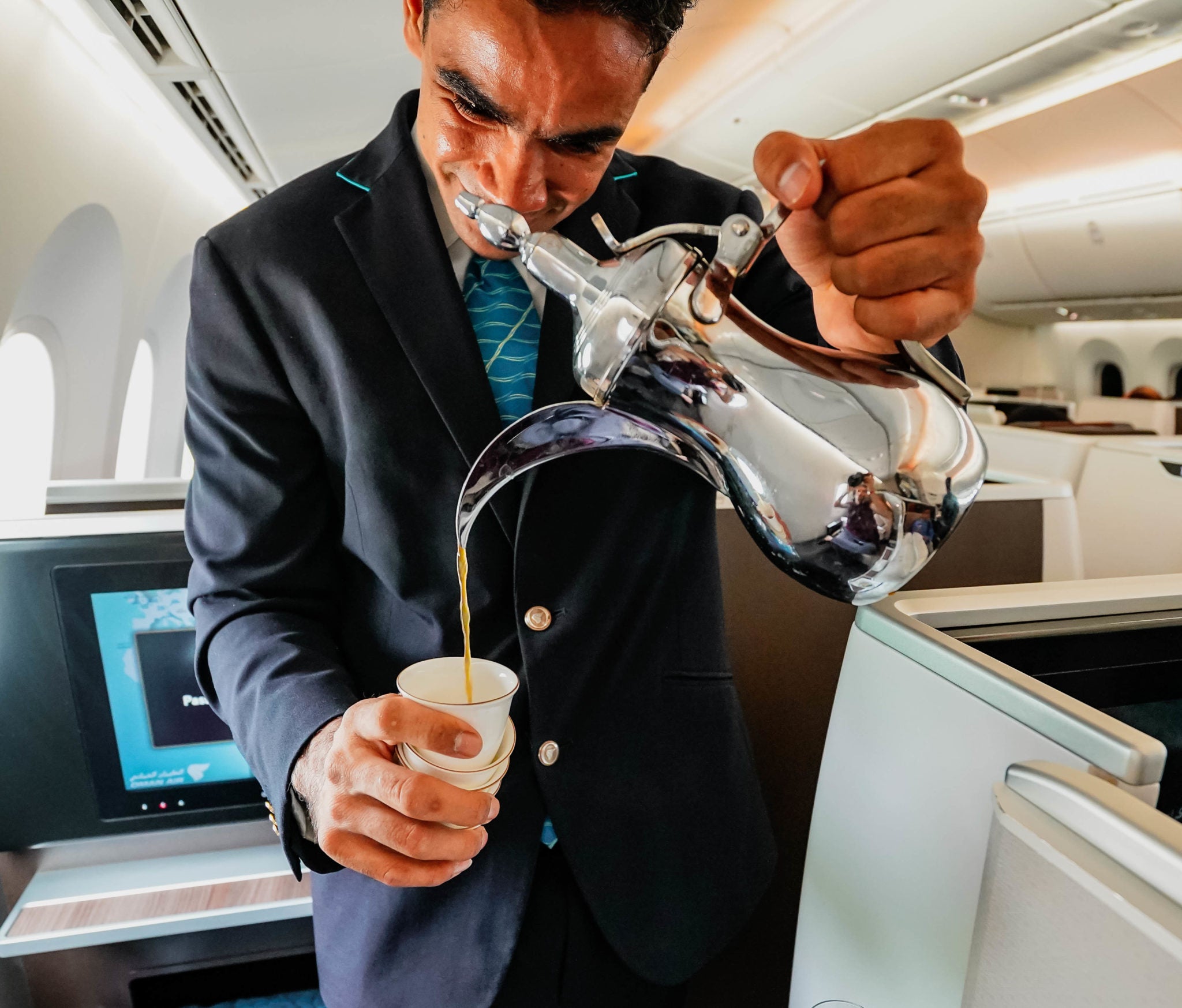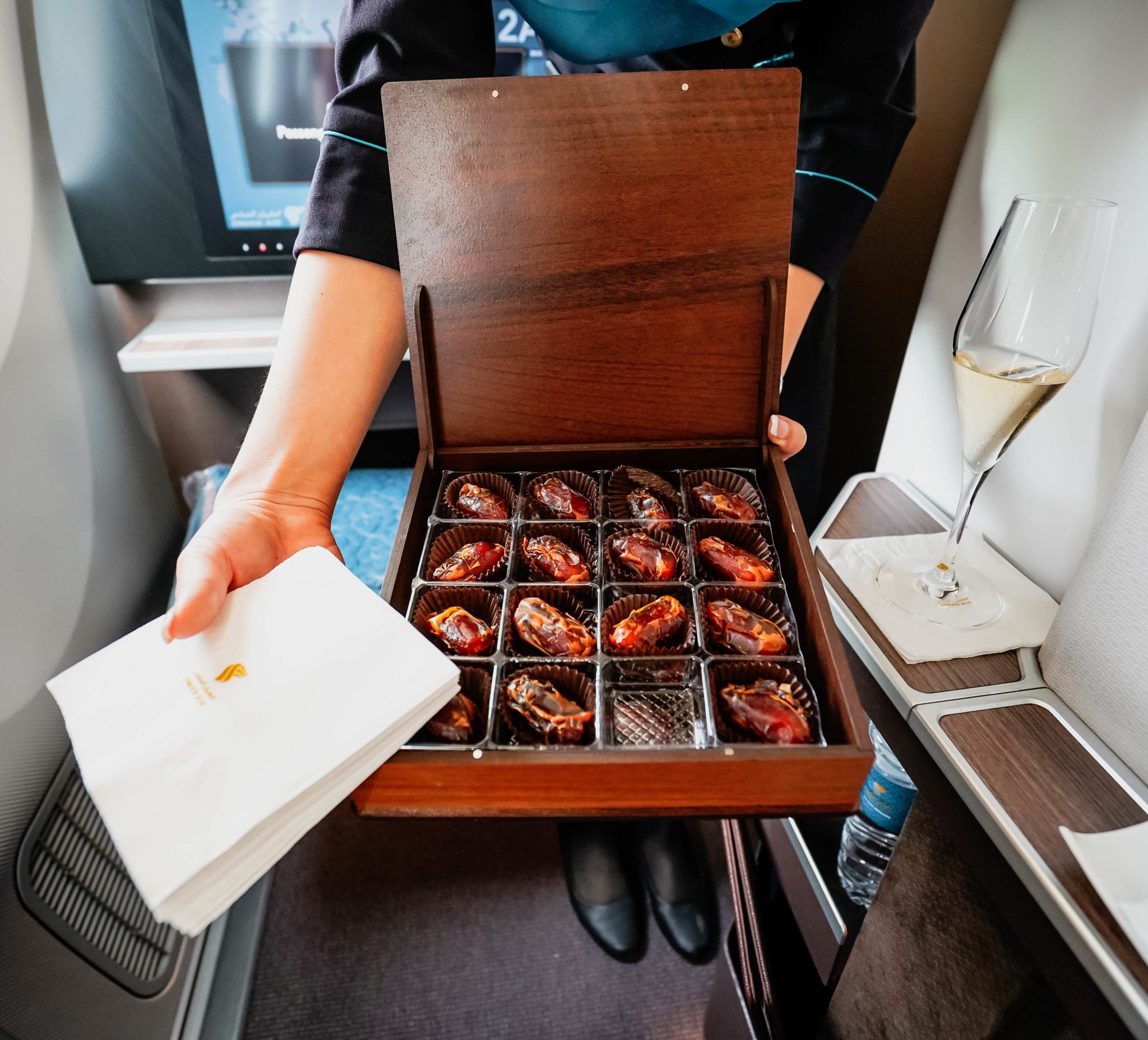 The pilot then announced that there will be a 20-minute delay, due to congestion over the busy air corridors of Oman, which only meant 1 thing — round 2 of the bubbly. Before I could press the call bell, Julie was promptly there pouring me another generous drop.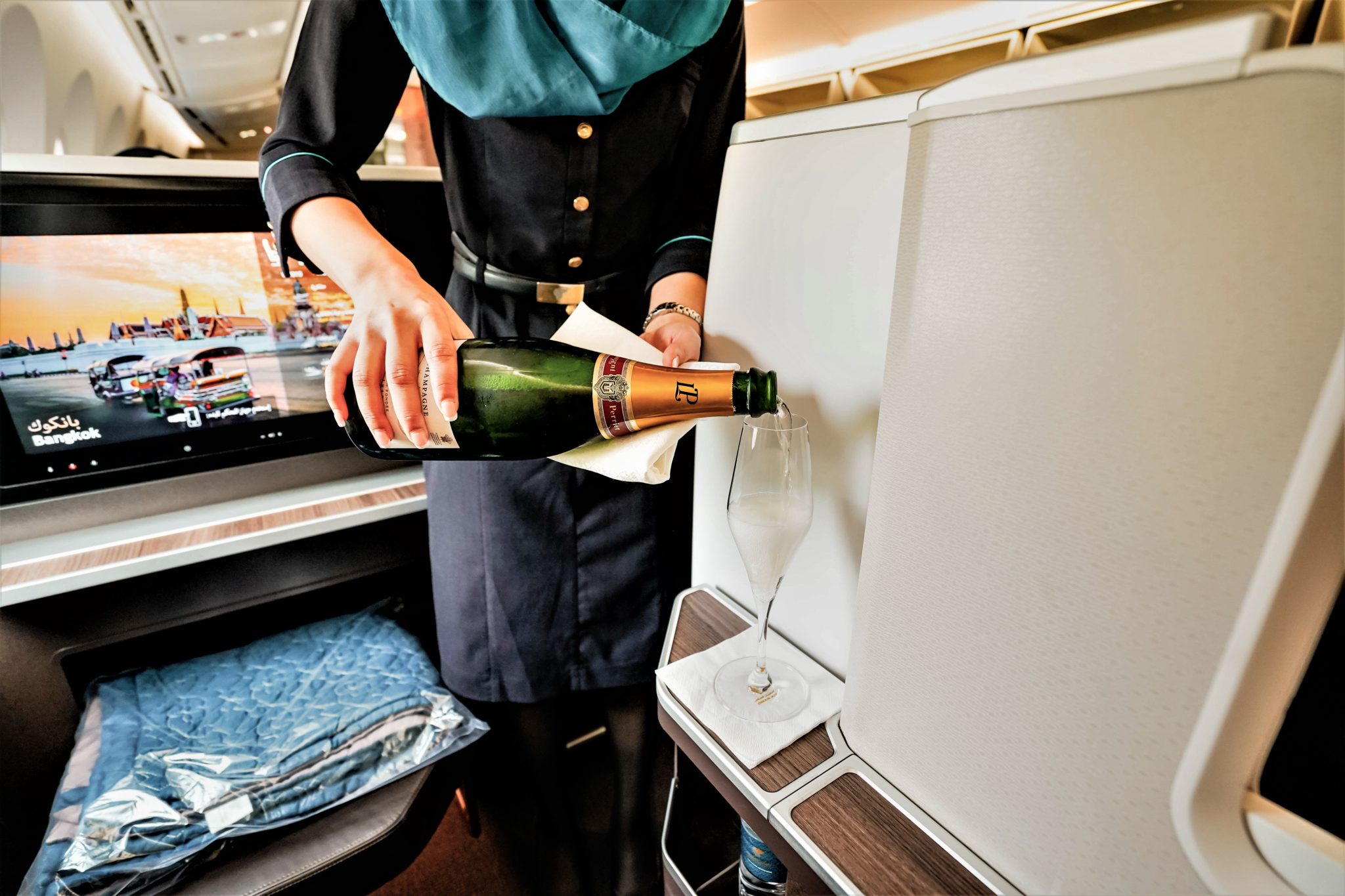 We pushed back from the gate promptly at 9:20 a.m. and took off without any further delays. Once we reached cruising altitude, Khaled came to take the meal order.
The food and beverage menu was presented in a brown leather folder.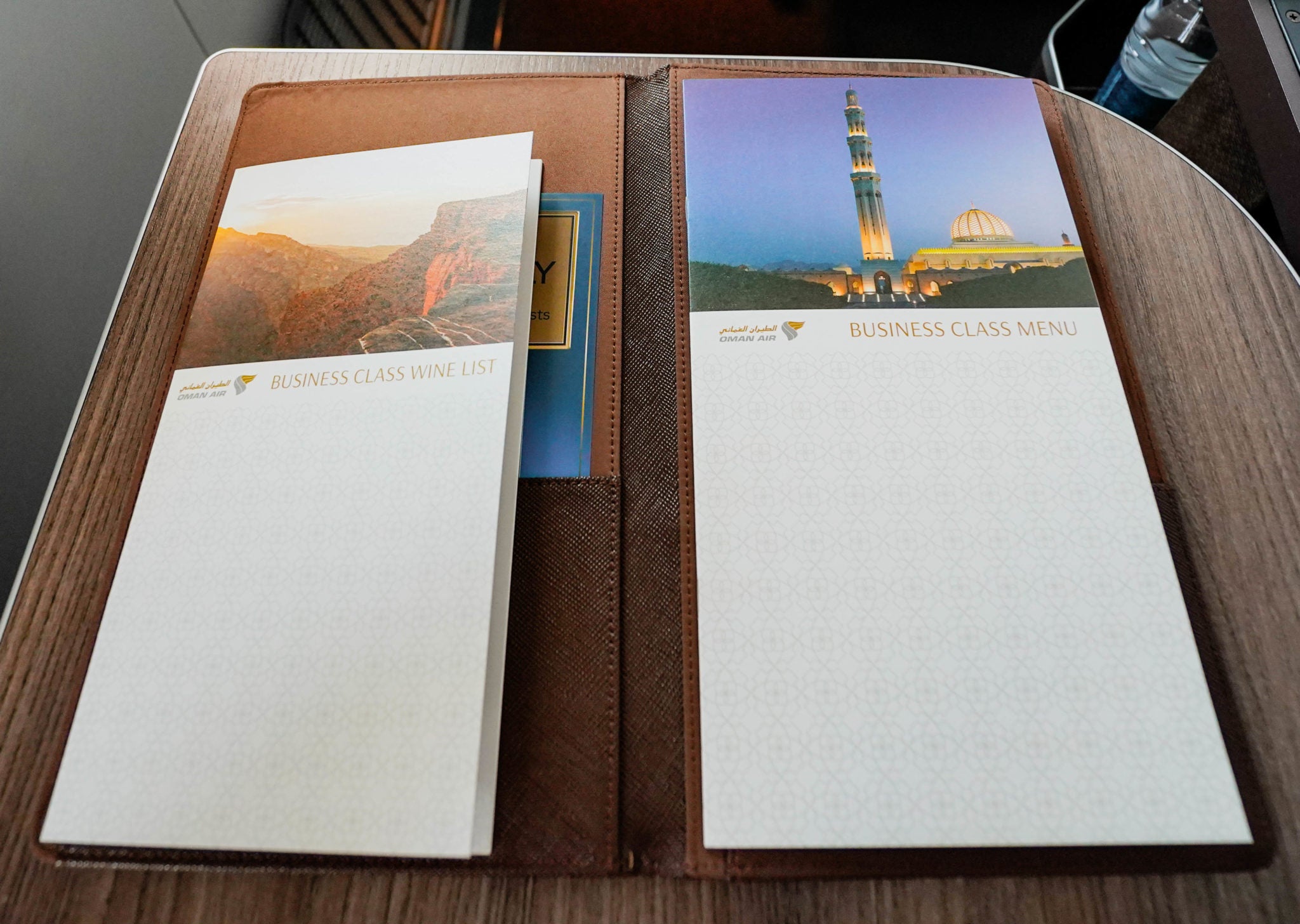 Oman Air has a "dine on demand" service which means you can choose to eat at your time of preference. Since I had been up since early morning, I decided to eat right away and get a nap in.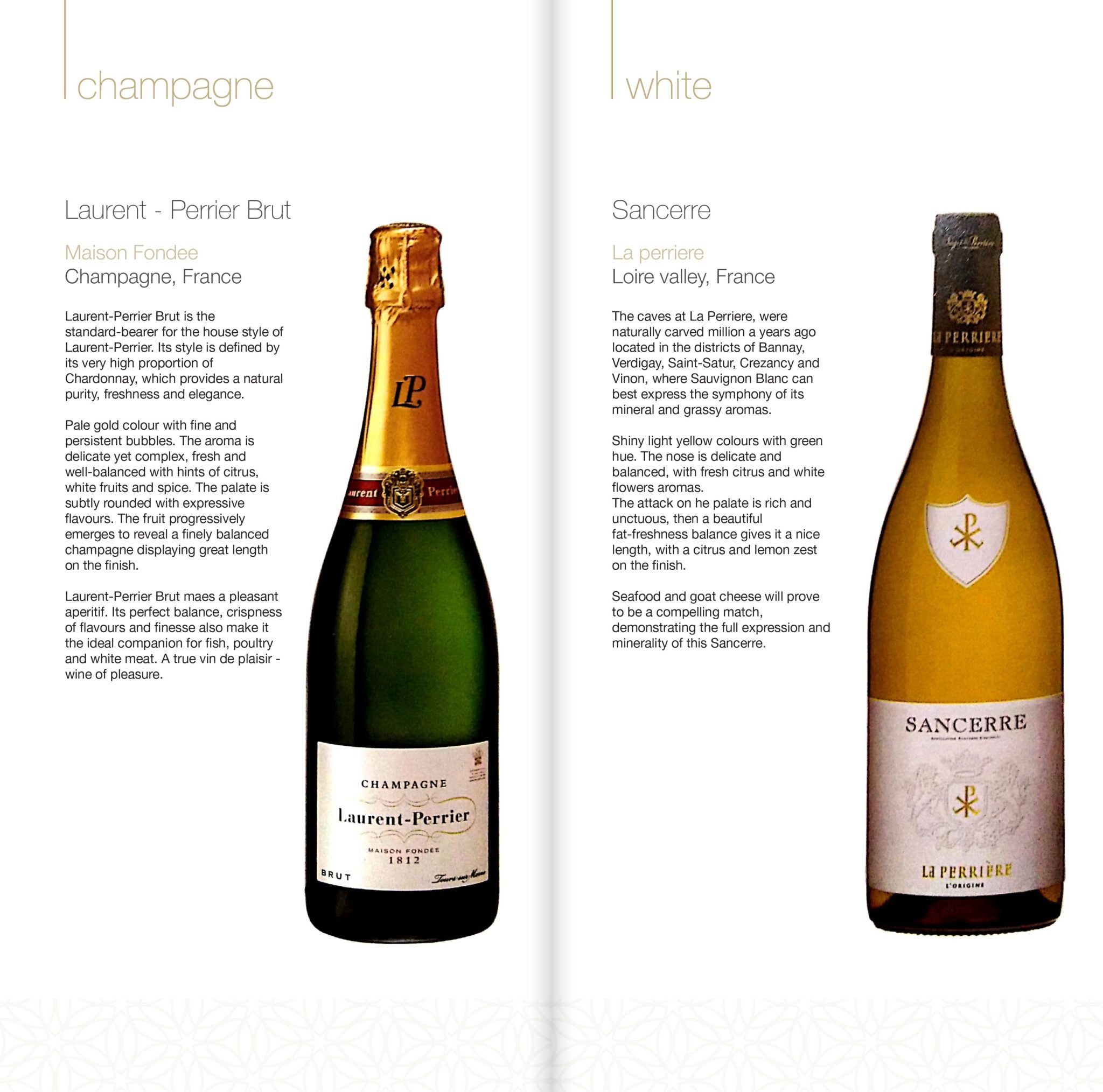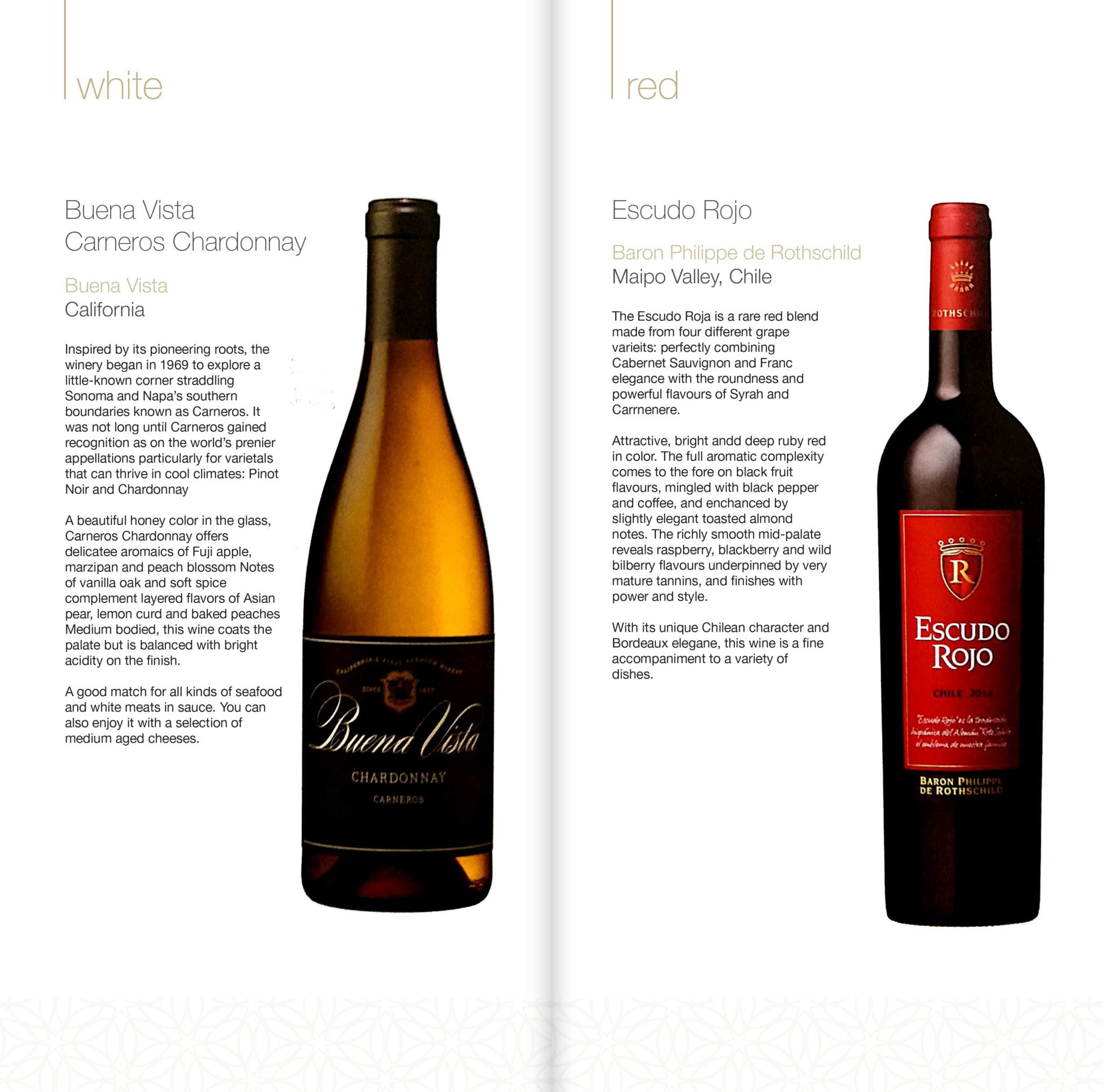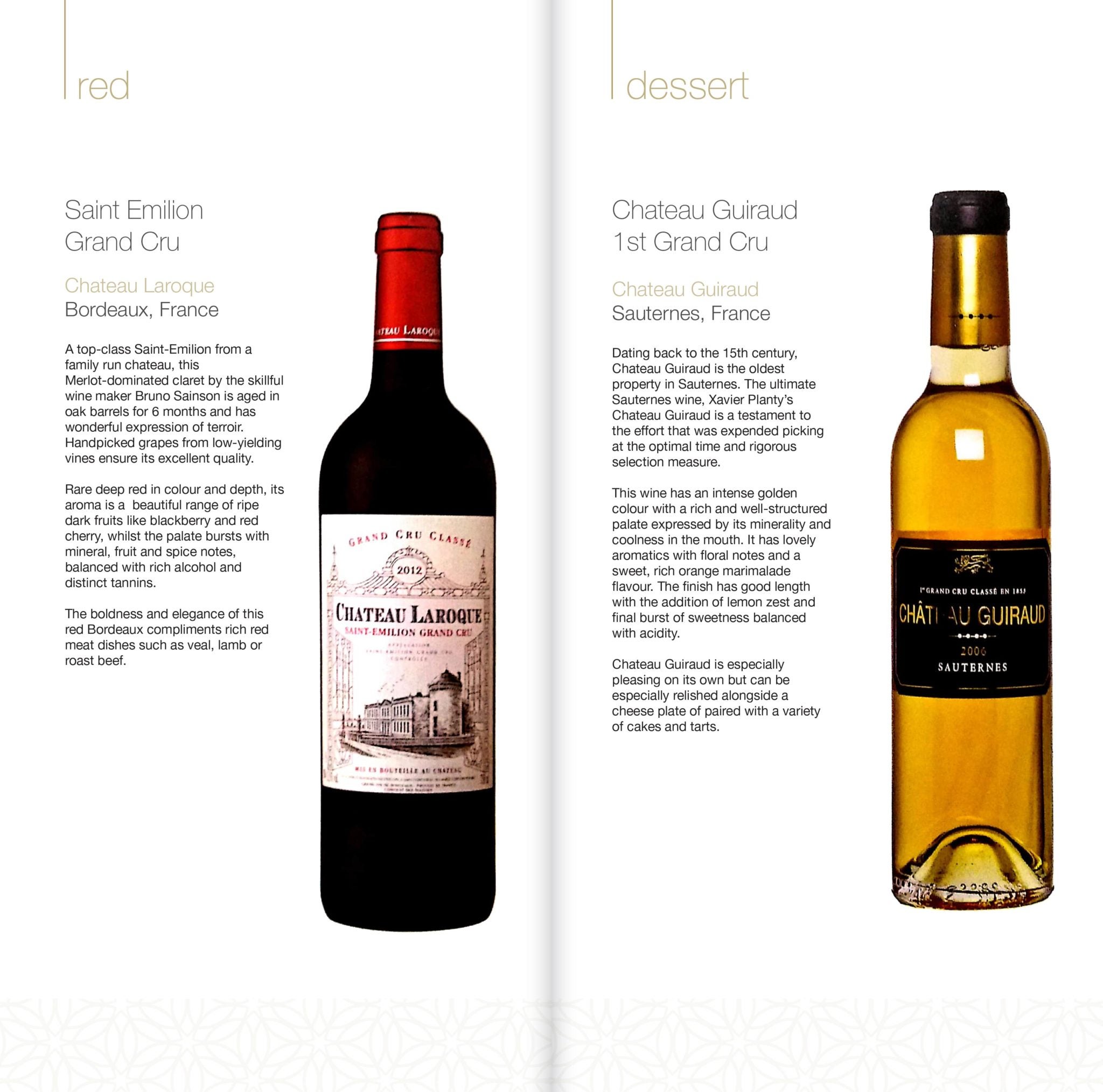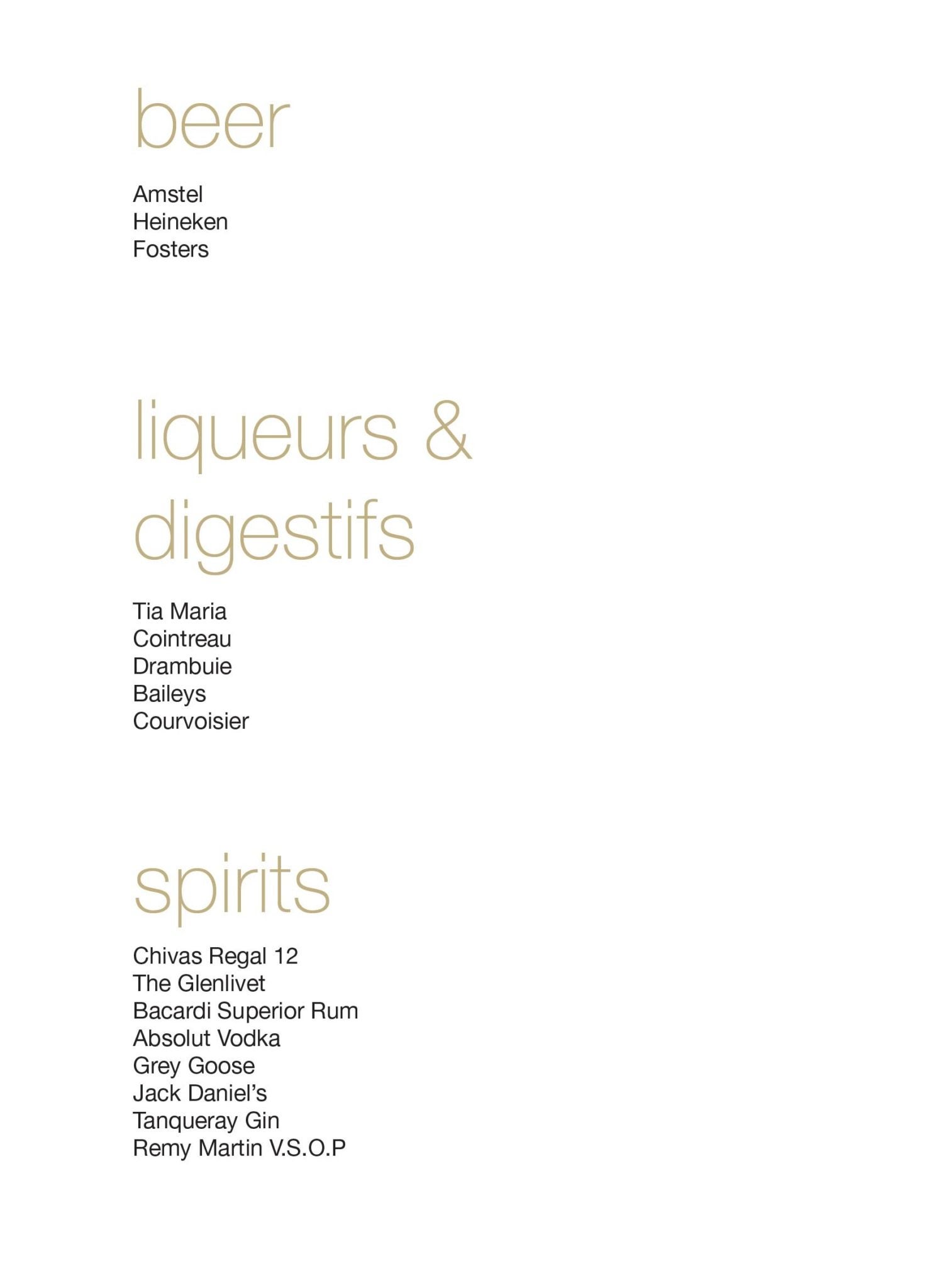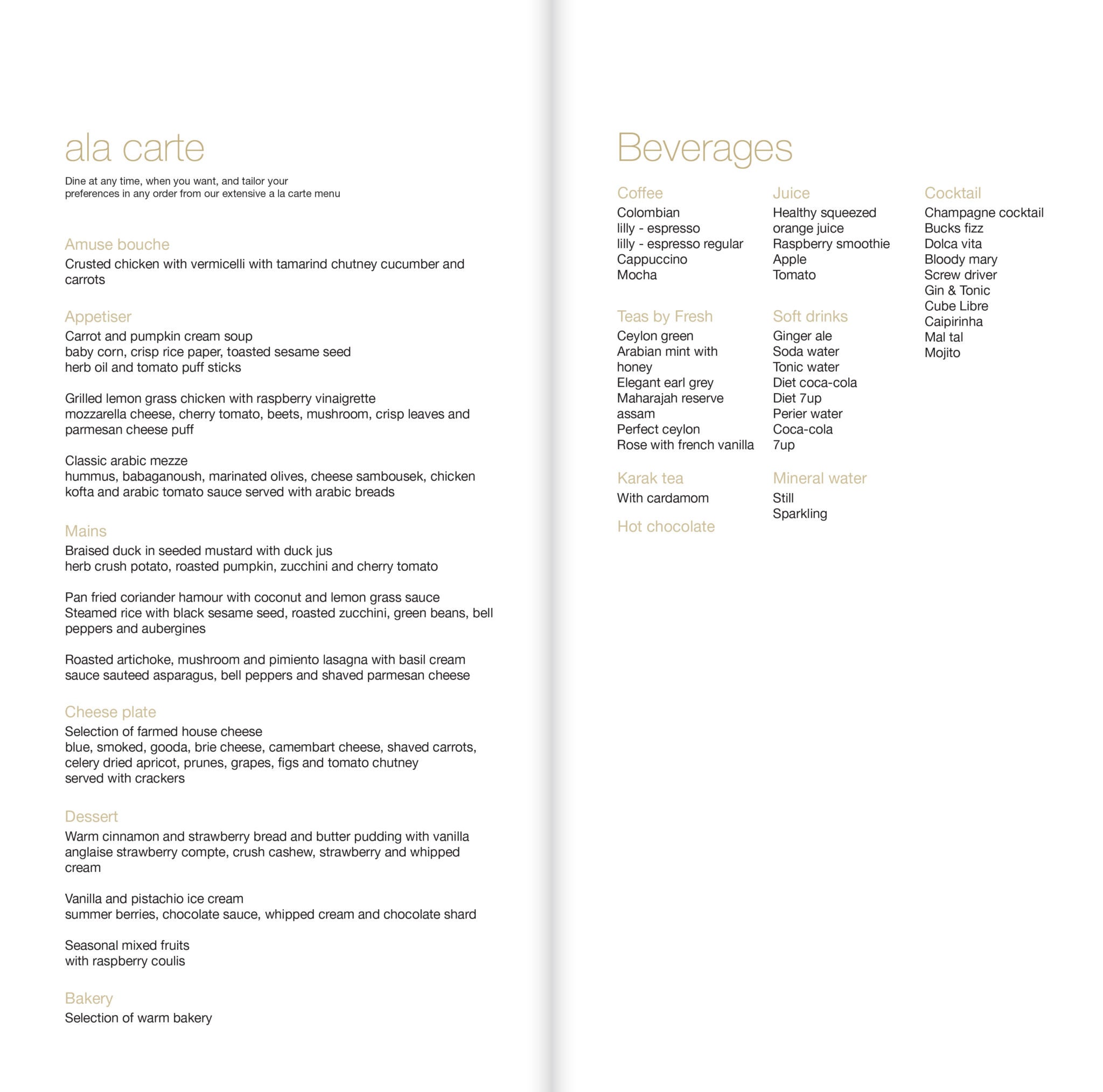 Post-takeoff, I continued with a glass of the Laurent Perrier Brut Champagne.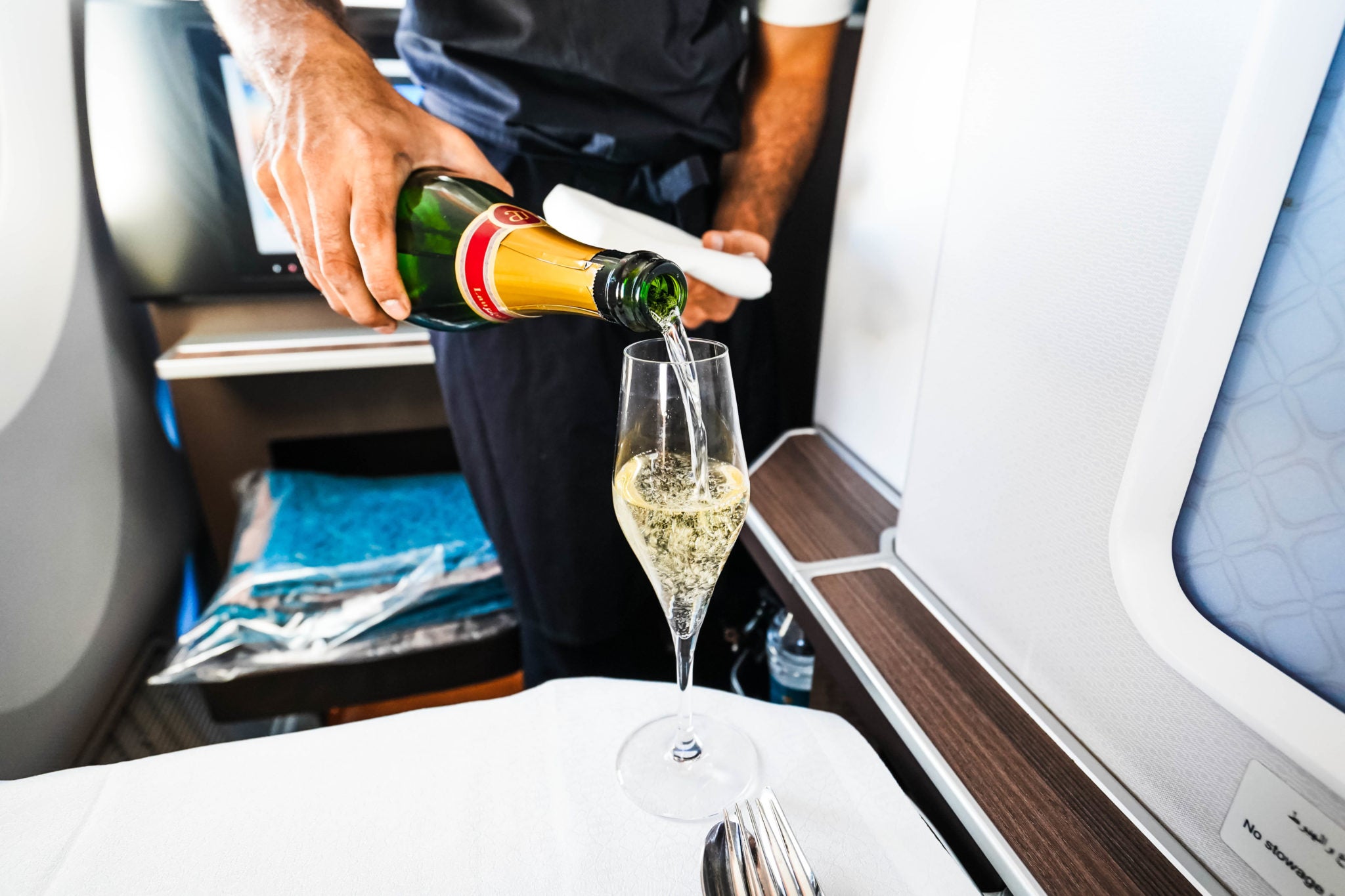 For the meal, I started with the delicious amuse-bouche of crusted chicken with vermicelli and tamarind chutney.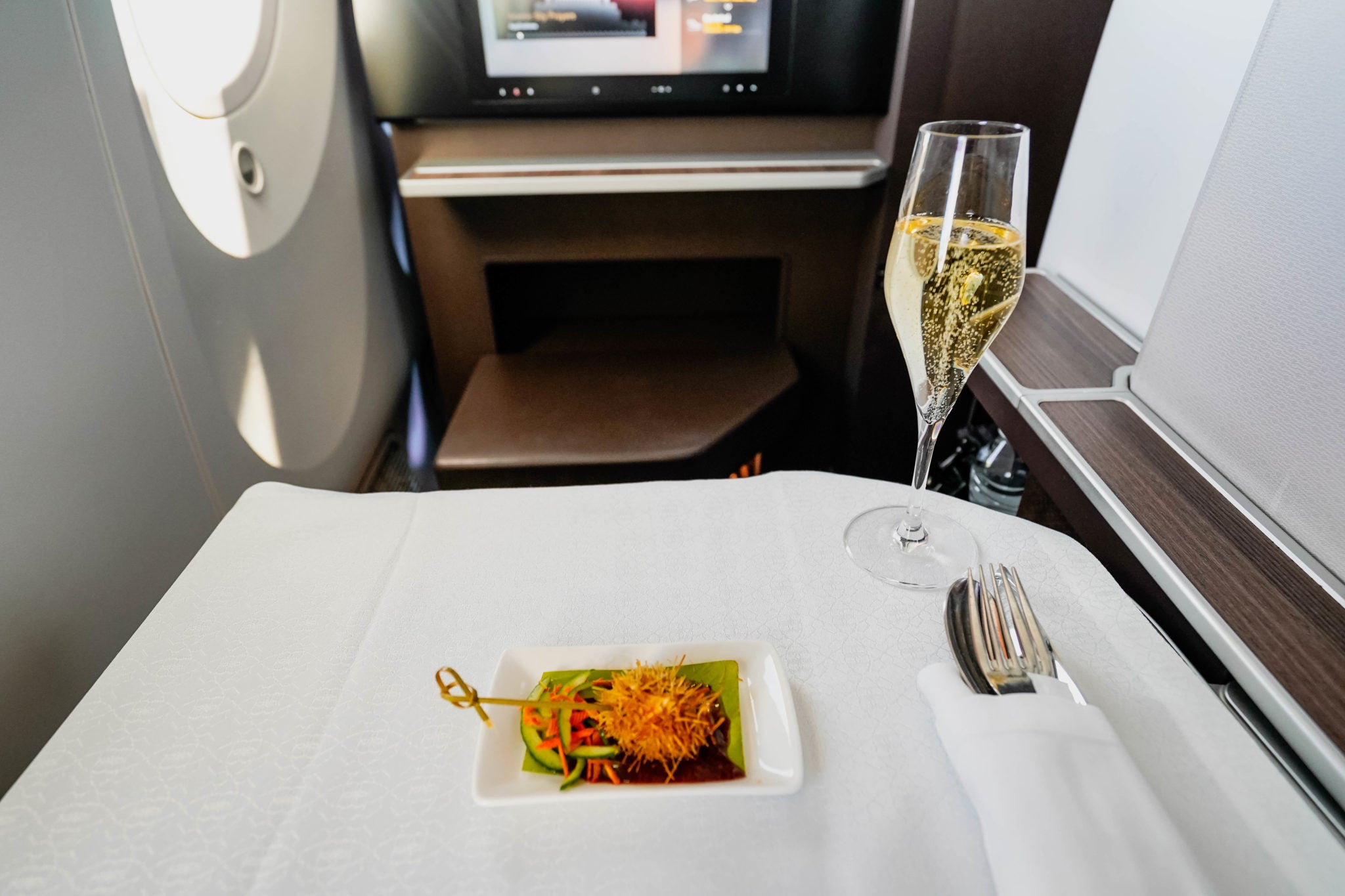 This was followed by an appetizer of classic Arabic mezze with chicken kofta, which lacked in presentation but made up for this in taste.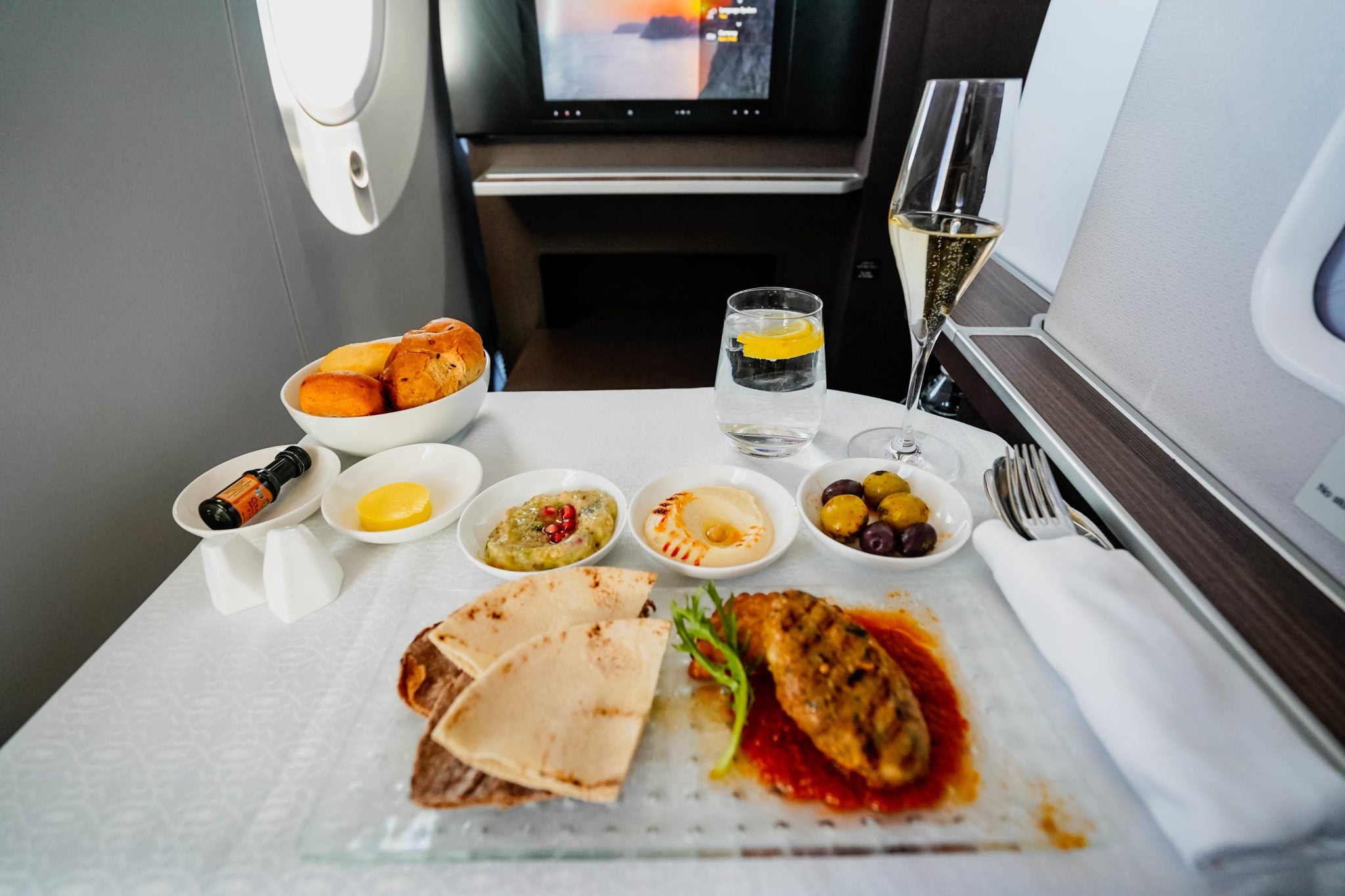 For the mains, I chose the fish — pan-fried coriander hamour with coconut and lemongrass served on a bed of steamed rice — which I paired with a glass of Chateau Laroque.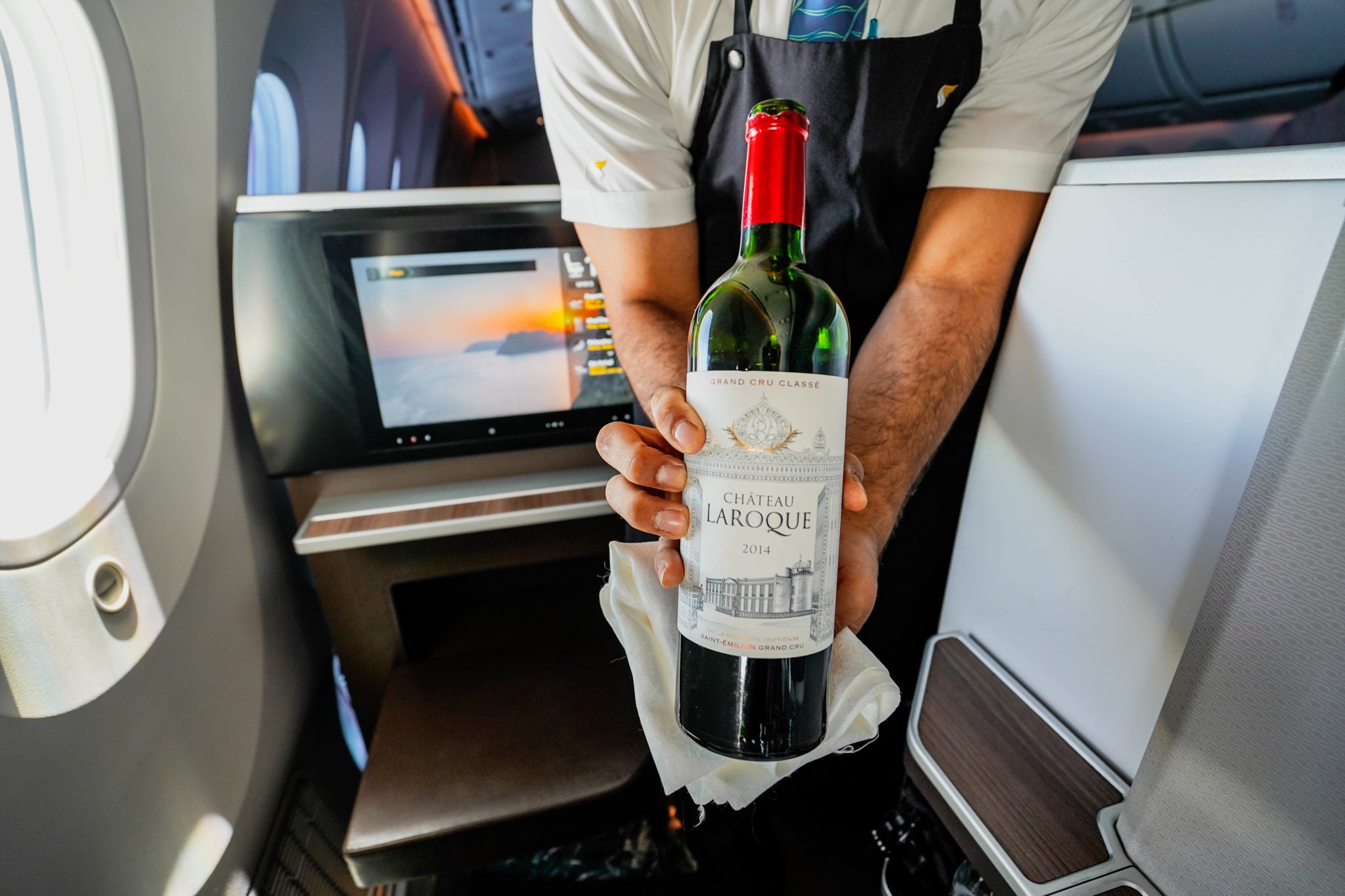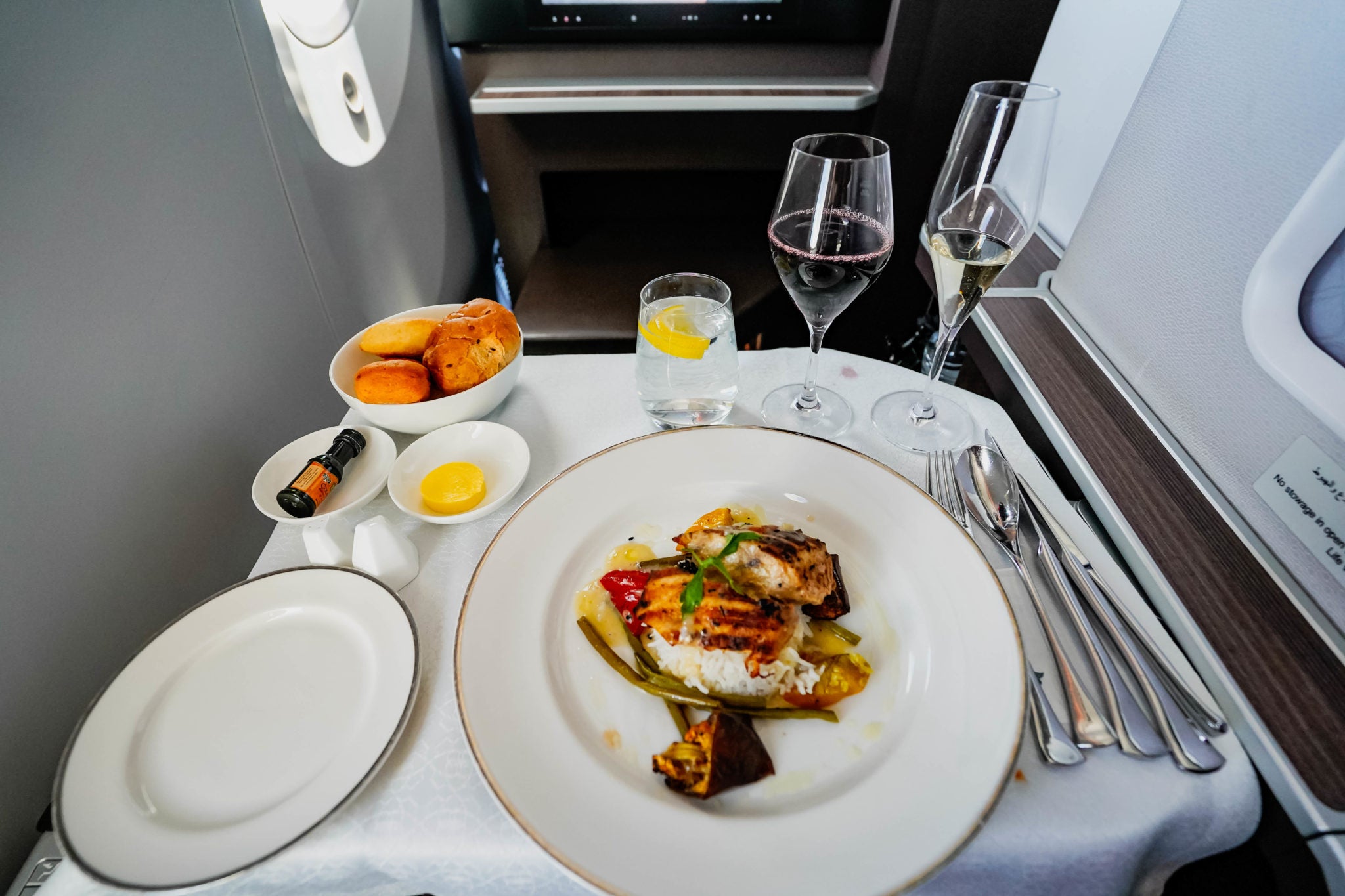 Unfortunately, the fish was chewy, lacked taste, and seemed like it wasn't heated properly. Not wanting to take a risk, I requested Khaled to replace the fish with the duck. After a few minutes, Khaled returned informing me that they had run out of both of the other main options — the duck and the roasted artichoke, mushroom, and pimiento lasagna. This was disappointing! He later explained to me that they had not loaded any extra meals and profusely apologized.
No point being grumpy, nothing much I could do about it, so I ordered the cheese platter and a large serving of vanilla and pistachio ice-cream with summer berries, chocolate sauce, chocolate shard, and whipped cream.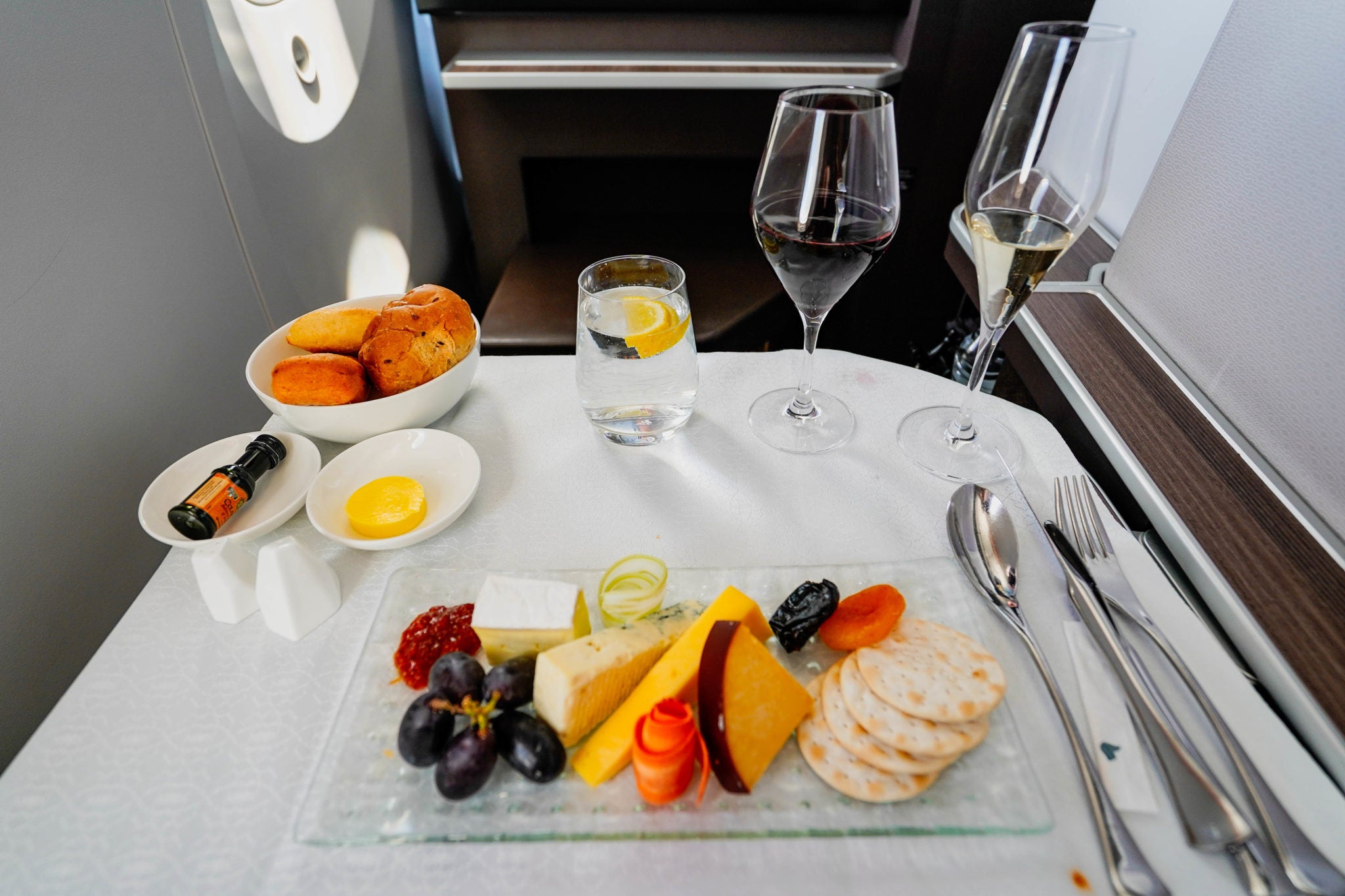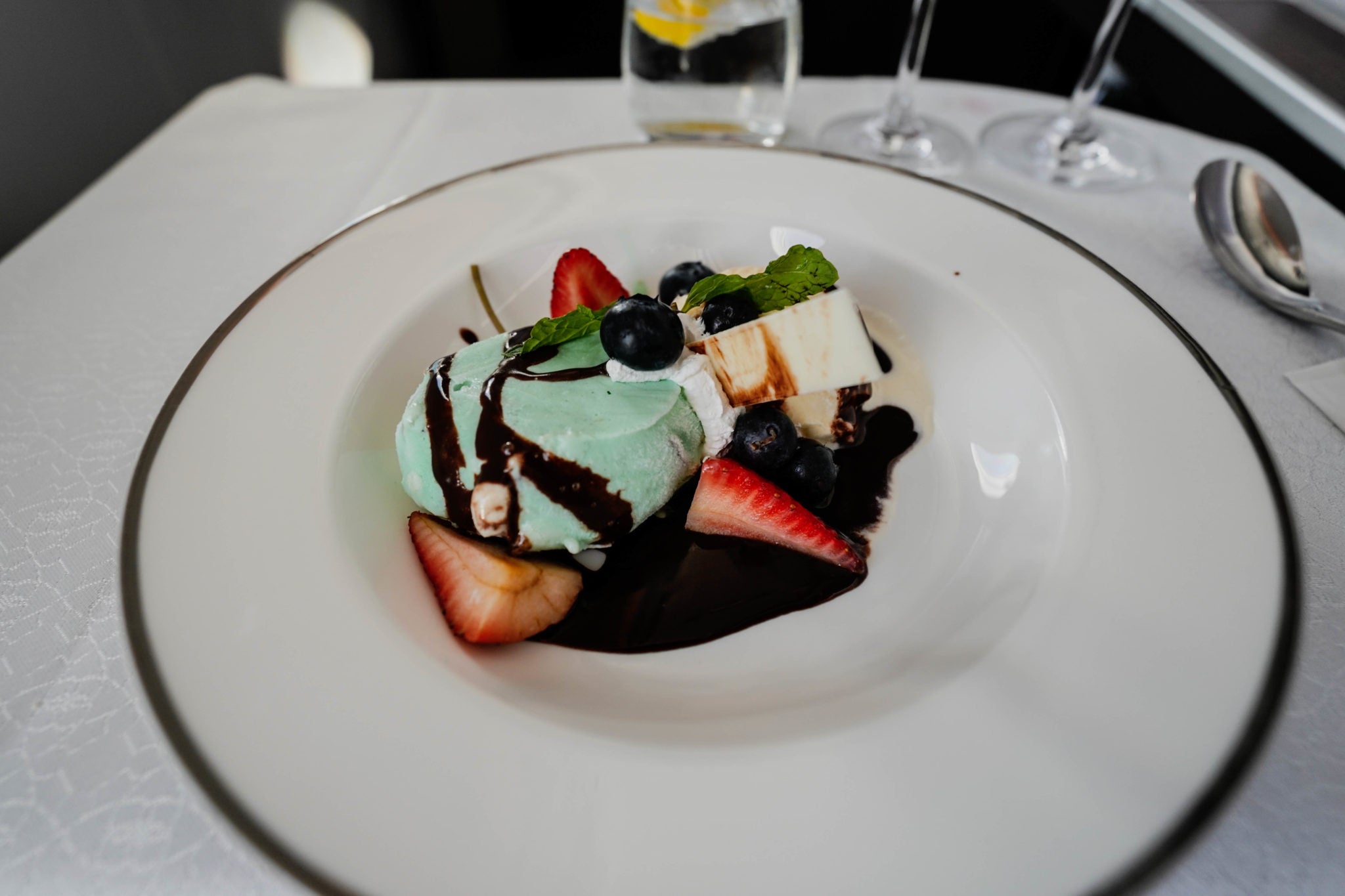 As compensation for my disappointing main dish and the inability to replace it, the crew brought me a full bottle of Laurent Perrier to drown my sorrows in, which went some way towards redemption and service recovery!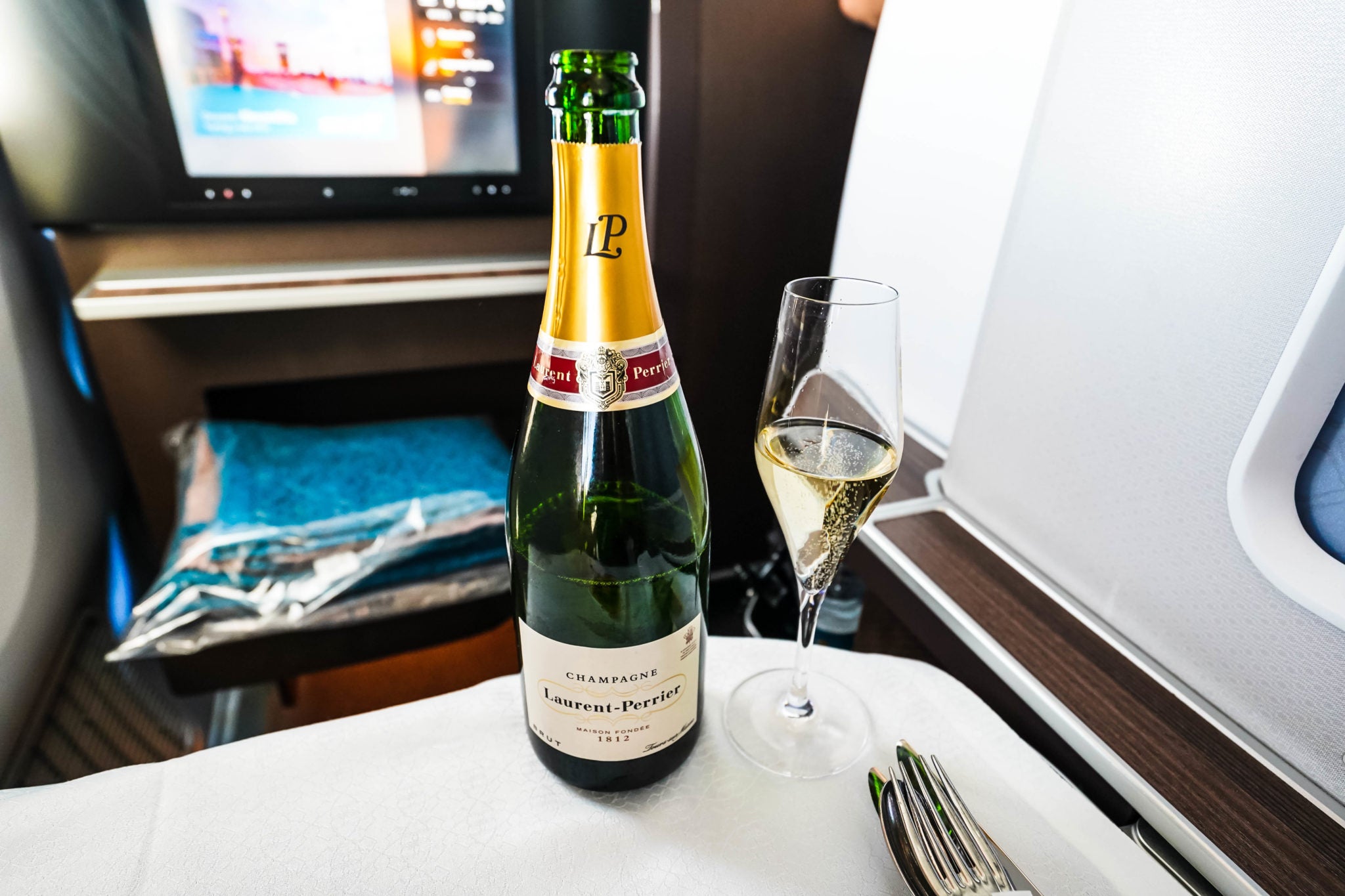 The crew onboard was fantastic. They did seem a little overwhelmed and understandably so since the cabin was full and everybody wanted to eat at the same time. However, they carried out service delivery in an impeccable manner. As I further interacted with Khaled, he mentioned to me that he was Omani — this was refreshing as you will never find an Emirati or Qatari employed in the working-class service industry. Omanis are an exception, whom you will find in all walks of life.
After the meal, I decided to get some shut-eye and got in a solid 2 hours. Though there was no mattress provided, the bed was firm and comfortable.
Amenities
Oman Air provides Amouage amenity kits in business class that include an Amouage-branded hand and body lotion, moisturizer, lip balm, dental kit, shaving kit, mouth wash, eye shades, earplugs, socks, and comb.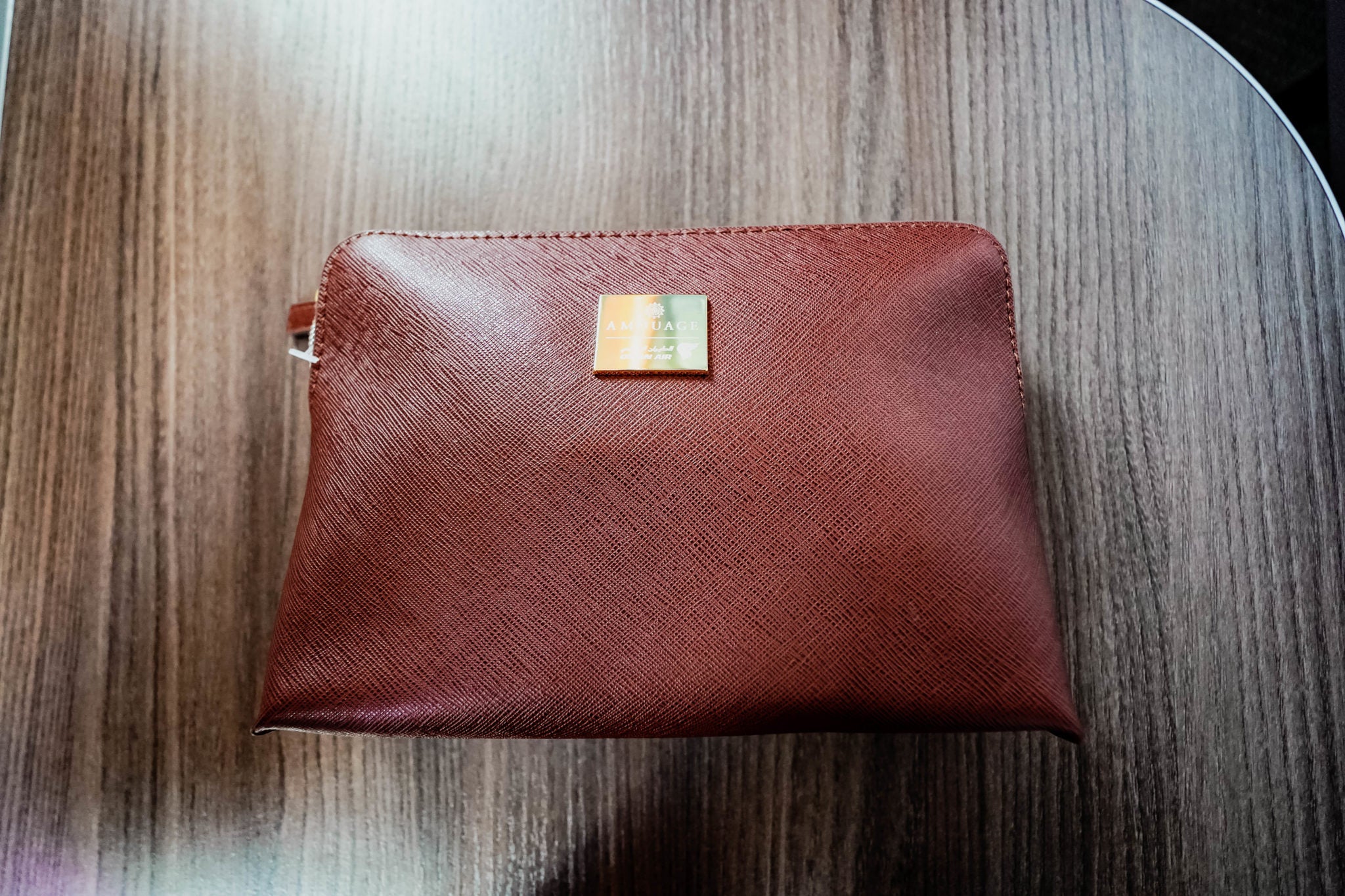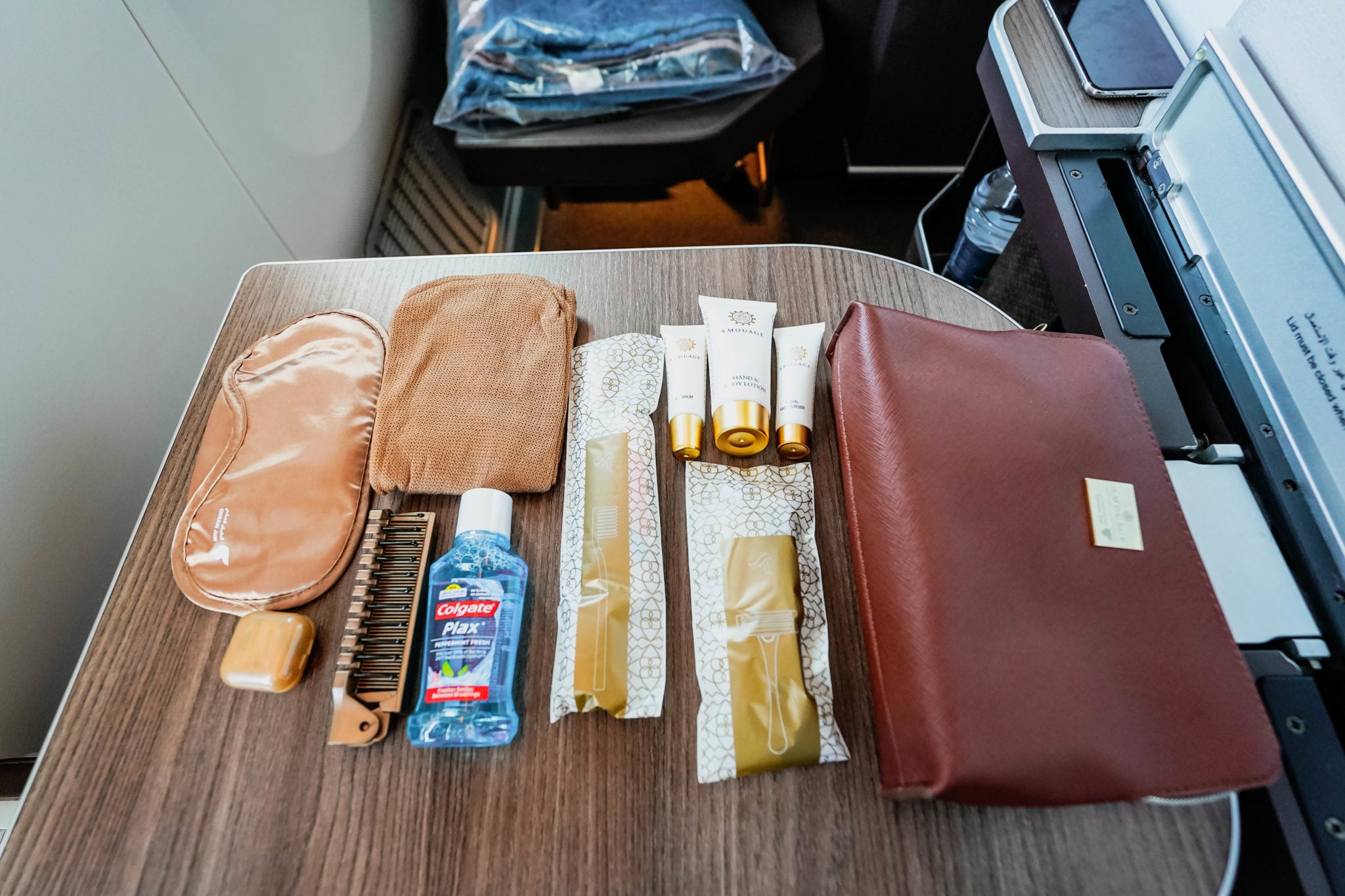 Since this was a day flight, no pajamas or bedding was offered. There were only a plush pillow and thick blanket on offer which was decent to sneak under.
Final Thoughts
Oman Air ticked quite a few boxes for me.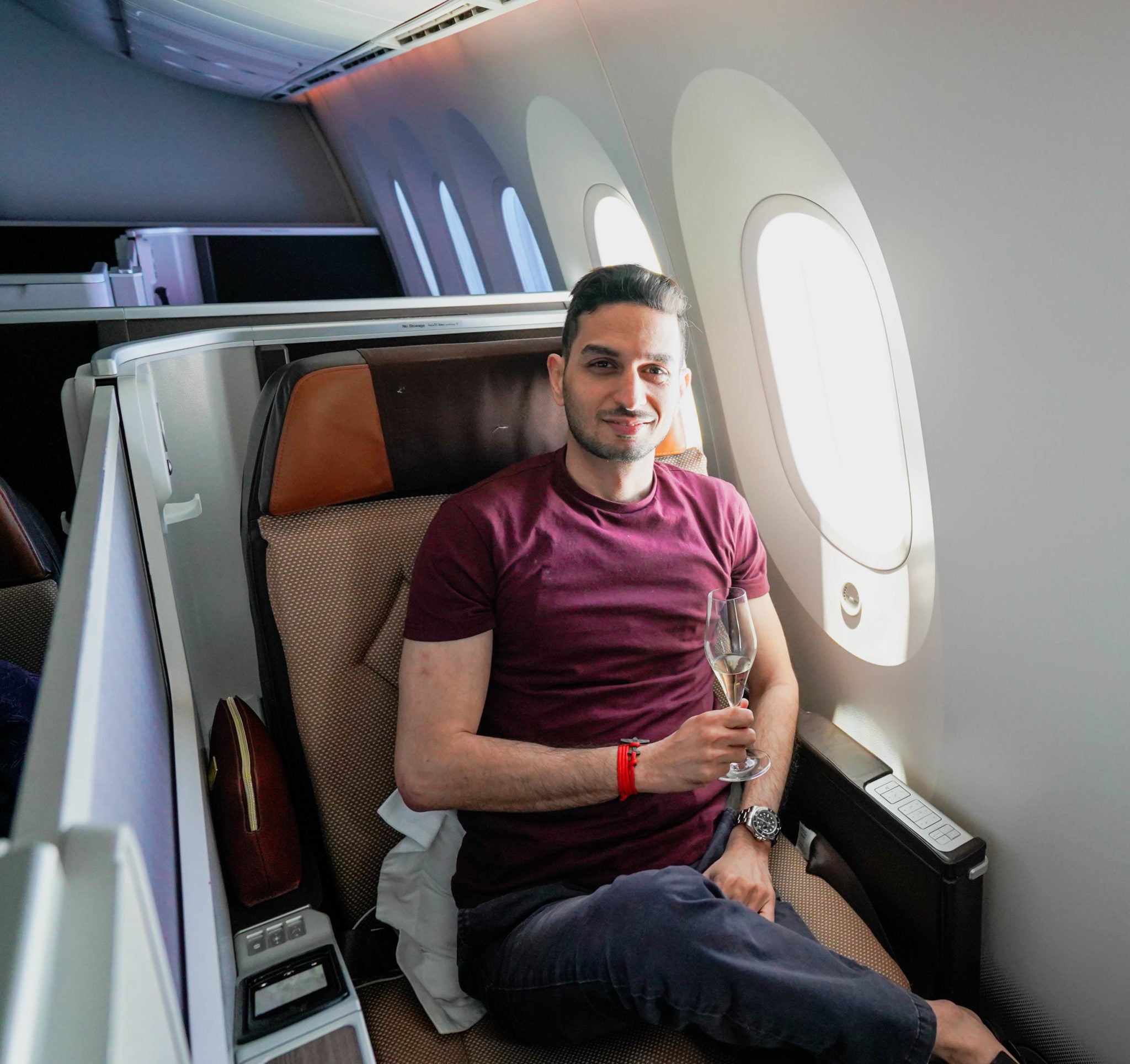 The hard product is fantastic, the new terminal and lounge are world-class, the flight crew was excellent. However, there are a few gremlins that need to be ironed out before they can start punching in the same weight category as the ME3 (Emirates, Etihad, and Qatar Airways). The boarding process was a mess and the catering out of Muscat was a letdown. These are issues you do not expect to encounter at a carrier's hub, especially for an airline renowned for its catering.
Would I fly them again? Absolutely, but I will definitely be avoiding the fish.
Maasalama!