The Complete Guide to United's Inflight Wi-Fi Service
U.S. carriers began rolling out inflight internet services nearly a decade ago and have been slowly improving the experience. Now, it is almost expected that these airlines will have Wi-Fi on their flights.
While some carriers like Delta Air Lines exclusively use Gogo inflight internet, United Airlines does not use a consistent Wi-Fi provider.
Let's dig into what kind of Wi-Fi service you can expect on your flights with United.
Which United Aircraft Have Wi-Fi?
United has fitted almost all of its aircraft with Wi-Fi capability. The exceptions are aircraft based in Guam and some of their CRJ-700 aircraft. However, United plans to finish fitting all of their regional aircraft sometime in 2017.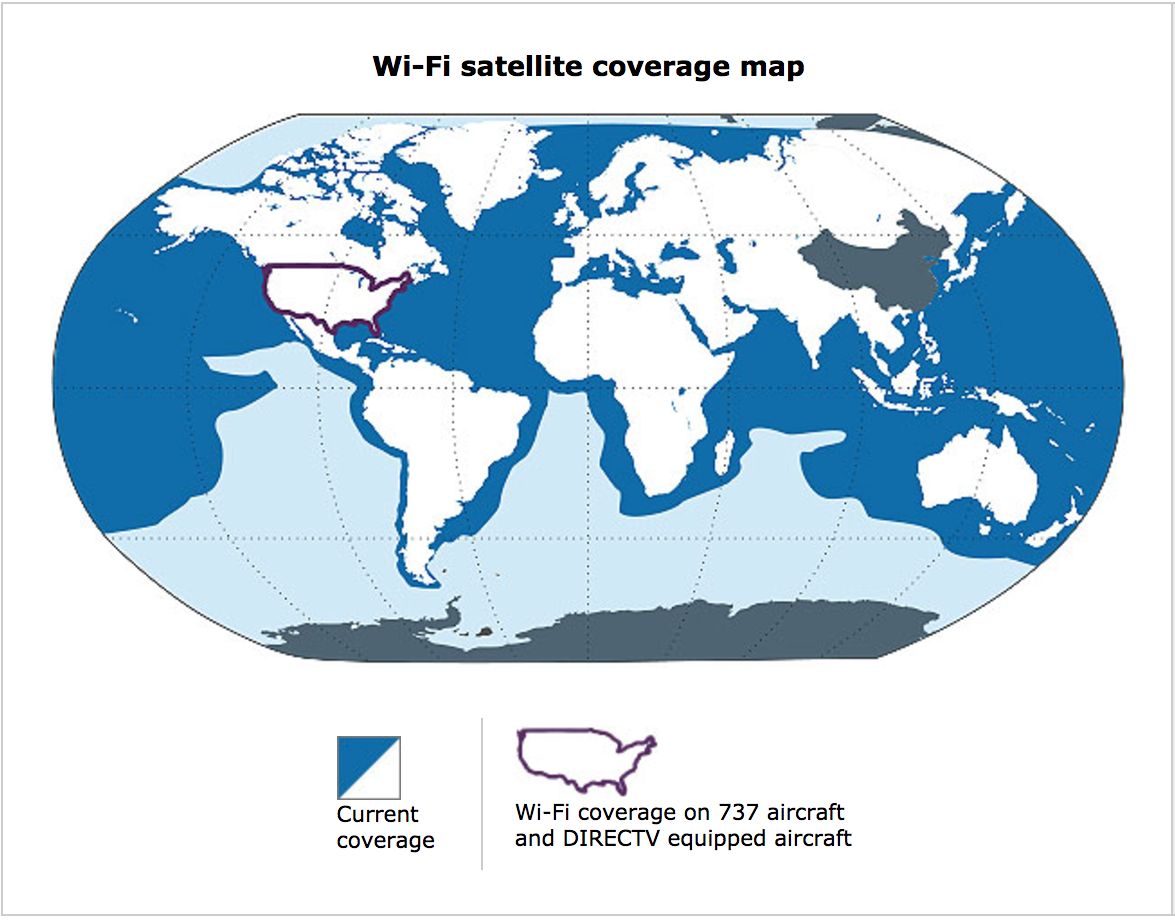 Within the continental U.S., Wi-Fi is limited to flights on United's Boeing 737 aircraft and some of their Boeing 757-300s.
Other than that, United's mainline aircraft offer inflight Wi-Fi for the duration of your flight, even when traveling abroad.
However, coverage is limited when traveling over polar regions and over some countries that have regulations restricting inflight Wi-Fi access.
Who Provides Wi-Fi for United?
United utilizes several providers for its inflight Wi-Fi service. On some transcontinental routes with premium service, Gogo provides inflight internet.
If you want to know if your flight will be served by Gogo, follow these steps:
Search for your flight on United's site
Navigate to the Details page
Find the Amenities section
Is United's Wi-Fi Reliable?
Reliability has long been an issue for inflight internet services. While providers have been working with airlines to improve both speed and reliability, you can still expect slow speeds (if not failing Wi-Fi) on some of your flights.
If you have important work that can only be done with Wi-Fi, don't plan your day around doing it inflight.
Can You Stream Video?
Unfortunately, you will not be able to stream video inflight, even on Wi-Fi. This means that Hulu, Netflix, YouTube, and other video streaming services will not work.
While you won't be able to stream video while browsing the internet, select flights on United do have DIRECTV with a selection of movies, TV shows, and live TV options. This service is only available in the continental U.S.
Video and audio conferencing are also prohibited on United flights, so no Skype or FaceTime.
How Much Is Wi-Fi on United?
The cost of using Wi-Fi on United will vary by flight. However, if your flight is equipped with Gogo inflight internet, there will be standard pricing.
Gogo Wi-Fi Pricing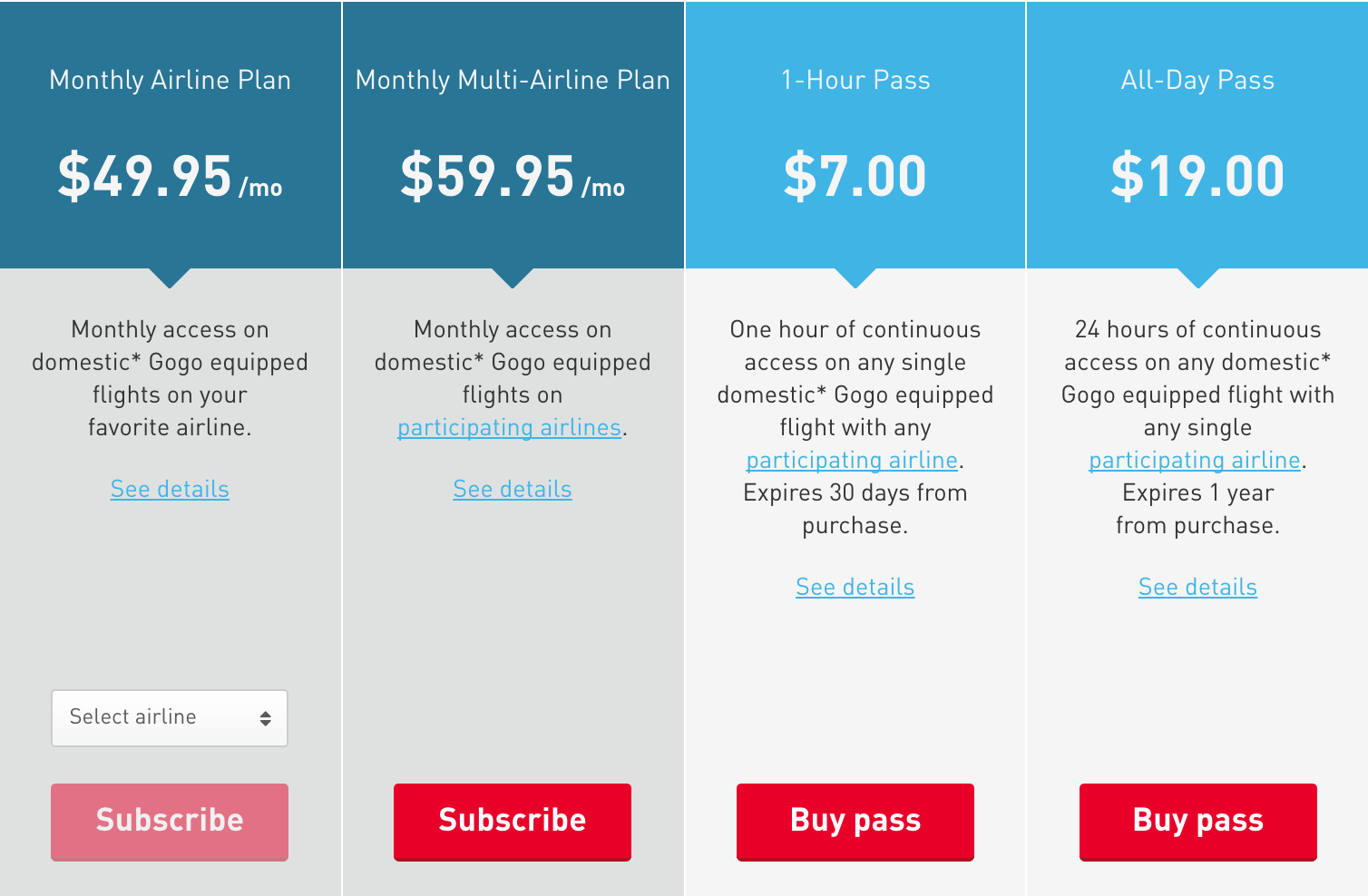 You have several options for purchasing Wi-Fi with Gogo. If you fly regularly, you can purchase a subscription plan.
Gogo In-flight Subscription Plans
Monthly Airline Plan
$49.95 per month
2-Device Plan
$59.95 per month
Monthly Multi-Airline Plan
$59.95 per month
Global Multi-Airline Plan
$79.95 per month
Annual Airline Plan
$599.00 per month
Annual Multi-Airline Plan
$719.00 per month
Based on your travel needs, you can choose a plan that works best for you. Make sure you check the details of each plan before making a decision.
If your United flight will have Gogo inflight internet, you can also purchase an internet pass 48 hours prior to departure. The advance purchase price is cheaper than if you buy access to Wi-Fi once on board.
How to Offset Wi-Fi Costs
The US Bank FlexPerks® Visa Signature® Card also provides 12 one-time passes per calendar year.
Unfortunately, travel credits and airline fee credits provided by cards such as The Platinum Card® from American Express will not cover inflight Gogo Wi-Fi costs. However, if the flight has United's new Wi-Fi portal you can use the Amex Platinum Card to offset that cost IF you have selected United as your airline for the year. Remember, The Platinum Card gives you an annual credit of $200 to use on whichever airline you've chosen for that year!
However, the airline fee credit provided by the Chase Ritz-Carlton Rewards® Credit Card will reimburse you for inflight internet. Unlike other travel credits, this one is not automatic. Instead, you must call the number on the back of the card or send Chase a secure message from your account to request the statement credit for reimbursement.
Redeem United Miles for Wi-Fi
Flights equipped with United's new Wi-Fi portal allow you to redeem MileagePlus miles to purchase Wi-Fi access. However, this is a terrible use of your hard-earned United miles!
At a minimum, we value United miles at 1.4 cents per mile. If you redeem miles for Wi-Fi, you won't even get 1 cent per mile.
You'd definitely be better off saving your miles for future flights.
Is Buying Wi-Fi Worth It?
Whether buying Wi-Fi is worth it to you is going to be a personal decision. If staying connected to friends during flights makes the flying experience more enjoyable, then it might be worth it to you.
If you're hoping to get a little extra work done (or your employer is paying for it), it might also be worth it. Just remember that the Wi-Fi might not be as reliable as you need it to be for important work projects.
Save your money if you won't use Wi-Fi much on a flight, or you're happy to sleep or watch entertainment provided by United for free.
Of course, if you have one-time use Gogo passes thanks to the US Bank FlexPerks® Visa Signature® Card, it might be an easier decision.
Additionally, if you have the Chase Ritz-Carlton Rewards® Credit Card to offset the cost of Wi-FI through its airline fee credit, it might be worth it.
Final Thoughts
Inflight internet has a long way to go before we can truly rely on it. We still can't stream video nearly 10 years after its introduction! Gogo and other providers are working to make this a possibility, but we're not there yet.
With United, specifically, we'd like to see a consistent and reliable product across its fleet so people can feel confident in their decision to purchase Wi-Fi.
On the credit card side of things, banks could really improve the travel credits and airline fee credits offered on high-end cards by making inflight internet eligible for reimbursement.
---
The information regarding the US Bank FlexPerks® Visa Signature® Card and Chase Ritz-Carlton Rewards® Credit Card was independently collected by Upgraded Points and not provided nor reviewed by the issuer.