Virgin Australia Boeing 777 Premium Economy [LAX > SYD]
Airline: Virgin Australia (VA)
Aircraft: Boeing 777-300ER (VH-VPH)
Flight #: VA2/VA9550
Route: Los Angeles International Airport (LAX) > Sydney Airport (SYD)
Date: May 26 & May 27, 2019
Duration: 14hr 23min
Cabin & Layout: Premium, 24-seats, 2-4-2 config
Seat(s): 16A
Miles Used: 71,700 Virgin Australia Velocity miles per-person, one-way (transferred from American Express)
Taxes & Fees Paid: $130 (AU$ 190.58) per-person, one-way
Typical Retail Cost: $3,000 per-person, one-way
Introduction
Booking Virgin Australia Premium Economy
After an amazing flight from SYD to LAX in business class, also known as "the Business", to commence a two-week trip in the U.S. with my best friend from high school, I was booked to return home on May 26, 2019, in Virgin Australia's premium cabin. Virgin Australia don't use the word "economy" in its "Premium Economy" branding.
During my time in the U.S., availability unlocked for the flight home in business class. However, I was keen to save some points for trips I have planned later on in the year, and I also wanted to experience the premium economy class cabin and Virgin Australia's service to see if the exceptional service I have received in business class transcended into premium economy.
I used 71,700 Velocity miles for the one-way LAX to SYD route in premium economy that I transferred from my Platinum Card® by American Express.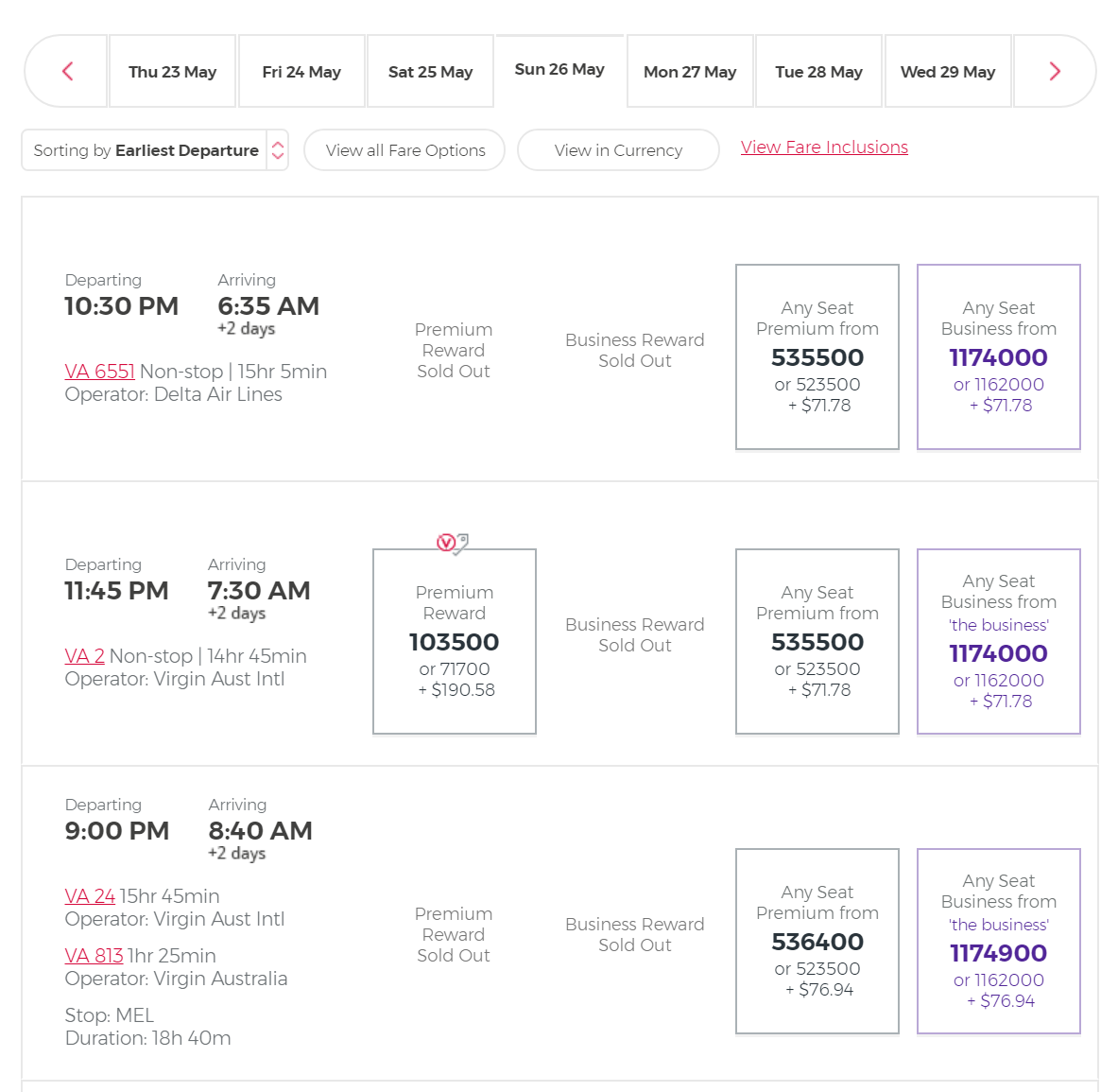 At Los Angeles International Airport (LAX)
KAL Lounge
After a pleasant, albeit brief flight from San Francisco International Airport (SFO) to LAX on a Delta Air Lines' Boeing 737-900, I arrived at LAX with approximately 3hrs 45mins before my scheduled flight home to Sydney. This was plenty of time to find our way around LAX.
Arriving into LAX, we were greeted at the gate by a Virgin Australia staff member who advised us of the air-side transfer via bus that was available to take us from Terminal 5 to the Tom Bradley International Terminal, which is also known as Terminal B. Finding the bus transfer area did feel like traversing an outdated 1980's airport rabbit warren; however there were 2 other staff members giving directions to confused-looking travelers and I eventually found the transfer area.
The bus transfer from Terminal 5 to Tom Bradley International was brief and there wasn't much to see as it was dark at the time. However, the journey would be quite the experience for aviation geeks (AvGeeks) during the day due to the proximity to the ramp and taxiing aircraft.
Passengers traveling in premium economy with Virgin Australia do not have access to the Emirates Lounge at Terminal B as this is reserved for guests traveling in 'the Business,' or those with Velocity Gold or Platinum status.
Not to be dissuaded, I fired up the Priority Pass app on my phone and found 2 other locations in  Terminal B where I could pass the time before my flight home. Some credit cards grant you a Priority Pass membership; mine being the Amex Platinum Card.
The first Priority Pass option is the KAL Lounge, located one level below the Emirates Lounge on Level 5, just before passing the duty-free store. Unfortunately, the KAL Lounge only grants access to Priority Pass guests between 1:00 p.m. and 7:00 p.m. daily.  So, I'd have to wait until the following evening when I returned to the airport for my rescheduled flight to experience this lounge.
P. F. Chang's
The second Priority Pass option is P. F. Chang's, which describes itself as a 'contemporary bistro-style restaurant that offers a unique blend of high-quality, authentic Chinese cuisine in a sophisticated setting. It is located on the Mezzanine Level overlooking the main shopping precinct of Terminal B.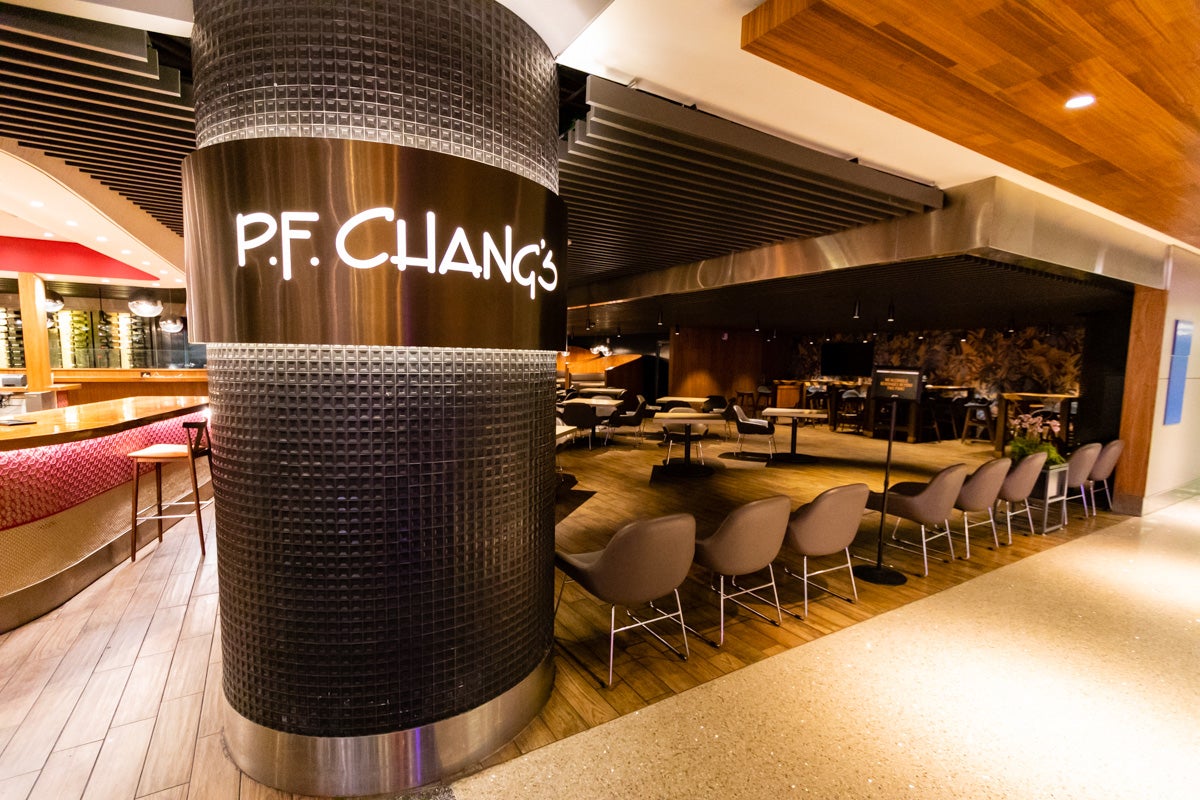 Arriving at P. F. Chang's I was told that wait to be seated was between 30 and 40 minutes. With no other options to try, I took a seat and waited for my name to be called.
After almost an hour of waiting, and noticing that many of the people who had been placed in line after me had been seated, I approached the front desk only to be told that my name had been "taken off the list" for some unknown reason. The staff member then asked me if I still wished to be seated, and after my positive reply escorted me to my table without even an apology for keeping me waiting.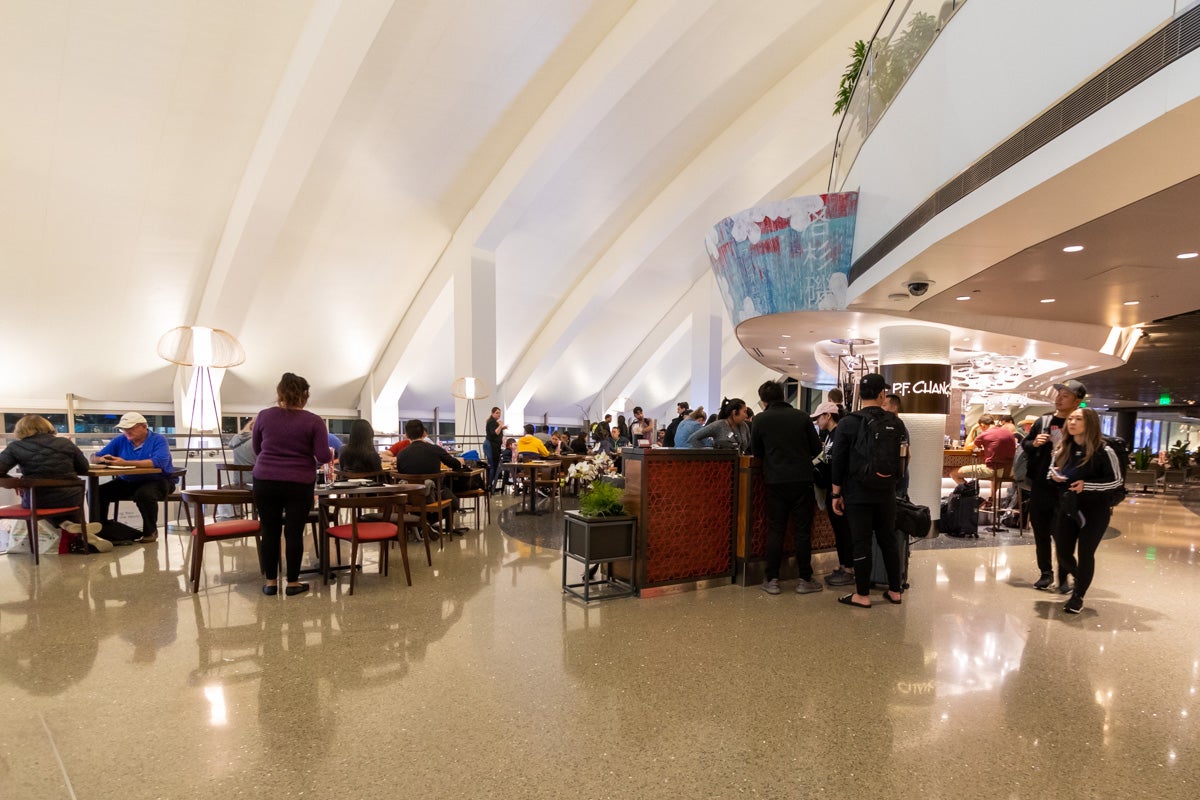 Priority Pass members can use their lounge visit entitlement to receive $30 per person off their bill. You may bring a maximum of two guests with you, who will also receive $30 each off their bill.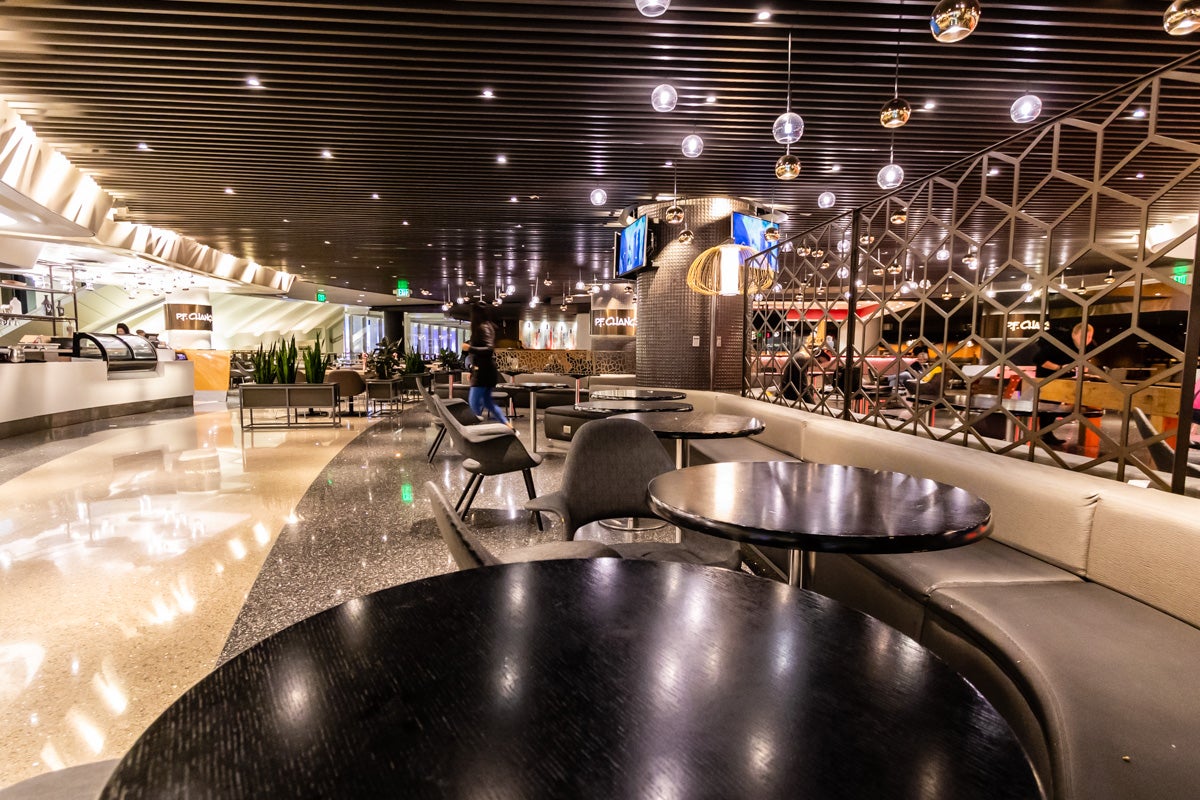 I ordered the apparently famous pulled-pork dumplings that I saw delivered to fellow diner at a nearby table, which I paired with a glass of Matanzas Creek Sauvignon Blanc. The dumplings didn't disappoint and were perhaps some of the best I have ever sampled, which helped make up for the disappointing start to my dining experience at P. F. Chang's and the lack of attempted service recovery from the staff.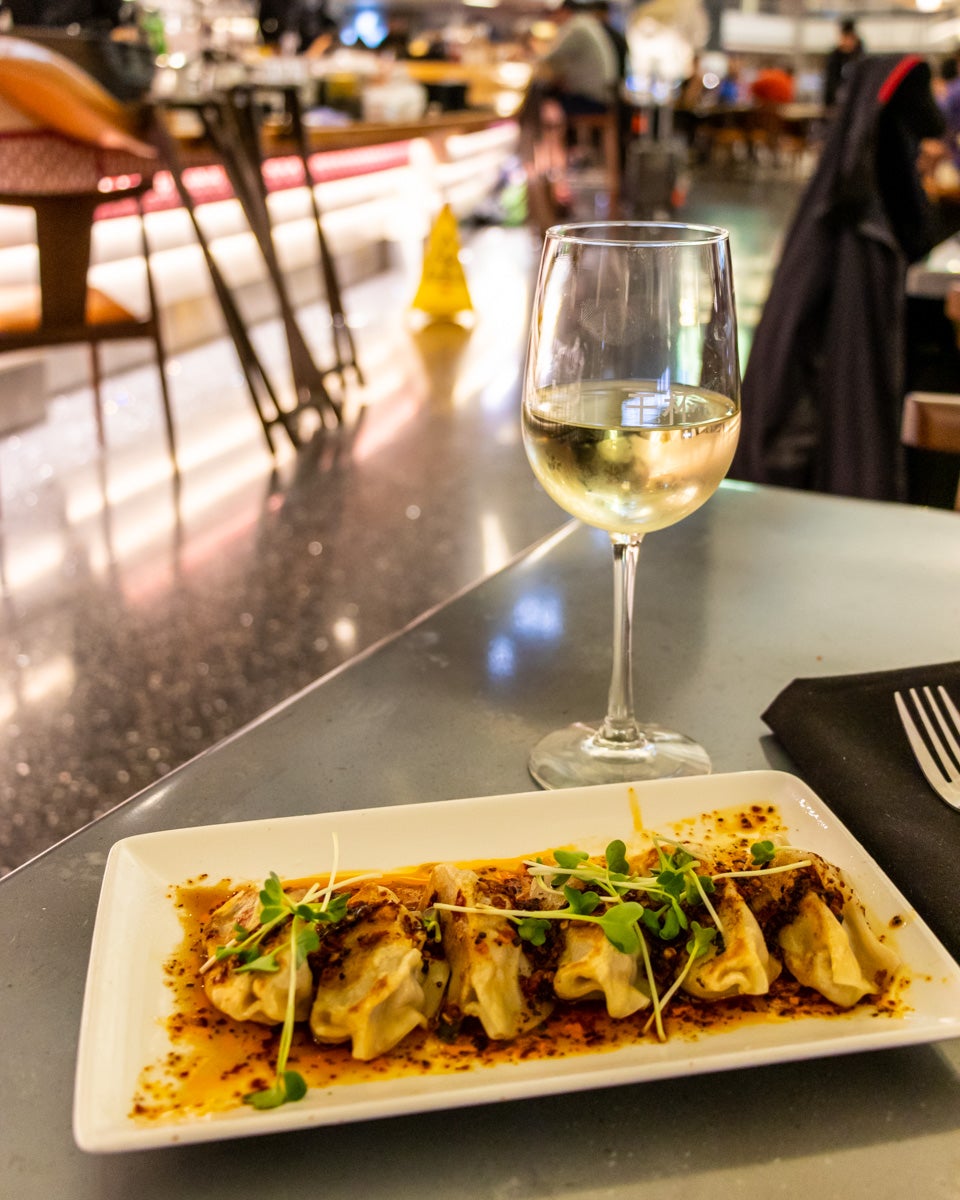 Flight
Approaching the gate at 10:15 p.m. for my scheduled boarding at 11:00 p.m., I noticed that VA8 to Brisbane Airport (BNE) was still in the final stages of boarding and would need to depart before our gate could be utilized. After the flight finally departed at 10:48 p.m., there was a considerable delay in our aircraft being towed to the gate, prompting the Virgin Australia ground crew to begin radioing for information. After another 15-20 minutes, our aircraft finally arrived at the gate.
Expecting to board, many of the passengers begun to mill around the gate area. However, none of the usual pre-boarding messages were made. At 10:55 p.m. an announcement was made advising us that due to a maintenance issue, our departure time was being moved to 2 a.m. to facilitate the replacement of a key navigation component that needed to be driven to the airport and then installed on our aircraft.
All passengers are then given a pair of $8 refreshment vouchers to use at locations in the airport during the delay. Unfortunately, as it is now past midnight, many of the restaurants and bars in Terminal B were closed, prompting many people to flock to the fast food outlets, or as I did, to the wine bar that was open and serving other delayed passengers.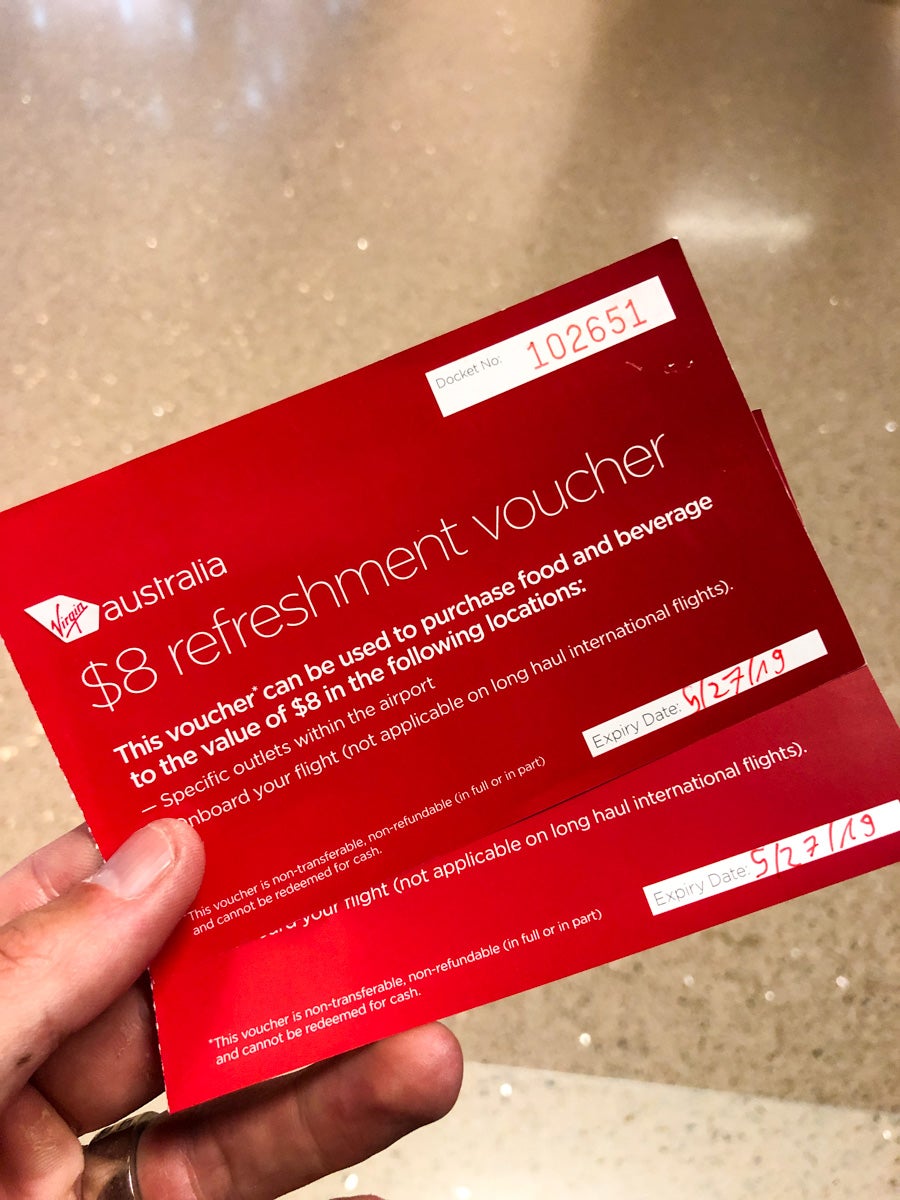 At 12:40 a.m., an announcement was made in the airport advising that our departure was delayed further, now scheduled for a 2:45 a.m departure. Around 1:40 a.m., we arrived back at the departure gate and boarded the aircraft. Upon boarding, we were offered the choice of Champagne, orange juice, and water. Most passengers in the premium cabin, including myself, opted for the Champagne to celebrate that we were finally departing!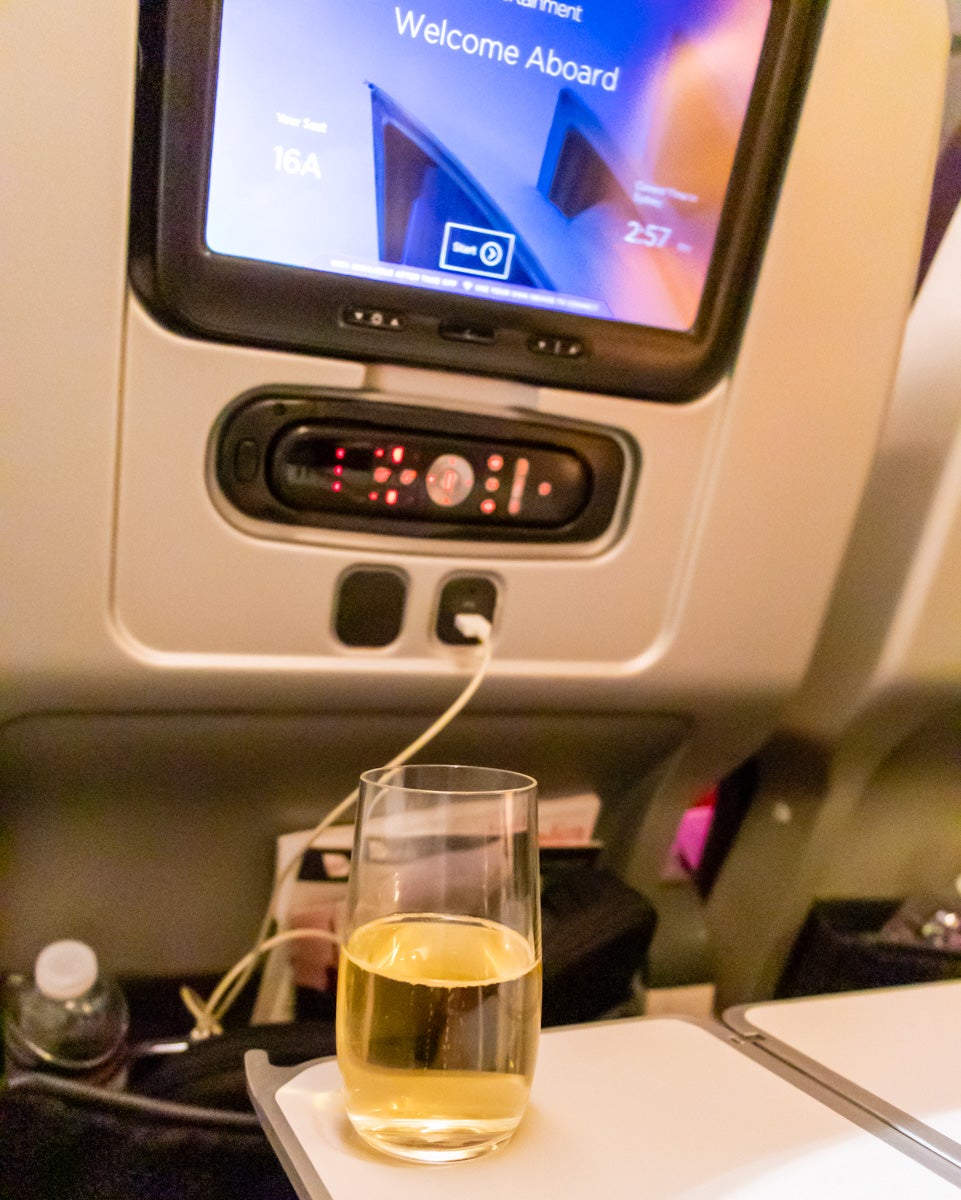 In order to expedite the meal service after take-off, Chrisa, heading up the premium cabin, collected our dinner orders and breakfast cards.
Still on the ground around 3:30 a.m., and well past our scheduled departure, the captain announced that they have been unable to install the software update for the newly installed part and we will all need to be offloaded and make our way to hotels and return the following evening.
Despite everyone's very tired state, all passengers made their way in a calm and orderly fashion to the designated gates where Virgin Australia ground crew were ready with details on our accommodation for the evening. We are then split between 3 hotels in the area, with taxi vouchers given to those requiring them, and the remaining passengers made their way to the regular hotel airport shuttle-buses that operate 24 hours at LAX.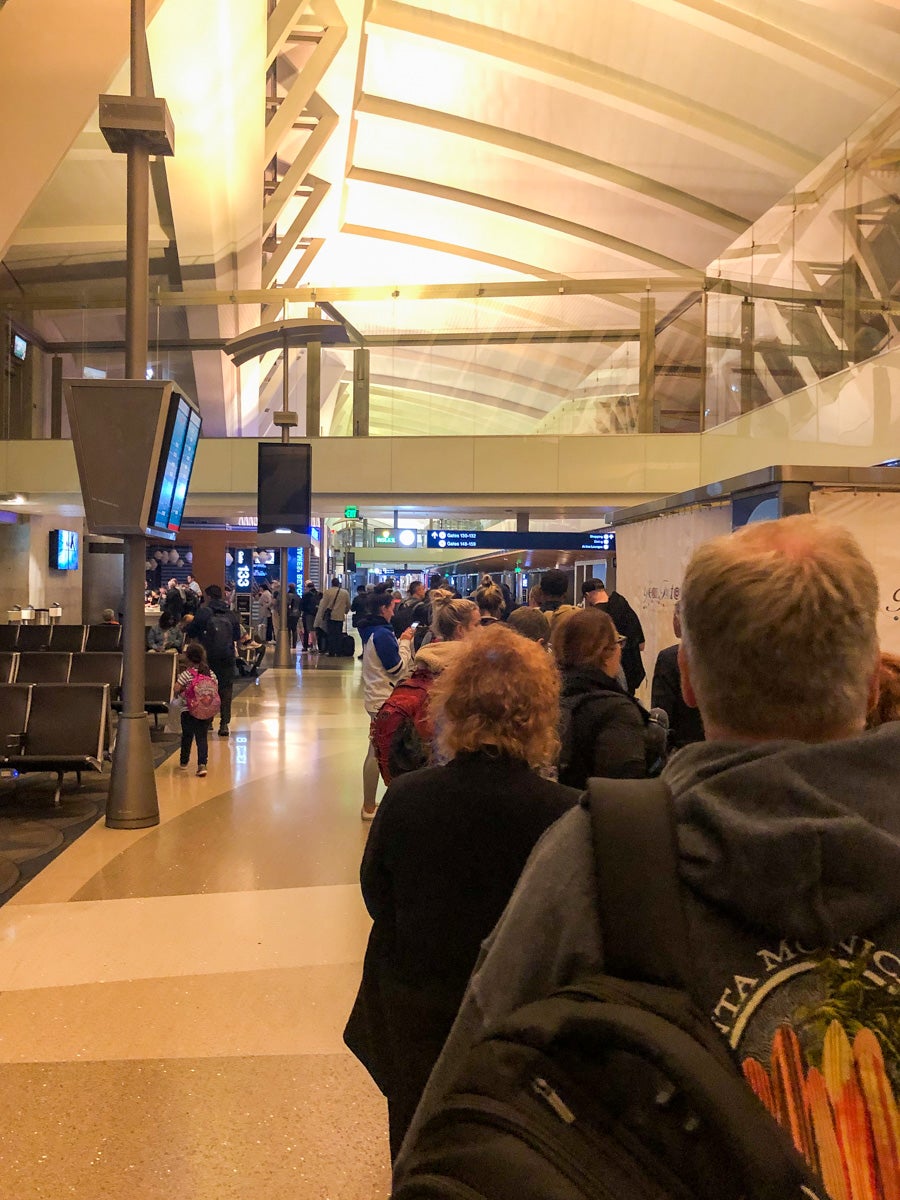 I was fortunately assigned to the Sheraton Gateway Hotel, and just after 5 a.m., arrived and checked-in. I offered the desk clerk my Marriott Bonvoy Gold Elite card, another benefit of the Amex Platinum Card, and he very kindly upgraded my room to a corner suite with a living room and large work-space. We are also given 2 $25 vouchers to use on food and beverage during our stay at the hotel and were advised that we can stay in our assigned rooms until we need to return to the airport the following evening.
After a brief sleep, I awoke to find that updated flight information has been pushed under my door, confirming our departure time that evening. Following a few hours in Los Angeles, including some plane-spotting and photography at In-N-Out Burger near LAX, I made my way back to the airport again to, hopefully, travel home to Sydney.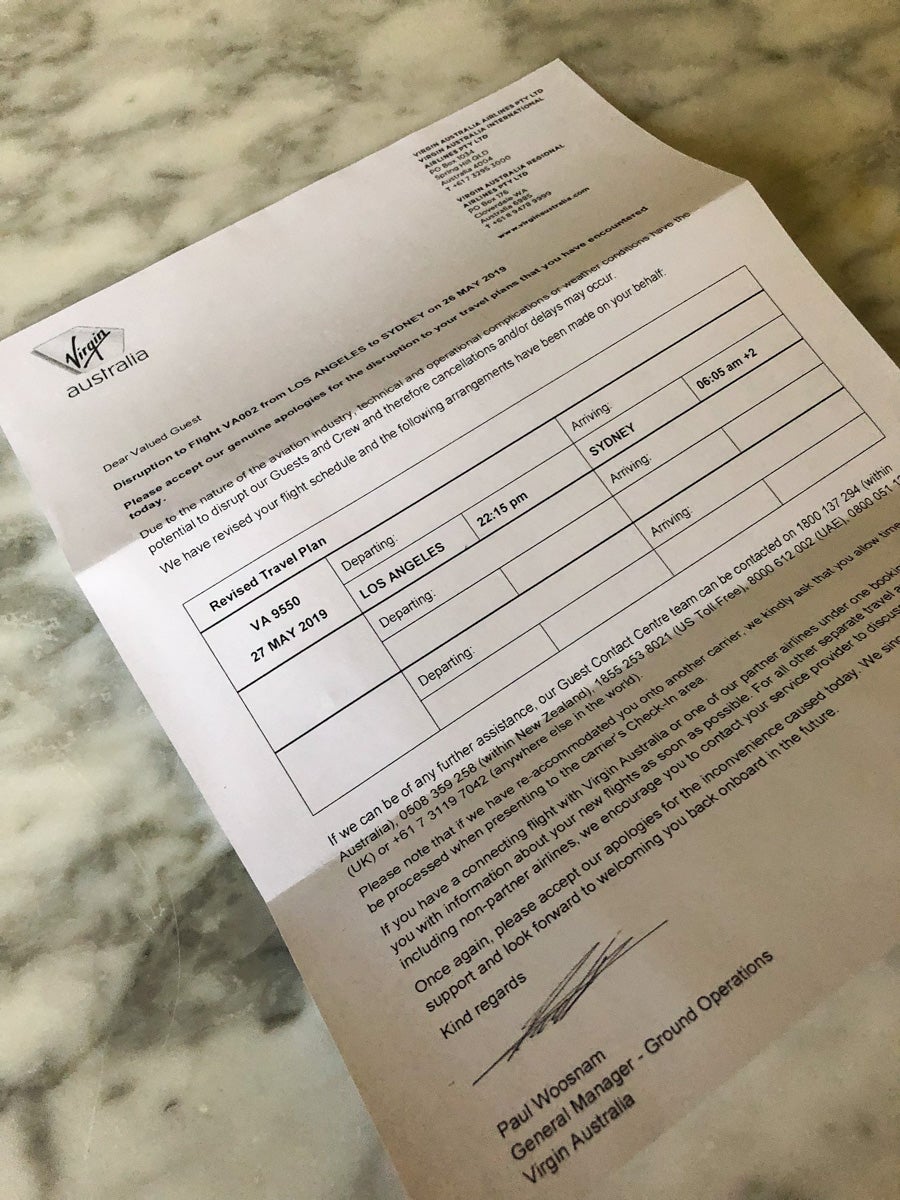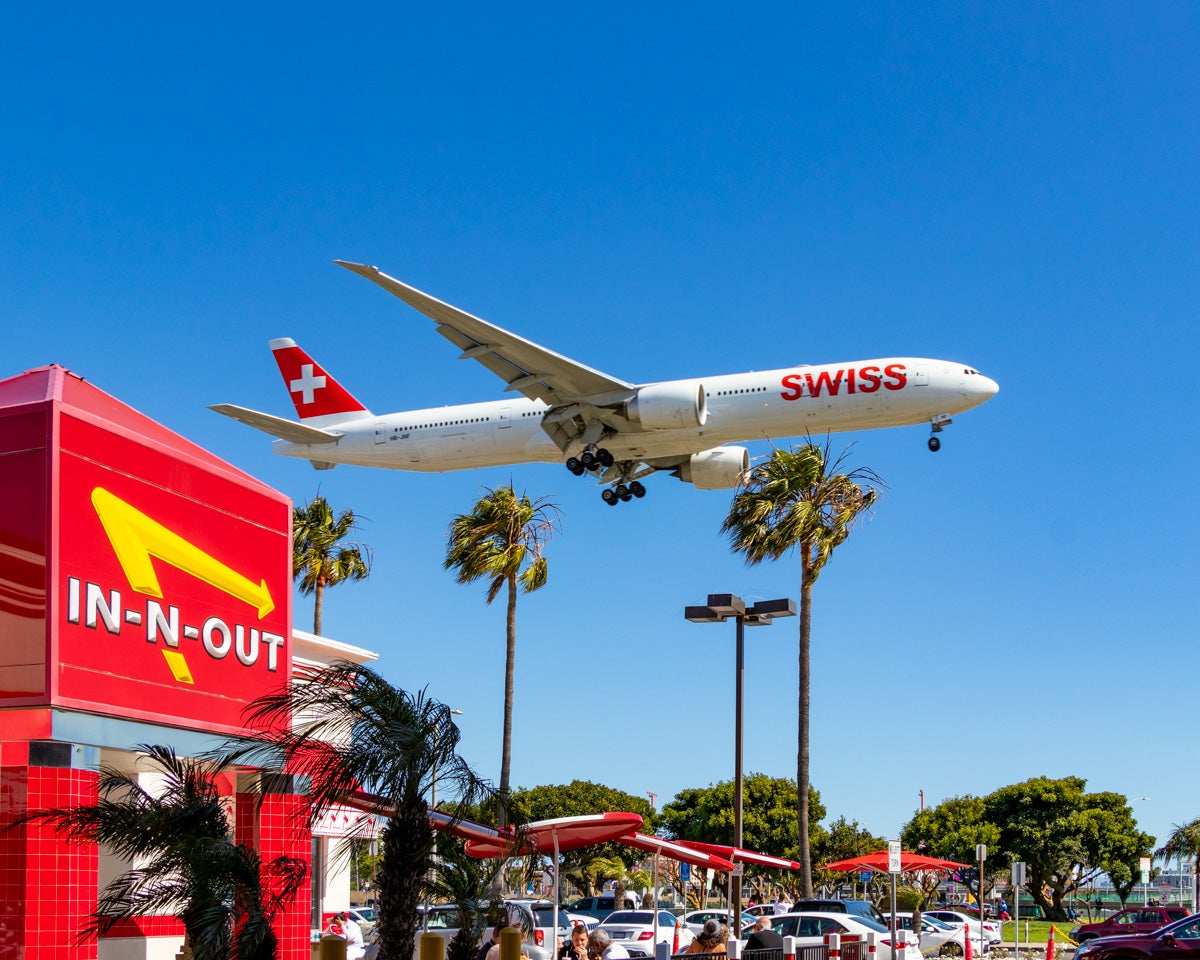 Arriving slightly earlier than the previous day, I took the opportunity to have a quick drink in the KAL Lounge. The lounge has a large internal area with seats, sofas, bar tables, and an additional outside balcony space that looks over the main shopping precinct.
Aircraft
Virgin Australia currently has 5 Boeing 777-300ER's in its fleet. Each aircraft features 37 seats in "the Business" that all convert to a fully flat bed, 24 seats in premium, and 278 seats in economy. Our aircraft, VH-VPH, has been in operation since November 2010 and operates between Sydney, Melbourne and Brisbane to Los Angeles.
Premium Economy
Virgin Australia's premium cabin is spacious and features 3 rows of seats in a 2-4-2 configuration.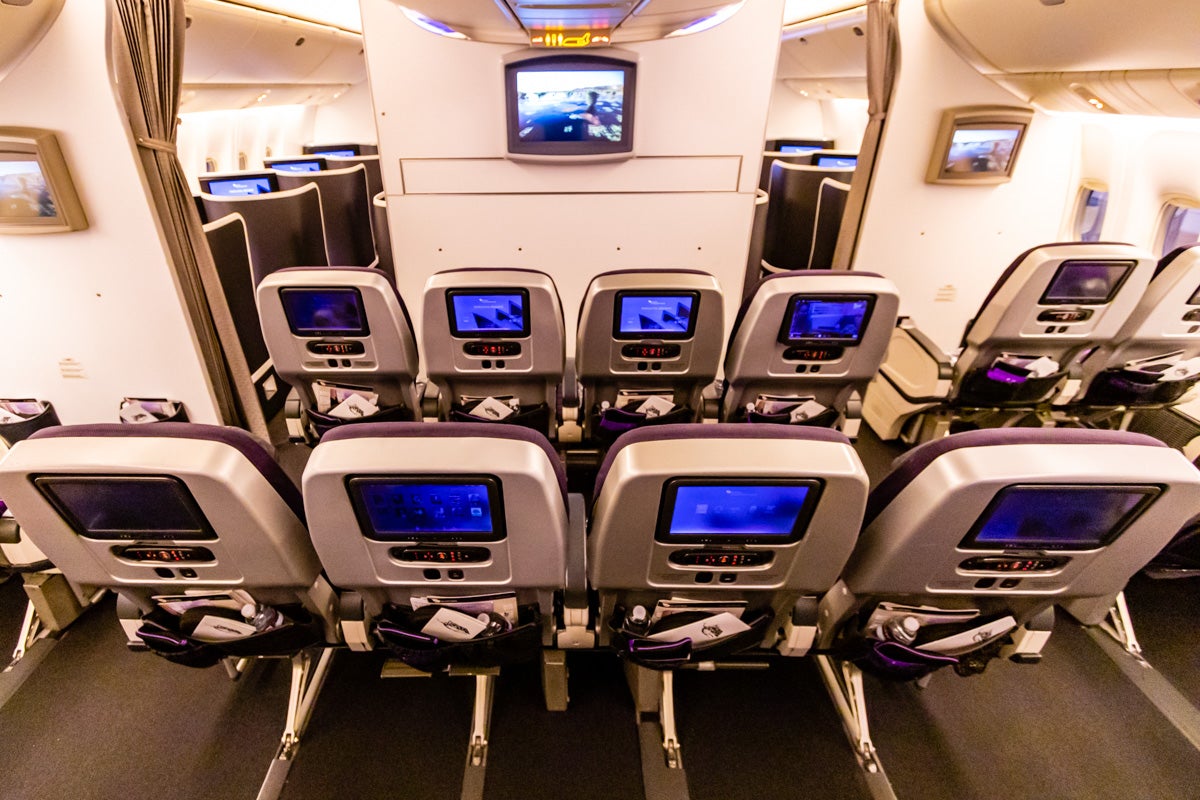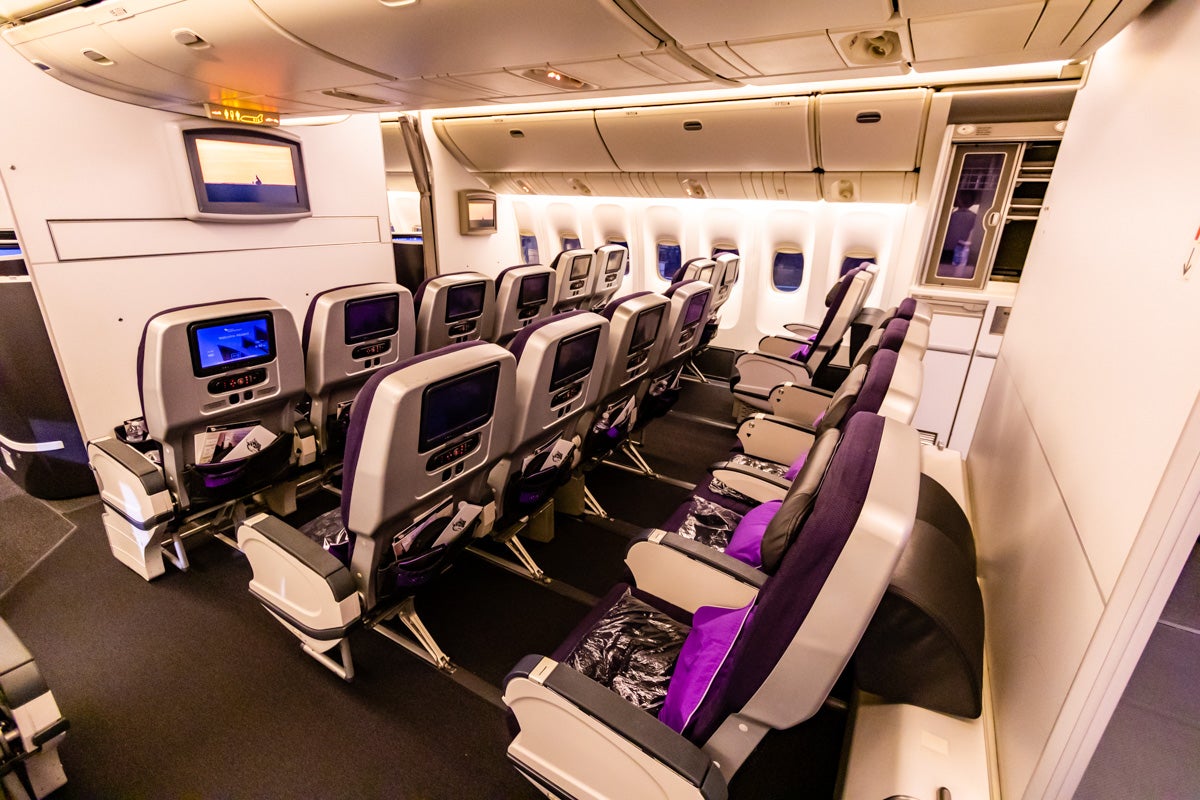 Despite lacking the "shells" that define business class and provide additional privacy, what is immediately striking about the premium economy cabin is the 41-inch pitch between each row of seats and the considerable room between row 15 and the bulkhead in front.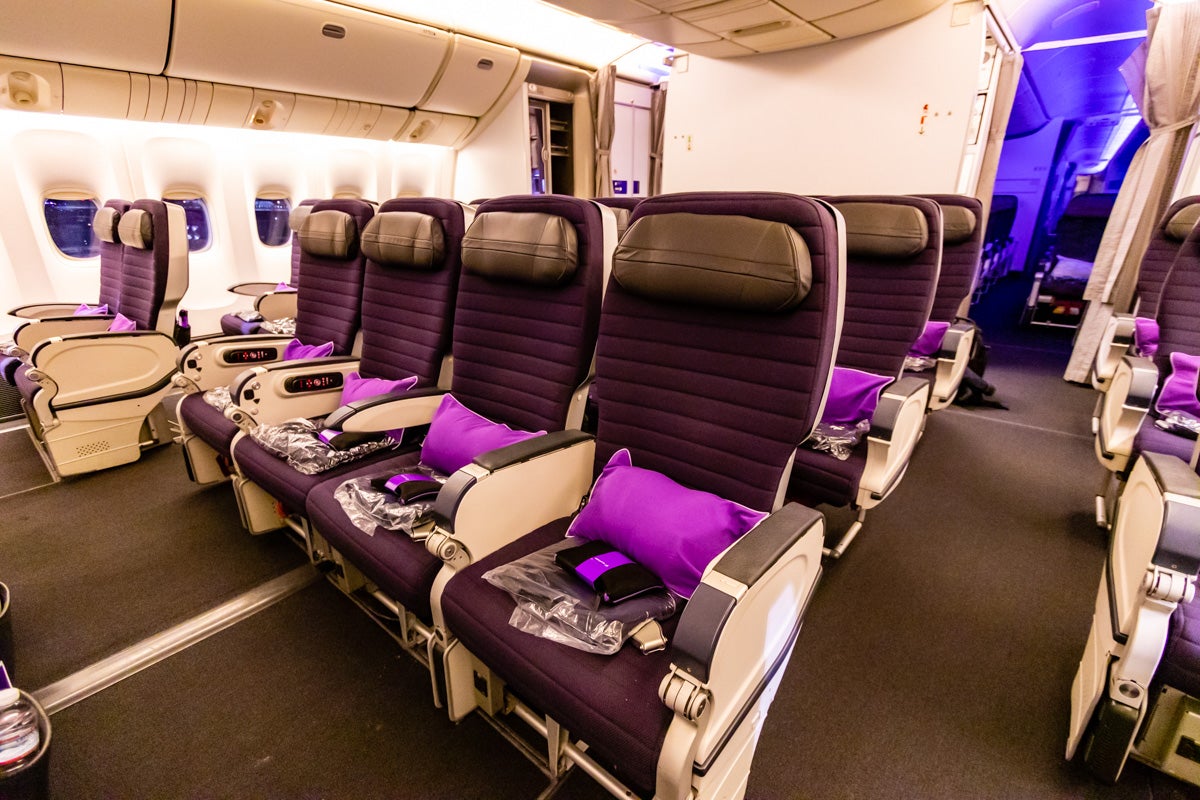 Overhead bins provide ample storage space for your carry-on luggage and the space between the seats allows easy under-seat storage for any items that you'd like to have at hand with you during the flight.
There are 2 lavatories located at the rear of the premium cabin.
Seat
Each seat is 19.5in (49.5cm) wide and is characteristically on brand with the seat fabric being a stylish dark plum color, accentuated by a purple pillow and a charcoal leather headrest. Waiting for you on your seat when you board will also be a lightweight blanket.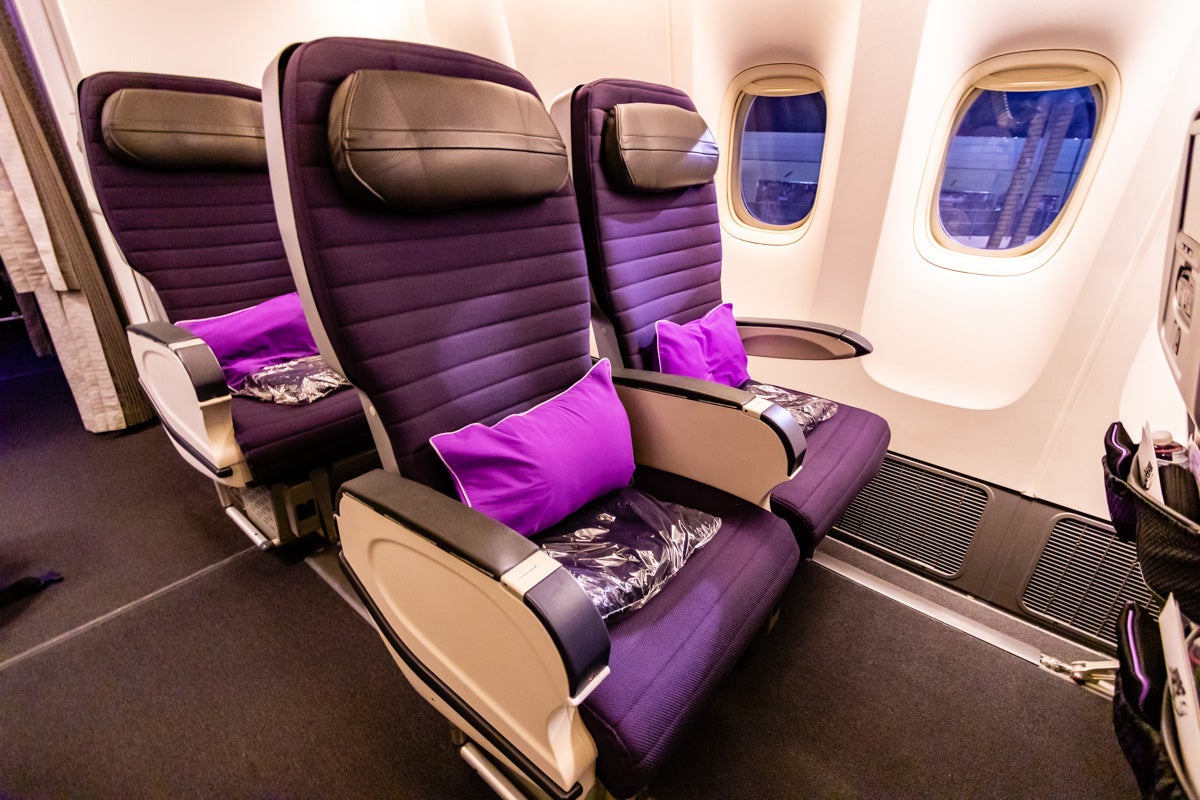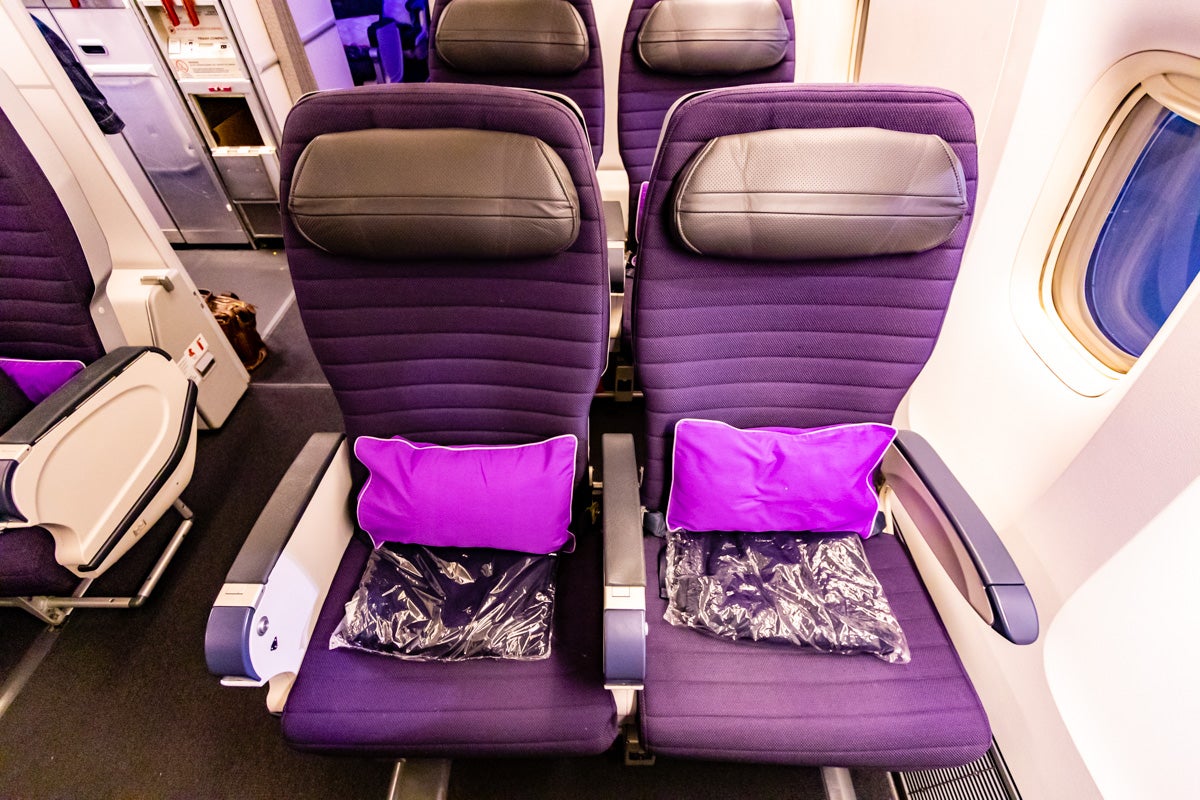 I'm one of these travelers who loves a window seat, but also gets anxiety about having to climb over a stranger in the middle of the night to visit the bathroom. However, my fears of this were allayed with my choice of seat 16A thanks to the ample leg-room that enabled me to easily step over my seat mate's legs in the middle of the night.
As with most premium economy seats, there is the total absence of a tray table on the back of each seat. Thanks to the considerable space between each row of seats, all tray tables are accessed from the armrest of your seat.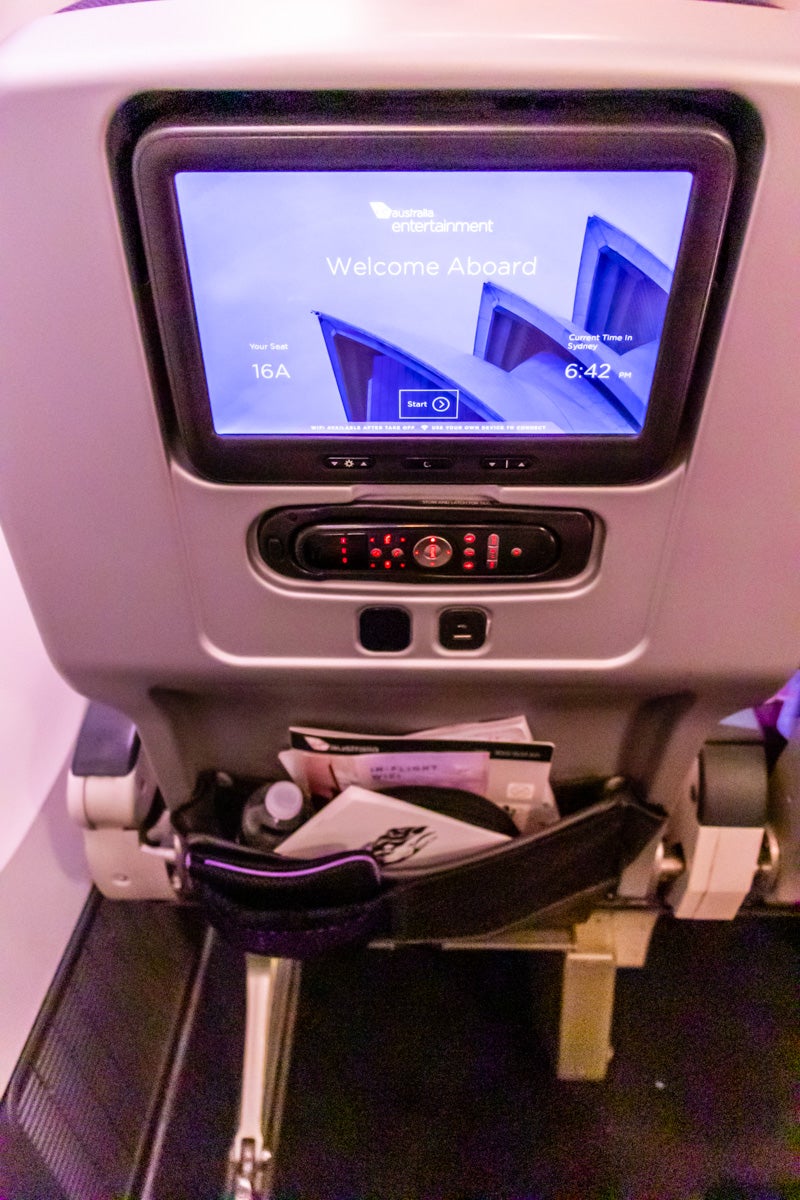 The lack of tray tables does enable Virgin Australia to pack a lot more into the seat pocket in front of you, which is where you'll find a bottle of spring water, a set of noise-canceling headphones, and an amenity kit. Above this is a USB port, your Inflight Entertainment (IFE) remote, and your seat back IFE system. If you are in a bulkhead seat, your IFE remote will be in your armrest.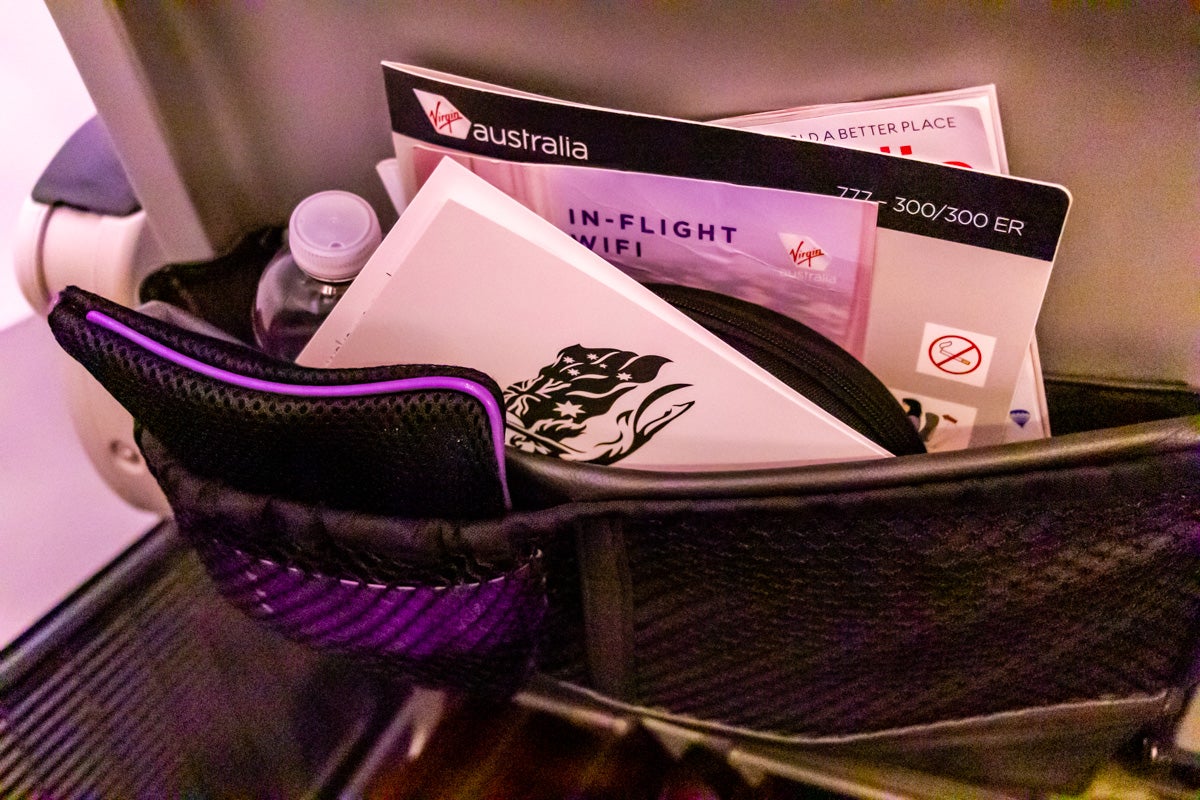 Flying to the U.S. 2 weeks previously with Virgin Australia, I had a great sleep in my fully flat bed in business class, so I was keen to see how I could maximize my rest in the premium economy seat. I reclined the seat as far as possible (9 in. or 22.8 cm) and as I'm only 5'10", I slid down the seat to capitalize on the extra legroom.
I used the supplied pillow for lumbar support and the headrest 'wings' to stop my head from lolling about. With a blanket over me and my sleep ye-mask to keep out the light, I had a comfortable, and fairly unbroken, 5 to 6 hours of sleep.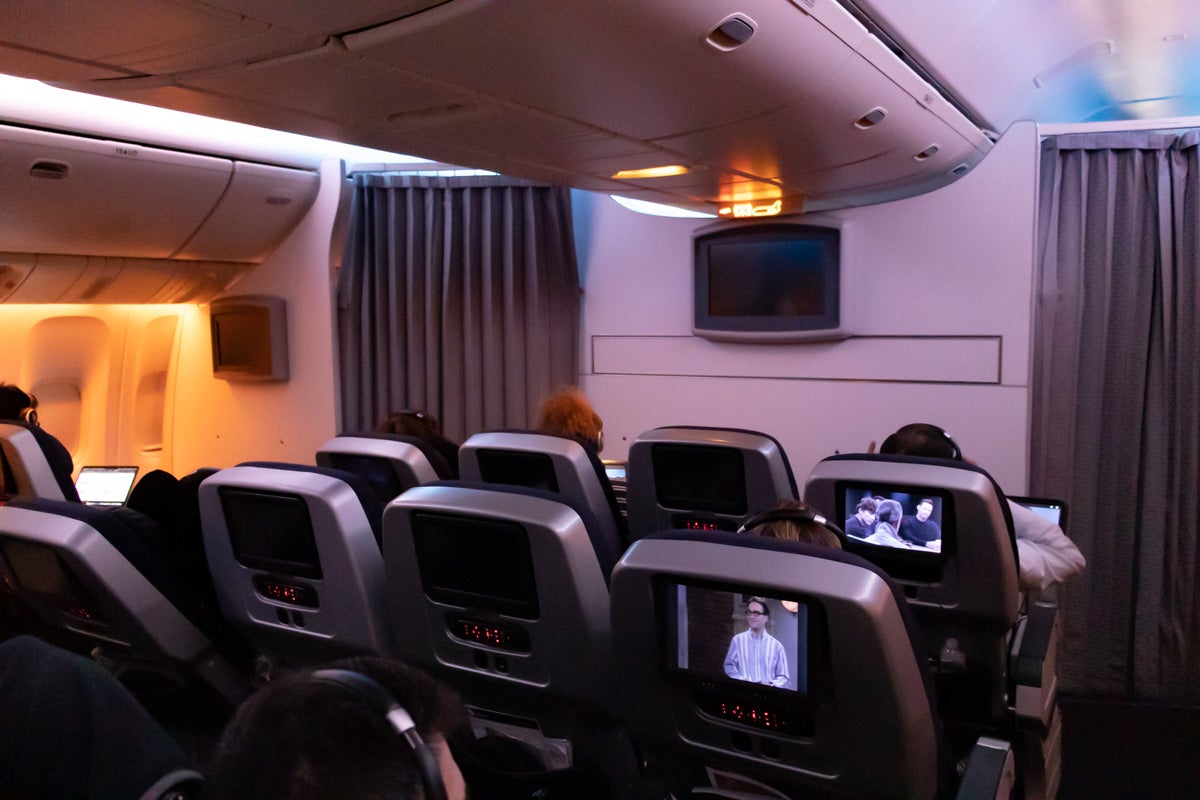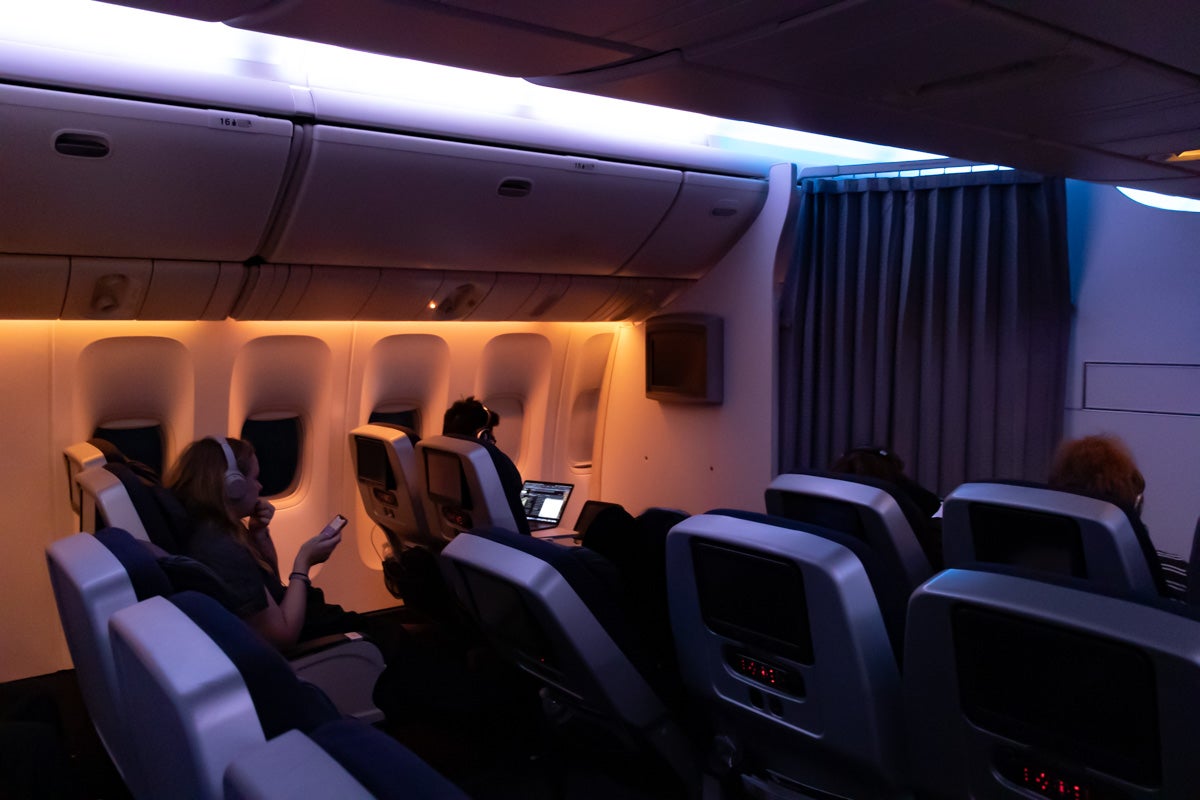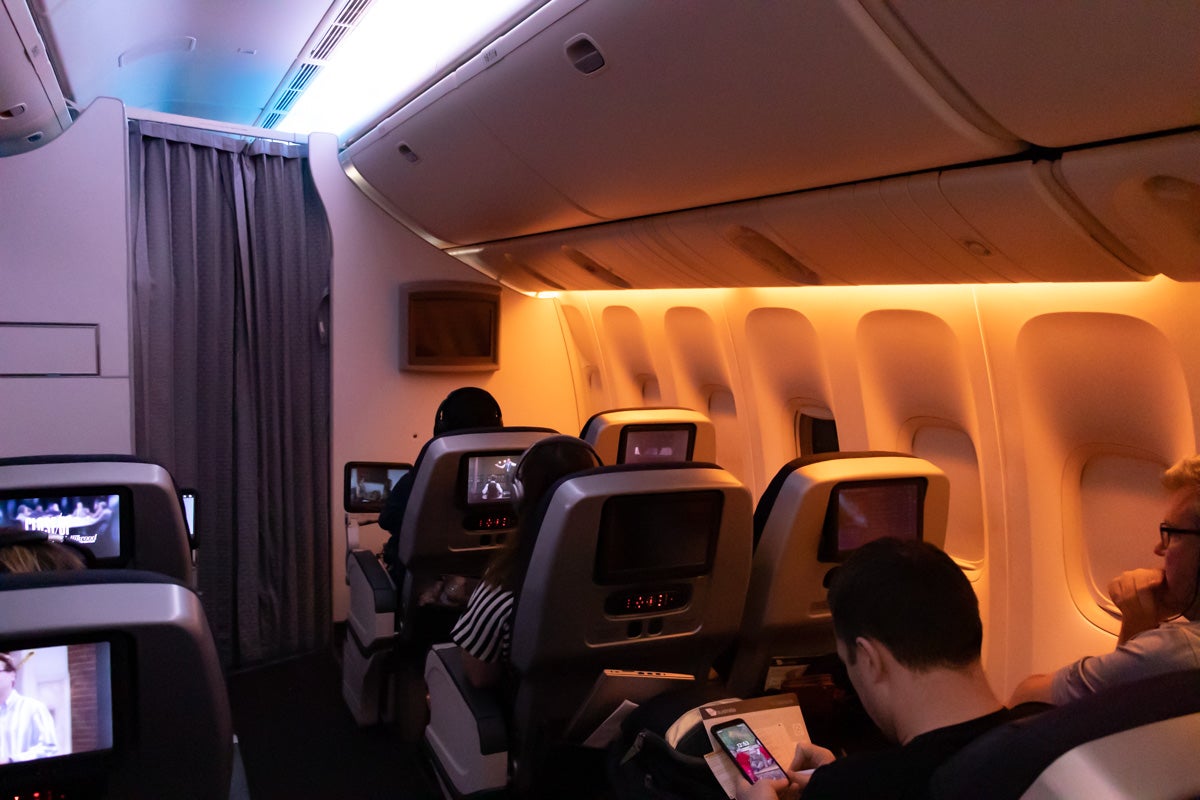 Entertainment
A 10.6-inch touchscreen is fitted to the seat back of each chair in the cabin and features a good selection of movies, music, and television shows.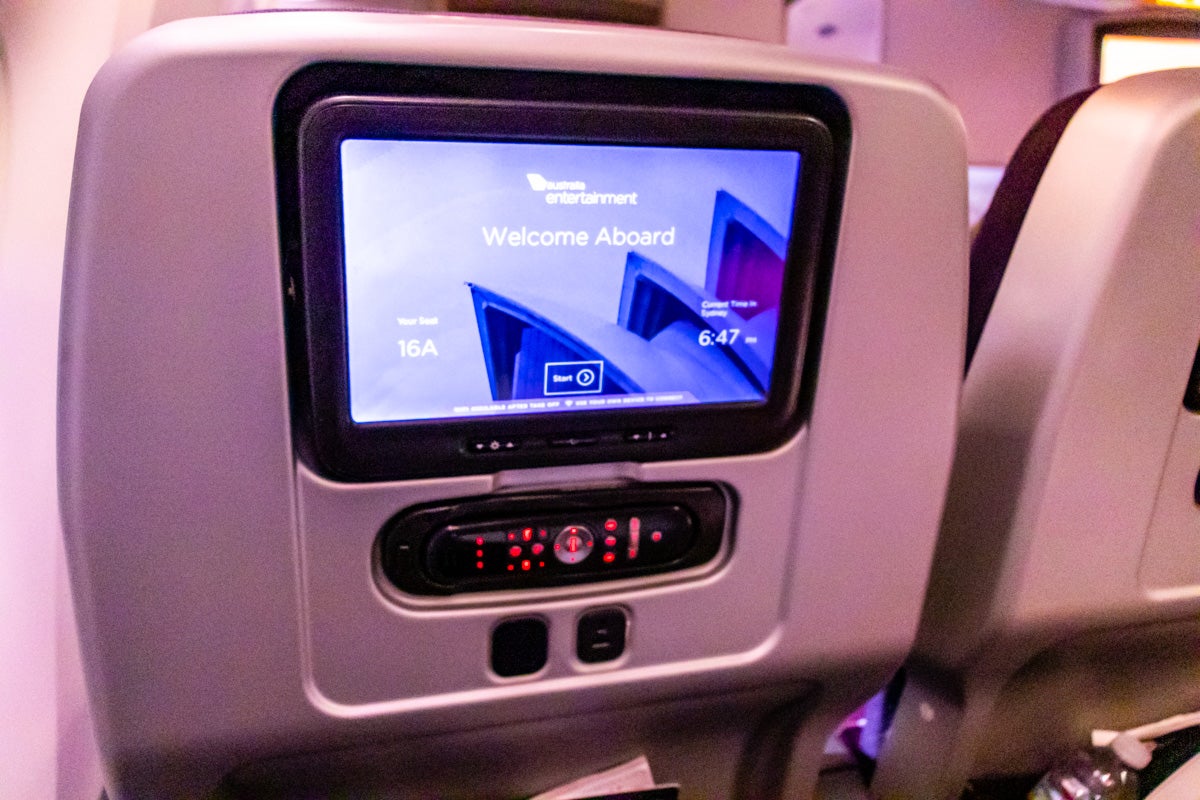 Noise-canceling headphones were supplied, but I chose to use my own Bose headphones instead. You'll find the headphone jack in your armrest near where you access your foldaway tray table.
You can control the IFE system via touchscreen or the remote control that is embedded underneath the screen that easily detaches for handheld use.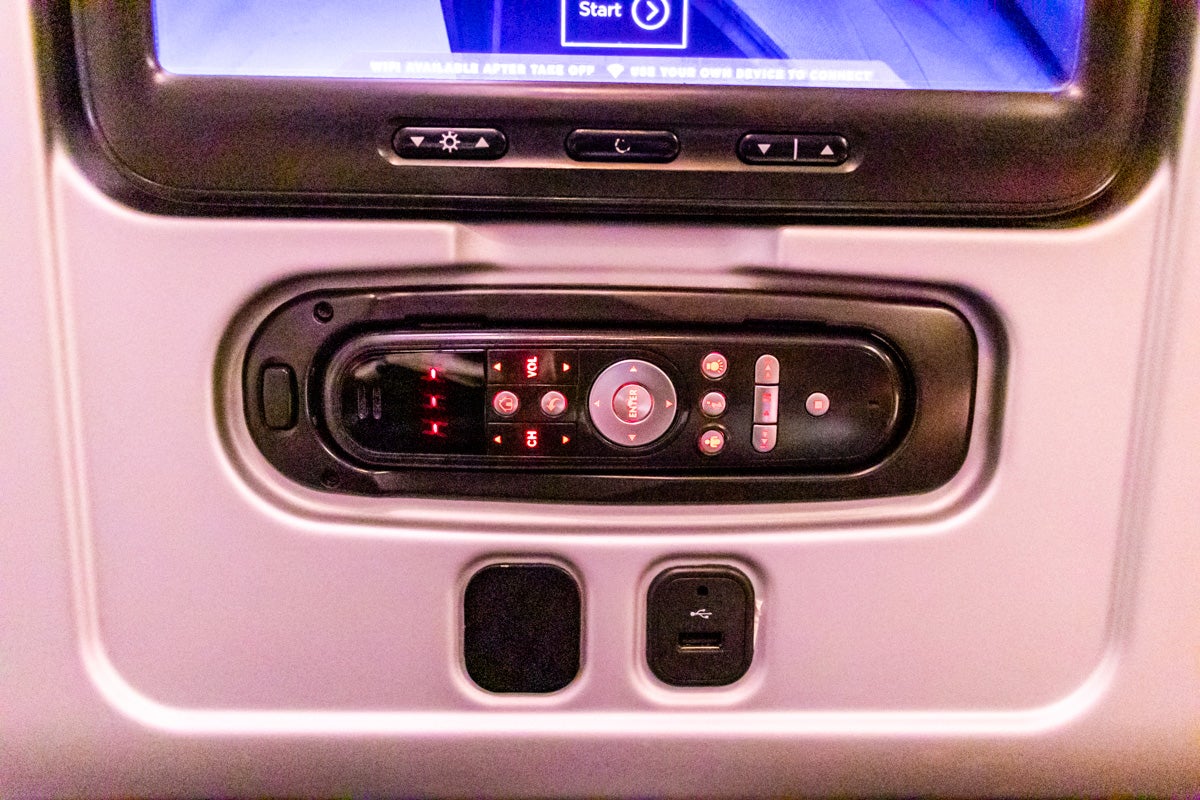 Wi-Fi was also available on my flight; however, after a few weeks of emails, texting, and Instagramming in the U.S., I didn't connect during this flight and remained on flight-mode. However, if you'd like to access the Internet during your flight, the Wi-Fi plans at different price points are available.
Amenities
In the amenity kit, you'll receive a set of earplugs, a pen, an eye-mask, and a pair of socks to use during the flight. Unfortunately, during the 24 hours our flight was delayed, the cleaners went through our aircraft and removed all the amenity kits so there were no replacements waiting for us when we boarded our rescheduled flight the following evening. I did however ask for, and was given, an eye mask to help me sleep.
Meal
Before take-off (on both flights) I was offered the choice of Bridewater Mill Pinot Chardonnay (AUD $18 a bottle), still water or orange juice. I selected the sparkling chardonnay on both flights as my pre take-off beverage of choice.
Before takeoff, the very attentive Chrisa came around to each of us in the cabin and asked if we would like to change any of the meal selections that we had made the previous night before our flight was canceled and we were offloaded. Most of the passengers, myself included, chose to stick to the selections they had made the night before.
As it was a late-night flight, and because the dinner orders had already taken, starters were served approximately 30 minutes after takeoff. I'm a huge lover of pumpkin soup, so I couldn't go past this option on the menu—and it didn't disappoint! The soup was served at a perfect temperature to consume immediately along with your choice of a selection of warm artisan breads.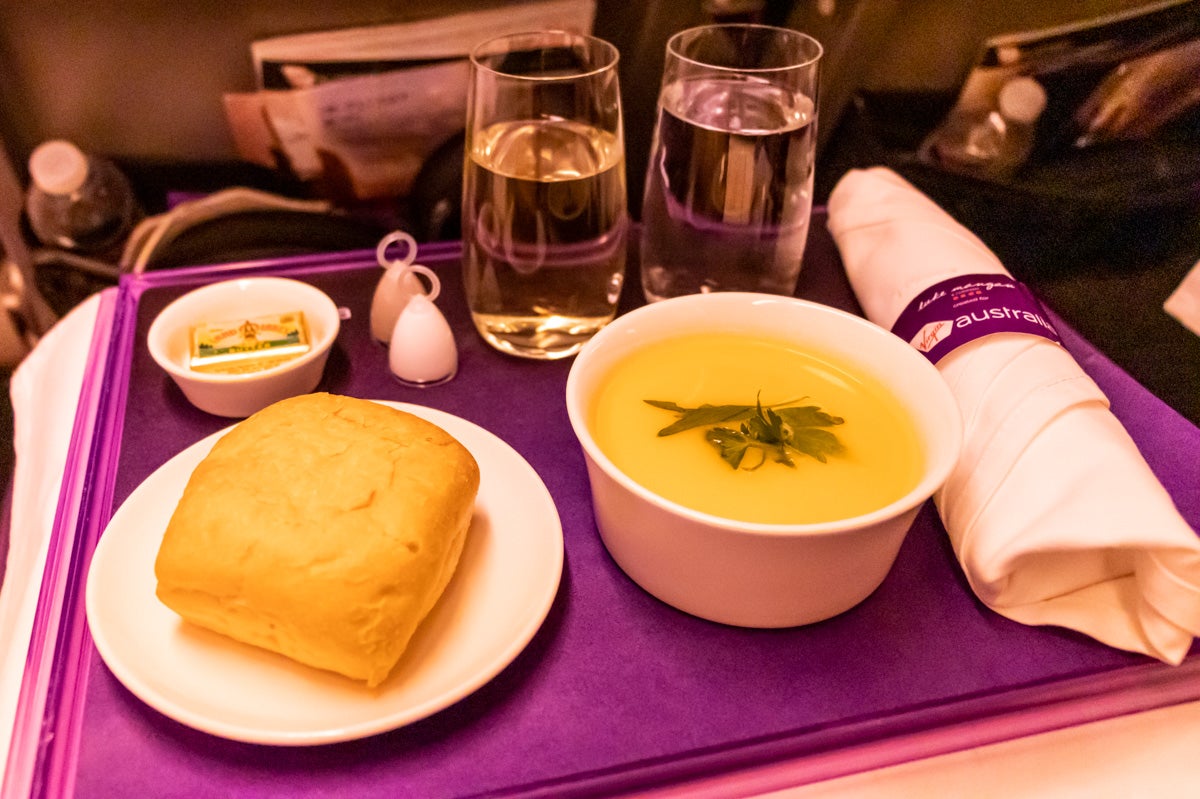 As I had already had a glass of white wine in the lounge before boarding, I decided to pair my meals with the 2017 Eddystone Point Sauvignon Blanc from Coal Valley in Tasmania (~$18 a bottle). And to stay sensible, a glass of still water.
The other starter option was:
Salad of farrao and chicken, with a choice of artisan breads.
For my main meal, I selected the slow-cooked beef and mushrooms with mashed potatoes. Meat of any kind is can be difficult to perfect at altitude, but Virgin Australia always seem to get it right, and my main was no exception.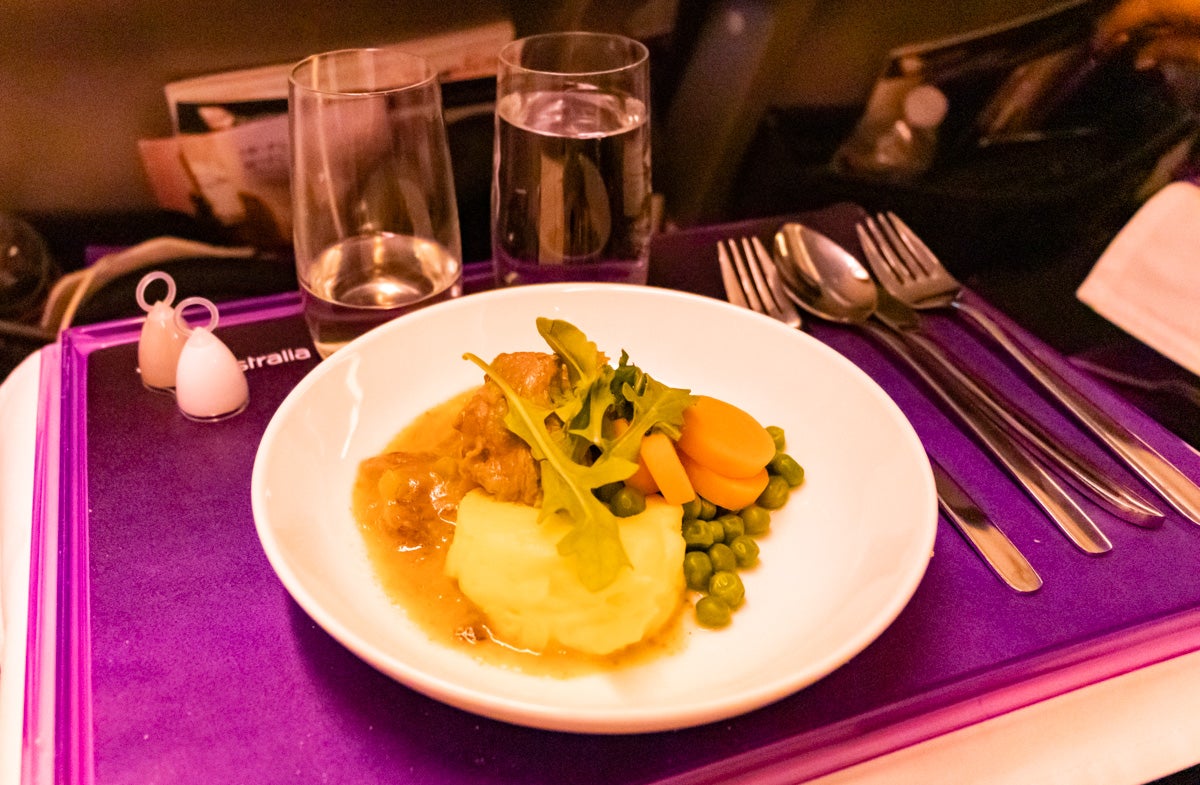 There other main options were:
Chicken curry with rice and steamed vegetable panache; or
Vegetable pasta in rich tomato sauce
I'm not usually a big dessert eater, and will often skip this course while traveling. However for the purposes of this review, I selected the cheese platter that consisted of a Mobay from Carr Valley in the U.S. and a Saint-Nectaire from France. Both cheeses were accompanied by grapes and crackers and paired beautifully with the 2017 Eddystone Point Sauvignon Blanc that I had chosen to accompany all 3 courses.
The other dessert option was:
Mango cheesecake with berry coulis.
Breakfast was pre-booked via "wake-up cards" when we boarded (albeit two nights before) and served approximately 2 hours before landing in Sydney. All your breakfast selections are delivered to you on a single tray. I chose to enjoy Spanish omelet with hash brown and pork sausage with orange juice, an artisan-style roll, and a long black coffee. A long black is similar to an Americano, but with stronger taste and aroma.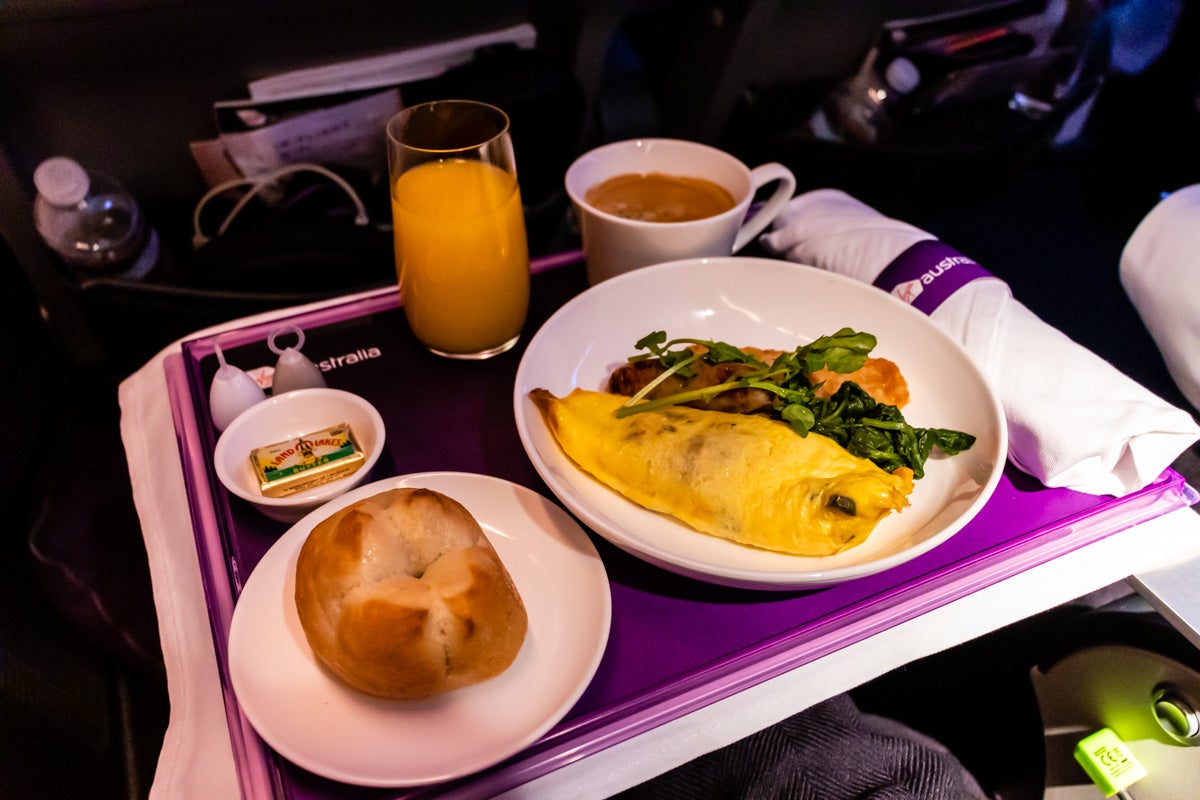 The other breakfast options were:
Pear and ricotta crepes with caramelized walnuts; or
Herb and cheese frittata, pan-fried potatoes and roast tomato
If the range of available menu options during the flight still leaves you still feeling peckish, premium economy guests also have exclusive access to the "Pantry"—a self-service gold-mine at the rear right of the cabin that contains a plethora of snacks including almonds, pretzels, chips, muesli bars, cookies, chocolate bars, fresh wraps, sandwiches, pizza, and even ice cream!
If you need a beverage, you can help yourself to soft drinks, juice, and there's even a stash of wine if you need a midnight nip before heading off to sleep.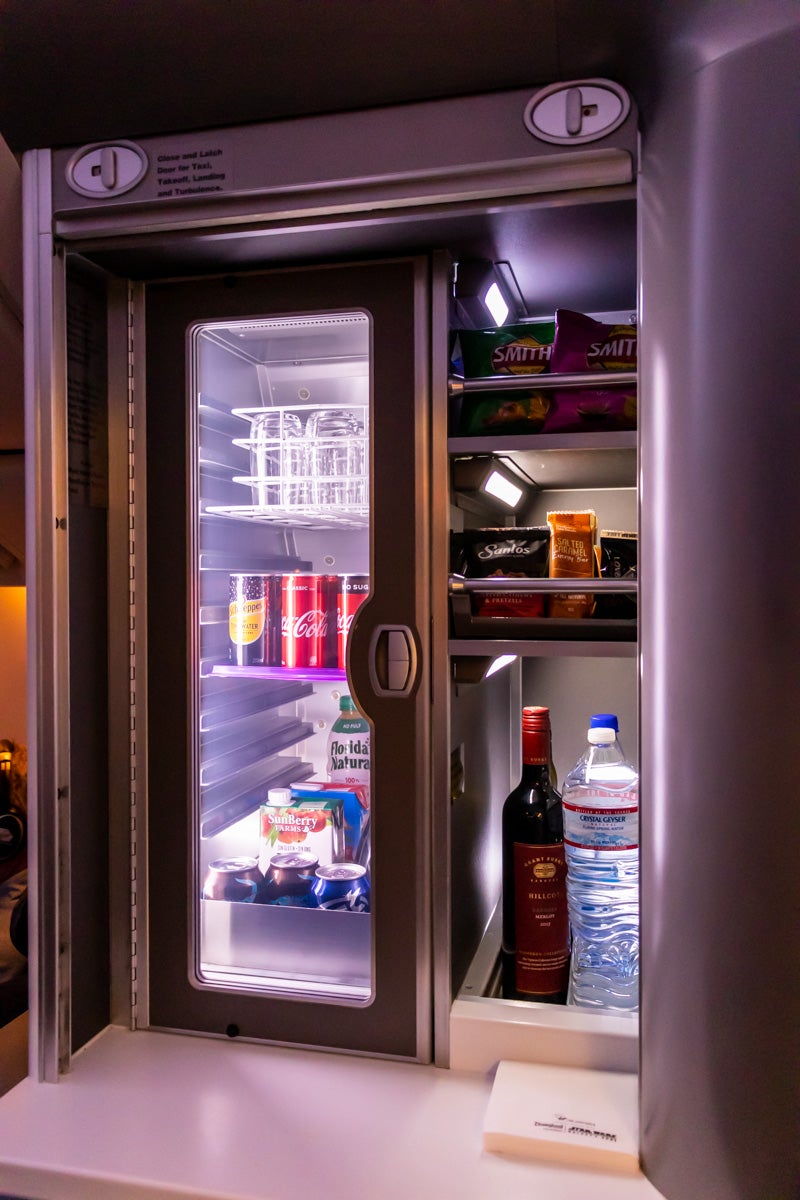 Service
This was definitely not the usual LAX to SYD trip for VA2. With the delays due to the maintenance issues, the eventual cancellation and rescheduling of the flight the following evening—it could have easily led to a degradation of service due to the unusual and stressful situation. However, the Virgin Australia service remained flawless throughout.
The ground crew was very helpful during the delays, and Chrisa and Devon, who were the attendants taking care of us in the premium cabin, couldn't have been more helpful and hospitable on both flights. Absolutely nothing was a problem for them, and they went above and beyond to lift everyone's mood and cater to our needs on both evenings.
Final Thoughts
For me, this experience reaffirmed that exceptional customer service transcends every cabin at Virgin Australia. I've now flown economy, Economy X, premium economy, and business class, and the service is always of the highest standard.
Whilst the canceled flight is not something that I would care to experience again, it did give me the opportunity to see how Virgin Australia handle these situations and I was thoroughly impressed.
The premium economy seat is very comfortable and the space between each row of seats definitely differentiates the cabin from Economy X and economy and it's a great option if you don't have the extra 23,800 Velocity points or can't find availability in 'the Business'.
Interested in the pilot's perspective? Explore the Boeing 777 from a pilot's perspective.
---
All images are credited to Lucas Picton