The Monterrey, Mexico (MTY) American Express Centurion Lounge at Terminal A [Location, Hours, Amenities]
American Express operates many Centurion Lounges worldwide, with over 40 locations from which to choose. Each of these lounges offers a varying level of amenities and services, but in general, it is an upper-end lounge with complimentary Wi-Fi and beverages, as well as areas to work and relax.
In this post, we'll be looking at the American Express Centurion Lounge in Monterrey, Mexico, one of several American Express lounges located in Mexico.
We'll look at:
How to access the lounge
Where the lounge is located and it's operating hours
What amenities are offered in the lounge
How to Access the Centurion Lounge Monterrey
To access the lounge, you need one of American Express's premium credit cards. These include complimentary access to all Centurion or American Express lounges throughout the world:
Centurion® Card from American Express
You'll present one of these cards, along with your boarding pass and identification to the check-in agent as you enter the Lounge.
There are a few rules you should be aware of when using this Centurion Lounge:
You must have a same-day, confirmed seating assignment and boarding pass for a flight departing Monterrey. You technically cannot be flying standby or non-revenue since these don't include confirmed seat assignments.
You can only enter within 3 hours of departure. If you arrive more than 3 hours before the flight, you can be refused entry. It's worth noting that this lounge is nothing worth arriving more than 3 hours before departure for, so you shouldn't have to worry about violating this rule.
You cannot enter the lounge upon arrival. Since this lounge is within the domestic terminal, if you're arriving on a domestic flight, you can't use the lounge at that time. It's only for departing passengers only.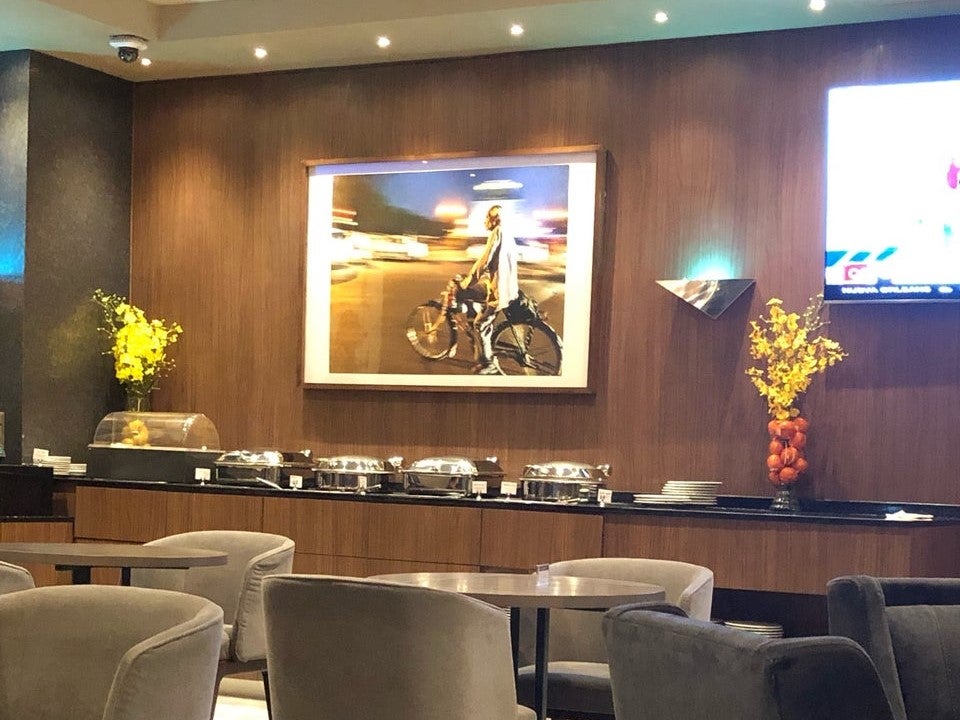 Lounge Location
The lounge is located in Terminal A, past security, near gate 4. American Express further describes the lounge as "in the blue building with red columns." There is a separate Centurion Lounge located in Terminal B that is temporarily closed.
Operating Hours
The lounge is open from 5 a.m. to 11 p.m., which is perfect for those flying out early or late.
Lounge Amenities
This lounge features:
Complimentary light snacks and meals for a fee
Alcoholic and non-alcoholic beverages
Televisions, newspapers, and magazines
Wi-Fi
Food and Beverage
This lounge is different than some other American Express lounges since there is a charge for food. There are several light bites you can grab for free, such as snacks and a few warm options from the small buffet, but if you want anything more substantive, you'll need to pay.
Here is what you can typically expect to be able to order in the lounge for breakfast, though your food offerings may differ upon arrival:
Papaya, berries, and yogurt
Scrambled eggs, Rancheros eggs, and egg tortillas
Mexican specialties such as chilaquiles and molletes
French toast and pancakes
Here is what you may be able to choose from for lunch and dinner:
Made-to-order pizzas
Sandwiches, salads, and soups
Light Mexican fare such as quesadillas
Prices tend to be quite reasonable — around $5-10 per entree — and you'll want to consider bringing cash to tip at the end of your meal.
Well drinks are complimentary and are served at the bar. There is a menu on-site which offers the prices of the more expensive premium options.
Bottom Line: While beverages and light snacks are complimentary, meals are not, so you will need to pay for all hot food ordered.
Restrooms
This lounge does feature a clean set of restrooms, but there are no spa facilities on-site, unlike other larger American Express lounges.
Wi-Fi
The lounge features high-speed Wi-Fi, which is reported by others to be hit or miss as to whether it is fast enough for larger downloads. In anticipation of this, you may want to download any larger files before arriving at the lounge.
Bottom Line: Wi-Fi is slow, so you may want to consider using your phone or a personal hotspot for faster service.
Televisions and Entertainment
The lounge offers a few televisions broadcasting international news stations, though these may be in Spanish, so if you're an English speaker, you may want to bring your own entertainment. There are a few racks of magazines and newspapers for your enjoyment, too.
Final Thoughts
The American Express Centurion Lounge in Monterrey, Mexico is small and has limited amenities, however, it is one of the few places to relax before flights at Monterrey airport.
It's definitely a better option than waiting in the terminal, so if you have one of American Express' premium credit cards, it's certainly worth stopping in if you arrive at the airport before your flight.