The 100+ Best Virtual Tours and Field Trips for Kids and Students [2021]
With the world stopped and kids getting restless at home, parents are dreaming of the days where field trips were still something to look forward to.
Now that many attractions have implemented crowd limits for the near future, visiting museums, parks, aquariums, and our other favorite spots may need to wait until the coronavirus (COVID-19) is under control.
Fortunately, many of these incredible places offer virtual tours! We have compiled the ultimate list of everything from amusement parks to zoos so that you and your little ones can enjoy them from the comfort and safety of your own home!
Amusement Parks with Virtual Tours
It may be hard to get the full experience of an amusement park from home, but thanks to some incredible videography, you can almost feel the butterflies in your stomach!
Here are some of our favorites!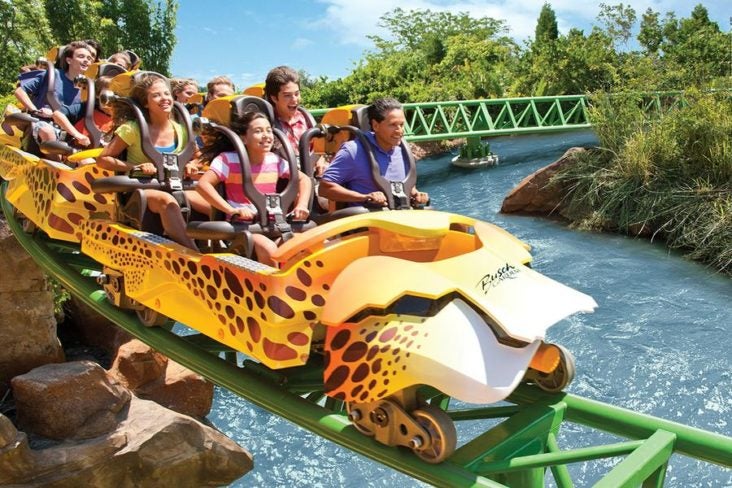 Busch Gardens in Tampa, Florida is known for its thrilling roller coasters. Now you can experience them from home.
Thanks to some awesome 4K footage uploaded to YouTube, the SheiKra, Kumba, and Cheetah coasters are just waiting for you.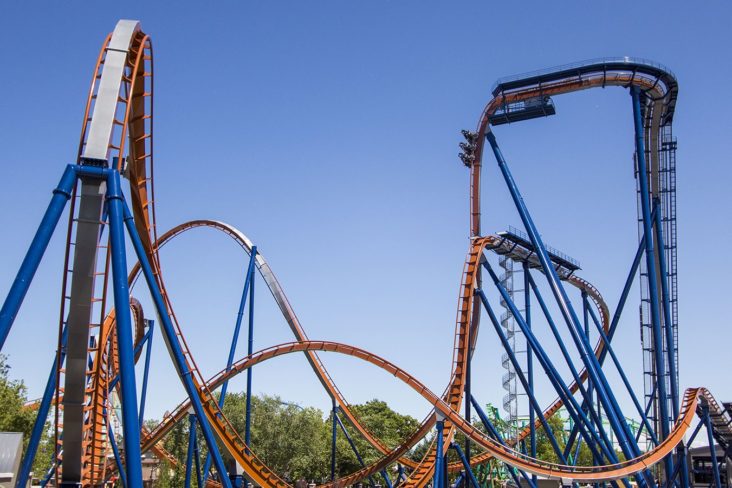 Cedar Point in Sandusky, Ohio is home to 71 rides, including the award-winning Steel Vengeance hyper-hybrid coaster. The second-oldest amusement park in North America, Cedar Point is known as "The Roller Coaster Capital of the World."
Want to see why? Check out its official YouTube channel full of POV videos of the rides here.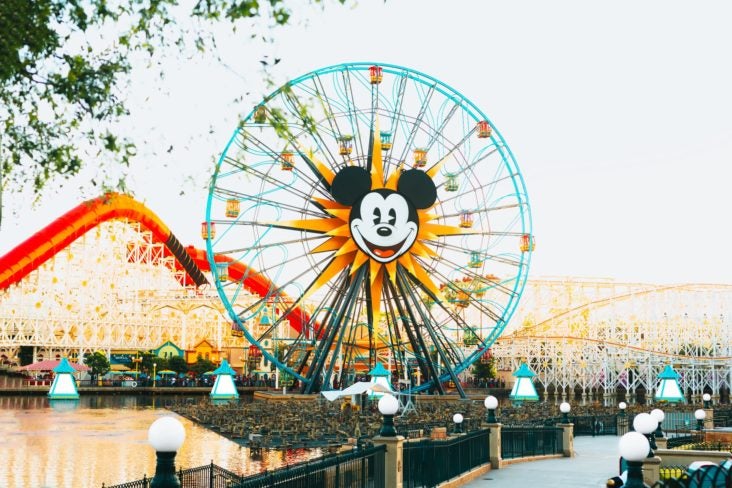 Disneyland in Southern California needs no introduction. It's the only theme park designed and built to completion under the direct supervision of Walt Disney and has a classic feel to it despite the constant improvements. One of those improvements is Star Wars: Galaxy's Edge.
Experience this intergalactic world and go on a video ride on the Millennium Falcon: Smuggler's Run attraction here.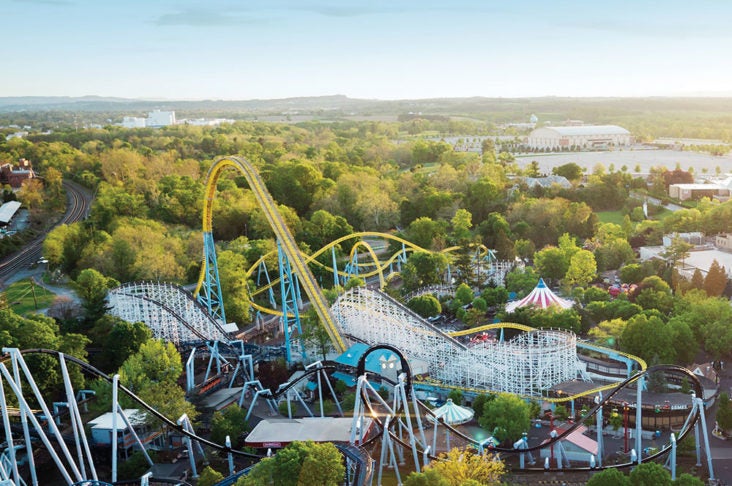 Hersheypark is a family theme park about 100 miles outside of Philadelphia, and is, you guessed it, owned by The Hershey Company, one of the largest global chocolate manufacturers.
While you might not be able to go on a factory tour and tasting, you can grab a Hershey Milk Chocolate Bar, sit on the couch, and take a virtual tour on 15 of the park's roller coasters here.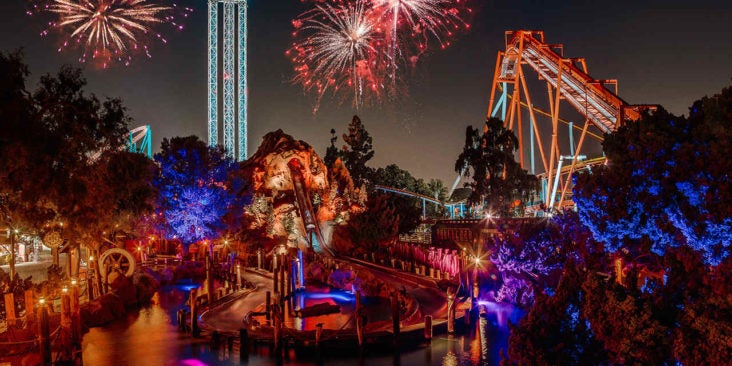 Knott's Berry Farm is not what the name suggests, although it once was. What started as a small berry farm is now a very popular theme park full of attractions and entertainment for all ages in southern California.
If you want to check out the 10 fastest rides and roller coasters at the park, check out this YouTube video.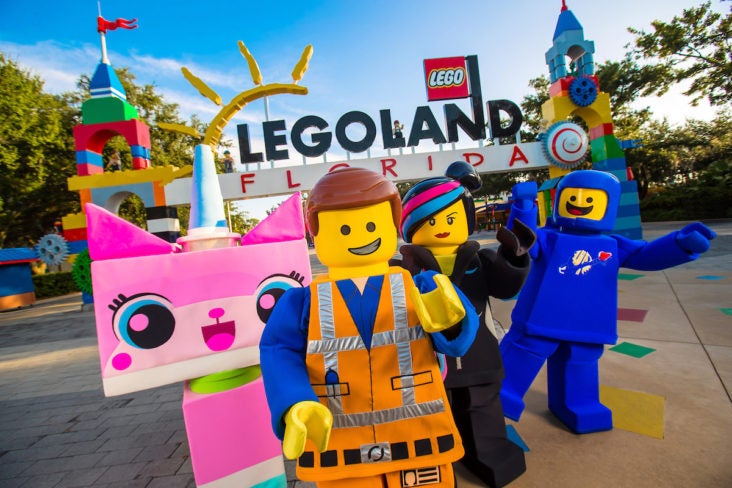 LEGOLAND gets overshadowed by a couple of other theme parks in the Orlando area, but this park is no joke. With some great roller coasters, including a virtual reality option, there is something for everyone.
If you are interested in VR, you will want to check out this video of The Great LEGO Race.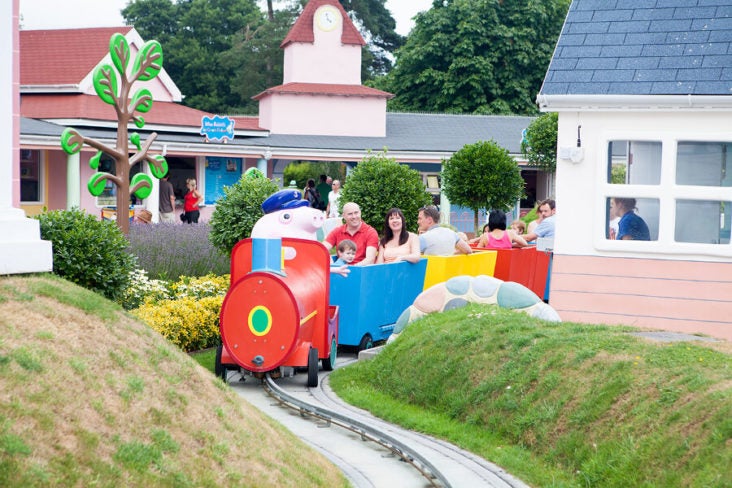 Hop across the pond and visit the fun little world of Peppa Pig and her family! Go for a ride on Grandpa Pig's Little Train, Miss Rabbit's Helicopter, and of course, jump in some muddy puddles!
Check out the official virtual tour video, here.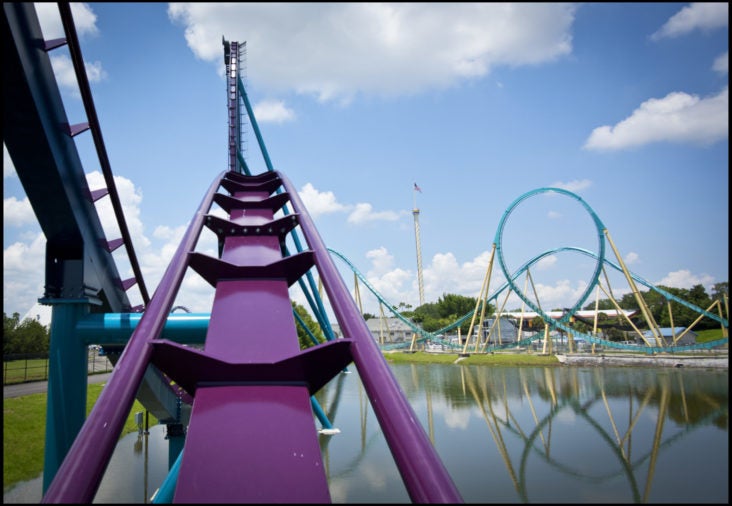 SeaWorld has made some serious investments when it comes to its roller coaster game. Mako, Kraken, and Manta are a few of the top rides in the area.
Although parks are starting to open up, you may enjoy this 4K POV video onboard Mako from the safety of your own home.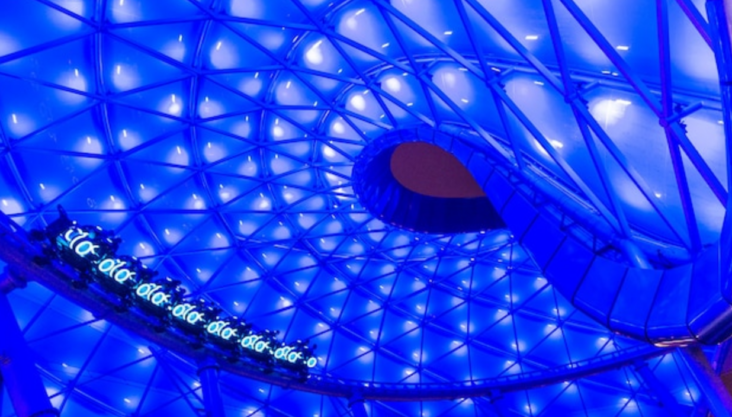 Shanghai Disneyland is home to the world's only TRON Lightcycle Power Run ride, though one is scheduled to open at Walt Disney World in Orlando in 2021 for the park's 50th anniversary. It is one of the best rides in the world and many Disney fans admit that it is better than most other Disney roller coasters.
Fortunately, you don't need to fly to China to experience this futuristic ride. You can ride along in HD thanks to this YouTube video.

Situated between New York and Philadelphia, Six Flags Great Adventure is a popular theme park thanks to its fast and high-tech roller coasters, family and kids rides, and wildlife exhibits.
If you are in the area, you can visit the drive-thru safari, but if not, there is still plenty to check out including the world's tallest VR drop ride free fall POV of Zumanjaro: Drop of Doom.

Dubai truly is impressive. Who would think that you could go skiing in the middle of the Arabian Desert? And not sand skiing — on real snow!
Well, thanks to some impressive engineering (and a hefty electric bill) visitors can take their shot at the world's first indoor black diamond run.
Think we are joking? Strap on your VR goggles and check out these 360-degree videos.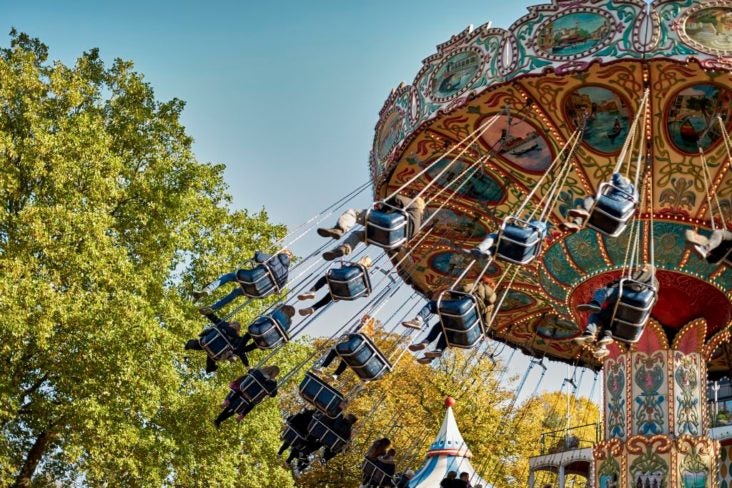 At more than 150 years old, Tivoli Gardens is the oldest amusement park in Europe. Besides the gorgeous decorations and history, the park offers dozens of rides for all ages.
Go for a virtual ride on The Demon roller coaster thanks to this fun video.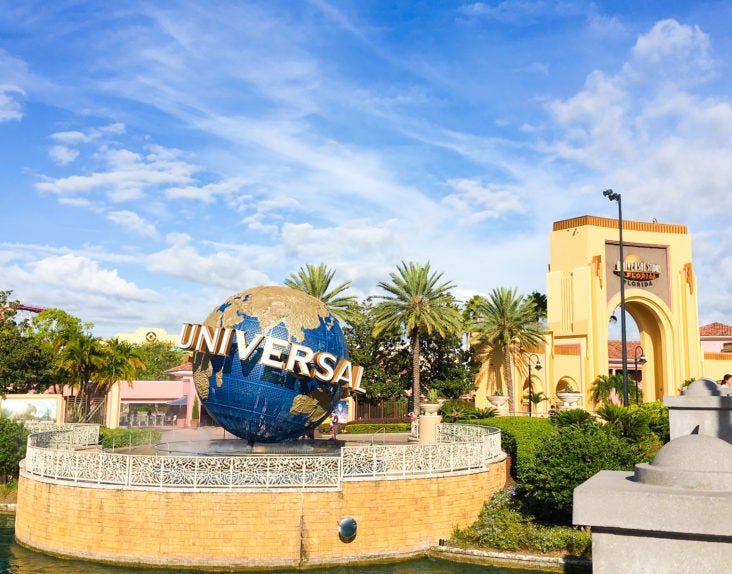 Universal Studios and Universal Islands of Adventure in Orlando have long been known for their excellent and thrilling rides. With near-constant updates and new additions being made, thrill-seekers are always in for a treat.
Since many of us are still waiting for our next trip, some virtual rides will need to fill the void. Be sure to check out these great videos of the rides like Hollywood Rip Ride Rockit and Hagrid's Magical Creatures Motorbike Adventure at the Wizarding World of Harry Potter.
Universal also has some excellent videos on its YouTube channel with more rides and the very interesting "The Science of Universal Orlando Resort."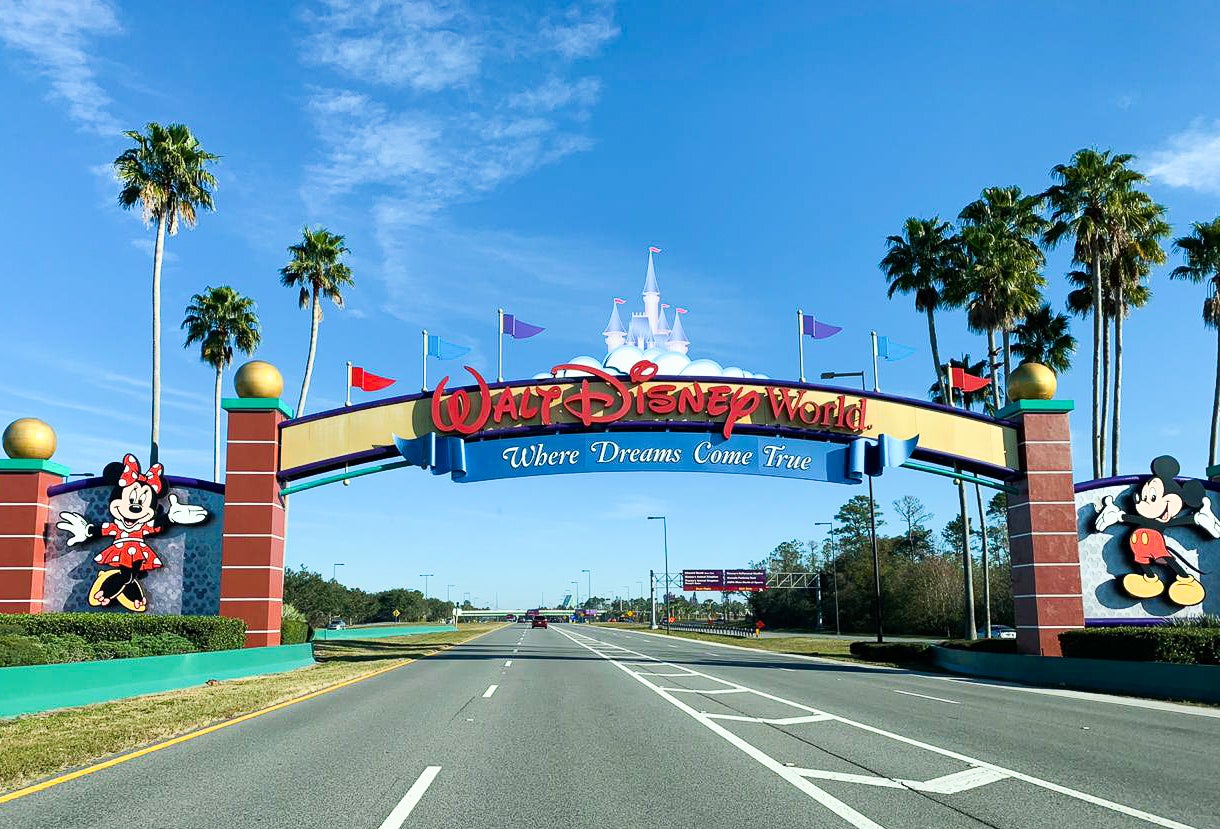 When it comes to theme parks, the gold standard is Walt Disney World. With that special Disney magic paired with some of the most sought-after rides in the world, you may find yourself taking virtual tours long after things get back to normal.
While many rides generate hours-long wait times, you can skip the line and take a virtual tour any time that you want. Some of our current favorites are Star Wars: Rise of the Resistance and Slinky Dog Dash at Hollywood Studios.
For the real Disney fans out there, it will be hard to run out of fun content. Be sure to check out this Disney On Stage educational content which is full of fun theatrical activities to do at home, broken down by age groups.
If you are feeling crafty, these DIY projects from Disney Family are sure to be a hit.
And, lastly, #DisneyMagicMoments is full of magical activities with everything from learning how to cook Disneyland's Big Thunder Ribs to learning how to draw your favorite Disney and Pixar characters.
Hot Tip: Are you planning a trip to Orlando? Be sure to check out our article on the best places to stay in Orlando for your Disney vacation before you book.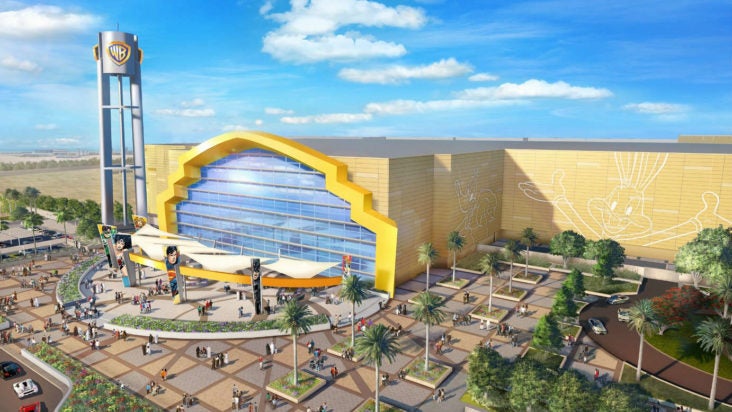 When you think of the United Arab Emirates, the phrase "world's largest" gets used a lot. And when it comes to theme parks, that is no different. This time the title of "World's Largest Indoor Theme Park" goes to Warner Bros. World in Abu Dhabi.
Get comfortable and explore all of the park's rides with this 18-minute long 4K video.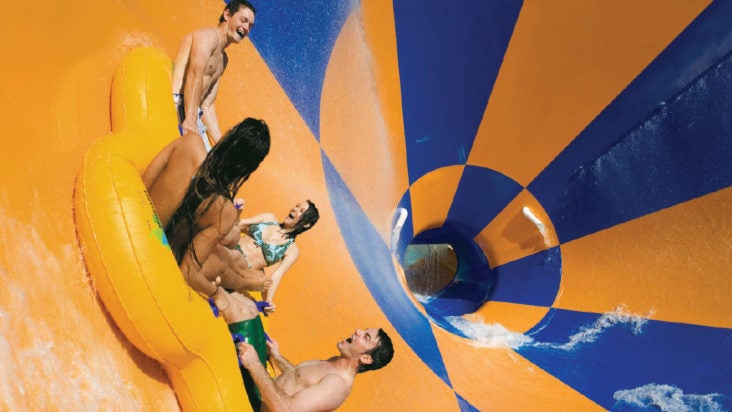 Who doesn't love a good waterpark? Well, you will find one of the best in Queensland, Australia at Wet'n'Wild Gold Coast.
With some massive slides for thrill-seekers to more family-friendly options, this park will give you one more reason to want to visit Australia.
If you don't want to wait, you can go for a ride via this POV GoPro video.
Aquariums with Virtual Tours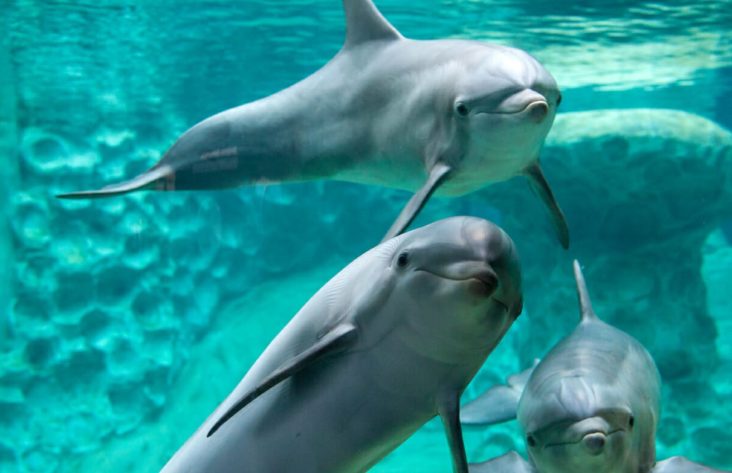 With over 10 million gallons of fresh and saltwater tanks, the Georgia Aquarium in Atlanta currently holds the record as the third largest aquarium in the world (formerly the largest from 2005-2012).
With everything from whale sharks and beluga whales to lizards and seahorses, there is something for everyone.
Even better, you can check in on your favorite animals from home thanks to these awesome live webcams. The At-home Learning page offers lesson plans and resources, weekly #FieldTripFriday videos, and also provides updates and details for the animals in the facility.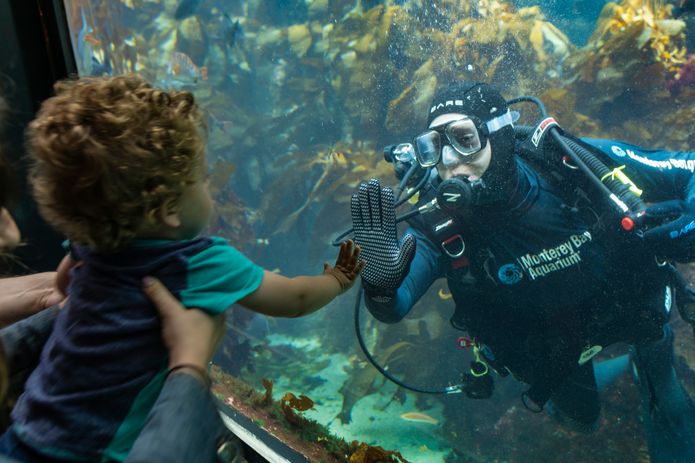 The Monterey Bay Aquarium is a gorgeous aquarium on the edge of the water along the central California coast. While you should certainly add this aquarium to your list (because who doesn't need an excuse to drive the California coast?), until then, we've got you covered.
The aquarium currently has 10 live webcams that you can tune in to and watch some of the most beautiful creatures swimming around.
Whether you want to check in on the penguins, sharks, sea otters, or watch the Open Sea Exhibit, all you need to do is click here!
The National Aquarium in Baltimore has over 2 million gallons of water and more than 750 species for visitors to learn about.
Out of all of the aquarium virtual tours, this one is one of the best as you can "walk" through all of the exhibits at your own pace and enjoy 360-degree views along the way. Start exploring now!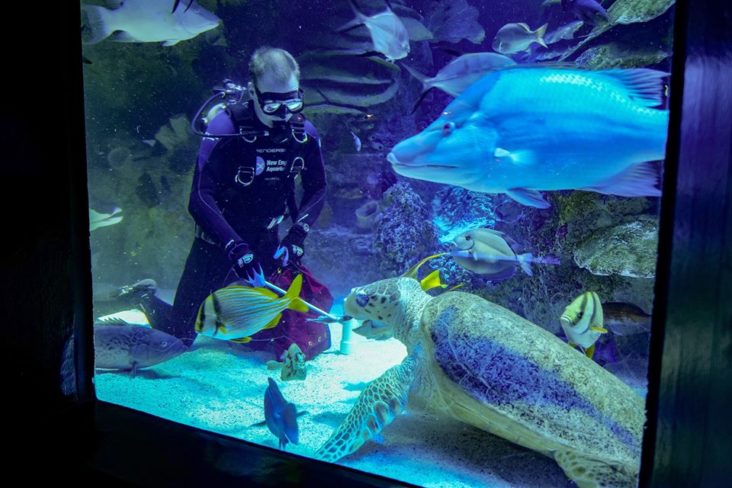 The New England Aquarium has everything for your virtual field trip. From live videos and demonstrations to activities to complete at home, you and your kids will be entertained for hours.
For more information, visit its website.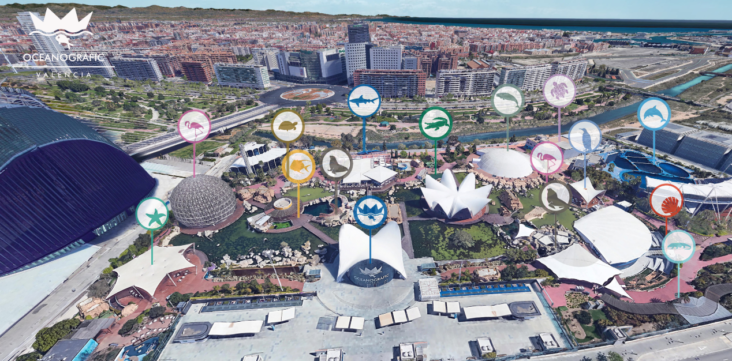 Visit Europe's finest and most futuristic marine complex from home! Composed of 9 elegant underwater towers designed by the famous Spanish architect Félix Candela, you may be just as impressed with the avant-garde architecture as you are with 500+ different species swimming around.
Take your own virtual tour here.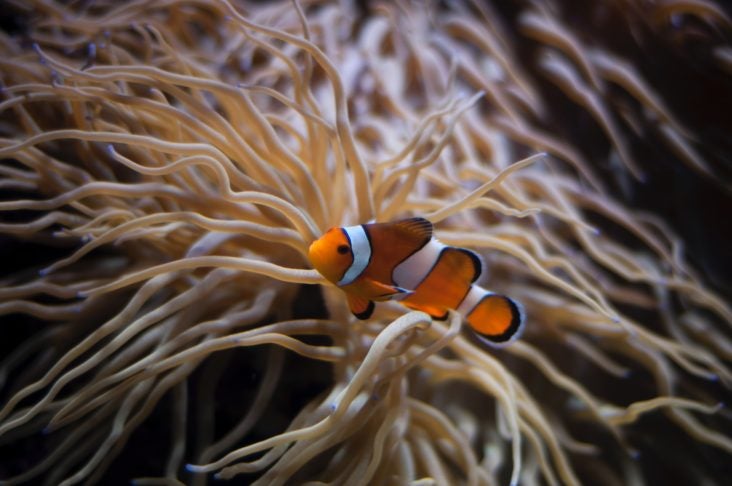 The S.E.A. Aquarium is the world's second-largest aquarium and is home to the world's largest collection of manta rays in captivity, including the unique giant oceanic manta ray. With 49 different habitats to explore, you could spend all day here.
Instead, you can enjoy a virtual tour thanks to this video! You can also visit the S.E.A. Aquarium Fun Academy, featuring arts and craft projects and brainteasers.
Famous Landmarks with Virtual Tours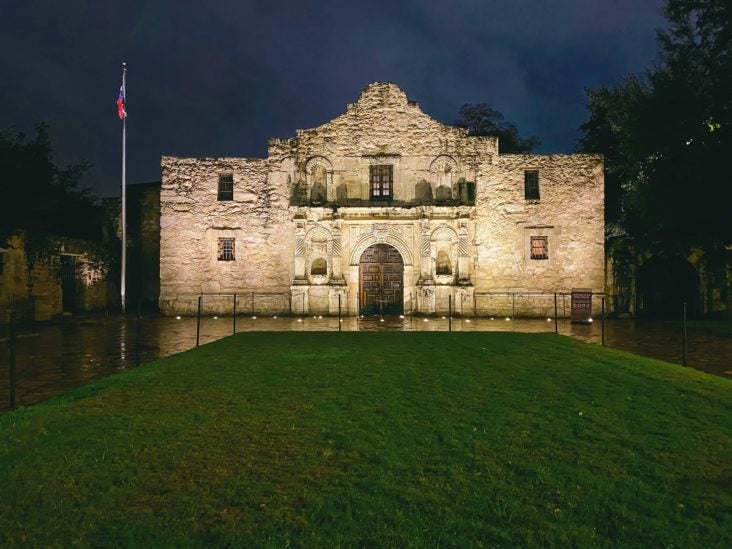 The Alamo Mission in San Antonio is a historic Spanish mission and fortress compound founded back in the 18th century. In 1836, It was the site of the Battle of the Alamo and today it's a museum in the Alamo Plaza Historic District.
Experience The Alamo in this high-quality virtual tour.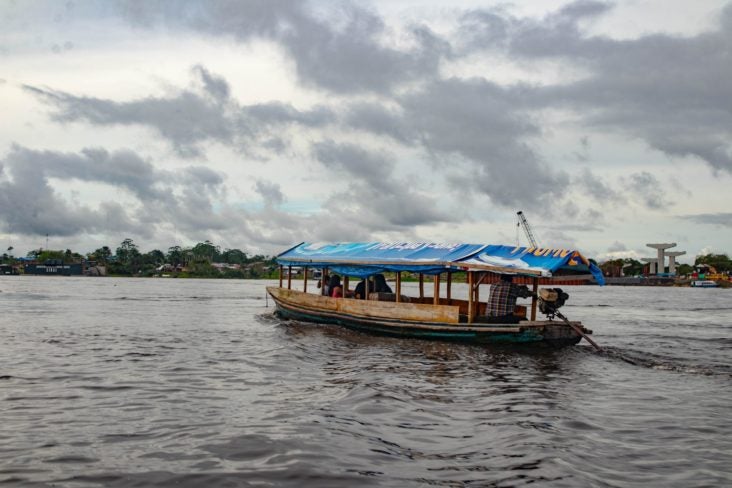 The Amazon Rainforest is one of Earth's most precious resources and represents over half of the world's rainforests, covering 2,700,000 square miles.
Home to an estimated 390 billion individual trees and millions of unique species from insects to dolphins, visiting the Amazon rainforest is an incredible experience. Unfortunate a trip can be quite expensive.
Fortunately, there is an incredibly in-depth, educational VR experience available courtesy of Conservation International.
You can either strap on your VR headset or visit the beautifully done website, here.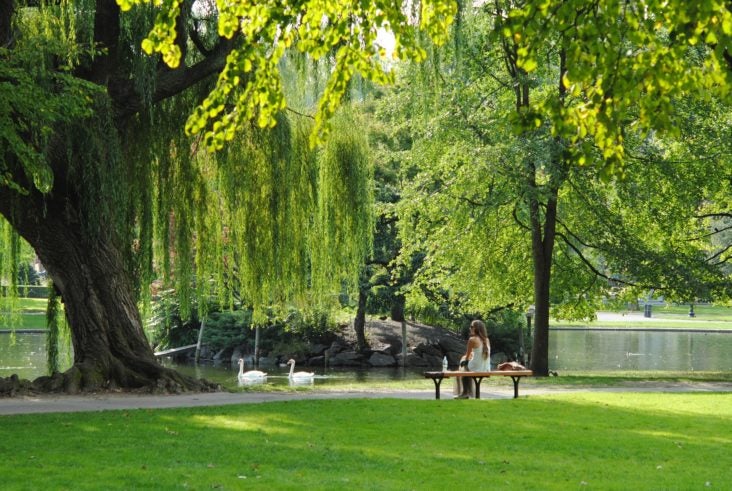 The first public botanical garden in America, established in 1837, the Boston Public Garden is full of unusual plants, a lagoon, and the famous Swan Boats which have been operating for over 100 years. A true gem in the heart of one of America's oldest cities.
You can go on an interactive 360-degree tour of the park here.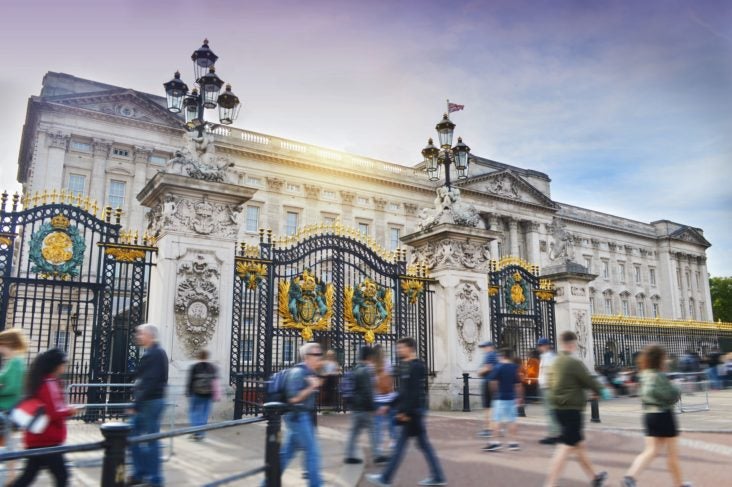 Buckingham Palace, in London, England is the official residence of the Queen, as well as the administrative headquarters of the monarchy of the United Kingdom.
While this iconic building is open to the public for tours for only a few months per year, know as the "Annual Summer Opening," you can visit year-round thanks to this virtual tour.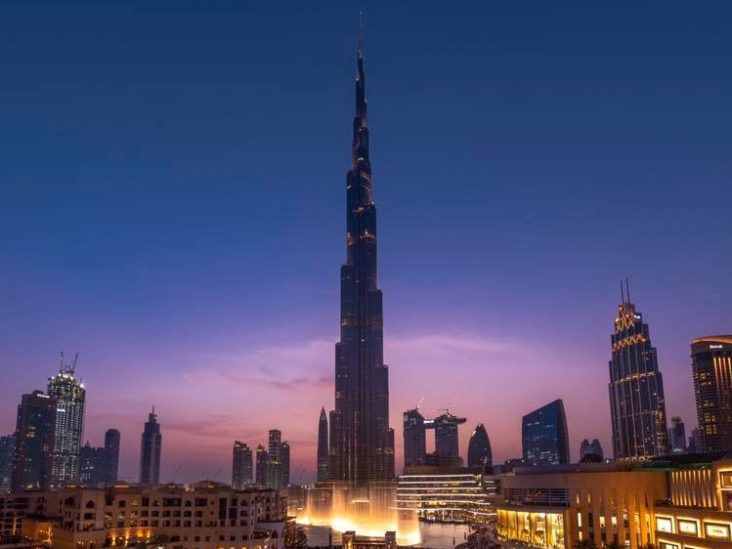 Measuring in at 2,722 feet tall, the Burj Khalifa in Dubai has held the record of the world's tallest building since it was completed in 2009.
Design and architecture teams from all around the world worked together to create this massive structure built to withstand the strong desert heat and winds.
If you want to take a closer look, you can explore this amazing building via Google Street View which allows you to check out different floors and even a view from a window washer's platform up on the 80th floor.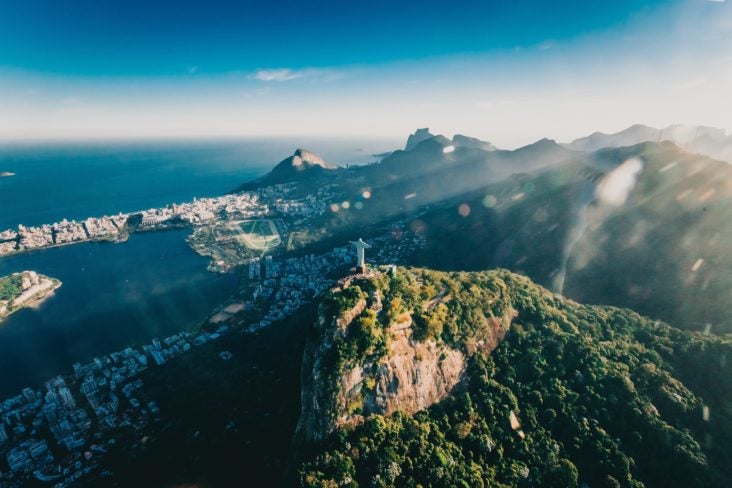 Emerging out of the mountains, the Christ the Redeemer statue can be seen from almost anywhere in the stunning city of Rio de Janeiro in Brazil.
The 98-foot tall soapstone statue is one of the "New7Wonders of the World" and is a symbol of Christianity worldwide.
You can now head down to Rio and explore this sanctuary via Google Arts & Culture. Start your virtual tour here.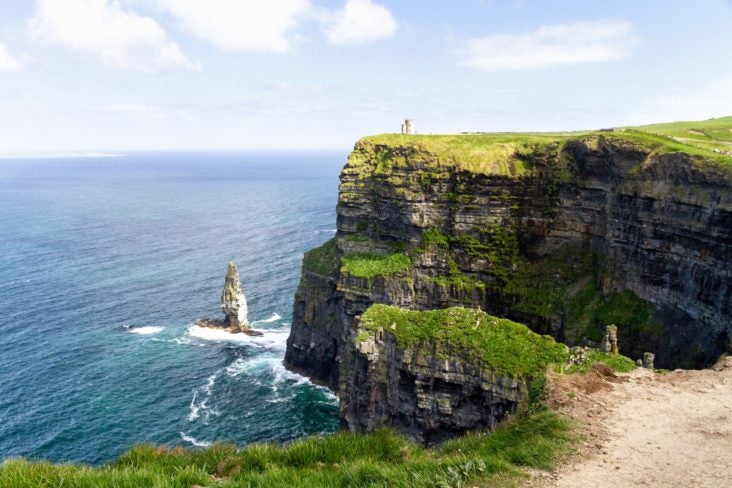 Running along the ocean edge in County Clare, Ireland, the Cliffs of Moher make up 9 miles of stunning terrain.
With 1.5 million visits a year, the cliffs are one of Ireland's most visited tourist sites.
If you haven't been, you can start by taking a Google Earth virtual tour, starting at the visitor's center and then walking your way down by the sea.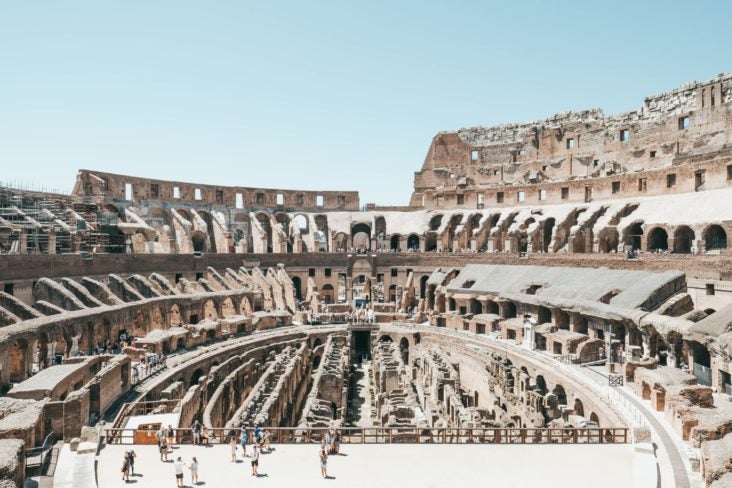 Located in the center of Rome, the Colosseum was the largest amphitheater ever built at the time (A.D. 72) — holding between 50,000 and 80,000 spectators.
The Colosseum was used for many things, including gladiatorial contests, dramas based on Classical mythology, and other events, such as mock sea battles, animal hunts, executions, and reenactments of famous battles.
You can take your own virtual tour around the arena's underground, learn more about its history, and more.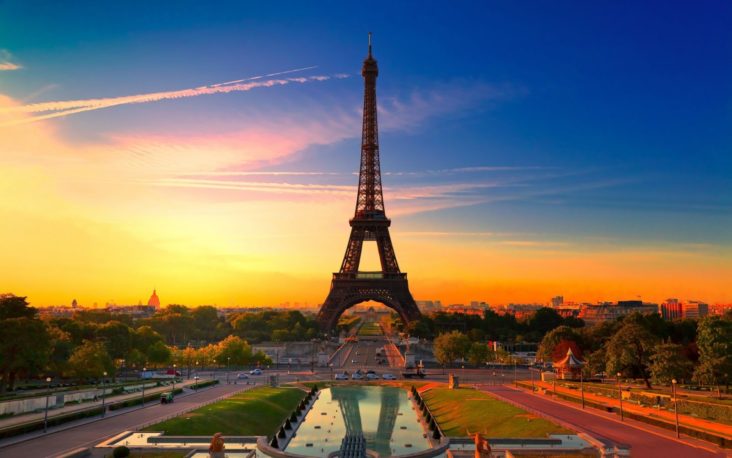 The Eiffel Tower in Paris is easily one of the most recognizable landmarks in the world. The 1,063-foot tower has 3 levels for visitors, with restaurants on the first and second levels and an observation deck on the top level.
Visited by almost 7 million people last year alone, it can get a bit crowded. Fortunately, there is a great virtual tour that you can take from home!
Enjoy 360-degree views, a sunrise, and an ascent to the top of the Eiffel Tower here.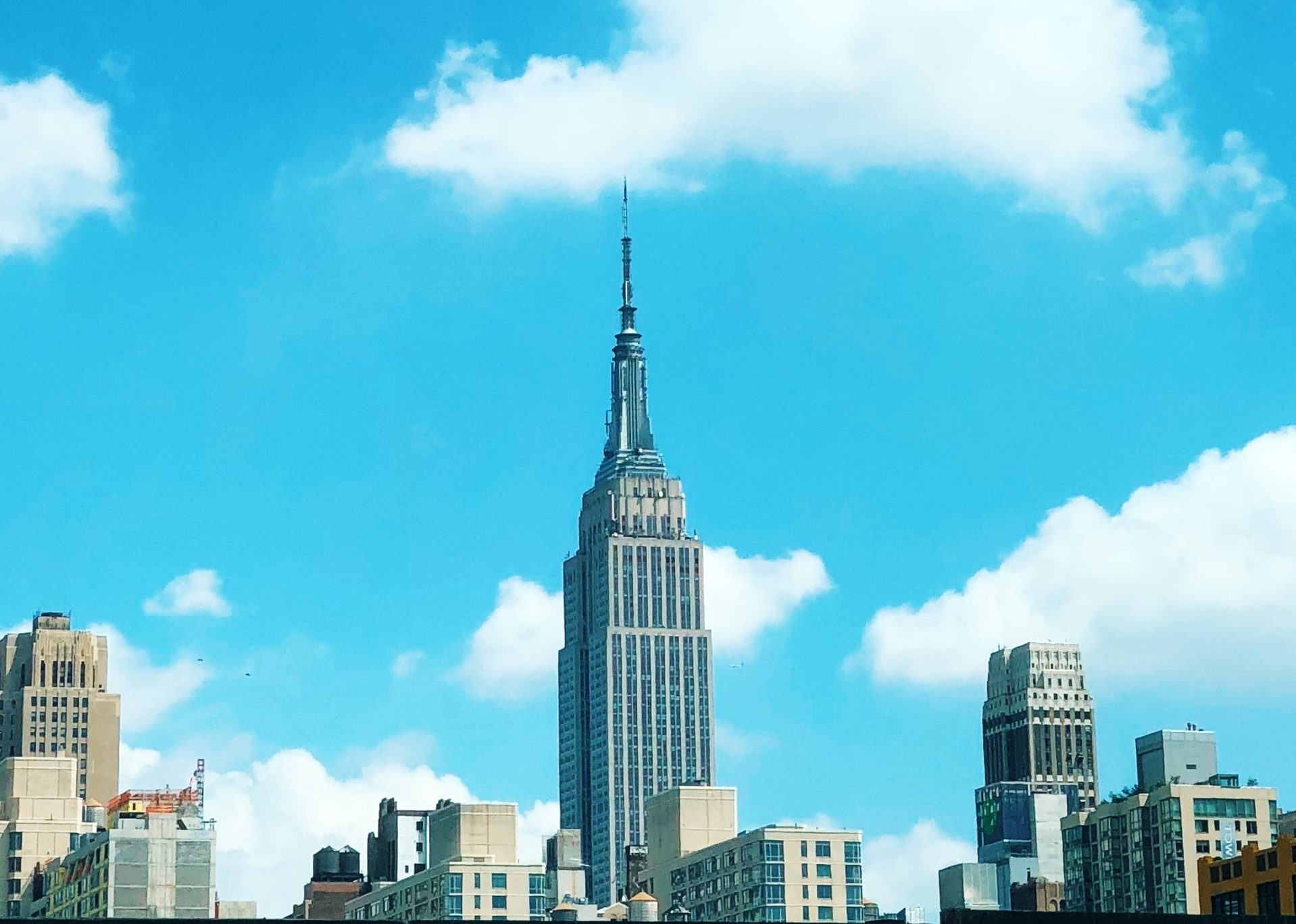 The Empire State Building is of the most recognizable buildings in New York City. The 102-story skyscraper in Midtown Manhattan is home to many corporate offices and 2 observation decks.
You can enjoy a 360-degree view from the 102nd floor thanks to this interactive experience.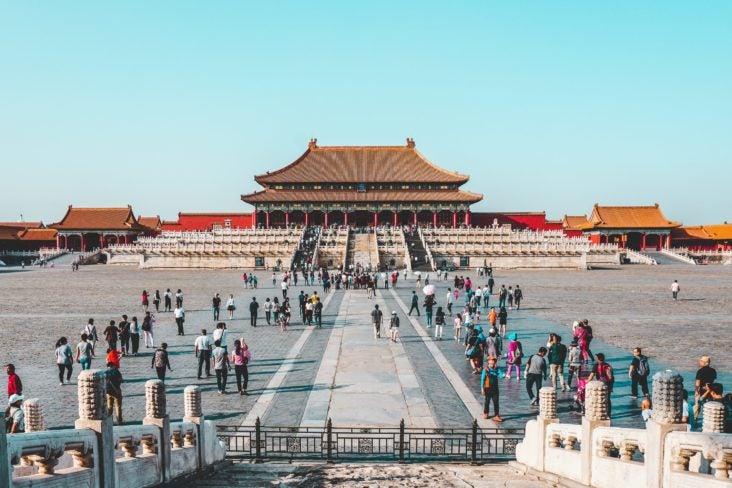 China's best-preserved imperial palace, the Forbidden City is a complex located in central Beijing. Dating back from the Ming Dynasty, this historic palace complex was home to the former Chinese imperial palace and state residence of the emperor of China until 1924.
We have found an excellent virtual tour that allows you to explore the main areas of the complex, including:
Hall of Supreme Harmony
Imperial Gardens
Meridian Gate
Pavilion of Ten Thousand Springs
Start your virtual tour here.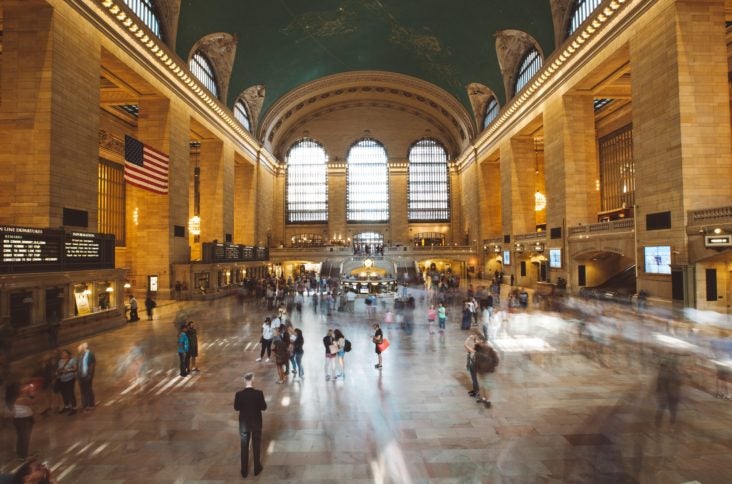 Although it is only the third-busiest train station in North America (behind New York Penn Station and Toronto Union Station), Grand Central Station in New York City has earned multiple landmark designations thanks to its incorporated works of art.
Not including train and subway passengers, Grand Central is one of the world's 10 most visited tourist attractions according to Travel + Leisure, with more than 21 million visitors in 2018.
Take a stroll through this famous landmark via this virtual tour.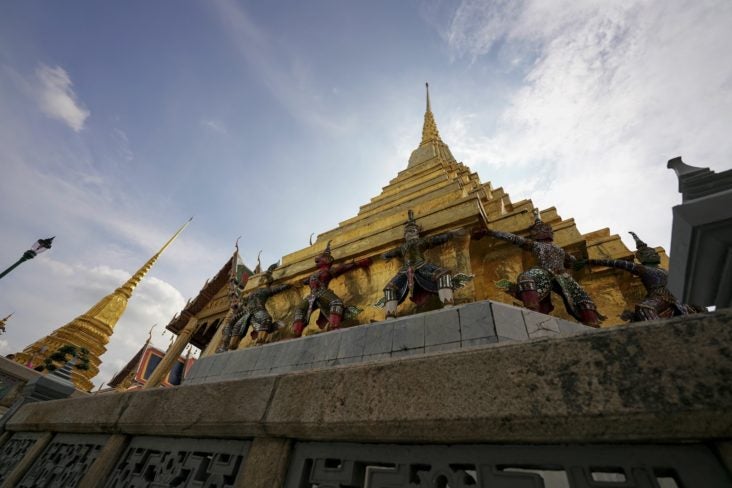 Located in the heart of Bangkok, Thailand, the Grand Palace has been the official residence of the Kings of Siam (now Thailand) since 1782.
The stunning complex of buildings welcomes visitors from across the world to see its famous temples, chapels, and more.
Take your own virtual tour from home, here.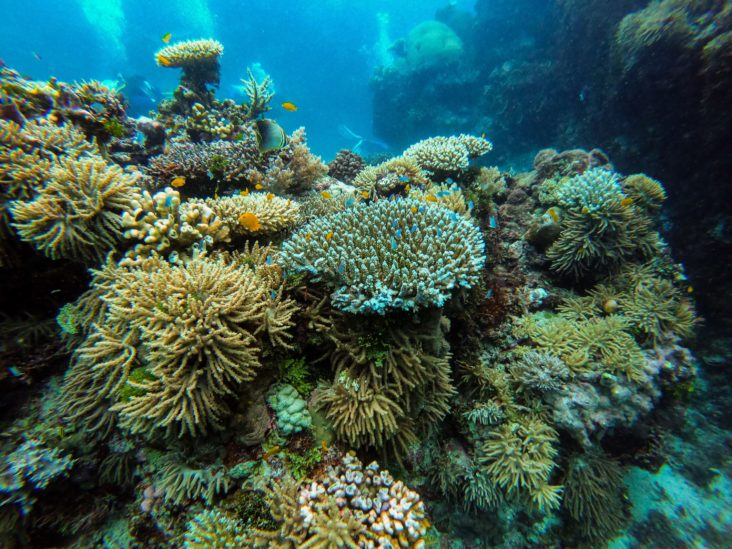 As the world's largest coral reef system, the Great Barrier Reef stretches over 1,400 miles off the coast of Queensland, Australia. The reef structure is composed of and built by billions of tiny organisms, and is the biggest single structure made by living organisms on Earth.
Fans of nature documentaries will love to hear the voice of David Attenborough as he guides an interactive, underwater tour of the Great Barrier Reef.
Experience interactive time-lapses, videos, and weather maps, of Earth's most bio-diverse ecosystem, here.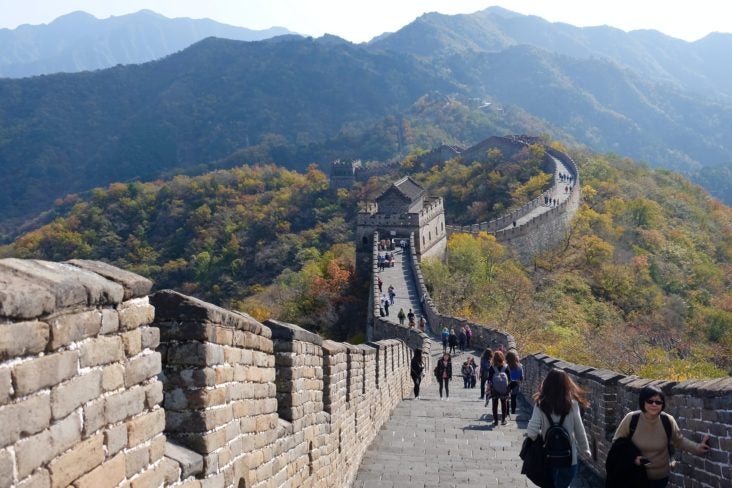 With sections dating back to the 7th century B.C., the Great Wall of China is recognized as one of the most impressive architectural feats in history. Combing all of the sections of the wall, trenches, and natural barriers, the Great Wall measures 13,171 miles.
Originally built for defense, and then later trade control, today it is best known as a tourist attraction.
If you aren't planning on visiting China any time soon, you can take a virtual tour here.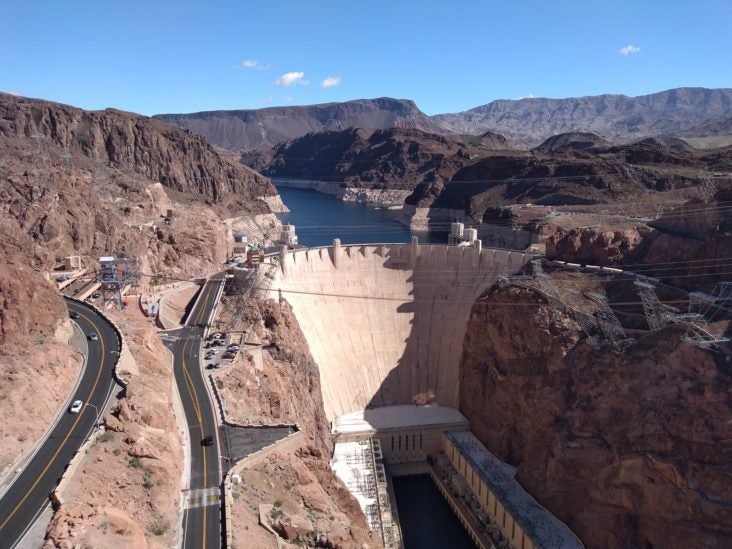 With more than 1 million annual visitors, the Hoover Dam on the border of Arizona and Nevada is one of the most visited dams in the world.
Spanning 2 time zones, this architectural marvel controls floods, provides irrigation water, and produces hydroelectric power.
Experience the Hoover Dam virtual tour, here.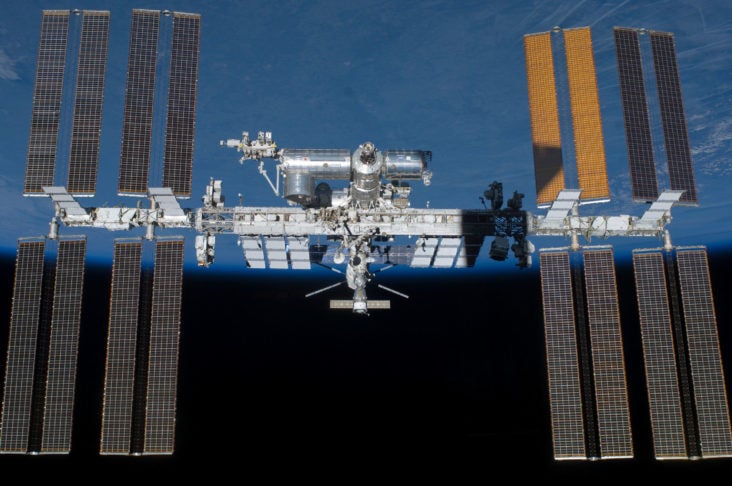 In partnership with the U.S., Russia, Japan, Europe, and Canada, the International Space Station is a microgravity and space environment research laboratory focusing on a wide range of fields.
Although it is technically possible to visit the ISS as a "space tourist," unless you have $40 million to spend, you may need to settle for this virtual tour instead.
As a consolation prize, enjoy this video of astronauts playing with slime in zero gravity!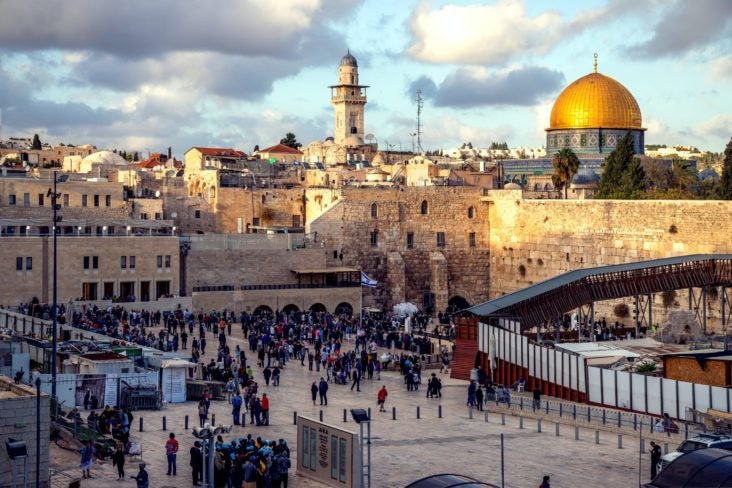 Located in the Judaean Mountains between the Mediterranean and the Dead Sea, Jerusalem is one of the oldest cities in the world and is considered holy land to 3 major religions — Judaism, Christianity, and Islam.
You can almost feel the energy of this special city thanks to the 1-day virtual tour put together by Samsung. Immerse yourself in the 360-degree footage here.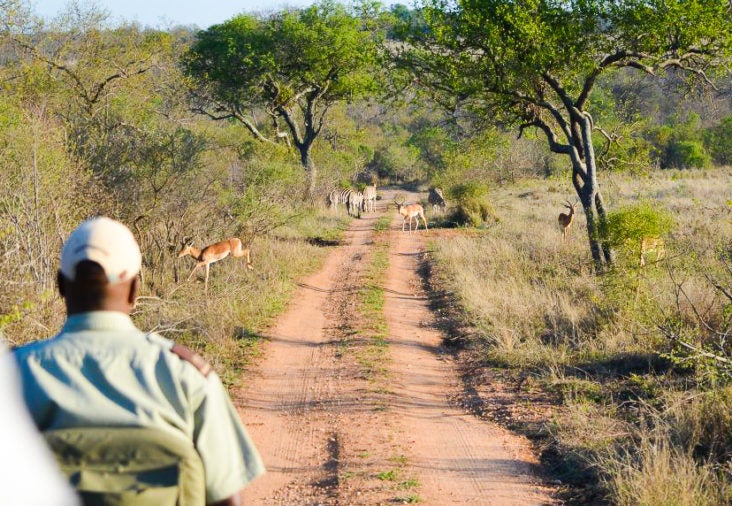 Kruger National Park in South Africa is one of the largest game reserves on the African continent with an area of 7,523 square miles.
Home to the "Big Five," safari-goers will be excited to see lions, elephants, rhinoceroses, leopards, buffaloes, and dozens of other wild animals on their excursion.
If you're interested in checking out a safari, be sure to tune in to the WildEarth YouTube channel daily for sunrise and sunset tours.
Set an alarm for your virtual safari here.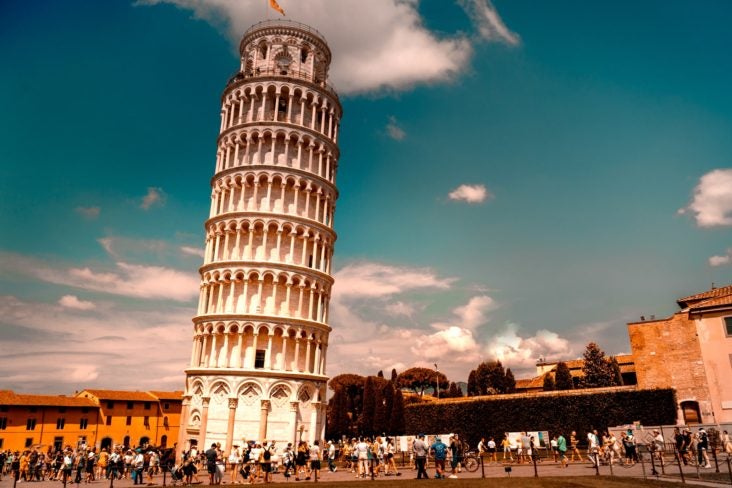 The Leaning Tower of Pisa is a belltower famous for its lean due to an unstable foundation. Over the years the foundation has been stabilized and the structure currently leans at 3.97 degrees. Visitors can climb the almost 300 step staircase to reach the top and view the city below.
If you don't plan on visiting Pisa any time soon, you can take this 360-degree VR video tour from inside the tower or take a virtual tour of the grounds here.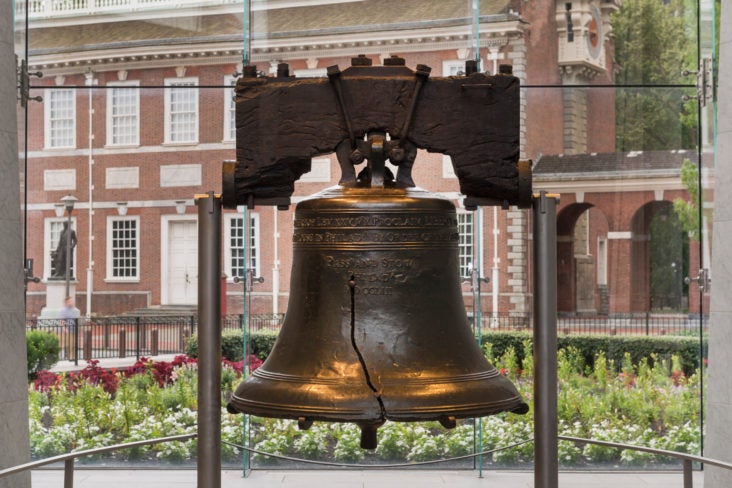 Famous for being rung to mark the reading of the United States Declaration of Independence, the Liberty Bell is an iconic symbol of American independence.
Built in London and now residing in Philadelphia, the mostly copper bell has been cracked and repaired multiple times during its usage and traveling tours between the years of 1776 and 1915.
Get an up-close look at this iconic monument, here.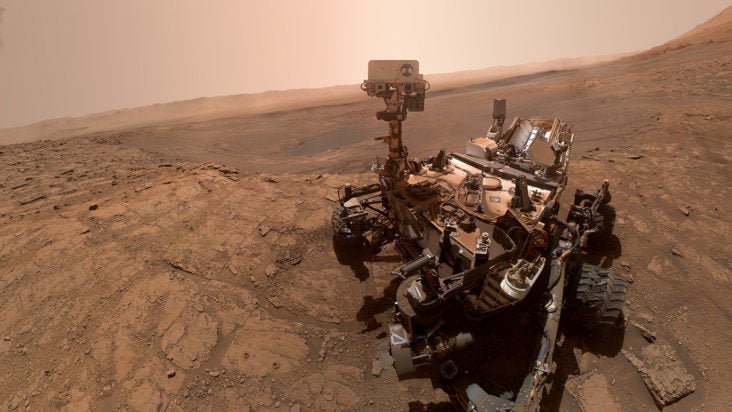 Mars, also known as the "Red Planet" due to the color of its surface, is the second smallest planet in our solar system. With days and seasons similar to those on Earth, scientists have always been wanting to learn more about potential life there.
Currently, Mars is being explored by a NASA rover named Curiosity. Curiosity is about the size of a car and has been on the Red Planet since 2012.
If you want to explore alongside the rover, check out this interactive tour.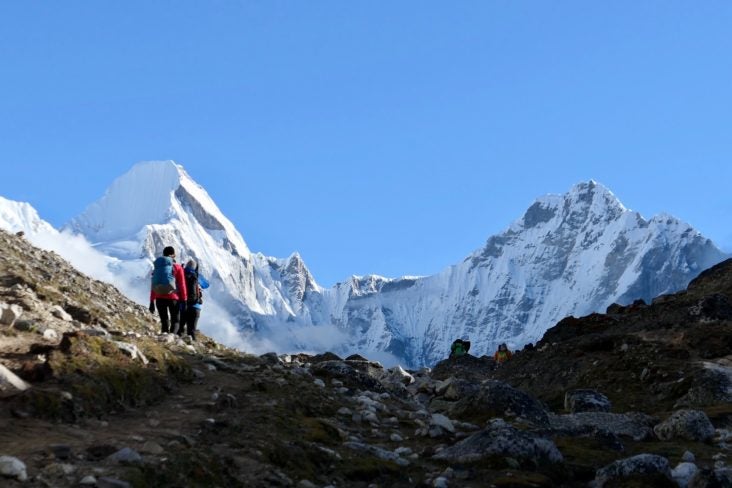 At 29,029 feet Mount Everest is the tallest and one of the most dangerous mountains in the world. This massive climbing destination located on the border of Nepal and China attracts adventurers from around the globe, despite its risks.
As of last year, over 300 climbers have died trying to reach the summit due to altitude sickness, weather, and avalanches. 
Fortunatley you can experience some of what it is like to climb Mt. Everest without the everpresetn danger thanks to some virtual tours that we found.
If you have some VR equipment, you can experience the climb here. If you prefer to watch a video instead, check out this YouTube summit climb.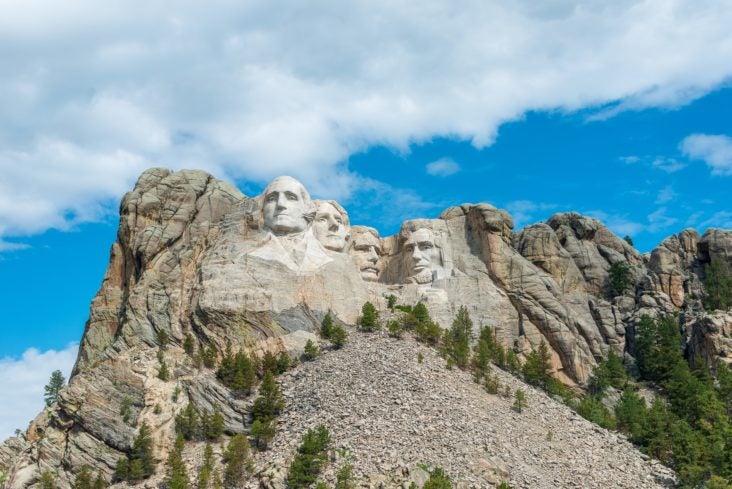 The Mount Rushmore National Memorial is a sculpture featuring 60-foot heads of Presidents George Washington, Thomas Jefferson, Theodore Roosevelt, and Abraham Lincoln in the Black Hills of Keystone, South Dakota.
These 4 presidents were chosen to represent the nation's birth, growth, development, and preservation, respectively.
If you are interested in getting up close, you can actually "climb" the faces here, or take an actual virtual tour here.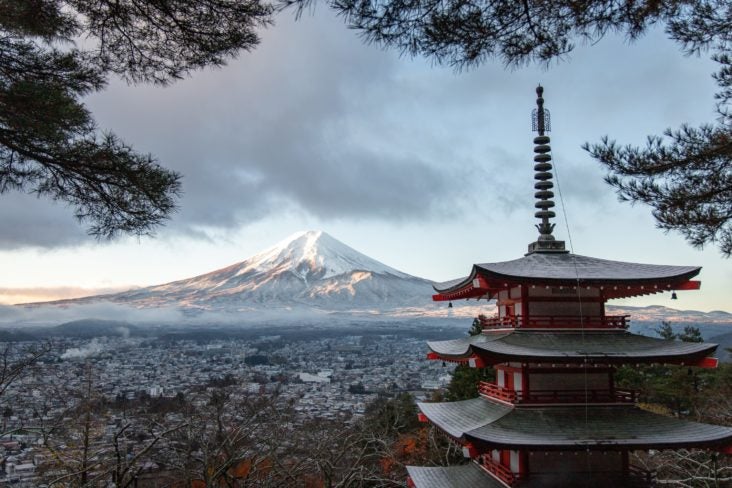 Mount Fuji is one of Japan's "Three Holy Mountains" and is the tallest mountain (and active volcano) in the country at 12,389 feet tall.
Often depicted in artwork and photographs, this snowcapped symmetrical cone is easily one of Japan's most recognizable landmarks.
If you would like to see what it's like to visit the top of this majestic mountain, you will love what Google Street View has put together.
To start your virtual tour, click here.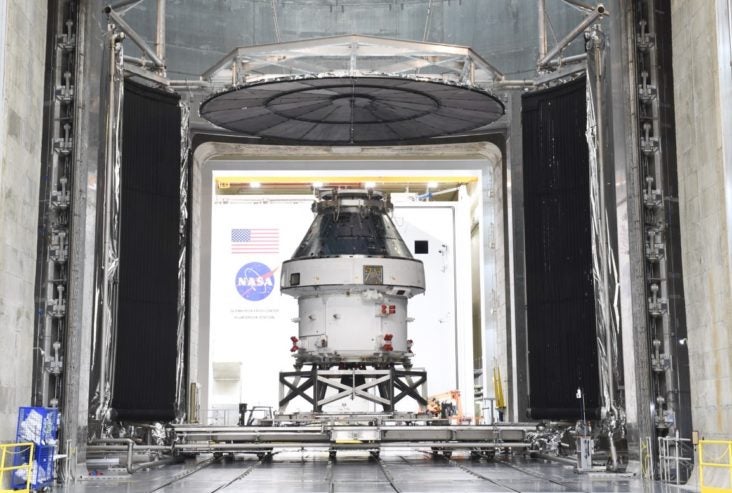 NASA's Glenn Research Center in Ohio was created to develop science and technology for use in aeronautics and space. So needless to say, it has some pretty interesting stuff to check out.
If you want to see some testing in action, view one of 10 virtual tours.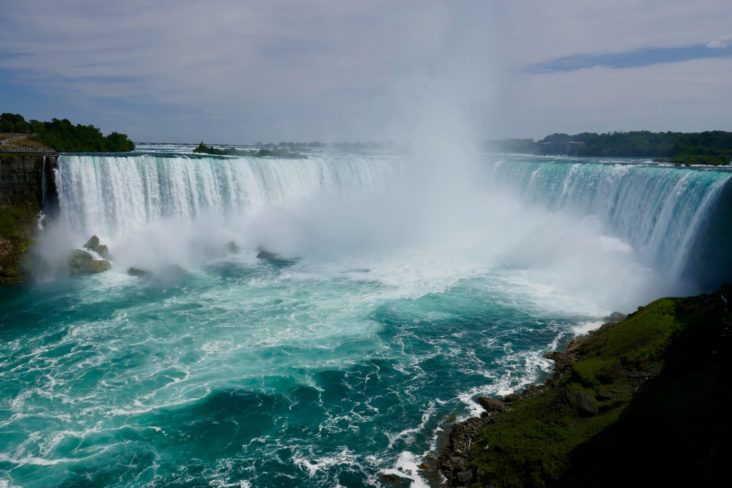 Straddling the U.S. and Canada border, Niagara Falls is a group of 3 waterfalls that attract visitors from all over the world.
One of the most popular attractions is "Journey Behind the Falls," located on the Canadian side of Niagara Falls, and now you can experience it in virtual reality.
Ditch the rain poncho and visit Niagara Falls virtually, here.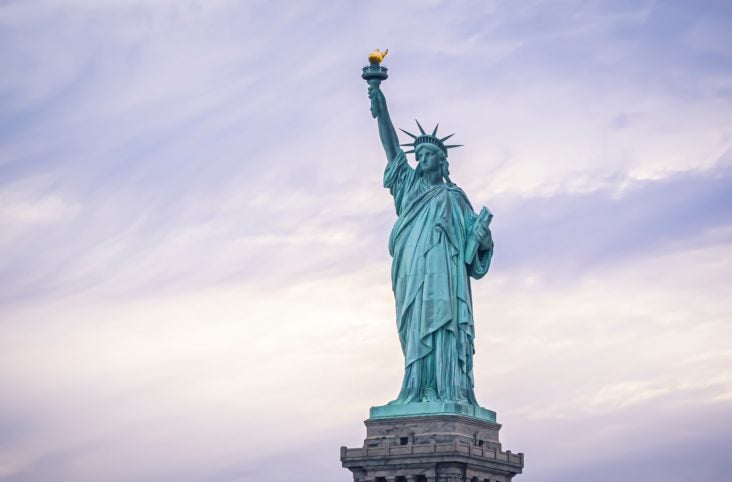 A gift from the people of France to the people of the United States commemorating the national abolition of slavery, the Statue of Liberty has come to commemorate ideals of freedom, democracy, and opportunity.
The Statue of Liberty was the first thing that most of the 12 million immigrants saw when they arrived at the Ellis Island processing site and is one of the most recognizable monuments in the world.
Get a close-up tour of Lady Liberty here, and learn more about Ellis Island here.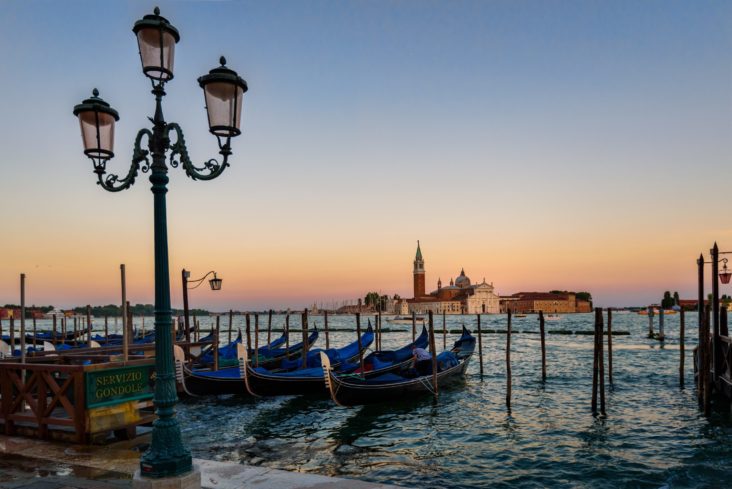 Venice is perhaps one of the most recognizable cities in the world thanks to its canals being as common as roads are in other cities. This special city is actually made up of 118 small islands that are linked by over 400 bridges.
While it may not be the easiest city to get around for some, thanks to Google you can travel the canals, walk the streets, and cross the famous bridges from the comfort of home
Start your virtual tour of the Floating City by clicking here.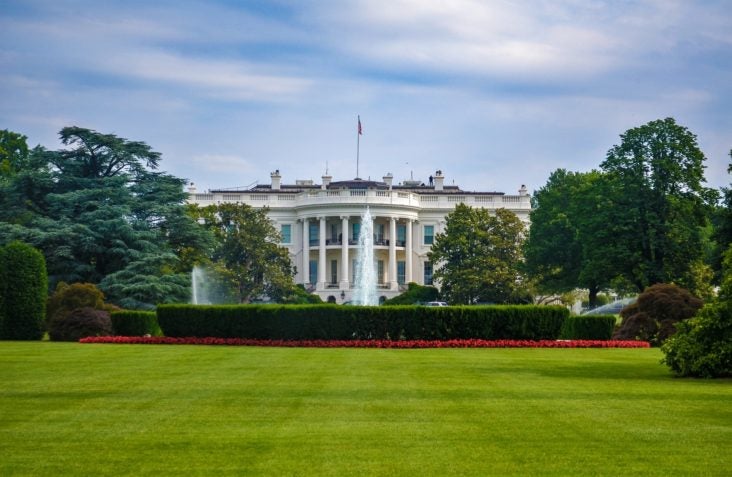 Known as the official residence and workplace of the president of the United States, The White House has been the residence of every U.S. president since 1800.
The White House is the only private residence of a head of state that is open to the public, free of charge.
Check out this excellent virtual tour put together by Google Arts & Culture.
Hot Tip: The White House is an incredibly popular attraction and tickets are in high demand. If you want to visit in-person, learn how to best arrange your tour and maximize your visit with our helpful guide.
Museums with Virtual Tours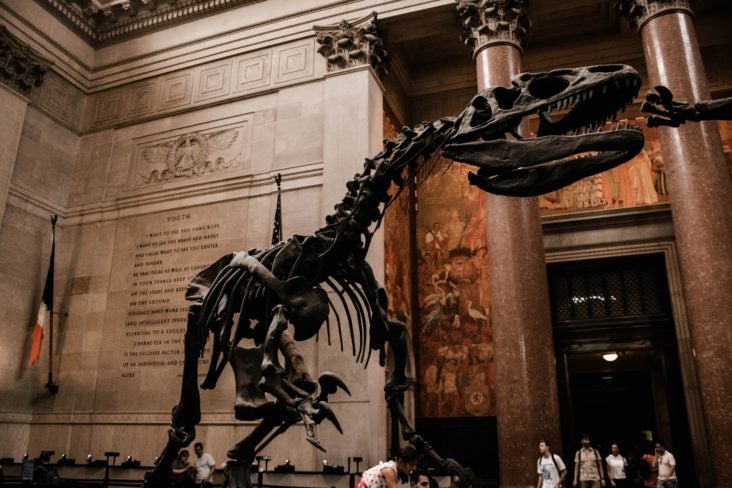 "Ology" means "the study of," and OLogy: The Science Website for Kids from the American Museum of Natural History focuses on the study of many topics geared towards kids.
If you and your student are interested in games, stories, videos, and hands-on crafts click here.
The museum also offers 360-degree virtual tours of exhibits from the past, present, and permanent collections, as well as research stations.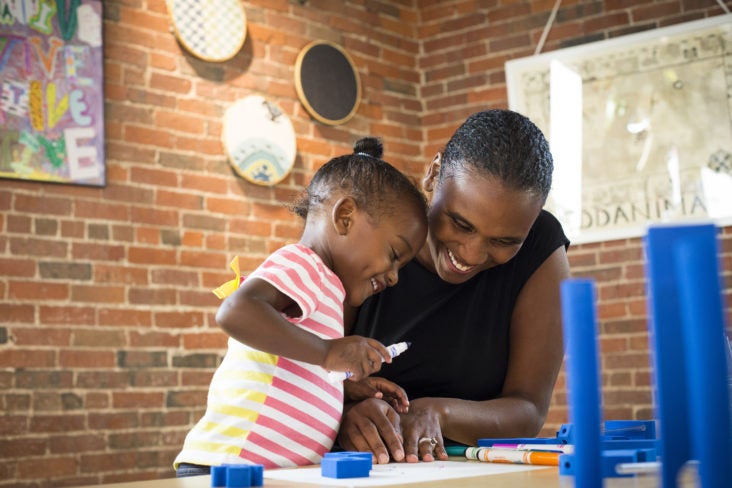 The Boston Children's Museum is an incredible option for parents looking to entertain and educate their children.
The second oldest children's museum in the U.S. is full of unique exhibits meant to teach our younger generation everything from racial diversity to science, arts, and more.
Take your little one on a virtual tour today! The museum also offers a Play and Learning Resources page featuring activities, teaching guides, curriculum, and more.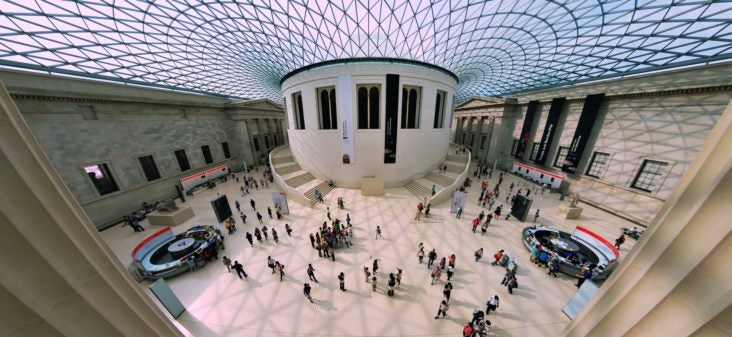 The first public national museum in the world, the British Museum is dedicated to human history, art, and culture, with over 8 million pieces of work in its collection.
Highlighting over 2 million years of history, it is no surprise this is one of the most popular museums in the world.
Don't wait — take your Google Arts & Culture virtual tour of over 60 galleries today. The museum itself also offers 2 virtual galleries.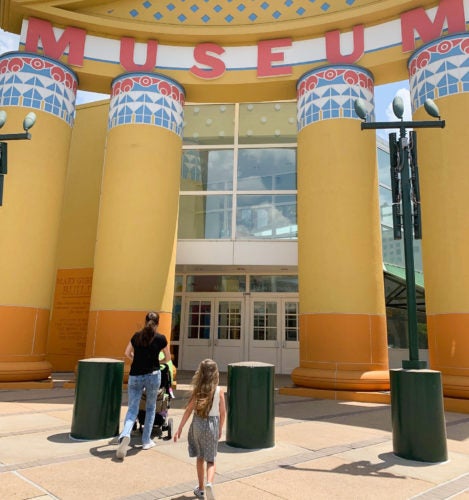 The Children's Museum Houston is already famous for its awesome exhibits and events, and they have gotten creative when it comes to going virtual.
With options for learning at home, virtual events, and Facebook Live streams, you and your kids can stay connected and entertained from home.
Learn more about virtual events here and Learn at Home resources on its Facebook page.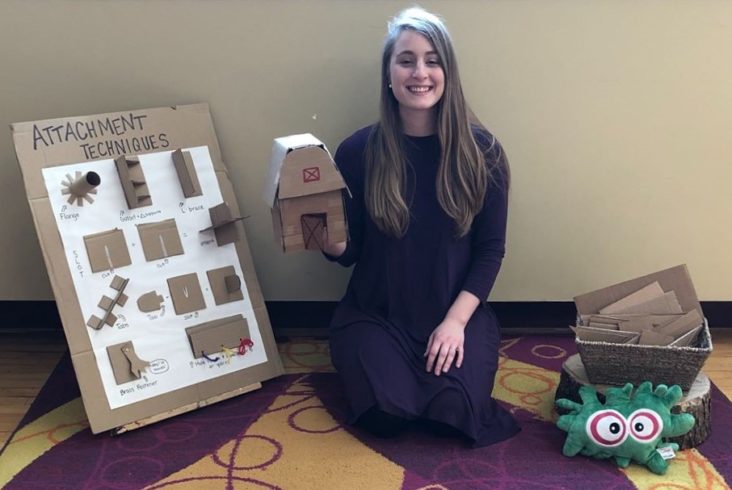 The Children's Museum of South Dakota was already an incredible asset for parents and kids, and now families from around the world can take part in the creativity from home. 
The museum has created a #MuseumFromHome page full of resources and recipes for play! Even better, it offers a page just for parents to help with ideas for activities and more.
Check out this awesome museum here.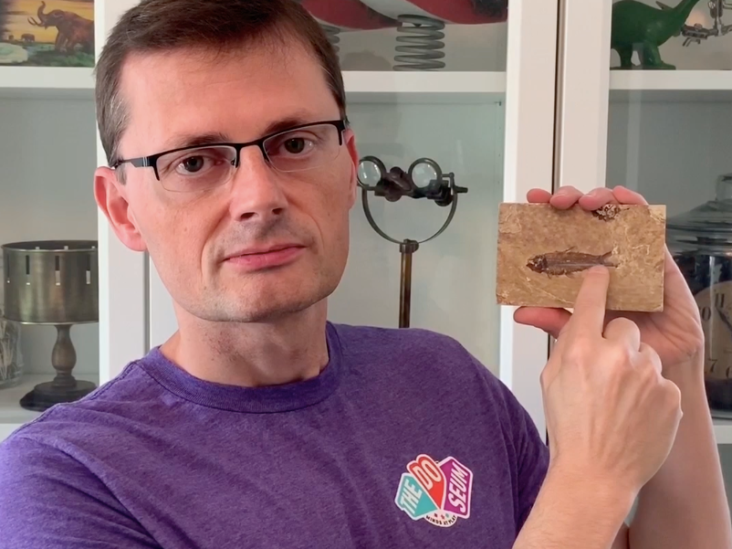 The DoSeum is already well-known for its award-winning exhibits for kids, so they were ready when they needed to start keeping young minds busy while at home.
It has created an entire page dedicated to parents and kids to "DO It At Home," which is full of DIY activities, storytimes, and more.
Get some "hands-on" learning here.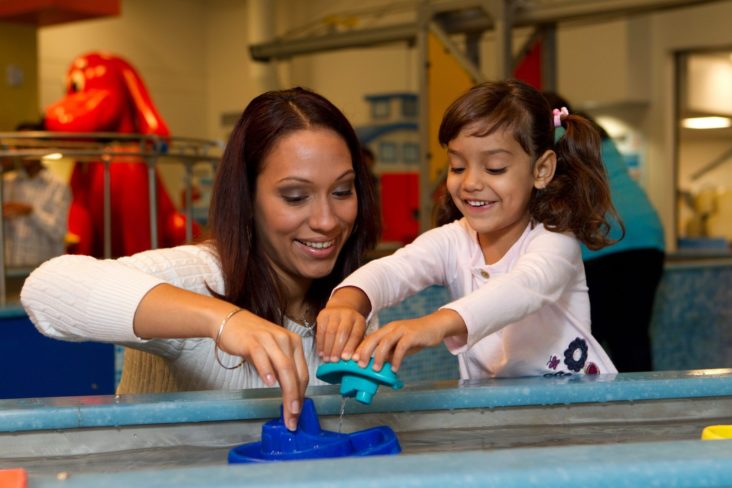 Glazer Children's Museum has always had a mission of creating a learning laboratory where children play, discover, and connect. Just because kids are stuck at home, doesn't mean they've stopped innovating.
Instead, the museum has launched GCM at Home, a source of learning at fun for kids of all ages.
Check out some experiments, recipes, games, and more here.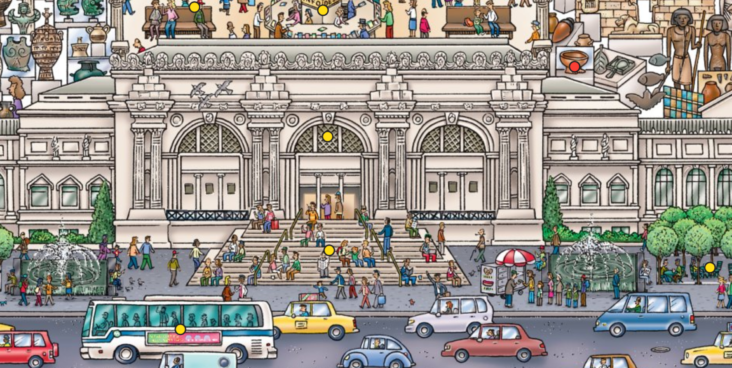 While the largest art museum in the U.S. may not sound too exciting for many kids, the Met has put together a nice section on its website dedicated to getting the little ones engaged.
Check out interactive maps, a time machine, and videos here.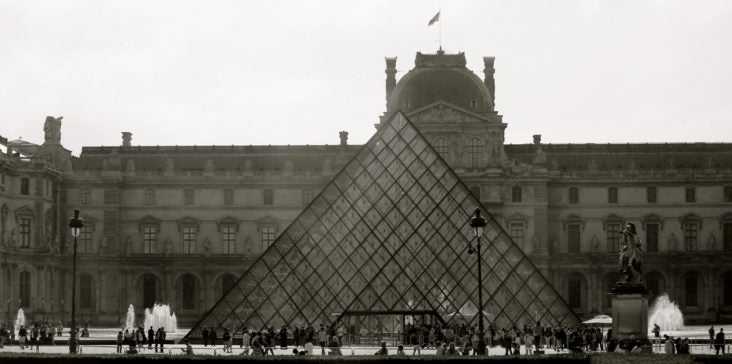 The Louvre in Paris is the world's largest art museum at over 782,910 square feet, and is also the most visited with 9.6 million visitors in 2019.
With around 38,000 pieces of work — including the famous Mona Lisa, Venus de Milo, and Hammurabi's Code — the Louvre is easily one of the world's most well-known museums.
Fortunately, for art lovers, the Louvre has multiple virtual galleries on display to enjoy, without the queues.
To view the Louvre's virtual tour page, click here.

Take a virtual tour of "the Blue House" the former residence where renowned artist Frida Kahlo lived and created masterpieces.
Google Arts & Culture has created a Street View tour so you can walk through La Casa Azúl from home.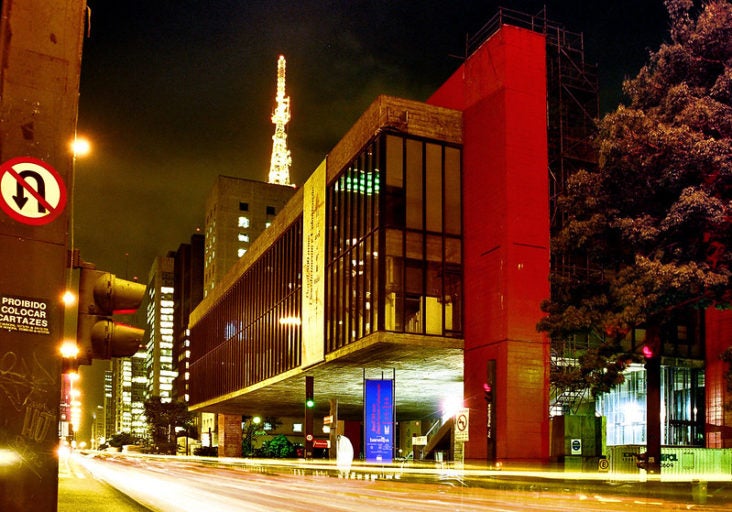 Head to Brazil, courtesy of Google Arts & Culture, and explore the Museu de Arte de São Paulo (Museum of Art of São Paulo). With over 8,000 pieces of art, including paintings, sculptures, objects, photographs, and costumes, there is plenty to explore.
Start your virtual tour of 6 unique online galleries here.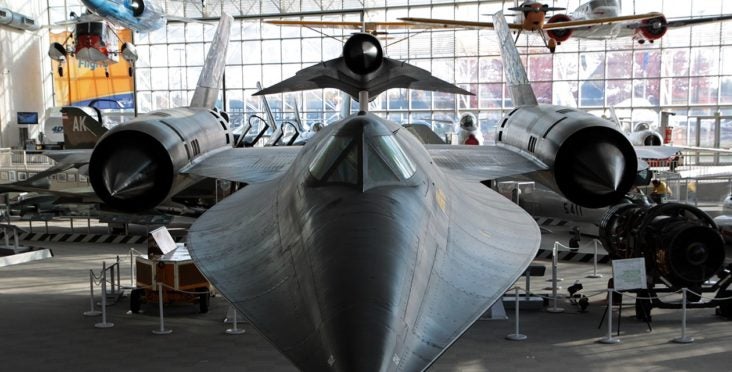 The Museum of Flight, located just outside of Seattle, is the largest private air and space museum in the world. With more than 150 aircraft on-site, the museum attracts over 500,000 annual visitors.
In addition to being a museum, the Museum of Flight also hosts the largest K-12 educational programs in the world, welcoming more than 140,000 students yearly through its onsite programs.
If you can't visit anytime soon, you might enjoy the 360-degree virtual tour.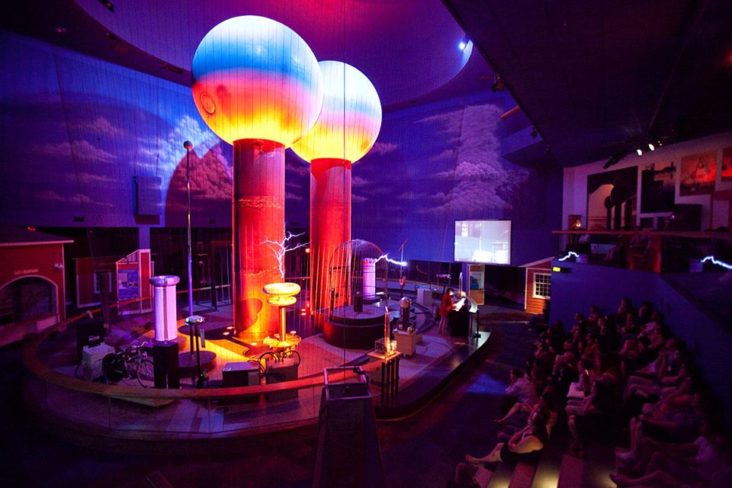 The Museum of Science, Boston, dates back to 1830 when it opened as the Boston Society of Natural History. Now receiving over 1.5 million visitors annually, this museum (and indoor zoo) is one of the region's most popular destinations for children and adults.
With more than 700 interactive exhibits and over 100 rescued and rehabilitated animals, visitors always leave wanting more.
Conveniently, the museum offers an excellent virtual tour full of digital exhibits, videos, and audio presentations.
Start your virtual tour, here.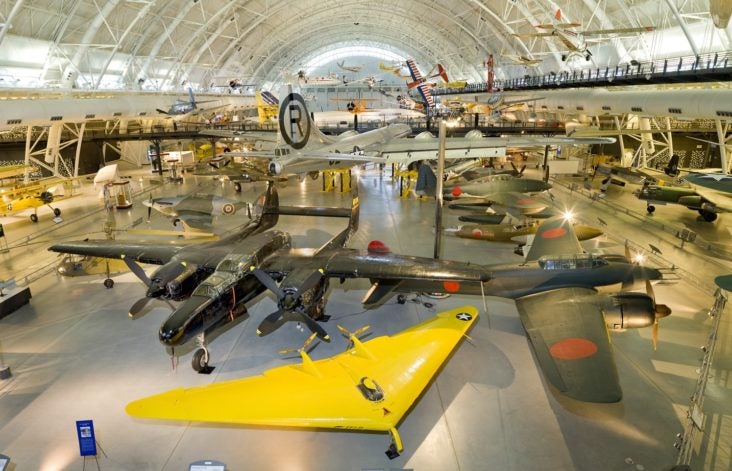 The National Air and Space Museum, which is part of the Smithsonian Institution in Washington, D.C., is a center for the history and science of aviation, as well as spaceflight, planetary science, terrestrial geology, and geophysics.
With over 6 million visitors last year, it was the fifth most visited museum in the world, with tourists coming to see the Apollo 11 Command Module Columbia, the Wright brothers' Wright Flyer airplane, and much more.
You can take your own 360-degree virtual tour of the entire museum here.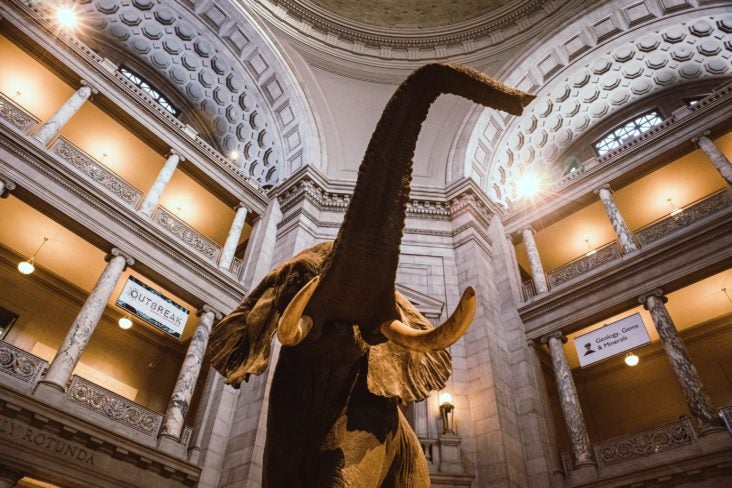 The 325,000 square foot National Museum of Natural History in Washington, D.C. has the largest natural history collection in the world. With over 145 million specimens of plants, animals, fossils, minerals, rocks, meteorites, human remains, and cultural artifacts, visitors come from all over the world to explore this special collection.
Open 364 days per year (closed on Christmas) and free admission means that this collection can get quite busy with crowds. To avoid the rush, you can enjoy dozens of online exhibits that can all be accessed on its website.
To view the Smithsonian National Museum of Natural History virtual tour, click here.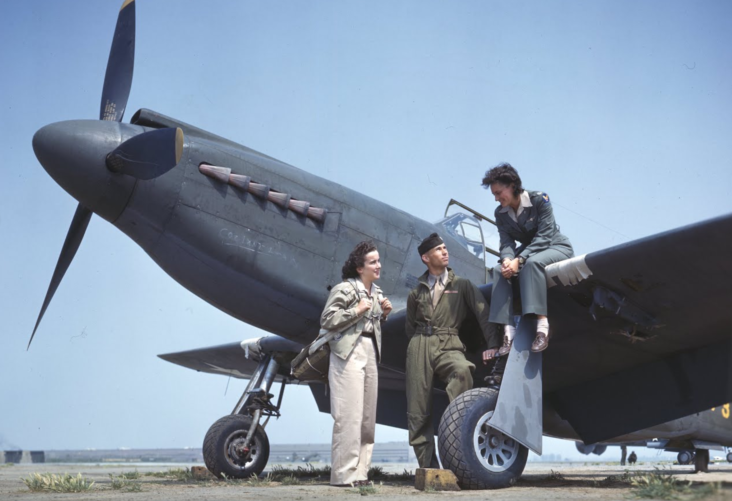 Learn more about the brave women who educated, inspired, empowered, and shaped the future for other generations. With everything from the Civil Rights Movement to women in the Olympics, the National Women's History Museum is full of well-curated material.
Explore the museum's 29 online exhibits here.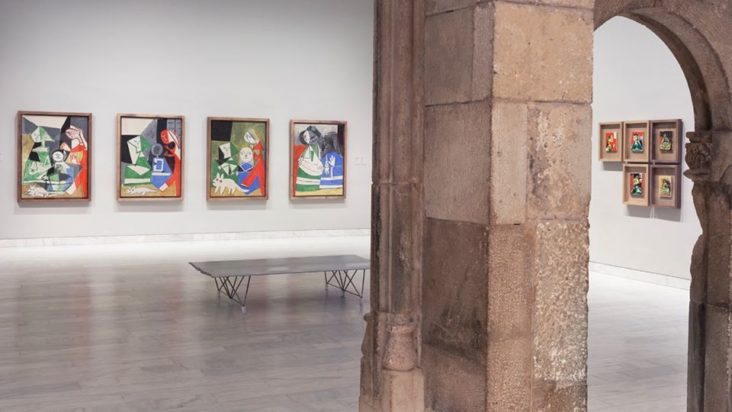 If you are one of the millions who stroll through Barcelona's Latin Quarter, you are sure to know about the Picasso Museum. Art lovers can take in some 4,000+ pieces of the famous painter's work and medieval architecture in this impressive museum.
Fans of Picasso can enjoy the virtual tour which offers a large selection of his finest works as well as tours of the museum's beautiful courtyards.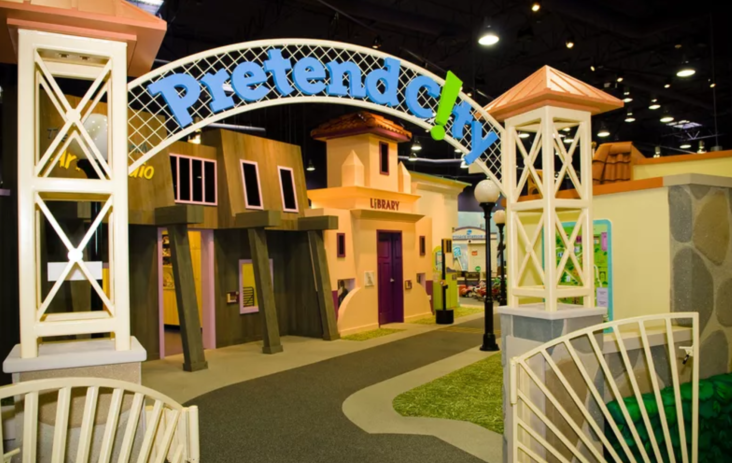 Pretend City is a great experience designed for kids to expand their imagination. With 17 exhibits including a cafe, farm, gas station, post office, grocery store, and more, your little one can explore a miniature version of a grown up's world.
Take an interactive tour, powered by Matterport, here.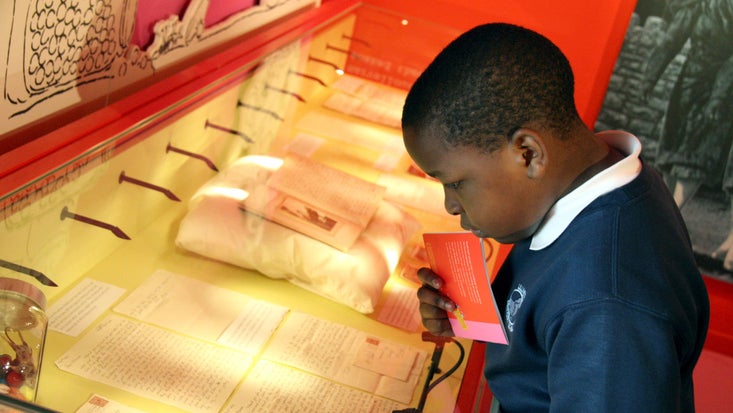 Winner of the "Best Small Visitor Attraction," the Roald Dahl Museum and Story Centre is the home of the late children's and short story writer, Roald Dahl.
Take a step inside and see where he wrote manuscripts, business and personal correspondence, and his "Ideas Books" here.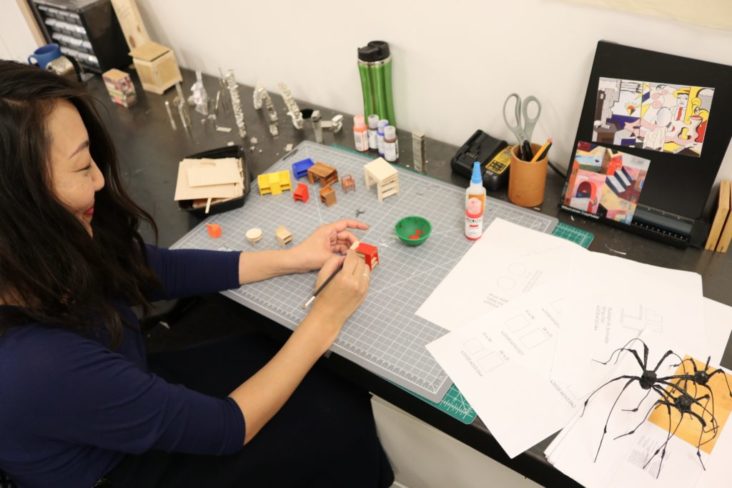 The San Francisco Museum of Modern Arts is letting artists take over its website and create special broadcasts from its YouTube channel.
Check out the artwork and scheduled events here.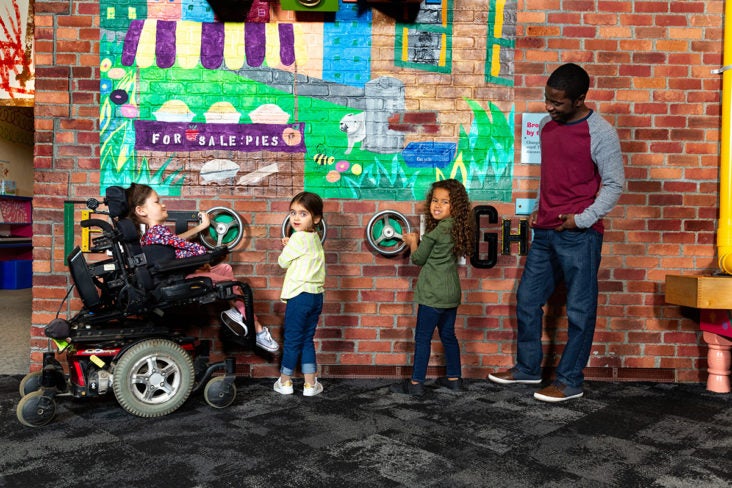 Known as "the ultimate play destination," the Strong National Museum of Play is built around research, exhibits, and other interpretive and educational activities that serve a diverse audience of adults, families, children, students, teachers, scholars, collectors, and others around the globe.
Thanks to Google Arts & Culture, you can experience this incredible museum from home.
To start your own virtual tour, click here.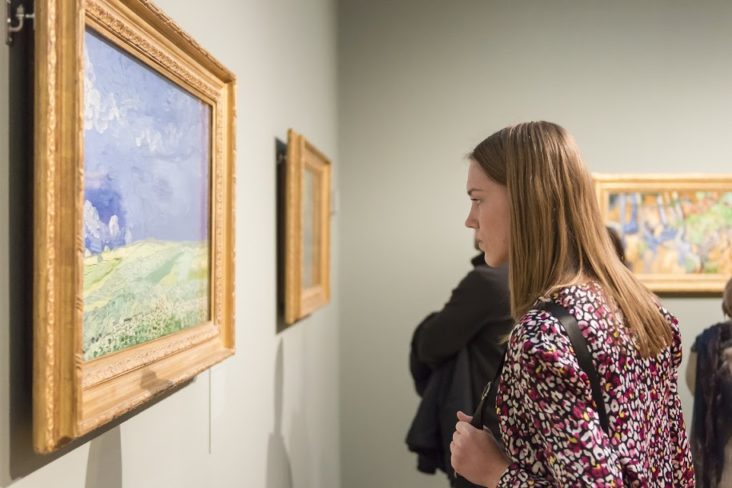 Housing the largest collection of artworks by Vincent van Gogh, this Amsterdam museum welcomes over 2 million visitors per year looking to see the artist's paintings, drawings, and letters.
Stroll through the museum at your own pace via this excellent Google Arts & Culture virtual tour. The museum's website also offers a variety of tools for young children, like school lessons and coloring pages.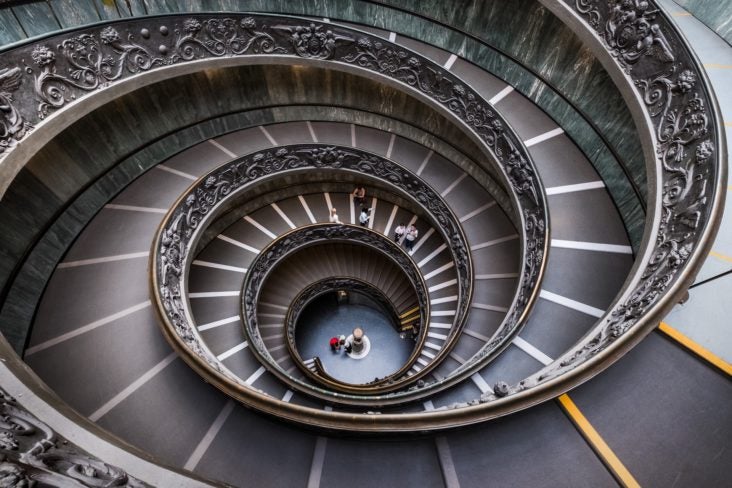 With multiple museums, the Vatican is home to some 70,000 works of art, including several of the most renowned Roman sculptures and most important masterpieces of Renaissance art in the world.
Founded by Pope Julius II in the early 16th century, the museums have been a stunning attraction for hundreds of years. Last year alone the museums welcomed almost 7 million visitors.
Take your own 360-degree virtual tour.
U.S. National Parks with Virtual Tours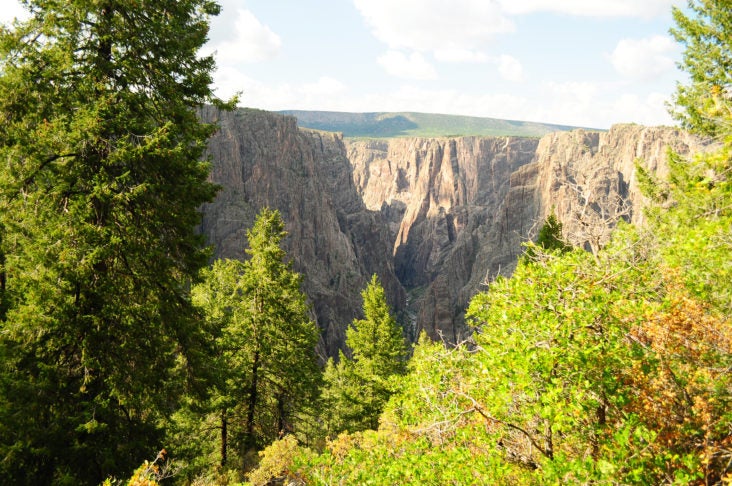 The Gunnison River has flowed for over 2 million years, carving its way through the rugged terrain, leaving behind a breathtaking combination of water, rock, and sky.
You can start your own exploration today, thanks to this Google Earth virtual tour!
This south-central Oregon gem is breathtaking. Crater Lake was formed from a volcanic eruption 7,500 years ago and has no connections to any rivers or streams — all of its water supply comes from rain and melted snow.
Not only it is the deepest lake in the U.S., but it is also one of the clearest and cleanest in the entire world. Unsurprisingly, the lake and surrounding areas are very popular for outdoor enthusiasts year-round.
Country music singer/songwriter Dierks Bentley is ready to lead you on a 360-degree virtual video tour of the area.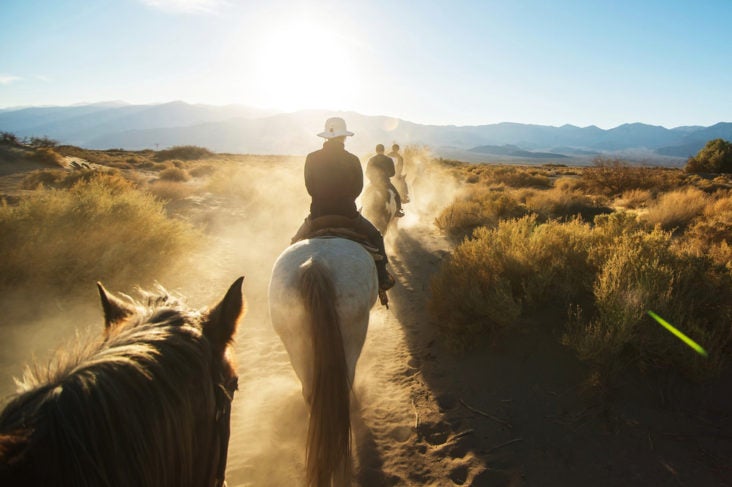 Death Valley has perhaps one of the most recognizable names of all of the national parks. It is also the hottest, driest, and lowest national park in the U.S., so the name is fitting.
Despite the morbid name, this park has a great diversity of life, especially when rainstorms bring sprawling fields of wildflowers and oases for small fish and other wildlife.
At 3.4 million acres, stretching across the California-Nevada border, it is the largest U.S. national park outside of Alaska.
You can explore this massive park courtesy of this Google Earth virtual tour. Some of the highlights include the Devil's Golf Course, Rhyolite Ghost Town, and some incredible canyons and dunes.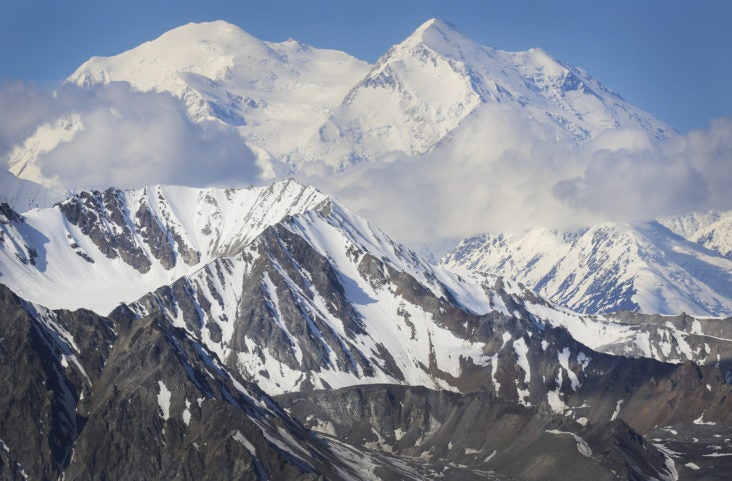 Home to the highest mountain in North America, Denali National Park in Alaska is a stunning combination of low elevation forests and snowy glaciers at the higher elevations.
This massive 6 million-acre preserve only has 1 road through it, so you will be sure to see wild animals roaming free and adventurists exploring the countless outdoor activities.
If you aren't planning on visiting Alaska soon, be sure to check out the Google Earth virtual tour of the glaciers and the stunning Denali vistas.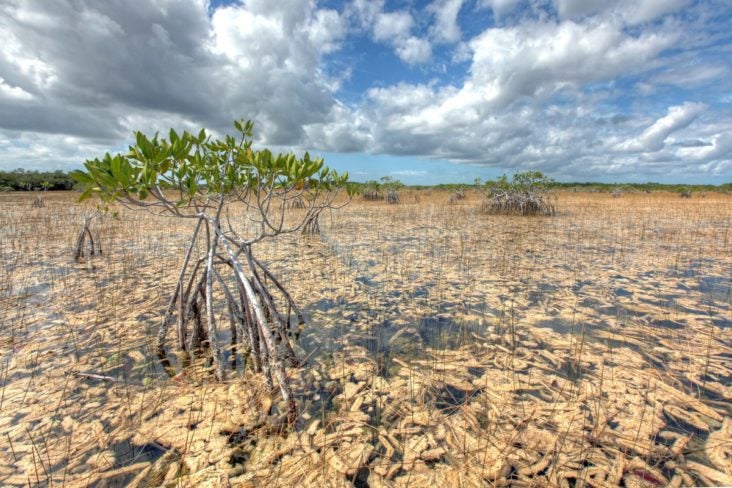 Spread across the southern tip of Florida, the Everglades National Park is the largest subtropical wilderness in the U.S. In addition to being a national park, the Everglades are also listed as a Wetlands of International Importance and a World Heritage Site.
The unique network of wetlands and forests makes an ideal home for many species, including rare and endangered ones such as the manatee, American crocodile, and Florida panther.
In addition to being home to dozens of species of mammals and reptiles, the wetlands are an essential habitat to over 350 species of birds and 300 species of fresh and saltwater fish.
Start your own adventure in the Everglades on this virtual tour via Google Earth.
Hot Tip: The Everglades are featured on our list of the 10 best road trips in the U.S. The Overseas Highway starts in Miami and finishes over 150 miles later in Key West.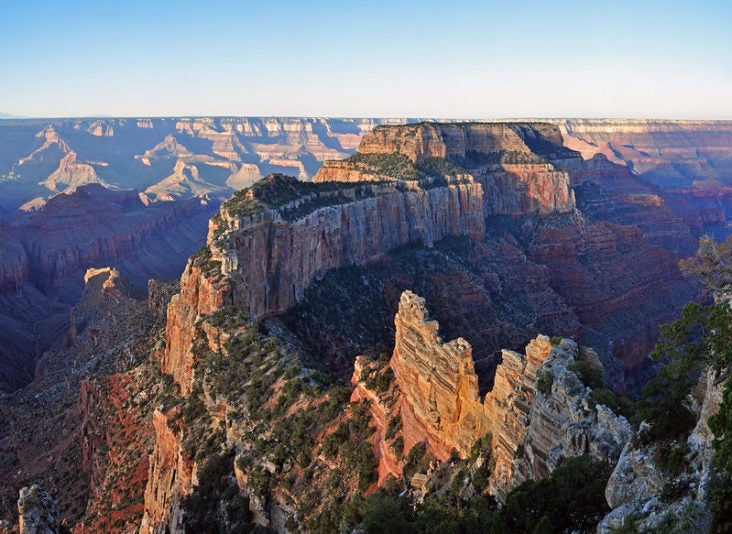 One of (if not the) most well known of all the national parks is the Grand Canyon National Park in Arizona. This park is a stunning 277-mile steep-sided canyon carved out by the Colorado River.
Just a quick (and popular) helicopter ride from Las Vegas, visitors can enjoy rafting, hiking, running, and camping along the North and South Rims of the canyon.
If you want to start exploring this incredible national park, check out this awesome virtual tour by Google Earth.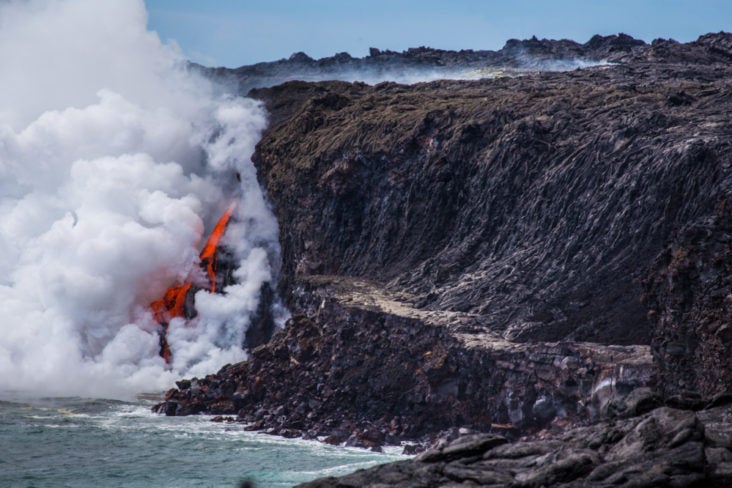 Located on the main island of Hawaii, the Hawai'i Volcanoes National Park rests on top of 2 active volcanoes: Kīlauea, one of the world's most active volcanoes, and Mauna Loa, the world's most massive shield volcano.
The volcanoes are home to some of the most unique biological, geological, and cultural landscapes in the world. Visitors come to learn about the volcanoes, their history, the local culture, and the incredible biodiversity on the island.
You can immerse yourself in one of the most comprehensive tours on the internet thanks to this Google Arts & Culture virtual tour.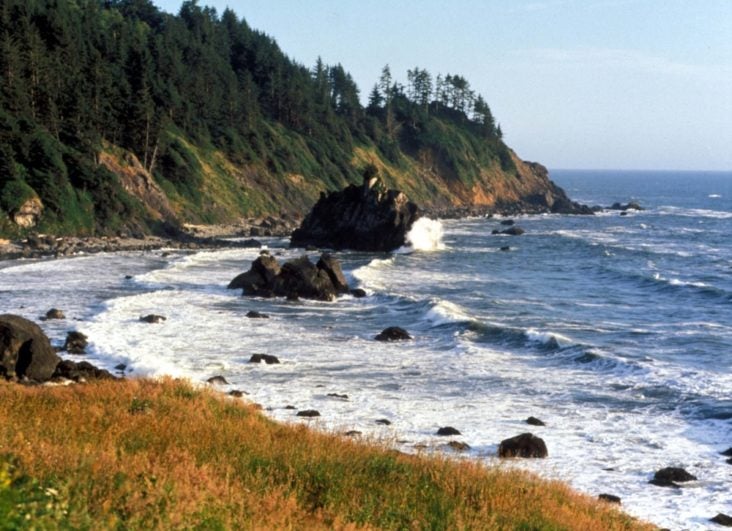 The 39,000-acre Redwood National Park is located on the picturesque, rugged coast of northern California.
Home to the famous Redwood trees — the tallest trees on earth — this national park is also home to wild river-ways, vast prairies, and oak woodlands.
You can start your own tour from home — including a scenic drive through the Klamath Tour Thru Tree — courtesy of this Google Earth Street View virtual tour.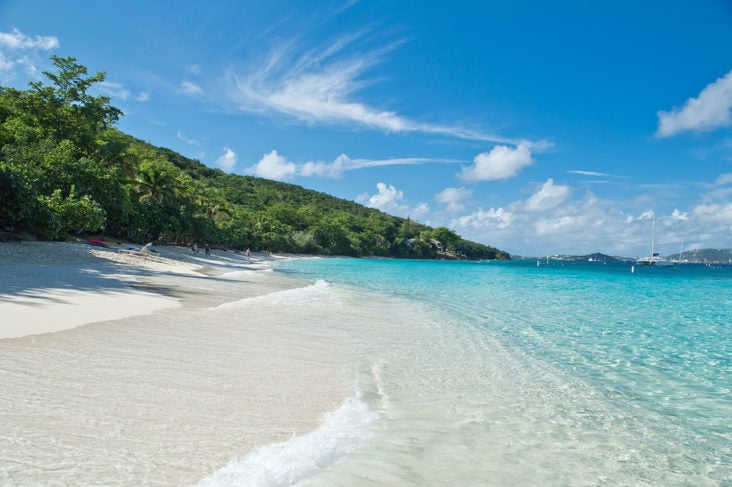 Famous for its white-sand beaches and excellent snorkeling, the Virgin Islands National Park protects about 60% of the island of St. John, as well as about 5,000 acres of ocean, and almost all of Hassel Island.
"America's Paradise" also attracts visitors for its sugar plantation history and ancient petroglyphs carved by the Taino Indians.
Thanks to Google Earth, you can explore the park's luscious forests, Danish sugar plantation ruins, and gorgeous beaches here.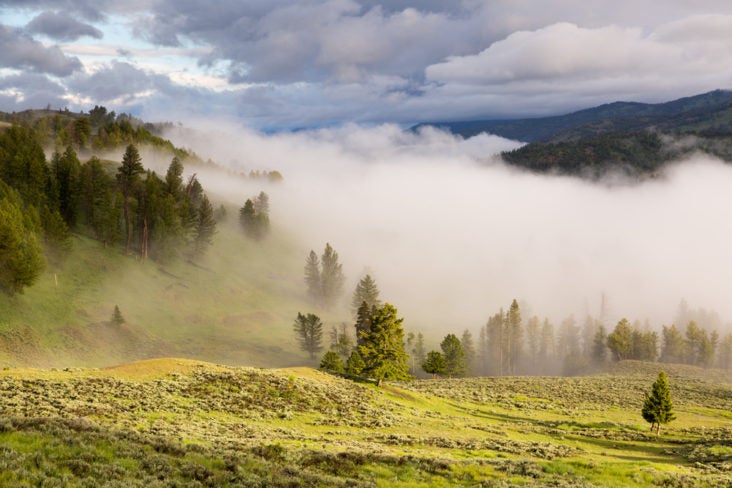 Stretching across 3 states (Wyoming, Montana, and Idaho), Yellowstone National Park was the very first national park in the U.S. The park is centered over the Yellowstone Caldera lake, which is the largest supervolcano on the continent.
One of the more famous (and less threatening) attractions is Old Faithful Geyser, which is known for its regular eruptions.
Every year visitors from around the world come to explore the thousands of other hot springs, geysers, and mud pots that dot the wild landscape.
You can now take your own virtual tour of this famous national park — complete with geysers, waterfalls, springs, and more — from the comfort of your own home thanks to Google Earth.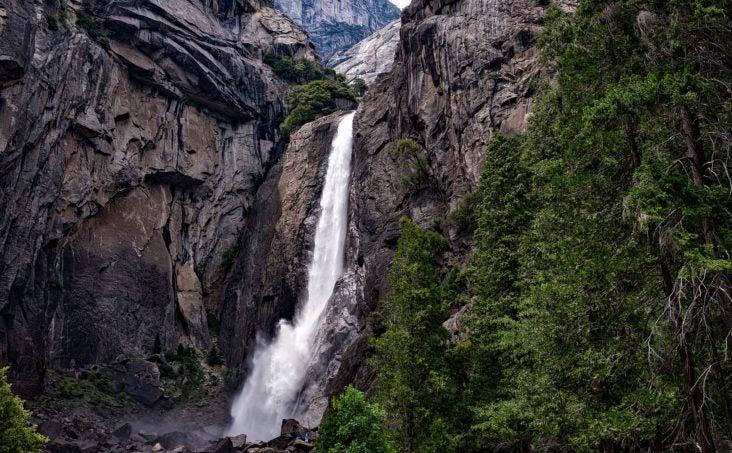 Internationally recognized for many of its natural features, including its waterfalls, clear streams, granite cliffs, giant sequoia groves, and incredible biological diversity, Yosemite National Park has a lot to offer.
More than 4 million visitors travel to the Sierra Nevada of central California to explore the 748,000-acre park each year.
You can explore this park from home, including the iconic Half Dome and El Capitan monoliths, thanks to Google Earth's virtual tour.
Bottom Line: You can enjoy the incredible natural beauty of our national parks without leaving home thanks to our detailed list of 62 virtual tours of iconic national parks around the U.S.! 
Sports Stadiums with Virtual Tours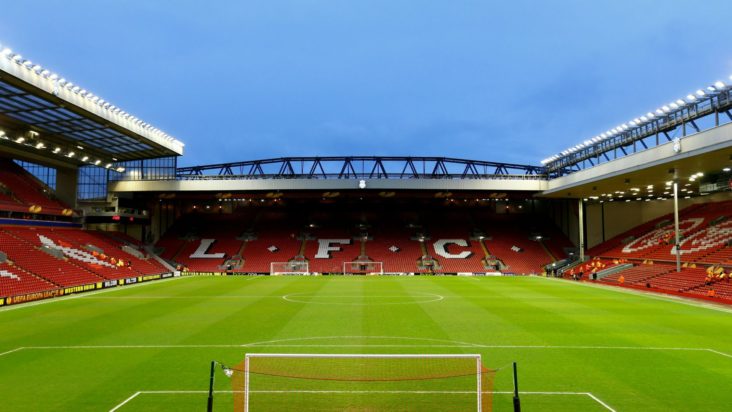 Visit the home of Liverpool FC, Anfield Stadium, which has been the Premier League club's home since 1892.
You can walk the pitch, visit the lounge, stores, and more here.
The club also has a Kop Kids site offering family-friendly activities, videos, and competitions.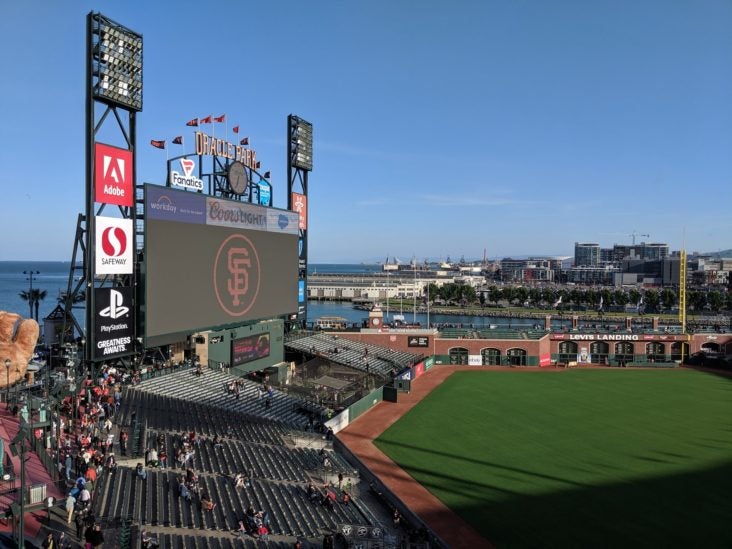 Now in its 20th year, Oracle Park (formerly Pacific Bell Park, SBC Park, and AT&T Park) is home to the San Francisco Giants MLB team.
The 42,000-seat park sits right on the edge of the San Francisco Bay, making for some gorgeous backdrops.
If you are interested in what it would be like to attend a baseball game at Oracle Park, check out this fun, 360-degree virtual tour.
The Giants have also created Junior Giants at Home, a free 4-week virtual season featuring training from the Giants' manager and coaching staff!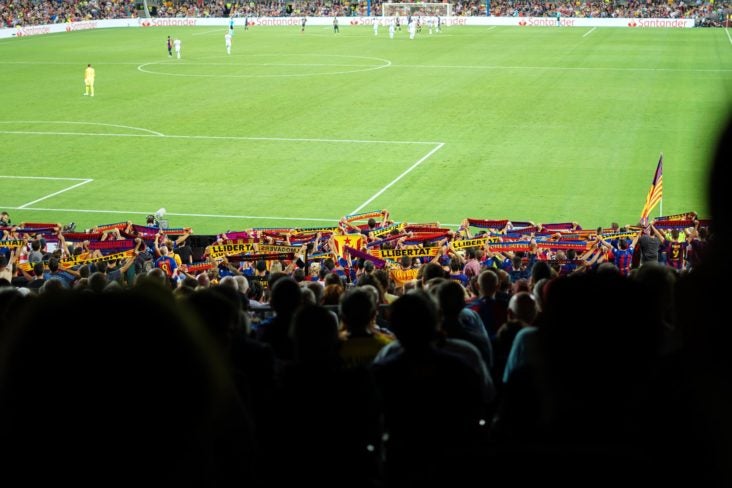 Home stadium of FC Barcelona since its completion in 1957, Camp Nou is the largest stadium in Europe with over 99,000 seats.
Having hosted some of the most high-profile matches ever, including European Cup/Champions League finals, UEFA Cup Winners' Cup finals, the opening game of the 1982 FIFA World Cup, and the football competition final at the 1992 Summer Olympics, it is easily one of the most famous stadiums in the world.
Experience what it is like to walk around everything from the bleachers to the pitch thanks to this virtual tour.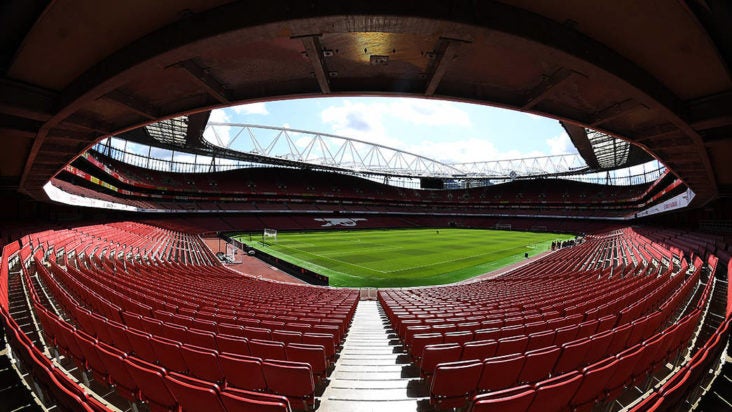 Get a view of this gorgeous stadium from one of the 60,000+ seats or, from the middle of the pitch, or even from above the stadium to get a feel for how big it is.
Enjoy the 360-degree tour, here.
The club also has Arsenal Home Learning player packs available to download on its Junior Gunners site.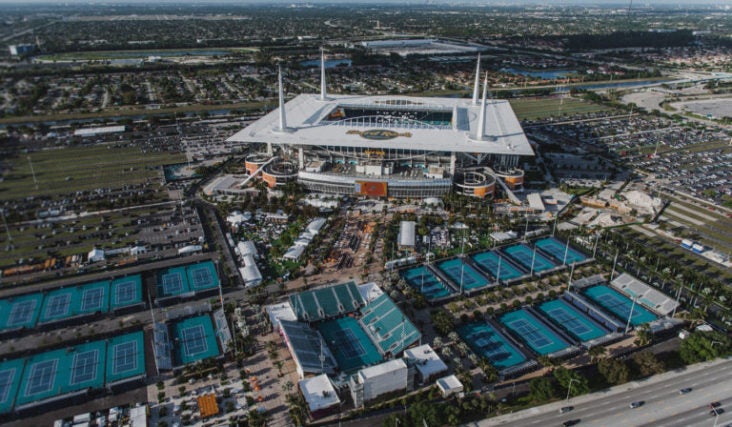 Changing names 8 times since opening in 1987, Hard Rock Stadium is best known as the home of the Miami Dolphins NFL team and Miami Hurricanes NCAA team.
The stadium can hold up to 80,000 fans, depending on its configuration, which is quite flexible as it has been host to multiple NFL Super Bowls, MLB World Series, BCS National Championship Games, and is now also the home to the Miami Open tennis tournament.
Take a walk through the stadium during the Miami Open via this virtual tour.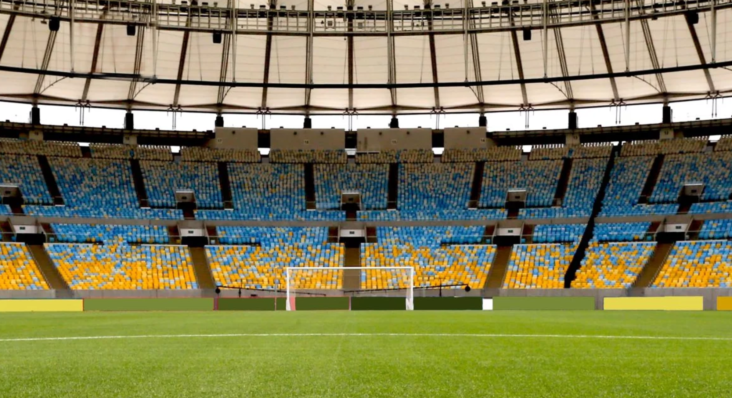 Step inside this massive 70,000+ seat stadium, home of the most famous football (soccer) club in Brazil, Flamengo.
A centerpiece for both the 2014 FIFA World Cup and 2016 Summer Olympics, this gem in the heart of Rio de Janeiro is on the bucket list for many sports fans.
Take your own 360-degree virtual tour here.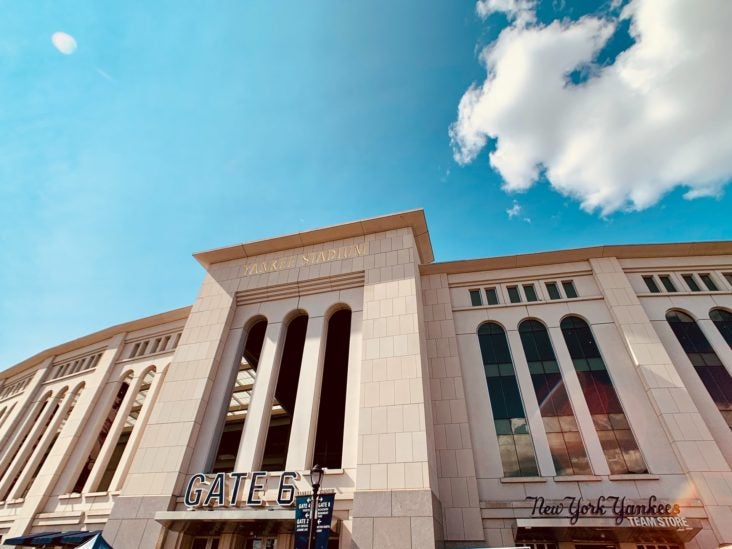 Yankee Stadium is one of the most famous baseball stadiums around. If you haven't been, you can now visit the "Virtual Venue" which has views from all around the park.
Start your own virtual tour here.
The Yankees also have a Yankees Kids page with at-home activities, games, activities, and more!
UNESCO World Heritage Sites with Virtual Tours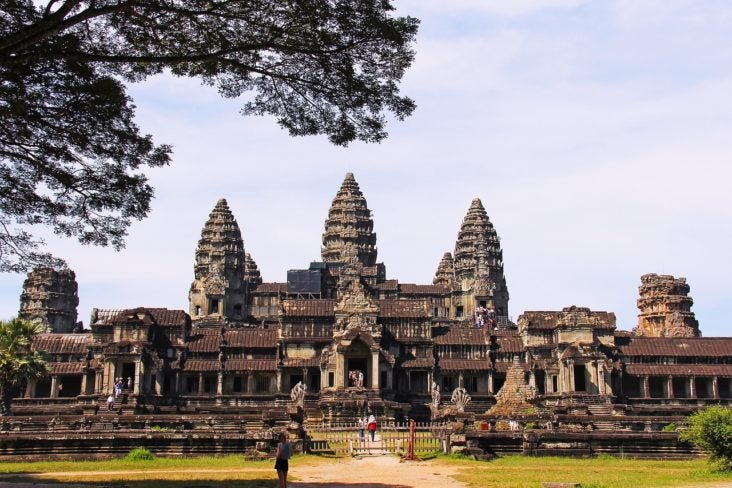 The largest religious monument in the world, Angkor Wat is a temple complex in Cambodia measuring over 402 acres.
What started as a relatively small tourist destination with only 7,000 visitors in 1993, the site received 2.6 million foreign visitors in 2018.
You don't need to fight the crowds to see the temples, but this Google Earth tour may inspire some wanderlust!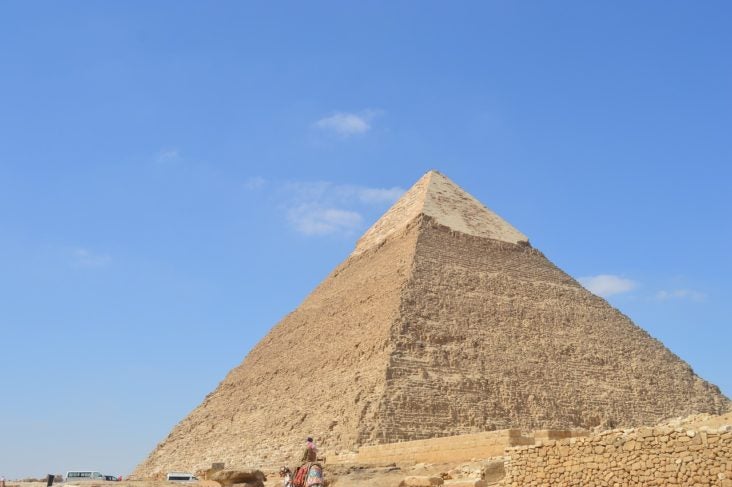 The oldest of the 7 Wonders of the World, as well as a UNESCO World Heritage Site, the Great Pyramid was the tallest man-made structure in the world for more than 3,800 years.
The Great Pyramid was built as tombs for Pharaoh Khufu and his wife, and construction was estimated to take 20 years due to the 2.3 million blocks of limestone and granite, some weighing as much as 80 tonnes.
Walk alongside these massive pyramids from home via Google Street View Treks.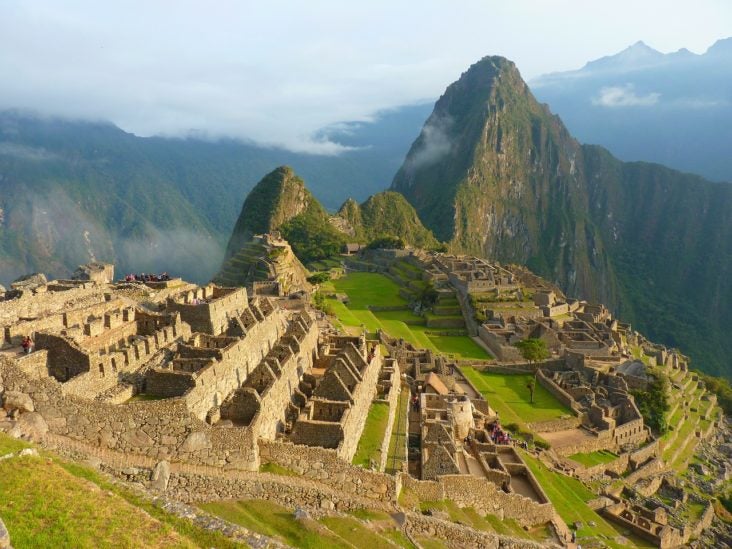 Just outside of Cuzco, Peru, this 15th-century Inca citadel is located almost 8,000 feet up a mountain above the Sacred Valley.
The site was virtually unknown to the outside world until 1911 when an American historian brought it to international attention. It is believed that the Incas built the estate around 1450 but abandoned it a century later at the time of the Spanish conquest.
Experience Machu Picchu without the climb via this virtual tour.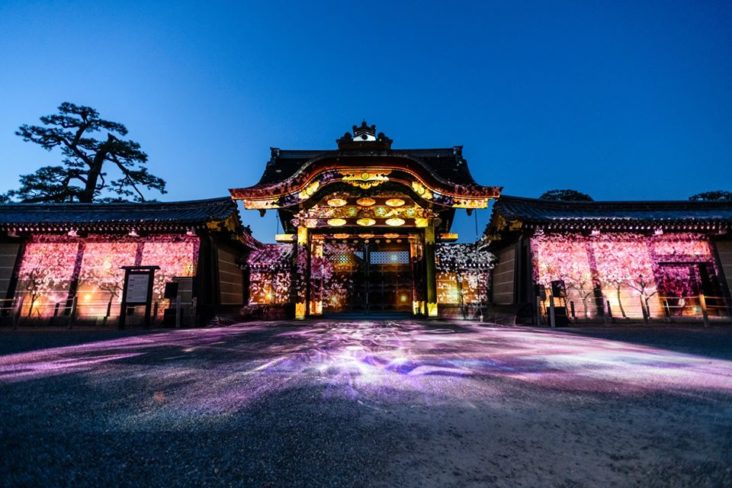 Nijo Castle in Kyoto, Japan was designated a UNESCO world heritage site in 1994 to help preserve this historic residence.
Built in 1603, it was the residence of Tokugawa Ieyasu, the first shogun of the Edo Period until Tokugawa Shogunate fell in 1867. For a period of time in the 1800s, it was used as an imperial palace before being donated to the city and opened up to the public as a historic site.
"Walk" these special grounds via this Google Earth Virtual Tour.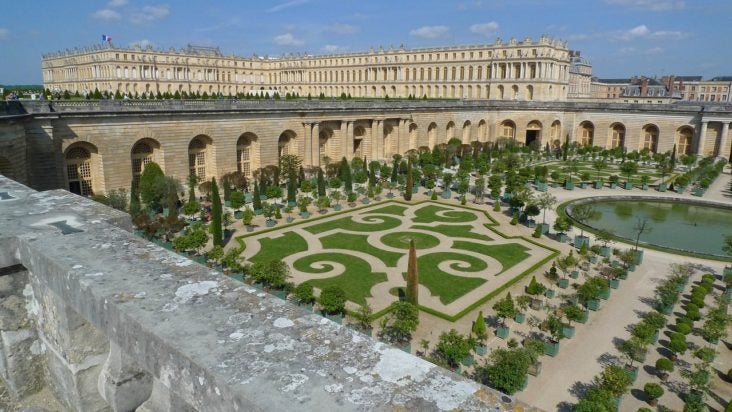 The Palace of Versailles started as a simple hunting lodge but when expanded later became the principal royal residence of France. Eventually, the entire royal court and the French government relocated to Versailles as well.
Many notable historical events have occurred on the property, including World War I ending in the palace with the Treaty of Versailles. The popular tourist destination received nearly 8 million visitors in 2017 — more than the Eiffel Tower.
Take your own virtual tour today via Google Arts & Culture.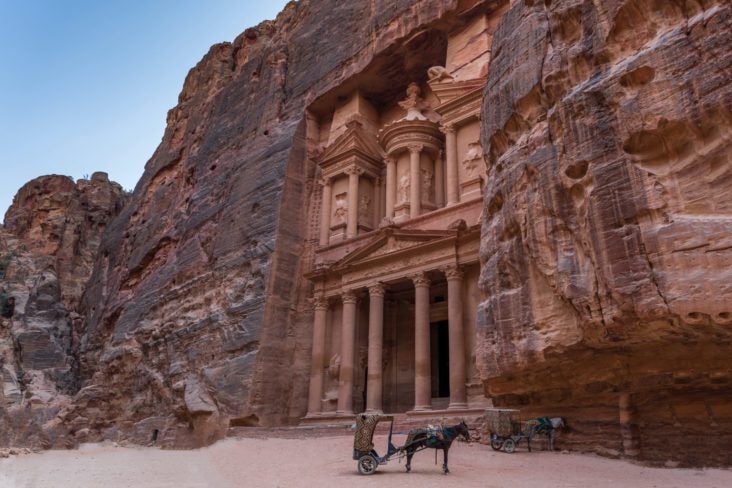 An ancient city established as a capital for the Nabataean kingdom as early as the fourth century B.C., Petra is famous for its sandstone walls and stunning carved structures.
On your Google Street View Trek, travel through the Siq and discover nearly 20 sights, from the Treasury to the Monastery, while learning about Petra's inhabitants.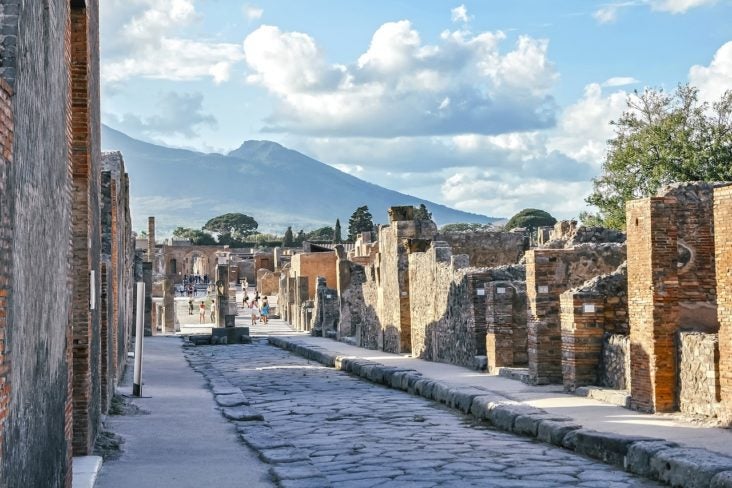 Pompeii is an ancient city in Italy that was buried in 20 feet of volcanic ash after the eruption of Mount Vesuvius back in A.D. 79. Excavators found a snapshot of Roman life as they dug out the city that was frozen in time.
With 2.5 million visitors annually, Pompeii is one of the most popular tourist destinations in Italy.
Take your own walking tour of this unique, former thriving town via Google Earth.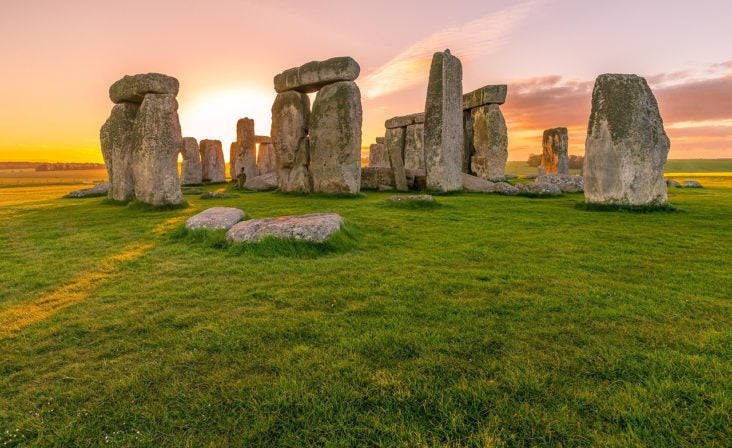 Stonehenge is one of the world's most puzzling prehistoric monuments. While certainly beautiful, the more you learn about this structure, the more intriguing it becomes.
Now, widely agreed that it was once a burial ground, historians still don't know how 100 massive stones were placed upright in a circle back in 3000 B.C. to 2000 B.C. — before the invention of the wheel or other helpful tools.
Take a stroll around this curious masterpiece on your own virtual tour here.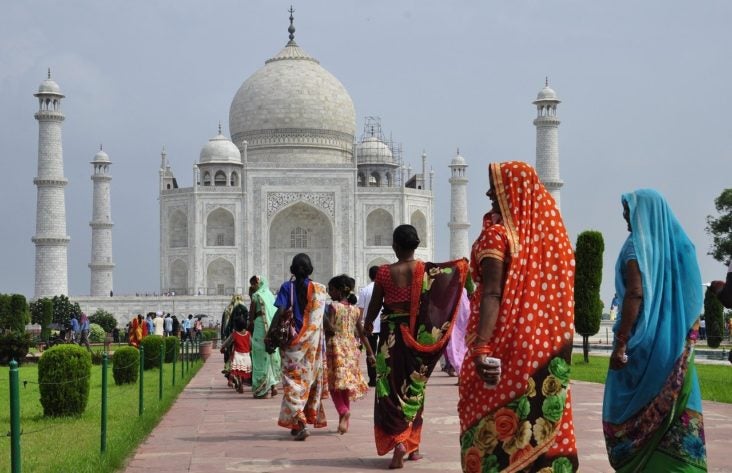 The Taj Mahal is an immense mausoleum of white marble, built 1631 and 1648 by order of the Mughal emperor, Shah Jahan, in memory of his favorite wife.
The Taj Mahal was designated as a UNESCO World Heritage Site in 1983 for being "the jewel of Muslim art in India and one of the universally admired masterpieces of the world's heritage."
Walk along the gardens in this stunning complex from home thanks to Google Earth.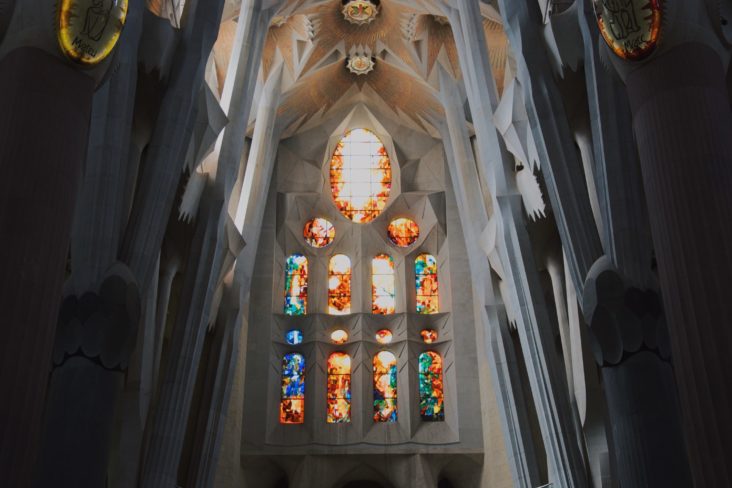 The Basílica de la Sagrada Família, also known as the Sagrada Família, is a large Roman Catholic minor basilica in Barcelona.
Construction began in 1882 and has been slow, to say the least. When it was interrupted by the Spanish Civil War in 1936, it was only about 30% complete. As of 2015, it was estimated that the construction was only about 70% complete with a likely completion around 2032.
The inside, however, is complete and stunning. Take a Google Earth virtual tour or visit the official website's virtual tour of 10 locations within the cathedral, including audio.
Zoos with Virtual Tours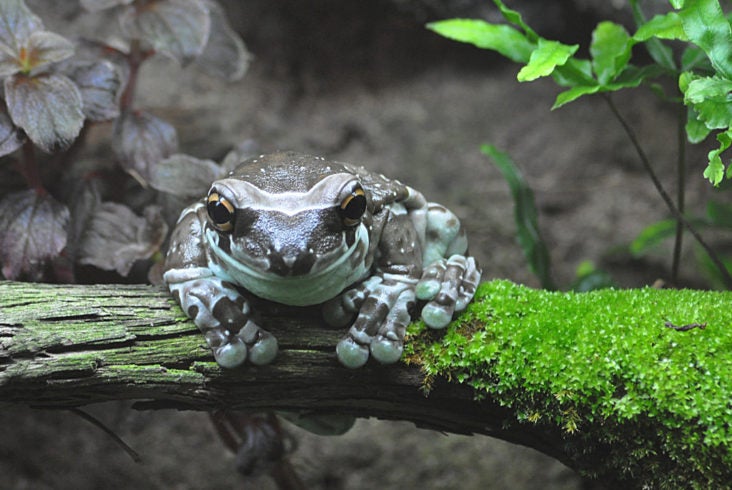 Tune in to the Cincinnati Zoo's Facebook page every day at 3 p.m. EST when zookeepers bring in 1 animal to highlight and teach about to viewers. This is a great opportunity to ask questions directly to the caretakers of some of your favorite animals.
To watch on Facebook Live, click here. All videos are also archived on the zoo's YouTube page.
The zoo also has a Home Safari Resources page featuring games, crafts, quizzes, and more!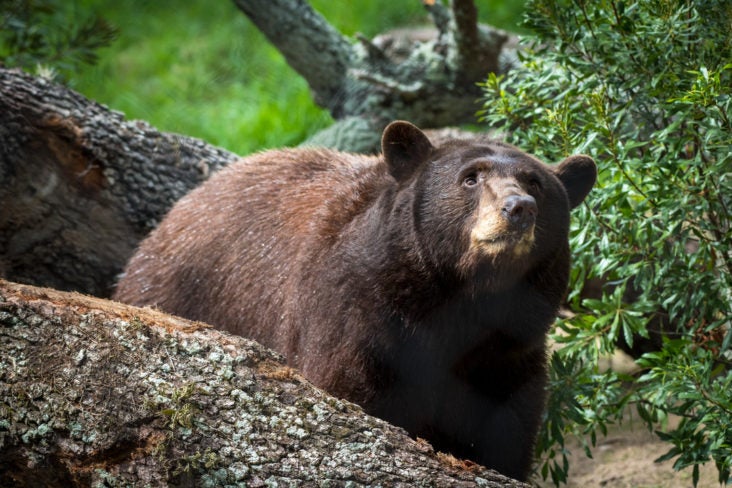 Each weekday, at 11:00 a.m. CST, the Houston Zoo hosts a Facebook Live event with the zookeepers and animals. Tune in to see what your favorite furred, flippered, and feathered friends are up to.
You can watch all videos, including past ones here.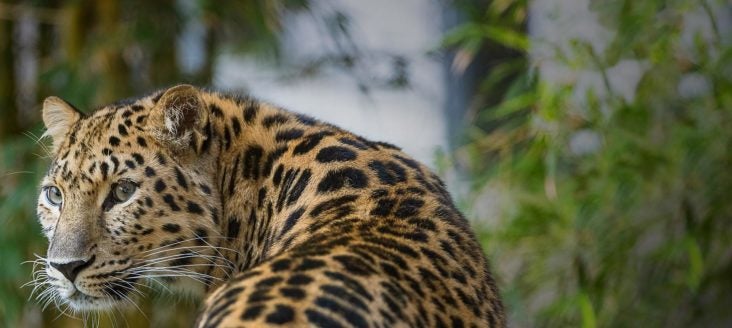 The San Diego Zoo has put together a special page on its website just for kids. You can watch videos, read stories about animals, play games, and more.
To learn more about this fun zoo and its residents, click here.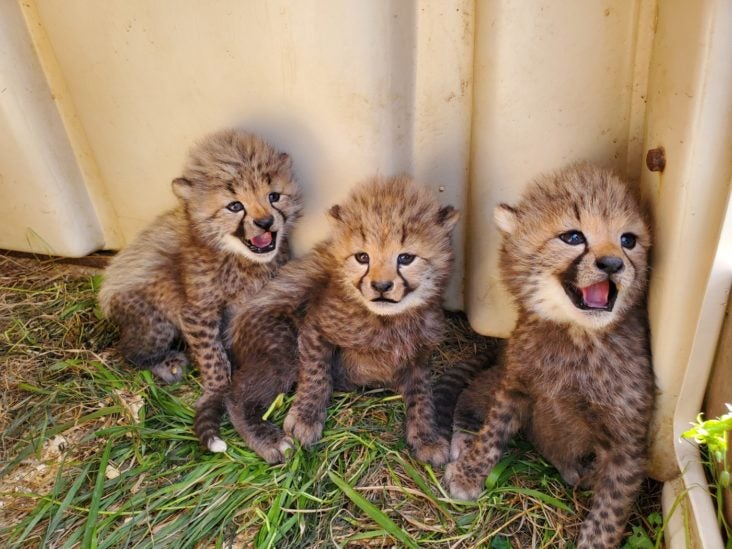 One of the oldest zoos in the U.S., the Smithsonian National Zoo in Washington, D.C. is split into 2 campuses that are home to about 2,700 animals of 390 different species — about 20% of these animals are either endangered or threatened.
If you are curious about what some of your favorite animals are up to, including cheetah cubs, check out these webcams. The zoo also offers a variety of educational at-home activities.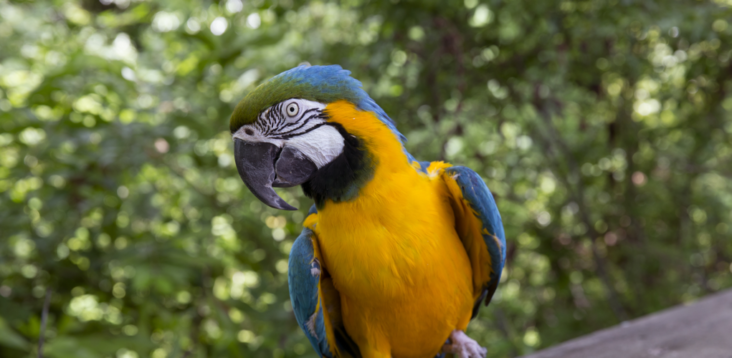 Are you a fan of pandas? Then you don't want to miss Zoo Atlanta's live Panda Cam. Check-in on your favorite bamboo-chewing bear any time, here.
The zoo also offers at-home lessons that feature stories, crafts, virtual events, games, and a virtual petting zoo tour.
Final Thoughts
While we all wish that we could hop on a plane and explore the world like we used to, it just isn't safe enough to do that, yet.
As things start to open up again, you may have the opportunity to check out some of these virtual field trips in real life. So there is no better way to make the most of your trip than to build up some wanderlust and start planning which of these awesome locations you are going to visit first!