FoundersCard Review – Is It Worth It? [2021]
The FoundersCard is an interesting beast. In a world of credit cards, points, and miles, the FoundersCard can seem a little lost. It isn't a credit card — you can't use it to pay for things — and it's not going to earn you any points and miles. But it has a number of intriguing benefits that may make it worthwhile to the savvy traveler.
FoundersCard styles itself as a "lifestyle" card catering to small businesses. What does this mean, exactly? Well, it charges a hefty annual fee, and in return you get a number of benefits, including things like hotel elite status, cheaper airline tickets, and even cell phone plan discounts.
In this guide we're going to break down all the different perks you'll receive as a FoundersCard holder and whether it's worth the expensive annual fee.
What Is the FoundersCard?
As we mentioned above, the FoundersCard is a membership card that grants you access to a number of elite statuses and discounts, and even a few free things. Within the world of points and miles it's certainly unique because, although it offers many of the benefits granted via premium travel credit cards, it is not in and of itself a credit card.
That's not to say that it can't offer value, however, and especially if you're averse to owning credit cards, the FoundersCard can be an option to receive some of those high-end lifestyle perks anyway.
Interestingly, the FoundersCard isn't just open to everybody — you'll have to apply for it just like any other card and approval is not instant. It can take up to 2 business days to hear back regarding your application.

How Much Does the FoundersCard Cost?
This depends. The published annual fee for the FoundersCard is $595 per year with a $95 initiation fee, which is pretty high. However, if you can properly take advantage of the benefits FoundersCard offers, it'll more than pay for itself.
What Benefits Does the FoundersCard Offer?
The FoundersCard actually offers tons of different benefits, although you can't view them directly on its website unless you're a member. Instead, you'll need to sign up for a "preview," and FoundersCard will send you an email with a link to its benefits page.
That's a hassle, so we've collated all of the benefits we think are most useful, broken down by each category. Let's take a look.
Hotel Benefits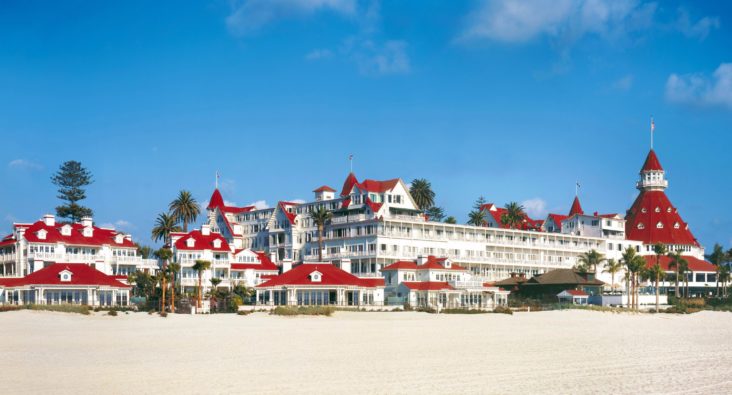 Most cardholders will probably find their true value in the FoundersCard's excellent benefits for hotels:
Hilton Gold Status — Gold status includes free breakfast, increased bonus points, room upgrades, early check-in, late checkout, and complimentary premium internet.
Marriott Platinum Elite Status Challenge — After 15 paid nights in a 90 day period, you'll receive Platinum Elite status that includes free breakfast, room upgrades, increased bonus points, early check-in, and late checkout.
Hotel Chain Partnerships — These partnerships will get you discounts and special privileges (like free breakfast) at certain properties:

Kempinski Hotels
Omni Hotels & Resorts
Park Hyatt
Peninsula Hotels
Now, you may be wondering if the benefits mentioned above are actually any better than what you can with any other statuses and credit cards you have. The answer is yes — they definitely can be.
Let's take a look at the Waldorf Astoria Las Vegas. Here's the standard member rate when booking a basic room at the Waldorf: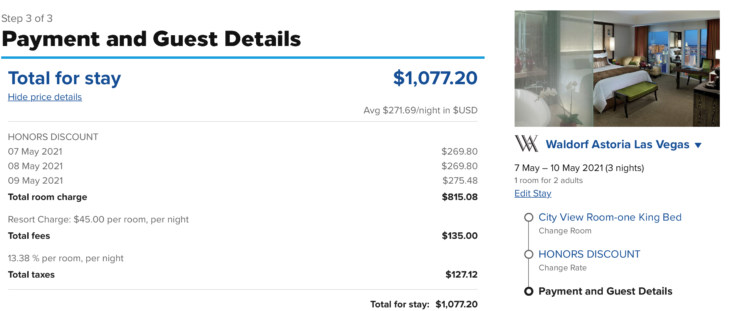 $1,000 for 3 nights is pretty steep. At this rate, you won't receive any additional benefits unless you're a Hilton Honors elite member.
Fortunately, this hotel also happens to be on Amex's Fine Hotels & Resorts (FH&R) page. If you're not familiar with FH&R, it's a program available to those who hold Amex's premium cards, including The Platinum Card® from American Express and The Business Platinum Card® from American Express. Its main attraction lies in the additional benefits it'll give you, which include room upgrades, early check-in, late checkout, and a property amenity (usually something like a $100 food and beverage or spa credit). In this case, they're offering a $125 property credit. 
Here's the same stay on Amex's website — the Waldorf is currently offering your third night free via FH&R: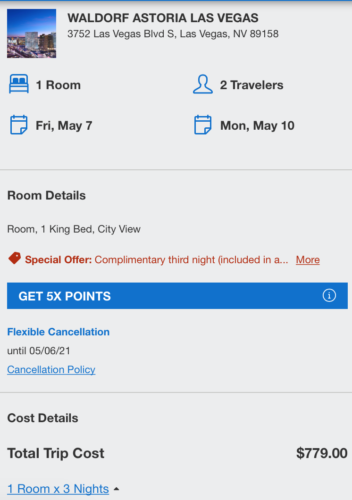 As you can see, you'll get a pretty significant discount via Amex, especially when you consider the property credit. Unfortunately, bookings with Amex are considered third-party and thus are not considered eligible to earn bonus points or elite night credit, nor will your elite status with the hotel be recognized (some people have still had success with this, but your mileage may vary).
Now let's take a look at the rate for FoundersCard members: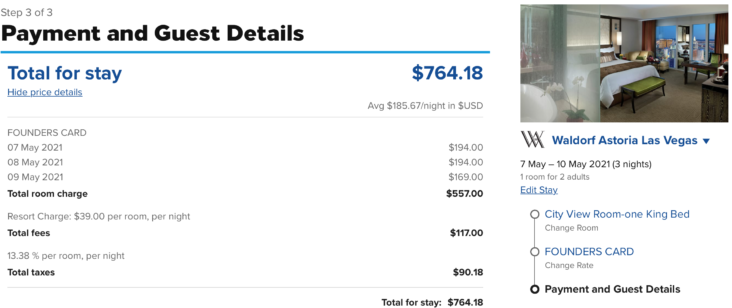 FoundersCard rates include a $25 per day property credit and reduced daily resort fees ($39 vs. $45). Your total out-of-pocket cost will be less with FoundersCard, but the amount of property credit you'll receive on a 3-night stay is $75 vs. $125 with Amex.
The most important thing to note here is that this rate is bookable via Hilton's website. That means it's eligible for all elite night credits and bonus point earnings. Your Hilton Honors elite status will also be recognized, which entitles you to free breakfast, room upgrades, etc. That's well worth the slightly reduced property credit.
This is true for all the hotel chains that have partnered with FoundersCard. Stays at The Ritz-Carlton will earn you Marriott Bonvoy points, stays at the Park Hyatt will earn you World of Hyatt points, etc. This is especially valuable if you're trying to chase elite status with any of these hotel chains.
Booking Hotels Using Shopping Portals
Another big benefit to booking hotels using the FoundersCard rate is that because you're booking directly on the hotel website you'll be able to go through a cash-back portal to earn extra rewards on your purchases.
CashBack Monitor is a great website to check which portals are offering the highest return, and you'll often see increased bonuses for holidays or other special events. If it's available, Rakuten is an especially good site to use since it allows you to earn American Express Membership Rewards rather than straight cash-back, effectively doubling the value of your return since we value Amex points at 2.2 cents each.
As an example, at the time of writing, Rakuten is offering 2.5% cash-back on hotels booked with Hilton. On the above stay, you'd earn $19.10 in cash by booking with FoundersCard. If you choose, however, to earn Amex points, you'd receive 1,910 points, which we value at $42.02. This isn't something you'd be able to do when booking via Amex's website.
Caesars Rewards Diamond Elite Status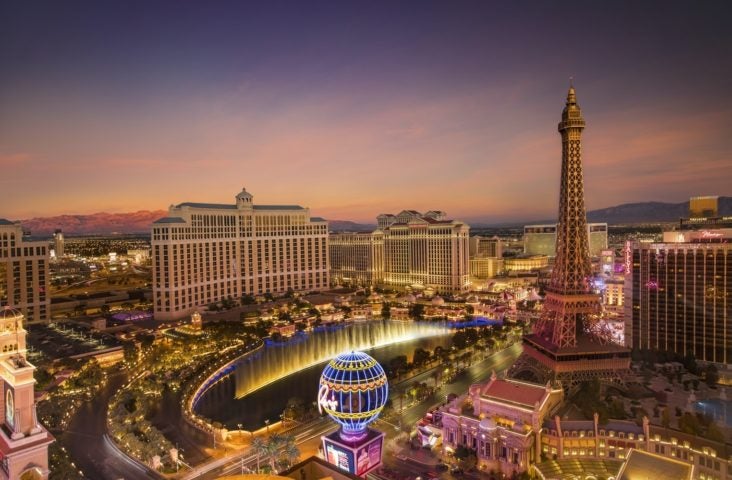 Apart from the above-mentioned hotel benefits, there's actually 1 other perk FoundersCard offers that can be vastly more valuable.
As a FoundersCard holder, you'll receive complimentary Diamond elite status with Caesars Rewards. We've talked before about why Caesars elite status is so valuable, but here's a quick breakdown:
Complimentary 4-night stay at Atlantis, Paradise Island in the Bahamas
Complimentary valet and self-parking
Waived resort fees on all hotel stays
15% off best available room rates
2 free show tickets each month
Priority lines at hotel check-in, restaurants, the Caesars Rewards Center, and casino cages
72-hour guaranteed room availability
$100 annual celebration dinner
20% discount at casino shops
20% discount on Norwegian cruises
Access to the VIP reservation phone line
Access to the Laurel Lounge (will cost 1,000 Reward Credits per entry)
If you've ever had the opportunity to visit Las Vegas, you'll know how valuable waived resort fees and complimentary parking can be — especially since the rates for each hover around $40 per night. That's $80 a day you'd save as a Diamond elite member!
And while there are definitely additional charges associated with your free stay at the Atlantis, Paradise Island, you can save over $1,000 on your stay, where room rates hover around $200 per night:

The $100 celebration dinner is valid at tons of Caesars restaurants, too, and not just in Las Vegas. This is a great way to treat yourself to a nice dinner without feeling guilty.
Having elite status with Caesars also means you can status match over to the following chains:
Bottom Line: The hotel benefits offered by FoundersCard can be extremely valuable, especially if you take advantage of your Caesars Diamond elite status.
Airline Benefits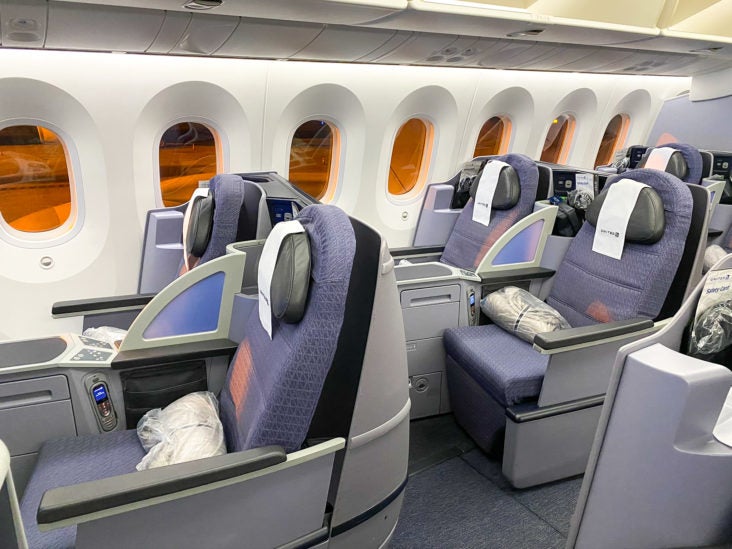 Depending on how often you fly, you may be able to find some real value out of the benefits FoundersCard offers. These are mainly small discounts on airlines, though a recent addition means you'll get 2 different elite statuses thrown into the mix.
FoundersCard is also known for its regularly offered status challenges with different airlines, which will help fast-track you to elite status. Just recently, for example, FoundersCard and American Airlines held a status match challenge for cardholders.
Airline Discounts
British Airways — Up to 10%
Cathay Pacific — Up to 15%
Qantas Airways — Up to 25%
Singapore Airlines — Up to 15%
United Airlines — Up to 8%
Airline Elite Status
Rental Car Benefits
There are a few different benefits for rental cars, though rental car companies are a sort of hit-or-miss when it comes to renting directly. These benefits may score you a discount over the standard rate, but other websites, such as Autoslash, may be able to find you an even cheaper rate — and though you won't get a free upgrade or bonus points, the price difference is often stark enough to make up for it.
Hot Tip: Pay for your car with a credit card that offers rental car insurance to save a bunch of money.
Small Business Benefits
Like we said before, the FoundersCard is targeted towards small-business owners, and that's obvious when you take a look at the benefits it offers for small businesses. There are tons, but here are a few highlights:
20,000 fee-free dollars with Stripe
40% off Dell everyday products
Up to 40% off select Think and Lenovo products
50% off the first annual subscription of Salesforce Essentials
Up to 47% off UPS shipping
Save 20% on Shopify plans
Up to 55% off at Office Depot
1 year complimentary of Phone.com's Basic Users Plan
30% off plan upgrades for the first 12 months at Slack
$150 off the first month of any plan for new signups at Zirtual, and an ongoing 10% discount
Waived membership fees for Fiverr's Business Platform Membership for 2 years
6 months free of Zendesk Support and Sales CRM
40% off Dropbox Business or Plus annual subscription
50% discount on a 2x weekly Oasis membership from Industrious
20% off Image & Footage Subscription Plans at Shutterstock
$500k in revenue for free on the Chargebee Launch Plan at Chargebee
Miscellaneous Benefits

Most of the remaining benefits are lifestyle benefits — things that'll make your life easier, like free fitness classes and discounts at certain stores. Here are a few of the best:
15% off the monthly service charge of qualified personal wireless plans or up to $10 off per line, each month, for the Unlimited Elite plan at AT&T
Complimentary TripIt Pro Membership for 1 year
Up to 15% of Carey car service
30% to 45% discount on Medjet Memberships
15% discount at Sonos and Bang and Olufsen
30% discount at Adidas and Reebok
20% off the monthly membership at obé fitness
Wheels Up Connect Membership for $1,995
FoundersCard Elite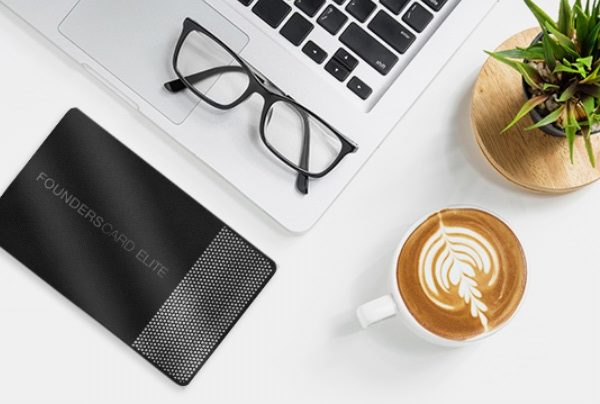 FoundersCard also has another level of membership — the FoundersCard Elite card offers additional benefits which may make it worth picking up — for at least 1 year. According to published pricing, the cost of upgrading your membership is $595 per year, but reports showed that FoundersCard will actually offer this for $295 and this was our experience as well. So what do you get for that extra cash?
Omni Select Guest Platinum elite status good for 1 year, offering room upgrades, evening turndown, late checkout, double earnings for award nights, and more
Hertz President's Circle elite status
Avis President's Club elite status
VIP hotel upgrades and amenities
$50,000 in fee-free payments on Stripe
10 hours per month in concierge services
$5,000 in Amazon Web Services (AWS) Activate credits
25% off Bang and Olufsen
Complimentary companion FoundersCard membership
The most intriguing benefit here is the free companion card. These cards are full-blown membership cards, which means whoever you give it to is going to get all the same benefits as you. This means they'll have Caesars Diamond elite status, Cathay Pacific Marco Polo Club Silver status, Virgin Atlantic Flying Club Silver status, and more.
Why is this important? Well, whether you choose to keep your elite card or not, your companion will have had the chance to match their Caesars Diamond status to Wyndham Diamond. Many lamented last year when Wyndham's extremely generous status match program ended, meaning that the only way to acquire Wyndham/Caesars Diamond statuses was via credit card or actual hotel stays. The FoundersCard is a way around that.
Hot Tip: Once Caesars and Wyndham statuses have been matched, that elite status is permanent — so long as you time it correctly.
This means that for your $295 you'll get a spare $100 celebration dinner and a 4-night stay in the Bahamas each year. Forever.
Don't you want to go wild in Vegas with $200 in free dinners? How about combining your hotel stays for 8 free nights in the Bahamas every year? Then snagging the FoundersCard elite membership for at least a year is probably worth it.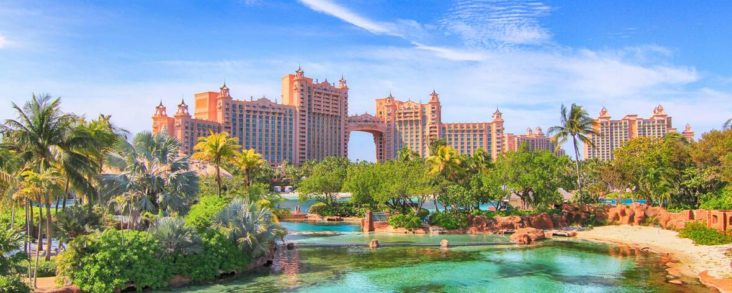 You can also opt to skip the FoundersCard Elite option and choose to instead pay $495 for a lifetime significant other membership. This is a 1-time fee and gives your Player 2 a free FoundersCard as long as you hold yours.
Is the FoundersCard Worth It?
We've outlined some of the biggest benefits here, but there are plenty more that the card offers. Of course, none of that means anything if you can't extract any value from the perks. If you're a small-business owner who is already using some of the services FoundersCard discounts, this card is a no-brainer.
The question becomes a little more difficult to answer if you're not doing much business and even murkier if you already hold several credit cards that grant you similar benefits.
On the other hand, if you're an AT&T user, plan on flying with a Oneworld airline sometime in the next year, want to combine discounted Dell products with a Dell statement credit, or think you can swing the Virgin Atlantic Silver or Gold elite status, there is a lot of value to be had here.
FoundersCard Alternatives
If you're not feeling the FoundersCard, there are still ways you can get a lot of these benefits via credit cards that stack up pretty well against the FoundersCard for hotel and rental car benefits:
Final Thoughts
The FoundersCard isn't a card for everyone — and it's not meant to be.
Some will undoubtedly wonder why you'd pay an annual fee for a card that won't even earn you points and miles, but the honest truth is that if you can make use of even just a few of these benefits, the FoundersCard can certainly be worth your time.
Whether you're looking for free room upgrades, airline discounts, or fee-free payments via Stripe, FoundersCard is there to help you out, all packaged nicely in a luxurious metal card.
---
The information regarding the FoundersCard, Hilton Honors American Express Surpass® Card, Wyndham Rewards® Earner℠ Business Card, and United Club℠ Card was independently collected by Upgraded Points and not provided nor reviewed by the issuer.