The Best Ways to Use 10,000 (or Fewer) Marriott Bonvoy Points
Marriott's loyalty program is known as Marriott Bonvoy. Today, it continues to be one of the most flexible and versatile hotel rewards currencies available.
This means that travelers have a number of options for redeeming Marriott Bonvoy points, even if they just have a few thousand points in their account. In this article, we'll discuss all ways to redeem 10,000 or fewer Marriott Bonvoy points for maximum value.
Just note that 10,000 Marriott Bonvoy points isn't a ton of points, so you will have limited redemption options. Regardless, these options are better than letting orphaned Marriott Bonvoy points expire or otherwise not be used.
Let's get started!
Top up Airline Mileage Balances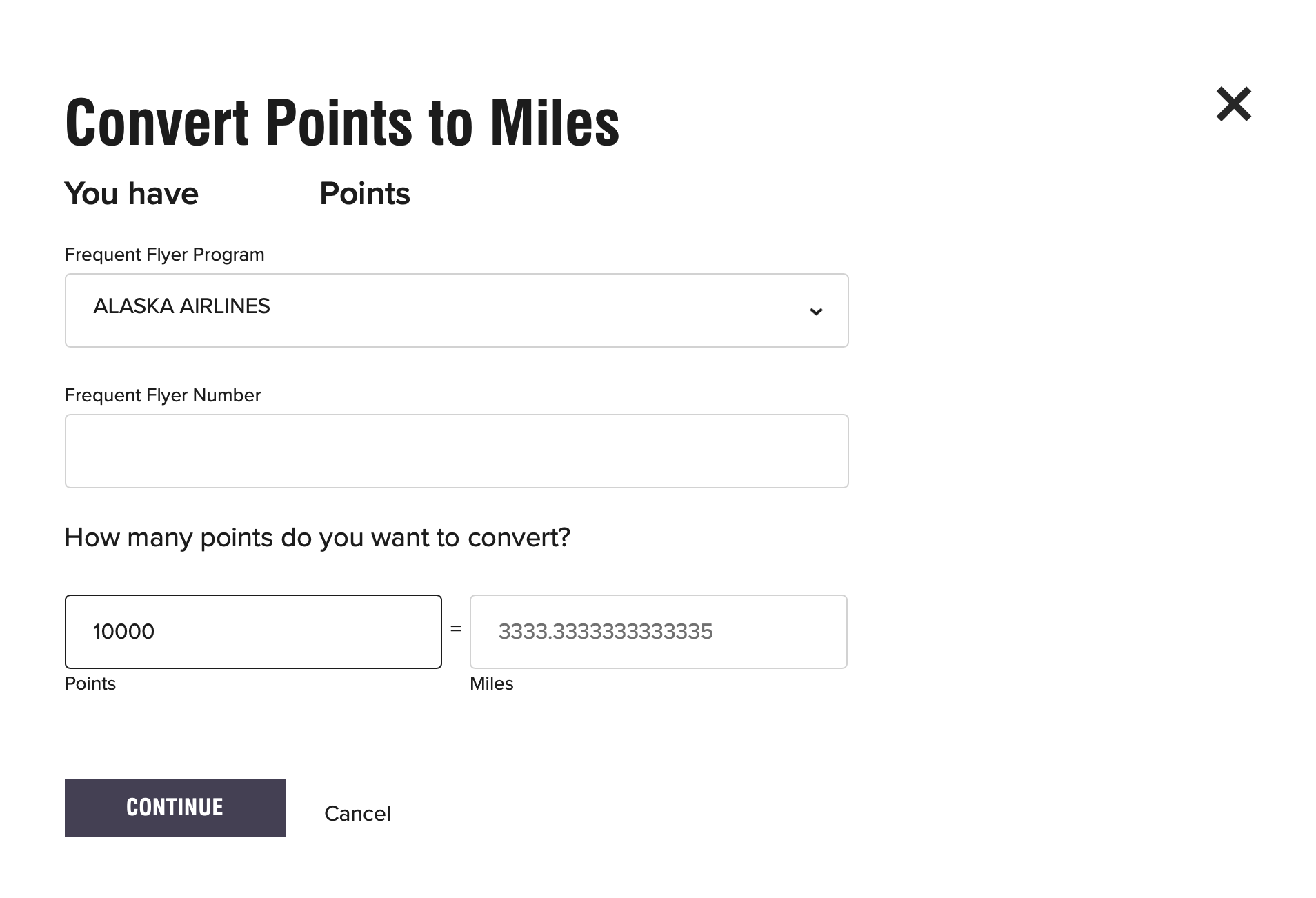 Marriott Bonvoy has a number of different airline transfer partners, most of which transfer at a 3:1 ratio. This isn't as good of a transfer ratio as other transferable points currencies like American Express Membership Rewards, Chase Ultimate Rewards, or Citi ThankYou Points, but the program has a number of unique transfer partners not found anywhere else.
Some of these include JAL Mileage Bank, Alaska Airlines Mileage Plan, and American Airlines AAdvantage. These programs do not transfer in from other points programs, making them tough to earn without either flying their respective airline or opening a co-branded credit card.
Hot Tip: Marriott points transfers often take 24+ hours to process. Make sure to transfer your points as soon as you have a redemption in mind so you can secure your award ticket before it sells out.
We recommend transferring a small balance of Marriott Bonvoy points to one of these hard-to-earn airlines when short on points for a specific redemption. However, we do not recommend preemptively transferring points as this limits flexibility and can leave travelers subject to devaluations.
Book a Night at a Category 1 Hotel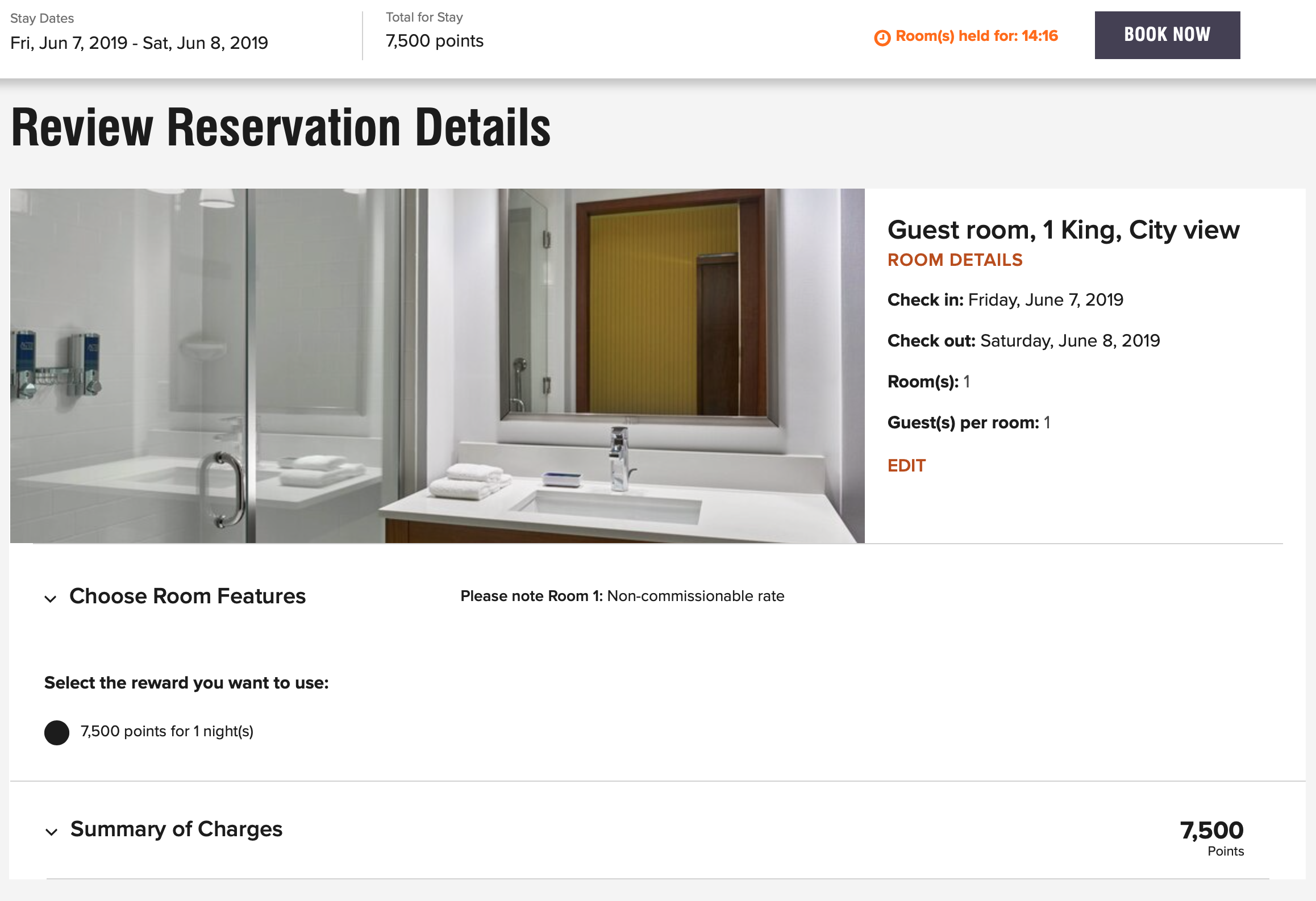 Marriott Bonvoy members can redeem 7,500 points for a 1-night stay during standard dates at any Category 1 hotel in the Marriott portfolio. While Category 1 hotels are generally mid-range hotels in smaller cities, they can be a particularly good deal when booking during peak travel times or at the last minute.
Further, there are some gems to be had in Category 1. For example, Four Points by Sheraton Fargo Medical Center is a Category 1 hotel in Fargo, North Dakota's medical district. When booking a week in advance, a 1-night stay costs $113. This gives travelers a point value of 1.5 cents each!
Another useful Category 1 hotel is the Courtyard Houston Hobby Airport. A 1-night stay is $123 when booked a week in advance, giving your points a value of 1.64 cents each. This can be especially helpful during flight cancellations and overnight layovers.
Fancy a trip abroad instead? The Courtyard Pilsen in Pilsen, Czech Republic is located in the heart of the Czech Republic's famous brewery town. However, rates generally hover around $60 (1378kč) when booked 1 week out, giving a value of just 0.8 cents per point. You can even fly to the Czech Republic on points, making this a potentially free vacation.
The world's only Category 1 Marriott property in the Luxury Collection brand is the ITC Kakatiya, a Luxury Collection Hotel, Hyderabad, which offers an Executive Club room at a standard rate for an incredible value!
With this in mind, make sure to do your research before booking a Category 1 Marriott stay with points. It can often be a better deal to pay cash for these hotel stays and save the points for a more lucrative redemption in the future.
Peak and Off-Peak Category 1 Redemptions
Keep in mind that Marriott has added peak and off-peak redemption prices to each of its award tiers. According to Marriott's redemption chart, off-peak Category 1 hotel stays will cost 5,000 points per night, and peak stays will cost 10,000 points per night.
Book a Category 1 to 3 Cash + Points Stay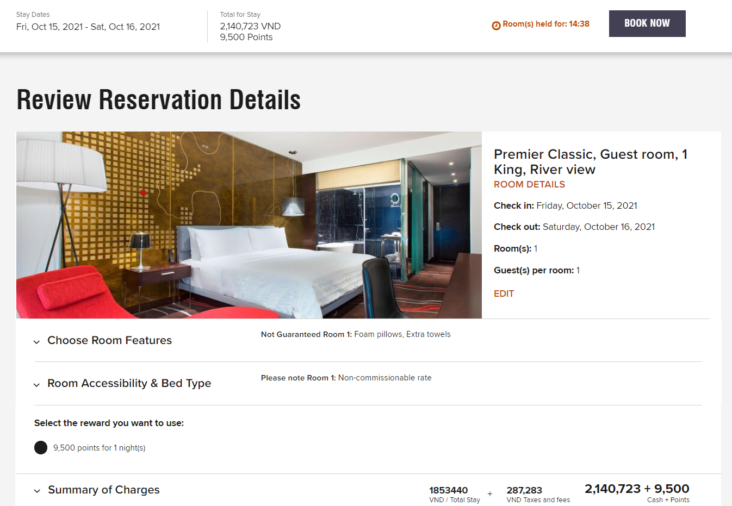 Can't find any Category 1 hotels that fit your travel schedule? Consider booking a Cash + Points redemption instead.
These redemptions let travelers use a mixture of cash and Marriott Bonvoy points to stay at a higher category hotel. With 10,000 or fewer points, you can redeem the following for a 1-night stay:
Category 1: $55 + 3,500 points
Category 2: $65 + 6,000 points
Category 3: $80 + 8,500 points
It's important to note that these redemptions can have varying value, similar to booking Category 1 award nights with points above.
For example, a 1-night stay at the Courtyard Glasgow Airport costs $167.60 (132 GBP) when booked a week in advance. This is a Category 3 hotel, meaning a Cash + Points booking yields a value of 1.0 cent per point — not too shabby for Marriott points.
On the other hand, a 1-night stay at the Aberdeen Marriott Hotel costs just $71.10 (£56) when booked a week in advance. This is also a Category 3 hotel, so you'd actually spend more money on a Cash + Points redemption!
Again, make sure to do your math before booking a Cash + Points award. These have the potential to give you good value but sometimes fall short when a hotel is already low-priced to begin with.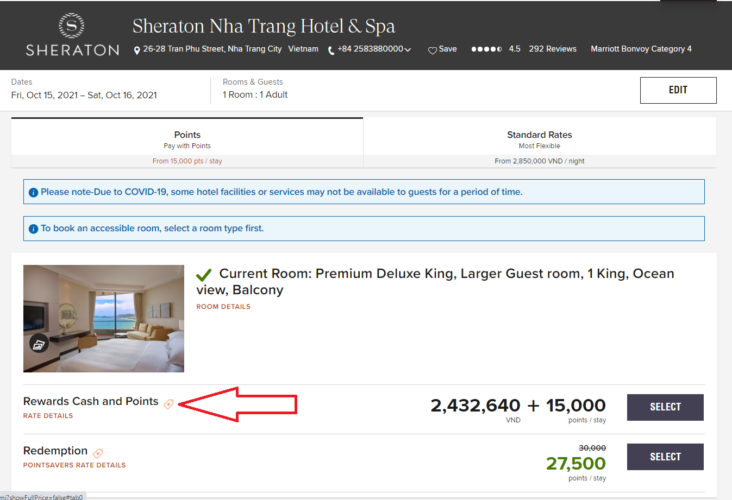 Additionally, note that not all stays are eligible for Cash + Points redemptions. You can find them by checking the Use Points button when searching for a Marriott hotel — when available, Cash + Points redemptions will be displayed above the hotel's standard points cost.
Transfer Your Points to Another Marriott Bonvoy Member
One of the nice things about the Marriott Bonvoy program is that you can transfer your points to other Marriott Bonvoy members for free.
Marriott Bonvoy members can transfer up to 100,000 points per calendar year to another member, and receive up to 500,000 from other members. However, both the sending and receiving accounts must be in good standing and open for at least 60 days in order to transfer points.
This can be helpful if you have a friend or family member who needs to top-up points before making a large redemption, or if you want to take advantage of a travel companion's elite status.
To transfer points, call Marriott Bonvoy at 801-468-4000 with both account numbers ready.
Donate Your Marriott Bonvoy Points to Charity
Alternatively, Marriott Bonvoy points can be exchanged for a charitable donation to one of Marriott's charity partners. Currently, Marriott partners with a number of different charities and foundations, including:
American Red Cross
International Federation of Red Cross and Red Crescent Societies
Marriott Disaster Relief Fund
These are the current redemption rates available:
2,500 points = $10 donation
5,000 points = $20 donation
7,500 points = $30 donation
10,000 points = $40 donation
12,500 points = $50 donation
15,000 points = $60 donation
17,500 points = $70 donation
20,000 points = $80 donation
22,500 points = $90 donation
25,000 points = $100 donation
62,500 points = $250 donation
125,000 points = $500 donation
Donating Marriott Bonvoy points to charity lets travelers have a real impact on these organizations and the people they help support. Visit Marriott's donation page for more information and instructions on how to donate points to charity.
Redeem Your Marriott Bonvoy Points for Merchandise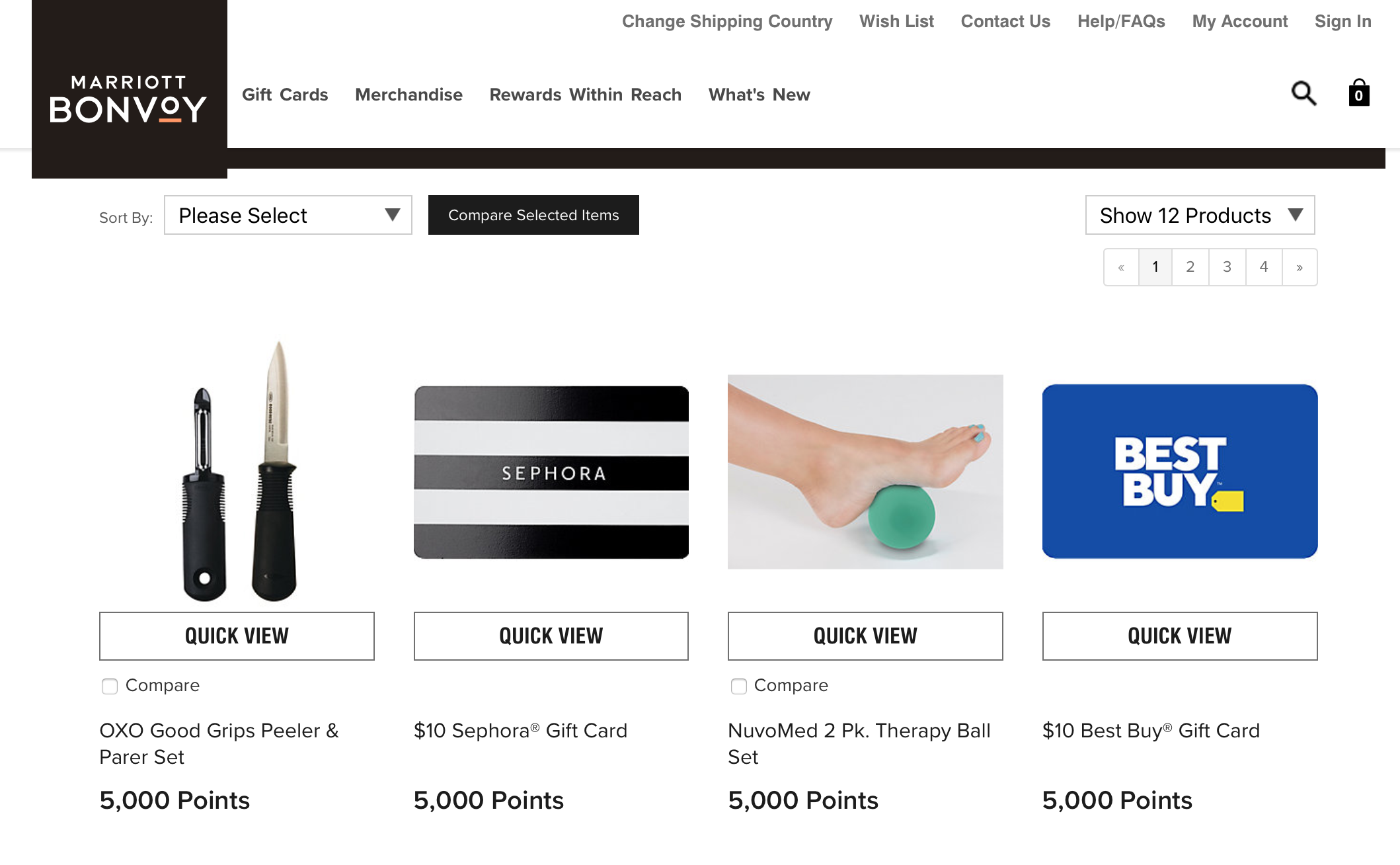 You can also use your Marriott Bonvoy points to purchase gift cards and other merchandise at Marriott's online store. Marriott even has a special section of this store that's dedicated to redemptions of 10,000 or fewer points.
However, whether you should redeem Marriott Bonvoy points for gift cards or merchandise is another question.
We looked through the Marriott web store and found that most of these redemptions give travelers far less value than redeeming for a Category 1 or Points + Cash redemption.
On the gift card side, a $10 Sephora gift card costs 5,000 points at the web store. This yields a value of just 0.2 cents per point — 1.44 cents per point less than the Courtyard Houston Hobby Airport redemption we mentioned earlier.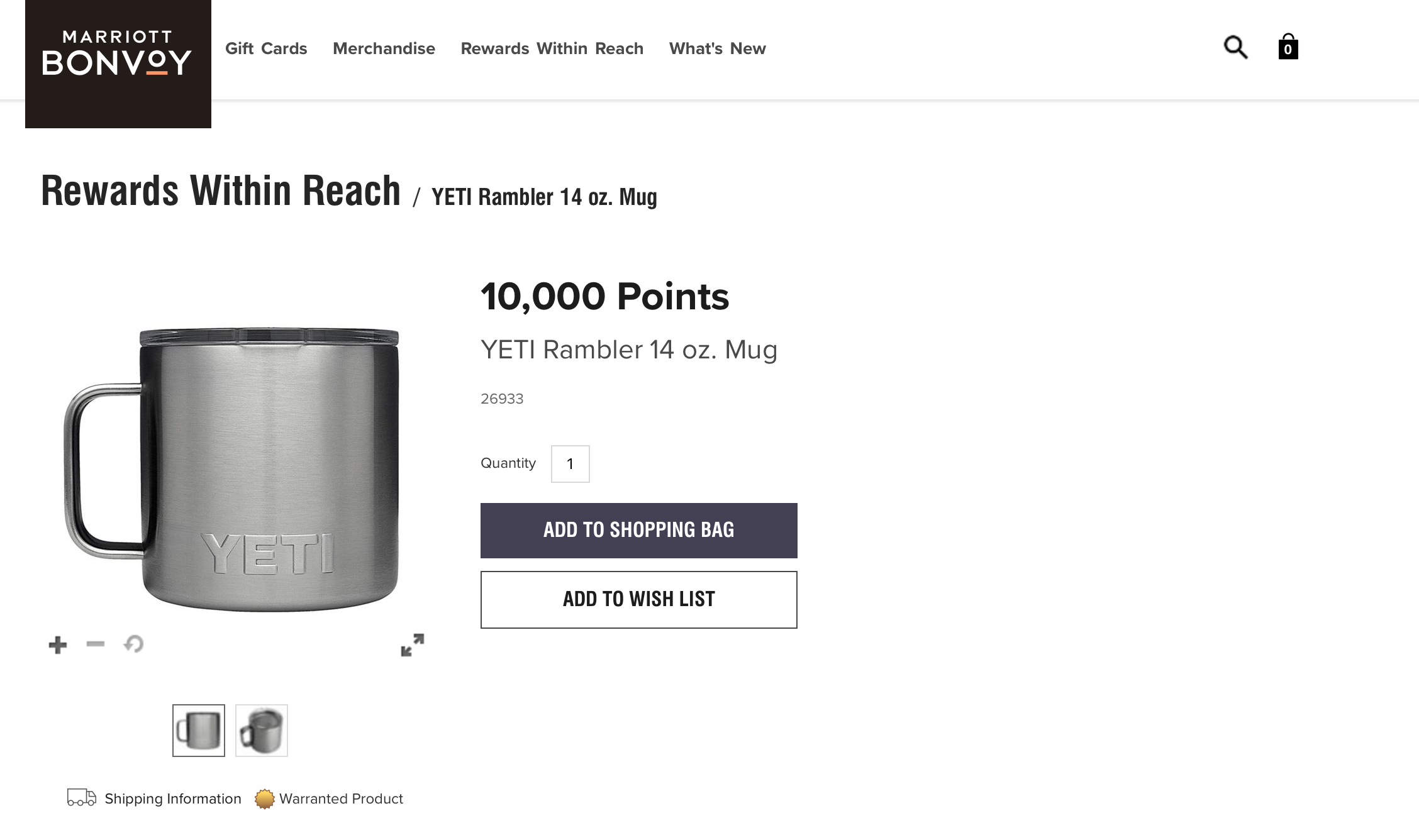 Merchandise redemptions aren't much better. A YETI Rambler 14 oz. Mug costs 10,000 Marriott Bonvoy points on Marriott's store. This same mug is just $24.99 on Amazon, giving you a redemption value of 0.249 cents per point.
Bottom Line: To get a reasonable value from your points, we recommend steering clear of merchandise and gift card redemptions and focusing on travel rewards instead.
Use Marriott Bonvoy Points for Instant Redemptions at Hotels
Finally, Marriott Bonvoy points can be used to cover spa treatments, dining expenses, bar tabs, and other on-property purchases made during stays at a participating Marriott hotel.
To do this, simply charge an on-property expense to your room and request to use points to cover the charge at checkout.
You can redeem points at the following rates:
| Points | Dollars |
| --- | --- |
| 250 | $1 |
| 1,250 | $5 |
| 2,500 | $10 |
| 5,000 | $20 |
| 12,500 | $50 |
| 25,000 | $100 |
| 125,000 | $500 |
Generally speaking, these redemptions do not make for a good deal. Redeeming 5,000 points for a $20 credit gives a value of just 0.4 cents per point. While this is better than a merchandise redemption, it's still far less value than a free night at a Category 1 hotel.
Final Thoughts
In this article, we looked at the best ways to redeem 10,000 or fewer Marriott Bonvoy points. While there aren't a ton of options available, the ones highlighted here can provide relatively good value for a limited number of points.
We recommend sticking with booking free Category 1 nights if possible — generally speaking, these provide the best deal and can save you a decent chunk of change if traveling during peak seasons or booking at the last minute.
Let us know your favorite way to use small numbers of Marriott Bonvoy points in the comments below!