The Best Websites for Student Discounts on Hostels & Hotels [Find Cheap Deals!]
When you are a student on a budget, world travel might seem like something that's far out of reach. But it doesn't have to be! There are lots of websites that cater to student travelers on a tight budget.
Once you book a discounted flight, you'll likely need a hotel. While you can search the traditional online travel agencies like Expedia, Priceline, or Orbitz, you might want to check out some sites that offer discounts specifically to students.
STA Travel is the world's largest student and youth travel agency and has been connecting students with discounted travel since 1979. In addition to flight deals, bus and rail passes, and travel insurance — STA also offers discounted student hotel and hostel stays across the globe.
Hot Tip: STA Travel offers hotel and hostel stays to students, teachers, and travelers under 31. However, some deals are only available to those under 26 years of age.
Book Now, Pay Later
A great program offered by STA is the Book Now, Pay Later option. This benefit allows you to lock in your hotel reservation with just a deposit — then pay the balance closer to your departure without any interest or fees.
When you take advantage of this program, you will lock in your reservation at the current price with a deposit as low as $50. The deposit remains the same regardless of the length of your trip. You can then pay off the balance 8 weeks prior to your stay.
To book your hotel or hostel stay with just a deposit, you will need to call an STA Travel Expert at 800-781-4040.
Hostel vs. Hotel
STA offers both hostels and hotels. While these words sound similar, the products are very different!
Hotels offer private rooms and bathrooms and are a step up in luxury and price from a hostel (although there are many budget-friendly hotels out there too).
Hostels offer very inexpensive accommodations consisting of shared rooms, shared bathrooms, and common areas. Many student travelers like hostels for their social aspect, especially when traveling alone.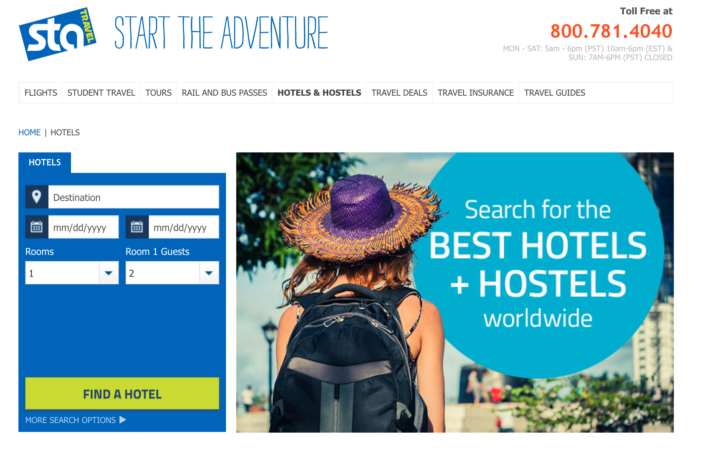 Pros & Cons of STA Travel
Pros:
Book Now, Pay Later
Great for budget travelers

I found prices as low as $8 per night including breakfast for a hostel in Cancun! That type of deal is going to be very attractive to young travelers.
Cons:
Many of the special prices offered are nonrefundable

Unlike most hotel stays, you have to pay upfront and will not get a refund if you need to cancel your reservation.
Bottom Line: STA Travel is a leader in student travel offering flights, hotels, rail and bus passes, insurance, and activities.
In spite of their name, CheapOair offers hotels in addition to flights.
To access the student section of the website, select More in the top menu bar, then select Student Travel.
Be careful when booking multiple people in a shared room type of accommodation. You might come across an "Extra Guest Fee," which can be more than the entire cost of the room! It's best to book each person separately in these situations.
Pros & Cons of CheapOair
Pros:
Numerous promo codes available right on the website
Cons:
Service fees of $4.99 on select bookings
Extra Guest Fee
Hot Tip: A great time to start building your credit is when you are a student. When you start using credit responsibly from a young age, you will build a solid credit history, which gives you access to some great travel rewards cards down the line. If you're looking for a starter card, consider a no-fee cash-back card like the Chase Freedom Unlimited®. You can earn 1.5% cash-back on every purchase you make. Or, choose a credit card that is specifically for students. Whatever credit card you use just be sure to pay off your bill in full and on time every month!
Student Universe is a travel website geared toward students. However you do not need to be a student or even under the age of 26 (as is the requirement when booking flights) to book a hotel room through Student Universe.
Membership
They offer their best deals to their members (it's free to join), but you don't have to become a member to use the site. If you don't want to join, just be sure to select "Continue As Guest" when prompted to log in.
Hot Tip: While you aren't required to be a member to use the site, some hotels are only available to book if you are a member.
Hotels & Hostels
Student Universe offers both hotels and hostels. After you start a search, you can choose to see only hotels or only hostels by checking the boxes at the left side of the screen.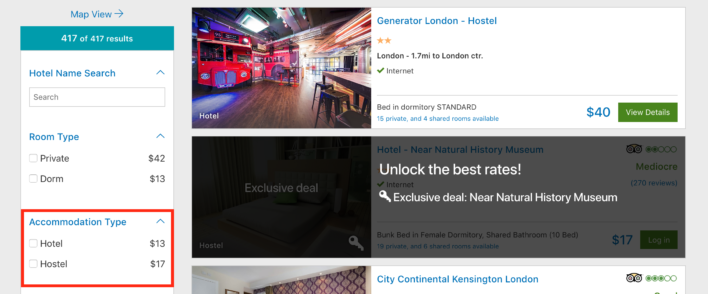 Since this site caters to youth travel offering accommodations like hostels, the prices you see are per person, not per room! I found that even when looking at a hotel and not a hostel, the prices listed were still per person.
Also, be sure to pay attention to the details of your booking — change and cancellation policies will vary by location.
Pros and Cons of Student Universe
Pros:
You don't have to be a student to book hotels through the site.
Cons:
Student Universe sometimes charges nonrefundable booking fees.
The prices listed are per person.

This can be a tad confusing if you're used to searching for hotels where the price is quoted per room.
Hot Tip: You may also want to check these websites and apps for last-minute travel deals.
UNiDAYS is a website that provides information and discounts for all types of products and services including Home, Fashion, Health & Fitness, Beauty, Lifestyle, Food, Tech, and Travel.
You have to sign up with your email address to use any of the discounts offered, and you MUST be a student.
You can find the travel section under Lifestyle in the main search bar at the top of the page.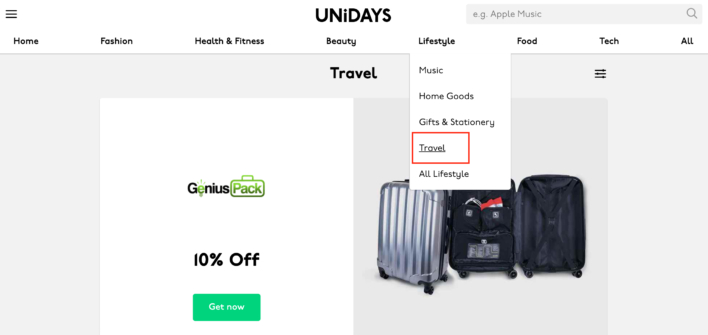 Hotels.com Discounts
In addition to discounts on services like Uber and Lyft, they are also offering discounts on Hotels.com.
You can get a 10% discount when booking online at Hotels.com. While this is a pretty good deal, it does have some limitations.
This offer requires you to pay for your room up front and doesn't apply to any taxes or fees associated with your room.
Some hotel chains are excluded from the offer:
Millennium Hotels
Copthorne Hotels
In addition, you won't be able to collect any Hotels.com rewards nights when using this offer.
Pros and Cons of UNiDays
Pros:
10% discount on Hotels.com
Lots of discounts offered across many different categories of products
Cons:
You have to create an account to take advantage of any of the deals offered
Hotels.com discount has some restrictions
Hot Tip: If you want to know the best time to book your hotel, try out the Hopper App. This mobile app helps you book flights and hotels at the right time to save money. They claim 95% accuracy up to 1 year in advance.
Studentrate.com
Studentrate.com is a website that lists lots of different student deals in a single spot. The site includes discounts and information in the following categories:
Money/student loans
Textbooks
Travel
Wireless services
Back To School
Trending Topics
In addition to offering discounts, they also have a cash-back program, similar to Ebates/Rakuten.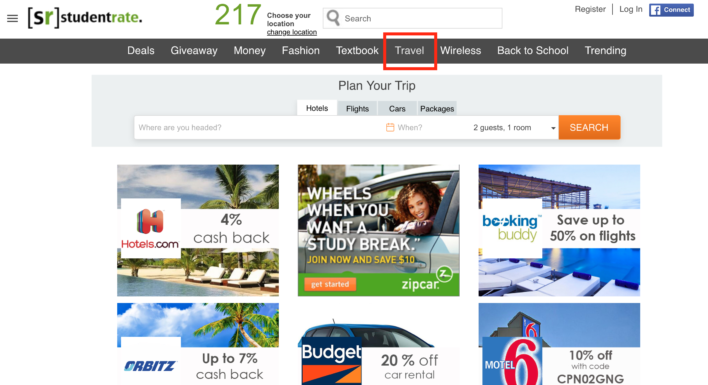 Travel Deals
The deals and discounts offered by Studentrate.com vary and can change at any time. Right now, offers include:
Hotel Deals:
Other Travel Deals:
20% off a Budget car rental
No underage fee at Hertz
25% off at Avis car rental
Save $10 at Zipcar
Save up to 50% on a flight at Booking Buddy
To take advantage of these offers, you need to create an account.
Metasearch vs. OTA
Studentrate.com is more of a metasearch engine like Kayak rather than an online travel agency (OTA) like Orbitz or Expedia. You won't actually book your hotel room on the site — they search all of the other sites and will direct you to one or more of those sites to book.
You might notice that there is a hotel room search bar on the Travel page. When you enter your search criteria here, you will be prompted to choose at least 4 OTAs to search. Then you will be sent to those sites to refine your search and book your room.
Because of this, you aren't really getting any special student deals unless you use one of their advertised specials, like 7% cash-back at Orbitz or 10% off Motel 6.
Pros and Cons of Studentrate.com
Pros:
Cash-back and discount deals are available on the travel page of the site
You don't have to be a student to get these deals
Cons:
No special student rates above and beyond the select deals offered.
Bottom Line: You don't need to be a student to use studentrate.com, but you do need to create an account to take advantage of their offers and cash-back deals.
HostelWorld
Hostel World is a website offering over 36,000 properties across 170 countries around the world. While they aren't specifically dedicated to students, students are a common clientele of hostels, so this is a good place to look for super budget-friendly accommodations.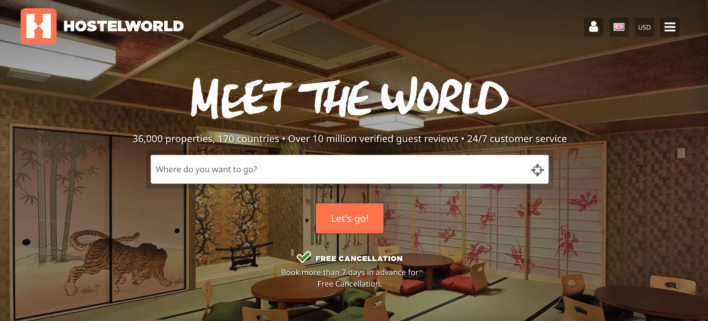 Booking Guarantee
HostelWorld does not have a price match guarantee, but they do offer a confirmed bookings guarantee. In the unlikely event that your booking can't be found at the time of check-in, HostelWorld will give you $50 to use towards a future booking.
You must contact HostelWorld within 48 hours of your scheduled arrival to make a claim. If you are awarded a credit, it is only valid for 6 months.
Pros & Cons of HostelWorld
Pros:
Free cancellation as long as you book at least 7 days in advance
Booking guarantee
Cons:
No discounts specifically for students
Bottom Line: HostelWorld isn't geared specifically toward students, but they offer low pricing on shared accommodations — perfect for students on a tight budget!
ISIC Card
ISIC stands for International Student Identity Card. This card identifies you as a student and lets you access over 150,000 discounts and deals in 130 countries.
There are 3 types of cards available from myisic.com:
International Student Identity Card (ISIC) — For full-time students ages 12 and over
International Youth Travel Card  (IYTC) — Available to any traveler under 30 years old (sometimes eligibility is limited to under 26 years old)
International Teacher Identity Card (ITIC) — For full-time teachers and professors
Each type of card costs $20 and is valid for 1 year.
ISIC Card Travel Discounts
Most deals are for products and services related to travel like food, tours, insurance, and transportation. But ISIC does offer some discounts on hotels and hostels.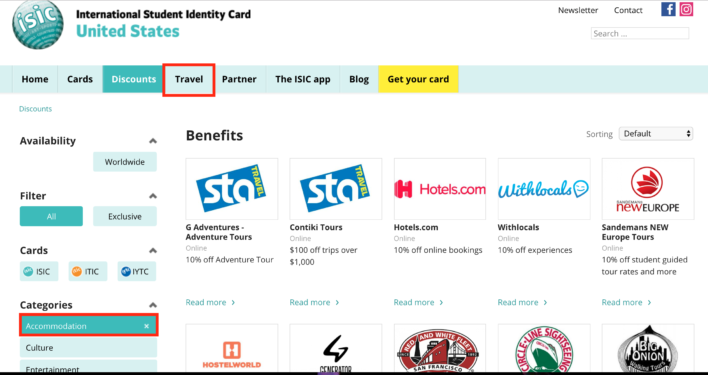 To access deals for accommodations, click on Travel in the top toolbar and select Accommodation in the left sidebar filtering options. Even after filtering, this results list shows more than just accommodations, so you'll have to do a little searching to see what's available.
Right now, you can find a 10% discount at Hotels.com and a $5 credit toward HostelWorld. These offers are subject to change at any time.
Bottom Line: You can sign up for your ISIC card online to start saving on travel and travel-related products and services. If you are not a student but are still under 30 years old, look for an IYTC card. If you're a teacher or professor, check out the ITIC card.
Price Comparisons
I wanted to do some price comparisons to see which of these sites offer the best deals for students.
For my first test, I looked up the prices for a weeklong stay in London for 1 person. For this, I was just looking at how cheaply I could book an accommodation, regardless of cancellation policy or hotel/hostel amenities. This time, it's all about the budget!
| | |
| --- | --- |
| Website | Cheapest Price Available for a Weeklong Stay in London (including taxes & fees) |
| STA Travel | $98.70 – Phoenix Hostel |
| Student Universe | $338.24 – Generator London Hostel |
| CheapOair | $170.80 – St Christopher's Inn, Hammersmith Hostel |
| HostelWorld | $67.34 – No. 8 Seven Sisters London |
As you can see, prices at these websites vary greatly! STA Travel and HostelWorld offered the cheapest rates by far.
Next, I wanted to compare prices at specific locations, so I decided to use the 4 hostels in the above example. I priced out the same weeklong stay in London for 1 person for each of these hostels at each of the websites. Here is what I found.
| | | | | | |
| --- | --- | --- | --- | --- | --- |
| Hostel Name | STA Travel | Student Universe | CheapOair | HostelWorld | Booking Direct Through Hostel's Website |
| Phoenix Hostel | $98.70 | N/A | N/A | $107.38 | $89.49 |
| Generator London Hostel | $287.20 | $338.24 | N/A | $281.84 | $238.59 |
| St Christopher's Inn, Hammersmith Hostel | $165.81 | N/A | $170.80 | $165.26 | $160.79 |
| No. 8 Seven Sisters London | N/A | N/A | N/A |  $67.34 | $76.06 |
As you can see there is no clear pattern to pricing. Usually you will get the best rate if you can book directly through the hostel or hotel's website, but it's always worth doing a quick search.
If you don't have a specific location in mind, starting with one of these student-centered websites can help you narrow down your search.
Hot Tip: Even budget hostels have their own websites. It's always smart to check prices on your hostel or hotel's website — it is often cheaper than booking through a third party!
Final Thoughts
If you are a student on a budget, you might think that traveling is out of reach — but it doesn't have to be! There are websites that cater directly to students looking for a deal.
Check out STA Travel, CheapOair, Student Universe, UNiDAYS, Studentrate.com, and HostelWorld for student discounts.
Also, look into getting an ISIC card to access even more discounts on travel.
Some of these deals are available if you are a young traveler (under 26 or 30 years old depending on the website), so they are worth checking out even if you aren't a student.
As always, do some price comparisons before you book and make sure you fully understand your reservation's cancellation policy, since these can vary greatly between properties.
Traveling as a student can be life-changing. The traveling I did in college is one of my favorite memories of that time of my life, and it sparked a lifelong love of seeing the world (also a promise to myself that I will never stay in a hostel again…but that's another story — hehe!)
Regardless of your budget, you can make it happen. Happy travels!
---
Featured Image Credit: nd3000/Shutterstock