Grand Hyatt Rio de Janeiro – Full Review
In January I was looking for a quick, local getaway with my family. Since we live in an apartment and school was still remote, things have gotten quite cozy around here with 2 kids running around. We live about an hour from Rio de Janeiro, so something outdoors with a beach and pool was high on our priority lists.
There are plenty of smaller beach towns in the area like Armação dos Búzios and Angra dos Reis where beaching and social distancing wouldn't be an issue, but since we haven't traveled as much over the past year we had plenty of hotel points and free night certificates to burn… so we started looking at the major chains to see what would be the best option for us.
Rio has a little bit of everything from the major hotel players. There are 4 Marriott options (a JW Marriott, Sheraton Grand, Courtyard, and a Residence Inn), 2 Hiltons, 1 Hyatt, 1 IHG (Mr & Mrs Smith), and about 30 Accor properties, including a Fairmont in Copacabana.
However, since I was considering going for Hyatt Globalist status, thanks to some overlapping promotions, the Grand Hyatt Rio de Janeiro in Barra da Tijuca made the most sense.
Let's take a look at how my 1-night stay with a family of 4 went and how I decided to pay for it.
Hotel Location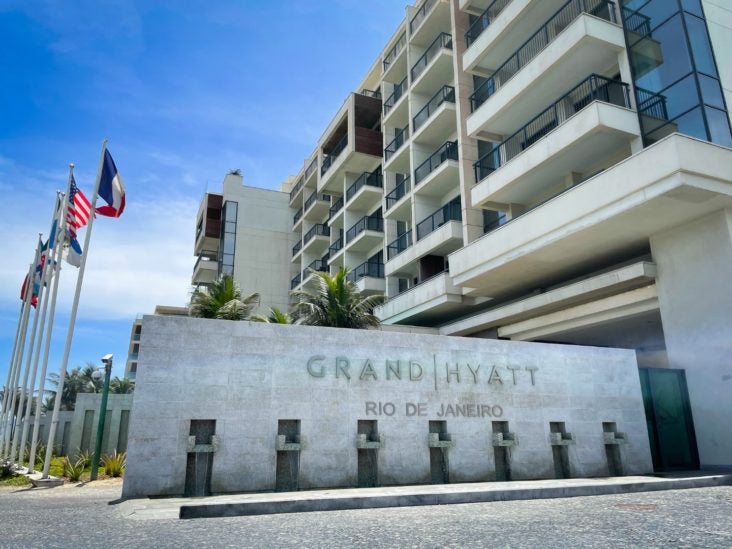 The Grand Hyatt Rio de Janeiro is a 436-room urban resort right across the street from the beach in the Barra da Tijuca neighborhood, which is a bit outside of the normal tourist loop.
If you are arriving by plane it is about 22 miles from Rio de Janeiro Galeão (GIG) and 19 miles from Santos Dumont (SDU), both will take about 30 minutes by car with light traffic.
If you have been to Rio before, you are probably most familiar with the Zona Sul (south zone) area which is home to famous neighborhoods including Copacabana, Ipanema, and Leblon. That is also where you will find major tourist attractions such as the Christ the Redeemer statue and Sugarloaf Mountain.
Barra da Tijuca is a massive, relatively new neighborhood that is much more spread out than Zona Sul. Here you will find massive condo complexes, shopping malls, convention centers, and soccer stadiums. Needless to say, there is plenty to do, but it might not be what most people are looking for when visiting Rio de Janeiro.
With that in mind, the Grand Hyatt is a popular choice for locals looking for a quick getaway, airline crews on layovers, and tourists who are looking for a resort that has everything you need without having to leave the property.
If you wanted to stay at the Grand Hyatt and visit Ipanema, for example, it is certainly doable via public transportation or taxi/Uber, but you would need to give yourself about an hour each way due to traffic.
Bottom Line: This hotel is located in Barra da Tijuca, which is not the most popular spot for tourists. If this is your first time visiting Rio, you may want to find a hotel in the Zona Sul area. 
Booking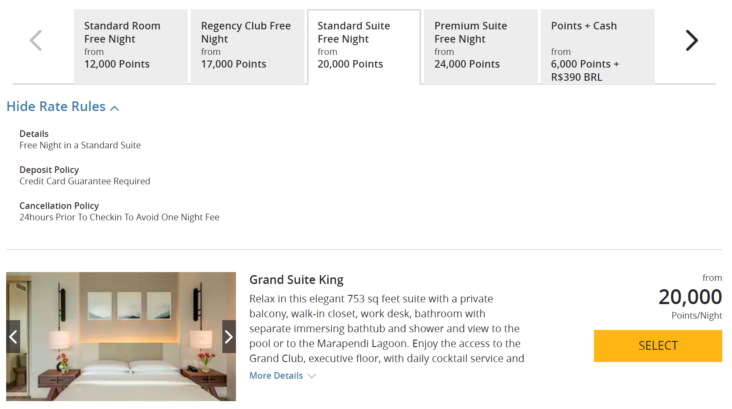 The Grand Hyatt Rio de Janeiro is a Category 3 property, so that means that standard rooms can be booked for as few as 12,000 World of Hyatt points. That also means that this is an eligible hotel to use the Category 1-4 night certificate that comes with The World of Hyatt Credit Card.
However, after attempting to book a room for 2 adults and 2 children online without success, I called reservations and was told that the standard rooms have a 3-person capacity limit. If I wanted to bring both kids I would need to either book 2 rooms or a suite. Since I had no interest in burning 2 free night certificates and only earn 1 elite night, I started looking at the suite options.
As part of my "status run" research, I had been monitoring the prices of this hotel. Standard rooms had been selling for a low as R$500 ($100) and the cheapest suite that was available for the night I wanted was R$1,000 ($200) — certainly not a crazy amount but more than I had planned on spending. In addition to that, I would have to spend about R$325 ($65) in taxes and resort fees.
When looking at the same suite, but paying with points, it started to become a better deal. The Ocean Lagoon Suite was selling for 20,000 points per night but thanks to a Hyatt promotion I would receive 25% of my points back and get free parking worth R$60 ($12). And, as always, there are no taxes or resort fees on award stays.
So, all said and done, the suite for 4 people cost 15,000 World of Hyatt points and it came with lounge access, breakfast in the restaurant, free parking, and no resort fees. Not the craziest redemption, but I was happy with it.
Here are the rest of the award rates for the same time period:
Standard Room with a King Bed or 2 Twin Beds— 12,000 points per night
Standard Room with a King Bed or 2 Twin Beds — 6,000 points + $74 per night (Points + Cash)
Standard Room with a King Bed or 2 Twin Beds and Club Access — 17,000 points per night
Standard Room with a King Bed or 2 Twin Beds and Club Access — 3,000 points + $143 per night (Points + Cash)
Ocean Lagoon Suite — 20,000 points per night
Ocean Front Suite — 24,000 points per night
Hot Tip: Check out our guide on hotel elite status changes, extensions, and updates due to the coronavirus. 
Checking In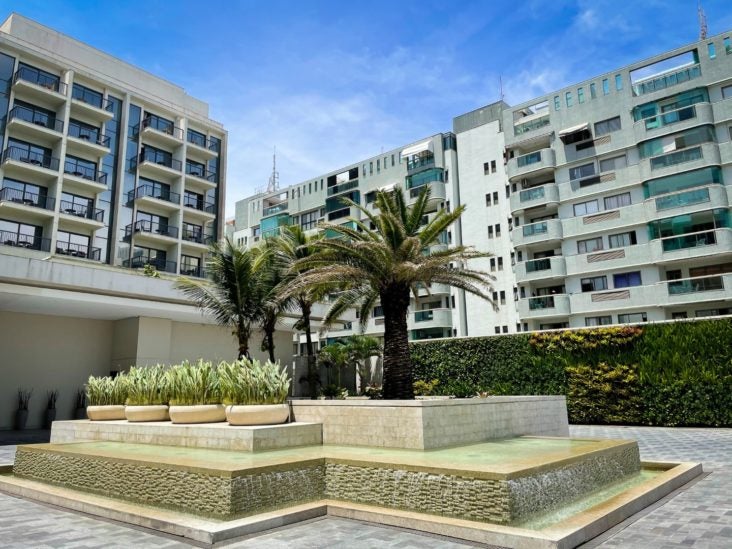 If you are driving yourself to the hotel you will be happy to know that it was easy to find (with GPS) and sits directly across the street from a nice beach in Barra da Tijuca.
Pulling into the massive driveway covered in lush greenery immediately starts to put you at ease after the hustle and bustle of the Rio traffic.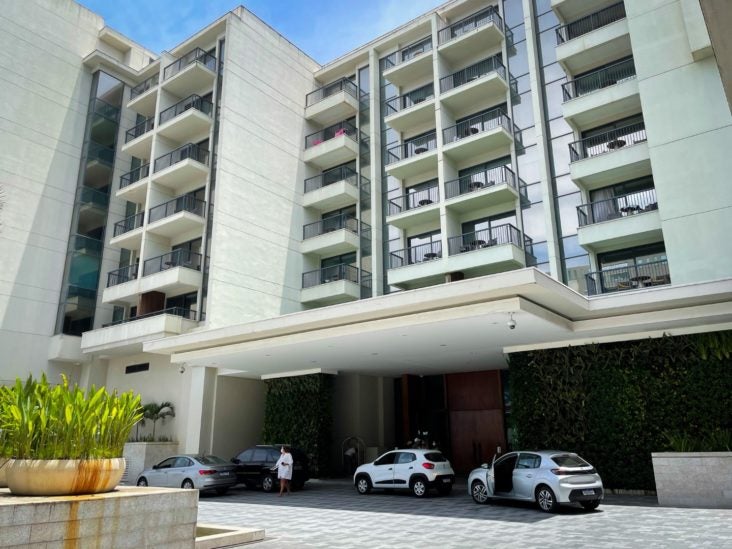 After we pulled in, we took a few minutes to get the kids and luggage organized, and then a valet approached us to take the car. Shortly after, a bellman arrived to escort us to the front door where we had our temperatures taken.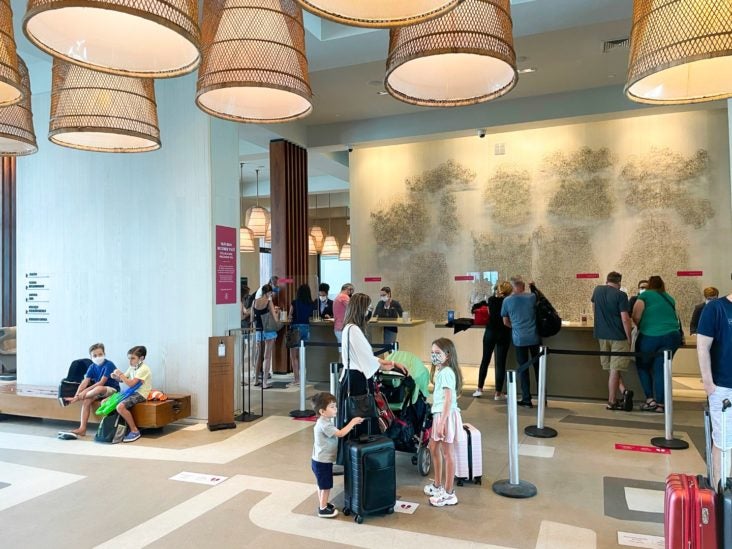 Walking into the lobby, it was clear that the hotel was quite busy as there was a buzz of people, a line at the front desk, and plenty of people poolside. Fortunately, everyone appeared to be giving each other personal space and most people were wearing their masks properly.
Since we were only staying for 1 night, we arrived early (shortly after noon) so that the kids could enjoy the beach and pool as much as possible. I had noted this on the reservation, but I was not expecting our room to be ready.
When it was our time to check-in, we handed all of our documents (kids included) and were told that the room wasn't ready but that we could check our bags and enjoy the facilities. I was handed 2 free drink tickets and the agent said she would call me when the room was ready — perfect!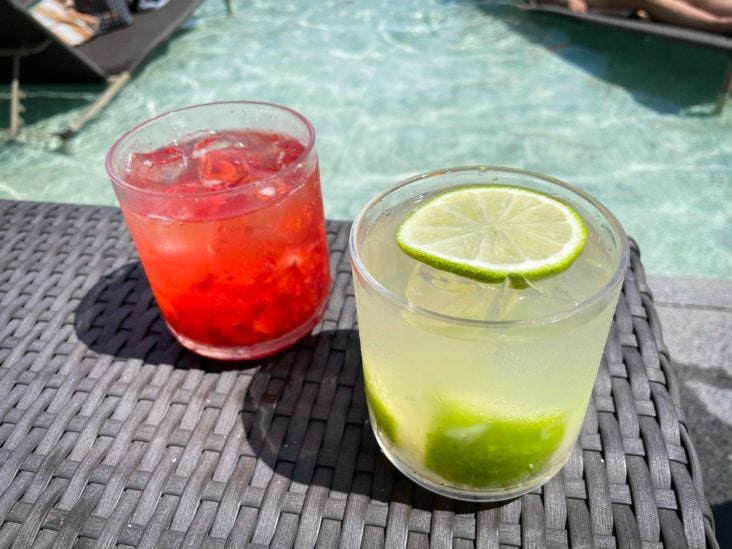 After about an hour hanging by the pool enjoying caipirinhas, the front desk called to inform me that the suite was ready and I could pick up the keys at the World of Hyatt elite desk (which I had missed earlier).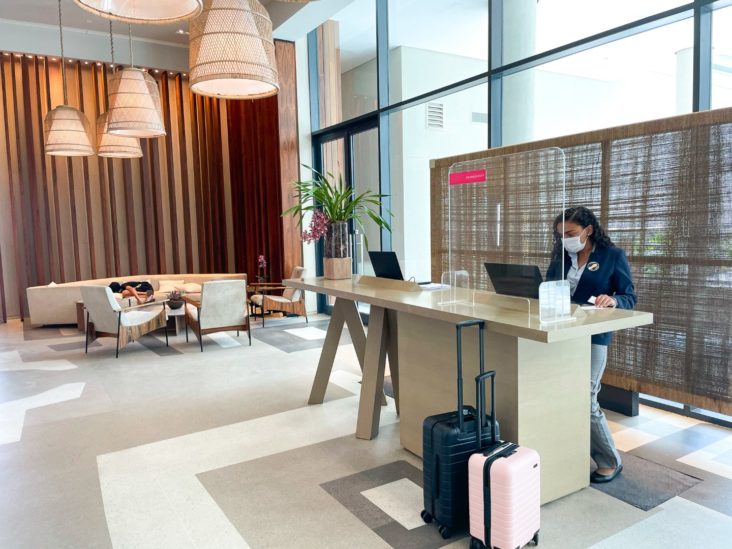 When I went to grab the keys, I was given an additional 2 free drink tickets… I don't know if the agent was just feeling generous or if it was an oversight, but I didn't complain!
Hot Tip: If you are checking in to a hotel with children in Brazil you will be required to present their identification (passports or another form of ID). 
Elite Benefits
While I only had Discoverist status at the time of this stay, thanks to my Hyatt Credit Card, we did receive some nice perks that really enhanced our stay.
Room Upgrade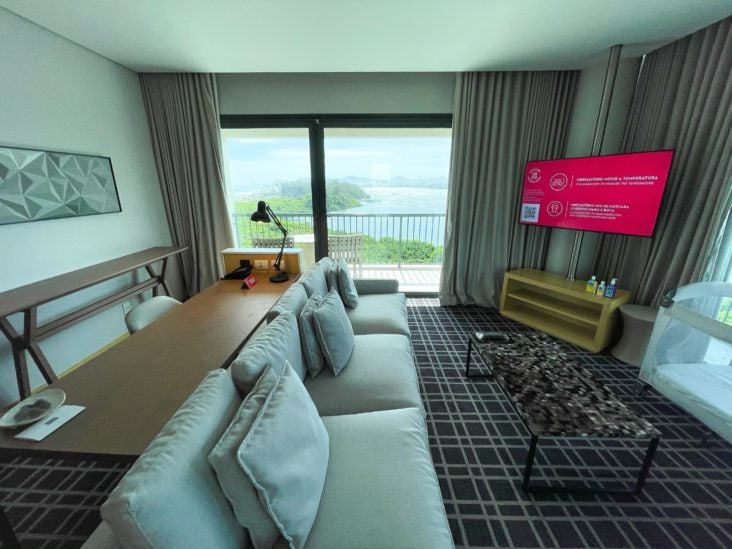 I had booked an Ocean Lagoon Suite, so there really weren't too many options when it came to receiving an upgrade.
The Ocean Lagoon Suite was a corner suite with a wrap-around balcony that had views of both the lagoon behind the property and distant views of the ocean in front of the hotel. In my opinion, this was ideal because the Ocean Suites (which were more expensive) obviously have better views of the ocean but also look over 4 lanes of traffic and, in some cases, the pool area as well.
On the website, there were Ocean Suites and the Presidential Suite available, and while I certainly wouldn't mind spending a night in the Presidential Suite, we were quite happy with the suite we had booked.
Welcome Amenity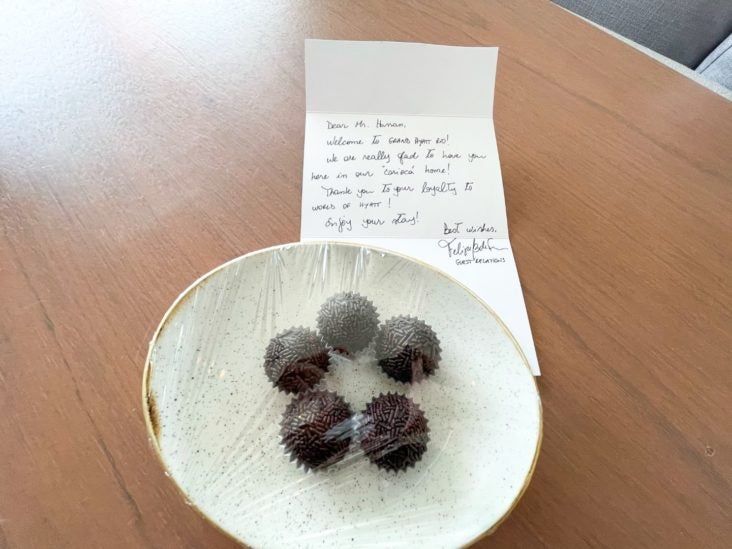 Upon arrival in the room, there was a handwritten card and a plate of house-made brigadeiros.
If you aren't familiar, brigadeiros are a quintessential Brazilian sweet treat made mostly out of condensed milk and chocolate — they are SO GOOD.
The note thanked me for my World of Hyatt loyalty, so I believe we received this amenity because of my elite status and not for booking a suite, which makes sense.
Late Checkout
As a World of Hyatt Discoverist (for now) member, I was able to choose a 2 p.m. checkout time when I made the reservation.
4 p.m. really would have been ideal so that the kids could get a full day at the beach and pool, but after asking at the front desk, they said it wouldn't be possible — another reason to get Globalist status ASAP!
Hot Tip: Check out our guide to stay up to date on hotel policy changes due to the coronavirus (COVID-19).
Amenities
We chose this hotel because of all of the amenities it has on the property. It really is an urban resort because you can enjoy many days here without needing to venture off-property (except for the beach) if you don't want to.
Grand Club Lounge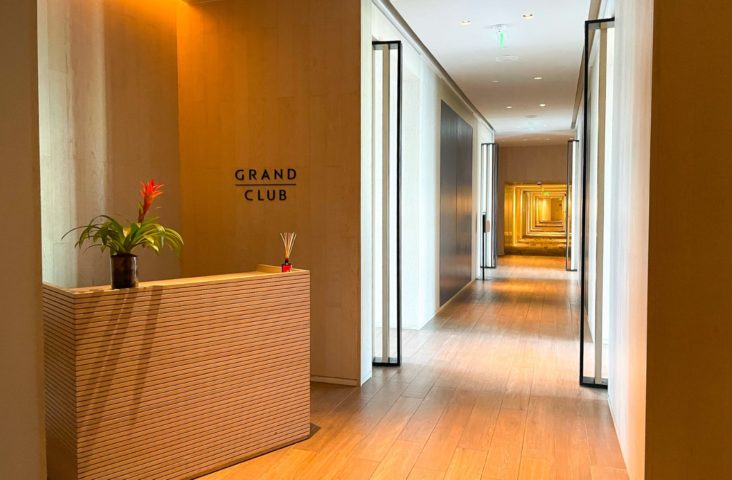 The Grand Hyatt Rio de Janeiro has a very nice lounge that stretches the width of the seventh floor and had balcony seating on each side with stunning views of either the Marapendi Lagoon or the Atlantic Ocean.
Access to the Grand Club was free for guests with Globalist status and those booked on the executive floor or in a suite.
I will get into more details below.
Valet Parking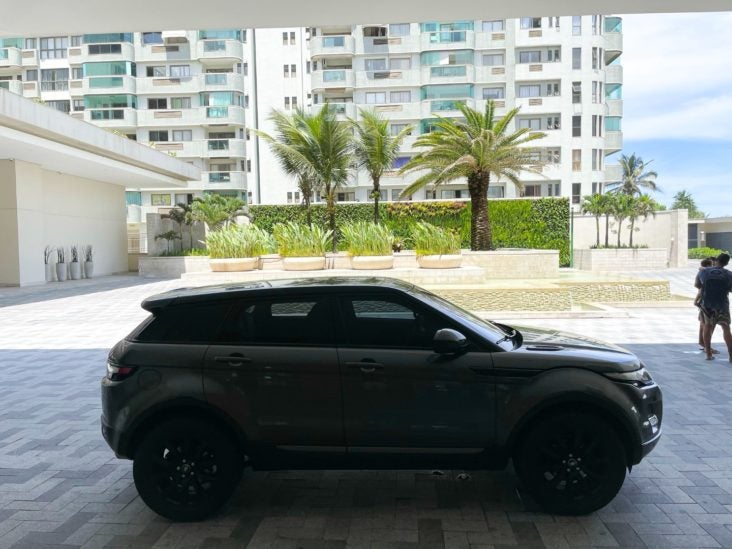 The only option for parking was valet and the cars are parked in the hotel's underground garage.
The cost was R$60 ($12) which was billed to the room and then will be reimbursed by Hyatt as part of the promotion that was running during our stay. For what it's worth, R$60 was pretty expensive for parking, especially since there are no cheaper alternatives nearby. With the current conversion rate, it was actually quite reasonable in USD, but most guests that arrive by car are locals.
Hot Tip: World of Hyatt Globalist members always receive free parking on award stays.
Wireless Internet
Internet was fast and free throughout the property — just enter your name and room number and you are connected.
At night my wife and I were on social media and our daughter was streaming Disney+ and we never had any issues. In fact, I even caught a brief signal when we were across the street at the beach, which was pretty impressive.
Fitness Center
I admittedly stayed far away from the gym on this trip. With only 1 night to enjoy with my wife and 2 kids, I had no desire to work out.
That being said, I should have swung by to at least snap some photos for this review — my apologies. I guess I will just have to go back!
Kids' Club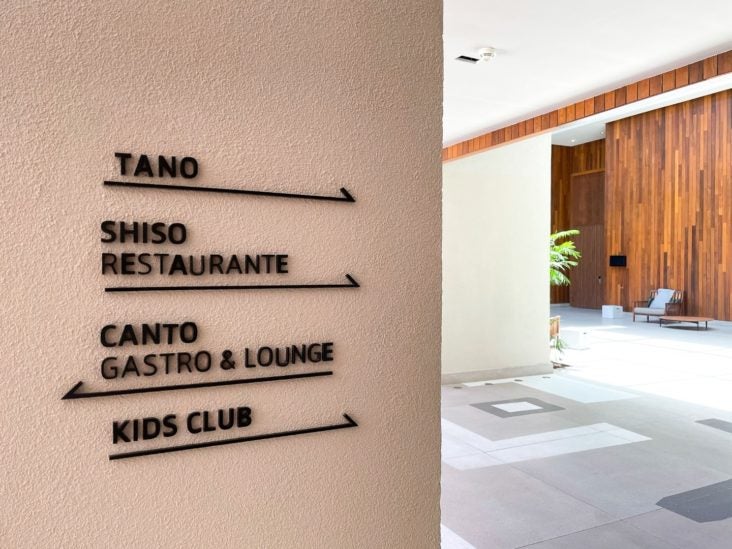 One of the great selling points for families at this property is the Kids' Club that is full of toys, games, and a giant play structure located on the main level of the hotel.
Unfortunately, due to COVID-19, this was closed during our stay. However, there were still recreational activities for kids provided, and children over 5 years old could be dropped off and participate for free. Younger kids are welcome, but a parent will need to be present.
Although our kids opted not to join, we saw a small group of kids and some instructors having a blast in the pool.
Pool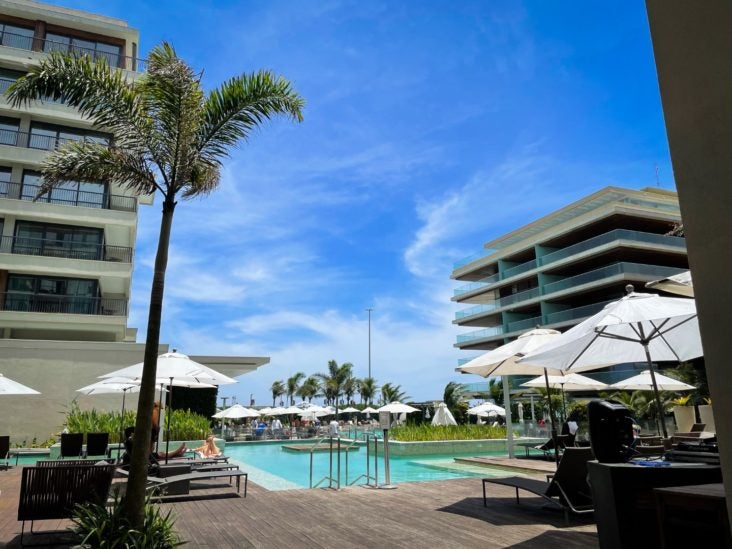 The pools at the Grand Hyatt are really nice. There are 2 pools — 1 was deeper and had bungalows to rent and was right in front of the Cantô Gastrô & Lounge restaurant. The other sits up and a bit further back and had more of a lounge feel it.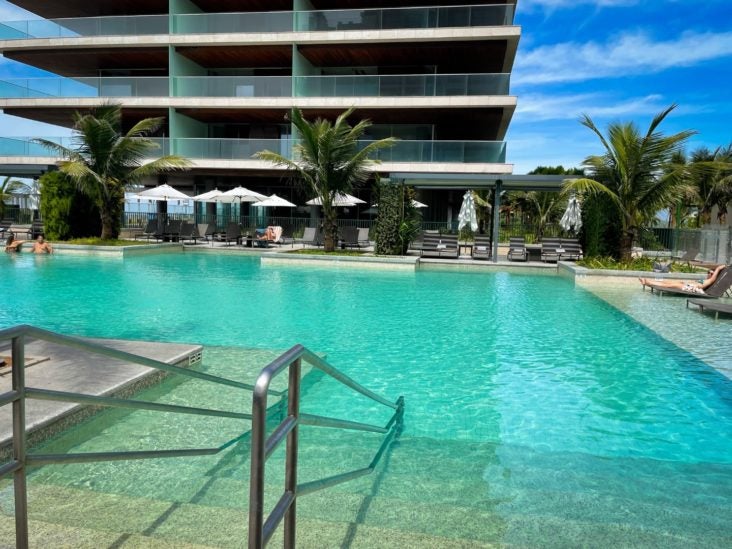 The main pool had multiple levels all the way around it so that you can place your lounge chair in the water yet stay dry. This was also a great depth for small kids to sit and splash. There were plenty of chairs and side tables around and the restaurant staff was busily circling taking food and drink orders.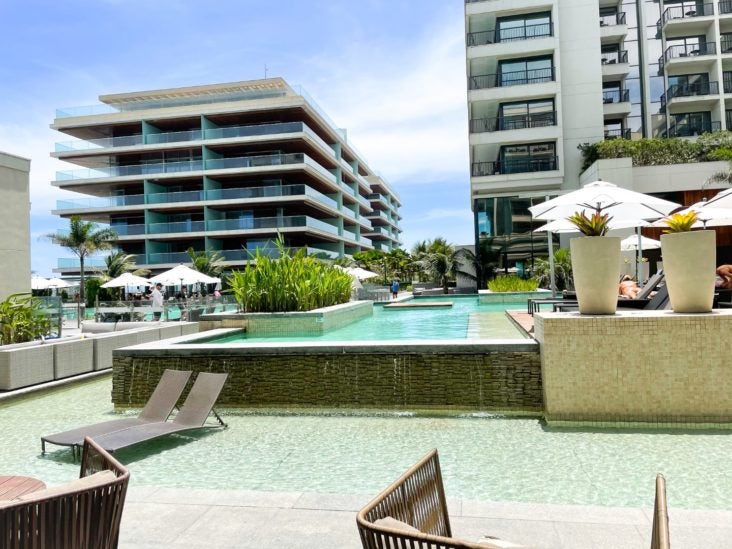 The other pool was more focused on lounging and despite no signs saying so, it felt more like an adults-only pool. When we arrived there was a DJ playing house music and people were just lounging on the multiple levels. As much as I wanted to check it out, as a parent, I didn't feel comfortable letting my kids run around and potentially ruin the vibe.
Beach Service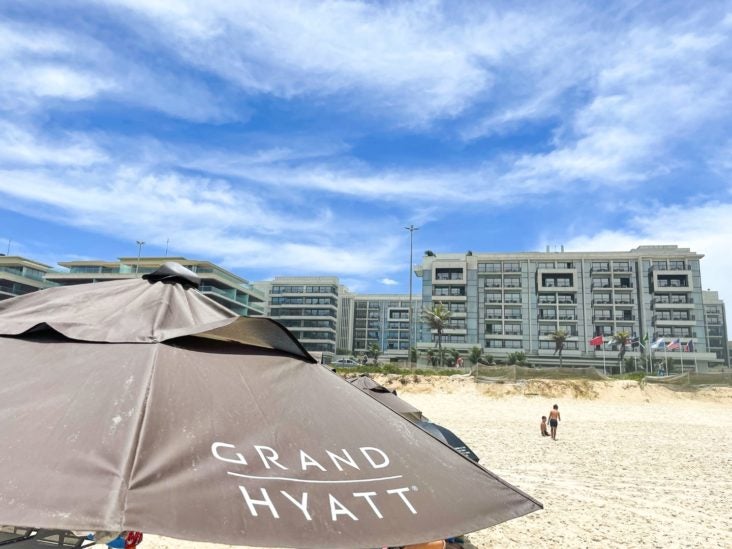 Another selling point of this hotel was the beach service. Normally in Rio when you go to the beach, you can show up with nothing and buy or rent everything you need from chairs and umbrellas to beers and bikinis. That is great, but it can also get expensive.
Fortunately, the hotel provides chairs, umbrellas, and towels, so when you are at the beach the only thing you need to worry about is what you are going to eat or drink. This service was available daily from 8 a.m. until 5 p.m.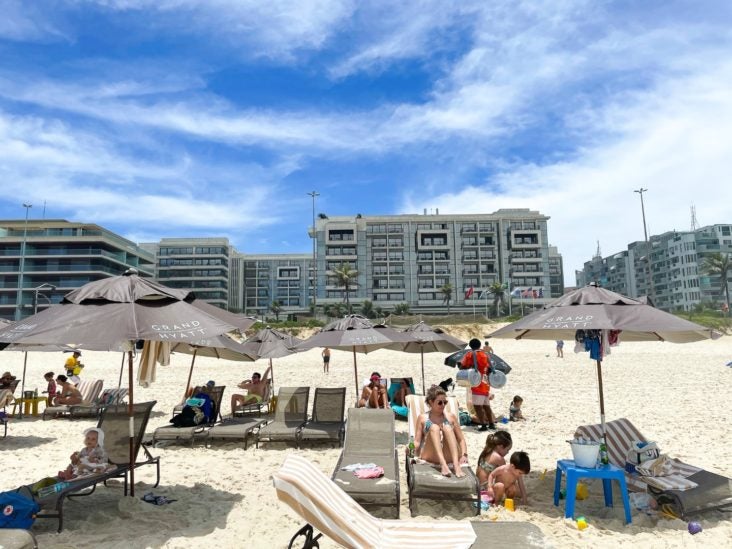 Although the hotel doesn't offer food and beverage service, there are plenty of vendors selling everything you need. In fact, there was a "permanent" stand right next to the hotel's area with staff and menus with everything from mixed drinks to hamburgers available.
To add some more convenience, almost all of the vendors accepted credit cards. We used Apple Pay (tap to pay) so that we didn't have to worry about carrying our wallets and there is less risk of having your credit card cloned (which unfortunately is quite common in Brazil).
We ordered beers for us and popsicles for the kids, and while the prices were slightly inflated, it was cheaper than the hotel and you can't beat the convenience.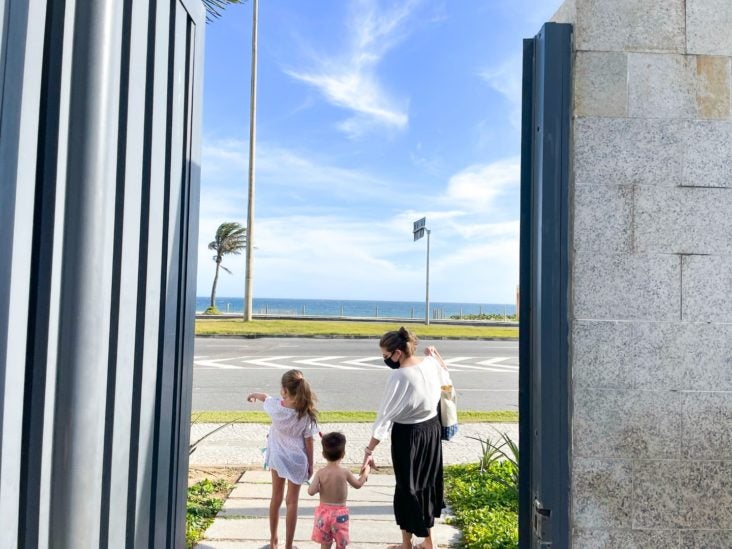 To get to the beach you will need your room key to exit a side door in the pool area and then cross 4 lanes of traffic. Don't worry — there was a crosswalk at a pedestrian stoplight. We felt safe doing this with 2 kids.
Fun Fact: There is only 1 hotel in Rio de Janeiro with direct beach access — the Sheraton Grand Rio.
Arriving with hotel towels, the staff recognized us as guests and escorted us to some open chairs and umbrellas. After that point the hotel staff didn't interact with us much — we were now at the mercy of the infamous Rio beach vendors…which was awesome.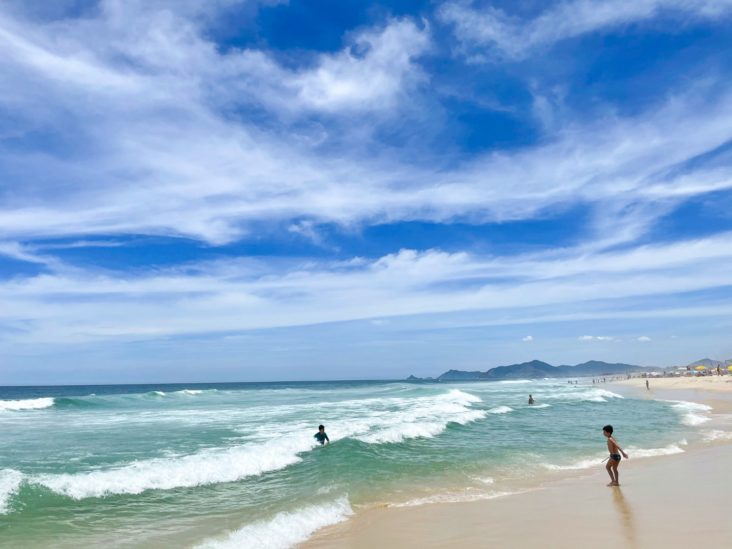 Bottom Line: The beach service was a great balance because you can still arrive at the beach with just the basics, but the hotel will provide you with chairs and umbrellas which normally people pay for in Rio. After that, you can enjoy (or ignore) the constant parade of beach vendors. 
Bikes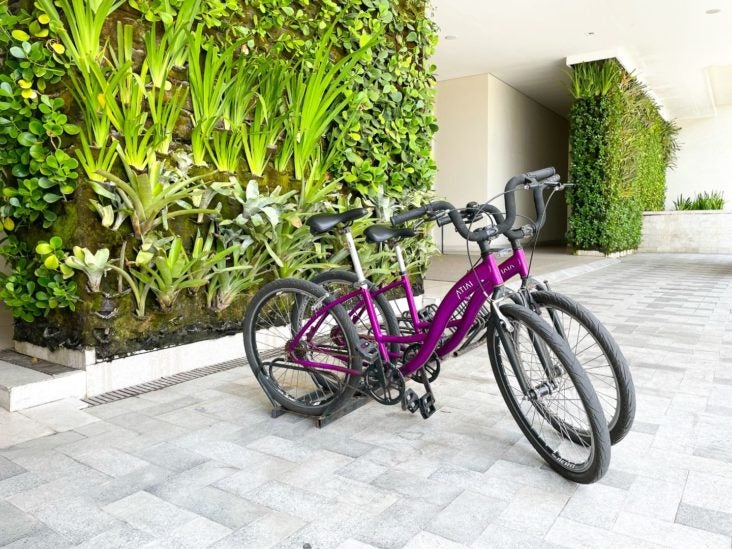 For guests who want to go explore a bit, there are free bikes available to borrow.
Although we didn't use them, it's a nice little perk as there are bike lanes going up and down the beach.
Spa
If you are looking for a nice treatment or massage, Atiaia Spa is onsite to take care of you.
I am very disappointed to report that neither my wife nor I were able to slip away for a massage.
Pet-Friendly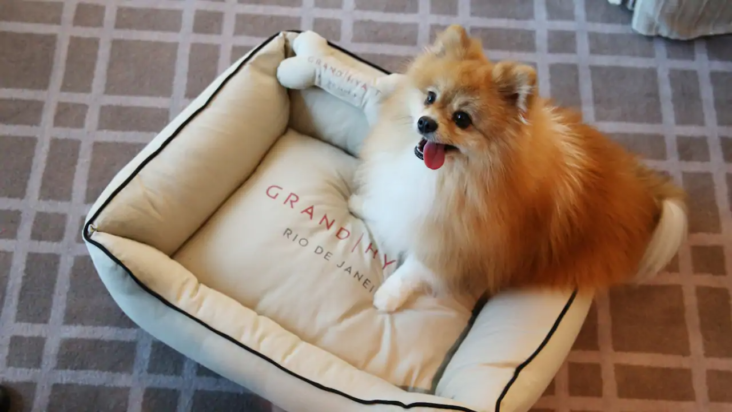 For locals traveling with pets, the Grand Hyatt Rio de Janeiro is pet friendly.
Medium-sized dogs are welcome at a price of R$350 ($70) for up to 6 nights and will receive a bed and some food and water bowls to use during the stay.
COVID-19 Protocols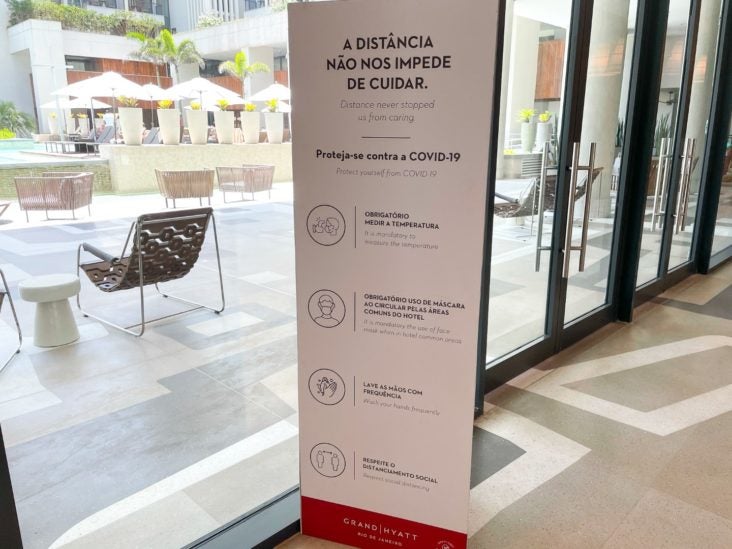 A hotel review wouldn't be complete nowadays without mentioning what the property was doing to reduce potential COVID-19 exposure.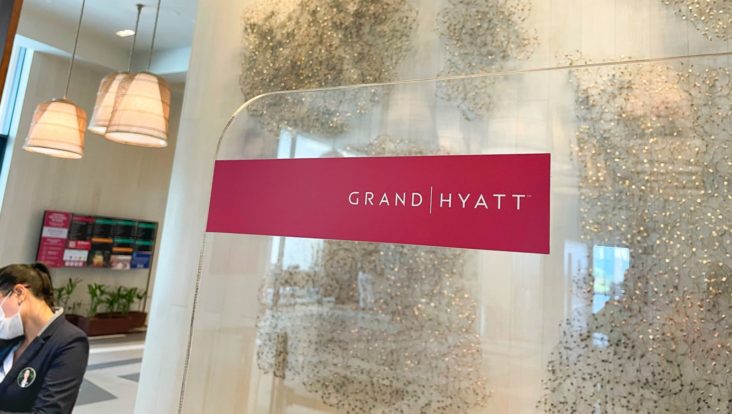 The Grand Hyatt Rio de Janeiro covered the basics quite well with social distancing cues and plexiglass shields installed where necessary. Here was what else the hotel was doing.
Temperature Checks
Upon arrival, we all had our temperatures taken with a touchless thermometer at the front door by a security member. All guests and visitors must pass through this door and have their temperatures taken in order to enter the property.
Once you have received your keys, you are able to use the side door near the pool that provides easier access to the beach.
Mask Requirements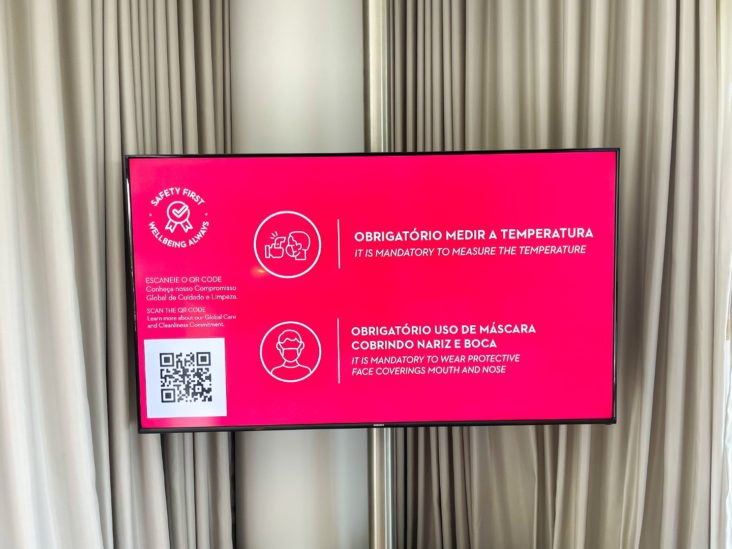 Per Hyatt and Rio de Janeiro rules, guests must wear masks over their nose and mouth while in public areas of the hotel
I was quite impressed with how well everyone, both staff and guests, were using their masks. At no point did I see a staff member without a mask or with a mask under their nose.
As for guests, you can remove your mask while at the pool or while seated at the restaurant. There were very few instances where I noticed a guest walking around without a mask, and they very well may have been going to the pool.
Sanitation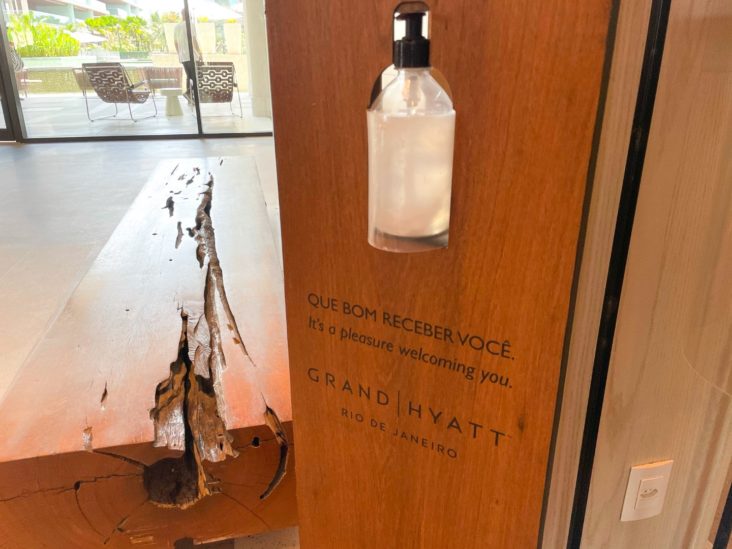 Throughout the property, there were plenty of hand sanitizing stations available.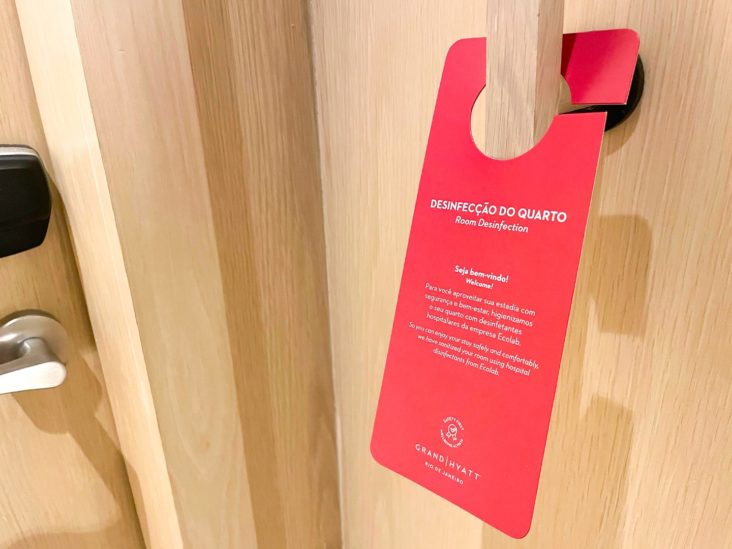 Outside the room, there was a sign signaling that the room had been sanitized.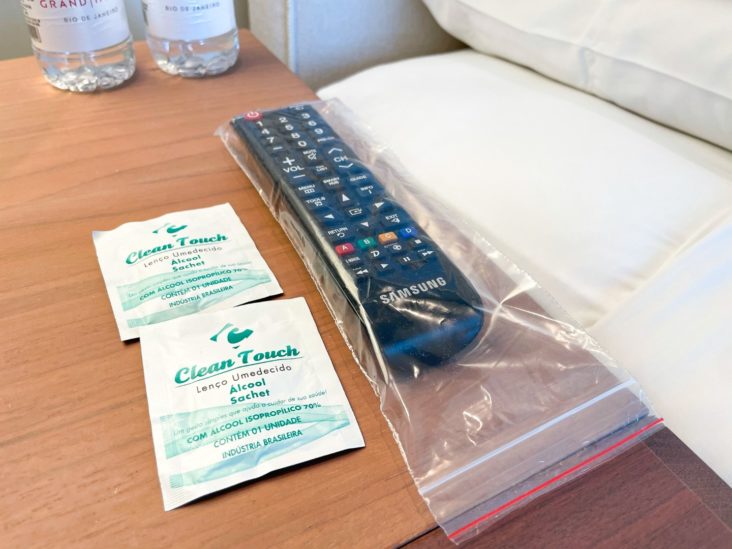 In the room, sanitizing wipes were available and the TV remote was stored in a clean plastic bag (that was hopefully changed in between guests).
COVID-19 Testing
Now that the U.S. is requiring a negative COVID-19 test in order to board a plane from abroad, many hotels are now offering on-site testing and this hotel is one of them.
Hyatt recently announced that select hotels in Mexico, Costa Rica, the Caribbean, and South America will offer complimentary rapid antigen or PCR tests to guests traveling back to the U.S. The tests are free for 2 guests per reservation but additional tests can be paid for on-site.
If a guest tests positive and cannot fly back, Hyatt is offering a Travel Delay Rate which can be up to 50% off of the normal rate.
The Room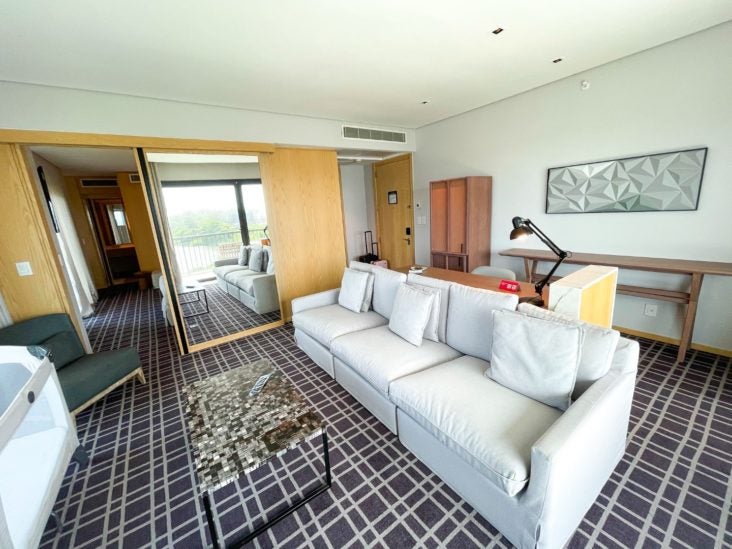 As I mentioned above, we booked the Ocean Lagoon Suite. In my opinion, this represented the best value, not only because it was the cheapest suite option, but because you get views of both the lagoon and the ocean. Additionally, you don't have to worry about any noise from the 4 lanes of traffic passing in front of the hotel.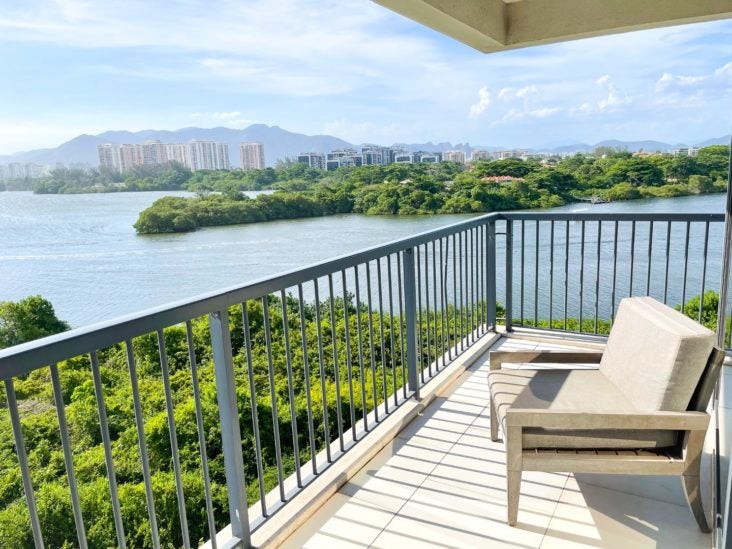 A bonus for any #AvGeeks was that there was an airport somewhere behind the hotel and there was a steady traffic of low-flying private planes and helicopters passing over us. Needless to say, the kids loved it… and so did I.
Living Room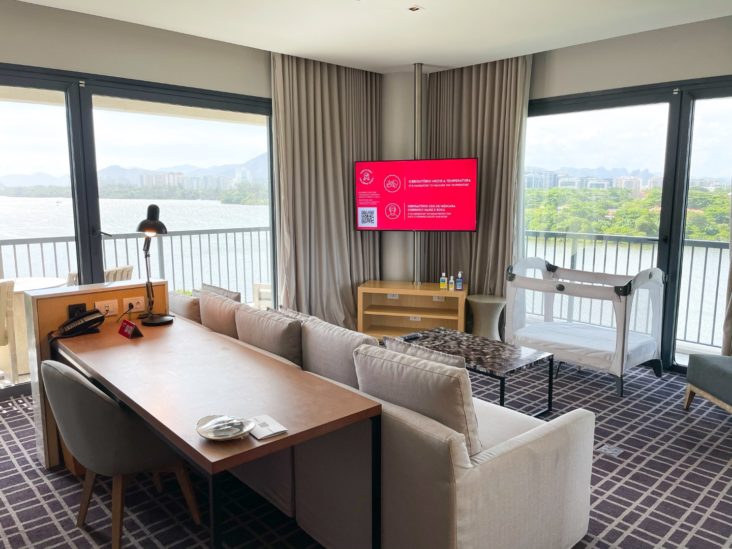 When you enter the room, you walk directly into the living room that had 2 walls of floor-to-ceiling windows and glass sliding doors with views of the lagoon.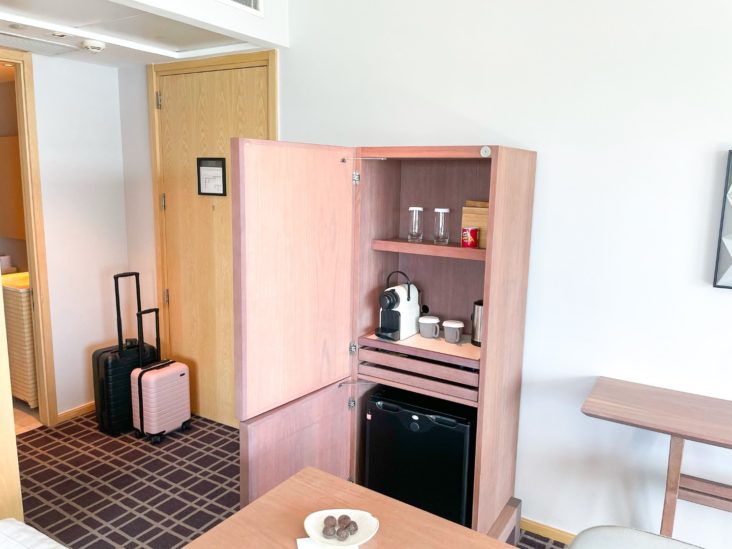 The living room had a huge 48-inch TV, a sofa (not a pullout), a desk, and a minibar closet with a fridge, glasses, and a Nespresso coffee maker.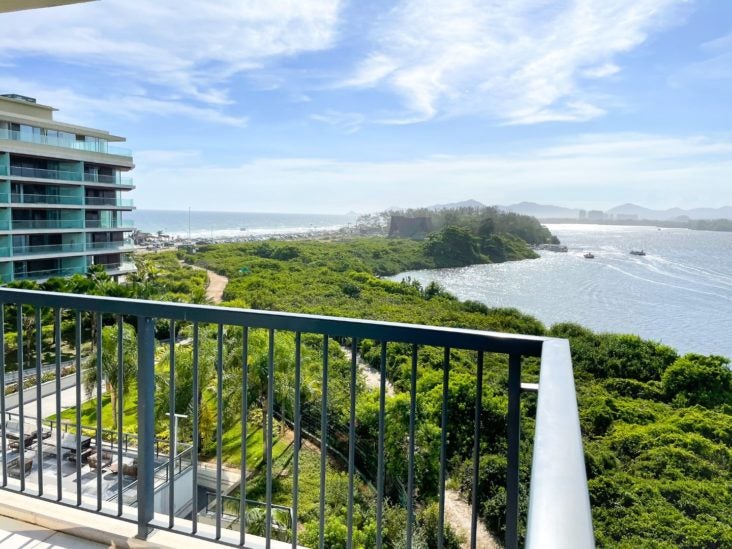 On the left side of the living room was the entrance to the wrap-around balcony which had a table with 2 chairs as well as a lounge chair. This was a great place to sit when we put the kids to bed.
Bathroom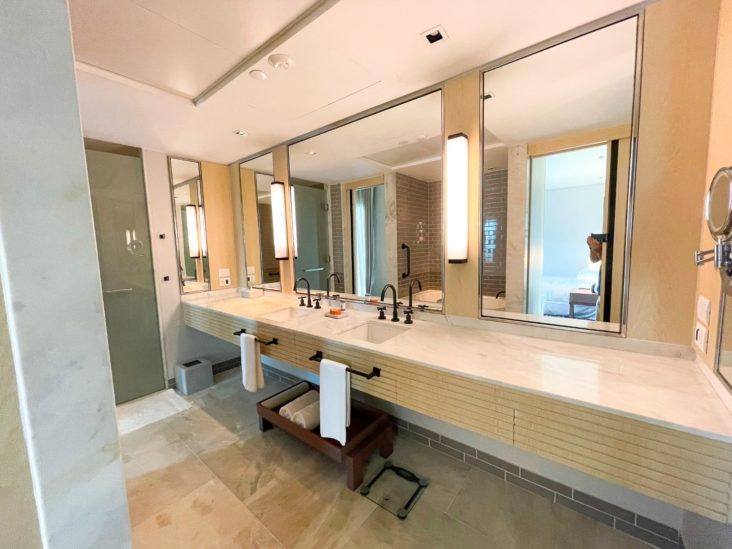 The Ocean Lagoon Suite had 2 bathrooms — 1 full and 1 half bath (or lavabo in Portuguese).
The full bathroom was gorgeous and enormous as it stretched the entire width of the suite.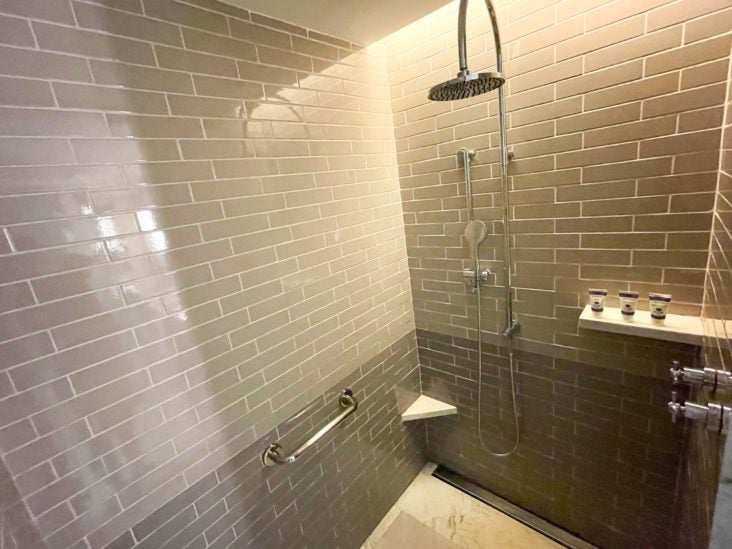 At 1 end of the bathroom was a great rainfall shower.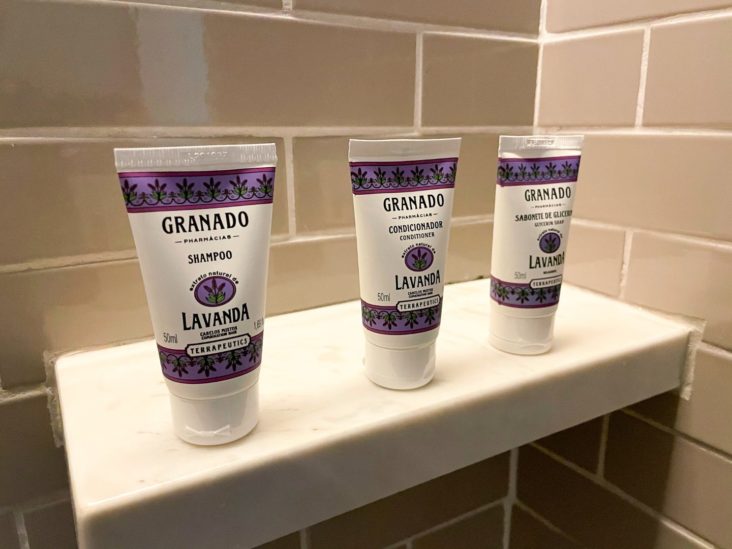 Shower products were by Granado.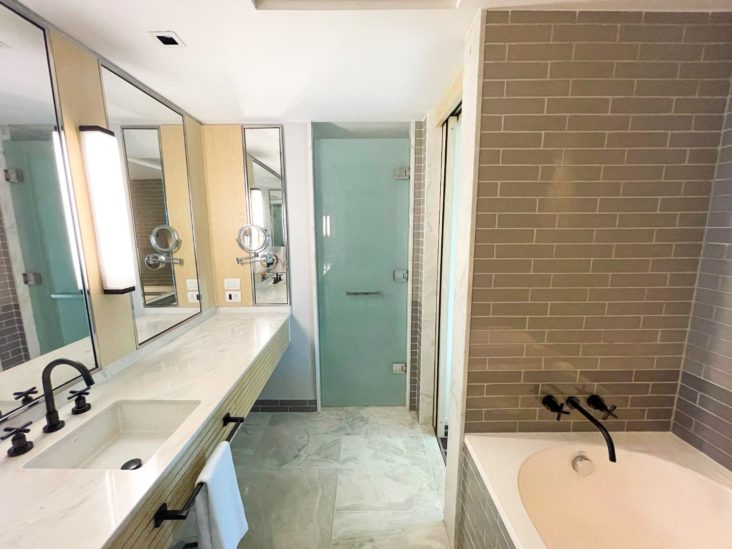 At the other end of the bathroom was a toilet with a door.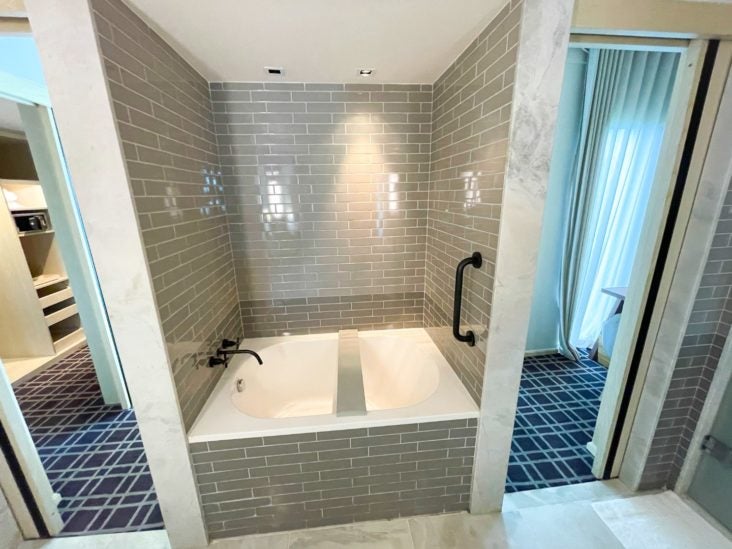 In the middle of the bathroom was a bathtub, which the kids loved.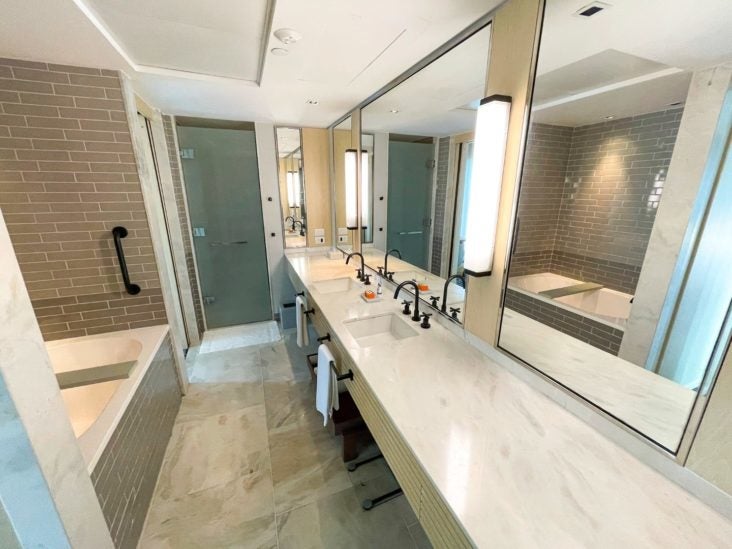 And stretching from wall to wall was a massive counter with 2 sinks and enough mirrors to find all of your flaws.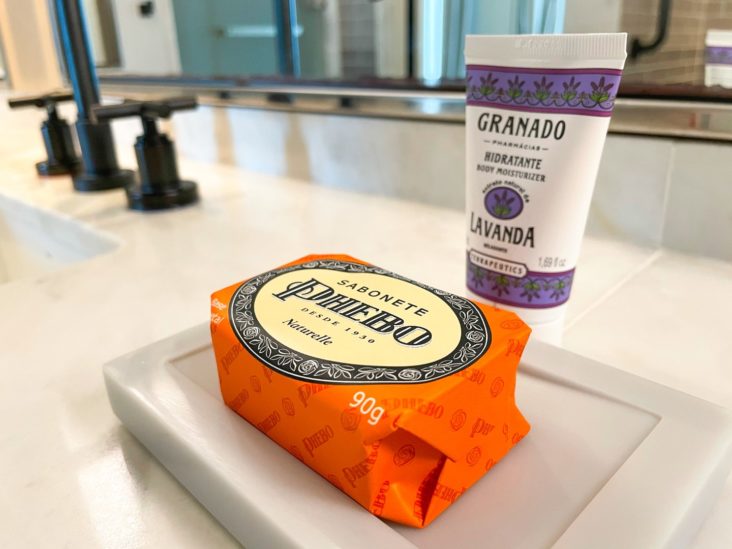 Hand soap by Phebo.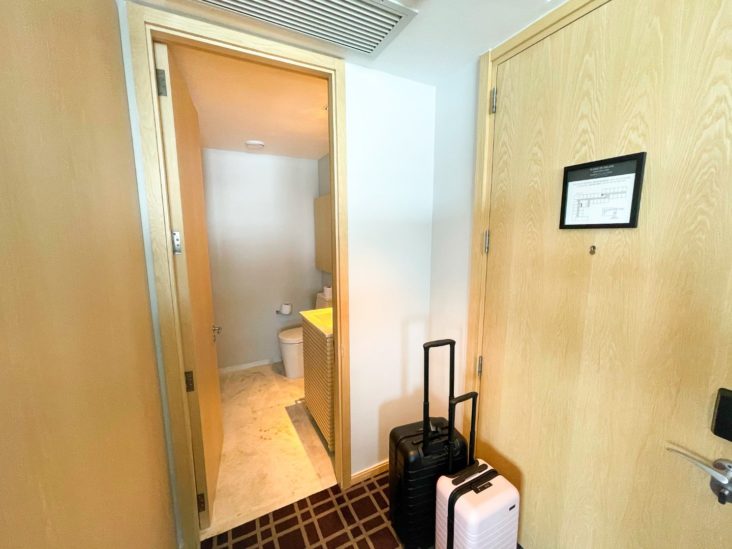 The half bath is immediately on your right when you walk in the door.
Bedroom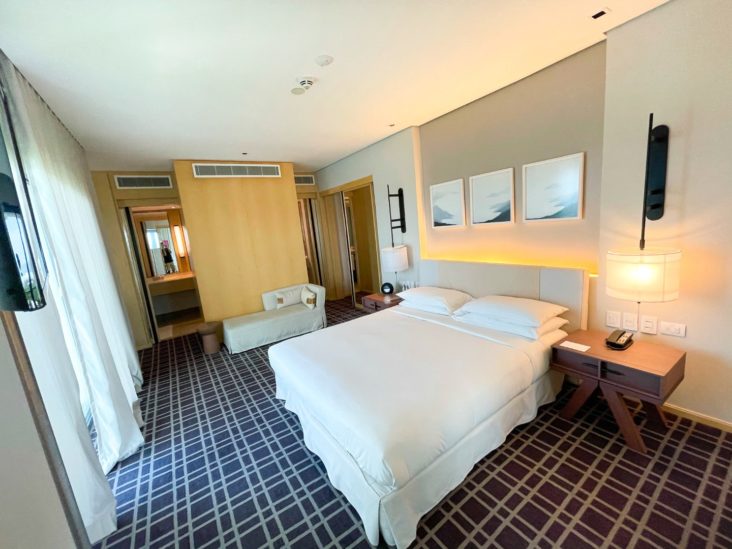 After you make your way through the living room, the bedroom is on the right-hand side behind the sliding mirror.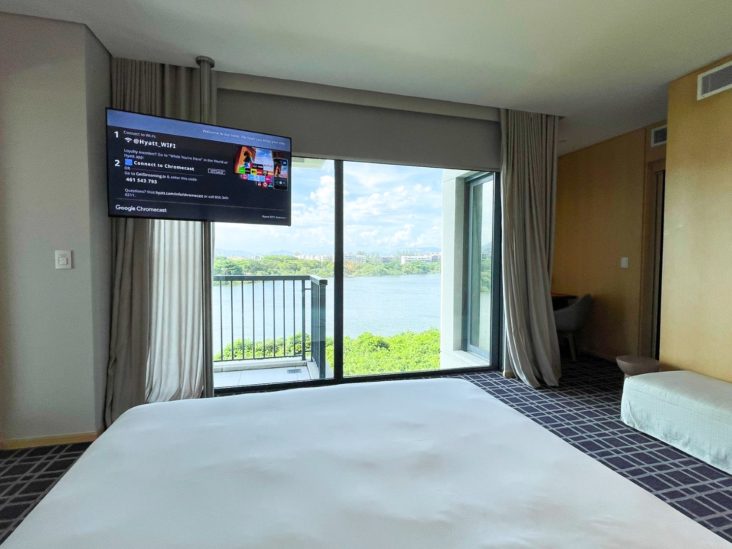 Our suite had a king bed and massive windows with great views of the lagoon. The automatic blackout curtain that was controlled by a wall switch was a nice touch as well.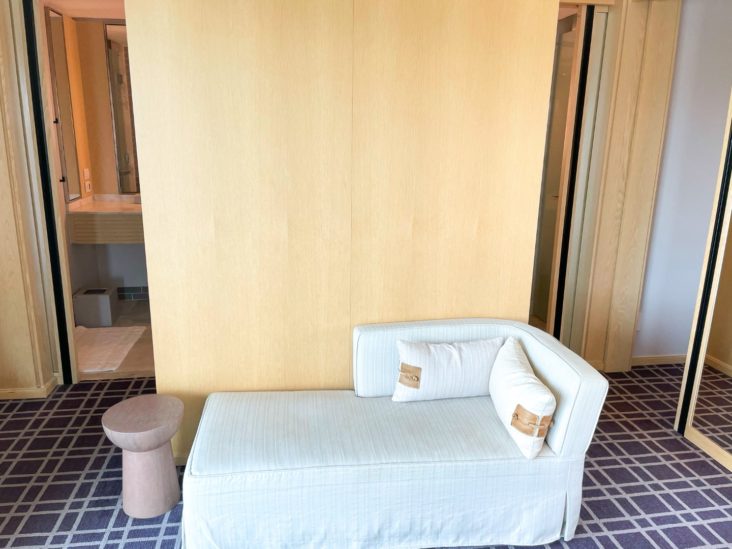 Against the wall was a small lounger/day bed.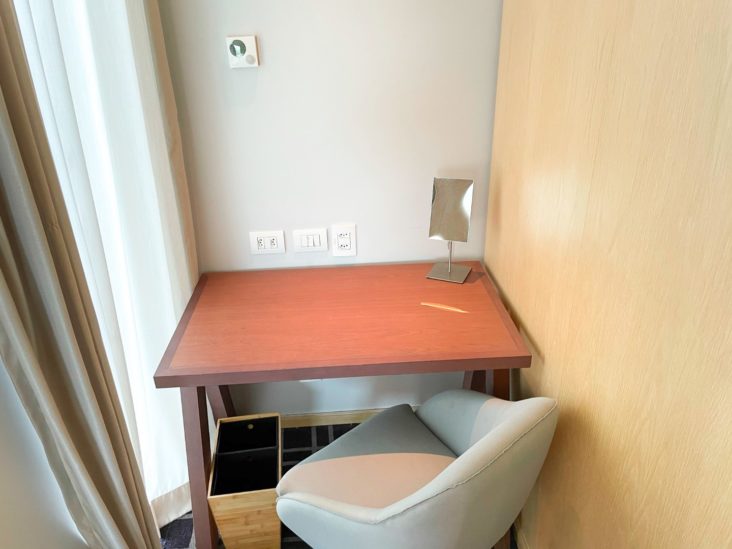 To the left was a small desk.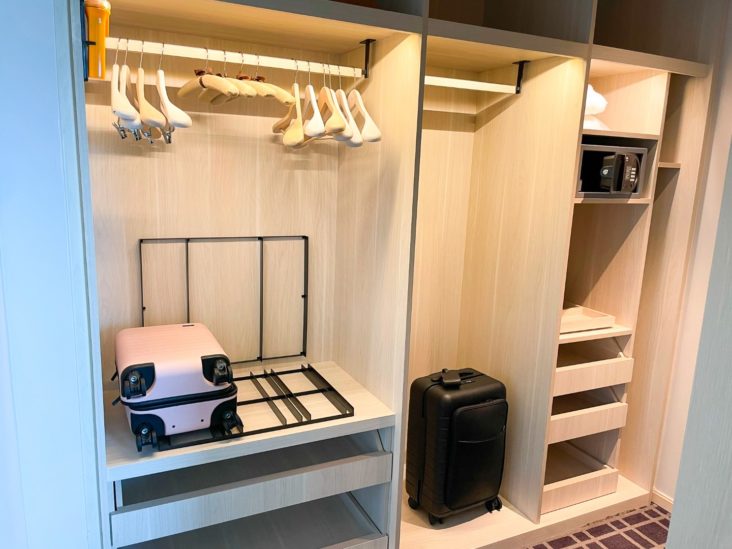 To the right was a walk-in closet with enough shelving for an extended stay… I may need to complete my Globalist status run here…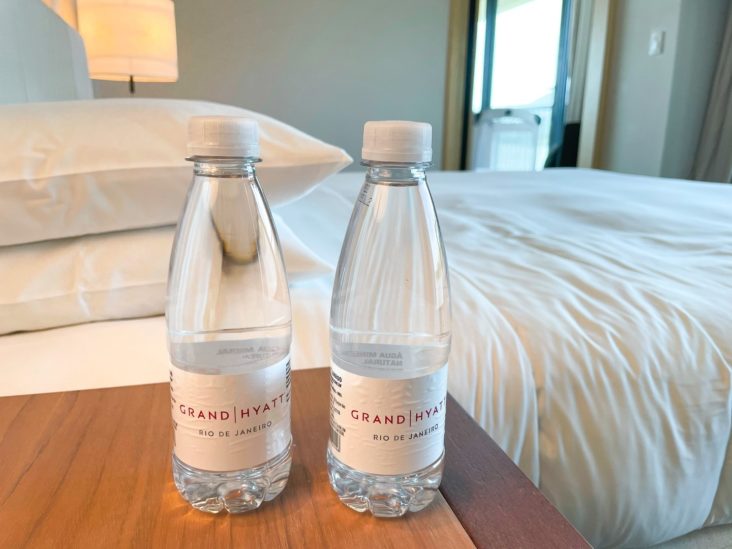 There were 2 bottles of water in the room waiting for us.
Kids' Beds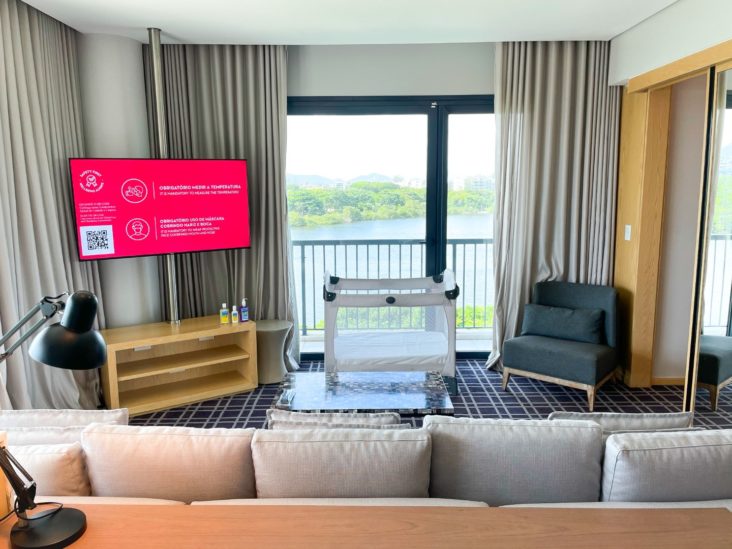 Since we had our 2 kids with us, we requested a rollaway bed and a crib. Both came free of charge.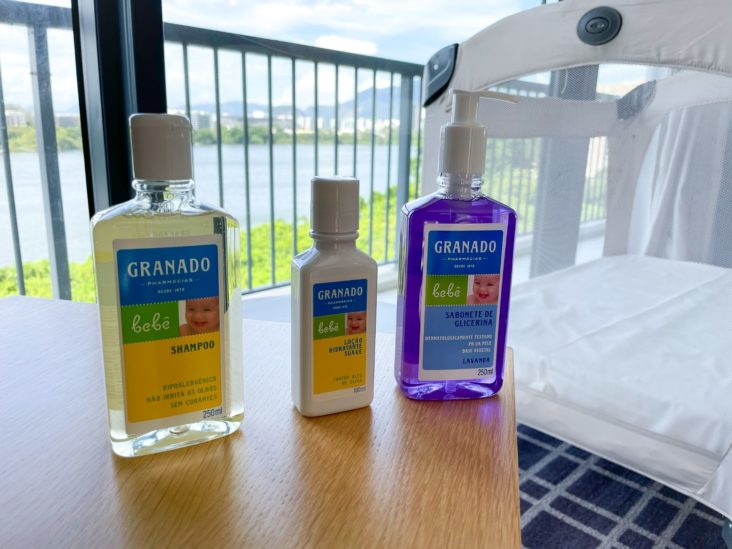 The crib for our 2-year-old was a pack and play and was already in the room when we arrived. It came made up with a nice little selection of baby bath soaps and creams from Granado, a good-quality Brazilian brand.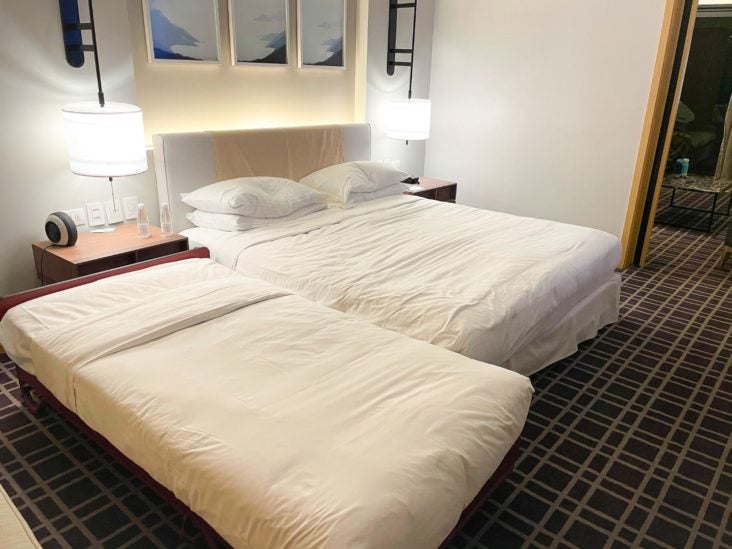 We had to call down to the front desk to request the rollaway bed for our 6-year-old, but it was delivered in less than 10 minutes. The quality seemed quite nice as well. Our daughter certainly slept well on it after a day at the beach and being in a room with blackout curtains and the air conditioning on!
Food and Beverage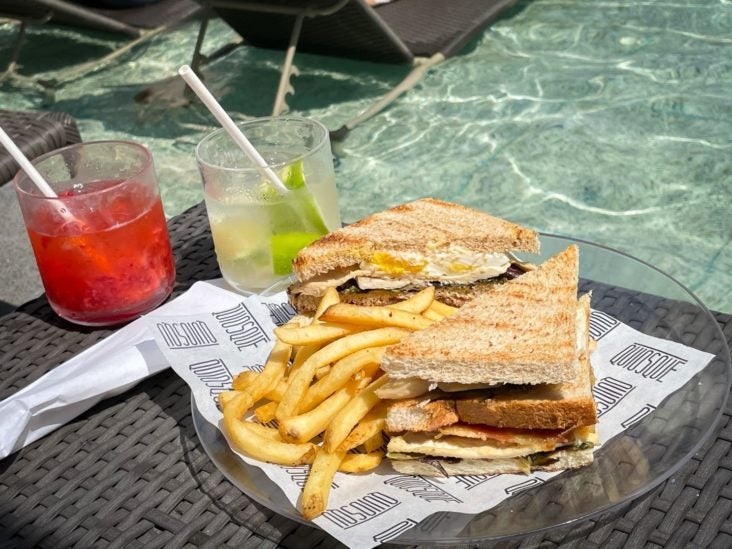 One of the downsides of the Grand Hyatt Rio de Janeiro was the price of food. Yes, if you are paying in U.S. dollars the prices are actually quite reasonable, but for anyone paying in Brazilian Reals, get ready to pay.
This was another reason that booking the suite was worth it, as having lounge access allowed us to feed the kids breakfast and dinner (and get us a few drinks) for no extra cost.
Quiosque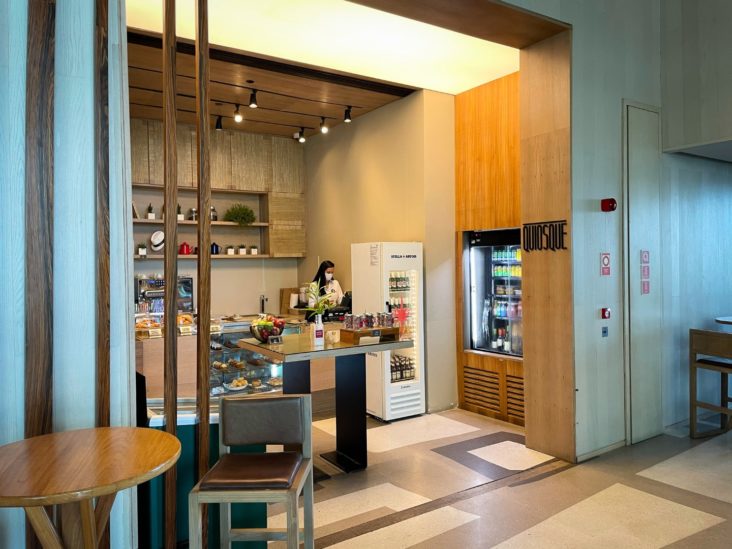 Quisoque, which translates to "kiosk," was a small convenience store in the lobby of the hotel that was open 24 hours per day.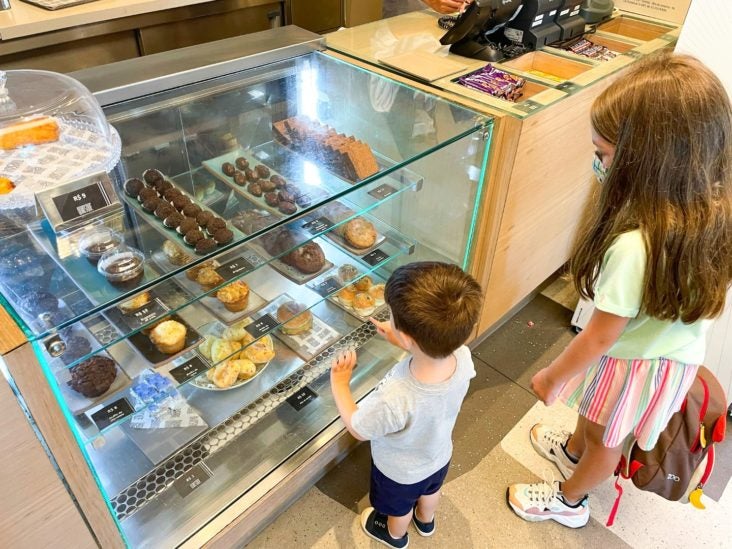 There were some delicious looking pastries and sweets.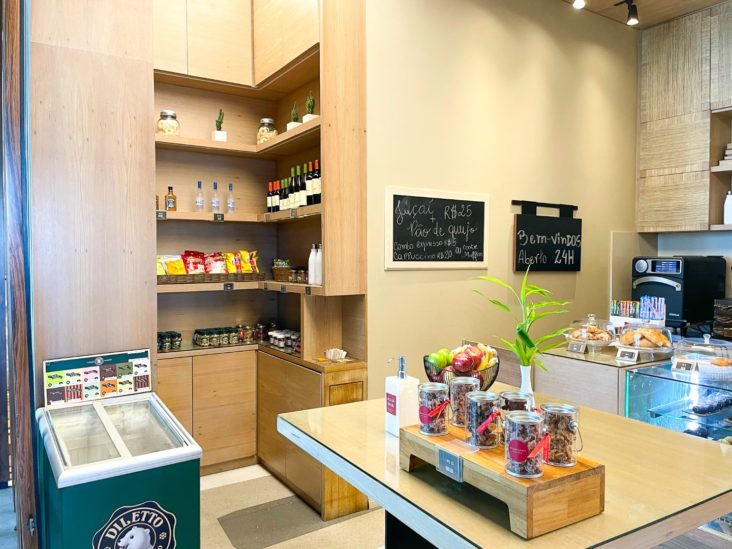 Some snacks, ice cream, and a nice selection of adult beverages… at a premium price.
Cantô Gastrô & Lounge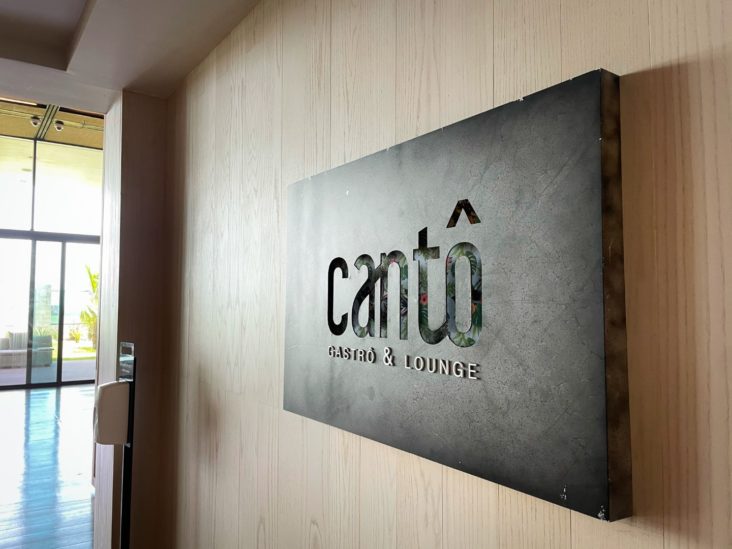 Canto was the main restaurant just off the lobby with 2 bars and plenty of seating options, and it was responsible for the pool service as well.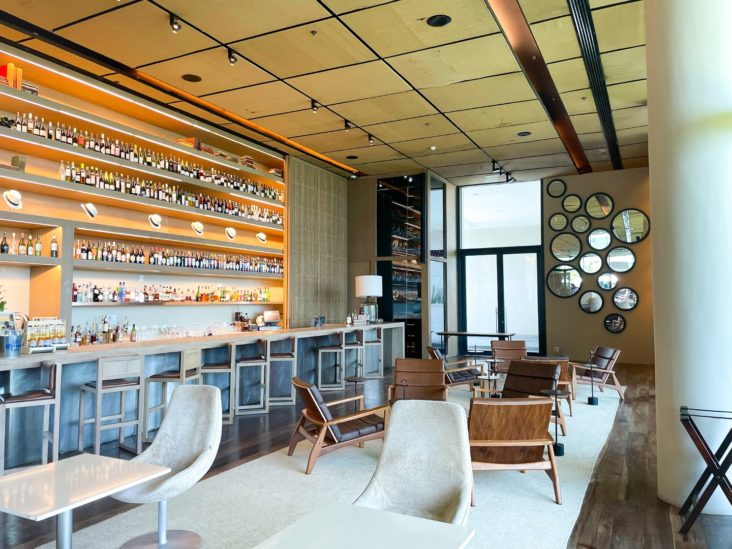 The restaurant was open daily from 12 p.m. until 11 p.m. and serviced the pool from 11 a.m. until 7 p.m.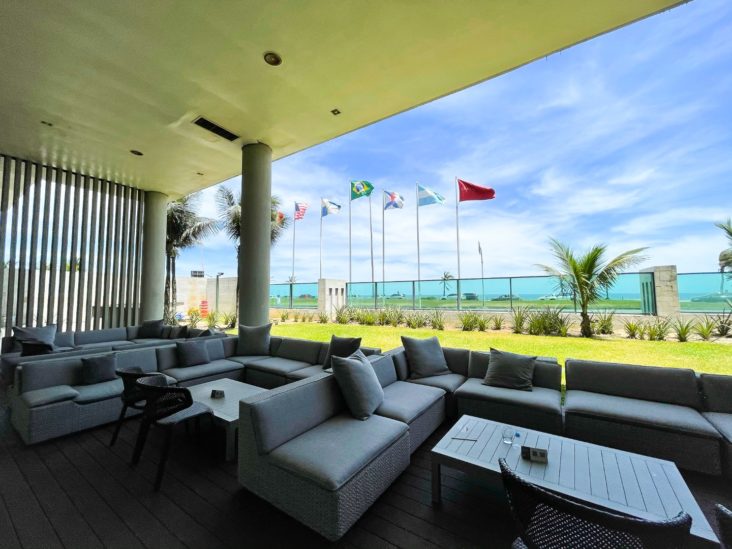 There were multiple options, both indoors and outdoors, to sit.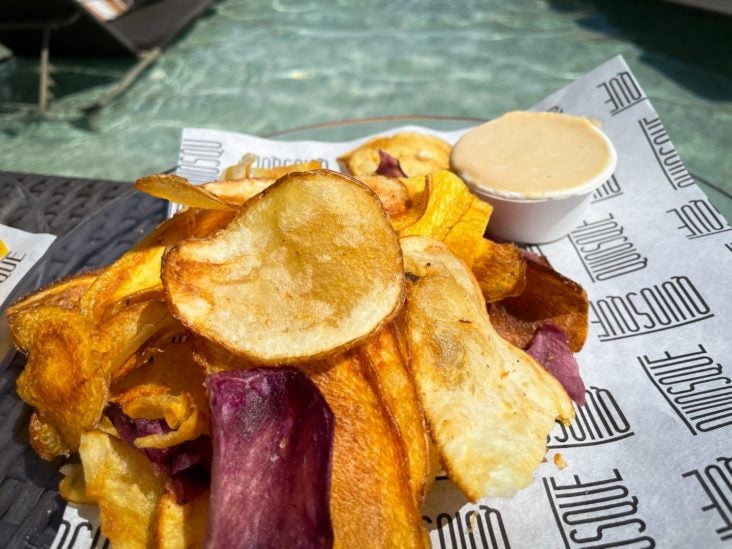 While we were at the pool we ordered some snacks and drinks and they were all delicious and arrived quickly… once we were able to flag down a staff member.
Grand Club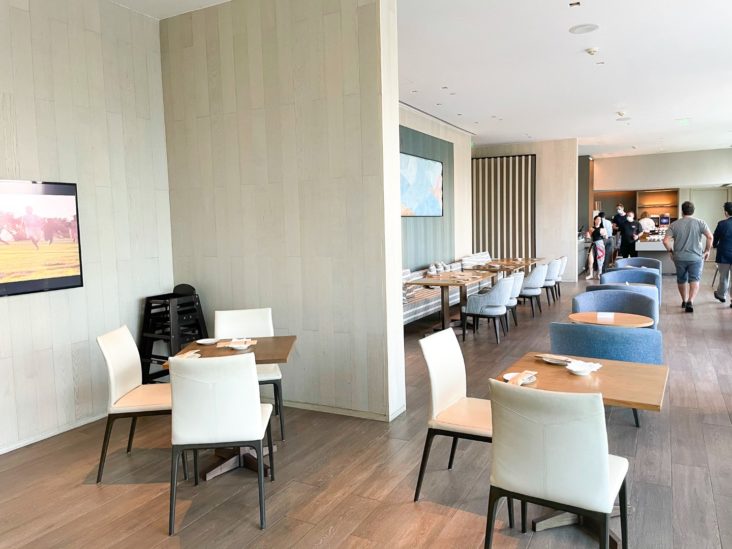 The lounge was open daily from 10:30 a.m. until 10:00 p.m. for tea and coffee service. Cocktail hour ran from 5:30 p.m. to 7:00 p.m. and offered drinks and light snacks. Breakfast was available in the main restaurant.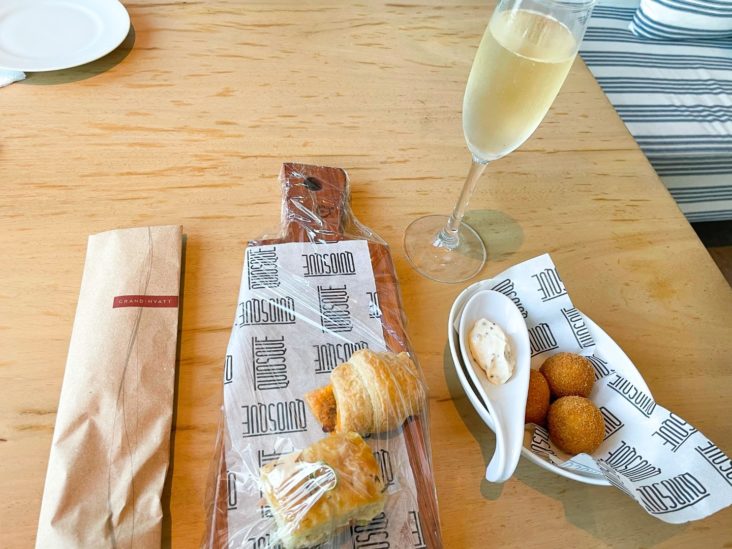 The food offerings were mostly pre plated and covered in plastic wrap.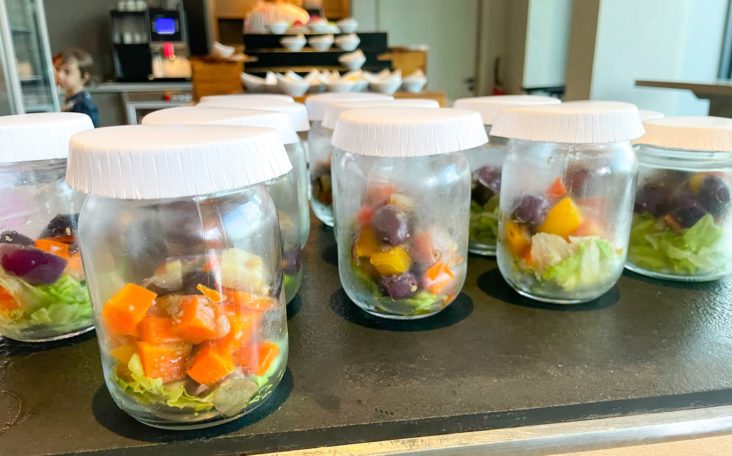 Salads were premade, but not very appetizing.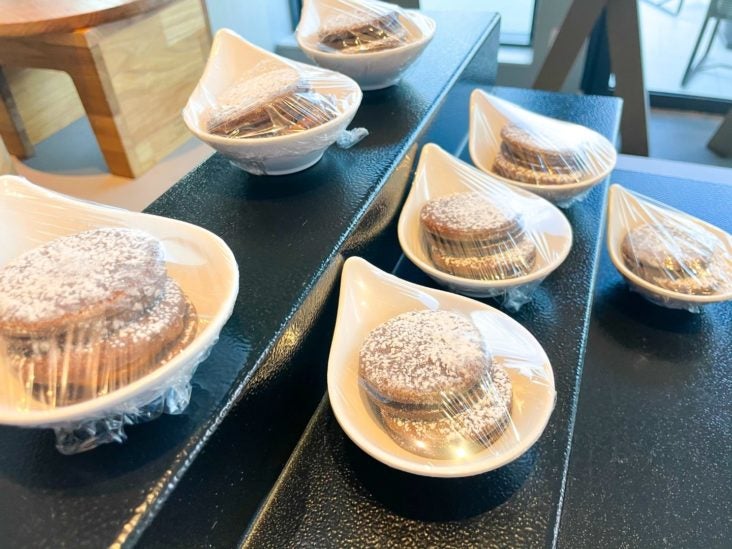 There were plenty of sweets to choose from.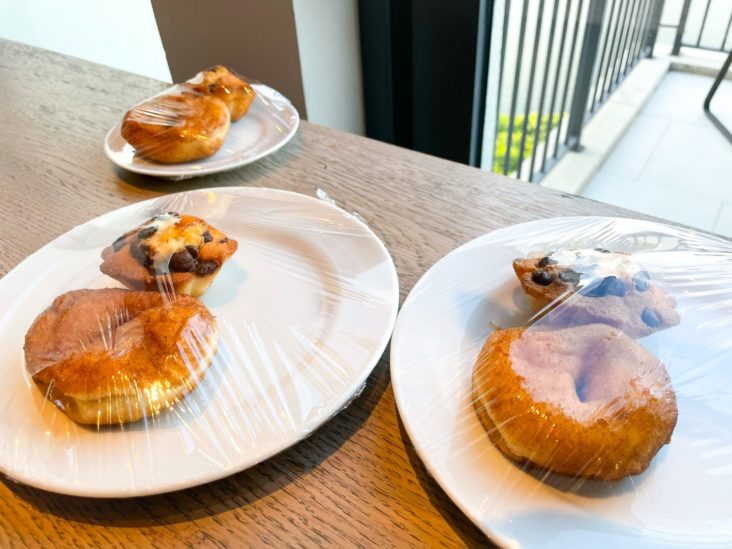 I skipped the donuts.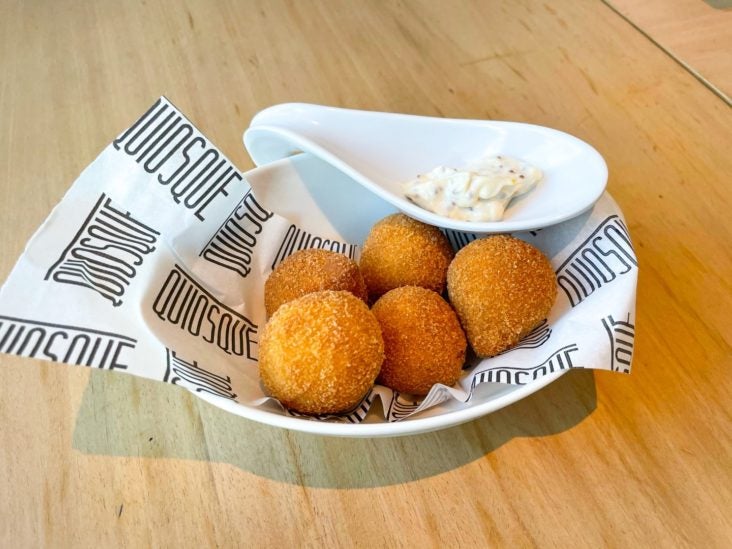 I saved my calories for some coxinhas, a popular fried snack with shredded chicken inside.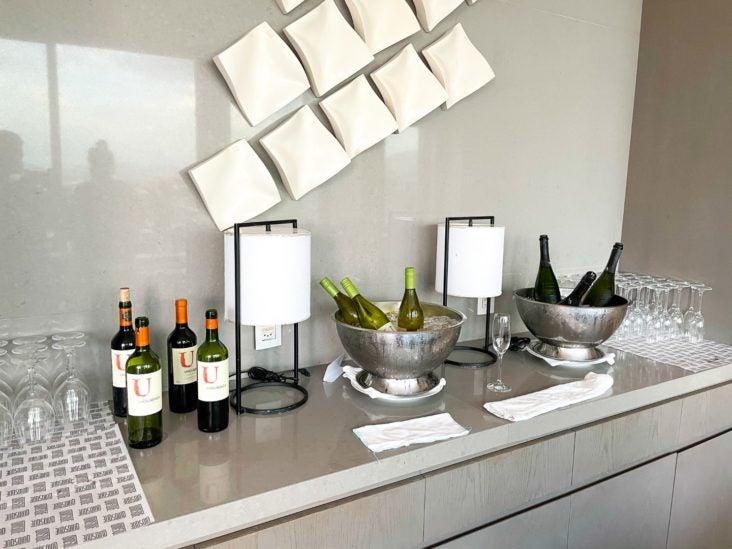 For beverages, there was a little bit of everything.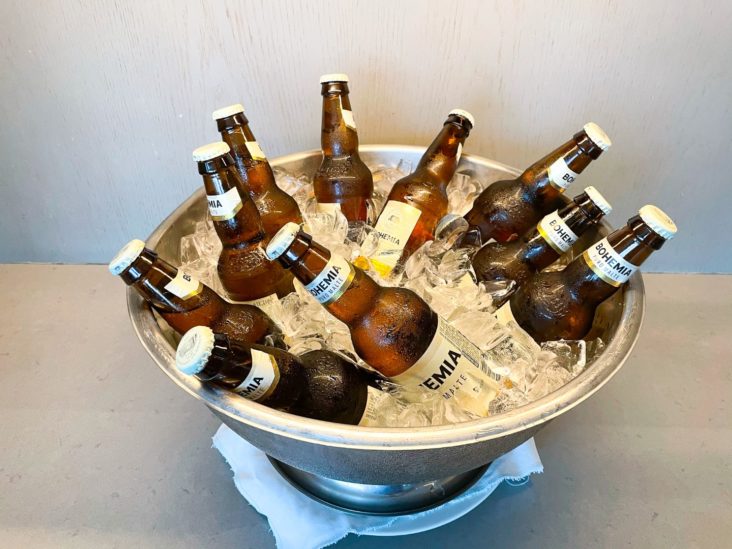 Self-service options included beer, wine, and spumante, as well as water and soda.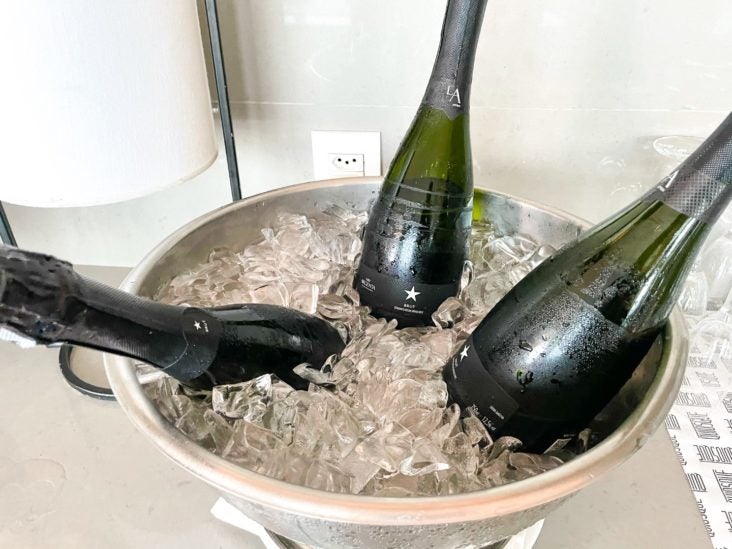 The spumante was refreshing after a long day by the pool.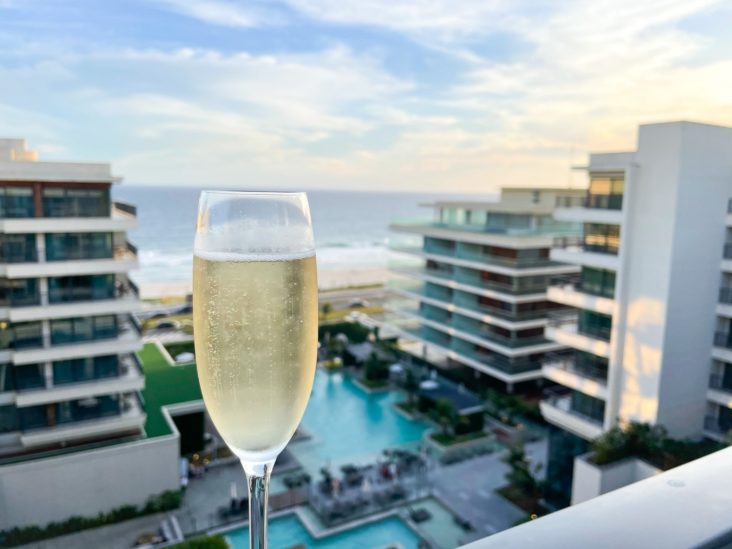 The lounge spans the entire width of the seventh floor, so there are great views to be had.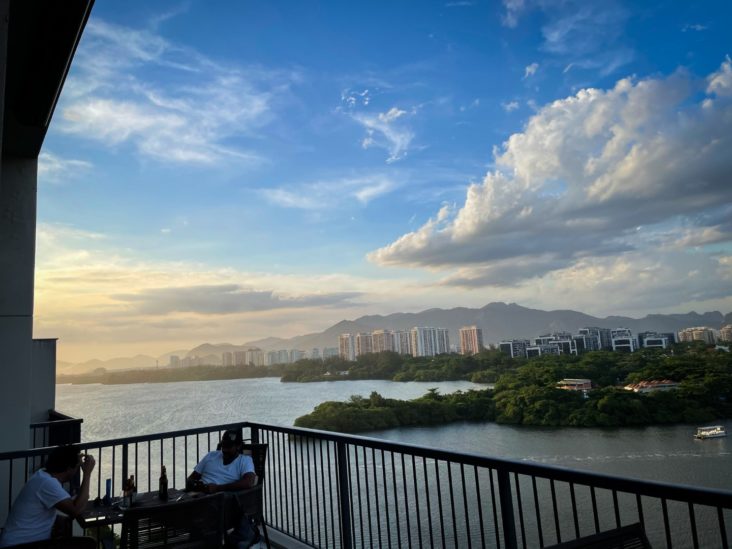 To be honest, I don't know which side had the better view. Both were spectacular during sunset.
Tano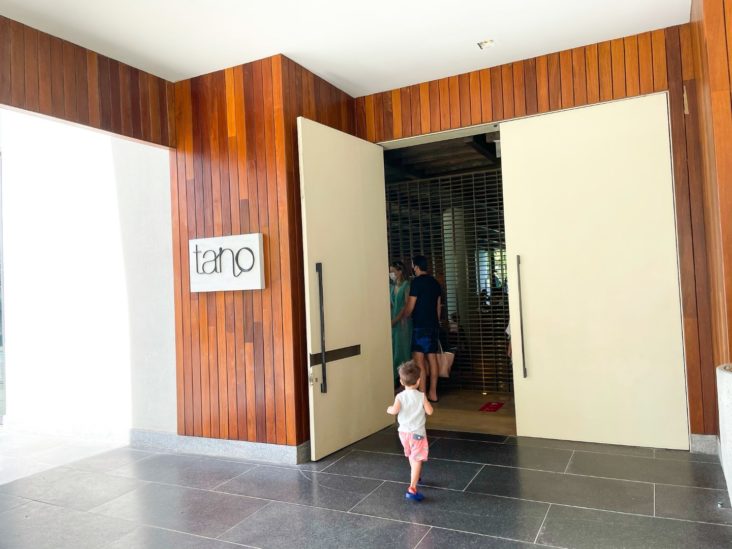 Tano was the restaurant where breakfast was served daily from 7 a.m. until 10:30 a.m. during the weekdays and 7 a.m. until 11 a.m. on the weekends.
When we arrived the hostess asked for our room number and then escorted us to our table.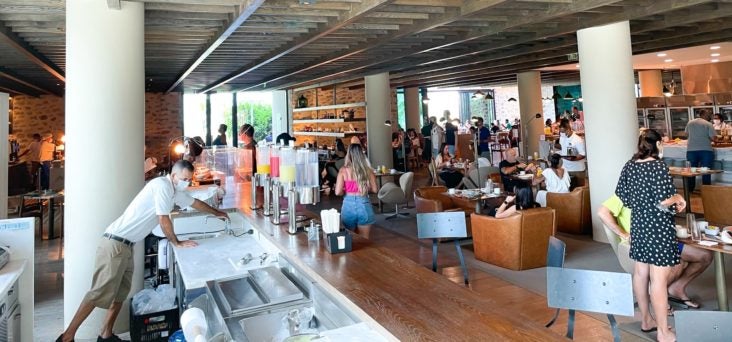 The restaurant was huge and very busy as there appeared to be a group staying at the hotel.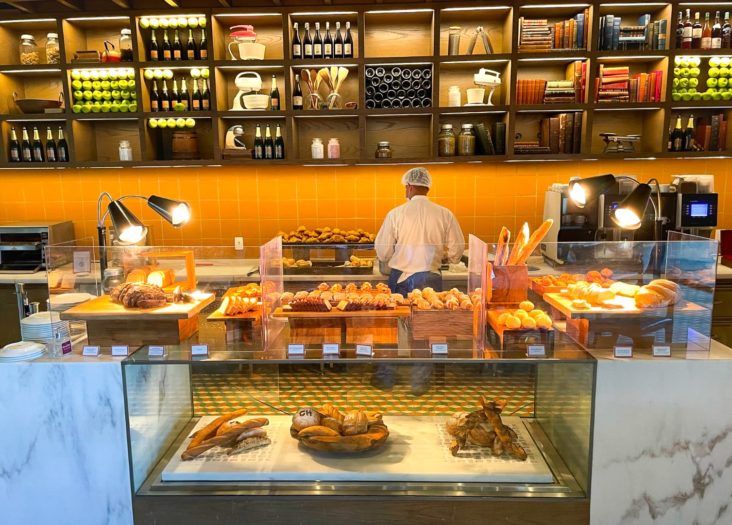 There were stations in each corner of the restaurant, so even though it was busy, there really weren't any lines or bottlenecks to get food.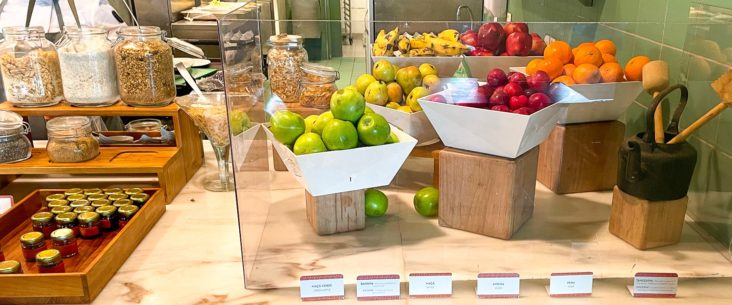 There were plenty of fruit options for breakfast.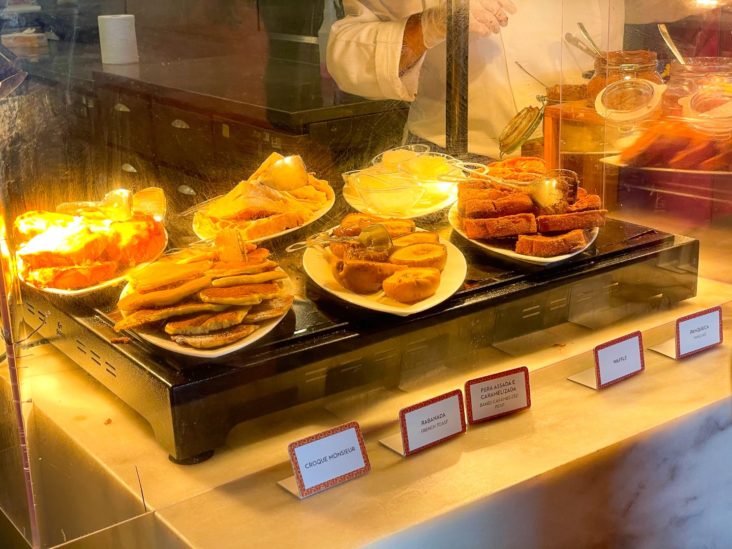 As well as pancakes, waffles, and more.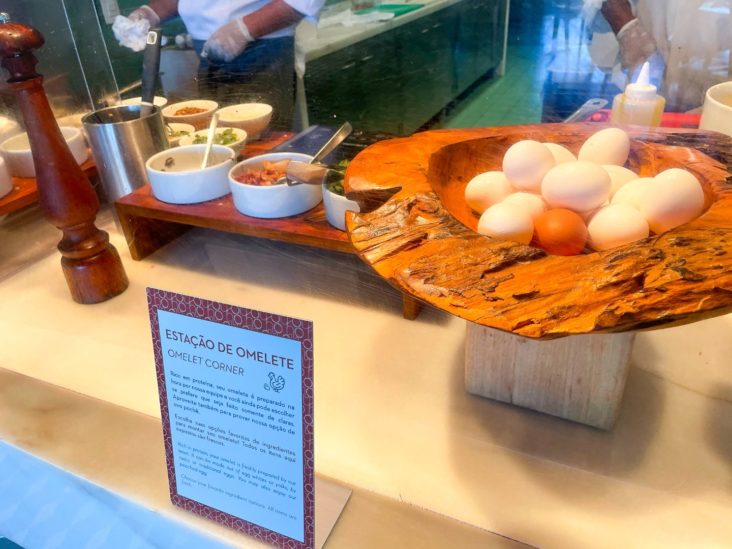 There was an omelet station with a lot of options for fillings.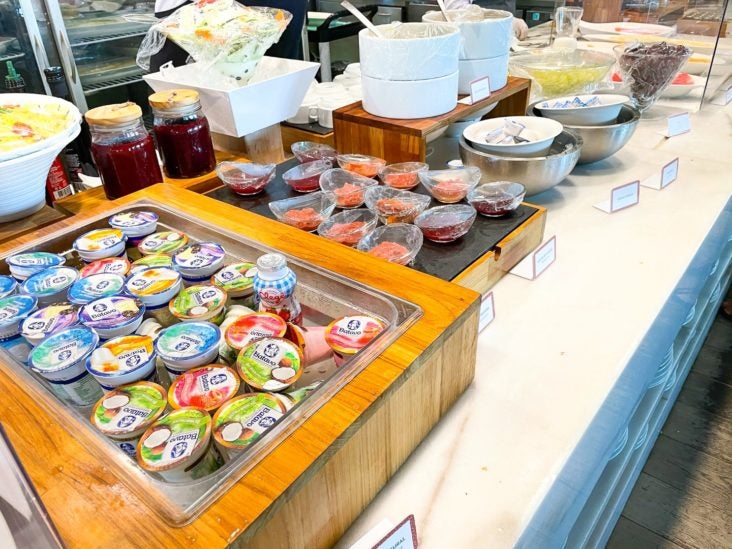 Yogurt, fruit, and granola was also a popular choice.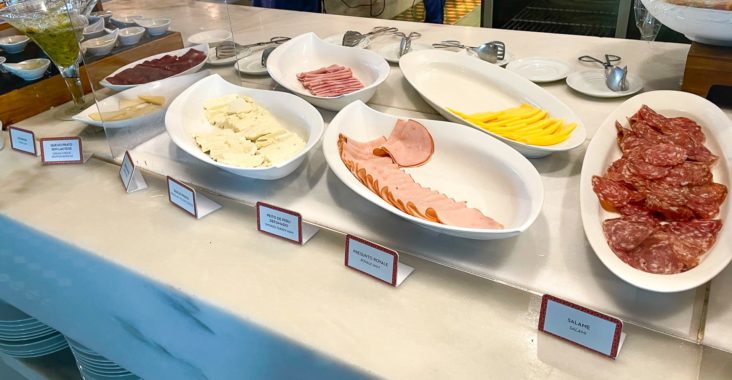 No breakfast buffet in Brazil would be complete without some ham and cheese options.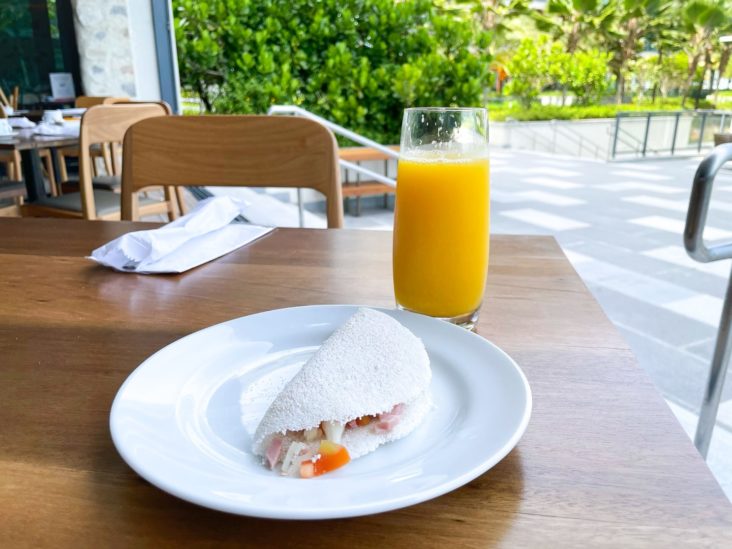 I opted for another very popular (and healthy) breakfast choice here in Brazil — tapioca filled with whatever you want!
Overall, the breakfast was very good and the variety was impressive, to say the least.
Shiso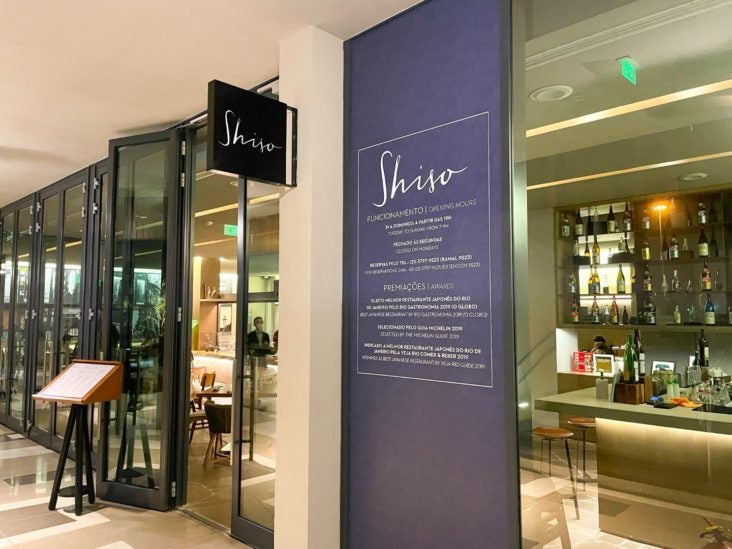 Shiso was a high-end sushi restaurant towards the back of the hotel that was open for dinner Tuesday through Sunday.
The restaurant has received numerous awards, including being featured in the Michelin Guide.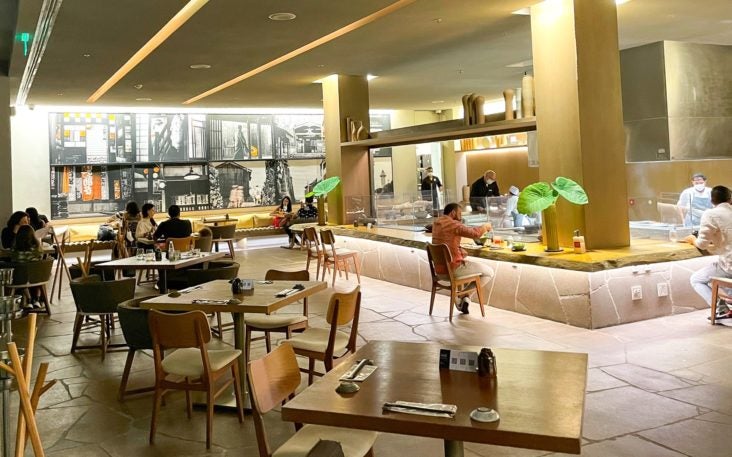 We didn't eat here with the kids, but the tasting menu looked really good. Again, expensive at R$320, but if you are paying in USD, $60 was a pretty good deal.
Service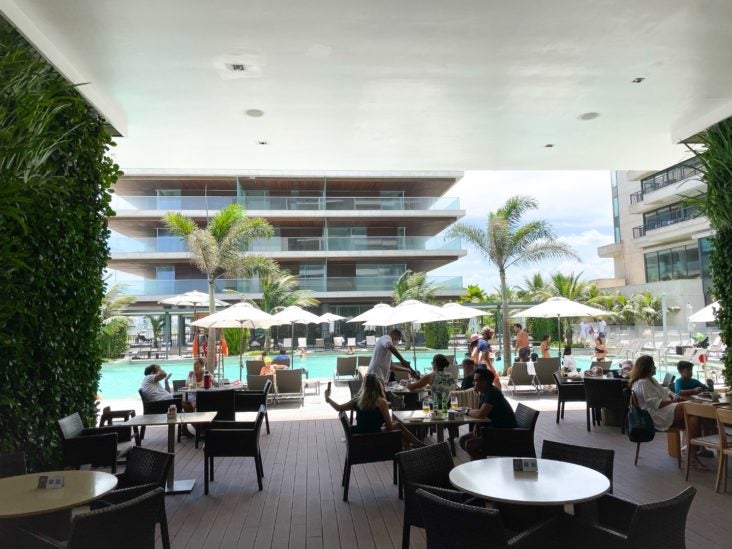 Although we really enjoyed our stay, 1 thing that stuck out as a negative for us was the service at the pool and restaurant.
My wife and I both have hotel backgrounds, so we tend to have a critical eye, but at the same time we are sympathetic and understand how and why things happen. But we just didn't understand over the course of 2 days how unorganized and not-proactive the restaurant staff was.
It didn't appear that they were understaffed — I will admit that the pool was quite busy — but the waiters walked around with their heads down never looking to see if guests needed anything. After about 15 minutes of my wife and I casually trying to get someone's attention, we just got up and ordered. And then walked back to our chair with the waiter so he could write down our table number.
The following day it was like pulling teeth trying to get someone to take our to-go order without us physically sitting down at a table. Probably just a training opportunity that could be easily resolved.
These were obviously first world problems, but guests shouldn't have to put too much effort in if they are going to spend R$100 (~$19) on a cocktail and a club sandwich.
Besides that, the rest of our interactions with staff were excellent. The front desk was quick and competent, housekeeping was great with the kids' stuff, and the beach crew made us feel safe and comfortable.
Final Thoughts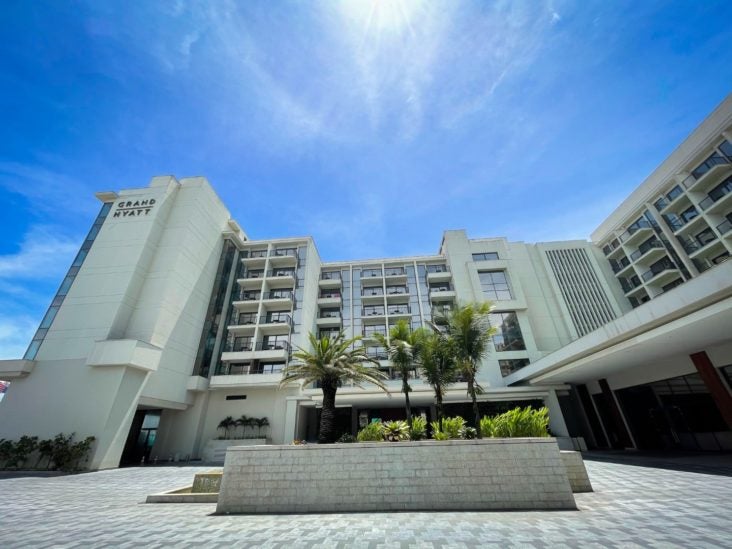 Overall we had a great stay at the Grand Hyatt Rio de Janeiro and I can't wait to go back for another staycation.
Based on the crowds at the pool, this appears to be a popular spot for locals to "get away" without actually getting away. For tourists, the location may be a negative, but the property sure isn't.
If you have World of Hyatt points there are some great redemption opportunities, especially if you can take advantage of the suite offerings. As a family of 4, we got tremendous value from the Grand Club lounge and breakfast in the restaurant.
For Hyatt Credit Cardholders, you can use your annual category 1-4 free night certificate for a standard room at this property, just note that there was a 3-person occupancy limit in the standard rooms.
For anyone in Rio looking for a resort with a little bit of everything, the Grand Hyatt was a solid choice. Good pools for both adults and kids, easy access to a great beach, clean and modern rooms, an executive lounge, and some pretty good dining options.
If I can't travel anytime soon, I may end up spending all of my World of Hyatt points here — and I won't complain!