Sheraton Grand Rio Hotel & Resort in Rio de Janeiro – Full Review
With summer in full swing here in Brazil, I had been doing my best to find some family-friendly outdoor activities to keep the kids from going crazy in our apartment.
Fortunately, we live about an hour from Rio de Janeiro, so there are plenty of beaches and hotels to choose from. We had recently visited the Grand Hyatt Rio de Janeiro, which we really liked, so I thought it was only fair to check out one of the Marriott offerings in the city as well.
Marriott has a decent footprint in Rio with a little bit of everything for everyone. There is a beachfront JW Marriott in Copacabana, a joint Courtyard and Residence Inn in Barra da Tijuca, and the Sheraton Grand Rio Hotel & Resort in Leblon.
The Sheraton has been one of the most well-known hotels in Rio for almost 50 years due to its unique location, great dining options (for both guests and visitors), spa, and pools. After being closed for several months in 2019 due to flooding and then again in 2020 due to COVID-19, I was excited to spend a couple of days on the property with my family.
A unique selling point of this hotel is that is it the only hotel in Rio de Janeiro with direct beach access. All other hotels require guests to cross a street to get to the beach, but not here!
Sheraton Grand Rio Location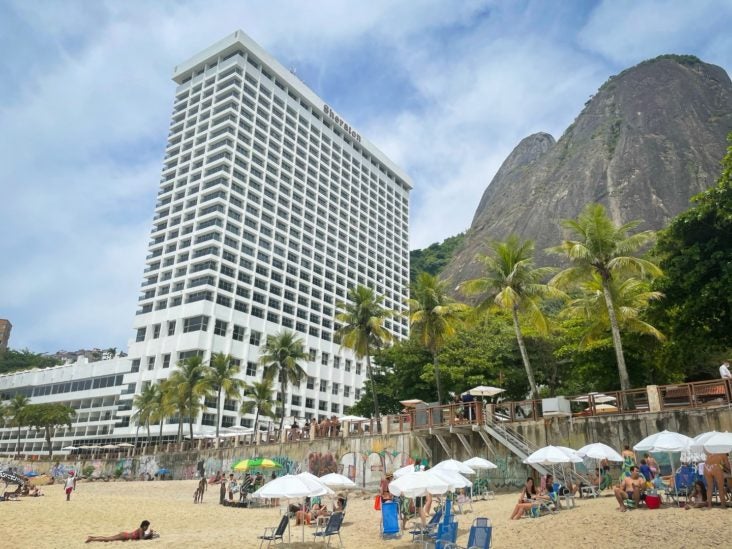 The 538-room Sheraton Grand Rio is technically located in Leblon, which is one of my favorite neighborhoods in Rio. I put "technically" in italics because although it is in a neighborhood famous for its walkable streets and sun-drenched beaches, you probably won't be doing too much walking from the property and the beach loses its sun around 3 p.m. thanks to the shadow of the Dois Irmãos mountain behind it.
The beachfront hotel sits at the endpoint of Leblon on the infamous Avenida Niemeyer, which is a winding road at the foot of Vidigal (a massive favela) that continues on towards the São Conrado and Barra da Tijuca neighborhoods. Depending on traffic, it might take you longer to get to Leblon than it would Barra, which is strange to think about.
In fact, when we arrived, the entrance via Leblon was closed and we had to backtrack and get to the hotel from the other side of Avenida Niemeyer. That meant driving about 40 minutes around and through São Conrado. This was due to some preventative landslide maintenance, which is always good, but the city didn't inform the hotel so many guests were put in similar situations.
I can only imagine tourists arriving from the airport thinking that their taxi driver is taking them for a ride!
If you are arriving from the airport, either Rio de Janeiro Galeão (GIG) or from Santos Dumont (SDU), it should take about 30 minutes with light traffic and no major detours.
Bottom Line: The Sheraton Grand Rio is technically in the great neighborhood of Leblon, but it is about a 15-minute walk to get to the popular shopping areas and restaurants. Fortunately, the hotel has everything you need on-property!
Booking

The Sheraton Grand Rio Hotel & Resort is a Category 4 property which means that you can expect to pay between 20,000 and 30,000 Marriott Bonvoy points per night for a standard room. If you have any annual free night certificates from one of your Marriott Bonvoy credit cards, you will be able to use them here.
For the night that we were looking for, cash rates were around $170, which I thought was quite reasonable, but my biggest concern was the additional costs for a family of 4 to eat and drink at the resort for 2 days.
Fortunately, the hotel had recently introduced an all-inclusive package that was going for $309 per night with a 4 p.m. checkout the next day. This was a great deal in my opinion because we could arrive early on Saturday to enjoy the pool, spend the whole day and night, and take our time leaving on Sunday — and not have to worry about food costs!
On top of that, I would be able to use the annual $300 credit that comes from my Marriott Bonvoy Brilliant™ American Express® card, essentially bringing the out-of-pocket costs down to just a few dollars. Sweet!
The "Escape! All Inclusive" rate included:
Breakfast in the main restaurant, Bene
Lunch at any open outlet except L'Etoile (the award-winning French restaurant on the top floor)
Dinner at any open outlet except L'Etoile
Snacks from the pool bar
A variety of drinks: beer, wine, cocktails, juices, sodas, coconut water
Whisky tasting
Wi-Fi
4 p.m. late checkout
Minibar
Free parking
I knew that with just the meals and a few beverages, the rate would pay for itself. But, when my kids found out that popsicles by the pool were included, it was all over!
Hot Tip: Travel soon? Be sure to read Coronavirus (COVID-19): Hotel Policy Changes
Checking In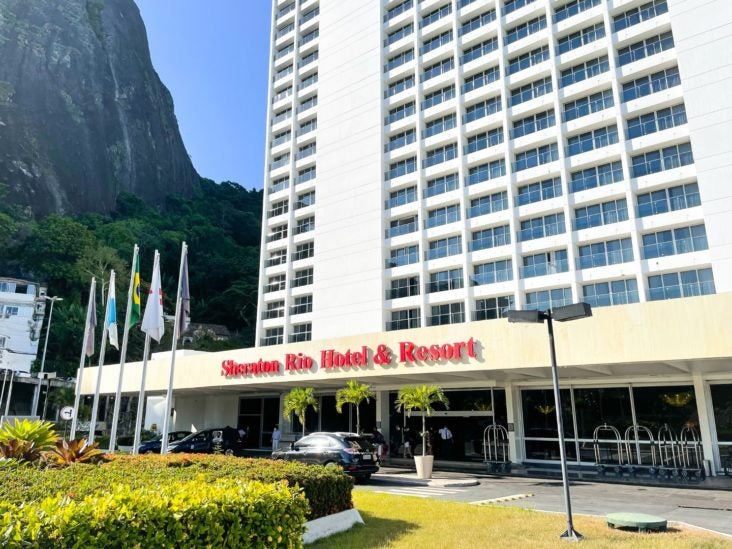 After finally navigating the road closures and making our way to the hotel, we pulled up to the valet and the bellmen quickly unloaded our bags while my wife and I wrangled the kids.
The driveway and lobby are actually located on the sixth floor of the hotel, so when you look out the windows you see nothing but incredible views of the ocean and distant coastline, which is very cool.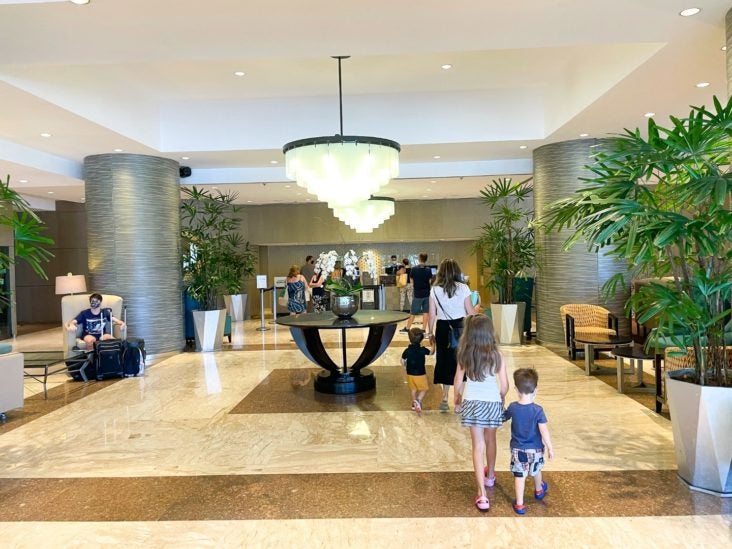 The lobby itself very big and open, but also welcoming at the same time. The massive orchids and the scent they pump in through the vents immediately puts you at ease.
Check-in wasn't too busy as there were only 2 parties in front of us, but the process took for-ev-er. This is not entirely the hotel's fault as hotel check-in requirements in Brazil are far more comprehensive than in many other countries.
For example, in order to check-in with the kids they each needed to provide IDs that were then photocopied and input into the computer. Since my 2-year-old son doesn't have an ID, we need to provide a copy of his birth certificate. I'm obviously all for keeping kids safe, but that process combined with the seemingly endless amount of paperwork that needs to be done for a 1-night stay really deters from the excitement of arriving at a hotel.
Hot Tip: Traveling with kids can be overwhelming, but it doesn't have to be so stressful! Read our helpful tips for amazing family travel with your kids (less stress and more fun!).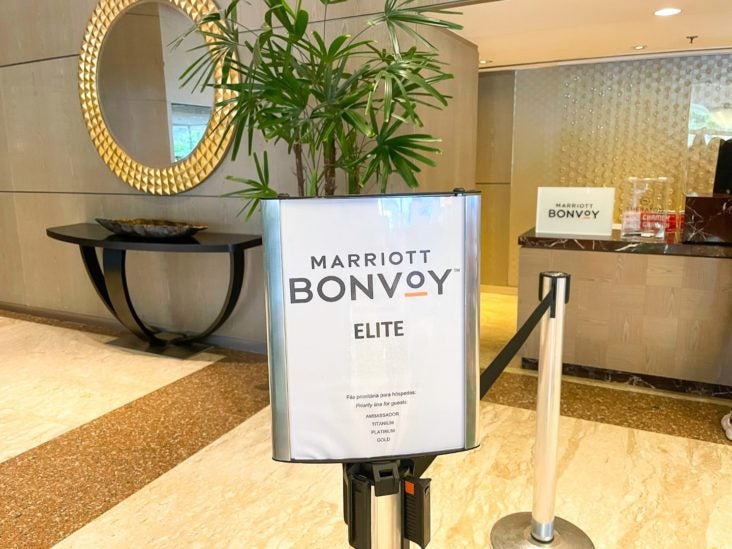 When I worked as a front desk manager in Boston 10+ years ago, check-in speed was one of the most important factors. Heck, nowadays many hotels let you check-in online and bypass the front desk. So spending almost 30 minutes checking in just blows my mind despite it being quite common when we travel as a family here in Brazil — rant complete.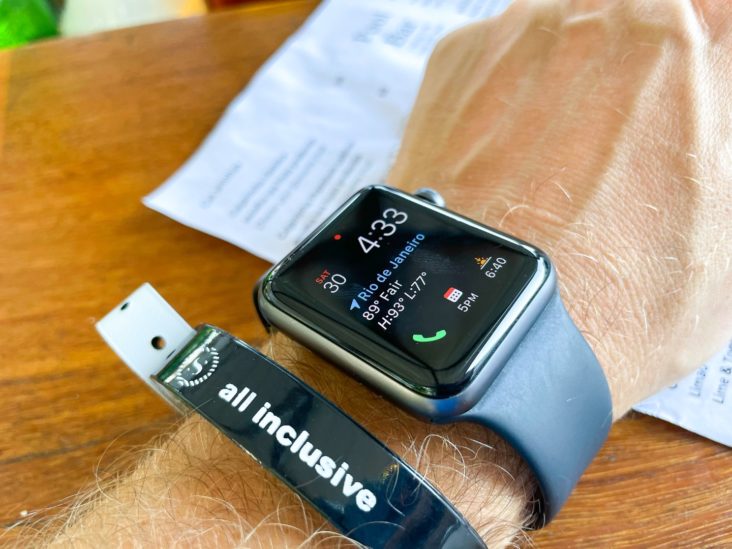 Once all the paperwork was done, we were all given black wristbands that said "all-inclusive" on them and we headed up to our room.
Elite Benefits
We made the reservation under my wife's name to see what benefits would be offered for her Marriott Bonvoy Platinum Elite status. Although we had booked an all-inclusive rate, the hotel still provided some nice touches which made our stay even more comfortable.
Room Upgrade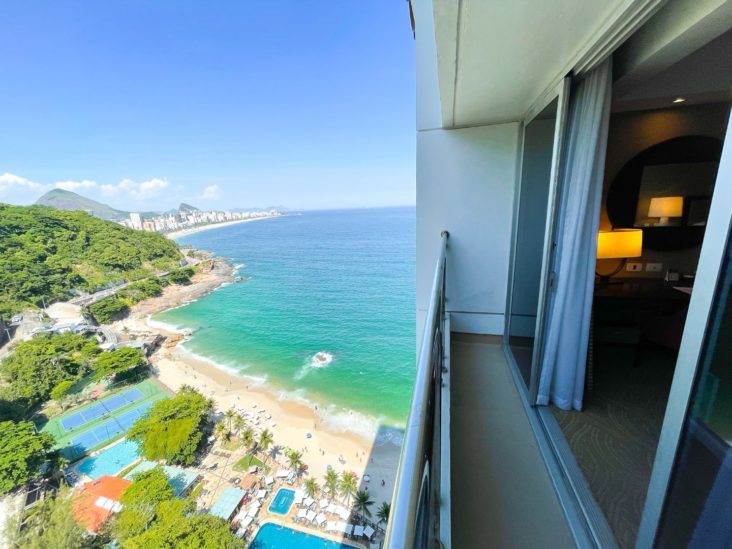 We had booked a Classic Twin with a Mountain View but were upgraded to essentially the same room, but on the 25th floor. The hotel has 26th floors, but the top floor is where the restaurant and some meeting rooms are located, so we were as high as we could go, which provided great views.
The room had a balcony that overlooked the pool which was a good way to get the kids motivated to get out of the room in the morning!
Welcome Amenity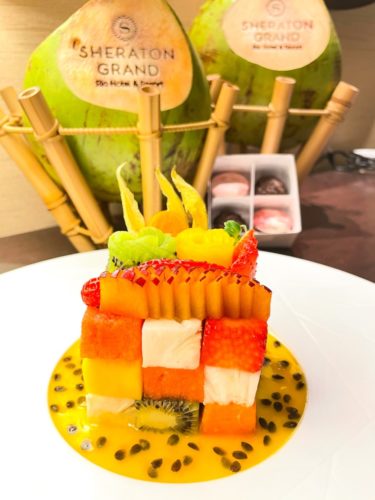 The welcome amenity that we received was not only gorgeous and delicious but a great representation of Rio de Janeiro as well.
When we returned to the room from the pool there were 2 coconuts with the hotel's logo branded into them, a stunning fruit plate that looked more like an art piece, and a box of chocolates. Everything was delicious and really unique — well done!
Late Checkout
Although Platinum Elite members are entitled to a 4 p.m. checkout, it was also part of the all-inclusive package, so there were no issues with us enjoying the pool into the afternoon on the day of checkout.
However, if you book the all-inclusive rate, beware that it ends at 1 p.m. and not at 4 p.m. with the rest of the checkout. I didn't realize or hear this during check-in, so we had some extra charges that needed to be settled, which was a bummer.
Amenities
The Sheraton Grand Rio is a massive property, so there are a lot of amenities to enjoy — both for kids and adults.
Executive Lounge
The hotel does have a Sheraton Club Lounge, however, it was closed while we were there.
Normally the club is open during the day for coffee and other non-alcoholic beverages and then during a small happy hour in the evening. I was told that we could have refreshments downstairs in the restaurant overflow room (basically a meeting room) that was being repurposed, but since we could order everything by the pool it wasn't necessary.
I'm not sure if this was COVID-19 or renovation-related, but it sounded like the lounge would be back soon.
Valet Parking
If you are arriving by car, you have the option of self-parking in the underground garage or valet — they both cost $9.
It didn't make a difference for us because parking was included in the rate, but we opted to valet to make things easier unloading the kids and bags.
Wireless Internet
The wireless internet throughout the property was fast and easy to connect to. Like all Marriott properties, just enter your room number and last name and you are connected.
Fitness Center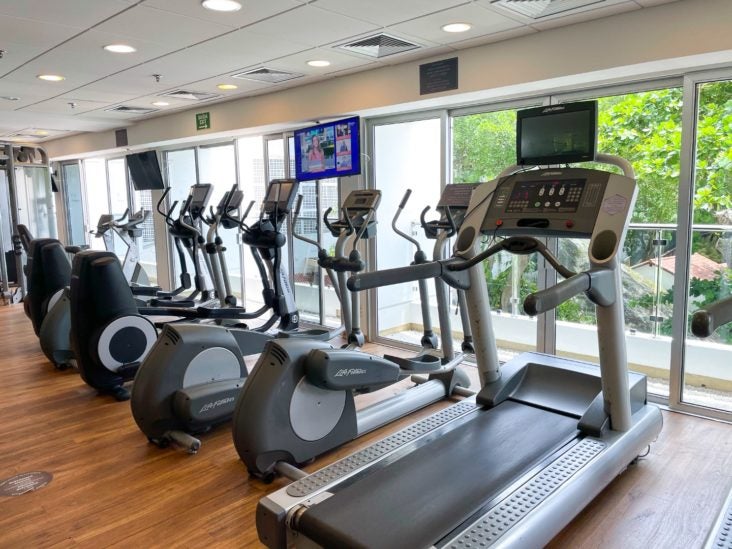 The fitness center is located on the fourth floor and shares an entrance with the spa.
The gym was complete with treadmills, ellipticals, bikes, free weights, and more all overlooking the pool and beach area.
With the air conditioning pumping and the beach calling, it is a great place to get a quick workout in before heading downstairs to relax.
Kids' Club (Sheratoons)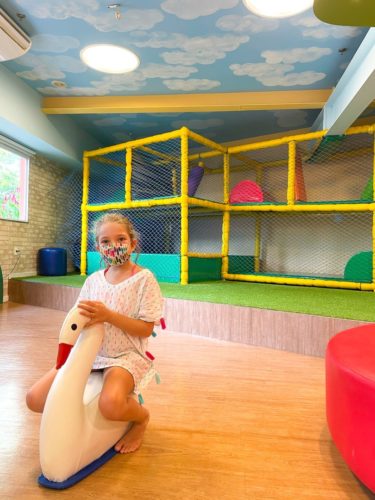 One of the things my kids were most looking forward to was the brand new kids' room known as Sheratoons.
Sheratoons had been around for a while, but since it sits on the lowest level near the pools, it was heavily damaged during the floods in 2019 and only recently reopened. That meant there were all brand new toys to play with!
The kids' club is located on the pool level, up on the left underneath some outdoor event space.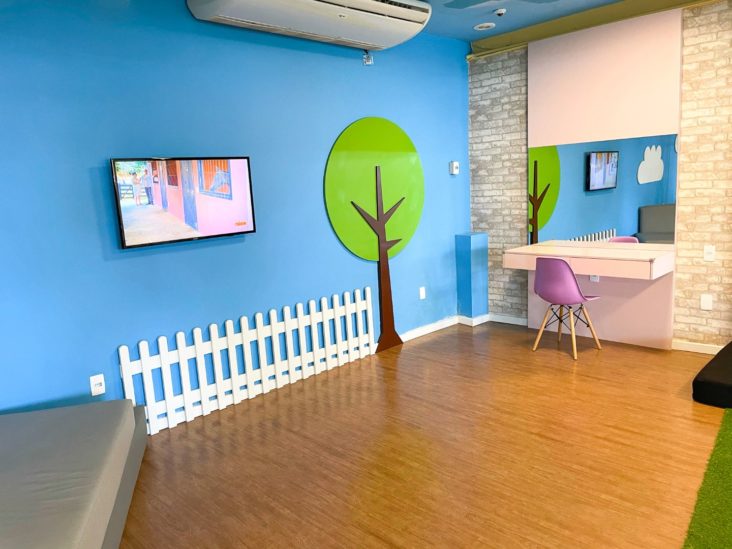 Inside, the club is broken up into 2 rooms — 1 geared towards small kids and babies and the other for young kids and adolescents.
There was 1 staff member who instructed everyone to remove their shoes, sanitize their hands, and wear masks. The few kids that I saw (who appeared over the age of 2) were all wearing masks, which was nice to see, especially since it was an enclosed space.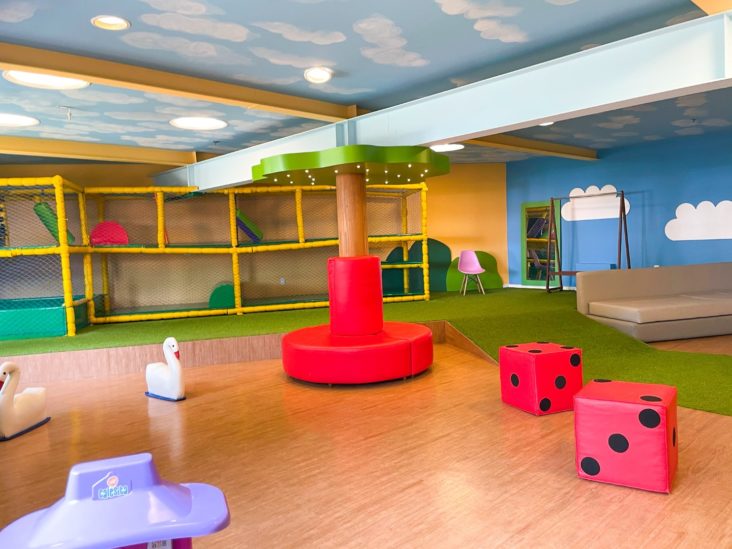 The first room is large with big toys spread out.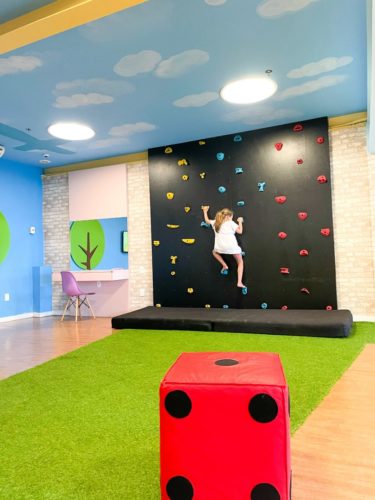 There is a rock climbing wall on the right side.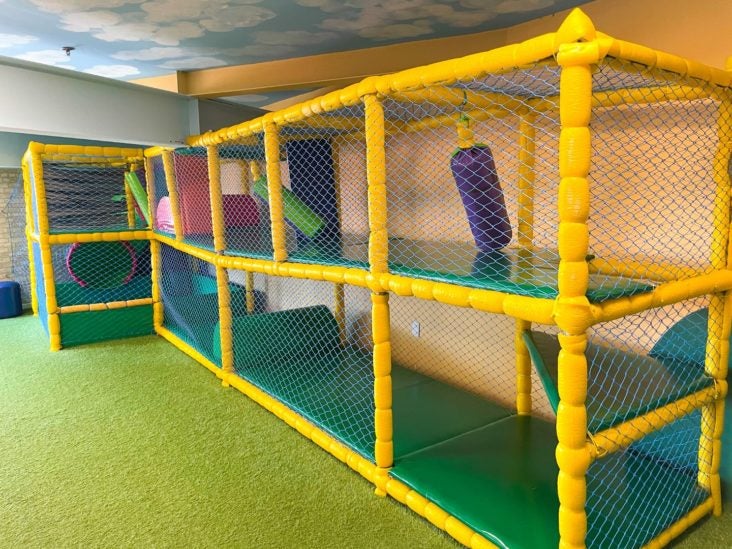 And a climbing structure on the left side.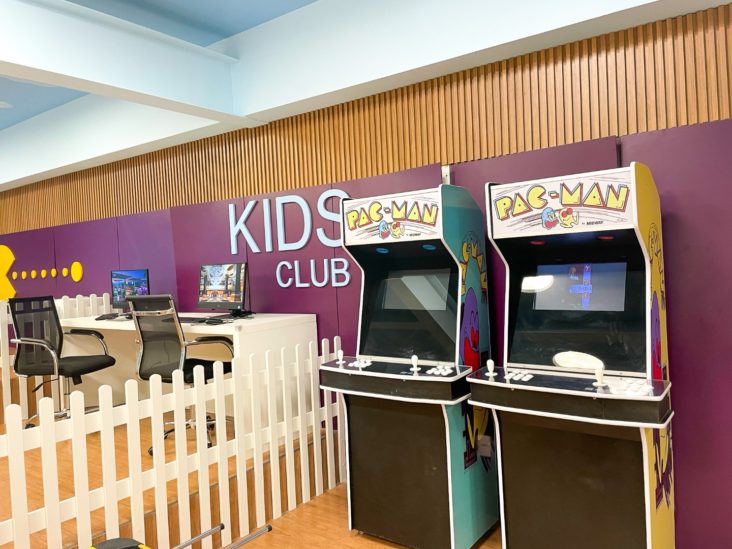 In the "big kids" room there were video games, including some old-school arcade-style games and computers.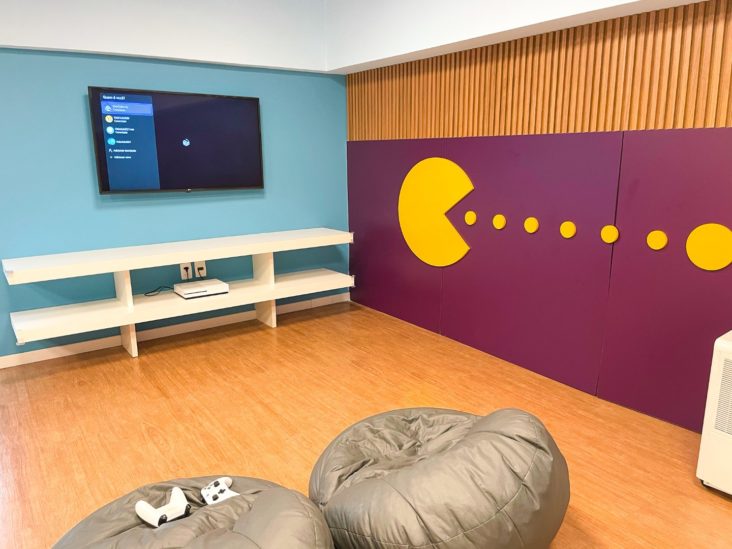 As well as a PlayStation and Xbox.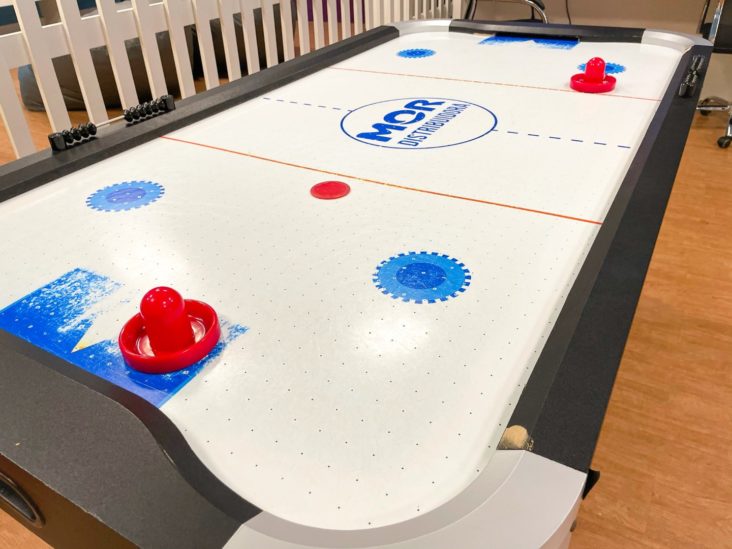 There were also foosball and air hockey tables.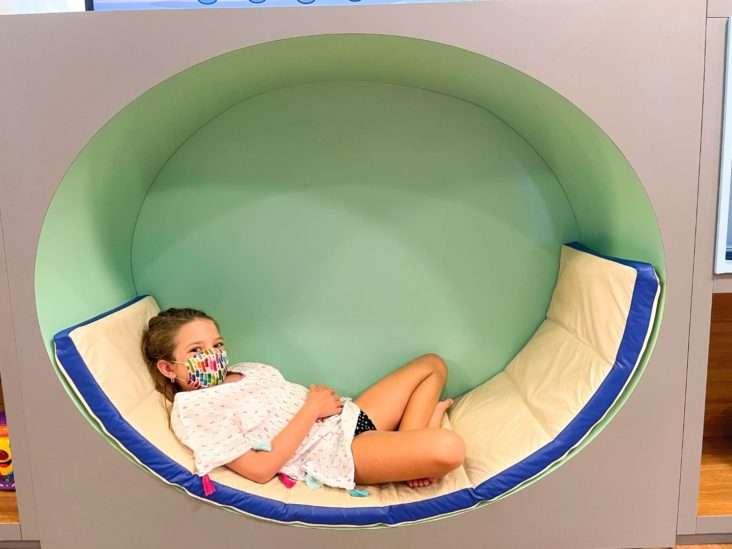 Overall it was a great spot for the kids to have fun and get out of the sun for a little bit. The only problem was that they didn't want to leave!
Pool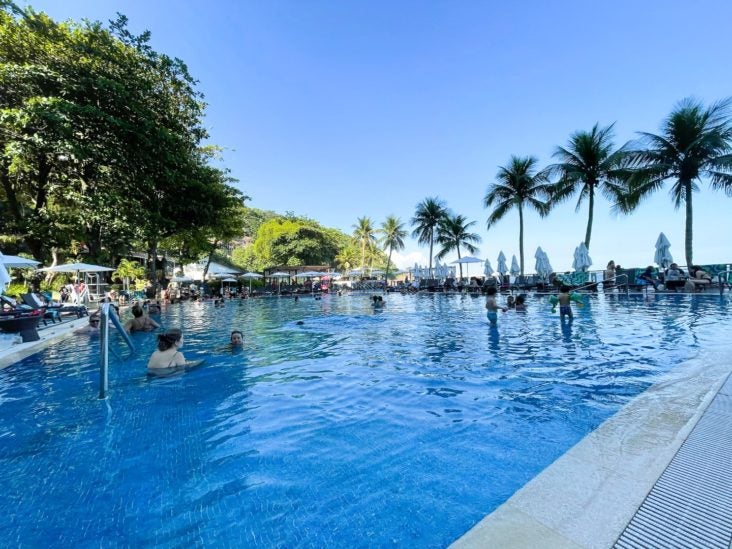 The main pool is arguably the biggest attraction of this hotel. Located just steps from the sandy beach, the massive heated pool has multiple levels to make entering and playing with kids easy and enjoyable.
Around the rest of the pool, it gets deeper, but not deep enough where most adults wouldn't be able to hang out by the edge and enjoy their beverage.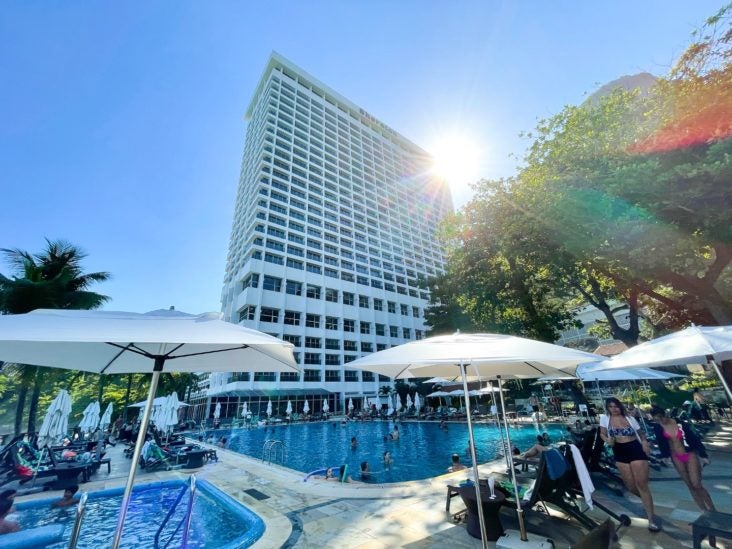 With lounge chairs and cabanas spread around the entire pool, there is plenty of room to relax and enjoy the weather that Rio is so famous for.
Off to the side is an adult-only hot tub that could easily fit 10+ people without feeling crowded.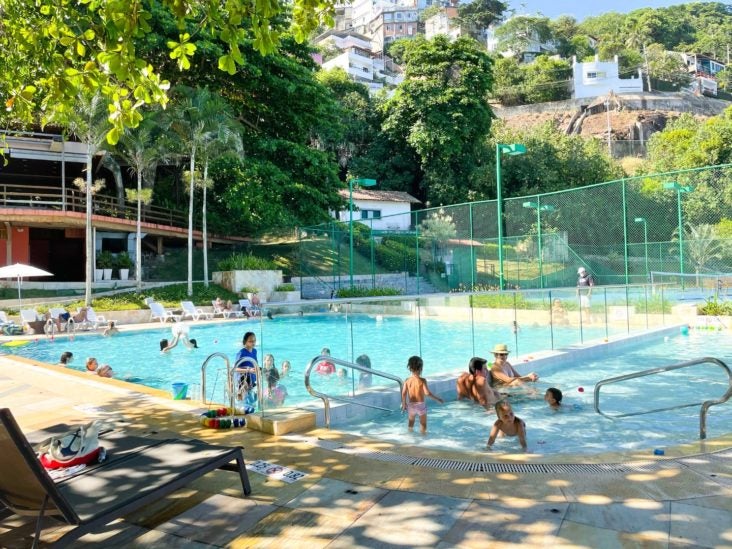 And further back there are 2 kids' pools — 1 is an extremely shallow splash pool that is great for babies, the other is about waist deep and is used a lot for recreation activities by the kids' club.
Beach Service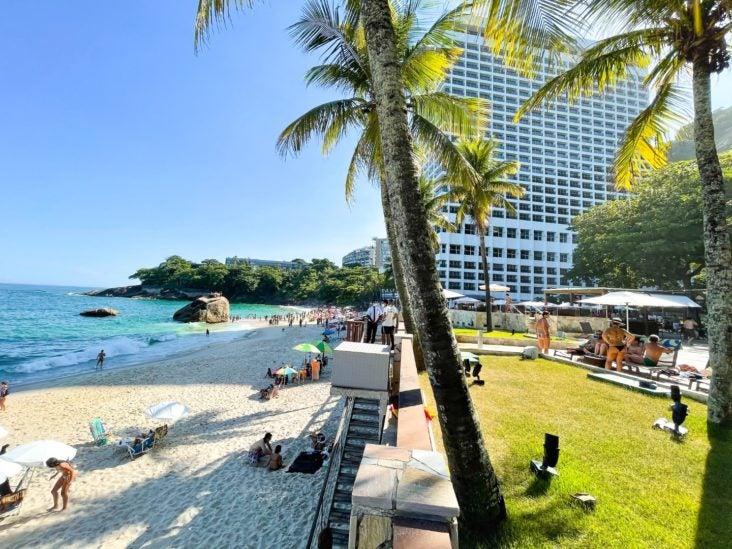 Another big perk of the Sheraton Grand Rio is its proximity to the beach. If you were staying at any other hotel in Rio de Janeiro, you would (at the very least) need to cross the street to get to the public beach. The Sheraton Grand Rio is the only hotel in Rio with direct access to the beach.
By the pool are a set of retractable stairs that bring you down to a small public beach. The beach can get crowded with locals, but since the hotel sits towards the end of the beach, it almost feels like a semi-private beach.
Hot Tip: If you're planning your next beach getaway, check out our guides to the best travel beach towels and blankets and best beach bags for travel. Don't forget to print out this handy packing list too!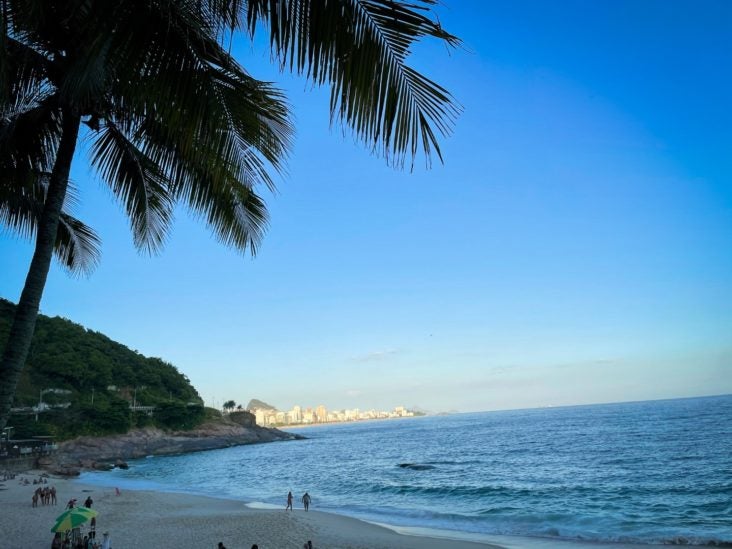 On the beach, you will find staff that will set up chairs and umbrellas for you and grab drinks from the bar. However, as much as I love a good beach day, the pools are so good that we all just wanted to spend our time there.
Hot Tip: The sun sets behind the hotel and neighboring mountain, creating long shadows as early as 3 p.m. So if it is not a hot day at the beach, it can cool off quickly by the ocean. Alternatively, the other beaches in Leblon (which are visible from the hotel) get sunshine until the very end of the day and early evening. 
Bikes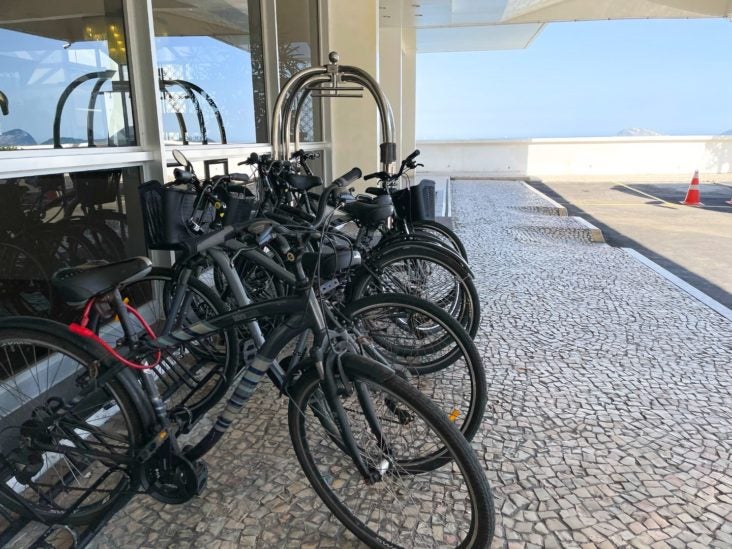 As part of the $10 per day resort fee, house bicycles are available for guests to use.
I have ridden my bike in this area all the way down to Copacabana on the famous sidewalks, which is a great ride along the beach, especially on Sundays when some roads are closed.
Tennis Courts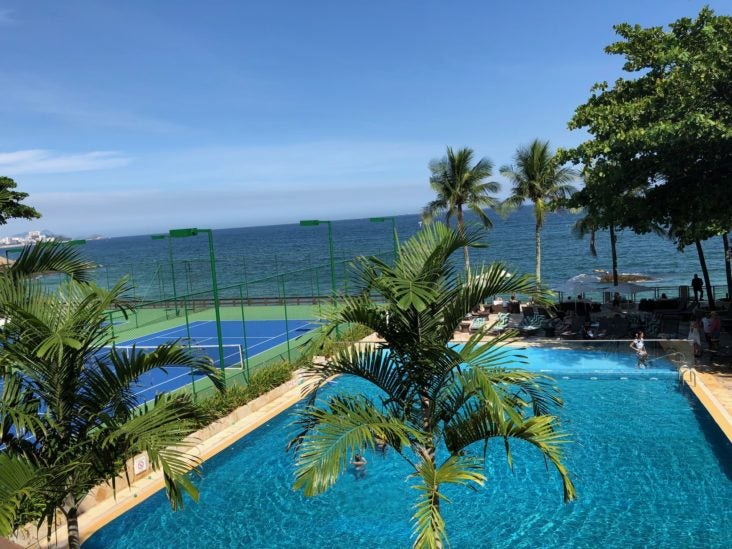 Although I didn't play, there are some gorgeous tennis courts behind the pool area with absolutely incredible views.
These courts were heavily damaged during the 2019 flood and mudslide, so they are brand new and available for guests to reserve and non-guests to rent.
Shine Spa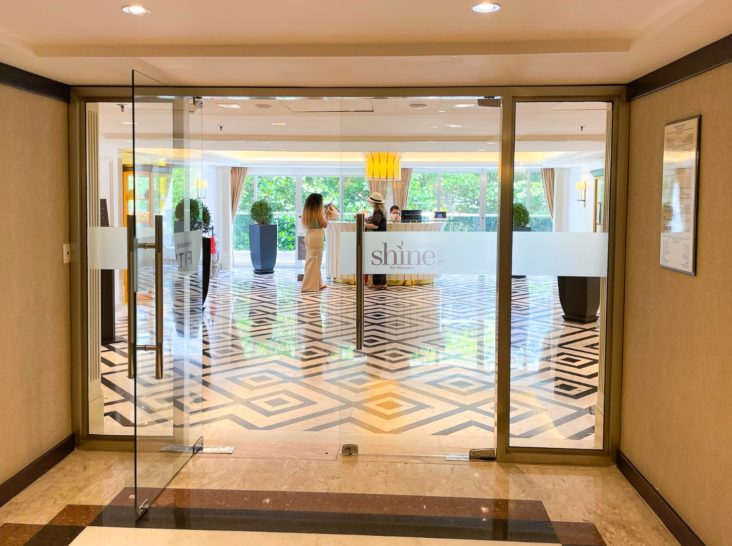 Located on the fourth floor of the hotel is the Shine Spa where guests can get everything from a couples' massage to a blow-dry and a manicure at the salon.
With treatment rooms overlooking the ocean, getting pampered here should be on your to-do list… unfortunately, it is still on mine!
Pet Friendly
We love dogs, so it is always nice to see a pet-friendly hotel. If you are visiting the Sheraton Grand Rio, you can bring your pup for a R$250 ($50) fee.
COVID-19 Protocols
From the moment we arrived until the moment we left, my family and I felt safe (all things considered) with the precautions that the hotel was taking. Let's review some of the protocols we noticed during our stay.
Temperature Checks
Unlike our recent stay at the Grand Hyatt Rio, the Sheraton Grand Rio did not take our temperatures when we arrived.
I know there isn't a perfect system, but seeing how I need to have my temperature taken to enter a supermarket here in Rio, I found it odd that the hotel wasn't taking the same precautions — especially since so many guests will spend their day by the pool without a mask on.
Mask Requirements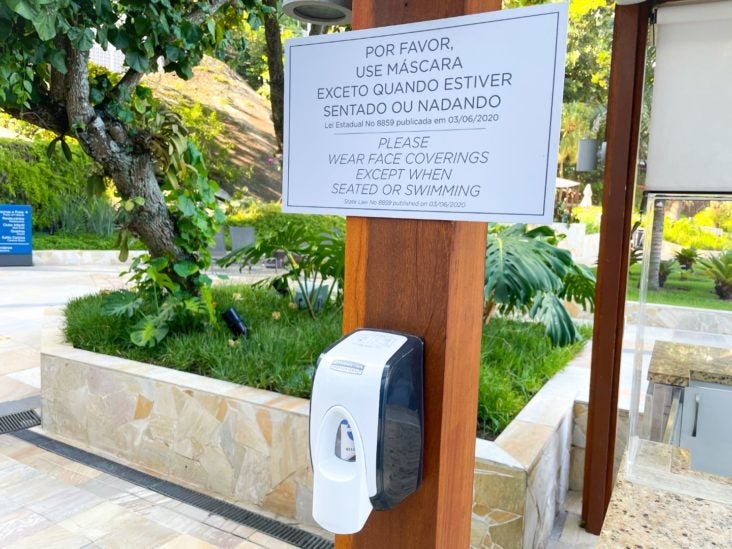 Throughout the resort were signs reminding guests to wear face coverings at all times, except when seated or swimming.
For the most part, especially inside the hotel, guests were pretty good about mask usage — staff as well.
Sanitation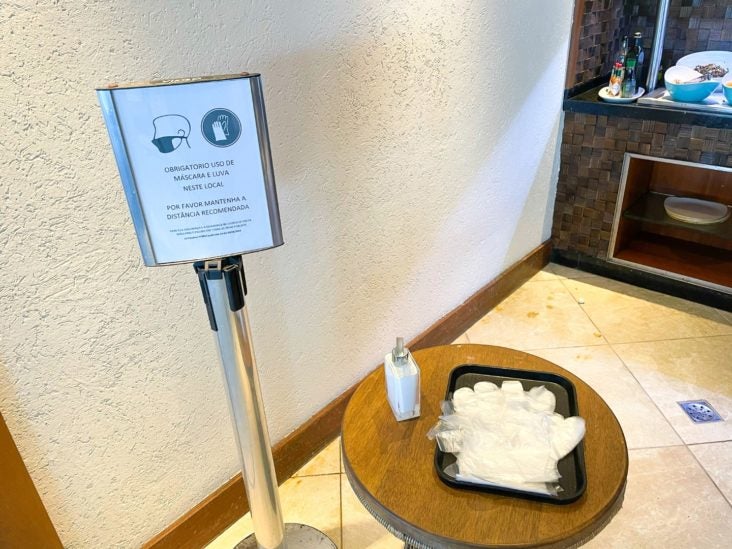 At almost any spot you may pause for a moment — whether it be an elevator, the front desk, a bar, or a bathroom — a hand sanitizer station was available.
In fact, at the buffet for breakfast and lunch, plastic gloves were required for guests to use the tongs, which is a great idea even when we aren't in a pandemic.
COVID-19 Testing
Despite high coronavirus cases in Brazil and many foreign visitors needing a negative test to return home, the hotel does not offer complimentary on-site COVID-19 testing like select Marriott properties in Mexico and the Caribbean do.
However, the concierge team is excellent and can arrange for local testing.
The Room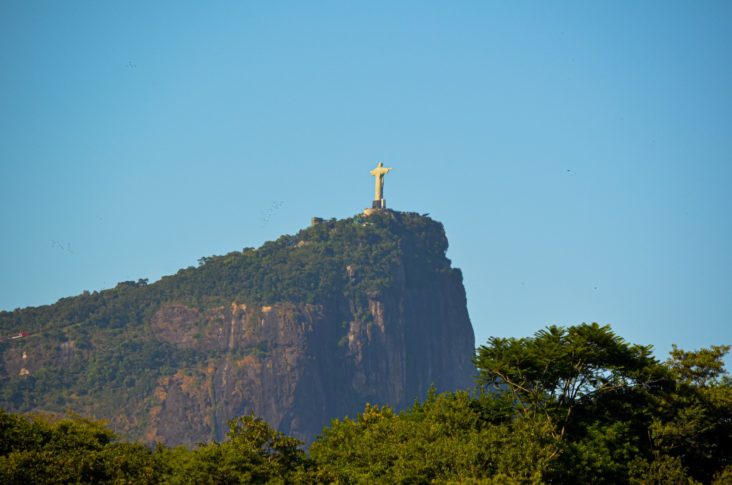 As I mentioned above, we were upgraded to the top floor which provided us with stunning views of the ocean, coastline, the pool area, and even the Christ the Redeemer statue!
The room itself was a standard Classic Twin Guest Room that was very comfortable and clean. There was a big desk and chair, an armchair with a side table, and plenty of storage in the closet and drawers if we had stayed long enough to unpack.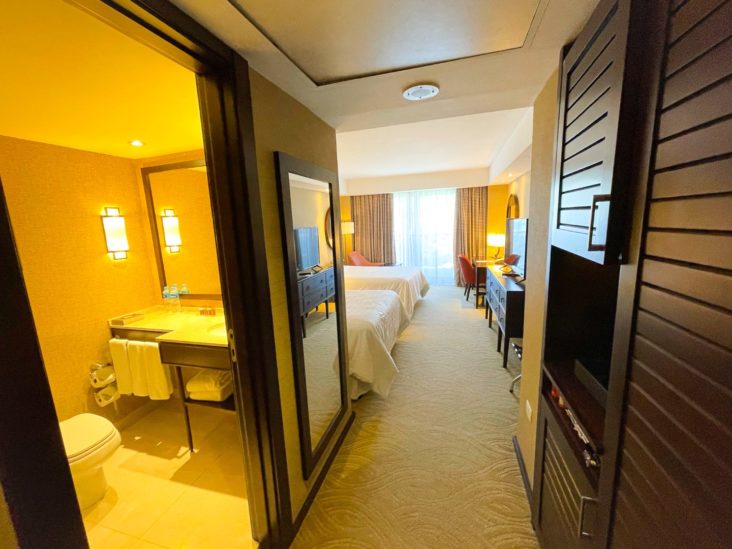 Listed at 334 square feet on the website, the room did feel a bit cozy with all of the furniture and 2 adults and 2 kids. That being said, we didn't really spend much time in the room and the room served its purpose quite well.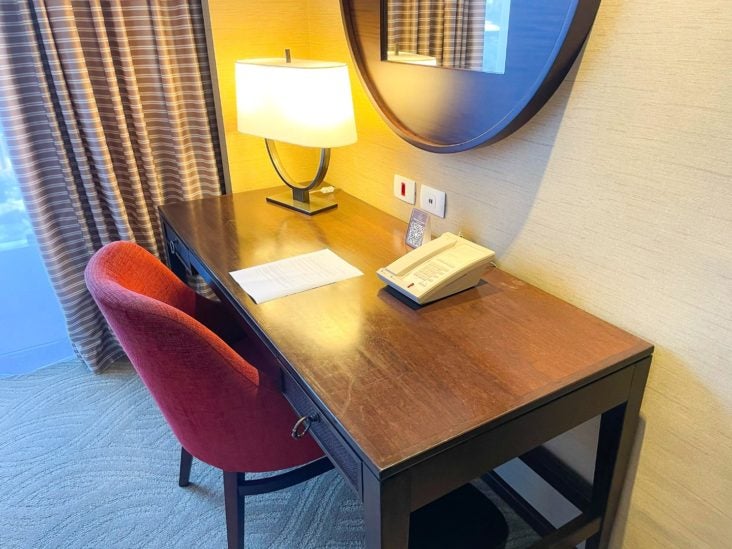 The style of the room leans towards the classic, older Sheraton style with thick carpet, dark wood trims, and large pieces of furniture. Certainly not the most modern-looking room out there, but not outdated… yet.
Bathroom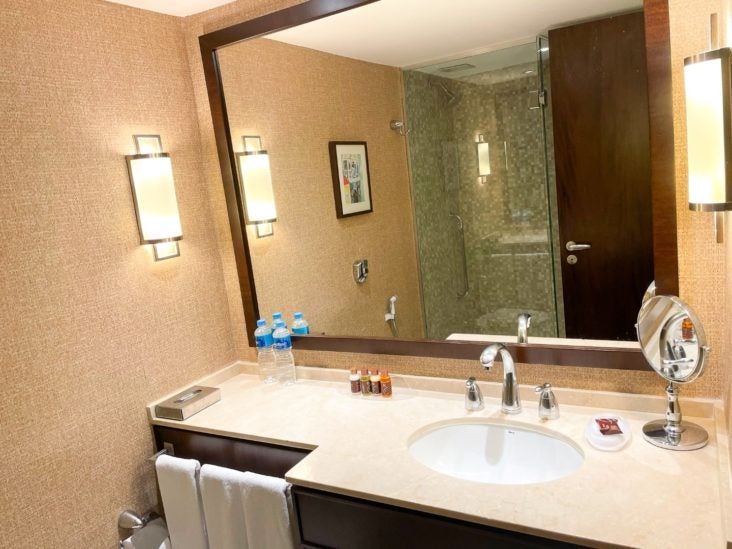 The bathroom kept the same feel as the bedroom with dark wood features, wallpaper, and a marble countertop.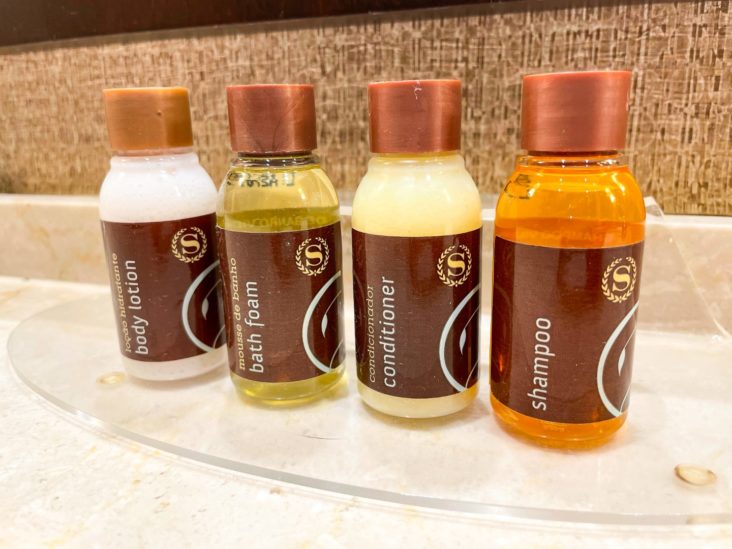 Amenities were the standard Sheraton offerings, still in individual packaging, which is a big plus in my book.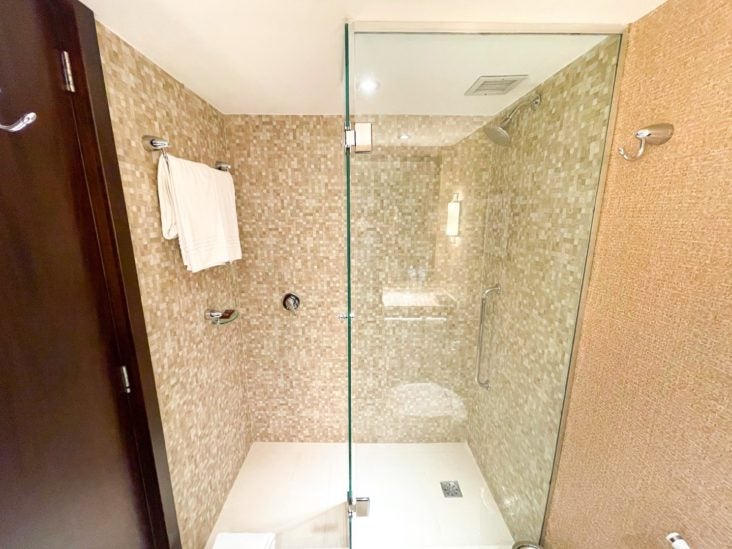 The shower was nice, with a big glass door and excellent water pressure.
Beds
As for beds, there was absolutely nothing to complain about. Even though my wife and I shared a double bed so that our daughter could have her own bed, we slept so well because the Sheraton Signature Bed is so good.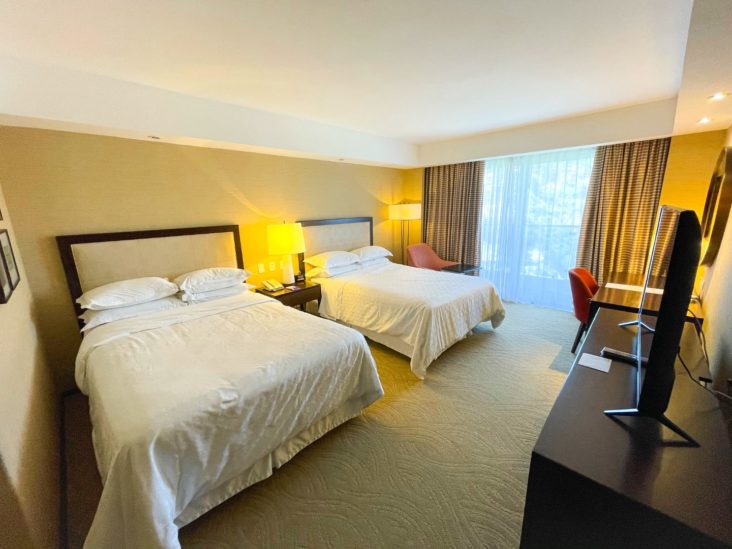 The 2 double beds were draped in soft sheets and comforters and piled high with feathered pillows — just how I like it.
Kids' Beds & Crib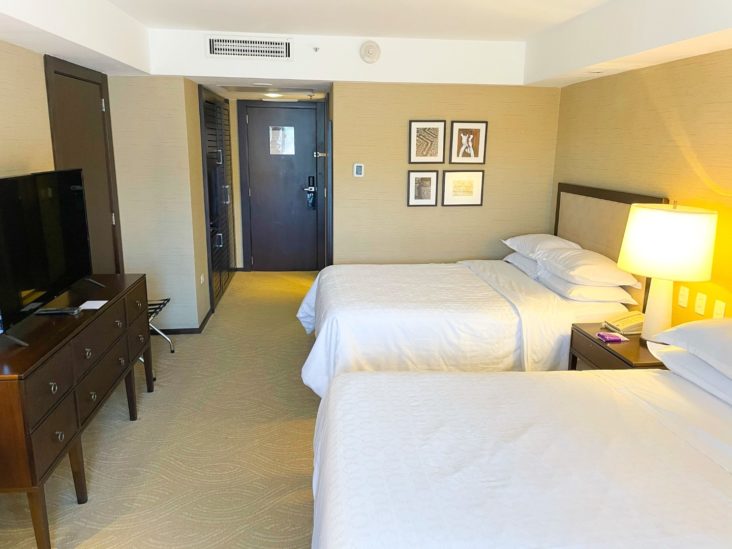 For the kids, it was easy. Our 6-year-old slept in the other double bed and our 2-year-old slept in a crib provided by the hotel.
The crib was a standard pack-and-play that was delivered already made up with sheets while we were at dinner.
Food and Beverage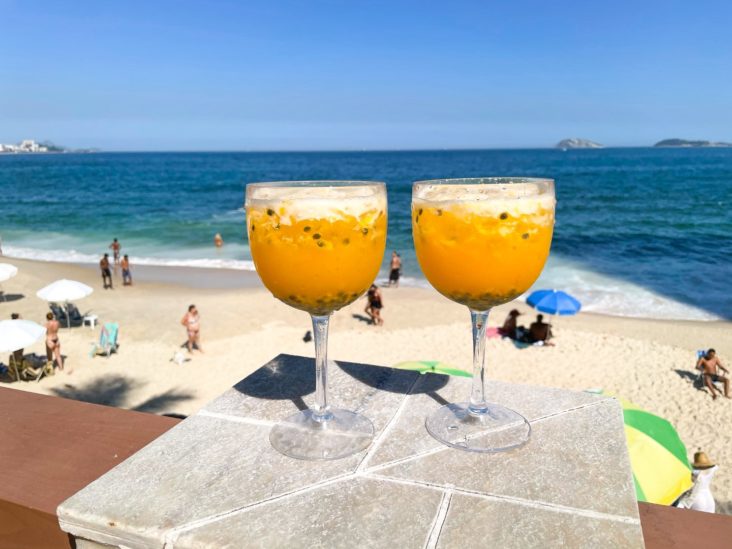 Besides the pool, the food and drinks were the highlights of the stay for me. You might think that an all-inclusive rate might only get you some basic food and a few sugary well drinks, but not here.
The hotel is not specifically an all-inclusive resort — in fact, most of the guests were not on an all-inclusive rate based on how few wristbands we saw. While there were a few items that were not included (like Veuve Clicquot Champagne and other imported wines), essentially anything on the menu from any open food outlet (except room service and L'Etoile) was fair game.
Anything from a quick pizza to a full feijoada meal was included — just sign it to your room and enjoy. And enjoy we did!
Below is a list of the restaurants on-site so you can get an idea of the variety of food that was available.
Bene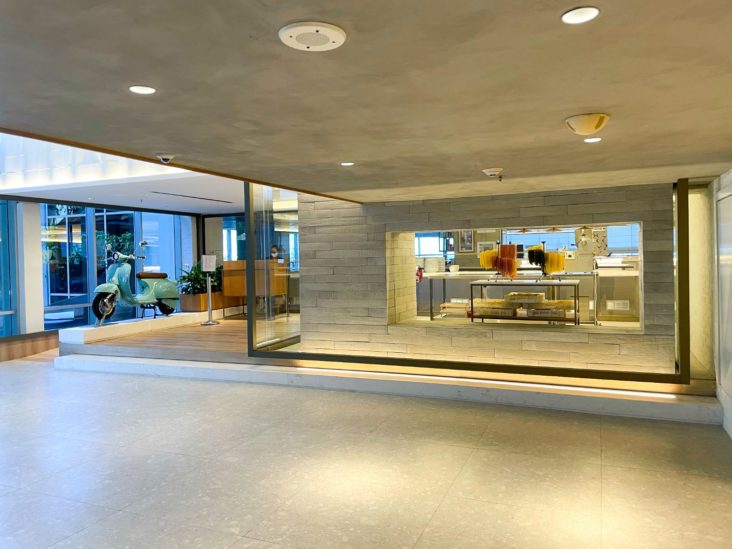 One of the biggest surprises was the "new" Bene Italian restaurant. Not only because it was SO GOOD, but because it was even included in our package.
Bene sits on the ground floor by the pool — it was completely destroyed by the floods in February 2019 and only recently reopened after a complete renovation.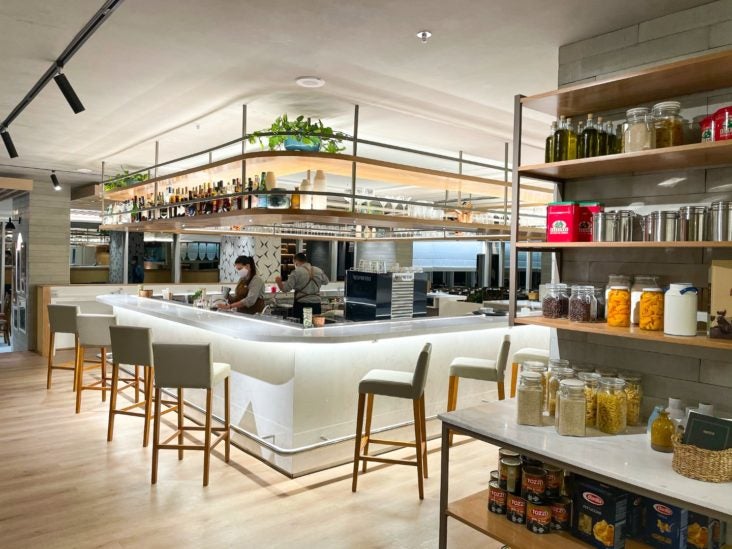 The new look is modern and sexy with a cool Italian scooter on display by the entry, fresh pasta being made in the windows, and a craft cocktail bar anchoring the middle of the restaurant.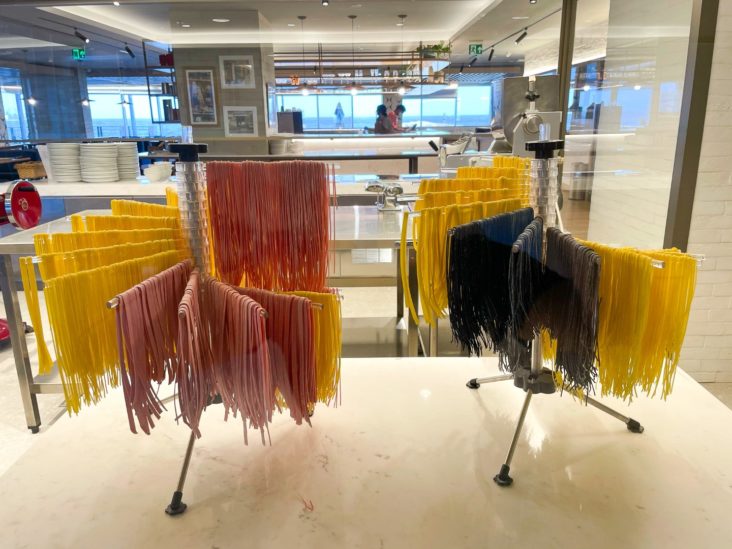 Be warned, reservations are hard to get, even for guests, but if you can get the chance to eat there it is excellent.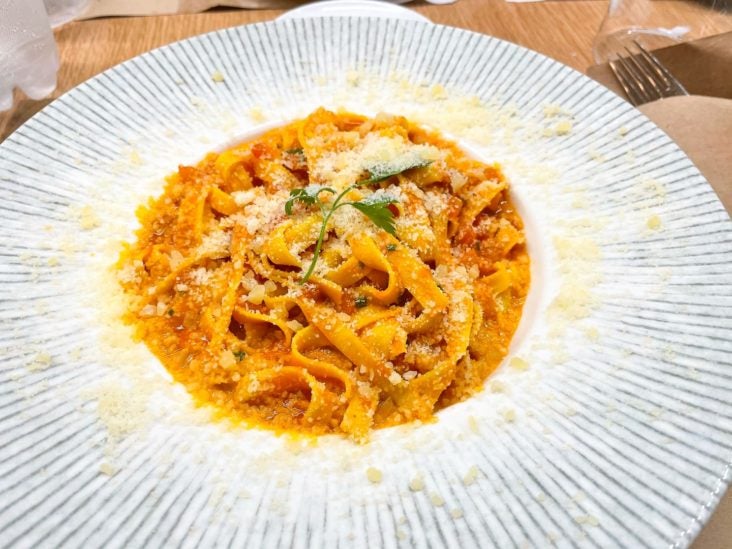 With free-flowing wine and some of the best pasta and meat dishes we had eaten in a while, we were glad our only commute was straight up the elevators.
The following morning, breakfast is also served in Bene, which is great because there is outdoor seating — when you are done you can head directly to the pool and beach.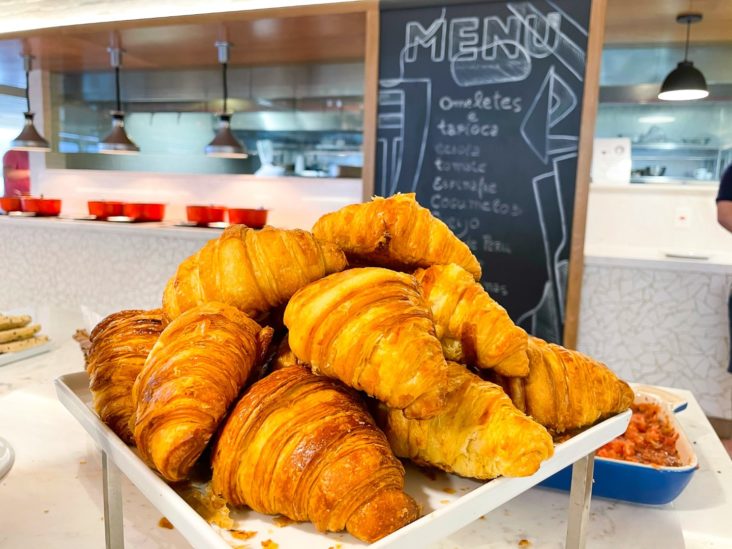 The breakfast spread was just as impressive with a massive buffet of sweet and savory options, an omelet and tapioca station, plenty of fruits, and some of the best croissants I have ever had — they're made in-house each morning.
Casa da Cachaça & Pizza Place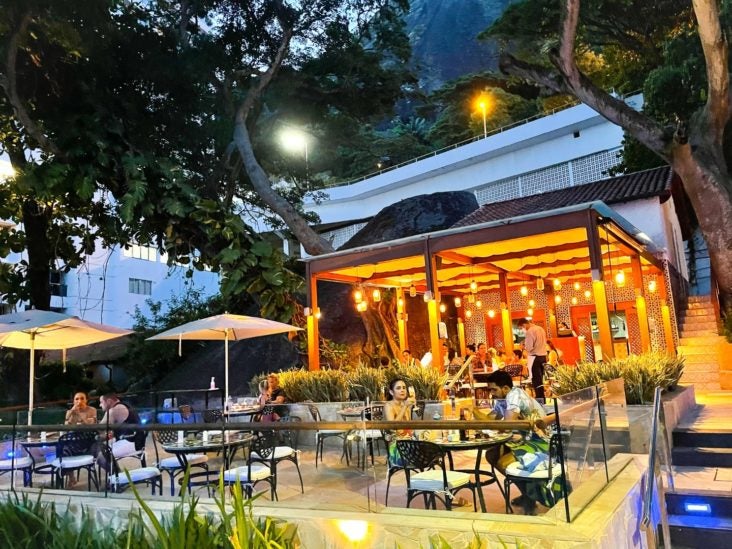 The Casa da Cachaça is a cute little house off to the side of the pool area that is open for lunch and dinner serving lighter meals.
There was a specific menu for guests on the all-inclusive rate, but it had a little bit of everything, including calamari, salads, sandwiches, grilled steaks, and fish.
We didn't end up eating there because we ended up just snacking by the pool during the day and then having dinner at Bene, but it is a nice option to have.
However, off to the side is Pizza Place, a wood-fired oven pizza joint that makes some great thin-crust pizzas. We ended up grabbing a small pizza for the kids before heading to dinner because we knew they wouldn't be able to wait. They put it in a to-go box for us so we could bring it to the room, and the kids loved it.
Casarão Steakhouse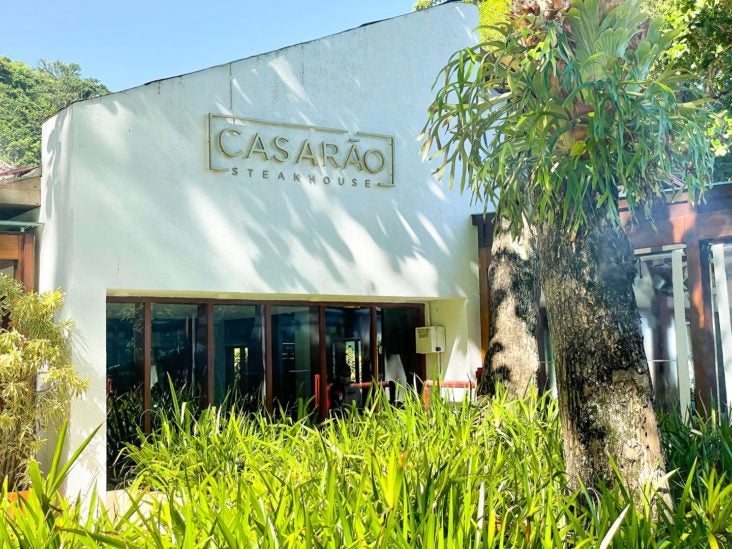 Casarão is a steakhouse set right by the pool which has both indoor and outdoor seating and is open for breakfast, lunch, and dinner depending on the hotel's occupancy. When we were there it was only open for lunch.
When we arrived on a Saturday afternoon they were serving feijoada (a famous meal with various beef and pork stews), a massive salad bar, and more. Going out for feijoada is a must-do if you visit Brazil, but be warned, it is a heavy meal — so we opted to skip that before jumping in the pool!
Again, I was shocked that it was even included in our rate because it costs R$115 ($23) per person. The bill for a family of 4 would be more than 1/3 of the nightly rate, just for 1 meal not including drinks.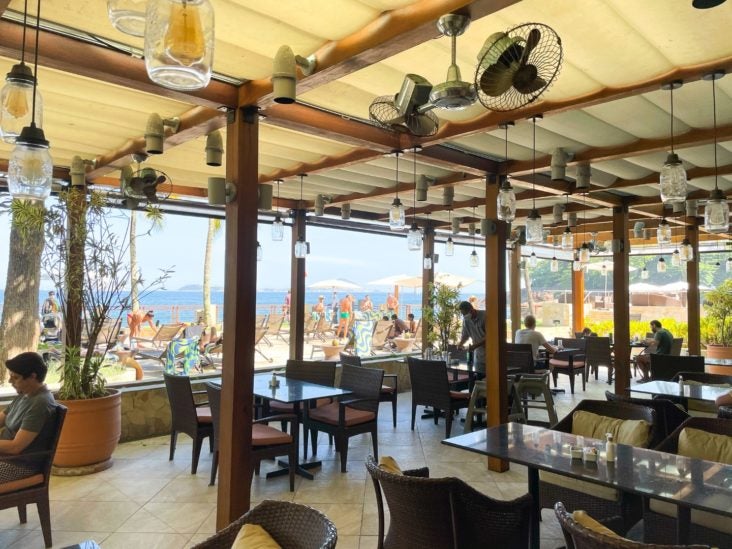 On Sundays, the specialty of the restaurant is BBQ, or churrasco — another "can't miss" meal if you are in Brazil.
Same as Casa da Cachaça, we didn't eat here because we just enjoyed snacking by the pool during the day. Corraling the kids and drying them off to go eat in a restaurant was just too much work compared to lounging.
L'Etoile
L'Etoile is a very fancy French restaurant located on the top floor of the hotel that is open for dinner from 7:30 p.m. until 11 p.m. The restaurant is consistently ranked one of the best restaurants in Rio de Janeiro and has won multiple awards.
Both guests and visitors can visit for dinner and enjoy the stunning views and excellent food. After looking at the menu, it's clear that a meal here would be very expensive, so it was no surprise that it wasn't included in our all-inclusive rate.
Lobby Bar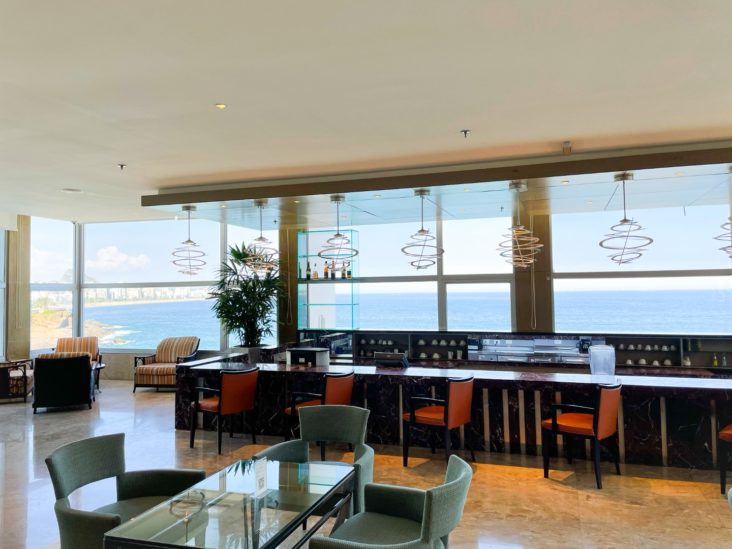 The Lobby Bar is open from 4 p.m. until 11 p.m. and, you guessed it, located in the lobby on the sixth floor. As I mentioned above, the views from this level are incredible and they are even more so by the bar.
If you are sitting at the bar and looking out the window, all you see is the ocean. After a few drinks, you could easily think you are on a cruise ship.
Pool Bar & Grill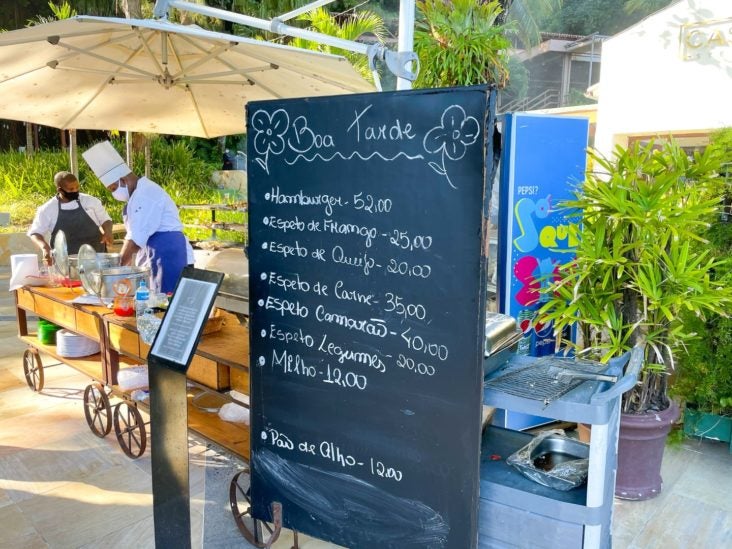 It's easy to say that Bene was the star of the show when it comes to sit-down meals, but otherwise, the best part of this little getaway was the food and drinks by the pool.
We booked this rate so we wouldn't have to stress about feeding the kids, and thanks to the grill right next to the pool, we could grab them delicious and filling snacks throughout the day without stressing about money.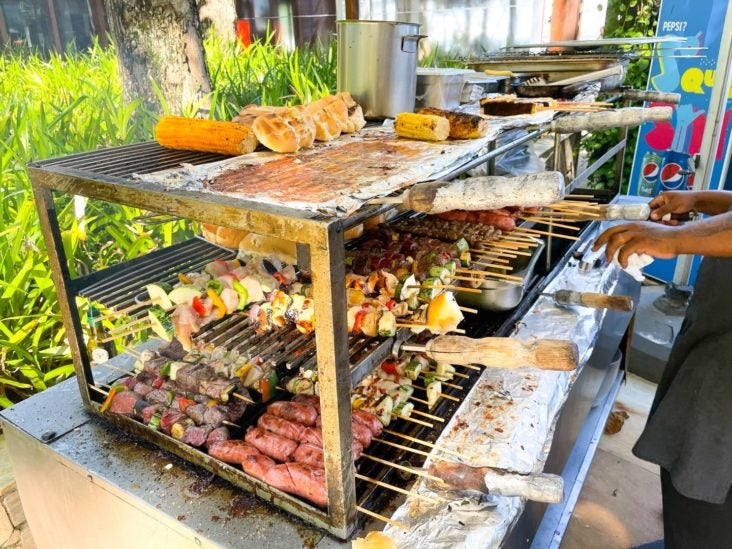 The grill had a little bit over everything, from shrimp skewers to steak kabobs to vegetables, and more. The kids and parents loved the options, and being able to go up and grab something quickly as opposed to dragging the whole family to a restaurant was great.
While the food was good, my wife and I really enjoyed the bar… well, the kids did, too, because that is where you could get popsicles and coconut water!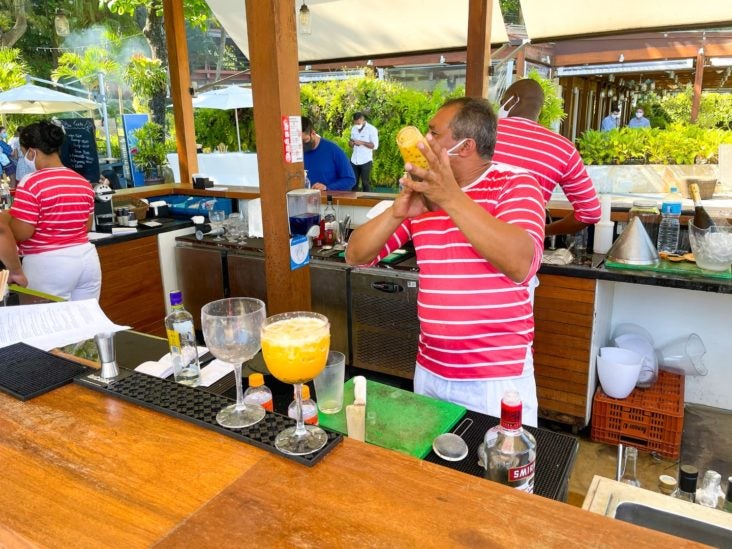 We started off with caipirinhas, but I moved on to beer and my wife enjoyed some spumante. The beer options were pretty decent with Heineken and a local wit beer, Praya, being my top choices.
Service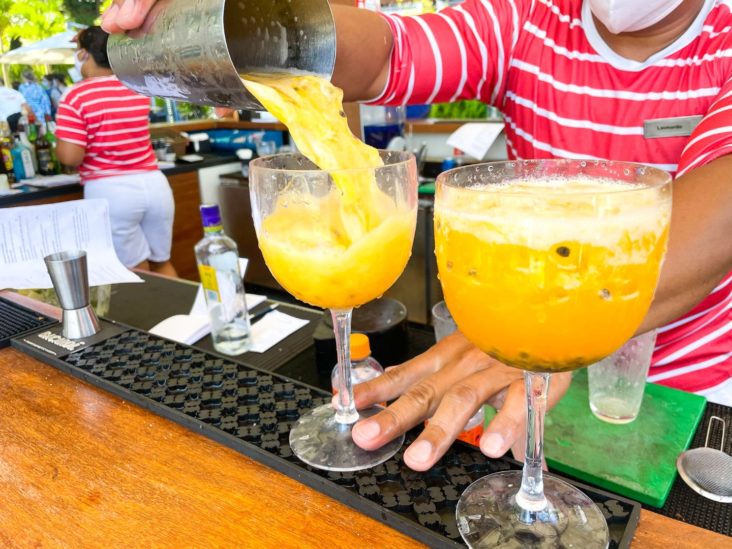 Although we were at the resort for 1 night, all of the staff that we encountered were incredible. From the moment we checked in, we were immediately put at ease and the staff was always 1 step ahead of us if we needed anything.
Since we spent most of our time by the pool, that is where we had the most interaction with the employees. The bartenders were great and quickly remembered our preferred drinks and the kid's favorite popsicle flavors. The waiters around the pool were quick with grabbing any empty plates and adjusting the umbrellas as the sun moved. And every other staff member that we came across greeted us with a mask-covered smile and asked if we needed anything.
It's easy to have a nice hotel and amenities, but having a team of employees that make the guests feel genuinely cared about is really special and hard to do.
Final Thoughts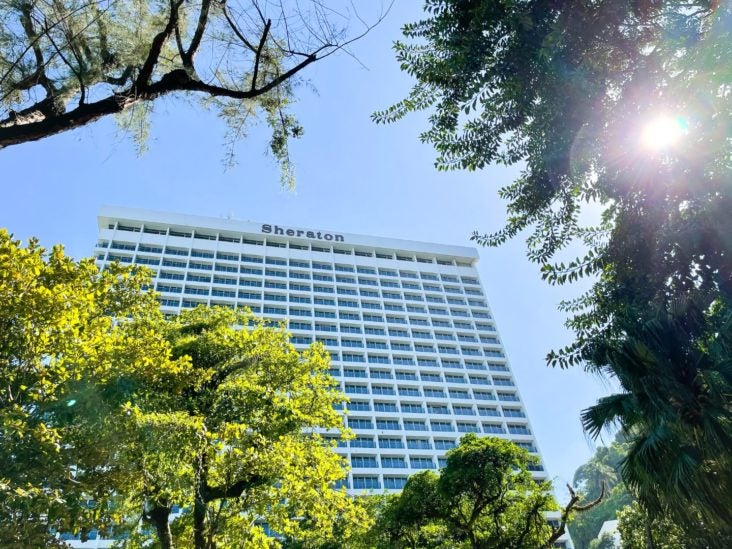 Overall our 1-night stay as a family of 4 was excellent and we can't wait to go back. Our kids absolutely loved the pool and the kids' club and cannot stop asking when we are going again.
My wife and I originally thought that the all-inclusive rate was going to be the best fit for us due to the kids, and we were right. Despite it being almost twice the cost of the standard room rate, we easily got our money's worth in food and drinks by the pool. The incredible dinner at Bene felt like a bonus.
If we were to visit again without the kids (shh, don't tell them), we would probably book with points and pay cash for our drinks… and maybe splurge on a dinner upstairs at L'Etoile. But if and when we go back with the kids we will definitely book the all-inclusive rate.
If you are visiting Rio and are looking for a hotel with a great pool and restaurants, but still close enough to all of the other great attractions in Zona Sul, the Sheraton Grand Rio is an excellent choice.