List of Pet-Friendly Hyatt Brands in 2021 [Policies, Deposits, Size Allowances]
Road trips are all the rage nowadays, and bringing your furry friend along is something that many of us like to do, if possible.
When hitting the road, making sure that your hotel is pet-friendly is important. Fortunately, Hyatt has quite an impressive footprint of pet-friendly hotels to add to your map.
Hyatt has been emerging as the favorite amongst travelers thanks to its competitive points redemption opportunities, unique portfolio of modern and high-end properties, and expansive footprint. Add in some hotels that love dogs, and we are sold!
Let's go through each of the Hyatt brands and see which ones are pet-friendly and how much you can expect to pay for your pooch to come along.
Hyatt Brands and Their Pet Policies
Hyatt Hotels & Resorts has been steadily growing and currently has over 900 properties spread across 60 countries.
These properties are broken up into 20 distinct brands offering guests unique experiences based on their needs (options for extended stays), wants (fine dining and all-inclusive options are plentiful), and budget (did we mention points?).
Whether you are a business traveler, a luxury leisure fan, or traveling on a budget, there is probably a Hyatt property that has what you are looking for.
If what you are looking for is pet-friendly locations, check out this chart!
Hot Tip: Interested in pet-friendly options at IHG or Hilton? Check out our guides to all of the brands that can accommodate your 4-legged friends!
Andaz is one of Hyatt's hippest brands and offers "vibrant luxury lifestyle hotels rooted in local art and culture."
That pretty much means that the hotels are fun, comfortable, and reflect the city they are located in. These luxury properties have excellent locations and are great starting points for exploring new cities.
The general laid-back yet sophisticated feel is very welcoming to guests and their 4-legged-friends as well. While each hotel can set its own pet policy, many Andaz hotels are dog-friendly.
However, it won't be cheap to bring along Fido. Pet fees start around $150 and can go even higher if you are staying for more than a week.
If you are going to pay that hefty fee, be sure to take advantage of the nightly social hour with free drinks!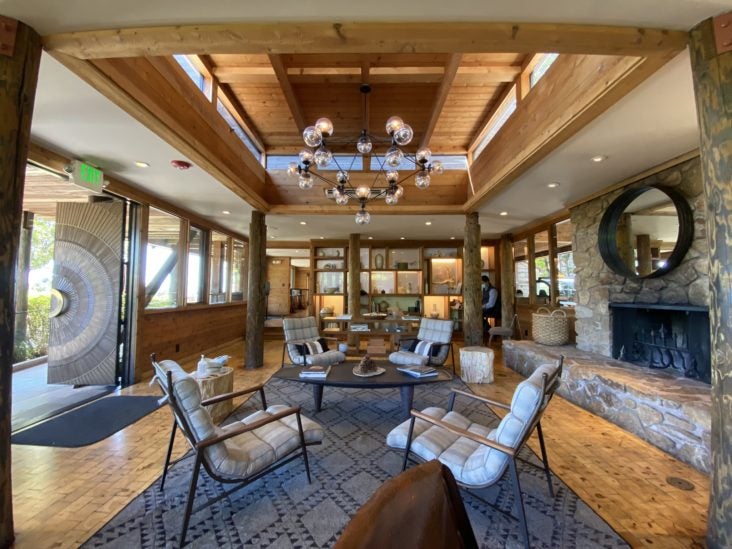 Alila Hotels & Resorts is a new addition to the Hyatt family with most properties hailing from Asia.
Alila means "surprise" in Sanskrit, which is what the company tries to deliver to guests during each stay. With unique luxury properties providing authentic destination experiences, local cuisine, and a focus on well-being, a stay at one of these properties is sure to be remembered.
The only property in the U.S. is Ventana Big Sur in California and you will be happy to know that it is very dog-friendly.
4-legged guests will receive a dog bed, a water bowl, and a doggie brochure to help with planning. The hotel even has a resident Sheepadoodle to play with!
Hyatt has announced a new upscale, limited service brand, Caption by Hyatt, coming soon.
While details aren't finalized yet, we do know that the brand will offer cozy rooms, a flexible "Talk Shop" instead of a lobby, and most importantly (for this article, at least), the hotels will be pet-friendly.
As soon as we have more details, this post will be updated.
The Destination by Hyatt brand is a collection of independent luxury hotels and resorts spread across the U.S.
Whether you are looking for a boutique city hotel, a sprawling resort, or a residence to spread out in, you will likely find an upscale option in this part of the Hyatt portfolio.
Since each property is independent, rules vary, but we have found many hotels that are pet-friendly. Many hotels, like The Lodge at Spruce Peak, will even provide a dog bed and amenity for the extra guests.
Grand Hyatt properties are just that — grand. The hotels have expansive facilities catering to large groups and events but are also appealing to the leisure traveler thanks to upscale dining and guest rooms.
Currently, there are 58 properties across 22 countries, so you have likely passed one in your travels.
Unfortunately not all Grand Hyatts are pet-friendly, but if you are lucky, you may find a few that will take your pooch.
For example, the Manchester Grand Hyatt San Diego allows up to 2 dogs per room for a $100 fee.
Hyatt is the signature and most recognizable brand in the entire portfolio. Part of the Timeless Collection, these hotels try to offer a little bit of everything for everyone.
Located in some of the world's top destinations with bars and restaurants on-site, it is easy to see why this brand is so popular.
It is also popular with our furry friends as many properties, like the Hyatt Union Square in NYC, are pet-friendly!
Hyatt Centric is an upper-upscale brand in the Boundless Portfolio of the Hyatt family that has modern boutique hotels that are centrally located in the cities they call home.
Guests are encouraged to eat and drink locally and explore the locations they are visiting, but the hotels themselves are often a destination in themselves thanks to artistically-curated spaces throughout.
These curated spaces aren't just for humans — many Hyatt Centric properties are pet-friendly and some even encourage guests to bring their pup.
The Hyatt Centric South Beach Miami has the WOOFTOP, which is basically just a big party spot for the furry guests. But don't worry, cocktails are still served for the humans.
Hyatt House is where Hyatt got started back in 1957 at Los Angeles International Airport (LAX).
These properties tend to have larger apartment-style rooms with kitchens that cater to extended-stay guests to help them feel at home. With onsite gyms, pools, and laundry, it is easy to get comfortable at these properties.
But we all know that no place feels like home without our pets, so you will be happy to know that most properties are pet-friendly, and fees tend to be a little bit cheaper than other Hyatt properties, averaging about $75 for a 1-week stay.
Hyatt Place is a mid-tier brand in the Hyatt family offering large rooms and modern amenities.
While guests may not get all of the amenities of a full-service hotel, they will have plenty of room to spread out and often be able to enjoy an onsite pool. With great social spaces, free breakfast, Wi-Fi, and 24/7 dining, there is a lot to like about this brand.
To top it off, most properties are pet-friendly with a reasonable fee of $75 per week!
One of the better-known brands in the Hyatt portfolio is the Hyatt Regency.
These full-service hotels tend to cater to the corporate traveler and events, but the mix of lounges, amenities, and an upscale design make them very appealing to the luxury leisure traveler as well.
Unfortunately, this brand is not as pet-friendly as some of the others in the Hyatt family, so it is best to reach out to your hotel directly if you want to bring your dog to a Hyatt Regency.
The Hyatt Residence Club is the timeshare and vacation rental arm of the Hyatt portfolio.
Most of the Hyatt Residence Club properties offer full kitchens, in-unit laundry facilities, dining rooms, fireplaces, and even outdoor spaces — as well as the amenities of a full-service resort.
Think of these are apartments that you can visit over and over again if you are an "owner."
However, even though you might be an owner, you are still sharing these apartments with many other owners… and that means that pets are not welcome at most locations.
Of course, if you need to travel with a service animal, that is allowed.
Hyatt Zilara is the adult-only all-inclusive resort option in the Hyatt portfolio.
With locations spread across the Caribbean and Mexico, these resorts have everything a guest could need without having to leave the property. Fine dining, water sports, spas, pools, and beaches — all without kids running around.
As you might imagine, these properties are pretty special and don't allow pets.
Hyatt Ziva, like Hyatt Zilara, is the other all-inclusive resort option in the Hyatt family. The only difference is that these resorts are family-friendly, so bring the kids!
These Mexican and Caribbean resorts may be catered towards families, but not the entire family — pets are not welcome.
JdV by Hyatt is a small group of boutique hotels, mostly located in the U.S., that joined the Hyatt family in 2019.
These properties tend to be a bit edgier and more playful than most chain hotels and each property is unique to the city and neighborhood they are located in. With one-of-a-kind rooms and restaurants to match, you will want to share this experience with everyone — and you can!
JdV by Hyatt hotels are very dog friendly and even have special amenities like organic treats, beds, water bowls, and exclusive specials at the properties.
Miraval Resorts & Spas is a very small and very unique brand in the Hyatt portfolio.
These luxury resorts tend to be in more secluded locations where privacy and wellness experiences are at the forefront of the stay.
The onsite wellness experts are there to take care of the guest's mind, body, and soul. Well-being comes from on-site yoga, meditation, dining (all included), and much more. In addition to all of these benefits, guests are asked to disconnect, and some locations even prohibit the use of cell phones and tablets.
You could probably guess that having pets around would be a distraction to the wellness process, for that reason these properties are not pet-friendly.
The Park Hyatt brand is one of, if not the, most luxurious of the Hyatt family.
With elegant "liveable luxury" accommodations in world-famous locations, these hotels often become destinations in their own right. Beautiful architecture, thoughtful details throughout, and world-class dining separate this collection from the competition.
As expected, guest satisfaction is of the ultimate priority, so if you want to bring your dog, you are more than welcome to at most properties. Be careful, as your dog will likely get spoiled with some of the amenities!
Thompson Hotels is a small collection of luxury hotels and resorts each designed to reflect the culture and community of the city it is located.
Guests can expect unique amenities, acclaimed dining and nightlight on-site, and personalized service to help make their stay memorable.
If you are traveling with your pup, you will be happy to know that dogs are welcome at most properties and those properties often don't even charge a cleaning fee!
Hot Tip: Category 4 Hyatt properties like Thompson Chicago are great ways to get the most out of your annual free night certificate that comes with The World of Hyatt Credit Card!
Experience some of the world's most unique properties when you stay at The Unbound Collection by Hyatt.
With gems tucked into historic neighborhoods, scenic mountainsides, and vibrant cities, guests get to explore destinations in new ways. The rich history and one-of-a-kind dining experiences encourage guests to explore and discover more.
Although some hotels in the collection are not pet-friendly, some are — very much so. For example, The Confidante Miami Beach provides Confidante-branded pet gear, popsicles to help keep cool, and a guide of nearby pet-friendly things to do!
UrCove by Hyatt is a very small collection of upper-midscale hotels focused on business travelers in China.
These hotels aim to provide guests a place to relax and recharge while creating a sanctuary when it is time to stop working for the day. These properties will help provide guests with the comfort and convenience they need to find the perfect work/life balance.
Unfortunately, Fido can not come along on this business trip because UrCove hotels are not pet-friendly.
Final Thoughts
If you are hitting the road with your furry co-pilot there will be no shortage of hotels in the Hyatt family ready to welcome you, especially in the U.S.
From luxury beachfront properties to downtown boutique hotels and extended-stay apartment-style properties, Hyatt has something for everyone when it comes to pet-friendly accommodations.
And the best part is that you can pay for you stay with World of Hyatt points!
As most of these pet policies are property-specific, it is always best to reach out to your desired hotel before your stay to confirm that pets are welcome.
And, as always, safe travels!