List of Pet-Friendly IHG Brands in 2021 [Policies, Deposits, Size Allowances]
Here at Upgraded Points, we love animals just as much as we love traveling — and we have a pretty good feeling that our readers do, too.
So when we hit the road with our families, sometimes we like to bring along our 4-legged family members for the ride. Fortunately, many hotels nowadays are pet-friendly so we can avoid those big puppy dog eyes guilting us as we pack up the car.
If you have a stash of IHG Rewards points built up you will be happy to know that many IHG Hotels & Resorts properties throughout the world are pet (and point) friendly!
Let's take a look at each of the 16 IHG brands to see what types of pets they allow, how big they can be, and how much you can expect to pay.
IHG Brands and Their Pet Policies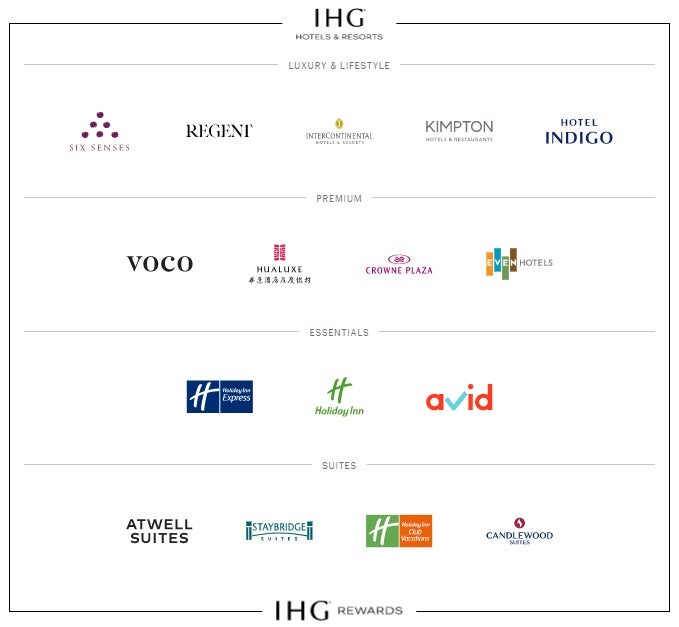 IHG Hotels & Resorts is one of the largest hotel companies in the world with almost 6,000 properties in over 100 countries.
Those hotels are split up into 15 unique brands with at least 1 new brand (Atwell Suites) launching soon.
Unfortunately (for some), not every hotel in the portfolio is pet-friendly, however, some are extremely pet-friendly, so there is something for everyone.
Policies and prices vary by hotel and brand. We have seen pet deposit fees range from $0 to $250, so be sure to do your research before checking in with your furry friend.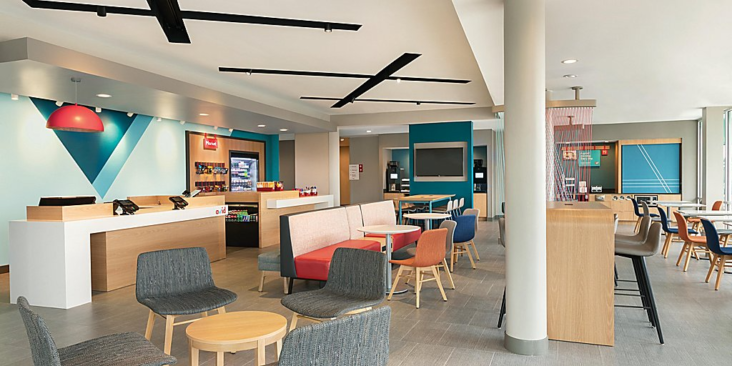 The newest brand in the IHG portfolio is avid hotels. Focusing on "championing everyday travel at a fair price" this brand brings great value with free breakfast and complimentary fresh coffee available 24/7.
With premium bedding, modern accommodations, and thoughtful technology, this is a great choice for the avid traveler.
If you are traveling with your dog, be aware that not all avid hotel locations are pet-friendly. For the ones that we found that are pet-friendly, you can expect to pay a very reasonable $20 fee per night.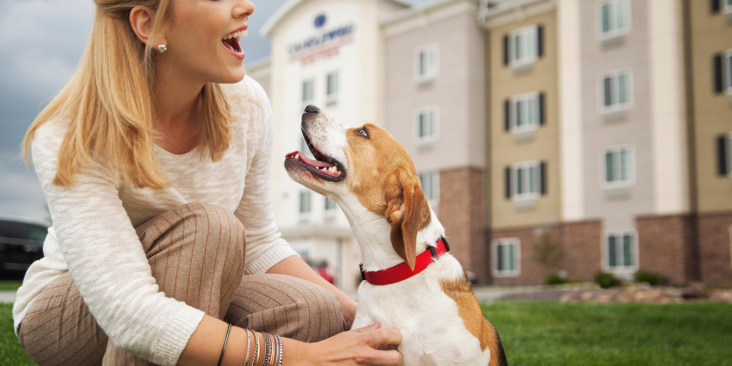 If you are looking for the comforts of home while on the road, Candlewood Suites has what you are looking for. The extended-stay brand features all-suite accommodations with fully-equipped kitchens, outdoor grills, and free laundry.
It wouldn't feel like home without your pup, so travelers will be happy to know that all Candlewood Suites are pet-friendly. Guests should expect to pay a non-refundable fee of $75 for stays up to 6 nights and $150 for stays 7 nights or longer.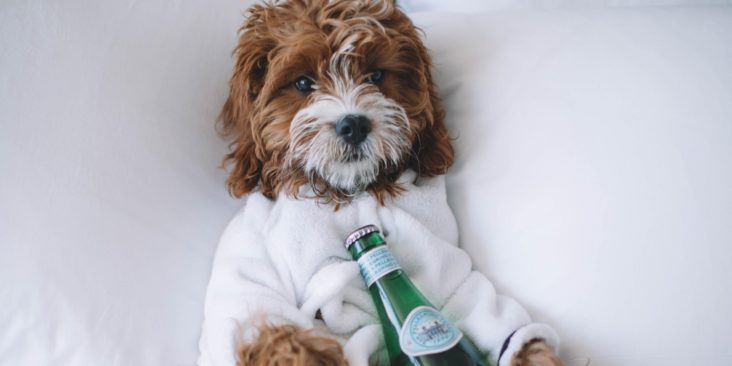 Crowne Plazas are generally found in cities and urban areas to accommodate business travelers, but there are also some nice resort locations as well.
Guests can expect solid Wi-Fi, premium bedding, gyms, and on-site dining during their stay. However, if you are bringing your pet along, you should know that not all Crowne Plaza locations are pet-friendly.
For the locations that we found that accept dogs, the fees range from $75 to $100.
Hot Tip: Explore our list of most and least pet-friendly vacation spots in the U.S. before heading out with your 4-legged friend.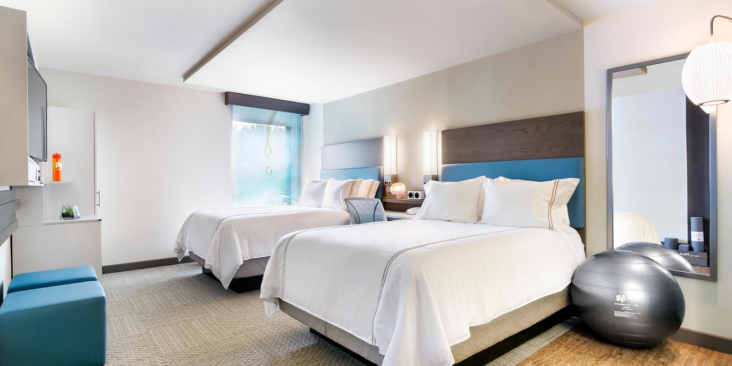 If you are looking for a hotel brand focused on lifestyle and wellness, EVEN Hotels is for you. The brand highlights the 4 pillars of hotel wellness: fitness, dining, relaxation, and sleeping.
Add in stand-up desks and free Wi-Fi and it is clear to see why this brand is popular with business travelers trying to stay fit on the road.
Dog owners know that having your 4-legged friend around is good for the soul, and fortunately, there are EVEN Hotels that allow pets. Information online is hard to find regarding pricing, so it is best to call your hotel directly for specifics.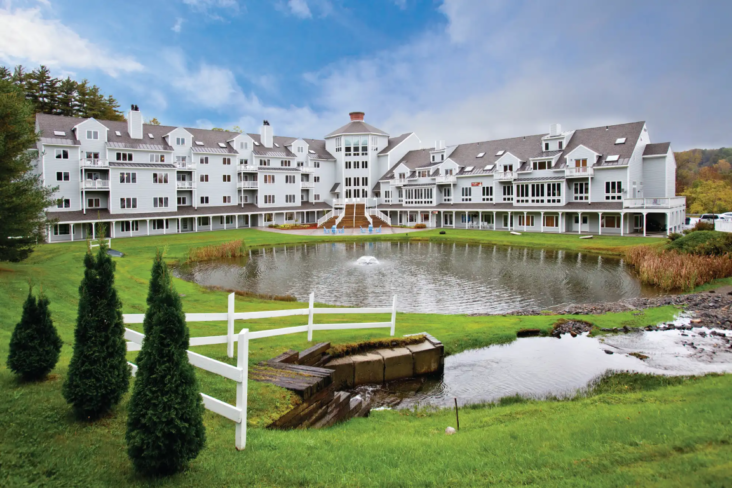 Holiday Inn Club Vacations is the timeshare brand of IHG. These properties tend to be resort locations and have larger studios and suites so that families can travel together comfortably.
Unfortunately, not everyone in the family is welcome as we couldn't find any properties that are pet-friendly. Guests found with a pet will be asked to remove them and will be charged at least $250.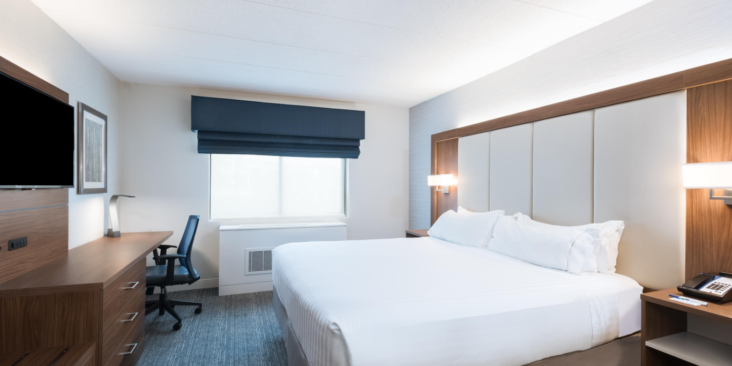 The Holiday Inn Express brand may be one of the most well-known in the IHG portfolio. Whether you are on a business trip or a vacation with family, there is probably a Holiday Inn Express near where you need to be — at a very affordable price.
With a free hot breakfast included, it's hard to find a better value.
The positive notes continue with the fact that many properties allow dogs and generally charge about $50 as the pet fee.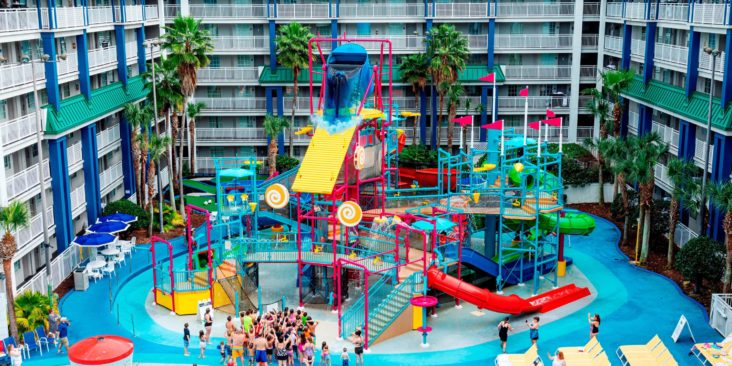 Holiday Inn Hotels & Resorts have perfected the family fun vacation experience. Combining "Full-On Fun" and "Unbeatable Value" are 2 things that parents love to hear.
These fun resorts can sometimes have waterslides and plenty of other activities included to make your stay extra memorable.
Don't worry, it will be fun for the whole family as many locations accept pets and charge around $50.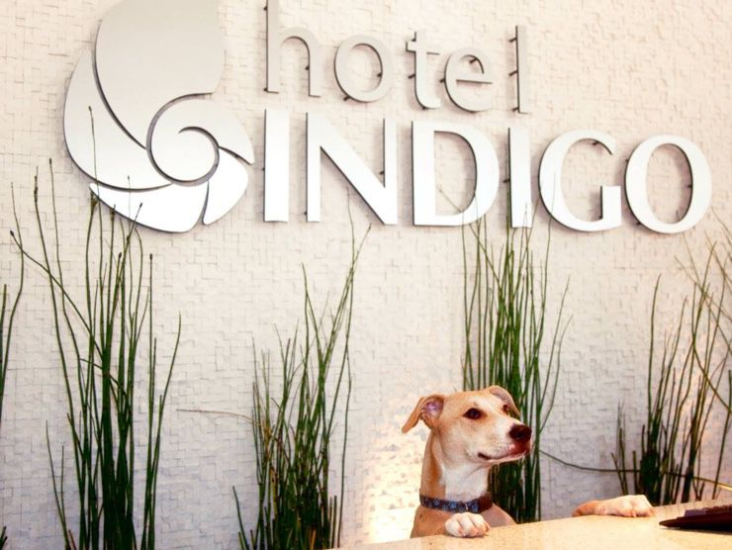 A boutique hotel offering unique experiences based on the city it is located in, the Hotel Indigo brand is popular for many reasons.
With spa-inspired bathrooms, on-site restaurants, free Wi-Fi, and a pet-friendly policy — you should start booking your next stay now!
Fees and limitations are set by individual hotels, but we have seen the charge stay around $50 per stay.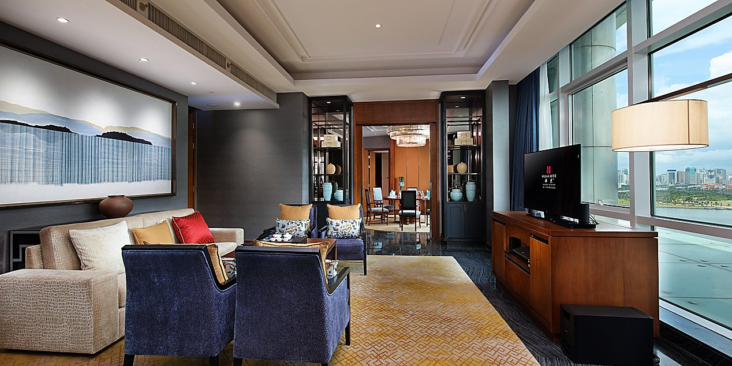 Staff at HUALUXE Hotels and Resorts are specifically trained in the art of Chinese hospitality. This IHG brand caters directly to the luxury Chinese traveler.
The brand focuses on etiquette, rejuvenation in nature, recognition of status, and enabling spaces.
While currently all properties are located in China, some locations do allow dogs at no extra cost. As always, it is best to reach out to the hotel directly to confirm the exact policies.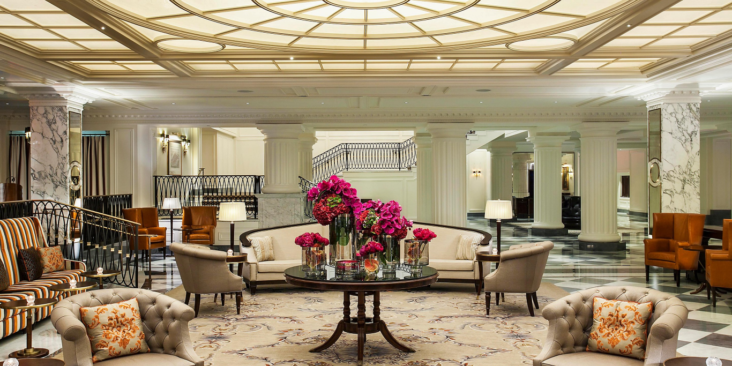 The flagship brand under the IHG umbrella, InterContinental Hotels & Resorts exudes luxury and glamour.
With fine dining, spas, and more at each location, guests are sure to indulge during their stay. If you have a small 4-legged friend, they are welcome to stay as well, for a fee.
With fees up to $250 in New York City, your dog better enjoy its stay!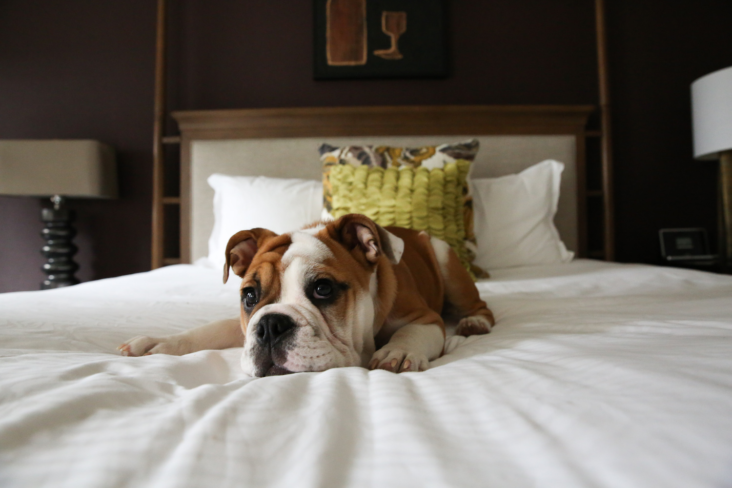 Kimpton is IHG's take on boutique hotels. Somewhat similar to the Indigo brand, Kimpton focuses on art, wellness, dining, and a "sincerely personal" guest experience.
The bold and playful design of the properties, as well as unique amenities, helps make stays memorable for every guest — pets included.
In fact, Kimpton has one of the best pet policies we have ever seen, they even have Directors of Pet Relations!
This is directly from the company website:
"At every Kimpton boutique hotel, we invite you to bring your furry, feathery or scaly family member — no matter their size, weight, or breed, all at no extra charge. If your pet fits through the door, we'll welcome them in."
So there you have it, bring your pet!
Hot Tip: Flying with your pooch? Check out our guide to the top 10 most pet-friendly airports!

IHG has recently partnered with Mr & Mrs Smith, a "travel club for hotel lovers."
This partnership is particularly interesting because now IHG members have access to hundreds of very unique boutique hotels around the world that can soon be booked with points.
On top of that, these hotels tend to be particularly pet-friendly! Many of these hotels will offer beds, special menus, toys, walking options, and even massages for your dog — perfect for those of us who don't like leaving our furry friends in a kennel.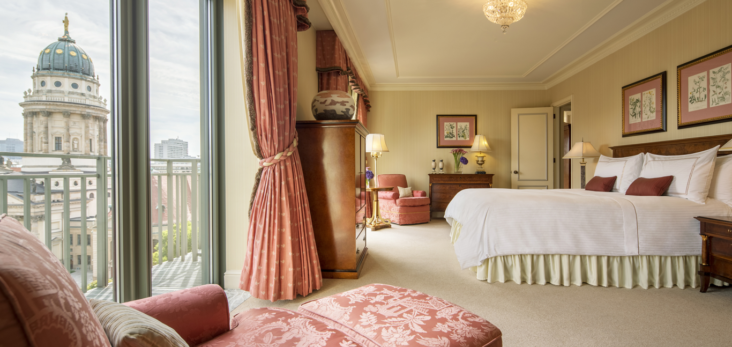 Regent Hotels & Resorts is one of the newest additions to the IHG portfolio.
The luxury brand is mostly located in Asia and focuses on modern hotels with a legacy of luxury and legendary hospitality.
If you are traveling with your dog, some Regent hotels are very welcoming and will even have special dog biscuits made at the in-house patisserie.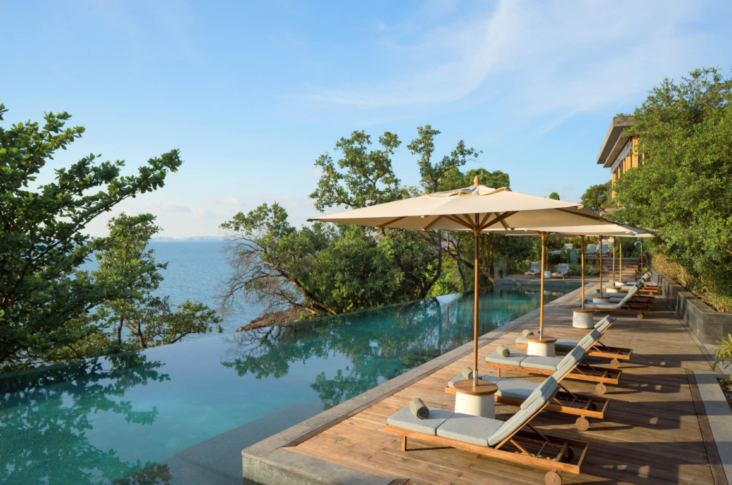 Luxury intended to help guests connect with the world around them, Six Senses Hotels Resorts Spas create personalized wellness experiences at their far-flung, yet accessible properties.
From spas to sustainability, guests will have their 6 senses relaxed and refreshed.
Due to the unique locations of these hotels, we were unable to find any that accepted pets. However, many did have animals that lived on the property.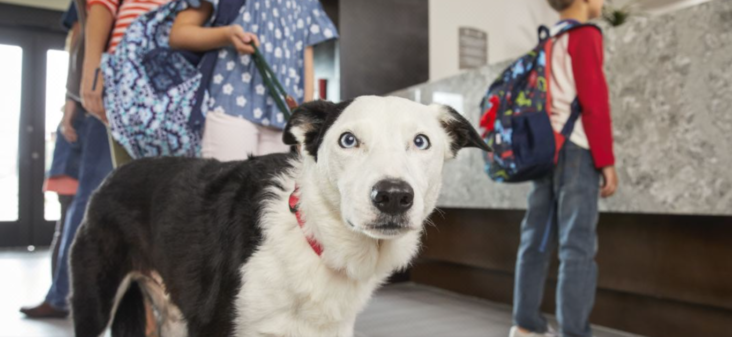 With over 300 all-suite locations, the extended-stay Staybridge Suites make up a good portion of the IHG portfolio.
These home-away-from-home properties include full kitchens, gyms, free breakfast, free laundry, and free happy hours. And home wouldn't be complete without your dog, so as long as it is under 50 pounds, he or she is welcome!
Fees will vary by property, but we have seen them in the $75 range for a 1-week stay.

You may have seen voco hotels during your international travels, but you won't find any of the fun and reliable properties in the U.S.
These hotels are upscale but simple, providing guests with exactly what they need, and a little more.
Generally, dogs are allowed, but that will vary by property. The average fee we have seen is around €22 (~$25).
Final Thoughts
When you are ready to travel with your furry friend, there will be no shortage of IHG properties that are pet-friendly to choose from.
Whether you are looking for an extended stay suite or a downtown studio, there are thousands of redemption options with IHG points for you and your family.
Although all of this information is up to date, policies can always change, so be sure to contact your hotel before hitting the road with your pet.
Safe travels!