Crowne Plaza Hotels & Resorts: 10 Most Popular Locations and 10 Best Redemptions [2021 Guide]
Hilton and Marriott Bonvoy may earn the lion's share of the business hotel chain spotlight, but following close behind them is IHG Hotels & Resorts with Crowne Plaza Hotels & Resorts, which has amassed a loyal following of travelers who appreciate the brand's thoughtful amenities, extensive meeting spaces, and convenient, central locations.
Crowne Plaza is an upper-tier hotel chain aimed at business travelers who are willing to pay a little extra for a nicer overall experience and additional on-site features such as a full-service restaurant and bar and a spa.
Headquartered in the U.K., Crowne Plaza Hotels & Resorts currently oversees over 400 properties across more than 60 countries worldwide, mostly in Europe, the Americas, and Asia — making it one of the largest upscale, full-service hotel brands in the world.
Below, we outline what you can expect during a stay at a Crowne Plaza property, the most popular locations worldwide, and how to maximize your IHG Rewards points for incredible redemptions.
Everything You Need to Know About Crowne Plaza Hotels & Resorts
Founded in 1983 as Holiday Inn Crowne Plaza, Crowne Plaza broke away from Holiday Inn as its own spinoff brand in 1999 — though both are now officially owned and operated by IHG.
IHG categorizes Crowne Plaza Hotels & Resorts as an upscale hotel brand alongside other IHG brands such as Kimpton Hotels and EVEN Hotels, which generally compete with similarly-tiered hotel brands such as Hilton Garden Inn, DoubleTree by Hilton, and Sheraton Hotels & Resorts.
On-Site Amenities
Crowne Plaza's motto "Making business travel work" gets to the heart of what the brand is all about — making the modern business traveler feel as taken care of as possible.
Whether you're staying at one of its properties in London or Mexico City, Miami or Los Angeles, you'll be treated to flexible workspaces, functional designs, and convenient locations close to area attractions.
Guest rooms are comfortable and relatively spacious, with flat-screen TVs, work desks, coffee makers, mini-fridges (at select properties), and Temple Spa bath amenities. Across its various locations, you'll also enjoy free Wi-Fi, fitness facilities, at least 1 on-site restaurant and bar, and extensive meeting spaces run by on-site Meeting Directors.
Although not universal across properties, select Crowne Plaza hotels offer a slew of extra perks, such as a pool, a spa, or even a kids' club.
Sleep Advantage program
Crowne Plaza understands how essential it is to get a good night's rest — especially when hectic business schedules involve long days sandwiched between early mornings and late nights — which is why participating hotels go beyond just comfortable bedding.
On every nightstand, for example, guests will find an aromatherapy kit in partnership with Temple Spa featuring sample-size foot balm, resting cream, and calming mist to prep pillows — and yourself — for sleep time.
Select hotels set aside designated floors as Quiet Zones, where housekeeping and other activities are limited to the hours between 10 a.m. and 9 p.m. Sunday through Thursday (unless a guest specifically requests something). From 9 p.m. to 10 a.m. on weekdays, you can rest easy without fear of noisy interruptions, even from neighboring rooms.
What's more, Crowne Plaza offers Guaranteed Wake Up Calls. If a staff member telephones your wake-up call for more than 5 minutes outside of your requested time (either before or after), your room is free.
Chase IHG Credit Cards
To maximize the value of your stay at a Crowne Plaza hotel or resort — especially if the brand becomes your business hotel chain of choice — it's worth looking into investing in one of IHG's co-branded credit cards issued by Chase: the IHG® Rewards Club Premier Credit Card and the IHG® Rewards Club Traveler Credit Card.
From hotel stays to grocery store runs to gas refills, every purchase made on either card will earn you IHG Rewards points that can be redeemed for award stays at any Crowne Plaza location.
CREDIT CARD
CARD INFO
IHG® Rewards Club Traveler Credit Card




Earn 60,000 bonus points after spending $2,000 on purchases in the first 3 months from account opening
Earn up to 15 points total per $1 spent when you stay at an IHG hotel
Earn 2x points on purchases at gas stations, grocery stores, and restaurants; then 1 point per $1 on all other purchases.
Good to Excellent Credit Recommended (670-840)
No Annual Fee

IHG® Rewards Club Premier Credit Card


Learn More

(at Chase's secure site)

Earn 150,000 bonus points after spending $3,000 on purchases in the first 3 months from account opening
Earn up to 25 points total per $1 spent when you stay at an IHG hotel
Earn 2x points on purchases at gas stations, grocery stores, and restaurants; then 1 point per $1 on all other purchases.
Enjoy a Reward Night after each account anniversary year at eligible IHG hotels worldwide. Plus, enjoy a reward night when you redeem points for any stay of 4 or more nights
Platinum Elite status as long as you remain a Premier card member
Good to Excellent Credit Recommend (670-850)
Annual Fee: $0 for the first year, $89 thereafter
Those that sign up automatically gain access to a clutch of useful perks at Crowne Plaza hotels, including exclusive member rates and reward nights. What's more, the IHG Premier card earns cardholders a free hotel night at each card anniversary.
Cardholders also receive the benefit of IHG Rewards elite status — the IHG Premier Card earns you Platinum Elite status while the IHG Traveler card gets you Gold Elite.
The 10 Best Crowne Plaza Hotel Redemptions
The U.S. is home to more than a quarter of all Crowne Plaza hotels, but some of the brand's best-value properties where you can score a lot with a little (be it cash or points) are actually found overseas in Europe, Asia, and the Middle East.
While you'll be able to find the absolute best ways to use your IHG points with our IHG points redemption guide, the list below focuses specifically on the best points-based deals you can score within the Crowne Plaza hotel portfolio.
Let's take a peek at some of the best Crowne Plaza hotels you can stay at by redeeming points.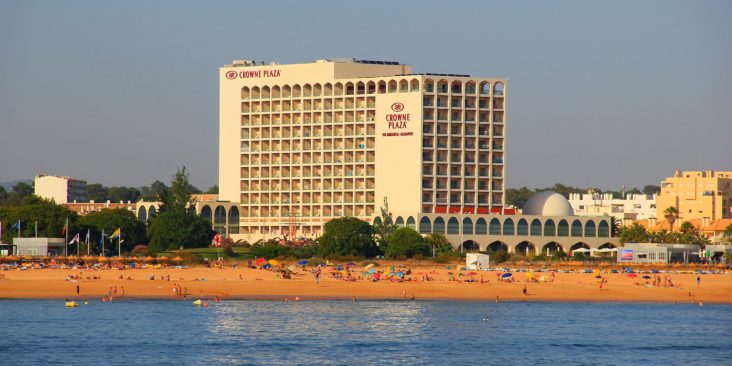 If there's a single takeaway to be garnered from a stay at this Crowne Plaza in southern Portugal, it's that you should never judge a hotel by its cover. Despite the property's glamorous location on golden Vilamoura Beach, its boxy, boring exterior leaves much to be desired. Step inside, however, and you'll see why it's considered one of the area's best hotels.
Natural wood and wicker furniture lend a beachy, breezy vibe to the hotel's stylish, light-filled spaces, including its 323 guest rooms that come with furnished balconies overlooking the ocean or garden.
Speaking of which, the grounds are stunning. There's a lagoon-style pool, 4 restaurants and bars, a kids' club, and a top-notch spa with its own indoor pool and hammam. The best part? The hotel features direct access to the beach — something other surrounding hotels don't have.
While many Crowne Plaza properties are business-oriented, this location's features and location make it better suited for vacationing couples and families as well as golfers looking to take advantage of the area's many golf courses.
Award stays range from 20,000 to 40,000 points per night. Guests paying by cash or card should expect to pay around $190 per night for a standard room.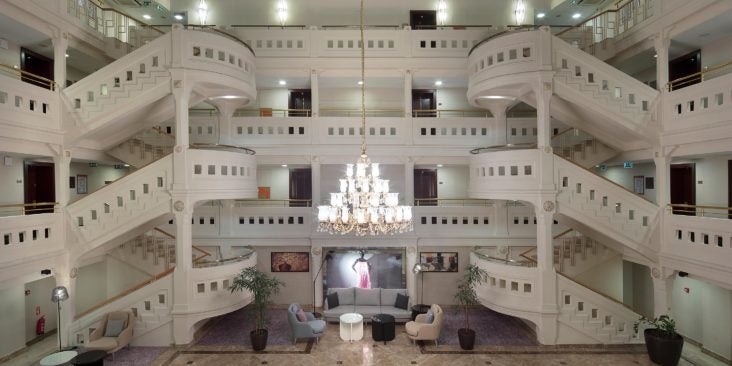 Crowne Plaza Istanbul – Old City may have formerly been a Wyndham, but you'd never know it belonged to any chain hotel by the looks of its lobby. The series of 1920s neoclassical buildings in the heart of old Istanbul was originally an apartment complex designed by renowned Turkish architect Mimar Kemaleddin that's since been converted into a 257-room hotel.
The lobby makes the biggest design statement. Guests enter via a 5-story grand atrium that's lit by skylights and giant chandeliers and features Ottoman-style balconies overlooking the ground floor. Upstairs, rooms are a mix of old (damask fabrics, arched windows) and new (work desks with swivel chairs), though all come with flat-screen TVs, minibars, and free Wi-Fi.
The hotel is within walking distance to big neighborhood landmarks such as Istanbul University, the Grand Bazaar, and the Blue Mosque, but several on-site amenities make a case for hanging back. There's a heated indoor pool, a spa featuring a Turkish hammam and sauna, and both a restaurant and café that serve local and international cuisine.
Award night stays range between 12,500 and 20,000 points. Cash rates hover around $130 for a standard room. Valet parking costs €5 (~$6) a day.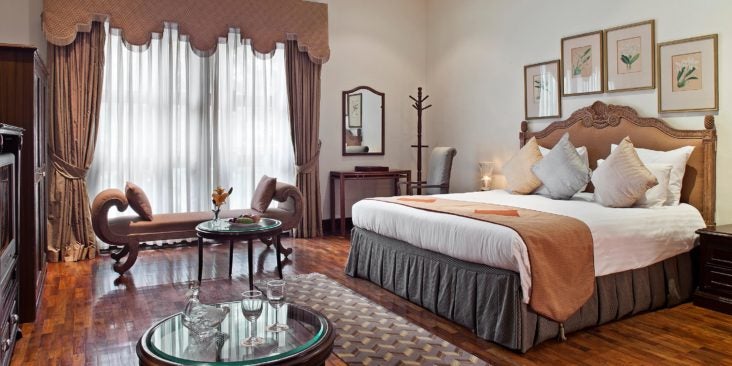 Not all Crowne Plaza hotels are created equal. Case in point: Crowne Plaza Kathmandu-Soaltee adapted a typically 3-star business hotel model into a 5-star luxury experience. This is one of the most luxurious and iconic places to stay in the Nepalese capital.
The property enjoys a tranquil 12-acre setting roughly 10 minutes from the city center. Travelers choose this property over a downtown setting for the valley views from its rooms, gardens, and pool, sumptuous treatments and yoga sessions at the spa, flavorful cuisine at a host of restaurants including Bao Xuan (Chinese) and Kakori (North Indian), and cocktails at Rodi Bar.
In addition to 10 meeting rooms, there's also a helpful concierge who can arrange local excursions to hiking trails or temples.
Be aware that the hotel charges a 10% service fee on top of its regular rates. Award stays here range from 15,000 to 20,000 points per night. Cash rates average about $142 for a standard room.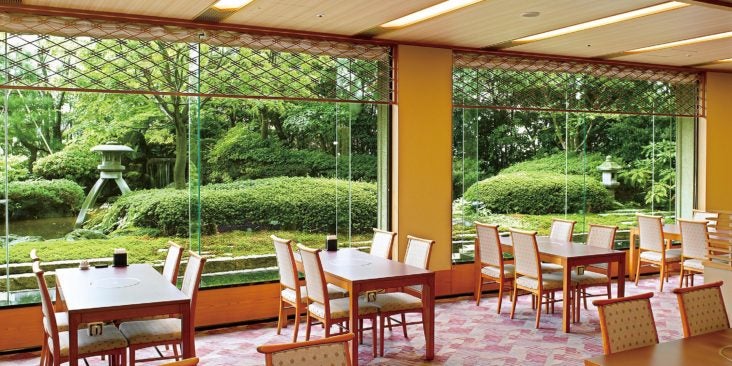 The location couldn't be better at the 4-star ANA Crowne Plaza Kanazawa in Japan. Not only does the hotel sit next to the JR train station, making it incredibly easy for travelers to check in and check out on the fly, it also puts sightseers close to major attractions such as Kanazawa Castle and the Kenrokuen Garden, each a 10-minute taxi ride away.
Guest rooms are contemporary and comfortable, with a work desk, free Wi-Fi, and views of the city. There is no fitness center or pool at the property. Instead, food is a highlight. Each of the hotel's 4 restaurants, from Kaga Teppanyaki to Unkai Japanese, is worth enjoying at least 1 meal at.
Even more impressive: La Briller Sky Bar on the 19th floor serves stiff drinks alongside sweeping skyline views.
Despite its business leanings, this hotel is equipped to deliver romance as well in the form of an on-site chapel and shrine, as well as a ballroom (in addition to other meeting rooms), all of which are available for weddings.
For an award stay, expect to redeem between 17,500 and 30,000 points per night. Cash rates hover around $190 for a standard room. Daily self-parking incurs a fee of ¥1500 (~$15).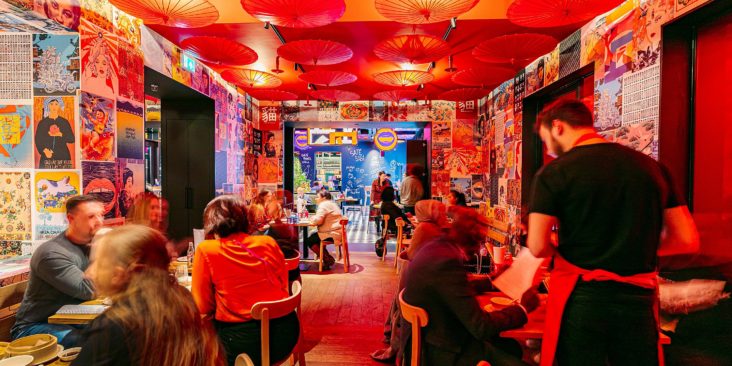 While you won't be in Amsterdam's canal-ringed city center when you stay at the Crowne Plaza Amsterdam – South, you'll be that much closer to other important landmarks including the RAI Amsterdam convention center as well as scenic Amstelpark.
Business guests have everything they need here, including fitness and business facilities, free Wi-Fi, comfortable guest rooms with minibars, 6 meeting rooms, and 2 stylish places to eat and drink — Manhattan Lounge Bar and Happyhappyjoyjoy Zuidas, specializing in Asian cuisine.
Unfortunately, there's no pool or spa. However, this being Amsterdam, the hotel does provide a fleet of bicycles for exploring more neighborhoods and attractions — say, the Van Gogh Museum or Dam Square. Amsterdam Zuid station is a 4-minute walk from the hotel and can also get you downtown in 10 minutes.
For an award stay, expect to redeem anywhere from 25,000 to 40,000 points. Paid rates, in contrast, average about $215 for a standard room.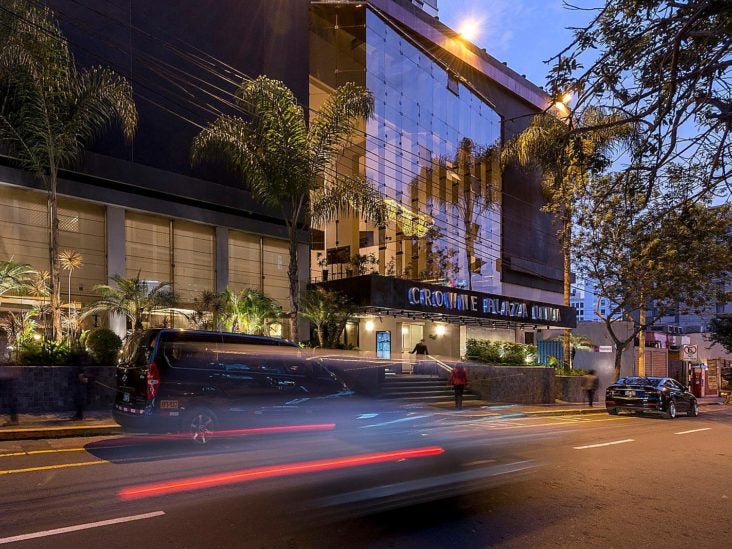 While many city-centric Crowne Plaza locations favor central business districts, Crowne Plaza Lima sits smack in the middle of stylish Miraflores, a cosmopolitan neighborhood beloved by tourists for its restaurants, bars, and shops.
From the hotel, guests are within walking distance of verdant public parks, incredible food and drink, and the beautiful beaches of Costa Verde — everything that makes Peru's capital so great.
Along with typical business-centric brand amenities like 24-hour business and fitness centers and multiple meeting spaces, at this property, guests also enjoy local cuisine and spirits at the bar and restaurant, as well as a spa that features both a sauna and a pool and hot tub lit by skylights.
You'll need to redeem anywhere from 12,500 to 25,000 points for an award stay here. Paid rates for a standard room average around $130 per night.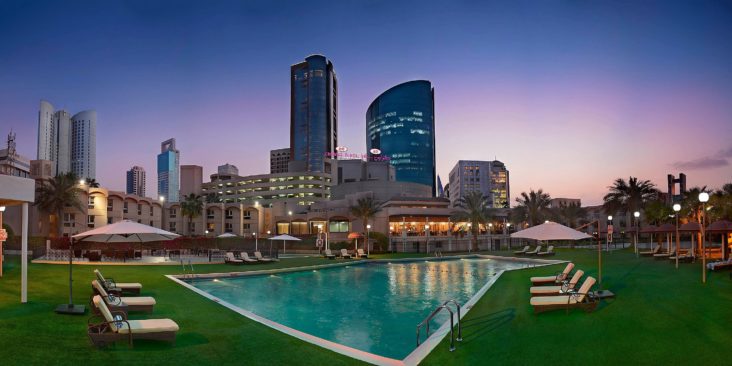 As the capital of Bahrain, an archipelago nation in the Persian Gulf, Manama has acted as a trade and business hub for centuries, and the 5-star Crowne Plaza Manama Bahrain continues to be one of the best places to stay in the city.
Business travelers and delegates prefer its central "diplomatic" location that sits close to embassies, banks, and the World Trade Center — though sightseers are just as happy, since the main souk, Bahrain National Museum, Avenues Mall, and the waterfront are also just steps away. Getting to the international airport is a 15-minute drive.
In addition to free Wi-Fi and a business and fitness center, the property also offers a spa and health club, 5 restaurants, a coffee shop, and a cocktail lounge by the outdoor pool. Rooms feature a flat-screen TV, aromatherapy kit, and Quiet Zone designations.
Award stay redemptions at this property range from 17,500 to 20,000 points per night. Cash rates hover around $220 for a standard room.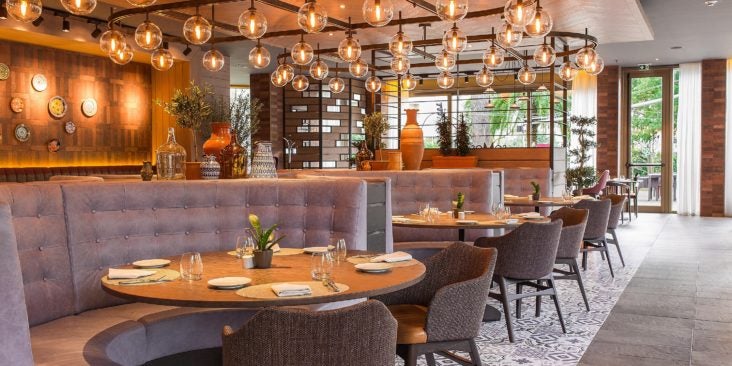 Although it may not have always been a Crowne Plaza, the building this hotel now occupies has hosted a fair few celebrities in its lifetime, including Princess Diana and Bob Dylan. Today, the 5-star hotel still caters to upscale travelers (mostly on business) looking to avoid the city center.
The hotel's position in Boavista, Porto's financial district, puts guests within walking distance of key attractions including the Casa da Música music hall, the Bom Sucesso market, and Porto Botanical Garden.
Guest rooms are spacious and modern, featuring Crowne Plaza's signature aromatherapy kits as well as double-glazed windows that help block out the street noise below. Facilities are also standard: there is a gym and business center, 11 meeting rooms, and a limited-service spa, though no pool. Instead, Somos Restaurant and Bar is the main attraction, featuring Portuguese cuisine as well as a bar with an outdoor patio.
Award night redemptions range from 17,500 to 27,500 points. Paid rates average around $180 per night. Self-parking is available for a daily €25 (~$30) fee.
Hot Tip: Request a room on the top floor to increase your chances of getting a view of the ocean or Douro River.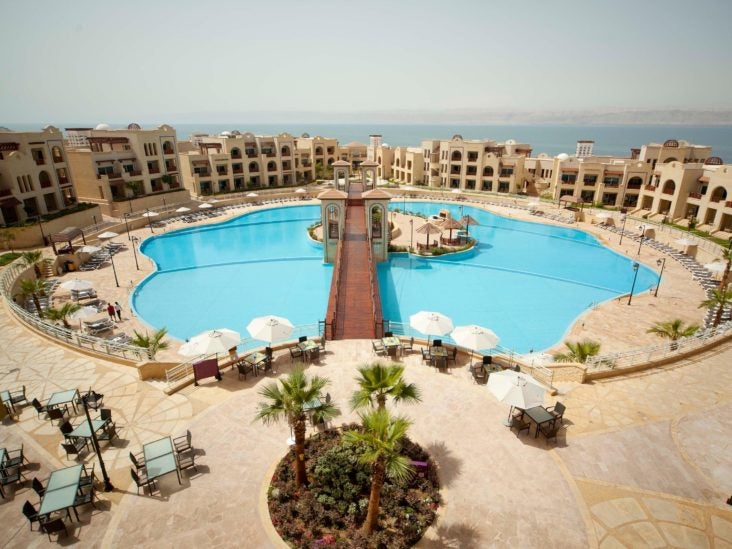 One look at this 5-star beachfront resort is all you need to understand why so many couples and families vacation here. Every window at the Crowne Plaza Jordan – Dead Sea Resort and Spa, be it in the guest rooms or the spa, is angled towards spectacular views of the large central pool known as "The Lake" and the Dead Sea beyond.
While adults can enjoy the Aqua Pool Bar and separate beachside infinity pool and hot tub, a kids' club and children's splash pool entertains younger guests. The property also features 8 restaurants and bars including Burj Al Hamam, which spotlights family-style Lebanese cooking, El Grito, which features live music, and The Promenade, which overlooks the sand.
Before heading to dinner, be sure to check out the impressive spa, whose facilities include 30 treatment rooms, a beauty salon, and a circuit of hydrotherapy pools with Dead Sea views.
A room here can be yours for between 15,000 and 20,000 points if you're booking a reward night. Otherwise, standard rooms average about $130 per night.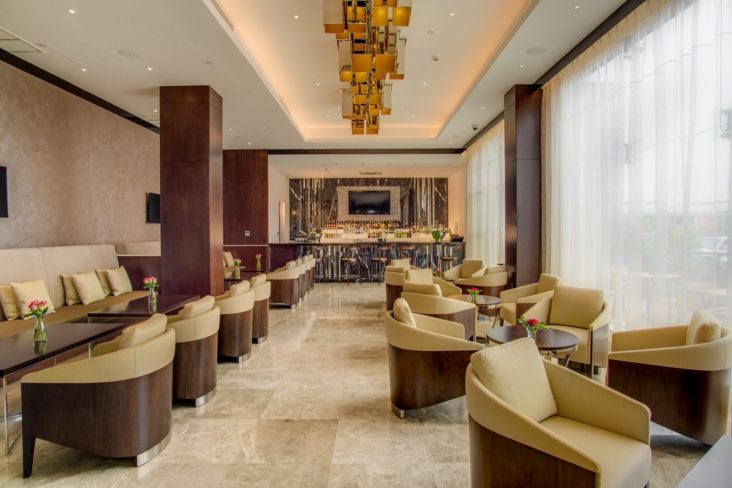 Every traveler passing through Kenya who's seeking a convenient place to rest their head between flights should consider the Crowne Plaza Nairobi Airport. Not only is the hotel just 3 minutes from Jomo Kenyatta International Airport (NBO), but it also offers a free pick-up and drop-off service for arriving and departing guests.
This is not your standard airport hotel, either. All 144 rooms are spacious and contemporary, the best of which feature balconies looking out over the surrounding grasslands. Downstairs, Kitchen 9 serves local and international cuisine, Velocity is the place to go for cocktails and wine, and 3 well-equipped business spaces host board meetings and events.
There's even a full-service spa as well as a rooftop pool and bar. Planning on exploring Kenya beyond the hotel? A concierge is happy to arrange tours of the city or Nairobi National Park — yet another reason why you'll see as many leisure travelers as you will those on business here.
Award stays at this property can typically be redeemed for 17,500 to 27,500 points. Cash rates average about $165 per night for a standard room.
The 10 Most Popular Crowne Plaza Hotel Locations
From the outset, Crowne Plaza Hotels & Resorts were designed with convenience in mind, so you'll find them wherever business and leisure travelers head to most.
This includes major cities and city airports (like New York or Singapore), gateway cities with a strong business presence (Houston, Washington, D.C.), as well as resort destinations that see lots of foot traffic and overnight visits (we're looking at you, Orlando).
Let's check out the top 10 most popular Crowne Plaza locations in the U.S. based on search volume and demand.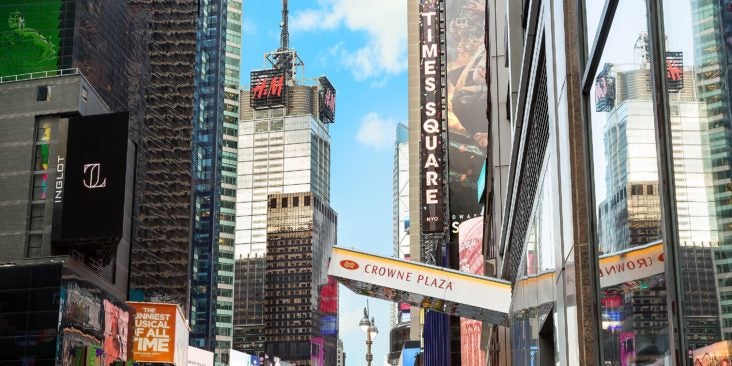 No neighborhood screams "This is New York City" louder than Times Square, whose flashing lights and skyscraper-high billboards draw so many tourists that it's become one of the world's busiest pedestrian intersections.
You'll be in the heart of "the Center of the Universe" when you stay at the Crowne Plaza Times Square Manhattan, whose multiple entrances share the block with Broadway ads, souvenir shops, and restaurants galore. Guest rooms are located on floors 15 through 46 and feature stellar views of Midtown or the Hudson River, though they don't have minibars.
Those who stay here will have a choice of 2 restaurants — Brasserie 1605 and Broadway 49 Bar & Lounge — as well as multiple 24-hour business centers, a whopping 28 event spaces, and access to New York Sports Club located in the building. The hotel charges a daily $35 facility fee that covers use of the gym as well as 2 welcome drinks.
Reward stays at this property trend towards the more expensive end of how much you'd expect to redeem at a Crowne Plaza property — between 30,000 and 47,500 points per night. Cash rates are also high, averaging about $400 for a standard room.
Be aware that parking in Manhattan is notoriously expensive, and this hotel is no exception. Standard cars incur a daily $70 fee (SUVs cost extra), which does not come with in-and-out privileges.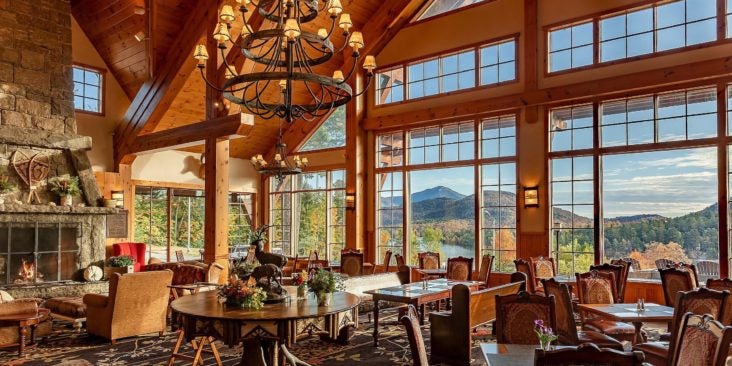 Despite its chain hotel affiliation, you'll be hard-pressed to find a nicer place to stay along scenic Lake Placid than the Crowne Plaza. The hotel is open year-round and located right in the Olympic Village, putting it within easy walking distance of the Olympic Center and Main Street's shops and restaurants.
Thanks to the hotel's hillside perch, views of Mirror Lake and the Adirondacks (including Whiteface Mountain) are stunning from any one of the hotel's 4 restaurants — the most impressive being the Great Room with its grand fireplace and floor-to-ceiling windows. Although not all rooms have views, many do come with gas fireplaces and balconies.
Rooms and restaurants aside, though, the best part about a stay here is everything else. The 1,000-plus-acre property is the ultimate outdoor playground, home to the Lake Placid Club that features 45 holes of golf, tennis courts, a cross-country ski and snowshoe center, and a private beach. This is all in addition to an indoor pool, gym, and over 22,000 square feet of meeting space.
While parking is free (there's enough space for it), reward nights here cost more than usual — between 20,000 to 32,500 points for an overnight stay. Paid rates hover around $235 for a standard room.
Hot Tip: Upgrading to a lake-view room will get you just that, while upgrading to a full suite or cottage-style chalet will get you a kitchen and hot tub. Rooms in the newer Adirondack Wing are the most updated.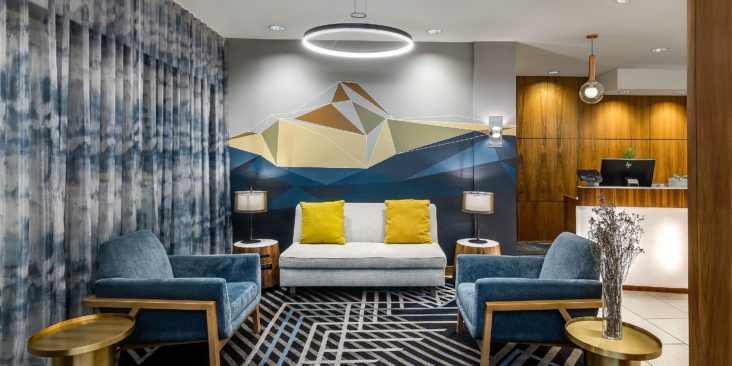 Whatever you've come to Denver to do, you'll be able to walk to it from this Crowne Plaza. The best of downtown Denver is within easy reach, including the Denver Art Museum, Union Station, 16th Street Mall, Coors Field, and the Colorado State Capitol.
What's more, the convention center is less than 2 blocks away — a boon for business travelers. The hotel has even partnered with B-Cycle and features a fleet of rentable bikes for exploring the neighborhood.
Guest rooms are laid out for success, whether you're checking in to enjoy relaxation and mountain views or need to bang out a project at your work desk. In addition to free Wi-Fi and a business center, there is also over 8,000 square feet of meeting space, and Lockwood Kitchen & Bar serves farm-to-table cuisine and happy hour specials. The heated rooftop pool is open seasonally.
Award stays at the Crowne Plaza Denver vary widely depending on seasonality and demand. We found redemptions as low as 17,500 and as high as 35,000 points. Cash rates, meanwhile, average about $225 a night for a standard room. On-site self-parking costs $35 a day.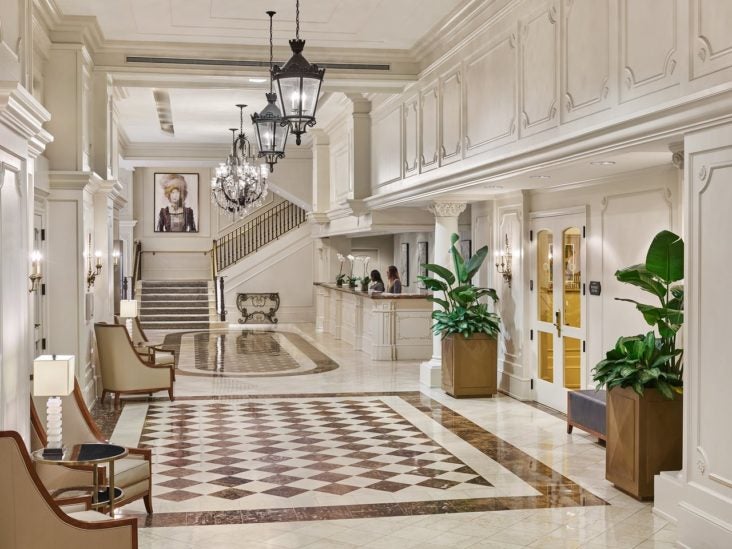 Blink and you might miss this Crowne Plaza outpost, whose classical exterior blends right into the iron-balcony-clad buildings of NOLA's historic French Quarter.
Inside, the lobby is just as regal — velvet upholstery, large chandeliers, and polished white walls. Guest rooms are far more basic but comfortable, featuring flat-screen TVs and coffee makers (though no minibars) and, in the best rooms, balconies with views of Bourbon Street.
Located on Canal Street, you're right in the heart of it here — which is either good or bad, depending on what you're looking for. From the hotel's doorstep, a cacophony of streetcars, tourists, and street traffic compete for airspace.
The hotel's rooftop pool and fitness center are good places to escape, as is Bourbon House restaurant, whose oysters are considered some of the city's best.
Here for business or a banquet? Over 32,000 square feet of meeting space covers 13 separate rooms and a ballroom. Despite the many perks of staying here, there are a few caveats: valet parking is $49 a day and some guest rooms have less-than-stellar (read: terrible) views.
Award stays cost between 22,500 and 30,000 points per night for this property, while paid rates average about $170 per night for a standard room.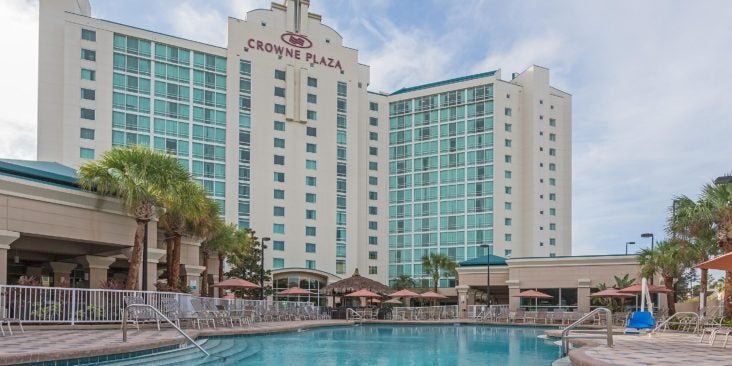 When it comes to Orlando, any hotel within a half-hour's drive of Walt Disney World Resort, Universal Studios, and SeaWorld is a hotel fit for families, which is why you'll find plenty of them at Crowne Plaza's Orlando outpost on Universal Boulevard. Whether you're here as a twosome, a family of 4, or in town on business, you'll find what you're looking for here.
For groups seeking fun and relaxation, there is Elements Bar and Grill, a spa, and an outdoor pool. Because this is a Walt Disney World-affiliated hotel, free scheduled shuttles make stops here on their way to area theme parks. Orlando's Entertainment District is also right down the road.
For business travelers, fitness and business centers, over 10,000 square feet of flexible meeting space, and designated Quiet Zones within the hotel ensure things get done on time and without a hitch.
Reward stays range anywhere from 15,000 to 30,000 points per night depending on seasonality and demand. Paid rates average about $190 per night. Expect to pay a $17 daily self-parking fee.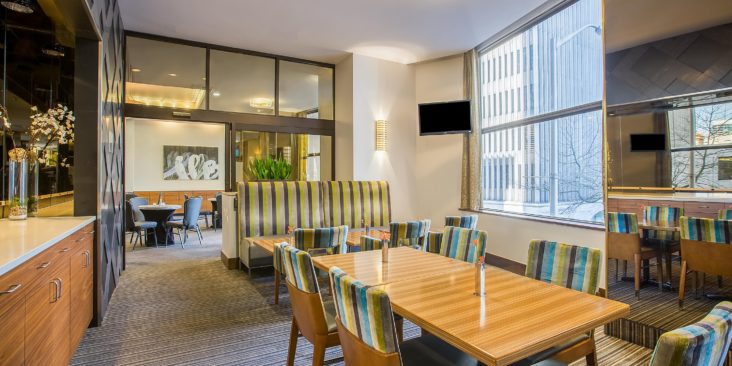 Right off I-5 in Seattle's Central Business District, the Crowne Plaza Seattle-Downtown is the definition of a solid, dependable city hotel stay.
The location is fantastic, close to lots of popular Seattle attractions like CenturyLink Field, the Seattle Art Museum, Pike Place Market, and the Great Wheel — all within a 15-minute walk. For destinations further afield, a light rail station is 3 blocks away.
Rooms on higher floors feature views of the skyline, including the Space Needle, if yours faces northwest. Even if yours doesn't, all guests get to enjoy the pool, 10,000 square feet of meeting space, 24-hour fitness and business centers, and American cuisine at the Regatta Bar & Grille.
Award stays run between 22,500 and 30,000 points, and paid rates hover around $220 per night for a standard room. This being a city, parking is valet only and costs an eye-watering $50.27 a night (though that includes taxes).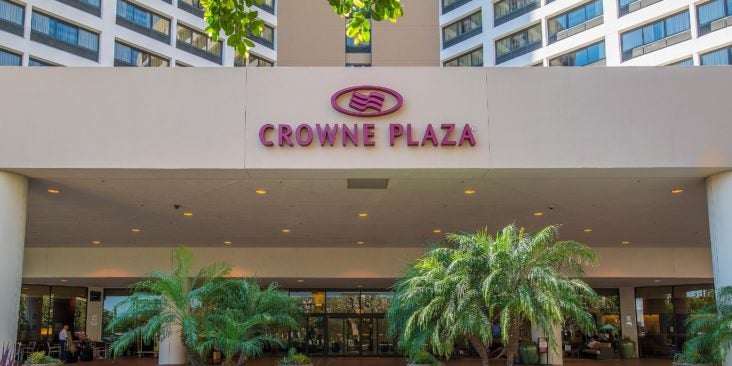 For business travelers or anyone flying through LAX that need to stick close to the airport but want something a bit nicer than a Four Points or a Holiday Inn, this Crowne Plaza delivers.
Not only is the hotel less than a half-mile from the airport, but it also offers a free 24-hour shuttle bus that whisks guests to and from the terminals. Planning on renting a car anyway? Downtown Los Angeles is 12 miles away and Venice is even closer — often less than a half-hour's drive.
On-site, there's more than just guest rooms. Over 14,000 square feet of meeting space across 15 rooms (manned by an on-site Meetings Director) is available for conferences and events in addition to a spa, heated outdoor pool, and 4 restaurants, including a sushi counter and a craft beer bar.
Be aware that self-parking costs $40 a night (valet is $48) and the hotel charges a $15 daily facility fee that covers the airport shuttle, bottled water in guest rooms, and pool access.
IHG Rewards members should be prepared to redeem between 17,500 and 27,500 points for a reward stay at this property. Otherwise, cash rates for a standard room average about $125 per night.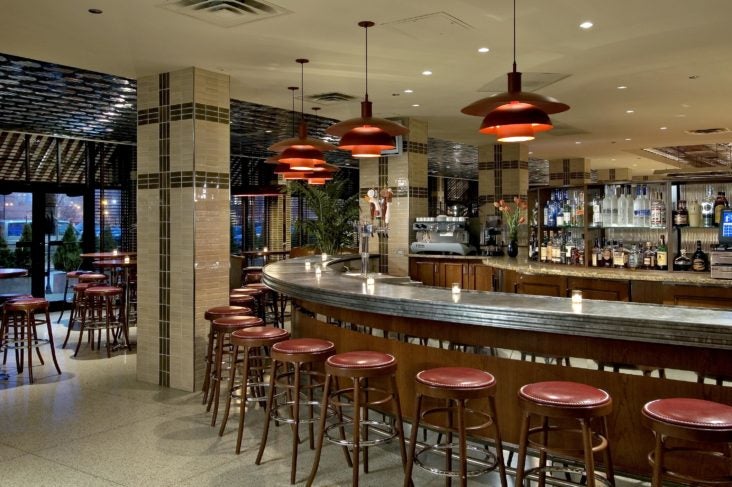 Chicago's trendy West Loop neighborhood is now known for its stellar restaurant scene, but business travelers have loved it long before the area ever became cool — in part because the city's central business district is home to university campuses, hospitals, and government and corporate offices like Google.
When you stay at the Crowne Plaza Chicago West Loop, you'll be minutes away from the United Center and public transportation. Expect standard brand amenities like fitness and business centers, free Wi-Fi, and ample meeting space, along with more unique features like balconies in some guest rooms and a pet-friendly policy for dogs 30 pounds and under for a fee.
Enjoy dinner at Dine Restaurant and Bar or take a short 5-minute walk to Randolph Street, which is known as "Restaurant Row."
Award stays here range from 17,500 to 30,000 points per night. Paid rates hover around $240 for a standard room. Parking is wildly expensive in Chicago and you can expect to pay $54 a day for overnight parking.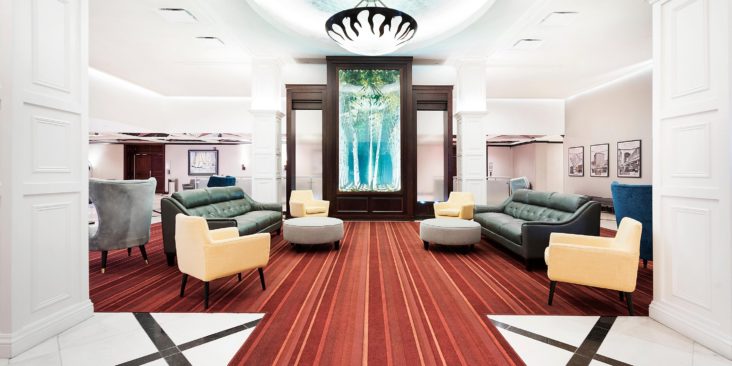 Detroit's Financial District is a perfect place to be if you're traveling on business. Not only is the neighborhood ground-zero for all the city's big corporations as well as the TCF Center, but it's also home to a handful of attractions including Detroit's historic riverfront.
An indoor pool, 24-hour fitness and business centers, and free Wi-Fi are all here, along with an indoor pool, a spa, and an impressive 32,000 square feet of meeting space. Guest rooms are cozy and bright thanks to floor-to-ceiling window views of the city and, in the best ones, the Detroit River.
Urban Cellars restaurant is open for breakfast, lunch, and dinner and also features a bar. Alternatively, try one of the themed restaurants in nearby Greektown. Multiple QLine light rail stations, blocks away, connect to sites father out such as Comerica Park.
Reward nights at this property typically require redeeming between 25,000 and 30,000 points — which might be smart to use since cash rates are surprisingly expensive and average about $425 per night for a standard room. Parking is valet only and costs $35 a day, though it comes with in-and-out privileges.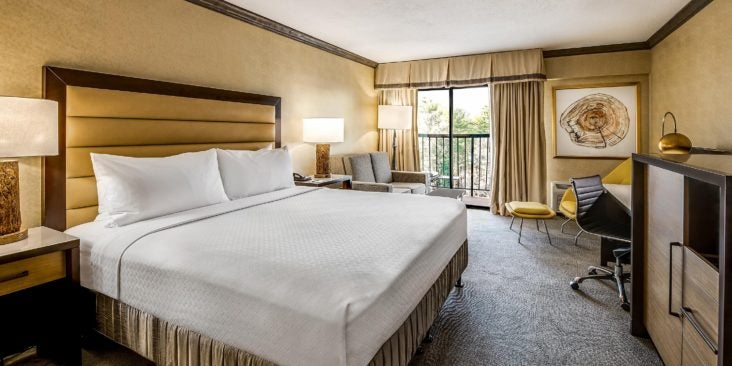 This rustic Asheville property sits on 125 rolling acres that are home to a handful of outdoorsy activities such as a 9-hole golf course, wellness and fitness centers, a spa, and the Asheville Adventure Center. The Overlook restaurant comes with its own outdoor fire pit and accompanies a lobby bar. Furry friend in tow? Pets are allowed in designated rooms for a $25 fee.
From here, you're less than a mile from downtown's River Arts District and Folk Art Center. Area attractions also aren't far, often within a half-hour drive or less. It takes 13 minutes to drive to the historic Biltmore Estate, 12 minutes to reach the scenic Blue Ridge Parkway, and 8 minutes to reach the entrance of Asheville's Botanical Gardens.
Award night redemptions range anywhere from 17,500 to 30,000 points, whereas standard rooms average about $165 per night if paying by cash or card.
Final Thoughts
Although Crowne Plaza Hotels & Resorts is an upscale business hotel brand under IHG, you'll find that its portfolio isn't limited to just your run-of-the-mill business features or even business districts. In fact, a fair few Crowne Plazas are actually 4- or even 5-star resorts in spectacular vacation destinations that cater to families and couples.
That said, whether you're staying on a beach in Europe or in Chicago's financial district, business-centric amenities remain — including free Wi-Fi, work desks in guest rooms, business centers, and well-equipped gyms.
If you plan on redeeming IHG Rewards points to stay at a Crowne Plaza hotel, you'll score even more value while enjoying a few extra bells and whistles like room upgrades and convenient perks.
Even if you don't plan on cashing in your hard-earned points, standard room rates at Crowne Plaza hotels are often fairly reasonable and competitive compared to other upscale hotel brands. As with any loyalty program, do your research to decide which payment method works best in your favor.