Candlewood Suites Hotels: 12 Most Popular Hotel Locations [2021 Guide]
Consider Jack DeBoer the king of extended hotel stays. In 1995, 20 years after founding the Residence Inn brand — the first extended-stay hotel brand in the U.S., now owned by Marriott — he launched Candlewood Suites as a means of reaching a business-centric audience with bigger rooms and better (i.e. more affordable) rates.
The brand has come a long way since the first Candlewood Suites opened in Wichita, Kansas, in 1996 and now counts more than 400 properties and 38,000 rooms in its portfolio, which are spread across the U.S., Canada, and Mexico.
Here's what to expect from a stay at a Candlewood Suites hotel.
Everything You Need to Know About Candlewood Suites
Candlewood Suites is an all-suite, extended-stay hotel chain owned by IHG Hotels & Resorts that mainly targets business travelers and most closely competes with other extended-stay brands such as TownePlace Suites by Marriott and Homewood Suites by Hilton.
IHG classifies Candlewood Suites as a mainstream brand (as opposed to upscale or luxury), which relates to other hotel brands that offer limited services and basic amenities at a competitive rate.
Every room is a suite (either a studio, a 2-bed studio, or a 1-bedroom) that features both a spacious work desk as well as a fully equipped kitchen with its own fridge, microwave, dishwasher, pots, utensils, glassware, and a stovetop — a rarity even for extended-stay brands. Additional kitchenware such as blenders and crockpots are available by request at the front desk.
At Candlewood Suites properties, there is not much that is suited for families — sometimes a pool but never a game room, and the largest room category only fits a maximum of 4 guests — which is part of the reason why they are so perfect for travelers seeking a quiet, simple, convenient base close to major sights.
Instead, a 24-hour gym, free laundry services, outdoor Gazebo Grill facilities, and a pet-friendly policy cover the basic essentials.
Candlewood Cupboard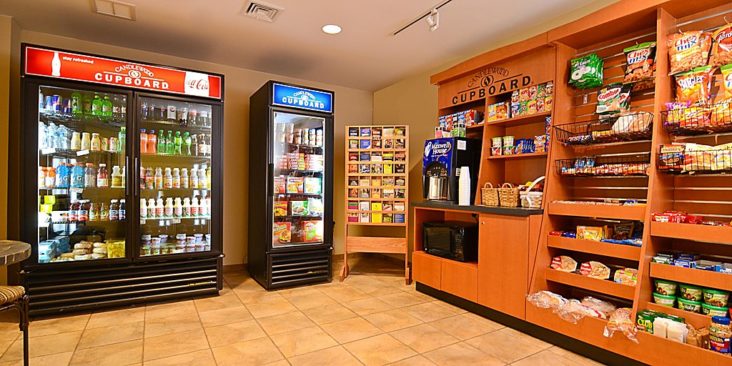 For those days when guests are just too tired to cook, each Candlewood Suites hotel features a 24-hour, on-site convenience store known as the Candlewood Cupboard that can fulfill all your snacking and coffee needs. Although free breakfast is not a perk at Candlewood Suites properties, pre-packed breakfast bags are available for purchase here.
Weekly Housekeeping
Part of the Candlewood Suites promise is "minimal intrusions" so you can get your work done without interruption. As part of its extended-stay model, housekeeping only services guest rooms once a week per staying guest — though when they do, they provide a thorough clean of everything in it, from the bathroom to the kitchen.
Chase IHG Credit Cards
Get more out of your Candlewood Suites stay by investing in 1 of 2 co-branded IHG credit cards issued by Chase: the IHG® Rewards Club Premier Credit Card or the IHG® Rewards Club Traveler Credit Card.
Whether you use these cards to pay for overnight hotel stays, groceries, or gas, every purchase earns IHG Rewards points, which can be redeemed for award stays at Candlewood Suites locations.
CREDIT CARD
CARD INFO
IHG® Rewards Club Traveler Credit Card




Earn 60,000 bonus points after spending $2,000 on purchases in the first 3 months from account opening
Earn up to 15 points total per $1 spent when you stay at an IHG hotel
Earn 2x points on purchases at gas stations, grocery stores, and restaurants; then 1 point per $1 on all other purchases.
Good to Excellent Credit Recommended (670-840)
No Annual Fee

IHG® Rewards Club Premier Credit Card


Learn More

(at Chase's secure site)

Earn 150,000 bonus points after spending $3,000 on purchases in the first 3 months from account opening
Earn up to 25 points total per $1 spent when you stay at an IHG hotel
Earn 2x points on purchases at gas stations, grocery stores, and restaurants; then 1 point per $1 on all other purchases.
Enjoy a Reward Night after each account anniversary year at eligible IHG hotels worldwide. Plus, enjoy a reward night when you redeem points for any stay of 4 or more nights
Platinum Elite status as long as you remain a Premier card member
Good to Excellent Credit Recommend (670-850)
Annual Fee: $0 for the first year, $89 thereafter
Unfortunately, hotel bills at Candlewood Suites properties (along with Staybridge Suites) do not earn you as many points as you would get staying at, say, a Holiday Inn Express. That is because unlike most IHG brands that earn 10 points for every dollar spent on overnight stays, Candlewood Suites stays only award 5 points per dollar spent.
The 12 Most Popular Candlewood Suites Locations
As of June 2020, Candlewood Suites counted 415 hotels in its brand portfolio. The most popular locations, according to search volume and demand, are situated outside of major business hubs, cities, and resort areas throughout the U.S.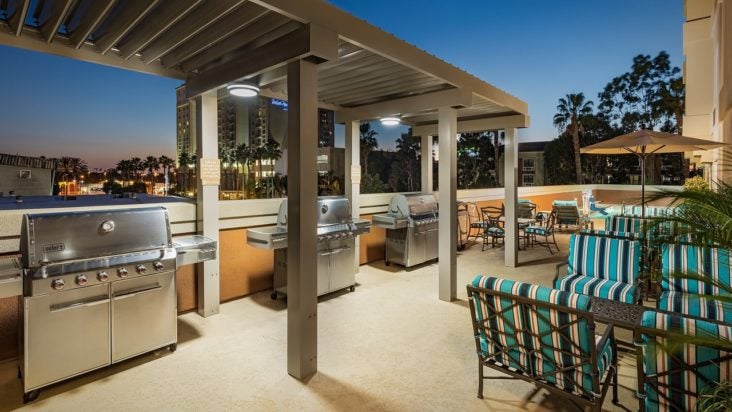 Whether you're in Anaheim for Disneyland or the Ducks, the Candlewood Suites Anaheim – Resort Area hotel is a solid place to base yourself. In fact, some of the city's best attractions are within easy walking distance, including Disneyland's main gate, the Convention Center, and downtown entertainment.
The hotel's condo-like suites provide all the room travelers need, whether they're checking in as a family or as part of a business trip. Full kitchens also mean guests can be as independent during meal times as they desire — when they're not dining out at the nearby Anaheim GardenWalk, that is.
In addition to all of the standard Candlewood Suites amenities — 24-hour fitness and laundry centers, free Wi-Fi, a Candlewood Cupboard, an outdoor pool— the location also includes a Lending Locker where Weber grills, movies, and board games can be borrowed for the day (or night).
Expect to redeem anywhere from 12,500 to 20,000 points for an award stay here. Otherwise, cash rates hover around $130 for a studio suite.
Hot Tip: Because Candlewood Suites Anaheim – Resort Area is officially partnered with Disneyland Theme Parks, an on-site kiosk sells entrance tickets directly — a smart way to beat the lines.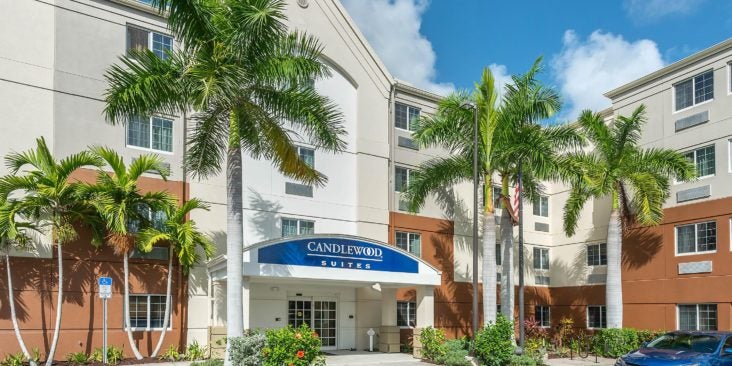 Giant palm trees line the entrance to Candlewood Suites Fort Myers-Sanibel Gateway — a suitable welcome to this "City of Palms" in southwestern Florida. You'll be giving up a waterfront location when you stay at this hotel (the closest beach requires a 12-minute drive), but what you get in return is a quiet escape away from the tourist crowds for an incredible value.
Free Wi-Fi and laundry facilities, 24-hour fitness and business centers, an outdoor pool and barbecue grill, and a 10-person boardroom are all welcome amenities for both business and leisure travelers. The 24-hour Candlewood Cupboard is a convenience market for picking up meals and drinks to prepare in your spacious suite's kitchen.
This is a perfect low-key escape for independent travelers seeking an extended stay near some of southern Florida's best beaches. Sanibel, Captiva, Fort Myers, and Lover's Key State Park are all within a 20-minute drive. The Everglades are about 90 minutes away by car.
Award stays here range from 10,000 to 20,000 points per night. Paid rates average about $80 for a standard suite.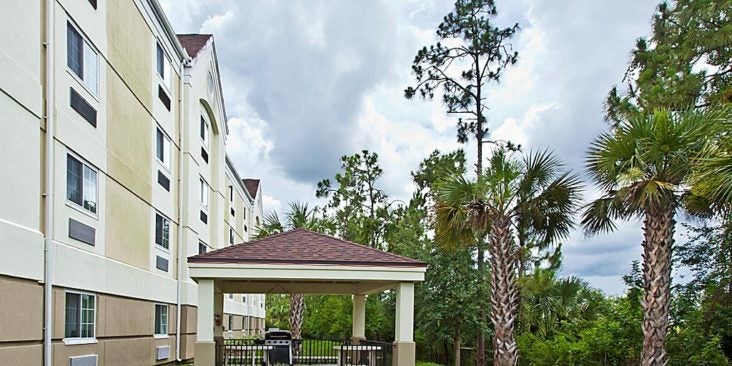 Much closer to downtown Fort Myers than the Sanibel location, Candlewood Suites Ft. Myers I-75 is much better suited for those that value convenience and accessibility above all else. The hotel is located right off I-75, making it extremely easy to reach from Southwest Florida International Airport (RSW) just 7 miles or 14 minutes away, as well as the city itself.
Business travelers are well taken care of here thanks to the hotel's 24-hour business and fitness centers, meeting room, free Wi-Fi, and proximity to Southside Industrial Park.
Still, families will find lots to enjoy as well, including spacious suite-style accommodations, a pet-friendly policy, a movie lending library, and a handful of nearby attractions including Manatee Park and the Calusa Nature Center and Planetarium. Fort Myers Beach is a half-hour drive away.
Award night redemptions average about 12,500 points per night. Paying by cash or card? Studio suites average about $130 per night at this location.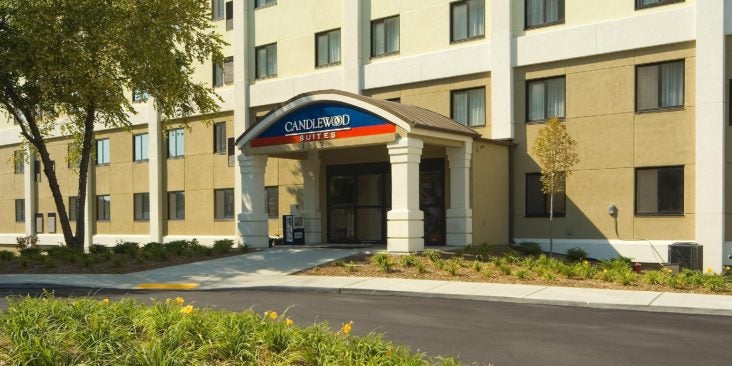 Candlewood Suites Indianapolis Downtown Medical District is by far the most central of the 4 Candlewood Suites properties within the city limits of Indianapolis.
From here, you're within just a 10-minute drive of the Indianapolis Zoo, the Indiana Convention Center, Bankers Life Fieldhouse, Lucas Oil Stadium, and a handful of cultural attractions including the Indiana State Museum and the Eiteljorg Museum. Driving to the Indianapolis International Airport (IND) takes about 20 minutes.
Expect all your standard Candlewood Suites amenities here — suites with living areas and work desks alongside fully equipped kitchens, free Wi-Fi, a gym and business center, and an outdoor pool that connects to the barbecuing area.
For an award night, expect to redeem between 12,500 and 25,000 points. Cash rates average about $110.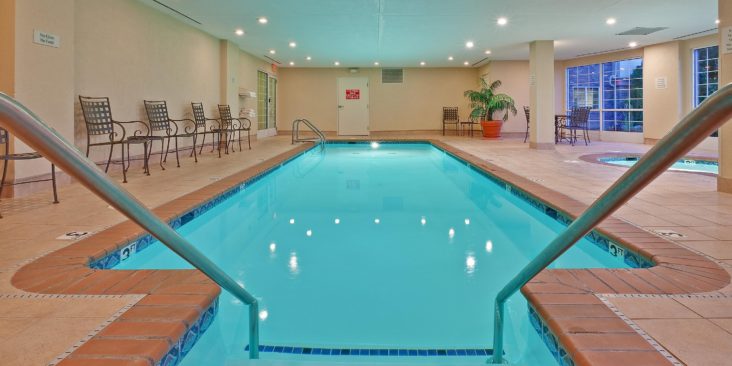 If you're looking to stay as close to Indianapolis as possible, you'd probably do better staying at the Candlewood Suites Indianapolis Downtown Medical District as Candlewood Suites Indianapolis is actually 13 miles outside of downtown in the commercial neighborhood of Castleton.
Despite its distance from the city, this hotel sits directly off I-69 and I-465 and couldn't be easier to reach, especially if you're driving in from the north. Plus, there are a handful of attractions in the area that make a compelling case for staying in Castleton — namely, Indiana's largest shopping mall.
Back at the hotel, suites with kitchenettes, an indoor pool, and barbecue and laundry facilities provide all the essentials you could want in an extended stay. For bigger thrills, like a Pacers game at the Bakers Life Fieldhouse, downtown Indianapolis is a 25-minute drive south.
Award redemptions at this property range from 12,500 to 25,000 points. Cash rates average about $105 for a standard suite.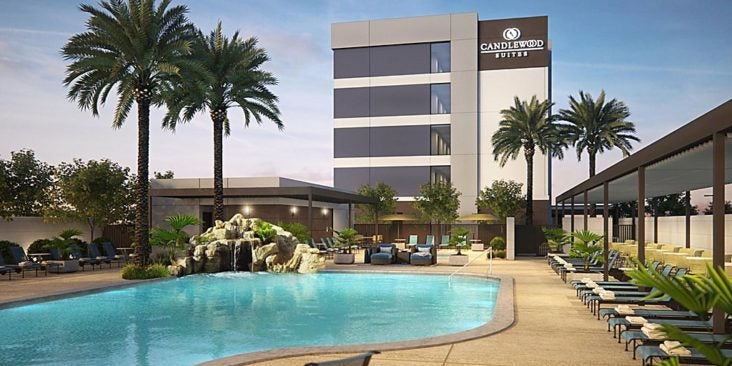 Mid-range hotel chains love Paradise Road. It's just far enough away from South Las Vegas Boulevard to escape the noise and lights of the Las Vegas Strip while still being within a mile of the action.
This is where you'll find Candlewood Suites Las Vegas-Convention Center Area — a straight 7-minute drive down the road from Caesars Palace and the Fountains of Bellagio. Whether you're in Vegas for an extended weekend or even longer, this Candlewood Suites is a solid, dependable place to stay in LV.
Along with suite-style accommodations and signature complimentary features — Wi-Fi, laundry, grills, an outdoor pool — the hotel also sits close to several business-centric spots including the Las Vegas Convention Center and McCarran International Airport (LAS), as well as the University of Nevada, Las Vegas.
Looking to redeem some points for an award stay? Overnight accommodations range from 10,000 to 12,500 points per night. Otherwise, cash rates for a studio suite average about $125.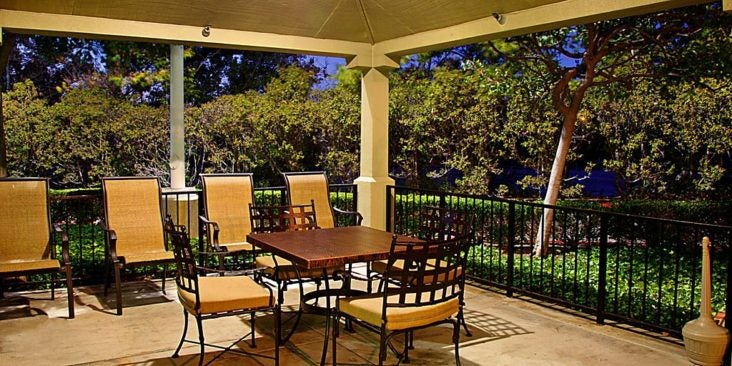 Irvine may be predominantly a business hub, home to major employers such as UC Irvine and Verizon, but its position sandwiched between Los Angeles and San Diego also makes it a convenient base for visiting both cities as well as area attractions including Disneyland (20 minutes away) and the shops, restaurants, and comedy clubs at the Irvine Spectrum Center.
As with all Candlewood Suites locations, suites are spacious and come with full kitchens and work desks that provide ample space for business projects. The regular rate also includes free Wi-Fi and access to laundry and fitness facilities, as well as a lending library of books and board games.
Sadly, there is no pool on the property, though a handful of California's best beaches, including Huntington and Newport Beach, are within a half-hour's drive. Its accessibility also can't be beaten: the hotel is close to John Wayne Airport (SNA) as well as multiple interstates.
Award redemptions range from 12,500 to 20,000 points per night at this property. Paid rates hover near $103 for a standard suite.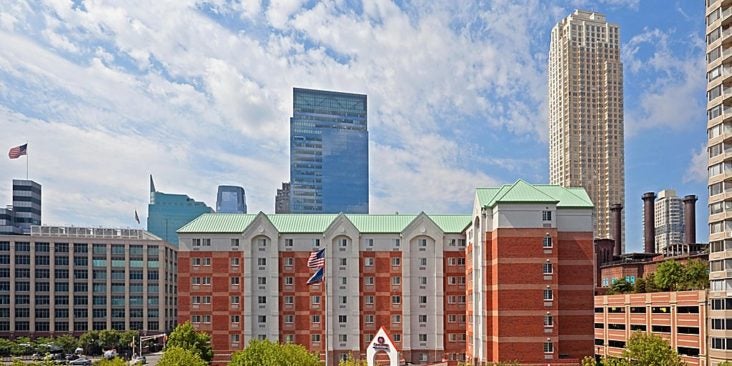 A real estate boom is rapidly transforming Jersey City's skyline, but you'll still find incredible value when you stay at the Candlewood Suites Jersey City – Harborside. The 214-suite hotel couldn't be better located in the city's financial district, within walking distance of big area attractions including the Harborside Financial Center, the Newport Centre shopping mall, and the riverfront.
The best rooms feature dead-on views of the Freedom Tower across the Hudson, but otherwise, suites run standard with full kitchens, work desks, and access to on-site amenities, including 24-hour business and fitness centers and a convenience store.
The hotel also runs a shuttle service to 2 local PATH train stations — New Jersey's subway system — which connects to Manhattan. MetLife Stadium, home to the Giants and the Jets football teams, is a half-hour drive away.
Award stays here run between 17,500 and 30,000 points per night, while cash rates average about $130 for a studio suite.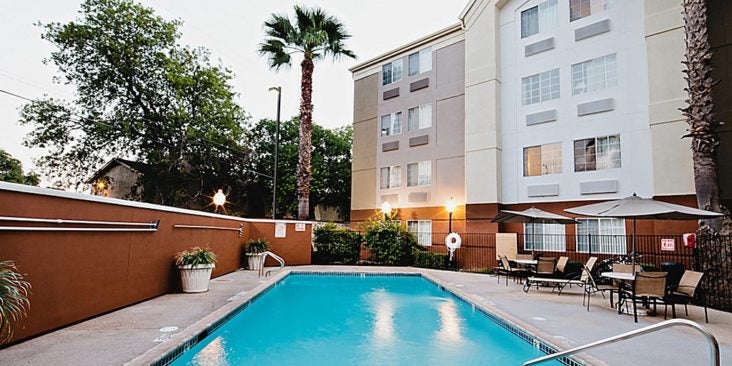 It's a toss-up as to which Candlewood Suites location — this one or the brand's newer property near Lackland Air Force Base — is more conveniently located in San Antonio. Both are within a 15-minute drive of downtown, home to the famous Alamo and restaurant-lined River Walk, as well as 25 minutes from SeaWorld San Antonio.
That said, the Candlewood Suites San Antonio NW Medical Center is better suited for business travelers looking to stay near the Christus Santa Rosa Hospital or the USAA headquarters, or families specifically planning on visiting Six Flags Fiesta Texas that is just 8 minutes away by car.
Back "home," expect all the standard Candlewood Suites features — suite-style accommodations with full kitchens and free Wi-Fi, an outdoor barbecue area, and a nice pool — and both books and movies on loan for guests looking to fill some downtime.
Whatever your method of payment, reservations here are surprisingly affordable for such a convenient location. Award redemptions run around 10,000 points per night, while paid rates average around $75 for a standard suite.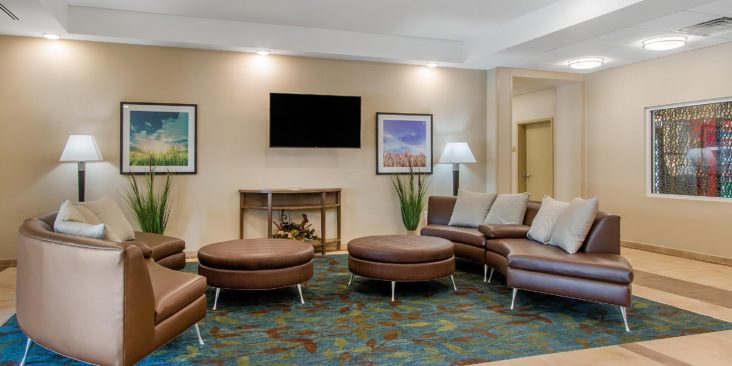 Candlewood Suites San Antonio Lackland AFB Area shares lots of features with its older Candlewood Suites neighbor near the Medical Center — with a few exceptions.
Besides the fact that the property has an indoor pool instead of an outdoor one and is a touch closer to SeaWorld San Antonio, Candlewood Suites' Lackland AFB location is also just a 15-minute drive from downtown San Antonio and features the same (albeit newer) brand amenities, including suites equipped with kitchens, complimentary Wi-Fi, and free-to-use barbecue and laundry facilities.
This spot is also equally popular with business and leisure travelers, though you'll see an influx of families during the spring and summer months when Lackland holds its graduation ceremonies.
It's important to note that stays here tend to be a bit pricier than the Candlewood Suites location near the Medical Center if you're deciding between the 2. Award night stays can be redeemed here for 12,500 to 20,000 points, while studio suites average about $100 if you're paying by cash or card.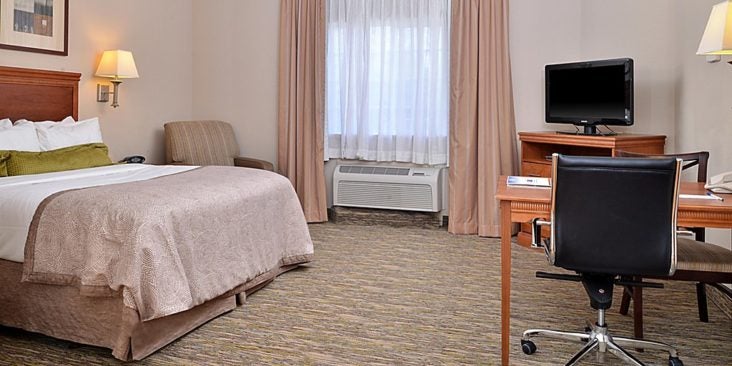 The historic town of Manassas in northern Virginia, an hour outside D.C., might not be as well-known as Williamsburg or Jamestown, but many events in early American history took place here including 2 Civil War battles now memorialized in Manassas National Battlefield Park.
Either traveling for business or seeking a leisurely stopover en route to D.C., visitors looking to stay more than a night in town will do well by Candlewood Suites Manassas — just 30 minutes from Washington Dulles International Airport (IAD) and right off of I-66.
Spacious suites with kitchenettes offer a spacious pad to relax after hours spent sightseeing or on business calls. Although there is no pool on the premises, you will find a grilling patio, 24-hour fitness and business centers, a self-service laundry room, and a Candlewood Cupboard that sells snacks and drinks.
Award stays can be redeemed for 10,000 t0 15,000 points per night. Paid rates average about $95 per night for a studio suite.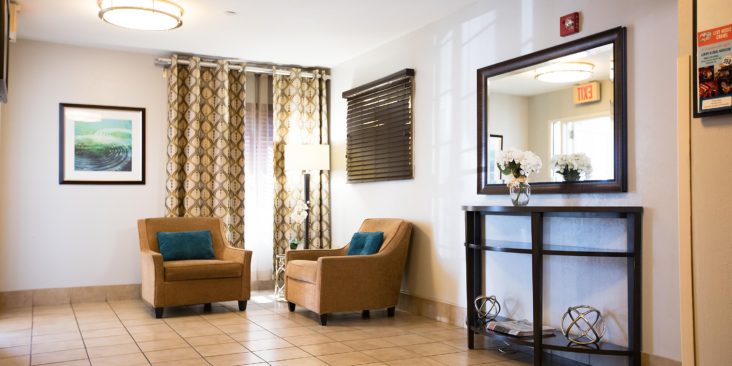 Candlewood Suites Austin-South is perfectly positioned directly off I-35 and State Highway 71 for easy in-and-out access to Austin as well as the Austin-Bergstrom International Airport (AUS).
Besides its easy accessibility, business travelers also love that the hotel is so close to major Austin corporations such as AT&T and Intel.
The pet-friendly policy welcomes furry family members, breakfast is available for purchase at the location's Candlewood Cupboard, and on-site amenities such as free Wi-Fi, laundry and fitness facilities, and outdoor barbecue grills keep guests feeling as "at home" as possible.
For an away stay, redemptions range from 10,000 to 15,000 points per night. Cash rates hover around $105 on average for a studio suite.
Final Thoughts
Extended-stay hotel brands are a world apart from your average hotel stay. Rooms are more like tiny condos with their kitchenettes and living areas while public amenities are limited to what long-term visitors need most.
In the case of Candlewood Suites, you won't find full-service restaurants, spas, or bars. Instead, every location features a laundry room, fitness and business center, convenience store, free Wi-Fi, grilling patio, and sometimes even a pool — all of which ensure a comfortable and convenient place to spend an extended stay away, wherever you choose to check in to.
Although Candlewood Suites mainly targets busy business guests with its straightforward design, basic amenities, and competitive room rates, truthfully, the brand suits any self-reliant traveler who doesn't mind (or even prefers) taking care of their own meals and entertainment.