The 16 Best Kenneth Cole Luggage for Travelers in 2021 [Suitcases, Backpacks & More]
If you want to make a real statement at the airport, what better way to do it than by brandishing a piece of designer luggage that looks much more expensive than it is and that has been designed to function perfectly in transit.
Inspired by the city streets of New York, most of the Kenneth Cole luggage pieces are named after local neighborhoods, and every item has been conceived with the needs of the urban traveler in mind.
Why Buy Kenneth Cole?
Way back in 1982, a young designer named Kenneth Cole became frustrated when he discovered that he could not afford to show his wares during the market week at the Hilton New York.
So, full of determination to make his finely crafted shoe collection available to trendy buyers and fashionistas, he set up a truck and sought to bypass the city's permit regulations that only granted utility companies and production companies permission.
Innovative and creative from the outset, he swiftly changed his company name to Kenneth Cole Productions, Inc and applied for a permit to shoot a full-length motion picture entitled "The Birth of a Shoe Company."
In just 2 and a half days, he and his "fake" production team sold forty thousand pairs of shoes, and a legend in the world of fashion design was born. Over the years, Kenneth Cole Productions has branched out into ladieswear, menswear, bags, and accessories and, more recently, into the lucrative luggage market.
Offering a range of backpacks, duffels, hard-sided suitcases, messengers, and day bags, all of his pieces offer a heady brand of innovative style and incredible practicality, available at much more attractive prices than most of his fellow luggage designers would even dare to offer.
Bottom Line: Made from high-quality materials, and featuring his signature logo and minimalist aesthetic, Kenneth Cole luggage comes with a lifetime limited warranty.
The Best Kenneth Cole Luggage
Hardside Luggage
Designer Good Looks and Impressive Construction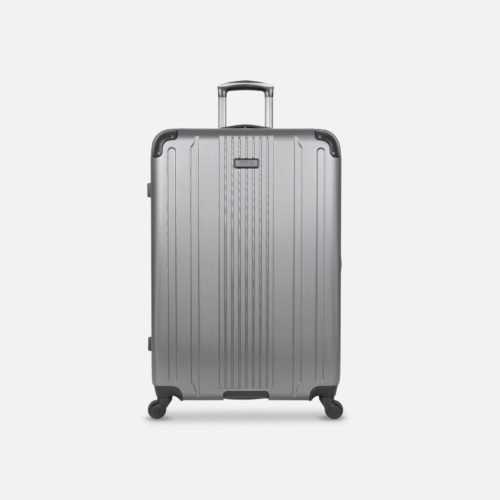 Dimensions: 30 x 20.5 x 11.25 inches
Weight: 9.8 pounds
Offering designer good looks, this stunning metallic silver suitcase is made of impressively dent-resistant PAP (a blend of PC and ABS materials), combined with molded corner reinforcements to offer the ultimate in impact resistance. Also available in 20- and 24-inch versions, you can create your perfect travel set made up of carry-on cases and check-in-size luggage.
On the inside, this case has a super-strong, tear-resistant lining and a large main compartment that is divided via a zipper compartment to offer dual-sided packing. 1 side offers a side zipper pocket for smaller items and garment restraints to hold your belongings in place, while the lidded compartment features a mesh zipper pocket for keeping loose items secure in transit.
Offering a smooth ride across the terminal, the 4 spinner wheels allow for 360-degree rotation, while the locking, retractable handle, and the padded grab handle make it easy to carry or pull your case alongside you.
Perfect for Stylish Travelers Who Demand More From Their Carry-On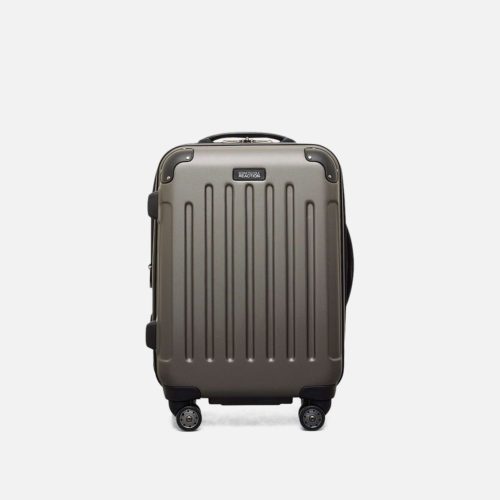 Dimensions: 22 x 16 x 12 inches
Weight: 7.65 pounds
As part of the highly sought-after Renegade collection, this carry-on case is made from strong and durable ABS materials, while still being lightweight enough to handle with ease. Also available in a range of stunning metallic colorways as well as 24- and 28-inch options, the Renegade carry-on is the perfect accessory for stylish travelers on the go.
The fully-lined interior is spacious and well-designed with multiple interior pockets to keep your smaller items safe.
There is a garment restrain panel to keep your clothes neatly organized and wrinkle-free, and 2 elastic shoe pockets. With the capacity to expand and offer a further 2 inches of packing space, this suitcase will help you maximize your carry-on capacity for longer trips and weekends away.
4 molded corner guards help to protect the carry-on from the usual bumps and knocks of air travel, and the self-repairing coil zippers will keep your clothes safely tucked away for many years of adventures.
Bottom Line: With smooth, multi-directional 8-wheel spinners that provide 360-degree rotation over any surface and a sturdy, locking. retractable telescopic handle, this case will glide with ease across the terminal.
A Stunning Rose Gold Suitcase That Performs as Beautifully as It Looks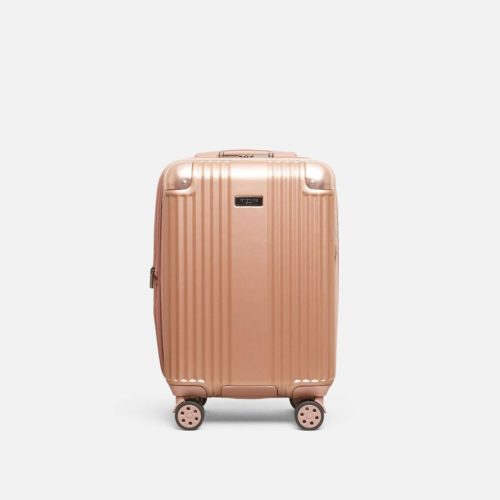 Dimensions: 22 x 14 x 9.5 inches
Weight: 9.5 pounds
This stunning rose gold carry-on suitcase offers a powerful mix of designer good looks and impressive practicality. This particular case also expands by a further 1.5 inches to add you extra storage space when needed. The Tribeca range is also available in larger 24- and 28-inch versions to create a luxurious travel set.
The main compartment is large enough to hold everything you need to a weekend or quick trip away, and the side zipper pocket is perfect for keeping your smaller items safe and well-organized. There is also a garment panel with additional pockets to separate the case into 2 distinct storage areas, and elastic tie-down straps to prevent your gear from moving around on the go.
Featuring 8-wheel 360 degree spinners, this carry-on can be wheeled through the airport with ease, and the flexible retractable handle and top and bottom grab handles make for super smooth lifting and pulling along beside you.
The Perfect Family-Sized Suitcase for Frequent Flyers
Dimensions: 30 x 20 x 11.5 inches
Weight: 10.5 pounds
Perfect for frequent flyers who like to travel in style, this large suitcase is made from durable ABS materials that make it incredibly hard-wearing and easy to stack and stow. Available in a range of stunning metallic colorways, the Lexington Avenue range is also available in 20- and 24-inch versions for those looking to create a matching designer luggage set.
With a clamshell construction, you can utilize both sides of the suitcase to hold your belongings. The U-shaped zip-around pocket helps to divide the interior into 2 usable spaces, and the zipper pockets keep your gear organized on the go. There are also elasticated garment straps to hold down your clothing to keep it wrinkle-free, even in transit.
Offering easy-to-use TSA-friendly locking zippers, your case should be safe from damage at security points, and the 8 spinner wheels offer 360-degree rotations to ensure a smooth ride. With a telescopic, retractable handle that has been ergonomically designed for improved comfort, this is a great suitcase for long journeys and far away adventures.
Stunning on the Outside and Incredible Practical on the Inside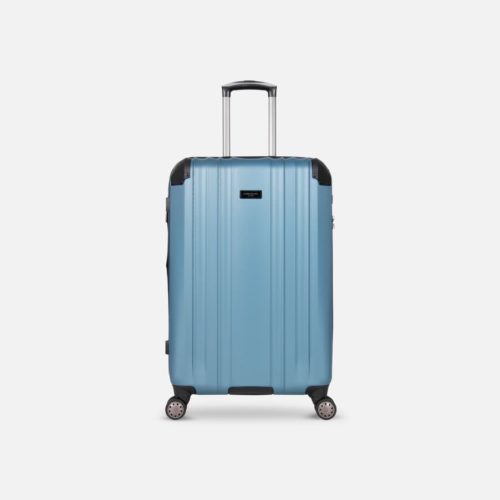 Dimensions: 26.5 x 17 x 12.75 inches
Weight: 9.5 pounds
This stylish hardside suitcase is available in a beautiful light teal color and also comes in 20- and 28-inch options. Made from lightweight yet durable ABS materials, this case will protect your belongings in transit while also being easy to stack and stow.
Featuring a clamshell design with 2 good-sized interior compartments and designer lining, this case is large enough to hold all of your travel essentials.
A large U-shaped zip-around pocket divides the case when necessary, and a mesh zippered pocket stores small or flat items. There are also elastic garment straps to hold your belongings in place on long flights and far away travels.
With 360-degree spinner wheels that offer super smooth maneuverability and an extendable and retractable handle, you can pull this case alongside you with ease.
Bright, Bold and Brilliant — Comes Complete With a Fold-Out Suiter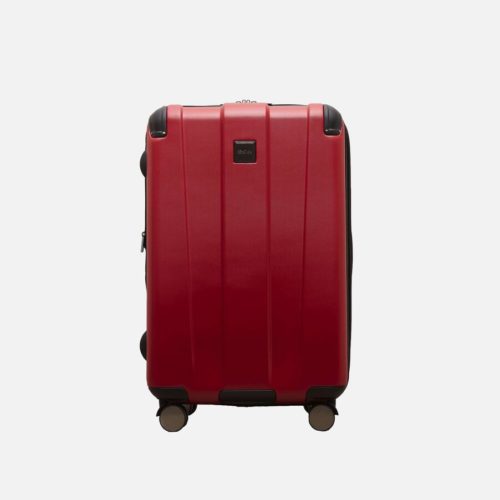 Dimensions: 26.75 x 17.9 x 10.5 inches
Weight: 9 pounds
With a hardshell exterior made from super-strong and durable ABS, this check-in size suitcase features molded reinforcement at the corners for maximum impact resistance. Available in stunning red color, and also in 20- and 28-inch options, this eye-catching suitcase is just right for uber-cool adventurers.
With a beautifully-lined interior, there is plenty of room to keep all your belongings. With the main compartment separated by a large U-shaped zipper pocket, 2 additional zipper pockets, and elastic shoe pockets, you can easily organize your packing. This particular model also includes a fold-out suiter or garment restraint panel, making this an excellent choice for business trips.
The 8-wheel spinner system will glide effortlessly through the crowds, and the locking, retractable trolley handle makes it particularly easy to maneuver.
A Super-Sized Suitcase for Even Longer Adventures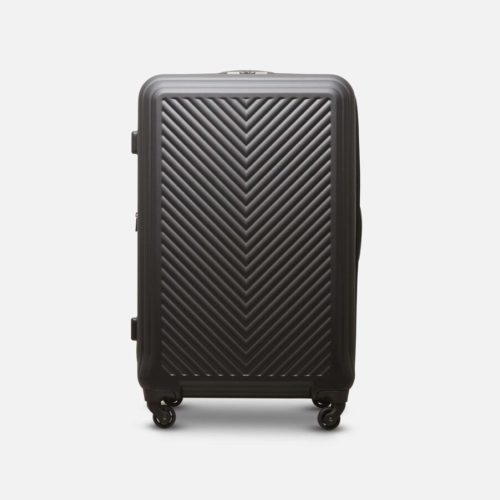 Dimensions: 29 x 18 x 11 inches
Weight: 11 pounds
A sizable suitcase for super-sized adventures, this hardside suitcase expands to offer a further 2 inches of packing space all round. Made from durable ABS material and offering stunning good looks, this case is also available in 20- and 24-inch options.
The roomy clamshell interior can be divided into 2 parts using the U-shaped zipper pocket, and the side zipper pocket and full-length mesh pocket make it easy to keep your smaller items safe. Garment straps will hold your gear in place on the go, and the tear-resistant lining adds a real feel of quality and sophistication.
For a smooth and quiet ride across the concourse, this case comes with 4 wheel spinners that offer 360-degree movement, and the retractable trolley handle extends to so you can effortlessly get where you're going.
Softside Luggage
A Smooth-Rolling, Upright Spinner Suitcase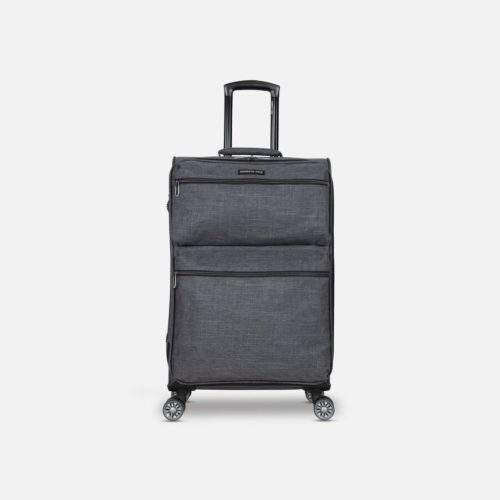 Dimensions: 24 inches
This lovely lightweight softside suitable is as sturdy as its ABS counterparts and is available in a sophisticated charcoal colorway. With a wide trolley handle and well-designed storage spaces, the Uptown Dweller is also available in 20- and 28-inch options.
On the inside, the elastic tie-down straps in the large main compartment will keep your clothing all in 1 place during transit, while the large mesh zip pocket in the lidded compartment is perfect for storing smaller items. With 2 large zippered pockets on the outside of the suitcase, you can also be assured of easy access to your travel essentials, as and when you need them.
This case can roll along beside you on the smooth and silent spinner wheels, while the retractable trolley handle is easily adjustable and makes it incredibly easy to maneuver through the terminal.
An Expandable Suitcase for Those All-Important Extra Inches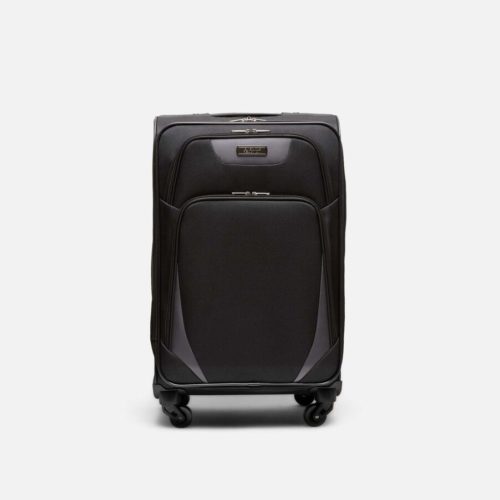 Dimensions: 26.5 x 16 x 11 inches
Weight: 4.8 pounds
Made from super strong 600D polyester, this lightweight yet durable expandable softside suitcase offers enough space to house your belongings for a long weekend or short trip away. Available in a choice of 3 different colorways and with additional 20- and 28-inch options, this is a practical choice for frequent flyers everywhere.
On the inside, the large main storage compartment is deep enough to hold all of your belongings, while the full-length side zipper pocket is useful for keeping your smaller items safe in transit. Elastic tie-down straps will hold your belongings in place during transit to ensure that they arrive well-organized and wrinkle-free.
The 2 large zipper pockets on the outside are designed to offer easy access to your most-used travel essentials, and this suitcase can also expand to offer a further 1.5 inches of storage space when you need it.
With 4 spinner wheels that glide seamlessly across any flat terrain and a retractable and adjustable handle, this suitcase offers sophisticated good looks and a practical storage solution for your next adventure.
Backpacks
A Great Looking Laptop Backpack for Work and Travel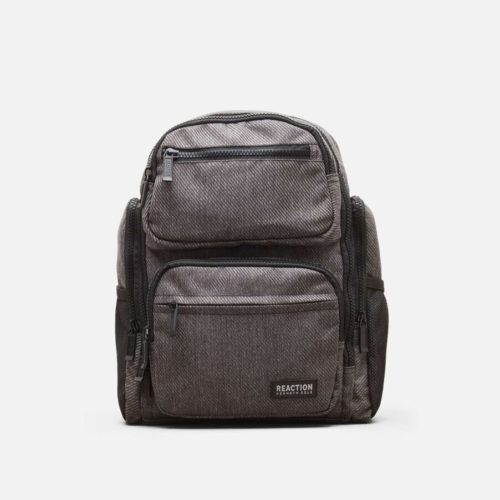 This gorgeous travel backpack offers designer looks and tons of practicality, with a dedicated laptop pocket and plenty of space for your day to day belongings. Perfect for trips away or the daily commute, this backpack is made from lightweight yet incredibly durable heathered twill 600D polyester material.
On the inside, the padded laptop compartment is large enough to hold laptops up to 15 inches in size, and the separate tablet pocket will keep your tech safe. This laptop backpack has been designed with organization in mind and comes complete with a front dual zipper pocket, bottom easy-access pocket, further mesh zippered pockets, mesh bottle holders, and a key fob.
To help keep your backpack comfortable as you carry it, the padded shoulder straps are fully adjustable to find the right length to suit your height, and the padded rear compartment keeps your laptop safely held close to you for extra protection on the go.
A Stunning Leather Look Laptop Backpack Complete With RFID Technology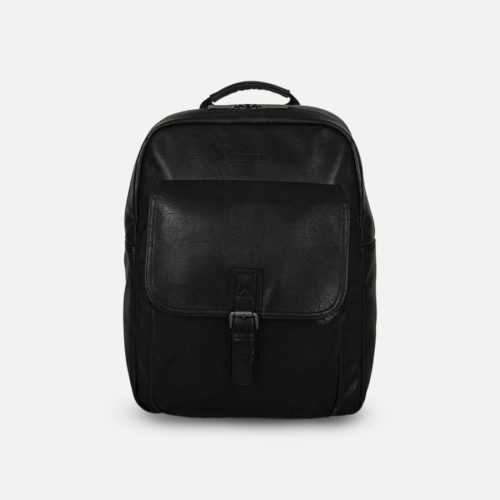 Dimensions: 12.5 x 7 x 16 inches
Weight: 2.4 pounds
This stunning faux leather laptop backpack is perfect for polished professionals, both at work and away. Designed to fit the male frame, this great looking piece of luggage comes complete with a tear-resistant lining with RFID-blocking technology to protect your belongings from theft and scammers.
The main compartment is incredibly spacious, and the padded laptop pocket can comfortably house devices with 15.5-inch screens. There is also a separate padded tablet pocket, as well as open-top accessory pockets. With a sleek, minimal design aesthetic, the front pocket has a flap-over cover for keeping your business essentials easy to reach.
Padded shoulder straps made from plush material sit comfortably on the shoulder and are easily adjustable to find just the right fit for every wearer. With a polyester lining and a wipe-clean coated PU exterior, this is a practical choice for everyday use.
Keep Connected on the Go With This Smart Little Laptop Backpack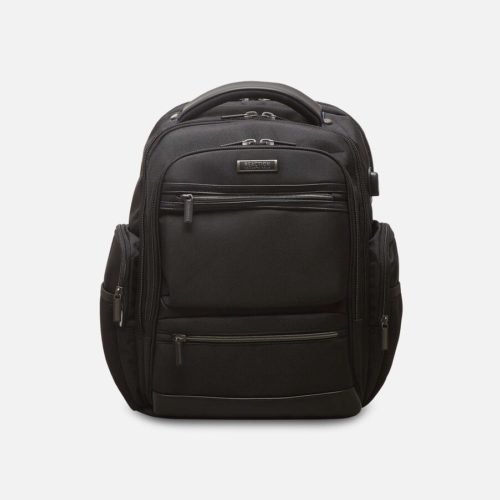 Dimensions: 17.2 x 13.1 x 9.5 inches
Weight: 3.1 pounds
With enough space to keep your laptop and devices safely stored in transit, it also offers a front compartment with a pass-thru USB cord for keeping your phone charged using your power bank.
On the inside, the padded laptop pocket can hold laptops with up to a 17-inch screen, while the tablet pocket is compatible with most tablet sizes. With further elastic mesh pockets and zippered pockets for easy organization, a front exterior pocket that features RFID-blocking technology helps prevent against electronic theft.
With a padded back panel with an air mesh to help aid circulation against your back and plush, adjustable shoulder straps, this is the perfect backpack for longer commutes. There is also a padded top handle for easy grabbing and a trolley tunnel that fits most upright trolley handles for hands-free carrying when you need it most.
Bottom Line: Made from tough 1680D polyester, this great looking backpack is perfect for those who like to stay connected on the go.
Offer Designer Style and Compact Dimensions, This Tech-Friendly Travel-Pack Is Incredibly Cool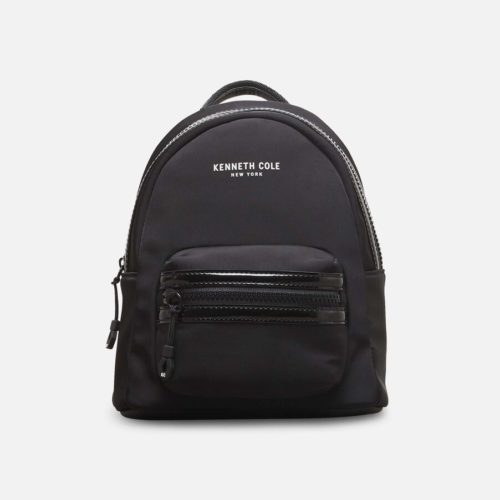 Dimensions: 9.4 x 7.9 x 3.9 inches
Weight: 2.1 pounds
Just right for city living, this compact backpack has enough room to hold a small laptop or tablet, and a hidden zip pocket with a headphone cord feed at that back. Great for the daily commute, and packed full of designer style and good looks, this little beauty allows you to stow your phone and listen hands-free, or enjoy good music on the go.
Made from matte woven nylon, and with super-cool rubberized pull tabs, this backpack looks as good on the outside as it performs on the inside. With A good-size main compartment that features smaller organizational pockets and panels, as well as a hidden, full-length zip-around bottom for stashing your lunch away from your belongings, this is a great backpack for work, school, or college.
Lightly-padded handles are easy to adjust, and the easy-to-grab top handle means you can pick it up and set it down in an instant.
Travel Bags
A Super Cool Belt Bag for Stylish City Dwellers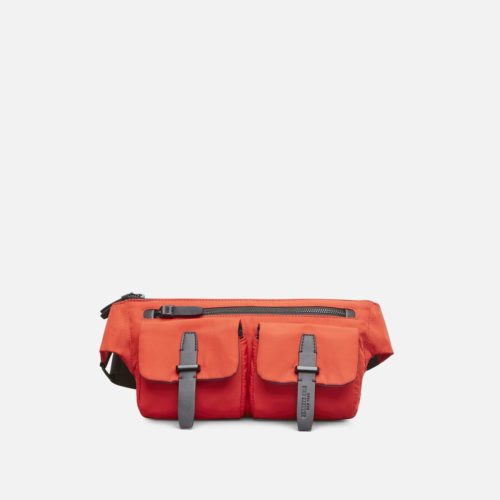 Dimensions: 11.5 x 6 x 1.5 inches
Weight: 1.3 pounds
The belt bag is back, and this time it's cooler than ever! The Kenneth Cole Maddox Belt Bag offers hyper-functional hiker chic for the urban adventurer. Suitable for women who want to keep their hands free and their essentials close, this innovative little belt bag is incredibly practical while still looking super cool.
Made from stunning woven nylon with a trendy matte finish, the belt bag is available in black, red, or animal print designs. With gunmetal hardware and a flex-fit adjustable belt strap, this bag looks as good as it feels when you are wearing it.
For easy storage, there are convenient top and side zippers, making it super-safe to stash and access your money, passport, and other essentials, while the zip pocket, slip pockets, and card slot on the inside help to keep it well-organized. There are a further 2 front magnetic snap pockets that add to the design while offering useful extra storage space.
A Stunningly Soft Leather Tote Bag With Enough Room for All of Your Essentials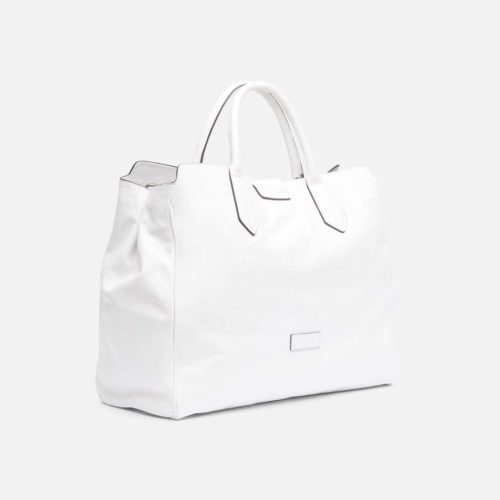 Dimensions: 11.5 x 6 x 1.5 inches
Weight: 1.3 pounds
A designer tote bag will never go out of style, and this one offers good looks and practical storage space by the bucketload. Made from beautifully soft leather, this structured tote bag is spacious on the inside and incredibly stylish on the outside.
Available in a classic clean white color, and featuring gold-colored hardware, this bag has a beautiful beige lining. The main compartment is easily big enough to hold your wallet, cell phone, sunglasses, and other essentials across the 2 open pockets and further large zip pocket.
With 2 carry options, you can carry your bag using the 2 top carry handles, or sling it across your body using the adjustable and removable crossbody strap. With side snap closures that allow you to adjust the bag to the size you need and a gold metal twist-lock closure, this bag is effortlessly stylish and incredibly timeless.
Utilitarian Chic Paired With Designer Looks and Practical Touches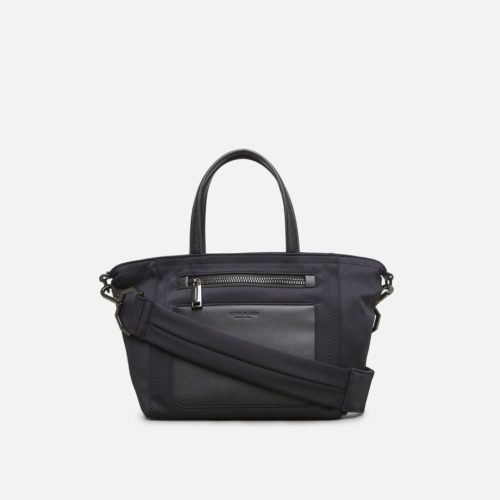 Dimensions: 9.5 x 8 x 6 inches
Weight: 1.1 pounds
This stunning tote bag redefines fashion with practicality and offers utilitarian chic with designer touches. Made from woven nylon with a modern matte finish, the red and black or solid black colorways are sleek and effortlessly fashionable.
Offering the sturdy feel of a backpack but with cleverly crafted features of a practical tote bag, the sizable main compartment has enough room to hold all of your day-to-day essentials. The long rectangular shape with expandable ends offers a simple shape for maximum storage, and the slim polished handles make it easy to carry alongside you.
With hidden zippers along the back of the bag and on the inside, you can keep your smaller items safely stashed away, while the detachable back strap makes it easy to sling the back across your body if you choose to. With a water-resistant finish, this is the ultimate bag for urban adventurers.
Final Thoughts
Offering innovative features, well-organized interiors, and stunning designer details, the Kenneth Cole luggage collection provides exceptional quality cases, bags, and backpacks at affordable prices.
Bright pops of color, textured exteriors, and incredibly maneuverable upright spinners — you are getting much more than just a designer label with Kenneth Cole.