5 Reasons the Brand New Frontier Airlines World Mastercard is Great For Families!
Back in June, Frontier Airlines invited several family travel bloggers and their families (myself included) out to their headquarters in Denver to make a couple of big announcements.
After looking at plenty of data, they had realized that although families make up a significant part of their customer base, their current frequent flyer program and co-branded credit card weren't providing much in term of benefits to the families that have been flying with them.
Rather than just continuing with what they were doing, Frontier Airlines decided to make some changes. They announced a refreshed myFrontier loyalty program and a brand new version of the co-branded credit card they offer with Barclays.
Both of these changes make the overall program more family-friendly. Let's start by taking a quick look at a few reasons why the new Frontier Airlines World Mastercard is great for families.
The Benefit
Unlock Family Pooling, which allows you to share miles and makes it easier to reach that next award redemption.
The cardholder can select up to 8 additional people to combine miles, or pool with. Miles from all 8 of those accounts will be transferred into the cardholder's account, and the balance can build up much faster.
Why It's Great for Families
Miles in the myFrontier program expire in 6 months without account activity. Pooling allows you to transfer miles earned by friends and family from their accounts into the cardmember's account. These are miles that may have otherwise expired, especially when you have kids that don't fly more than once or twice a year, and when they fly, it's not necessarily always on Frontier.
Pooling can make a huge difference when it comes to these potentially expiring miles.
Once the miles are pooled, the cardholder only has to make a purchase once every few months and the miles earned keep the pooled account active. There won't be any more orphaned miles in your kids' accounts when they don't fly with Frontier more often than every 6 months.
Hot Tip: Although we talk mainly about families in this article, Frontier Airlines' family pooling doesn't have to involve members of your family. It can be you and any other 8 people. Co-workers, friends, and travel companions can all be a part of your pool.
Elite Status Extends to Family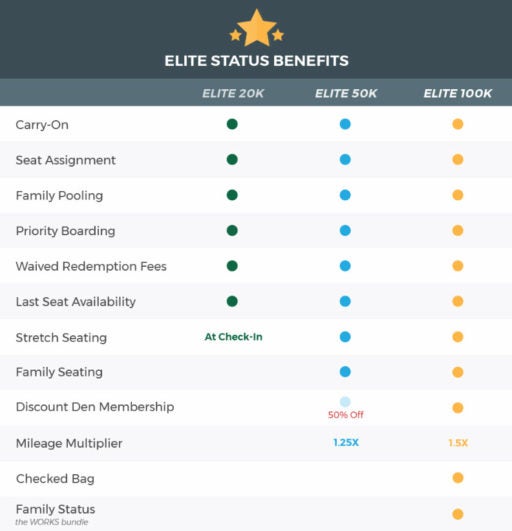 The Benefit
Frontier Airlines World Mastercard holders can spend their way to elite status with the airline. myFrontier members will earn 1 qualifying mile for each dollar spent on purchases with the card. Elite status can be earned by spending as little as $20,000 in a year on your card.
Why It's Great for Families
Once you reach the higher elite levels, through credit card spend, flying, or a mix of the two, benefits begin extending to your family. This includes up to 8 traveling companions on the same reservation as the elite member.
The 50k elite level unlocks family seating at no additional charge, and if you reach the 100k level, your entire family gets the WORKS bundle when they fly with you. The WORKS bundle at the 100k elite level includes the following benefits for everyone in your party:
Free carry-on bag
Free checked bag
Seat selection
Priority boarding
Flight flexibility
100% refundability
Obviously, those are some great features for traveling families. The ability to change or cancel flights when a child gets sick or a relative needs you to be home could really come in handy.
Hot Tip: Did you book an award flight and need to cancel? We've got a step-by-step on how to cancel award Frontier flights. 
With spending and flying, that top-tier elite level with Frontier Airlines is attainable for many families. Even if you can't reach the top tier, family seating at no charge is a nice benefit at the 50k level. Although the checked bag and seating assignment at the 20k level only applies to the elite member, even those can cut your costs a bit when traveling with your family.
Award Redemption Fee Waiver

The Benefit
Award redemption fees will be waived for the primary cardmember when booking award flights with Frontier.
Why It's Great for Families
When families travel together, costs can add up pretty quickly. Anything that can be done to reduce those costs helps families afford nicer meals, more activities, or more souvenirs at their destination.
Although waived award redemption fees don't extend to all of your family members, if the adults in your family each have the Frontier Airlines World Mastercard, they can get their booking fees waived. Waived fees can result in significantly lower costs depending on when your flights are booked.
Redemption fees are waived when miles from the cardmember's myFrontier account are used. heT cardmember will still be responsible for paying the government and airport assessed taxes and fees, starting at $5.60 for a one-way ticket.
Priority Boarding
The Benefit
The cardmember receives Zone 2 boarding when flying with Frontier. Cardmembers must be logged in to their myFrontier account when booking or have their myFrontier number attached to their reservation to be eligible for this benefit.
Why It's Great for Families
Although priority boarding only applies to the cardholder and not their entire party, this can still be helpful for families with children who are 5 and over. Families with children under 5 can board before Zone 2, so those families will not need to take advantage of this benefit.
For those with older children, either one or both parents will be able to get onboard earlier than with their normal tickets. Priority boarding will allow them to get the larger carry on bags stowed without worrying about overhead space. They can even save a little space if the kids are bringing overhead bags as well. Of course, this works best if both parents have the Frontier Airlines World Mastercard.
Hot Tip: You can find more information on Frontier's boarding groups and boarding process here. 
Great Coverage in the U.S.

The Benefit
Frontier Airlines has an ever-expanding coverage map within the United States, with over 90 cities covered. They claim to serve 90% of America with over 300 non-stops and 1,500 connecting options daily.
Why It's Great for Families
The more cities Frontier has flights to, the closer you can get to your out-of-town family members.
With low rates across the country, Frontier Airlines has a goal of making it possible for everyone to fly to see their friends and families, no matter where in the U.S. they live. Sure, a Facetime happy birthday from Grandma is great, but wouldn't it be even better if Grandma was there for your son or daughter's birthday?
The week we met with Frontier, they added service to 3 new cities, and they have similar plans throughout the rest of the year. Frontier Airlines has committed to buying more than 45 new planes over the next 4 years, which means more daily flights, more cities, and even more opportunity to see the ones you love.
Hot Tip: Need more miles? Check out these great ways to earn more Frontier miles.
Final Thoughts
Frontier Airlines isn't for everyone. They are an ultra-low-cost carrier and charge fees for everything, including seat assignments, carry-on bags, and beverages on board.
Frontier planes fly more per day than most other airlines, so when one has a mechanical issue, it can mess up a whole bunch of later flights that day. If a flight cancels, limited frequencies to some destinations may mean it's tough to get another flight to your destination.
All that being said, if you know what to expect when flying a low-cost airline and you have a bit of flexibility when you travel, Frontier Airlines has some of the lowest prices available for many routes.
With these changes, they also now have a much more family-friendly credit card.
In addition to the new credit card, keep an eye out for a future post about the newly refreshed myFrontier loyalty program. Combine that with the Frontier Airlines World Mastercard, and you have a duo that your family will love.
Although you know that those of us here at Upgraded Points love our luxury travel, there is no denying that an ultra-low-cost carrier is often the cheapest and sometimes the best way to get from point A to point B, especially when you're buying flights for your whole family.
If that's the case for where you need to go, pick up the new Frontier Airlines World Mastercard today, join the myFrontier loyalty program, and maybe we will see you up in the sky.