Capital One Platinum Credit Card – Full Review
"Great choice for those with no credit history or a low credit score."
On Upgraded Points, you'll normally find accolades on the best travel rewards cards or sharing advice on how to use your miles and points to score the latest and greatest airline suite across the ocean.
However, if you have less than excellent credit, or no credit at all, building a bank of miles or points and flying off to Europe on holiday may seem like an unrealistic dream. While it's certainly not an easy journey, when it comes to building credit, everyone has to start at base zero.
Let's take a step back from the world of miles and points and focus on that beginning. Or, in the case of less-than-perfect credit, creating a new beginning. This is where the Capital One Platinum Mastercard may fit into your plan.
If you're ready to get serious about building or rebuilding your credit, you'll want a credit card for which approval is probable, one that has a simple structure and is easy to manage, and ideally, has some benefits you can use.
Here's a look at the CapOne Platinum card, its attributes, and its downsides. You can then decide if it's the right card to carry on your journey to excellent credit and subsequently, the associated rewards.
Pros
No annual fee
Free credit monitoring
Price protection and extended warranty protection
Cons
Does not earn rewards
The high APR can be costly if you carry a balance
CapOne Platinum - Card Snapshot
Welcome Bonus & Info

(Partner Content)

Pay no annual fee
Be automatically considered for a higher credit line in as little as 6 months
Fraud coverage if your card is lost or stolen
Use online banking to access your account, even from your smartphone, with our mobile app
Check out quickly and securely with a contactless card, without touching a terminal or handing your card to a cashier. Just hover your card over a contactless reader, wait for the confirmation, and you're all set
Pay by check, online or at a local branch, all with no fee - and pick the monthly due date that works best for you
Get access to your account 24 hours a day, 7 days a week
Help build your credit through responsible use of a card like this

Card Categories:

Related Articles
The Ideal Cardholder
As mentioned earlier, it's possible to improve your credit without incurring expenses. The CapOne Platinum card facilitates this by not charging an annual fee, providing free tools to help you manage your credit, and providing complimentary useful benefits.
No Annual Fee or Security Deposit
You do not need to pay an annual credit card fee or come up with a security deposit to start the credit improvement process. One of the big benefits of the CapOne Platinum card is that it does not charge an annual fee and, unlike secured credit cards, there is no upfront deposit needed to be approved.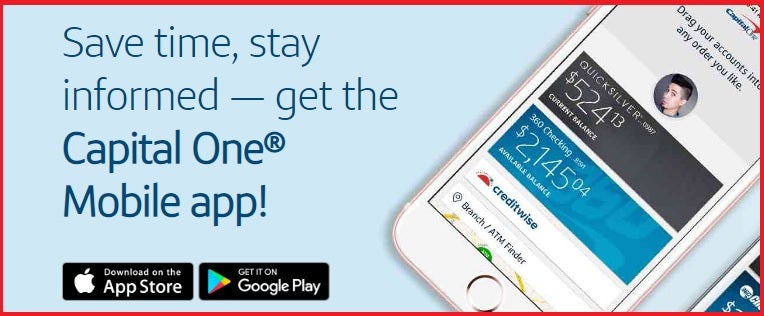 Convenient and Simple Online Account Access
Capital One provides an easy-to-use mobile app for managing your CapOne Platinum card. You can set up handy payment reminders, keep track of your transactions, and monitor your account at any time. You can also manage your account online on your laptop or PC.
Free Credit Monitoring
Keep an eye on how you're progressing towards your goal of good credit with the CreditWise tool. Capital One provides unlimited access to keep track of your credit score and tools to help you manage your progress.
Pick Your Own Due Date
Selecting a payment due date that coincides with your paycheck may help you keep your account current and make building an on-time payment history easier.
Earn a Higher Credit Limit
You can count on a minimum credit limit of just $300 when you're approved for the CapOne Platinum card. Make 6 consecutive on-time payments, however, and you will be eligible for a credit limit increase.
No Penalty APR for Late Payments
Many credit cards impose a severe elevated APR when payments are made after the due date. The CapOne Platinum card does not. You would just pay the normal APR, which is shown in the tables below.
Great Card If
You're looking for a card to build your credit
You want a card with no annual fee or security deposit
Don't Get If
You already have a good credit score
You want to earn credit card rewards
CapOne Platinum - Fees
Annual Fee

Interest Rates

Late fees

Balance Transfers

26.99% Variable
Fee: $0 at this Transfer APR

Cash Advance APR

26.99% Variable
Fee: Either $10 or 3% of the amount of each cash advance, whichever is greater.
Alternative Cards To the CapOne Platinum Card
Secured Credit Cards
Secured credit cards are easy to qualify for and can help you jump-start your credit building journey. For more information, see our list of secured credit card options for those with bad or no credit.
Self
A Credit Builder account with the company, Self (formerly Self Lender), can create a credit history where none existed. The account is basically a CD that is held with the company, you make payments until it is paid off, and in the meantime, Self reports your activity to all 3 credit bureaus. Read all about this credit-building alternative in this complete guide to Self.
The Gritty Details: Everything Else You Need To Know
Carrying a balance on your CapOne Platinum card can cost you big. With a high APR, that adds up when you carry a balance. It's important to remember why you have this card and focus only on improving your credit. Limiting purchases to only those you can pay off each statement period will build the credit you need and avoid any unnecessary interest charges during the process.
You won't be earning points or miles for spending on the card. Keep in mind that you also may not have received an initial high credit limit so the number of points and miles you're missing out on would be very small anyway.
For example, if you spend $150 per month for 12 months, you've spent $1,800. A 2% cash-back card would have generated $36 in rewards. Not having earned $36 in rewards in exchange for improving your credit score is a fair trade-off.
While the card promotes that it does not have balance transfer fees, this card is not a vehicle for transferring high-interest balances from other credit cards. The high APR negates any benefit in doing so in nearly every case. We've written about the best credit cards for balance transfers if that's something that is important to you.
---
Featured Image Credit: Capital One
Frequently asked questions
Is the Platinum card from Capital One worth it?
The CapOne Platinum card is worth it if you do not have a credit history or have at least fair credit and want to build or rebuild your credit. Since the card does not charge an annual fee, it can be a cost-effective way to start the process.
The initial credit limit granted on the card can be as low as $300 but if you make 6 monthly on-time payments you could qualify for a higher credit limit.
If you cannot qualify for a rewards-earning credit card, the CapOne Platinum card could be a plausible alternative to make progress towards a better credit score without paying an annual fee.
Is the CapOne Platinum card a secured card?
The CapOne Platinum card is not a secured credit card and therefore does not require the upfront security deposit that is required with a secured card in order to be approved.
The CapOne Platinum card is a normal unsecured credit card with an assigned credit limit, credit management tools, and benefits you can use. The card also reports your activity to all 3 credit bureaus on a monthly basis making it an appropriate option for building or rebuilding credit.
Does the CapOne Platinum card earn miles or points?
The CapOne Platinum card was designed to help build or rebuild credit. It does not earn miles or points. It also does not require an excellent credit score to be approved, like most reward-earning credit cards. Additionally, it does not charge an annual fee.
What is the credit limit on the CapOne Platinum card?
The credit limit you receive when you are approved for the CapOne Platinum card will be at least $300. It could be higher as the amount is based on your creditworthiness as determined by Capital One. Once you have made 6 consecutive on-time payments, you are eligible to receive a higher credit limit.
Does the CapOne Platinum card have an annual fee?
No, the CapOne Platinum card does not charge cardholders an annual fee.
Travel prices are about to surge from pent-up demand.
Use this points strategy to lock in pennies-on-the-dollar pricing in 2021, all without being a frequent flyer...
How do I only pay $30 to go to Hawaii, $200 for business class to Asia or just $150 to Europe?
Discover the real-life strategies that anyone can use to enjoy limitless travel (even on a limited budget!)
Just sign up below and I'll send you the Limitless Travel Playbook instantly:
We respect your privacy. Please view our privacy policy here.