The Overstock Store Credit Card — Is It Really Worth It?
The Overstock Store Credit Card is a good option for those people who frequently shop at Overstock.com and are looking to receive rewards for their spending. This card doesn't have an annual fee, allows you to get free interest (for a set time period) on your spending, and comes with some cardholder rewards.
Card issuer Comenity Bank works with hundreds of well-known companies and it tailors the rewards programs and bonuses specifically for the customers of the retail partner — in this case, Overstock.com. The card is great for people in the good to excellent credit (580 to 850) range and you can get approved in as little as 60 seconds!
There are some major drawbacks to this card, though. Mainly, it isn't very versatile, has a very high APR, and comes with the potential for high fees due to deferred interest. We'll breakdown all the pros and cons of this card in order for you to decide if this is the right card for you.
Overstock Store Card at a Glance
CREDIT CARD
CARD INFO
Overstock Store Card

No annual fee
Welcome offer of $30 when you spend $300
Interest Rate: 26.99% variable APR
Recommended Credit Scores: 580+
Approved in as fast as 1 minute
Fees:

Late Payment Fee: up to $40
Returned Payment Fee: up to $40
Additional Cardholder: $0
The Overstock Store card lets you enjoy exclusive cardmember offers and receive special financing while shopping on Overstock.com. The card can only be used on Overstock.com.
Bottom Line: Since this card is only valid at Overstock.com, you are unable to use this card at other retailers or to take out cash at an ATM.
You can also earn $30 in "Welcome Rewards" on your first order when you spend over $300 (without taking part in the special financing promotion).

There are no fees associated with opening an account or keeping an account open. As with all credit cards, you must make on-time payments to avoid interest and other fees. However, if you qualify for special financing offers, you are able to defer the interest payments for the associated time periods noted below.
The Overstock Store card does not have an expiration date and is valid as long as you use it. Comenity notes that "inactive accounts may eventually be canceled for security purposes."
You can add up to 4 authorized buyers on your account as well, so if you have family members that also shop at Overstock.com, this might be a convenient feature as well.
Bottom Line: Remember that as the primary cardmember, you are financially responsible for all balances on your account, including transactions made by your authorized buyers. 
Current Financing Offers
If you are planning on making a big purchase from Overstock.com, taking advantage of the special financing might be appealing to you.
The following plans were available as of June 2020 with minimum purchase thresholds:
No interest if paid in full within 6 months with a minimum purchase of $249
No interest if paid in full within 12 months with a minimum purchase of $499
No interest if paid in full within 18 months with a minimum purchase of $1,499
No interest if paid in full within 24 months with a minimum purchase of $1,999
Hot Tip: Financing offers are valid on single transaction totals only.
Remember that if you miss a monthly payment or don't pay off your balance in the times noted above, you will be subject to deferred interest on the entire balance retroactively from the time you opened your account.
This means that you will be required to pay all of the interest you would have incurred during the plan. Comenity also notes that "interest will be accrued on the original purchase amount," so even if you've made payments, you will still be stuck with paying interest on the full amount. Yikes.
So this seemingly "no interest financing" can quickly add up to big dollars if you don't pay off the entire balance — especially considering the high APR that this card charges.
Overstock Store Card Application
Applying for the Overstock Store card is simple; just head over to the Overstock website.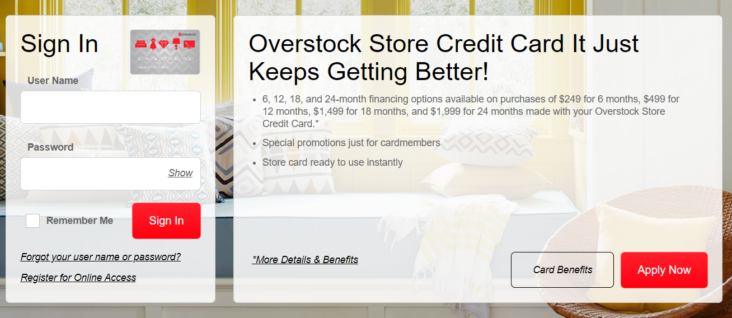 If you want to potentially avoid a hard credit inquiry, you can also try the "shopping cart trick." This means that a credit card offer from Comenity Bank may pop up with an incentive to apply as you are online shopping.
Hot Tip: If the offer requires you to input your full Social Security number, it will likely result in a hard pull on your credit report. 
If you have a good (or better) credit score, it is relatively easy to qualify for this card, but you will still need to meet other minimum requirements.
You must:
Be at least 18 years old
Be a legal resident of the U.S.
Provide:

Your name

Address

Personal contact information

Date of birth

Social Security number

Proof of stable employment
How to Increase Your Credit Limit
Your initial credit limit is based on the creditworthiness you had when you applied for the card. If you want to increase your credit limit, head over to the Overstock card account center to request a credit limit increase (or decrease). You will need to enter your account information to see if you qualify.
You can also request a credit limit increase by calling Comenity Capital Bank's customer care at 855-810-2546.
Paying Off Your Card
There are multiple options you can use to make payments on your card. All payments must be received by 8 p.m. EST on your due date to avoid fees!
Online
You can log on to your Overstock credit card account online. There is not a mobile app, but you can access the website from a mobile device.
From here, you can access your monthly bills and enroll to receive paperless statements. You can log on to your online account in order to make payments via bank transfer or electronic payment. You can make online payments 24 hours a day, 7 days a week.
Unfortunately, you cannot make a payment with a debit card or from banks located outside of the United States.
EasyPay
If you don't want to log on to your account (or haven't registered your account online), there is also the option to use Comenity's EasyPay tool.
It will ask a few pieces of identifying information, then provide just enough access to make a payment without giving access to any other information from your account.
Bottom Line: You can only make payments by using EasyPay, so you must create an online account or call customer service if you needed to make other changes to your account.
By Phone
You can make payments and manage your account by calling 855-810-2546.
Benefits of the Card
If you are a regular shopper at Overstock.com, the Overstock store card can be a good way to earn some small rewards, take advantage of free financing, and improve your credit score.
Approval Odds/Quick Approval
If you have a good to excellent credit score (meaning 580 or higher), you will likely be approved for this card. Because conditional credit approval is automated on the website, you may get a decision on your application within 60 seconds!
In addition, you may also be able to bypass a hard credit inquiry and be pre-approved via the shopping cart trick noted above.
Up to 24 Months Free Financing
If you can pay off your entire balance within the time frame noted on your promotional offer and you are consistent with making timely payments, you can take advantage of free 0% financing!
Initial Discount Offers
This Overstock credit card gives you $30 back in rewards on your first Overstock.com order of $300 and above without financing. That's not the biggest first-purchase bonus available from a store credit card, but it's definitely not terrible, either.
No Annual Fee
Overstock offers a great option for people looking for a low-maintenance card. It gives you the benefits of a credit card, but you don't have to pay an annual fee for the privilege. The lack of an annual fee is nice, but to be fair, hardly any store credit cards have annual fees.
Reports to All Credit Bureaus
The Overstock card reports your account activity to the 3 major credit reporting agencies (Equifax, Experian, and TransUnion). This means that making regular on-time payments will demonstrate your financial responsibility and can help improve your credit score.
Drawbacks of the Card
This card has some big downsides, including a high potential for fees with little reward and limited use capabilities.
Can Only Use at Overstock.com
This one is pretty self-explanatory, but you can only use this card on Overstock.com. This means you can't use it at any other retailers and are unable to use the card to take out cash at an ATM.
Deferred Interest Financing
This Overstock credit card offers an introductory rate of 0% on new purchases for 6 to 24 months, depending on the cost of what you buy. But because of deferred interest, if you don't pay off your balance in full or you miss a monthly payment, the high APR will retroactively apply to your entire original purchase amount.
Limited Rewards
You receive a special birthday offer and exclusive access to cardholder events, such as early sale access.
Unlike many credit cards, you don't earn rewards on every purchase when you use this card. In addition, beyond the initial sign up bonus, there are no other rewards or cash-back incentives to earn.
How to Contact Overstock's Customer Service

To contact Customer Service directly, call 855-810-2546. Customer care specialists are available Monday to Saturday from 8 a.m. to 9 p.m. EST.
If you prefer to contact by mail:
Comenity Capital Bank
P.O. Box 183003
Columbus, OH 43218-3003
Alternative Credit Cards (Our Recommendations)
There are several cash-back credit cards that would likely earn you more in value than the Overstock Store card, and certainly with lower APRs initially.
If you want a more versatile card that still helps you save on financing costs, consider the Bank of America Cash Rewards card. You can earn 3% cash-back in the category of your choice, with online shopping as one of the available options.
In addition to the welcome offer of $200, you'll also earn 2% cash-back at grocery stores and wholesale clubs and 1% cash-back on all other purchases. This no annual fee card also offers 0% APR for purchases for 15 billing cycles.
You may also consider the Chase Freedom Unlimited® card that comes with a generous welcome bonus, no annual fee, and an introductory APR offer. Overstock.com is also a featured retailer at Shop Through Chase, where you can currently earn 2 points per $1 spent when starting your purchase at the Chase shopping portal.
Hot Tip: Rakuten is an online shopping portal where you can earn cash-back for shopping at your favorite stores, including Overstock.com. You can even earn American Express Membership Rewards points in lieu of cash-back!
Final Thoughts
While you can only use this card at Overstock.com, if you're a loyal shopper, you'll find some small perks with this store card. The welcome rewards, no annual fee, and special financing make this card appealing if you're planning on making a big purchase. It is also a good way to build credit since Comenity reports your credit history to all 3 credit bureaus.
However, if you might not be able to pay off your card by the end of the financing period or make timely payments, the Overstock Store card could add up to huge fees because of the deferred interest and high APR. That, coupled with the limited reward potential, means that you might be better served with another card.
---
The information regarding the Overstock Store Card, Bank of American Cash Rewards Card, and Chase Freedom Unlimited® Card was independently collected and not provided nor reviewed by the issuer.