The 7 Best Ways to Redeem Aer Lingus AerClub Avios
Aer Lingus AerClub launched in December 2016 as part of the Avios family with British Airways, Iberia, and additional airline partners.
Avios is complicated: while the points are the same, which program they sit in influences your award ticket availability, options, prices, and booking method. You can be booking the same flight with your Avios, and get 3 different Avios prices and fees!
AerClub uses the Avios.com website for all award ticket bookings. Compared to British Airways Executive Club and Iberia Plus, even flight availability can differ. But complexity can mean opportunity if you take the time to learn!
The great recent news for U.S.-based travelers is that Chase Ultimate Rewards transfers to Aer Lingus AerClub and Iberia Plus, in addition to previously available British Airways Executive Club transfers. Rather than the complicated and error-prone "Combine My Avios" process, these direct transfers are simple and instant.
We have previously highlighted the best ways to redeem British Airways Avios. Now let's compare to AerClub Avios and see what values we can unearth!
Aer Lingus Credit Card Partners
Aer Lingus Visa Signature® Credit Card
Chase has launched the Aer Lingus Visa Signature® Credit Card. You'll earn 3 Avios per $1 on Aer Lingus, British Airways, Iberia, OpenSkies, and LEVEL, and 1 Avios per $1 elsewhere.
If you spend $30,000 annually, you can earn a companion certificate for economy class travel between the U.S. and Ireland.
Chase Ultimate Rewards Credit Cards
Collecting Chase points by using a Chase credit card is one of the best ways to earn AerClub points, because Chase points are:
Recommended Chase Cards (Personal)
Chase Sapphire Preferred® Card - This is our favorite beginners travel rewards card which has a 60,000 point bonus (highest ever) after you spend $4,000 on purchases in the first 3 months from account opening.

This sign up bonus is worth $750 in travel purchases (flights, hotels, car rentals etc) when you redeem your points through Chase's travel portal, which works like Expedia. The bonus alone could get you multiple round-trip flights or hotel stays.
Chase Sapphire Reserve® - Consider this premium card if you want to get into a lot of airport lounges. The current sign up bonus is 50,000 points after you spend $4,000 on purchases in the first 3 months from account opening. You'll also get a $300 travel credit per year which wipes away a big chunk of the $550 annual fee.
Chase Freedom Unlimited® - A simple, no annual fee card that earns you a $200 bonus after you spend $500 in your first 3 months. Earn 1.5% cash-back on all purchases, but you won't get any travel benefits or the ability to earn bonus points with this card.
Recommended Chase Cards (Business)
Ink Business Preferred® Credit Card - This is our #1 recommended business card and right now comes with a 100,000 sign up bonus after you spend $15,000 on purchases in the first 3 months after account opening. This bonus is worth $1,250 when you redeem through Chase Ultimate Rewards for travel purchases (flights, hotels etc). Pay your cell phone bill with this card to receive up to $600 in cell phone insurance coverage per year.
Ink Business Cash℠ Credit Card - earn $500 bonus cash back after you spend $3,000 on purchases in the first 3 months after account opening. This no annual fee business card earns up to 5% cash back on a range of business expenses such as office supply stores, internet, cable, and phone services.
The 8 Best Ways to Redeem Your Aer Lingus Avios
1. Off-Peak North America East Coast to Ireland in Economy for 13,000 Avios and No Fuel Surcharges (Aer Lingus)



British Airways moved Boston 14 miles west on its Avios award chart. This means the famous ultra-cheap Boston to Dublin award is no more.
Most of the year is off-peak for Aer Lingus, except summer months and some dates around Christmas and New Year's — many fewer peak dates than British Airways or Iberia. For an off-peak ticket, it'll only cost you 13,000 Avios!
Aer Lingus is expanding U.S. East Coast capacity to:
Boston (7 per week)
Hartford (3 per week)
New York (18 per week)
Philadelphia (2 per week)
Washington (4 per week)
Toronto (4 per week)
Chicago (10 per week)
Minneapolis (5 per week) from July 8, 2019
Montreal (7 per week) from August 8, 2019
Los Angeles (7 per week)
Hot Tip: If you want to understand Aer Lingus' route network in detail, check out our definitive guide to Aer Lingus' direct routes from the United States.
2. Off-Peak Rest of U.S. to Ireland in Economy for 16,250 Avios and No Fuel Surcharges (Aer Lingus)



Beyond the U.S. East Coast, other North America-Dublin routes top out at 16,250 Avios.
Services will be:
Orlando (3 per week)
Miami (3 per week)
Seattle (3 per week)
Los Angeles (4 per week)
San Francisco (7 per week)
3. Off-Peak North America to Ireland in Business for 50,000-62,500 Avios and No Fuel Surcharges (Aer Lingus)
While not the bargain basement deal of economy, off-peak North America-Ireland business class goes for 50,000 Avios from the East Coast and 62,500 Avios elsewhere.
This is competitive with other frequent flyer programs…but when you add onward connections to the UK and Europe, prices become less competitive.
Hot Tip: For more options check out our detailed guide to using points and miles to fly to Ireland.
4. Off-Peak North America-Anywhere Aer Lingus Flies (Aer Lingus)
Avios awards are priced by distance per segment. A nonstop off-peak award from Boston-Dublin costs 13,000 Avios in economy. Adding a connection on Aer Lingus can add as little as 4,000 Avios to the total one-way price!
Aer Lingus flies to many popular Mediterranean destinations. Many of these will still cost less than the typical 30,000 miles from North America-Europe charged by most other airlines.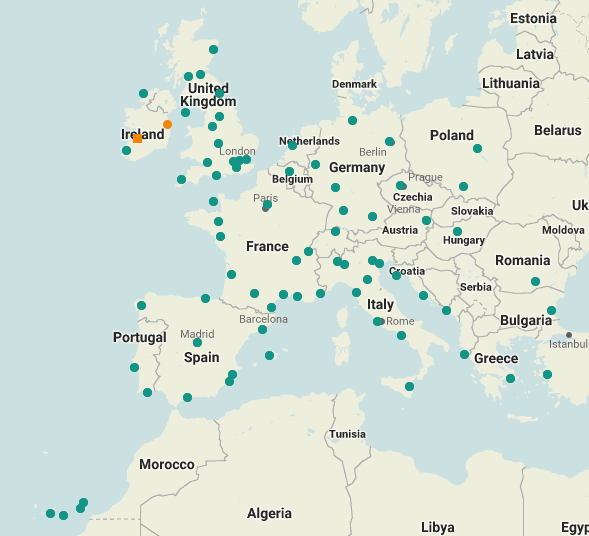 Explore the Aer Lingus route map here.
5. Ireland to UK/Europe in Economy Starts at Just 4,000 Avios (Aer Lingus)
Ireland to UK/Europe starts at just 4,000 Avios off-peak and 4,500 Avios peak. Always compare to cash tickets, though, because intra-Europe flights can be quite cheap — they might not even be much more than the award ticket taxes and surcharges.
6. Experience British Airways Galleries Lounge at London Heathrow for 9,000 Avios (British Airways)
Book a British Airways flight from London Heathrow for as little as 9,000 Avios and experience the British Airways Galleries Lounge before departure.
Just book a short-distance business class award flight on British Airways to gain Galleries access. You can also connect in London, as long as your onward flight from London is British Airways.
If you book an Aer Lingus flight, they have their own lounge — and because Aer Lingus is not a Oneworld member, you cannot use Oneworld elite status to access Oneworld airline lounges such as Galleries when traveling on Aer Lingus.

7. Off-Peak Montreal to Dublin From Summer 2020 (Aer Lingus)
The very last redemption option we'll talk about is actually one that doesn't exist yet. Aer Lingus was due to begin their nonstop service from Montreal (YUL) to Dublin (DUB) on August 2019.
Due to the delays in receiving the A321LR, which was the aircraft chosen for this route, it had to push the launch of this route to summer of 2020, an entire year after the route was scheduled to begin.
When Aer Lingus does begin offering flights to/from Montreal as scheduled, it presents another sweet spot, similar to the old Boston – Dublin sweet spot.
The distance between Montreal and Dublin is 2,973 miles, which is barely under the 3,000 mile ceiling for Zone 4 flights. During off-peak season, these flights can be had for 10,000 Avios one-way in economy!
During peak season, the price goes up to 12,500 Avios. For business class, it'll cost 31,250 Avios off-peak and 37,500 Avios during peak dates. Considering this is a 6 hour flight, paying only 31,250 Avios for business class is a phenomenal deal.
The only drawback is that this route isn't currently offered. Furthermore, it's unclear whether or not Aer Lingus will arbitrarily move the distance to the next zone, which would be horrible. They did it for the Boston-Dublin route, so there is precedent .
Guide to Spending Aer Lingus Avios
Traditional airline award charts are priced by geographic region. This yields the familiar 25,000-mile U.S. domestic round-trip award ticket.
In contrast, AerClub prices awards on 3 criteria:
Distance
Peak or off-peak date
Fare class
Distance Zones:
AerClub has 6 distance zones:
| Zone | Miles | Examples (flying from Dublin) |
| --- | --- | --- |
| 1 | 0-650 | London, Edinburgh, Paris, Amsterdam |
| 2 | 651-1,151 | Barcelona, Berlin, Nice, Venice |
| 3 | 1,152-2,000 | Malaga, Lanzarote, Rome, Dubrovnik |
| 4 | 2,001-3,000 | N/A |
| 5 | 3,001-4,000 | Boston, Chicago, Hartford, Minneapolis, Montreal, Newark, New York, Philadelphia, Toronto, Washington |
| 6 | 4,001-5,500 | Los Angeles, Miami, Orlando, San Francisco, Seattle |
AerClub publishes its peak travel dates each year, and peak date award travel costs more Avios than off-peak. These are separate from British Airways and Iberia peak dates.
Regardless of whether you use Aer Lingus Avios, British Airways Avios, or Iberia Avios to book Aer Lingus flights, these peak dates always apply to Aer Lingus flights. However, each program may charge different amounts of Avios and fees, so always compare.
In 2019, peak dates are:
January 1-6
April 12-28
June 15-September 8
December 19-31
How Much Do AerClub Avios Award Flights Cost?



Combining the 6 distance zones and peak dates, you get the following one-way award prices:
Zone
Economy
Business
Off-peak
Peak
Off-peak
Peak
1
4,000
4,500
7,750
9,000
2
6,500
7,500
12,750
15,000
3
8,500
10,000
17,000
20,000
4
10,000
12,500
31,250
37,500
5
13,000
20,000
50,000
60,000
6
16,250
25,000
62,500
75,000
What Airlines Can You Book With Aer Lingus Avios?
Instead of the Aer Lingus website, you book Aer Lingus Avios tickets with the companion Avios.com website.
With Avios.com, you can book the following airlines:
Aer Lingus
British Airways
Iberia
Vueling
HOT TIP:Aer Lingus is not a OneWorld alliance member, so you can't directly book awards on airlines like American Airlines and Cathay Pacific. Instead, you can use the Avios.com Combine My Avios feature to move your Avios to British Airways Executive Club or Iberia Plus to book OneWorld and other partner airlines.
Aer Lingus AerClub vs. British Airways Executive Club to Book Aer Lingus Flights
You can book Aer Lingus flights with either Aer Lingus Avios or British Airways Avios. There are pros and cons to each approach.
| | | |
| --- | --- | --- |
| Aer Lingus Award Flights | Aer Lingus AerClub | British Airways Executive Club |
| Award Availability | Different/better | Different/worse |
| Online booking | Yes | No (must call) |
| Taxes and surcharges | Higher | Lower |
| Short-haul saver award (lower surcharges)  | No | Yes |
Final Thoughts
Aer Lingus AerClub is a new, niche program in the Avios family, and its expanding U.S. routes increase options for trans-Atlantic travelers.
Direct point transfers from Chase Ultimate Rewards to AerClub make it easy to earn Avios. United Airlines flyers can also earn Aer Lingus Avios on United flights through their partnership.
AerClub award options are limited to only a few Avios.com partner airlines. To really maximize value, make sure to learn about the British Airways Executive Club and Iberia Plus for the best uses of your Avios.