Improving Your Credit With the Self Credit Builder [Complete Guide]
Trying to build new credit can be very frustrating. No one will give you credit because you have no credit history, and you can't build a credit history because no one will give you credit!
The same is true of having a bad credit history. No one wants to give you a second chance, although your circumstances may have improved. It's a vicious cycle to be caught in, and you might feel like there's no solution.
If you find yourself in this situation, however, you can take comfort in knowing that there are options that are entirely within your control.
One little known self-directed alternative for building credit is an account offered by the company Self, formerly called Self Lender.
The account is referred to as a credit builder account, and it can help you build your credit history while you save. Sound appealing? The account isn't for everyone, but if you're looking for a risk-free way to build or rebuild your credit, it may be a great option.
Today we'll discuss everything you need to know about the credit builder account and help you determine if it's an option that can help you.
What Is Self?
Self is a national company based in Austin, Texas. It's accredited by the Better Business Bureau and partners with Sunrise Banks and Lead Bank to offer credit builder accounts to the public in all 50 states.
Credit builder accounts are designed to allow you to establish credit history while saving money over a 12- or 24-month period.
Your money is kept safe in an FDIC-insured CD and returned to you at the end of the credit builder account period.
It's one of the safest, most responsible ways to build credit when you have no credit or bad credit history.
Why You'd Want to Use Self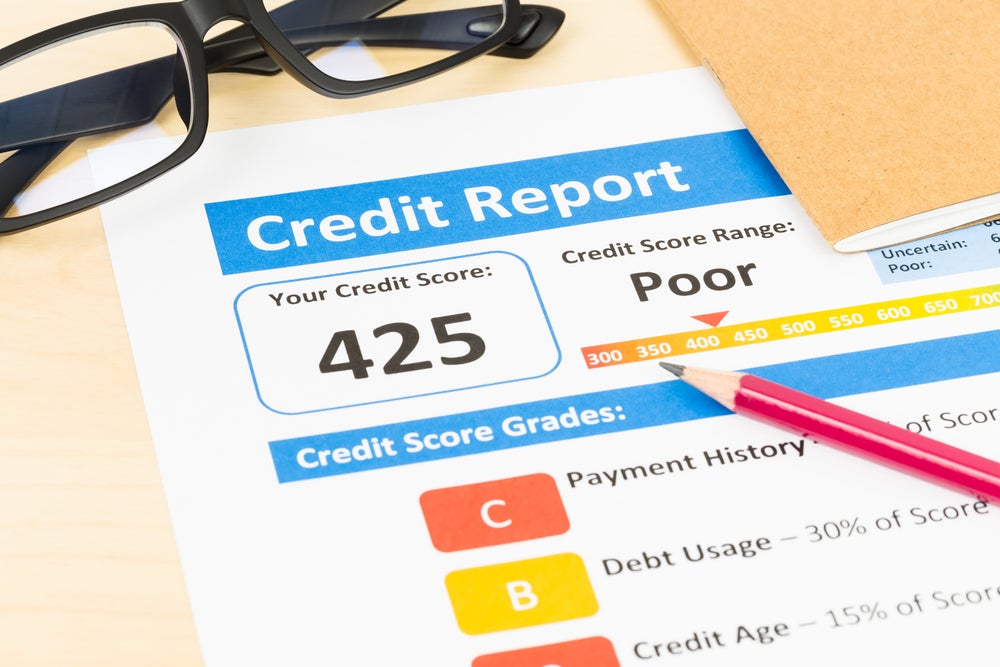 If you have no credit history, but you have some cash, you might want to apply for a secured credit card. A secured credit card requires you to deposit an amount of money with the credit card company until you have proven you can manage credit well or until the account is closed at a future date.
If you have no credit history or bad credit history and do not want (or are unable) to come up with a deposit for a secured credit card, your options are few for building or rebuilding credit.
A credit builder account with Self is an option, however, and offers the following benefits:
Savings plans start at $25 per month and include credit monitoring
Reports to all 3 major credit bureaus (TransUnion, Equifax, and Experian)
No hard pull on your credit report and no credit history required
Self helps you get a small loan that you save in a CD for 12 or 24 months (FDIC-insured certificate of deposit bank account)
You save money while you build credit
Self's credit builder account can be a viable solution for those with no credit or bad credit histories.
Bottom Line: If you have no credit history or bad credit and want to build credit without having to deposit funds for a secured credit card, the Credit Builder account from Self may be a good solution.
First Step — Knowing Your Credit Score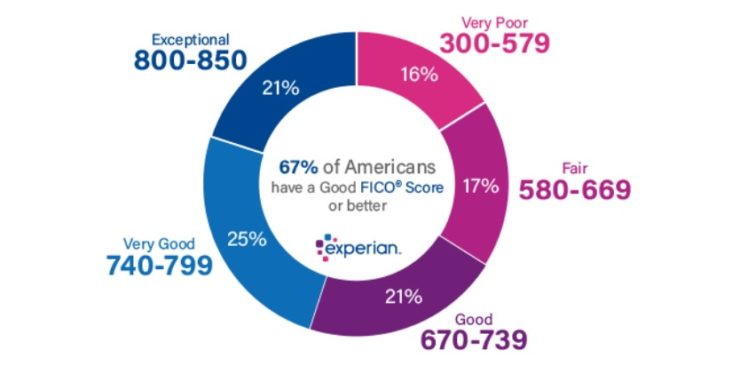 You might ask: "Why do I need to know my credit score?" Your credit score affects your options for building credit. If you have a fair to good credit score you may have more options available to you than just the credit builder account we'll be discussing.
Securing a credit card, making small purchases, and paying off your account each statement period can accomplish the objective of improving your credit.
That's why knowing your credit score is always a good place to start.
You don't have to pay to obtain your credit score, either. There are several free options available including Discover's free credit score tool that is available to everyone.
Additionally, your credit score is available, free of charge, on trustworthy sites such as Credit Karma (review) or Credit Sesame (review).
Bottom Line: You'll only want to consider a credit builder account if you cannot qualify or afford other alternative means of building or rebuilding your credit history. You can start to identify your options by knowing your current credit score.
Why You Might Want to Improve Your Credit Score
Bad credit can hurt you and cost you a lot of money. Having good credit allows you to:
Get approved for an apartment
Land that bank job you want (or another job that requires a credit check)
Finance a vehicle without paying high-interest rates
Pay lower insurance premiums (in some states)
Qualify for a cell phone with no large down payments or required prepayment
Put utilities in your name without a large required deposit
Qualify for a mortgage
Regardless of your reason for wanting to improve your credit, getting started on the right path is critical.
Let's take a look at Self's credit builder account and how it might help.
How Does a Credit Builder Account Work?
The Self's credit builder account is basically a secured loan that doesn't require a hard pull on your credit. It also does not require you to have a credit history.
You can even be approved for a credit builder account with poor credit.
Here's how the credit builder account works:
Apply for the loan online (no hard credit pull on your credit)
Once approved, the loan funds are deposited into a bank certificate of deposit in your name
The funds are held as collateral until the loan is repaid
You make scheduled monthly payments on the loan
Your positive payment history is reported to the 3 major credit bureaus
You receive the funds that are in the account at the end of the term (12 or 24 months)
There's interest charged on the loan, but it's not excessive. You can select a custom payment plan that fits your budget, and you do earn a small amount of interest on the account.
Bottom Line: The Self credit builder account is easy and quick to apply for, helps you build a positive credit history while you save, and the monthly payment can be tailored to fit your budget. 
How Much Does a Credit Builder Account Cost?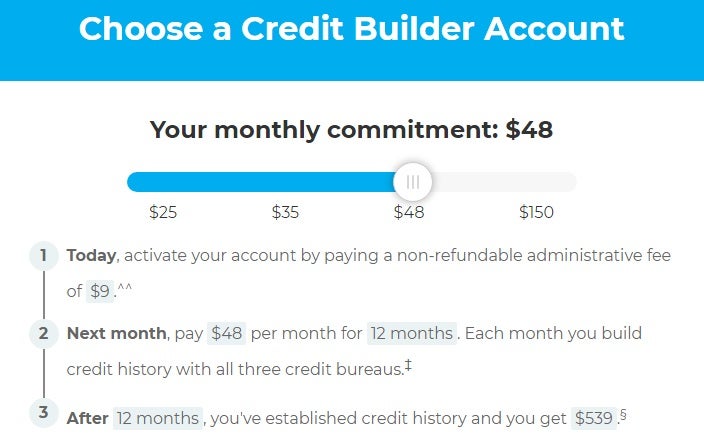 Just like a loan secured from a bank, the credit builder account charges interest. Unlike a bank loan, however, Self doesn't access your credit history making your chances of approval extremely high.
Let's take a look at the cost of a 12-month credit builder account with a selected monthly payment of $48.
Non-refundable Set Up Fee: $9
Monthly Payment: $48
Number of Payments: 12
Total Amount Paid In: $585
Total Amount Received at the End of 12 Months: $539
Net Cost of Credit: $46
Is $46 worth establishing a full year of good credit? This is for you to decide, but if your options are limited, it could be a wise choice.
After improving your credit score, you'll be able to secure credit more easily than with poor credit. You'll also open the door to opportunities you didn't have previously.
Hot Tip: Spending a small amount of money to improve your credit score can be an excellent investment. You'll save far more than that in the long run when you pay lower interest to secure car financing, a mortgage, or other needed credit, in the future. 
Everything Else You Need to Know
Self uses ChexSystems' consumer reports to help determine eligibility for a credit builder account.
This report shows items such as unpaid overdraft fees, bounced checks, suspected fraud, and other negative banking histories. You could be denied a credit builder account if you have a negative ChexSystems report.
Fortunately, the denial doesn't show on your credit report and you may apply again once you have cleared up your ChexSystems report.
A credit builder account does pay interest, but it's minimal, just one-tenth of a percent, so not worth including in the cost calculations.
Selecting an affordable monthly payment for your credit builder is important as missed or late payments are charged a fee. Late payments also negatively affect your history.
In addition to the credit builder account, Self offers the option of a Self Visa® Credit Card. The card is secured by your credit builder account and is available to those who have made 3 or more on-time payments, have at least $100 saved in the account, and their account is in good standing.
Final Thoughts
While having no credit or even bad credit can seem futile, there are many ways to get started on the path to improving your credit.
A credit builder account from Self may be a good solution for you or there may be other options that are a better fit.
We've compiled several guides that can help you build/rebuild your credit and help you find credit card options that may match your current credit score.
Additionally, to find out if you have current credit card offers you can use tools such as the CardMatch tool. Using the tool doesn't affect your credit score and can yield some interesting results.
Don't despair if you have no credit or bad credit as there's always a path to improvement.