Southwest Airlines: Coronavirus (COVID-19) Latest Updates — Cancellation Policies, Status Changes, Routes, and More
Southwest Airlines offers some of the most generous change and cancellation fees in the industry, but you might still be wondering about how Southwest is specifically responding to the COVID-19 pandemic.
Will you still be able to earn your Companion Pass this year? If you already have a Companion Pass, will you be able to carry this over to 2021? Is Southwest making any changes on board your flight to keep you safe? If you have a trip booked through Southwest Vacations, how will this be handled?
This article will answer all of your COVID-19 questions related to Southwest Airlines.
Cancellation Policies
Southwest never charges fees to change or cancel flights. Even credits from canceled Wanna Get Away (non-refundable) fares can be applied to future travel.
We've broken down Southwest Airlines' change and cancellation policies due to COVID-19 in great detail. Click the link for full details, along with other airlines' policies.
Converting Southwest Vouchers Into Rapid Rewards Points
Southwest is now allowing you to convert your qualified travel funds to points through December 15, 2020. This is great news as Rapid Rewards points don't expire. You can also redeem your points for yourself or others.
To qualify, your travel fund:
Must expire September 7, 2022
Name must match the name on your Rapid Reward account, and
Must have originated from a ticket purchased on southwest.com, booked by a Southwest Airlines customer service agent, or approved by your employer
To convert your funds, log on to your Rapid Rewards account. See further instructions here.
Note: conversion is non-reversible.
Southwest Vacations Cancellation Policy
Southwest Vacations notes that once it becomes aware of "any government's travel restriction that results in a flight or hotel cancellation, our Team will send an email with rebooking instructions to affected Customers."
The trip will be canceled at that time and a travel credit will be issued for the full amount (not including the cost of travel protection). It specifically notes that "you do not need to contact us regarding your cancellation or travel credit. We will reach out to you with more information once the travel credit is processed. "
If you purchased your vacation using Uplift, see its site for more details.
Bottom Line: If you have a trip booked through Southwest Vacations, make sure you check your email (including junk folders) for communication regarding your travel credits.
Loyalty Extensions/Status Upgrades
Southwest Airlines is extending its current tier status for members and Companion Pass holders. It is also offering tier and Companion Pass qualifying points to all Rapid Rewards members.
Explore our specific elite status extension details for Southwest Airlines, along with what other airlines are granted for their elite status travelers.
Credit Card Incentives
Beyond the typical introductory offers, Southwest Airlines is currently not offering any additional benefits for Southwest-branded credit cards in response to the pandemic.
We will continue to update this article as that may change.
Mileage Buy Incentives
There are currently no mileage buy incentives for Southwest Airlines.
You can purchase points at the standard rate, up to 60,000 points. See their website for more details on pricing.
Flight Reductions and Cancellations
Southwest Airlines has seen schedule reductions as a direct result of COVID-19. Overall, the impact so far has been less than other U.S.-based airlines since Southwest primarily operates domestically.
Hot Tip: To see more effects that the coronavirus has had on Southwest Airlines, be sure to check out our dashboard detailing the impact of the coronavirus (COVID-19) on U.S. airlines.
Domestic
In June 2020, Southwest will cut 50% of its flights — roughly 2,000 flights a day. On a positive note, on the schedule that was released through January 2021, it appears that there are as many flights in November and December as during the same period in 2019.
In contrast to many other U.S.-based airlines, Gary Kelly, the airline's CEO, said that the goal is to continue to serve every city in its network, but you may need to make more connections. It is also only operating during peak hours between 7 a.m. and 8 p.m.
Southwest plans to bring back some Hawaii service in June 2020 — something it cut severely after the 14-day quarantine was announced for any visitors.
New destinations have also been added to Southwest's routes — flights to Miami (MIA) and Palm Springs (PSP) launched on November 15, 2020, and Colorado destinations Montrose (MTJ) and Steamboat Springs (HDN) begin on December 19, 2020. Chicago (ORD), Houston (IAH), Colorado Springs (COS), Jackson (JAN), and Savannah (SAV) have also been announced as new markets.
International
Southwest has currently suspended its entire international network. Routes to each country have varied dates for resumption of service that are all subject to change. For detail regarding Southwest's international destinations, see its website for updated information.
On a positive note, Southwest announced that it is planning on launching flights on June 7, 2020, from:
Houston (HOU) to Cancun (CUN)
Houston (HOU) to San Jose del Cabo/Los Cabos (SJD)
Baltimore (BWI) to Cancun (CUN)
Baltimore (BWI) to Montego Bay (MBJ)
Baltimore (BWI) to Nassau (NAS)
Denver (DEN) to Cancun (CUN)
Denver (DEN) to San Jose del Cabo/Los Cabos (SJD)
Orlando (MCO) to Montego Bay (MBJ)
Tampa (TPA) to Havana (HAV)
Southwest will also resume seasonal service on October 8, 2020, from:
Phoenix (PHX) to Puerto Vallarta (PVR)
All other Southwest international destinations will remain suspended through at least October 30, 2020.
Important Southwest News
Due to COVID-19, Southwest Airlines is currently the world's largest airline — a move up from the fourth largest. This is intentional as it has consistently maintained that it doesn't want to cut flights so deeply that it won't be able to respond when travel recovers.
Southwest Airlines is receiving governmental aid as part of the Coronavirus Aid, Relief, and Economic Security (CARES) Act. Under the terms of this $50 billion aid, all airlines — including Southwest Airlines — are barred from cutting jobs through September 30, 2020.
Of the $50 billion, Southwest Airlines will receive $3.2 billion in the form of a direct grant of $2.3 billion and a low-interest rate loan of nearly $1 billion.
Safety Changes
Additional safety precautions have been made in the cabin as a result of the pandemic.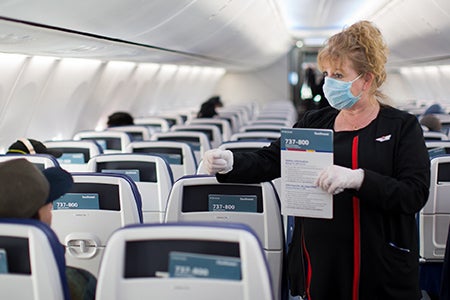 Food and Beverage Service
To comply with social distancing recommendations, Southwest temporarily suspended all onboard beverage and snack service from March 25, 2020, until further notice.
You are always able to bring your own snacks and beverages onboard.
Seating Arrangements
Southwest Airlines does not assign seats. You can board and select your seat in the order noted on your boarding pass.
Southwest announced that after November 30, middle seats will no longer be blocked. Since there isn't assigned seating on Southwest, this effectively means that capacity will no longer be capped at 67% and there will potentially be less personal space onboard.
Disinfection Changes
As of May 1, 2020, new procedures "will introduce additional cleaning between flights to supplement the work of Flight Attendants who keep cabins tidy." Southwest Airlines also notes that it has "enhanced our overnight cleaning procedures. In addition to tidying each aircraft between flights, we spend more than 6 hours cleaning each aircraft every night."
The EPA-approved disinfectant, which was previously only used to clean the lavatories, is now being used throughout the aircraft. "These procedures meet or exceed recommendations from the Centers for Disease Control and Prevention (CDC) and the World Health Organization (WHO)."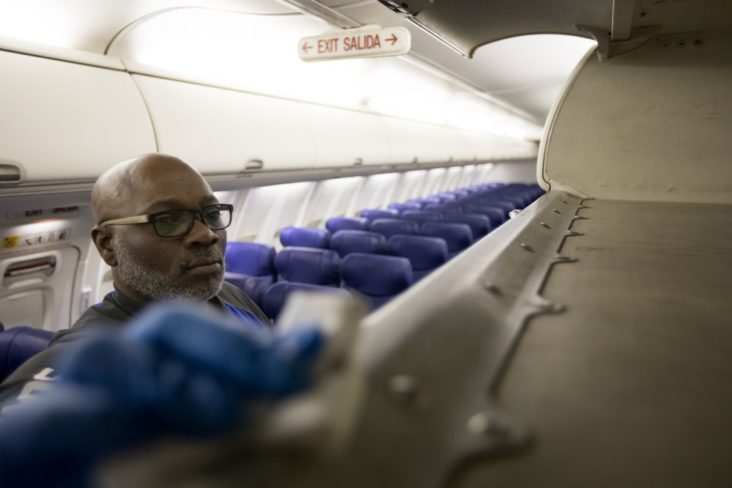 In mid-April, Southwest also began utilizing an electrostatic disinfectant and anti-microbial spray applied on every interior surface of the aircraft that kills viruses on contact and forms a protective shield for 30 days.
In terms of air quality, it states that the onboard HEPA filters and the air circulation system exceed "the quality of air that can be found outdoors, as well as a typical office building or similar public venue. On average, a complete exchange of cabin air and outside air is accomplished every 3 minutes."
Unfortunately, these measures might not be enough, because according to a local radio station in Dallas (which is the headquarters of Southwest Airlines), as of April 7, 2020, over 600 Southwest flight attendants have tested positive for COVID-19.
Southwest Airlines is minimizing these claims saying, "currently, far less than 1% of more than 60,000 Southwest Airlines Employees have tested positive for the coronavirus (COVID-19)."
Flight Attendants Will Be Required to Wear Masks
Beginning May 3, Southwest is requiring customer-facing employees to wear face masks or coverings when interacting with travelers, especially when distancing recommendations cannot be met.
Passengers Will Be Required to Wear Masks
Starting on May 11, customers will be required to wear face coverings or a mask. Southwest will provide a mask if a customer forgets their mask. Southwest will also distribute sanitizing wipes to passengers who need them.
Southwest won't let you board without a mask, even if you have a valid medical condition that precludes you from wearing one. Masks are required for everyone above the age of two. See the updated mask policy here.
Boarding & Deplaning Process Changes
Beginning May 2, smaller groups of 10 people at a time will be welcomed to board sequentially by boarding position.
Flight Attendants also will provide guidance during deplaning to maintain distancing.
Health Declaration
Beginning on June 16, 2020, Southwest announced that a "Customer Health Declaration" must be acknowledged during online check-in (via the Southwest app, Southwest.com, SWABIZ.com, or the carrier's mobile website).
Passengers will be required to acknowledge an awareness of the carrier's face-covering policy and confirm that they do not have symptoms of COVID-19 and have not been diagnosed with or exposed to COVID-19 in the 14 days prior to travel. They will also have to confirm that they do not have a fever when they travel.
Staffing Changes
Due to the terms to receive government assistance through the CARES Act, which we noted above, airlines must continue to pay flight attendants and pilots the contractually minimum amounts through September 30, 2020. Due to the reduced schedules, this means that some workers will get paid regardless of whether they are flying or not.
Southwest Airlines said it doesn't expect to cut jobs in 2020 because more than a quarter of its workforce signed up for some kind of voluntary leave or buyout.
Unfortunately, continuing on into 2021, this might not be the case. Southwest Airlines has announced that unless negotiations to pay cuts for unions prove successful or an additional extension of the CARES Act is passed, it may be forced to resort to involuntary furloughs and layoffs.
Fleet Changes
Southwest has not reduced flights as much as competitors like United Airlines, Delta Air Lines, and American Airlines. This means that fewer planes are being parked, but there is still a small reduction in Southwest's operating fleet.
In March 2020, Southwest indefinitely stored 50 737-700 aircraft in Victorville, CA, and CEO Gary Kelly noted that more aircraft may be grounded. This is in addition to the 34 737 MAX airplanes that are being stored while they are being investigated by the FAA.
No retirements have currently been announced as a result of COVID-19.
Final Thoughts
Southwest's operations have suffered less than its competitors, but it has still suspended all international operations and cut domestic operations by 50%. Luckily, Southwest has extended member benefits and given out qualifying points to help make it possible to still earn the covetable Companion Pass.
If you find that you must travel, there are increased measures to keep you safe at the airport and on your flight. Food and beverage services have been temporarily halted and additional disinfection procedures will help keep you safe. Needless to say — your next flight on Southwest will look a bit different.