Fiji Airways Airbus A350 Economy Class Review [NAN to SYD]
Airline: Fiji Airways (FJ)
Aircraft: Airbus A350 (DQ-FAI)
Flight #: FJ911
Route: Nadi International Airport (NAN) > Sydney Airport (SYD)
Date: December 13, 2019
Duration: 4hr 30min
Cabin & Layout: Economy Class, 301-seats, 3-3-3 config
Seat(s): 52A
Miles Used: 50,000 Alaska Miles + $211.90 in taxes, including the flight from Sydney in business
Typical Retail Cost: $255 (FJD $550) per person one-way
Introduction
After reviewing the Fiji Airways business class in its new Airbus A350 from Sydney, and 3 fabulous nights in paradise at the Marriott Momi Bay, it was time to return to Sydney (and reality) and review the new economy product on the same aircraft.
Booking Fiji Airways Economy Class
An economy class ticket on this route costs approximately $255 (FJ$550) one-way per person. You can find these flights on Fiji Airways' website or through an OTA of your choice — think websites like Cheapoair, Google Flights, or Orbitz.
Booking Fiji Airways Economy Class With Points
Alternatively, you can book this 1,973-mile flight with a relatively small amount of airline miles. Here's how many points you'll need in various mileage programs:
Thankfully, Fiji Airways flights can be booked online with any of these mileage currencies. This means that you can search for the flight on the mileage partner's website and book the ticket without needing to call the airline.
However, despite having the lowest mileage cost, we don't recommend using AAdvantage miles on this route unless the cash fare is expensive.
This is because AAdvantage charges $125 in taxes and fees on top of the 15,000 miles required. Considering the flight itself usually costs around $255, you'll only get 0.8 cents per point in value when using miles — far less than our recent AAdvantage valuation of 1.45 cents per mile.
Alaska Airlines also charges a hefty $77 in taxes and fees when redeeming Mileage Plan miles for this ticket. This means you'd only get 1.0 cents per mile if the ticket cost $255. This is 0.9 cents lower than our recent valuation of 1.9 cents per point, so we don't recommend redeeming Mileage Plan miles either.
Instead, consider using the Chase Travel Portal if you want to use points to cover the cost of a paid ticket. Ink Business Cash® Credit Card and Chase Sapphire Preferred® cardholders can redeem Chase Ultimate Rewards points at 1.25 cents per point through the portal, and Chase Sapphire Reserve® cardholders can redeem at 1.5 cents per point.
This means that Chase Sapphire Reserve cardholders would need just 17,000 points to book this ticket. And since it's still technically a paid ticket, you'd earn airline miles in the process.
At Nadi International Airport (NAN) – Fiji Airways Premier Lounge
We asked the hotel to arrange a taxi at a suitable time for our 9:35 a.m. scheduled departure from Nadi and they booked a 6:00 a.m. pickup, which we later realized was too early.
We arrived at the airport at 6:42 a.m. and had nearly 3 hours to kill.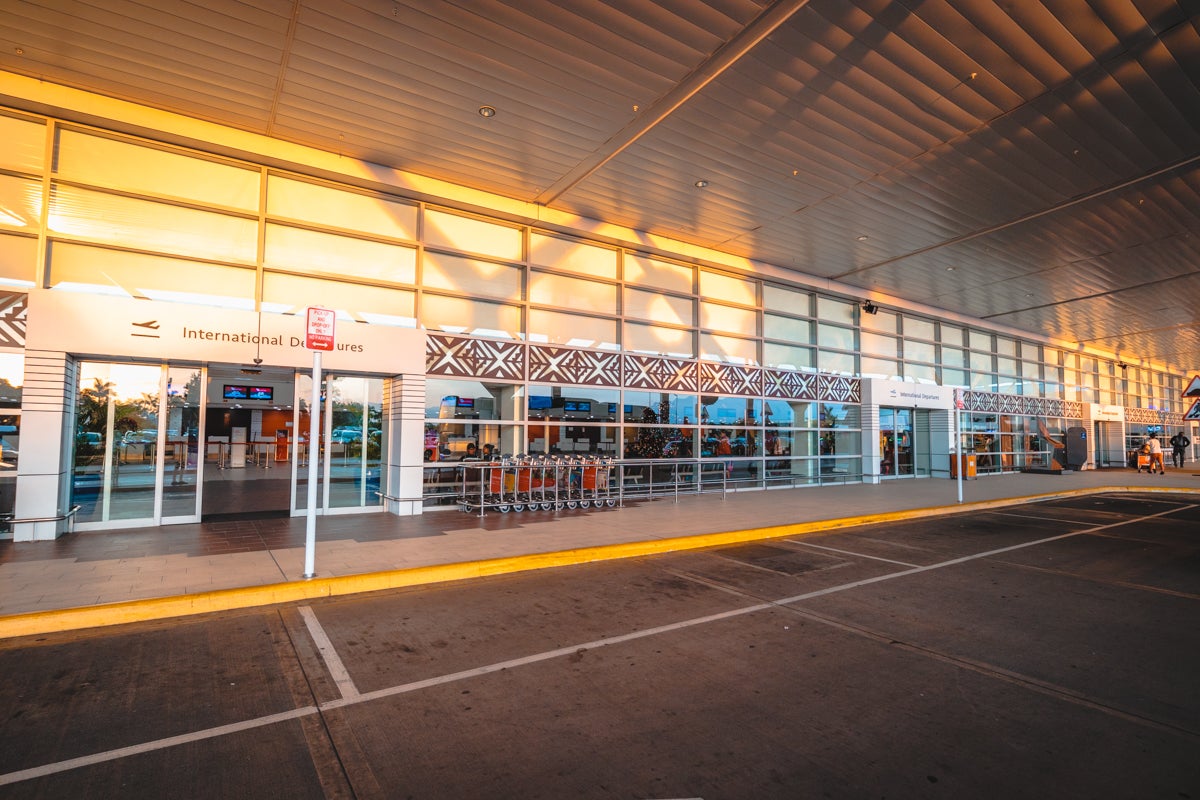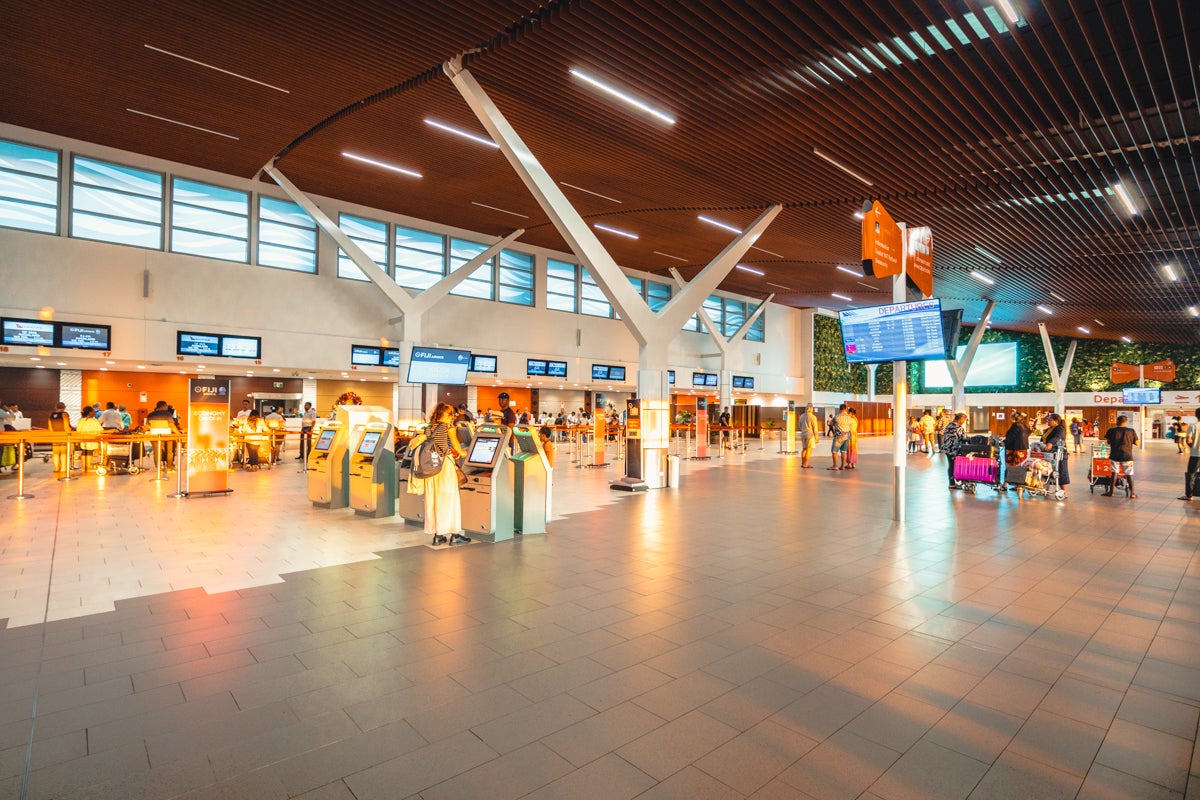 Check-in took just a couple of minutes using the self-serve kiosk and bag drop.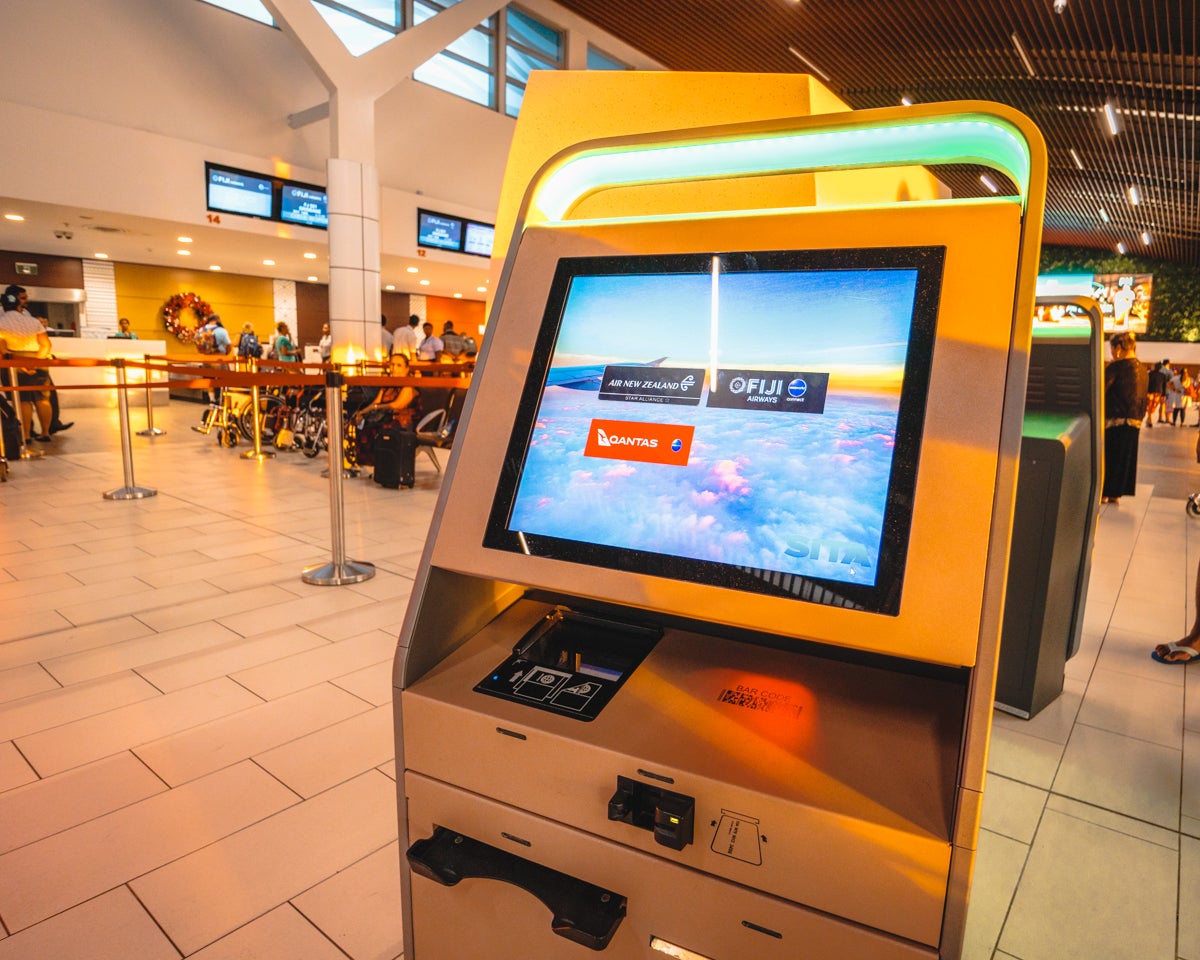 During the check-in process, I confirmed my seat was still set to 52A as I knew this was one of the best seats in economy, which it was, yet noticed the seat map was not what I was expecting — 51A was showing it was right in front of me, yet it should be in front of 52B.
I decided to keep my free-to-select 52A seat as I knew the seat map was wrong.
Passengers have the option to upgrade to a Bula Space seat which provides an extra 3-inches of legroom for $69 (FJ$149).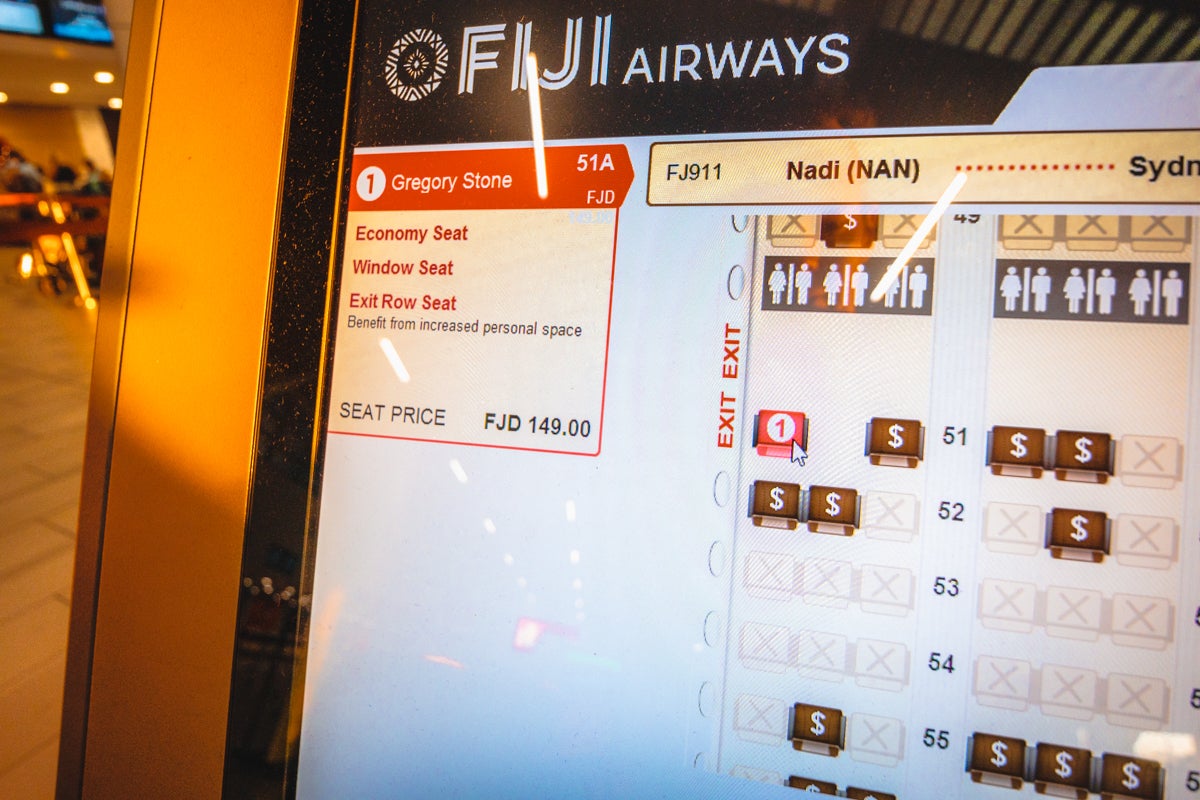 As we were flying economy, we were not provided lounge access, yet thanks to The Platinum Card® from American Express and the included Priority Pass membership, we could use the Fiji Airways Premier Lounge.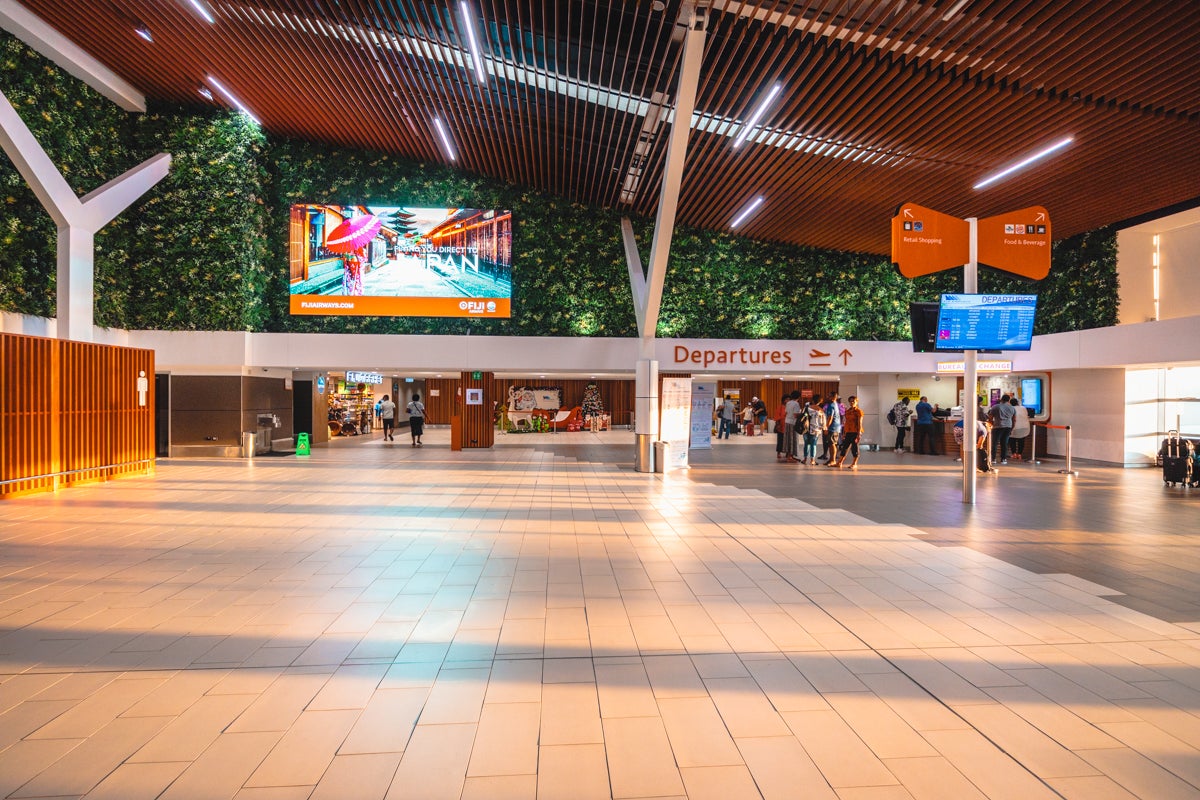 Once we were past security and immigration, we headed up the escalator and tried to find the lounge. There were no overhead signs, so I referred to the information on the Priority Pass app which mentions "past the Duty Free Shops…on the left hand side." But there was no lounge, just the beautiful A350 waiting outside the window – so the detour wasn't so bad.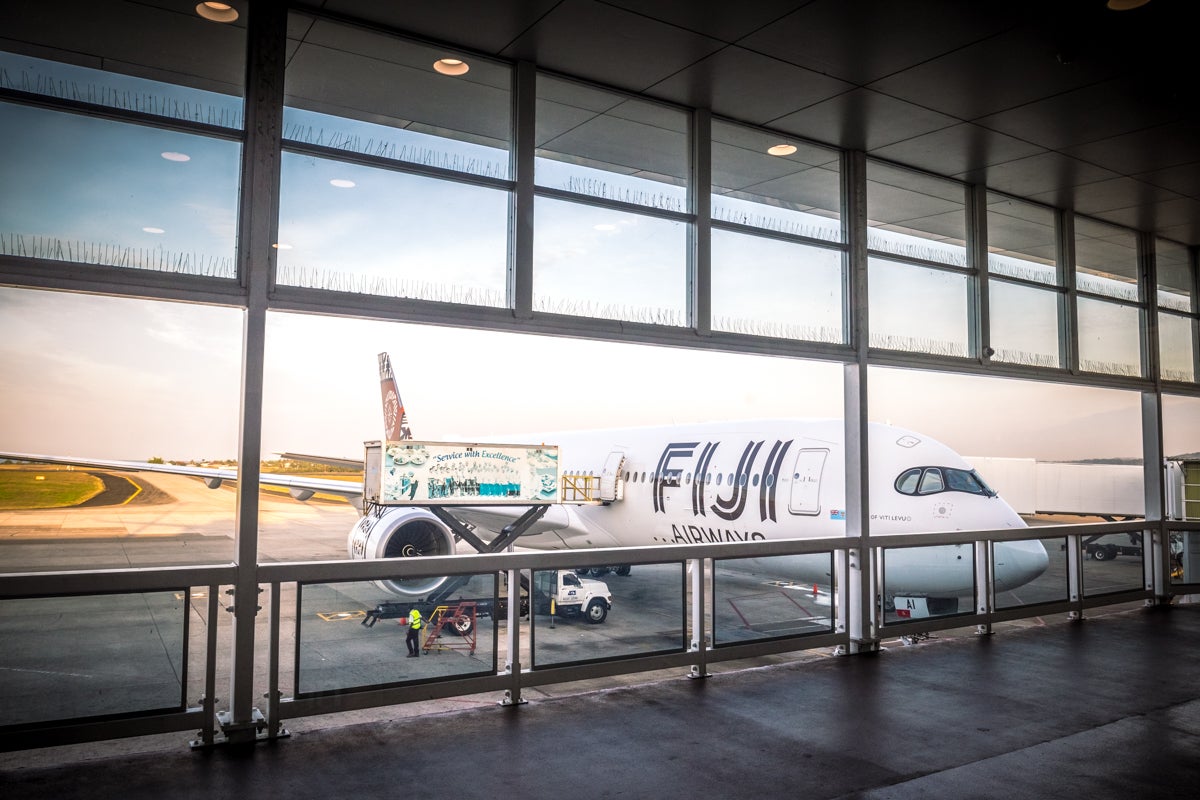 It must have been the 5 a.m. start and lack of coffee, but I negated to see the mention of "Ground Floor" in the instructions. On the other side of duty free, I saw a tiny sign with instructions to head down the escalators or lift to access to the lounge.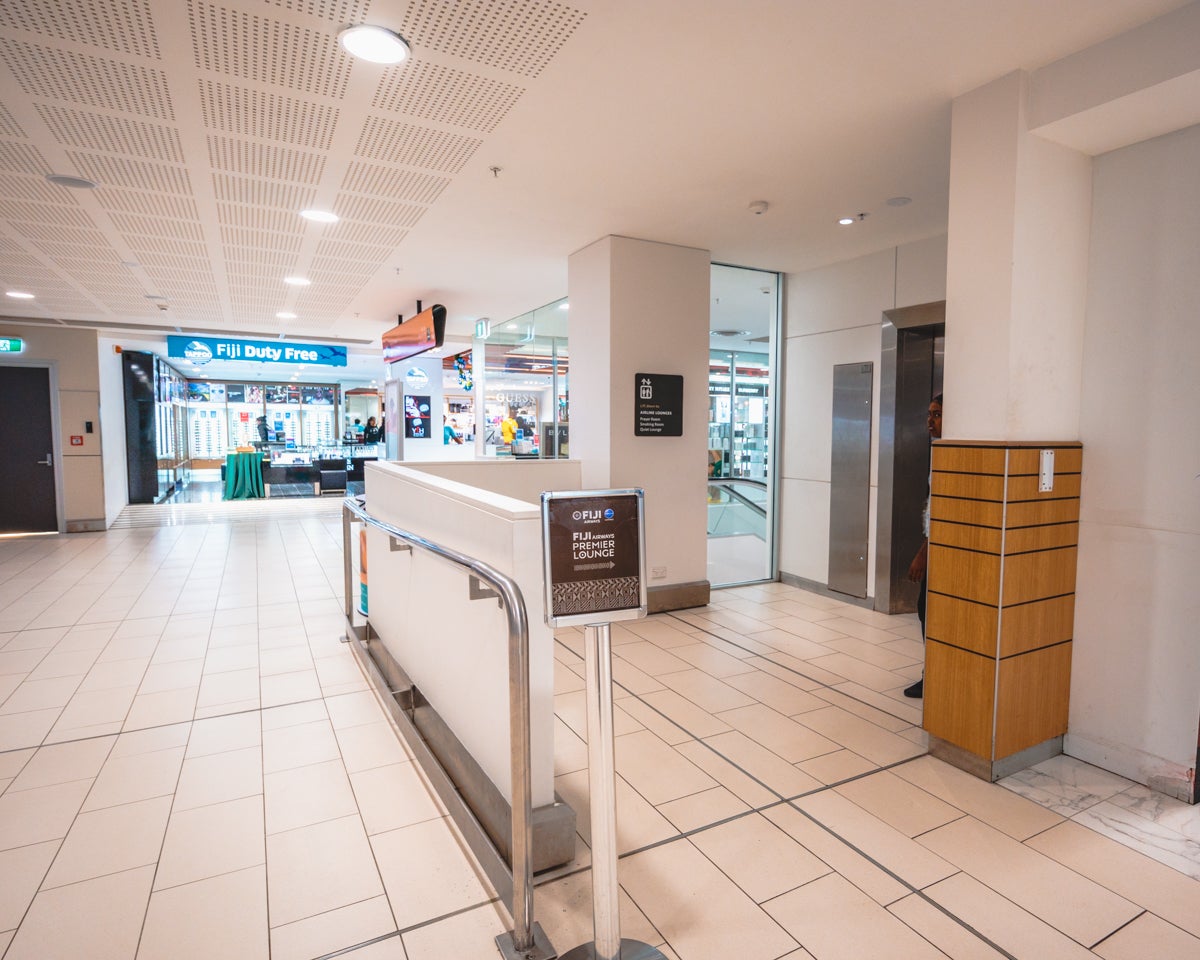 Lounge guests are welcomed by a green wall that runs into the lounge alongside the main hallway.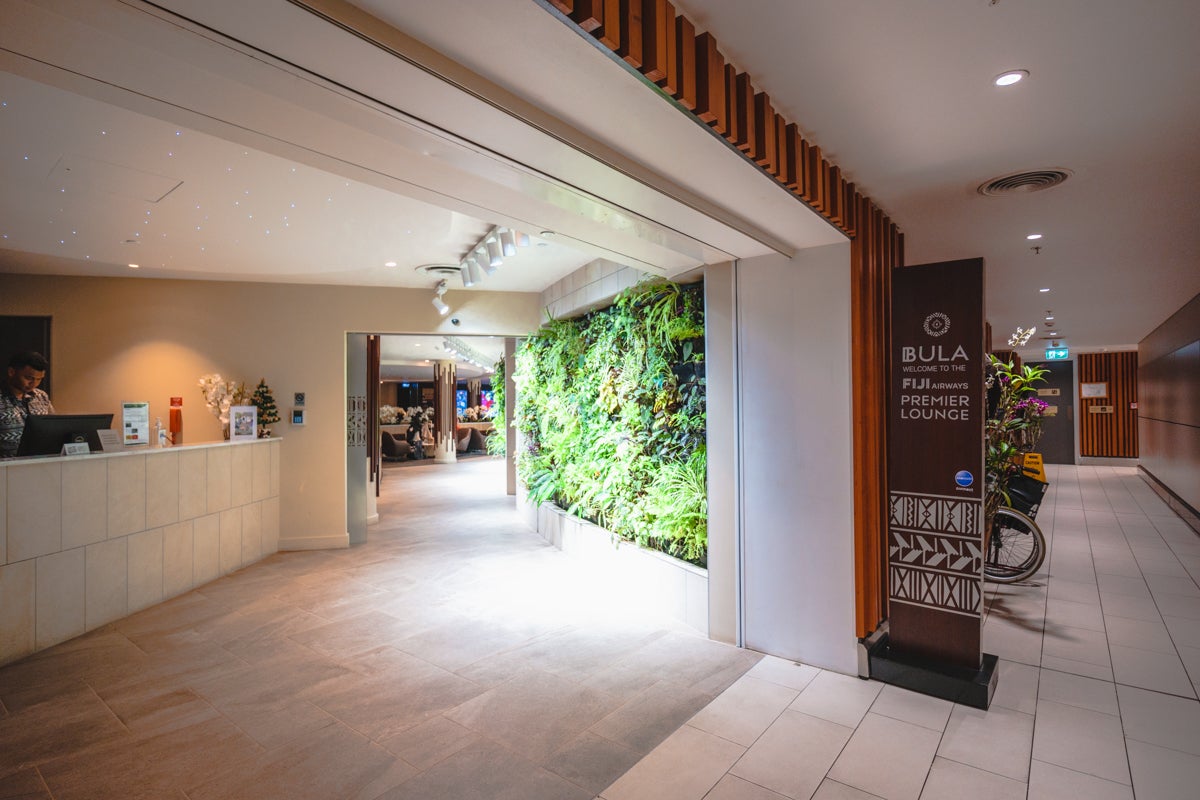 The lounge was split up into a variety of zones — the first you will pass is the couch zone with ample seating at this time of the morning.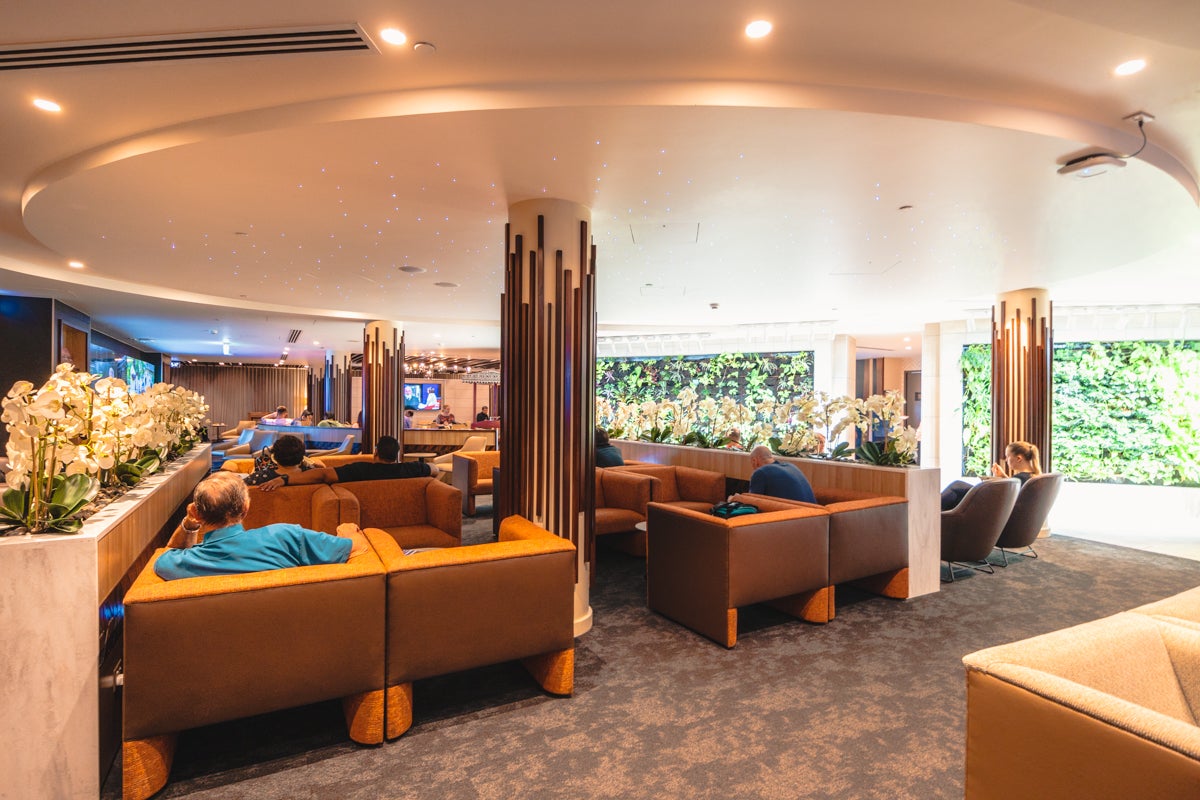 Alongside this is this a walled-off quieter area with several cocooned bench seats.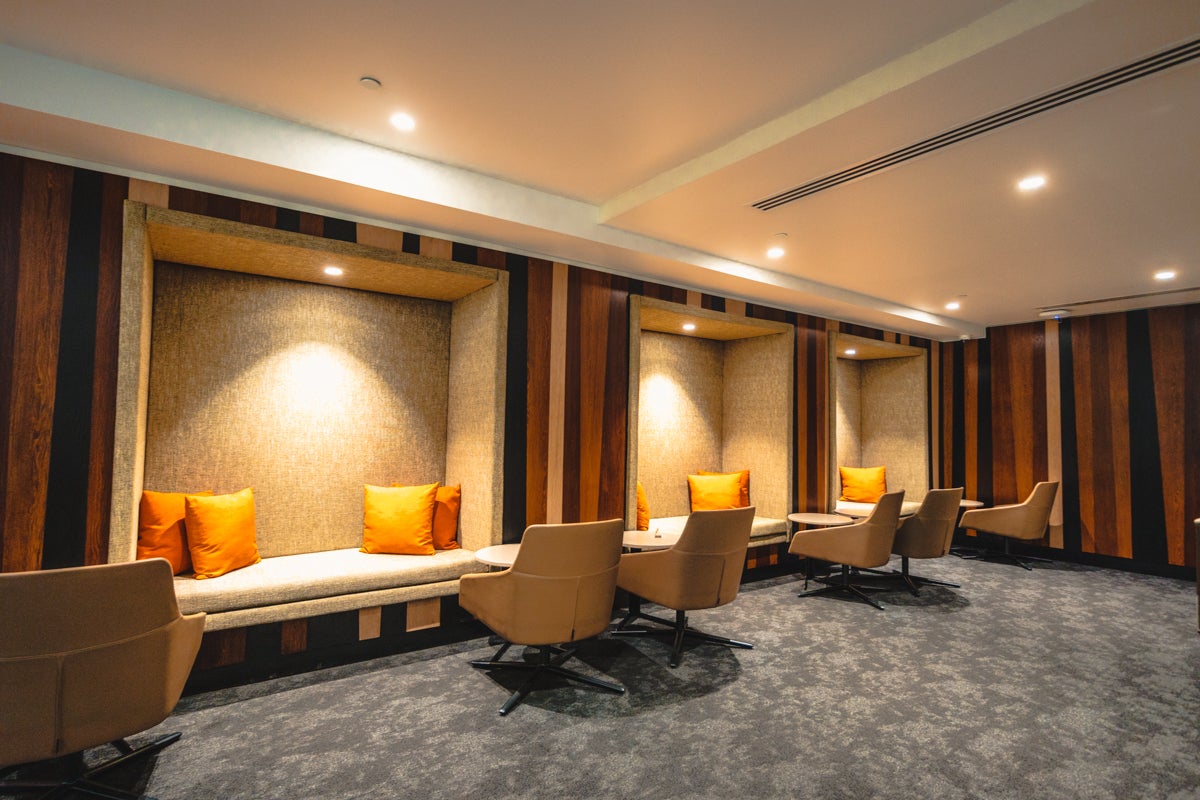 Keep following the green wall and you will reach the dining area.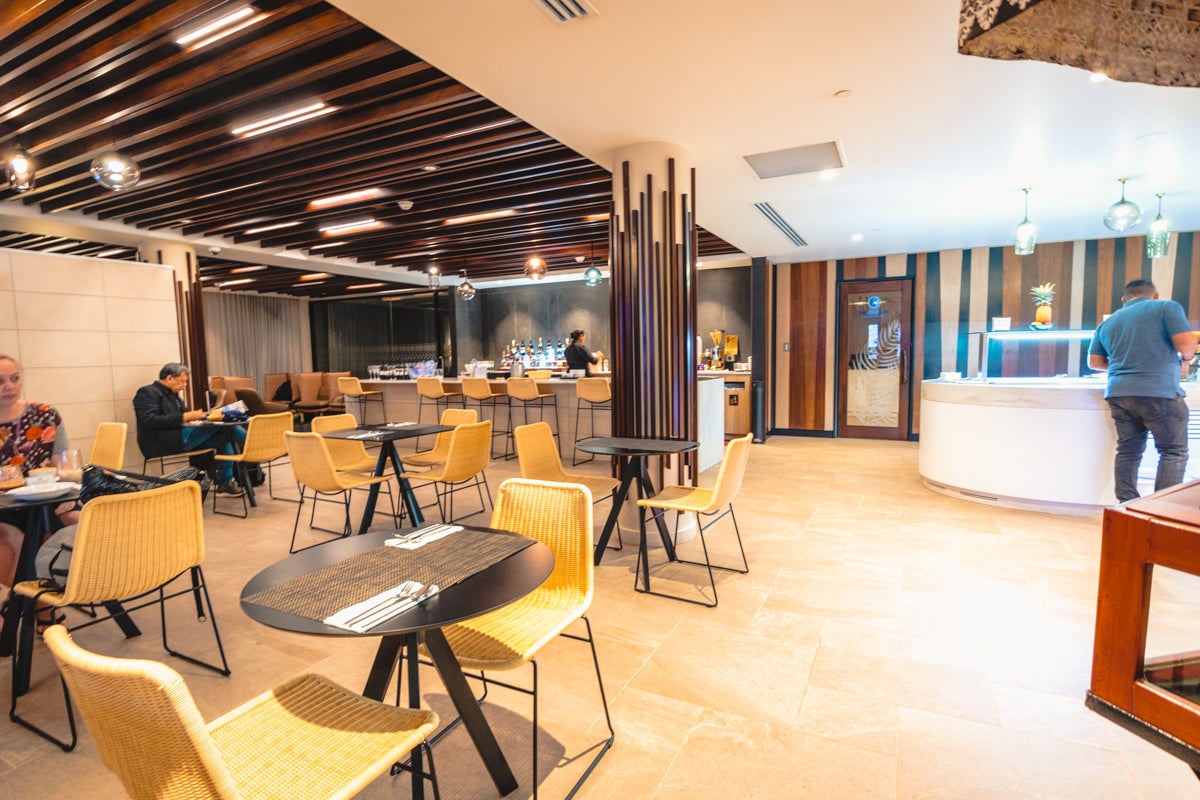 With buffet just around the corner.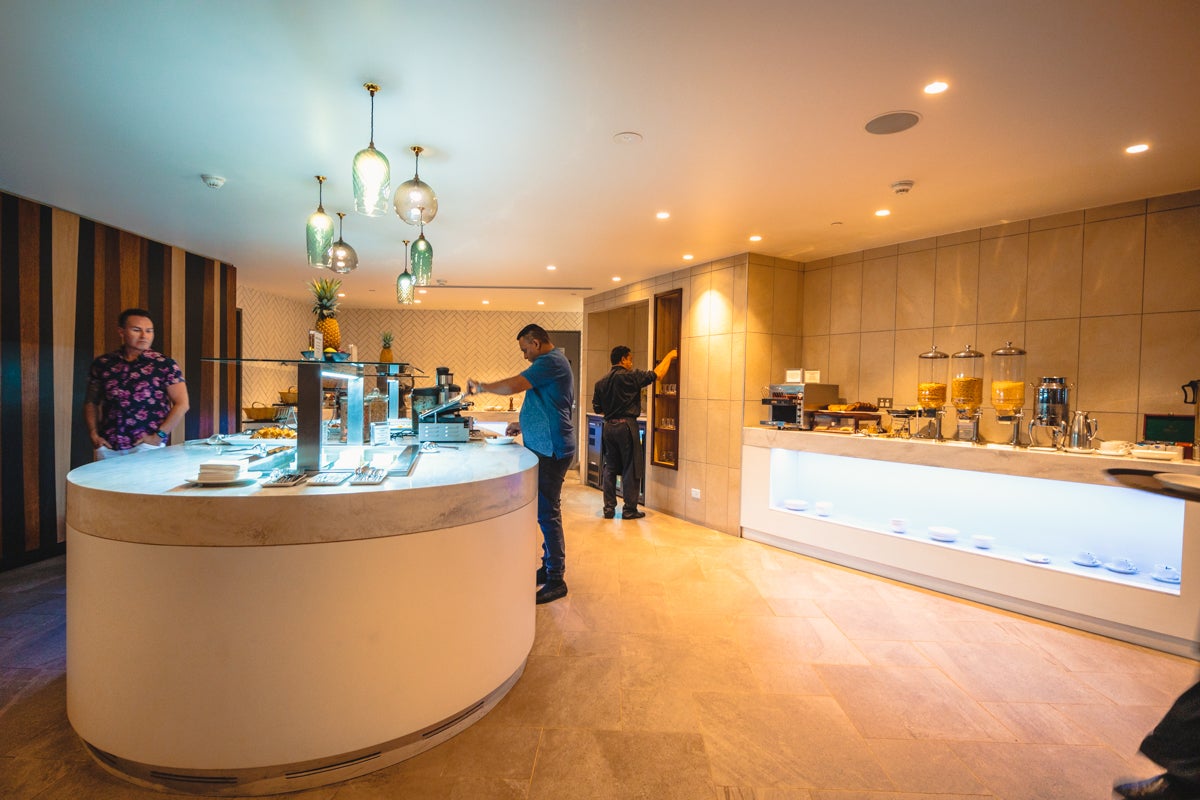 There were 6 hot options available including scrambled eggs, hash browns, roasted tomatoes, baked beans, lamb sausages, and congee. Lounge scrambled eggs are usually pretty awful but I thought they were pretty good here.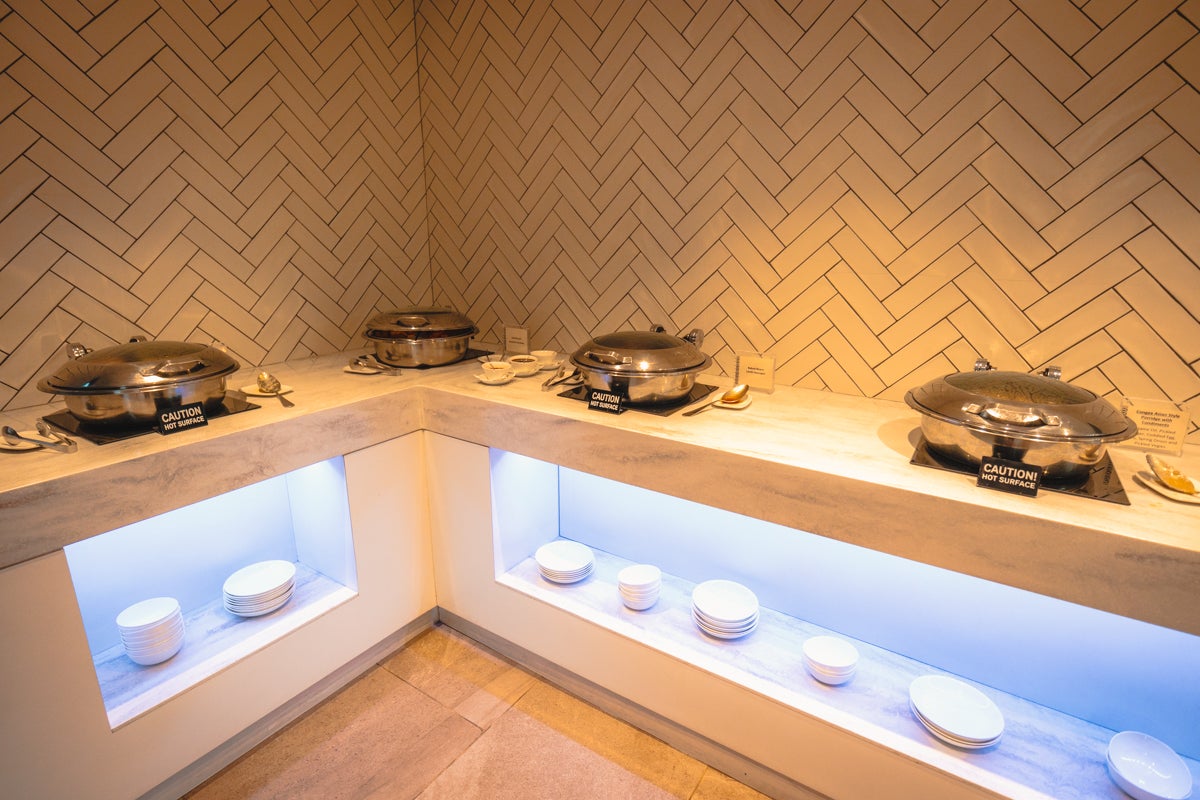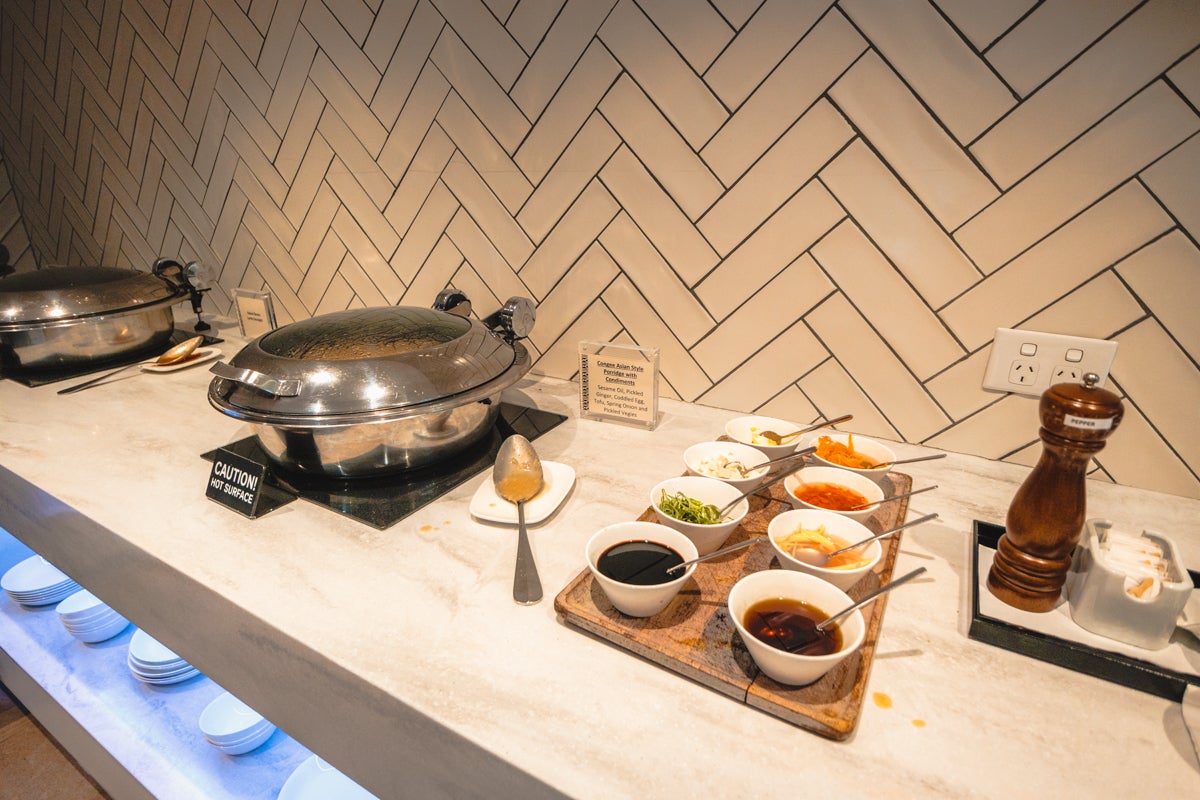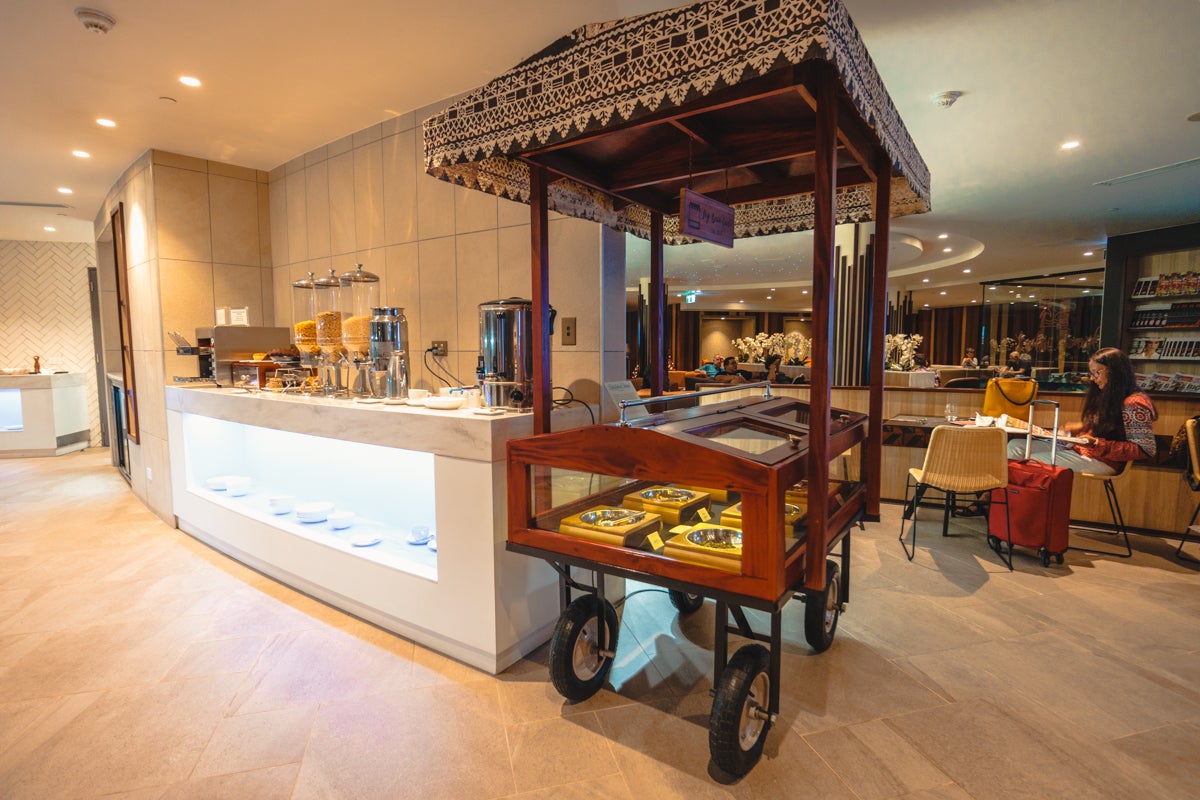 Pre-made sandwiches can be warmed in the sandwich press.
Fresh fruit can be used in the juicer – which would have been better than drinking the orange juice provided which tasted awful.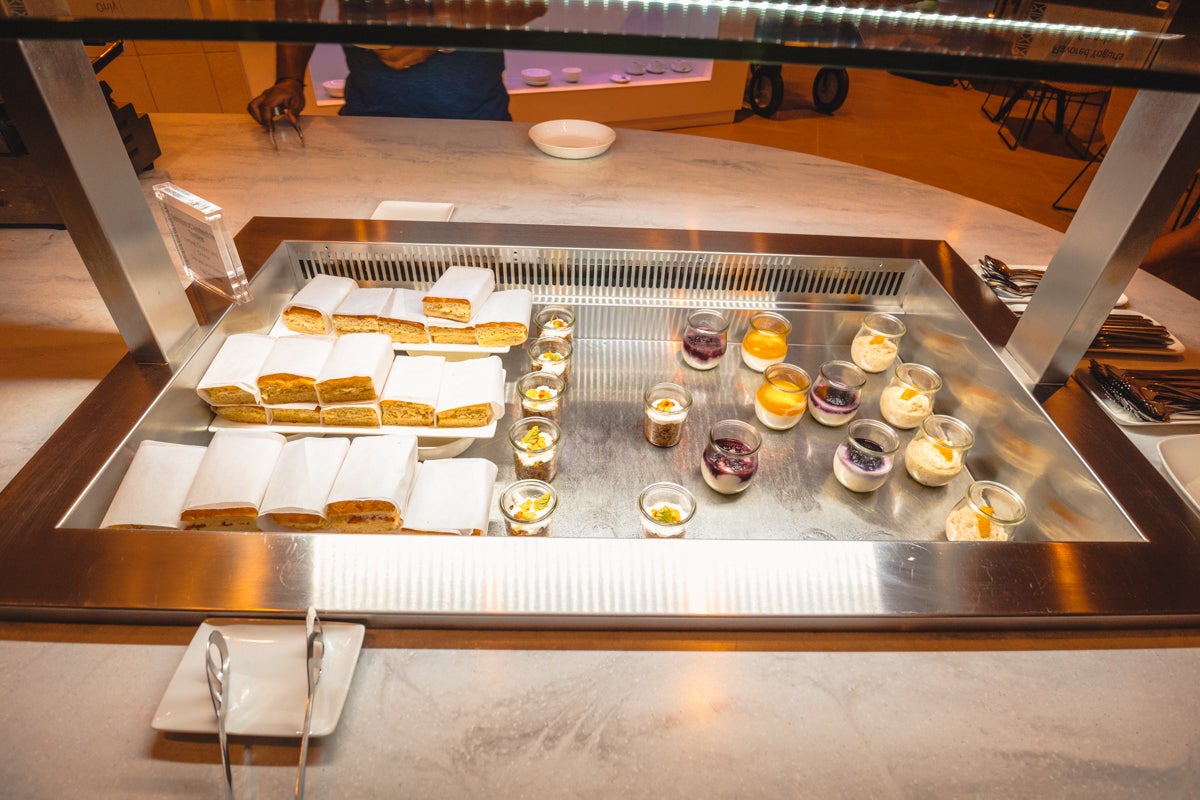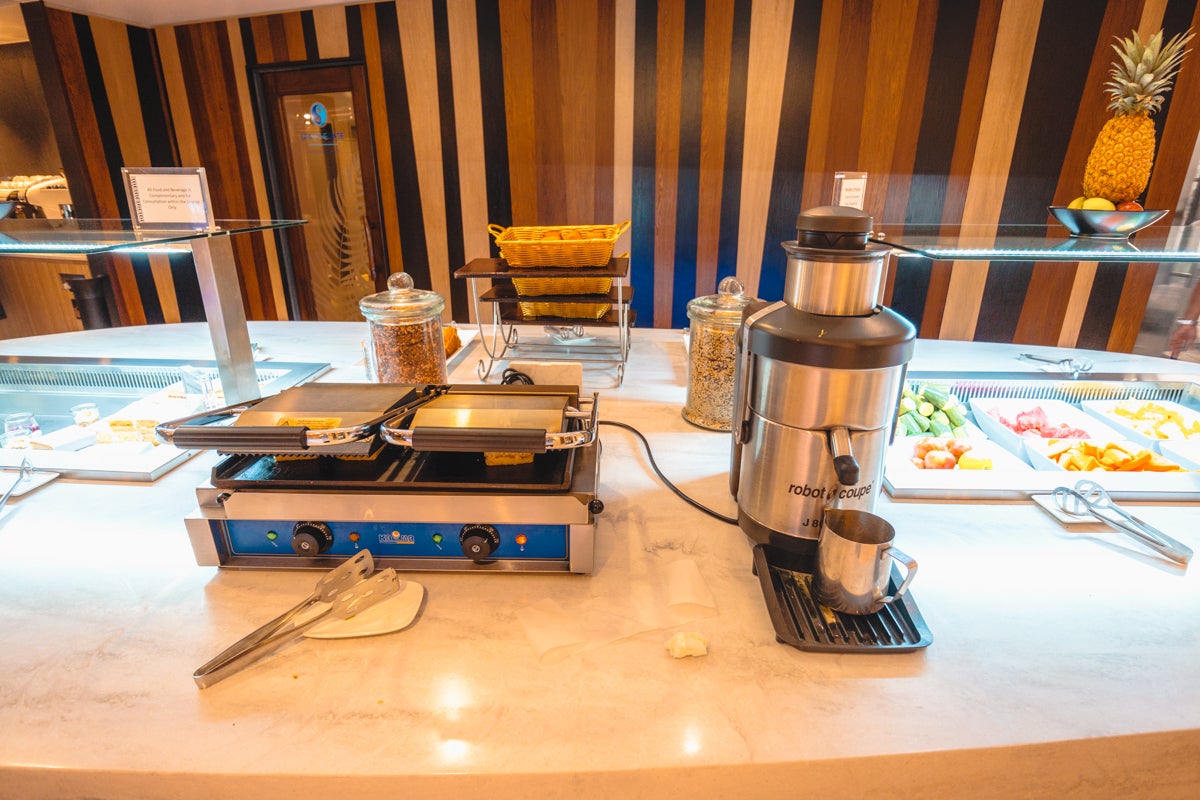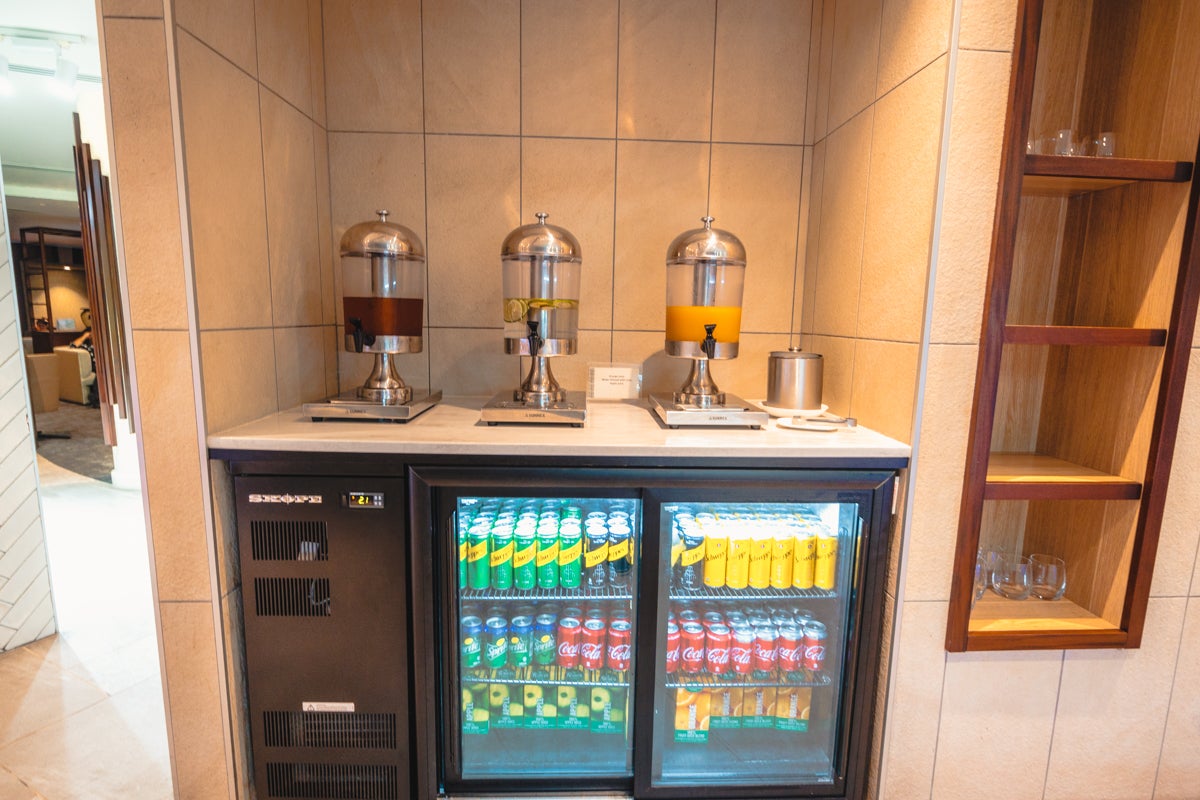 The other side of the dining room had a tendered bar with a barista station for made-to-order coffee and teas.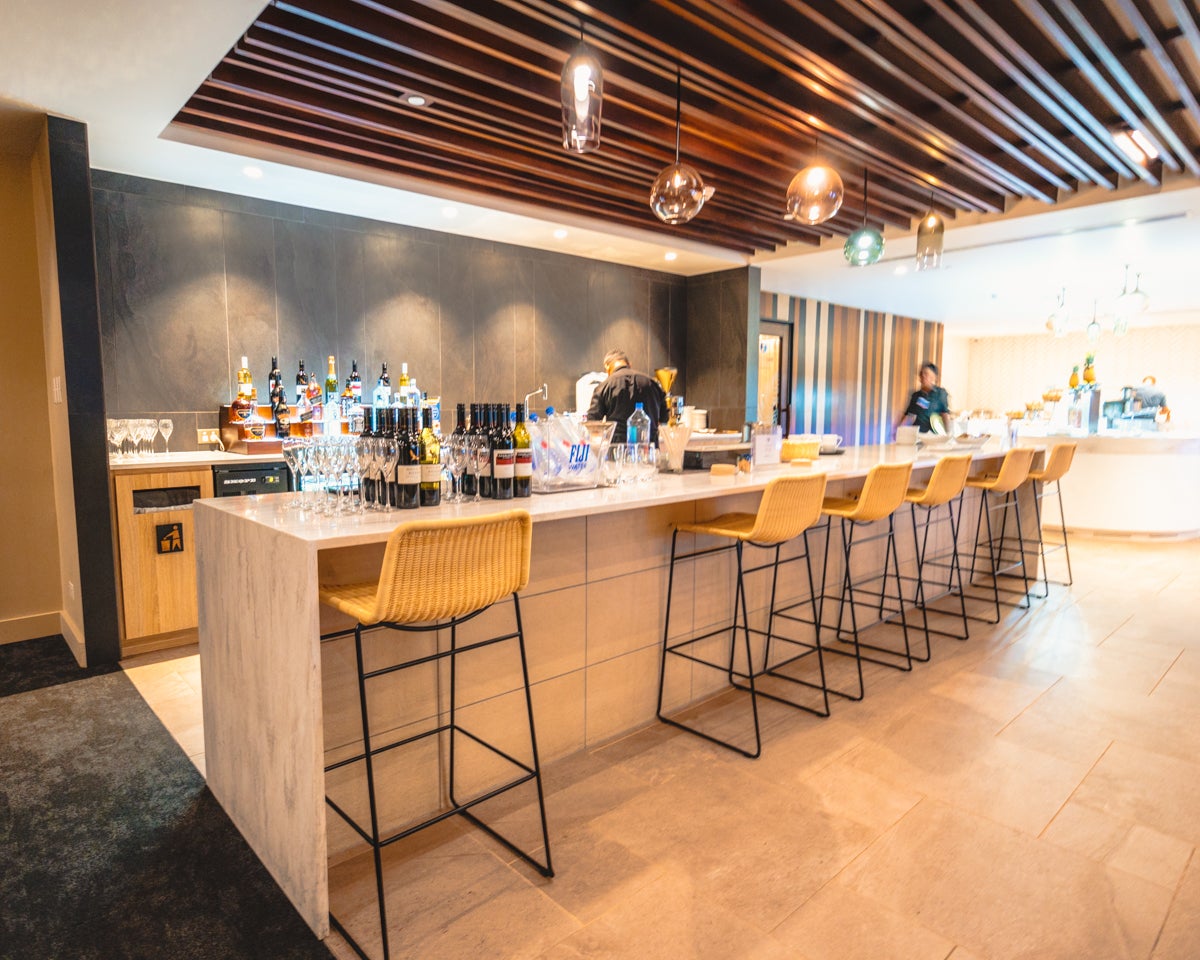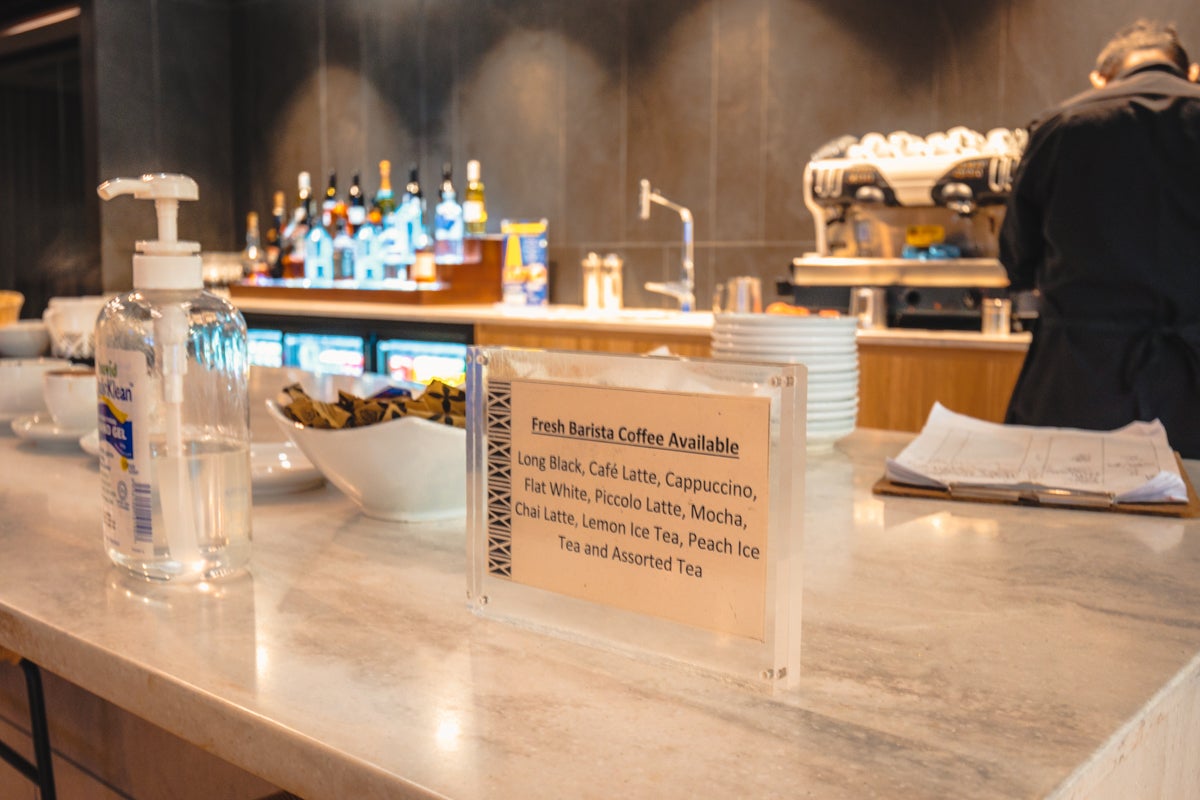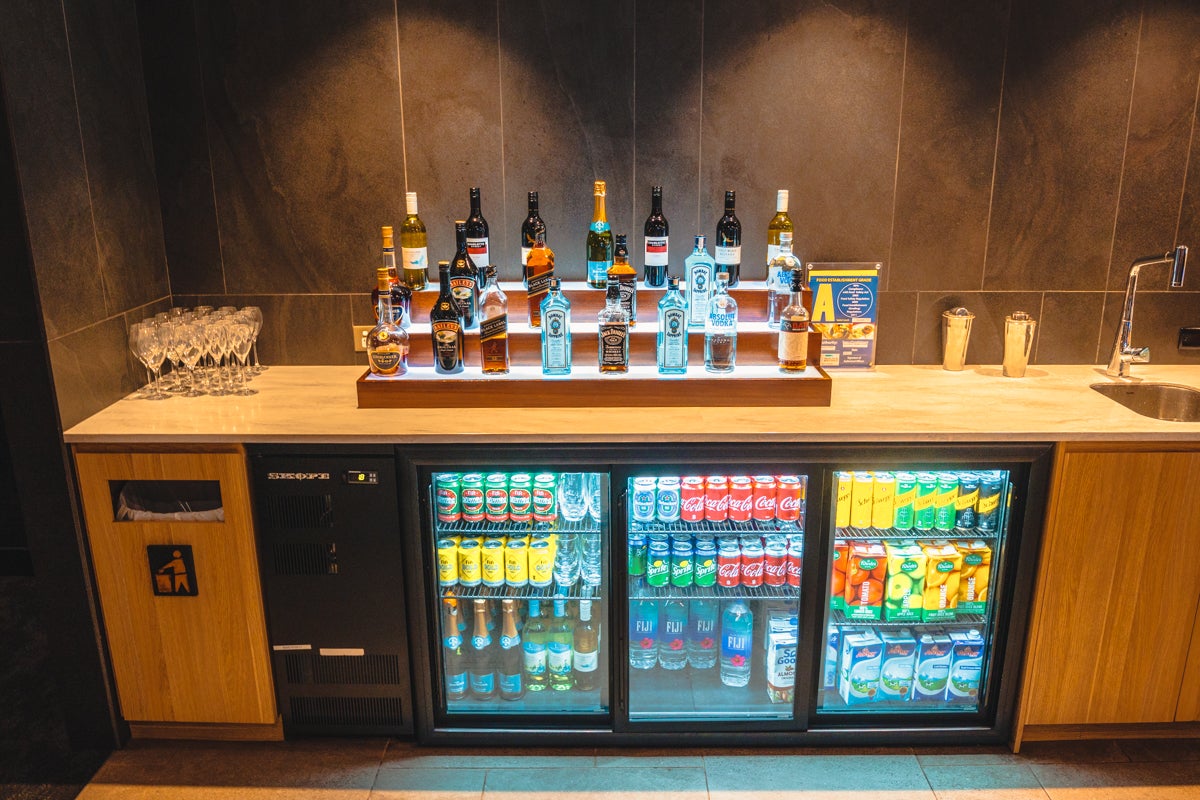 On the wall opposite the dining room was reading material and a giant TV screen that thankfully had no audio playing.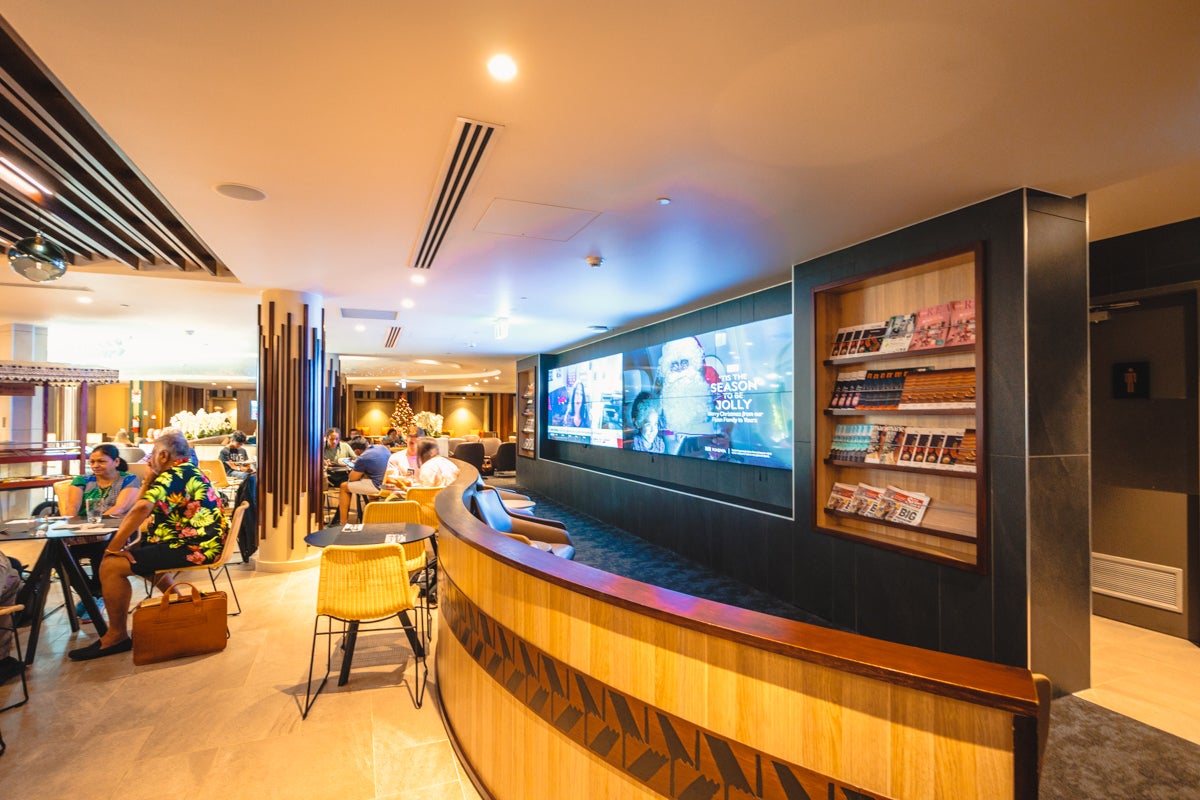 Around the corner was the furthest zone of the lounge with high-sided solo chairs for added privacy and additional banquette seating.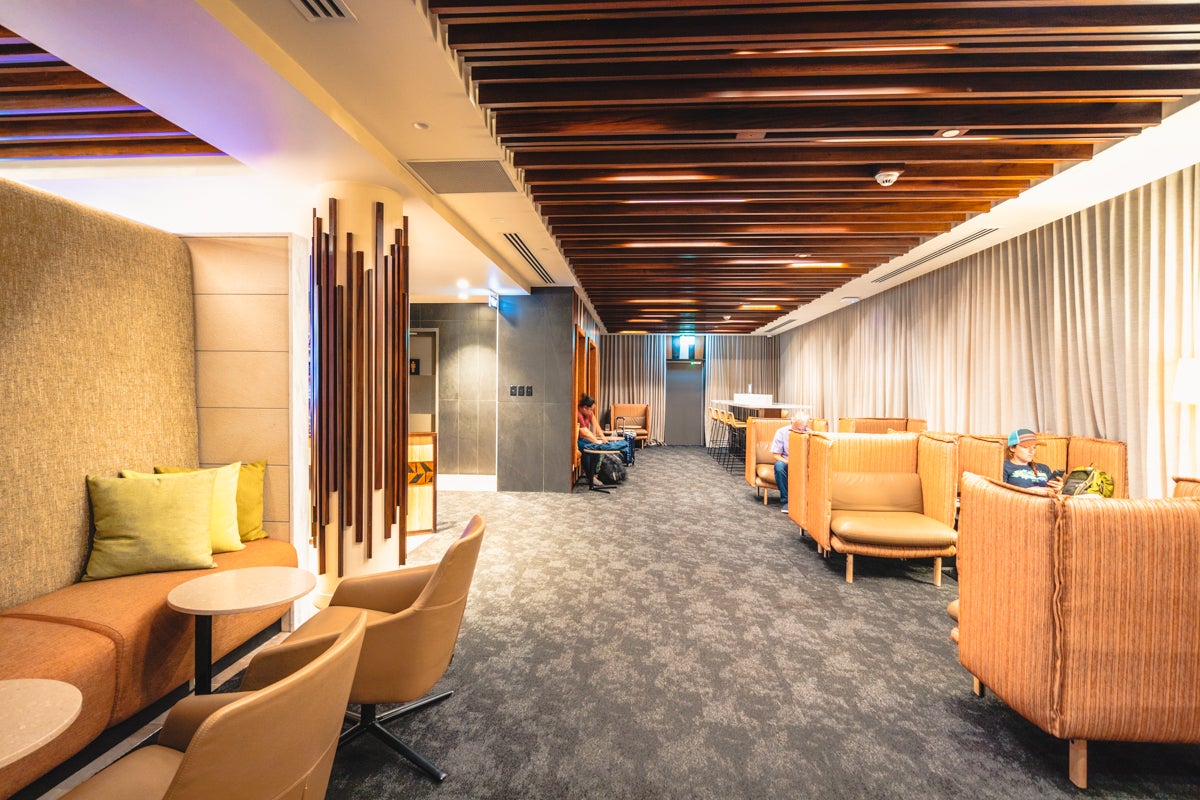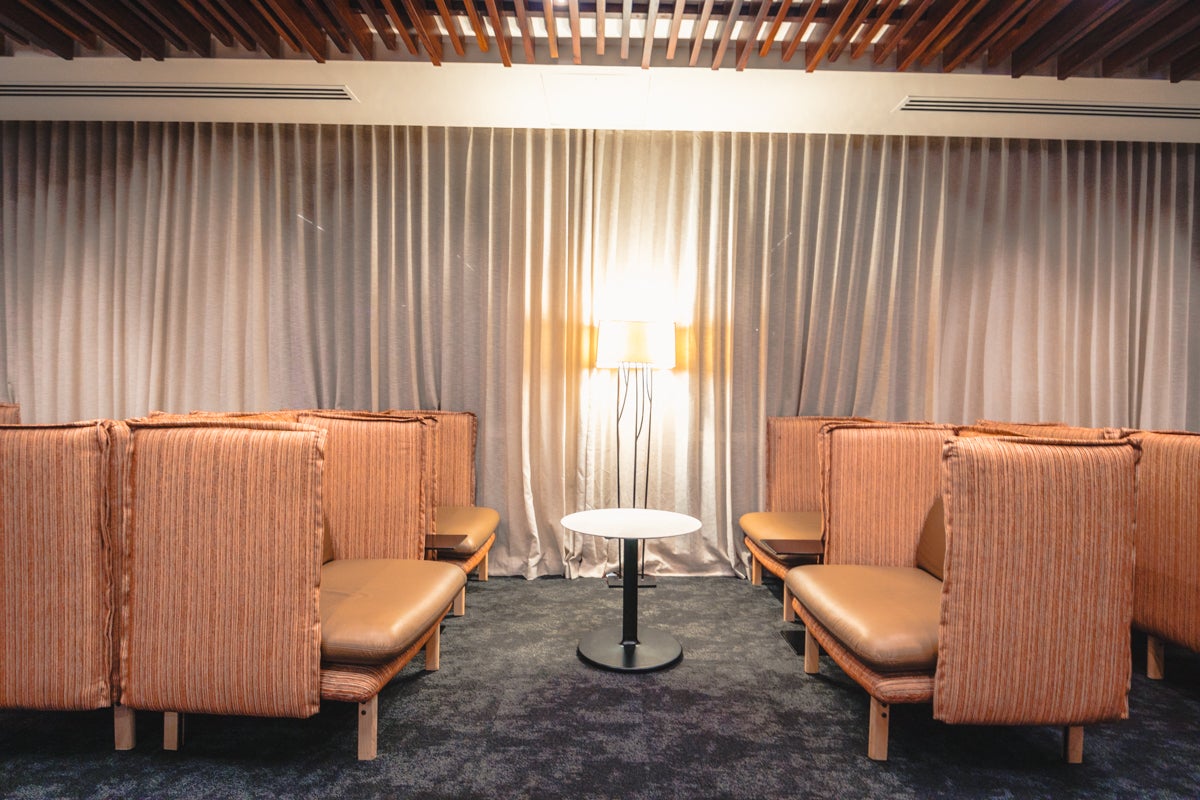 The high table in the corner seemed a bit out of place in this zone.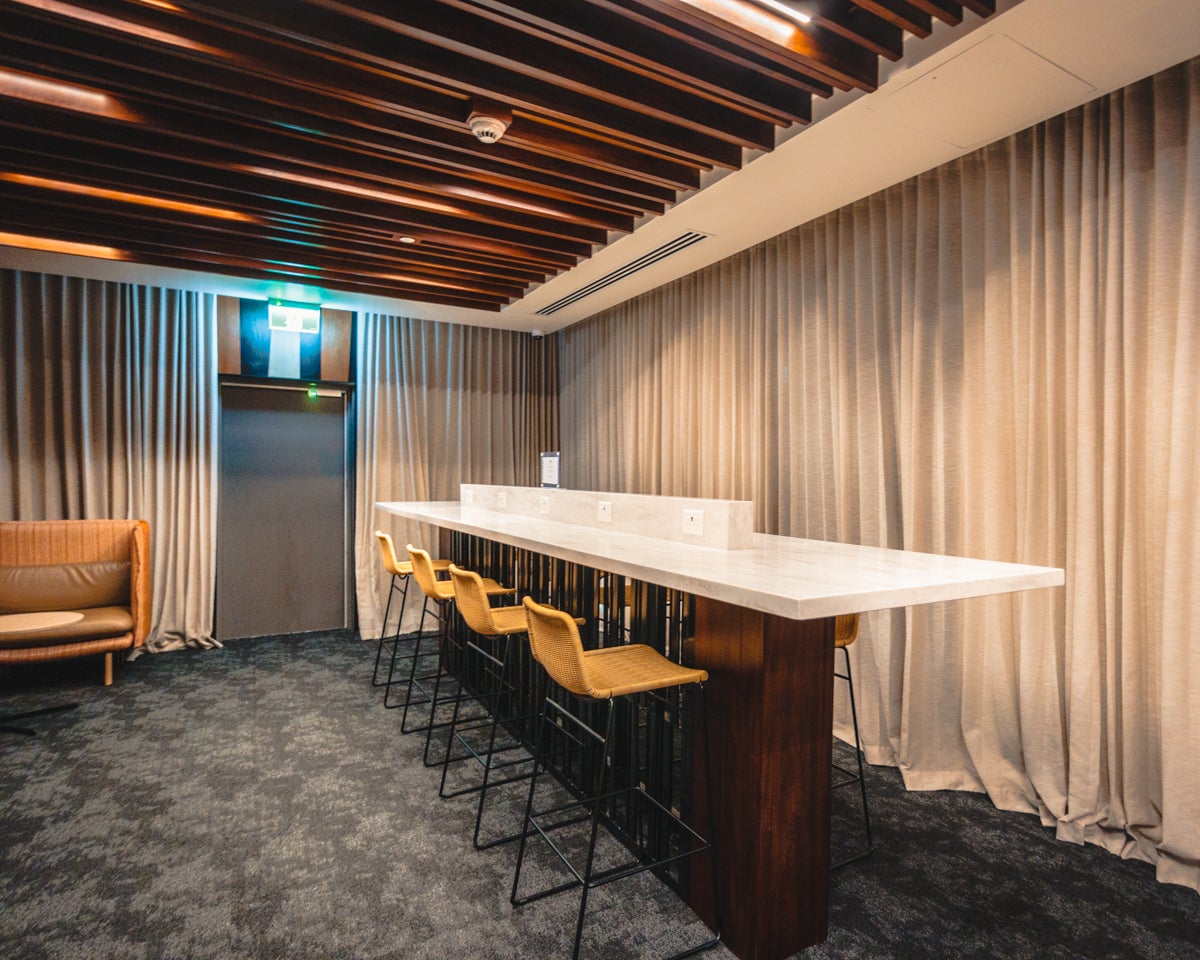 There was even a kids' playroom.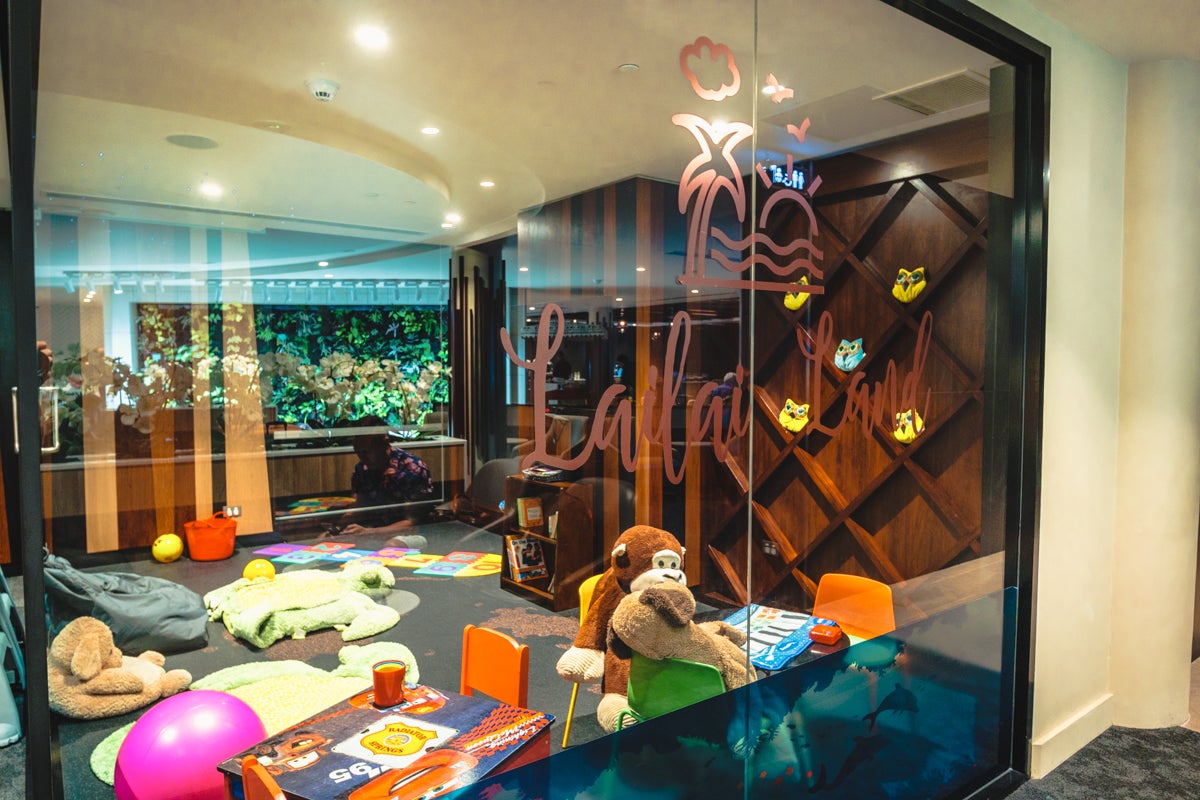 Power points were within easy reach of most lounge chairs and there was also a business center with 4 Apple Macs and a printer.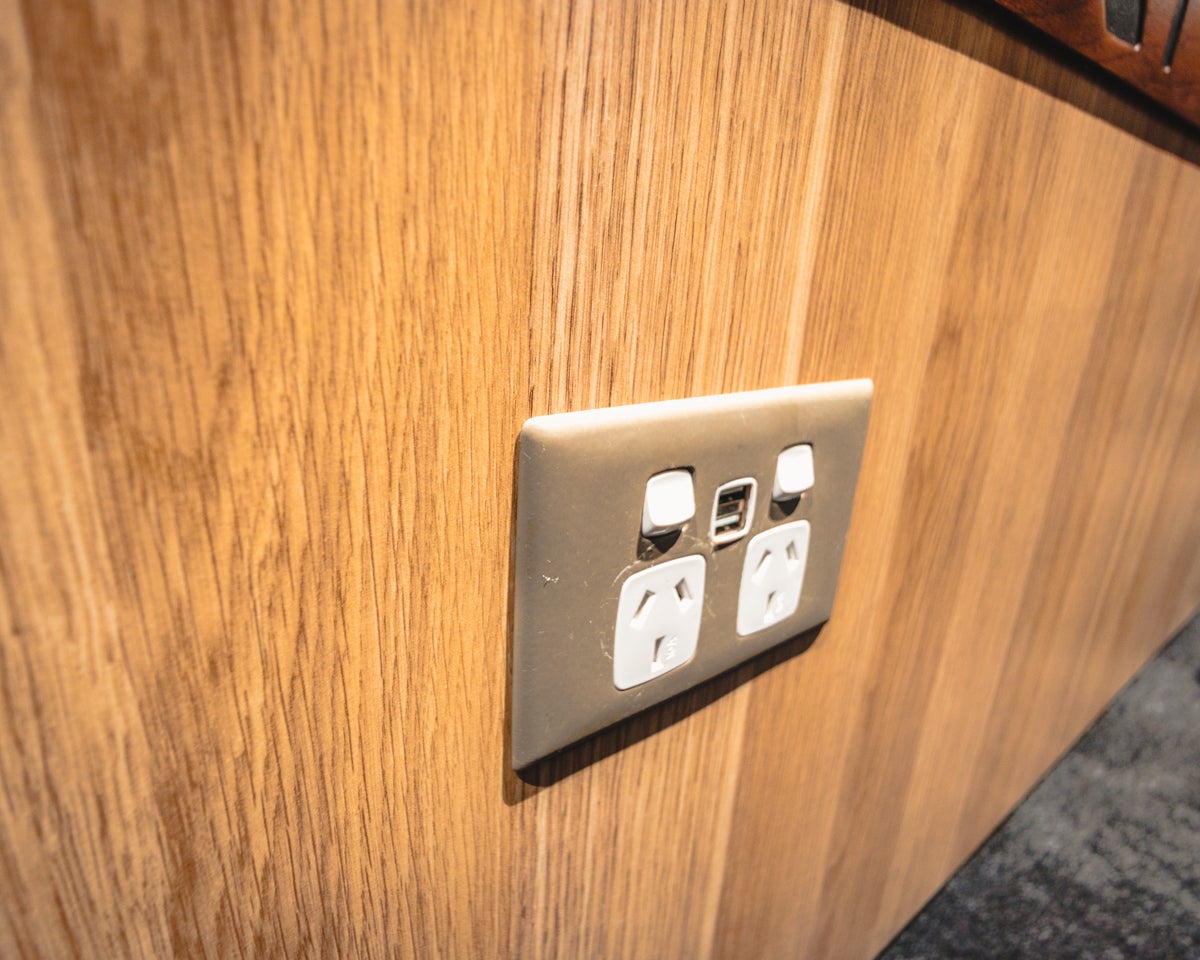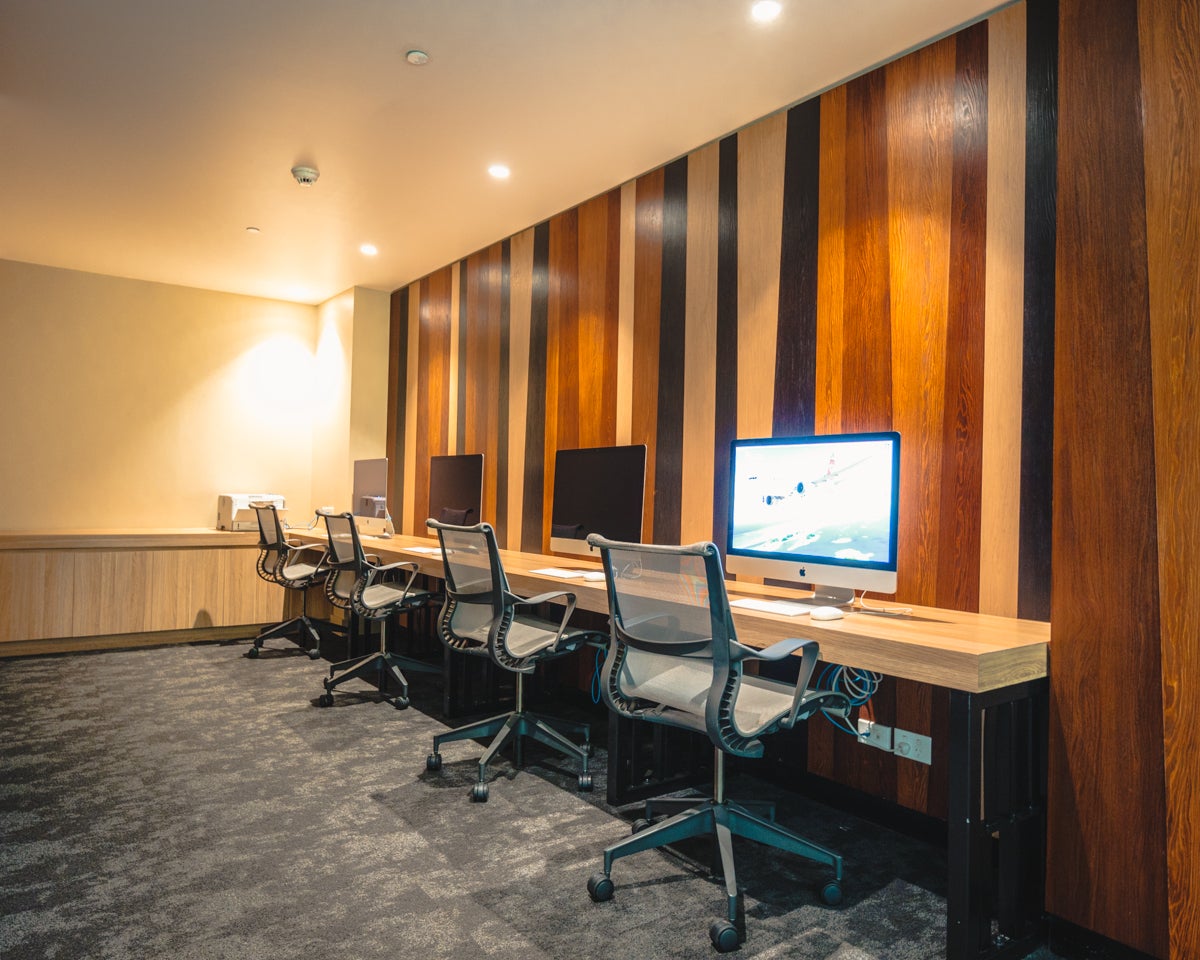 The Wi-Fi, however, was dreadful.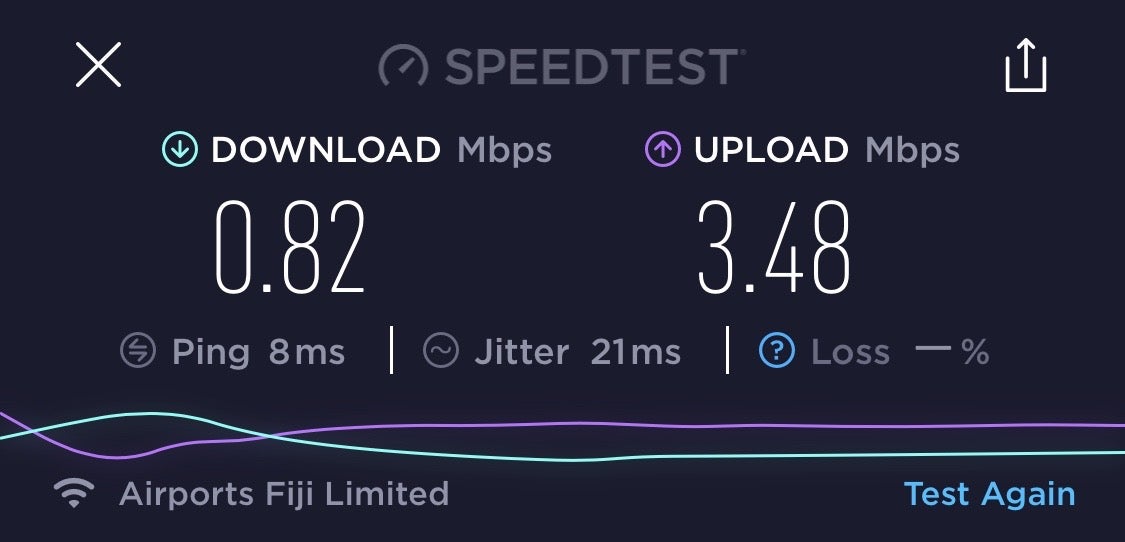 Overall, this is one of the better Priority Pass lounges I have visited with ample seating in a variety of zones, decent food options, a sandwich press, a juicer, and a tendered bar with a barista.
The only 2 downsides to this lounge are the terrible Wi-Fi and the lack of windows, which I think is a missed opportunity.
Hot Tip: The Amex Platinum card is one of many credit cards that offer Priority Pass membership to cardholders.
Flight
Aircraft
FJ911 is operated by a brand-new Airbus A350-900.
Fiji Airways has just taken delivery of 2 Airbus A350 aircraft, the first of which, DQ-FAI, was delivered November 15, 2019, and was our aircraft for this flight. Named the "Island of Viti Levu," after Fiji's largest island, it is the first A350 to be delivered to a South Pacific airline.
Fiji Airways took delivery of its second and final A350 on order, DQ-FAJ, named "Island of Vanua Levu," after Fiji's second-largest island, on December 14, 2019.
The airline is currently flying the aircraft between Nadi and Sydney, with Los Angeles flights as of January 1, 2020.
Both aircraft are configured with 33 business class seats in a 1-2-1 configuration between door 1 and door 2.
Economy occupies the rest of the aircraft in 3-3-3 configuration with 301 Recaro CL3710 31-32-inch pitch seats with 39 of these branded "Bula Space" which provide 34-inch legroom.

Economy Class
All of the Fiji Airways staff are incredibly proud of their new Airbus A350 aircraft. When I arrived at the gate early and asked if I could board first to get some photos of the aircraft, they were happy to arrange.
Stepping out of the terminal, I was instantly greeted by the beautiful new "Island of Viti Levu" right in front of me. Doesn't she look great?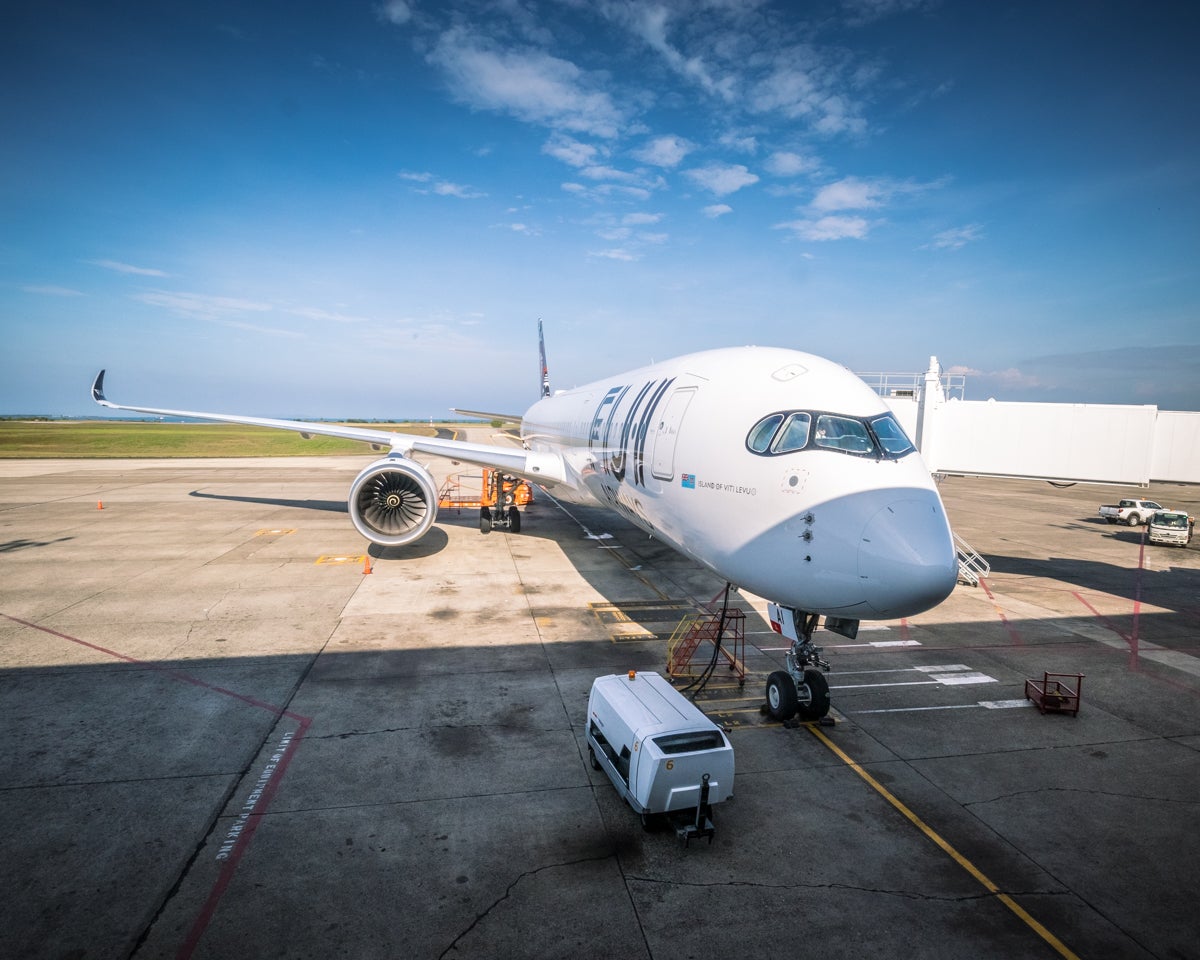 Upon boarding, the cabins looked fantastic with overhead pink LED lighting contrasting against the green upholstered seats.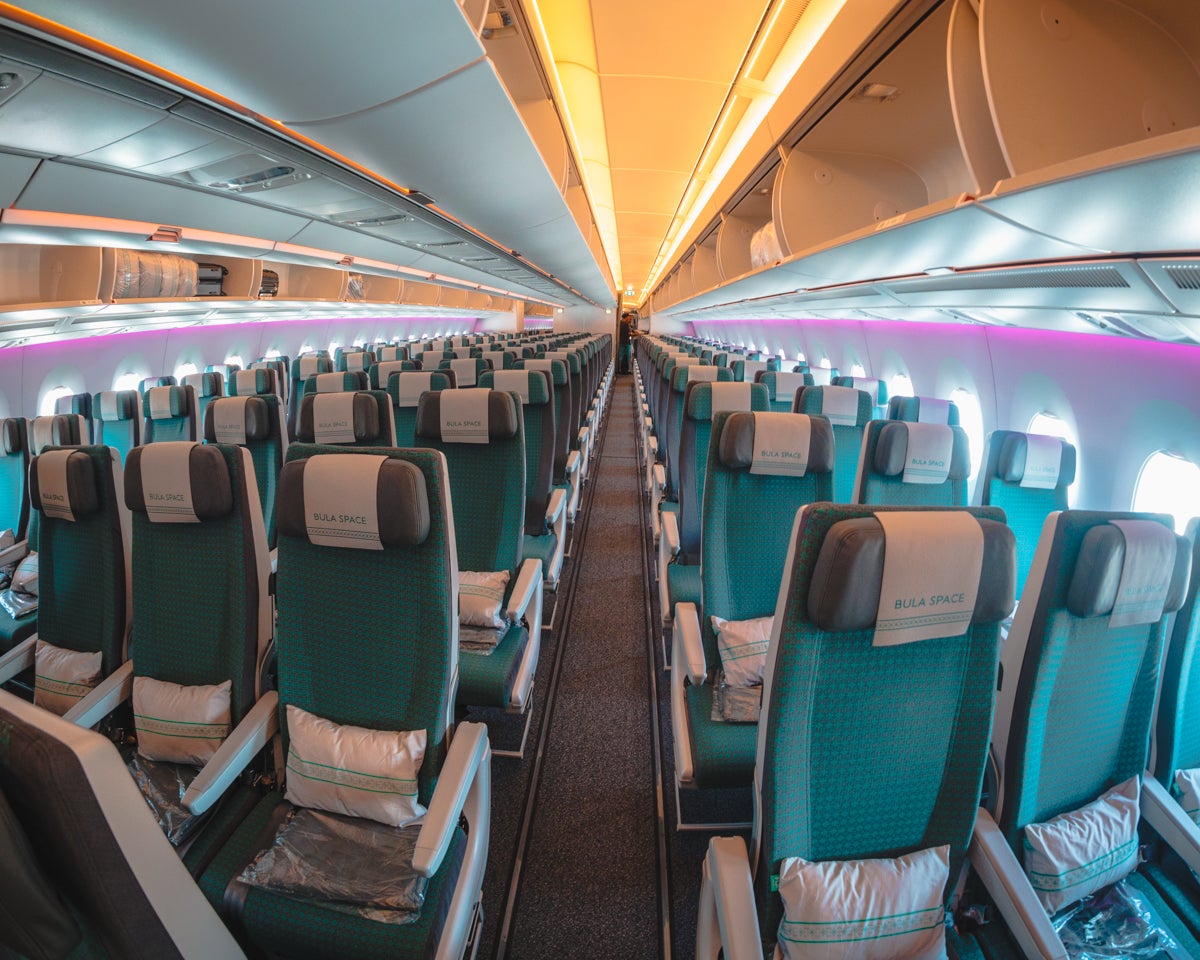 Even with all the overhead bins open, the cabin feels open and spacious, also thanks to the A350 windows which are higher up the fuselage compared to older aircraft. The sun was flooding in.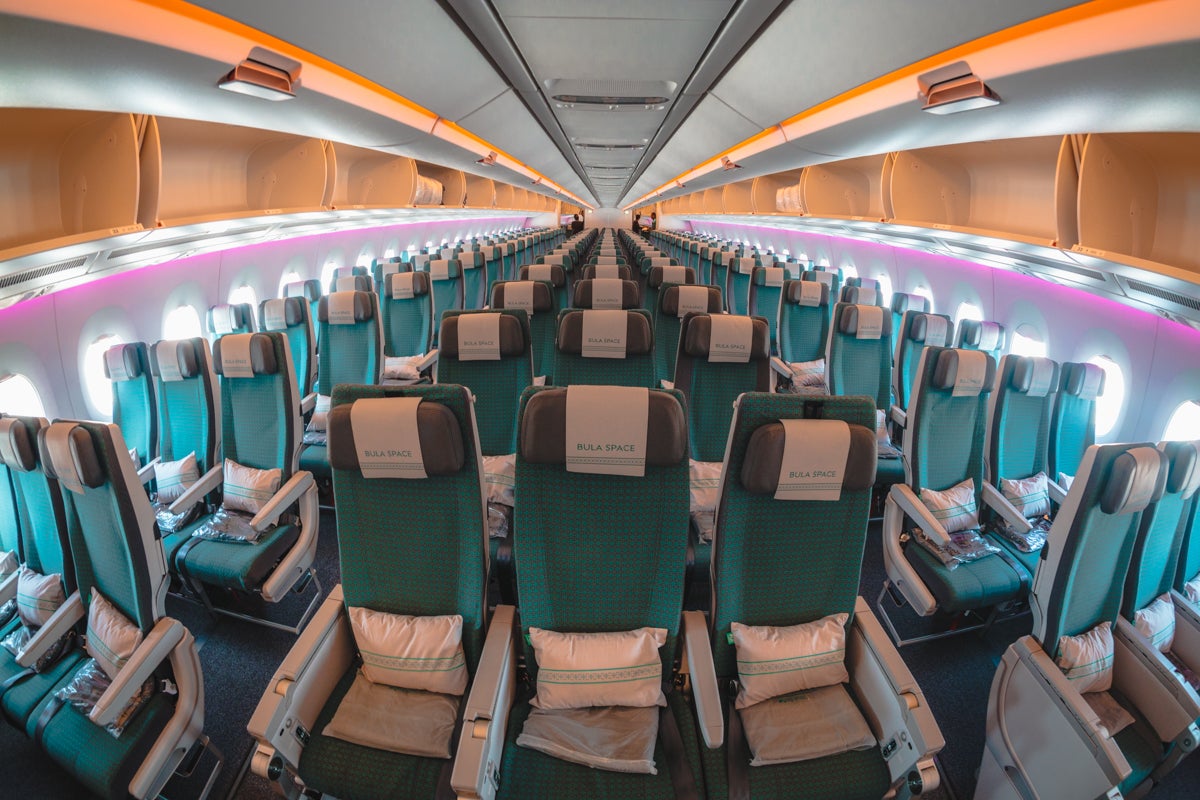 The 301 economy seats are split into 2 cabins.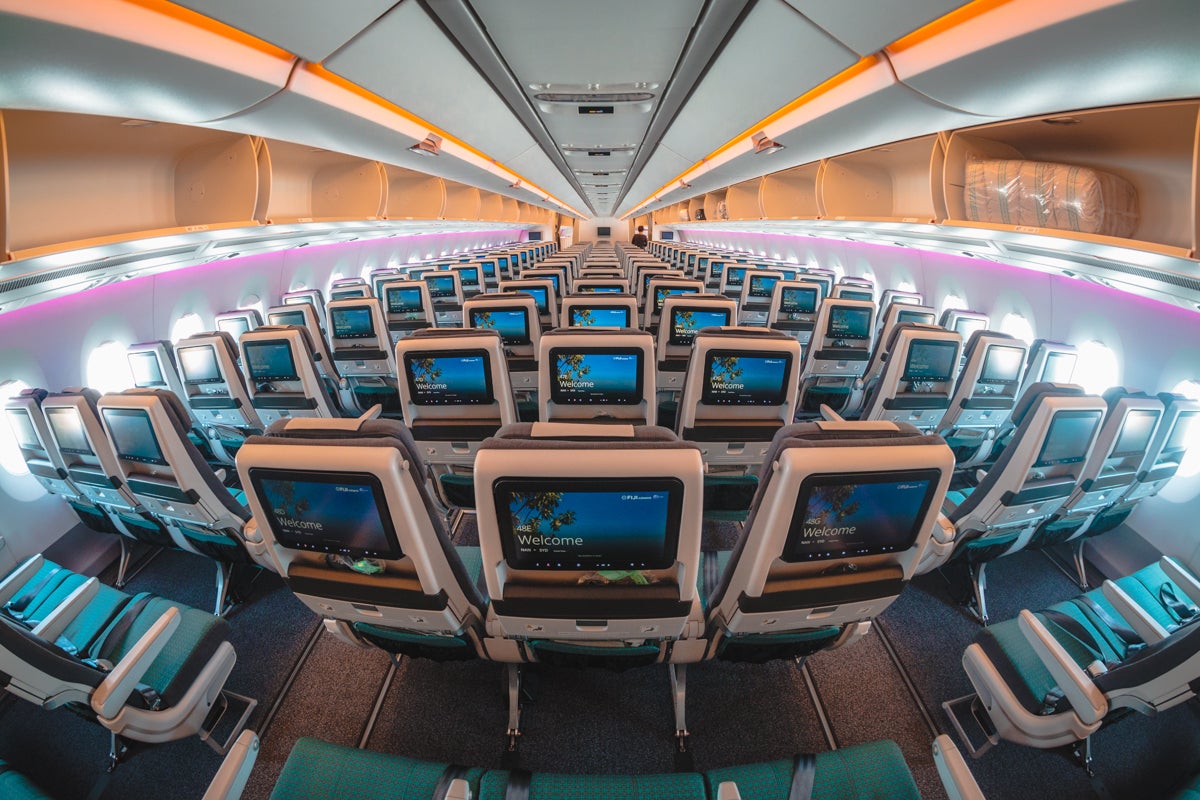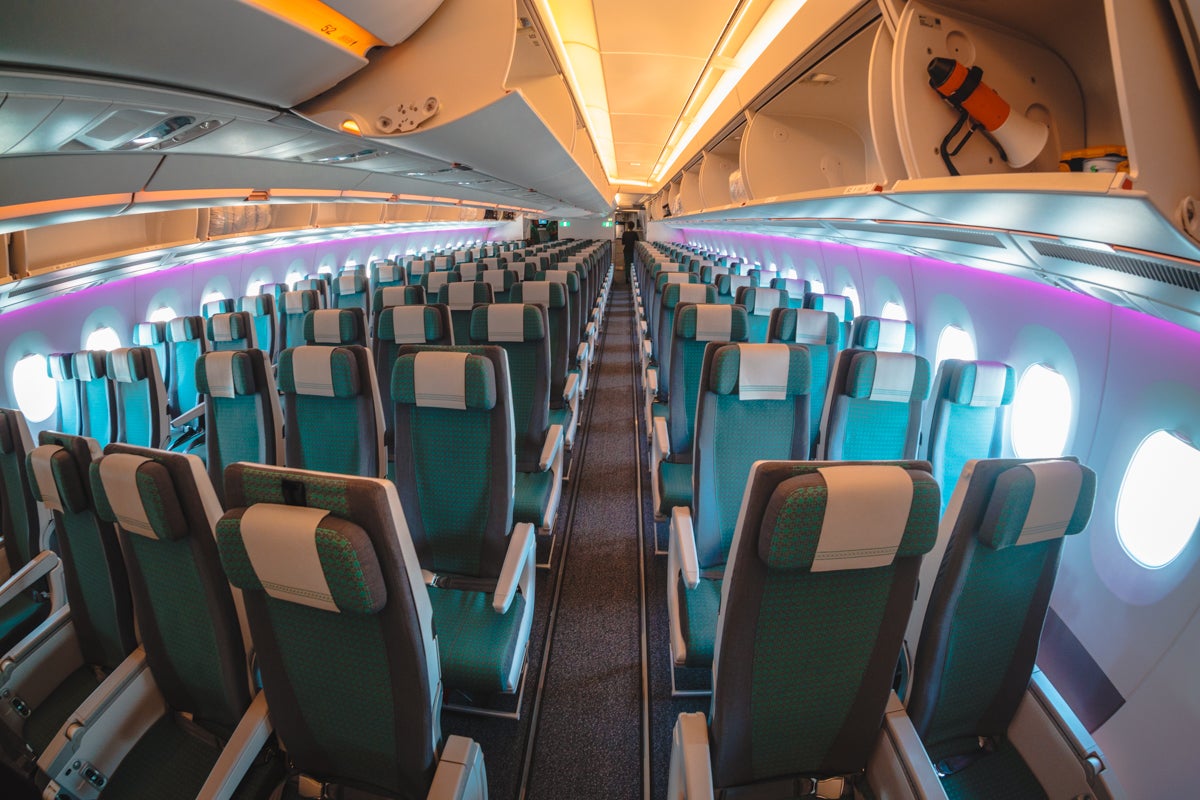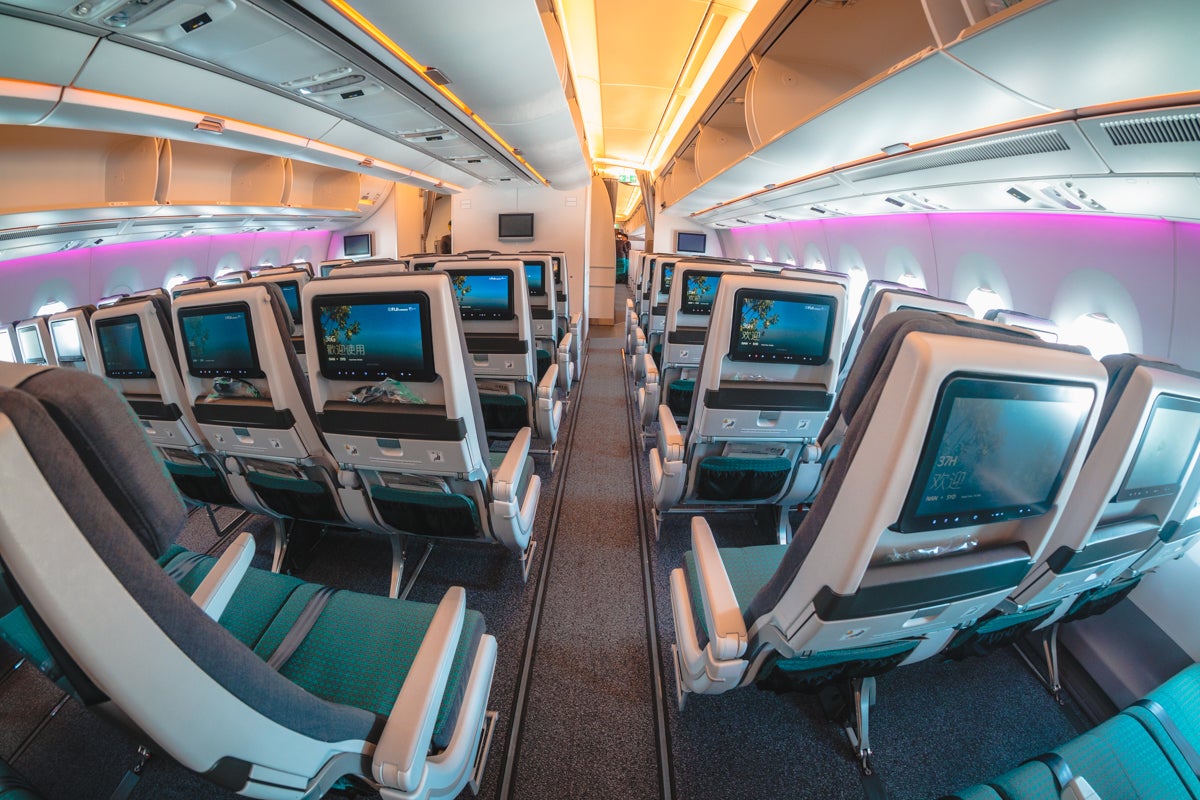 The first 4 rows in the first cabin feature 36 "Bula Space" seats which are available to purchase for an added charge that affords passengers an extra 3-inches of legroom and includes a pillow and blanket.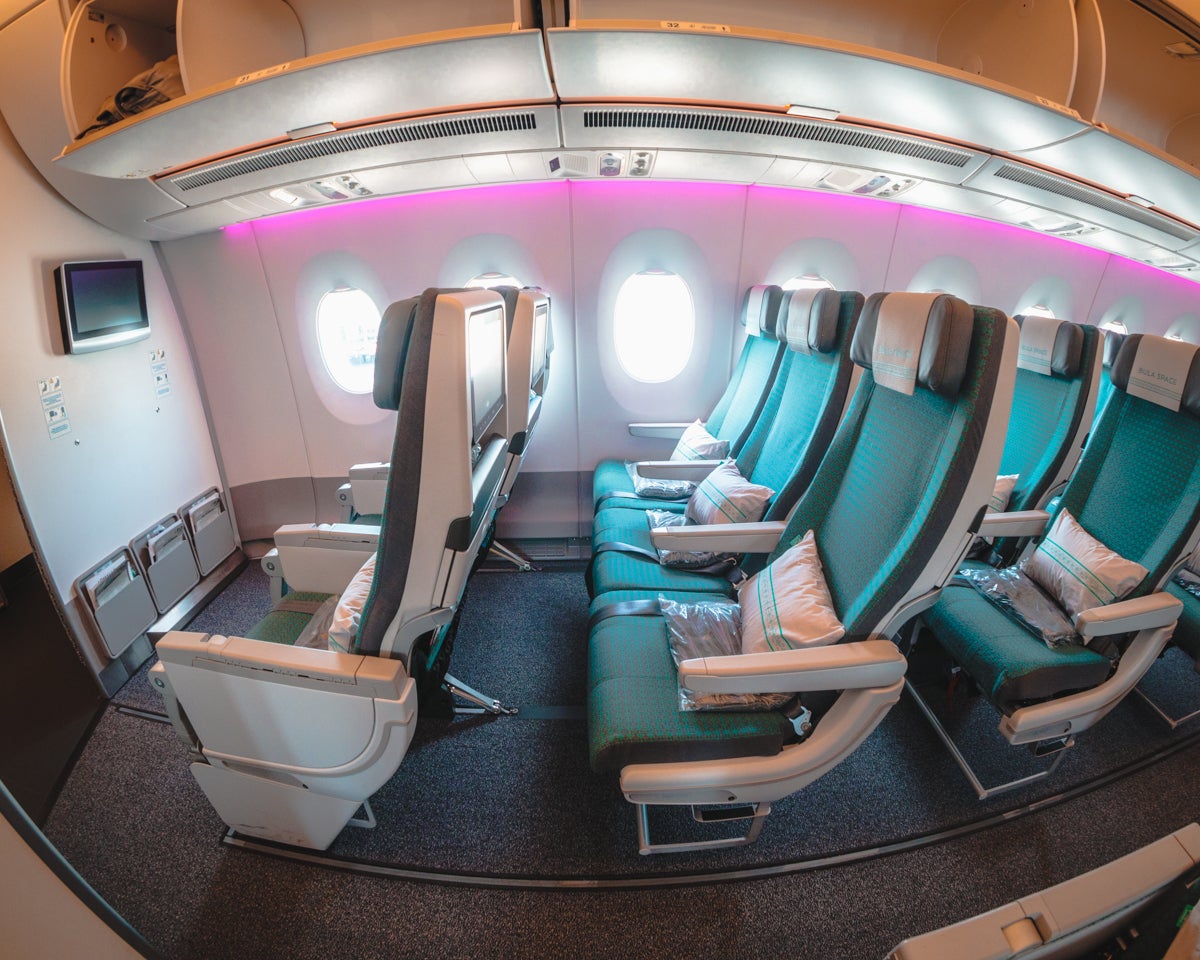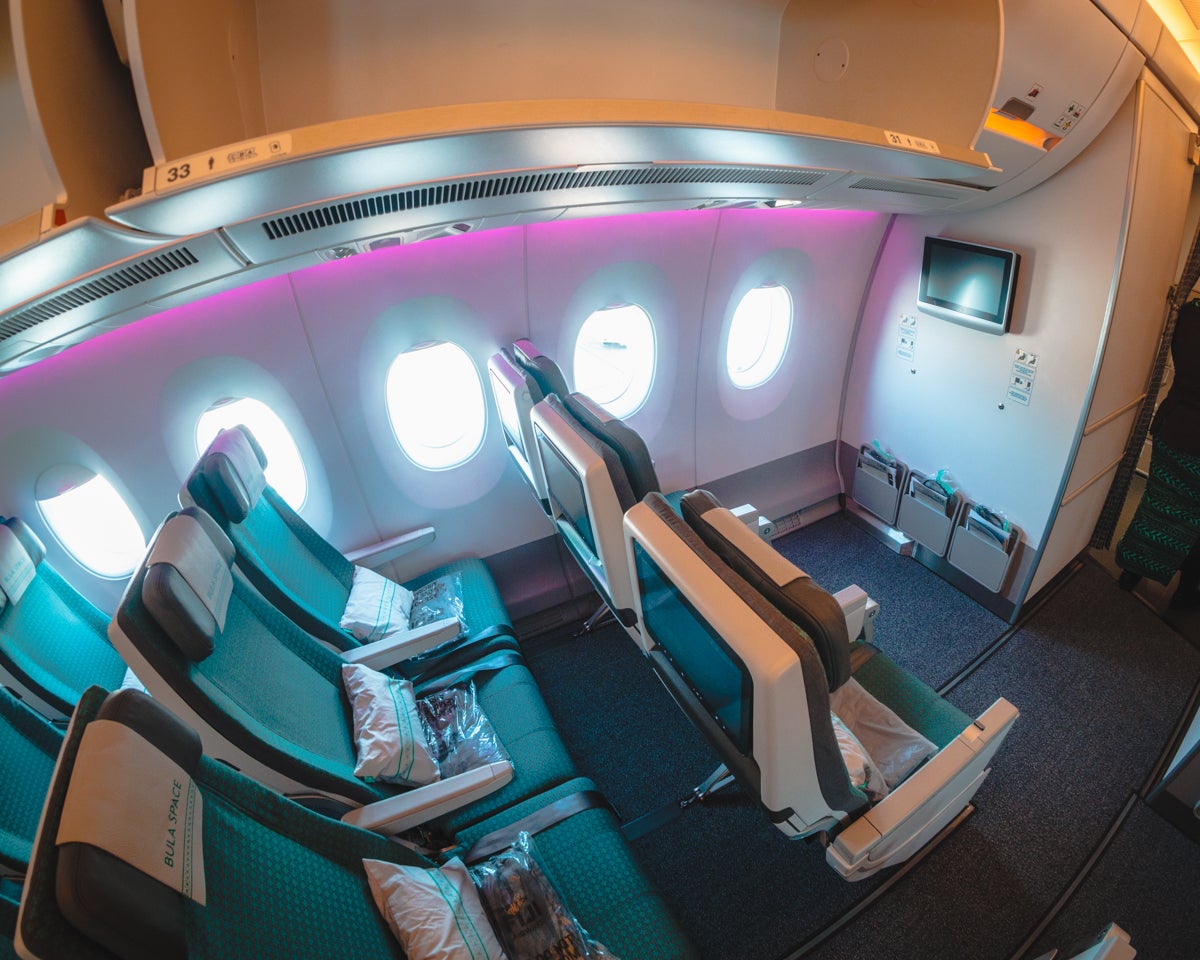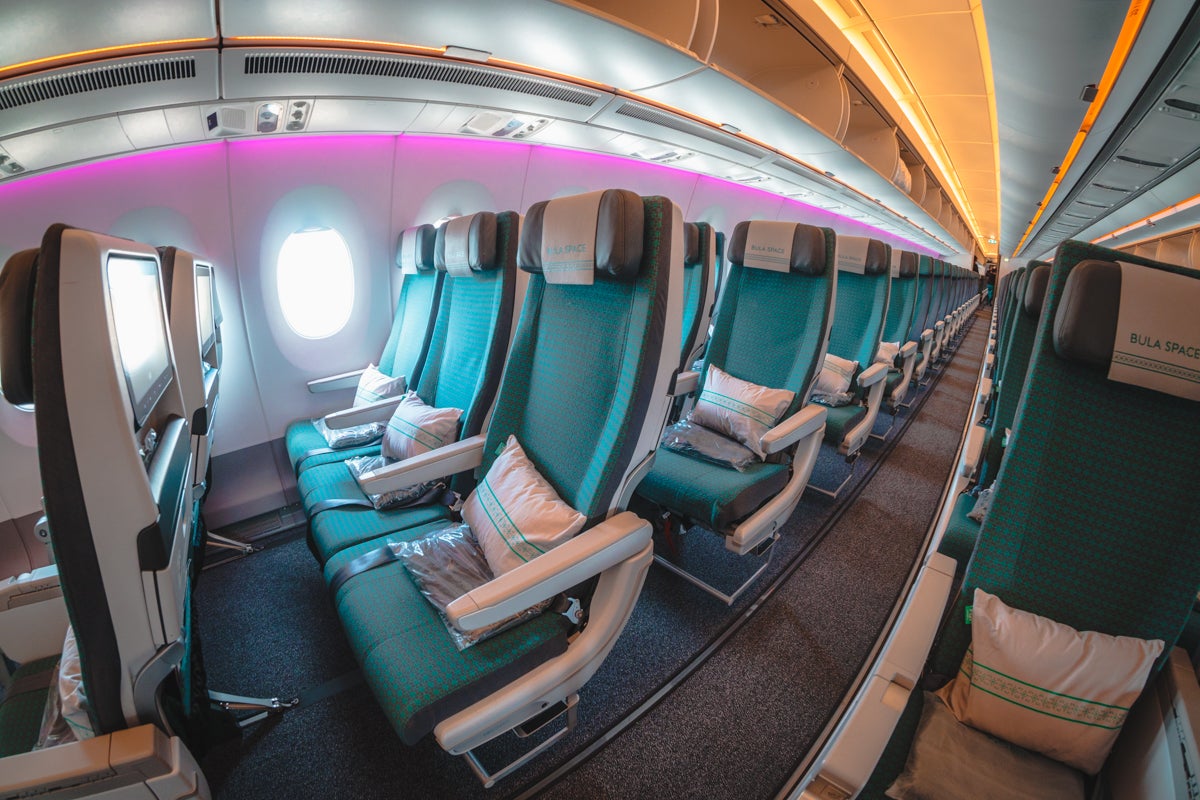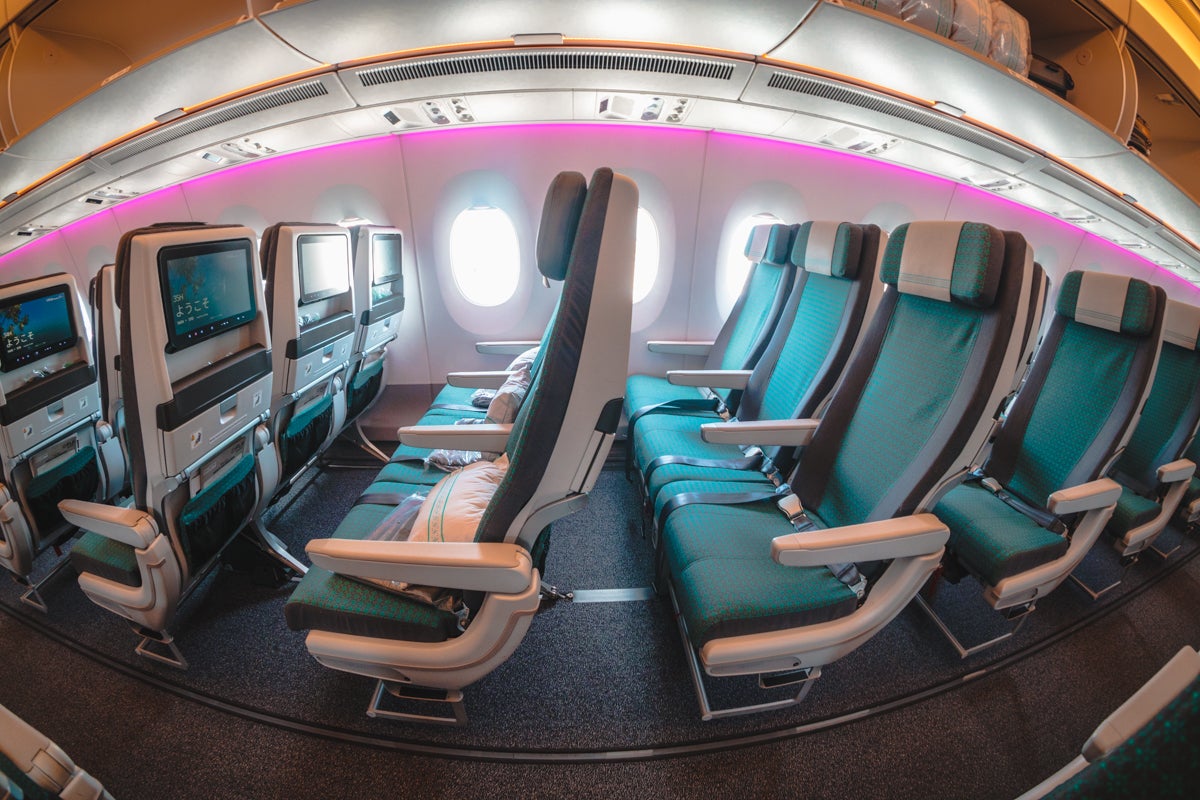 In the second cabin, the first-row bulkhead seats are also classified as "Bula Space" so you can only pick these if you pay for the upgrade. Yet today, these were all missing the headrest branding, pillows, and blankets, possibly because the crew knew they were going to be occupied by passengers on this flight.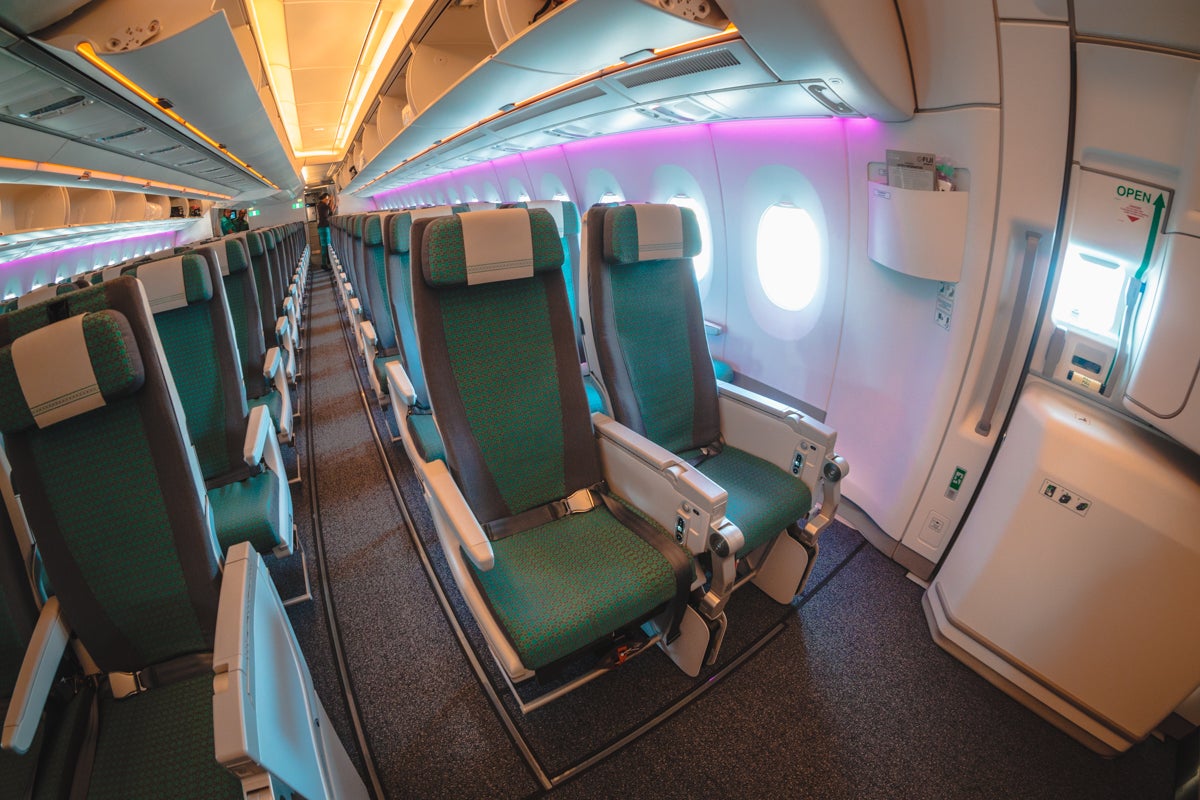 I picked 1 of 2 of the best free seats in the entire 2 cabins: 52A (the other being 52K).
These are a row behind the "Bula Space" and are exit row seats alongside the window, but without a seat in front.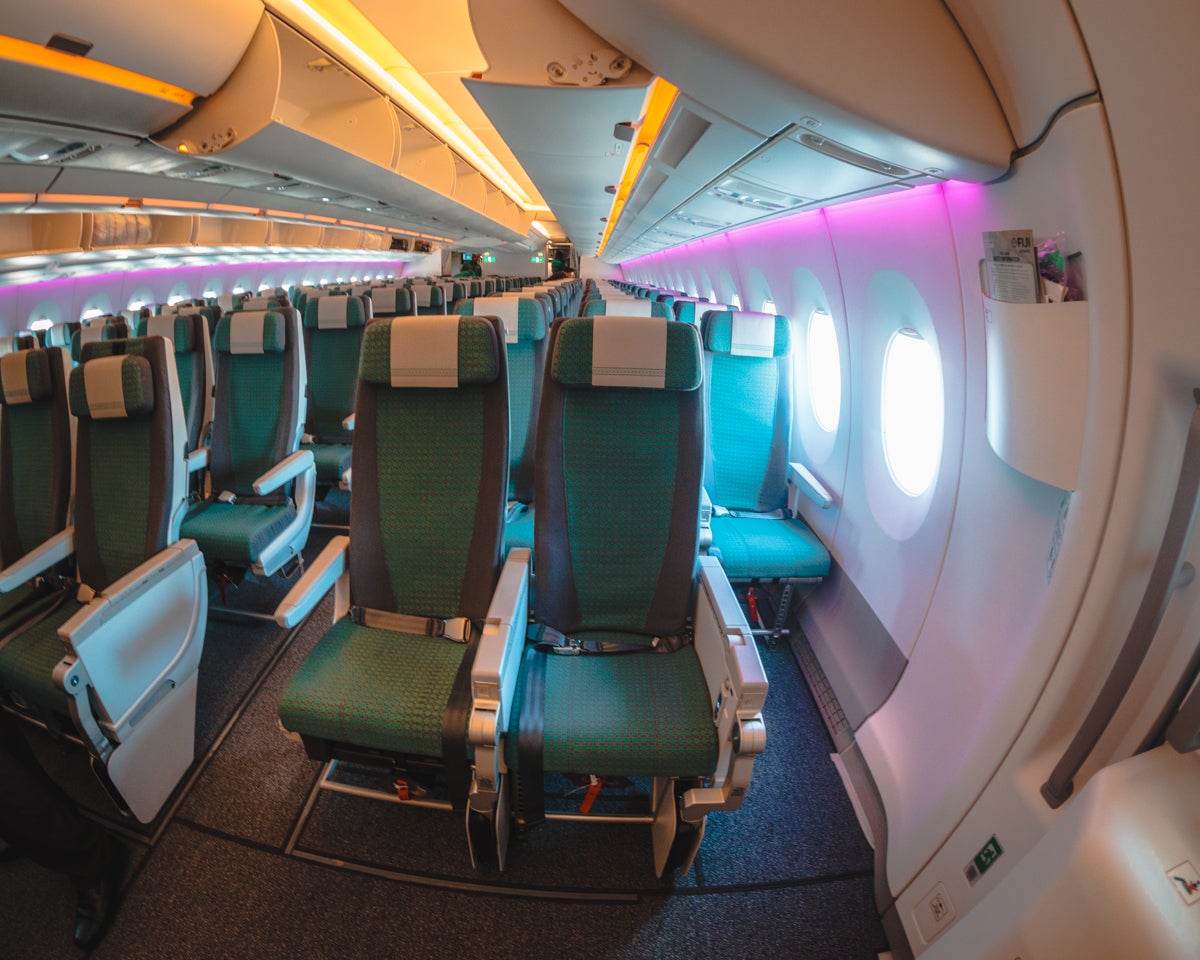 As such, there is oodles of legroom and easy access in and out of the seat.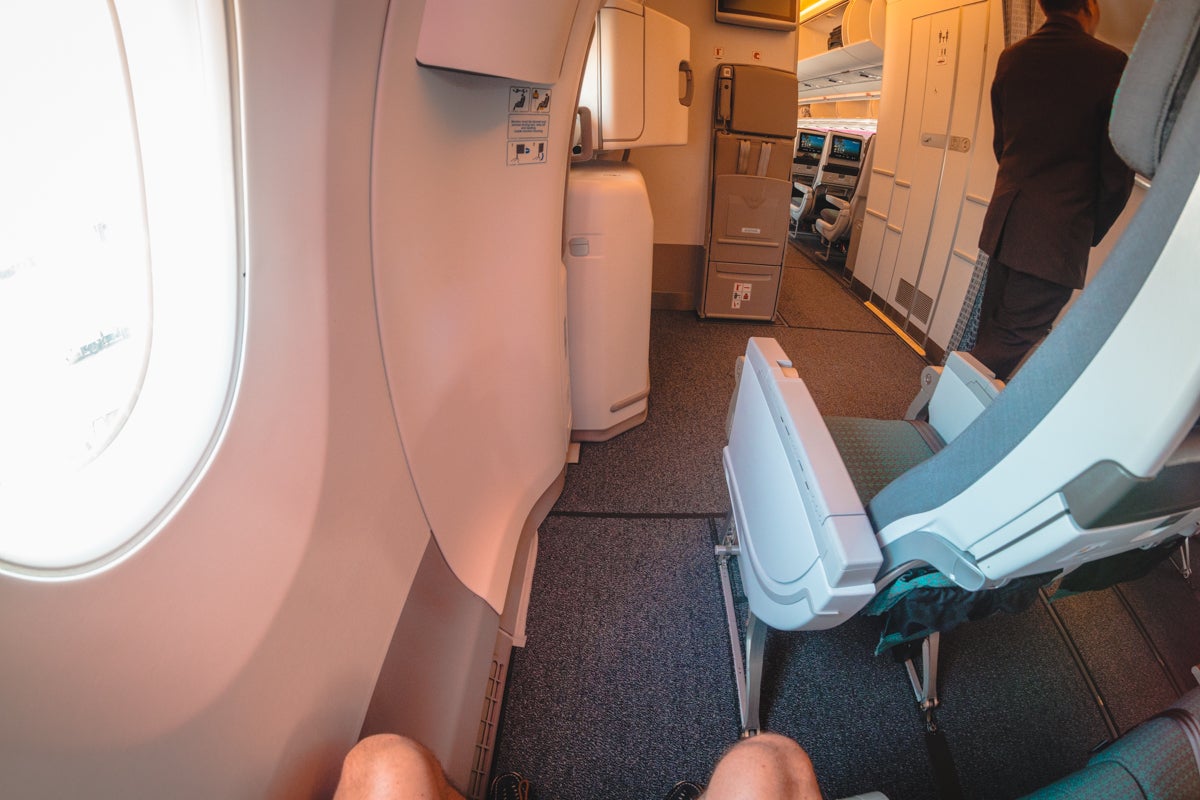 There's a fabulous view out of the large A350 windows.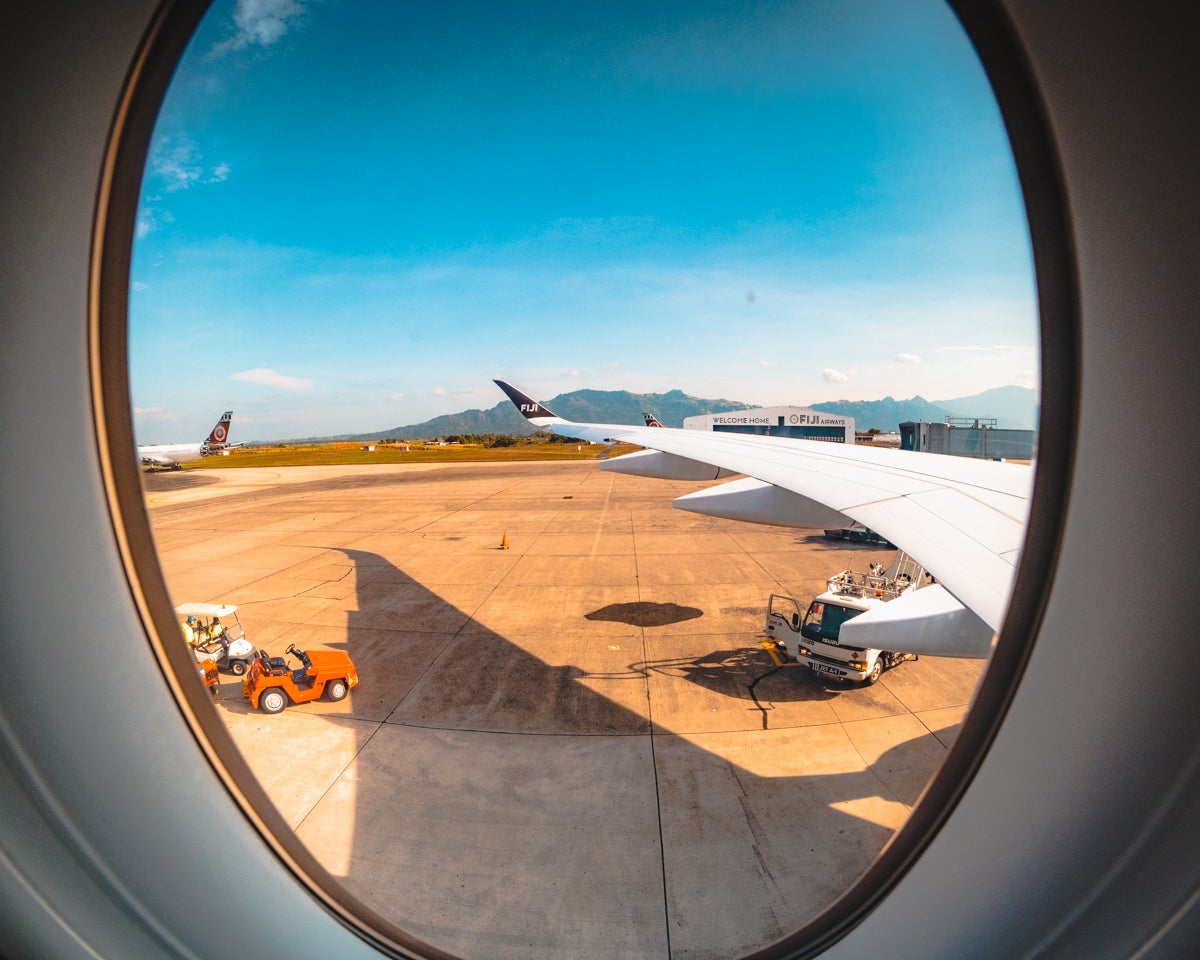 I would also say the middle seats 52B and 52J would be the best middle seats on the aircraft as they provide passengers 2 ways to access the aisle.
With no seat in front of me, my seat had a fixed armrest which housed the tray table and IFE monitor. This possibly robbed the seat of a bit of width, but it was totally worth it.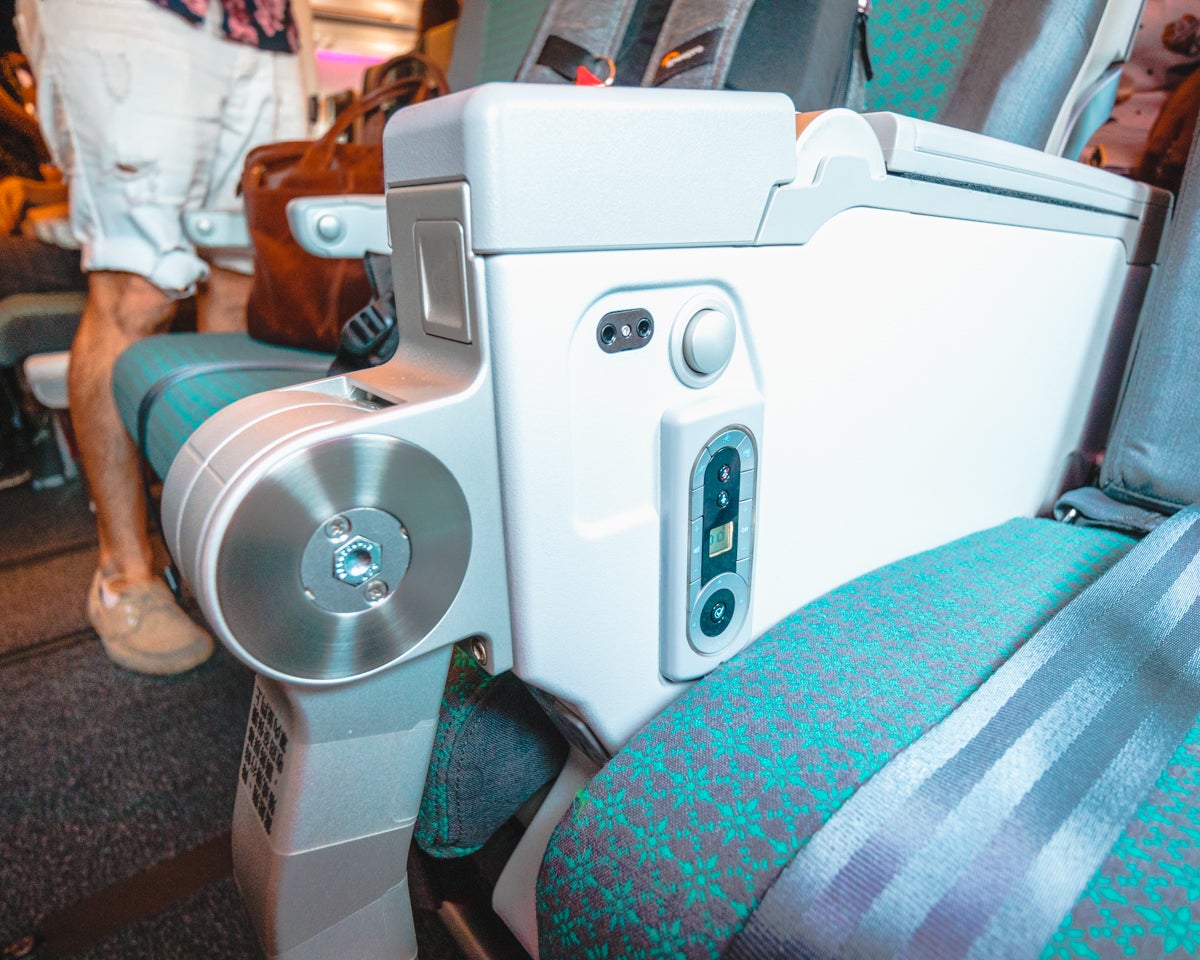 With the IFE monitor stored for take-off and landing, the headphone jack and buttons for volume, overhead lighting, and crew calling were located on the inside of the armrest. This caused a small problem during the flight when I inadvertently called the crew with my thigh when it brushed past the buttons.
The literature pocket for my seat and Row 51 was positioned on the side wall near the aircraft door.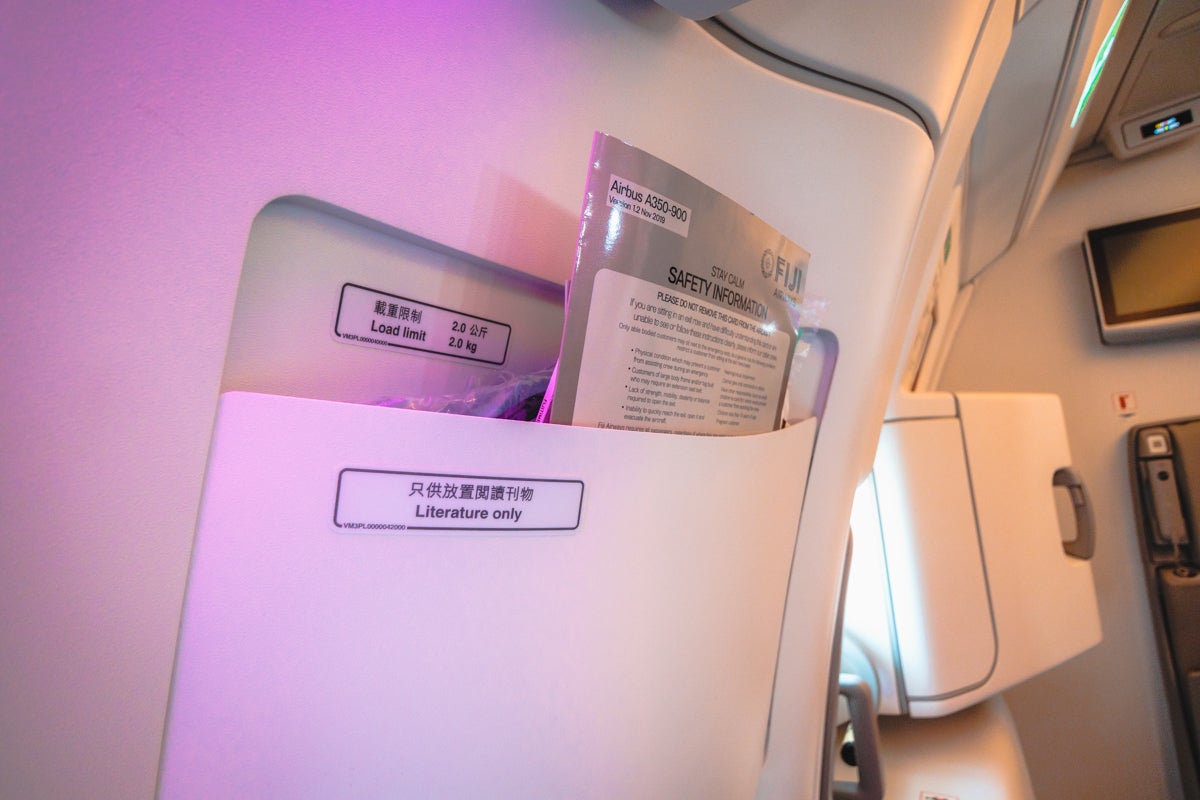 The tray table flips out from the armrest at half size which allows you to jump out of the seat if you have the tray out. It then flips over again for the full size.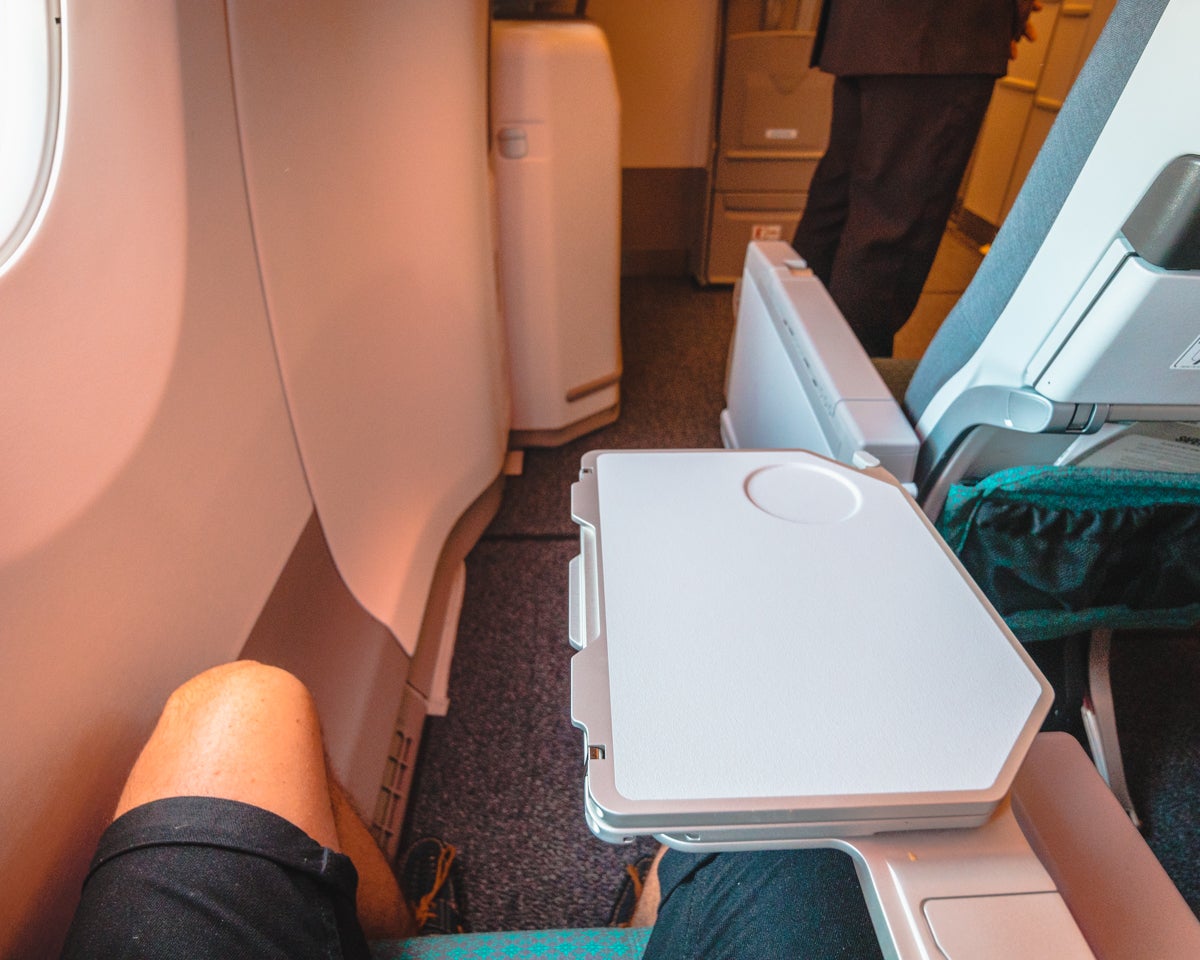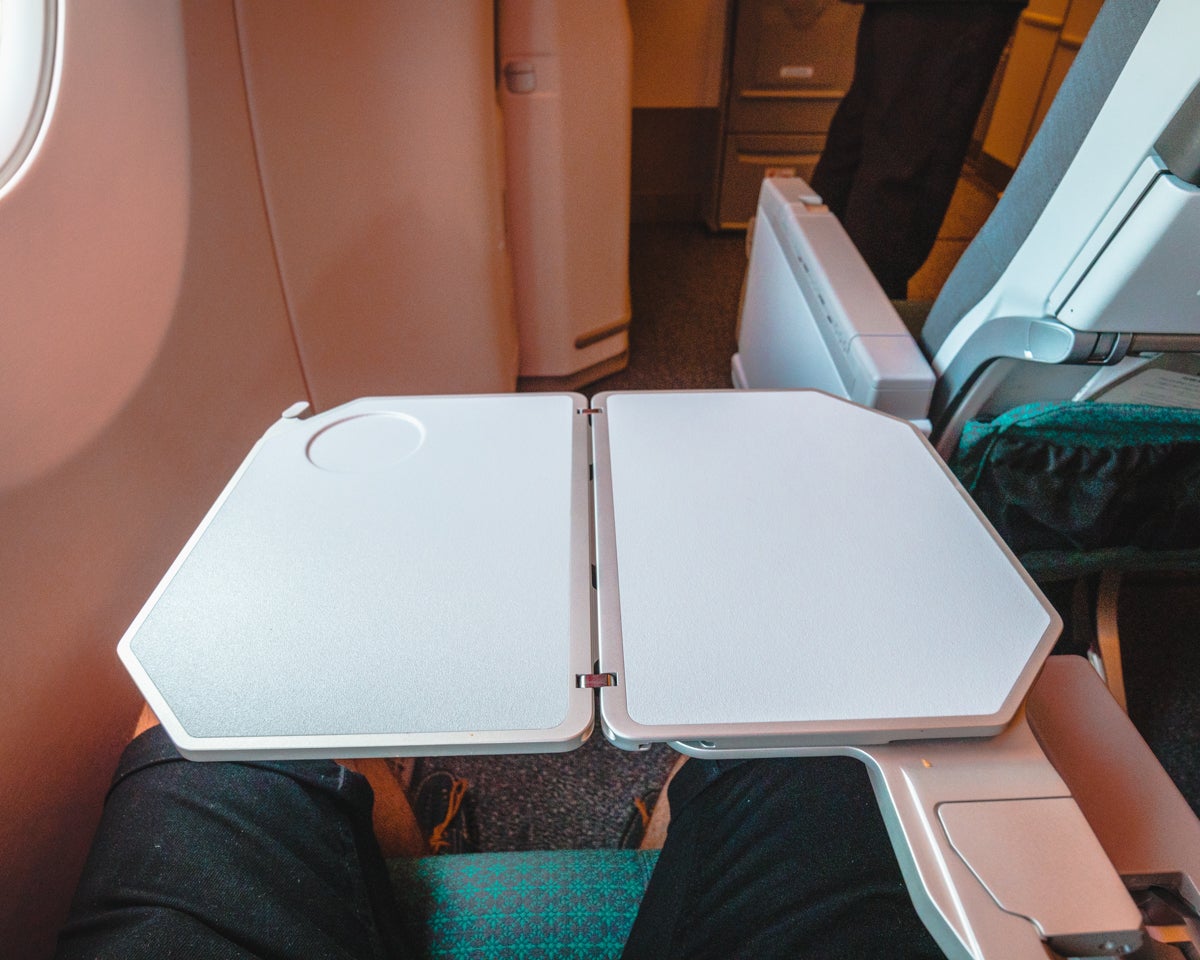 For the passengers with seats in front of them, the IFE screen is right in front.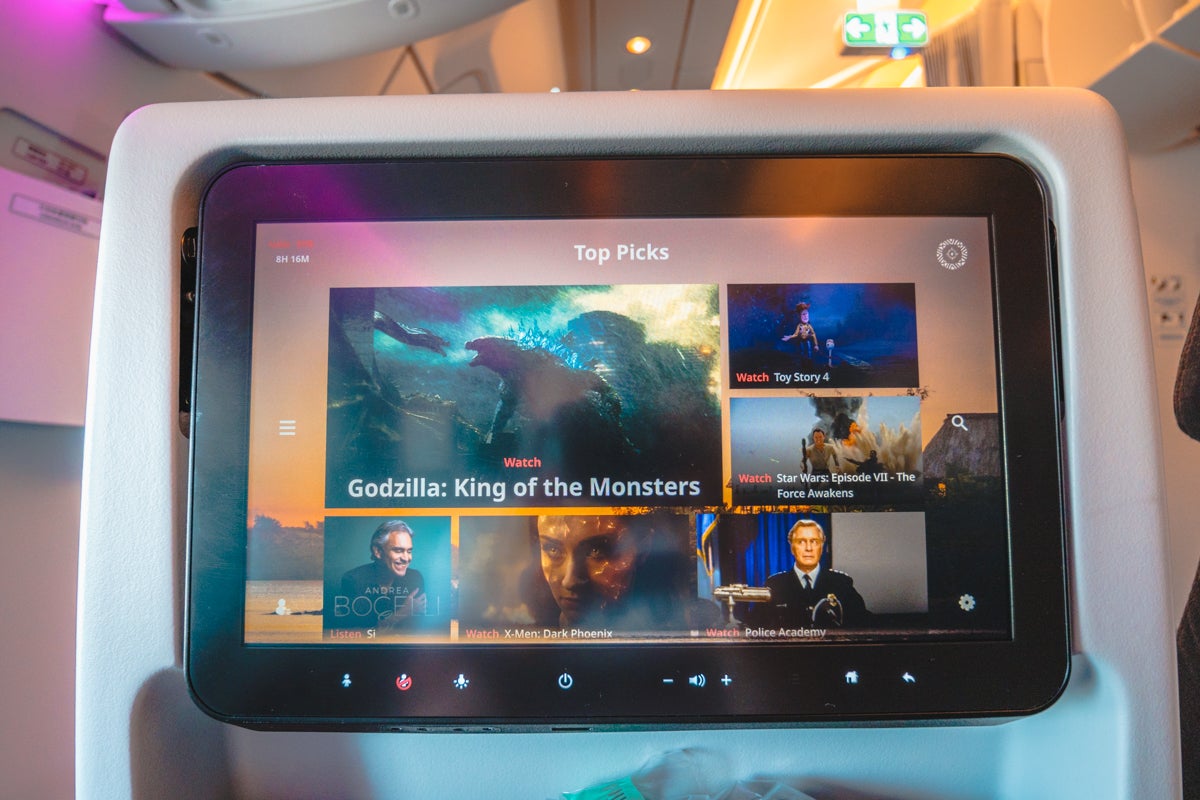 Under the screen is a pocket where the headphones are stored upon boarding. Directly below is the tray table.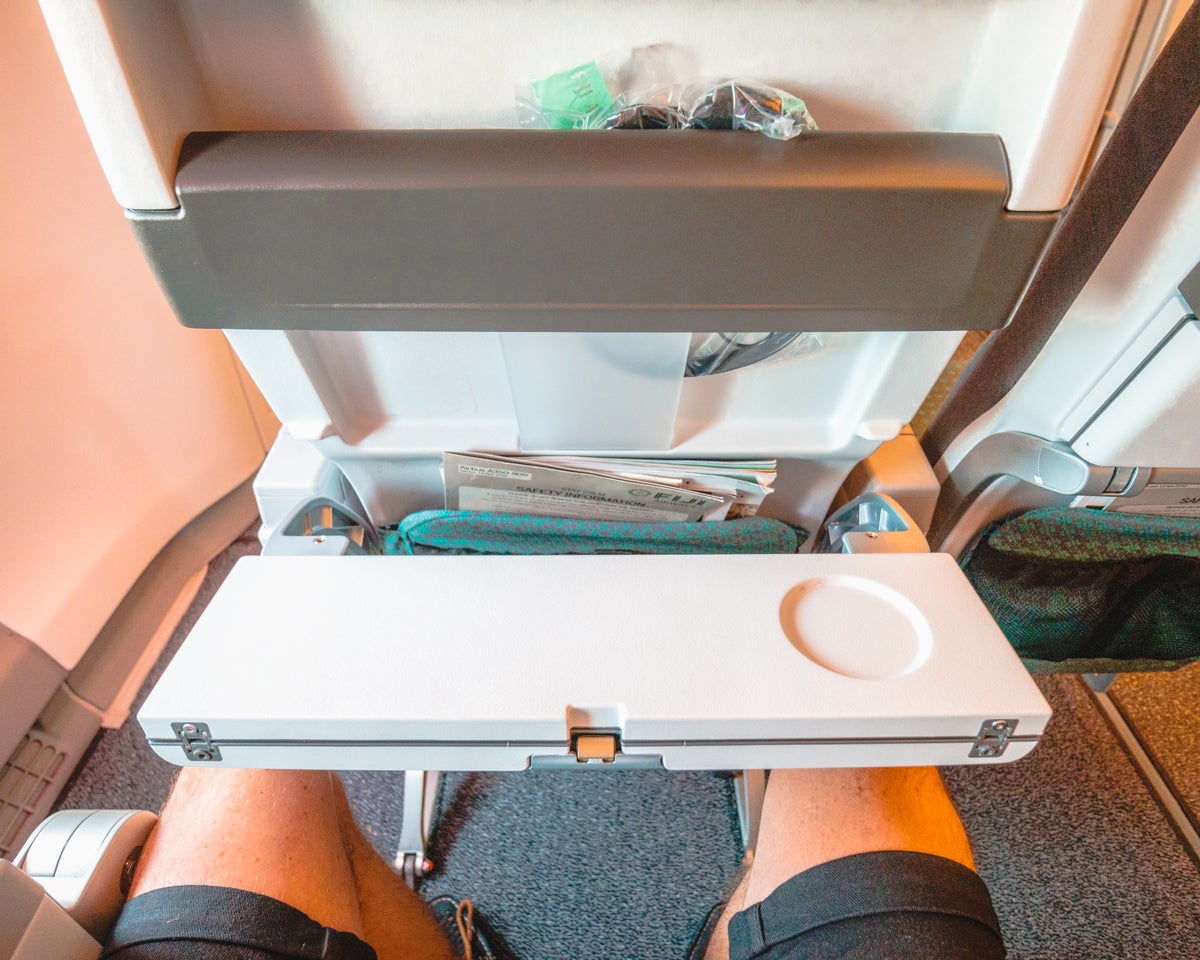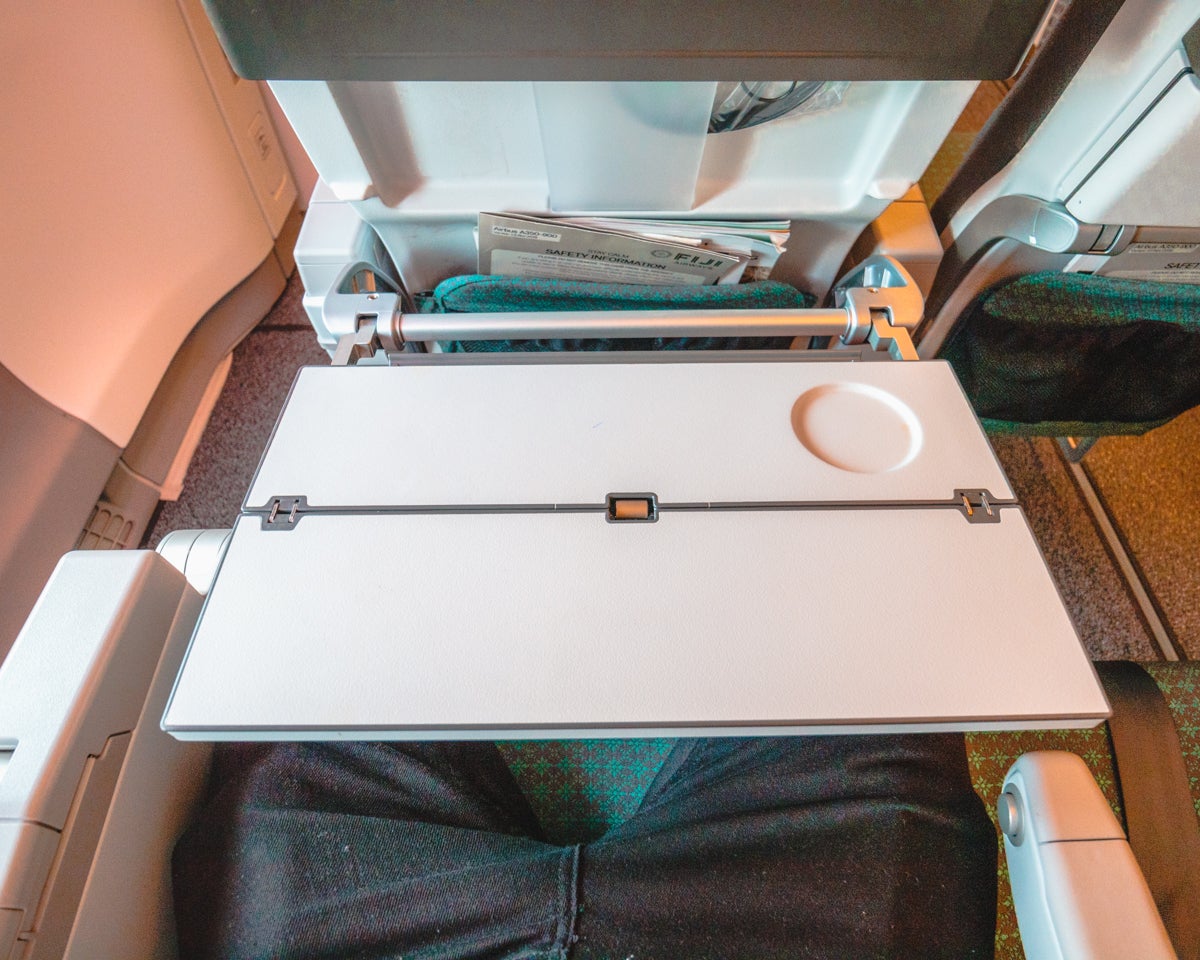 A literature pocket is underneath which has 2 external net pockets.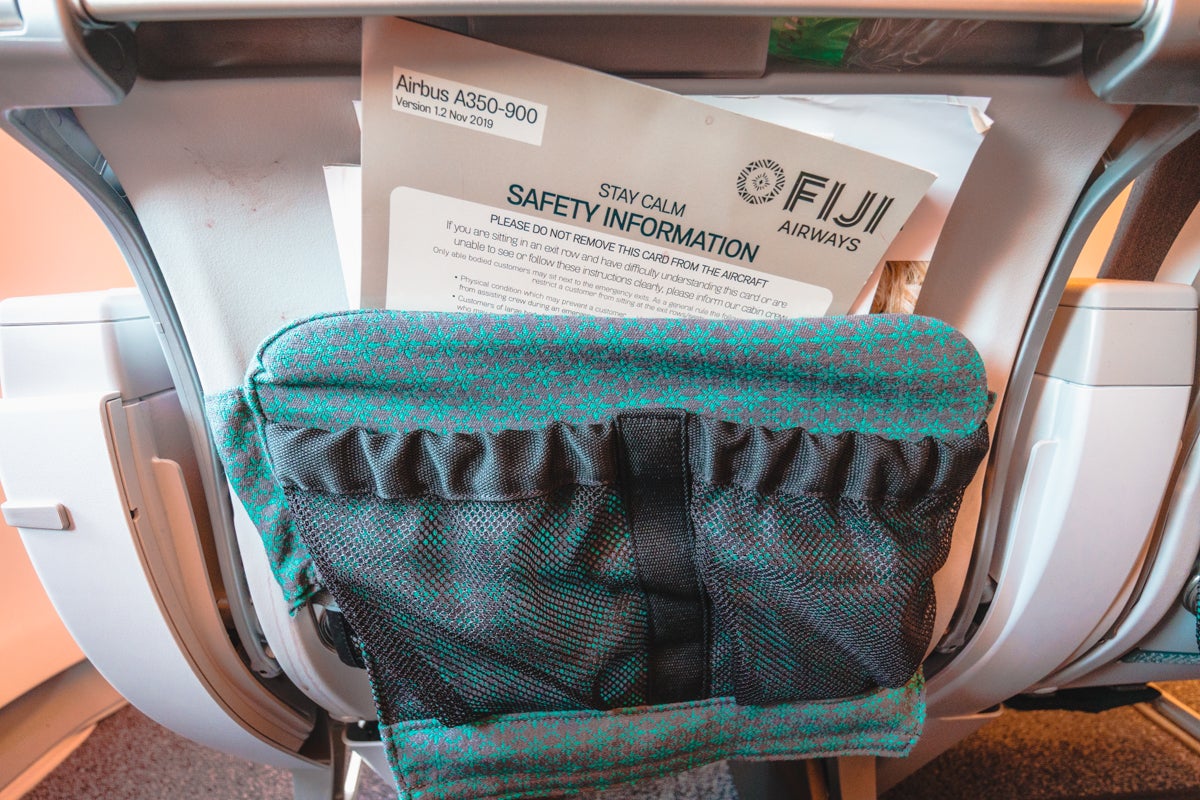 It is great to have overhead individual airflow control for every seat.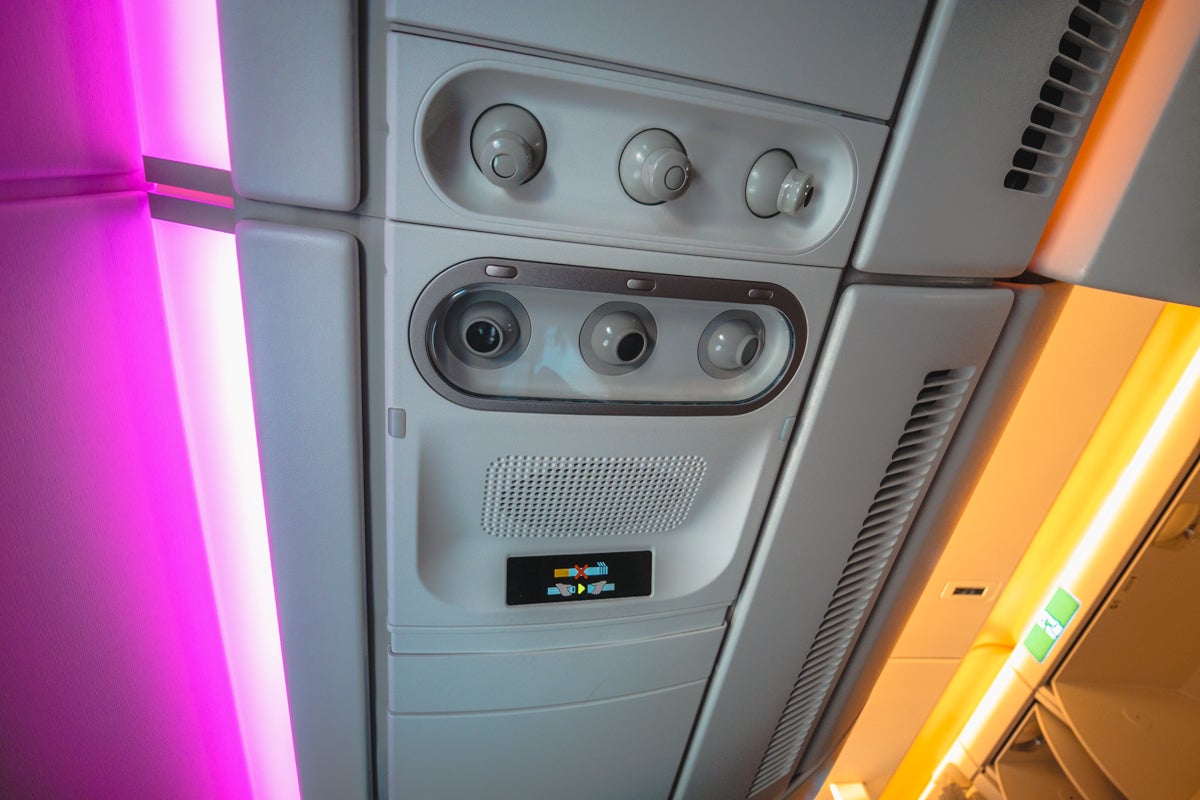 I found the height-adjustable headrest offered great head support during the flight to Sydney — the thick adjustable ends held my head in place when I had a nap during the flight.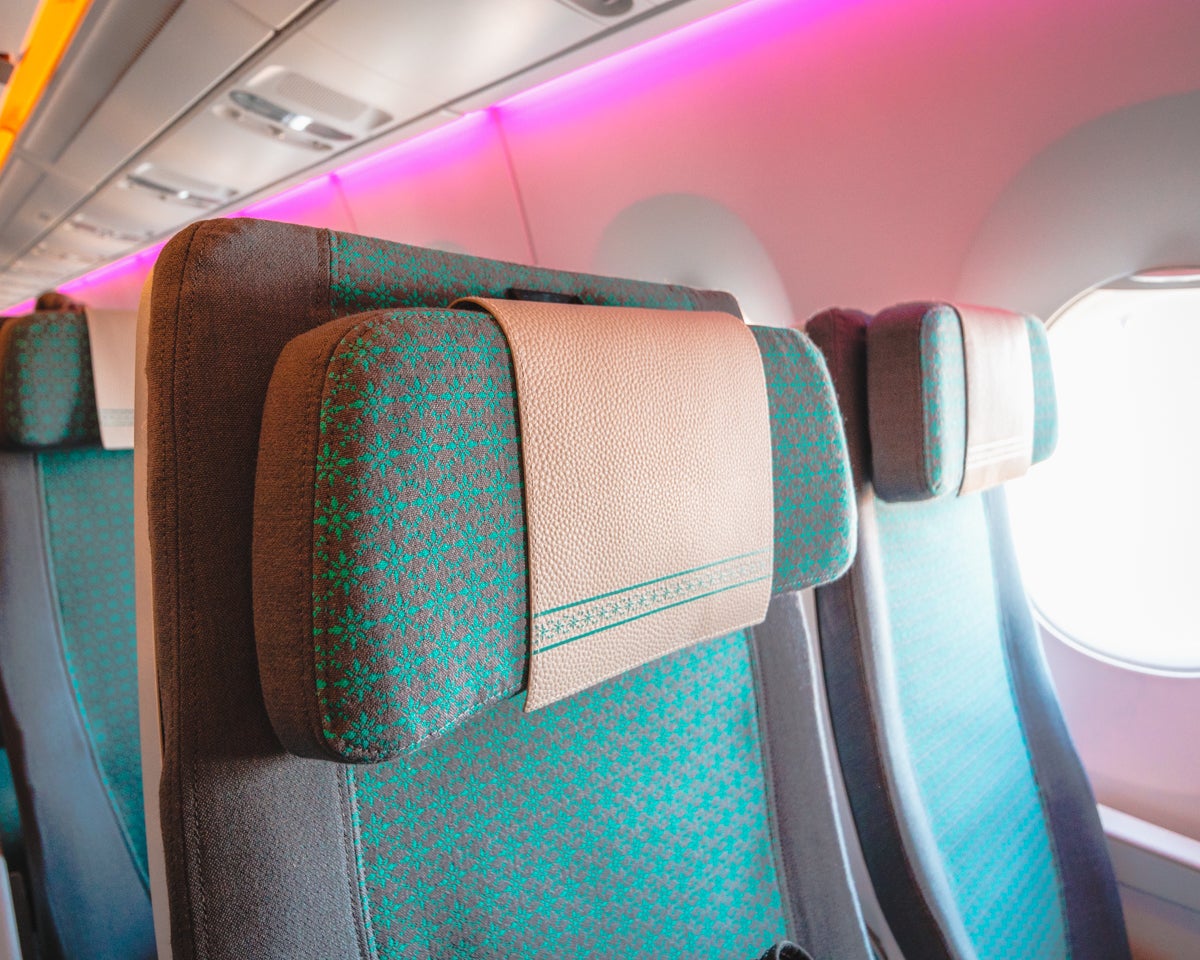 When you recline the seat, the seat pan also slides forward a bit and the front tilts up to sort of cradle your body.
With no seat in front of me, I was keen to see what it was like to be sat behind a fully reclined seat and found 1 at the very back of the aircraft. I had an acceptable amount of space.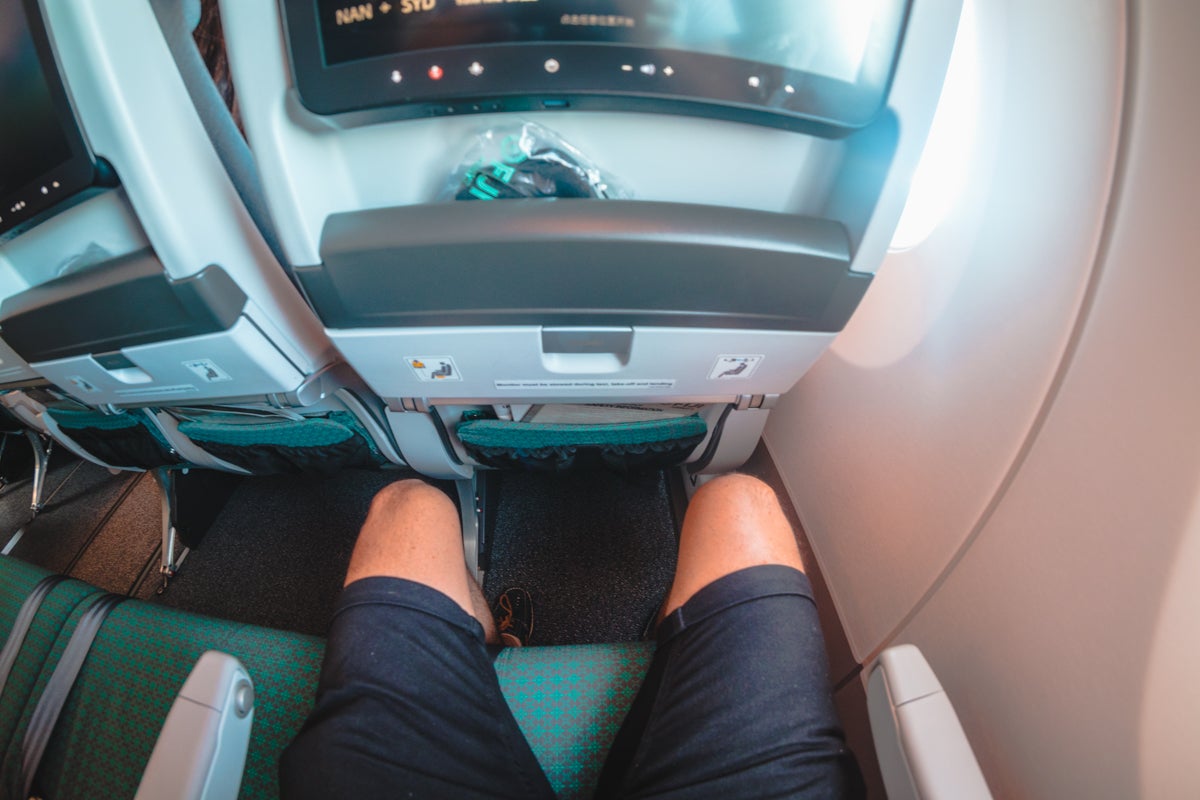 The economy class cabin has 4 lavatories between the 2 economy cabins at door 3 with another 2 down the back of the aircraft. This provided a passenger-to-toilet ratio of approximately 50:1.
Strangely, with my seat's proximity to the lavatories, I witnessed so many passengers queue around the toilets unnecessarily as they didn't check the occupied status on the doors.
I also saw the crew inspecting the toilets periodically during the flight to ensure that they were clean.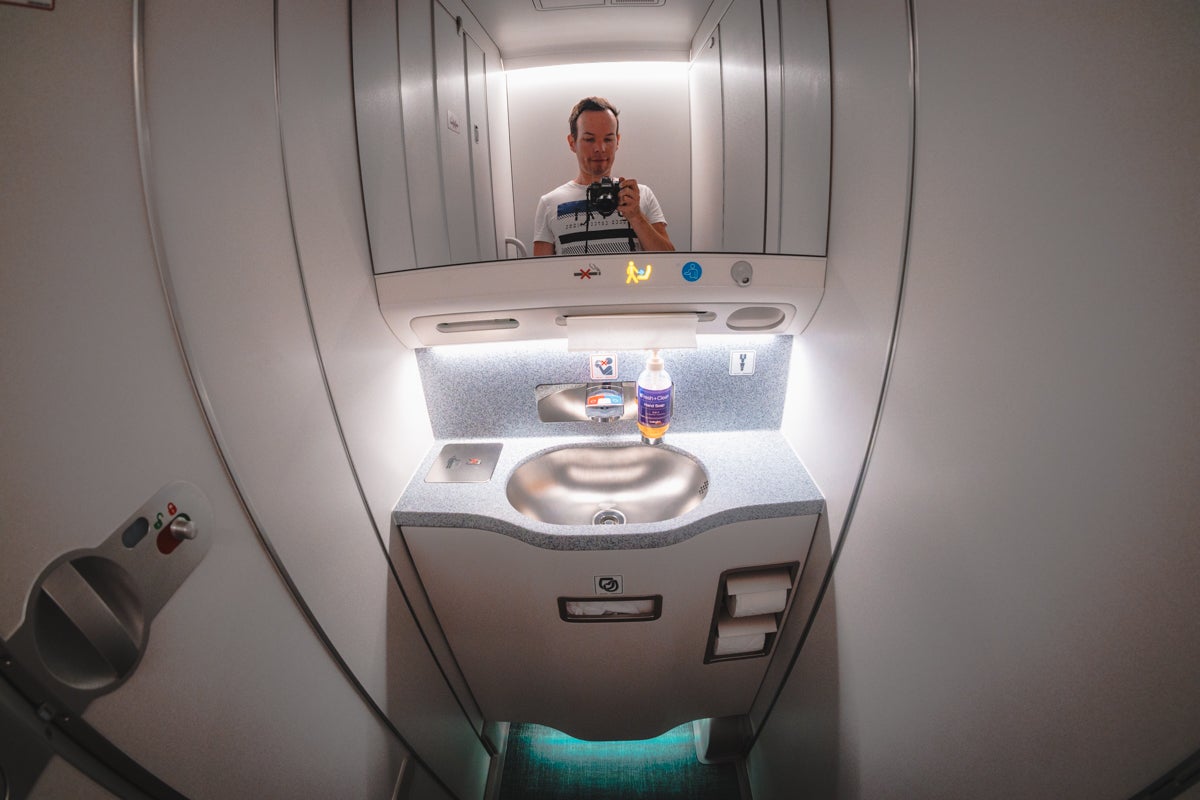 Amenities
No amenities are provided for economy class passengers between Sydney and Nadi, however, blankets and pillows were provided to "Bula Space" passengers. Blankets are available on request for all economy passengers also.
Entertainment
A 12-inch Thales Avant high definition inflight entertainment system is installed for every economy passenger.
Considering the system was brand new, it was no wonder it was very responsive and problem-free.
Pressure-sensitive buttons run along the bottom of the screen making it easy to call a crew member or adjust the volume.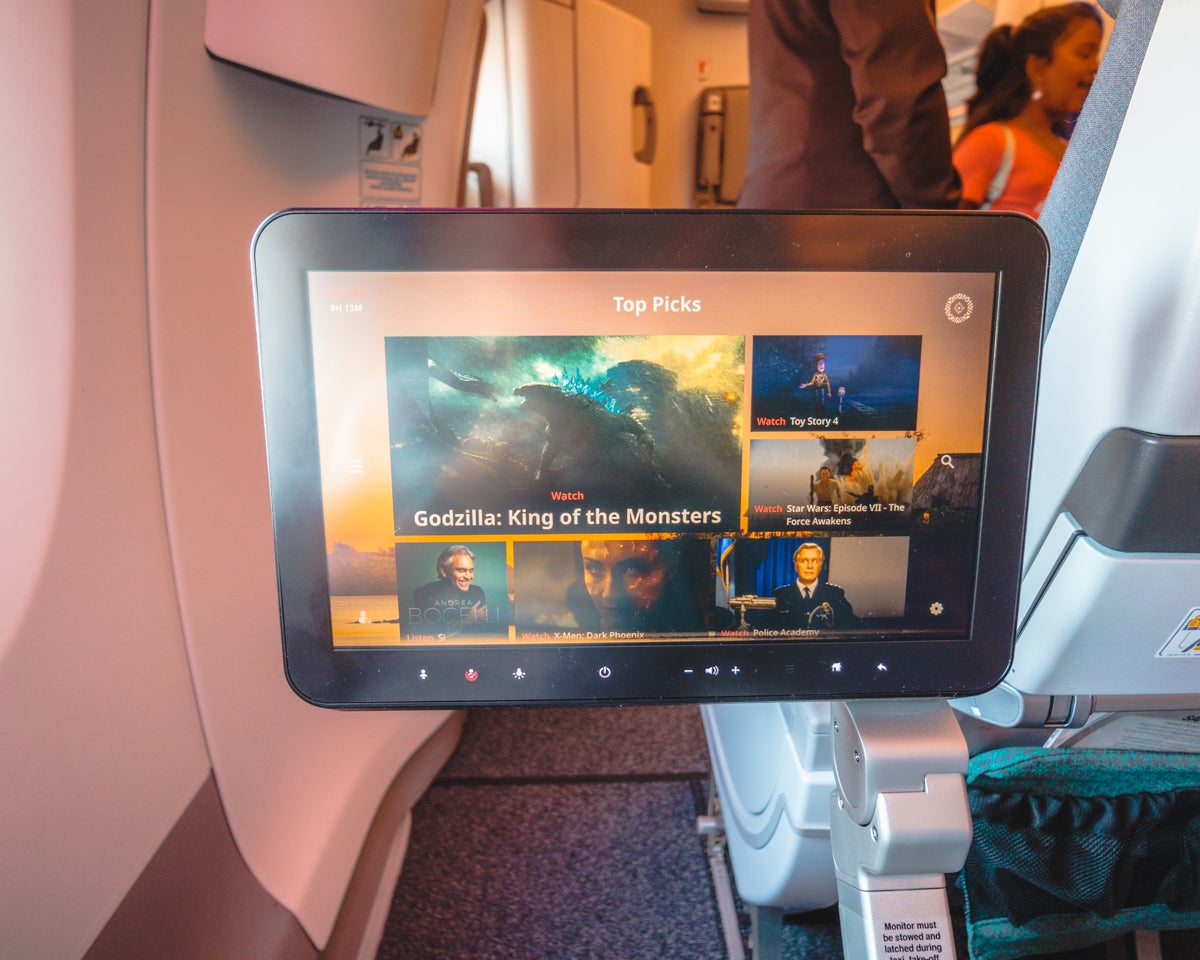 The angle easily adjusts to suit any passenger height, regardless of if they are mounted to the armrest or on the seat in front.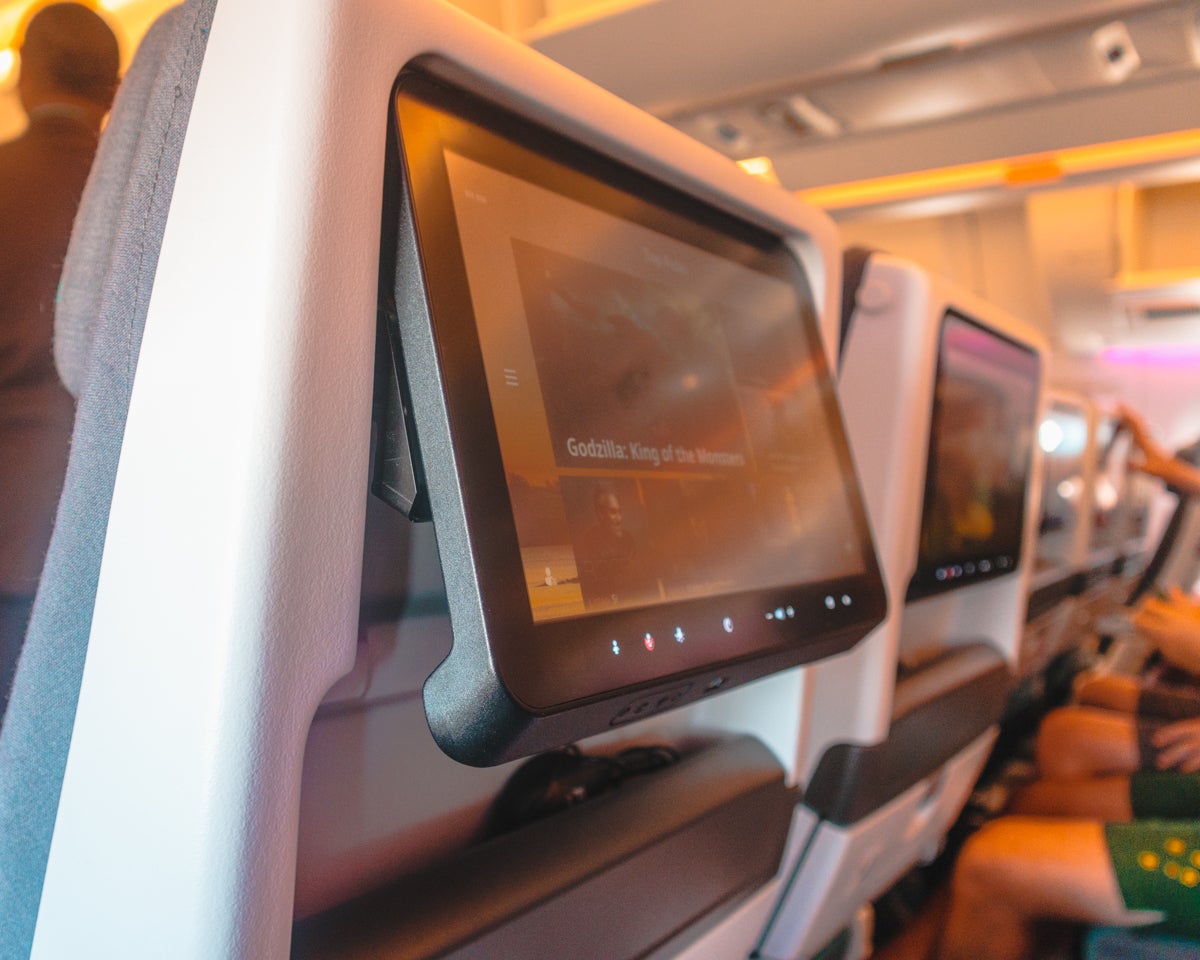 The headphone and a single USB socket are located on the bottom of the monitor.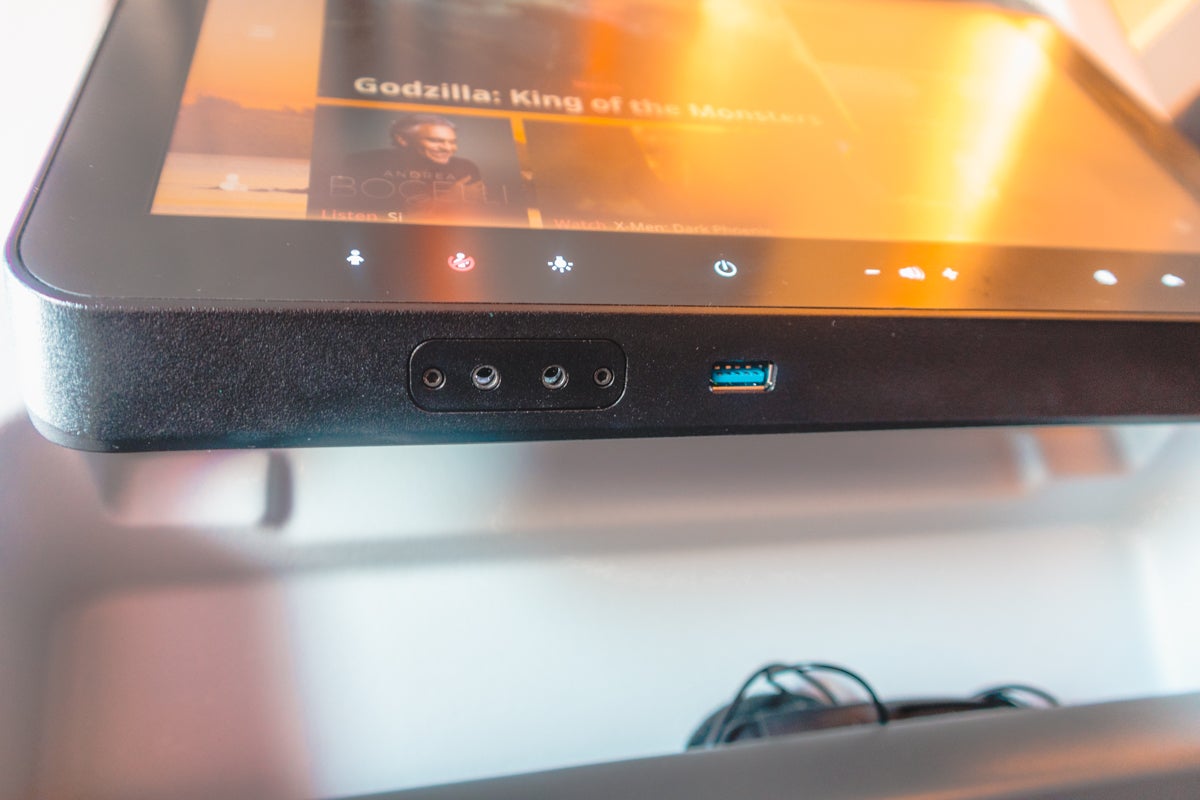 Over-the-head headphones are provided, unlike many airlines who use an earbud style. These are collected around 30 minutes before landing.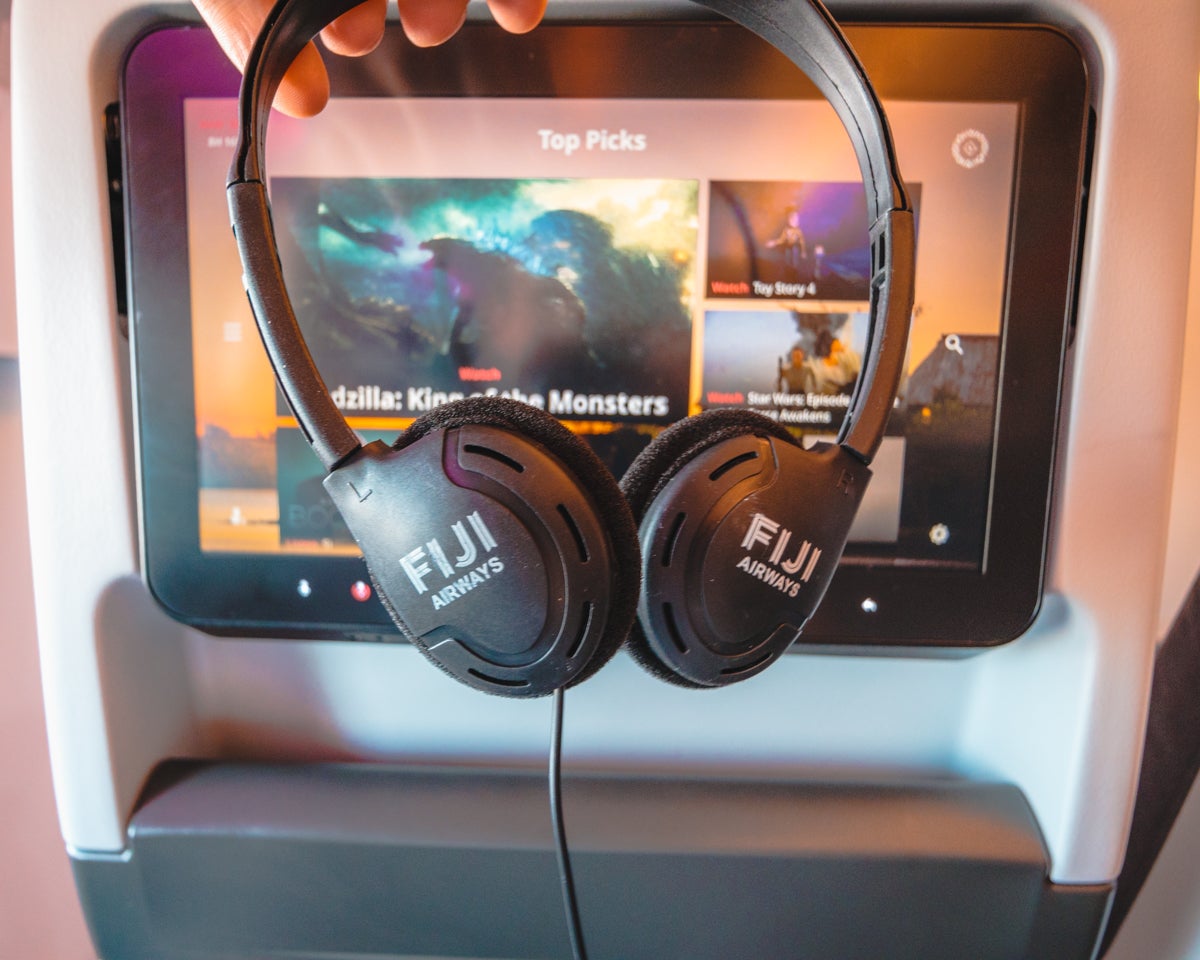 Like in business class on the flight over, I found the menu structure odd as the content is organized by genre (comedy, drama, etc.) all within the "Watch" category, so there were movies and TV shows mixed together. I counted 56 movies and 41 TV shows.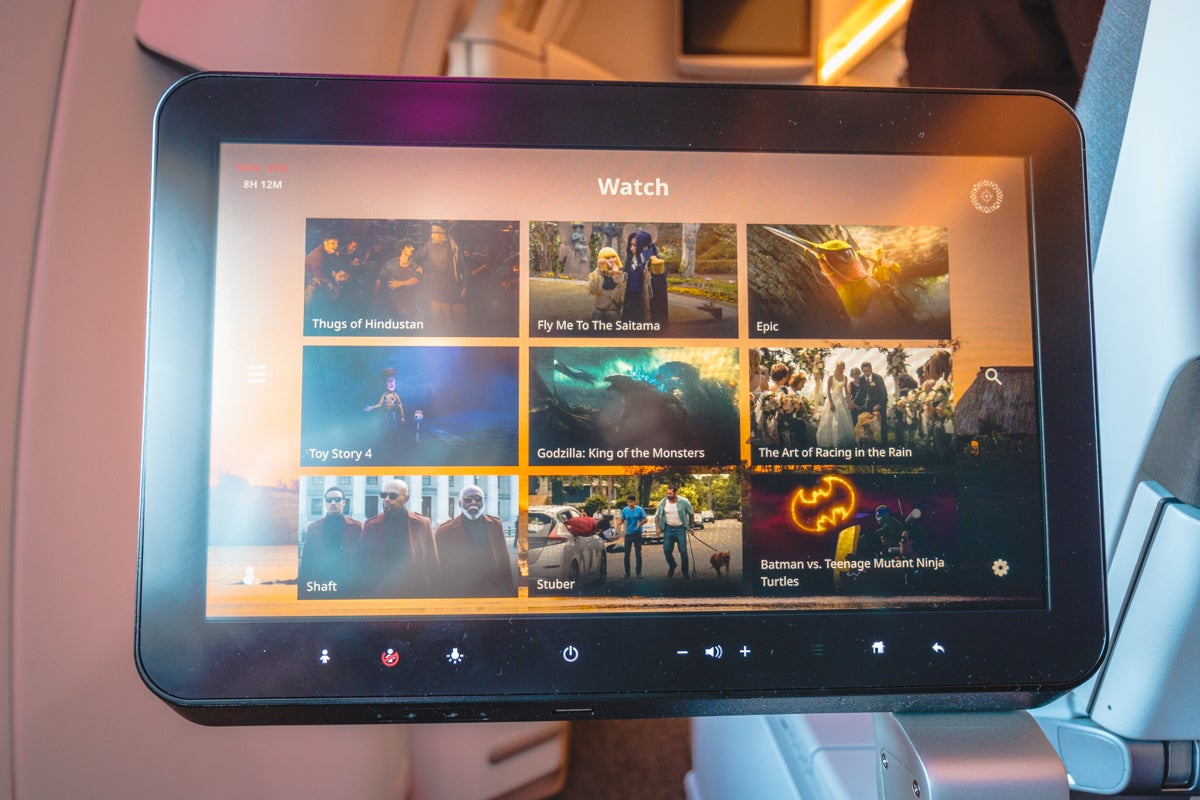 I love that Fiji Airways has tail and landing gear cameras installed as I spent most of the flight watching these when I wasn't napping.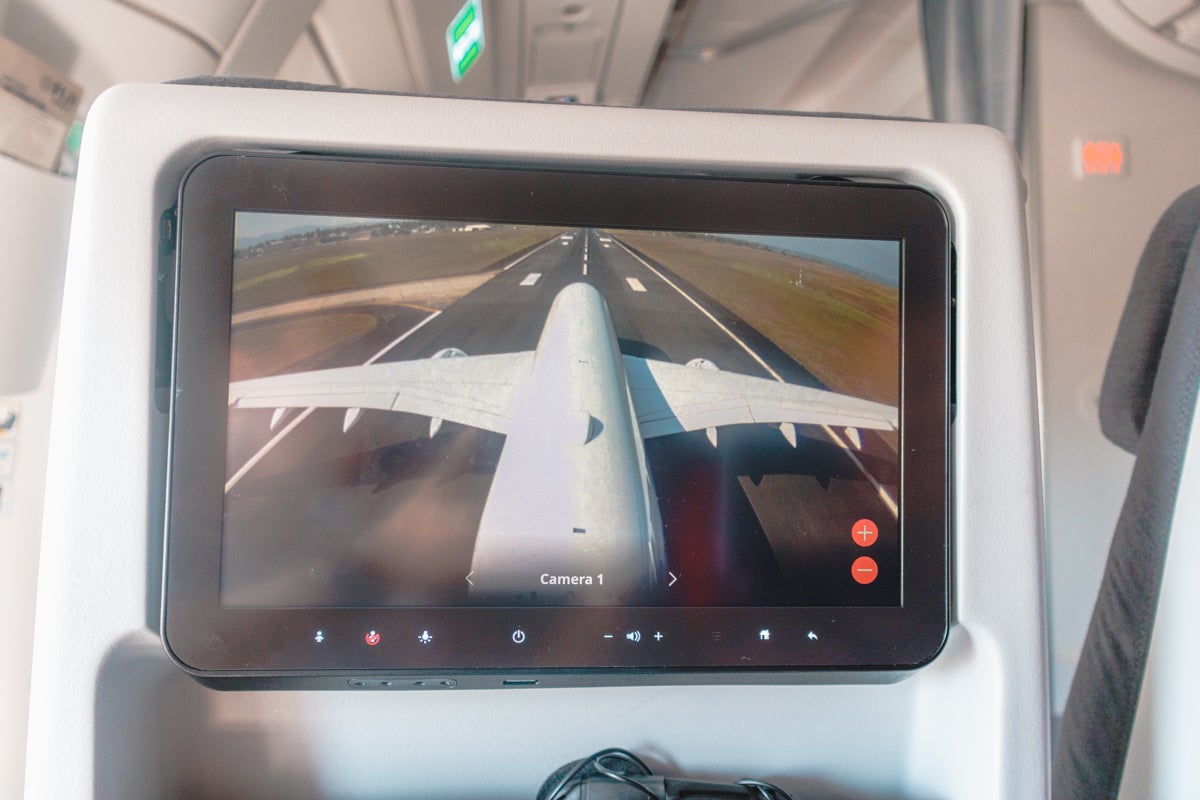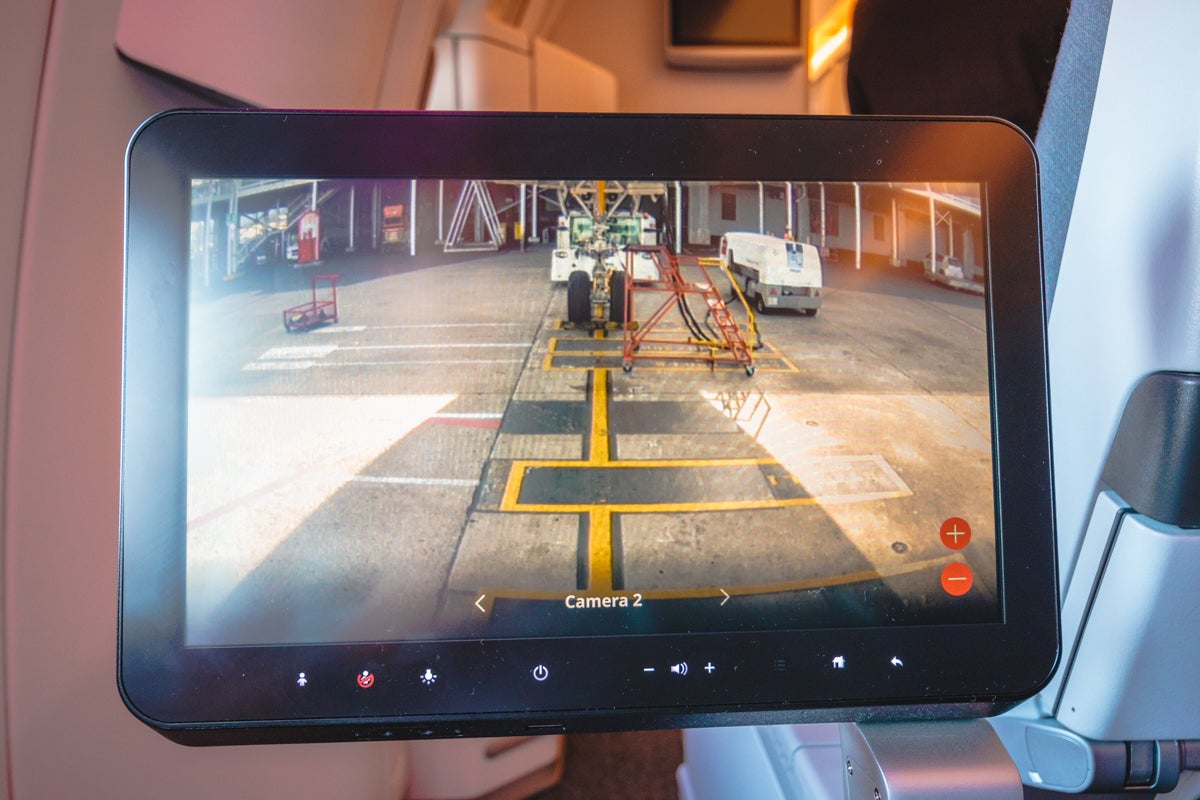 There was also an interactive map.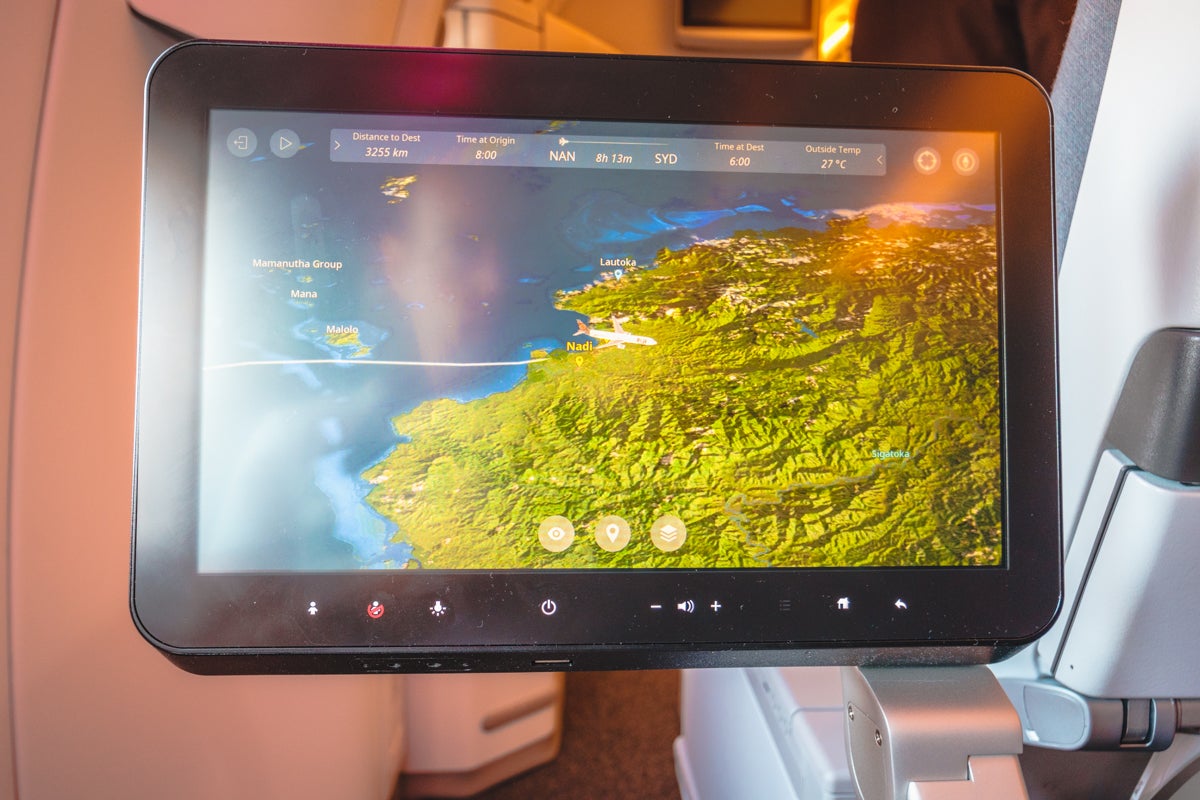 Wi-Fi is available, yet the plans are frustratingly data capped instead of charged by time utilization. On the flight from Sydney, I found the speed to be excellent, but I did not connect on this flight as I just wanted to nap.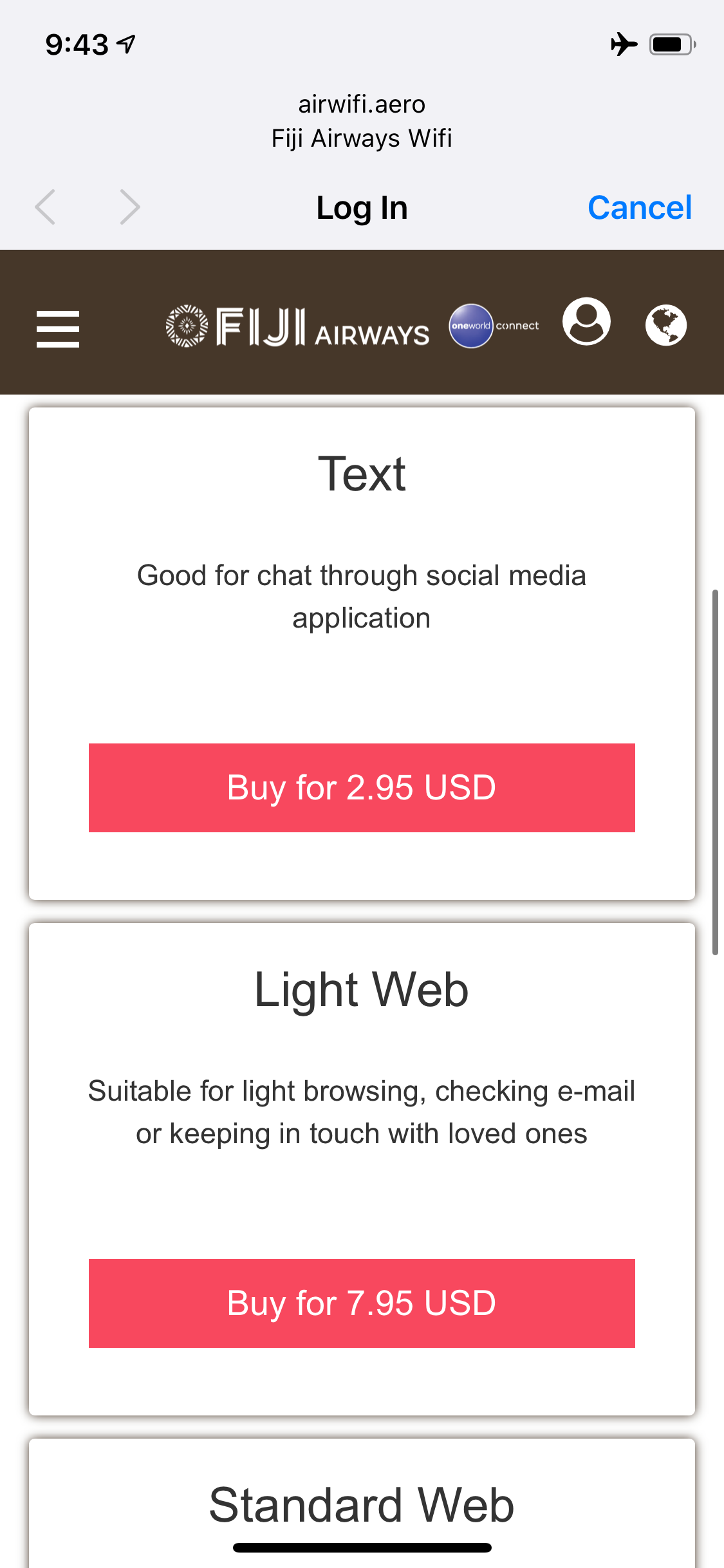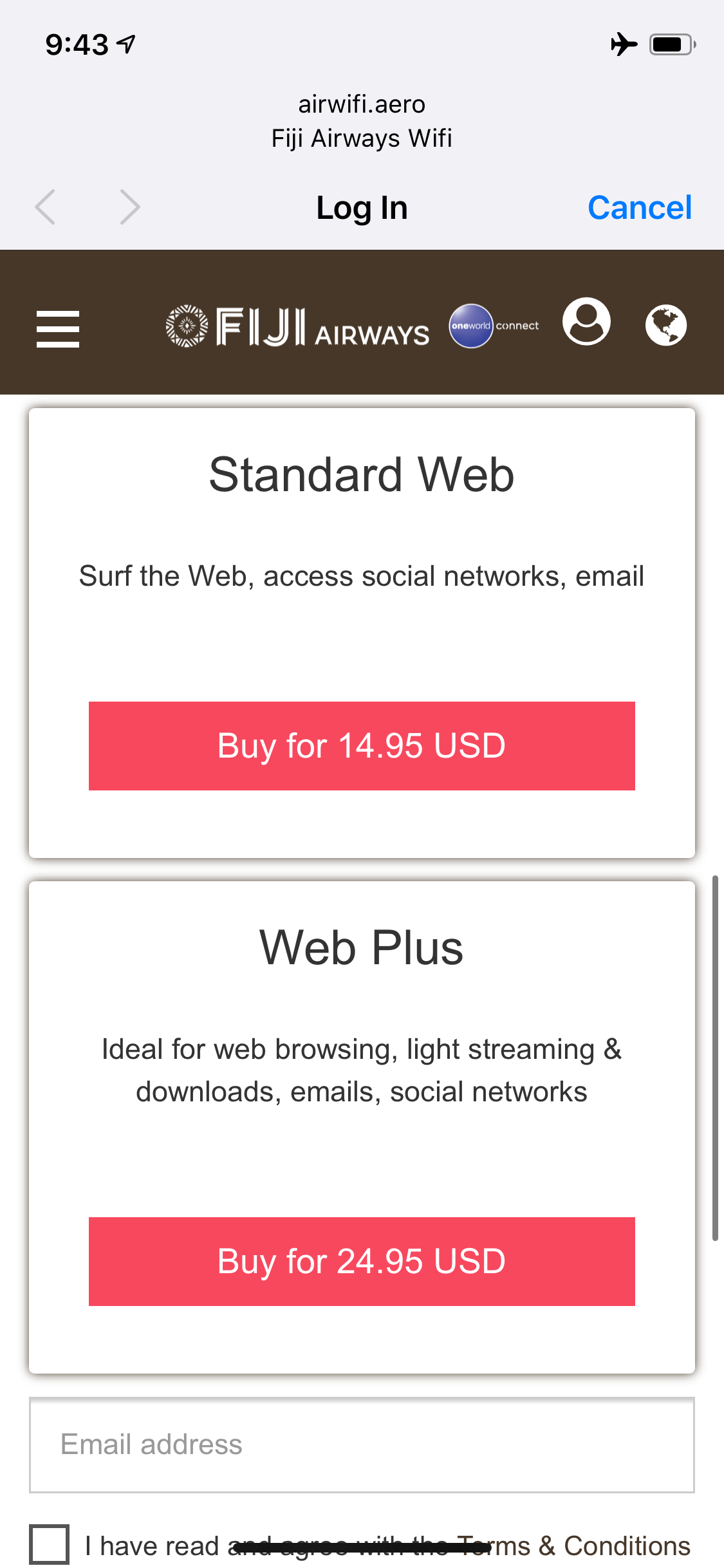 Meal and Service
Boarding started right on schedule and we took off 14 minutes ahead of schedule.
Due to the early start in the morning, I fell asleep soon after take-off.
The breakfast service kicked off around an hour after departure, at 10:30 a.m. Fiji time, when the crew member woke me up to eat.
There wasn't a choice, so breakfast consisted of scrambled eggs, sausage, baked beans, and potatoes. It was accompanied by a bread roll and Scotch Finger biscuits.
I was pleasantly surprised by the meal as the eggs were moist and fluffy.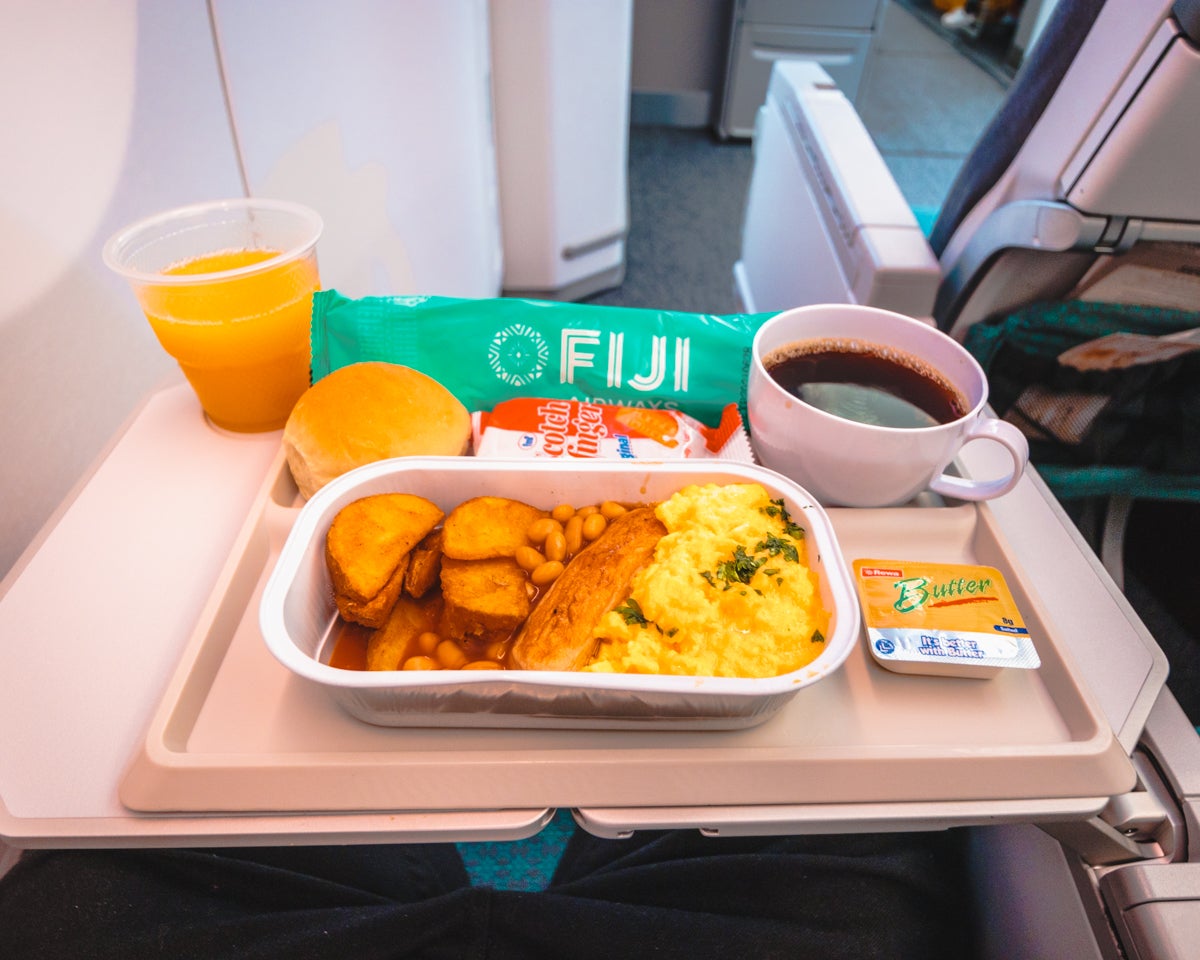 Around 30 minutes later, the crew did a second coffee and tea service.
From around midday Fiji time, for the rest of the flight, the crew remained present in the cabin, pro-actively offering water to passengers.
There wasn't a huge amount of crew interaction; they were prompt to respond to the call bell when I buzzed once (on purpose this time). The only complaint we had was that Lukas, sitting on the aisle, was woken up unnecessarily by a crew member who was certain he was another passenger and wanted to question whether he had swapped seats, which he hadn't.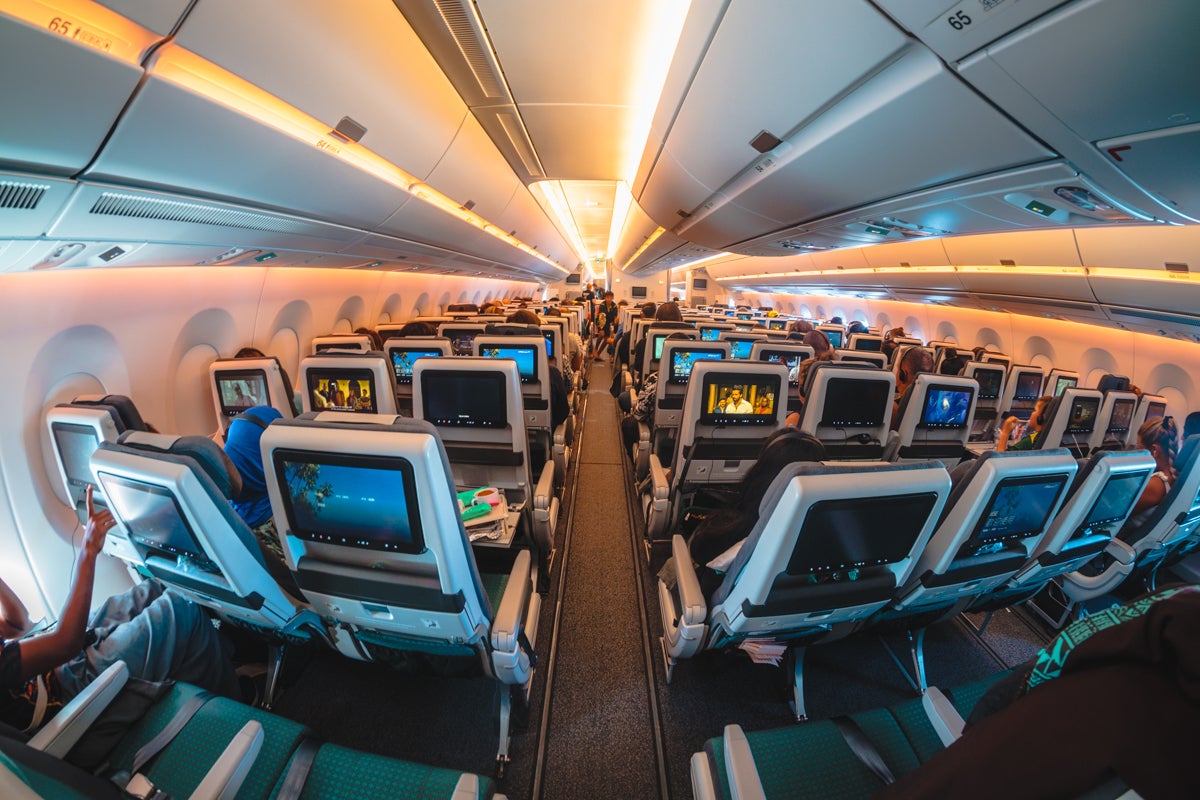 Final Thoughts
Overall, we had a great flight on the Fiji Airways Airbus A350. The seat was comfortable with excellent head support and we were both able to have a couple of hours' nap. Breakfast was enjoyable and the service was efficient.
Whereas other carriers operating between Australia and Fiji use single-aisle aircraft, the A350 provides a far better passenger experience with added space and a smoother, quieter ride.
And as of January 1, 2020, it provides an additional option for flying between Los Angeles and Sydney. And who wouldn't love a stopover in Fiji?