Fiji Airways Airbus A350 Business Class Review [SYD to NAN]
Airline: Fiji Airways (FJ)
Aircraft: Airbus A350 (DQ-FAI)
Flight #: FJ910
Route: Sydney Airport (SYD) > Nadi International Airport (NAN)
Date: December 10, 2019
Duration: 3hr 45min
Cabin & Layout: Business Class, 33-seats, 1-2-1 config
Seat(s): 20A
Miles Used: 50,000 Alaska Miles + $211.90 in taxes, including a return flight in economy
Typical Retail Cost: $1,100 (AU$1,600) per person one-way
Introduction
Have you ever wondered what it is like to fly a 3-week old plane with a group of your aviation geek (#AvGeek) friends?
Back in November, my mates Immanuel and Andy reached out to me on Instagram to see if I was interested in reviewing the brand-new Fiji Airways Airbus A350 business class product which was set to commence flying between Sydney and Nadi, Fiji.
I didn't have to think too long before I said, "I'm in!" and Lukas joined in on the fun, too.
Booking Fiji Airways Business Class
Using cash, the fare costs approximately $1,100 (AU$1,600) per person one-way in business and $683 (AU$990) per person one-way in economy.
Or, you can also book this 1,973-mile business class flight with the following points:
Thankfully, Fiji Airways flights with award space are bookable online with all 3 of these mileage programs. This means that you can search for the award on your mileage program's website and book your ticket online — no phone call required.
Just note that you'll pay a bit over $100 in taxes and fees when booking this ticket with any of these mileage programs, but it's still a good use of miles as cash tickets are almost always well over $1,000.
You can transfer Marriott Bonvoy points to both Alaska Airlines Mileage Plan and American Airlines AAdvantage at a rate of 3:1, with a 5,000-mile bonus for every 60,000 points transferred.
Alternatively, you can transfer points from Amex Membership Rewards, Capital One, Citi ThankYou, and Marriott Bonvoy to Qantas at varying rates. However, you should redeem Mileage Plan or AAdvantage miles for this award if possible as the redemption rates are significantly lower.
Considering I had a stash of Alaska Mileage Plan miles and availability was surprisingly wide-open, I decided to book a mixed-class return using miles so I could review both the business and economy cabins.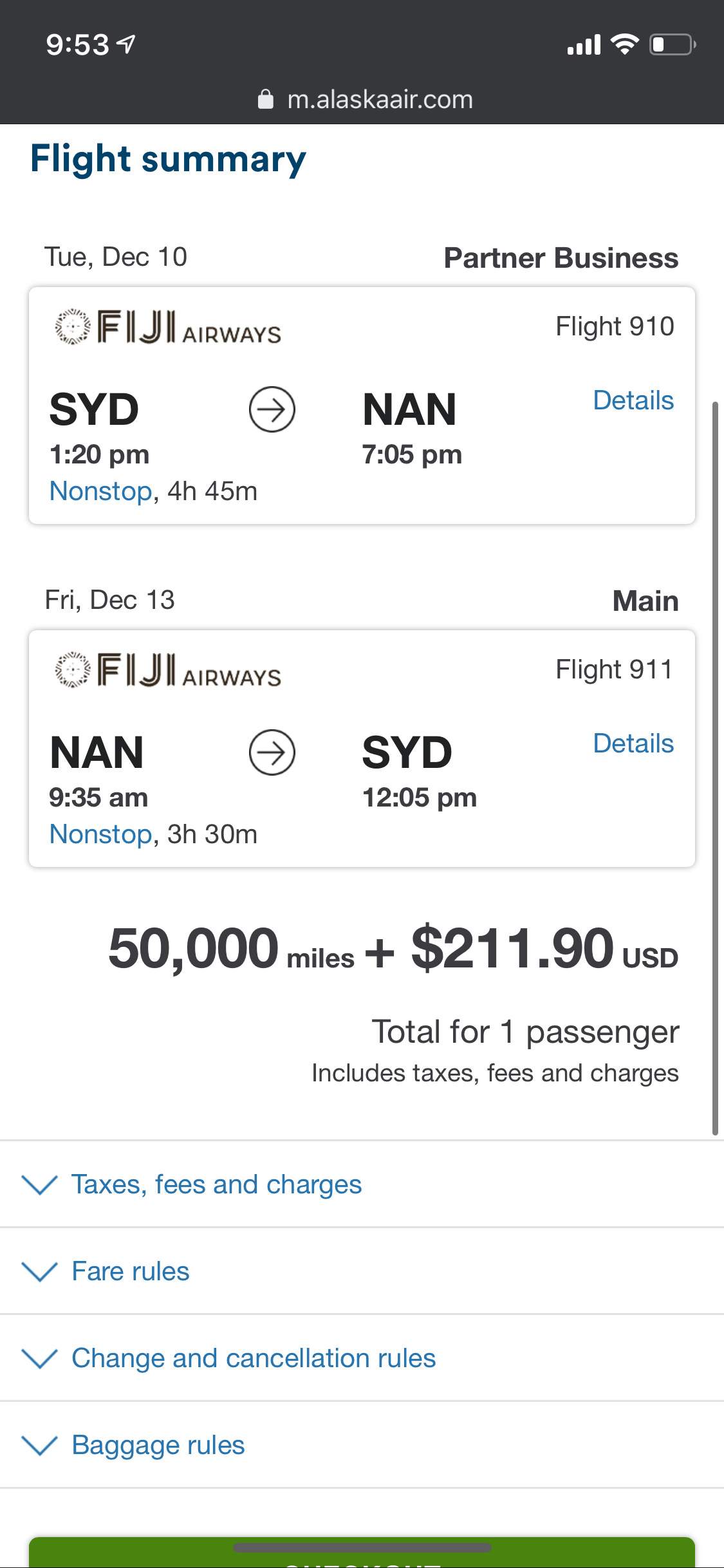 I am the first to admit that there are better uses of Mileage Plan miles but this worked for me this trip.
At Sydney International Airport
We arrived at 10:20 a.m. for our 1:20 p.m. scheduled departure.
There were no other passengers in the business class check-in queue, so the process took just 7 minutes.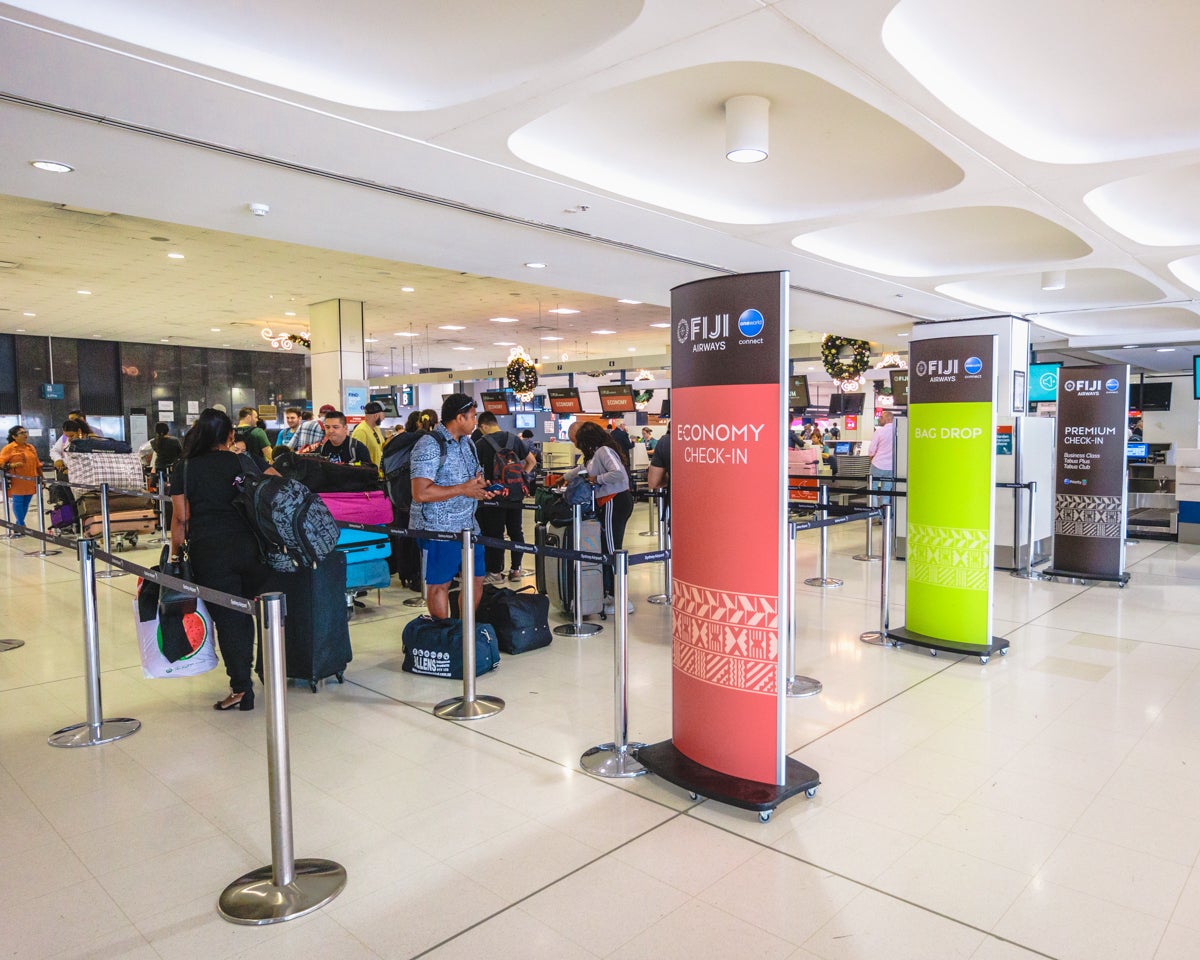 As a business class passenger, we were provided access to the Express Path priority immigration and security screen queues and the entire process took a speedy 5 minutes. A new record through the terminal for me.
However, my mate Andy didn't have such luck. He arrived earlier and mentioned that there were IT issues that delayed the check-in process that also impacted getting through immigration as the check-in had not been registered with the electronic e-gates.
Fires had been burning through New South Wales for weeks and with 104-degree temperatures forecast for the day of our departure, smoke was already having an impact on air quality by 11 in the morning.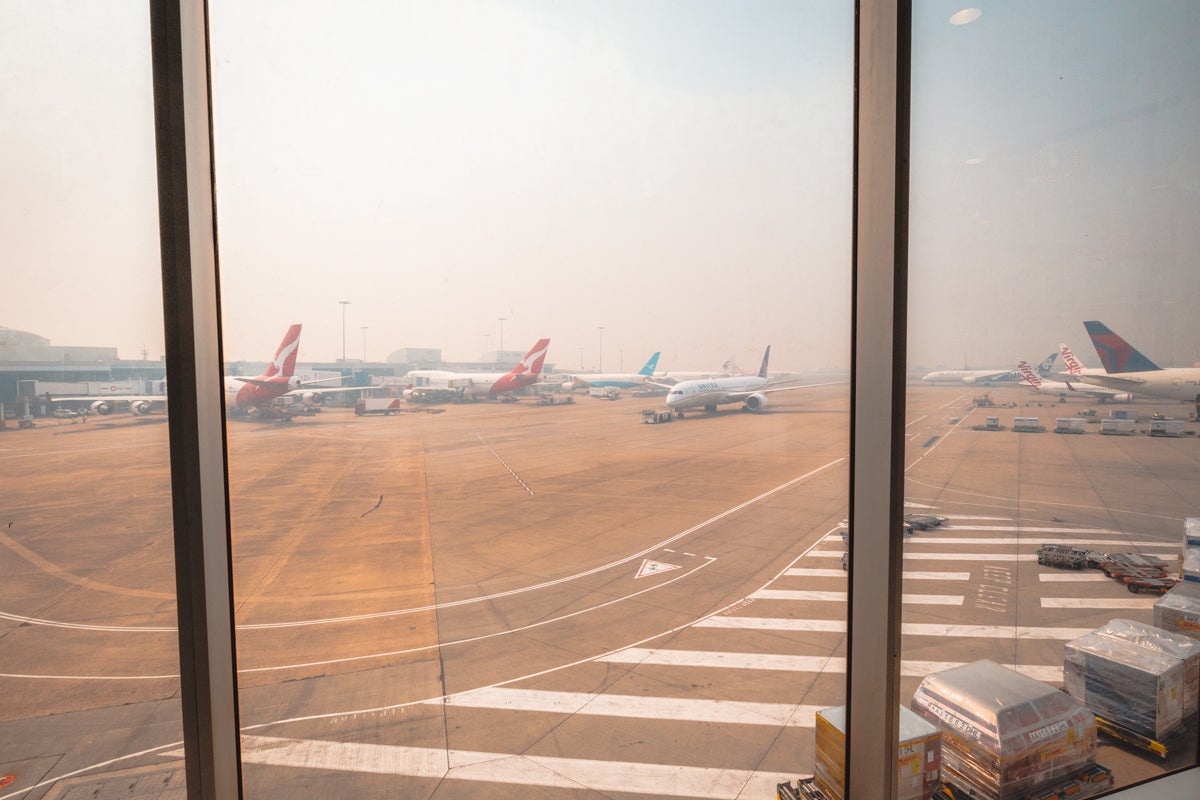 Fiji Airways provides business class passengers access to the Qantas Business Lounge. I reviewed this lounge recently and it's long overdue for a renovation, so I wasn't keen on visiting again.
Instead, I used the Platinum Card® from American Express to gain access to its recently opened, larger Sydney lounge. You can read Lukas' review of the lounge.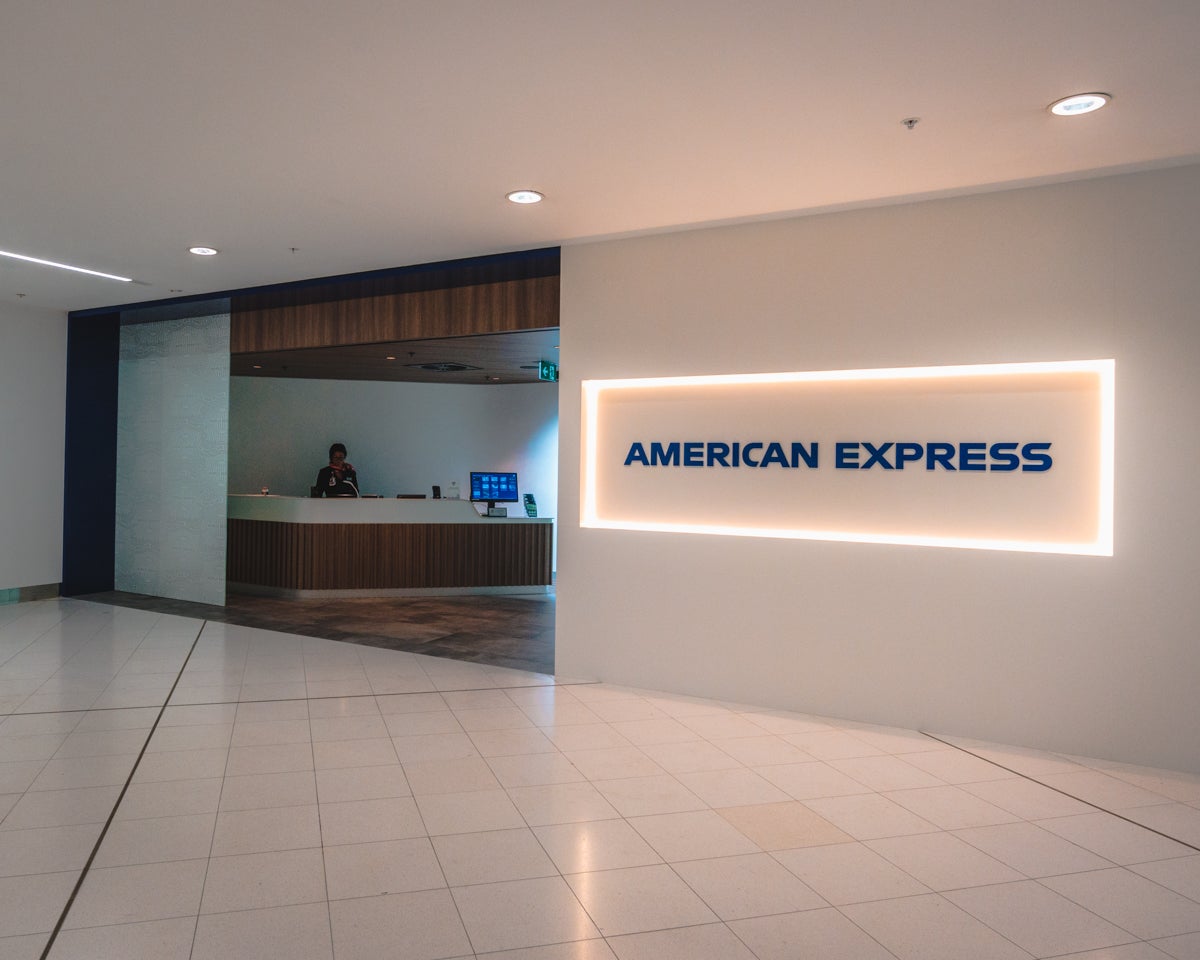 We all headed up to gate at 12:20 p.m. to try and get on board first, however, we were turned away and advised by the gate staff that there was going to be a 30-minute delay.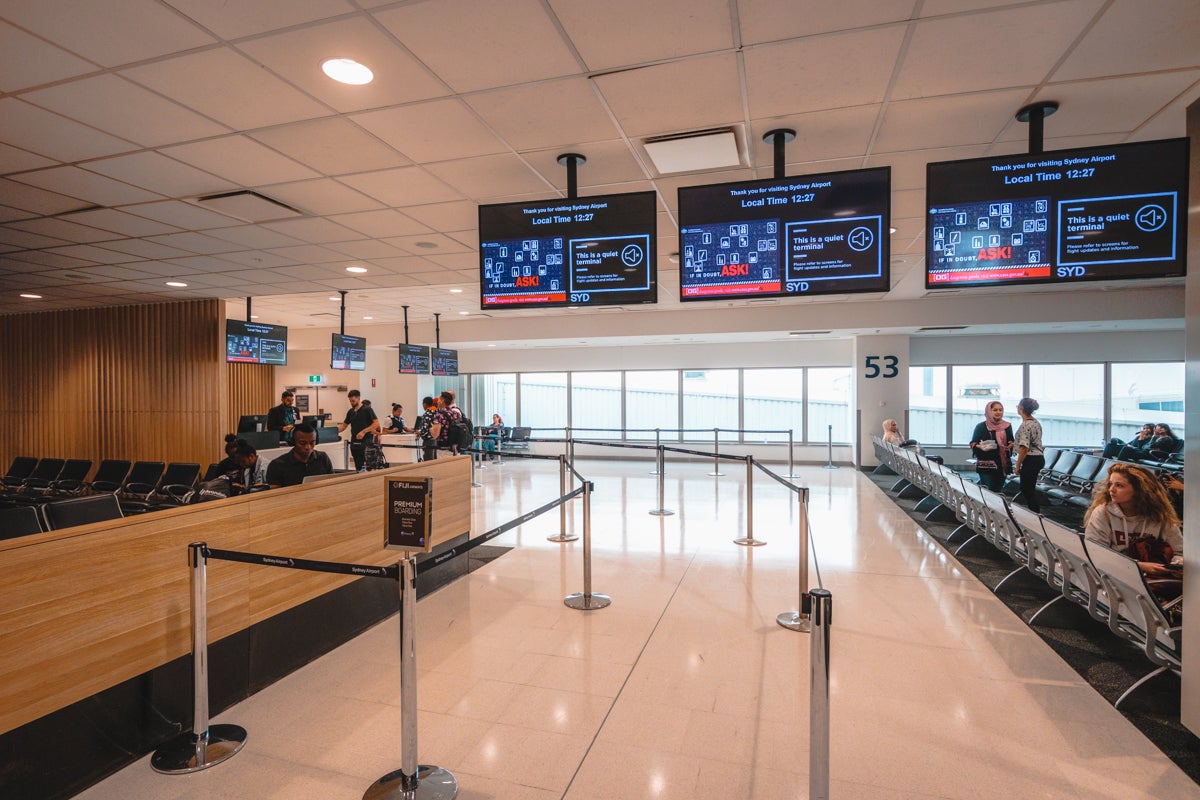 Back in the lounge, whilst we were enjoying another round of espresso martinis, I received a notification on my App in the Air mobile app that advised us that our flight had now been delayed by 3 hours. Visibility was so poor in Sydney that the inbound plane from Nadi had to divert to Brisbane.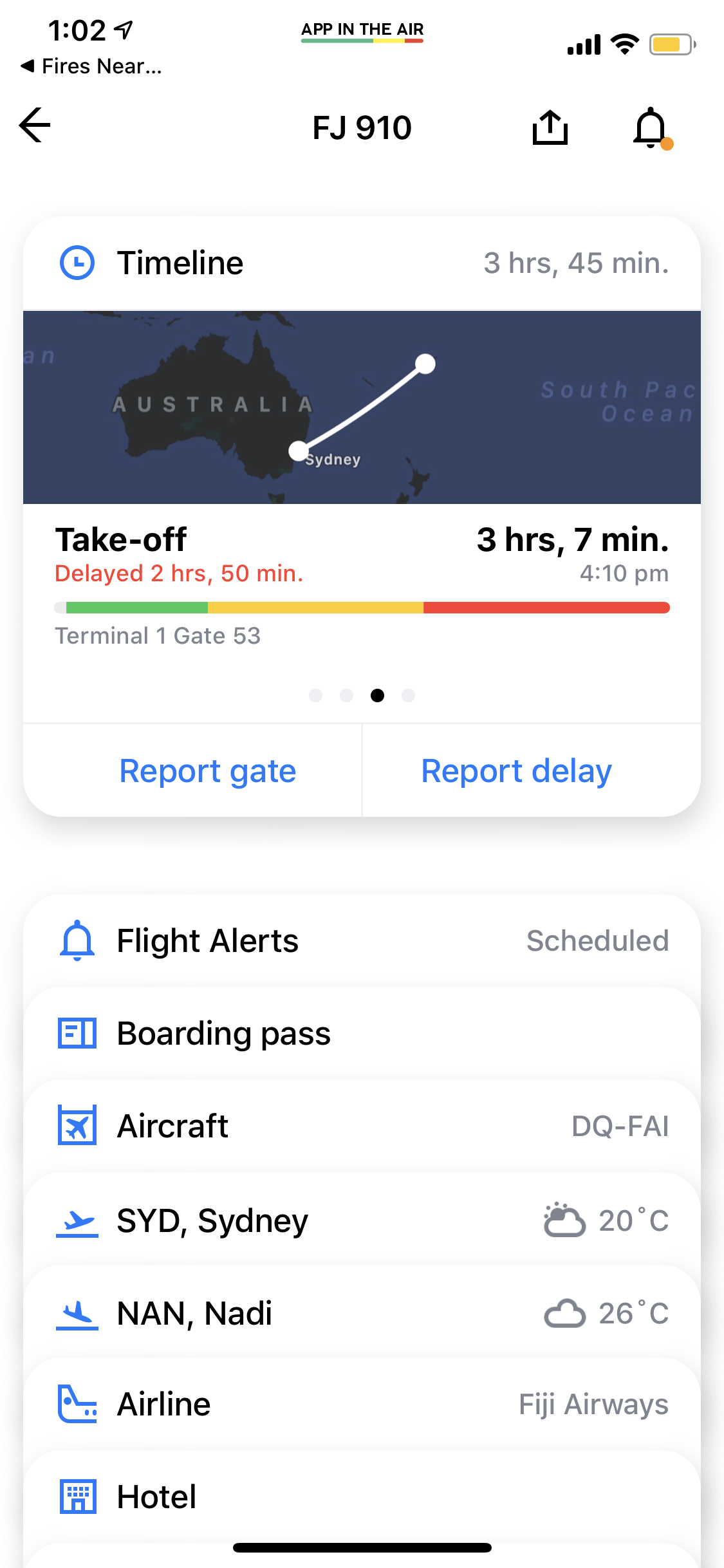 The American Express Lounge was a nice place to spend an extended delay and I was with good company, so there were no complaints.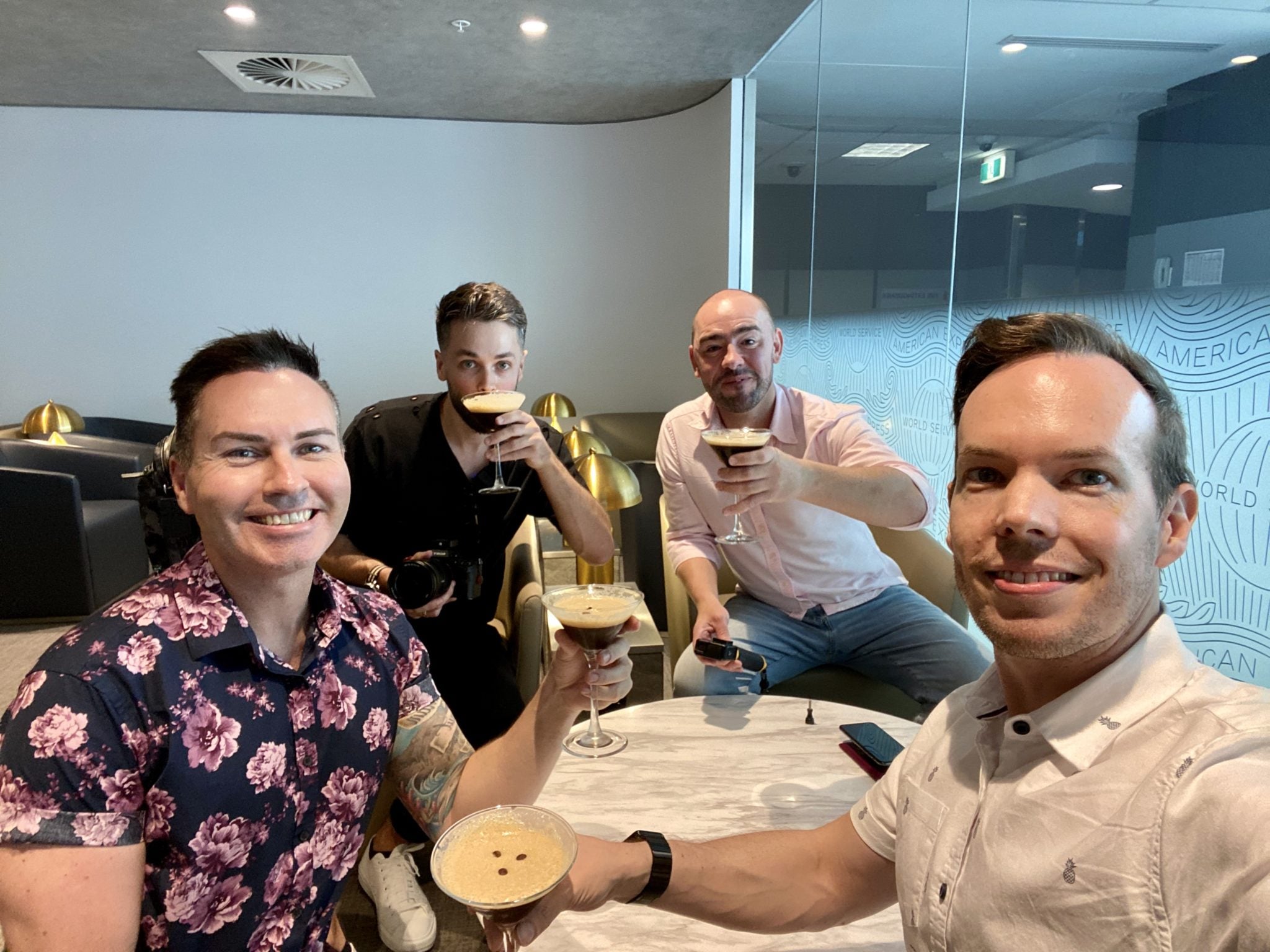 Flight
Aircraft
FJ910 is operated by a brand-new Airbus A350-900.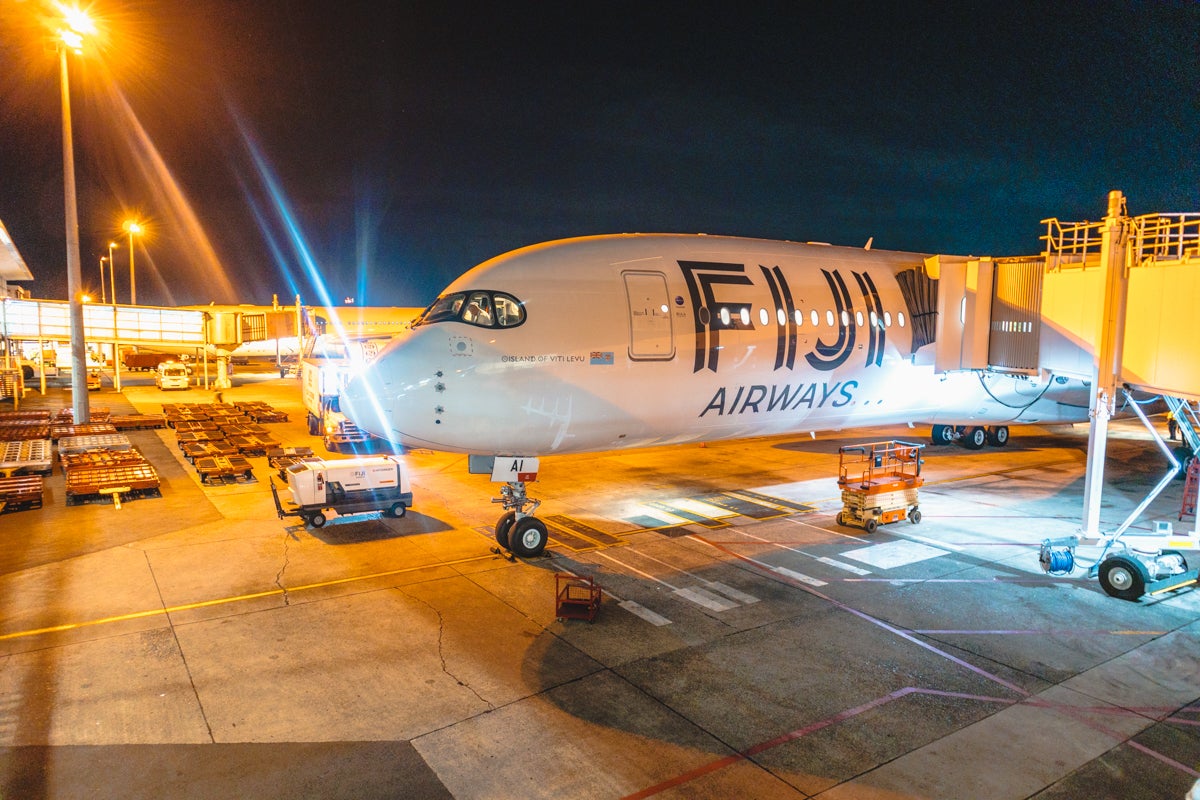 Fiji Airways took delivery of 2 Airbus A350 aircraft, the first of which, DQ-FAI, was delivered November 15, 2019, and was our aircraft for this flight. Named the "Island of Viti Levu," after Fiji's largest island, it is the first A350 to be delivered to a South Pacific airline.
Fiji Airways took delivery of its second and final A350 on order, DQ-FAJ, on December 14, 2019. It is named "Island of Vanua Levu," after Fiji's second-largest island.
The airline started flying the aircraft between Nadi and Sydney on November 23, 2019; Nadi to Los Angeles flights commenced January 1, 2020.
Both aircraft are configured with 33 business class seats in a 1-2-1 configuration between door 1 and door 2.
Economy occupies the rest of the aircraft in 3-3-3 configuration with 301 Recaro CL3710 31- to 32-inch pitch seats with 39 of these branded "Bula Space" which provide 34 inches of legroom.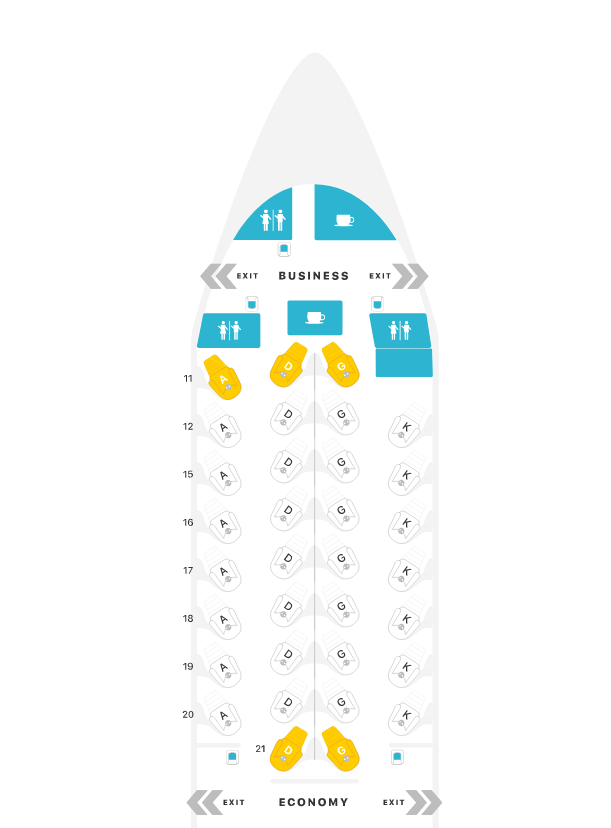 Business Class
These 2 aircraft were intended for Hong Kong Airlines, and as such, they feature the business class seats originally selected by the airline, which isn't a bad thing. Hong Kong Airlines has been actively reducing debt and canceled part of an Airbus order that allowed Fiji Airways to take over the delivery slots and procure these aircraft quickly.
These jets feature the Collins Aerospace "Super Diamond" business class seats also found on Virgin Australia and Qatar Airways, amongst others.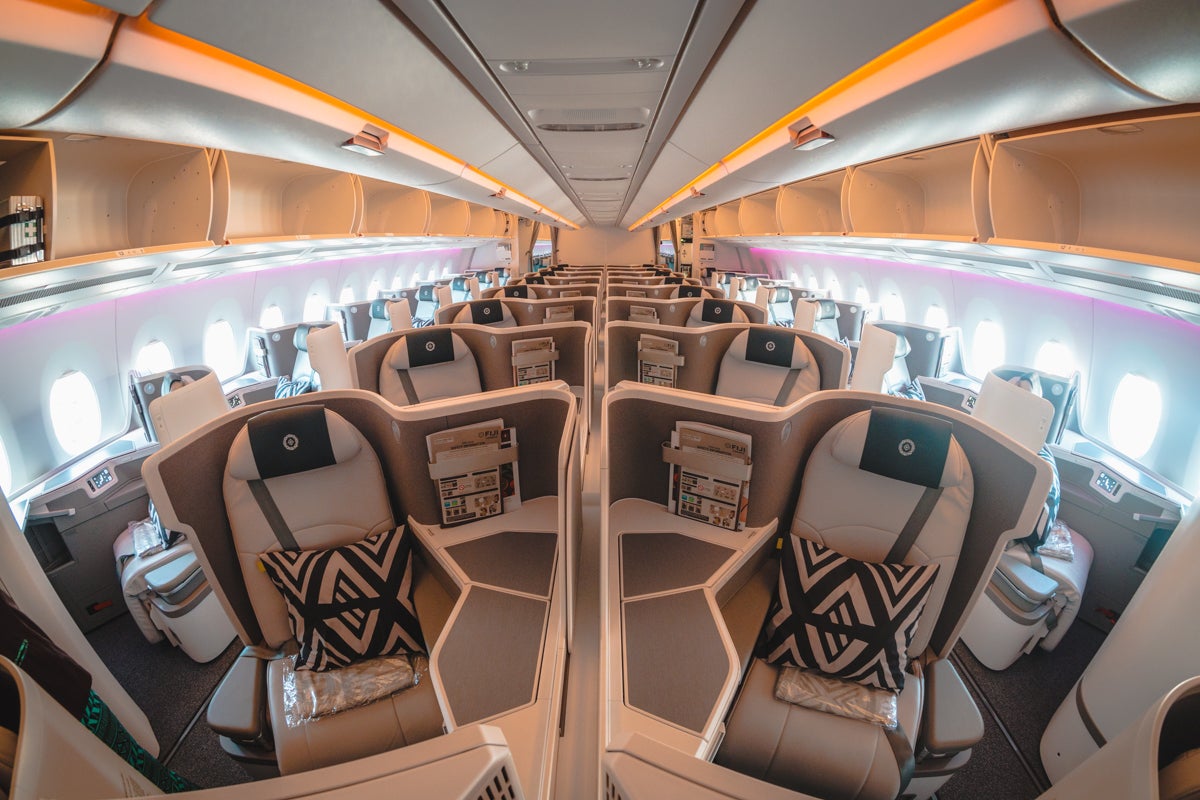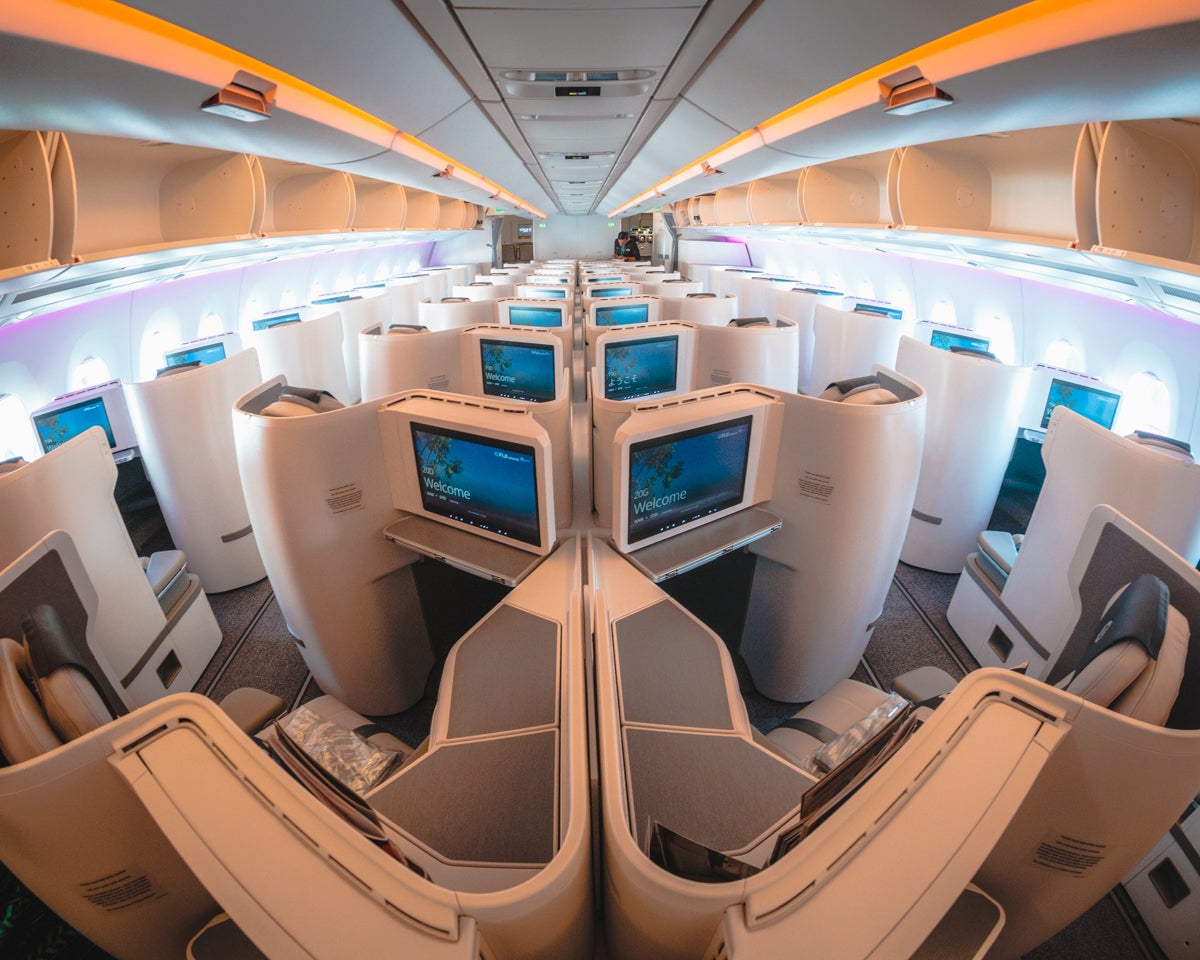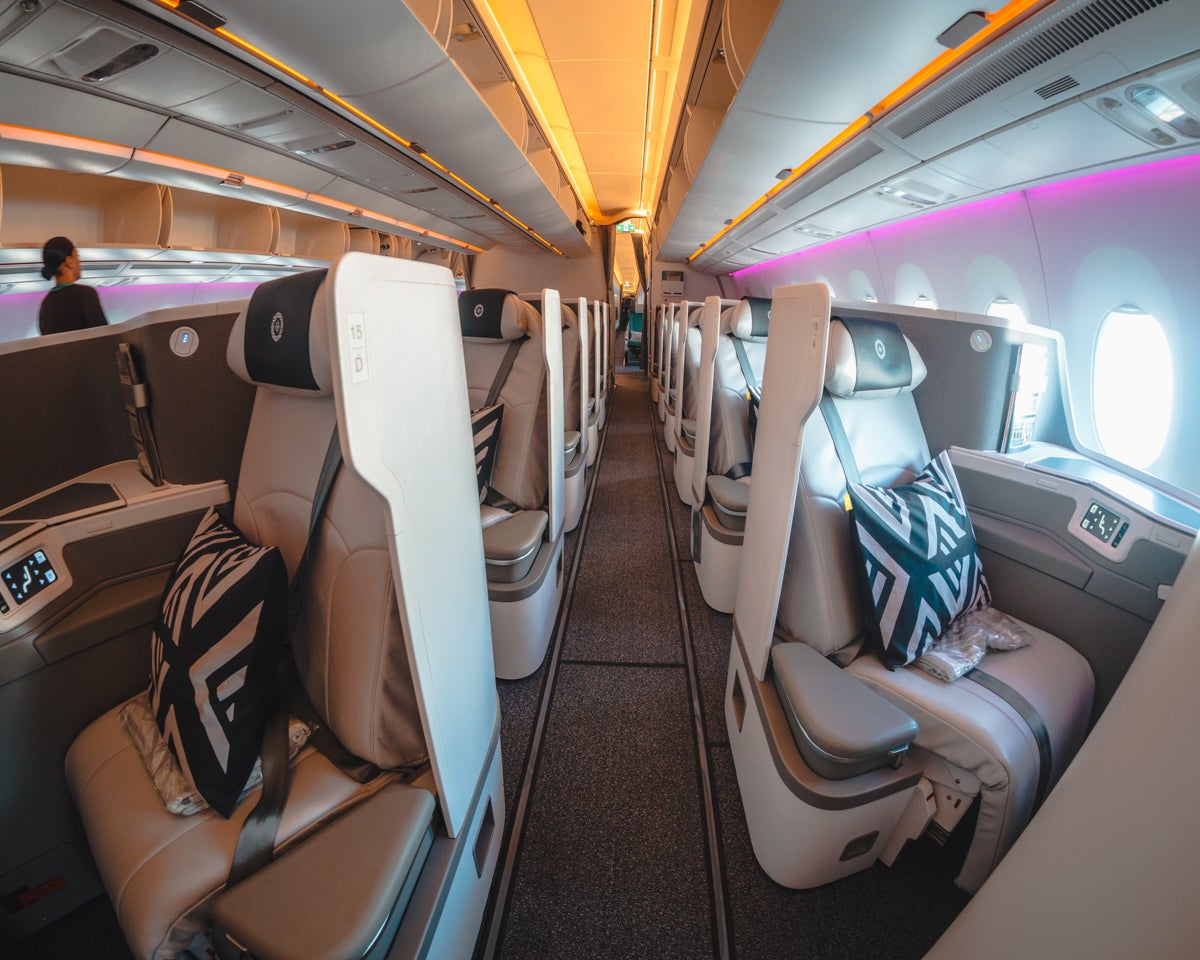 Boarding finally commenced at 3:10 p.m – I guess you could say it was running on "Fiji Time." I selected seat 20A as I prefer sitting towards the rear of a cabin so that I can enjoy the wing and engine views, but I wish I had picked seat 19A as I was missing a window.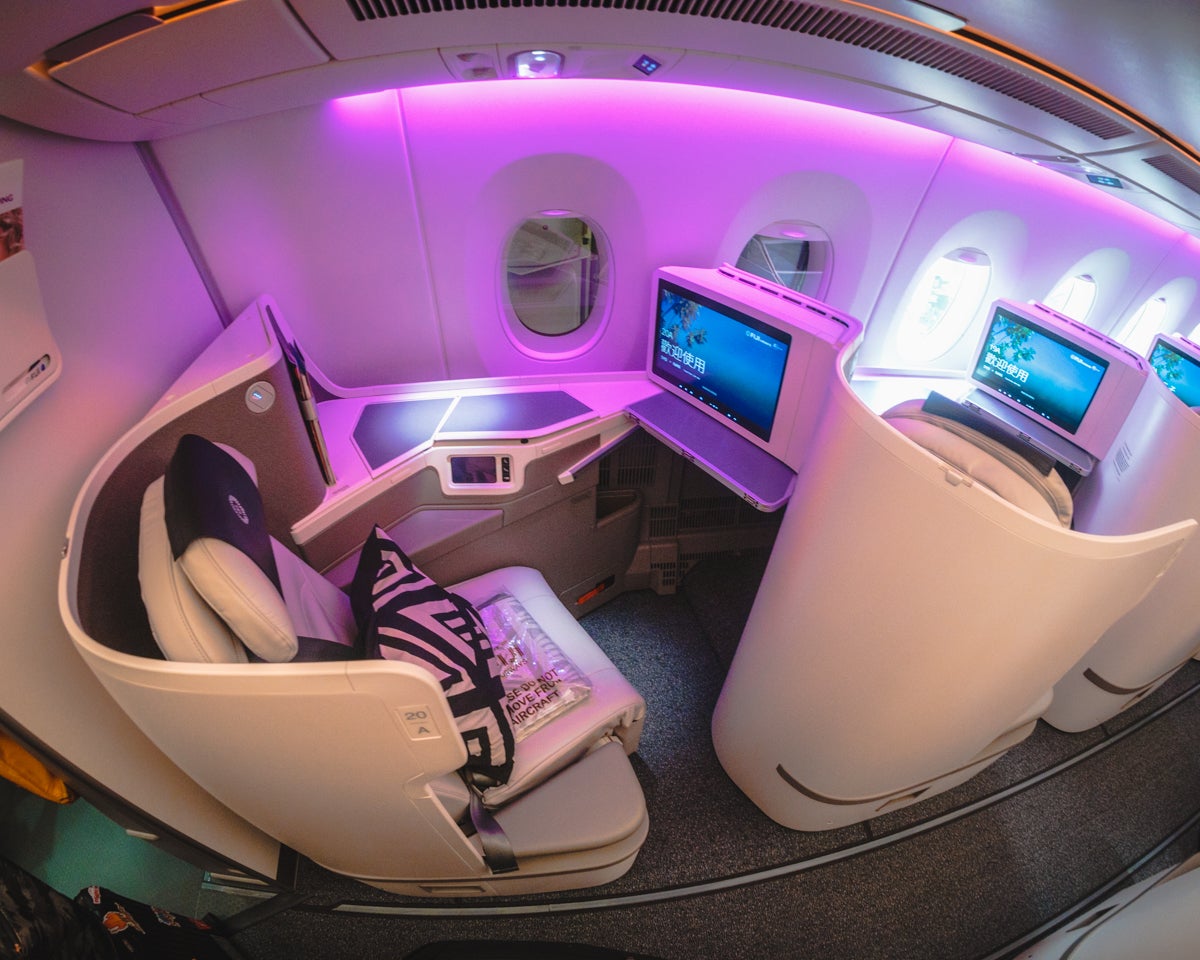 The seats are upholstered in a light grey leather with darker grey accents on the inside of the seat shell and top of the storage console.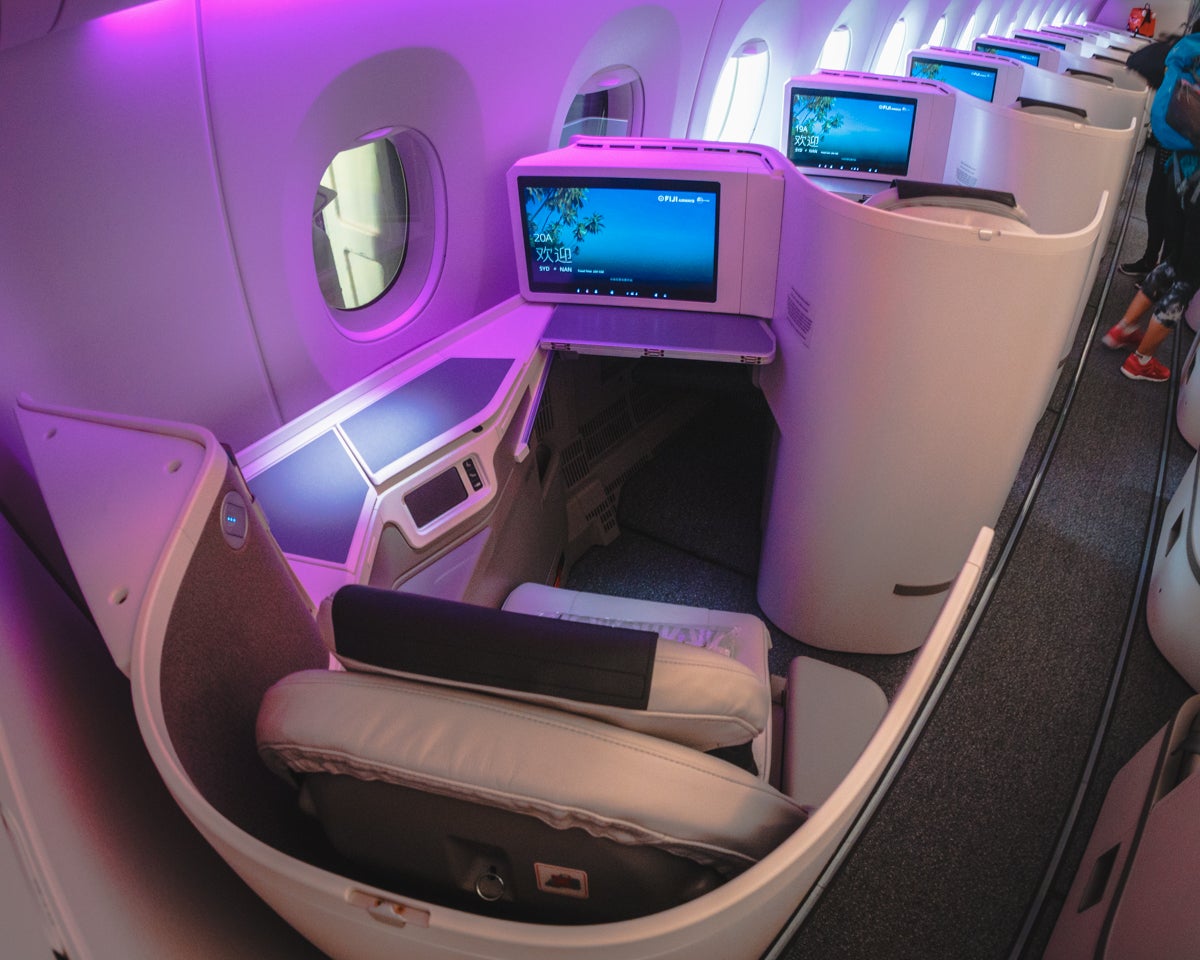 The distinct Teteva patterned pillow cover provides a nod to the Fiji Airways tail livery and contrasts against the light-colored seats.
It makes for a light and airy cabin feel, with splashes of color coming from the overhead LED lighting. I think the cabin looks great, however, I question how well these light-colored seats will retain their pristine look and feel over time, and especially how the light seat shells will hold up to the rigors of daily wear and tear.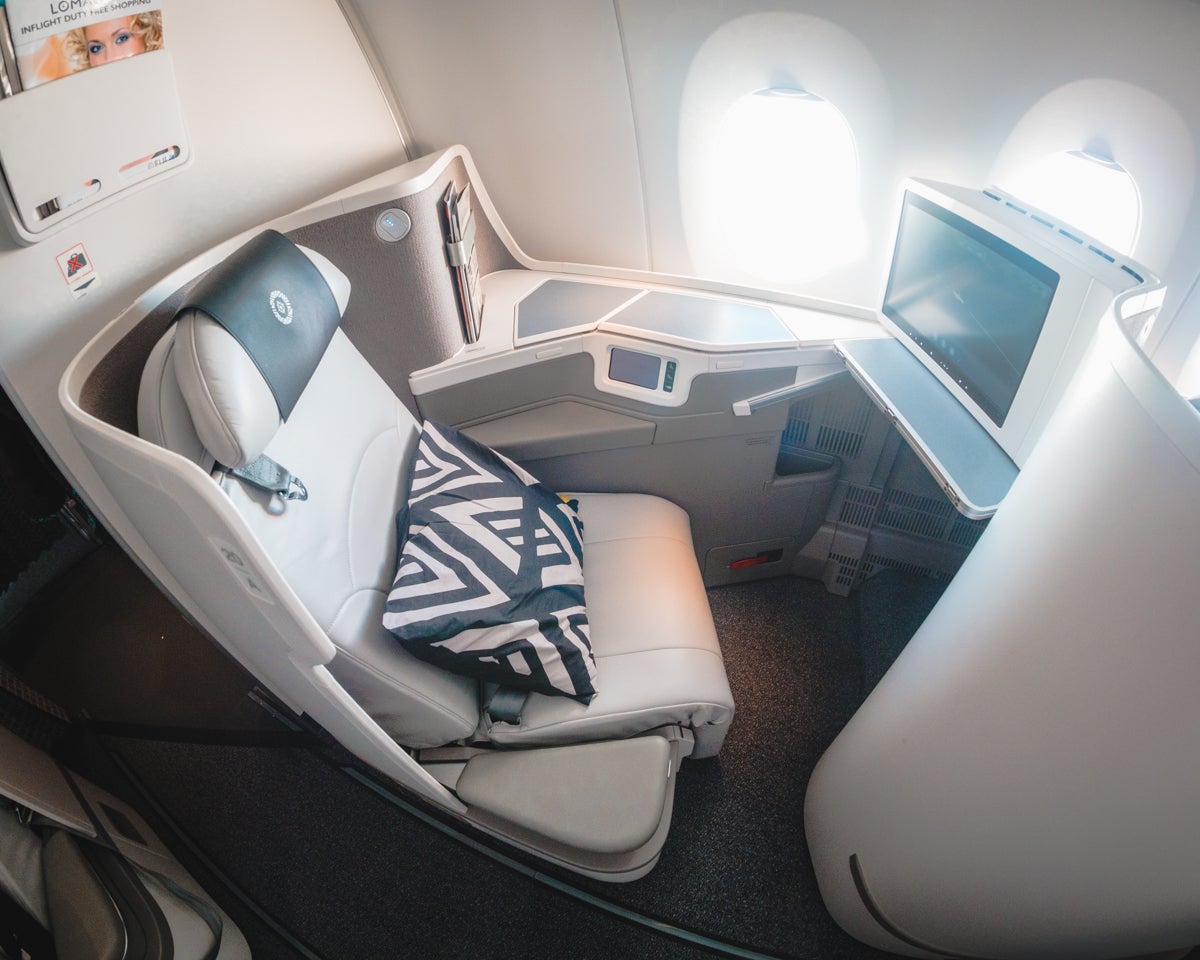 The 1-2-1 configuration provides all passengers with direct aisle access and the window seats are offset enough to the middle seats to provide excellent privacy. The seat "wings" at head level ensure that you don't make eye contact with your neighbor across the aisle.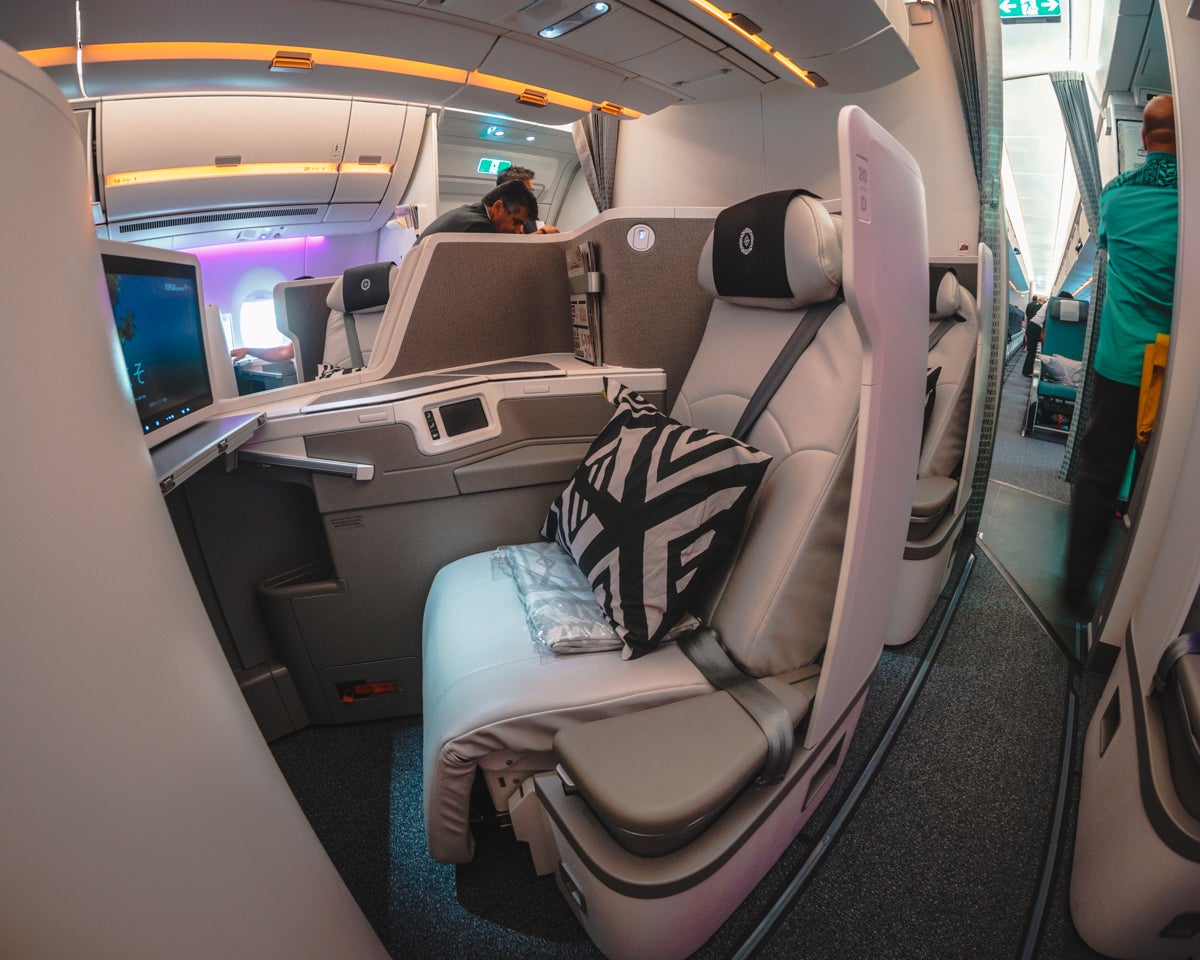 The inside of the seat shell is upholstered in a dark grey fabric to help absorb noise. An individual reading light with adjustable brightness and literature pocket is found over your shoulder.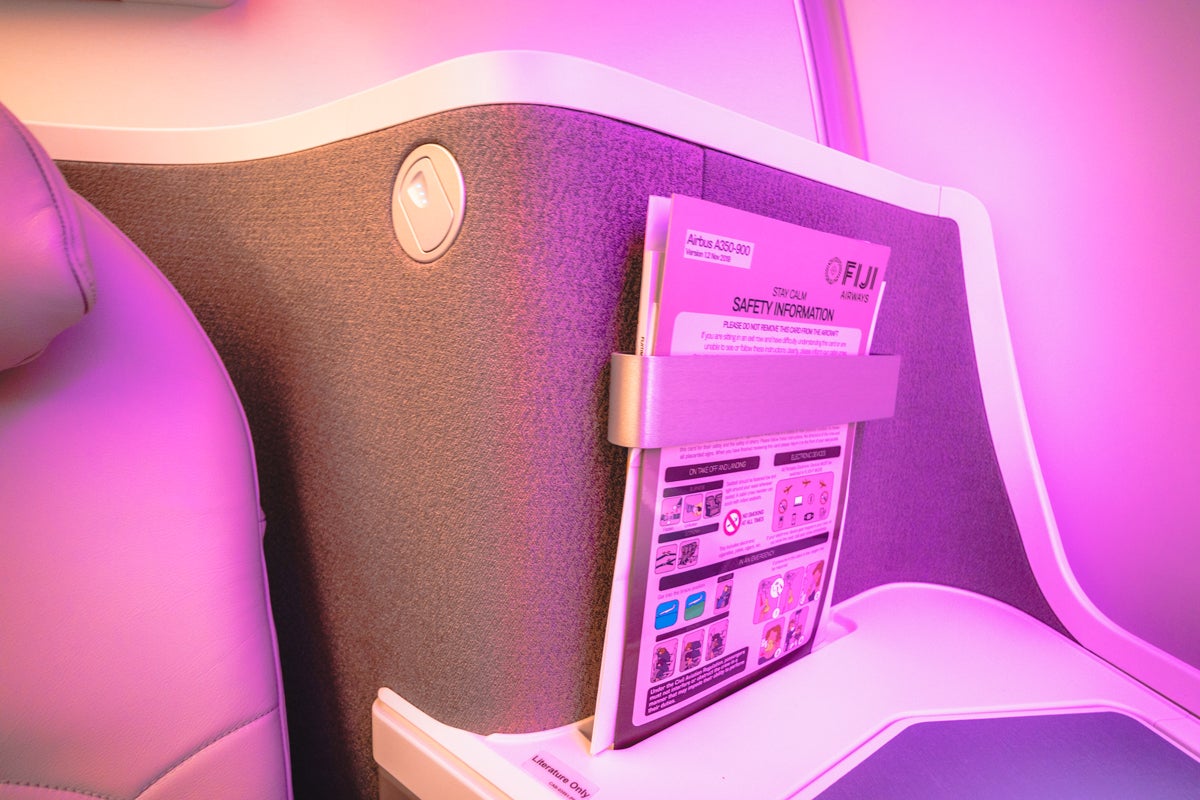 The headrest also features the Teteva pattern as per the pillows. I find it strange that this seat needs a 3-point seatbelt when the exact same seat on Qatar Airways' original A350s does not. The over-the-shoulder belt is only needed for take-off and landing.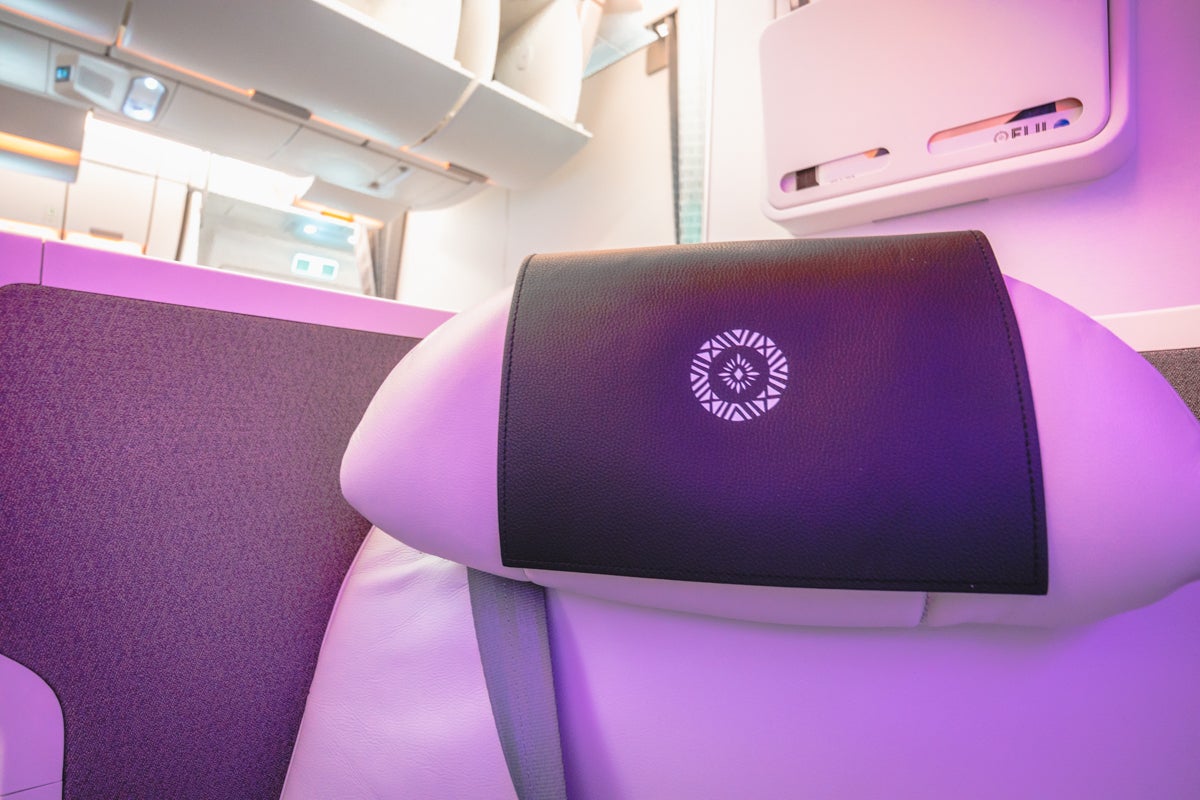 What I love about the "Super Diamond" seat is the number of storage options around your seat, most of which are enclosed. The seat console houses 2 compartments which both have lids.
The first is very shallow.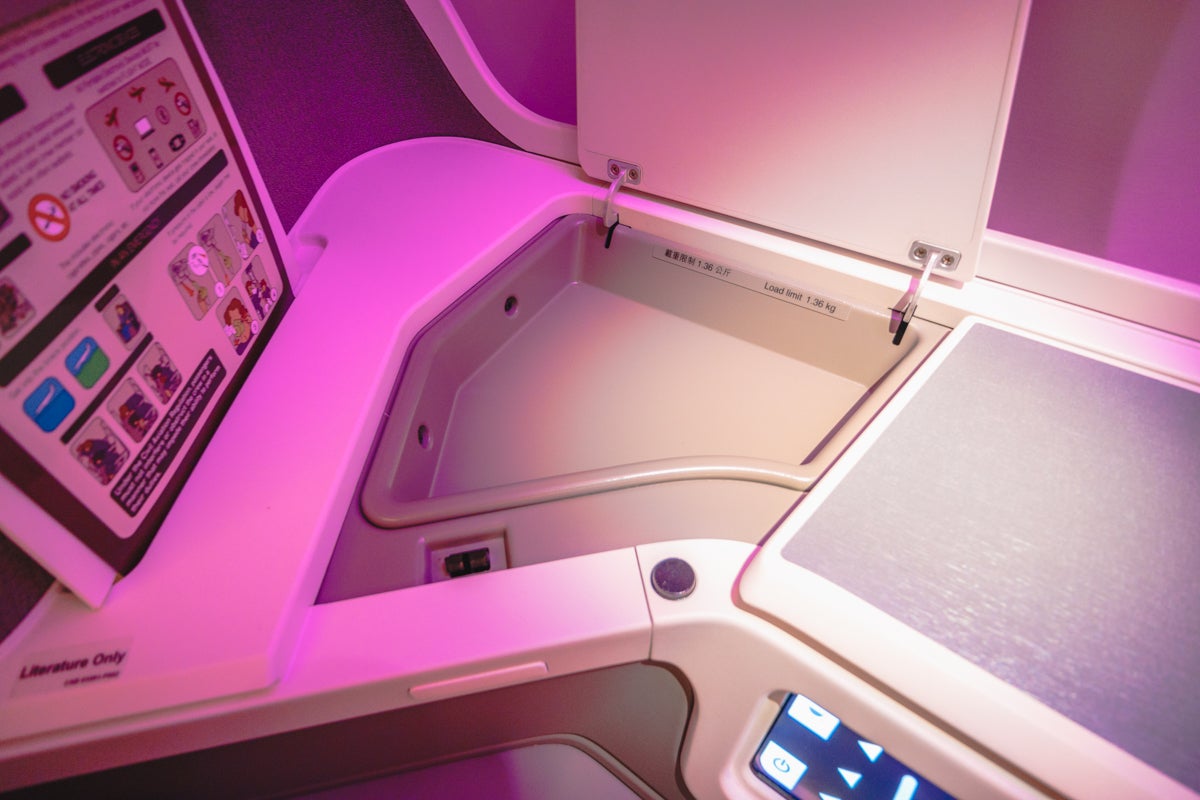 The larger and deeper compartment is far more practical and also houses 2 USB ports, a power socket, a headphone socket, and a touchscreen remote.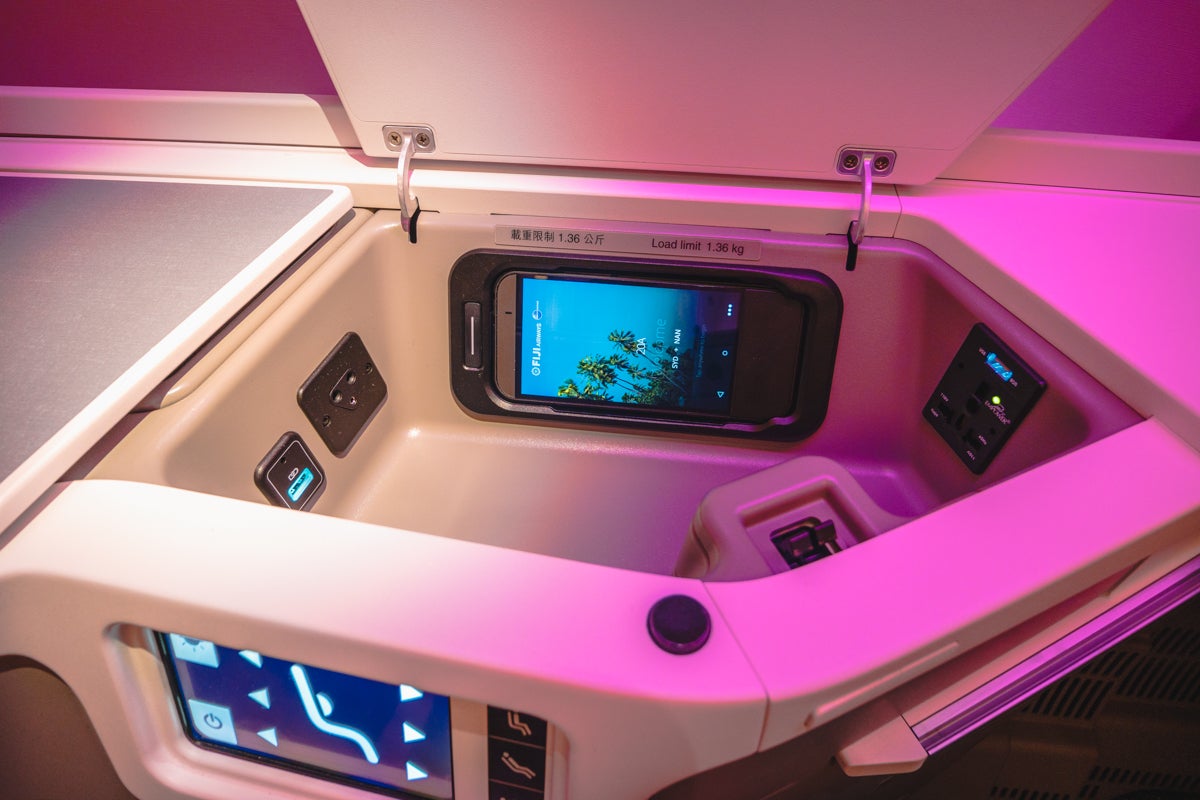 The 22-inch wide seat is controlled by a touchscreen.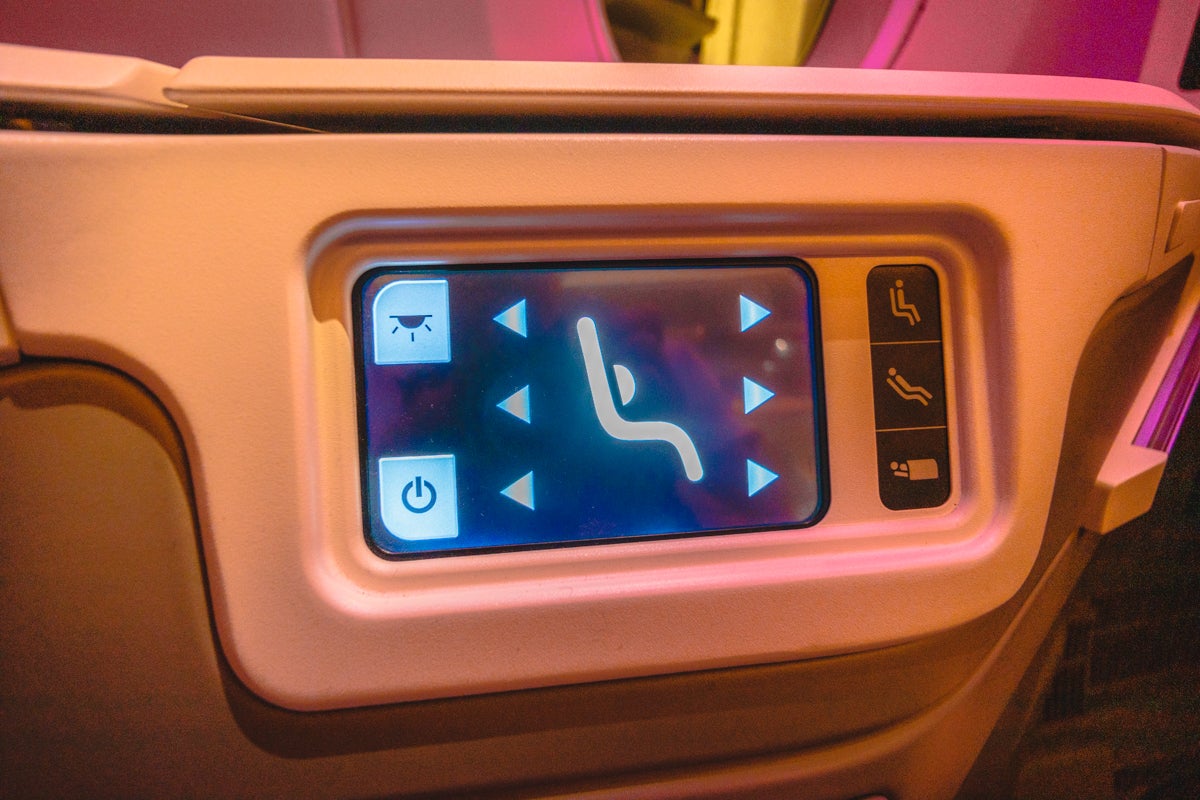 The tray table extends from underneath the IFE screen. It flips over to reveal a large tray that can slide down towards you and can be locked into 3 different positions. It also means you can easily exit the seat if you need to use the bathroom during a meal service.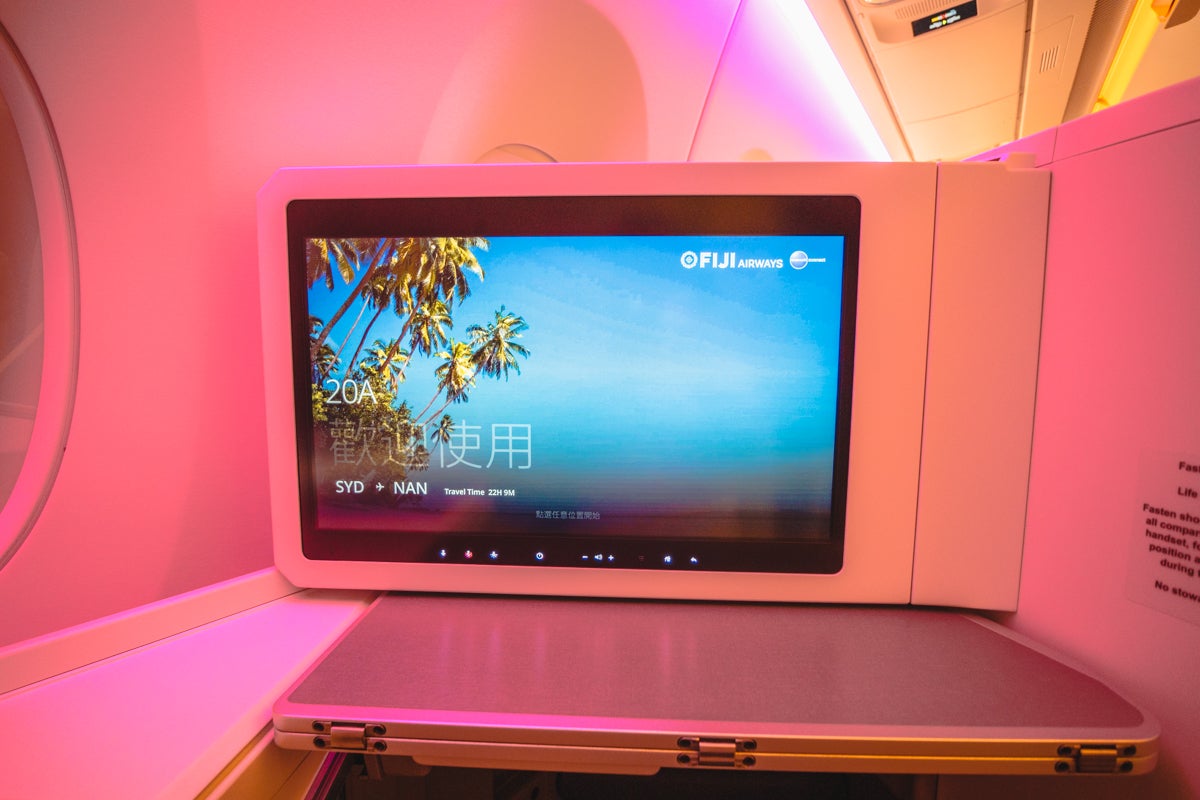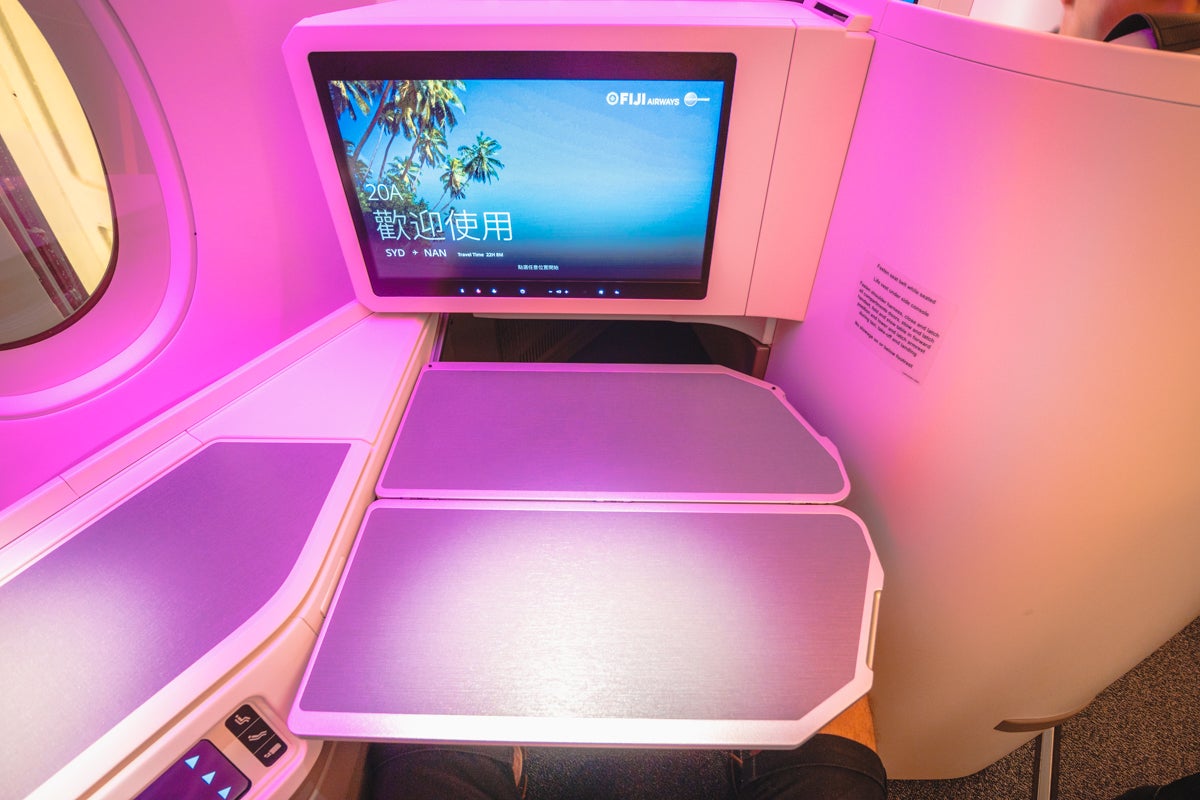 Under the console is a small storage space alongside the window-side.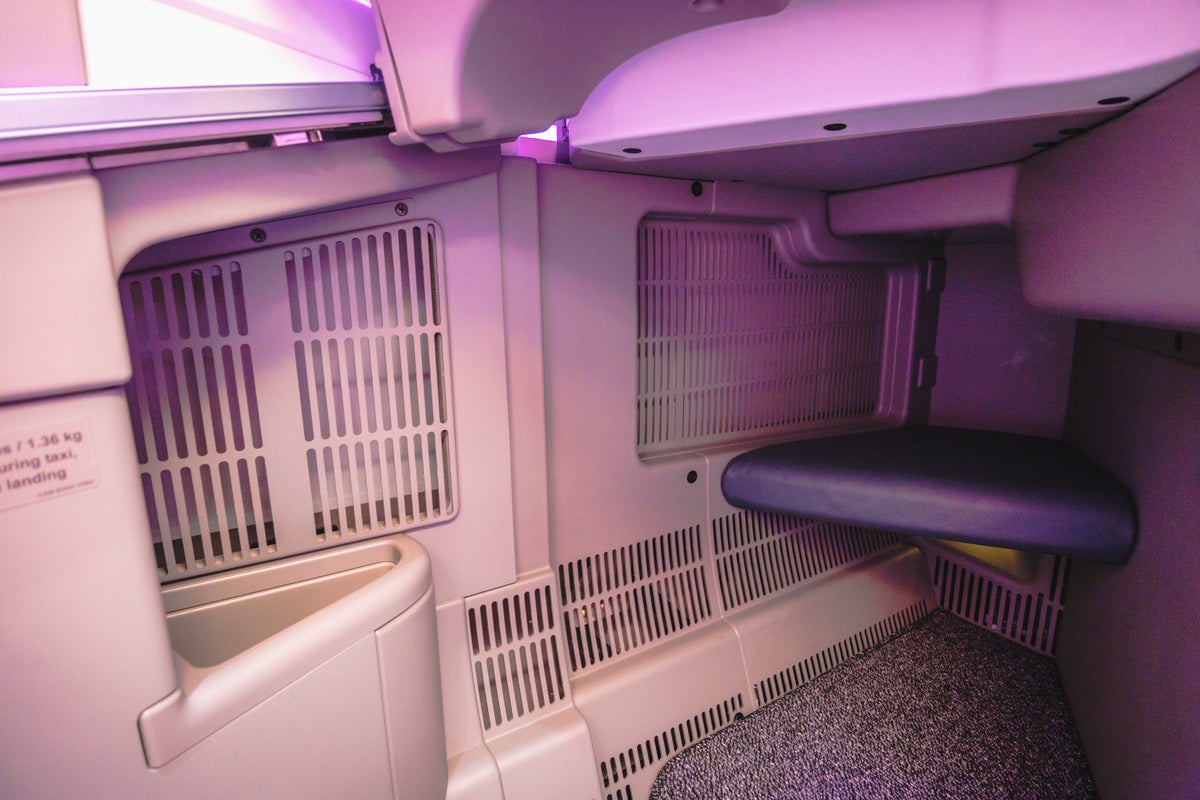 On the aisle-side, a manually height-adjustable armrest houses a small storage compartment that has a bottle of Fiji water (naturally) and the noise-canceling headphones.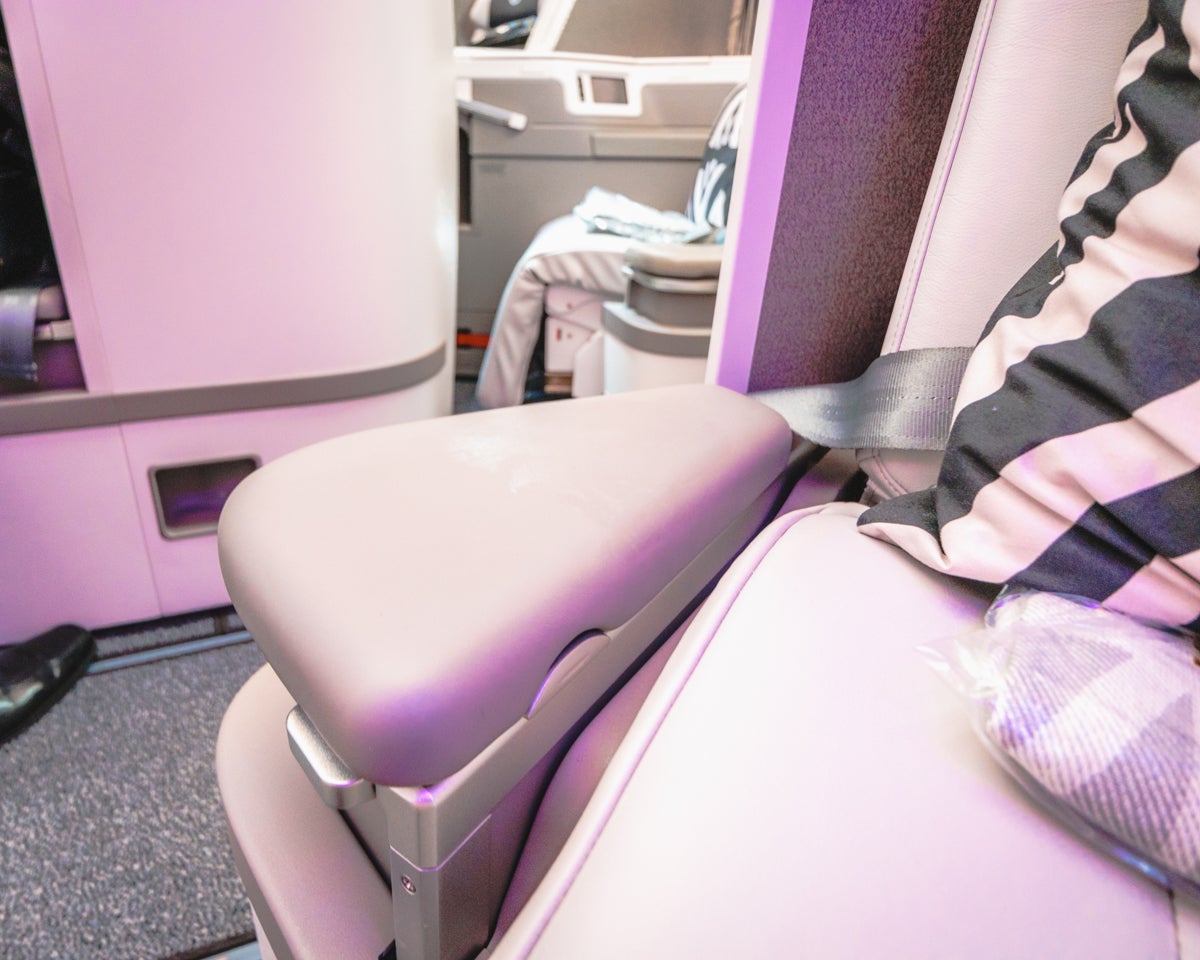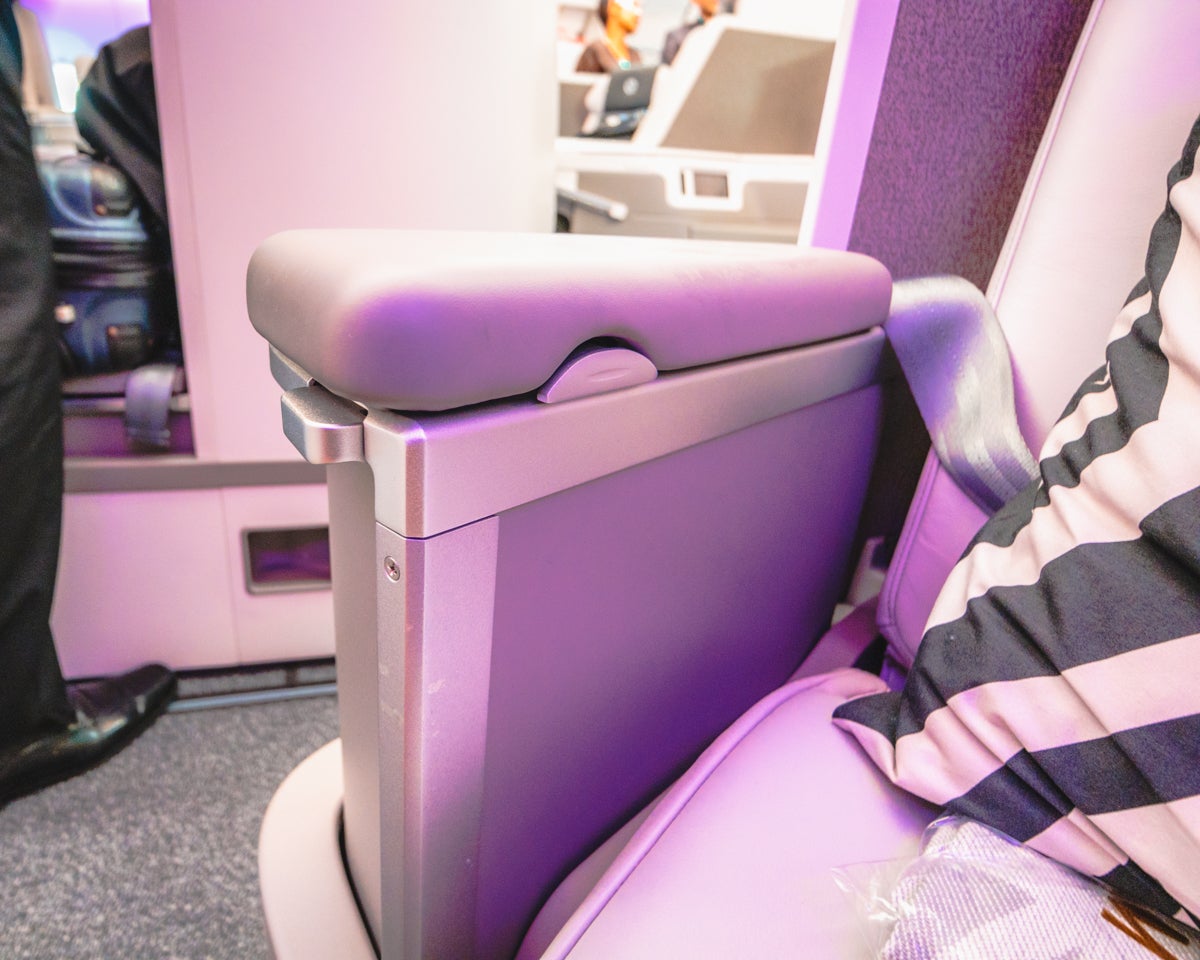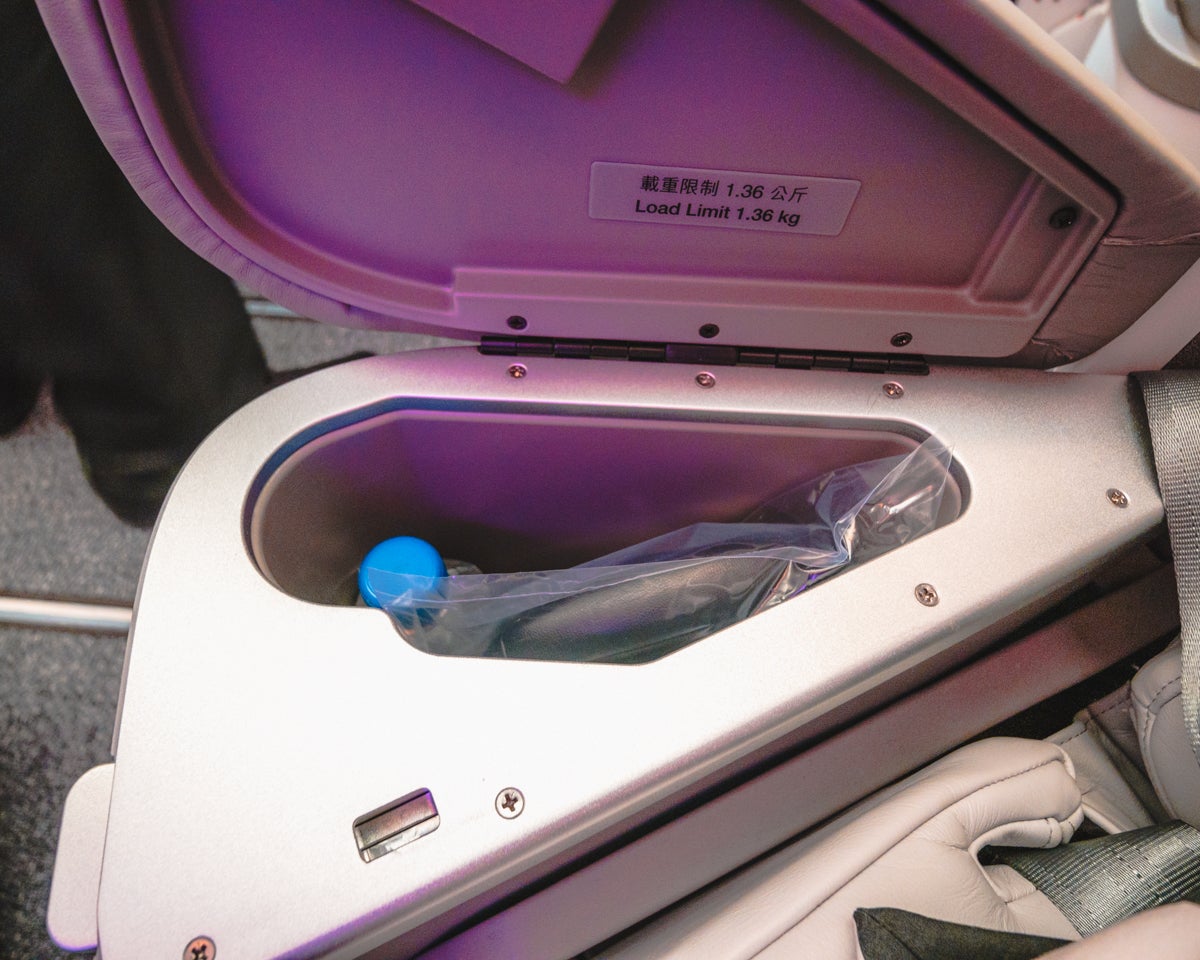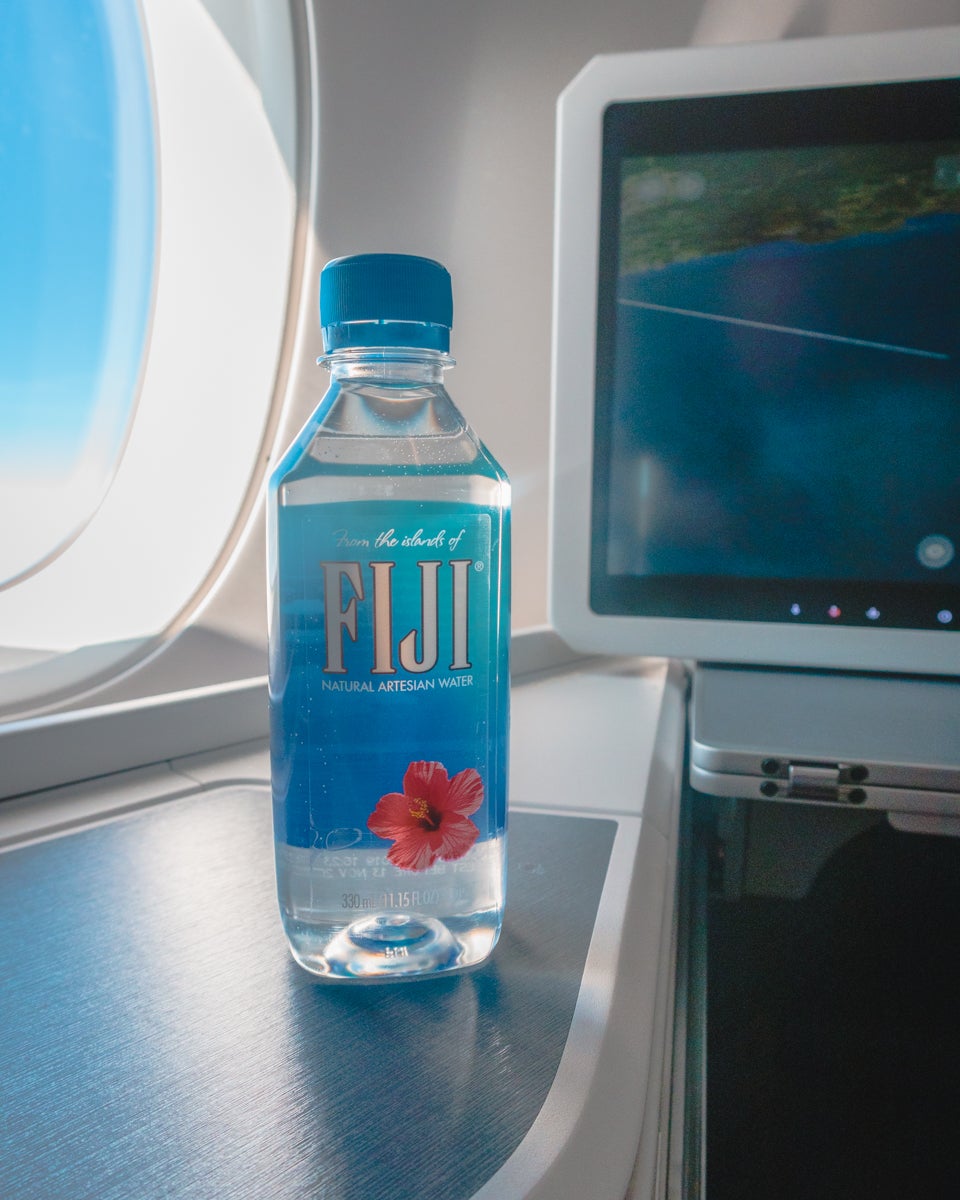 Middle seat passengers have an adjustable privacy divider between the seats if you don't want to see your neighbor.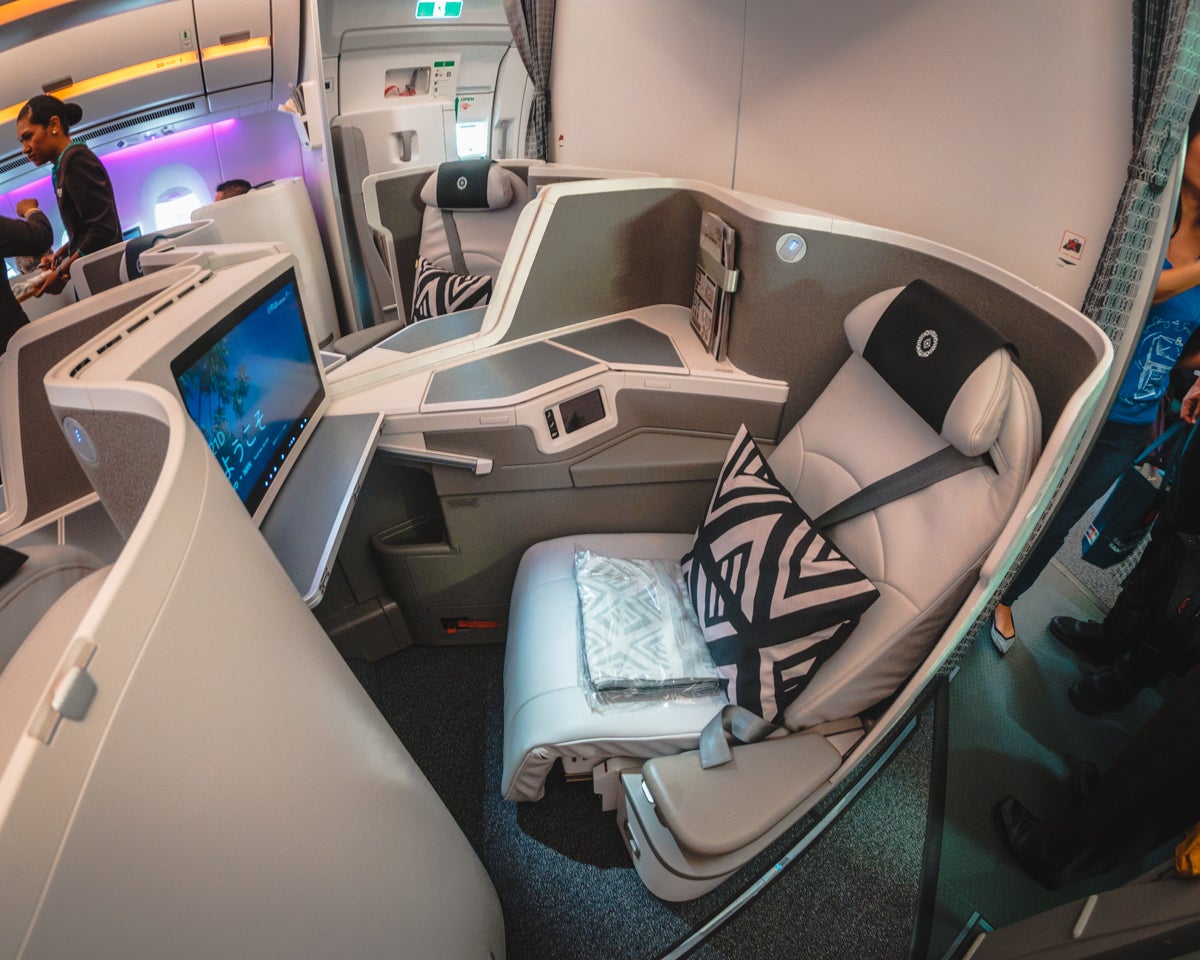 It is great that the aircraft has individually adjustable airflow vents overhead.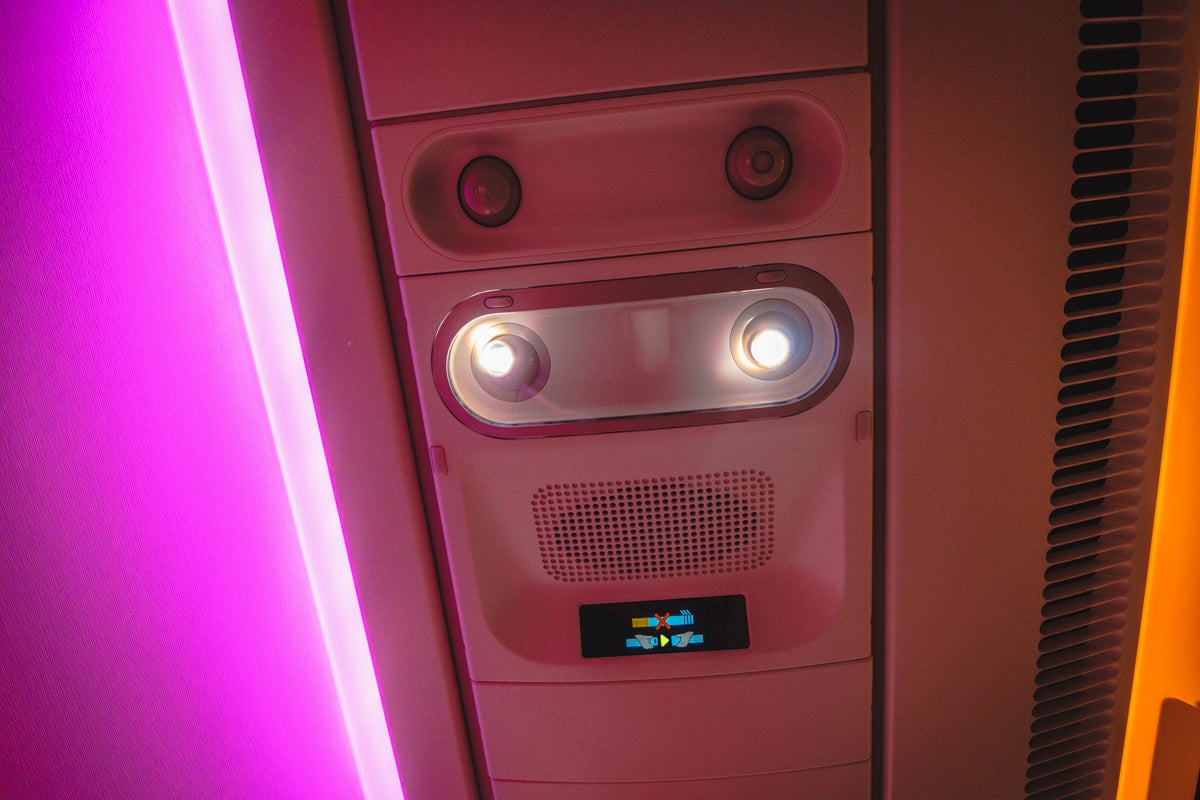 The seat slides down to a 78-inch bed, which was not necessary on the 3hr 45min flight from Sydney, yet will be needed on the 10-hour flights to and from Los Angeles.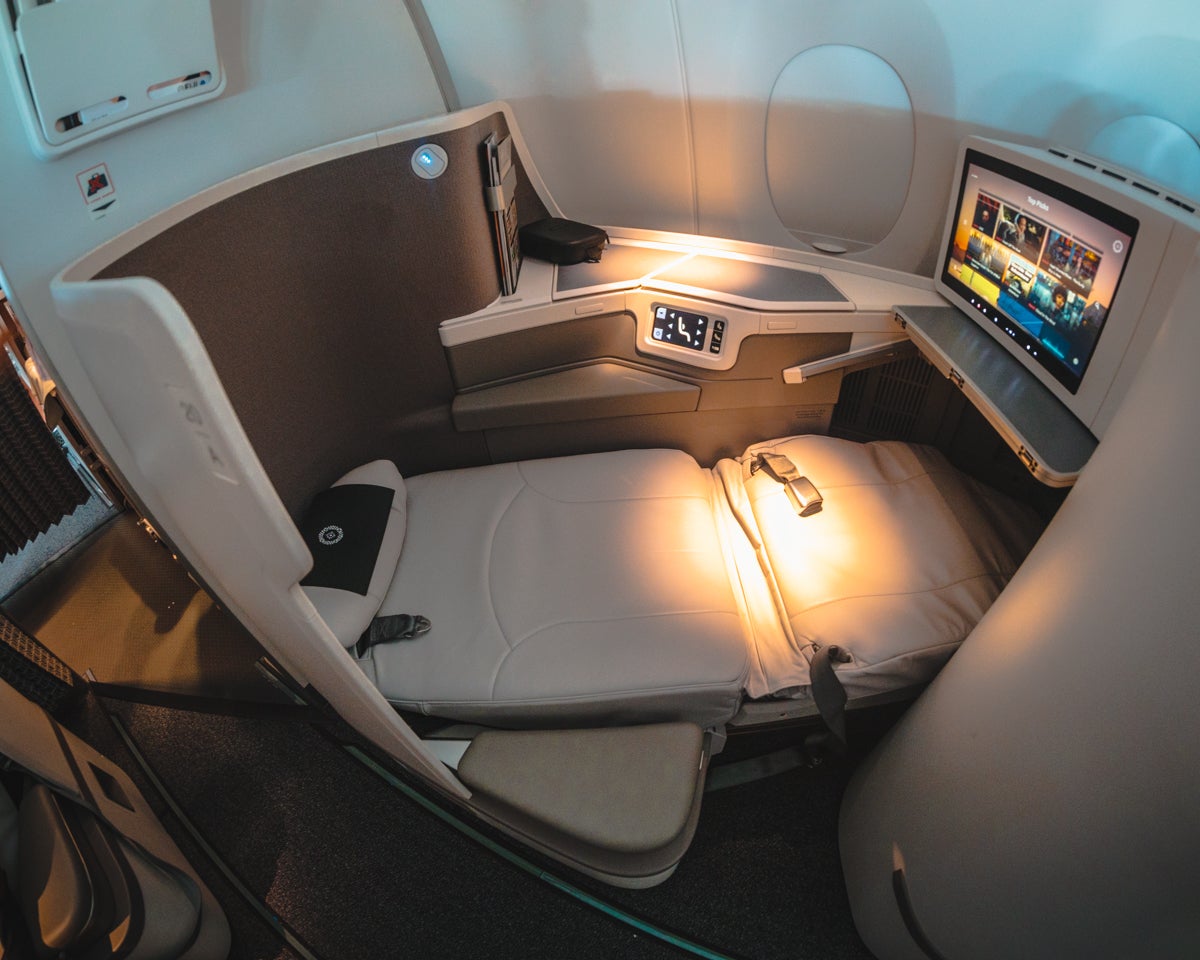 I tested the bed and I noticed a large gap open up as it slid down.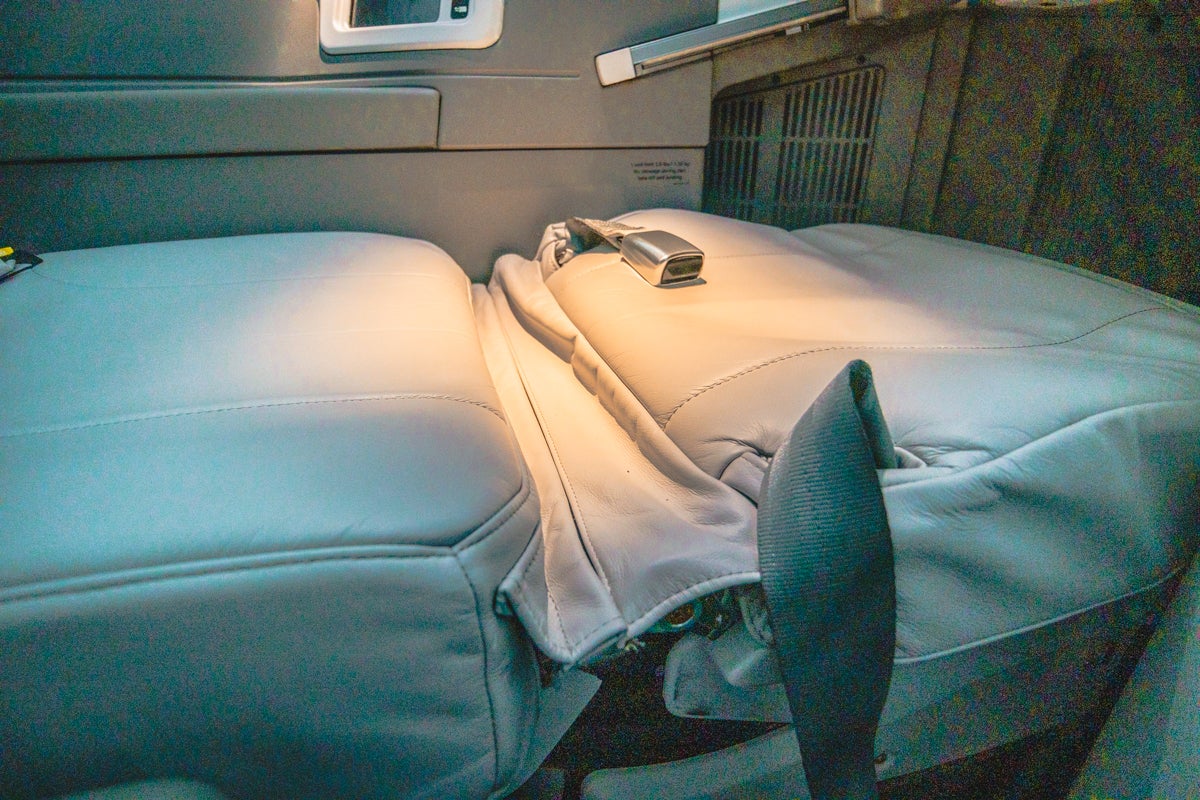 The end of the bed dropped down too low and didn't connect flush with the ottoman. My mates' seats did not exhibit the same problems, so I believe it was just my seat which was faulty — this is not expected on a 3-week-old plane.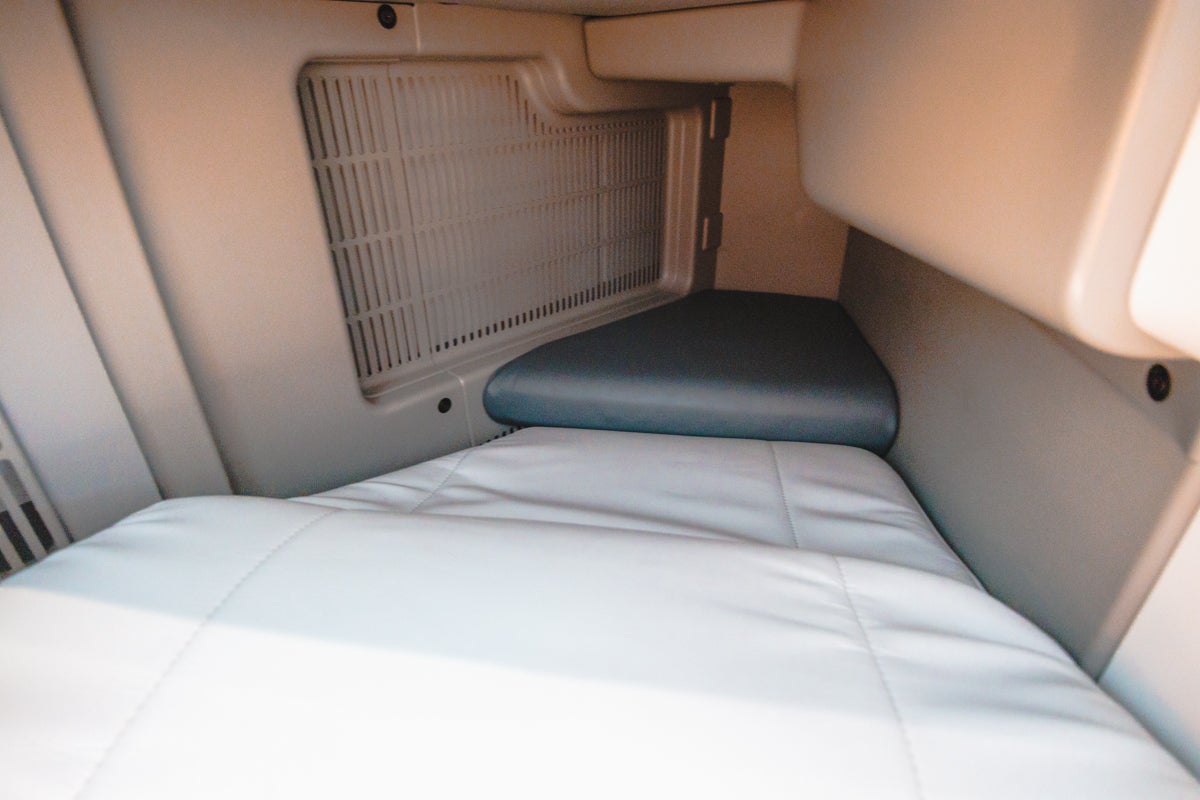 There is excellent footwell space.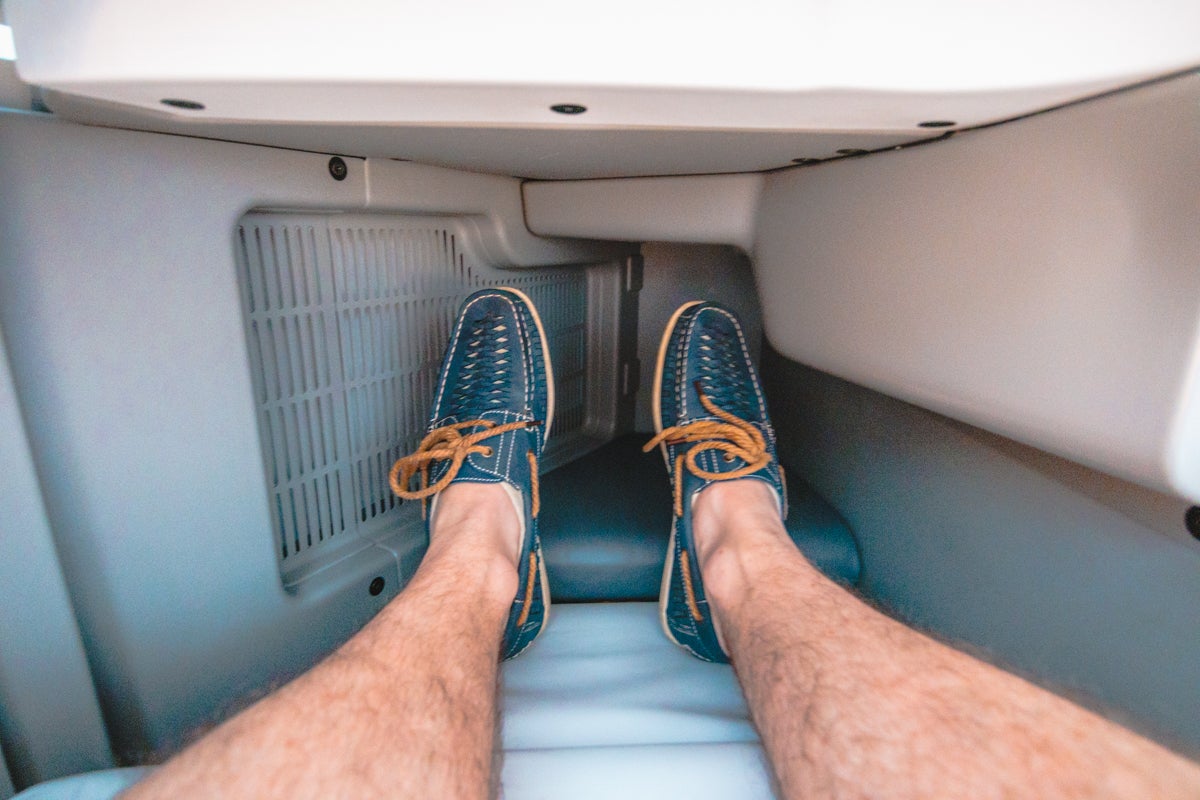 I am not a fan of integrated headrests on business class seats as they elevate your head too high once you use a pillow on top and get in the way if you like wrapping your arms under a pillow when you sleep.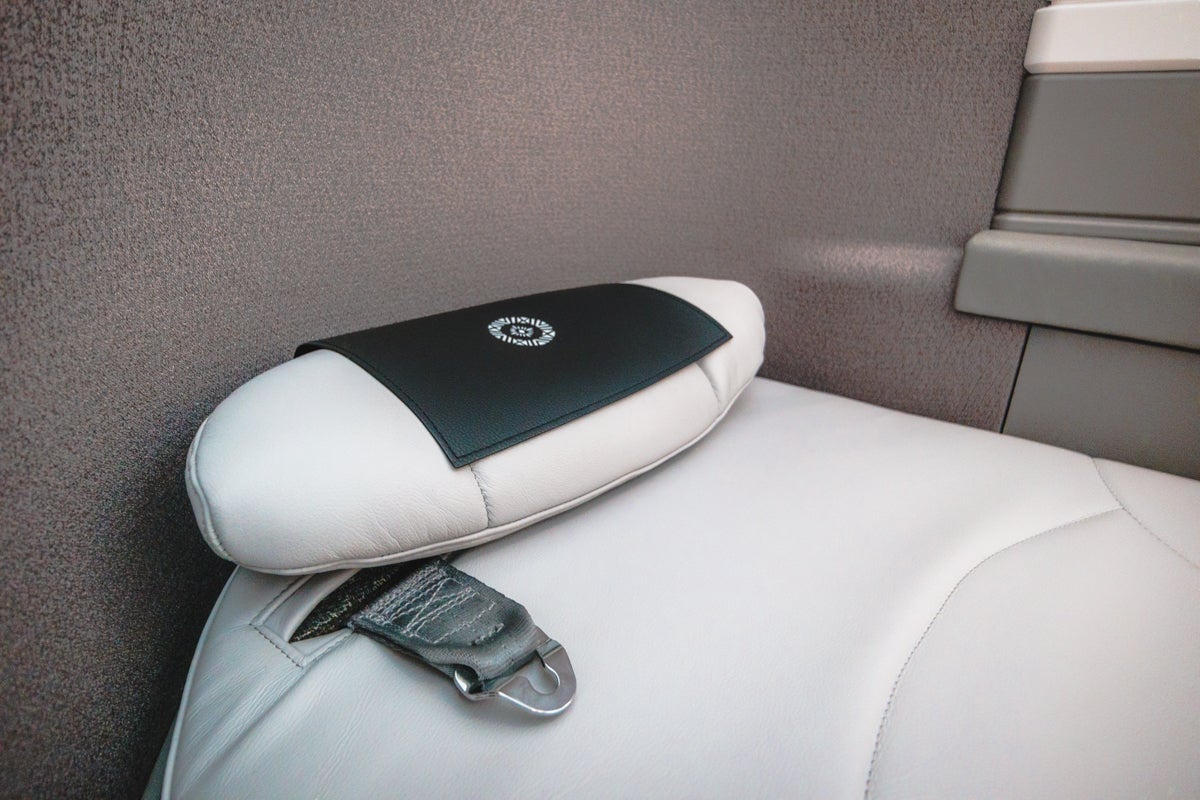 The business class cabin has 2 lavatories up the front and a third at door 2 at the right of the cabin. This provided an excellent passenger-to-toilet ratio of 11:1. They are stocked with Pure Fiji products and groovy LED lighting.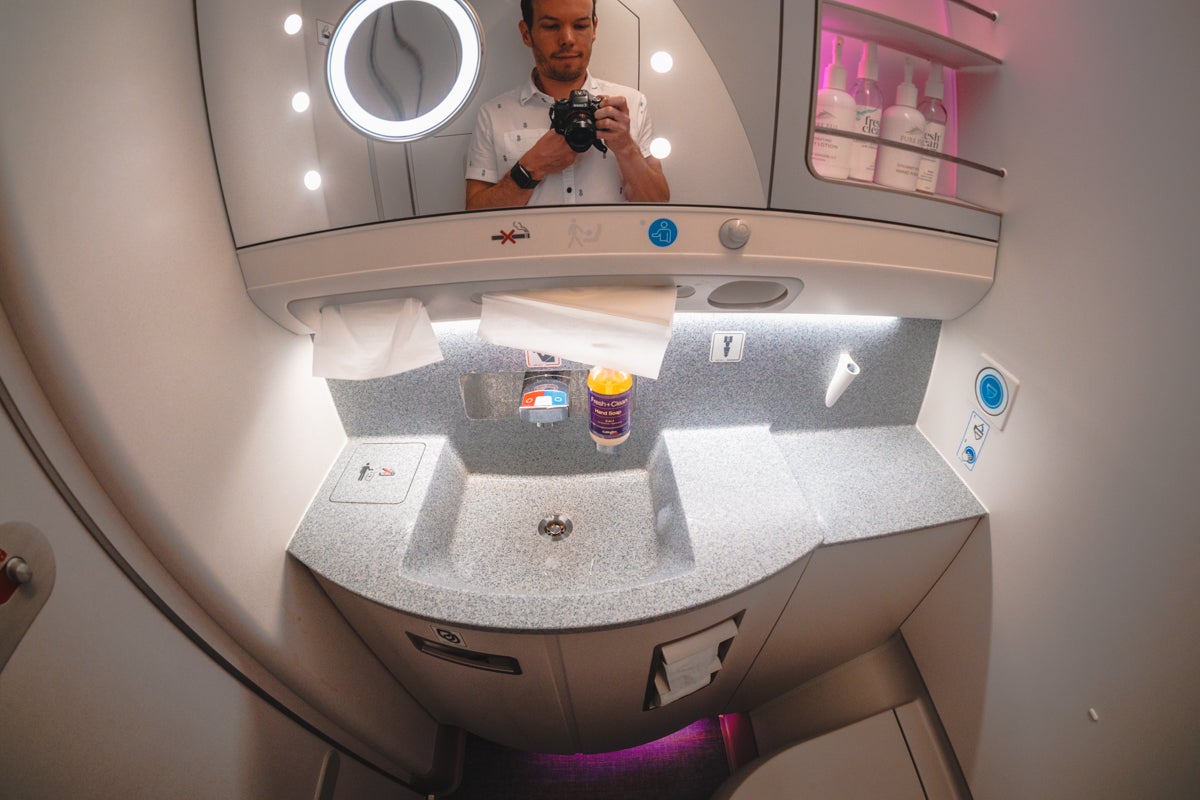 Amenities
No amenity kits were provided on this short flight from Sydney but I would expect the airline to offer amenities between Nadi and Los Angeles.
A light blanket was waiting on the seat upon boarding. When I asked the crew if a mattress pad would be provided for the flights to LAX, they weren't sure.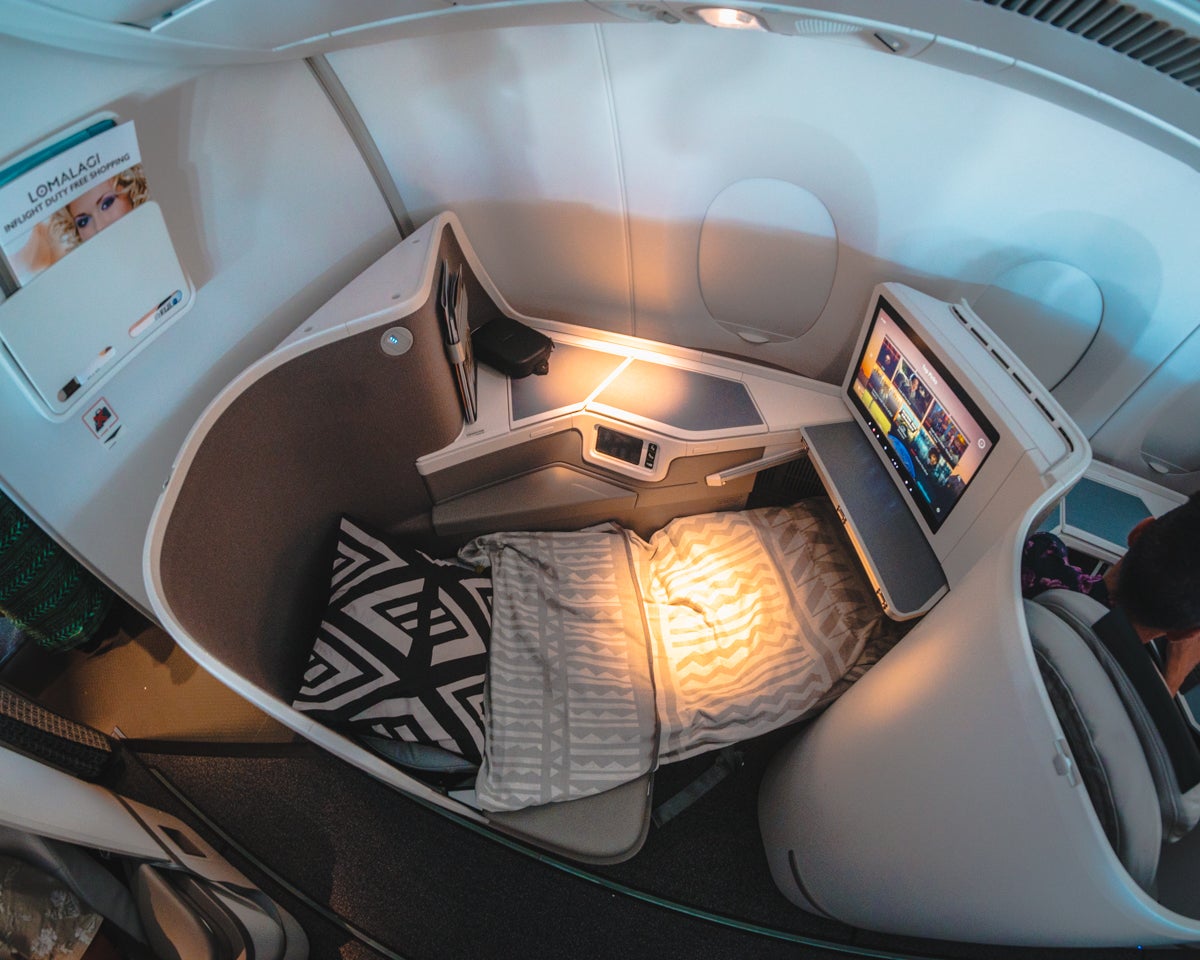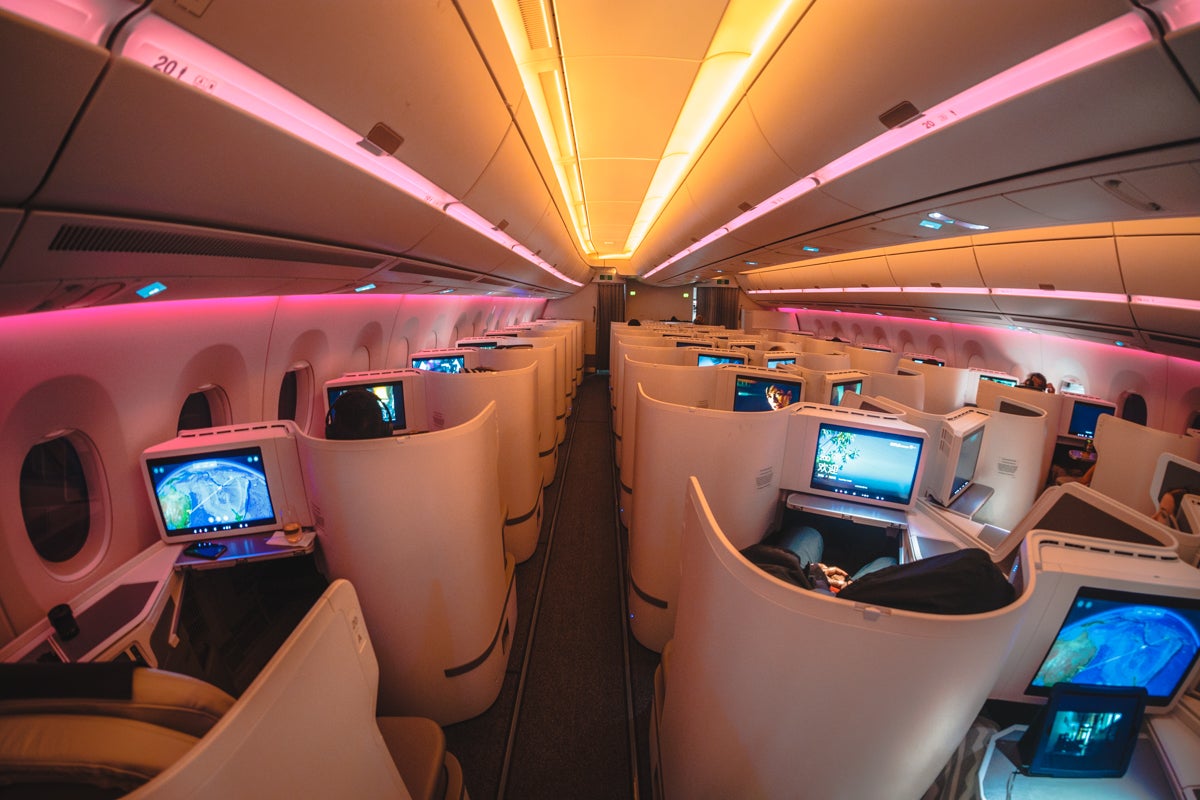 Entertainment
A 17-inch Thales Avant high definition inflight entertainment system is fixed in front of passengers. Even though it's fixed, I had no issues seeing the screen when I slid the seat down to a bed.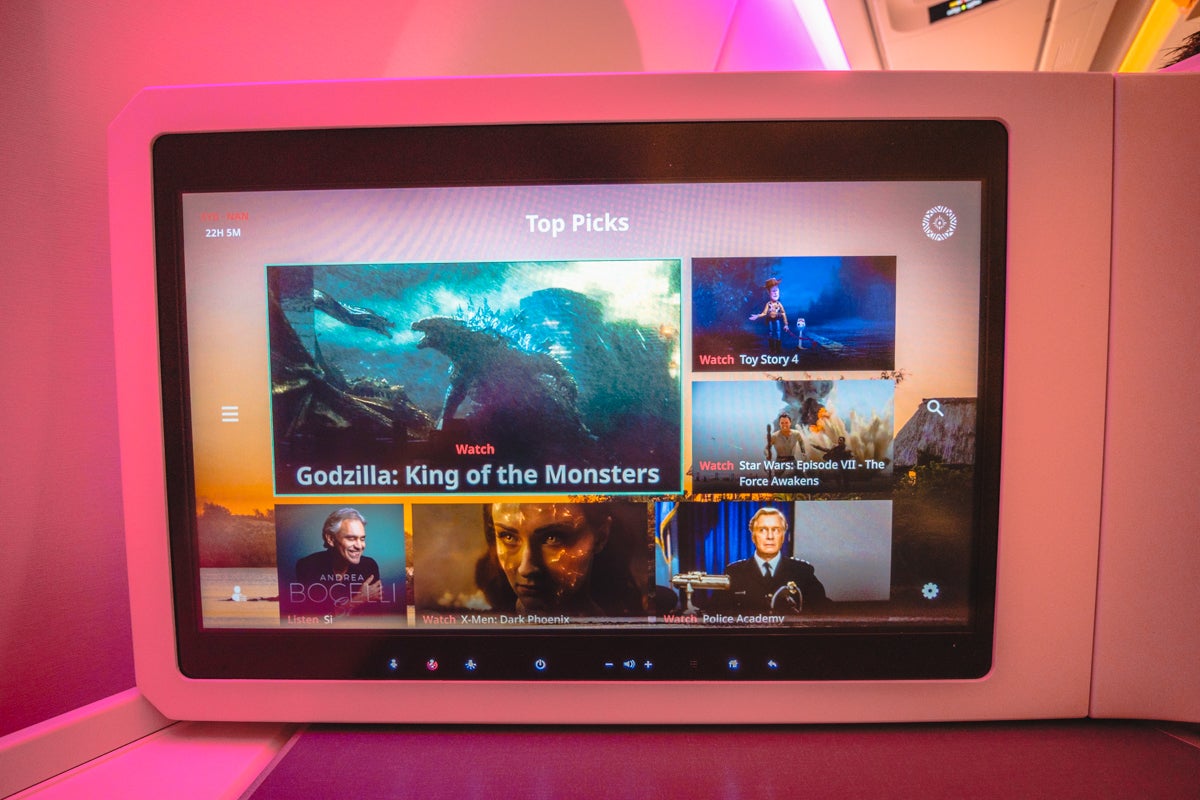 As a brand-new system, it was very responsive and I had no need to use the touchscreen remote.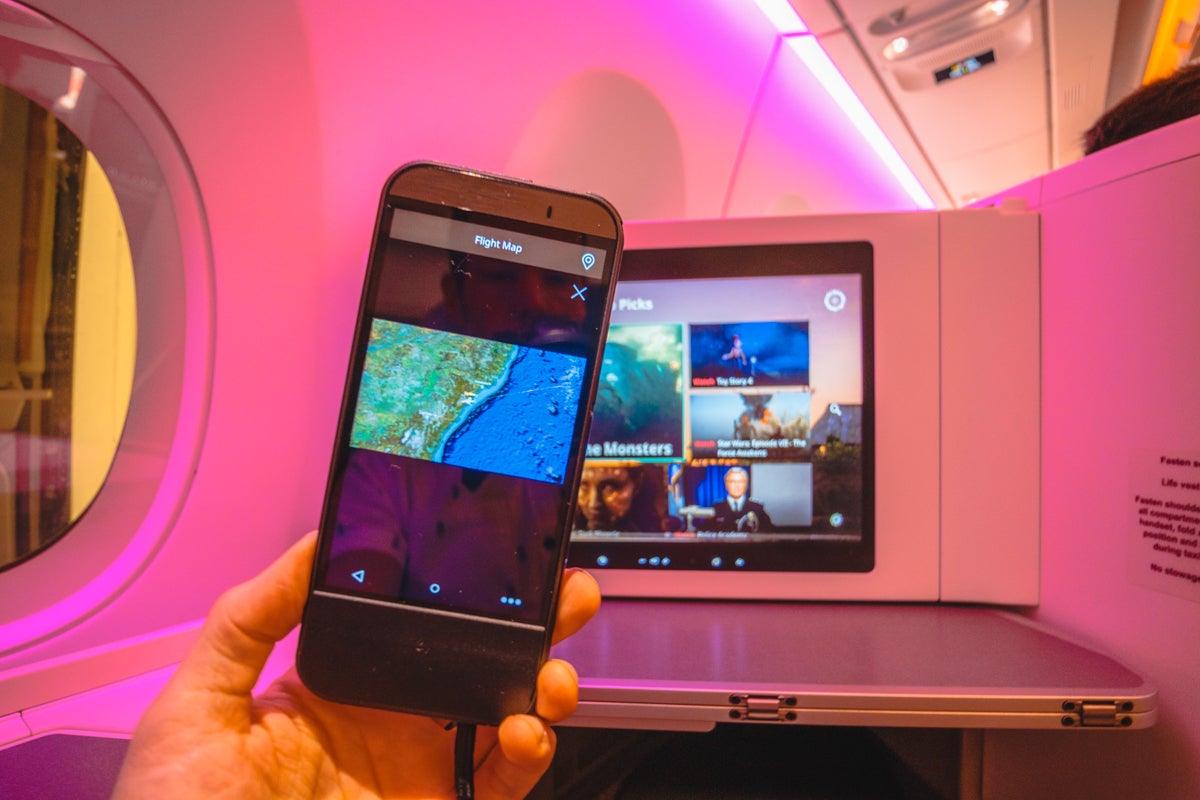 Headphones are provided and had a decent noise-canceling function.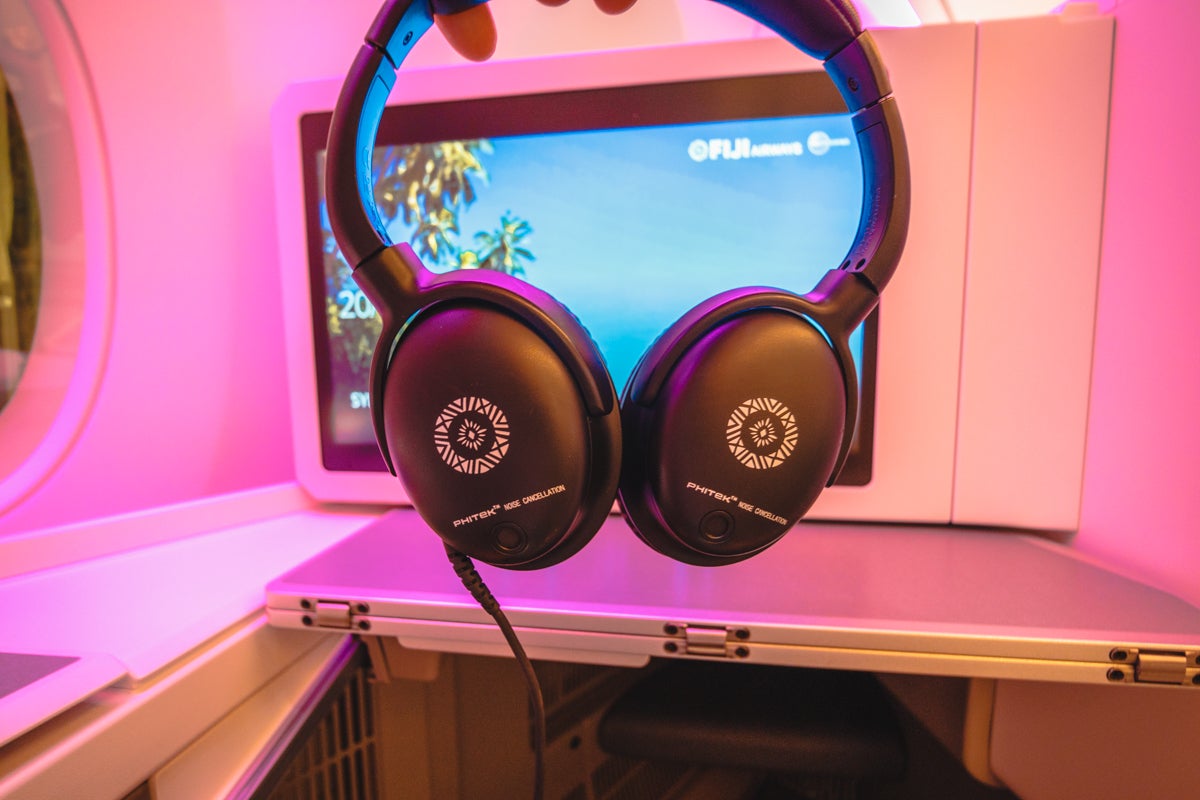 I found the menu structure odd as the content was organized by genre (comedy, drama, etc.) all within the Watch category, so there were movies and TV shows mixed together. I counted 56 movies and 41 TV shows, yet I may be wrong, considering they were intermixed.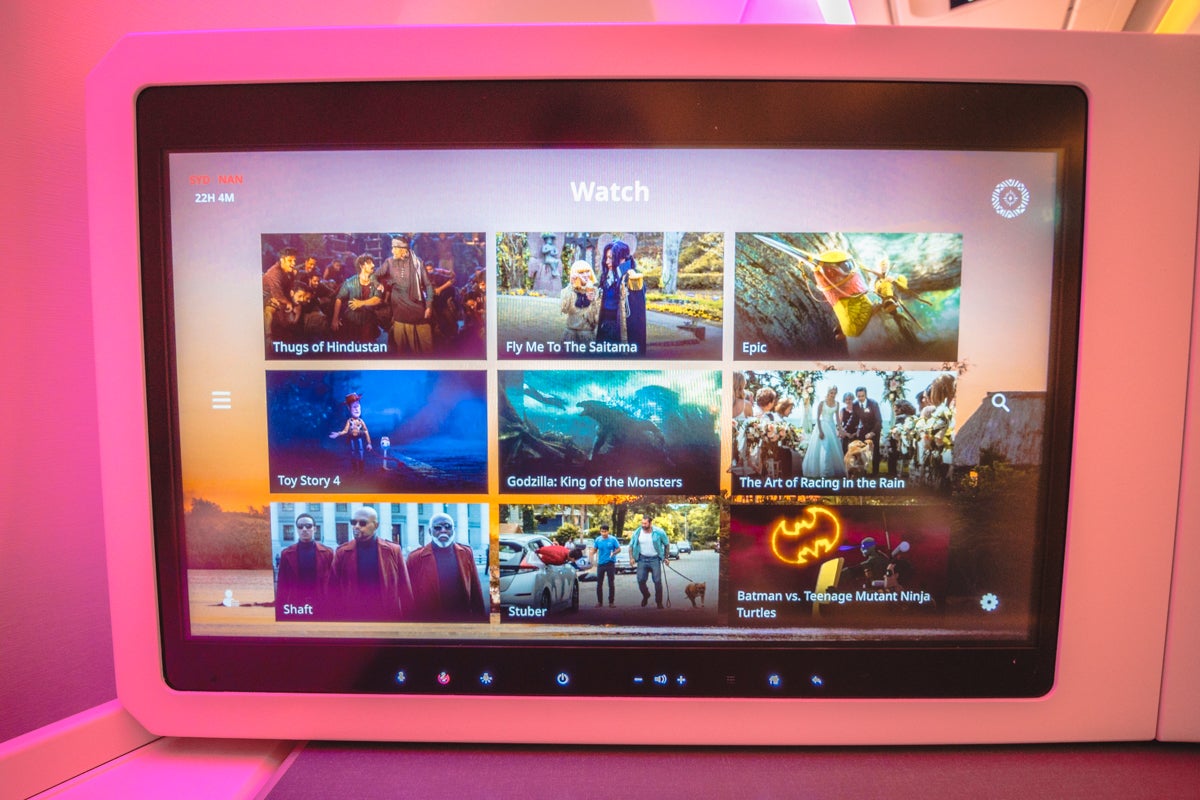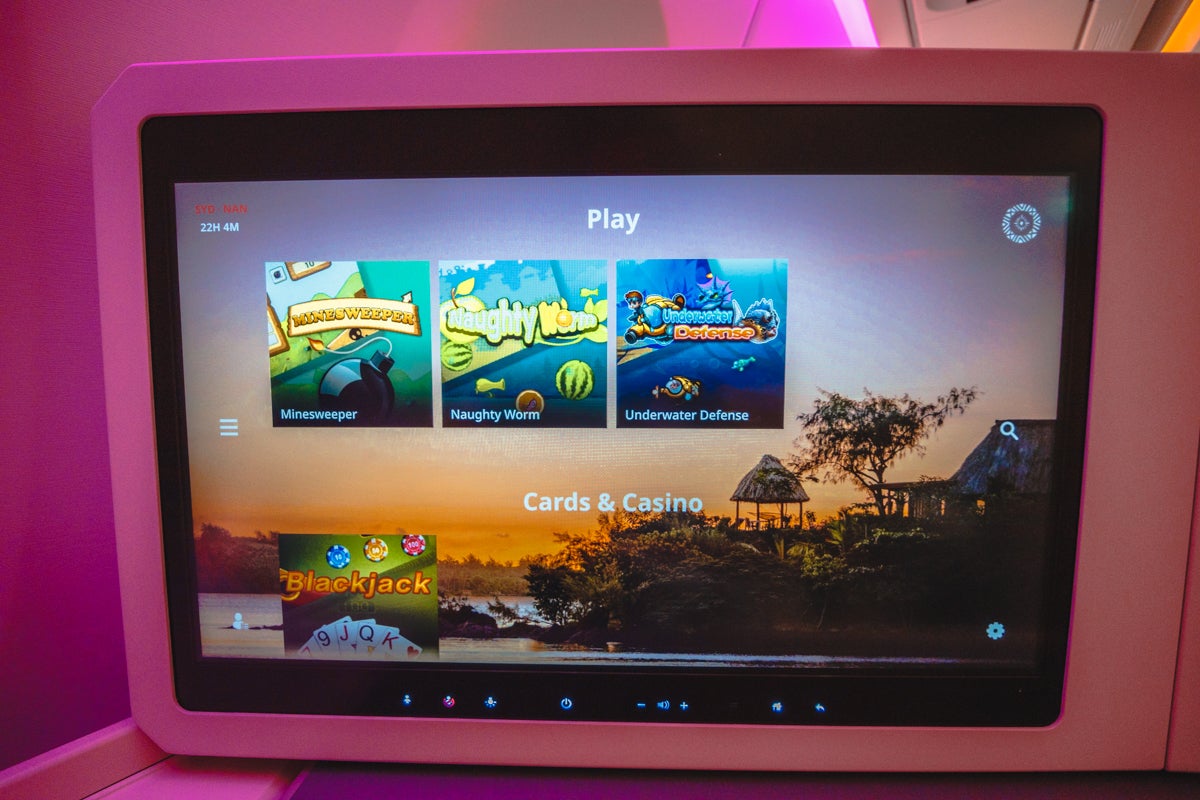 A row of shortcut buttons ran along the bottom of the screen for lighting, volume, and calling the crew — these also negating the need for the remote.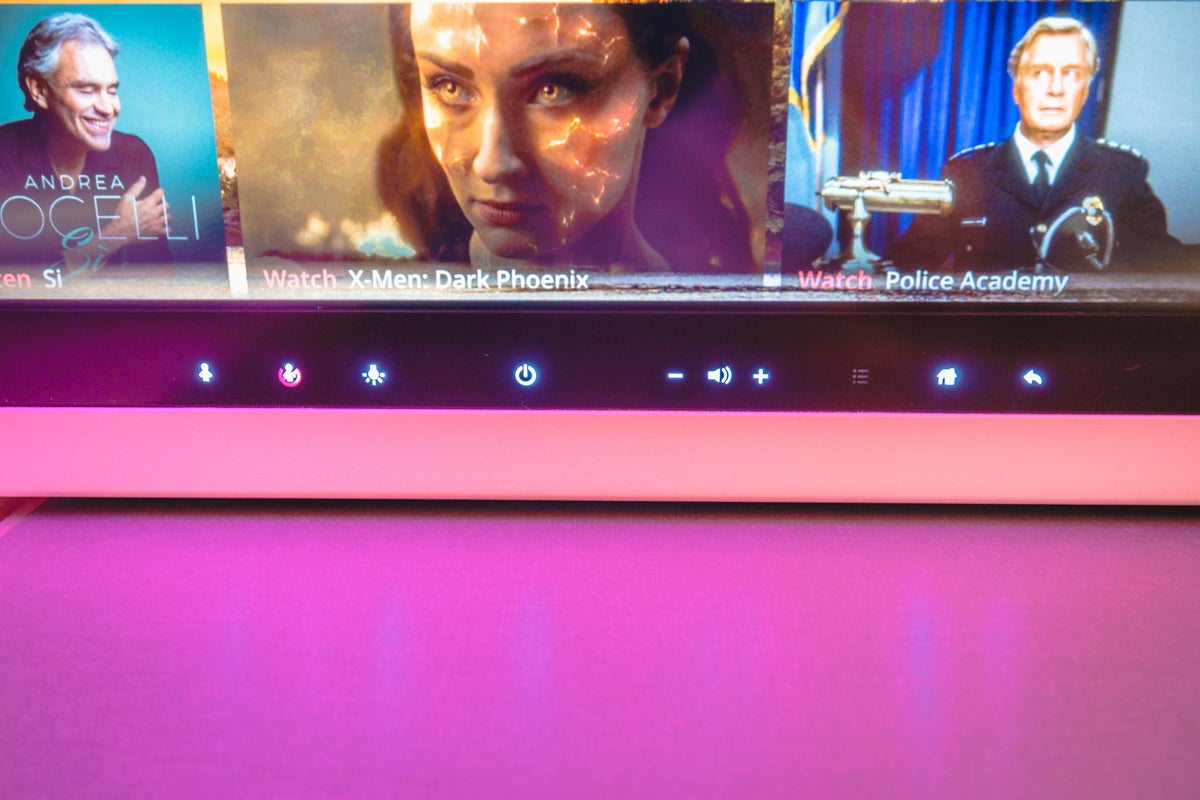 Despite the content selection, I spent most of the time watching the tail cam and moving map.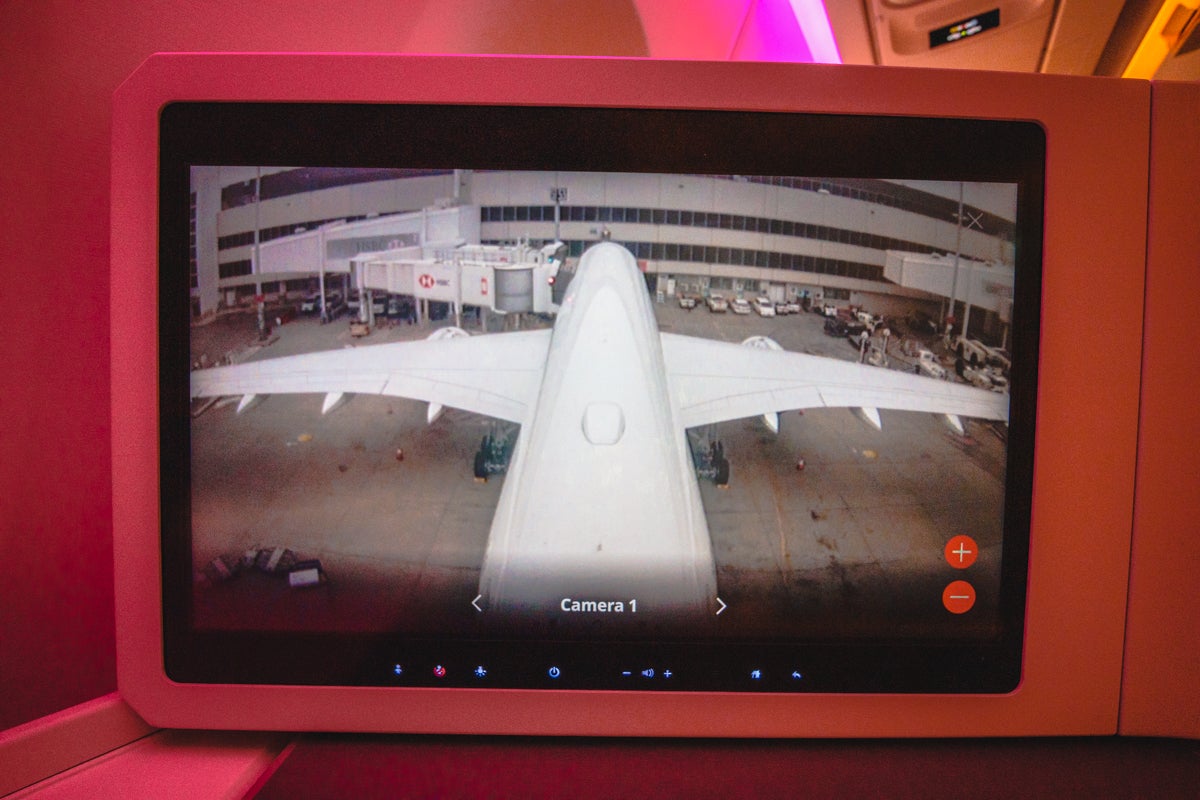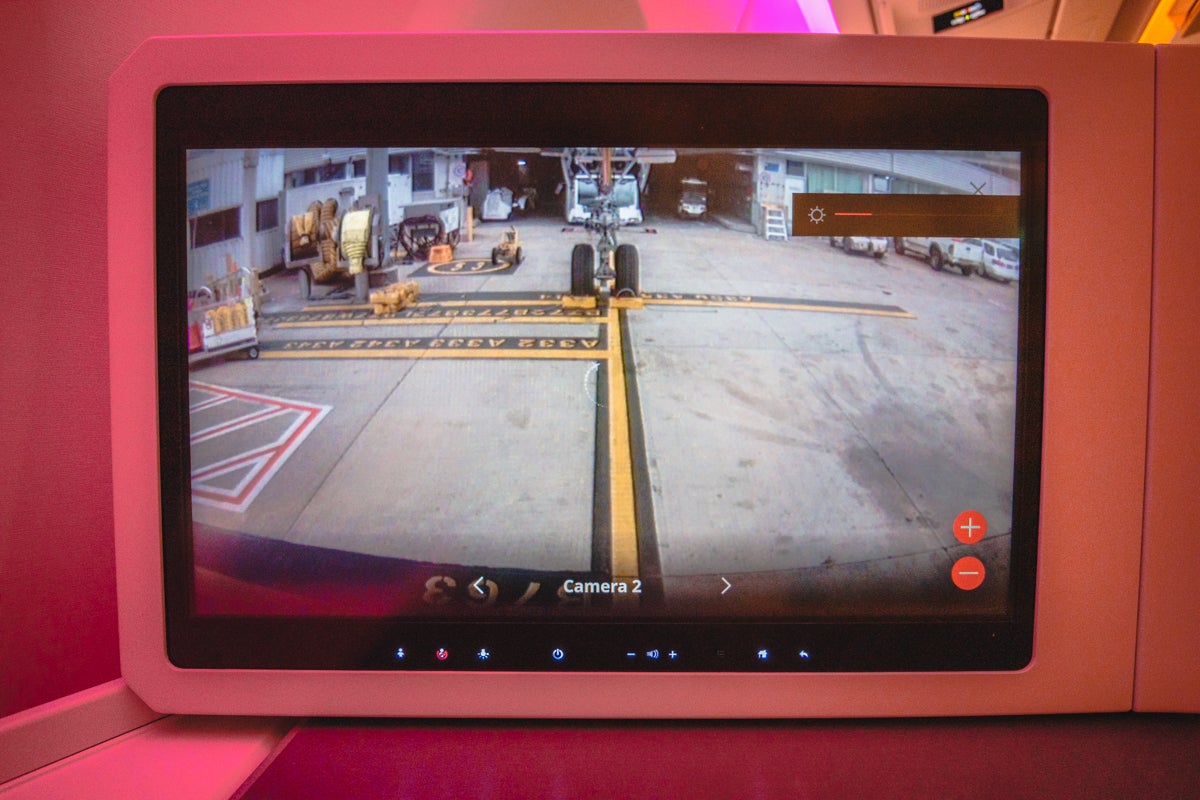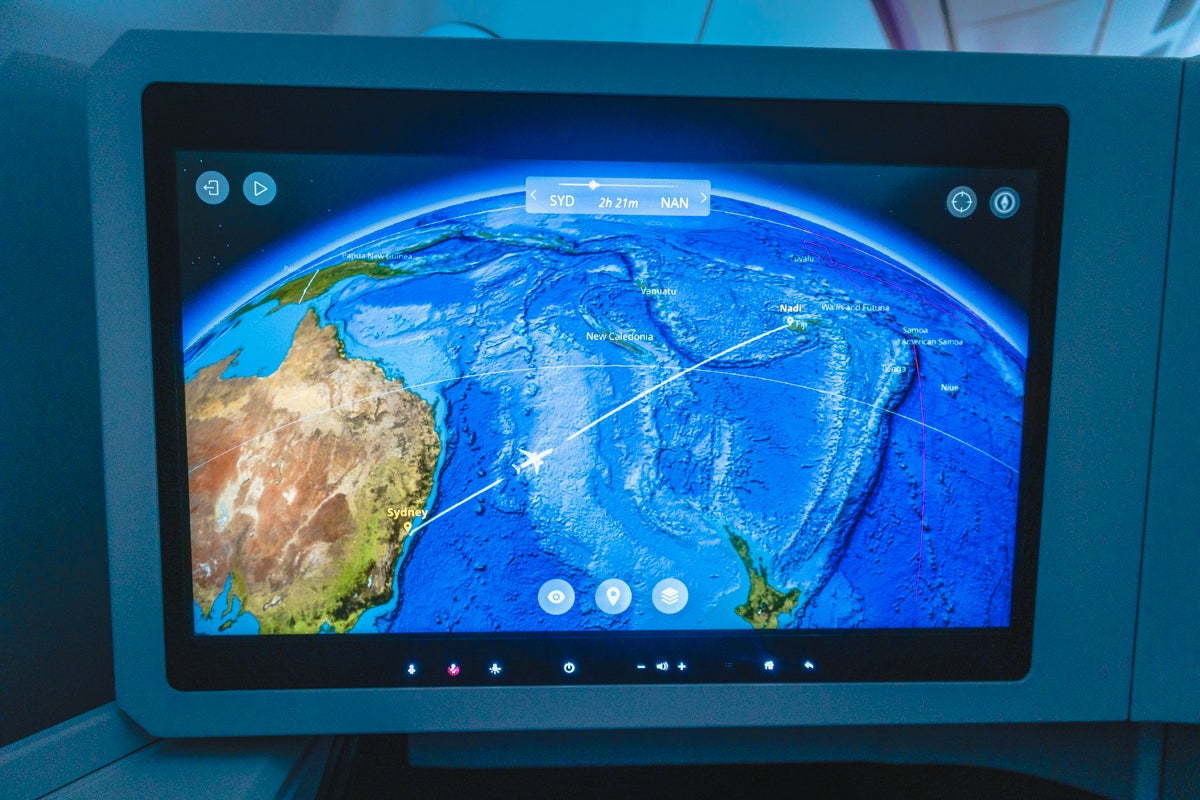 Wi-Fi is available, yet the plans are frustratingly data-capped instead of charged by time utilization. I was not able to conduct a speed test, yet I found the speed to be excellent.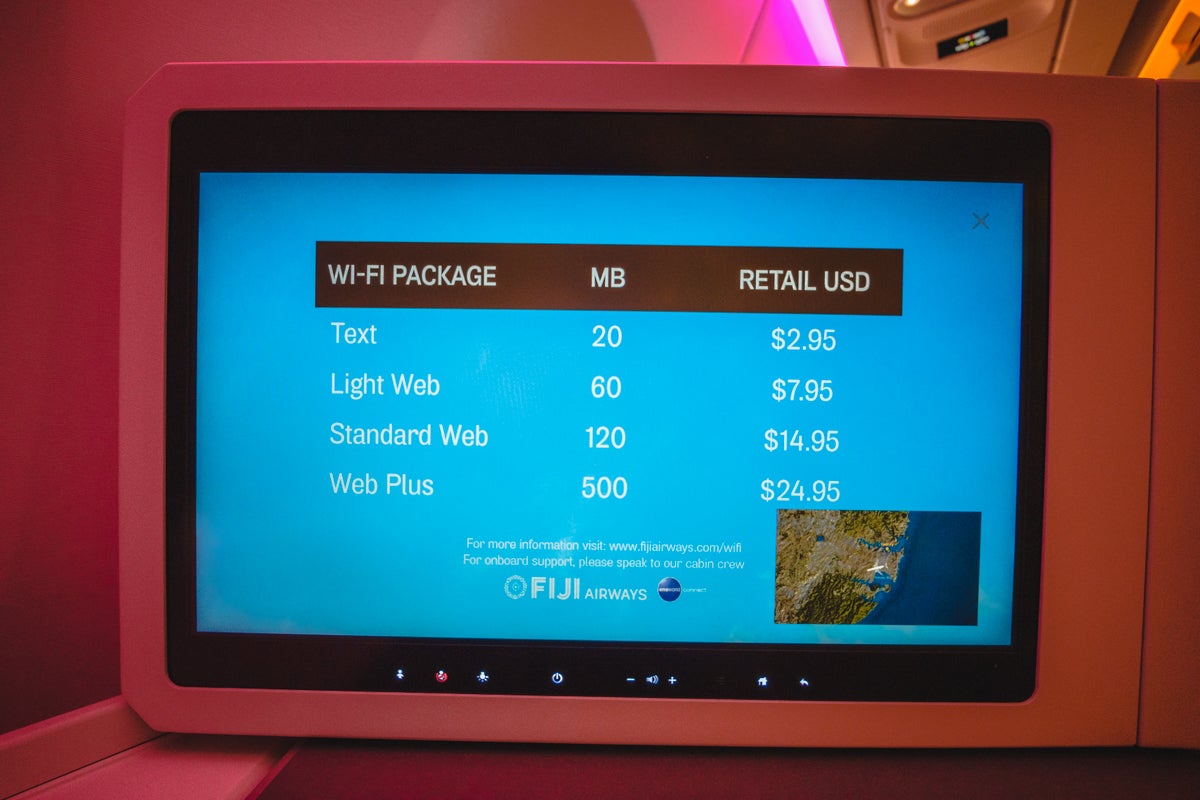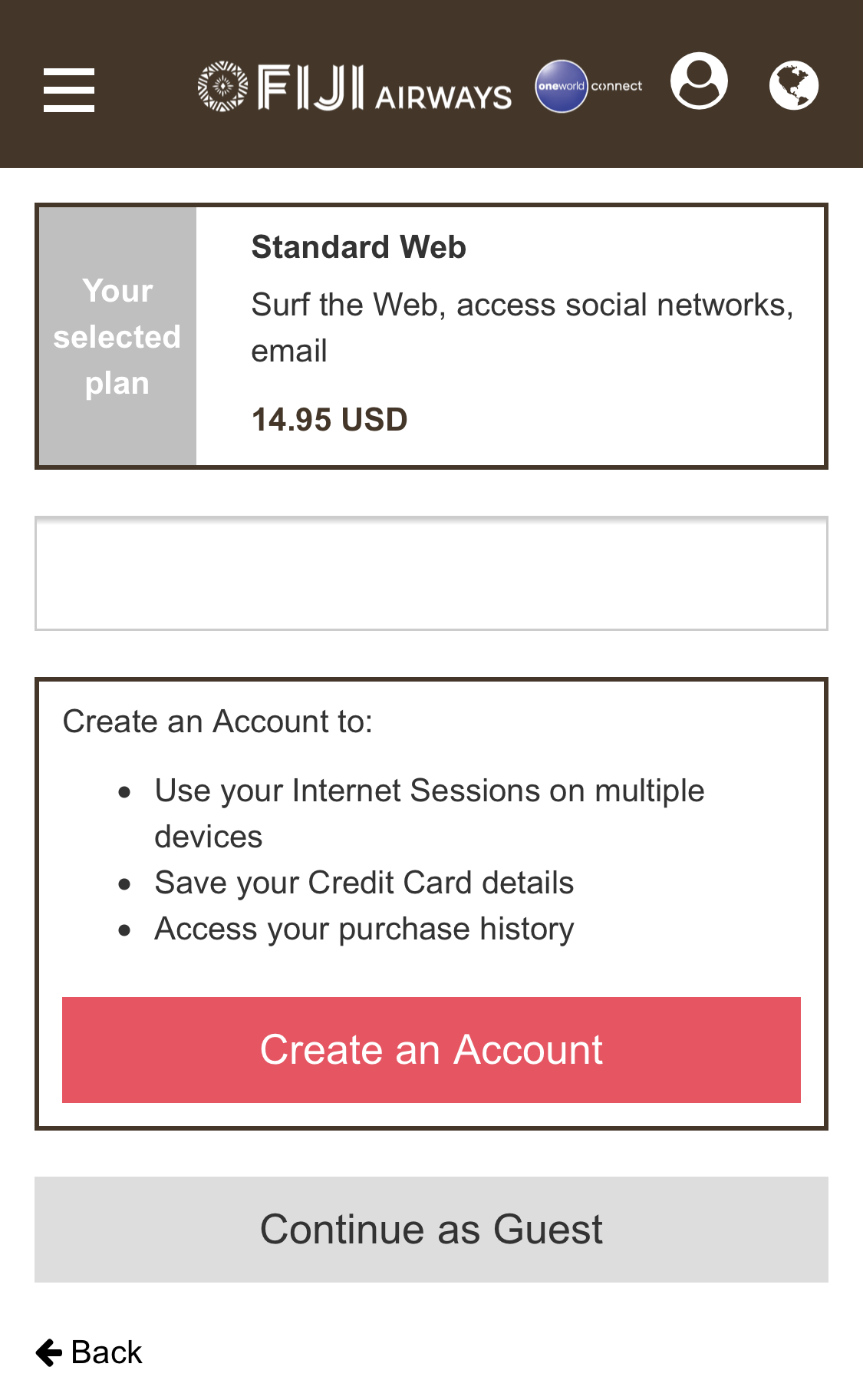 Meal and Service
Upon boarding, I was greeted with, "Welcome Mr. Stone," and continued to be addressed by name for the rest of the flight.
Hot towels were offered, but considering the 104-degree temperatures outside, a cold towel would have been more welcome.
A pre-departure mocktail or Champagne Chanoine Brut Grande Reserve Champagne ($35 a bottle) was then offered.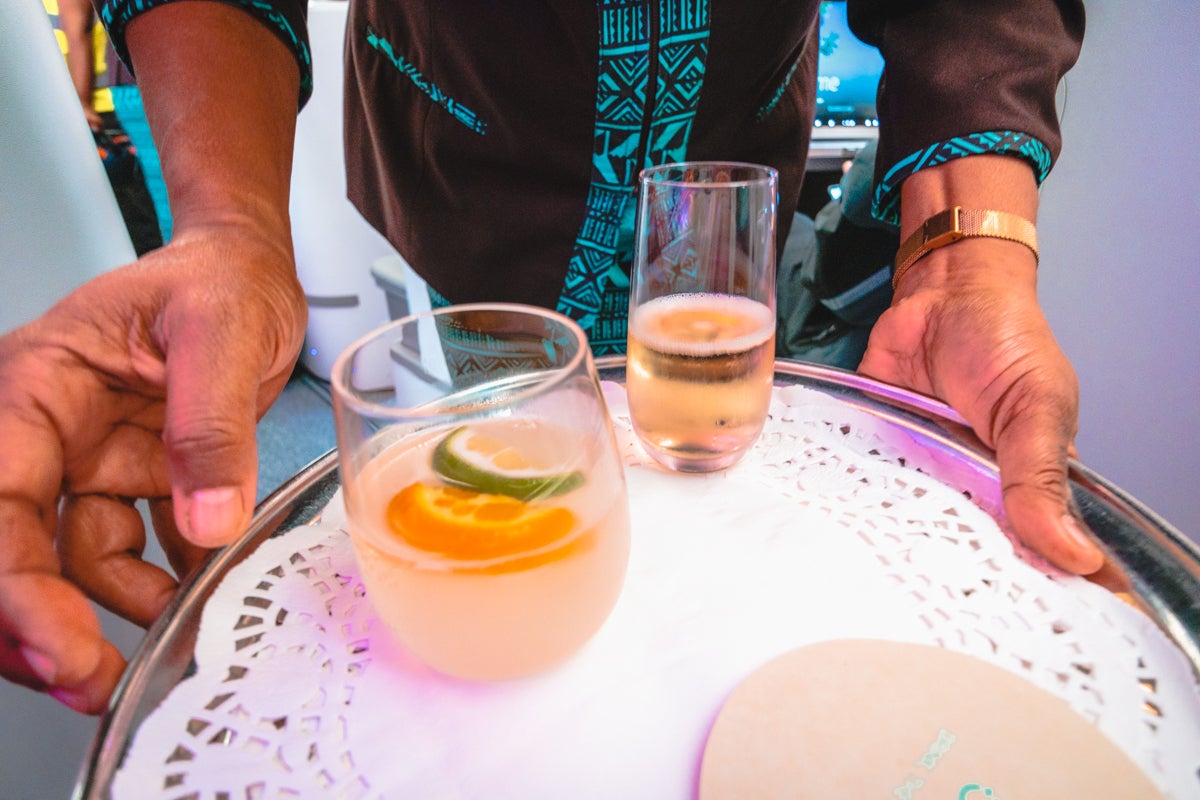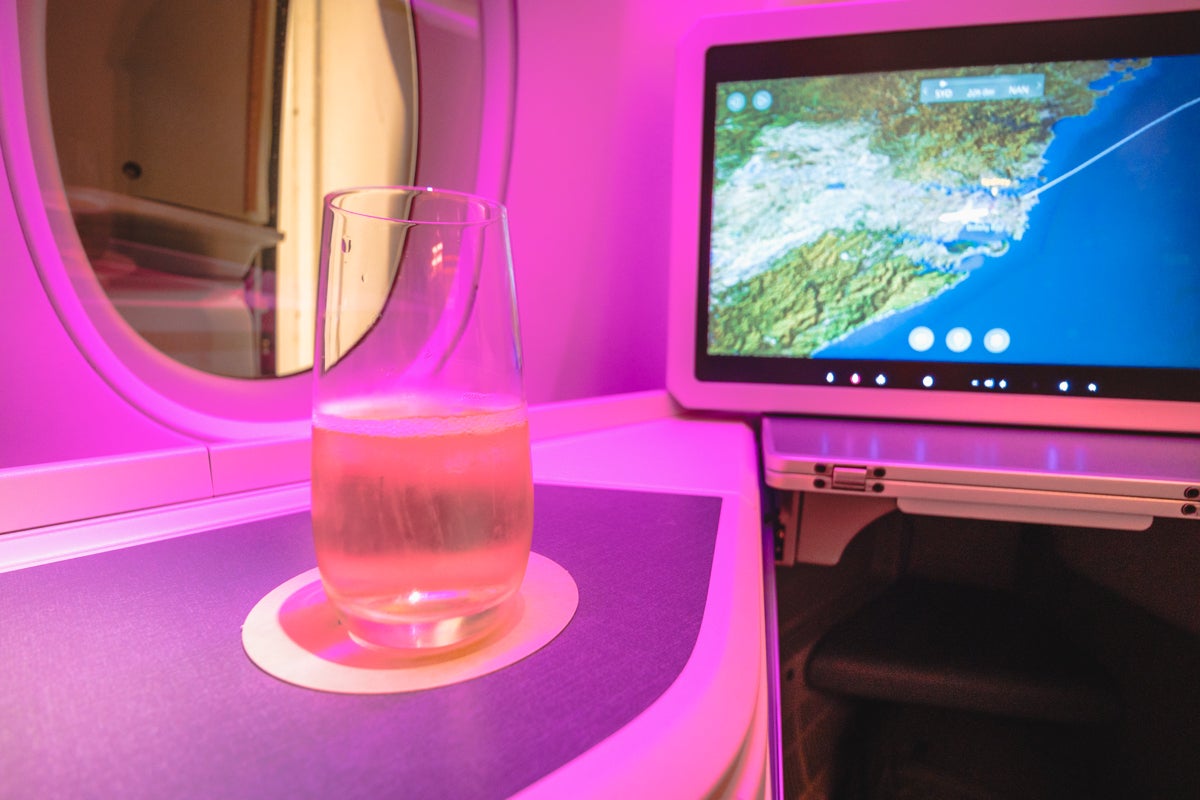 The crew then started taking meal orders from the front of the cabin and managed to get to row 4 before we pushed back at 4:40 p.m. Sydney time.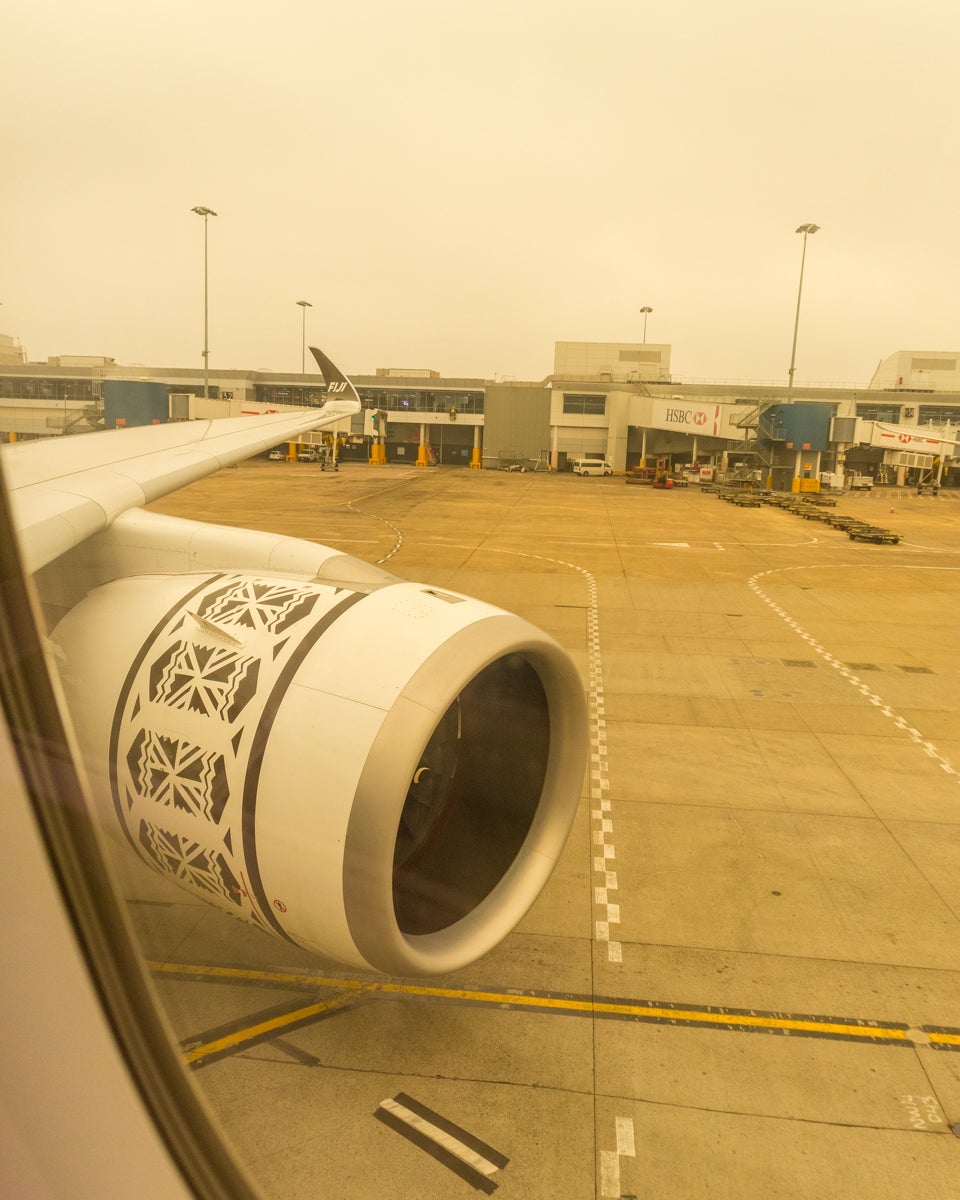 Visibility on take-off was so poor that it took 10 minutes of flying before we saw blue sky.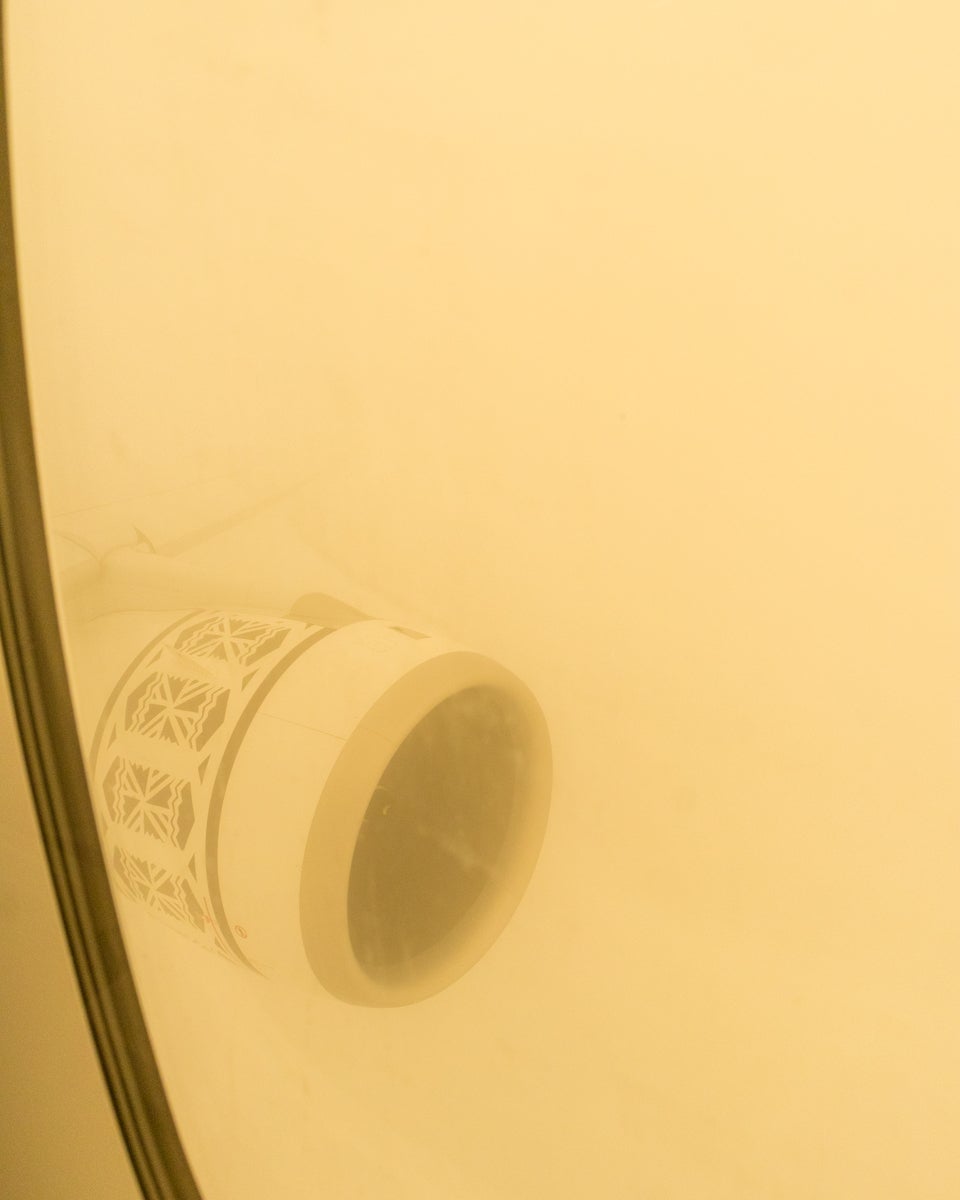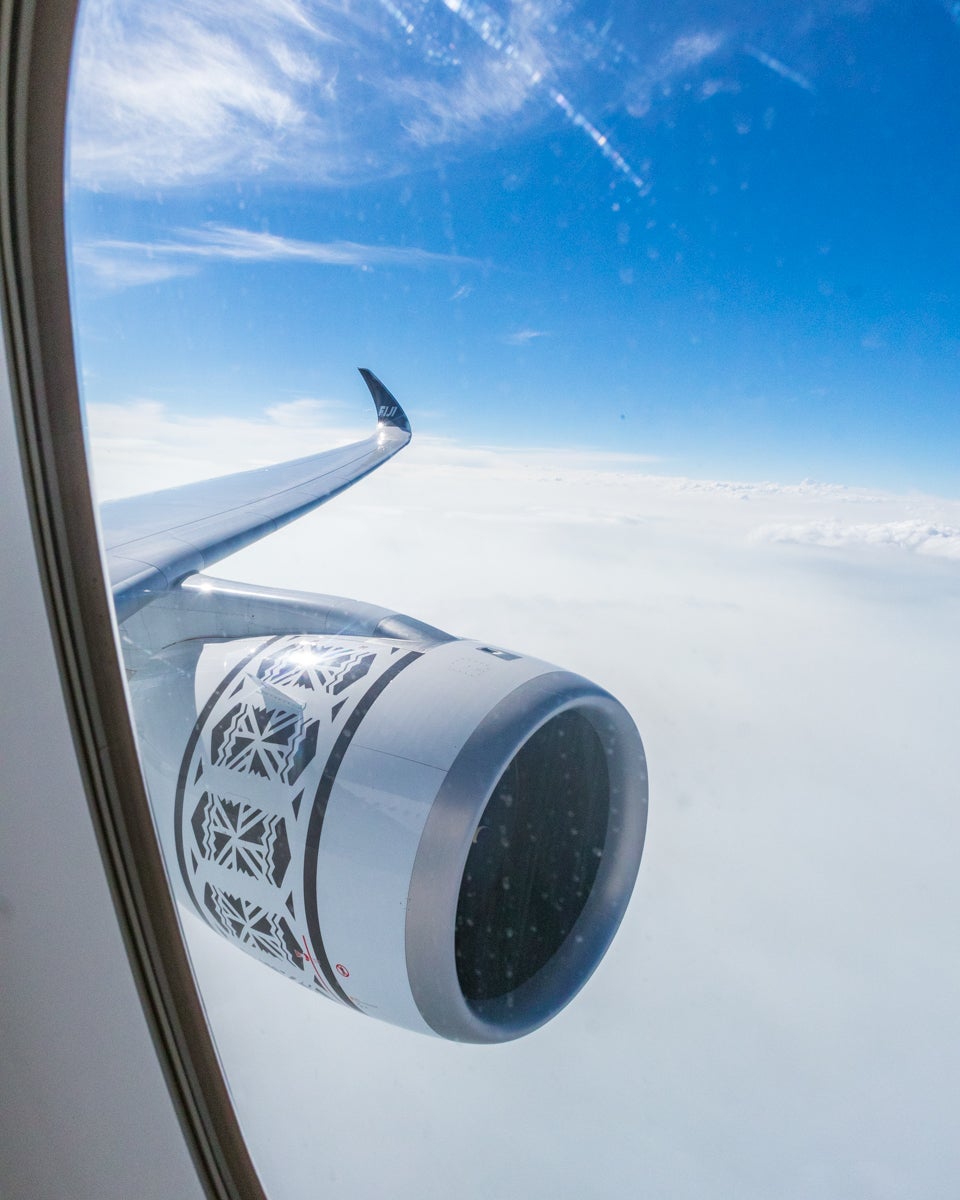 The crew completed taking meal and first drink orders soon after take-off.
My gin and tonic arrived with nuts and pretzels at 5:40 p.m. Sydney time, exactly 1 hour after departure. I would love to see airlines drop using single-use plastic stirrers.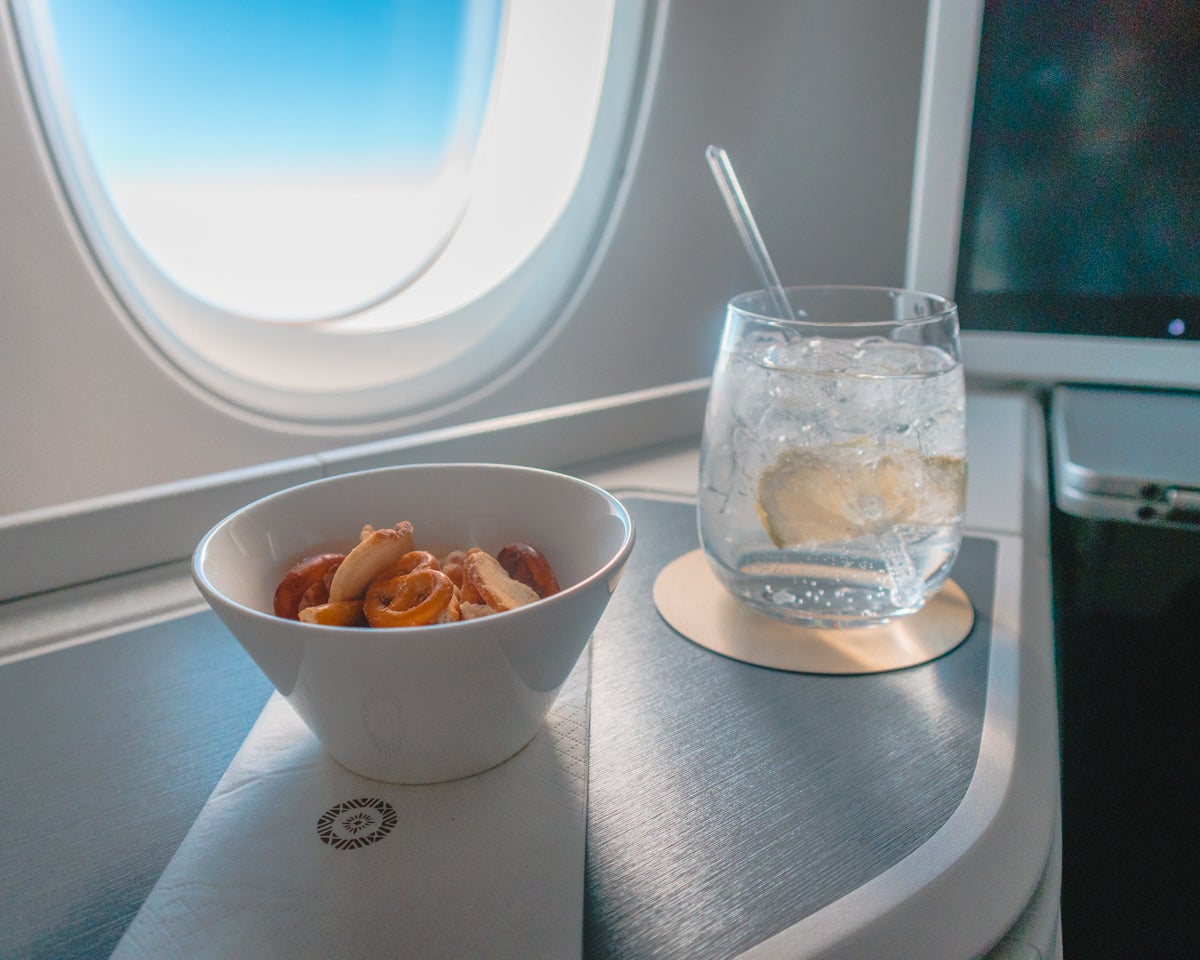 The first lunch course arrived 5 minutes later and was served from the rear galley, so I received mine first.
There was no choice of starter — everyone received a mixed lettuce salad with a few pieces of cucumber and shredded carrot. There was nothing special about it, but at least it included some cucumber and carrot, unlike Qantas' salad, which is just a bowl of lettuce.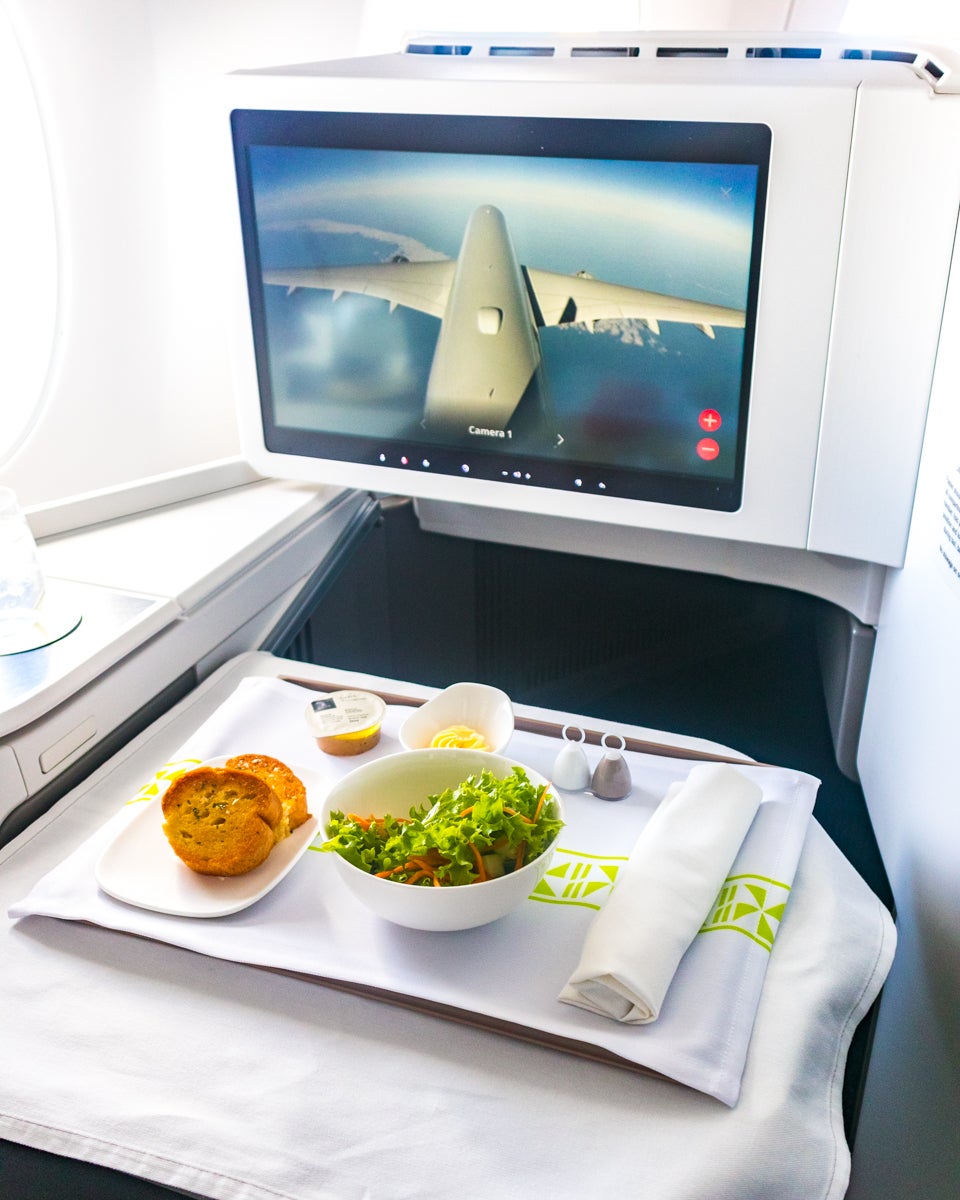 It really should have just been served with the hot main option instead of its own course.
There was a selection of bread, also served from the rear galley, so I had first pick. I am always mad for some garlic bread and it was delicious.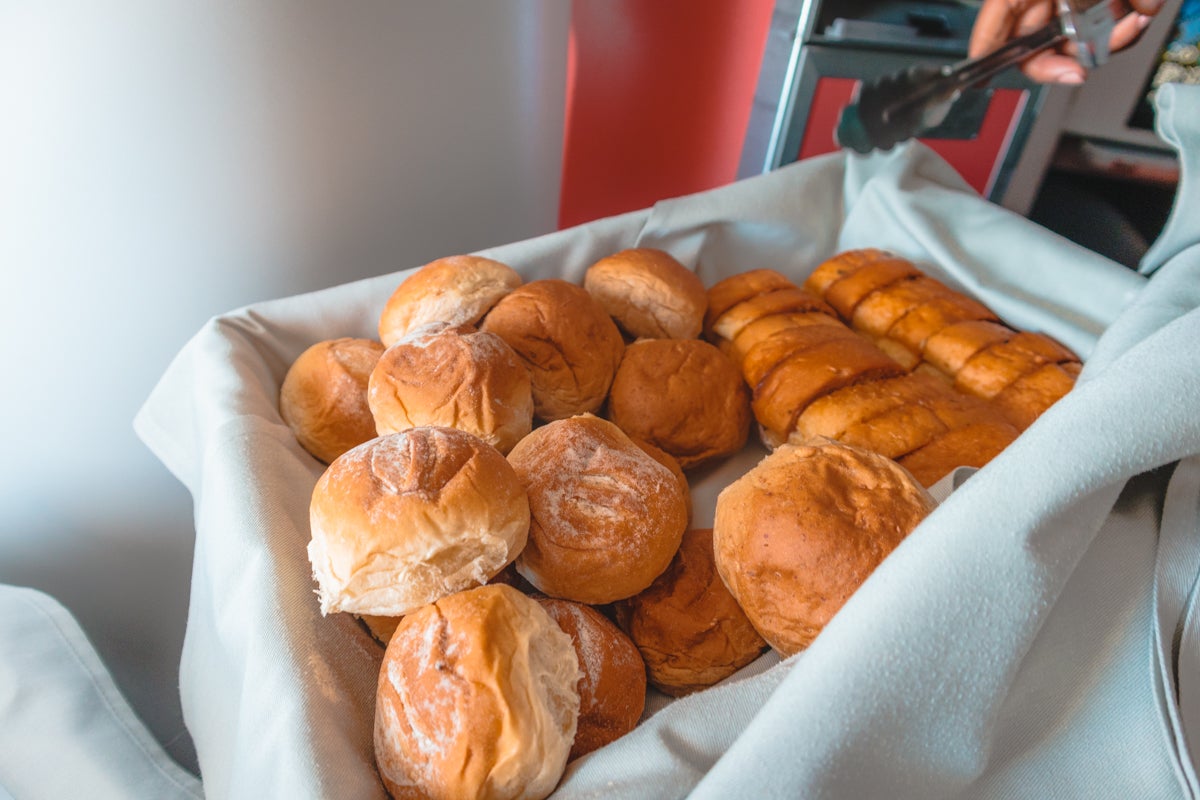 I then switched to the Nobilo Sauvignon Blanc from New Zealand ($9 a bottle).
My main meal was served 25 minutes after the starter was delivered. I selected the roasted chicken breast, which was served with a tomato and eggplant sauce, smashed sweet potato, and buttered local green beans with sautéed onion (the "chefs recommendation" according to the menu).
My chicken was a little overcooked, but the sauce was amazing and I didn't leave anything on my plate.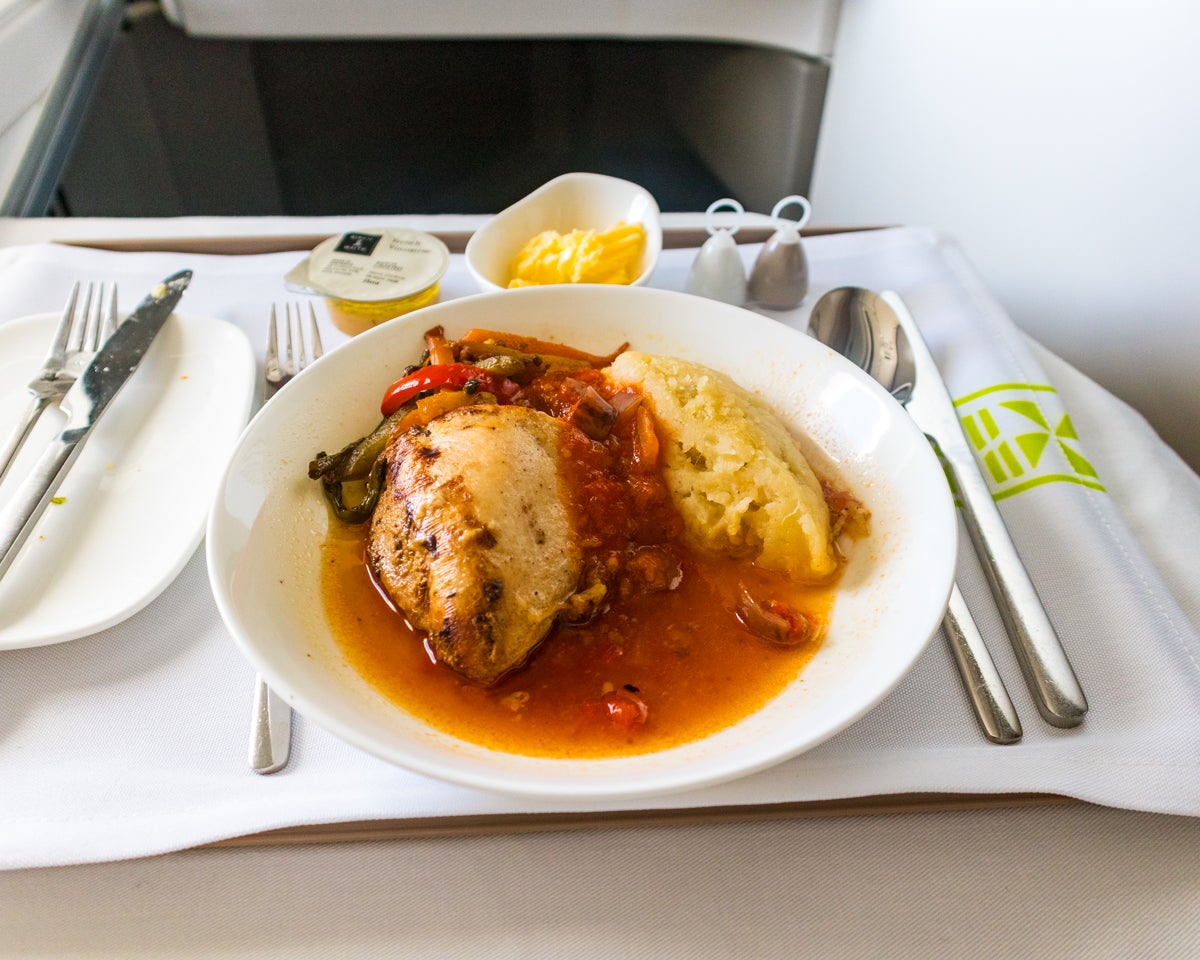 Main options:
Grilled Walu fillet of fish served with white wine cream sauce
Mushroom do Pyaza
For dessert, they rolled out the trolley to show the cream tart or fruit bowl options.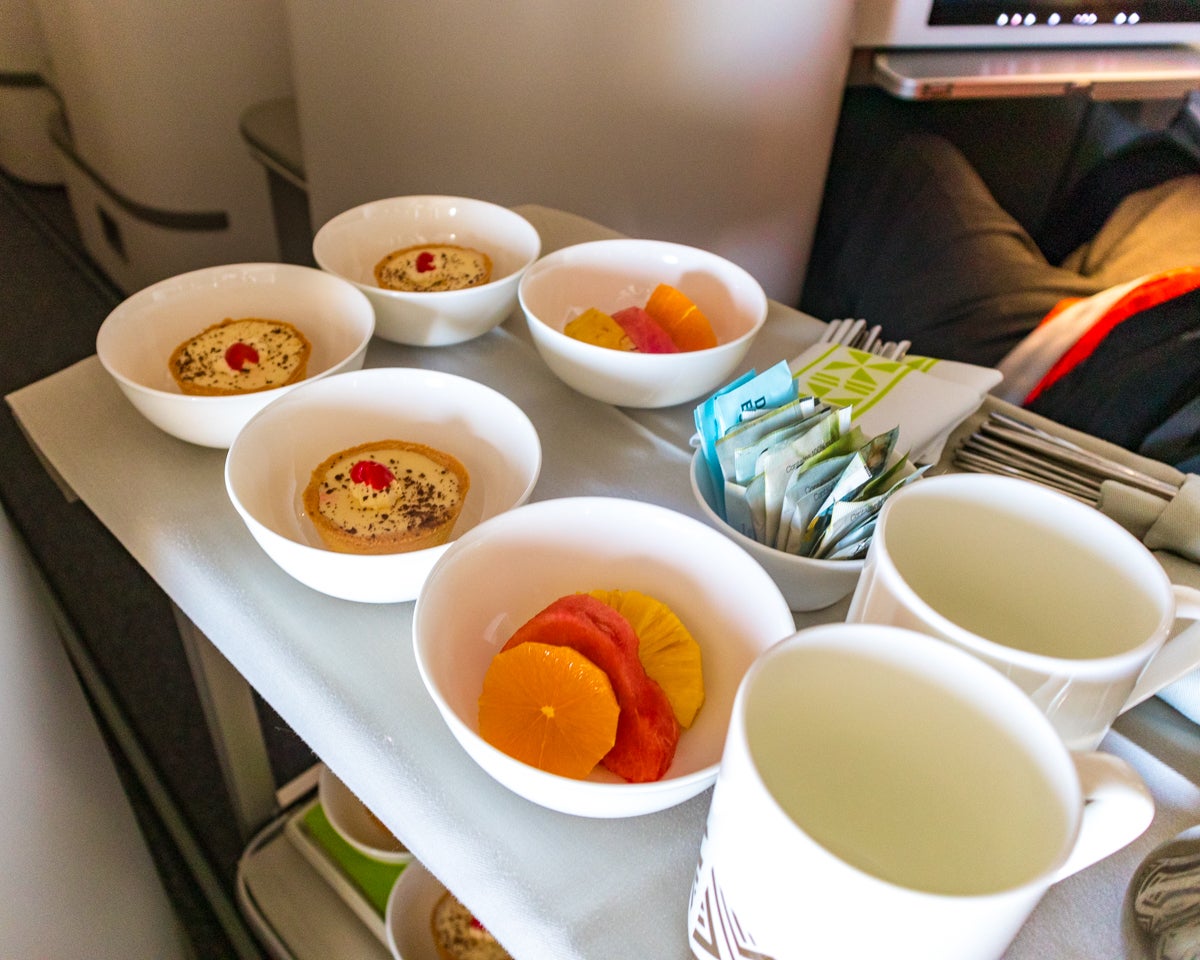 I went with the tart that had vanilla-scented whipped cream cheese filling in a sweet pastry case. It was fine, but nothing special.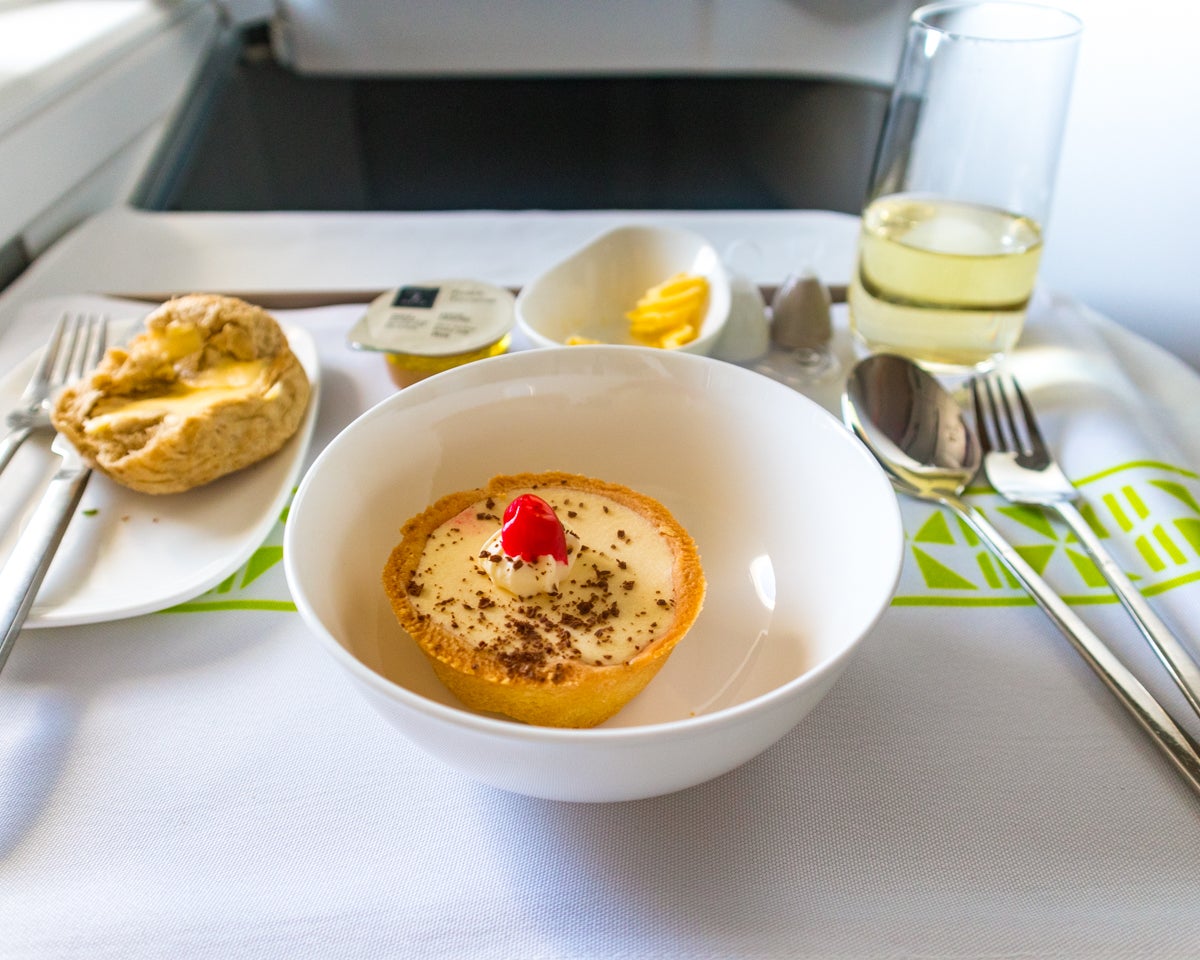 Final Thoughts
Although I wasn't impressed with all the food, the main was the highlight — if only there was a bit more moisture in the chicken.
What I was impressed with was the Fijian hospitality of the staff, from the beginning to the end, as the entire crew was fantastic. They were all very proud of their new aircraft and I found out it was the third flight for half the crew; the other half were being trained on the aircraft.
To their credit, it wasn't obvious that it was nearly everyone's first day, especially considering it was a full flight. They were all warm and friendly, with the service being very prompt and proactive. Plus, on landing into Nadi, they allowed us to visit the cockpit.
I'm a huge fan of the Airbus A350 and that feeling continues with the Fiji Airways business class configuration. The seat has lots of storage and is very comfortable for the 3-hour trek from Sydney, but it is well tested for the long-haul with Virgin Australia's 777s that fly the Pacific already with the same seat.
Plus being able to experience it with friends, made for a very fun flight.