United Airlines 787-9 Polaris Business Class Review With Kids [EWR to GRU]
Airline: United Airlines
Aircraft: Boeing 787-9 Dreamliner
Flight #: UA149
Route: Boston Logan International Airport (BOS) > Newark Liberty International Airport (EWR) > São Paulo Guarulhos International Airport (GRU)
Date: October 9, 2020
Duration: 9hrs 35mins
Cabin and Layout: United Polaris Business Class, 48-seat capacity across 12 rows, in a 1-2-1 configuration
Seats: 11A, 11D, 12A, 12D
Miles Used: 50,000 TAP Air Portugal Miles&Go miles per ticket, bought miles for 1 cent each
Taxes and Fees Paid: $53 (€45) per ticket
Typical Economy Cost: $6,000 (round-trip)
Business Class With Kids During COVID-19
After spending more than 2 months enjoying the end of summer and early fall in New England, it was finally time to head back to Brazil.
Although the kids are still remote learning, bouncing between hotels, guest rooms, and campers can get pretty exhausting. Fun, but exhausting!
For our flight from Brazil to the U.S., we flew United Airlines from São Paulo on a ticket that had been booked in 2019 but had been moved around due to COVID-19 travel restrictions. We had left our return trip open because we had no real date to get home and (at the time) had a few options to choose from.
Well, by the time we decided to start looking at return flights, American had no more SAAver awards available, Delta was too expensive, but United still had a few dates with business Saver Awards left.
We had considered paying cash to get the exact dates we wanted, but it would have been in the neighborhood of $400 for a one-way economy ticket, and I already knew our luggage was going to be overweight. I was pretty sure we could do better than that, so here is what we ended up doing.
Booking Our Flights
Originally, we had planned to fly American Airlines from Boston to Rio de Janeiro with a connection in Miami using 150,000 Etihad miles and 5,000 miles to pay for my son, Tommy, as a lap child. But when American Airlines canceled all flights to Rio (again), we had to change our plans (again).
By the time we had rearranged our trip, Tommy had turned 2 (yay/oh no) and American had increased award ticket prices to Brazil since the airline was only flying to São Paulo (GRU). So that meant that we now had to pay for Tommy to fly and we had 155,000 miles stuck with Etihad — not ideal!
After many searches, we finally settled on United being the best option for us, especially if we wanted to fly business class. The only problem with that is that we didn't have any United MileagePlus miles.
Fortunately, one of my sneaky favorite mileage programs, TAP Air Portugal Miles&Go, was having a sale on miles. We have used TAP miles before and they are even more attractive now that you can redeem them for one-way tickets.
That means you can fly from Brazil to the U.S. in business class (Star Alliance) for only 50,000 miles each way.
Buying TAP Air Portugal Miles&G0 Miles
Once we found United Saver Award flights that we liked, my wife called up TAP and asked the representative to see if they were seeing the same availability. As soon as the flights were confirmed, I purchased the miles via the TAP website and they were deposited into my wife's account immediately.
The sale, which was running in September 2020, had multiple packages. The best package was to buy 20,000 miles for $800 and receive a 60,000-mile bonus.
So, $800 for 80,000 plus tax which comes out to a very reasonable ~$0.01 per mile.
Since we needed 4 seats at 50,000 miles each, we bought 2 packages to supplement the balance we already had.
Which Credit Card to Use
Since this was going to be categorized as an airline purchase, we used the Citi Prestige® Card that earns 5x Citi ThankYou Points.
Purchasing these miles and paying booking fees and taxes with the Citi Prestige card earned us almost 10,000 flexible ThankYou Points good towards future travel.
Hot Tip: If you have been considering a premium travel credit card, be sure to read the endless benefits of the Citi Prestige Card.
Total Paid
All said and done, purchasing miles, paying taxes, and using the existing miles that we had, the total out-of-pocket cost for a family of 4 was just over $2,000.
If you value the 40,000 miles that we had at the same price that we bought the other 160,000, that would bring us closer to $2,400 — still not bad.
At $600 per person, for a one-way (last-minute) business class flight, I was a happy camper. Especially since we were considering paying $400 for an economy ticket.
Before the Flight
About 24 hours before we were to take off from Boston I received an email from United letting us know that our flight to Newark was going to be full, and if I wanted to change flights (for social distancing purposes), I could do so at no charge.
Since the alternatives for the same day were also quite full and we didn't want to risk missing our flight to Brazil, we opted to keep our original ticket.
As I was checking our seats, I noticed a very welcome change for our leg from EWR to GRU — United had swapped aircraft and now our 787 would be equipped with the new Polaris business class seats — a huge improvement from the old setup that we had flown on the way up.
Boston Logan International Airport (BOS)
Checking in at Boston Logan International Airport (BOS) is generally pretty easy, and with fewer passengers than normal, it was quick, too.
We got dropped off at the door right in front of the United counter, rolled all of our luggage to the counter, and had our boarding passes within minutes.
COVID-19 Precautions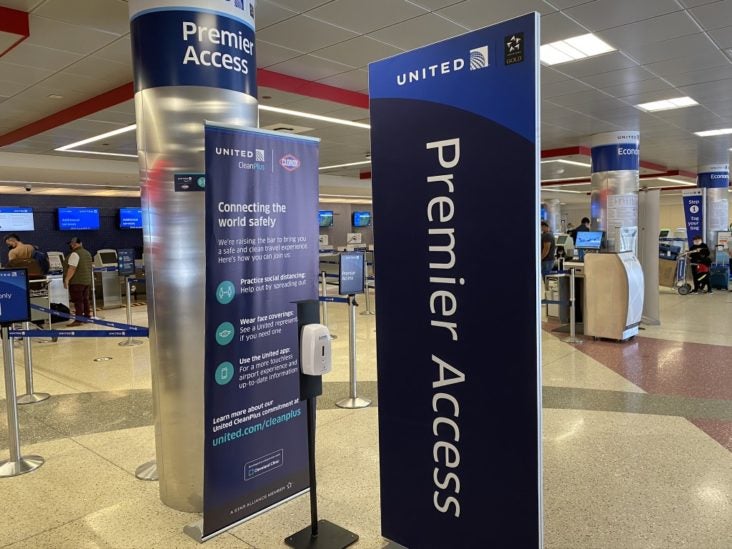 The entire check-in process was quick and relatively normal, however, there were a few things that would have seemed unusual had we been flying in 2019 — ah, good times.
First, when we were trying to check-in online via the United app, we were asked to confirm that we were not sick or had tested positive for the coronavirus (COVID-19).
Then, at check-in, we were asked again if we were exhibiting any symptoms similar to the coronavirus.
And, finally, there was an abundance of hand sanitizer available.
Besides that, the process was as it has always been.
TSA Security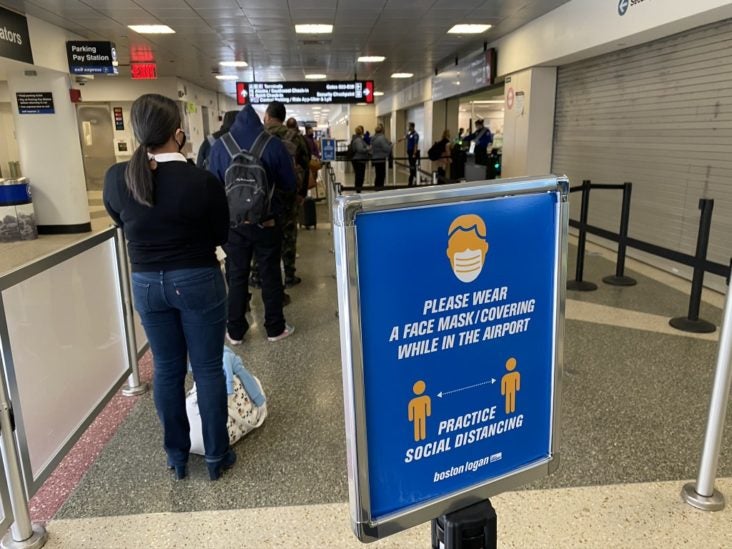 The line for security was not particularly busy and people were generally keeping their distance, but it is hard to keep the person behind you 6 feet away.
Again, when collecting your belongings after the x-ray, everyone was on top of each other, but there isn't much you can do there. Fortunately, everyone was wearing masks.
Lounge Options at BOS
All of the lounges and most of the restaurants in Terminal B were closed, so options were limited to relax before the flight. Fortunately, BOS has nice little playrooms in each terminal, and this one was freshly sanitized right before we got there.
These rooms are known as Kidports and feature famous artists from the local area. Did you see Curious George in the background?
This was a great spot for the kids to run around and burn off some energy before boarding, especially since we had the place to ourselves.
Hot Tip: Boston leads our list of the top 10 most kid-friendly airports in the U.S., thanks in part to its Kidsport areas designed by the Children's Museum of Boston.
Plane Watching
Boston Logan is a great airport for plane watching. The terminals all have large windows overlooking the runway and you can generally see some pretty cool planes.
While there weren't any A380s or 747s flying to BOS while we were there, the kids did spot some pretty cool Cape Air Cessnas.
Boarding Boston to Newark
As we were wrapping up our time in the kids' room, I received an alert that our flight was getting ready to board.
Due to the coronavirus, in an attempt to limit unnecessary passenger contact, boarding starts from the back of the plane. Since this leg of our trip was in economy, we were seated in row 28, so we were one of the first groups to board.
As we were making our way down the jetbridge, the attendant came running down and told us that there was no more overhead space and they would be checking our bags — no questions asked. Check your bag, or miss your flight.
Meanwhile, the jetbridge is filling up and now everyone is waiting for luggage tickets with no instructions and zero social distancing. So, I sent my wife and kids onto the plane while I waited with the rest of the passengers.
The attendant came running back down, started frantically tagging bags, and handing out claim checks. By the time I got my claim checks, 3 of our 4 bags had been sent down and that is when I was informed that our carry-on bags would be checked all the way to São Paulo!
Keep in mind, these are our bags that we meticulously packed to keep 2 kids happy on a 10-hour overnight, international flight. Diapers, wipes, pajamas, formula, iPads, headphones, toys, you name it — if it was important to us, it was just checked.
As you can imagine, I got quite upset and started arguing with the attendant trying to explain how this was completely unacceptable. His response was simply, I had no choice, the bags are checked, I could either board the flight or get off.
After realizing that there was nothing I could do, besides potentially get myself kicked off the flight for being disruptive, I grabbed everything I could (which was mostly my daughter's underwear and toiletries) from the last bag and boarded the plane hoping somehow we would see our bags again in Newark.
Spoiler: We didn't get our bags back.
What was supposed to be a beautiful farewell shot of my hometown of Boston was instead a photo taken in utter disbelief about what had just happened.
Newark Liberty International Airport (EWR)
The flight crew was very sympathetic to the situation, but they couldn't do anything. They suggested that I speak to someone on the ground when we landed in Newark to see if retrieving our bags would be an option.
Lounge Options at EWR
Unfortunately, due to COVID-19, the awesome Polaris Lounge is closed for the foreseeable future. This is a real shame because these new lounges are really nice and help make the travel experience so much more enjoyable.
For now, passengers can use the United Club in Terminal C near gate C74. We had access because we were flying international business class, but the lounge is open to passengers who are:
Flying in a premium cabin
United Club members or 1-day pass holders
Star Alliance Gold members and their guests traveling on the same flight
Hot Tip: To get an idea of the quality of the new lounges, read my review of the United Polaris Lounge at Chicago O'Hare.
Service
While we were checking in to the lounge, I told the agent what had happened to our carry-on bags. She was shocked that they would take our bags for such a long flight, especially with kids in tow.
She said she would call down to baggage services to see what they could do. But, after over an hour of nobody answering, she suggested that I go down and try to talk to them.
To do that I would have to leave the terminal, try to convince the staff to try and track down the bags, and then try to get them all back through security by myself. At that point, it just didn't seem worth it.
My wife had confirmed that we had enough diapers for Tommy, so our biggest concern (besides all of our electronics) was taken care of. We decided to just forget about it and try to enjoy our time in the lounge.
Food
Before we arrived we knew that the Polaris lounge was going to be closed, but we had hoped there would be something healthy or at least filling to feed the kids during the 3-hour layover.
Unfortunately, the extent of the food offerings were chips, cookies, and brownies.
Oh, I forgot, you could order a peanut butter and jelly sandwich! But, when I did, I was told I had to go to the bar to get it. But at that moment the line at the bar was 10 people long, so I passed.
I ended up going downstairs and grabbing some sushi for the kids so they wouldn't be starving (see: cranky) by the time we started boarding.
Beverages
The drink selection was actually pretty decent, all things considered.
Passengers who normally would have had access to the Polaris Lounge received a ticket that entitled them to the premium beverages that normally cost $5 to $15 per glass.
This Stags Leap Artemis Cabernet Sauvignon would have normally been $15.
Unfortunately, there was no Champagne available which was a bummer because I got pretty excited when I saw it on the menu! However, the wine was delicious and reminded us of our trip to Napa Valley.
Boarding Newark to São Paulo
As we were walking out of the lounge, there was a United employee sitting in his golf cart and the kid's eyes lit up. He offered to give us a ride to the gate, and before I could say "no, thank you" my family was already seated.
It would have been more hassle than it's worth to fold up the stroller and car seats, so I let them go on without me and I walked to the gate.
The boarding process was normal — lots of people crowding the gate, no social distancing.
We gate-checked the car seats (less chance of them getting lost, in theory) and made our way to our big, fancy seats.
United Polaris EWR-GRU
Pre-departure drinks have now been replaced with sanitizing wipes, but the crew was very helpful and friendly during the boarding process.
Our flight attendant came over and took our dinner requests as we were getting settled as there would be no menu handed out during the flight.
Polaris Seat
These are the brand new Polaris business class seats and they are my absolute favorite way to get between the U.S. and Brazil. The seats are big, comfortable, and offer excellent privacy.
For seats, we chose 11A, 11D, 12A, and 12D which created a small cluster in the back of the cabin. We have flown 4 across before, but we find the middle divider too good, meaning that if one of us needs to reach over to help with something, it is just easier to get up and go around.
This way all 4 of us had access to the same aisle, which was also convenient during boarding and deplaning.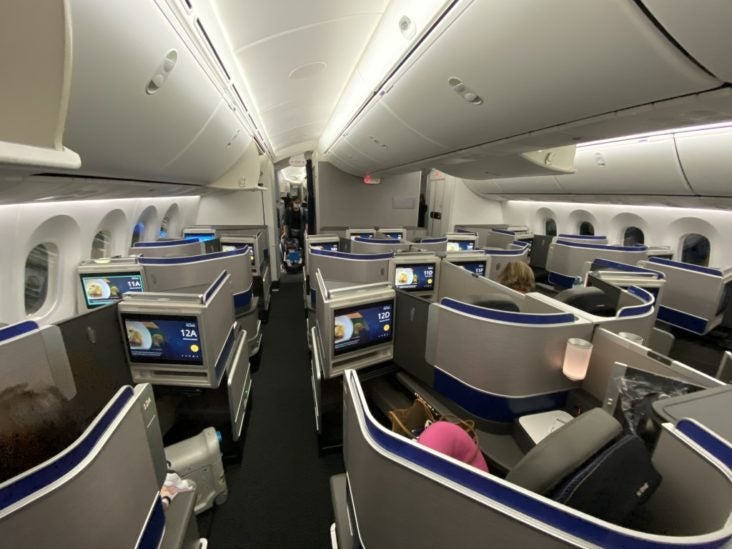 If you have the option of sitting next to a window, choose an odd-numbered row as those seats are angled flush against the window, creating extra space and privacy. This was great for Tommy as it gave us some extra peace of mind in case he tried to wander off.
You are probably sick of this phrase, but this is the "new normal" when we board flights. Grab some disinfecting wipes and start cleaning everything you can see.
Even Tommy got into the cleaning spirit.
Polaris Amenities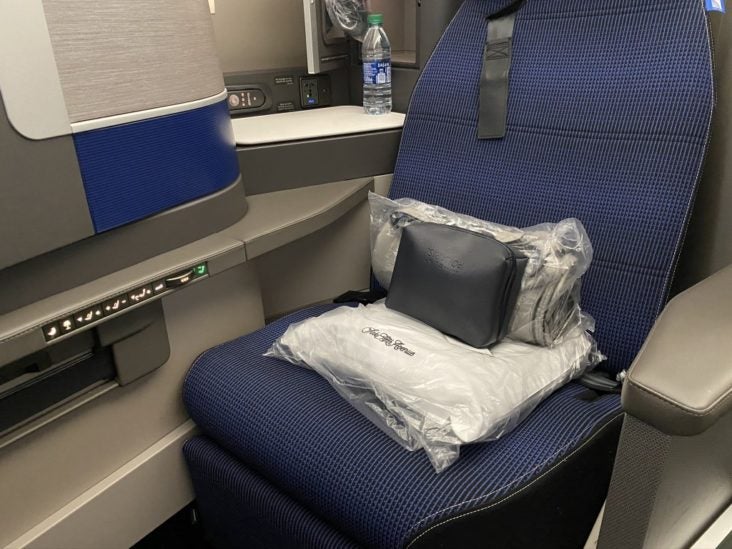 United made waves when it launched the Polaris product. With these excellent seats paired with Saks Fifth Avenue pillows and blankets, you can understand why I am such a fan.
However, due to coronavirus restrictions, some of the amenities have been cut back. On our flight from Brazil to the U.S., we were not offered any pillows (normally there are 2 — 1 large pillow and 1 small gel pillow), however, on the flight to Brazil we received 1 medium-sized pillow and the standard Saks Fifth Avenue blanket.
In addition to the blanket and pillow, there was an amenity kit that included:
Socks
Eye mask
Sunday Riley Face and Hand Cream
Sunday Riley Lip Balm
Sunday Riley Face Cleanser
Tissues
Earplugs
Dental kit
This flight did have Wi-Fi, however, I tried to log on multiple times throughout the flight but I was unable to connect.
Food and Beverage
Unfortunately, due to COVID-19, you will not be getting the full Polaris business class experience any time soon. All meals, drinks, and snacks are served at once on a single tray.
I am not sure why American carriers can't figure out how to serve food safely in non-plastic vessels, but at least the whisky and nuts still tasted good.
Dinner
Despite my gripes about the food service, the actual food itself was actually quite good and everyone in the family agreed.
I ordered the short ribs with rice, which when topped with that spicy sauce was delicious. My wife ordered the cheese ravioli, which was also very good. And the kids each got the salmon and rice with the sauce on the side, which was perfect for them.
All of the meals came with a fruit salad, which was an odd choice and would normally pair better with breakfast. Maybe the ground crew grabbed the wrong "salad" package?
Bottom line, we all ate well and slept very satisfied.
Breakfast
Breakfast is where you can really see the COVID-cuts. There were 2 options, a "ciabatta sandwich" or a vegetarian platter. I regrettably opted for the sandwich.
I'm not sure what the filling was (extra cheese?), but after 1 bite I knew it wouldn't be a good idea to keep eating.
The rest of the family slept through breakfast, so nobody ordered the vegetarian option, but I did get a look at it as we were deplaning, and was definitely the better choice.
The prepackaged platter included falafel, hummus, and pita bread — some of my favorite snacks!
Entertainment and Service
United has some excellent content on its 15.4-inch IFE screens, but before you can watch, you need to learn about how safe it is to fly. You don't need to sell me, United, I'm already here!
Hot Tip: Are you curious about what precautions airlines are taking regarding the coronavirus? Read about all the airline policy changes here. 
Entertainment
The inflight entertainment is really good and has plenty of options for both kids and adults.
While I enjoyed some classic mafia films, the kids binge-watched some of their favorite Disney films until they fell asleep.
Service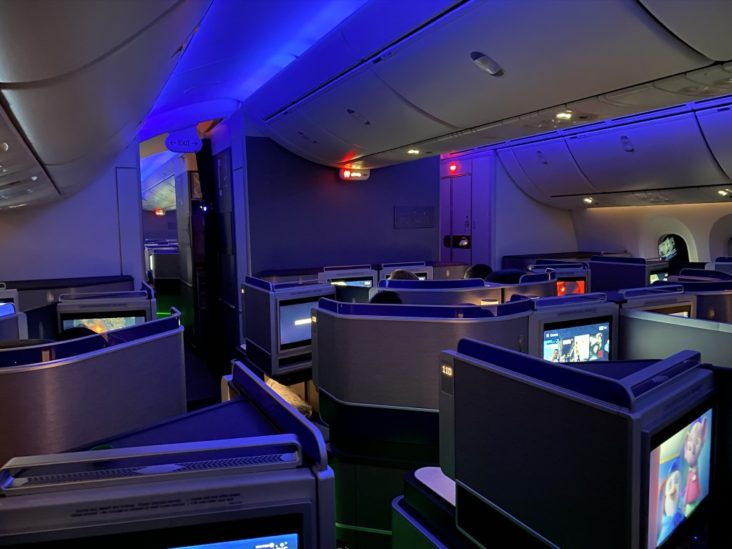 Back in August 2020 when we flew to the U.S. for the first time since the pandemic started, we were disappointed with the service that we received. That was not the case with this flight.
The service we received, although limited, was friendly, sincere, and efficient — 3 adjectives I couldn't use on the other flight.
Yes, there were cuts and changes due to the coronavirus, but the crew didn't seem to be milking them.
Arrival
Once we landed in Brazil, there was no announcement about keeping social distance and everyone just deplaned as normal.
If you only looked at the baggage claim area, you would have no idea that there was a pandemic going on — everyone was jockeying for the first position by the belt.
Until October 3, 2020, tourists entering Brazil needed to show proof of travel insurance upon arrival — that is no longer necessary.
There are currently no restrictions on tourists entering Brazil, only a Travel Advisory Level 4 (that's bad) from the U.S. Department of State due to COVID-19 and violence.
Final Thoughts
If you are flying between the U.S. and Brazil, the new United Airlines Polaris business class product is arguably the most comfortable way to do it — and my personal favorite at the moment.
Flying from Boston, I was very happy to be able to connect in Newark (EWR) instead of crossing the country to stop in Houston (IAH). This connection keeps the time zones simple and almost makes it a straight shot between the 2 massive countries.
The seats are very comfortable, are relatively family-friendly, and can be had for a great price if you can find yourself some TAP Air Portugal Miles&Go miles.
I am really looking forward to the Polaris Lounges reopening because a nice, warm cookie skillet can really enhance the pre-departure experience… well, any experience, really!
If you have any questions about the trip or Brazil in general, let me know in the comments.
Safe travels!