My Experience Flying From Brazil to the U.S. During COVID-19 (With Kids)
This was a difficult post to write because regardless of who is reading this, they are likely to have very passionate beliefs on how people should behave and live their lives in the face of a global pandemic — and I am one of them.
Since March, my wife, 2 kids, and I had been quarantined in our cozier-by-the-minute apartment in Petrópolis, Rio de Janeiro, Brazil. We had been avoiding family and friends, throwing Zoom birthday parties for our daughter (that was actually a great parenting hack), homeschooling, and sanitizing everything that entered our home. You know… normal pandemic stuff.
But when half of your family lives across the world, there are always a few trips on the calendar. Originally, we had a return leg from our Thanksgiving trip from Rio to Boston scheduled for June 2020, but that was quickly canceled. That was fine with us because at the time we weren't comfortable traveling, but we rebooked for August knowing we could reschedule without a penalty.
By the time August 2020 rolled around, we had been socially distant for 5 months, completed all of the TikTok dances, and were desperate for some New England summer with my family that hadn't seen our kids since November 2019. And right on cue, United canceled all of its flights to Rio until October 2020. Most people would take that as a sign — we took it as a challenge.
Here is how we finally got from Brazil to the U.S.. (with my wife on a tourist visa) during COVID-19.
Airline: United Airlines (UA)
Aircraft: Boeing 787-9 Dreamliner
Flight #: UA148
Route: São Paulo Guarulhos International Airport (GRU) > Newark Liberty International Airport (EWR), connecting to Boston Logan International Airport (BOS) on the same ticket
Date: August 10, 2020
Duration: 9hrs 35mins
Cabin and Layout: United Airlines Polaris Business Class (old style), 48-seat capacity across 8 rows, 2-2-2 configuration
Seats: 6A, 6B, 6D
Miles Used: 50,000 TAP Air Portugal Miles&Go miles per ticket
Taxes and Fees Paid: $53 (€45) per ticket
Typical Retail Cost: $6,000 (round-trip)
Seeing Family Safely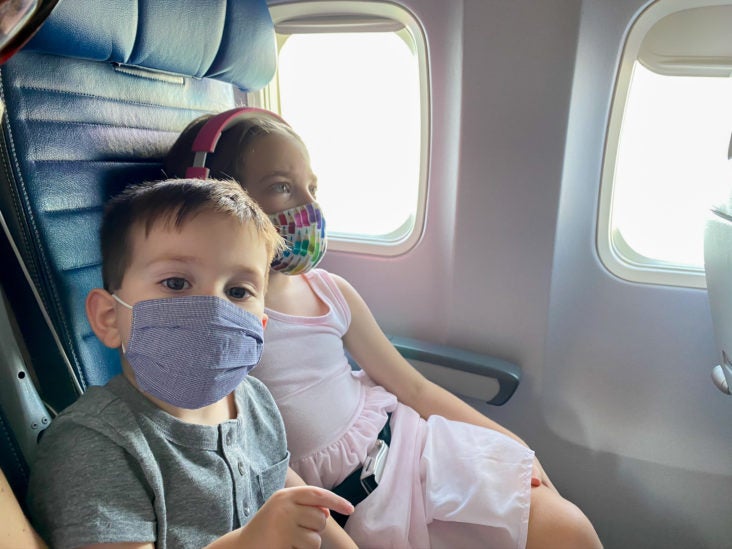 As I mentioned above, our family has taken the coronavirus very seriously. We wear masks whenever we leave the house, avoid large gatherings, and wash and sanitize more than ever. So when we decided to travel, our biggest concern was safety — our own and the family we were traveling to see.
Required COVID-19 Tests and Quarantine Upon Arrival
Our first destination (not including the connecting flight) was Massachusetts, so we were required to follow its relatively strict travel order since we were not coming from a low-risk state.
After filling out the state's travel form (which nobody ever asked us about), we had 3 options when it came to testing and quarantine:
Arrive with a negative COVID-19 test taken within 72 hours
Quarantine for 14 days upon arrival
Get tested once you are in the state and quarantine until you receive a negative result
Since our biggest concern was contracting the virus during our travels and spreading it, option number 1 didn't make sense to us. We obviously didn't want to spend 2 weeks in a hotel, so we chose option number 3 and took a free COVID-19 test provided by the state a few days after we landed.
The test took 2 business days to come back, but since we took the test on a Thursday, we didn't get our results until the following Monday. Eventually, my wife and I received our negative results and after a week in a Hyatt Place outside of Boston, we were finally comfortable going to see family.
Hot Tip: If you are traveling to or from Massachusetts, the state has set up an excellent website that shows all of the available testing sites, both free and paid.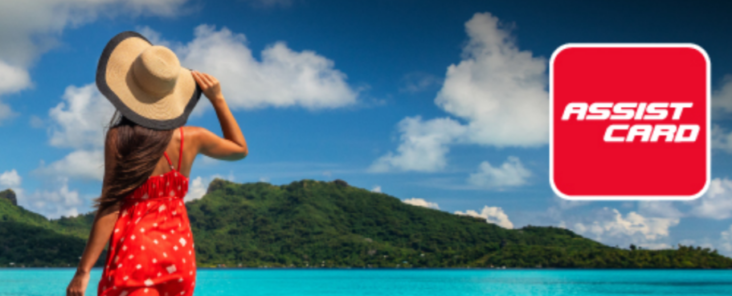 We always buy travel insurance when we travel from Brazil to the U.S. because our Brazilian health insurance doesn't cover us abroad and healthcare in the U.S. is very expensive.
Normally our go-to insurance company is World Nomads because it is so easy to use. But since the company doesn't offer any coronavirus coverage at the moment, we had to look elsewhere in case one of us ended up hospitalized during our 2-month trip.
After a lot of internet searching, it became very clear that travel insurance with coronavirus coverage was very specific to the country you live in. Living in Brazil, there was only 1 option unless we wanted to connect in Dubai just to get free COVID-19 insurance from Emirates. I'd be lying if I said I didn't think about it!
We ended up buying a policy from Assist Card, who we had never used before, but we've already been happy with the service as my wife needed some emergency dental work shortly after we arrived. The whole process was done via the app and no payment or copay was required.
The cost for our 2-month policy for a family of 4 was R$3345 (~$600) which is actually a really good price, even without the coronavirus coverage.
Hot Tip: If you are concerned about what your insurance covers, check out our article on whether travel insurance covers coronavirus (COVID-19) or not.
Booking Our Flights
This trip had been booked and paid for since last year using TAP Air Portugal Miles&G0 miles to fly United Polaris business class for 100,000 miles per person, roundtrip.
At the time, only roundtrip flights were allowed to be booked, however, TAP recently changed its policy and one-way tickets can now be booked at half the cost for 50,000 miles.
United Canceled All Flights to Rio de Janeiro (GIG)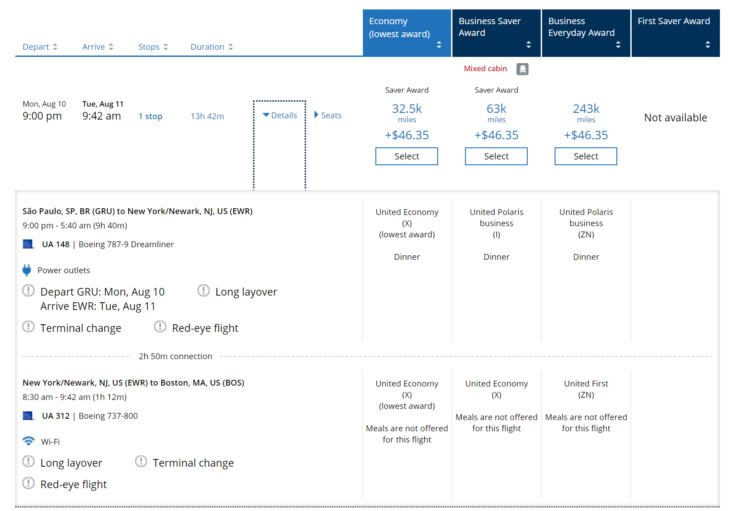 Our original flight was scheduled for June from Rio de Janeiro (GIG) to Houston (IAH), but that was quickly canceled when COVID-19 hit. United kept pushing off its return to Rio 1 month at a time, so we booked a flight for August hoping for the best.
Of course, United couldn't justify the route with Brazilians not allowed in the U.S. as tourists and eventually canceled all flights to Rio until at least October 2020.
That meant that if we wanted to use this ticket in August 2020, we would need to fly out of São Paulo (GRU) as that was the only Brazilian city that United was still flying to.
After a relatively quick call to TAP, we were rebooked and the airline was even able to tack on an additional leg up to Boston (BOS) at no extra cost.
Driving from Petrópolis to São Paulo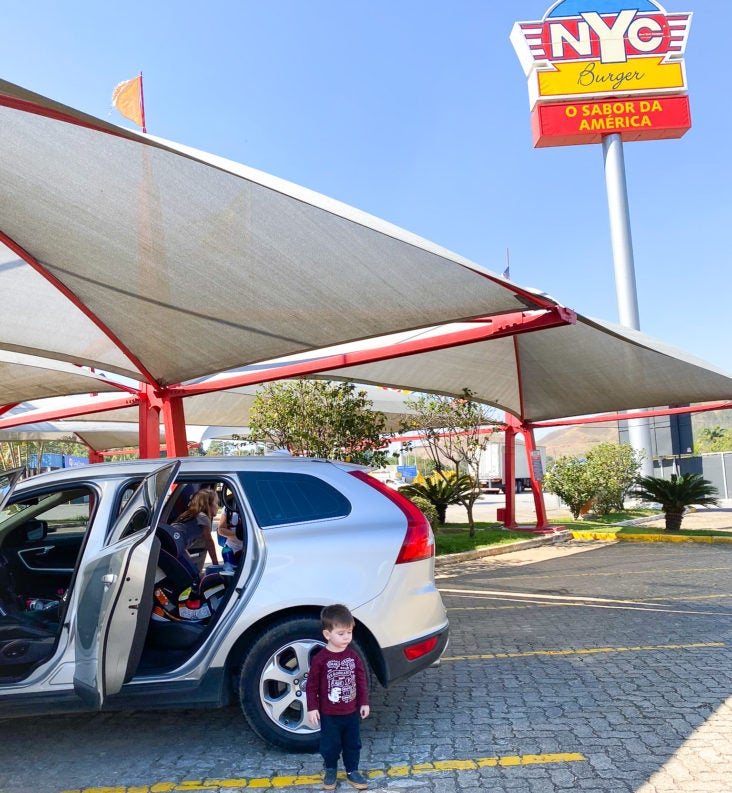 We live in a small mountain town about 50 miles outside of Rio de Janeiro called Petrópolis. We are about an hour from our preferred airport (Rio de Janeiro) and were hoping to be able to take a quick flight to São Paulo on the day of our international flight.
Unfortunately, due to capacity cuts, prices were astronomical for the one-way, 40-minute flight. Considering that we would need to also pay for luggage there and on the way home, financially it just made more sense to suck it up and drive the 6 hours to São Paulo.
Adding in the fact that we would now be avoiding an additional 2 flights which meant additional exposure to other travelers on packed flights, we quickly realized that this was the best decision.
Now our biggest concern was that our 2 kids would get car sick on the long, winding drive. But, fortunately, we made it to the airport nice and clean!
Hot Tip: If you are interested in what it's like to fly domestic routes in Brazil, be sure to read our review of GOL Airlines from GIG to GRU.
Brazilians Not Allowed Into the U.S.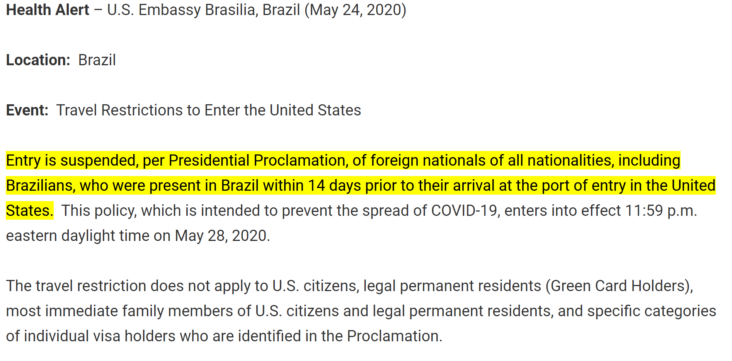 One glaring concern was that to prevent the spread of COVID-19, the U.S. was not allowing foreign nationals, including Brazilians, into the U.S. if they had been to Brazil within 14 days.
This was due to a travel restriction imposed by the U.S. in May 2020 due to the large increase in coronavirus cases in Brazil.
Since we live in Brazil full-time, my wife does not have a green card and enters the U.S. on a tourist visa.
However, since she was traveling with immediate family members who are U.S. citizens (our 2 kids and myself), she should be allowed entry.
Checking in at GRU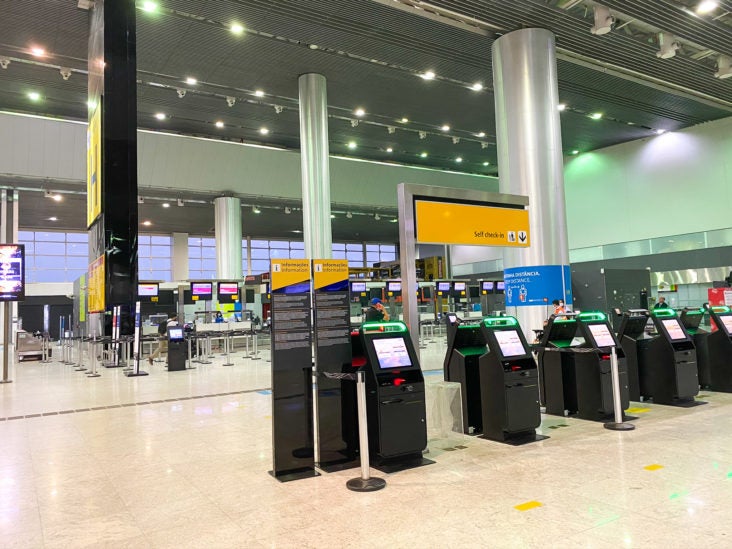 After 6 hours of driving and a quick pit-stop to feed the kids, we finally made it to the busiest airport in Brazil… and it was empty.
Masks, Face Shields, Hand Sanitizer, and More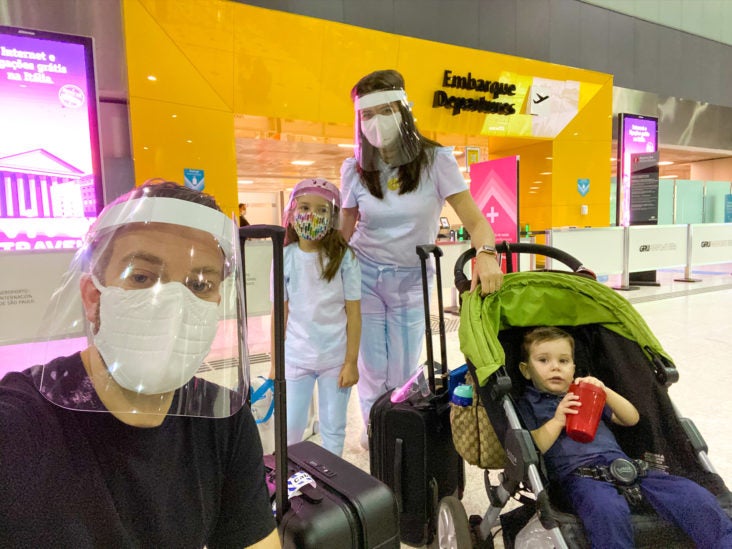 After countless flights for our family between Brazil and the U.S., this was hands down the one that was the most nerve-wracking.
Normally, traveling with 2 young children is stressful as it is with the endless planning, packing, double-checking, and second-guessing. Add in coronavirus concerns and now our packing list is bigger than ever.
We all know that masks are the best way to reduce transmission of the virus if you are out and about, so we had our supply ready to go. Our youngest was not yet 2 at the time, so he wasn't required to wear one, but we tried to get him to wear one as much as possible in preparation for our return flight when he would be required.
In addition to the face masks, we were stocked up on hand sanitizer, and we all wore face shields out of an abundance of caution.
Hot Tip: If you are traveling with kids soon, here are some tips for packing and flying during the coronavirus crisis. 
Extra Layer of Immigrations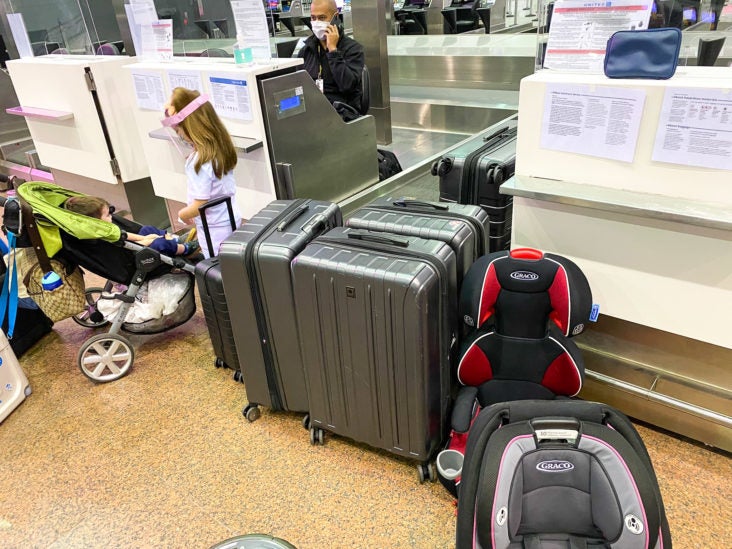 Checking in for our flight was a pretty normal experience except for the fact that we felt like we had the airport to ourselves.
You would think that would translate to a quick process, however, it was quite long due to the extra immigration checks done at the same time.
There was 1 U.S. Consulate employee at the check-in desk confirming the eligibility of all passengers to enter the U.S. to avoid any issues upon arrival.
Unfortunately, this employee was assisting all of the airlines, so it took a while to get my wife approved to travel on a tourist visa. And even with this clearance, she still had issues with immigrations upon arrival in Newark.
Airport Lounge Options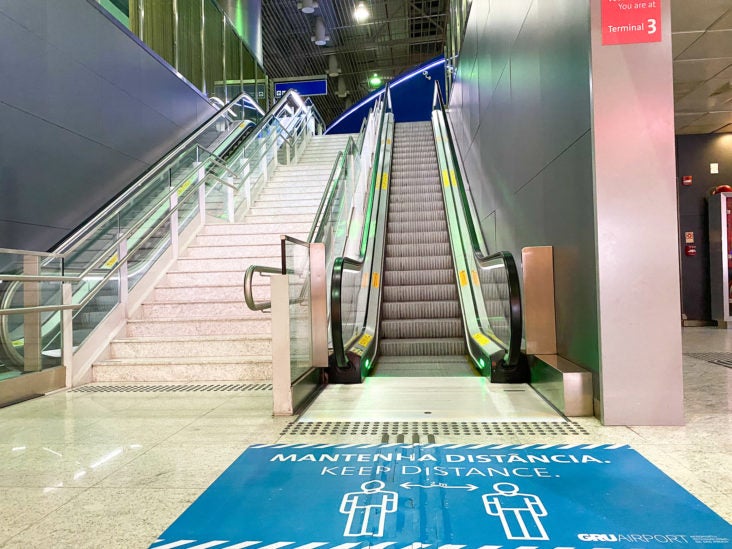 After successfully getting checked in, we passed through an empty security line and were on our way to our first flight in months. Since we still had a couple of hours before our flight, we went upstairs to check out the lounge options.
As we were flying United Airlines business class, we could have visited the Star Alliance Lounge or the American Express Lounge with our Priority Pass. On my last trip via GRU, I visited the Star Alliance Lounge, so we checked out the American Express Lounge instead.
American Express Lounge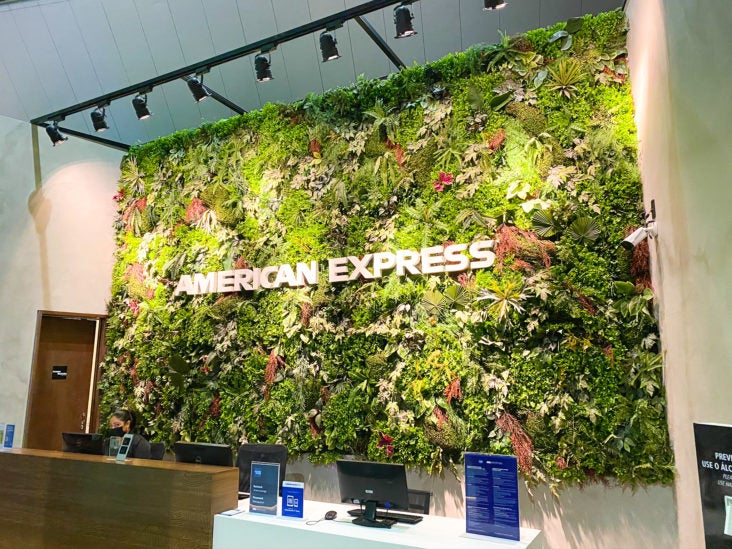 After a quick scan of my Priority Pass QR code, we were in the essentially private lounge. At most, there were probably 6 other passengers in the lounge at the same time.
It's not hard to see why, as there were not many flights flying out and services were very limited.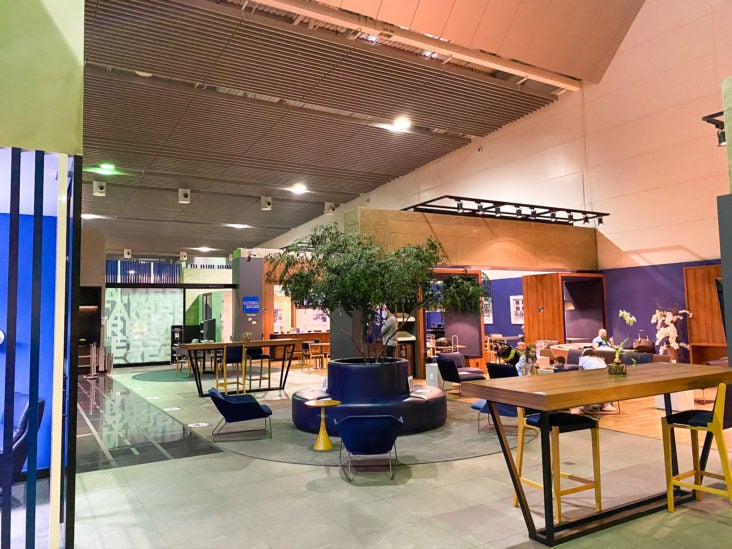 There were no options for self-service, so you could either scan a QR code for a menu or visit the bar.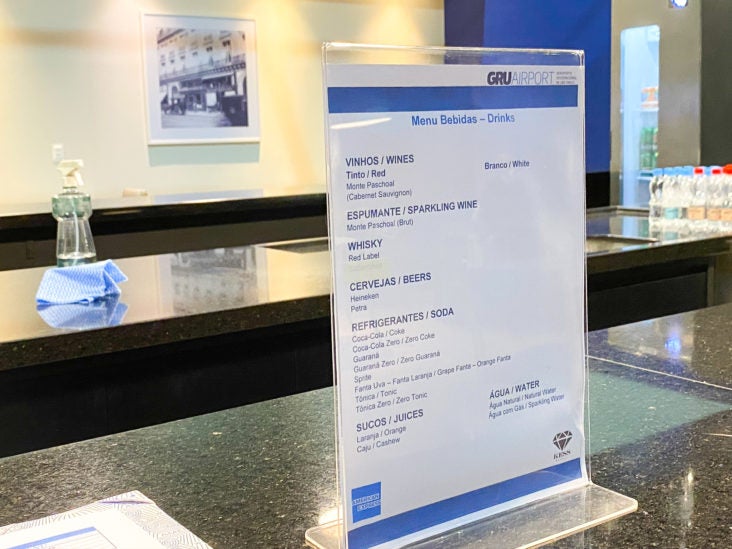 Meals were served on individual plates, which actually worked out well for the kids.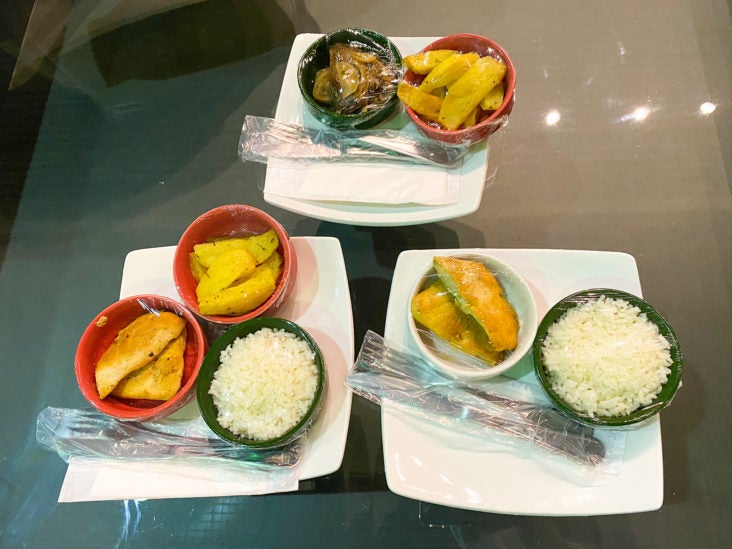 Beverages were served in plastic cups.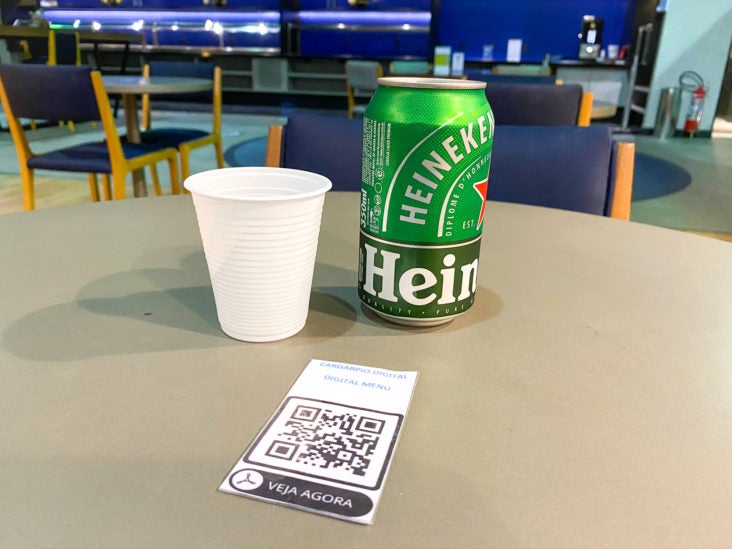 Signs were placed on furniture to promote social distancing.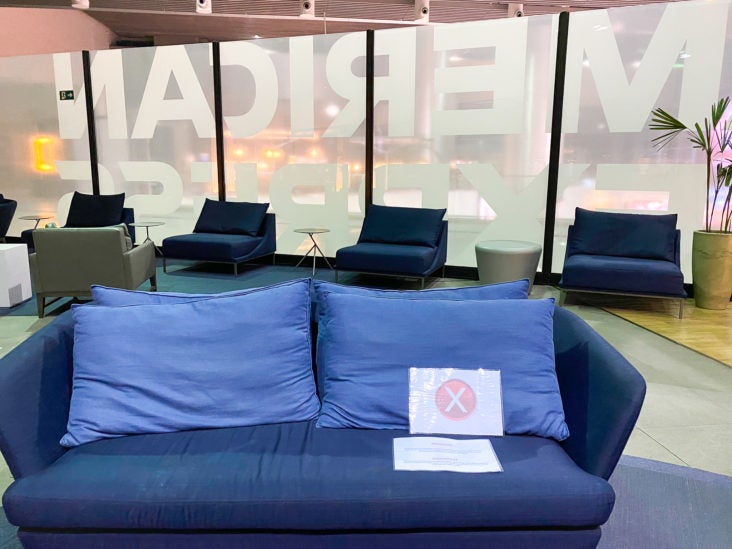 Hand sanitizing stations were plentiful.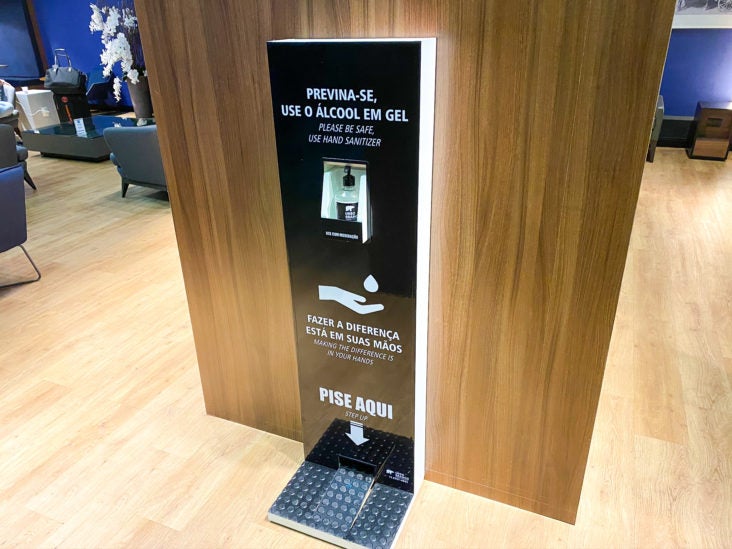 And the kids' room was closed.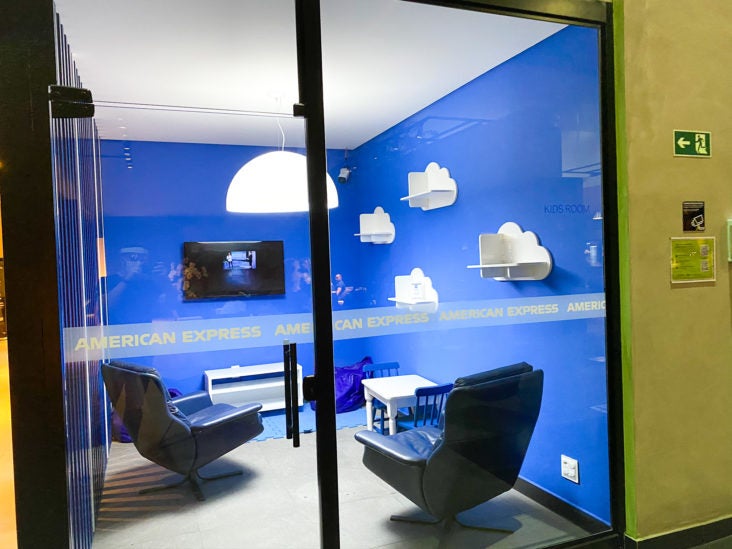 So, after a quick snack, we started to make our way to the gate.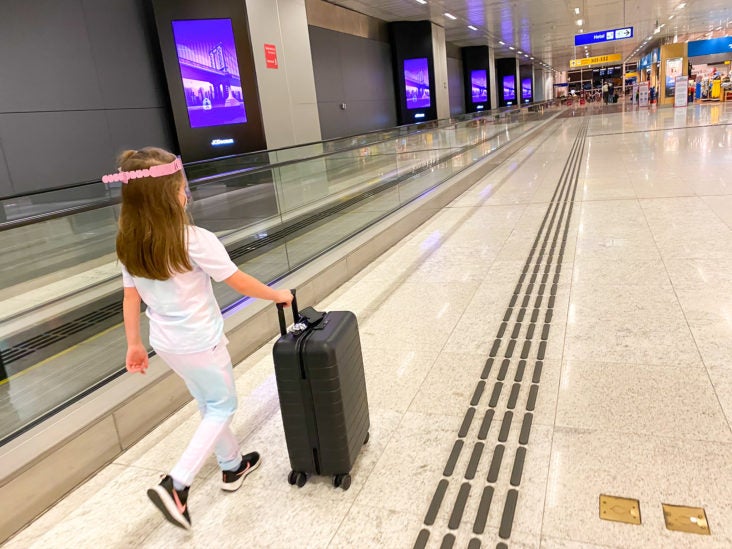 Boarding
The boarding process was no different than pre-COVID times — we showed our boarding pass and passports and walked down the aisle with no temperature checks.
Upon entering the plane, each passenger was handed 1 United CleanPlus sanitizing wipe and directed to their seat.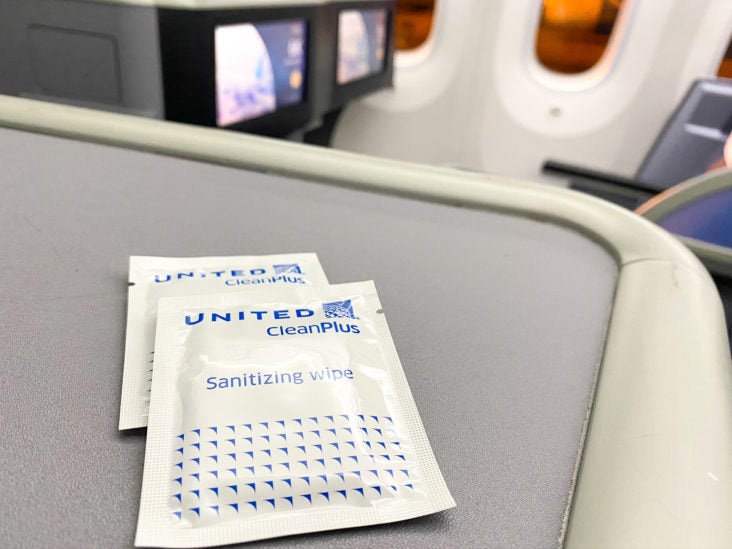 There were no pre-departure beverages and meal orders were taken before we were seated. Beef, chicken, or fish — no Polaris menu.
Loud Children Warning?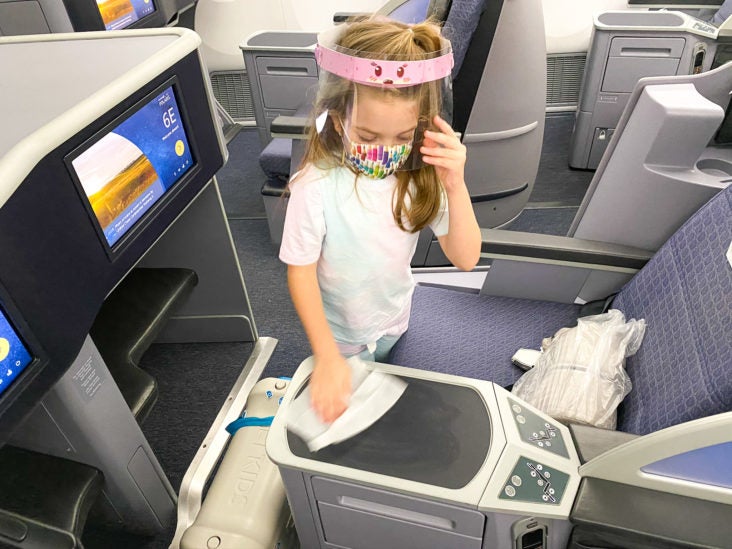 One thing of note that started the flight on an odd foot was that the pursuer came over and asked us to make sure our children were quiet during the flight as the crew would be resting near us. This was moments after we boarded the plane and nobody was making any noise above conversation level.
If there is one thing that parents don't need when traveling with kids, its extra anxiety about making sure they are well-behaved.
Hot Tip: If you have concerns about traveling with your little one, read The Pros and Cons of Flying Business Class With a Baby.
Polaris Seat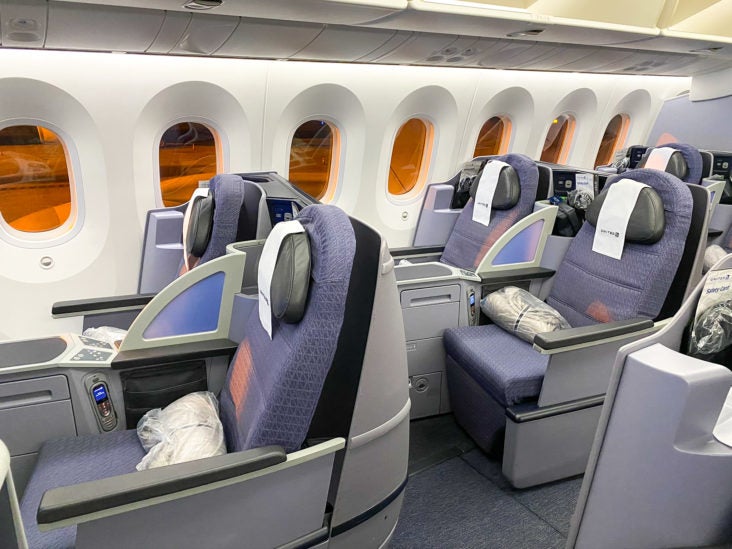 We have had some excellent flights in United's new Polaris seats, however, those were not the seats that were on this plane.
Old Polaris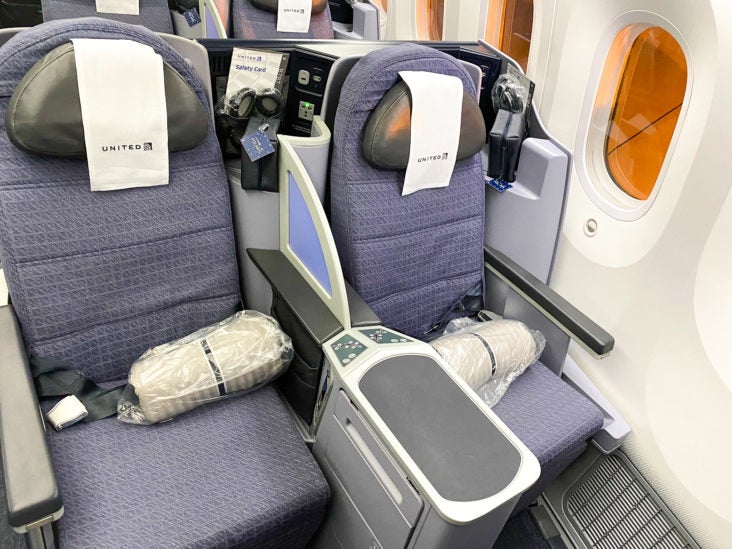 Since the pandemic started, United has only been flying its Boeing 787 Dreamliners to Brazil, which are equipped with the old business class seat. We knew this when we booked, but it is still such a disappointment to see such a nice plane with these seats.
The only benefit of these seats is that as a family of 4, we were all able to see each other, which is convenient when one of the kids needs help with something.
There was a silver lining as since the cabin was so empty (I would guess about 20% of business class was occupied), my son was able to use the empty seat next to my wife, which would not have been possible in the true Polaris seat.
Amenities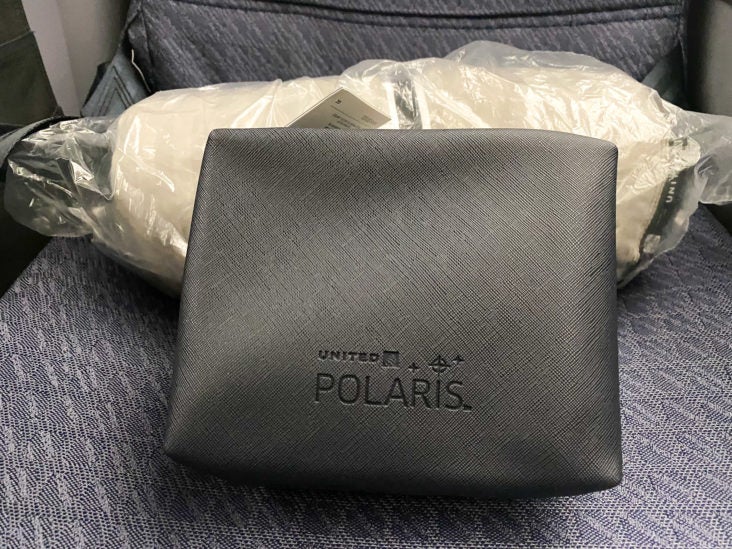 One of the things that set United Polaris away from the competition is the Saks Fifth Avenue bedding, feather pillow, and gel pillow. Unfortunately, Brazil had just banned airlines from offering pillows due to coronavirus concerns, so all that was left was the blanket and an amenity kit — which were both very nice.
Food and Beverage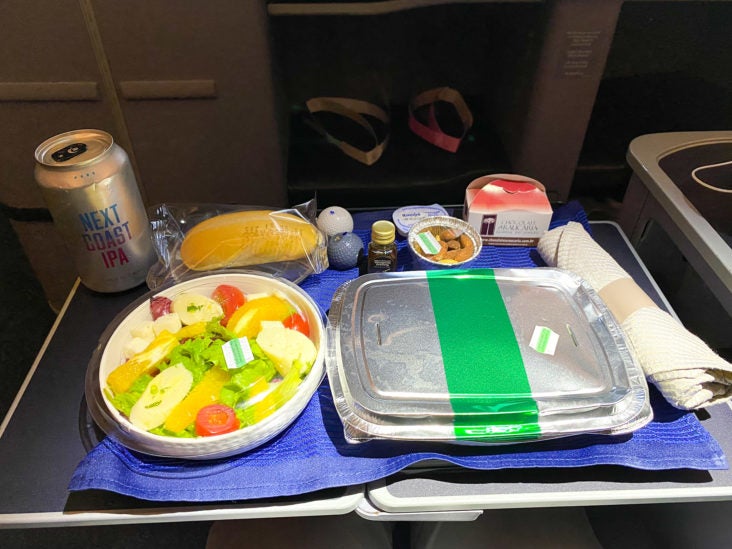 Meal service is the only time that passengers are allowed to remove their masks, and since the entire meal and drink service consisted of 1 tray drop, it wasn't a lot of time.
While the meals were satisfying, I can't imagine there was much of a difference between business class and economy. Especially with service.
Dinner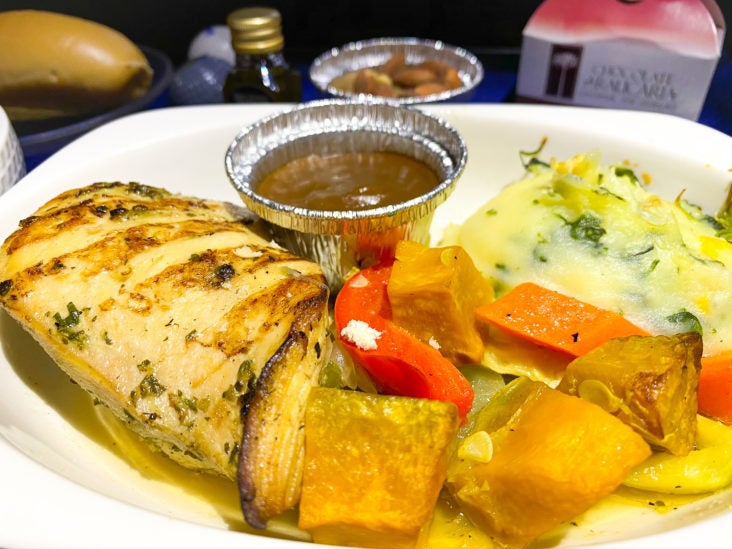 For dinner, the options were beef, chicken, or fish — no vegetarian option. I chose the chicken while my daughter opted for the beef.
The service cuts were very clear here as we didn't see the crew until tray collection. The tray was delivered with nuts, salad, bread, the entree, and a beverage. Fine for economy, but certainly a far cry from a true business class meal.
Chicken or Beef?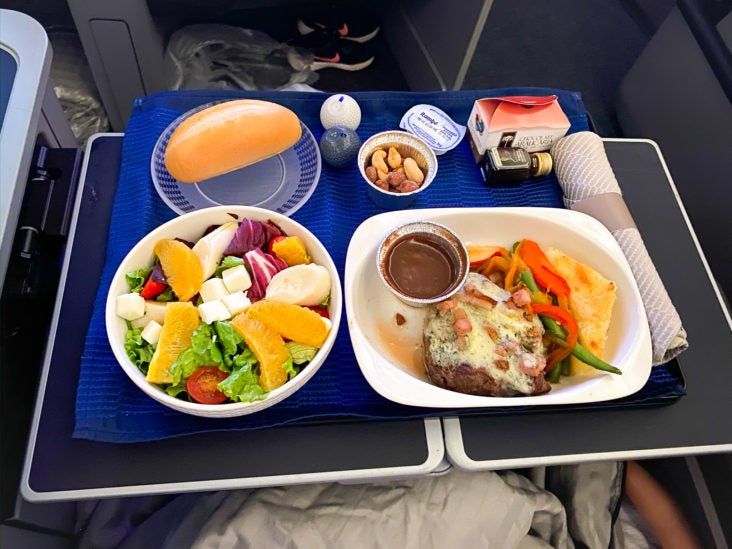 The chicken was good and not overcooked, which is easy to do. It came with roasted vegetables and mashed potatoes.
The beef was the better choice and came with a gorgonzola sauce and some sort of potato hash that was delicious.
Drinks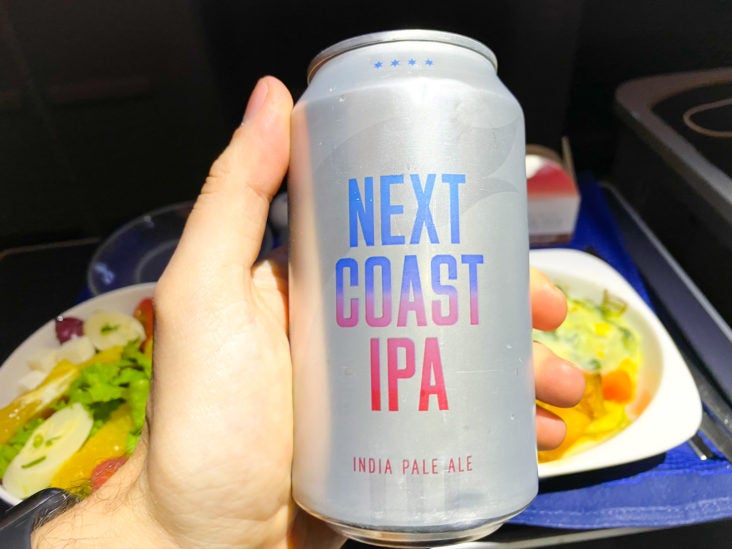 Again, no menu, so our choices for adult beverages were limited to red wine, white wine, beer, or some spirits (if you knew exactly what you wanted). How is this different from economy?
Anyways, I went for a beer and was happy to get an IPA from Goose Island.
Dessert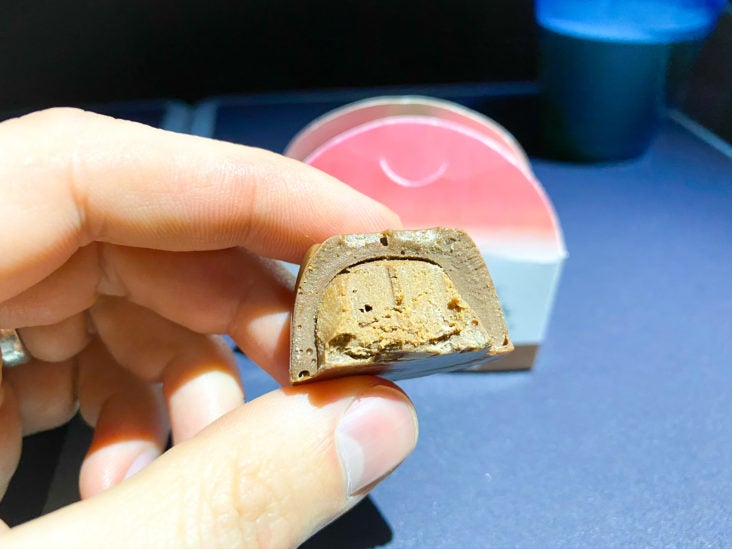 One of the best parts of flying United business class is the famous dessert cart. There is nothing like a big ice cream sundae to put you to sleep!
Unfortunately, the dessert cart was not available. Instead, we found a small chocolate truffle on our tray for dessert. In all fairness, it was very good.
Breakfast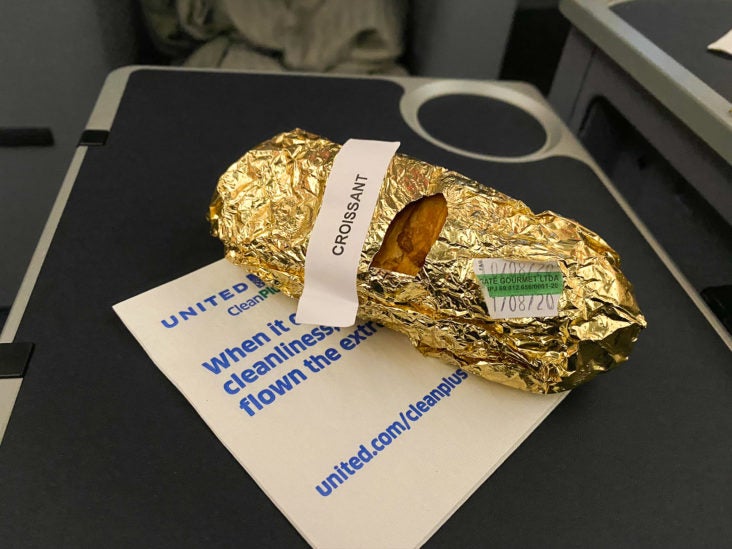 There was nothing to write home about when it comes to breakfast. The only option was a premade ham and cheese sandwich on either a croissant or ciabatta.
Entertainment and Service
Entertainment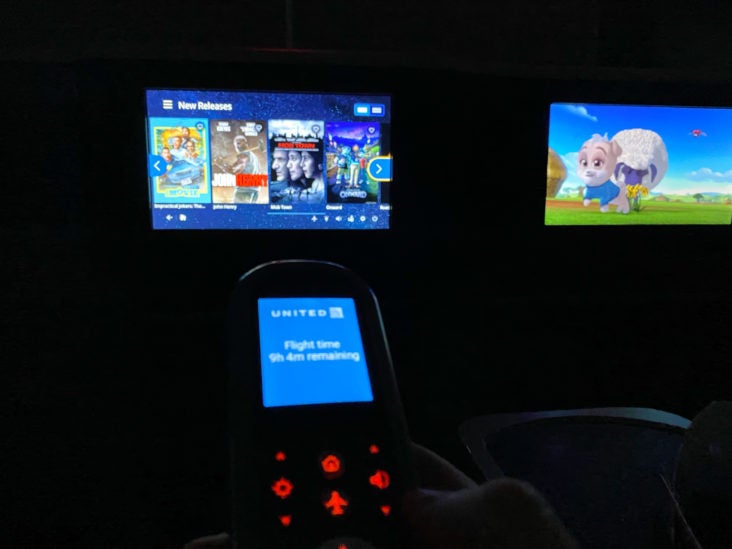 As 1 area that appears to be unaffected by the coronavirus cutbacks, the TV and movie selection was solid.
The only thing that bothered me, but perhaps I never noticed before, is that United's IFE doesn't offer to show trailers of the movies that are featured. Not a big deal, but I like to browse a bit before making my selection.
This didn't really matter because I just ended up watching "The Godfather!"
Wi-Fi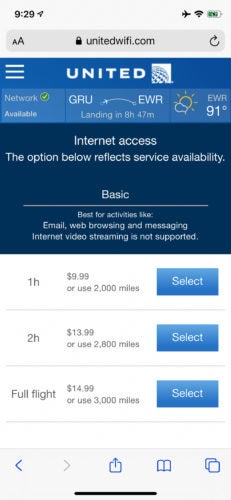 Wireless internet was available on the flight, but I did not need to use it.
The prices for the 9.5-hour long flight were:
1 hour for $9.99 or 2,000 miles
2 hours for $13.99 or 2,800 miles
Full flight for $14.99 or 3,000 miles
Service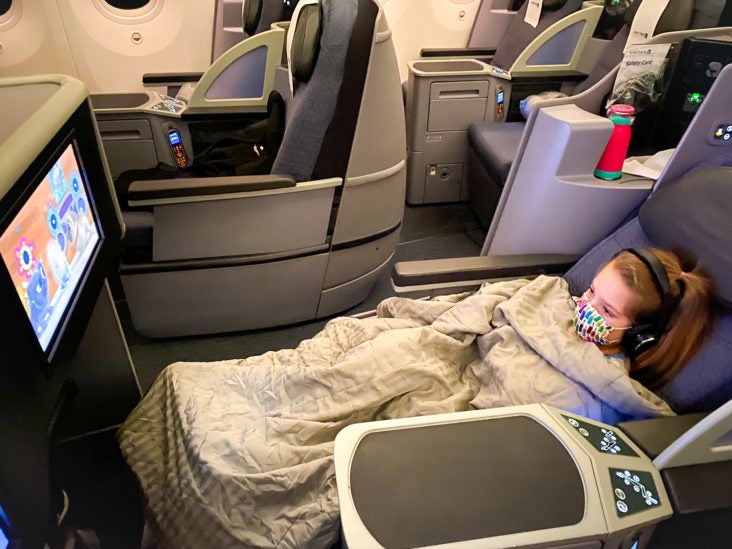 The service part of the flight is where I am conflicted. I have never considered United Airlines to have the friendliest crew, but in general, I have had positive experiences, especially flying upfront.
I certainly wasn't expecting the red carpet to be rolled out for my family and me, but there was a part of me that was expecting some level of "welcome back" or "we appreciate you flying with us in these trying times" sort of thing, but it was actually quite the opposite.
My wife and I honestly felt like we were an inconvenience to the crew. From the moment we stepped on board and the pursuer asked us, in advance, to keep our kids quiet to being rushed to finish our single tray of food, we never felt welcomed.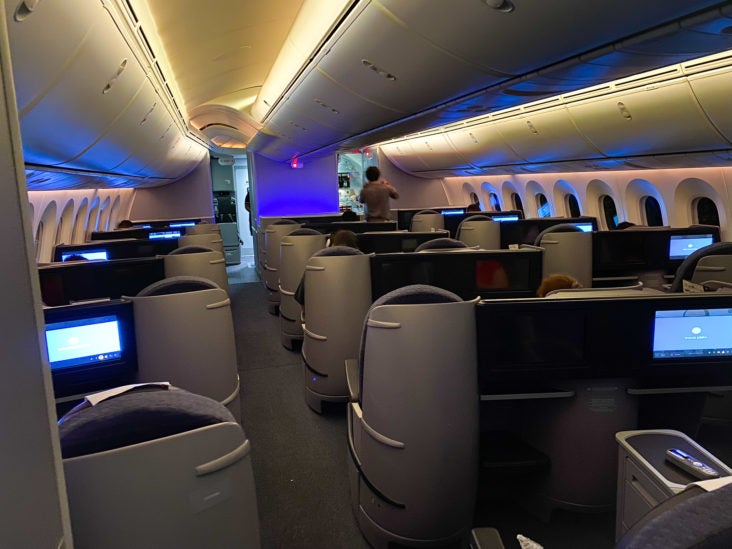 The airline industry as a whole has adopted a whole slew of changes to help keep passengers safe while flying, and generally, I think they are doing a good job.
Hot Tip: Want to know what airlines are doing to keep you safe? We detail the COVID-related changes (from mask requirements to seat blocking to service disruptions) for 25+ major airlines in-depth.
Masks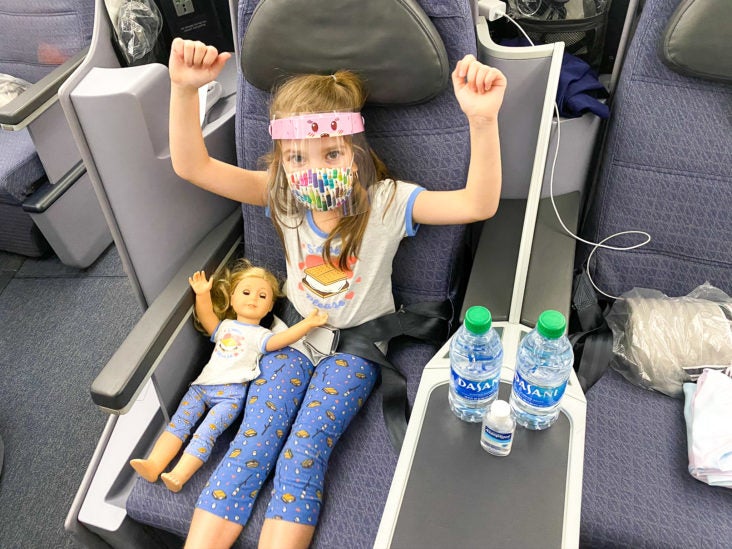 The biggest change passengers will notice when flying is the mandatory mask requirement for essentially everyone on board.
Children under the age of 2 are not required to wear a mask, so my son who was 1 year and 11 months old at the time was allowed to remove his when he got uncomfortable. Why that will no longer be acceptable when he returns as 2-year-old beats me.
We wore our masks for the entire flight, except while eating. Again, I am not sure about the logic here (nor do I have a solution) as everyone is eating and drinking at the same time.
We also wore face shields on top of our masks during boarding and deplaning as that is when we had the closest contact with other travelers.
Service Cuts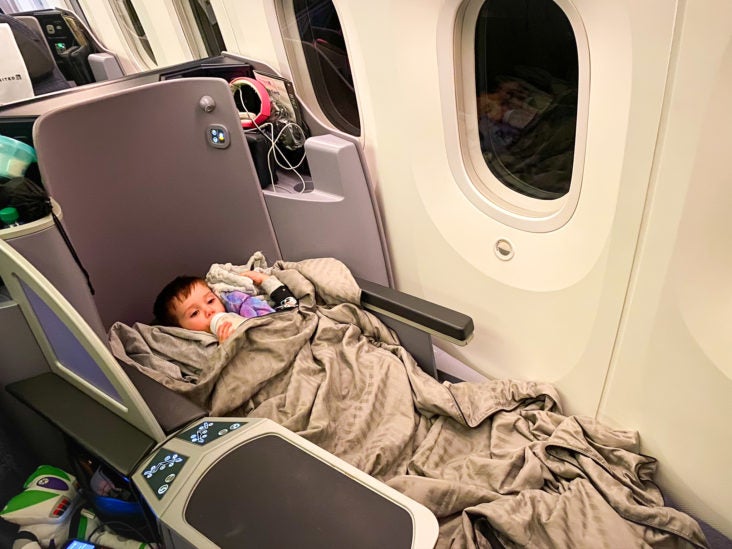 There have clearly been many cost-cutting measures taken by airlines in the name of coronavirus and some crew may be riding that mentality as well.
Our interaction with the crew was curt, to say the least. It was clear they wanted to drop the trays and pick them up as soon as possible to get back to the galley. And it really felt like the food and beverage options for United Polaris were straight out of economy.
Mask Compliance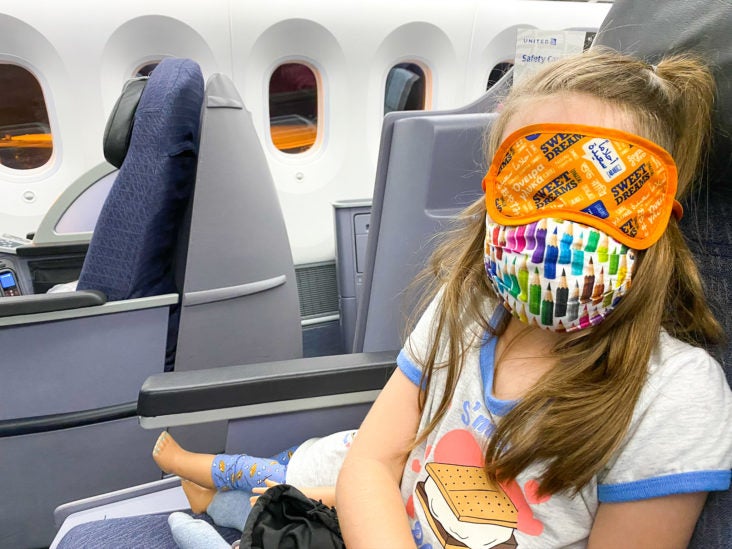 Throughout our journey through the airport and on board our flight, we didn't notice anyone without a mask on, even while sleeping.
In fact, a flight attendant came over a specifically told my daughter that if she didn't wear her mask while sleeping that they would wake her up and ask her to put it on.
Ironically enough, that same crew member used the seat next to my daughter (across the aisle) for her rest break and — wait for it — slept without her mask on.
Arrival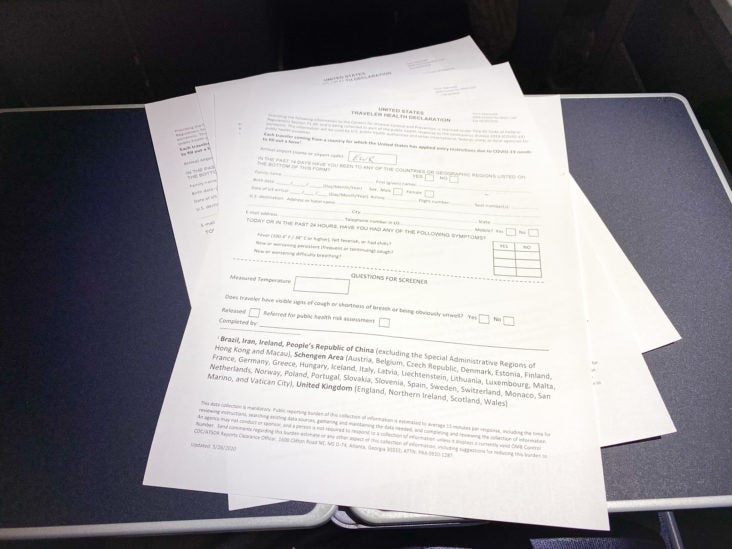 As we began our approach, the crew came through the cabin with a traveler health declaration form and told us that once we landed a CDC employee would board the plane and passengers would be called to deplane 6 at a time.
When we landed, nobody from the CDC was there, so we all deplaned as normal with very limited social distancing.
Health Declarations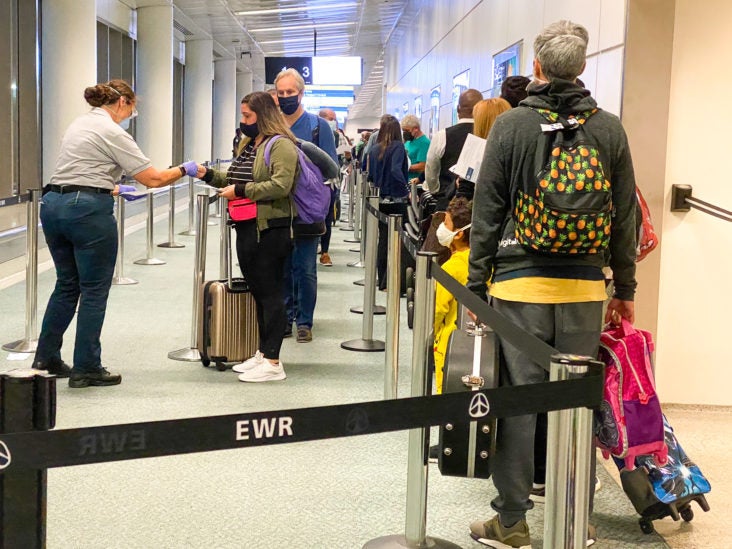 After making our way through the jet bridge we were funneled into a line where we turned in our health declaration and answered some basic questions — all while being shoulder-to-shoulder with other passengers.
No social distancing in Newark?
Temperature Checks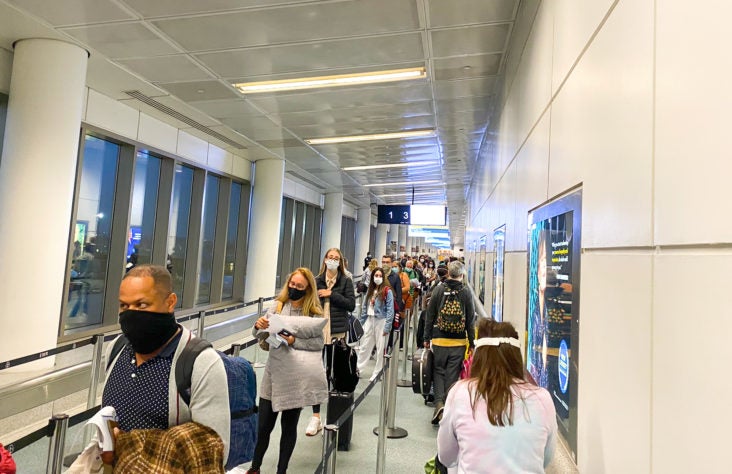 After we handed in our form, we continued down the hallway to have our temperature taken.
This was a very nerve-wracking moment as a parent. What if one of the kids spiked a fever? What if the face shield was too steamy? What if standing next to 100 strangers didn't exactly cool you off? Who knows?
Anxiety aside, we all passed and were on our way to immigration.
Immigration
The immigration process started pretty seamlessly. There was no line in front of us so we just walked up, showed all of our passports, and answered the normal questions.
The CBP officer was friendly and said that he just needed to double-check my wife's passport because Brazilians were technically not allowed in on tourist visas at the moment and he needed an override or something.
He told me and the kids to go get our bags and that my wife would be down shortly.
45 minutes later she finally emerged after being in a tiny room with 50+ other travelers with passport issues. Again, no social distancing in Newark?
They were giving her a hard time for not traveling with original copies of both our American and Brazilian marriage certificates and only let her go when they realized that we were waiting for her downstairs.
Mandatory Quarantine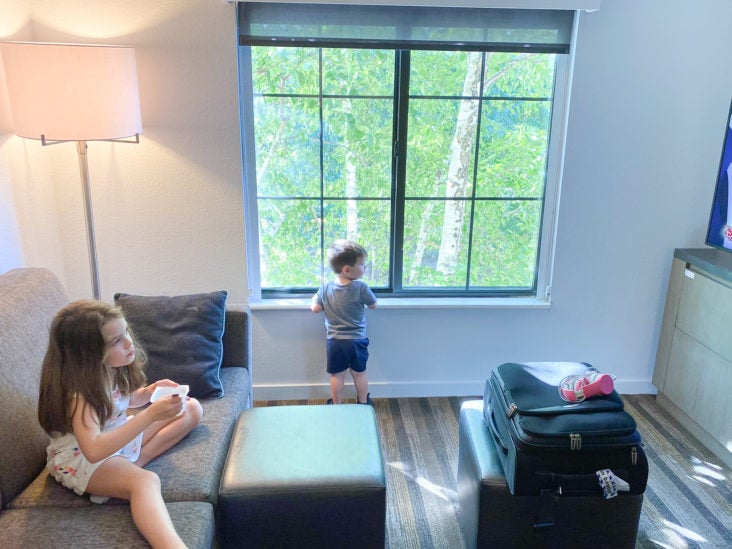 After a quick (and packed) flight from Newark to Boston, we headed to a Hyatt Place just outside the city where we were able to use our annual free The World of Hyatt Credit Card night for a spacious 2-bedroom suite.
Since we didn't know how long we would be in quarantine for, we had to keep extending our stay 1 night at a time. Fortunately, we each had a couple of free nights, and so did some generous family members.
COVID-19 Test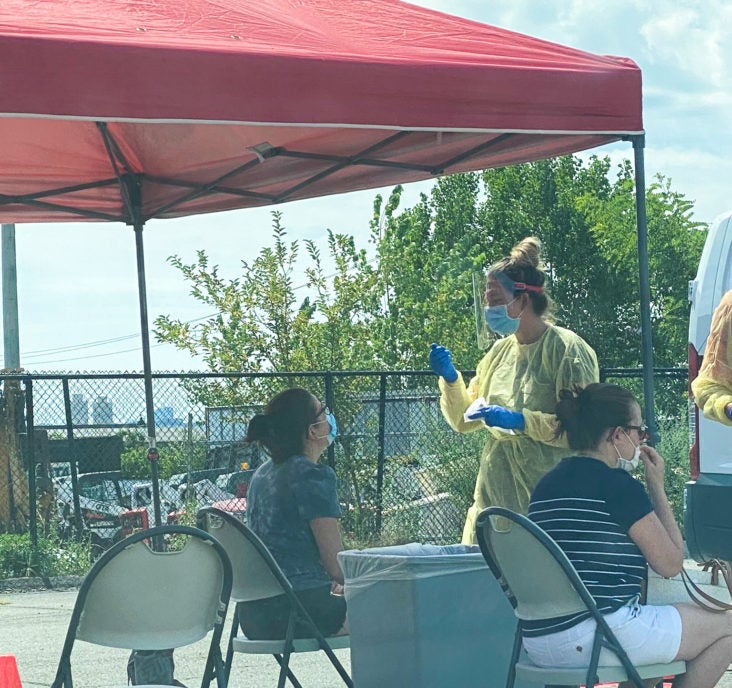 After a few days at the hotel, we scheduled a free COVID-19 test (provided by the state of Massachusetts) and checked out when we received our negative result a few days later.
Tips for Traveling During COVID-19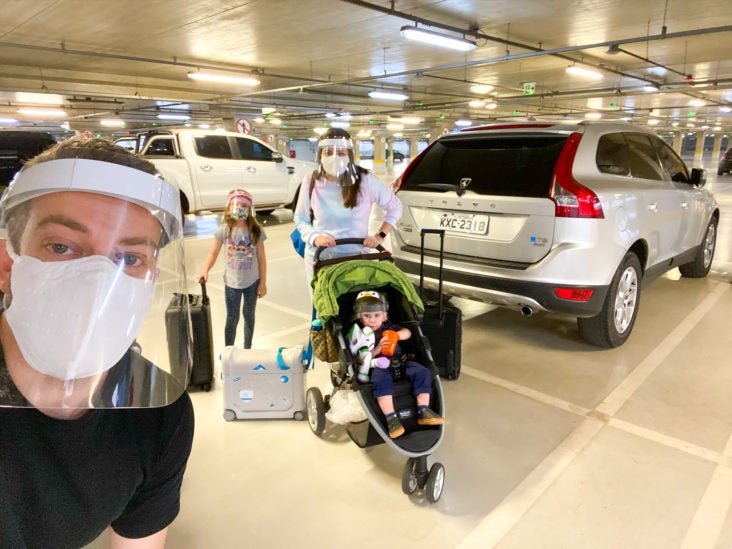 Traveling during COVID-19, especially with children, was nerve-wracking. However, once you get used to wearing a mask (like most of us are already), the rest of the process is quite smooth.
As with anything, being flexible will go a long way.
If you are planning on traveling anytime soon, here are a few tips that can certainly help make your trip more comfortable:
Bring Extra Masks — If you are on a long flight, putting on a new mask can be refreshing.
Wear a Face Shield — If you are really anxious about catching the coronavirus while traveling, wearing a face shield will provide you with an extra level of protection on top of having a mask on.
Bring Your Own Snacks — Airlines have cut back offerings, so if you can't wait until you land, bringing your own (easy to eat) snack is a good idea.
Bring Sanitizing Wipes and Gel — The gel is great for a quick cleanup, but wipes are your best friend when it comes to giving your seat a good cleaning.
Choose Your Seat Wisely — Don't choose a middle seat if you can avoid it — better yet, fly an airline that blocks them. If you can, try sitting in the back of the cabin to avoid other passengers.
As always, keeping your distance and washing your hands will go a long way towards keeping you and your family safe.
Final Thoughts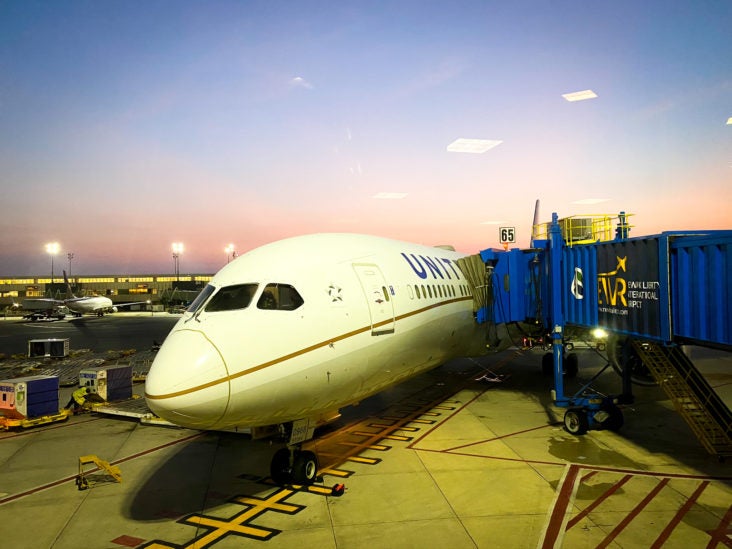 After months of staying home and watching our flights get canceled, it certainly felt good to get back in the air.
There was no "welcome back" feeling and service was lacking, but we got to where we were going safely, comfortably, and on time.
We booked this particular flight because 50,000 TAP miles is a stunningly good deal for an international business class flight, especially when it is the real Polaris. However, if I had paid the $6,000+ that this flight normally goes for, I would be extremely disappointed with what I received.
Fortunately, that is not how much I paid, and I was just happy to safely bring the grandkids to see their grandparents and enjoy a lovely summer break.
---
All information and content provided by Upgraded Points is intended as general information and for educational purposes only, and should not be interpreted as medical advice or legal advice. For more information, see our Medical & Legal Disclaimers.