The 5 Best Ways To Find Cheap Flights in 2021 [Detailed Guide]
Finding cheap flights is the ultimate goal of travel. One of the most prohibitive reasons against traveling is finances. For the newbie, travel is expensive. The average domestic plane ticket is around $244, while an international plane ticket can be anywhere from $1,000 to $3,000 (based on our Google Flights research), depending on your destination.
With so many different ways to search for and book flights, planning travel can seem overwhelming. There are so many different factors you can play with, including your travel date, route, fare class, and even point-of-sale!
Here are the most consistent ways to shave some costs off of your airplane ticket. Just keep in mind that these will not always work, especially if your ticket is already the cheapest it will go.
What People Get Wrong About Finding Cheap Flights
When you go to Google and search "how to find cheap flights," you probably see a lot of statistical guidelines. Some examples of statistical guidelines are "book your flight on a Monday" or "fly out on a Tuesday."
While these rules of thumb work on an aggregate basis after a sample size of millions of searches, there's no way for these rules to hold up. Figuring out how to book the cheapest flights requires an analysis of the flight route itself. For example, the cheapest dates to book a flight from New York to Europe will look a lot different than the cheapest dates to book a flight from San Francisco to Vancouver.
The 5 Best Ways To Find Cheap Flights
Let's dissect the lesser-known ways to find cheap flights. Your chances of finding a super-cheap flight increase dramatically if you are a completely flexible traveler. Once you've broadened your travel dates and cities, you'll have the best chance of finding cheaper flights.
1. Use Flexible Date Searches on Google Flights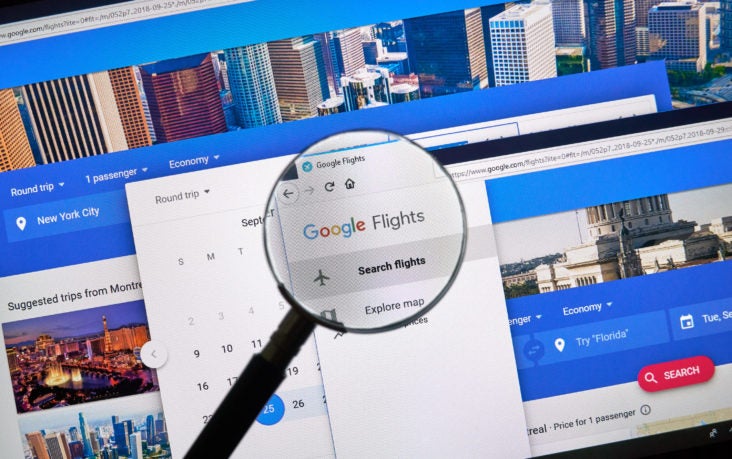 Google Flights is a metasearch engine, not an online travel agency, or OTA. The biggest distinction between a metasearch engine and OTA is that metasearch engines don't sell tickets; instead, they only combine searches from other websites into a centralized place. Metasearch engines will usually send you to another website to book the ticket, such as United Airlines' online website.
On the other hand, online travel agencies act like travel brokers. They are sold tickets from the airline itself and make a percentage cut off the ticket itself. The key difference is in the monetization. Metasearch engines usually make money off of data, while online travel agencies make money through a commission on ticket sales.
Because OTAs need to sell tickets at a higher price than they purchased them for, OTAs typically show more expensive prices than metasearch engines like Google Flights.
Hot Tip: Our guide to the best websites for booking flights at the cheapest prices reviews several popular OTAs and metasearch engines like Kayak, Expedia, and Priceline to show you the benefits and drawbacks of each site and how to compare prices.
Google Flights is an extremely powerful tool because it has best-in-class filter capabilities that enable travelers to look for cheap tickets, as long as they know how to use it. Specifically, we're talking about the Flexible Dates option.
Let's take an example ticket: a round-trip flight between New York City (JFK) and London-Heathrow (LHR) for a trip that is 14 days long. You can go into Google Flights and figure out the cheapest dates in the entire calendar by following these steps.
Visit Google Flights.
Enter New York City (JFK) as the origin city and London-Heathrow (LHR) as the destination city.
Choose Round trip as your trip type.
Open up the calendar and toggle the trip duration on the bottom-left of the calendar to 14 days.
Scroll through the calendar and choose the cheapest tickets (shown in green).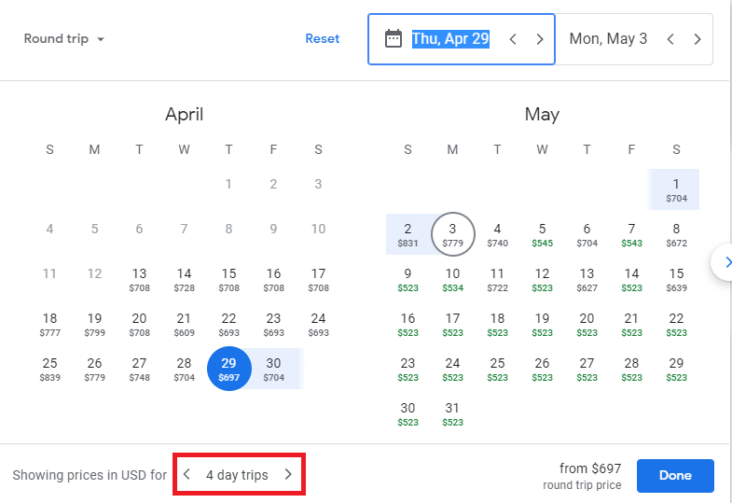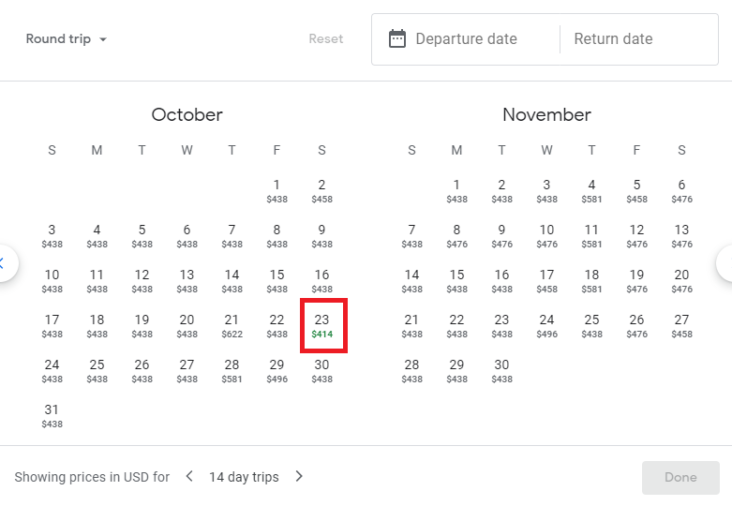 If you search the entire calendar (available in this search through February 2022), you'll find that there is 1 date available at the cheapest price from New York to London in economy ($414 round-trip):
Effectively, we've filtered down the entire calendar into the cheapest date to fly from New York to London. But what if you didn't care about which city you flew to and when you traveled, as long as you can find a great deal? Here's where Google Flights' More destinations function is so powerful.
First, instead of typing a destination city, simply click on the search box and click More destinations at the bottom.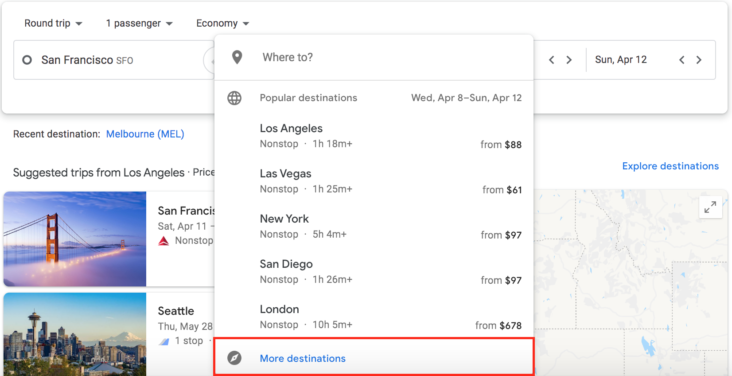 The resulting page will be a flight map with destination cities on the left-hand side and a search box on the top-left, as shown below.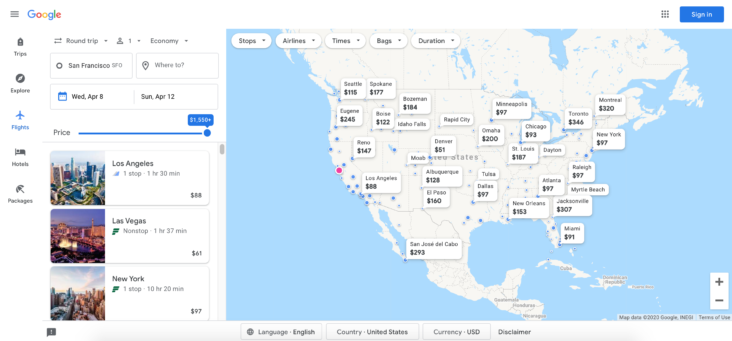 After you click More destinations, simply drag the map to the area you're thinking of traveling to.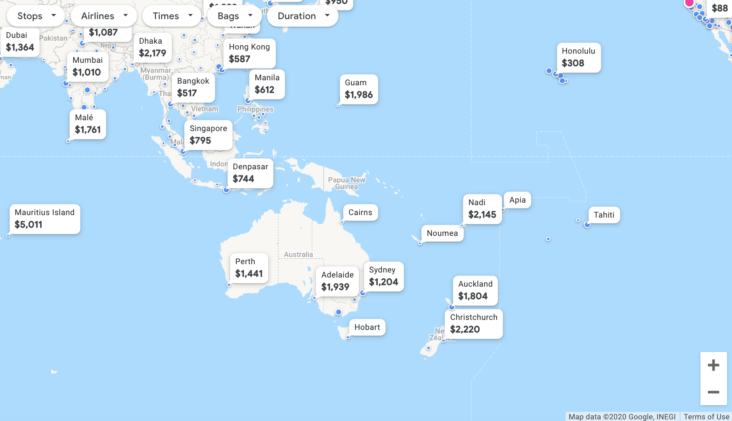 This tool is super-powerful because it allows you to look geographically at flight prices anywhere within the map. However, the best part of this tool is Flexible dates. You can use Flexible dates by clicking on the departure date box and clicking the button above the calendar view that says Flexible dates.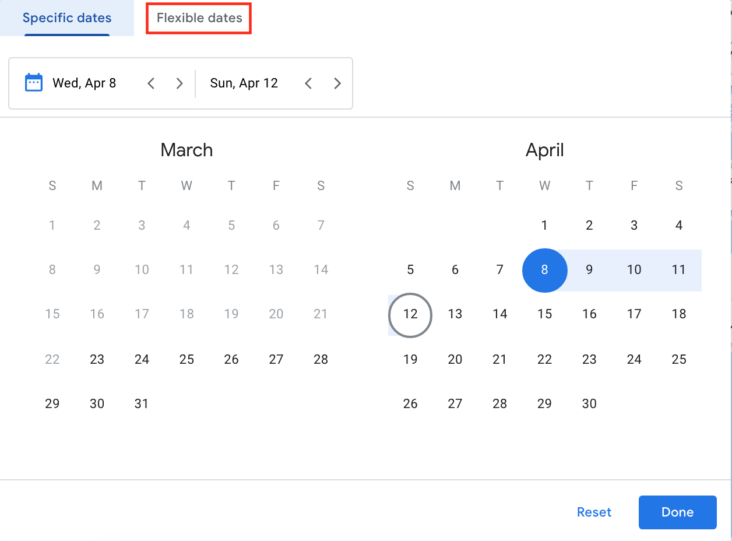 After that, you'll need to select your Flexible dates criteria.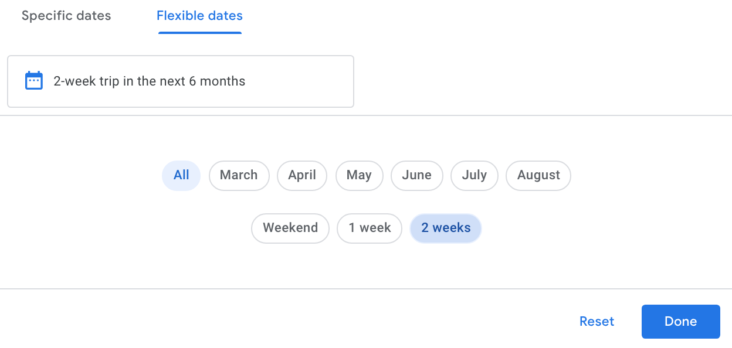 Then the magic happens! You will see the absolute cheapest tickets from your origin city to anywhere in the world! Best of all, this search goes for 6 months in the future to show you the cheapest flights within a 6-month window from the selected airport.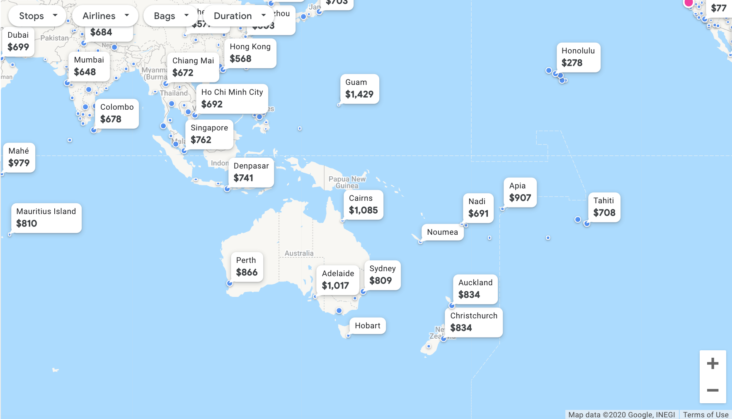 Based on these results, we can fly from San Francisco to Fiji's capital, Nadi (NAN), for $691 round-trip!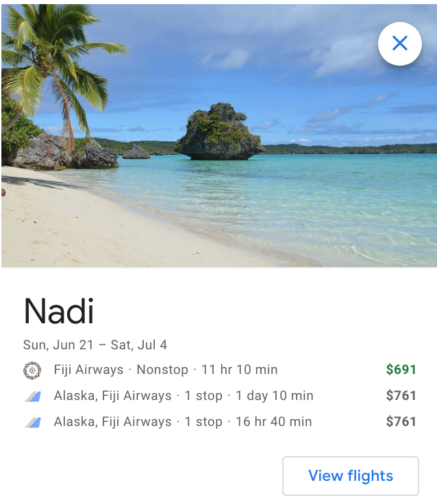 You'll want to click View flights to see the final flight details: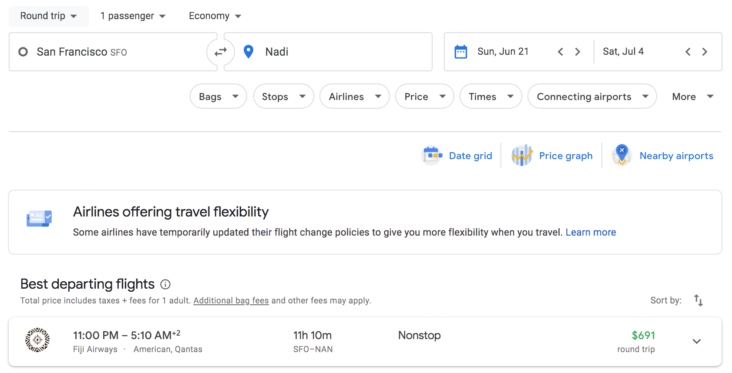 Bottom Line: Coupling Flexible dates and More destinations is an ultra-powerful way to find cheap flights from any airport to anywhere in the world within the next 6 months! Best of all, you can use the map function to get inspired with some cheap airfare. This method works identically for business and first class tickets, so premium cabin travelers can find great deals, too. 
2. Book Refundable Tickets and Track Prices on Non-Refundable Tickets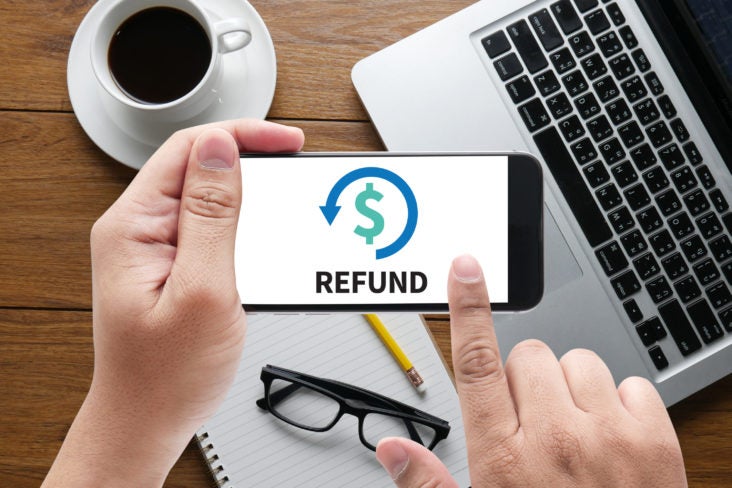 Another great (but not guaranteed!) way to find cheaper tickets is to book refundable tickets first while tracking flight prices. When the flight prices drop, you can cancel your refundable ticket and book the now cheaper tickets.
One of the best ways to do this is also with Google Flights, though there are other websites that help track flight prices. Let's take the example flight found on Google Flights: a round-trip ticket between San Francisco (SFO) and Nadi (NAN) departing on January 29, 2022, and returning on February 12, 2022.
When initially searched, this ticket cost $926 in economy round-trip. Google Flights can help you track prices and notify you via email when prices change. You'll need to log into your Google account before searching for flights to use this.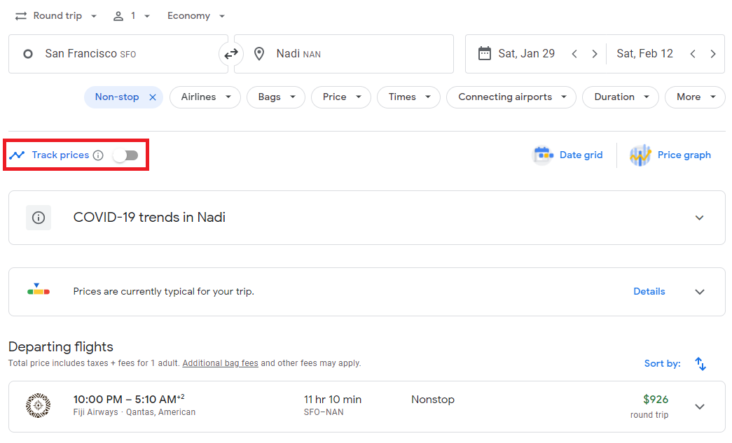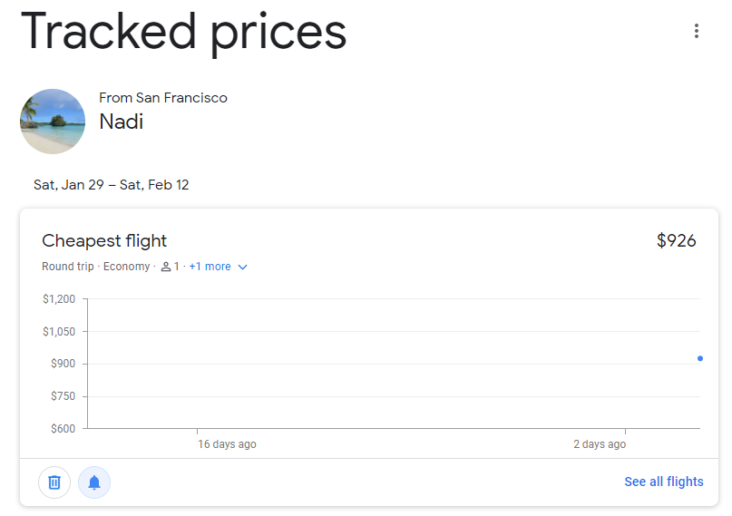 You'll get notified via email whenever the flight prices change for your given itinerary. This is a great way to monitor flight prices as time goes on without having to commit to a non-refundable ticket.
3. Change Your Country/Payment Currency on Metasearch Engines/OTAs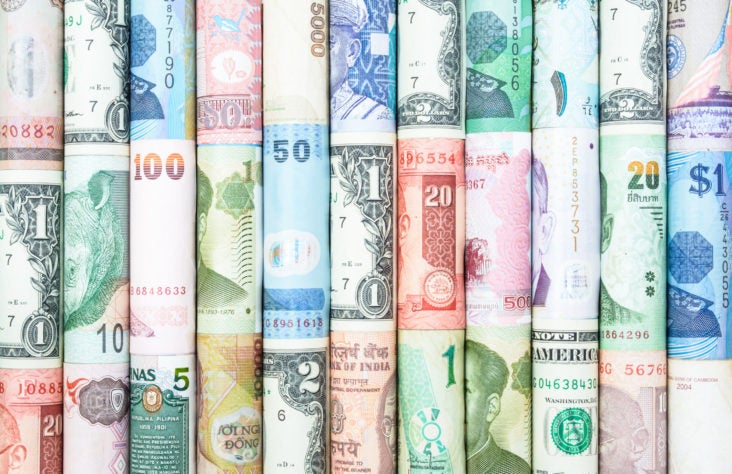 Usually, airlines have different websites for use in different countries. These airlines will use geolocation data to figure out where you're visiting the website from. You can often manually change this by simply visiting the foreign domain extension (e.g. co.uk) or by changing it from the U.S. website.
For example, let's look at Kayak. Kayak is a metasearch engine website that aggregates many sources to pool results into 1 location. If we look at a round-trip flight on Kayak's U.S. website from Charleston, SC (CHS) to London-Heathrow (LHR) in British Airways economy, we'll see that the cheapest fare is $764 as shown below:

If, however, you search on Kayak's U.K. website, you can find tickets as cheap as £610, which is equivalent to around ~$702.10:

This represents a savings of around 9%! Usually, the savings will be pretty minimal because the fluctuation in foreign currency exchange rates is small. However, you can sometimes strike gold and cut off 10% from your plane ticket, just by changing the country/currency.
Hot Tip: Smart travelers can take advantage of purchasing in other currencies by using a credit card with no foreign transaction fees!
4. Use ITA Matrix to Leverage Point-of-Sale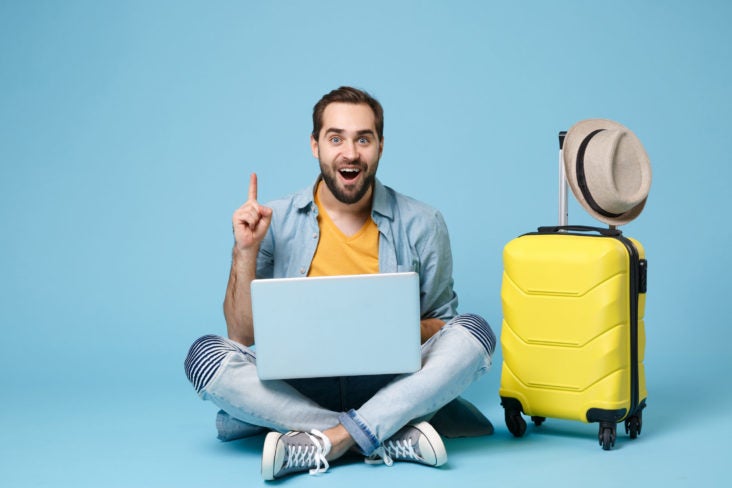 ITA Matrix is a tool developed in the 1990s by MIT alumni, designed to be a comprehensive tool to find the cheapest flights. ITA Matrix was acquired by Google, but it still functions separately from Google Flights.
ITA Matrix offers a simple value proposition: if you take the time to learn how to use it, you'll be able to get some discounts that nobody else would.
Here's what the ITA Matrix looks like: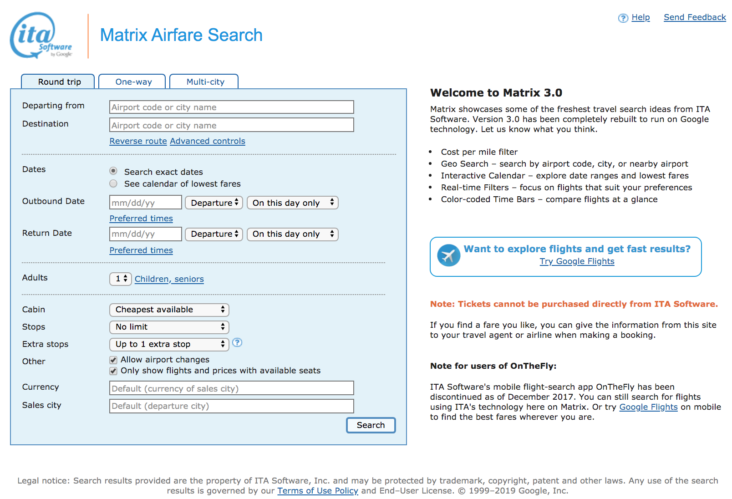 As you can see, the interface looks much clunkier and unattractive compared to other options like Google Flights. The most important box to pay attention to is the Sales city box at the bottom of the search area. By entering different airport codes into this box, you can often find prices that are much cheaper than what is publicly available on Google Flights, for instance.
Let's take an example of an international round-trip flight from Buenos Aires (EZE) to Lima (LIM) departing on December 4, 2021, and returning on December 15, 2021. If you perform this search on Google Flights, you'll get this result: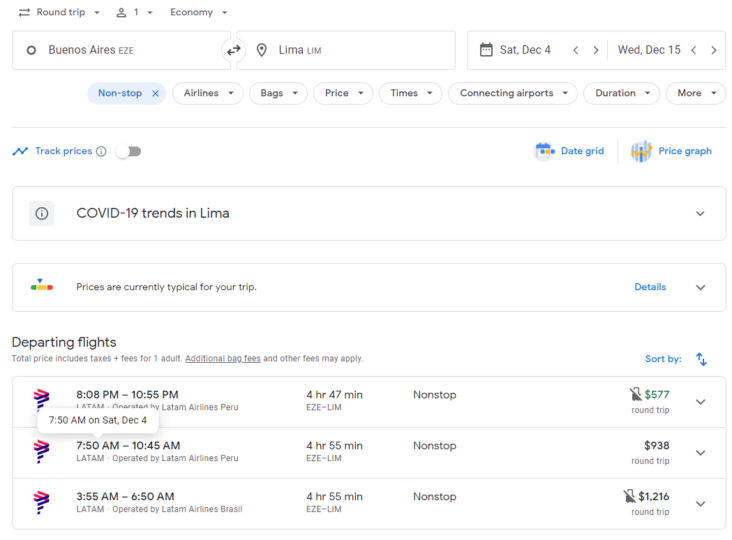 The cheapest available ticket is $577 according to Google Flights. Let's talk about how we're going to change the Sales city to drop our ticket price. If you go to ITA Matrix and enter "jnb" under Sales city, you'll be prompted to auto-populate the field with Johannesburg, South Africa. Do not do this if you want the search to work. You must leave the airport code as-is and perform the search as shown below.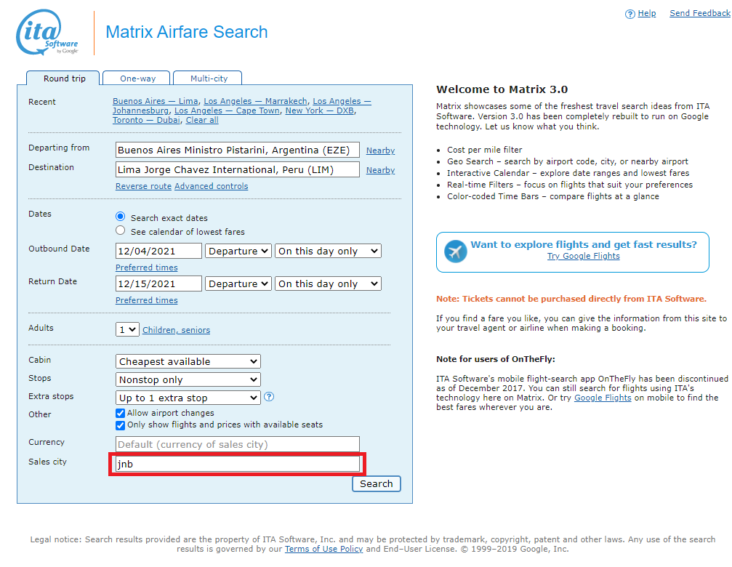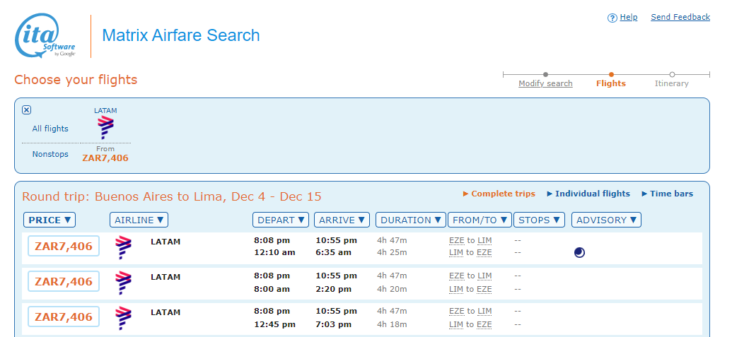 After your search completes, you'll be able to see the new prices. In this case, the same ticket will only cost R7,406, which is equal to $510! This represents a big savings of ~12%.
If you repeat the same exercise for different cities, you'll find different amounts. For example, changing your sales city to "EZE" will actually increase your ticket price by 36%, while changing your sales city to "LHR" will drop your ticket by $70, representing a 13% discount.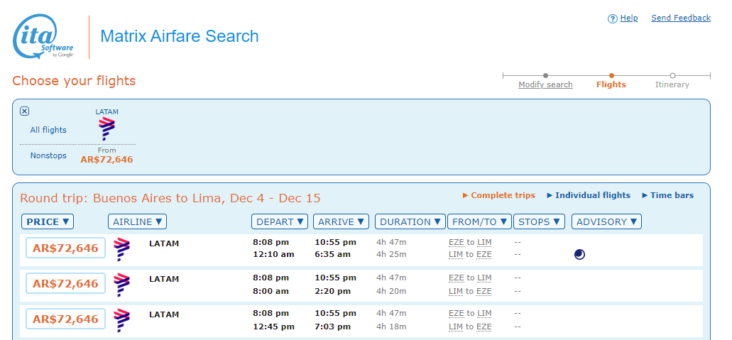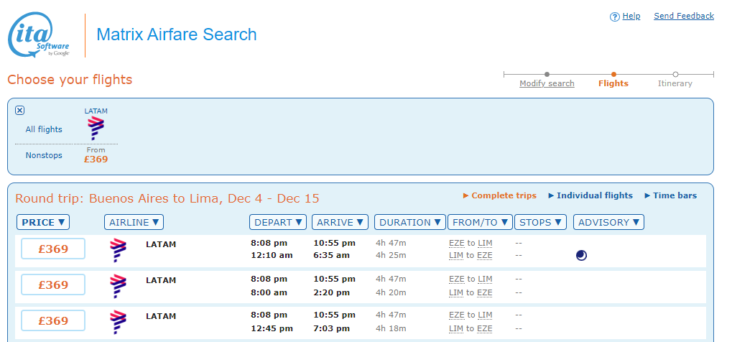 Although there's no magic rule that tells you which exact country to search on all flights, here's a good rule of thumb you can start with: to maximize point-of-sale discounts using ITA Matrix, begin your search by using sales cities from capital cities of countries that have experienced weakened currency (countries such as Argentina and South Africa qualify).
Remember, in this example, Argentina actually was significantly more expensive, so this is by far from a rule set in stone.
We repeated the same exercise for a round-trip flight between New York City (JFK) and Buenos Aires (EZE) from December 4, 2021, to December 15, 2021. We compared 3 sales cities:
Los Angeles (LAX) — $1,196
Hong Kong (HKG) — HK$9,305 (~$1,197)
Johannesburg (JNB) — R17,481 (~$1,205)
Buenos Aires (EZE) — AR$184,338 (~$1,991)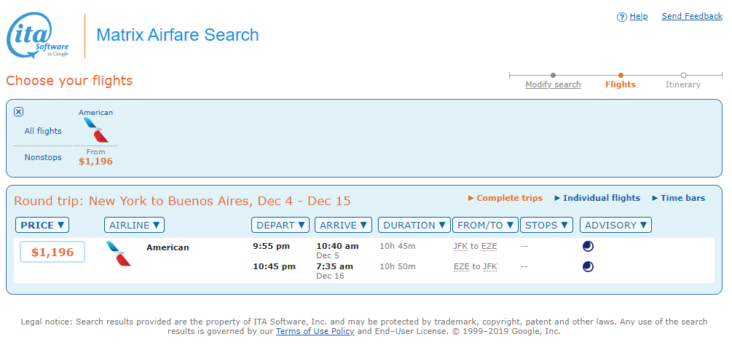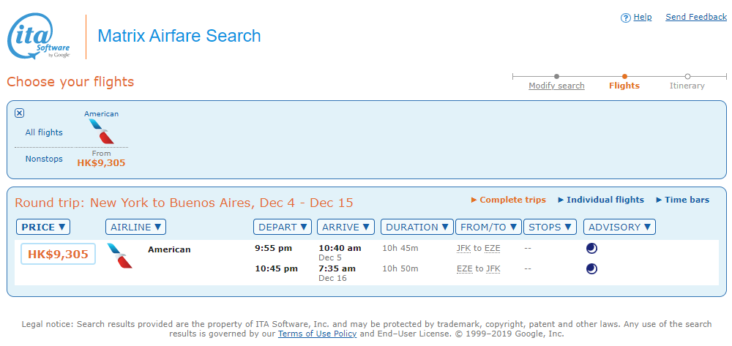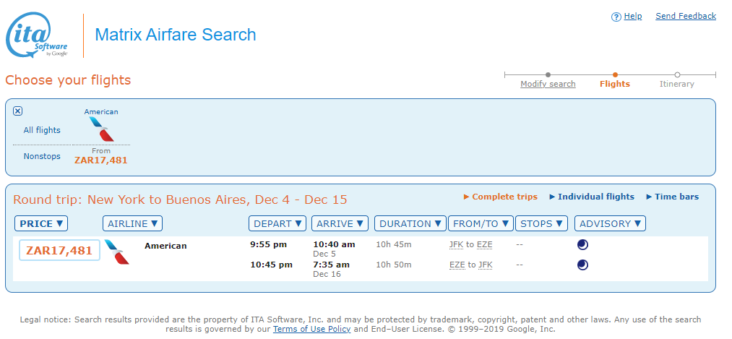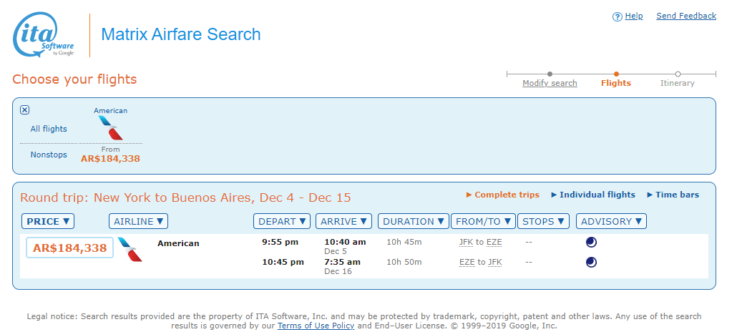 As you can see, there was an instance where changing the sales city resulted in a more expensive ticket! This is to illustrate that you need to test different sales cities before accepting the cost of a ticket to make sure you're getting a great deal.
Once you've found a deal you're happy with, you're going to want to book it. ITA Matrix doesn't allow you to book tickets directly. Instead, you can visit BookWithMatrix and follow these instructions to book your ticket.
On ITA Matrix, select the ticket you want to book. You need to highlight the entire page. For Windows users, press Ctrl + A. For Mac users, click Cmd ⌘ + A. The result should look like this.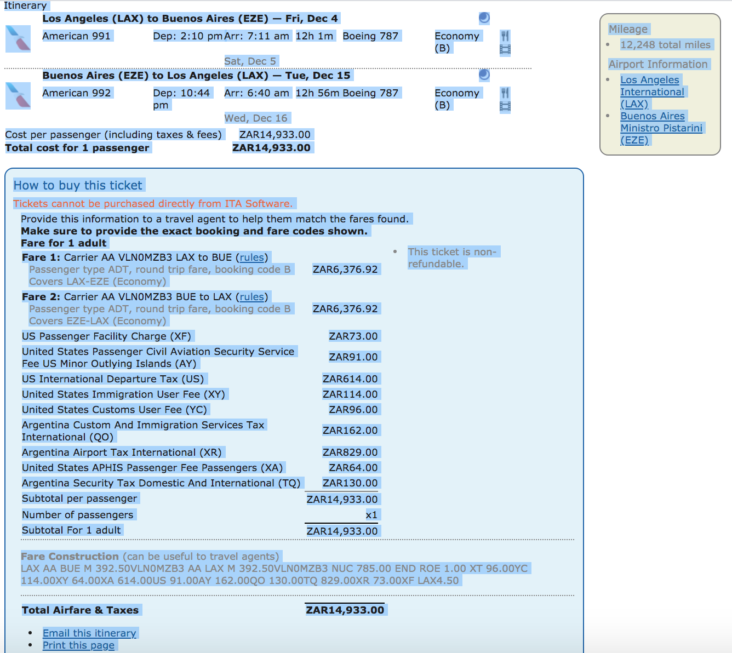 Paste that information into the BookWithMatrix box.
Your itinerary will load up and the result will show up like below.

Once you've copy and pasted your itinerary from ITA Matrix, you can book the ticket by clicking the blue button. Image Credit: BookWithMatrix

You'll be redirected to the appropriate website. Simply book the ticket, and you've saved a bunch of money on plane tickets!
Bottom Line: Sales cities (i.e. point-of-sale) can be instrumental in lowering your plane ticket's price. By properly using Google's ITA Matrix and coupling it with BookWithMatrix, you can end up saving tons of money! 
5. Subscribe to Websites That Provide Cheap Fare Alerts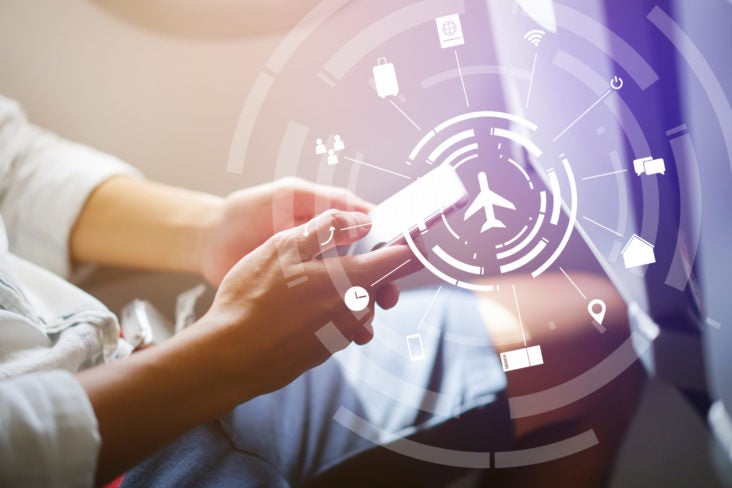 One of the best ways to find cheap flights is to get alerted whenever there are cheap flights available. We've put together a guide on the best websites for flight deal alerts, so don't miss out!
Simply put, some websites offer the ability to choose your home airport and get notified via email when great flight deals come up. This is a great way to minimize the amount of time you spend looking for flights.
Final Thoughts
Overall, there are tons of different ways to find cheap flights. The first method we discussed uses Google Flights' powerful intra-tool functions. These functions include More destinations and Flexible dates, which essentially empowers you to choose your starting airport and see all the cheapest flights anywhere in the world on any set of dates (up to 6 months into the future). This is a great way to get inspired if you're flexible on destination and travel dates.
You can also track prices on tickets before committing using tools like Google Flights. This way, you'll get notified via email whenever your ticket prices change. In the meantime, you can book a 100% refundable ticket just to have a backup.
Next, we went through some advanced techniques, such as changing currencies, countries, and point-of-sale. Depending on how you use this tool, you can get massive savings! We found savings opportunities of up to 25% in the route examples above.
Lastly, you can subscribe to websites (that typically charge money) for flight alerts. Usually, these websites ask you to select some criteria, such as your home airport, so that you get more personalized results.
We hope you found this list of best practices more useful than the generic advice out there!