The Best Ways to Fly from Los Angeles (LAX) to Chicago (ORD)
Los Angeles International Airport (LAX) to Chicago O'Hare International Airport (ORD) is one of the most trafficked flights in the U.S.—and with so many airlines flying the route—it isn't hard to redeem miles to fly between these 2 cities.
But as expected, each airline and mileage partner has different mileage redemption rates for flying between the cities, so finding the best deal can be a challenge.
In this article, you'll find all of the best ways to redeem miles to fly between LAX and ORD specifically focusing on finding all of the best deals for redeeming points between the cities, letting readers save points, and maximize their number of free trips around the world.
Book Alaska Airlines Tickets with Singapore Krisflyer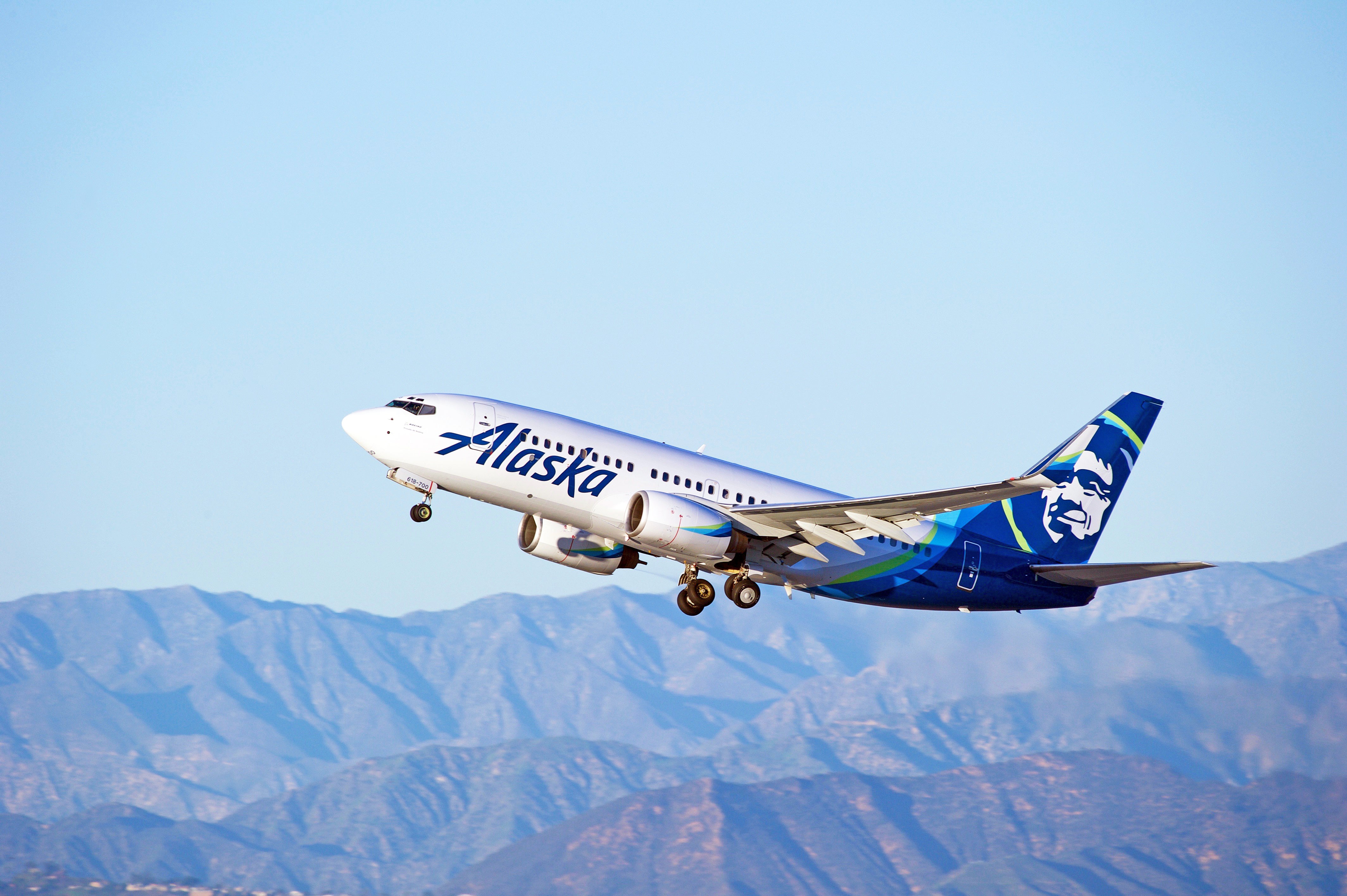 The cheapest way to book flights between LAX and ORD is using Singapore Airlines Krisflyer to book tickets on Alaska Airline's once-daily flight between the cities. A one-way economy ticket between the two cities costs just 9,500 miles when booked with Krisflyer.
To book the ticket, find availability by searching on AlaskaAir.com for award space, and then call Krisflyer to book the ticket.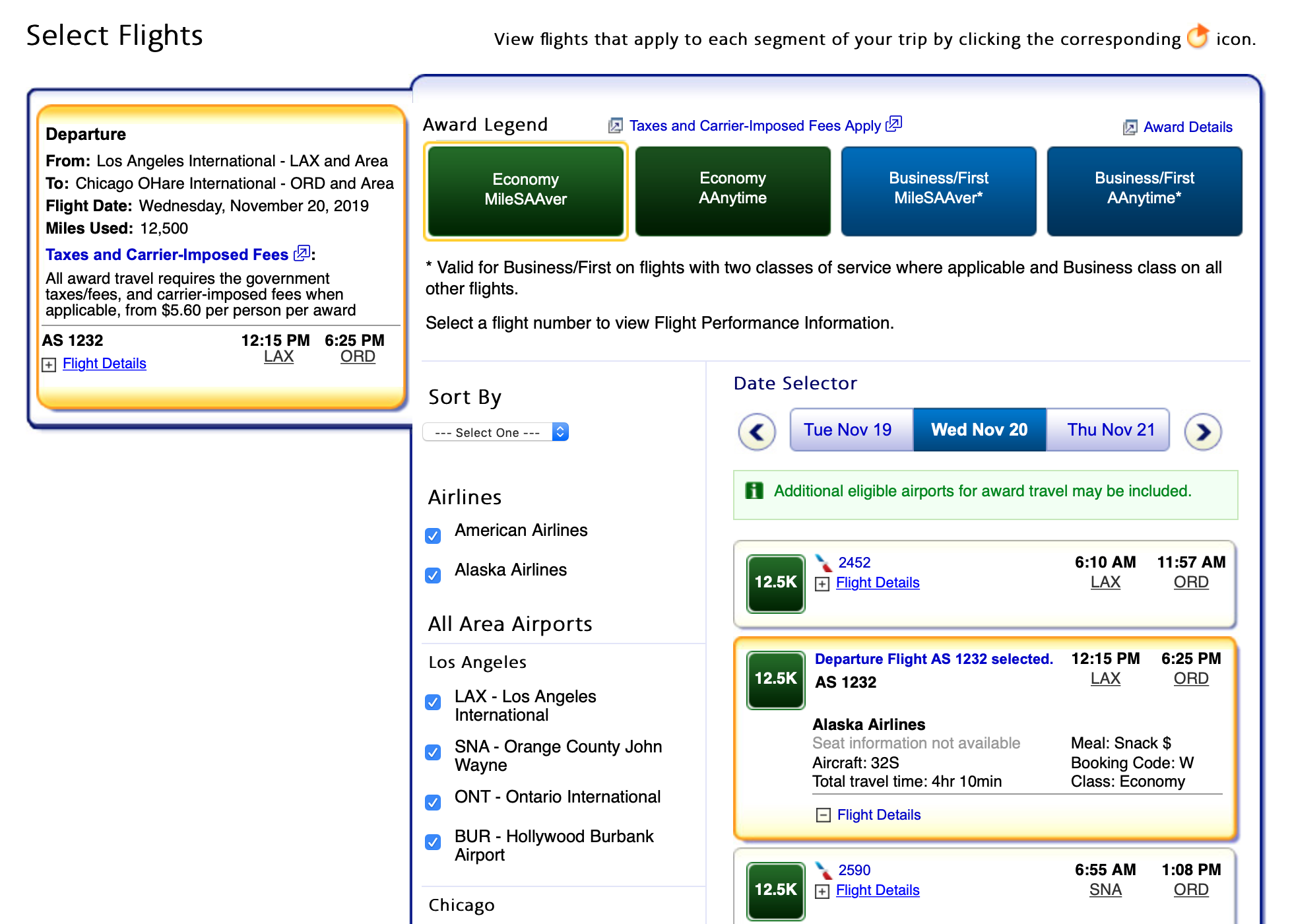 Find Alaska Airlines award space by searching on American Airline's website. Any Alaska ticket listed as a MileSAAver® award can be booked with Singapore Krisflyer miles—see the example above for more information.
Note that Singapore Krisflyer miles cannot be used to book flights operated by American Airlines, but can be used to book flights with layovers (as long as they're all operated by Alaska).
Additionally, Alaska Airlines tickets cost fewer points than United Airlines tickets on the same route, so stick to Alaska Airlines flights when possible. The same route on United would cost 12,500 miles one-way with or without a layover.
Singapore Krisflyer miles can be transferred in from American Express Membership Rewards, Chase Ultimate Rewards, Citi ThankYou, Capital One, Marriott Bonvoy, and even Virgin Australia Velocity at varying rates. Transfers can often take 24 hours or more, so transfer as soon as possible to avoid having the ticket sell out.
Book American or Alaska Tickets With British Airways Avios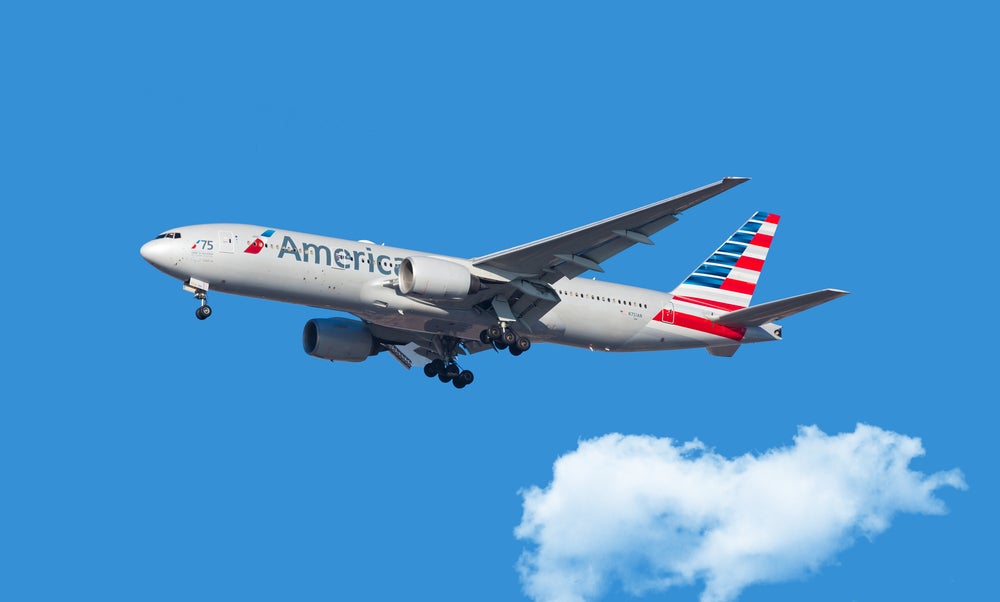 Another way to book flights between LAX and ORD is using British Airways Avios to book flights on partner airlines American and Alaska. British Airways employs a distance-based award chart, and all flights between 1,152 and 2,00 miles cost 10,000 Avios. LAX to ORD clocks in at 1,740 miles one-way, putting it in this award category.
Like booking with Singapore Krisflyer, travelers have to call British Airways to book an Alaska Airlines award ticket. Use one of the methods mentioned above to find saver space to book, and then call British Airways using the number on its website.
British Airways Avios can be transferred from American Express Membership Rewards, Chase Ultimate Rewards, and Marriott Bonvoy. British Airways can also be earned by using the British Airways Visa Signature® card from Chase to make everyday purchases.
Fly United Airlines for a Reasonable Number of Points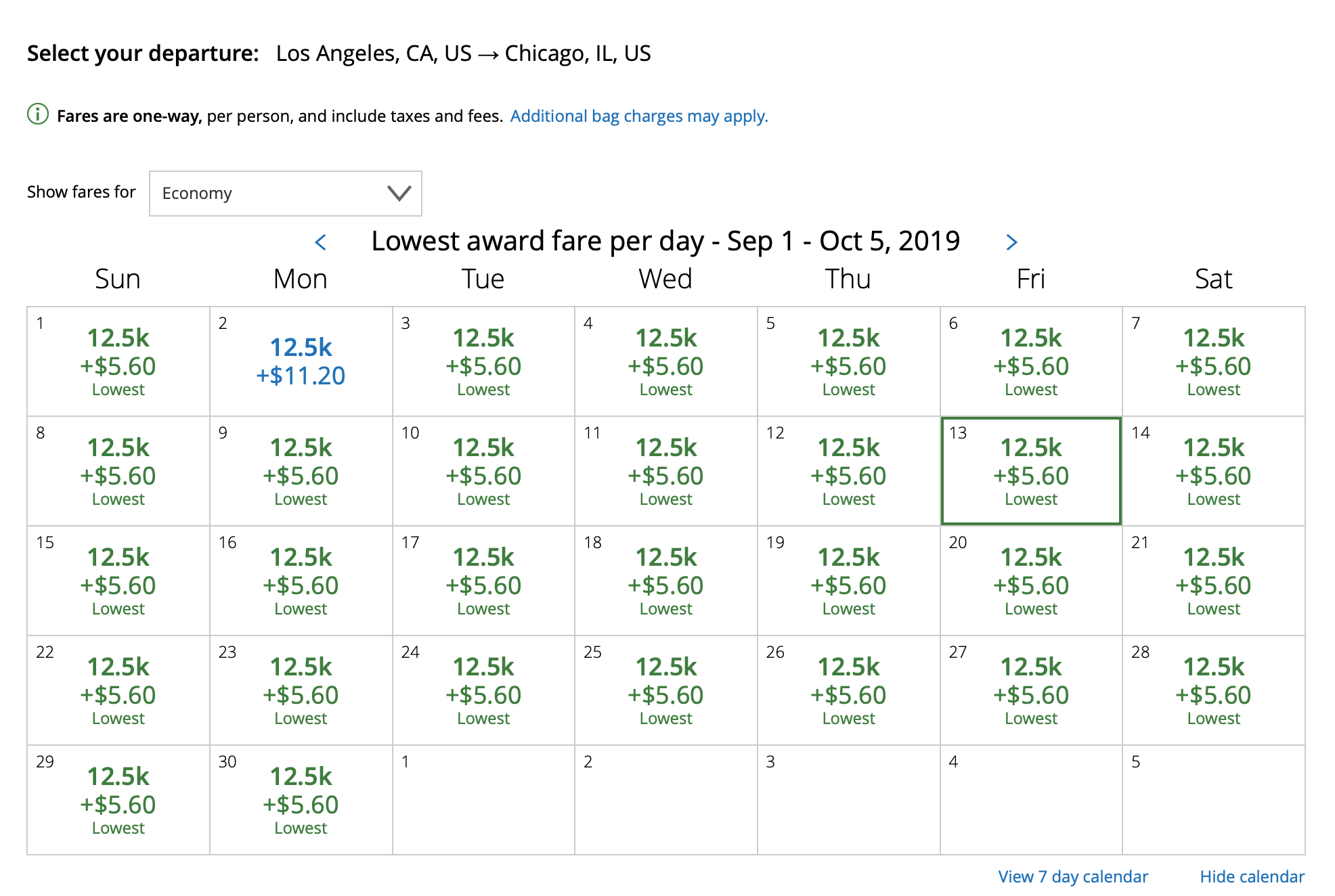 Have a stash of United Airlines MileagePlus miles? Consider using them to book an LAX to ORD award ticket. This ticket costs 12,500 miles each way in economy class. And while this is more expensive than the Singapore or British Airways options above, it can still yield great value if these other airlines don't have open availability.
Note that travelers can also book United Airlines flights for 12,500 Singapore Krisflyer, Air Canada Aeroplan, or Avianca LifeMiles too. This makes it easy to book United award tickets with nearly any type of transferable points.
Use Southwest Points to Fly into Chicago-Midway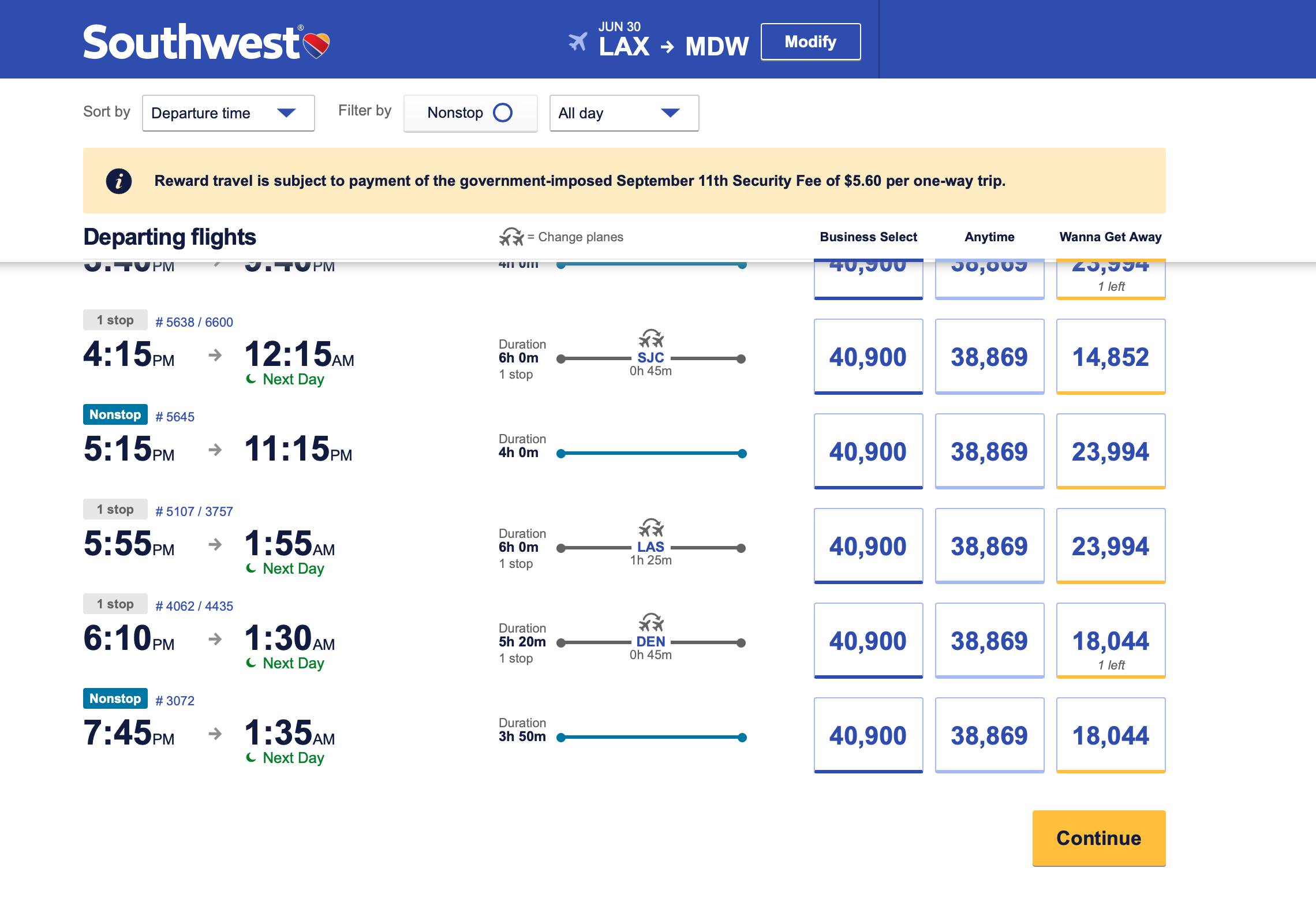 Southwest Airlines flies from LAX (and a handful of other Los Angeles area airports) into Chicago Midway International Airport (MDW), a secondary downtown airport in the Chicago area. However, redeeming flights on these routes is a little different than redeeming for flights on other airlines.
This is because Southwest prices awards based on how much the flight costs when booked with cash, meaning that a more expensive ticket will cost more Rapid Rewards points.
When booking a month out, one-way tickets from LAX to MDW cost around $263 when paid cash, or 18,044 Rapid Rewards points. This yields a value of 1.42 cents per point, making it a decent value for travelers with an existing stash of Rapid Rewards points.
While you can transfer Ultimate Rewards points to Southwest Rapid Rewards, we don't recommend doing this. Chase Sapphire Reserve cardholders can redeem their Ultimate Rewards at 1.5 cents per point towards paid flights, so you'd spend fewer points for the same ticket.
Additionally—since these are technically paid flights—they'll still earn Rapid Rewards points that can be used for future travel on Southwest Airlines.
Just note that Chase Sapphire cardholders must call Chase to book Southwest tickets with Ultimate Rewards points. This is because the Chase Travel Portal doesn't show Southwest flights as the portal is powered by Expedia.
Look for a Delta Promo Award with One Stop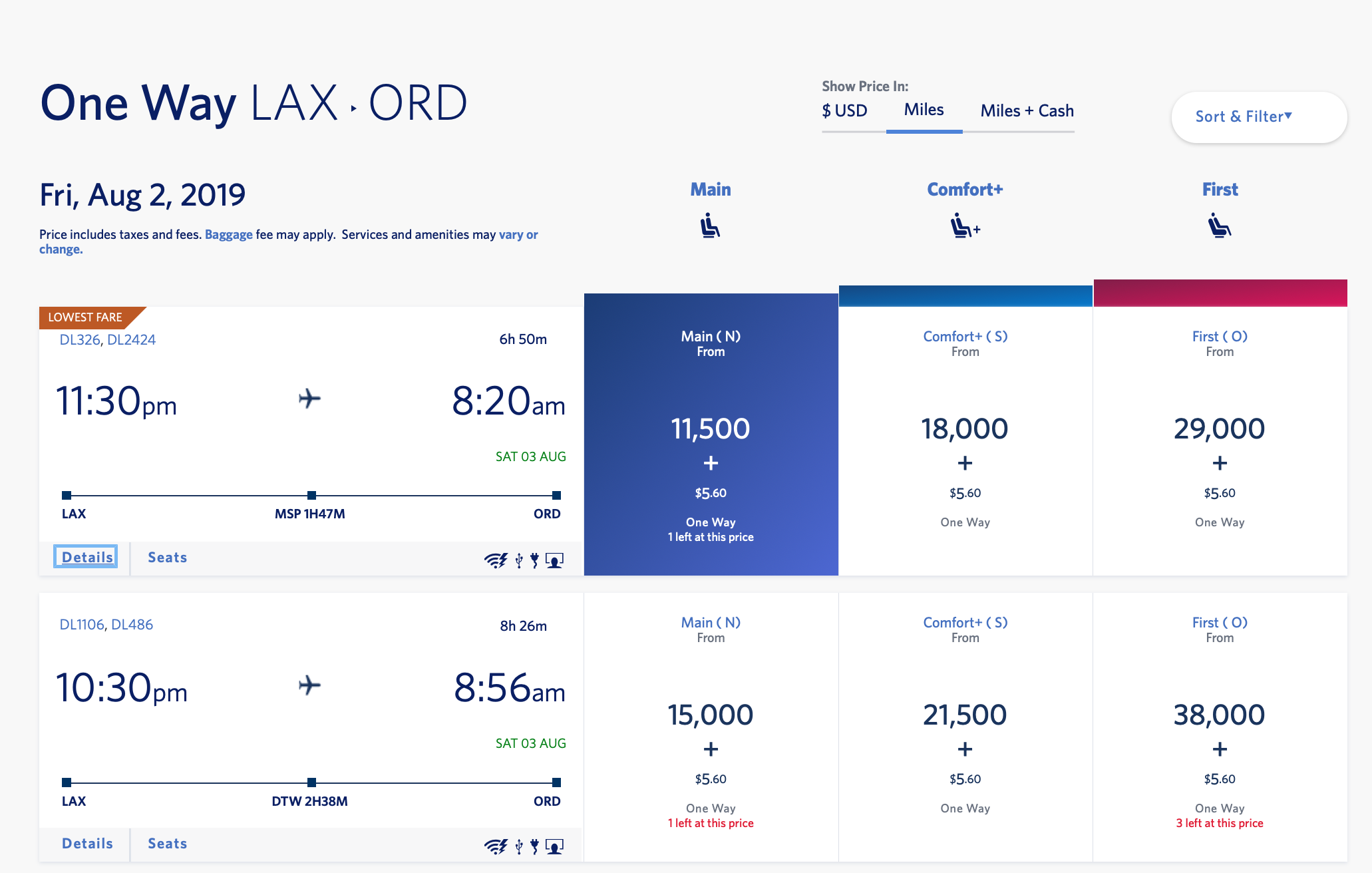 Finally, Delta SkyMiles can be used to fly between LAX and ORD or MDW. Do note, however, that Delta doesn't offer nonstop flights between Los Angeles and Chicago, so these flights will have a layover in one of Delta's hubs like Detroit Metropolitan Wayne County Airport (DTW), Seattle-Tacoma International Airport (SEA), Salt Lake City International Airport (SLC), or Minneapolis-Saint Paul International Airport (MSP).
However, this can still offer decent value as Delta employs a dynamic award chart that frequently offers good deals on domestic award travel.
For example, a one-way economy tickets can be found for 11,500 SkyMiles one-way when booking a little over 2 months in advance. Just note that this ticket has 1 hour and 47-minute layover in MSP on the way out, bringing the total travel time to 6 hours and 50 minutes.
Remember that Delta SkyMiles dynamically prices its award tickets, so flights between LAX and ORD may cost more SkyMiles depending on passenger load and other factors. Delta SkyMiles can be transferred in from American Express Membership Rewards and Marriott Bonvoy at varying rates.
Final Thoughts
As shown in this article, there are plenty of options when flying between the City of Angels and the Windy City.
Stick with booking Alaska Airlines tickets with Singapore Airlines miles when possible and then checking British Airways and Delta as backups. But no matter how you book, you'll pay minimal taxes and have a great vacation.
Safe travels!
---
Feature Image Credit: Rudy Mareel via Shutterstock